May 5 - 11, 2019: Issue 403
LIFESAVERS CONCLUDE SEASON WITH 3,500 RESCUES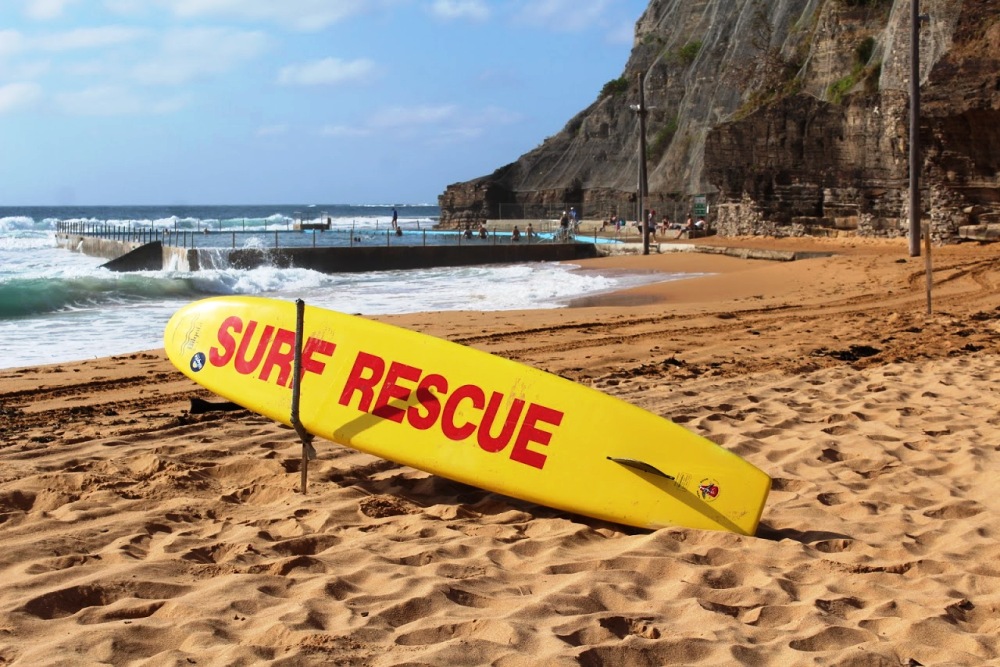 Monday, April 29th, 2019

The 2018/19 Surf Life Saving patrol season came to an end on Sunday 28 April. All 129 surf clubs in NSW lowered their flags for the final time until September.
There were a number of significant rescues this season that involved our volunteers going above and beyond to preserve life. A number of these rescues occurred outside patrol hours and in challenging conditions.
We celebrated a number of remarkable milestones and miraculous rescues between September and April. Once again we thank our 75,000 members and 20,000 active patrolling members for their service to the community.
The total number of coastal drowning deaths for the season was 35 (since 1 July 2018),down on the previous season. While preventative actions by our lifesavers on the beach were up significantly, a positive trend for NSW.
As usual swimming was the worst activity for drowning with 35% of all coastal drowning deaths occurring during swimming/wading.
Sydney Branch once again the highest number of drownings with 11. This is consistent with previous years.
SLS Sydney President George Shales said, "We've had trying conditions throughout the season. Our volunteers have worked tirelessly to stem the flow of drownings with the increase of preventative actions. Throughout the season there were a number of outstanding rescues including resuscitations that ended well and we're proud of our volunteers who respond so professionally to these incidents not only during their rostered patrols but also 24/7."
The North Coast is second with 7 out of 35 drownings (21%), a much higher figure than usual due to the multiple fatalities at Coffs Harbour in December.
Moonee Beach was the worst for coastal drownings deaths in NSW with four, three of which occurred at the same time on (17 December).
On the Central Coast, the cave at Snapper Point, Frazer Park proved a constant strain on all emergency services. There were a total of 21 rescues by lifeguards during the summer and autumn holidays and four rescues by surf lifesavers.
A significant rescue in September was awarded with the first Rescue of the Month of the season. Australian Surf Lifesaver of the Year and President of North Avoca SLSC Matt Slattery said, "It's a dangerous and isolated part of our coastline. People continue to take risks and traverse the cliff to reach the cave not understanding the dangers of the swell surges and fast moving tides. Rescues put our volunteers at risk too. Navigating the inlet in any conditions is treacherous let alone on a big swell. Our response time is also delayed based on the distance from our resources and clubs."
This season SLSNSW implemented two UAV (Unmanned Aerial Vehicle) programs; a shark spotting trial with the NSW Department of Primary Industries and a Westpac beach safety program. There were over 7,500 flights between October and April with over 200 sharks spotted forcing 45 beach closures.
SLSNSW trained and qualified over 350 UAV pilots to operate at 20 locations from Kingscliff in the north to Tathra in the south.
On top of regular beach safety duties, UAVs assisted with numerous search and rescue operations on the coast.
On the Far South Coast the Support Operations team along with 9 of their 31 pilots assisted with an intensive search for a missing person with the SES and NSW Police.
The UAVs certainly proved useful to everyone during this search," said Cheryl McCarthy. "Tathra SLSC and Pambula SLSC have taken the lead with the shark surveillance program here and we were able to bring their UAV pilots to assist. It was a terrific chance for them to deploy in a different way to normal beach patrol surveillance.
"We'd love to see UAV operators as part of every call-out team in the future after this positive experience," she said. "Just to have the capacity to support our volunteers and act quickly and without risk is so valuable to what we do."
SLSNSW CEO Steven Pearce acknowledged the selfless work of the state's members. "The vigilance, bravery and commitment that our surf lifesavers have displayed this season has been second to none. From the patrolling members through to our 24/7 Support Operations teams we have reduced coastal drowning deaths beating the 10-year average.
"Our members have been at the forefront of major critical incidents and showed extraordinary skill and compassion. I am so proud of each and every club in our state and the incredible work and time their members put in to save lives."
With surf clubs not in operation with weekend patrols until September lifesavers advise taking caution when visiting the beach. Mr. Pearce said, "We can't stress enough the importance of taking responsibility of yourself when visiting the coast. Please stop and think before putting yourself, your friends and family and our first responders in danger."
"Although the red and yellow flags are not flying at this time, our Surf Life Saving Support Operations teams are ready to respond to incidents around the clock."
Visit www.beachsafe.org.au for patrolled locations and beach conditions. NSW surf lifesavers will return to the beaches for patrol Saturday 28 September 2019.
*2018/19 Patrol season ran between Saturday 29 September 2018 through to Sunday 28 April 2019.
2018/19 SLSNSW Rescue Of The Month Winners

2018/19 NSW Preliminary Patrol Statistics
(As of 20/04/2019)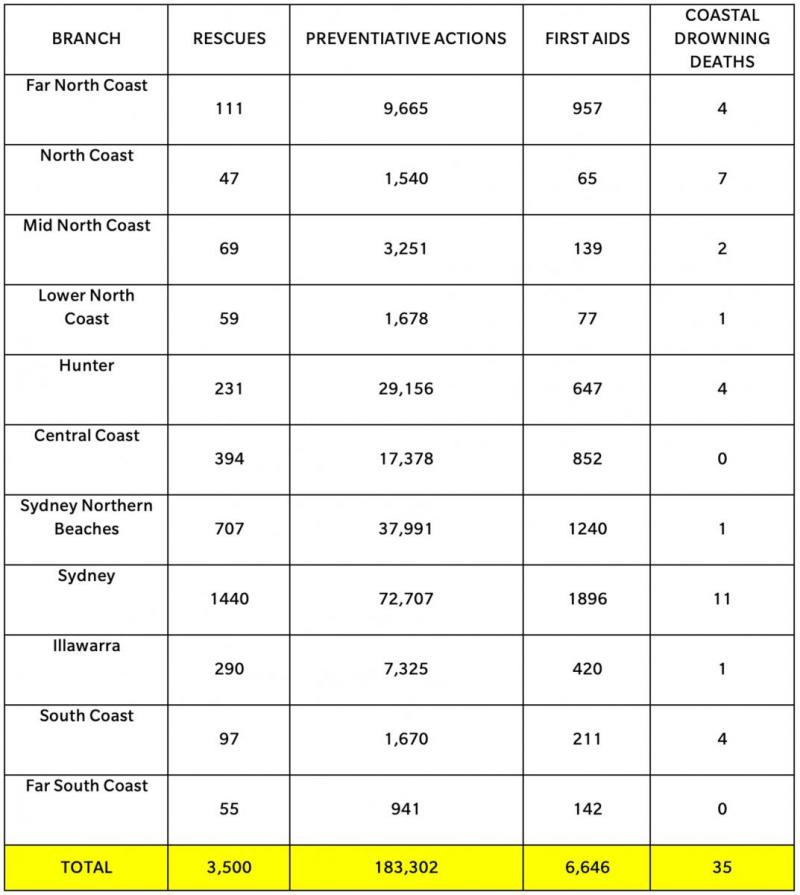 2018/19 Completed Awards

*2018/19 Patrol season ran between Saturday 29 September 2018 through to Sunday 28 April 2019.
NATIONALLY
Over 11,000 rescues since 1 July 2018.
More than 500 rescues since Good Friday.
SLSA Nationally, we have already experienced the worst summer period for 15 years since we began recording coastal drowning deaths in 2004.
Easter period, 9 coastal drowning deaths since Good Friday, including a father and 5 year-old daughter, in South Australia and 2 surf lifesavers performing a rescue from Victoria.
By Surf Life Saving NSW