April 25 - May 1, 2021: Issue 491
Kimbriki's New FREE Monthly Community drop-in day to Meet our Ecologists!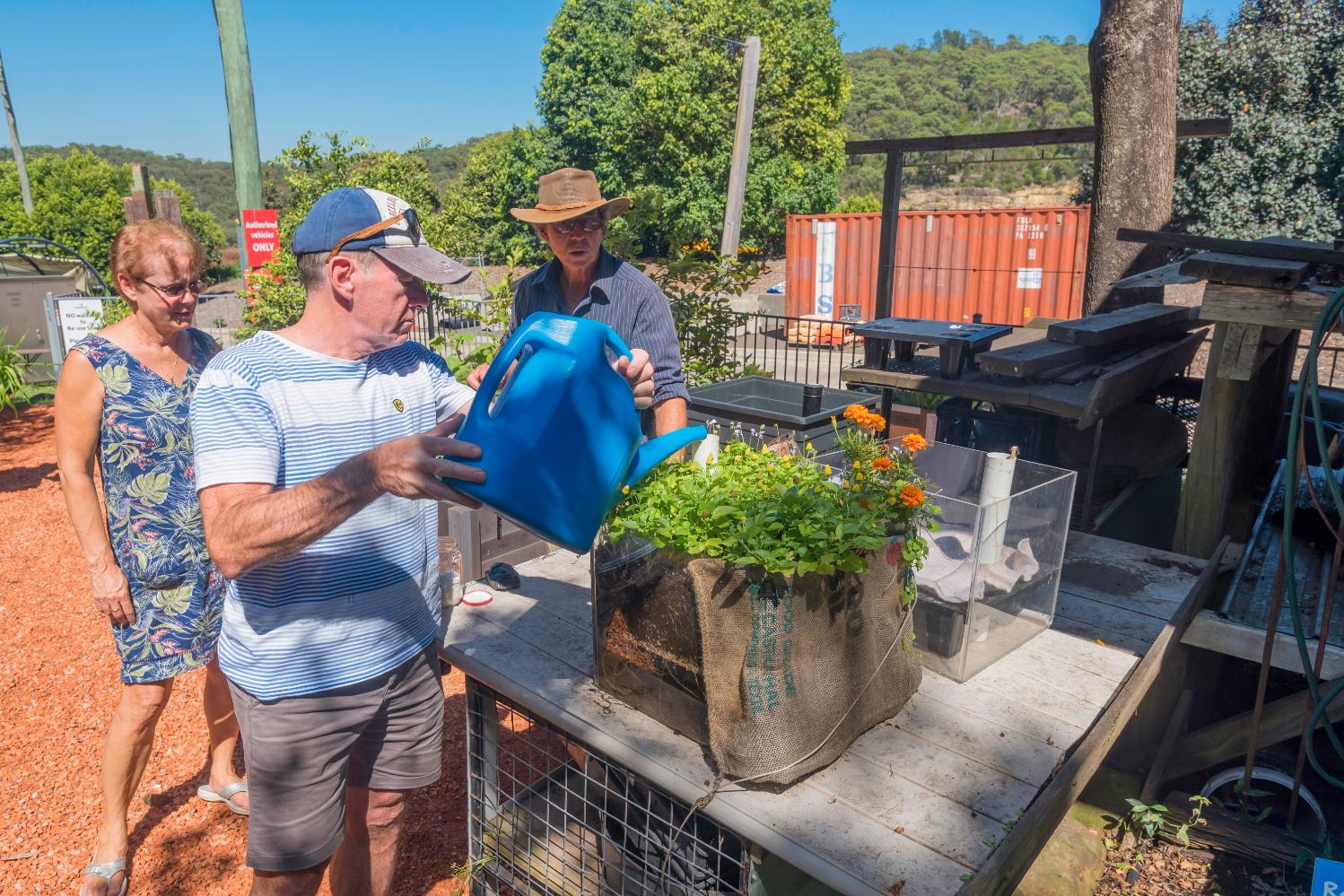 Kimbriki has launched a new "Meet the Ecologist" event which encourages community members to drop into the Eco House and Garden between 9.30am and 2.00pm on the last Friday of each month.
Visitors can wander through the permaculture garden and take the opportunity to learn more about ecology, permaculture, and sustainable living practices.
While the Eco Garden is open seven days a week for Kimbriki visitors, it is not always staffed, and when staff are in the garden, they are often running Kimbriki's school's education program and community workshops. This new initiative allows any community member to drop by and meet the Ecology team and experience, learn, and be inspired by the Eco House & Garden's wide range of edible plants, wicking garden beds, native beehives, worms' farms, and composting toilets!
Peter Rutherford, Kimbriki's Senior Ecologist said "This new drop-in time offers our Ecology staff a great opportunity to meet the community and help solve problems with composting, worm farming, or organic gardening and to highlight the features of the garden".
"Best of all, it's free and you don't need to book. Simply drop by the Eco House and Garden between 9.30am and 2.00pm on the last Friday of the month, and either myself or a member of my team will be there to help you with all things ecological! "
The Eco Garden was opened by Mary Moody, Compere of ABC Gardening Australia in March 1999, and Dick Smith opened the Eco House in 2011. The Eco Garden is a permaculture or "grazing garden", where you can nibble edible flowers, fruits, and herbs as you wander.
You can also walk through our Eco Shop which offers a selection of plants for sale that have been grown in the Eco Garden, along with wicking beds and gardening supplies.
For those community members who would like to join us for our next Meet the Ecologist session on Friday 30 April between 9.30am to 2.00pm, don't forget to bring your own mug to enjoy a pot of our freshly brewed Kimbriki herbal tea!
This is a free event that is open to all members of the community and bookings are not necessary. Just drop by and say hi – everyone is welcome!
Meet the Ecologist 2021 Event Dates:
Friday 30 April
Friday 29 May
Friday 25 June
Friday 30 July
Friday 27 August
Friday 24 September
Friday 29 October
Friday 26 November
December – No event
Kimbriki's Eco House and Garden is a unique education centre dedicated to exploring how to live in a more sustainable way – a place for you to experience, learn and be inspired.
Set within the Kimbriki Resource Recovery Centre, this education centre was built in 1999 and comprises an organic garden and Eco House constructed primarily from materials recovered from the Kimbriki site, otherwise destined for Kimbriki's landfill.
Approximately 4,000 visitors come through the Eco House & Garden every year to attend an educational workshop, to participate in a community group visit or school excursion, or to wander through the garden at their own pace.
The Eco House & Garden is very popular for group visits and school excursions and we encourage you to book well in advance for these visits.
To support local schools in the Shareholder areas of Northern Beaches Council and Mosman Council, school excursions are provided for free. Students participate in an ecology workshop designed to support primary, secondary school and tertiary curriculum outcomes and tour Kimbriki's waste and recycling facilities. For schools and groups outside the Shareholder area, a small charge is applicable.
We offer a range of educational workshops at the Eco House & Garden where you can learn successful organic gardening techniques and how to implement sustainable living ideas into your everyday life. Workshops are hands-on and focus on topics including self-watering garden beds, native bees, composting & worm farms, starting an organic vegetable garden, and pruning and propagation.
To view the Workshop Calendar, click here

Our workshop trainer, Senior Ecologist, Peter Rutherford has over 20 years experience in teaching – enabling adults and children to make their lives more sustainable.
Our online booking system is simple, select the workshop you wish to attend and follow the link to book.
The Eco Shop at the Eco House & Garden stocks a range of products to get you started with composting and worm farming as well as Wicking Beds. Products can be purchased at the Eco House by appointment or following workshops. Our Eco Shop page on this website outlines all the products we stock for sale.
The Eco House Nursery offers a selection of plants for sale – plants that have been grown in the Eco Garden.
Water Use at Kimbriki's Eco House & Garden
We use rain water tanks to supply water to the Eco Garden and nursery.
Our drip irrigation and micro spray watering system is fitted with an automated weather adjustment rain sensor which shuts down the system when it has rained or is raining. Current Sydney water restrictions allow for the use of automatic watering systems, as long as a rain sensor is fitted to the water controller, for a maximum of 15 mins a day before 10 am and after 4 pm.
Hand watering is done before 10am or after 4pm.
The use of town water for dust suppression is exempt from level 2 water restrictions. At Kimbriki our water trucks use recycled water for the majority of our dust suppression on site.
The Eco Garden
The garden is open Monday – Sunday, 7.00am – 4.30pm (closed Christmas Day and Good Friday). It contains a wide range of native food plants, signage and interpretive information as well as waterless composting toilets you are welcome to wander through any time.
Find out more at: kimbriki.com.au