October 30 - November 5, 2016: Issue 287
Katie Spithill And RPAYC Women's Crew Win Busan Cup: 2016 International Match Racing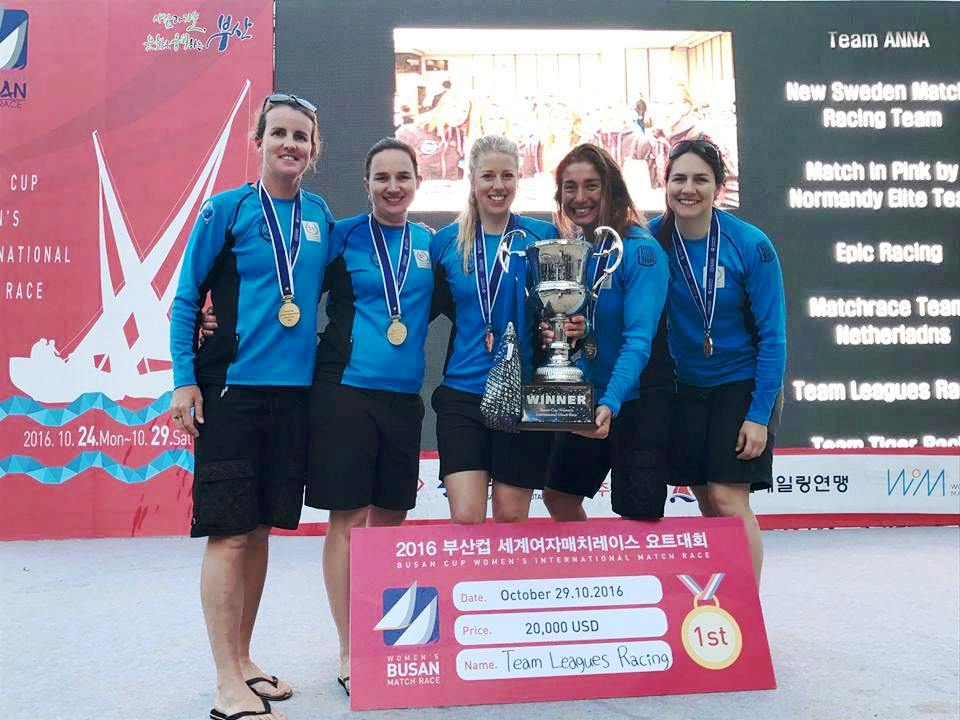 Katie Spithill takes her first Busan victory
October 29, 2016

As one of the most experienced match racing skippers in the world, Australian Katie Spithill has been to every Busan Cup Women's International Match Race since the inaugural event in 2008, except for the single year she had her daughter. But not until Saturday the 29th of October 2016 did she go all the way through to winning in Korea; over previous two-time Busan champion Lucy Macgregor of Great Britain:
"Finally, is all I can say. We've been here for eight years and we're just so happy to take it home today," the Aussie skipper cheers out, praising her crew of Alessandra Angelini, Jessica Eastwell, Kate Lathouras and Stacey Jackson from the Royal Prince Alfred Yacht Club.
The waters just outside the beautiful Haeundae Beach of Korean city Busan offered the most challenging of sailing conditions, as the Busan Cup Women's International Match Race came down the wire with semi finals and final Saturday. In incredibly shifty, puffy and gusty winds, Spithill won her semi 3 – 1 over round-robin winner Claire Leroy, who may have regret her earlier choice of opponent:
"I think the key in the semis was that we had superior boat speed, especially downwind," says Spithill.
"We made too many small mistakes, allowing them to come from behind with the gusts to overtake us" Leroy comments.
In the other semi, Lucy Macgregor faced Swedish 2016 WIM Series Champion Anna Östling, who didn't really seem to have a chance. The World #1 was quite shamefully defeated 3 –0:
"We sailed very, very well there, and made it quite easy for ourselves. That was very pleasant," the British skipper admits.
"As good as our day was yesterday, it was equally bad today. We didn't get the flow at all, didn't have the speed and made too many stupid mistakes" sighs Östling, obviously not very happy at all.
As Macgregor and Spithill met in the final, the Aussie continued her winning streak, taking the first two matches straight and clear:
"By making too many mistakes in the prestarts, I unfortunately showed I'm a little out of practise. The races were sort of done from that point," Macgregor explains.
Nevertheless, with three match points against her, Macgregor managed to break back, taking the next two matches to force a fifth and decisive final match. From the raised position at the Haeundae Beach lighthouse, the spectators could quite easily follow the gusts as they spread over the racecourse, but for the competitors on the water it was a lot harder to keep track of the puffy and shifty winds:
"It was so shifty out there today, so it felt like it could be anyone's race each time," says Macgregor.
The British skipper lost the fifth match by a few boat lengths, letting Katie Spithill and her crew walk away with the victory and 20 000 USD of prize money in this 4th event of the 2016 WIM Series:
"We had the better start and were in control, but it was very hard to match the tacks because of the shifts. Overall we're happy, but obviously it's disappointing to not get a win in that last match. But Katie and her team sailed really well, to take that last win," says Macgregor.
"We had some great crew work and some really smart decisions, and to be honest there were moments in there when you just had to be focused, because it was so shifty. We tried to stay in focus and just push every opportunity, and that paid," Spithill analyses.
With enthusiasm from her win, Spithill promises:
"Given the chance we'd love to be back next year and do the whole WIM Series!"
Previous double World Champion and 2007 World Sailor of the Year, Claire Leroy, defeated Östling 2 – 0 to take the petite final and 15 000 USD:
"I think we did a great job this week and sailed very well, but not good enough to win the regatta. It was really fun to be back and see the new generation of women match racing sailors," Claire Leroy concludes.
The next and final event on the 2016 WIM Series is the Carlos Aguilar Match Race, in St Thomas, U.S. Virgin Islands, December 1 – 4. Anna Östling and her crew has already secured the overall WIM Series win and the coveted Terry J Kohler perpetual trophy, but behind the Swedish winners a wasp's nest of skippers are in the run for a podium finish. Pauline Courtois (FRA), Caroline Sylvan (SWE), Stephanie Roble (USA), Camilla Ulrikkeholm Klinkby (DEN) and Renée Groeneveld (NED) can all get their share of fame and honour, as well as a portion of the generous 50 000 USD WIM Series prize purse.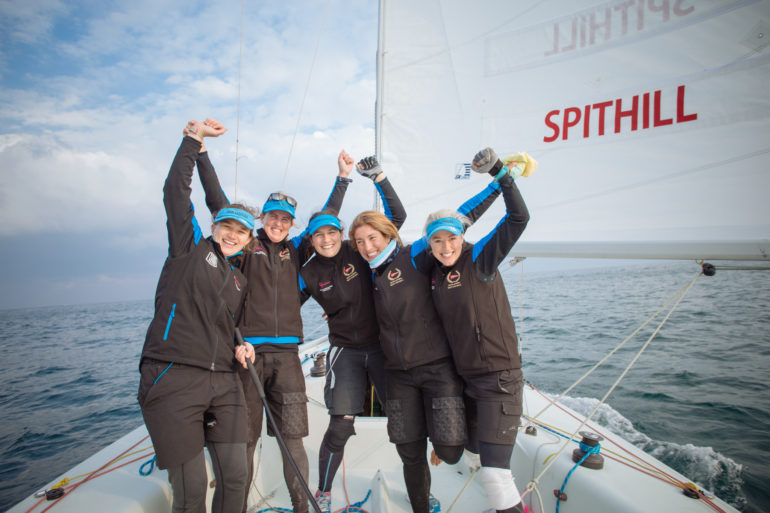 Results in the Busan Cup Women's International Match Race, the 4th and penultimate event of the 2016 WIM Series (skipper, crew, country, WIM Series points, prize money):
1. Katie Spithill, Alessandra Angelini, Jessica Eastwell, Kate Lathouras and Stacey Jackson, AUS, 25, 20 000 USD.
2. Lucy Macgregor, Annie Lush, Mariana Lobato, Elodie Mettraux and Mary Rook, GBR, 22, 15 000 USD.
3. Claire Leroy, Marie Riou, Claire Pruvot, Julie Gerecht and Morgane Gautier, FRA, 20, 12 000 USD.
4. Anna Östling, Hanna Klinga, Linnéa Wennergren, Marie Berg and Annika Carlunger, SWE, 18, 10 000 USD.
5. Trine Palludan, Lea Richter Vogelius, Josefine Boel Rasmussen, Lærke Ilsø Nørgaard and Joan Vestergaard Hansen, DEN, 16, 9 000 USD.
6. Stephanie Roble, Maggie Shea, Aimee Famularo, Elizabeth Shaw and Janel Zarkowsky, USA, 14, 8 000 USD.
7. Pauline Courtois, Maelenn Lemaître, Bérénice Delpuech, Sophonie Affagard and Juliette Le Friec, FRA, 12, 7 000 USD.
8. Caroline Sylvan, Malin Holmberg, Anna Norlander, Frida Langenius and My Karlsten Sfiris, SWE, 10, 6 000 USD.
9. Renée Groeneveld, Annemieke Bes, Lobke Berkhout, Claire Blom and Marcelien de Koning, NED, 8, 5 000 USD.
10. Diana Kissane, Jane Butler, Clara Hynes, Tara Flood and Jennifer Andreasson, IRL, 7, 4 000 USD.
11. Milly Bennett, Alice Tarnawski, Rosie Lee, Stephanie Doyle, Carrington Brady and Tara Blanc-Ramos, AUS, 6, 2 000 USD.
12. Gyeong Jin Lee, Ji A Kim, Min Ju Kim, Da Eun Yang and Da Som Park, KOR, 5, 2 000 USD.
Results in the final:
Katie Spithill, AUS – Lucy Macgregor, GBR, 3 – 2
Results in the petite final:
Anna Östling, SWE – Claire Leroy, FRA, 0 – 2
Semi final results:
Katie Spithill, AUS – Claire Leroy, FRA, 3 – 1
Anna Östling, SWE – Lucy Macgregor, GBR, 0 – 3
Australia had two teams lead by Skippers from Pittwater's Royal Prince Alfred Yacht Club:
Team Tiger Racing
Skipper - Milly Bennett
2016 Team: Milly Bennett – skipper, Alice Tarnawski – main/tactic, Rosie Lee – trimmer, Stephanie Doyle – trimmer, Carrington Brady – pit, Tara Blanc-Ramos – bow
22 years old student Milly Bennett has been sailing out of the Royal Prince Alfred Yacht Club in Sydney since she was eight. She excelled in dinghy sailing attending an Optimist World Championship aged 13, then placed 9th in the 2011 Laser 4.7 Worlds and 4th in the Laser Radial Youth Worlds the following year. In 2012 Milly took on a new challenge in her yacht club's Youth Development program in match racing. After two years as runner-up, she's now the defending Australian Champion. Busan is her first 2016 WIM Series event.
Team Leagues Racing
Skipper - Katie Spithill – AUS
2016 Team: Katie Spithill – skipper, Alessandra Angelini – main/tactic, Jessica Eastwell – trimmer, Kate Lathouras – trim/pit, Stacey Jackson – bow
2014/2015 Team: Katie Spithill – skipper, Alessandra Angelini – main/tactic, Jessica Eastwell – trimmer, Kate Lathouras – trim/pit, Aimee Famularo – trim/pit, Stacey Jackson – bow
Raised in a real sailing family in Pittwater near Sydney in Australia, in a home only to be reached by boat, it's no wonder that 34 years old Katie Spithill has a number of National Championship titles in various classes. Sometimes she goes F 18-sailing with her husband, or in her foiling Moth, but her most fun sailing experience was with brother James in the back of an AC 45. Katie has won several ISAF Grade 1-events, and has a number of runner-up scores in Busan. Earlier in 2016 she ran a marathon to keep fit.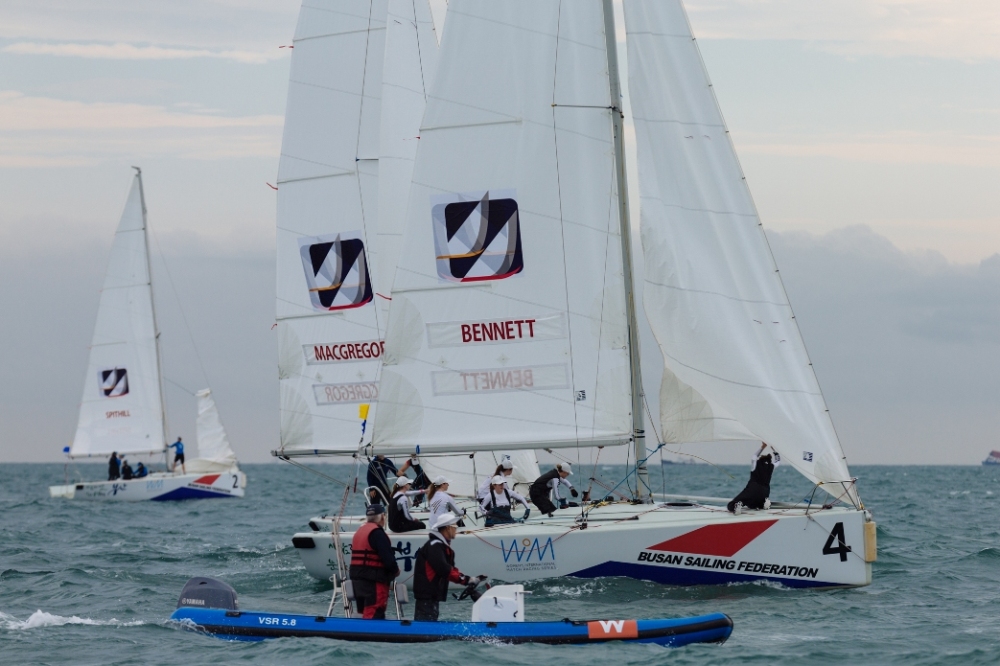 61 sailors in 12 crews from 9 countries to raced
The 9th edition of the Busan Cup Women's International Match Race began on Tuesday with the round-robin, to be raced on the same waters just outside Haeundae Beach, as was successfully used for the 1988 Olympic regatta:
"Since its inception in 2008, the Busan Cup has become a jewel on the international calendar for women's match racing. Each year it showcases Busan's ability to host world-class sailing events, and shines a spotlight on the tremendous excitement of championship level women's match racing" says WIM Series Manager Liz Baylis.
The high level competition of the Women's International Match Racing Series (WIM Series) – the only professional sailing series for women – attracts the world's best women sailors. At every event Olympians, National Champions, World Champions and Volvo Ocean Race veterans fiercely compete alongside rising young stars for gold and glory.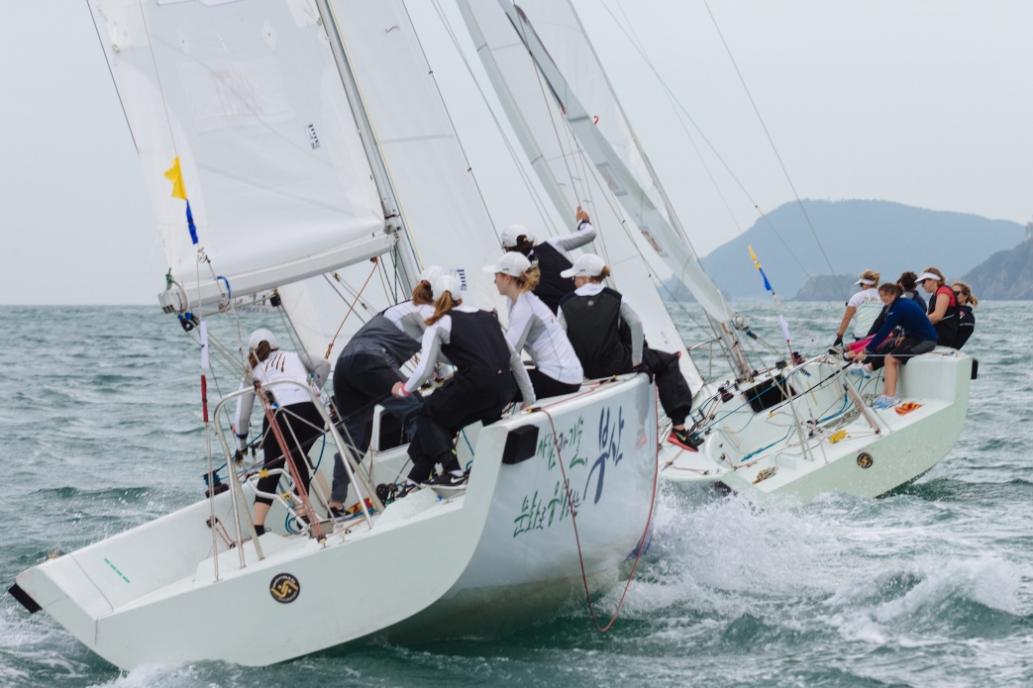 Leroy, Macgregor, Östling & Spithill to semis
– and Östling secured early 2016 WIM Series title
October 28, 2016

It was cold, rainy, wet and not very windy, but yet an eventful and really exciting Friday on the waters just outside Haeundae Beach in Busan, Korea. Claire Leroy (FRA), Lucy Macgregor (GBR), Anna Östling (SWE) and Katie Spithill (AUS) went through to the semis. And Östling secured her 2016 WIM Series title:
"We've wanted to win the WIM Series for so many years, and finally we made it. I'm so proud of my team," the Swedish skipper cheers.
Early Friday morning French round-robin winner Claire Leroy surprised most people at the Busan Cup Women's International Match Race, as she chose compatriot Pauline Courtois to be her quarterfinal opponent. Swedish skipper Caroline Sylvan, who finished the round-robin on 8th place, would perhaps have been a more natural choice:
"We chose between Pauline and Caroline. I haven't raced either of them very much, but I think Caroline has more experience in bigger boats, as here in Korea, so that's why we picked Pauline for our quarterfinal," she explains.
Obviously Leroy's move was right, since she defeated Courtois in two straight matches, for a slot in Saturday's semi final:
"The matches were close, but maybe a little bit like a lottery. Weak winds, occasional puffs and a lot of big wind shifts made it very hard today," says Leroy.
Sylvan faced Lucy Macgregor, and was down 0 – 1 after the first match when a private puff took her around the British team on the last run, for victory in their second match. Before that, two of their matches had been abandoned in the light winds, so they got a lot of prestart exercise. In the last and decisive match, Macgregor broke back to secure her semi final ticket 2 – 1:
"We had to work hard for that today, and I think we deserved to win. We won all five starts and were ahead also in the abandoned races. And when Caroline came from behind it was a tossing coin situation," Macgregor comments.
Australian Katie Spithill raced Trine Palludan, substitute skipper for Danish Team Ulrikkeholm, and had to fight really hard over five matches to advance to the semis with a 3 – 2 score. In the weak winds and shifty conditions Palludan found a speed advantage, forcing Spithill to use every conceivable tool in her match racing skill box. The Aussie had to cause her opponent no less than four penalties to be able to make it:
"I'm happy for the tight racing against Trine, since it taught us a lot for the semis," says Spithill.
"I think we sailed really well today, but we fell on lack of match racing experience," Palludan admits.
By defeating American Stephanie Roble 3 – 1 in their quarterfinal, World #1 Anna Östling didn't only get her Busan semi final slot. Her advancement also gives her a top four finish in this 4th event, meaning no one else can threaten her WIM Series 2016 title. Never before has a skipper won three WIM Series events in one year, but Anna Östling conquered Helsinki, Lysekil and Sheboygan to gain maximum 75 points before Busan. And she declares that she's not finished yet:
"By no means. Tomorrow we will do our utmost to take our first victory here in Busan too," she concludes.
The Busan Cup Women's International Match Race will be concluded with Saturday's semis and final.
_________________________________________
Spithill won light and tricky day in Busan
– but Palludan keeps overall lead in 4th WIM Series event
October 26, 2016
Australian long-time match racing skipper Katie Spithill prepared for her yearly Busan appearance by running a marathon. Her Wednesday on the waters outside Haeundae Beach was a bit less gruelling than that, with three straight wins and no losses. Dane Trine Palludan was undefeated before losing her last match of the day to the Aussie team:
"In the light winds it was a long day for three wins, but definitely worth it" Spithill smiles.
"Dynamic Busan" is the slogan for the 1988 Olympic sailing venue, but the Wednesday sailing conditions just outside the beautiful Haeundae Beach unfortunately did not live up to that saying at all. Although Principal Race Officer Christophe Gaumont managed to get one flight of three matches going, in very light conditions in the morning, only two of them were finished. The third match had to be abandoned as the wind completely died, and a few hours of waiting on a glassy bay followed. Not until after lunchtime could the missing third match finally be re-sailed. After that three more flights were run, still in light conditions, before sunset.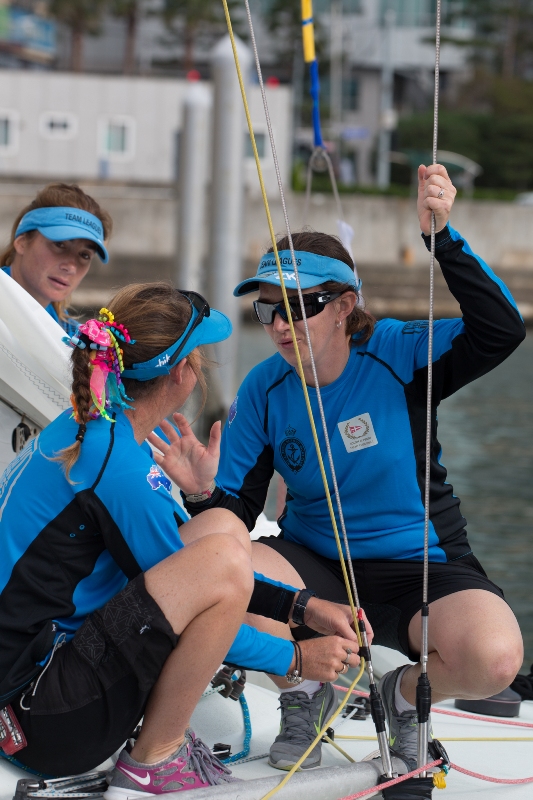 In her first match of the day Katie Spithill and her Team Leagues Racing met Team Ireland Women's Match Racing, led by Diana Kissane. As the Irish skipper was late and stopped by the Aussies from properly entering the prestart, she got her first penalty, followed by one more in a dial-up situation between the two boats. Spithill kept pushing her opponent, forcing Kissane to yet another mistake as she tried to quickly gybe around, but ended up not keeping clear:
"With three penalties before the start gun went off, the Irish were black-flagged and we took the match without even racing on the course" Spithill explains.
Spithill's second match against local hero Gyeong Jin Lee of the Busan Sailing Federation was also won quite easily, as the Australian team had a comfortable lead from start to finish. Then they faced previously undefeated Team Ulrikkeholm, with substitute skipper Trine Palludan:
"We had to head back below the starting line as we touched it too early, and that mistake gave Spithill three to four boat lengths lead already from the beginning. Then we tried the starboard side of the course, hoping for a favourable wind shift or more pressure, but found neither. Despite a really fast last downwind, where we closed the gap to maybe two boat lengths, we didn't manage to catch her" Palludan describes the race.
Renée Groeneveld and her Matchrace Team Netherlands began the Busan Cup Women's International Match Race with three losses and just one win Tuesday, but improved their score a bit by winning their only Wednesday race:
"Yesterday we struggled with material failures and crew work, trying to get used to each other and to the boat. Today we had a better day in the light winds, leading our match over Kissane from start to finish" says Groeneveld.
The round-robin stage of the Busan Cup Women's International Match Race continues Thursday on the beautiful waters outside Haeundae Beach.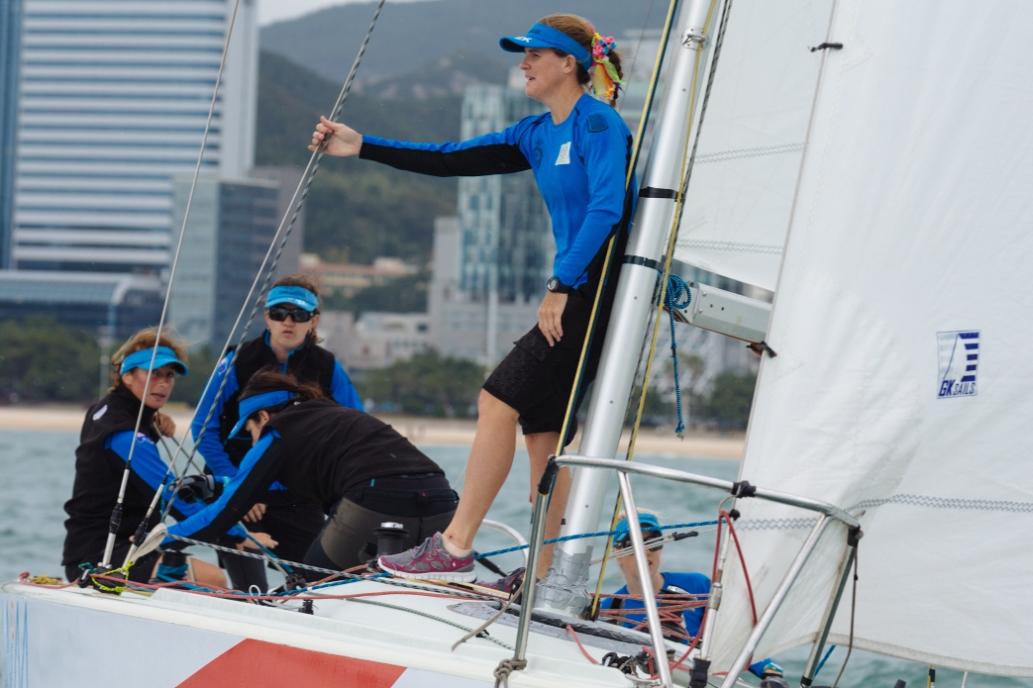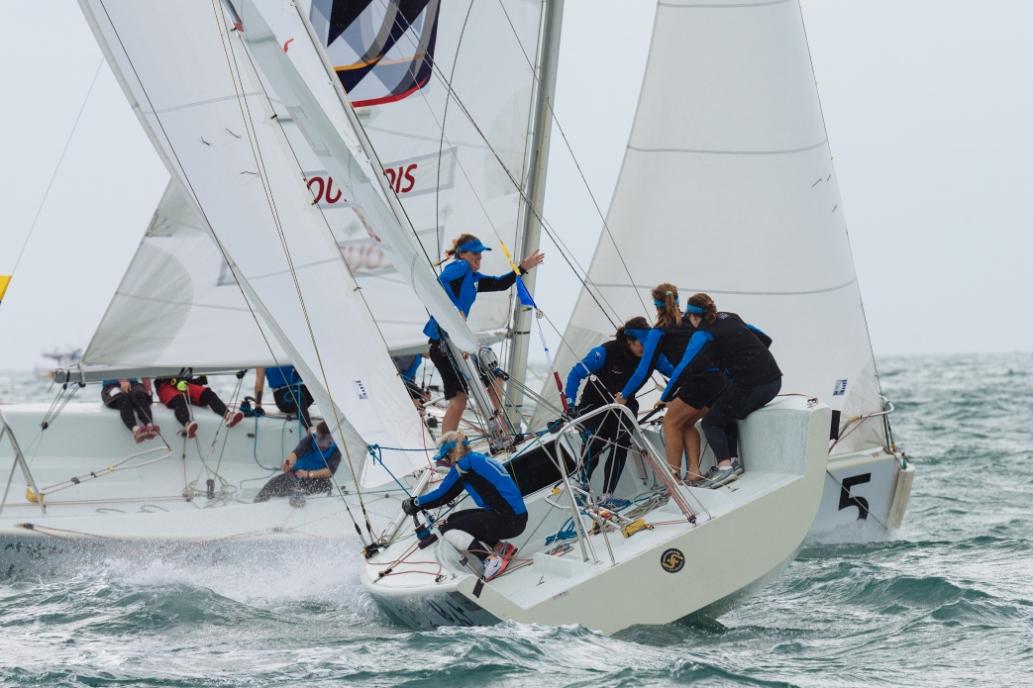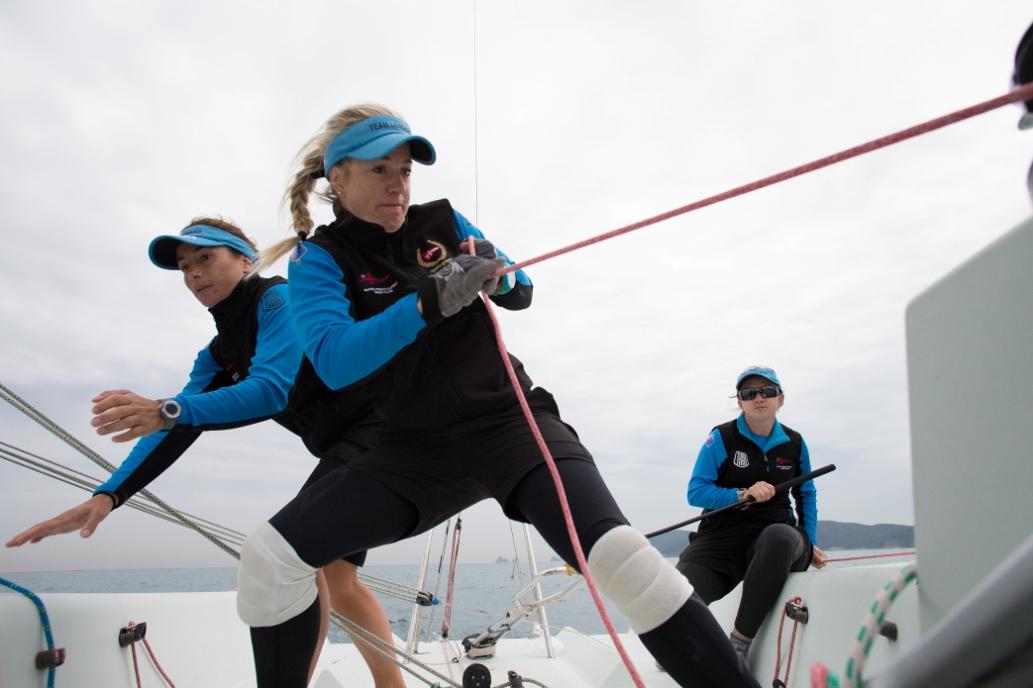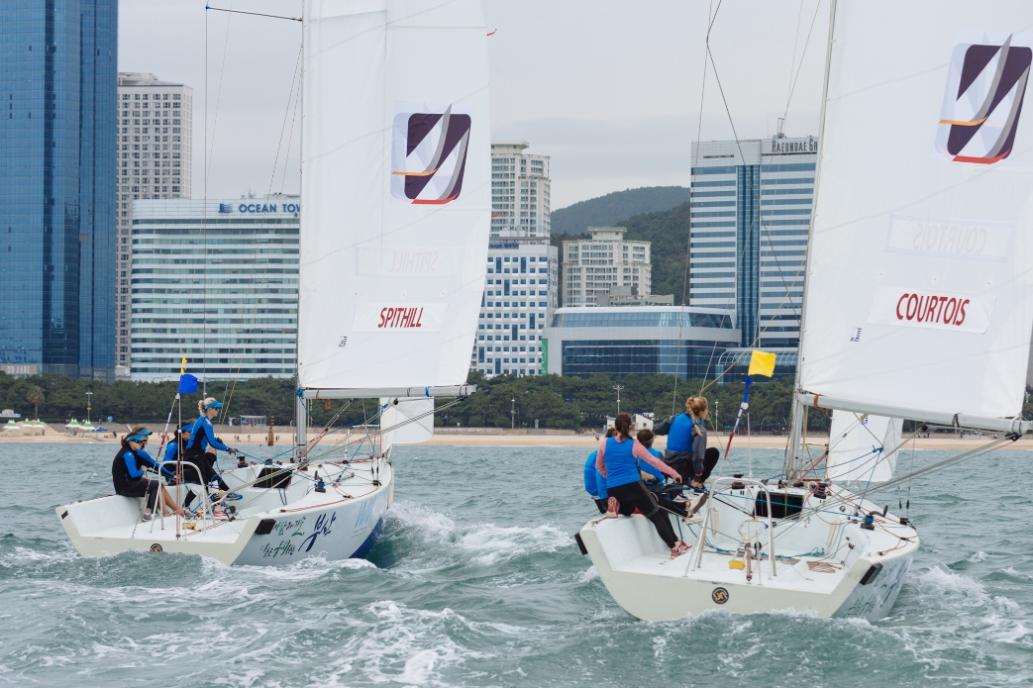 Reports by Joakim Hermansson/Women's International Match Racing Series - Photos by and courtesy Women's International Match Racing Series