June 11 - 17 2023: Issue 587

John McFadden
World Food Champion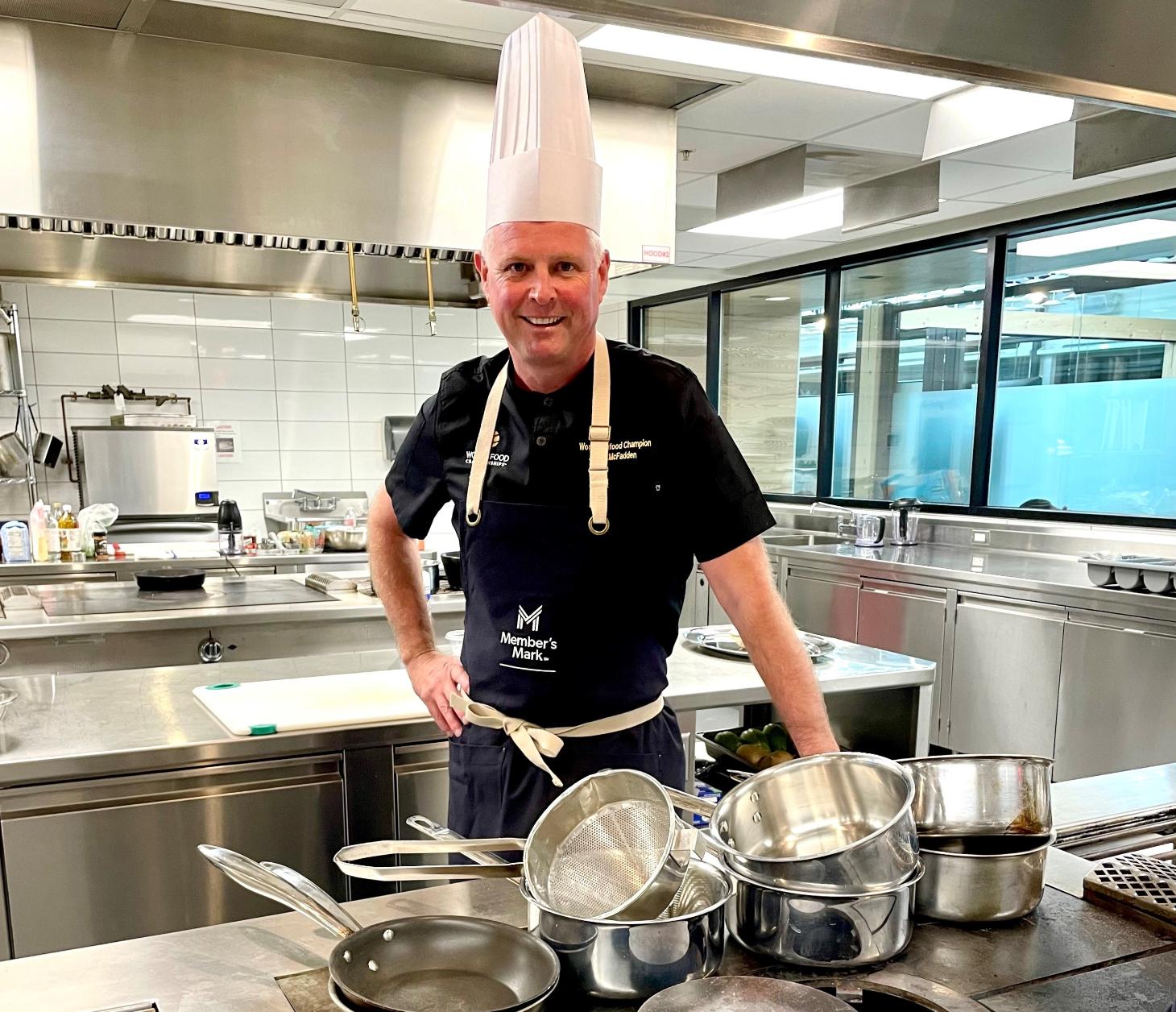 Mona Vale Chef John McFadden claimed the coveted title of World Food Champion at the 10th World Food Championships' Final Table in Bentonville, Arkansas on Sunday, May 21st, picking up $US100,000.
Touching down in Sydney he was greeted by his family with 'congratulations' signs at the airport and by neighbours with Australian flags in their home street.
John, who won the category title of World Seafood Champion at WFC's Main Event in Dallas last November (2022), went on to best nine other category champions in a three-round culinary gauntlet designed to test skills, technique, creativity and time management.
"Exhausted", is how the well-liked Aussie chef described his experience when asked about the win.
The last challenge was to cook courses three and four from a five-course tasting menu.
"My course three-dish was 'surf and turf' prawns, scallops, and chorizo, cauliflower puree, roast crab and prawn sauce," John explained
"The fourth-course dish was seared lamb, roast heirloom carrots, spiced carrot puree, dukkah, salted yoghurt and hazelnuts."
John said he was stoked to have won.
"I won the final by 10 points across five judges with a score of 95," he said.
John was the first non-American to ever win the WFC title in 10 years of the competition. The former Pittwater RSL Club executive chef took out the title after defeating three teams of three chefs, and creating two winning dishes from a choice of four.
John will replicate the World Food Championships menu at Mona Vale Surf Club's The Basin restaurant, including the winning dishes that helped secure him the $US100,000 first prize.
All four of the dishes, plus a dessert from The Basin Dining Room, will be showcased at the $145pp dinner at Mona Vale Surf Club on Wednesday 28th of June and Wednesday 5th of July.
The featured courses at The Basin will be:
1st Course: Prawn & snapper ravioli, scallops, pea puree, salmon caviar & prawn butter
2nd Course: Confit salmon, baby beets, pickled cucumber & squid ink
3rd Course: Surf n Turf: Prawns, chorizo & scallops, cauliflower puree, roast crab & prawn sauce
4th Course: Seared lamb, roast heirloom carrots, spiced carrot puree, dukkah, hazelnuts & salted yoghurt
5th Course: A dessert from the Basin menu
For bookings: www.basindining.com.au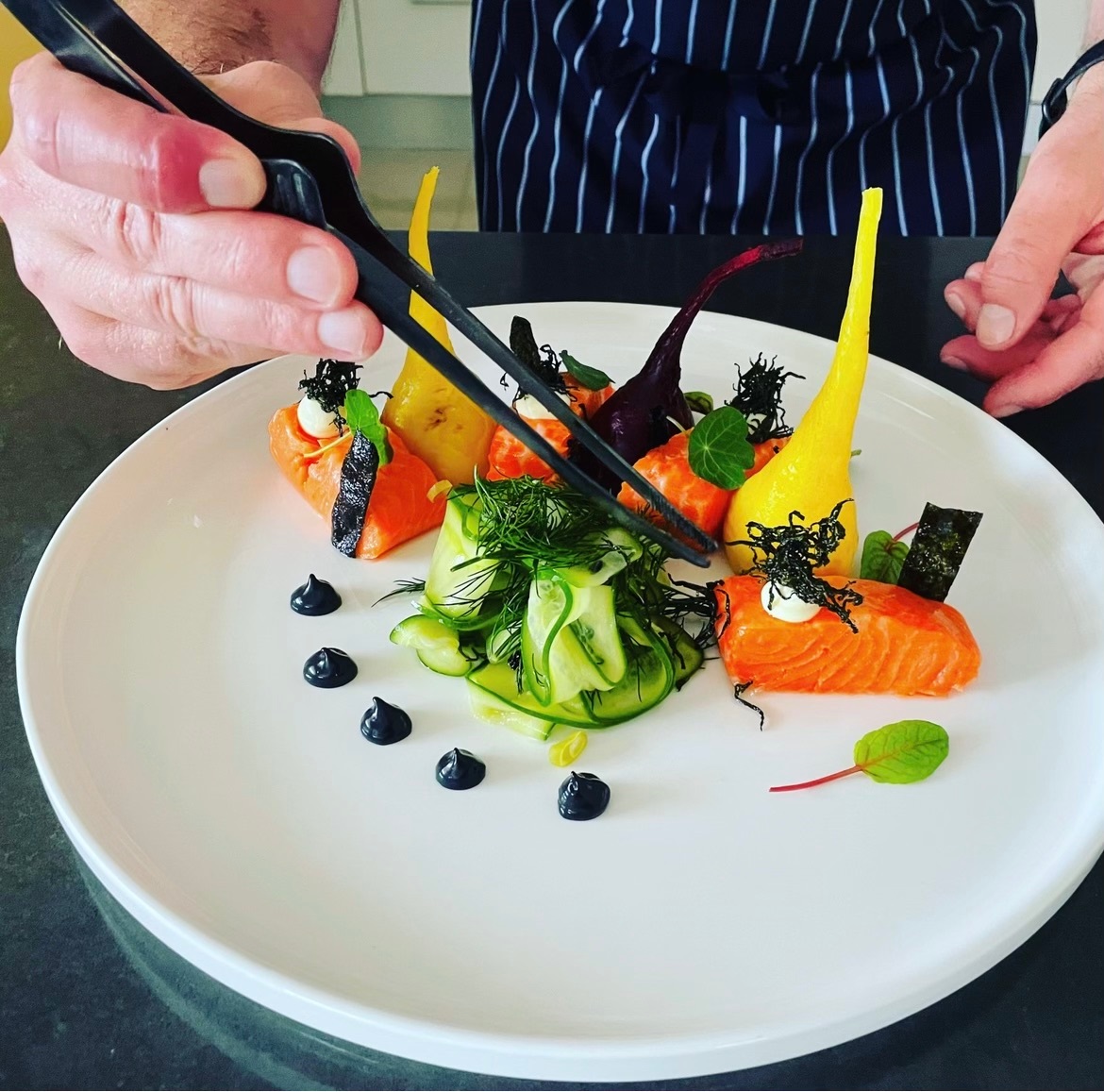 John McFadden's winning dish of confit salmon, baby beets, pickled cucumber & squid ink.

John commenced his career in the kitchen at the age of 12, starting as a humble kitchen hand. He commenced his apprenticeship aged 15, at The Lantern Palace Wamberal before completing at La Mer Fine Dining at Peppers on Sea at the age of 19. John moved quickly through the ranks with postings at notable restaurants including the two-hatted Grand Fine Dining Room at The Windsor Hotel, Hayman Island and Xu Bistro at the Hyatt Regency where he won best Hotel Dining Restaurant in Australia.
Along with Carol Selva Raja he was one of the first and youngest Australian chefs to be invited to cook at The James Beard Foundation in New York for 80 New York food critics. During recent years has been a Group Executive Chef level overseeing multiple operations and teams nationwide delivering varied food concepts and training programs.
John McFadden is one of the great all-rounders of the hospitality industry. From Fine Dining, Hotels, QSRs, Catering Companies and busy club spaces (Executive Chef at Pittwater RSL Club in 2016) to helping providores and consulting to suppliers and industry McFadden is a highly-motivated chef whose attention to detail is well-known industry-wide. He is a great communicator, mentor and motivator who loves to share his broad experience with keen apprentices and rising chefs who aim to have the same exacting standards that John holds in high regard.
John has been the National Chairman of Judges for Chef of the Year at Foodservice Australia for a decade, he has also assisted in the judging process for Bocuse d'Or Australia, to select the Australian Culinary team. He was recently invited by the founding Board of Women in Hospitality to be a culinary mentor for their program.
''Having 38 years within hospitality I provide training and development courses for secondary schools and assist with their transition into workplace. I offer mentor opportunities for young chefs who require assistance on their journey. Along with menu development for restaurants always happy to assist where I can.''
John is also an Anti Cyber Bullying Ambassador with Starshell Student, which addresses students' social problems through, inappropriate incoming and outgoing messages and provides guidance for students and parents to overcome the inappropriate messages.
John was also approached by Typsy to design and present an Introduction to a kitchen series which is now live to over 100 countries worldwide. John has spent time as a BDM for a fruit and vegetable providore working closely with farmers, growers and understanding the dynamics of getting produce from farms to the kitchen door.
Today he is National Business Development Manager at Squizify, a digital food safety program that provides tools for food safety management, including temperature monitoring, compliance checks, and corrective action tracking. It is designed to help food service businesses and restaurants comply with food safety regulations and prevent foodborne illness.
This Issue a chat with Pittwater's, and Australia's, first ever World Food Champion.
John, congratulations on winning the World Food Championships – you focussed on seafood?
Yes. One of the categories was Seafood. Obviously we are quite fortunate here in Australia with the availability of and the exposure to great quality seafood. I thought there could be nothing better than to showcase to the world what we can do with it.
You have been involved in promoting Sustainable seafood and fish on our local menus. When did you get involved with that?
This is something I've supported throughout my career through contacts with farmers and suppliers. It is really important t understand where your produce is coming from, how it is raised or farmed. In order to ensure the sustainability and quality of produce we need to support those practices which will allow us to use these products into the future.
Having watched numerous American competitive cooking shows where you end up screaming at the television; 'quick, move that pan off the fire, you better pull that out of the oven now it's smoking' or 'oh no, she's dropped it' and 'plate up! plate up! You're running out of time, get something on the plate!' – how did you cope with the pressure that comes in the home stretch?
(John laughs) it's actually quite interesting as I competed against teams of 3 and I did it solo. I had the opportunity to bring a team, but I started out when I won the World Seafood Championship as an individual so I thought I'd finish what I started. I'm very driven, very passionate, very focussed. Without a doubt there's a lot of research and work behind the scenes, I reached out to farmers, suppliers and took the best with me to do the best. I started my research 4 or 5 months ago, so it's not as though I just rocked up and cooked food – there was a lot of legwork in the background, a lot of support from family and friends and suppliers to deliver the best I could.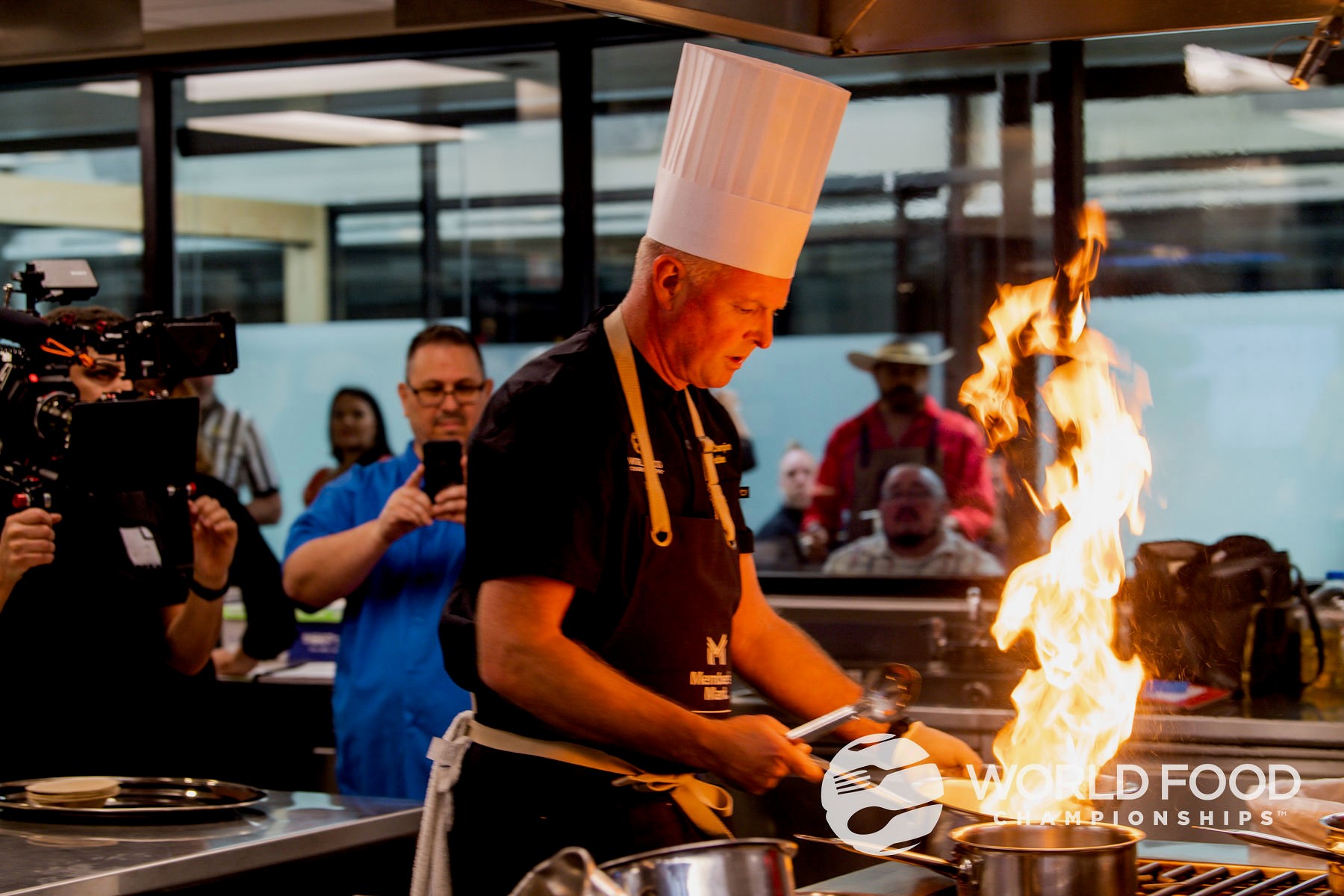 John, you won the category title of World Seafood Champion at WFC's Main Event in Dallas last November?
Yes, I was the first international entrant to do so.
"The final was intense," McFadden told Club Management after his November 2022 win. "One hour, 30 minutes to cook 11 plates, one show plate, 10 sample plates. The turn-in window opens at one hour, 20 and closes bang-on one hour, thirty. If you're late, you're disqualified.
"What I didn't realise is you could have teams of two or three in the kitchen and I was the only one cooking on my own which makes the victory sweeter. Everyone watching, even competitors, said I was a machine and clinical around the kitchen."
When you won the WFC Final you were met at the airport by family with posers, then again in your home street there were Australian flags out and people waving – that must have been nice?
Yes, I've been very fortunate – I have a very good fan base and a lot of support and encouragement. To do anything in the US is huge, the market is just so extensive there, so it was nice to put Australia on the map and to demonstrate to people that if you work hard there are fruits to be gained.
You have also given your time to mentor the next generation of chefs – how did you get involved in that and why is it important to you?
Early on my career, when I was around 26, I met a lady by the name of Carol Selva Raja. I was a Sous Chef in Sydney at the time and she loved my food at the time and p[icked me up and took me over to the James Beard Foundation in New York and I was working there in the bistro. What I loved about her was I was just in a kitchen somewhere and she acknowledged what I was doing, took me under her wing. From that moment onwards it was a huge learning curve for me. This generosity also made me determined to give back to tomorrow's generation. Carol gave me an opportunity, something I will be forever grateful for and something which shaped what I would do. My career from that time on was to incorporate this into my approach and actions; high school programs, integration and transition programs, high school into workplace.
I would encourage students to come in as part of their work experience – we would make it fun. When you work from a management level you still have to engage with the young ones coming up, share you passion and insights. It's not for everybody, this industry, but you have got to be given a good shot – and if you love what you do, it's all there to be had.
I love doing this – love making it fun and enjoyable – even just explaining to them why they're doing something. It's not fun for anyone to peel beans for an hour – but tomorrow you might do it in 45 minutes, and guess what?; That's called continuous improvement. It's no different to someone going to the track do 100 metres and shaving off .01 their time. And that's exactly what it's about; instilling a desire for continual improvement.
That's not your only contact with the next generation though – you are also an Anti Cyber Bullying Ambassador with Starshell Student?
Yes, I work for a company in that space and promote this through schools and internationally. Starshell Student is a digital monitoring tool that aims to protect students and children from cyber bullying and educate them on how to be responsible social media users. It has several key features and helps users avoid sending or receiving hateful messages. The aim is to keep kids safe online and to promote good mental health and wellbeing via the online program.
So anything to do with schools and kids and around food and improving your lifestyle is something that's really close to me.
Are you working in a kitchen at present?
No, I actually stepped out of the kitchen about 4 years ago and now work for a digital food safety company called Squizify. This food safety program provides tools for food safety management, including temperature monitoring, compliance checks, and corrective action tracking. It is designed to help food service businesses and restaurants comply with food safety regulations and prevent foodborne illness.
So what happens is all your food processes that are paper based gets digitised – so fridge alerts for example; if your fridge goes out of the range you get a text message in real time rather than waling into your business the next day and finding out you just lost 10 thousand dollars of stock. If you have multiple outlets you can be anywhere and see what's going on in real time – so procedures and tasks; it will send you an alert telling you that task is due and covers everything from opening times right down to cleaning toilets and emptying rubbish bins.
It's the way of the future really and great for those coming up in the industry today who love devices – this simplifies things while at the same time making more efficiency in the business.
You have achieved some amazing plusses during your almost 40 years in the industry by now – what's next – where are you heading?
After taking the title in the US I'm just absorbing that for the moment and then 2, seeing what comes from it.
I've just had a chat with Doug at The Basin Dining Room at Mona Vale and we're doing an event on the 28th of June and July 5th to showcase all the dishes, a five-course tasting menu. This is a local restaurant, I'm local, and this is supporting the community on what can be a quiet night for local dining, so I'm looking forward to ding that in the immediate next.
What are your favourite places in Pittwater and why?
My favourite place is the beach and the water – so Mona Vale Beach for me. This is a great community beach and has a wonderful family feel.
What is your 'motto for life' or a favourite phrase that you try to live by?
Tomorrow is a new day.
Why: because if you had a bad day today you can have a better one tomorrow!
John has partnered with Doug Fraser, Kylie Franks Fraser and the Basin Dining Room to create a 5 course tasting menu showcasing the award winning dishes. The event will be held on Wednesday June 28th and Wednesday July 5th.
For bookings contact The Basin Dining Room, overlooking glorious Mona Vale Beach, at: www.basindining.com.au
The next World Food Championships will be held in Australia, at the Melbourne Convention Centre from 30 June to July 2 and at Sydney Showground from 22-24 September.
The World Food Championships is the largest competition in Food Sport, where culinary competitors of previous events convene for a chance at winning the ultimate food crown and a share of hundreds of thousands of dollars in prize money. The World Food Championships is also the springboard for many up and coming culinary stars and home cooks as they seek TV fame through many well-known food shows and acting opportunities.
CONGRATULATIONS JOHN!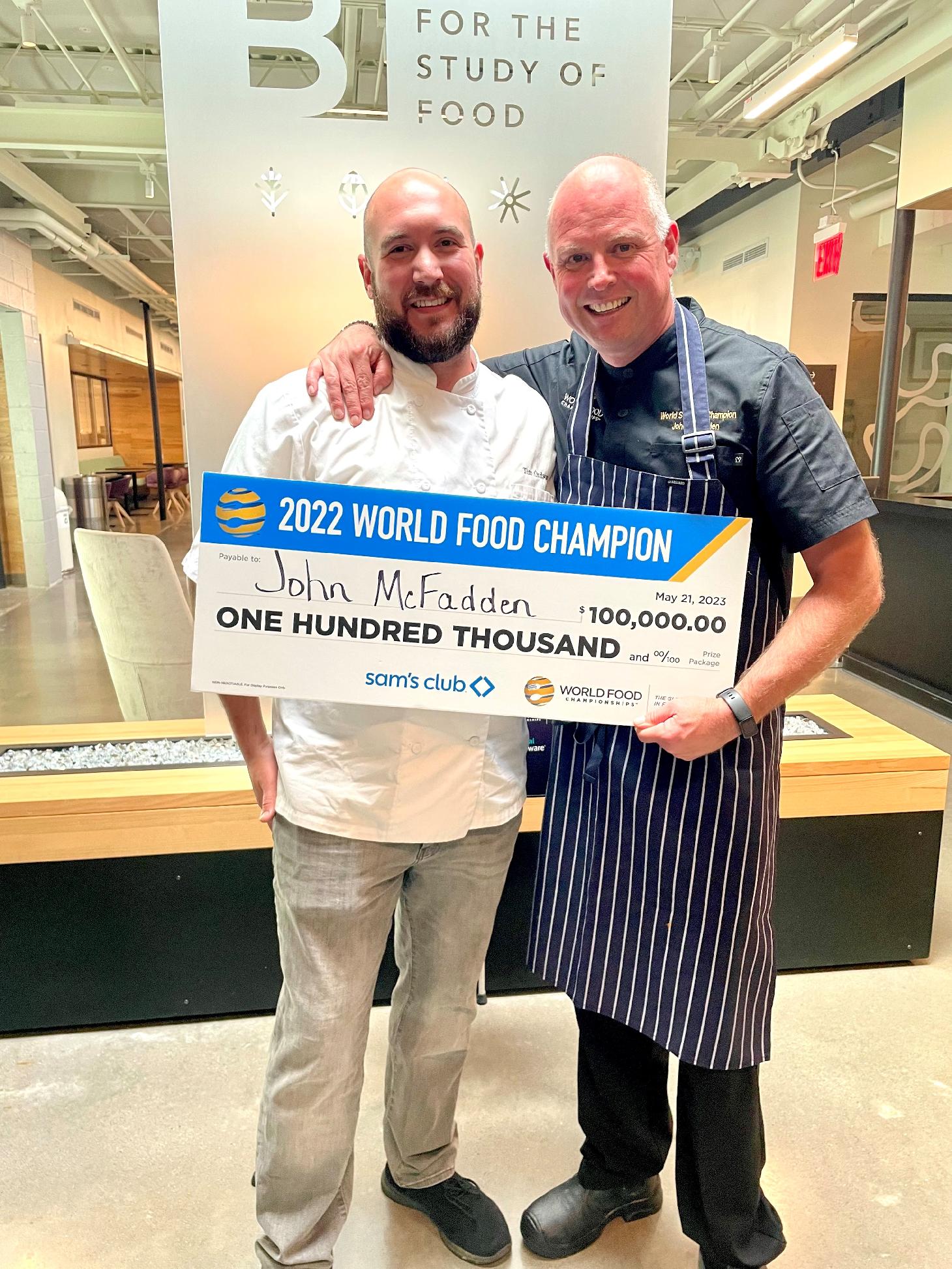 John standing with chef Timothy Ordway, Executive Chef at Crystal Bridges Museum of American Art (n Bentonville, Arkansas0, after taking out the World Food Championships overall title.