May 28 - June 3, 2023: Issue 585
mona vale's John McFadden Wins World Food Championships!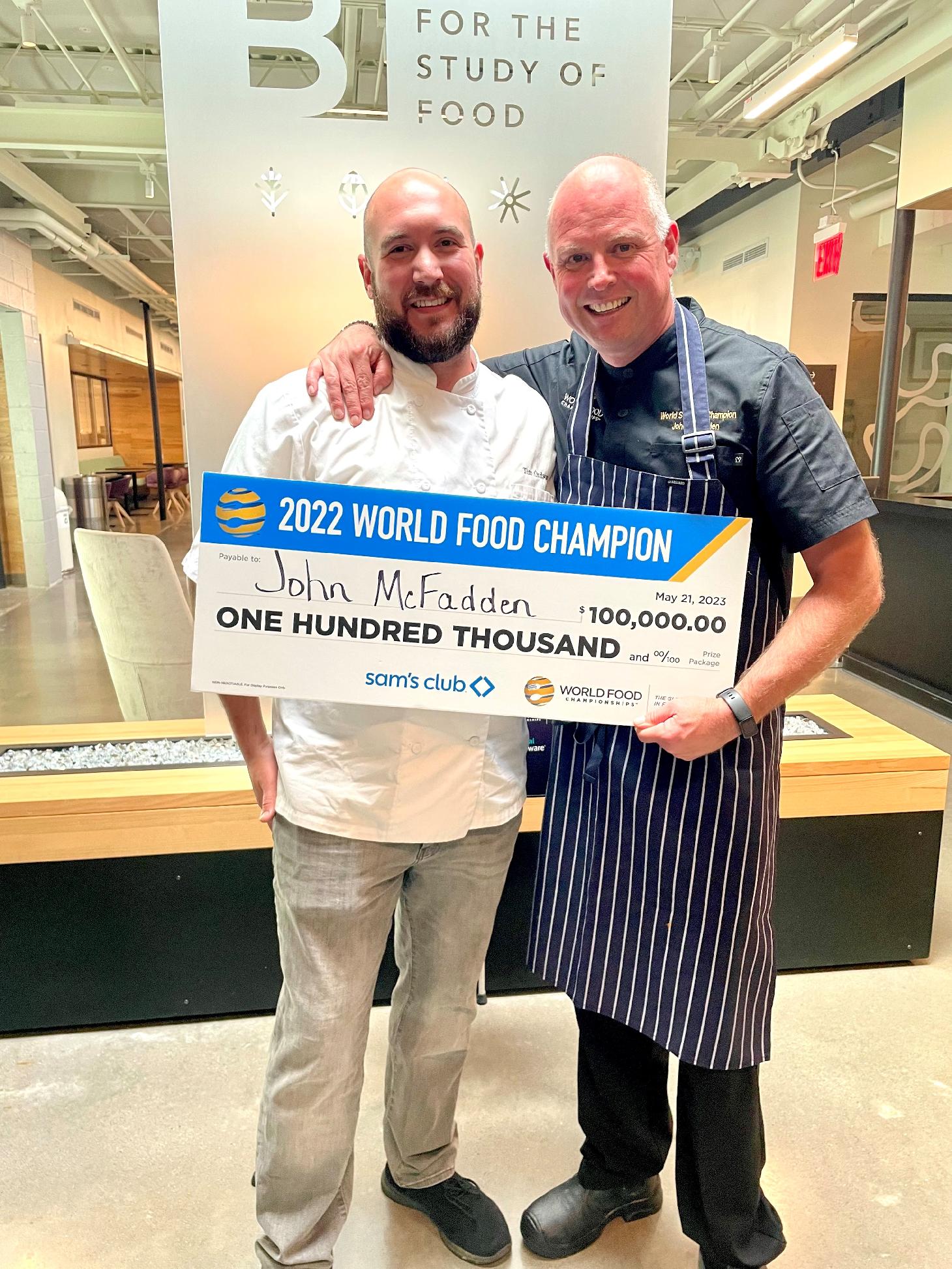 John standing with chef Timothy Ordway, Executive Chef at Crystal Bridges Museum of American Art (n Bentonville, Arkansas0, after taking out the World Food Championships overall title.
Mona Vale Chef John McFadden claimed the coveted title of World Food Champion at the 10th World Food Championships' Final Table in Bentonville, Arkansas on Sunday, May 21st, picking up $US100,000.
Touching down in Sydney he was greeted by his family with 'congratulations' signs at the airport and by neighbours with Australian flags in their home street.
John, who won the category title of World Seafood Champion at WFC's Main Event in Dallas last November, went on to best nine other category champions in a three-round culinary gauntlet designed to test skills, technique, creativity and time management.
"Exhausted", is how the well-liked Aussie chef described his experience when asked about the win, which saw him go up solo against three teams of three across three challenges, two of which were elimination challenges.
The last challenge was to cook courses three and four from a five-course tasting menu.
"My course three-dish was 'surf and turf' prawns, scallops, and chorizo, cauliflower puree, roast crab and prawn sauce," McFadden told Club Management from Bentonville, Arkansas, straight after the final.
"The fourth-course dish was seared lamb, roast heirloom carrots, spiced carrot puree, dukkah, salted yoghurt and hazelnuts."
On Saturday morning, May 27th, he told Pittwater Online News he was stoked to have won. It is 10 years since someone outside the US has won the World Food Championships.
"I won the final by 10 points across five judges with a score of 95," he said.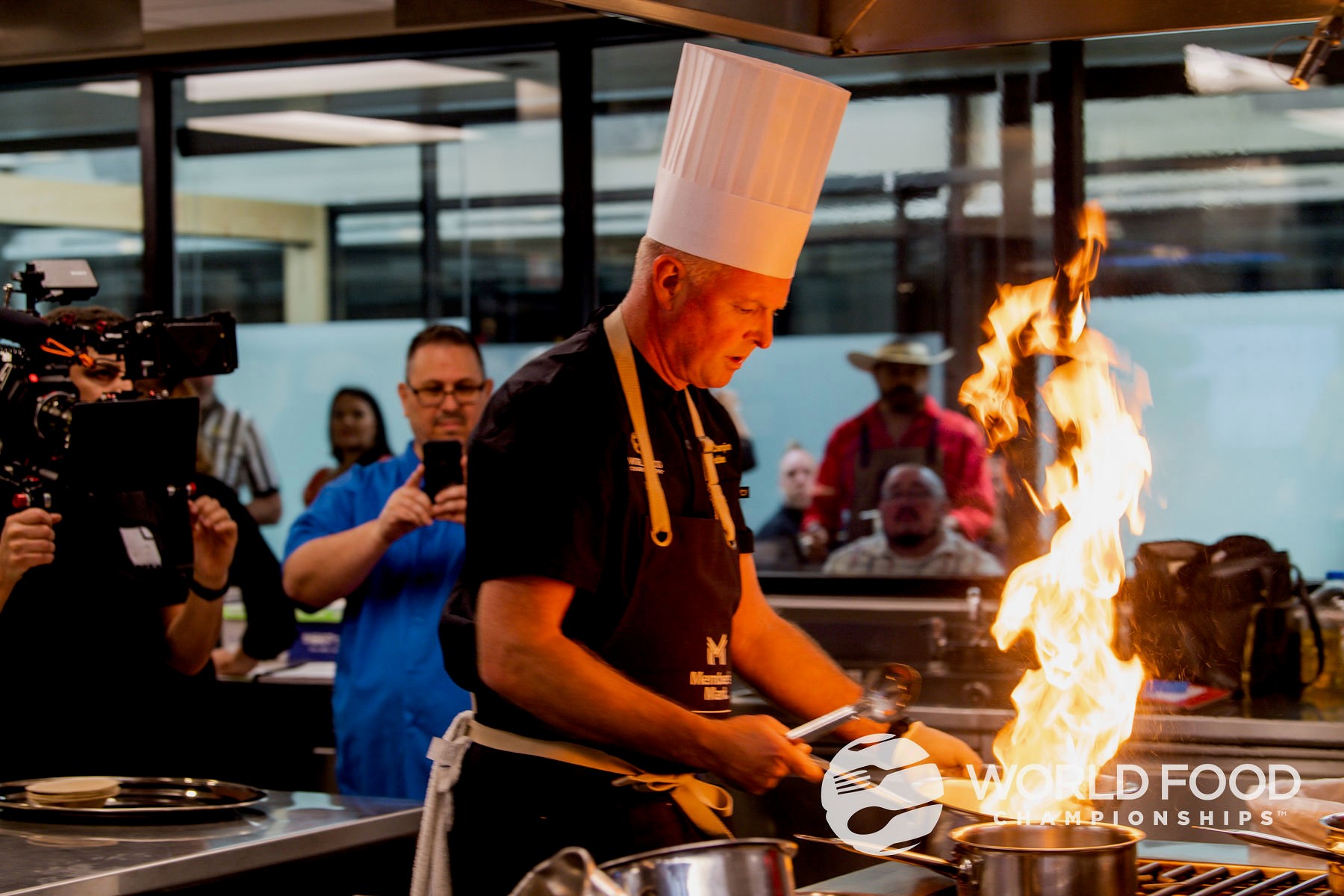 John commenced his career in the kitchen at the age of 12, starting as a humble kitchen hand. He commenced his apprenticeship aged 15, at The Lantern Palace Wamberal before completing at La Mer Fine Dining at Peppers on Sea at the age of 19. John moved quickly through the ranks with postings at notable restaurants including the two-hatted Grand Fine Dining Room at The Windsor Hotel, Hayman Island and Xu Bistro at the Hyatt Regency where he won best Hotel Dining Restaurant in Australia.
Along with Carol Selva Raja he was one of the first and youngest Australian chefs to be invited to cook at The James Beard Foundation in New York for 80 New York food critics. During recent years has been a Group Executive Chef level overseeing multiple operations and teams nationwide delivering varied food concepts and training programs.
John McFadden is one of the great all-rounders of the hospitality industry. From Fine Dining, Hotels, QSRs, Catering Companies and busy club spaces (Executive Chef at Pittwater RSL Club in 2016) to helping providores and consulting to suppliers and industry McFadden is a highly-motivated chef whose attention to detail is well-known industry-wide. He is a great communicator, mentor and motivator who loves to share his broad experience with keen apprentices and rising chefs who aim to have the same exacting standards that John holds in high regard.
John has been the National Chairman of Judges for Chef of the Year at Foodservice Australia for a decade, he has also assisted in the judging process for Bocuse d'Or Australia, to select the Australian Culinary team. He was recently invited by the founding Board of Women in Hospitality to be a culinary mentor for their program.
''Having 38 years within hospitality I provide training and development courses for secondary schools and assist with their transition into workplace. I offer mentor opportunities for young chefs who require assistance on their journey. Along with menu development for restaurants always happy to assist where I can.''
More on that in June.

John is also an Anti Cyber Bullying Ambassador with Starshell Student, which addresses students' social problems through, inappropriate incoming and outgoing messages and provides guidance for students and parents to overcome the inappropriate messages.
John was also approached by Typsy to design and present an Introduction to a kitchen series which is now live to over 100 countries worldwide. John has spent time as a BDM for a fruit and vegetable providore working closely with farmers, growers and understanding the dynamics of getting produce from farms to the kitchen door.
Today he is National Business Development Manager at Squizify, a digital food safety program that provides tools for food safety management, including temperature monitoring, compliance checks, and corrective action tracking. It is designed to help food service businesses and restaurants comply with food safety regulations and prevent foodborne illness.
In more exciting news, after winning the World Food Championships in the USA, John has partnered with Doug Fraser, Kylie Franks Fraser and the Basin Dining Room to create a 5 course tasting menu showcasing the award winning dishes. The event will be held on Wednesday June 28th.
For bookings contact The Basin Dining Room, overlooking glorious Mona Vale Beach, at: www.basindining.com.au
The next World Food Championships will be held in Australia, at the Melbourne Convention Centre from 30 June to July 2 and at Sydney Showground from 22-24 September.
The World Food Championships is the largest competition in Food Sport, where culinary competitors of previous events convene for a chance at winning the ultimate food crown and a share of hundreds of thousands of dollars in prize money. The World Food Championships is also the springboard for many up and coming culinary stars and home cooks as they seek TV fame through many well-known food shows and acting opportunities.
CONGRATULATIONS JOHN!