June 18-24, 20-23: Issue 588
Team Waterhouse-Darmanin step back from 2024 Paris Olympic campaign - RPAYC's Colley-Connor to continue
On Tuesday June 13th the Australian Sailing Team announced its squad for the July Paris 2024 Olympic Test event, set to take place at the Olympic venue from 9-16 July. The 12 member team will be looking to parlay a successful European Summer into medals in Marseilles and is packed with a mix of Olympic medallists and some of the most exciting emerging sailors in the country.
However, Pittwater sailors Jason Waterhouse and Lisa Darmanin will not be taking part.
In recent years Jason has been a part of the SailGP Australian Team, which commenced Season 4 on Friday June 16th at Chicago (June 17th Australian time) and will proceed to Los Angeles (July 22-23). Season 4 of SailGP comprises 12 events, with the last running in San Francisco on July 13-14 2024. The Australian event will run in Sydney on February 24-25, 2024.
The 2024 Summer Olympics runs from Friday Jul 26, 2024 to Sunday, August 11, 2024.

Olympic veterans Jason Waterhouse and Lisa Darmanin were selected in the Nacra 17 class, however, Skipper Waterhouse informed the team of his intention to step back from his 2024 Paris Olympic campaign effective immediately. After giving this cherished opportunity significant consideration, Jason decided the time was right for him to focus on his professional sailing career and family commitments.
Jason became engaged to girlfriend Kat in 2019.
Lisa Darmanin, awarded a record 4th Female Sailor of the Year at the Australian Sailing Awards in 2021, will persevere with the continued goal of a second Olympic podium performance following the combination's Silver medal in Rio 2016 and their 5th place at the Tokyo games.
Jason Waterhouse and cousin Lisa Darmanin made their Nacra 17 debut at the ISAF Sailing World Cup Hyeres in 2013 in the South of France. The pair were no strangers in the multihull having won the ISAF Youth Worlds multihull gold in 2009, when both were completing their HSC.
Waterhouse Darmanin Sailing posted on their social media platforms on June 14, 2023;
''We wanted to take a moment to say a huge THANK YOU to all of you incredible friends, family and supporters.

You may have already heard the news, but our journey as a team has come to an end. Jason will be focusing on his professional sailing career and family commitments. Lisa is considering continuing her Olympic campaign whilst also developing her role as a sports presenter.

We've had the most amazing adventure together, conquering the waves and pushing our limits. The memories we've made will stay with us forever.

As we move into new chapters of our lives, we're excited for what the future holds.

So, here's to all of you who have been a part of our journey. We couldn't have done it without you, from cheering on the shores to the encouraging messages along the way.

Smooth seas, sunny skies, and endless adventures ahead!

Stay tuned for the next chapter.

Jason and Lisa.''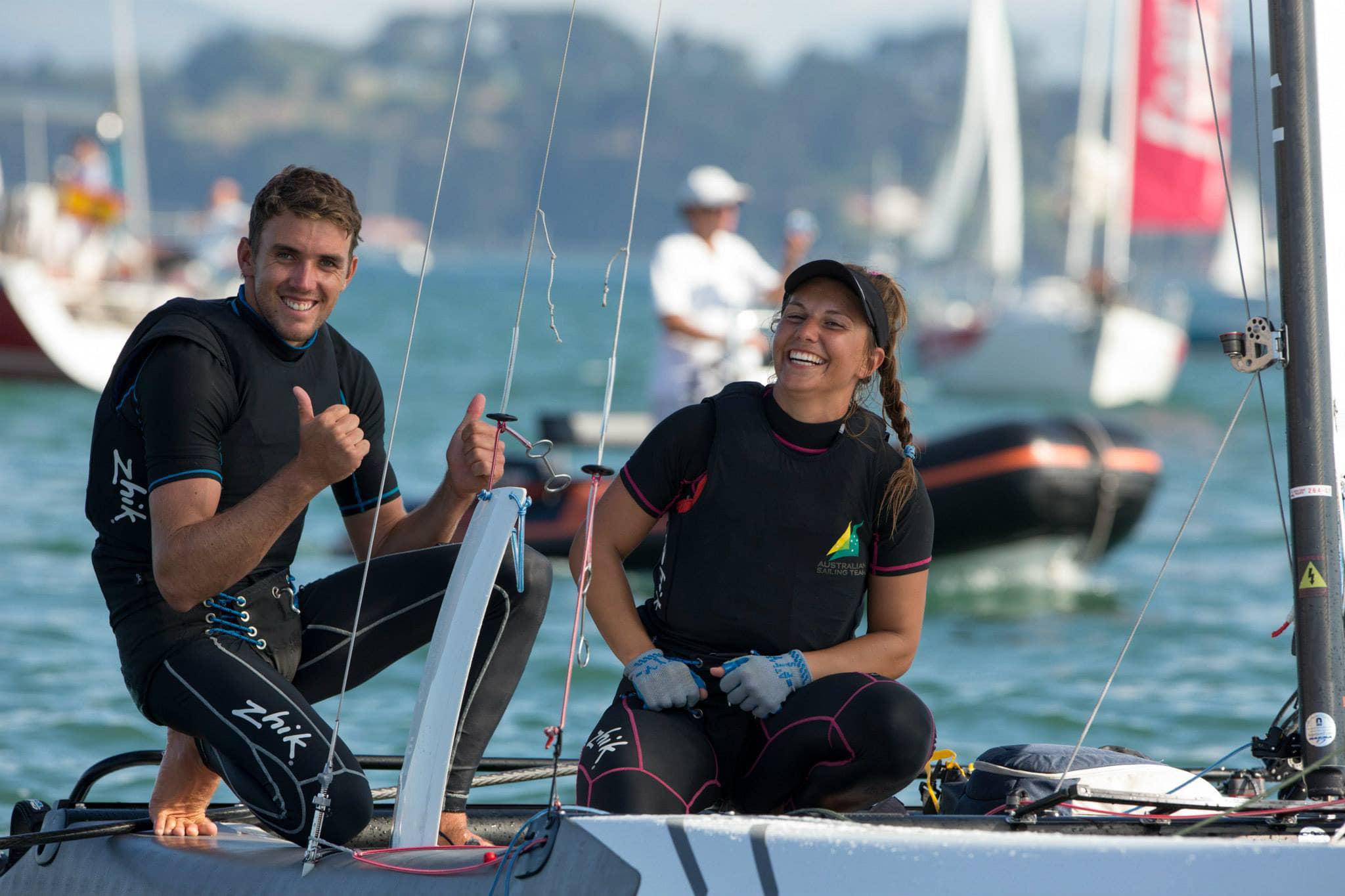 Given Waterhouse's decision the Selection Panel will take further time to review Australia's Nacra 17 selection for the Olympic Test Event, with a view towards securing Olympic qualification in the class at the 2023 Sailing World Championships in August.
Australian Sailing High Performance Director Iain Brambell OLY reflected that, "We were very sorry to hear Jason's decision to step back from Olympic campaigning, but greatly appreciate and respect his decision. The Australian Sailing Team will look to celebrate Jason and his immense contributions to the team in the very near future; however, our number one priority is now to confirm the best possible selection for the Olympic Test Event, as a key stepping stone to Olympic qualification on route to a podium performance in Paris 2024."
"Our selected Team is an exciting mix of Olympians, Olympic Medallists and athletes targeting their first Games with some competing in events that are on the Olympic program for the first time," said Brambell
"It's especially exciting to be announcing this team after they had a solid start to the 2023 international season and knowing so many required top-level performances to edge out other Australian crews for the honour of competing at the Test Event. It is this level of intra-squad competition that is the cornerstone that underpins the Australian Sailing Team's performance advantage."
Pittwater sailors will still represent Australia at July's Test Event with RPAYC's Jim Colley and Shaun Connor competing n the 49er. In May the pair won a Silver medal in Hyeres and their first World Cup podium.
''We are honoured to announced as the 49er representatives for the Paris 2024 Test Event! A big milestone in the lead up to the 2024 Games and a huge thank you to everyone that continues to support us on the path to Paris.'' the pair said in a joint statement

Colley and Connor have been showing consistency across all conditions this past year, with fifth at Palma in April and fifth at the 2022 European Championships. The pair commenced sailing together at age 14 in 2012 and by 2014 were off to the ISAF Youth Sailing World Championships held in Portugal.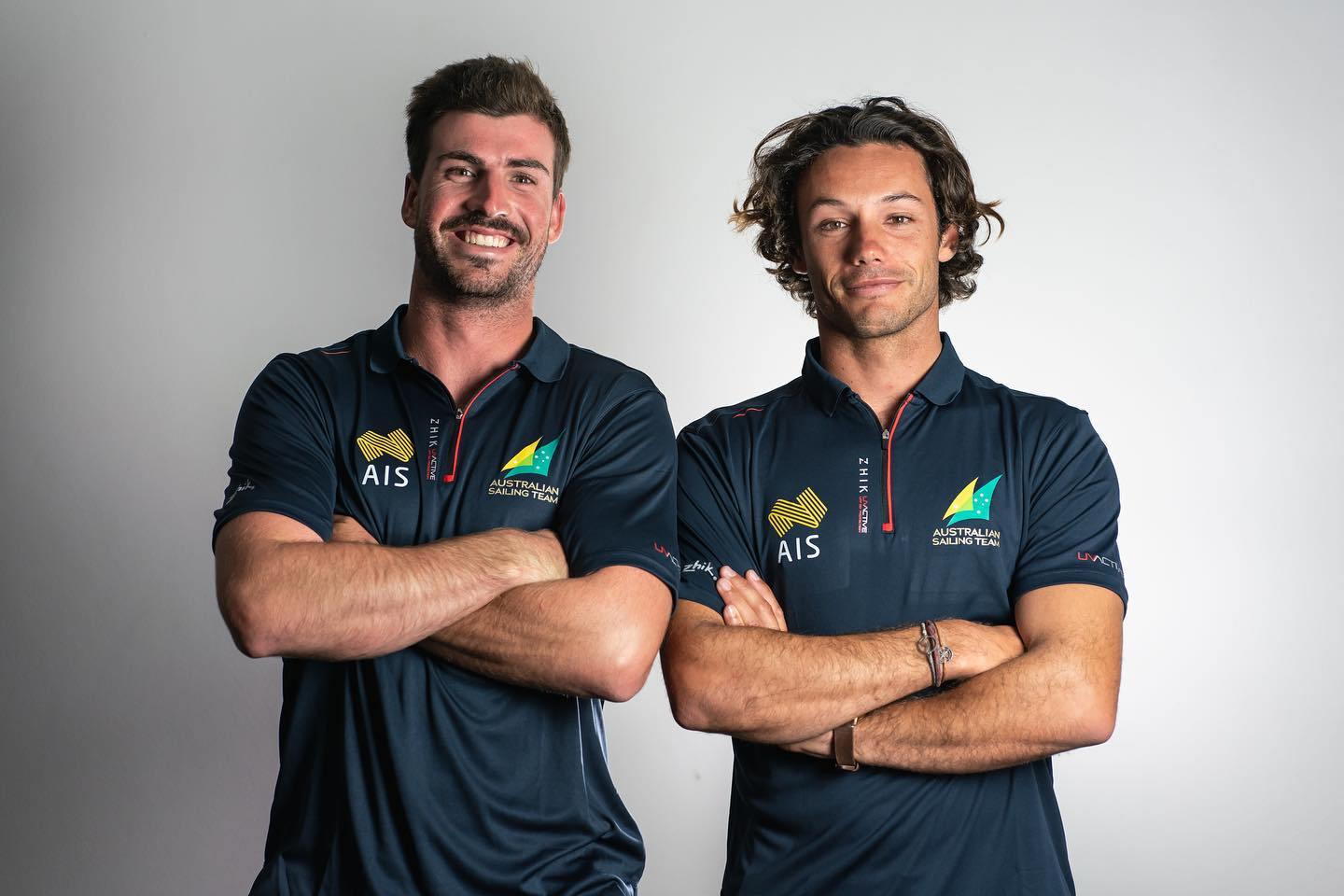 Shaun Connor and Jim Colley
The Test Event is a major milestone on the path to Paris, with athletes competing at the Olympic venue under the same format they will encounter at next year's Games.
The team will be spearheaded by Tokyo 2020 gold medallist Matt Wearn OAM, who is looking to win again in the ILCA 7 next year.
"I am delighted to be selected to the Test Event team, which is a huge first step towards the Games," said Wearn.
The West Australian is looking forward to the challenge racing in the port city presents.
"Sailing-wise you get a great mix of light sea breezes along with some of the more moderate stuff. There are lots of seawalls in a tight bay, so there is plenty of chop bouncing back off them making it quite different to the offshore stuff we are used to."
Among those experiencing Olympic-like conditions for the first time is fellow WAIS athlete Zoe Thomson, selected in the ILCA 6 class.
"I am super happy to have been selected. I am excited to learn about the venue, and to learn from the rest of the team," said Thomson.
Thomson produced a breakout international performance when she claimed Silver at this year's Trofeo Princesa Sofia regatta in Palma and is looking forward to being part of the smaller team heading to the Test Event.
"There is so much experience and plenty of Olympic medals in the team, so I am keen to learn from them on the water and around the venue. We don't always get to be around other members of the team as we (ILCA 6 squad) are sometimes isolated, so it is great to be competing alongside them."
The mix of youth and experience flows through the skiff selections, with emerging 49er pairing of Jim Colley and Shaun Connor being rewarded for their silver medal win at the Hyeres regatta. In the 49erFX class, Olivia Price returns 11 years after winning Silver in the Women's Match Racing at the London 2012 Olympics with her crew Evie Haseldine.
Australia will have representatives across the exciting new foiling classes, with Breiana Whitehead (Formula Kite – Female), and Grae Morris (iQFOiL – Male) selected for Marseilles. Hector Paturau was selected for the Team but has undergone surgery and will not be available as he focuses on his recovery. As a result, Scott Whitehead will replace Paturau within the Men's Formula Kite Class.
Perth's Nia Jerwood competed in Tokyo in the Women's 470, and she has been selected in the new Mixed 470 event with new crew Conor Nicholas.
Brambell understands the importance of the event on the path to Paris 2024.
"The Olympic Test Event is an opportunity to investigate and experience the conditions on the waters of Marseille in competition mode. The athletes, coaches and performance support team will utilise this opportunity to fully simulate our Games time off-water practices as well. It's essentially a full dress rehearsal in preparation for July 2024."
The eight-day regatta will be followed by the Allianz Sailing World Championships at The Hague in August, where a wider Australian team will take part.
The full Australian Team for the Olympic Test Event is:
49erFX: Olivia Price & Evie Haseldine
49er: Jim Colley & Shaun Connor
Formula Kite – Female: Breiana Whitehead
Formula Kite – Male: Scott Whitehead
ILCA 6: Zoe Thomson
ILCA 7: Matthew Wearn OAM
iQFOiL – Male: Grae Morris
Mixed 470: Nia Jerwood & Conor Nicholas
Nacra 17: TBC