July 1 - 7, 2018: Issue 366
Japanese victory for NSW Young Guns: Australia Wins Sanyo Bussan Cup 2018

JAPANESE VICTORY FOR NSW YOUNG GUNS
Monday June 25th, 2018
Strong performances from a young trio of highly talented NSW athletes helped the Australian Lifesaving Team to its 11th consecutive Sanyo Bussan Cup in Japan over the weekend.
Umina's Jemma Smith, Max Brooks (Newport), and Redhead's Daniel Collins were in red-hot form as the Aussies (987 points) did enough to power home ahead of New Zealand (869) and Japan (A) at the eight-team invitational event at Momochi Beach.
In a run that is now St George-esque in its nature, that famed rugby league run of the 50s and 60s, means that the Australians have dominated this annual meeting in a way few others have ever managed.
Adding international flavour to the event, Great Britain, South Africa, Hong Kong, and the United States were all represented with the travelling contingent keen to assess their performances ahead of the World Championships to be staged in South Australia later this year.
It was a strong start to the competition for Jemma Smith who claimed gold in the Ski on the opening day of the event. She would add a further gold as part of the Ocean Woman Relay and took silver in the Ocean Woman Race behind fellow Australian Lana Rogers.
Her Newport teammate Max Brooks also impressed in his opening events on the program claiming gold in the Board Race, Ocean Man and Ocean Man Relay. He then teamed up with Hayden White to take third in the Board Rescue Race.
It's been an extremely difficult few weeks for the Collins family after former Australian Representative Jessica suffered a serious injury while on holiday, but Daniel, with his sister's encouragement, showed tremendous courage and mental strength to make the trip.
The NSW Ironman Champion finished the opening day with team gold medals in the Ocean Man Relay and Mixed Surf Race, and also competed in the Surf Race and Ocean Man events.
After an overnight rest the NSW contingent fronted up for a second day of racing where they continued to enjoy enormous success.
Smith picked up where she left off in the Ski holding off Lana Rogers for another Australia one/two finish.
She then would then place in two other individual events Board Race (second), Ocean Woman (third), before teaming up with Lana Rogers to claim bronze in the Board Rescue and ending her campaign with gold in the Ocean Woman Relay alongside teammates Rogers, Bree Masters, and Prue Davies.
Newport's Brooks had a strong summer season and he was keen to make an impression on this, his Sanyo Cup debut.
After enjoying success on Day One he would add another two gold medals to his tally in the Ocean Man and Ocean Man Relay alongside teammates Daniel Collins, Hayden White, and Jackson Symonds.
His personal medal haul increased with a second placed finish in the Ski before he and White teamed up to finish 4th in the Board Rescue.
Collins wrapped up a strong campaign for the NSW competitors by being part of three team gold medals in the Mixed Surf Race, Ocean Man Relay, and Rescue Tube Rescue events.
"I would like to congratulate the Australian Lifesaving Team for their stunning success in defending their Sanyo Bussan Cup over the weekend," said NSW Surf Sports Manager Rob Pidgeon.
"To wear the green and gold cap is a real honour, and the NSW contingent did us all proud.
"It's been a great start to the representative season, and we wish all of our competitors the best as they strive for higher honours," he said.
Please Click Here for full results and information about the 2018 Sanyo Bussan Cup.
OVERALL RESULTS
1st Australia
2nd New Zealand
3rd Japan A
4th South Africa
5th USA
6th Great Britain
7th Japan B
8th Hong Kong

Report by Surf Life Saving NSW
Aussies Edge New Zealand to Claim 2018 Sanyo Bussan Cup
June 27, 2018
The Australian Life Saving Team has maintained its perfect record at Sanyo Bussan Cup taking out an 11th consecutive victory in Fukuoka, Japan.
The Australian Life Saving Team took out the overall pointscore with 897 points ahead of rival, New Zealand (869 points) and host nation Japan (675 points.)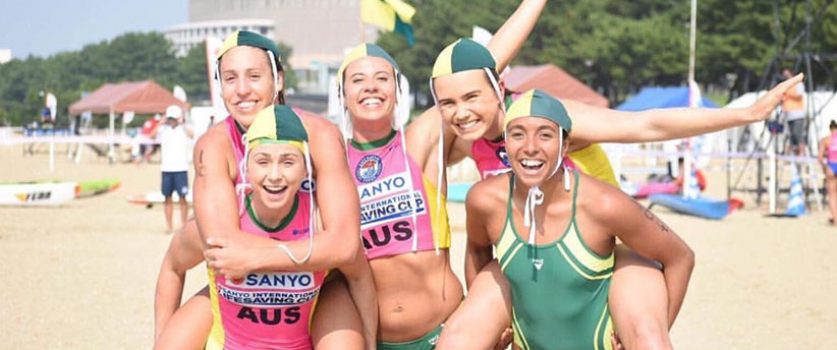 With sickness and injury plaguing the team on Day 1 an increased workload was shouldered by debutants, Max Brooks (Newport) and Lana Rogers (Noosa Heads) who were able to prove they belonged on the international stage.
Prue Davies (Currumbin/Queensland RLS) and Jemma Smith (Umina/The Hills) were able to again show maturity beyond their years on the international stage. Davies dominated swim events across the two-day event picking up eight wins from her eight events.
Smith and Rogers combined spectacularly across the weekend in both individual and team events putting a stranglehold on Ironwoman, board, ski, board rescue and taplin events picking up 8 wins from a potential 10 across these events.
With captain Hayden White, (Currumbin) Daniel Collins, (Redhead) and Jake Smith (Trigg Island) battling illness and injury at different points throughout the weekend the depth and versatility of the team was tested.
Head Coach Kurt Wilson was ecstatic with the performance of the team given circumstances they were faced with. "It's awesome to come away to Japan with such a talented team and to come away with overall victory against some tough competition."
Wilson added "We had a couple of scares on Saturday with illness and injury changing our approach to the event. A lot of questions were asked of the team over the course of the two days and we were able to answer. It was a true testament to our versatility and depth and to go out and perform and execute over the two days."
The team also took part in the annual Cultural Exchange Program on Monday, teaching local Japanese school children skills in the water before travelling to Tokyo later in the week.
The Australian Life Saving Team will now shift its focus to German Cup for Pool Rescue athletes in the lead up to Life Saving Worlds Championships 2018.
Please Click Here for full results and information about the 2018 Sanyo Bussan Cup.

Report by Surf Life Saving Australia