November 11 - 17, 2018: Issued 383
Insomnia's Club Marine Pittwater to Paradise Regatta countdown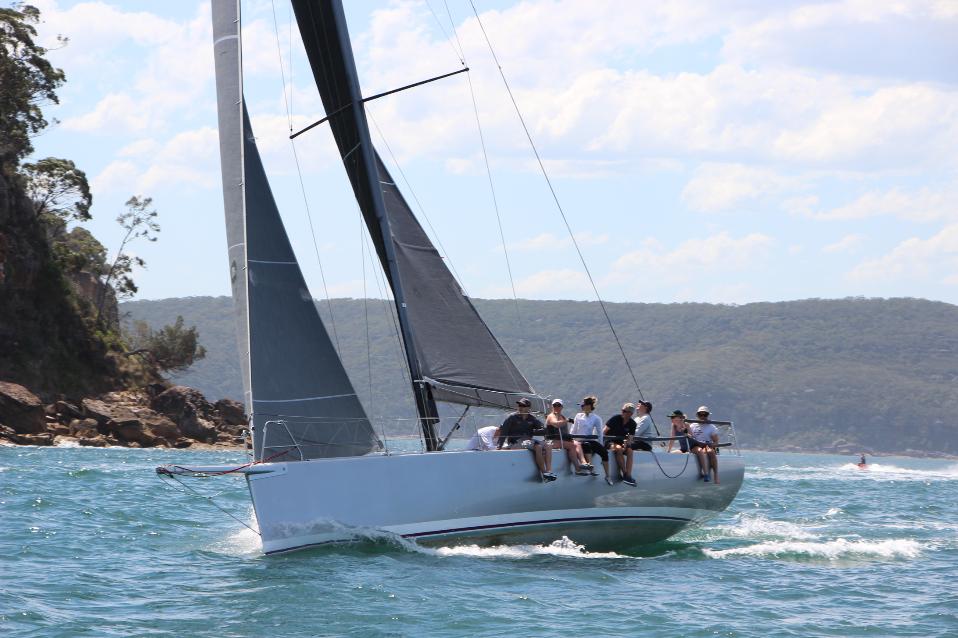 Insomnia training for P2P in january 2019 - RPAYC photo
Event: Club Marine Pittwater to Paradise Regatta January 2 – 9, 2019 hosted by the Royal Prince Alfred Yacht Club (NSW) & Southport Yacht Club (QLD)

Marcus Grimes is stepping into a new level of technology and style of racing with the purchase of the Judel/Vrolijk that was Elena Nova, now called Insomnia and racing from the Royal Prince Alfred Yacht Club in Sydney's north.
Grimes assures that his boat monikers, High Anxiety for his previous Elliott 10.5 and now Insomnia, is no cause for concern. The Elliott came with the name and Grimes thought the follow up, Insomnia, ticked a few boxes. "It's a nice progression on High Anxiety but something unique to us, reflecting on recent times with two kids under three. Plus the boat looked really wet so I thought the line "I can't get no sleep" from Faithless' 1990s song of the same name was quite fitting."
Working towards the 2019 edition of the annual 370 nautical mile Cat 2 Club Marine Pittwater to Paradise ocean race, and getting more sleep at home, are for now Grimes' two driving goals.
"We are conscious that we have a big learning curve ahead and coach Tom Brewer has been helping us with the new processes and boat handling. Offshore racing is what we love to do so we will continue to work on learning to drive the boat and building our capability.
"I suspect it will be a while before we are too worried about results, but over time it would be nice to emulate some of Craig's [Neil] success. For now we will just focus on getting over the finish line in the RPAYC's Bluewater Pointscore and Short Ocean Pointscore series, trial some new crew and prepare for the Pittwater to Paradise race in January. After that we will see!" Grimes added.
The distinctive grey and purple JV42, designed and first owned by former ORC world champion Christopher Plump in Europe, came to Australia for second owner Craig Neil who raced it out of the Cruising Yacht Club of Australia for many years.
"Very stripped out and very wet" are Grimes' two early observations of his new toy, adding, "it gets up and planes downwind with lots of spray. Things are happening a lot faster than on the Elliott!"
An RPAYC weekend race to Newcastle in October marked Insomnia's first fleet hit-out. Earlier in the month Grimes conducted a renaming ceremony at the RPAYC, to win the favour of Poseidon for his brand new offshore campaign. Follow Insomnia at www.facebook.com/Insomniasailing
Among a growing field of starters Insomnia has the speed advantage to make it a line honours contender, only with the deadline for entry and paperwork still more than a month away, on Saturday December 15, there's a good chance bigger fish will join the line-up.
Doug Coulter's Rogers 46 Shakti from Lake Macquarie, line honours winner and record-setter in the inaugural 2017 race, achieved a blistering course time of 1 day 12 hours 46 minutes 7 seconds, giving them an average speed of just over 10 knots for the wild ride north.
Insomnia is one of 15 entries so far for the annual combined pointscore of RPAYC organised ocean race starting at 1pm on January 2, 2019 to the north of Palm Beach Headland followed by a short-course series run by Southport Yacht Club January 6-9, 2019. Next year marks the 10th anniversary Bartercard Sail Paradise Series and SYC is ramping up the entertainment on offer, and the racing with the Australian Sailing Queensland Yachting Championships falling under the Bartercard banner.
The Club Marine Pittwater to Paradise Notice of Race is available via this link and owners will discover that instead of the usual Category 2 offshore experience requirement for 50% of the crew, the RPAYC will accept passages of 150 nautical miles, including Cat 3 or 4 races.
Visit the event website www.pittwatertoparadise.com.au and Facebook page www.facebook.com/pittwatertoparadise
Twitter: pitt2paradise
Instagram: #pitt2paradise
By Lisa Ratcliff
Appeasing Poseidon: Insomnia Renaming Ceremony