October 14 - 20, 2018: Issue 379
Infrastructure Improvements To Continue At Mona Vale Hospital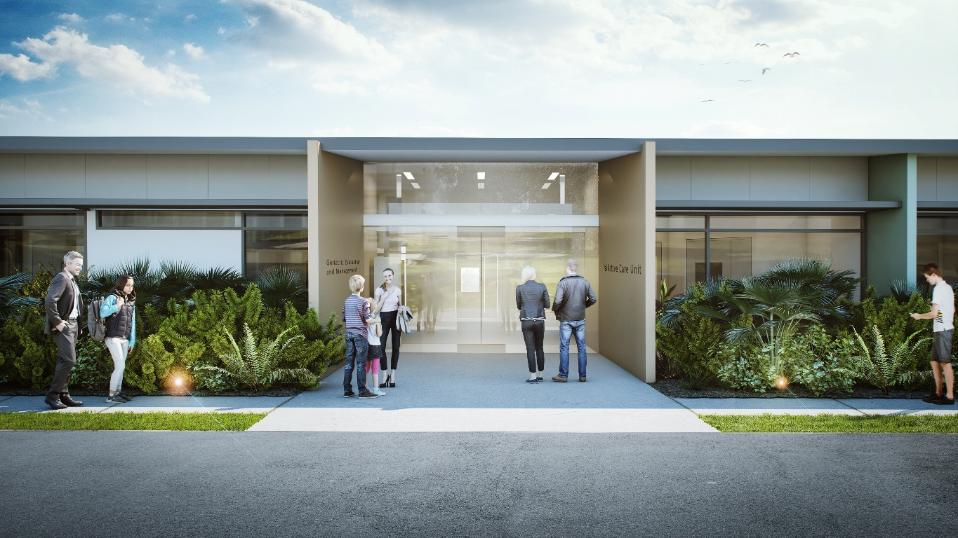 New Inpatient Palliative Care Unit - Still image, supplied.
Infrastructure Improvements to Continue at Mona Vale Hospital
October 12, 2018
The tender process is underway for the next phase of major infrastructure works at Mona Vale Hospital.
The main works contract will include the construction of a new inpatient building on the eastern side of the hospital to accommodate a dedicated inpatient palliative care unit and a specialist inpatient geriatric evaluation and management unit.
Early enabling works have also recently commenced at Mona Vale Hospital including the construction of a new service road and site preparation works for a new helipad. Construction works will also commence next week on a new Support Services Building to accommodate new kitchen, laundry, cleaning, engineering and staff facilities.
"This is an important stage in the major investment in new infrastructure and services at Mona Vale Hospital," Rob Stokes said today.
"The next phase of construction works will see further new hospital buildings introduced and the continued modernisation of the Mona Vale Hospital campus.
"These new hospital buildings will be state-of-the-art and purposely designed to provide services into the future.
Other infrastructure projects completed at Mona Vale Hospital in recent years include the new Community Health Service Building in 2016, the Beachside Rehabilitation Unit in 2014 and the expansion of the Palliative Care Outpatient Unit in 2013.
Over 250 public hospital staff will continue to work at Mona Vale Hospital in the future and all inpatient, urgent care and community health services will be provided by NSW Health. The entire Mona Vale Hospital campus remains in public ownership.
Mona Vale Hospital will continue to provide a range of existing and new health services including: 24/7 Urgent Care, radiology, pathology, pharmacy, 56-bed inpatient rehabilitation and assessment, 10-bed inpatient palliative care, 10-bed inpatient geriatric evaluation and management, outpatient palliative care, dental surgery, hydrotherapy, paediatric occupational therapy, paediatric speech pathology, paediatric physiotherapy, adult, youth and child mental health, adult musculoskeletal physiotherapy, acute post-acute care, podiatry clinic, diabetes clinic, community drug and alcohol services, early childhood services, community nursing service, chronic disease community rehabilitation services, carer support services, community aged care/rehabilitation service, continence service, dietetics, outreach maternity antenatal clinic, ambulance station and cardiac rehabilitation.