July 3 - 16, 2022: Issue 545

Future Bright For Inflatable Rescue Boat Premiership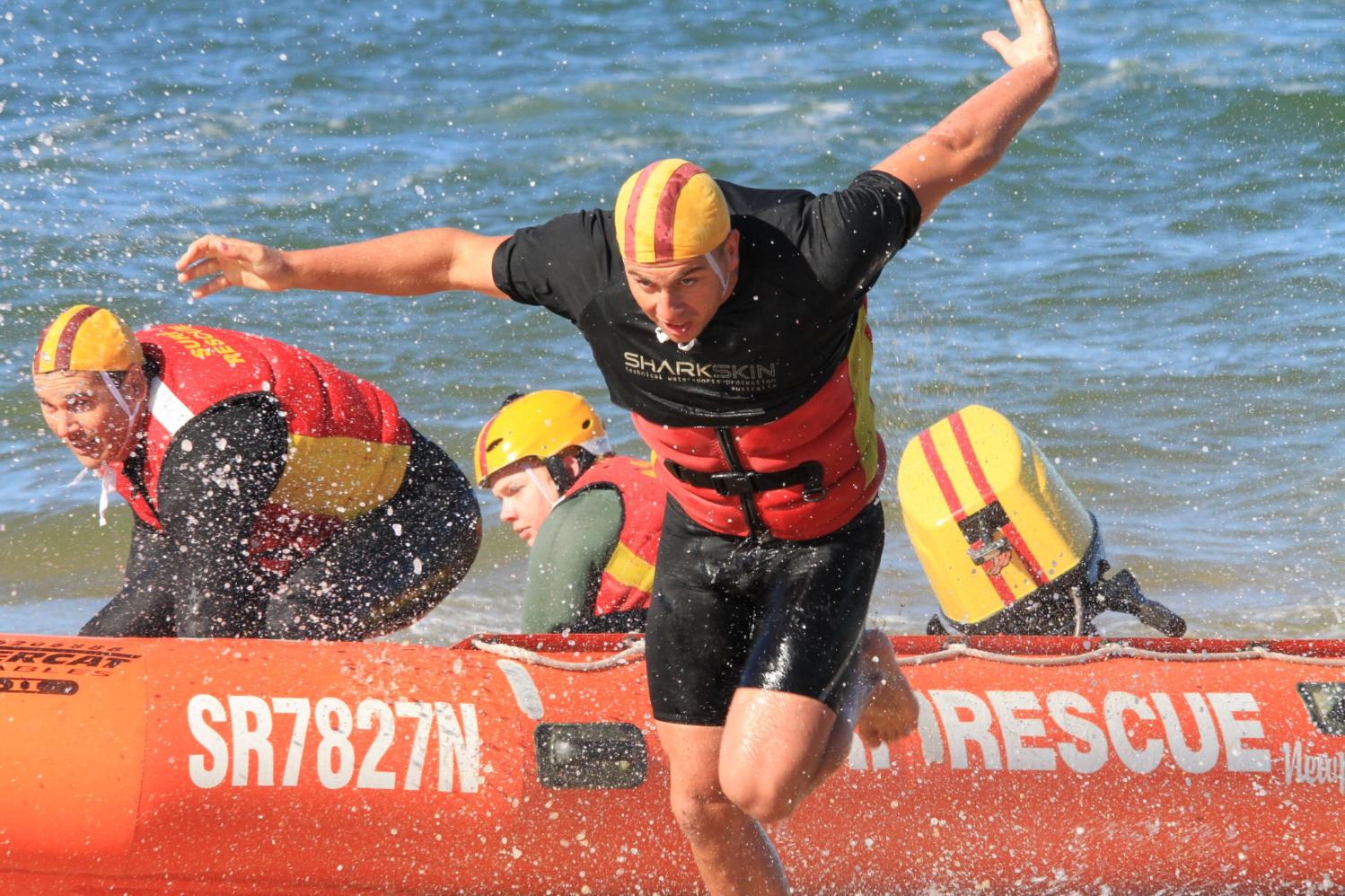 A slew of excellent results for all competing clubs on the final weekend of the Sharkskin NSW Inflatable Rescue Boat Premiership at Ocean Beach has shone a spotlight on the importance of the event as a method of upskilling while the iconic red and yellow flags are down over winter.
IRB racers descended on the state's Central Coast on Saturday and Sunday June 25-26, for Round 4 of the series – the final round before State Championships in a fortnight's time.
Leading into Round 4 A race between Kiama Downs and Caves Beach set the pace. The heavyweight IRB clubs have been almost inseparable since the opening round, and it will be most fitting that the winners will be crowned just under half an hour down the road from where racing begun almost two months ago in Terrigal.
It's Caves Beach who have local success on their minds and in their rear-view mirror, having claimed the round win at Terrigal all those weeks ago, but Kiama Downs have had the upper hand since then and go into the race weekend at Ocean Beach with a two-point advantage over their Hunter opponents.
Indeed, Caves Beach will need to finish at least a place above Kiama Downs, and that place to come at least inside the top two – based on finishing points allocation – to be in with a chance of hauling in the gap to the leaders.
"We've always been very lucky to have a strong team at Caves Beach," Team Manager, Scott Bryant said.
"This is the 19th year of the premiership, and we're the only club to have attended every single one. In that time we've only finished outside the top three once.
"We know that for any team to beat Kiama Downs they'll have to be at their best, and we will be there this weekend chomping at their heels and pushing them to their limits.
Kiama Downs has been insatiable, though, since the opening round, claiming victory at each of the next two in Bulli and Broulee to hold the upper hand in the battle for the title.
Their most recent win, coming on the Far South Coast over the June long weekend, came by the tightest margin of the premiership so far.
"We know it won't be easy – everybody wants to win it and we're no different. We'll give it a good crack, that's for sure," Kiama Downs Team Manager, Stephen Strong said.
"It's important that we're keeping everyone focussed on what their job is, taking it one race at a time, not getting ahead of ourselves, and let the racing do the talking, as it is.
"If we start out well and maintain the momentum over the two days we'll be happy.
In the battle for the final place on the podium, Terrigal led the way with 15 points on the board and a two-point gap to Newport, and a further three-point gap back to Thirroul – who did not race on the opening weekend – and South Maroubra.
While competitive, the Premiership acts as an opportunity for drivers and crews to develop and hone vital rescue skills in simulated scenarios under pressure.

Ocean Beach IRB Captain, Jason Smith said events like this are imperative for volunteer lifesavers.
"We talk about what's a safe driver and what's a competent driver," he said.
"Everyone is a safe driver who passes their IRB licence but it's these sorts of tournaments that show the competent drivers, the ones who will go out in big swell when the conditions are not desirable and rescue people.
"This is what it's all about, developing those skills."
Premiership heavyweights Kiama Downs continued to flex their muscles, winning nine finals. Notably, the South Coast club took out every U23 event, underpinning their hopes that they continue to be a dominant force for years to come.
In the Rookie Mass Rescue – a race with the youngest drivers and combined crew in the format – Avalon Beach showed the future is bright, finishing ahead of Newport and host club Ocean Beach.
Illawarra club Helensburgh Stanwell Park, who had taken out each of the first three Rookie Mass Rescue finals in Terrigal, Bulli and Broulee, didn't field a team.
North Cronulla and Terrigal continued their tight tussle in the Open Female events – Terrigal took out the Teams Rescue, North Cronulla the Surf Rescue, and the pair went one, two in the Open Female Mass Rescue, edged by the Sydney-based club.
Thirroul showed their strength in the 45+ category, with a win in the Surf Rescue headlining a bag of firsts and seconds, while South Maroubra maintained their streak of wining at least one event at each Premiership leg, taking out the 45+ Mixed Teams Rescue.
While his club couldn't pick up any victories on the day, Jason said the way the event had come together on his home beach – a result of local clubs working together – was victory enough for him.
"We relied on Umina for some equipment, and everyone from all sides of our club pitched in to make this happen," he said.
"From our nippers to older competitors, everyone has helped wherever they can to make sure we have very little work to do to be able to compete."
Full results and final point scores will be announced at the NSW Sharkskin IRB Championship, set to be held at South West Rocks on the weekend of 8-10 July.
Report by Surf Life Saving New South Wales. Photos: courtesy of Alan Freeman and Richard Black