Inbox and Environment News: Issue 425
October 20 - 26, 2019: Issue 425
Angophora Reserve Bushcare
The Dragonfly Environmental team have been working and restoring Angophora Reserve in Avalon.
Supervisor Claire Cashel posted this week:
"Grateful to have been given this responsibility to care for this spectacular and diverse bushland so close to home"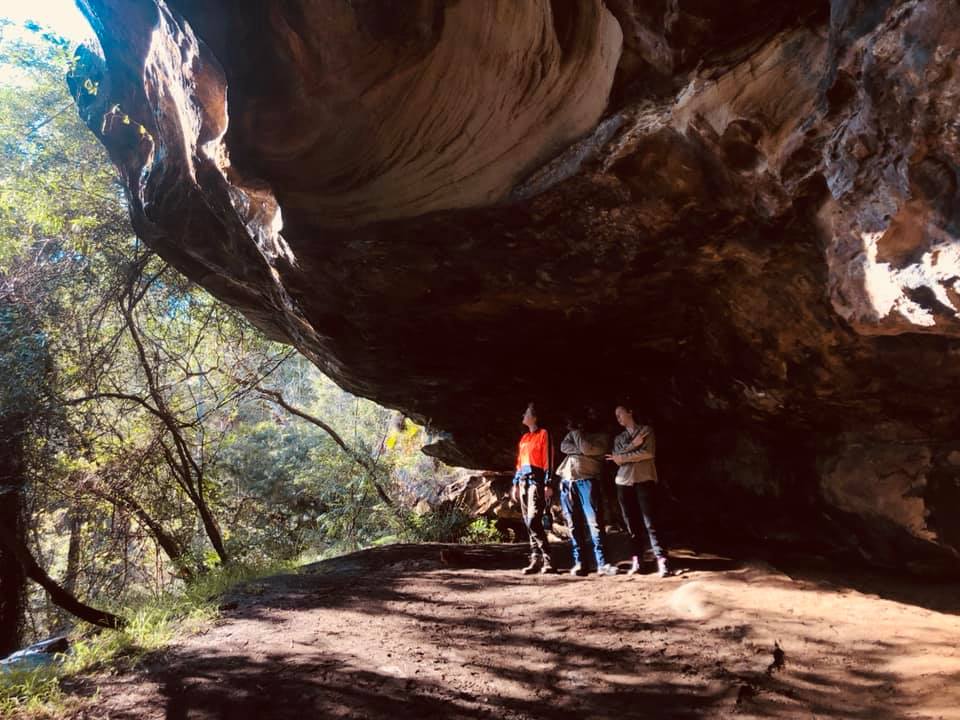 Barrenjoey Seal Colony Cooling Off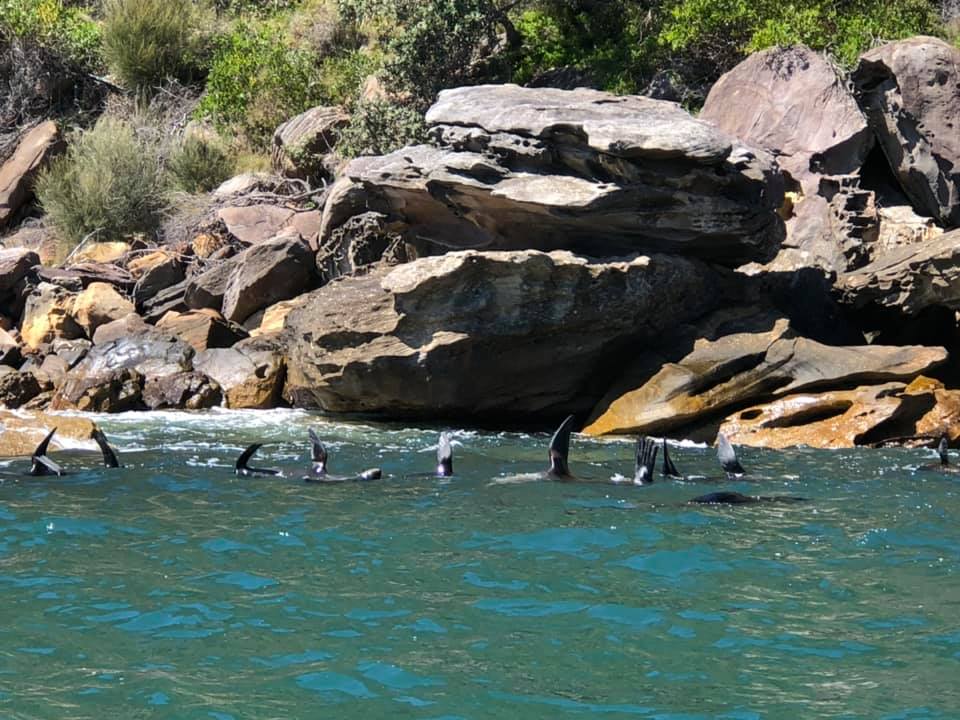 Sandbucket Cafe North Narrabeen Presents: Free Metal Straw Day
Over the weekend of October 19th and 20th, Sandbucket Cafe are giving away free metal straws with any food or drink purchase. If you wish to receive more than one straw you can purchase the straws separately for $2 on the day.
The cafe is located across the road from Lakeside Park (Shark Park) inside Pittwater Sports Centre.
We ask if you are ordering coffee to purchase one of our keep cups, bring your own or request no plastic lid!
In the mean time, feel free to invite as many friends as you'd like and check out their Instagram @sandbucketcafe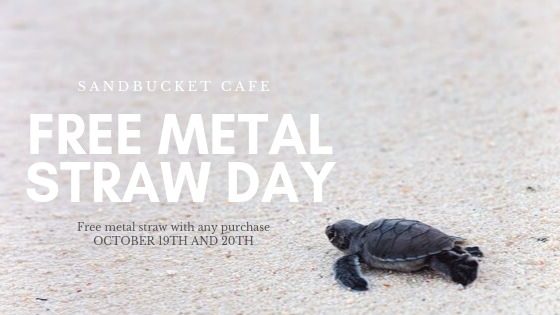 Bilgola Beach Clean Up
Hosted by Northern Beaches Clean Up Crew
Sunday, October 27, 2019 at 10 AM – 12:30 PM
Come and join us for our October clean up at Bilgola Beach. See meeting point in the event. We have gloves, bags and buckets and we try to pick up as much litter as we can before it hits the ocean.
Northern Beaches Clean Up Crew meets the last Sunday of every month to clean up a beach or lagoon on Sydney's northern beaches.
Northern Beaches Clean Up Crew is a friendly group of people and everyone is welcome to this family friendly event. (just leave your political messages at home so everyone feels welcome) It's a nice community - make some new friends and do a good deed for the planet at the same time.
Parking on the streets close by. Message us
here
if you are lost. All welcome - the more the merrier. Please invite your friends too. No need to bring anything but a smile. We often go for coffee afterwards too. It's a nice way to meet other friendly local people.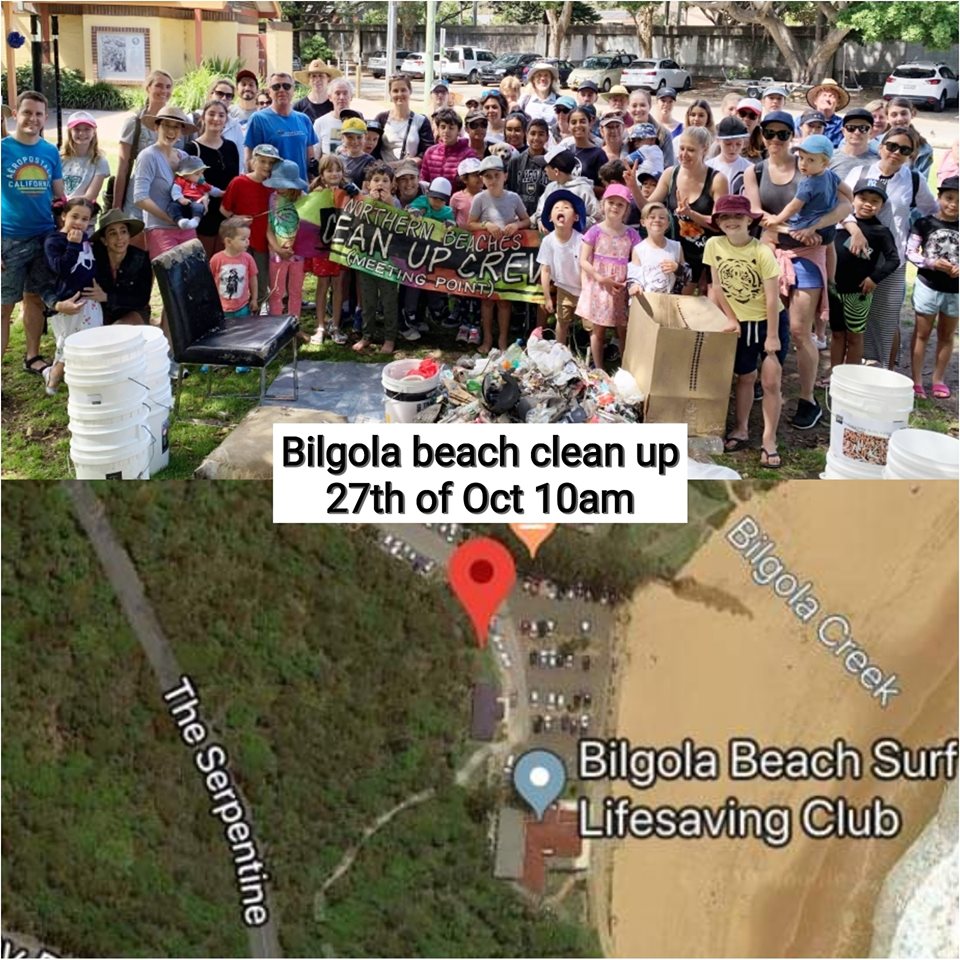 Avalon Boomerang Bags Update
We were having such fun sewing and making the bags, we almost forgot it's school holidays - no bag making workshops Tuesday 1st or 8th October.
Resuming Tuesday 15th 11.30-3.30. Please join us for a hour or two or more.
Avalon Market Day Sunday 17th November
Save the date, this is a great community event and we are pleased to be a part of it and support the Avalon Chamber of Commerce once again. (Thanks for making the free community space available to us).
We need some volunteers for the day to promote our message and sell a few fabulous bags and enviro gifts. They make awesome Christmas presents..................why not 'wrap' ALL your gifts in 'Bought to Support' bags - we'll have some in Christmas fabrics and colours too.
If you can help, please reply or let one of us know..........they more the merrier!
Thanks Yous - just to mention a few
Thanks to Jasmine Bridge from Pittwater High for completing her Duke of Edinburgh award by sewing bags for us , we have signed off for her.
Thanks to Westpac Avalon for donation of 30 bags.
Thanks Peter Reardon for repairs and donation of a sewing machine.
Thanks Karen, for the idea of the dog
bandannas
, we have made 50 so far, we're sure they will sell well at the Avalon market day, also our local vet and dog groomer at Avalon who loves them and will sell some for us.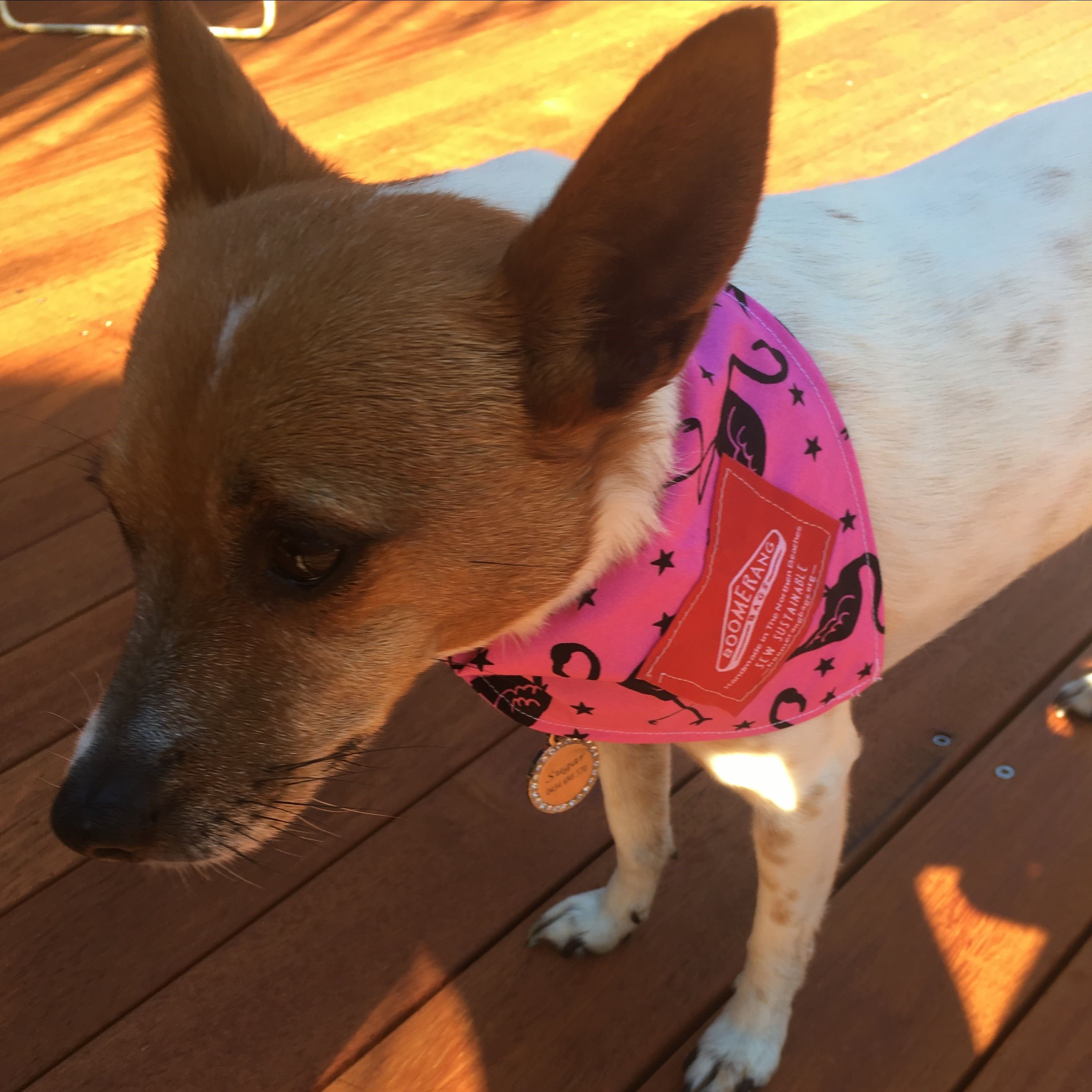 Thanks to Robyn for sorting Public Liability insurance for NSW Boomerang Group
Thanks to our newest 'sew at home' volunteer Sally for her beautiful bags, many of the team are quick to purchase them as they are so beautiful
Thanks to Nonie and all the regulars who turn up week after week and produce the bags - without them, none of this would happen.
Bushcare In Pittwater
For further information or to confirm the meeting details for below groups, please contact Council's Bushcare Officer on 9970 1367
BUSHCARE SCHEDULES
Where we work Which day What time
Avalon
Angophora Reserve 3rd Sunday 8:30 - 11:30am
Avalon Dunes 1st Sunday 8:30 - 11:30am
Avalon Golf Course 2nd Wednesday 3 - 5:30pm
Careel Creek 4th Saturday 8:30 - 11:30am
Toongari Reserve 3rd Saturday 9 - 12noon (8 - 11am in summer)
Bangalley Headland 2nd Sunday 9 to 12noon
Bayview
Winnererremy Bay 4th Sunday 9 to 12noon
Bilgola
North Bilgola Beach 3rd Monday 9 - 12noon
Algona Reserve 1st Saturday 9 - 12noon
Plateau Park 1st Friday 8:30 - 11:30am
Church Point
Browns Bay Reserve 1st Tuesday 9 - 12noon
McCarrs Creek Reserve Contact Bushcare Officer To be confirmed
Clareville
Old Wharf Reserve 3rd Saturday 8 - 11am
Elanora
Kundibah Reserve 4th Sunday 8:30 - 11:30am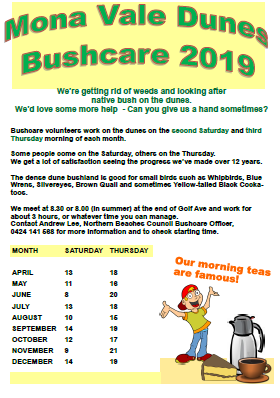 Mona Vale
Mona Vale Beach Basin 1st Saturday 8 - 11am
Mona Vale Dunes 2nd Saturday+3rd Thursday 8:30 - 11:30am
Newport
Bungan Beach 4th Sunday 9 - 12noon
Crescent Reserve 3rd Sunday 9 - 12noon
North Newport Beach 4th Saturday 8:30 - 11:30am
Porter Reserve 2nd Saturday 8 - 11am
North Narrabeen
Irrawong Reserve 2nd Saturday 2 - 5pm
Palm Beach
North Palm Beach Dunes 3rd Saturday 9 - 12noon
Scotland Island
Catherine Park 2nd Sunday 10 - 12:30pm
Elizabeth Park 1st Saturday 9 - 12noon
Pathilda Reserve 3rd Saturday 9 - 12noon
Warriewood
Warriewood Wetlands 1st Sunday 8:30 - 11:30am
Whale Beach
Norma Park 1st Friday 9 - 12noon
Western Foreshores
Coopers Point, Elvina Bay 2nd Sunday 10 - 1pm
Rocky Point, Elvina Bay 1st Monday 9 - 12noon
Fish Care Volunteers Needed For Long Reef
Have you a passion for helping others, and helping contribute to better fishing and aquatic systems in the future?
Then why not become a FISHCARE volunteer - it's rewarding, a great way to learn and impart skills, meet new friends and have fun, it also allows you to give back to recreational fishing.
The next free Fishcare training weekend is taking place on the
2nd of November at Narrabeen
, so jump on board and get involved in this fun, social, stewardship based volunteer program. The training weekend encompasses a variety of topics
with a focus on Long Reef Aquatic Reserve (including a guided reef walk)
, and is open to anyone over the age of 18 years of age.
Places are limited in the training a so if you are interested, please get in contact as soon as possible.
Narrabeen Coastal Environment Centre,
entry via Pelican Path,
Lake Park Road,
North Narrabeen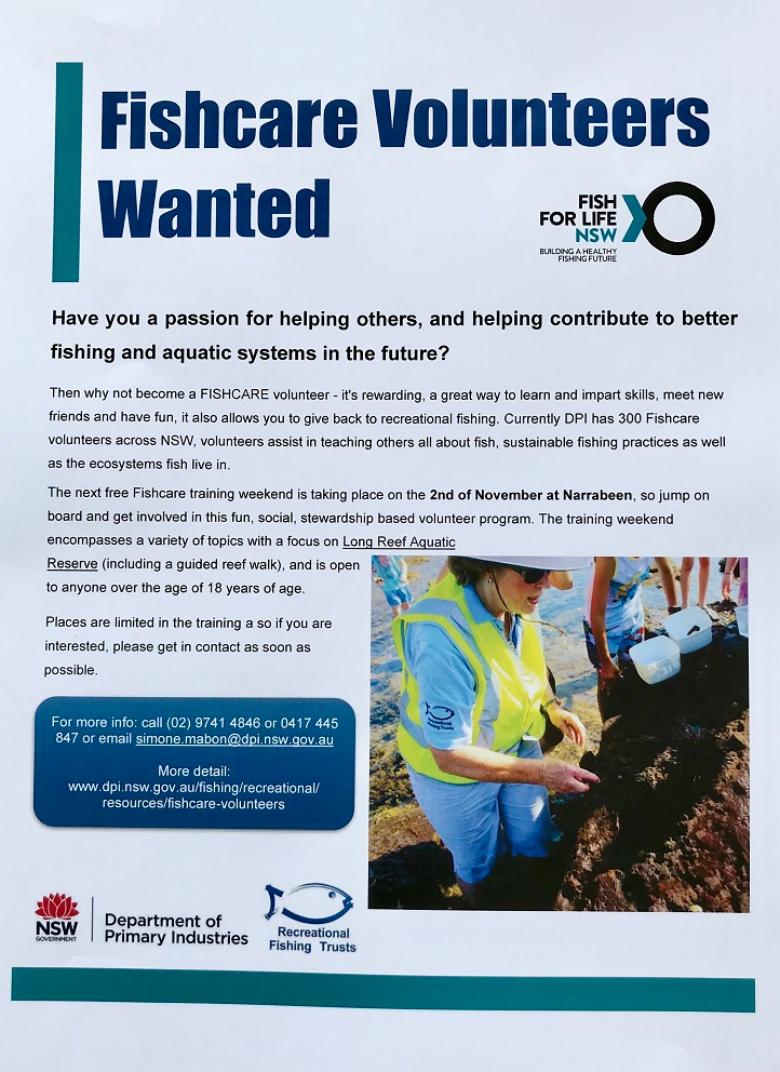 Rixs Creek Coal Mine Extended In 24 Hours For Another 21 Years
October 18, 2019: EDO NSW
The Independent Planning Commission (IPC) has approved Bloomfield Collieries' proposed expansion of Rixs Creek South coal mine in the Hunter Valley. The announcement came just 24 hours after the deadline for public comments on the proposal.
The mine was due to shut next year but will now be continuing until 2040. The expanded mine will emit an extra 71 million tonnes of CO2 into the atmosphere, as well as ongoing noise and dust pollution in an area already heavily impacted by mining.
The announcement of the determination came just 24 hours after the extended deadline for public comments on the proposal. The EDO NSW submission on behalf of Hunter Environment Lobby –
listed on the IPC website
as 'EDO NSW on behalf of Hunter Environment Lobby', totalling thousands of pages including several expert reports – was submitted at noon on Friday 11 October 2019. The approval was announced the next day, Saturday 12 October 2019.
In a statement of reasons for the determination, the IPC stated it has "adequately assessed" all community members' uncertainties and is now allowing an expansion of mining activities to the south and northwest of existing pits one and three. The IPC determined that the expansion was in the public interest as Rix's Creek is an existing mine site.
The IPC states that conditions on the approval "Prevent, minimise and/or offset adverse social and environmental impacts, set standards and performance measures for acceptable environmental performance, require regular monitoring and reporting and provide for the ongoing environmental management of the development".
Murray-Darling Basin Community Survey
The Independent Panel for the assessment of social and economic conditions in the Murray-Darling Basin is seeking to understand the lived experience of communities across the Basin.
You are invited to participate in this survey by Wednesday 30 October 2019
.
Read more and have your say here:
Snowy 2.0 Environmental Impact Statement
The Snowy Monaro community in particular is encouraged to have their say on the Snowy 2.0 Environmental Impact Statement.
The Department of Planning Industry and Environment will hold a public information session on Thursday, October 17, 6-8 pm, at Monaro Car Club, Cooma.
Have your say by 6 November 2019.
Read more and have your say here:
New 65-Kilometre Walking Trail Opens In Western Sydney
October 15, 2019: NSW Government
A new 65-kilometre walking trail has opened in Western Sydney, the first-ever continuous walking trail from Parramatta to the Blue Mountains.
Created by the Walking Volunteers,
the Great West Walk
showcases some of Western Sydney's most vibrant cultural spaces and landscapes.
Highlights of the Great West Walk include:
Old Government House, Parramatta Park
Old Observatory, Parramatta Park
The Lost Rogans Hill Railway Line, Northmead
International Peace Park, Seven Hills
Chang Lai Yuan Chinese Gardens, Western Sydney Parklands
Rooty Hill Historic Site, Rooty Hill
The Nepean River, Penrith.
The walking trail forms part of the NSW Government's Green Grid(external link), a network of interlinked walkways, cycleways and open spaces across Greater Sydney. The Green Grid creates green connections from people's homes to local centres, to their workplaces and to where they spend their leisure time.
The NSW Government provided nearly $500,000 to help plan and deliver the new walk.
Planning and Public Spaces Minister Rob Stokes said the walking trail is a huge win for Western Sydney residents and tourists.
"This is a fantastic example of the government, community, landowners and councils coming together to create high-quality public open spaces," Mr Stokes said.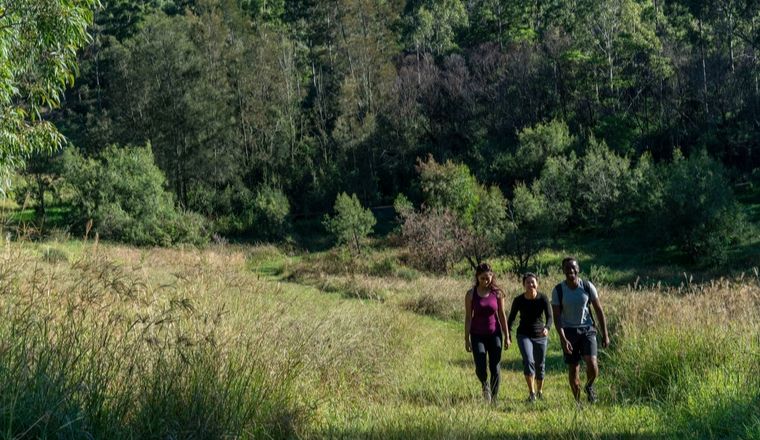 Penny Whetton: A Pioneering Climate Scientist Skilled In The Art Of Life
by John M Clarke, Team Leader, Regional Projections, CSIRO
Last month we lost Dr Penny Whetton - one of the world's most respected climate scientists and a brilliant mentor to the next generation of researchers. Penny will also be remembered as a passionate environmentalist, artist, photographer and champion of the transgender community.
Penny was at the forefront of climate change projection science for more than three decades. She played a key role in putting CSIRO, and Australia, on the map as a world-leading centre for climate change research. Her groundbreaking scientific work was among the first to raise awareness of the challenges of a warming world, laying the groundwork for possible solutions.
Penny was a strong believer in the power of each person to make a difference, at work and elsewhere. Her professional career is a great example. She also encouraged those around her to seek out challenges that could benefit the world. That creative energy continues to flow through everybody who was close to her.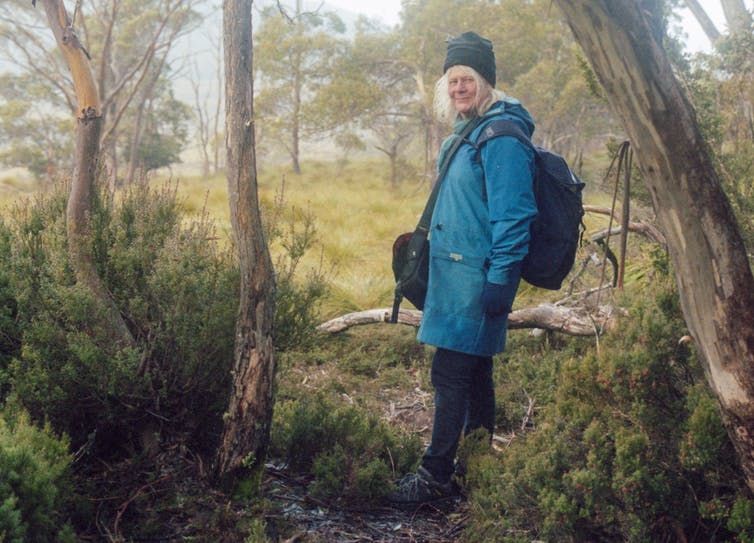 Penny Whetton at Cradle Mountain in Tasmania. She was known as a passionate environmentalist. Supplied by family
A global climate science pioneer
Penny's work focused on understanding the emergent threat of a changing climate on Australia and the region. She authored papers and reports that have become fundamental to our understanding of how climate change would affect us.
Penny was recruited to the CSIRO's new climate impacts group in 1990, after completing a doctorate at the University of Melbourne. She rapidly established a reputation for high quality science and innovative thinking.
Penny was a senior leader for much of her career and managed many large collaborative projects with colleagues in CSIRO and the Bureau of Meteorology. After retiring in 2014, Penny became an honorary research fellow at CSIRO and the University of Melbourne, where she continued to be involved in climate research, advisory panels and consulting work.
Over her 25 years at CSIRO, Penny drove innovation in making climate projections useful to decision makers. Her clear grasp of the science and its impact led to novel ways of communicating many complicated concepts.
One of Penny's many great ideas was to combine historic climate observations with future projections in a single timeline of data - creating a seamless path from past to future. This visualisation method is now a standard part of the climate projections toolkit.
Penny led the development of national climate change projections for Australia in 1992, 1996, 2001, 2007 and 2015. The 2015 projections remain the most comprehensive ever developed for Australia. They are widely used by the private sector, governments and NGOs and were one of Penny's proudest achievements.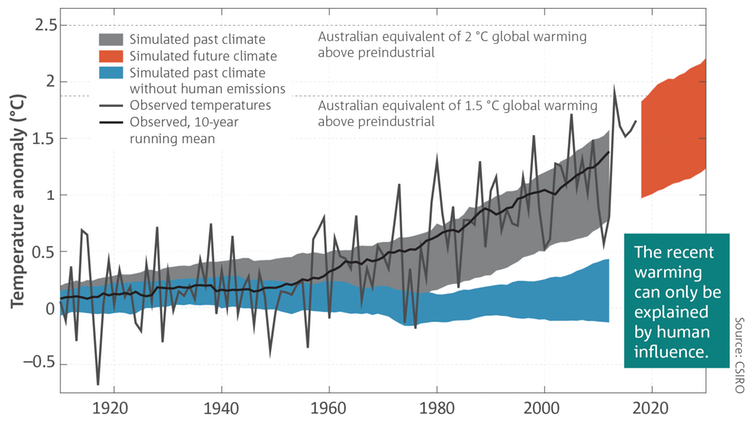 This style of representing the climate as a seamless path from past to future was one of Penny's many great ideas. State of the Climate 2018
Penny's science was renowned internationally as well as at home. She spoke at dozens of international conferences, and workshops and journalists sought her out regularly for interviews.
She was a lead author for three climate change assessments by the Intergovernmental Panel on Climate Change, the world's leading authority on the subject. Penny's work was recognised many times, including with a Eureka Prize in 2003 and internationally as part of the IPCC team that
won the Nobel Peace Prize in 2007
.
More recently, Penny provided scientific assurance on the external advisory board for the European Climate Prediction system, a project strongly influenced by methods and thinking developed under her leadership in climate projections for Australia.
Generous collaborator and mentor
Penny was instrumental in forging links between researchers in CSIRO, the Bureau of Meteorology and universities. This led to several collaborative, high-impact reports on climate change projections.
Penny was generous with her time and guidance - committed to developing the next generation of climate change specialists. Always with a smile on her face, she combined a great intellect and strongly held opinions with a receptiveness to the ideas of others.
Many of us writing this were mentored by Penny at various stages in our academic careers. Anyone who's studied for a Masters or PhD knows meetings with academic supervisors can be stressful. But meetings with Penny were quite the opposite - she was friendly, but academically rigorous. Collectively we owe her an immense debt of gratitude.
Penny's diverse knowledge and skills – including geology, geography, meteorology, climate, history, carpentry, painting and photography – gave her unique perspectives to draw on when tackling the wicked problems posed by climate change.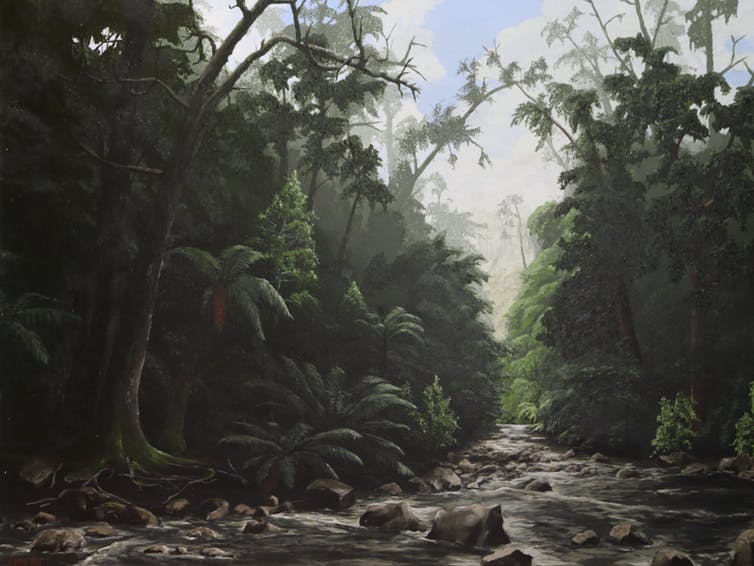 A painting completed by Penny Whetton in March 2018 titled 'Liffey River downstream from the falls'. Acrylic on canvas. Supplied by family
Penny made our lives richer
Penny was a real friend to many. Students became colleagues, colleagues became friends, and all of us were invited to be part of her life in a diverse extended family. We were pleased to support Penny in her own gender affirmation, and for many LGBTIQA+ scientists, Penny was both role model and supportive friend.
Penny had a wonderful knack for making inclusive conversation, whether at work or over dinner. Her contributions were insightful and grounded in truth, very often tinged with humour, and always kind and understanding.
We all assumed there would always be another dinner, and another opportunity to enjoy her company and be fascinated by her conversation. Sadly, and shockingly, this possibility has been taken from us.
Penny made our lives richer, more interesting and more human. Her absence leaves a massive hole in our community and our lives.
Penny Whetton is survived by her wife Janet and adult children John and Leon.
The following people contributed significantly to this article:
Aurel Moise (Bureau of Meteorology), Barrie Pittock (retired), Chris Gerbing (CSIRO), Craig Heady (CSIRO), David Karoly (CSIRO), Debbie Abbs (retired), Dewi Kirono (CSIRO), Diana Pittock (retired), Helen Cleugh (CSIRO), Ian Macadam (University of New South Wales Sydney), Ian Watterson (CSIRO), Jim Salinger (University of Florence, Italy), Jonas Bhend (MeteoSwiss, Switzerland), Karl Braganza (Bureau of Meteorology), Kathy McInnes (CSIRO), Kevin Hennessy (CSIRO), Leanne Webb (CSIRO), Louise Wilson (Bureau of Meteorology), Mandy Hopkins (CSIRO), Marie Ekström (Cardiff University, UK), Michael Grose (CSIRO), Rob Colman (Bureau of Meteorology) and Scott Power (Bureau of Meteorology).
This Tribute was published first in
The Conversation
. Republished under a Creative Commons Licence.
"Deadly" Victorian Park Management Plan Finalist For National Award
A Victorian parks Joint Management Plan developed for six Dja Dja Wurrung-owned national and state parks in central Victoria has been announced as a finalist in their year's Banksia Sustainability Awards, under the Indigenous Award category.
Produced by the Dhelkunya Dja Land Management Board, the plan is a product of four years' collaborative work and advances developments in land management planning by using both science and traditional knowledge to deliver more sustainable parks management.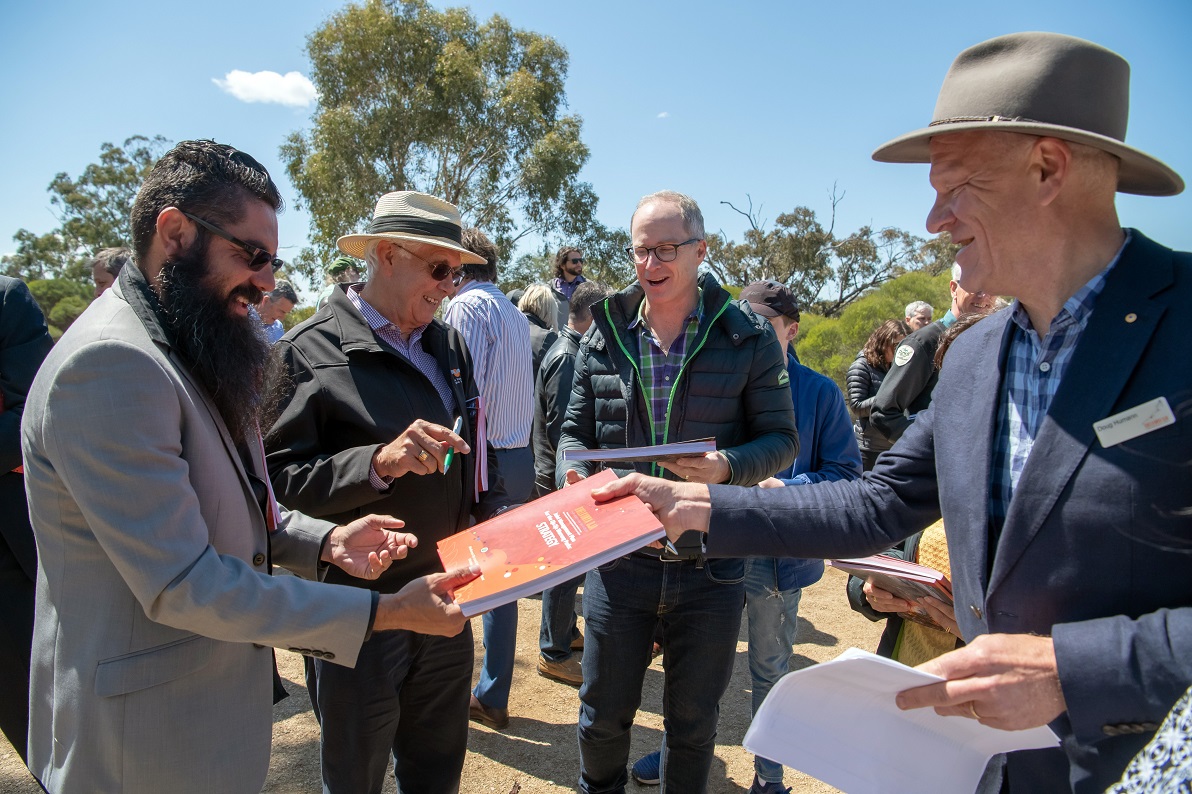 Trent Nelson, Graham Atkinson, John Bradley and Doug Humann celebrate the launch of the Joint Management Plan for the Dja Dja Wurrung Parks in 2018. Photo: CSIRO

The plan aims to reintroduce cultural burning practices in partnership with the Victorian Government, drawing on traditional owner ecological knowledge to manage fuel loads.
The Dja Dja Wurrung Parks are: Greater Bendigo National Park; Hepburn Regional Park; Kara Kara National Park; Kooyoora State Park; Paddys Ranges State Park; and Wehla Nature Conservation Reserve.
These parks include some of the Dja Dja Wurrung People's most important cultural landscapes, but they are also of enormous significance for all Victorians," Chairman of the Dhelkunya Dja Land Management Board and Victorian elder Mr Graham Atkinson said.
"The plan provides Dja Dja Wurrung People the opportunity to be actively involved in not only managing these parks in the future, but explaining them and sharing them with all Australians."
The plan was created for the Dhelkunya Dja Land Management Board by the CSIRO, drawing on the expertise of the Dja Dja Wurrung Clans Aboriginal Corporation, Djandak Enterprises, and Conservation Management. In creating the plan, the Board consulted widely to balance the needs of diverse interests.
Dja Dja Wurrung Traditional Owner aspirations for Country are at the heart of the plan, which aims to tap the potential for enhanced visitor experiences for all park users and economic benefits for regional economies.
"We've been excited to support the development of this plan," CSIRO Principal Research Scientist Ro Hill said.
"We've supported traditional owners to be at the forefront of public consultation, using participatory tools like interactive mapping. This award nomination recognises the shift towards empowering traditional owner voices."
Established more than 30 years ago, the Banksia Sustainability Awards are the first and foremost sustainability awards in Australia.
The Awards recognise and reward those who show excellence and leadership in environmental and social stewardship.
"Being nominated for such a prestigious award demonstrates that the Plan has caught people's attention and we are proud that we can represent our culture and aspirations in this way," Mr Atkinson said.
In Dja Dja Wurrung language the plan is called Manyangurr ngulumbara Dhelkunya Djandak Murrup: 'We meet together to return good health to Country and spirit'. Dja Dja Wurrung language is use throughout the plan.
"The plan puts our language first and gets us used to speaking our language more and more. It's important that I learn my language and pass it on," Dja Dja Wurrung Clans Aboriginal Corporation Chairperson, Trent Nelson said.
The Joint Management Plan for the Dja Dja Wurrung Parks was launched on 13 October 2018 following initial funding provided by the Victorian Department of Environment, Land, Water and Planning through the State's Recognition and Settlement Agreement. Parks Victoria is responsible for implementing management.
The winners will be announced at the Banksia Sustainability Awards Gala Night in Sydney on Tuesday 3 December 2019.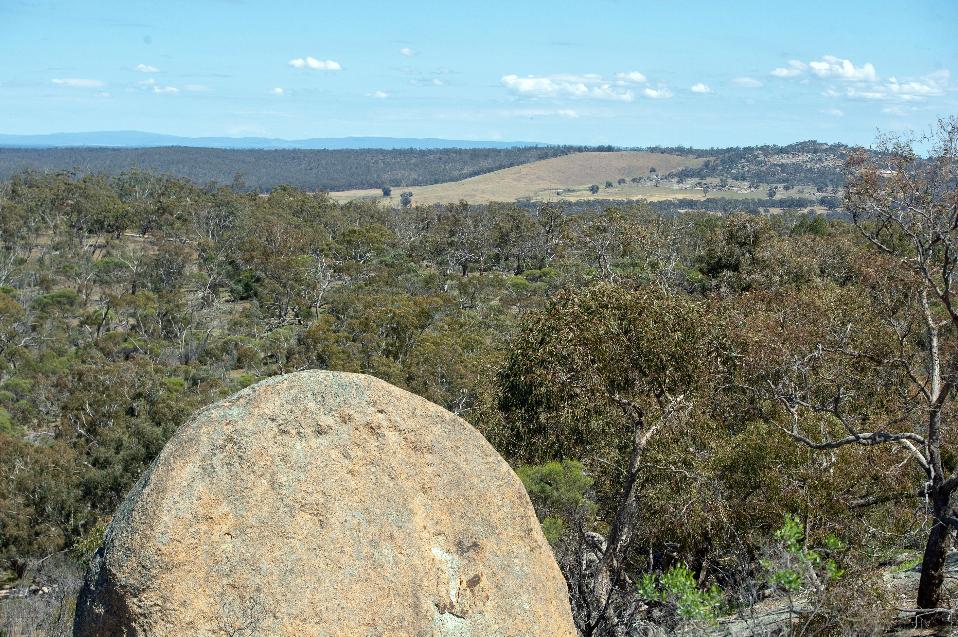 The view of Country from the rocky out crops at Melville Caves in Kooyoora State Park has been enjoyed by Dja Dja Wurrung People for millennia. Supplied
Aussie Bread Tags Collection Points
Collecting bread tags enables us to provide wheelchairs that change the life of disabled people in need, as well as keeping the tags out of landfill to help to preserve the environment.
Bread Tags for Wheelchairs was started in South Africa in 2006 by Mary Honeybun. It is a community program where individuals and organisations collect bread tags, which are sold to recyclers. The money raised pays for wheelchairs for the less fortunate which are purchased through a local pharmacy. Currently about 500kg of bread tags are collected a month in South Africa, funding 2-3 wheelchairs.
We have been collecting bread tags nationally in Australia since September 2018 and now have more than 100 collection points across the country. In February 2019 we started local recycling through Transmutation - Reduce, Reuse and Recycle in Robe, SA, where our tags are recycled into products such as door knobs and bowls. Tags from some states are still sent to South Africa where a plastics company called Zibo recycles them into seedling trays.
These humble bits of polystyrene can make a real difference so get your friends, family, school, workplace and church involved. Ask school tuck shops and boarding school kitchens, child care centres, aged care facilities, hospitals, cafes and fast food outlets to collect for you - they get through a lot of bread!
All the information and signage for collecting or setting up a public collection point is
on our website
.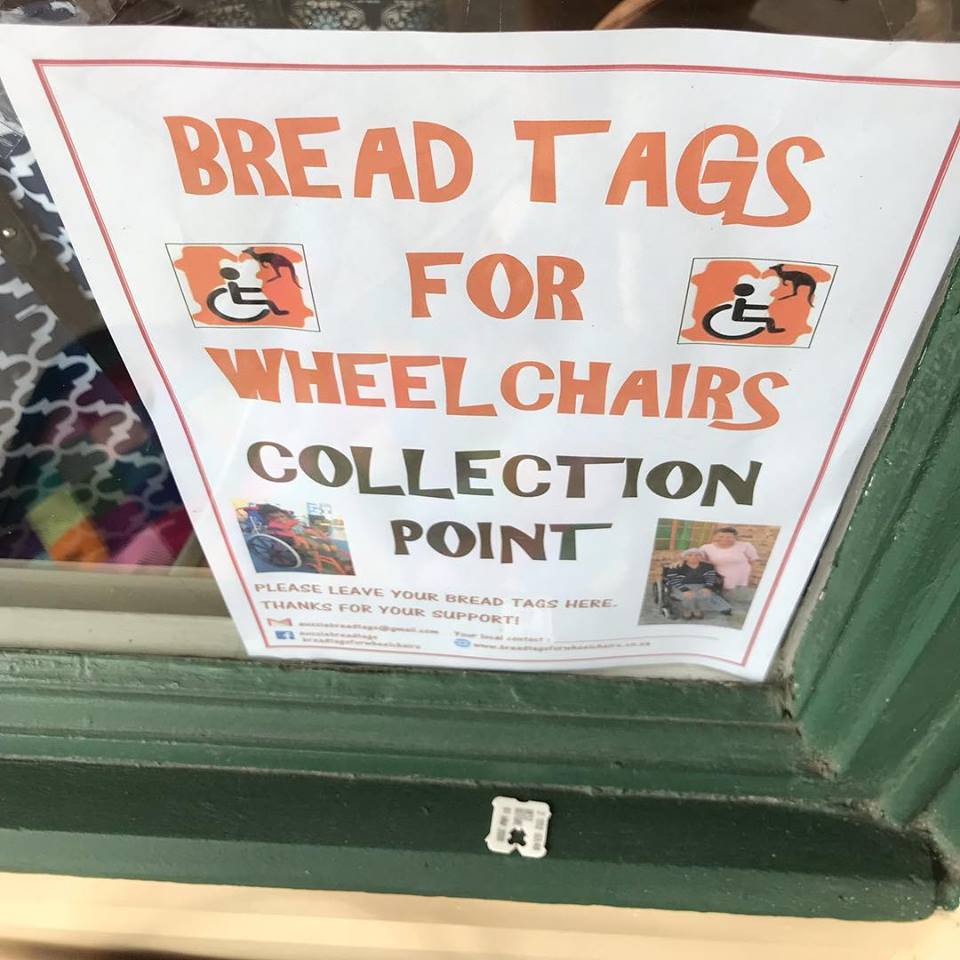 March Against The Central Coast Coal Mine 2 - At Wyong
Saturday, October 26, 2019 at 2:30 PM – 4:30 PM
DID YOU KNOW THAT THE STATE LIBERAL GOVERNMENT APPROVED AN ENORMOUS SOUTH KOREAN GOVERNMENT-BACKED COAL MINE (WALLARAH 2) RIGHT IN THE MIDDLE OF THE CENTRAL COASTS WATER SUPPLY??
This will directly affect the following communities; the Yarramalong and Dooralong valleys, Blue Haven and Wyee areas, Olney State Forest and Jilliby State Conservation Area and have detrimental impacts on the broader landscape of our beautiful Central Coast.
Join us and March Against the Central Coast Coal Mine!!
> Saturday 26th October
> Time of Event: 2.30pm - 4.30pm
> Meeting point: Outside Wyong Council
'March Against the Central Coast Coal Mine 2' is our next peaceful demonstration march with the aim to raise awareness of the recently State Liberal Government approved enormous South Korean Government-backed Coal mine right in the middle of the Central Coasts water supply.
A coal mine that is only 5 minutes from Wyong and 20 minutes from Gosford - 28 years of non-stop destruction of our land, air, our water and our children's future.
Together with the community, we will be uniting outside Central Coast Council (2 Hely Street, Wyong) building at 2.30pm to hear a few great guest speakers, then to have a colourful and musical march against the Government's recent approval of the Wallarah 2 Coal Project.
Over 200 people joined the Erina march in July, which was just amazing. Lets double those numbers at this next event in Wyong! Please get sharing this event and spreading the news so we have a bigger, stronger community voice in Wyong protecting our land, water and wildlife. For more info, check out this short film from our last event outlining the situation: https://bit.ly/2TstQyr
Run by the passionate team from Coast Environmental Alliance (CEA)
There are 16 known endangered species, such as the yellow-bellied glider and the sheath-tailed bat, spotted tailed quoll as well as irreplaceable Aboriginal sites in the locality also.
This will be devastating to our area! So we must call on our official State representative, Adam Crouch, to stand up with us, and represent the people he swore an oath to serve, and call on the Liberal Government to stop this mine from going ahead.
While the Government has suggested that the risk to our water supply is minimal, ANY risk of contaminating our water supply is totally unacceptable.
The Liberal Government knows full well there is a risk to our water, that is why they have PROMISED to stop it in the past. Then as soon as elected, they approved it.
••••• Why meet outside Central Coast Council at Wyong? •••••
Historically, Council has been supportive of stopping the Central Coast Coal mine, but since the recent approval of the mine, have done nothing to draw attention to the issue through the media.
We need our local elected leaders to publically call on the State Government to stop this from going ahead.
Right now is an absolutely critical time where we really need our local Councillors and other politicians to publicly stand up and support the community.
Also, it's a good location for the gathering. Only 5 minutes from where the proposed mine will be located.
••••• Why on a Saturday? •••••
Our last March was on a Friday afternoon during work hours. We did this so we could draw attention to the issue in peak-hour traffic. And we certainly accomplished that.
We have made this event on a Saturday so hopefully more people can attend (due to not having to work) so we can build on our numbers from last time.
••••• What is the purpose of a second rally? •••••
Our first rally was great! But unfortunately it was largely ignored by the mainstream media.
We need to build our numbers to a point where this issue can no longer be ignored by the media or our elected leaders.
••••• Who should attend?•••••
Anyone who believes that our community is entitled to breathing clean air, drinking clean water and maintaining a healthy environment in the place we are so privileged to call home.
** Event Details **
When: Saturday 26th October
Time: 2.30pm -4.30pm
Meeting: Central Coast Council, Wyong Office (2 Hely Street, Wyong)
March: Led by drummers, musicians and colourful members of the community we will march to the main road to stand up for the Land of the Central Coast.
Guest speakers from local environmental groups will be at this event to share ways we can get involved in helping to stop Wallarah 2 and what action we have taken to date.
Get creative! Dress up, bring your instruments and your furry friends and the whole family - Lets UNITE to show that PEOPLE POWER is much stronger than the 'people in power'!
Lets make this fun and creative through different forms of expression. Dress in colour, bring musical instruments, and let us come together in solidarity for our precious and unique local environment.
Some ideas for signs that are relevant could include wording such as:
"Save Our Water!"
"Protect our land, water and air"
"Stand up for our wildlife"
"Say NO to Wallarah 2"
This event will go ahead RAIN, HAIL OR SHINE.
PLEASE SHARE THIS EVENT FAR AND WIDE FOR WE NEED MANY VOICES TO CREATE ONE POWERFUL VOICE
*** SOME DISTURBING FACTS ABOUT THE W2CP ***
• 68 percent of the water from this catchment supplies drinking water to the whole Central Coast and will be at serious risk of contamination from the mine
• Round the clock noise, light pollution at night, air and dust pollution from trucks, machinary, railway and traffic
• Extraction of up to 5 Million tonnes of thermal coal per year
• The total greenhouse gas emissions over the life of the mine will be over 264 million tonnes of CO2
• The Jilliby SCA alone provides critical habitat for over 150 native animal species, including 16 threatened species and more than 130 species of birds
• Jilliby is an important cultural and historical area for Aboriginal people. There are more than 40 recorded Aboriginal sites in Jilliby, and the adjacent Watagans National Park also includes art sites, axe-grinding grooves and open campsites.
• Subsidence of up to 2.6 metres beneath a state forest area; increased flooding impacts for more than 170 property owners that could require lifting or relocating homes and increased flooding impacts affecting 15 bridges and roads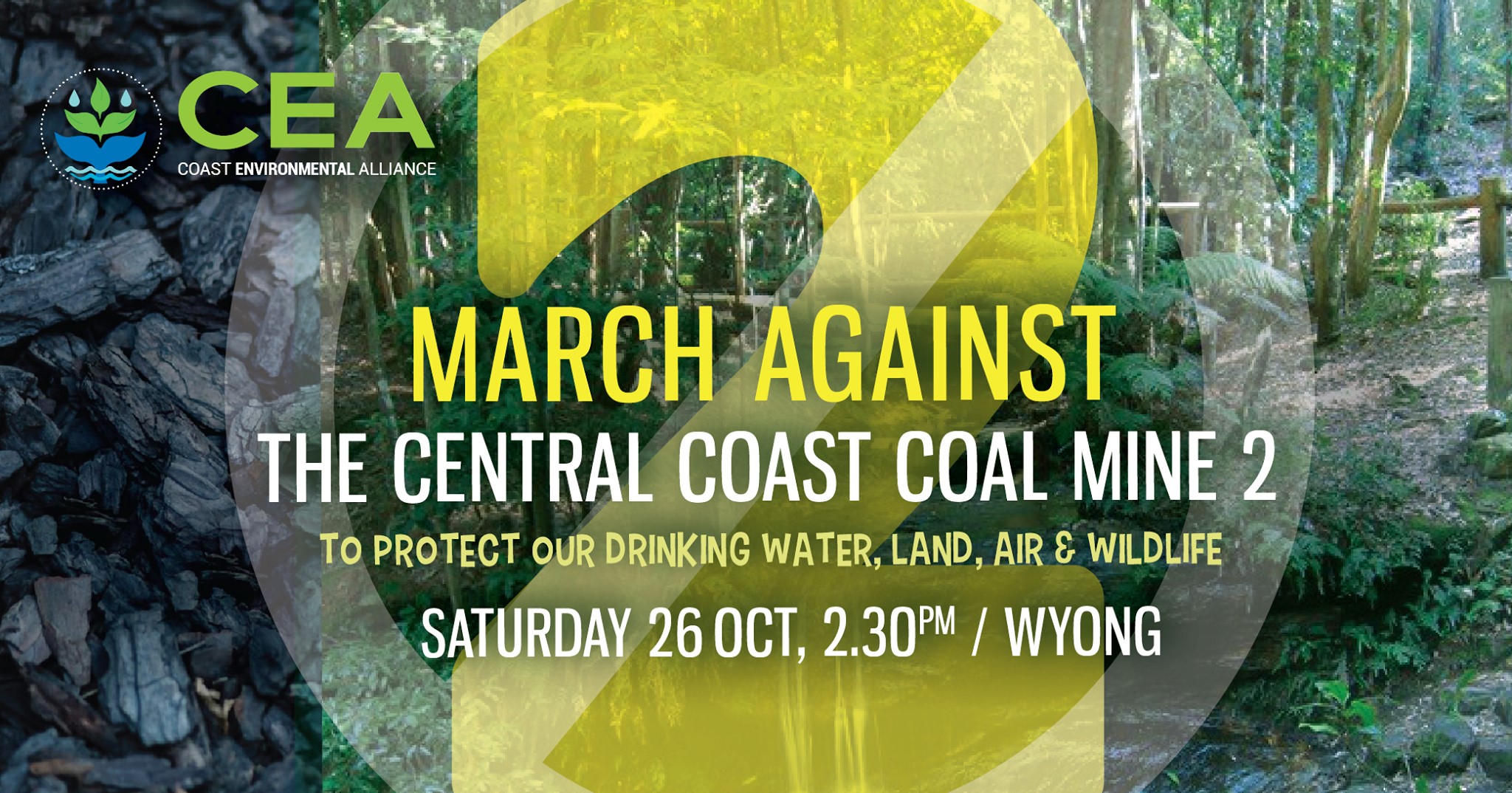 HSC Written Exams Begin
Minister for Education Sarah Mitchell this morning wished the state's 75,000 HSC students well ahead of the start of their written examinations.
Starting with English this morning, 123 written exams will be held during the exam period, including the examination of 16 new syllabuses in English, Mathematics, Science and History.
"I thank our dedicated teachers for their hard work in rolling out the new HSC courses, which were introduced to provide students with opportunities to engage in more depth and to develop a greater mastery of knowledge and skills," Ms Mitchell said.
"I remind students that taking care of themselves is crucial during the exam period. This includes eating healthy foods, getting enough sleep and doing some exercise every day."
Ms Mitchell said the exams provide students with the opportunity to show what they know and how skillfully they can apply their knowledge.
"Our students have been preparing for these exams for months, and today marks their time to shine and show how hard they have been working," Ms Mitchell said.
"Keep up the hard work; we are behind you and completely believe in your ability to do your very best.
"Don't be afraid to reach out to family, friends or your teachers if you feel at all overwhelmed at any time."
More than 61,000 students across NSW will sit papers in English Standard and Advanced, English Studies and English as an Additional Language or Dialect from 9.50 this morning.
Exams finish on Monday 11 November with Design and Technology and Textiles and Design.
World Teachers Day 2019
Celebrating quality teaching and inspirational teachers
World Teachers' Day is an annual event celebrated on different dates across the globe.
This year it will be celebrated on 25 October 2019 in NSW.
World Teachers' Day is an opportunity to celebrate the 160,000+ hardworking and dedicated primary, secondary and early childhood teachers in NSW.
A video message from the NSW Minister for Education and Early Childhood Learning
Ways to show your appreciation and support:
Thank a teacher in person and let them know you appreciate the work they do.

Send a shout-out via social media and encourage others to do the same. There are lots of resources available to help.

Show you support quality teaching and inspirational teachers by updating your Twitter or Facebook profile to include a special #WTD2019 banner.

Follow and share #WTD2019 posts.
Baby Songs
With the advent of popular music ('pop' music) new words such as 'twerk', 'YOLO', 'bling' and even that older Australian term 'mullet' have made it into dictionaries with their definitions.
Of all the songs ever written and sung, for many, love remains the central theme and the use of the word 'baby' similarly remains a word used informally to denote a partner, lover or spouse in many a tune.
This is different from songs written specifically for use in film that are about littlies - our babies. One such example is the song "Baby Mine" from the 1941 Disney animated feature Dumbo. The music is by Frank Churchill, with lyrics by Ned Washington and Betty Noyes recorded the vocals for the original film version. In the film, Dumbo's mother, Mrs. Jumbo, an elephant locked in a circus wagon, cradles her baby Dumbo with her trunk while this lullaby is sung. The song was nominated for an Academy Award for Best Original Song at the 14th Academy Awards in 1942.
Here's the popular Bette Midler version used in the 1988 film 'Beaches' with some of that cartoon
During the early 1960's the use of the word 'baby' in songs and song titles literally exploded. Think "Be My Baby"—The Ronettes (1963), "Don't Worry Baby"—The Beach Boys (1964), "Baby" The Supremes (1964) "Since I Lost My Baby"—The Temptations (1965), "Ooh Baby Baby"—Smokey Robinson and The Miracles (1965). Later on use of the word 'baby' persisted; "Baby, I Love Your Way"—Peter Frampton (1975),
"Give It to Me Baby"—Rick James (1981), "Baby, Baby"—Amy Grant (1991), "Baby Baby Baby"—TLC (1992).
Even Salt and Pepa's "Push It", originally the B-side of the "Tramp" single in 1987, and as its own single in 1988 'pushes' the use of baby baby in its chorus.
The use of these 'baby' songs to underline what is epitomised in popular films (movies) that are actually about babies or having a baby, such as the 1995 movie 'Nine Months' with Hugh Grant and Julianne Moore in the lead roles, or the 1989 movie 'Look Who's Talking' or even the 1987 movie 'Baby Boom' all use soundtracks to focus the 'baby songs' on actual babies.
The Ronettes
"Baby, I Love You" in the movie
Nine Months,
a rom-com, can apply to not only the arrival of a bundle of joy but love between the main characters.
"Baby, I Love You" was originally recorded by The Ronettes in 1963 and released on their debut album
Presenting the Fabulous Ronettes
(1964). The song was written by Jeff Barry, Ellie Greenwich, and Phil Spector, and produced by Spector.
Released in November 1963, the single reached number 24 on both the US Billboard Hot 100 and Cashbox Top 100 charts, and peaked at number 11 on the UK Pop Chart. Billboard ranked the song as number 56 on their list of 100 Greatest Girl Group Songs of All Time.
The original recording had Lead vocals by Ronnie Bennett, Background vocals by Cher and The Blossoms (Darlene Love, Fanita James, and Gracia Nitzsche) and
Instrumentation by The Wrecking Crew, a loose collective of session musicians based in Los Angeles whose services were employed for thousands of studio recordings in the 1960s and 1970s, including several hundred Top 40 hits.
Songs written specifically about a child being born are not always going to make it into the movies. Australian band Axiom released "A Little Ray of Sunshine" in March 1970 and this remains one of those songs that will still cause a tear to well up due to its wonderful lyrics and the memories so many of us 'oldies' have associated with it.
Axiom formed in late 1969 in Melbourne as a country rock group by Brian Cadd on co-lead vocals, organ and piano, Doug Lavery on drums, Don Mudie on bass guitar, Glenn Shorrock on co-lead vocals and rhythm guitar, and Chris Stockley on lead guitar. "A Little Ray of Sunshine" was co-written by Cadd and Mudie.
According to Australian music journalist, Ed Nimmervoll, "[it was] inspired by the birth of Don Mudie's first child." However, in Cadd's autobiography, From this Side of Things (2010), he explained that it is not written about his own daughter (who was born 15 years later) nor any other band member's. Instead it was written about a couple who were close to Cadd's (and Mudie's) former band, the Groop. He said they had a blazing, acrimonious relationship and broke up before the girl was born. The song was written to celebrate her arrival.
Another popular 1970's song written about the arrival of a daughter is Stevie Wonder's "Isn't She Lovely" which he wrote to celebrate the birth of his daughter, Aisha. The outro contains some actual recordings of father and daughter playing together!
LOVEly....
Incidentally, Australia's Brian Cadd did have songs appear in film - the iconic surfing film Morning of the Earth features three Cadd tracks; "Sure Feels Good", "Making It on Your Own" and "Come with Me". In October 2010, the soundtrack for Morning of the Earth (1971) was listed in the book, 100 Best Australian Albums. The film is well worth a look at if you haven't seen it yet as you will see our area as it was then - as well as some great surfing!
That
A Little Ray of Sunshine
'baby' song:
It's not all about little girls of course. John Lennon's "Beautiful Boy" was written for his son Sean, while sons writing songs to celebrate their love for their dad feature heavily throughout the all-time lists of music ever made - some great, some brilliant - some even singing of inter-generational LOVE.
One such example is another that can still bring a tear to the eye of many as we feel what is sung of - the 1988 Mike and the Mechanics' "Living Years" expresses:
So don't yield to the fortunes

You sometimes see as fate

It may have a new perspective

On a different day

And if you don't give up, and don't give in

You may just be okay




So say it loud, say it clear (oh say it clear)

You can listen as well as you hear

Because it's too late, it's too late (it's too late) when we die (oh when we die)

To admit we don't see eye to eye




I wasn't there that morning

When my Father passed away

I didn't get to tell him

All the things I had to say




I think I caught his spirit

I'm sure I heard his echo

In my baby's new born tears

I just wish I could have told him in the living years
"The Living Years" is a ballad and was written by Mike Rutherford and B. A. Robertson, and recorded by Rutherford's British rock band Mike + The Mechanics. The Mike + The Mechanics version was initially promoted as giving impressions about disagreements between Mike Rutherford and his father, who had recently died. In an interview, Rutherford said:
"The lyrics were written by BA [Robertson], and the song is about something he went through. He lost his dad, and it's about the lack of communication between him and his father before he died. There's also the irony of him having a baby just after losing his father."
There are a lot of angst-exhaling father-son - son to father songs out there - ditto mums and daughters! There are also those that express belief in the boy rising to manhood and being just himself and that being just brilliant - from Kansas' 1975 "Carry on Wayward Son":
For there'll be peace when you are done

Lay your weary head to rest

Don't you cry no more
There are also a lot of baby songs celebrating sons and, when dedicated to mum or dad, express that simple 'I Love You' that begins before baby is born and will outlast anything.
Paul Simons' "Love Me Like A Rock" expresses knowing he is loved by his mum (and dad) with a taunt of 'who do you think you're fooling' to anyone or anything else that thinks that love is not going on (and on and on) and that basis will see you throughout anything - for always.
That song:
"Loves Me Like a Rock" was the second single from his third studio album, There Goes Rhymin' Simon (1973), released on Columbia Records. It features background vocals from the Dixie Hummingbirds, a Southern black gospel group. Although the lyrics are not typically associated with gospel music, the Dixie Hummingbirds were eager to record the song with Simon, and they recorded their own version of the song soon afterwards.
There Goes Rhymin' Simon, rush-released on May 5, 1973, contains songs covering several styles and genres, such as gospel ("Loves Me Like a Rock") and Dixieland ("Take Me to the Mardi Gras"). It received two nominations at the Grammy Awards of 1974, including Best Male Pop Vocal performance and Album of the Year.
The album opens with the feel-good lead single "Kodachrome" and closes on the B side with "Loves Me Like a Rock". Track 3 on the B side, "Learn How to Fall" reads like another parent-child message.
There Goes Rhymin' Simon was preceded by the 1972 album simply titled 'Paul Simon' with the lead single from that one being "Mother and Child Reunion".
The title,
"Mother and Child Reunion",
has its origin in a chicken-and-egg dish called "Mother and Child Reunion" that Simon saw on a Chinese restaurant's menu. The song's lyrics were inspired by a pet dog that was run over and killed. It was the first death Simon personally experienced, and he began to wonder how he would react if the same happened to his wife, Peggy Harper. "Somehow there was a connection between this death and Peggy and it was like Heaven, I don't know what the connection was," Simon told Rolling Stone in 1972.
The song was recorded at Dynamic Sounds Studios at Torrington Bridge in Kingston, Jamaica, with Jimmy Cliff's backing group. Simon was and is a fan of reggae music, and he listened to artists such as Jimmy Cliff, Desmond Dekker, and Byron Lee; he wanted to go to Kingston, Jamaica to record the song, as that was where Cliff had recorded his antiwar song "Vietnam" in 1970.
His love of other musical genres and incorporating these into his music would bring the world such wonderful albums in ensuing years too - Graceland, with the wonderful Ladysmith Black Mambazo, remains a favourite of many.
In
"Learn How to Fall" the baby is no longer a toddler still finding his or her feet.
Simon's first marriage, to Peggy Harper, ended in divorce but gave them a son, Harper, who is now a musician himself.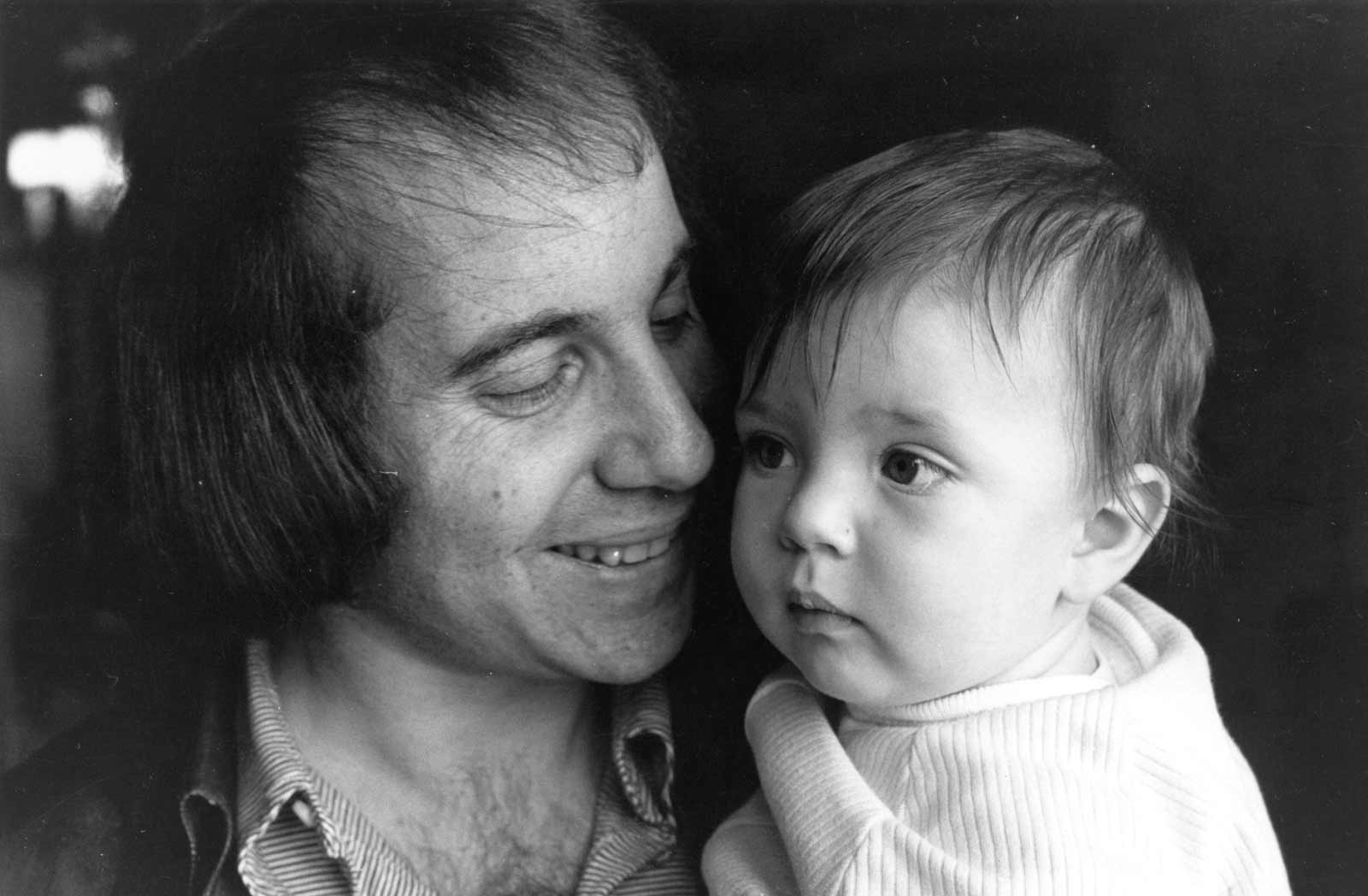 Paul Simon with his son Harper, June 7, 1973 - courtesy Getty Images

His second wife, actress/writer Carrie Fisher, was the inspiration for many of the songs on both Hearts and Bones and Graceland, but they divorced in 1984 after a few failed attempts at reconciliation.
He married singer Edie Brickell in 1992, and they have three children, splitting their time between New York and Connecticut.
His love for his children and the world they will inherit shows up outside his songs too.
A frequent contributor to and fundraiser for charities both local and global, he has raised millions for causes like amfAR, The Nature Conservancy, The Fund for Imprisoned Children in South Africa, The Joe Torre Safe At Home Foundation and Autism Speaks. In 1987, he co-founded the Children's Health Fund, launching a mobile medical clinic to bring healthcare to homeless children. The organisation now has a fleet of 50 medical, dental and mental health clinics on wheels, which were the primary health care source for communities ravaged by Hurricanes Andrew and Katrina.
In 2016, Mr. Simon gave NPR his thoughts about giving up songwriting;
"I really wonder what would happen to my creative impulses, which seem to come on a regular basis; every three, four years they manifest themselves. And by habit, they manifest themselves as songs. But this is really the decision of a 13-year-old. Me, who said, at 13, 'No, I want to write songs.' So I'm doing it 60 years later.

This 13-year-old is still telling me what to do

." - Paul Simon Biography Retrieved from https://www.biography.com/musician/paul-simon
"The Obvious Child" by Paul Simon was the lead single from his eighth studio album,
The Rhythm of the Saints
(1990), released by Warner Bros. Records. Written by Simon, its lyrics explore mortality and ageing.
The song's drum introduction is indebted to "Madagascar", a song by Olodum from their 1987 LP
Egito Madagáscar
.
This song is the namesake for the 2014 film Obvious Child.
For The Rhythm of the Saints, Simon was inspired by poet Derek Walcott, and would base first-draft lyrics on his poems. Mr. Simon attempted to match the rhythmic quality of the composition with his lyrics, whether that meant a lyric was meaningless or not. A lyric relating to "the cross is in the ballpark," in The Obvious Child for example, has no meaning; Simon said,



"I found [it] to be a satisfying rhythmic phrase against the drums."
"Father and Daughter" is another song by the American singer-songwriter Paul Simon. The song, written for the animated family film The Wild Thornberrys Movie, features the lyrics;

I believe the light that shines on you will shine on you forever

And though I can't guarantee there's nothing scary hiding under your bed

I'm gonna stand guard like a postcard of a golden retriever

And never leave 'til I leave you with a sweet dream in your head




I'm gonna watch you shine

Gonna watch you grow

Gonna paint a sign

So you'll always know

As long as one and one is two

There could never be a father

Who loved his daughter more than I love you
Inter-generational love marks many of Mr. Simon's songs - his love for his dog(s), his parents and his children is a sing it out loud and proud affair. His love for the environment and conservation remains strong too. Visit:
www.paulsimon.com/news
His, and many other 'baby' songs, remind us all that what remains 'obvious' is we loved you before you were born, will love you once grown and will love you, too, when you have children of your own. For parents, their children are their 'dream come true' and so singing
to
them,
about
them, and
for
them is what marks and makes the rhythm of their day to day and their whole life's lyric - from lullabies to birthdays and then, sharing the music we grew up and
danced
to even while
dancing
to yours!
To close, "The Obvious Child" (Live in Central Park, New York 1991 - apologies for Vid. visual quality but sound quality is good) - which reminds us that many of those things we sang about when 13 and younger remains what we will explore and sing about when decades older.

Let's Dance!:
Curious Kids: Is It OK To Listen To Music While Studying?
Answered by Timothy Byron, Lecturer in Psychology, University of Wollongong
I am in year 11 and I like to listen to music when I am studying, but my dad says that my brain is spending only half of its time studying and the other half is distracted by listening. He says it is better to leave my phone out of my room and concentrate on studying rather than listening to music. Is it OK to listen to songs when I am studying? – Robert, Year 11 student.



It's a good question! In a nutshell, music puts us in a better mood, which makes us better at studying – but it also distracts us, which makes us worse at studying.
So if you want to study effectively with music, you want to reduce how distracting music can be, and increase the level to which the music keeps you in a good mood.
Music can put us in a better mood
You may have heard of the Mozart effect – the idea that listening to Mozart makes you "smarter". This is based on research that found listening to complex classical music like Mozart improved test scores, which the researcher argued was based on the music's ability to stimulate parts of our minds that play a role in mathematical ability.
However, further research conclusively debunked the Mozart effect theory: it wasn't really anything to do with maths, it was really just that music puts us in a better mood.
Research conducted in the 1990s found a "Blur Effect" – where kids who listened to the BritPop band Blur seemed to do better on tests. In fact, researchers found that the Blur effect was bigger than the Mozart effect, simply because kids enjoyed pop music like Blur more than classical music.
Being in a better mood likely means that we try that little bit harder and are willing to stick with challenging tasks.
On the other hand, music can be a distraction – under certain circumstances.
When you study, you're using your "working memory" – that means you are holding and manipulating several bits of information in your head at once.
The research is fairly clear that when there's music in the background, and especially music with vocals, our working memory gets worse.
Likely as a result, reading comprehension decreases when people listen to music with lyrics. Music also appears to be more distracting for people who are introverts than for people who are extroverts, perhaps because introverts are more easily overstimulated.
Some clever work by an Australia-based researcher called Bill Thompson and his colleagues aimed to figure out the relative effect of these two competing factors - mood and distraction.
They had participants do a fairly demanding comprehension task, and listen to classical music that was either slow or fast, and which was either soft or loud.
They found the only time there was any real decrease in performance was when people were listening to music that was both fast and loud (that is, at about the speed of Shake It Off by Taylor Swift, at about the volume of a vacuum cleaner).
But while that caused a decrease in performance, it wasn't actually that big a decrease. And other similar research also failed to find large differences.
So… can I listen to music while studying or not?
To sum up: research suggest it's probably fine to listen to music while you're studying - with some caveats.
It's better if:
it puts you in a good mood
it's not too fast or too loud
it's less wordy (and hip-hop, where the words are rapped rather than sung, is likely to be even more distracting)
you're not too introverted.
Happy listening and good luck in your exams!
___________________________________________________________
Curious Kids is a series of Articles published by
The Conversation
for younger audiences
available in full here
Frog Conservation Doubles As School Transition Awareness
Hard work by students on Sydney's upper North Shore aims to save frogs from loss of habitat.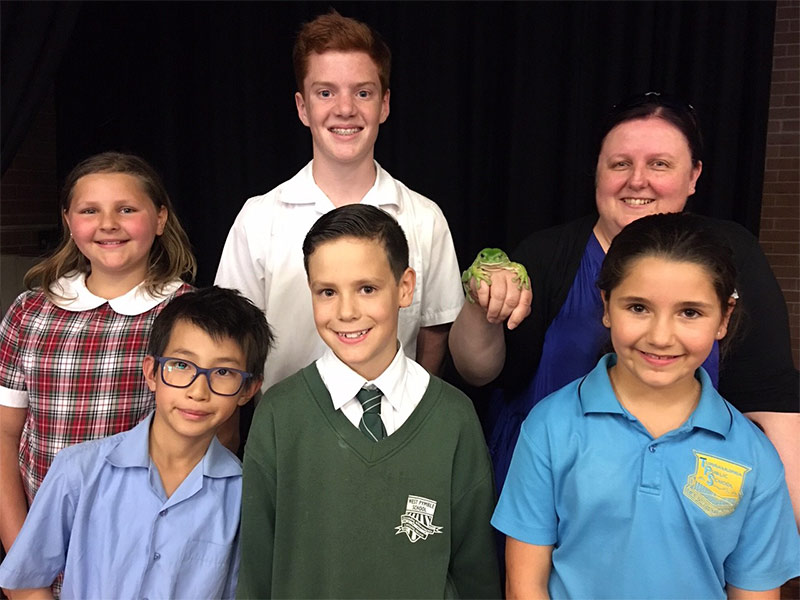 Kathy Potter of the Frog and Tadpole Study Group (back right) and students from Turramurra High, Gordon West, Turramurra, Warrawee and West Pymble public schools with their little green mascot.
Frogs on Sydney's upper North Shore are the latest group of native animals to benefit from an annual conservation project run by the Gibberagong Environmental Education Centre (EEC) and five local schools.
Gibberagong EEC teacher Brad Crossman said the Powerful Project – named after the subject of the first campaign in 2013, the Powerful Owl – runs for all of Term 3 each year.
This year's results were presented at an expo this week at Turramurra High School.
"Year 9 students from the high school mentored local Year 4 students in studying, protecting and raising awareness of a particular species," Mr Crossman said.
"This year we chose frogs because they are a local group of animals that are increasingly under threat from loss of habitat and changes to remaining habitat.
"If we can learn more about the frog and understand better the changes reducing its numbers, we're better able to act to protect it and other fauna and flora in its habitat."
Throughout the project 300 Year 4 students from Turramurra, Gordon West, Warrawee and West Pymble public schools worked with 42 Year 9 students from Turramurra High School.
Mr Crossman said the project was structured to develop a wide range of leadership and learning skills.
"We've found that many of the students who have been mentored in Year 4 are keen to learn from their mentors when they get to high school, so they can fill that role when they reach Year 9," Mr Crossman said.
"The project naturally creates a lot of formal and personal bridges between the primary schools and the high school, supporting our transition programs."
Working together across schools, the students:
collected data for the Australian Museum using the FrogID app
designed communications to educate their peers about protecting the species
learnt how to create frog habitats
took part in a nature photography workshop
worked with the Frog and Tadpole Study Group.
The expo included a star appearance by a subject of the project, records of the work done, demonstrations of practical work, and entries to the photo competition.
Situated in Ku-ring-gai Chase National Park, Gibberagong EEC
is one of 25 environmental and zoo education centres – specialist public schools that inspire our students to experience and connect with nature.
The Honourable Richard Tracey AM RFD QC
At its hearing in Melbourne this morning, the Royal Commission into Aged Care Quality and Safety marked the passing of the Honourable Richard Tracey AM RFD QC. Commissioner Tracey died on Friday, 11 October, after a short illness. He was 71.
Commissioner Tracey was appointed Chair of the Royal Commission on 6 December 2018. He was a judge of the Federal Court of Australia from 2006 until 2018, having been appointed Queen's Counsel in 1991. He served in the Australian Army from 1975 until 2014, achieving the rank of Major-General. He was Judge Advocate General of the Australian Defence Force from 2007 until 2014, and President of the Defence Force Discipline Appeal Tribunal from 2009 until 2018.
Commissioner Lynelle Briggs AO said that "[Commissioner Tracey] was experienced. He was wise. He was admired. He knew the law like the back of his hand. He was prepared to take a punt if it meant getting a better outcome for older Australians."
"His kind words to our witnesses after their presentations gave them comfort and let them know that they had been heard. His gentle guidance and direction to Royal Commission staff always helped, and made our collective lives so much easier."
The new Chair of the Royal Commission, the Honourable Tony Pagone QC, said of Commissioner Tracey that "[h]is work on this Commission has … been solid, selfless and significant".
Mr Peter Rozen QC, Senior Counsel Assisting the Royal Commission, described Commissioner Tracey as "[a] fundamentally decent human being whose passing is keenly felt by the Counsel Assisting, Office of Solicitor Assisting teams and all staff of the Aged Care Royal Commission".
The Commissioners gave their condolences to Commissioner Tracey's wife, Hilary, and their children: Jack, Philip, Fiona and Rosie.
Commissioner Tracey had, with Commissioner Briggs, finalised the text of the Royal Commission's Interim Report in late September. The Interim Report will be presented to the Governor-General on 31 October 2019.
Read a
transcript of tributes
from Aged Care Royal Commissioners the Honourable Tony Pagone QC and Lynelle Briggs AO to the late Commissioner the Honourable Richard Tracey AM RFD QC.
World Osteoporosis Day 2019 – Government Launches National Action Plan
October 17, 2019: The Hon. Greg Hunt, Federal Minister for Health
The Federal Government is taking national action to tackle osteoporosis, a chronic condition where bones become brittle, leading to a higher risk of breaks than in normal bones.
The Action Plan addresses the urgent need for a national strategic response to the challenges and burden of osteoporosis across Australia.
It will focus on increased awareness, education and prevention of osteoporosis, including improved diagnosis and management, and care of people with, or at risk of, osteoporosis.
The Government is allocating $4 million to support implementation of the Action Plan.
Of this, $3 million is being released from the Medical Research Future Fund for a pilot project for the Primary Care Fracture Liaison Service, aimed at reducing further risk of breaking bones and significantly decreasing the burden of osteoporosis.
$500,000 is being provided directly to Osteoporosis Australia, and a further $500,000 will be made available through a competitive grant to assist awareness and education work.
The Government is committed to supporting Australians experiencing osteoporosis, improving awareness of poor bone health and taking early action to prevent a broken bone.
In 2017–18, more than 1.2 million Australians self-reported that they had osteoporosis, and it is estimated a further 6.3 million people have low bone density.
Osteoporosis is more common among women, affecting 6.2 per cent of females compared with 1.5 per cent of males. As with many chronic conditions, osteoporosis is prominent among older Australians, with 86 per cent of people affected being aged 55 years or over.
The Government understands research is the single best way to identify more
effective methods for preventing, treating and managing chronic conditions – and, ideally, for
finding cures for conditions going forward.
Osteoporosis is no exception. Since 2000, $112 million has been provided through National
Health and Medical Research Council grants to support clinical research into osteoporosis and
bone health issues.
Our Government is able to provide unprecedented levels of support to health and medical
research because of our strong economic management.
Who Cares? Seniors Do!
Older carers provide on average 38 hours a week of care to family members and friends, with some caring for others full-time.
The survey of 4,000 members of National Seniors, Australia's peak advocacy group for older Australians, raises major issues for National Carers Week.
Among the revealing findings of the survey is the extent of caring:
27 per cent of respondents provided care for grandchildren or children under 12
22 per cent provided care for an adult
6 per cent provided care for both children AND adults
54 per cent of carers of grandchildren rated their health as good or better
But 66 per cent of carers of adults rated their health as fair or poor.
National Seniors Chief Executive, Professor John McCallum says the survey shows a worrying difference in the health between those who care for adults, compared to those who care for children.
"We have seen from that delightful series on the ABC 'Old People's Home for 4 Year Olds', how older Australians respond so well when they regularly interact with children.
"Unfortunately, we also see the toll it takes on the health of older Australians when looking after an adult or parent," he said.
The research also revealed what tasks carers typically do, with:
61 per cent performing daily tasks such as cleaning, cooking and shopping
34 per cent helping with cognitive or behavioural problems
37 per cent assisting with complex health needs and 31 per cent saying they assist with all of the above.
Professor McCallum says National Carers Week is a great opportunity to acknowledge the vital work carried out by both paid and unpaid carers.
"We worry more about people in residential care than about people being looked after at home and their carers where similar work is performed. They are our largest aged care workforce which is too little recognised."
The survey revealed almost half of respondents would accept more support in their role if it was offered.
They rated readily accessible respite care, more in-home assistance and better advice of social interaction with their care recipients as priorities.
"Good carers need to be valued and recognised in one of the toughest roles in the community and they need to be better supported," Professor McCallum said.
National Carers' Week runs until this Saturday, 19 October.
World Osteoporosis Day: Sunday October 20 2019
Osteoporosis is the hidden, underlying cause of painful, debilitating and life-threatening fractures.
If you have key risk factors for osteoporosis you should request a bone health assessment – take action for prevention!
Advocate! Sign the IOF Global Patient Charter and join us in calling on healthcare providers to close the massive 'care gap'.
Osteoporosis is a growing global problem that respects no boundaries: worldwide, fractures affect one in three women and one in five men over the age of 50.
Australia: Older People In Aged Care Drugged Up
Many aged care facilities in Australia routinely give older people with dementia dangerous medicines to control their behaviour, Human Rights Watch said in a report released today.
The Human Rights Watch's 101-page report, "
'Fading Away': How Aged Care Facilities in Australia Chemically Restrain Older People with Dementia
," found that instead of providing support to older people with dementia, facilities use drugs to control their behaviour, a practice known as chemical restraint. Many of the drugs used to control people in aged care facilities are anti-psychotics that are not approved in Australia for older people with dementia. In addition to the physical, social, and emotional harm for older people restrained with these drugs, the use of these drugs in older people with dementia is also associated with an increased risk of death.
The report is based on interviews with family members, doctors, nurses, and advocates, and documents the use of medications as chemical restraint in 35 aged care facilities in three states in Australia.
"When older people are silenced by drugs rather than given person-centred support, it risks their health and insults their humanity," said Bethany Brown, researcher on older people's human rights at Human Rights Watch and author of the report. "Older people with dementia need an understanding helping hand, not a pill."
The Australian government should prohibit this practice and introduce requirements for adequate staffing numbers and dementia training to support older people with dementia without chemical restraint. The government should act urgently in advance of the Royal Commission of Inquiry into Aged Care Quality and Safety's interim report, on October 31, 2019.
Family members described a dramatic deterioration in their older loved ones. Formerly energetic, talkative people became lethargic and, in some cases, unable to speak. Many reported that their relatives slept heavily, often for long periods, and could only be awakened with difficulty. Some experienced serious weight loss and dehydration, often because they could not stay awake long enough to eat or drink. Many became so weak from not using their muscles that they lost mobility. They often lost the ability to perform self-care tasks such as using the bathroom or showering. Family members described seeing their relatives restrained over many months, even years.
One woman said that her grandmother had wandered away from an aged care facility where she was living in 2017. After the incident, the facility staff said they placed her on anti-psychotic drugs. "Everything about her, her health, her spirit, declined after that drug," the granddaughter said. "We went to see her after the meds, and she couldn't hold a conversation, she was dropping off to sleep, [just] like that.… Her eyes would roll back in her head.
Some family members said that staff threatened and intimidated them when they asked questions about the drugs or challenged their relatives' treatment. They said they complained to government agencies with responsibility for monitoring aged care, without success.
When older people stopped receiving the medications after relatives intervened, some regained their previous vitality.
The Royal Commission heard testimony on chemical restraint in aged care during its hearings in Sydney in May. In an attempt to address the issue, the government introduced a new regulation, the Quality of Care Amendment (Minimising the Use of Restraints) Principles 2019, which came into force in July. But the regulation does not prohibit chemical restraint or set out any penalties for aged care facilities that engage in the practice. A parliamentary committee is conducting an inquiry into that regulation.
International human rights law prohibits inhuman and degrading treatment. In 2013, the United Nations Committee on the Rights of Persons with Disabilities criticised Australia for allowing practices that would subject people with disabilities, including older people with dementia, to "unregulated behaviour modification or restrictive practices such as chemical, mechanical and physical restraints and seclusion." The committee said that Australia should end these practices.
The Australian government should prohibit the use of chemical restraints to control the behaviour of people with dementia, or for the convenience of staff, in line with its international human rights obligations. The authorities should instead make sure that any medical intervention takes place only with free and informed consent, and that medications are administered only for therapeutic purposes. The government should make it a priority to provide positive support and intervention for people with dementia, including in aged care facilities and ensure that there are adequate numbers of trained staff to provide this support.
The Aged Care Quality and Safety Commission, a government inspection agency, should monitor for chemical restraint.
"The Australian government should prohibit chemical restraint and penalize aged care facilities it finds violating that prohibition" Brown said. "We all have the same right to be treated with dignity, which doesn't change with age or dementia."
Another Reason To Get Cataract Surgery: It Can Make You 48% Safer On The Road
The ability of cataract surgery to restore sight is well known. People say they're stunned by the vibrancy of color after surgery and the improvement in night vision. Some can even reduce their reliance on glasses. But can you quantify that improved quality of vision? To find out, researchers in Australia used a driving simulator to test patients' vision before and after cataract surgery. They found that near misses and crashes decreased by 48 percent after surgery. The researchers present their study today at AAO 2019, the 123rd Annual Meeting of the American Academy of Ophthalmology.
Cataracts are a normal consequence of ageing. They happen gradually over years, as the clear lens inside the eye becomes cloudy. The effects of a developing cataract are sometimes hard to distinguish from other age-related vision changes. You may become more nearsighted; colours appear duller and glare from lights make it harder to see at night. By age 80, about half of us will have developed cataracts.
Cataract surgery replaces the cloudy lens with an artificial lens. The surgery is low-risk, fast and effective. But not everyone has surgery right away. The decision is usually based on how much the cataract is interfering with daily life activities. Ophthalmologists typically operate on one eye at a time, starting with the eye with the denser cataract. If surgery is successful and vision improves substantially, sometimes surgery in the second eye is forgone or delayed. However, most people get significant benefit from having surgery on the second eye. Depth perception is improved, vision is crisper, making reading and driving easier.
To better understand the true benefit of cataract surgery to patients' quality of life, Jonathon Ng, MD, and his colleagues at the University of Western Australia, tested the driving performance of 44 patients before they had cataract surgery. The driving simulator assessed a variety of variables: adjusted speed limits, traffic densities, uncontrolled intersections and pedestrian crossings. Patients were put through the driving simulator again after their first
surgery and then again after their second eye surgery. After the first, near misses and crashes decreased by 35 percent; after the second surgery, the number fell to 48 percent.
While visual acuity -- how well one sees the eye chart -- is an important method to assess a person's fitness to drive, it's an incomplete assessment, Dr. Ng said. Quality of vision is also an important indicator. Improved contrast sensitivity and better night vision improves drivers' safety on the road.
"In Australia and other countries, people may often wait months to receive government funded surgery after a cataract is diagnosed," said Dr. Ng. "These results highlight the importance of timely cataract surgery in maintaining safety and continued mobility and independence in older adult drivers."
Some things to consider, when considering cataract surgery:
Can you see to safety do your job and to drive?
Do you have problems reading or watching TV?
Is it difficult to cook, shop, climb stairs or take medications?
Do vision problems affect your independence?
Do bright lights make is harder to see?
Up Close With Fantastic Noisy Friarbirds – Capertee Valley
Published October 2019 by Birds in Back Yards TV
These Noisy Friarbirds (Philemon corniculatus ssp monachus) were filmed across two trips to the Capertee Valley, NSW. Most of the footage was collected in mid September 2019 and consists of a (likely) pair who were drawn to either an artificial pond (but often lingering on low branches nearby) or a reed-edged dam. They were two of many honeyeaters visiting water sources on that warm sunny day. Others heard in this video include the similarly large and vocal Red Wattlebirds and smaller Yellow-faced Honeyeaters and White-plumed Honeyeaters. Last spring we set up the camera in a cottage near the pond and several flowering Ironbarks. Those nectar-feeding scenes from early October 2018 were captured from the second storey. The cottage is located on a 140 acre conservation property and nestles amongst woodland, open forest, revegetated farmland and paddocks with native grasses. The second photo shows part of the area where Noisy Friarbirds can be found (with the house zone just out of shot to the left). This photo was taken at the end of March 2019 when Noisy Friarbirds were more numerous. The photo soundscape was also collected at this time. Noisy Friarbirds are partial migrants; those from the southern part of the species' range (i.e. south-eastern Australia) move north in autumn and south in late winter. Indeed, we witnessed the northern movement of well over a hundred Noisy Friarbirds (in groups of around a dozen or more) when visiting the valley in early March 2019. Their return is usually more inconspicuous.
Like many honeyeaters, Noisy Friarbirds are flexible in their feeding. They are attracted to areas with eucalypt blossoms (e.g. flushes of flowering in woodland, open forest and parks), but also thrive when their habitat is rich in insects. They can be particularly gregarious and aggressive when in a group and may exclude smaller honeyeaters from popular trees. Often they forage in the canopy for nectar, manna, lerps and various invertebrates, sometimes chasing an insect to the ground. Perhaps unsurprisingly, their behaviour is more subdued when alone or in a pair. At the filming site in September 2019, the two Noisy Friarbirds had a taste of their own medicine – this time Red Wattlebirds were numerous and dominating.
Noisy Friarbirds have long been one of our favourite birds. That face! That voice! Certainly a charismatic, unmistakable bird, even next to other friarbird species. Their name comes from the religious practice of shaving either part or entire hair from one's head (as seen in monks or friars). Noisy Friarbirds have the barest heads and are sometimes called Leatherheads (or Knobby-nose Leatherhead). With their amazing gorgets (feathers on throat and upper breast), we think they look like dandy (hooded) highwaymen!
Curious Kids: How Are Stars Made?
Answered by Orsola De Marco, Astrophysicist , Macquarie University
How are stars made? –Zali, age 8, Karkoo, South Australia.
How are stars made? Well, stars are not made, they make themselves! Or maybe I should say: they come into existence because of a powerful force of nature called gravity.
Galaxies are where new stars are born. In galaxies, there are very large and fluffy clouds of gas and dust called nebulae.
Gravity makes clumps inside these fluffy clouds - like raisins in a cake. When one of these clumps start to get tightly compacted and squished together, we say its density goes up. Density means how tightly something is compacted, or squished together.
These dense clumps of gas also get hotter and hotter in the centre. When the gas in the centres of a clump reaches a certain temperature (millions of degrees), something quite special starts happening inside the clump: hydrogen atoms come together to form helium.
(As I am sure you know, atoms are like tiny building blocks that make up everything around us. You, me and all the gas and space dust – it's all made of atoms).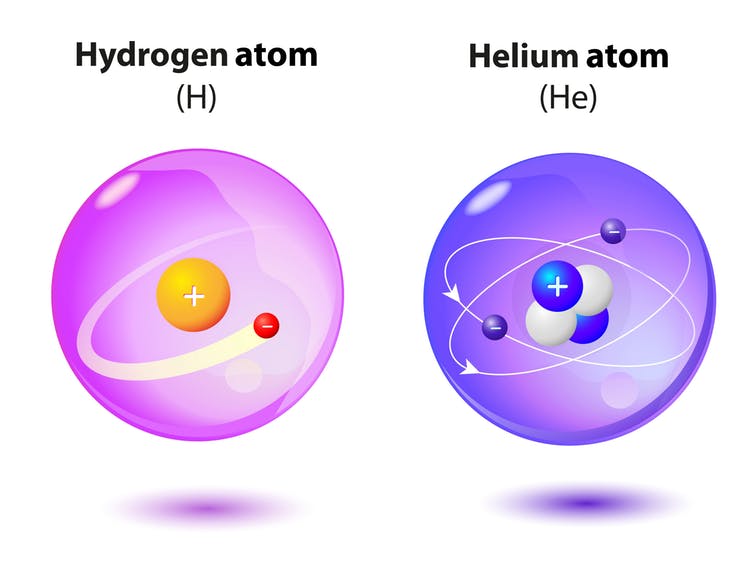 When hydrogen atoms come together to form helium, it's called nuclear fusion, and a lot of energy is released. Shutterstock
When hydrogen atoms come together to form helium, it's called nuclear fusion. This process releases a lot of energy (it's the opposite, yet similar process that happens when a nuclear bomb goes off). And this is how a star begins its life.
The life and death of a star
Just like us, stars are born, they live and then they die. Curiously, the length of a star's life depends on its birth weight. Light, low mass stars live very, very long lives.
Our Sun, as you probably know, is actually a star. It is about 4.5 billion years old, and is in the middle of its life. In another five billion years it will get much, much bigger but then it will start to shrivel. After that, it will die. Its nuclear power source will switch off and it will just sit there, cooling, like a burnt out piece of charcoal in a barbecue.
Stars that are many times heavier than our Sun live much shorter lives. The most massive stars, live for only a million years or so. Their deaths are much more spectacular than the quiet shrivelling of Sun-type stars. They go out in a bang. Scientists call them "supernovae".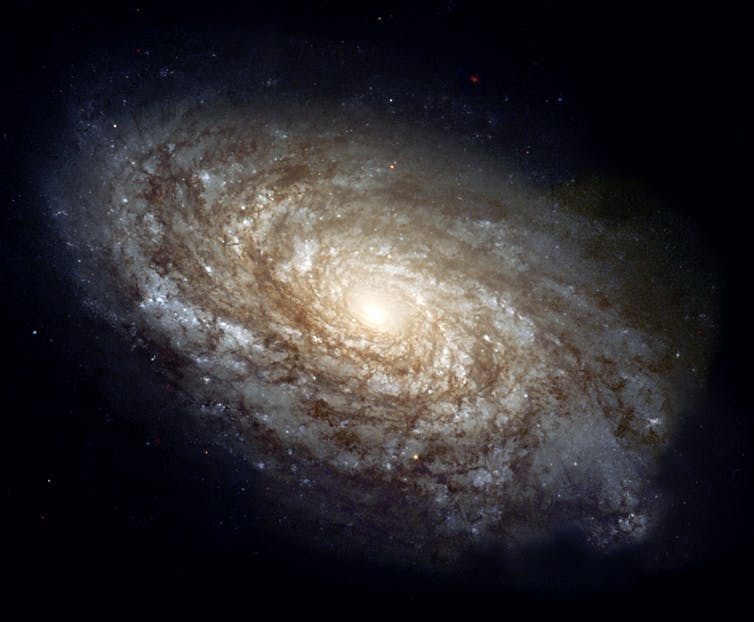 The dusty nebulae from which stars form live within the spiral arms of galaxies like this. By The Hubble Heritage Team (AURA/STScI/NASA)NASA Headquarters - Greatest Images of NASA (NASA-HQ-GRIN)
Have you ever heard the saying "we are all made of star dust?" It's actually true. Inside a star, helium atoms combine to make carbon, which is at the root of chemicals that you and all living things are made out of.
There is plenty we still do not understand about the mysterious lives of stars. Fortunately, we have large telescopes and space satellites to get better and better pictures. All we need is smart people like you to come and help figure out the puzzle!
_____________________________________________
Republished under a Creative Commons Licence.
Curious Kids: Does Chewing Gum Stay Inside You For Years?
Answered by Jerry Zhou, Lecturer, School of Medicine, Western Sydney University
Does chewing gum stay inside you for years? - Olivia, aged 12, Australia.
Great question, Olivia! The short answer is that most gum you swallow ends up in your poo. But if you swallow a lot of chewing gum, it can get stuck and cause problems.
Chewing gum existed 6,000 years ago. Our ancestors chewed gum made from black tar and tree sap. Just like today, people chewed gum to keep their mouth clean and stay alert.
Almost every civilisation chewed gum. The imperial Chinese chewed ginseng root to pass the time, while ancient Greek soldiers chewed tree bark on their march to battle.
Our modern gum is made from a flavoured synthetic rubber-like material, a softer and tastier version of the same stuff we use to make pencil erasers or bicycle tyres.
A gum's journey through our digestive system
Your gut is 10 metres of bendy tubes that turns food into energy for your body. This process starts in your mouth, where the teeth chew and grind up food into smaller pieces. The food then drops into the stomach, where acids and chemicals break it down into even smaller pieces. Now it's ready for your body to absorb and turn into energy.
Anything not used is pushed through your gut (also known as the intestines). Gum cannot be broken into small pieces by chewing or by the chemicals in your stomach.
So the gut pushes and squeezes the chewing gum out as poo a few days after you swallow it. That is where most swallowed gum ends up.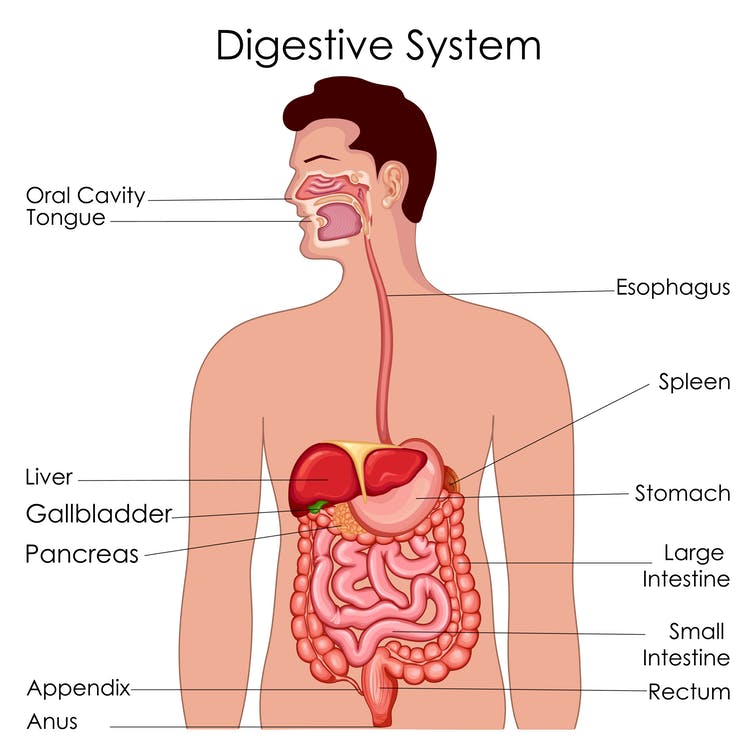 What if you swallow a lot of gum?
Swallowing a lot of gum can cause it to stick together or stick to food in your gut. If you have ever stepped on a piece of gum before, you know how sticky it is.
In rare cases, this can form a blockage doctors call a "bezoar". A young Israeli girl had to have a large bezoar surgically removed from her stomach after developing a habit of chewing and swallowing at least five wafers of chewing gum per day.
As long as you mostly spit your chewing gum out and put it in the bin, you will be okay.
_____________________________________________

Republished under a Creative Commons Licence.
Controlling The Charge State Of Organic Molecule Quantum Dots In A 2D Nanoarray
Australian researchers have fabricated a self-assembled, carbon-based nanofilm where the charge state (ie, electronically neutral or positive) can be controlled at the level of individual molecules, on a length scale of around one nanometre.
Molecular self-assembly on a metal results in a high-density, 2D, organic quantum-dot array with electric-field-controllable charge state, with the organic molecules used as 'nano-sized building blocks' in fabrication of functional nanomaterials.
Achieved densities are an order of magnitude larger than conventional inorganic systems.
The atomically-thin nanofilm consists of an ordered two-dimensional (2D) array of molecules which behave as 'zero dimensional' entities called quantum dots (QDs).
This system has exciting implications for fields such as computer memory, light-emitting devices and quantum computing.
The School of Physics and Astronomy study shows that a single-component, self-assembled 2D array of the organic (carbon-based) molecule dicyanoanthracene can be synthesised on a metal, such that the charge state of each molecule can be controlled individually via an applied electric field.
"This discovery would enable the fabrication of 2D arrays of individually addressable (switchable) quantum dots from the bottom-up, via self-assembly, says lead author Dhaneesh Kumar.
"We would be able to achieve densities tens of times larger than state-of-the-art, top-down synthesised inorganic systems."
QUANTUM DOTS: TINY, 'ZERO-DIMENSIONAL' POWERHOUSES
Quantum dots are extremely small -- about one nanometre across (ie, a millionth of a millimetre).
Because their size is similar to the wavelength of electrons, their electronic properties are radically different to conventional materials.
In quantum dots, the motion of electrons is constrained by this extremely small scale, resulting in discrete electronic quantum energy levels.
Effectively, they behave as 'zero-dimensional' (0D) objects, where the degree of occupancy (filled or empty) of their quantised electronic states determines the charge (in this study, neutral or negative) of the quantum dot.
Ordered arrays of charge-controllable quantum dots can find application in computing memory as well as light-emitting devices (eg, low-energy TV or smartphone screens).
Arrays of quantum dots are conventionally synthesised from inorganic materials via top-down fabrication approaches. However, using such 'top-down' approaches, it can be challenging to achieve arrays with large densities and high homogeneity (in terms of quantum-dot size and spacing).
Because of their tunability and self-assembling capability, using organic (carbon-based) molecules as nano-sized building blocks can be particularly useful for the fabrication of functional nanomaterials, in particular well-defined scalable ensembles of quantum dots.
The researchers synthesised a homogeneous, single-component, self-assembled 2D array of the organic molecule dicyanoanthracene (DCA) on a metal surface.
The study was led by Monash University's Faculty of Science, with support by theory from the Monash Faculty of Engineering.
This atomic-scale structural and electronic properties of this nanoscale array were studied experimentally via low-temperature scanning tunnelling microscopy (STM) and atomic force microscopy (AFM) (School of Physics and Astronomy, under Dr Agustin Schiffrin). Theoretical studies using density functional theory supported the experimental findings (Department of Material Science and Engineering, under A/Prof Nikhil Medhekar).
The researchers found that the charge of individual DCA molecules in the self-assembled 2D array can be controlled (switched from neutral to negative and vice versa) by an applied electric field. This charge state electric-field-control is enabled by an effective tunnelling barrier between molecule and surface (resulting from limited metal-adsorbate interactions) and a significant DCA electron affinity.
Subtle, site-dependent variations of the molecular adsorption geometry were found to give rise to significant variations in the susceptibility for electric-field-induced charging.
Dhaneesh Kumar, Cornelius Krull, Yuefeng Yin, Nikhil V. Medhekar, Agustin Schiffrin.
Electric Field Control of Molecular Charge State in a Single-Component 2D Organic Nanoarray
. ACS Nano, 2019; DOI:
10.1021/acsnano.9b05950
Soil On Moon And Mars Likely To Support Crops
Researchers at Wageningen University & Research in the Netherlands have produced crops in Mars and Moon soil simulant developed by NASA. The research supports the idea that it would not only be possible to grow food on Mars and the Moon to feed future settlers, but also to obtain viable seed from crops grown there.
Wieger Wamelink and his colleagues at Wageningen University & Research, cultivated ten different crops: garden cress, rocket, tomato, radish, rye, quinoa, spinach, chives, peas and leek. The researchers simulated the properties of Lunar and Martian regolith and "normal" soil (potting soil from Earth) as a control.
Nine of the ten crops sown grew well and edible parts were harvested from them. Spinach was the exception. Total biomass production per tray was the highest for the Earth control and Mars soil simulant that differed significantly from Moon soil simulant. The seeds produced by three species (radish, rye and garden cress) were tested successfully for germination.
The article, "Crop growth and viability of seeds on Mars and Moon soil simulants," by Wieger Wamelink and colleagues has been published in De Gruyter's open access journal, Open Agriculture.
"We were thrilled when we saw the first tomatoes ever grown on Mars soil simulant turning red. It meant that the next step towards a sustainable closed agricultural ecosystem had been taken," said Wieger Wamelink.
G.W.W. Wamelink, J.Y. Frissel, W.H.J. Krijnen, M.R. Verwoert.
Crop growth and viability of seeds on Mars and Moon soil simulants.
Open Agriculture, 2019; 4 (1): 509 DOI:
10.1515/opag-2019-0051
Fairy-Wrens Change Breeding Habits To Cope With Climate Change
Warmer temperatures linked to climate change are having a big impact on the breeding habits of one of Australia's most recognisable bird species, according to researchers at The Australian National University (ANU).
The study looked at the breeding season of superb fairy-wrens living in the Australian National Botanic Gardens in Canberra.
The research was led by Dr Lei Lv, who is visiting ANU from Sun Yat-sen University in China.
Dr Lv says warmer temperatures in early spring mean the birds will start breeding earlier than they normally would. If temperatures rise too high in mid-summer, they will also finish breeding earlier.
"Fairy-wrens have a very long breeding season which usually runs from around September through to February," Dr Lv said.
"The timing varies a lot among individuals and from year-to-year. We wanted to see if this variation was connected to changes in climate.
"It turns out if the minimum night-time temperatures are milder, the birds will start breeding earlier.
"Also, if it gets really hot and dry towards the end of the breeding season, in late December or early January, the birds stop breeding earlier as well."
The researchers also found when a female fairy-wren starts and stops breeding can have an impact on how successful they are.
"Individuals produced more young if they started breeding earlier," Dr Lv said.
"However, unsuccessful individuals kept trying until very late in the breeding season, but often to no avail. Thus, they stopped breeding later."
The research is part of a long term study on the fairy-wrens in the Botanic Gardens that has been running for over 30 years, led by Professor Andrew Cockburn at ANU.
"Every fairy-wren in the Botanic Gardens is marked and monitored, so we have details of their full life history," study co-author Professor Loeske Kruuk said.
"There are very few studies of this length or detail of bird species in the southern hemisphere."
It's hoped this wealth of data could eventually help scientists understand the effects of climate change on wild animal populations across the globe.
The study has been published in the journal Global Change Biology.
Lei Lv, Yang Liu, Helen L. Osmond, Andrew Cockburn, Loeske E. B. Kruuk.
When to start and when to stop: Effects of climate on breeding in a multi‐brooded songbird
. Global Change Biology, 2019; DOI:
10.1111/gcb.14831
Scientists Find New Way To Develop Drought-Resilient Crops
Australian research could help breeders develop more drought-resilient crops that can produce more food and more profit with less water.
Drought tolerance is critically important in the face of climate change, population growth and land-use pressures.
Scientists from The Australian National University (ANU), ARC Centre of Excellence in Plant Energy Biology, and CSIRO Agriculture and Food have developed a new method to identify drought-resilient wheat quickly, cheaply and accurately.
Lead researchers Dr Arun Yadav and Dr Adam Carroll said selecting wheat that can grow better during short- to medium-term drought is vital to help fight food insecurity around the world.
"Our work may be instrumental for farmers to maximise food production in the face of increasingly severe drought," said Dr Yadav from the Research School of Biology and ARC Centre of Excellence in Plant Energy Biology at ANU.
"Hardy crop plants that can maintain high yields under drought will help farmers produce more food reliably and maintain domestic and export markets for Australia."
"Drought is a major agricultural challenge in Australia, affecting food production, farmers' livelihoods and costing the government billions of dollars in relief efforts."
The simple test measured the relative abundance of four amino acids in wheat plants to predict their ability to maintain yield under drought much more accurately than current state-of-the-art methods, said Dr Carroll.
"This test can be done precisely in greenhouses all year round, at a fraction of the cost of traditional field-based methods. Plus, it gives more accurate predictions," he said.
Professor Barry Pogson, a 2019 Eureka Prize winner and Deputy Director of the ARC Centre of Excellence in Plant Energy Biology at ANU, was also a member of the research team.
"If breeders are provided with 1,000 wheat varieties to choose from, they can select the drought resilient lines through a simple assessment of the four amino acids we've identified," Professor Barry Pogson said.
"The challenge is for us to show this technique does scale beyond the varieties we have tested to date."
Dr Greg Rebetzke and Dr Gonzalo Estavillo from CSIRO Agriculture and Food conducted grain-yield evaluations under extensive field trials across the Australian wheat belt, which enabled the team to build a statistical model of the drought-tolerance predictor.
The study was funded by the Grains Research and Development Corporation, the ARC Centre of Excellence in Plant Energy Biology and the ARC Centre of Excellence in Translational Photosynthesis.
Dr Arun Yadav from the Research School of Biology. Photo: Lannon Harley ANU.
The Nano-Guitar String That Plays Itself
Scientists at Lancaster University and the University of Oxford have created a nano-electronic circuit which vibrates without any external force.
Using a tiny suspended wire, resembling a vibrating guitar string, their experiment shows how a simple nano-device can generate motion directly from an electrical current. The research has been published in Nature Physics.
To create the device, the researchers took a carbon nanotube, which is wire with a diameter of about 3 nanometres, roughly 100,000 times thinner than a guitar string. They mounted it on metal supports at each end, and then cooled it to a temperature of 0.02 degrees above absolute zero. The central part of the wire was free to vibrate, which the researchers could detect by passing a current through it and measuring a change in electrical resistance.
Just as a guitar string vibrates when it is plucked, the wire vibrates when it is forced into motion by an oscillating voltage. This was exactly as the researchers expected.
The surprise came when they repeated the experiment without the forcing voltage. Under the right conditions, the wire oscillated of its own accord.
The nano-guitar string was playing itself.
Lead researcher Dr Edward Laird of Lancaster University said: "It took us a while to work out what was causing the vibrations, but we eventually understood. In such a tiny device, it is important that an electrical current consists of individual electrons. The electrons hop one by one onto the wire, each giving it a small push. Usually these pushes are random, but we realised that when you control the parameters just right, they will synchronise and generate an oscillation."
So what note does the nano-guitar play?
"The nanotube is far thinner than a guitar string, so it oscillates at much higher frequency -- well into the ultrasound range so no human would be able to hear it.
"However, we can still assign it a note. Its frequency is 231 million hertz, which means it's an A string, pitched 21 octaves above standard tuning."
The nano-oscillator could be used to amplify tiny forces, such as in novel microscopes, or to measure the viscosity of exotic quantum fluids. These experiments will be pursued in a new laboratory that Dr Laird is setting up in the Physics Department at Lancaster, supported by a €2.7M grant from the European Union.
Yutian Wen, N. Ares, F. J. Schupp, T. Pei, G. A. D. Briggs & E. A. Laird.
A coherent nanomechanical oscillator driven by single-electron tunnelling
. Nature Physics, 2019 DOI:
10.1038/s41567-019-0683-5
Liquid Metals The Secret Ingredients To Clean Up Environment
Forget the laboratory, substances that can solve environmental problems by capturing carbon dioxide, decontaminating water and cleaning up pollutants can be easily created in a kitchen, a UNSW Sydney study shows.
In a paper published today in Nature Communications, UNSW chemical engineers shone a light on the mysterious world of liquid metals and their role as catalysts to speed up chemical processes using low amounts of energy.
Professor Kourosh Kalantar-Zadeh of UNSW's School of Chemical Engineering says that "anyone with a shaker and a cooktop at home in their kitchen can make catalysts that can be used for CO2 conversion, cleaning water and other pollutants.
"They can do this by using a combination of liquid metals like gallium, indium, bismuth and tin in alloys that can be melted under 300ºC on a cooktop or in an oven."
Professor Kalantar-Zadeh and colleague Dr Jianbo Tang showed that by heating an alloy of bismuth and tin, the metal melted at a point much lower than if you were to heat each metal individually. Substances that behave like this are said to be eutectic.
"Eutectic alloys are the mixes of metals that produce the lowest melting point at a particular combination," says Dr Tang.
"For instance, if we combine bismuth at 57% and tin at 43% they melt at 139ºC. But by themselves, both bismuth and tin have melting points above 200ºC."
Professor Kalantar-Zadeh says the specific mix ratio of eutectic substances produces the maximum natural chaos at the nano-level, which in turn brings the melting point down. The process can also work the other way. Eutectic metal substances already in liquid form can solidify at a single temperature below the usual freezing point of each metal.
"This maximum chaos helps, when we solidify the liquid metals, to naturally produce so many defects in the material that the 'catalytic' activity is significantly enhanced," Professor Kalantar-Zadeh says.
How to make a liquid metal catalyst
Ingredients: a eutectic alloy, water
Take your eutectic metal alloy and place in a saucepan on a high flame.
When the metal melts, carefully pour it into a bottle of water and tighten the cap.
Shake the liquid metal and water together to produce droplets of liquid metal in water. It will be similar to shaking oil and vinegar to produce droplets of oil in the vinegar.
Let the droplets solidify into a powder. This can now be used as a catalyst for the electrochemical conversion of CO2.
Liquid metals and the environment
Liquid metal alloys can be used to remove or neutralise pollutants in the environment as well as capturing the carbon in CO2 emissions. Tin, gallium and bismuth when in liquid form can be used as electrodes to convert carbon dioxide into useful byproducts. Another environmental application is that after heating the liquid metals to make oxides, the substances can also be used to absorb energy from light, which enables them to break down contaminants in water.
What makes liquid metals an attractive option in solving environmental problems is the fact they can be cheaply produced using low energy and in a low-tech environment.
"Metals such as tin and bismuth are accessible to many people around the world," says Professor Kalantar-Zadeh.
"People should just consider how easily, cheaply and with so little need for advanced technology that they can be processed and transformed into useful materials such as catalysts.
"Additionally, playing with liquid metals is fun. While the most famous liquid metal -- mercury -- is well known to be hazardous, a liquid metal like gallium is completely non-toxic, and meltable at or near room temperature, where we can use it to transform one material to another at very low input energies. Liquid metals could solve lots of problems that we as humans are grappling with these days."
Professor Kalantar-Zadeh is the recipient of the Australian Research Council (ARC) Laureate Fellowship which will fund further research into liquid metals for another four years.
Jianbo Tang, Rahman Daiyan, Mohammad B. Ghasemian, Shuhada A. Idrus-Saidi, Ali Zavabeti, Torben Daeneke, Jiong Yang, Pramod Koshy, Soshan Cheong, Richard D. Tilley, Richard B. Kaner, Rose Amal, Kourosh Kalantar-Zadeh.
Advantages of eutectic alloys for creating catalysts in the realm of nanotechnology-enabled metallurgy.
Nature Communications, 2019; 10 (1) DOI:
10.1038/s41467-019-12615-6
Disclaimer: These articles are not intended to provide medical advice, diagnosis or treatment. Views expressed here do not necessarily reflect those of Pittwater Online News or its staff.