Inbox and environment News: Issue 418
August 25 - 31, 2019: Issue 418
Barge Overturned Off Mackerel: There Has Been Minimal Environmental Impact Due To Hard Work Of Volunteers
On Wednesday this week members of the Scotland Island Rural Fire Brigade responded to an upturned barge off Mackerel Beach. Scotland Island and West Pittwater Brigades provided assistance to FRNSW.
On Friday Brigade members were on scene again working with FRNSW crews replacing booming around the overturned barge off Mackerel Beach. The booming is critical to prevent spread of diesel and other contaminants and will need to be replaced regularly until salvage operations are complete.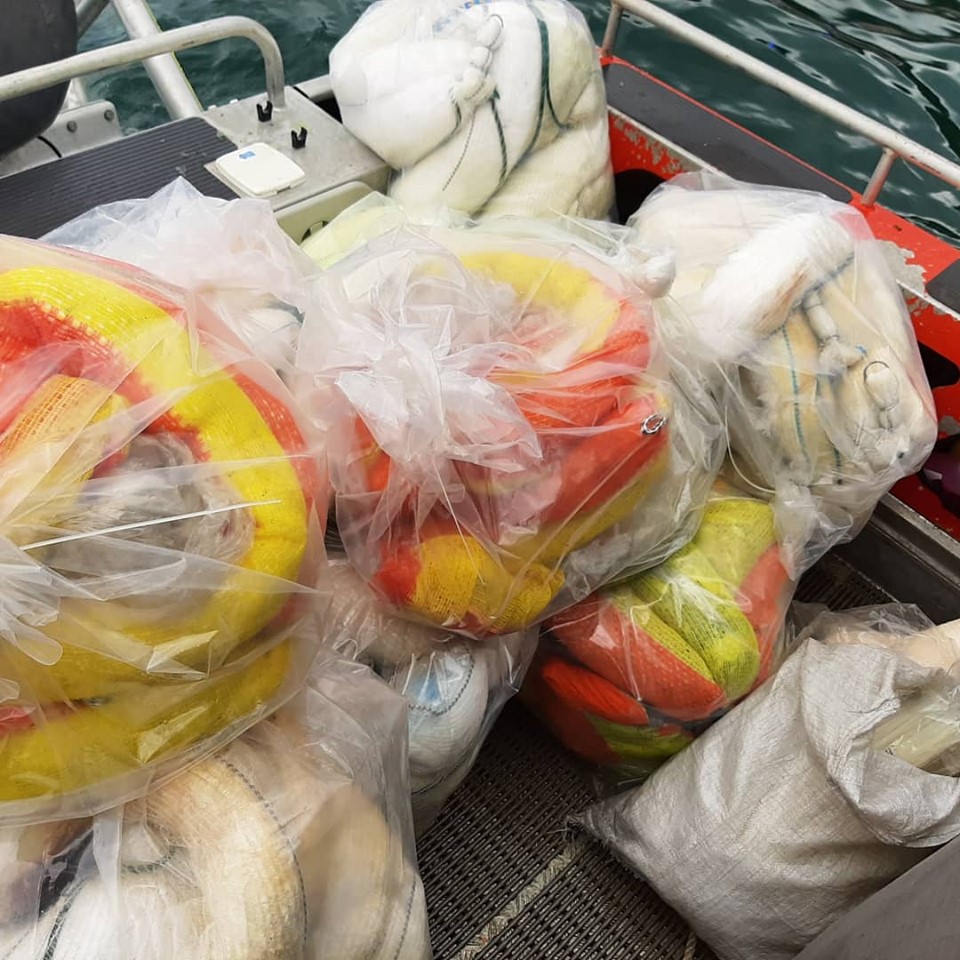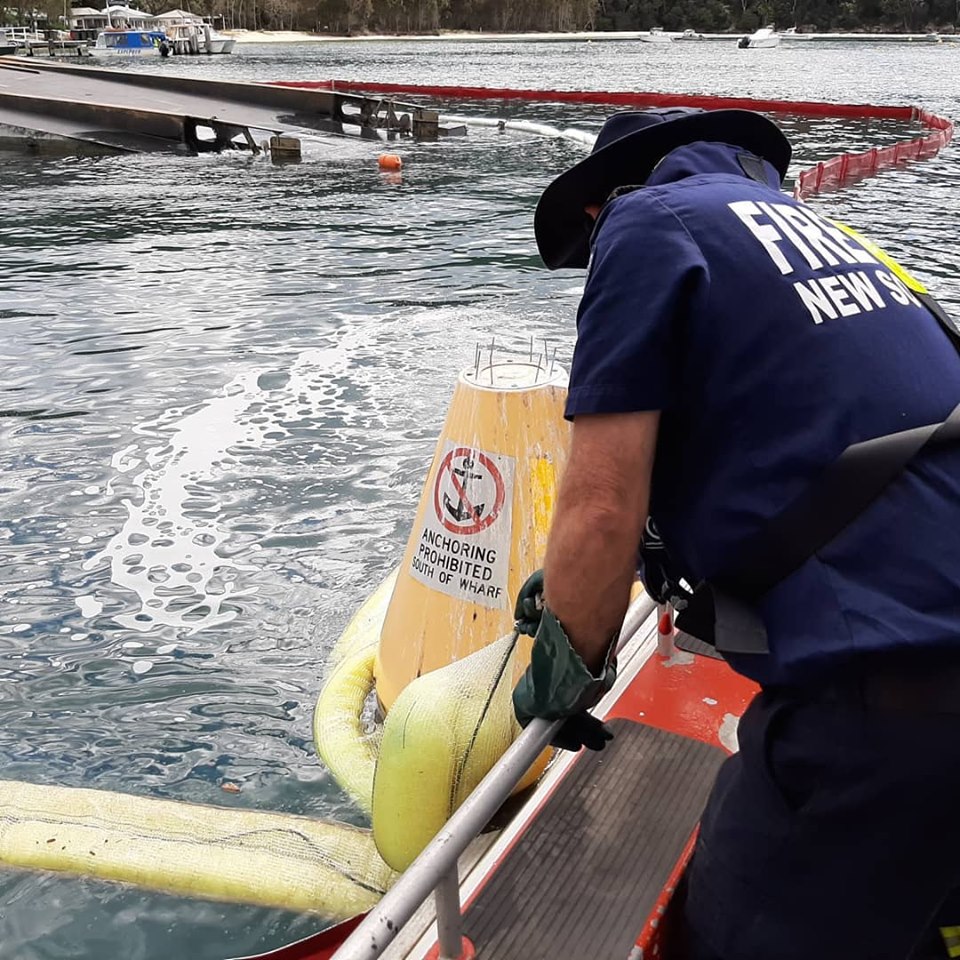 Fire and Rescue NSW Station 51 Forestville states that this will be an ongoing and protracted salvage operation over the next few days, designed to minimise environmental impact.
At this stage there has been minimal diesel leakage from the truck and barge due to the work of these volunteers.
The incident happened off Great Mackerel Beach at about 1pm, when the barge, which was carrying a sewage truck, overturned, sending three members of the crew overboard.
One of the men was temporarily trapped under the barge before being freed. All four men are ok.
NSW Ambulance Special Operations Team Craig Anson said: "On arrival, we found the occupants from the barge had managed to safely make their way away from the barge to a nearby boat."
The men were treated for minor injuries at the scene. One man was later taken to Northern Beaches Hospital in a stable condition.
The clean-up operation is under way and was expected to take up to three days to complete, after authorities placed a boom around the barge to contain the spill.
Great work by all these brigade members, all volunteers, in looking after those who were on the barge and in the clean up operations that have come afterwards to protect the crystal waters of the Pittwater estuary.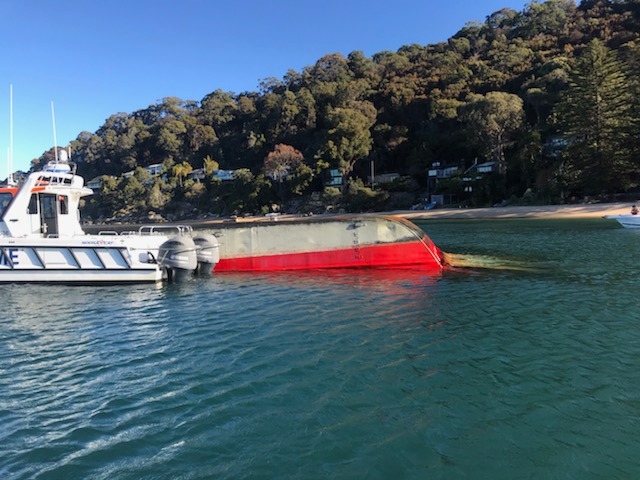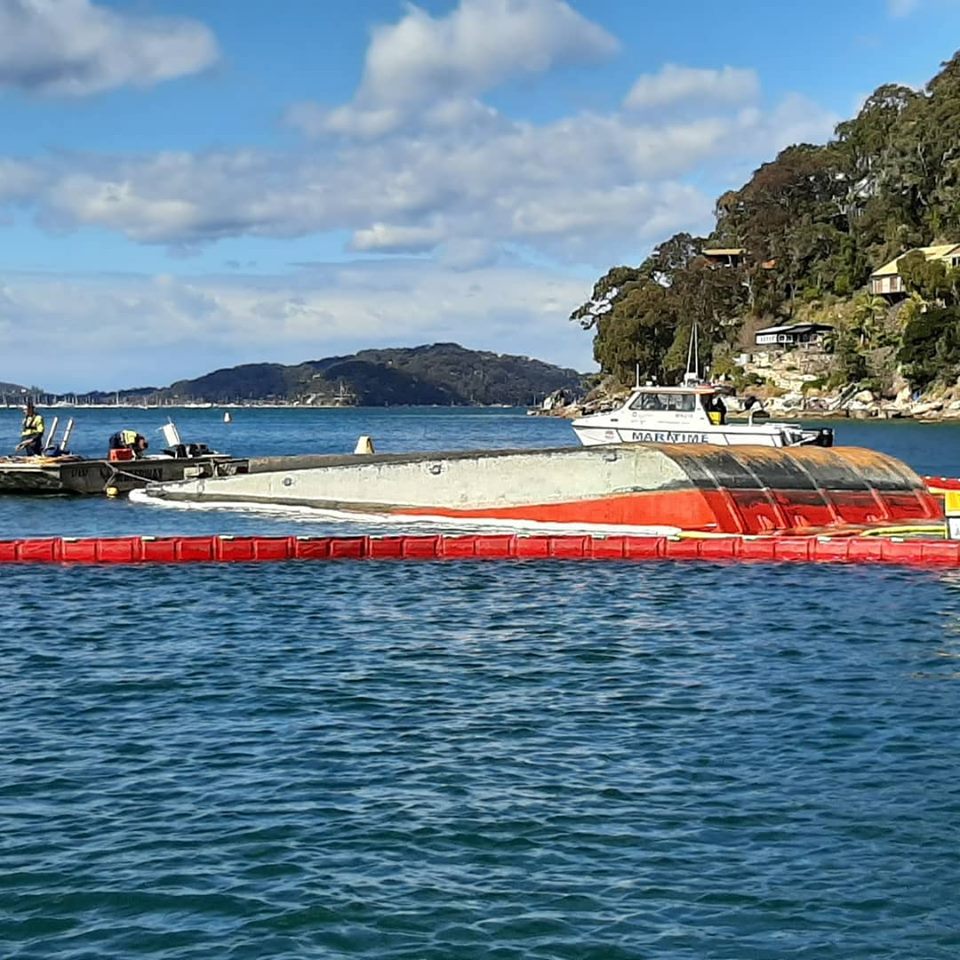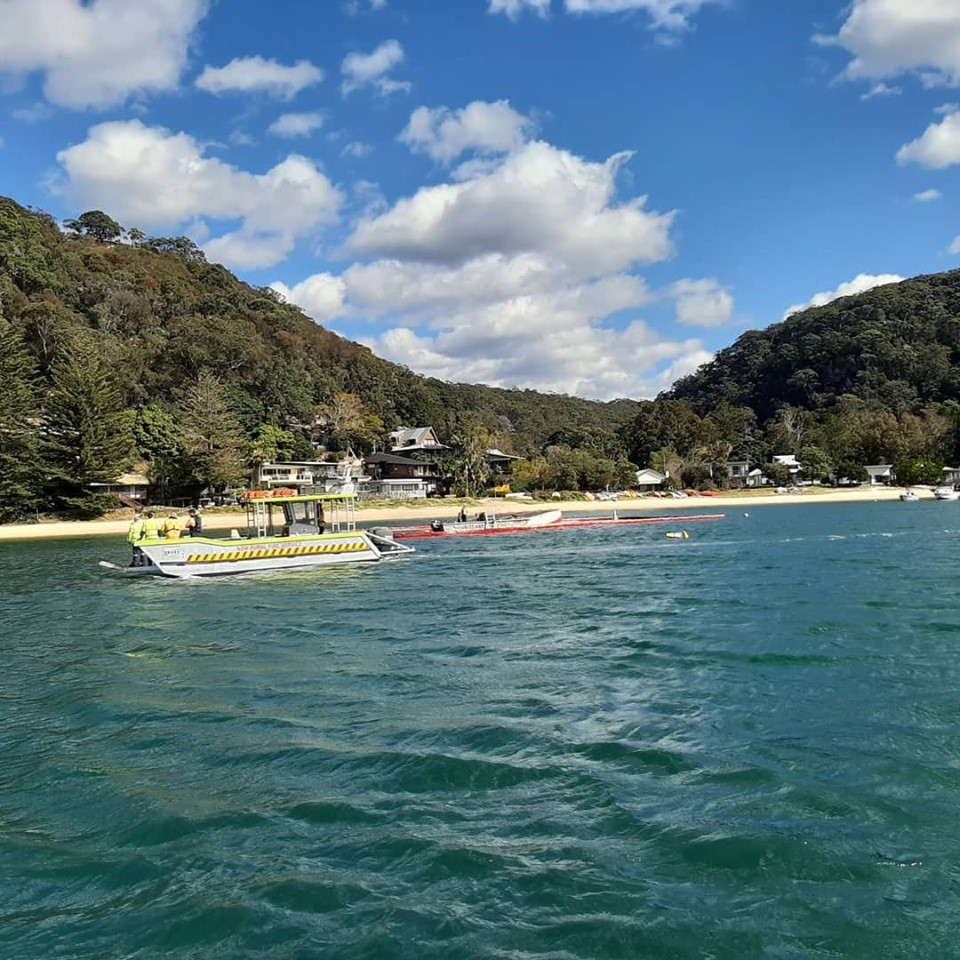 Photos by and courtesy Scotland Island Rural Fire Brigade and
Fire and Rescue NSW Station 51 Forestville.
Bushfire At Longnose Point: First For 2019-2020 Season
A busy time for our volunteer NSWRFB's with local Brigades responding to a fire in the Ku-Ring-Gai National Park at the beginning of the week.
By 10pm on Sunday night (August 18th) the fire could be seen.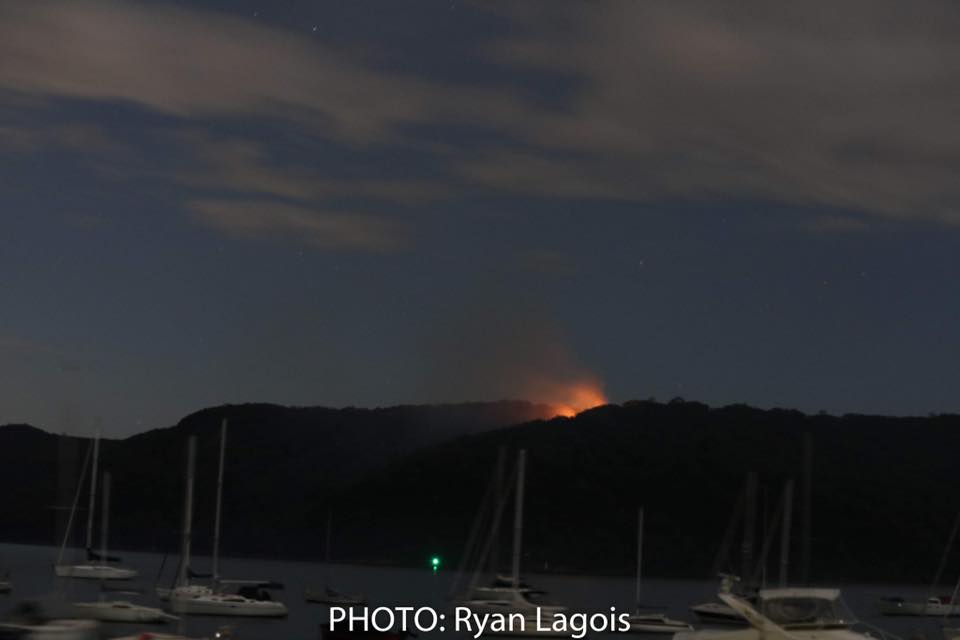 On Monday NSW Rural Fire Service reported:
A bush fire is burning on Long Nose Point in the Ku-Ring-Gai National Park, west of Paradise Beach and Clareville. Smoke is likely to drift across Avalon and Newport. There are no threats to homes in the area. NSW RFS & NPWS firefighters will work to contain the fire today.
August 20, 2019: Scotland Island Rural Fire Brigade
Crews have now contained the fire at Long Nose Point. Work will continue today and tomorrow to strengthen containment lines. Residents in surrounding areas may still see fire activity today, overnight and tomorrow as operations continue. You can stay up to date using the Fires Near Me app or
www.rfs.nsw.gov.au
Bushfire Advice: Long Nose Point Fire, Ku-Ring-Gai Chase
UPDATED: 21 Aug 2019 16:34
ALERT LEVEL: Advice
LOCATION: Long Nose Point, North of Towlers Bay, Ku-Ring-Gai Chase, NSW 2101
TYPE: Bush Fire
FIRE: Yes
RESPONSIBLE AGENCY: Rural Fire Service
August 20th, 2019: NSW Rural Fire Service
Work continues on
more than 60 fires burning across NSW, 20 of which are yet to be contained
. Firefighters from the NSW RFS, FRNSW, NPWS and Forestry continue to patrol the more than 830km of fire line to strengthen containment lines and extinguish any hotspots. Without any meaning rainfall this work is likely to continue for weeks.
White's Seahorse (Hippocampus Whitei) Swimming On Sponge Habitat: A Pittwater Estuary Delight!
Published by the NSW DPI - August 2019
The White's Seahorse (Hippocampus whitei) is an endangered species. It is named after John White, Surgeon General to the First Fleet, and is one of four species of seahorses known to occur in NSW waters. Favouring shallow-water estuarine habitats, it is currently known to occur in nine estuaries on the NSW Coast, including Pittwater, but is most abundant in Port Stephens, Sydney Harbour and Port Hacking. Its northern limit is Hervey Bay in Queensland and it has been historically recorded as far south as St Georges Basin in NSW. White's Seahorse has experienced large population declines over the past two decades as a result of the loss of natural habitats across its range. This White's Seahorse was filmed in Port Stephens, NSW, by Dave Harasti.
Dave's thesis, published in September 2014, recorded finding 7 of these delightful creatures in the Pittwater estuary.
Central Coast's Vales Point Air Pollution Exceeds World Health Organisation Pollution Standards Six Times
Sulfur-dioxide levels in the air at Wyee on the Central Coast exceeded World Health Organisation recommended levels six times in 2018, new analysis shows.
Daily average concentrations of SO2 in the suburb, which is about 1km from Vales Point coal power station, have climbed sharply over the past three years from one exceedance in 2016 to two in 2017 and six in 2018.
High SO2 levels pose serious health risks and are associated with low birthweight in newborns, respiratory disease and premature deaths.
The Australian standard for SO2 is 11 times weaker than the WHO recommendation. State and federal environment ministers are moving to tighten Australia's SO2 specification but are still proposing a standard 2.5 times weaker than the WHO's.
"People deserve to breathe clean air as a basic human right," Nature Conservation Council Chief Executive Chris Gambian said.
"Our state and federal governments must strengthen air pollution standards to match the WHO and make the owners of coal power stations must clean up their act.
"Big businesses that run coal power plants like Vales Point have been dumping millions of tonnes of pollution into the air we breathe for years. This must stop.
"We are calling on the state and federal governments to strengthen pollution standards to bring them in line with world's best practice.
Dr Ben Ewald spokesperson for Doctors for the Environment Australia said: ''Pollution from coal-fired power stations in NSW leads to large health burdens. Every year that coal-fired power stations keep polluting there are 279 premature deaths, 361 people develop diabetes, and 233 babies are born underweight."
KEY POINTS:
There were six days in 2018 in Wyee when the sulfur dioxide levels in the air breached the World Health Organisation guideline. [1]
Australia's SO2 standard is 11-times weaker than that recommended by the WHO.[2]
87% of sulfur dioxide in the NSW Greater Metropolitan Region comes from coal fired-power stations, two of which are on the shores of Lake Macquarie. [3]
High SO2 levels are associated with low birthweight in newborns, respiratory disease and premature death. [4]
Australia's state and federal environment ministers are currently reviewing Australia's SO2 standards but have proposed a new standard that is still 2.5 times weaker than the World Health Organisation guideline. [2]
Sulfur dioxide emissions can be reduced by 96% by coal power stations installing pollution control devices called "Flue Gas Desulfurisation". This technology is required in many countries, including the USA and Europe, but not in Australia. [5]
The Wyee air quality monitoring station is operated by Delta, the owners of Vales Point Coal-Fired Power Station, a major emitter of SO2.
AUSTRALIAN VERSUS WHO STANDARDS
Here's how the national standards compare with WHO's.
Pollutant
Australian National Air Quality Standards
World Health Organisation Standards
SO2
80ppb or 228 μg/m3 average over 24hrs
7ppb or 20 μg/m3 average over 24hrs
REFERENCES:
[1] NCC analysis of Delta Electricity data, available on request
[2] Draft Variation to the National Environment Protection (Ambient Air Quality) Measure for sulfur dioxide, nitrogen dioxide and ozone, Impact Statement, National Environment Protection Council, May 2019
[3] 2008 Calendar Year Air Emissions Inventory for the Greater Metropolitan Region in NSW Technical Report 1, table ES-10. https://www.epa.nsw.gov.au/your-environment/air/air-emissions-inventory/air-emissions-inventory-2008
[4] https://www.nature.org.au/media-releases/2018/02/concern-for-nsw-coal-communities-after-us-study-finds-coal-burning-power-stations-pose-risks-to-unborn-children/
[5] Toxic and Terminal, Environmental Justice Australia, 2018
Aussie Bread Tags Collection Points
Collecting bread tags enables us to provide wheelchairs that change the life of disabled people in need, as well as keeping the tags out of landfill to help to preserve the environment.
Bread Tags for Wheelchairs was started in South Africa in 2006 by Mary Honeybun. It is a community program where individuals and organisations collect bread tags, which are sold to recyclers. The money raised pays for wheelchairs for the less fortunate which are purchased through a local pharmacy. Currently about 500kg of bread tags are collected a month in South Africa, funding 2-3 wheelchairs.
We have been collecting bread tags nationally in Australia since September 2018 and now have more than 100 collection points across the country. In February 2019 we started local recycling through Transmutation - Reduce, Reuse and Recycle in Robe, SA, where our tags are recycled into products such as door knobs and bowls. Tags from some states are still sent to South Africa where a plastics company called Zibo recycles them into seedling trays.
These humble bits of polystyrene can make a real difference so get your friends, family, school, workplace and church involved. Ask school tuck shops and boarding school kitchens, child care centres, aged care facilities, hospitals, cafes and fast food outlets to collect for you - they get through a lot of bread!
All the information and signage for collecting or setting up a public collection point is
on our website
.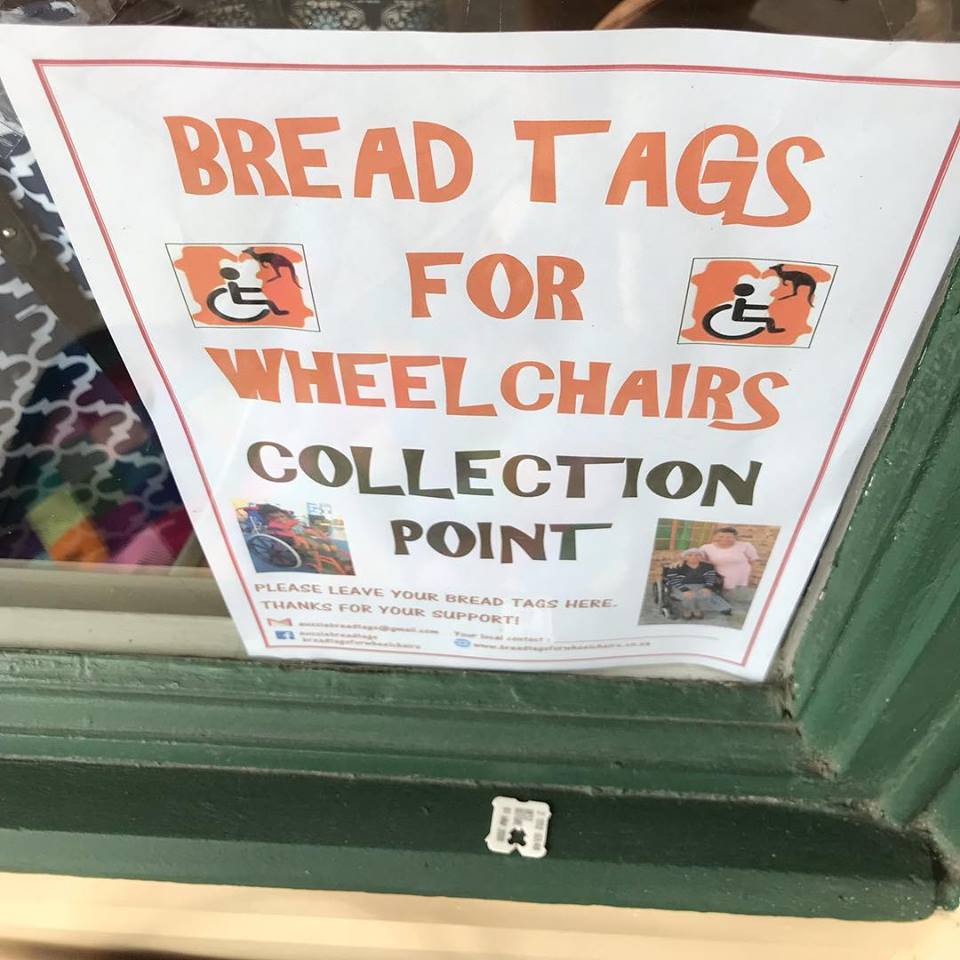 Muogamarra Nature Reserve Open Season
Muogamarra Nature Reserve is open for just 6 weekends, from Saturday 10 August to Sunday 15 September 2019.
Located just north of Sydney, it's perfect for a weekend day trip.
Visit this paradise of rare native wildflowers. Enjoy expansive views of Bar, Milson and Spectacle islands, Berowra Creek and the Hawkesbury River. Join a guided walk to Peats Bight, Bird Gully, Lloyd Trig and Deerubbin, or take an Aboriginal cultural tour.
Remember to book online before you arrive. You can also do self-guided walks in this gorgeous reserve.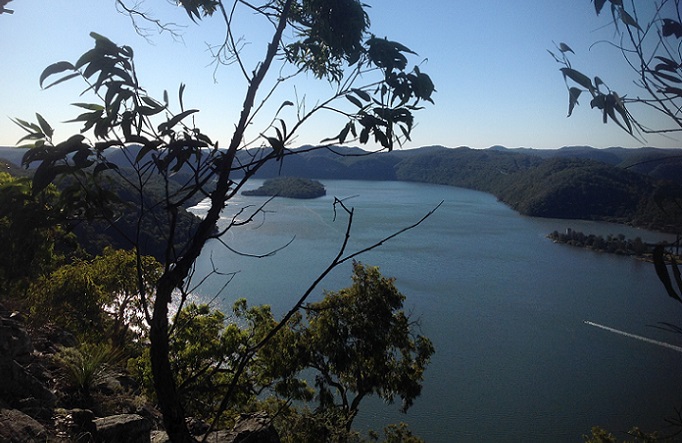 Mona Vale Beach Clean
Sunday, August 25, 2019 at 10 AM – 12 PM
Mona Vale Beach, Mona Vale
Hosted by Northern Beaches Clean Up Crew
Come and join us for our second clean up in Mona Vale. We'll meet at the area between toilet block and cafe as it's in the middle of area to target. Some can head north through the basin and others south around cafe/ clubhouse and lawn area or down onto main beach. We have gloves, bags and buckets. We'll clean up this area to try and catch all the litter before it enters the ocean. We're trying to remove as much plastic, cigarette butts and rubbish as possible. We're a friendly group of people and everyone is welcome to this family friendly event. It's a nice community - make some new friends and do a good deed for the planet at the same time.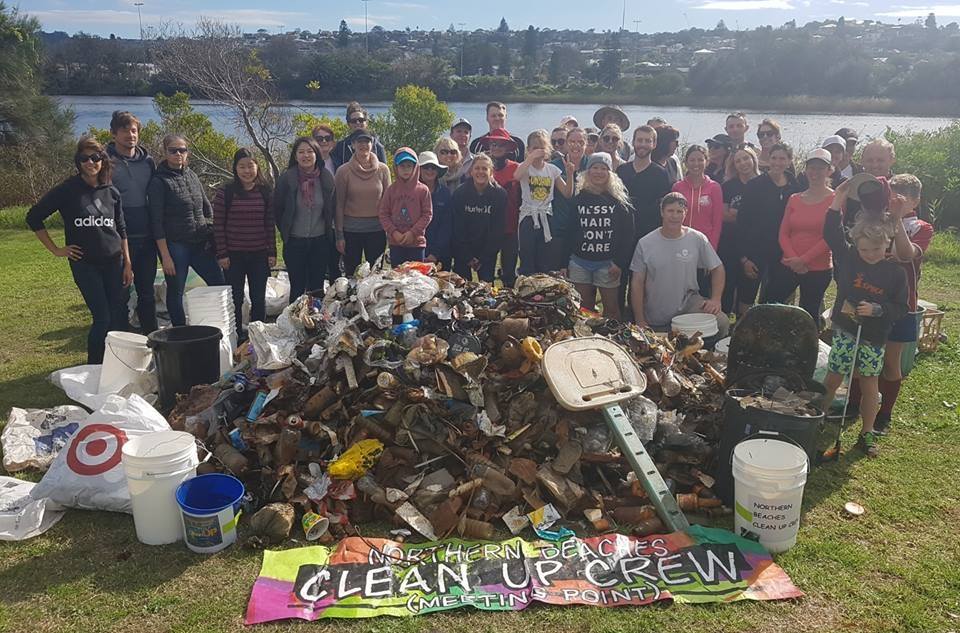 Spring Fair
Hosted by Stony Range Regional Botanic Garden and Australian Plants Society Northern Beaches Group
Sunday, September 8, 2019 at 9 AM – 5 PM
Stony Range Regional Botanic Garden
810 Pittwater Road, Dee Why 2099
This year the theme is 'Back to the Bush'
Enjoy native plant sales and advice plus displays, children's activities, live native animals, walks, music, sculptures, photography displays, BBQ and coffee shop.

Mona Vale Garden Club's 48th Spring Flower Show
Saturday, 28 September 2019 - 10:00am to 3:00pm
Wonderful display of flowers, potted plants, vegetables, herbs and floral art. Plants, white elephant goods and cakes for sale. Raffles. Refreshments available.
Gold coin entry; $2.00 - children no charge
Ted Blackwood Hall
Cnr Jacksons & Boondah Roads
Warriewood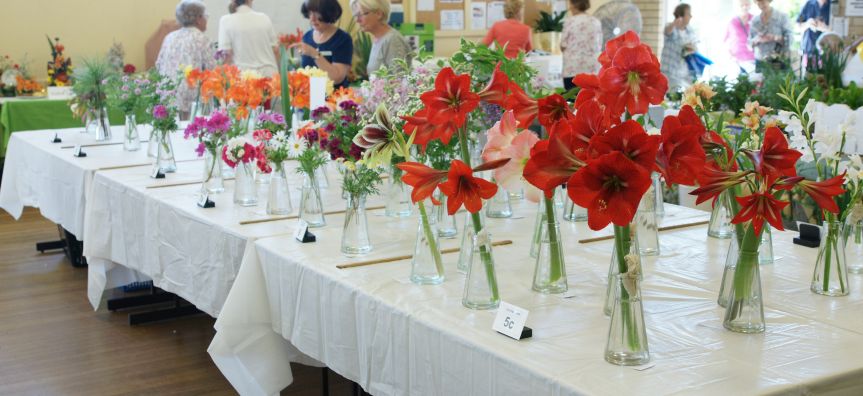 SeaWeek: Celebrating The Sea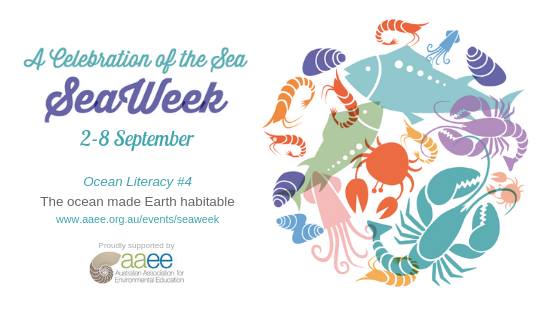 SeaWeek is Australia's annual celebration of the sea. Since 1988, SeaWeek has encouraged community awareness and appreciation for marine and coastal environments. Each year is a different theme, providing educators with specific messages and avenues through which to engage people in learning about and enjoying the ocean.
In 2019, SeaWeek will be celebrated from 2 to 8 September and this year's theme is
Ocean Literacy Principle 4:
The ocean made Earth habitable.
The concept of Ocean Literacy originally began to develop in the US in 2002. At its core, Ocean Literacy 'curriculum' which provides educators a scaffold through which to teach the key messages (principles) needed for people and oceans to co-exist. A great deal of work has gone into creating this framework which provides educators with a scope and sequence for K-12 for each of the seven principles of Ocean Literacy.
The ocean made Earth habitable
The SeaWeek theme of OL4: The ocean made Earth habitable, has three key messages, outlined below. There are lists of topics and sub-topics for all ages on the Ocean Literacy website and adaptations of these to the Australian Curriculum.
Most of the oxygen in the atmosphere originally came from the activities of photosynthetic organisms in the ocean. This accumulation of oxygen in Earth's atmosphere was necessary for life to develop and be sustained on land.
The first life is thought to have started in the ocean. The earliest evidence of life is found in the ocean.
The ocean provided and continues to provide water, oxygen and nutrients, and moderates the climate needed for life to exist on Earth
AAEE hopes that SeaWeek will enable all our members to incorporate the ocean (and OL4) into education programs this September from the 2nd to 8th.
The
SeaWeek web page
provides information on events and activities planned for the week. We can also use the website and social media networks to help promote events you may be coordinating.
Australia is a marine nation. We have one of the largest ocean territories in the world, and it drives our climate and weather, generates employment, provides food and resources, and offers lifestyle and recreational opportunities (source CSIRO).
Between 1988 and 2014, 'SeaWeek' was the Marine Education Society of Australasia's (MESA) major national public awareness campaign. With the recent closing of MESA, the co-ordination of the newly named SeaWeek has been passed over to AAEE ME - the Marine Educators Special Interest Group under the Australian Association for Environmental Education.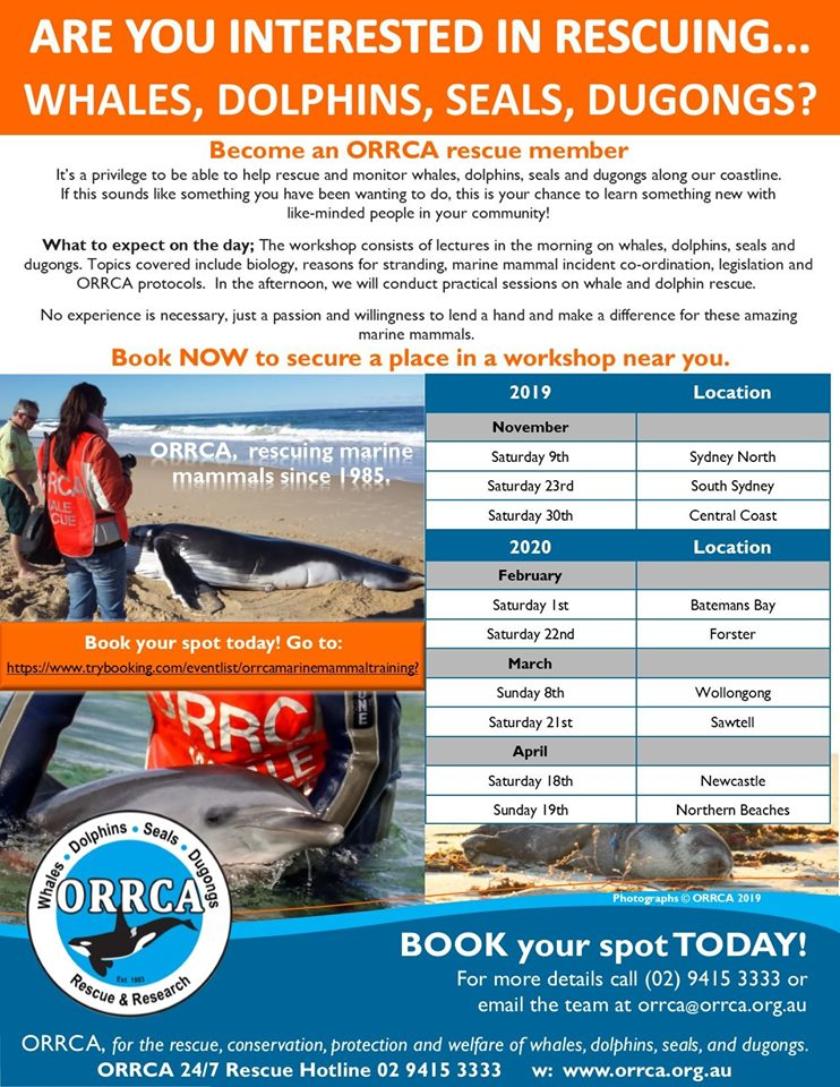 National Parks Logging Deal Undermines Nature Conservation Across The State
Premier Gladys Berejiklian's reported deal with the Nationals to legalise logging in national parks undermines the integrity of the entire nature conservation reserve system in NSW.
Nationals Leader John Barilaro has been pushing for months to remove national parks status for the Murray Valley National Park to allow logging of river red gums.
Liberal Premier Gladys Berejiklian reportedly supports a compromise deal whereby "ecological thinning" of national parks would be enshrined in law. [1]
"The sanctity of our national parks must be respected," Nature Conservation Council Chief Executive Chris Gambian said.
"Ecological thinning is like scientific whaling – a morally and logically bankrupt concept.
"You can't save our forests by cutting them down.
"If the government is serious about forest conservation, it must restore funding to the National Parks and Wildlife Service so it can do its work and defend the parks network from industrial exploitation.
"These magnificent forests were protected because they needed saving after decades of unsustainable logging and grazing.
"To save our river red gum forests, we have to give them water and time to recover from decades abuse. More logging is the last thing they need."
Hollow Words Are Cold Comfort For Thirsty Rural Communities
August 19, 2019
Conservation groups have dismissed Deputy Premier John Barilaro's calls for more dams and weaker environmental laws as ill-informed and dangerous.
"People in towns running out of water know this is a man-made disaster and that the National Party has played a leading role," Nature Conservation Council Chief Executive Chris Gambian said this week.
"A peer-reviewed scientific analysis released today shows the Lower Darling fell into drought three years earlier than it should because of the National Party's incompetent water policies.
"We also now know that the Coalition ignored warnings in a report five years ago that climate change would cause a massive drop in town water supplies and calling for government action.
"Regional communities will see through Mr Barilaro's sly attempt to deflect blame for the water crisis.
"Even a casual observer can see that water mismanagement, climate change and drought ­are causing the water crisis gripping NSW – not a lack of dams."
Inland Rivers Network spokesperson Bev Smiles said: "Mr Barilaro's calls to scrap environment protections and build more dams is dangerous and ignorant.
"New dams won't make it rain and they won't deliver more water to communities and the environment.
"Some of the state's dams are bone dry and many are less than half full.
"The Darling River is not a Magic Pudding. The only way to ensure long-term water supply for towns and the river is to reduce the amount of water going to agriculture.
"Building more dams on a river system that already has scores of dams will only make matters worse for downstream communities and river health.
"Native fish, wetlands and downstream communities are threatened by new dams - not just frogs
"The Darling River won't survive any more dams built in the inland. Dams are already built in all the best places for a dam in NSW."
Whitehaven Outbidding Farmers For Water Again
Whitehaven Coal has again outbid a local farmer to secure precious water for its Maules Creek coal mine during a time of unprecedented drought in NSW's north west.
Earlier this month, Maules Creek mine paid $5,450/ML for groundwater in Zone 5 of the Namoi alluvial water sharing plan. This follows the company's purchase earlier this year of another licence in the same zone for $5,100 per ML, and other purchases of water from Zones 4 and 11.
In these recent cases, farmers were among the losing bidders.
The purchase came just before Whitehaven announced another record profit on Thursday, with its full-year underlying net profit having increased 7.7 per cent to $564.9 million.
Boggabri farmer David Watt said it was not clear why the mining company required so much water, because Whitehaven was not originally expected to take water directly out of Upper Namoi Zones 4, 5, or 11 groundwater systems, as per its environmental assessment.
"Yet here it is, creating conflict with farmers because it is expanding its water take dramatically at a time when drought is ravaging the country," he said.
"There is a lot of pressure on water resources at the moment and farmers just don't stand a chance.
"If the mine is now buying more and more Upper Namoi Zone 4, 5 and 11 water licences, this must mean the water demand of the mine is larger than was anticipated."
Mr Watt said the purchase of the water further alienated Whitehaven, which also wants to expand its Vickery Mine near Boggabri, from the community.
"This company is operating without a social licence," he said.
Barrenjoey Seal Colony Growing
Jools Farrell, local ORRCA member, reminds us that at present the Australian Fur Seal Colony at Barrenjoey is growing.
In mid July there were

9

but there will be a lot more as we had up to 20 last year.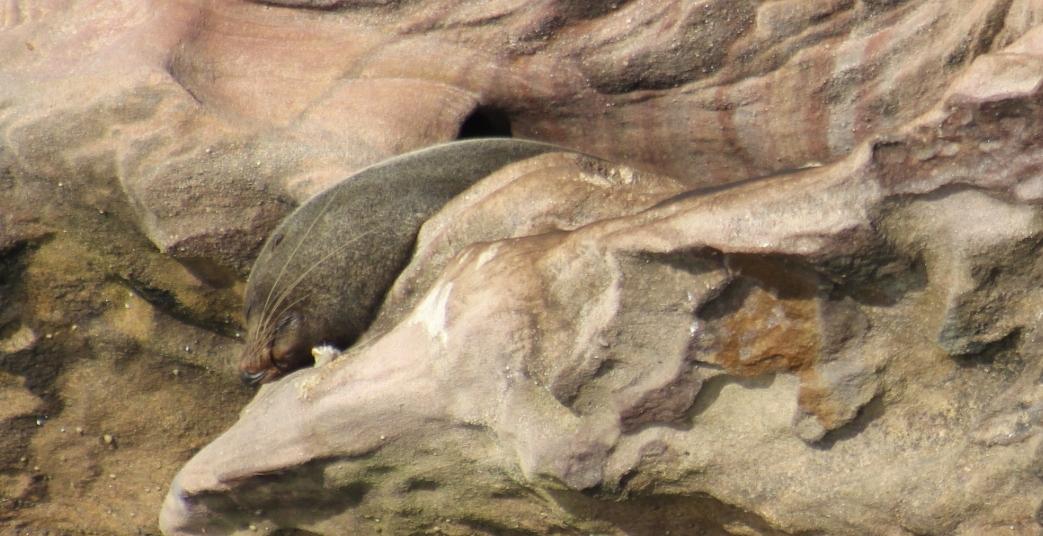 Please remember that legally you must stay a minimum of 40 metres away from seals, especially if they come ashore on the estuary beaches or ocean beaches to rest.
Also please keep an eye out for them if you are out in a boat as they do venture out of this spot to feed on the estuary or around Barrenjoey Headland. In recent years they have been seen everywhere from Barrenjoey to Clareville and Church Point.
Please do not attempt to feed them as they get plenty of food here in Pittwater.
Please also do not attempt to swim with them, Jools asks.
If you do see a seal in distress, please contact ORRCA on their 24/7 hotline: 9415 3333.
Catch A Glimpse Of A Humpback Whale
Visit a coastal NSW national park to spot a humpback whale, as they start their annual migration north.
From May to November 2019, over 30,000 humpback whales will migrate from the cold waters of Antarctica to the warmer waters off north east Australia to mate and give birth before heading south again.
Vantage spots for whale watching include national parks with lookouts, headlands and foreshores.
Southern right and minke whales may also be spotted off the NSW coast during migration season.
Keen whale-watchers can download the free Wild About Whales mobile app, which helps users find the best locations for spotting whales, get real-time notifications of nearby sightings, and record their sightings.
Environment Minister Matt Kean said the app is a great tool for the whole family to learn more about whales, while also contributing to a citizen science project.
"Citizen science volunteers and other organisations such as ORRCA do an amazing job of monitoring the number of whales migrating along the NSW coast each season," Mr Kean said.
Find whale watching vantage points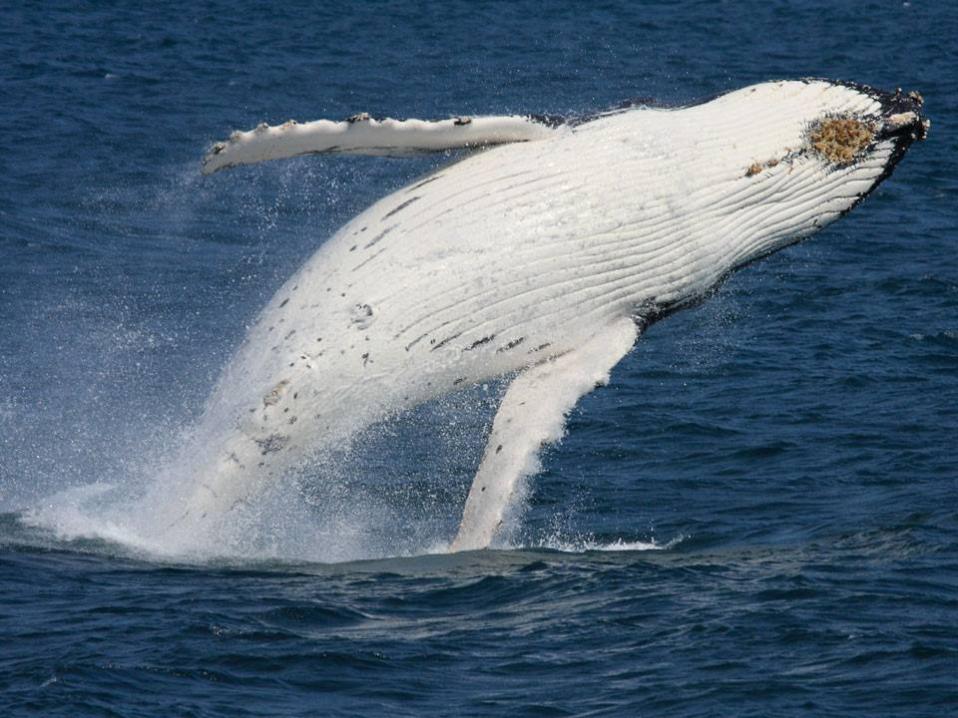 Archie's Pittwater Clean Up
I am a Seabin Ambassador, I started this campaign because I want to take a stand against ocean plastics!
My goal is to raise enough money to bring a minimum of 20 Seabins to Pittwater NSW as I want to give The Northern Beaches the opportunity to reduce its plastic pollution impact on the ocean. Its amazing how much accidental rubbish comes down our creeks and into our waterways
I need your help to raise money to buy the Seabins a revolutionary ocean cleaning technology which is essentially a floating rubbish bin that operates 24/7 catching all floating debris in the water.
The Seabin helps clean the ocean of floating debris which in turn creates cleaner oceans and we all benefit from this in one way or another. I mean, who really wants to swim in pollution? Not me that's for sure!
Did you know that 300 million tons of plastic are produced in the world every year, half of which is for single use products, from this more than 8 million tons of plastic is dumped into our oceans every year. We need to do something about it and now with the purchase of a Seabin we can all participate and make a difference!
Join me and my campaign to help ensure cleaner oceans!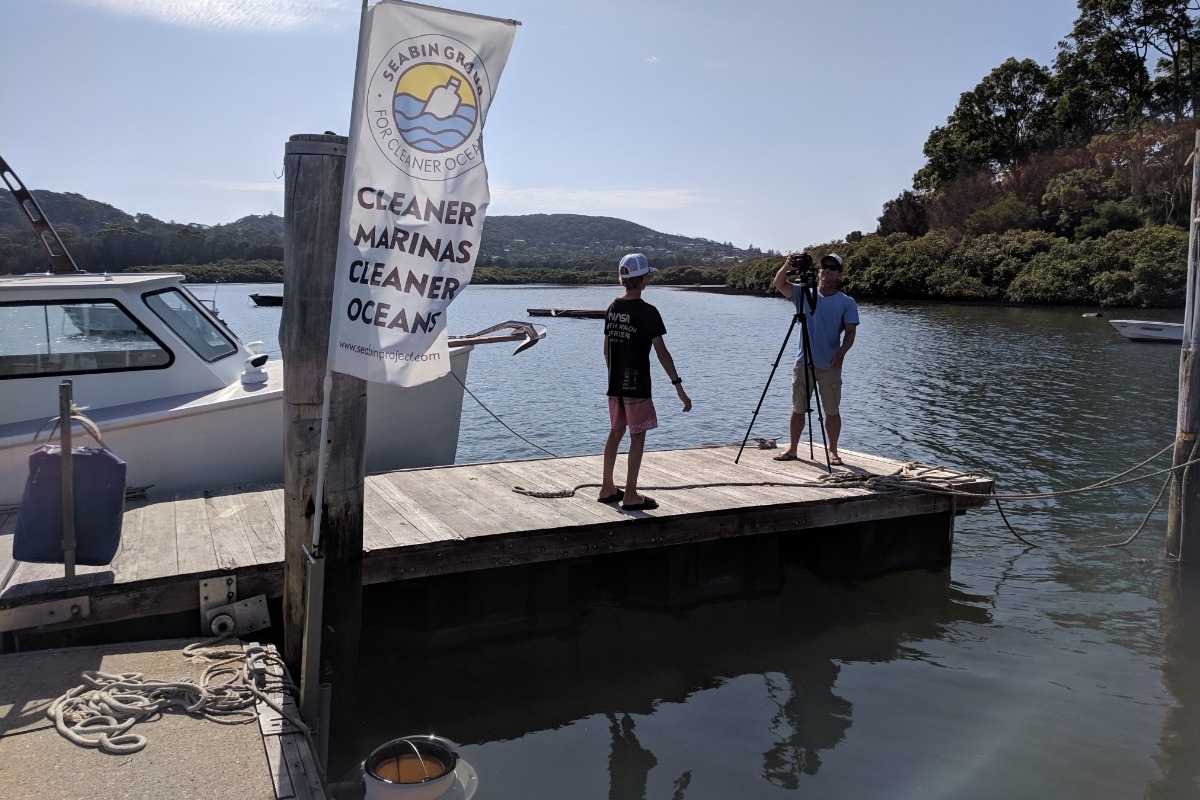 The Seabin is a floating rubbish bin that is located in the water at marinas, docks, yacht clubs and commercial ports.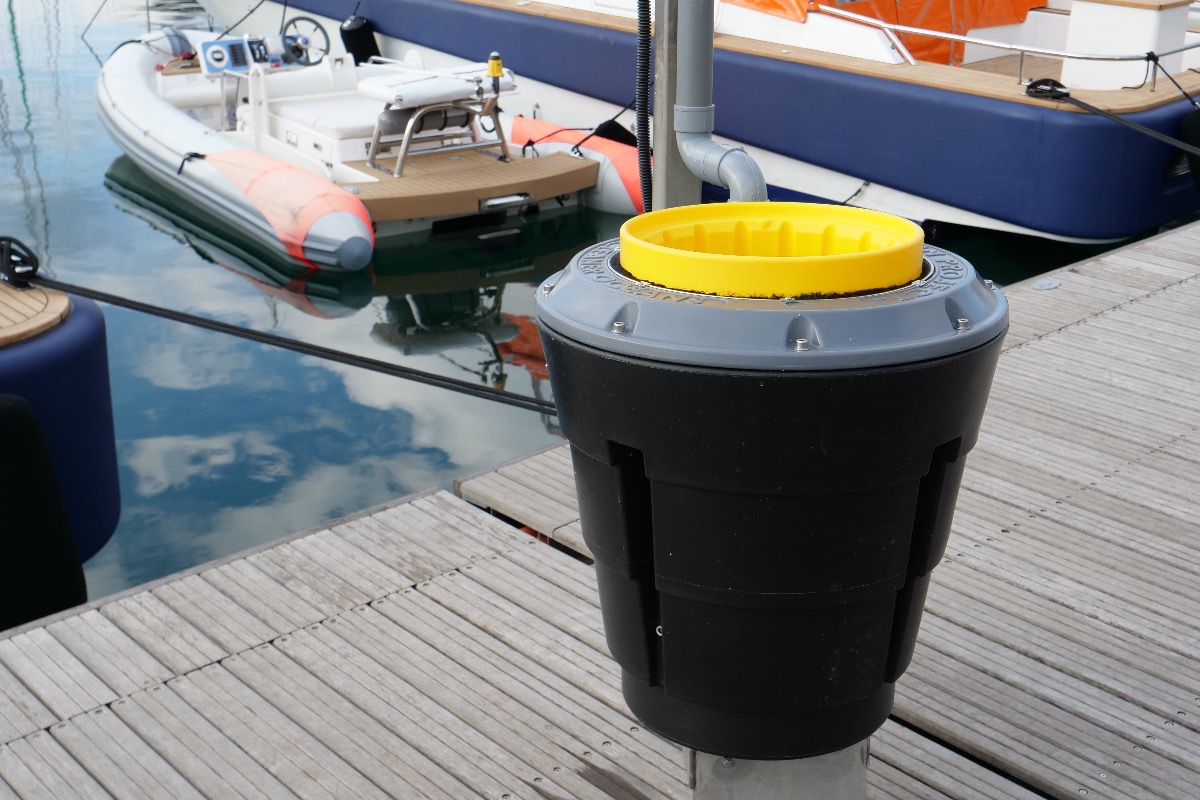 The Seabin can catch an average of 3.9kgs of floating debris per day which adds up to 1.4 tons per year. (depending on weather conditions and debris volumes) The Seabins is catching large plastic bags, bottles, plastic straws, coffee cups, food wrappers, surface oils and micro plastics down to 2 mm small.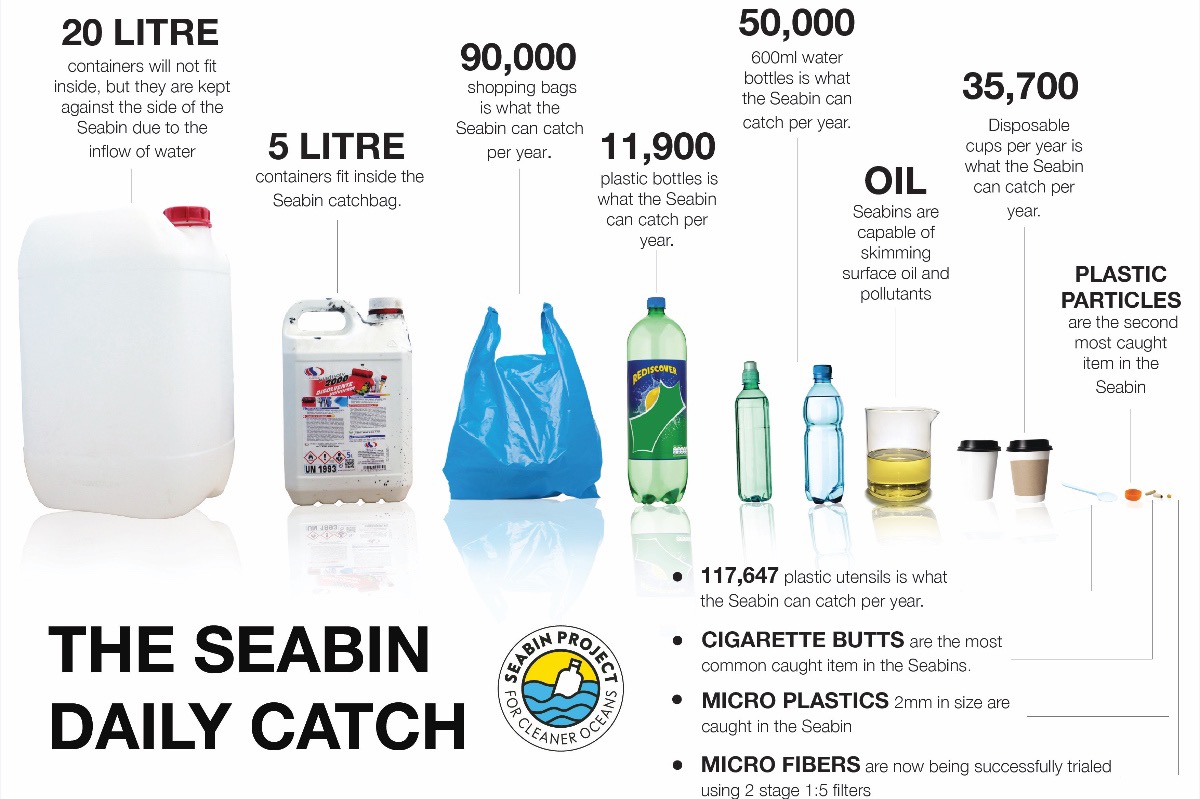 How can a Seabin contribute to cleaner oceans?
The Seabin contributes to cleaner oceans by removing 1.4 tons of floating debris per unit per year. The location of the Seabin in marinas is ideal and where it matters most, close to the source of entry for floating debris. Ports and Marinas are perfect locations to stop floating debris from entering the open ocean and ocean plastics are also brought in by wind and currents.
Are the Seabins a danger to marine life?
The fish According to the team at Seabin, stay away from the surface of the water where the Seabin sucks in the water. They are deterred by the force of the water current. If there are swarms of jellyfish or bait fish it is recommended that the Seabins are turned off until the swarms pass. If a fish was to accidentally go into the Seabin, it would be caught in the Seabin and stay submerged in water until the marina staff retrieve the filter and throw the fish still alive back into the water.
Water is sucked in from the surface and passes through a catch bag inside the Seabin, with a submersible water pump capable of displacing 25.000 LPH (liters per hour). The water is then pumped back into the marina leaving litter and debris trapped in the catch bag to be disposed of properly.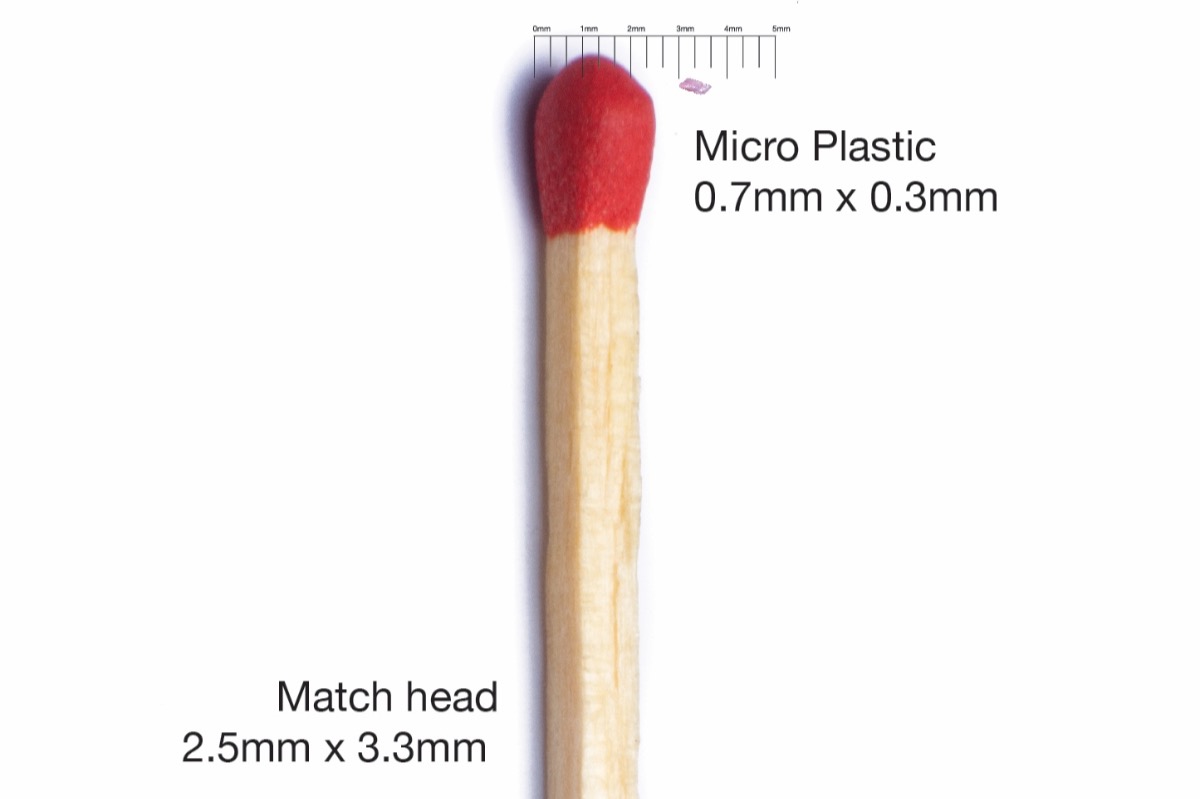 Who is responsible for the Seabin?
This is the best part of it all, the marina will be the one responsible for the upkeep of the Seabins and also they will be paying for the energy consumption of the Seabin which is around $2 - $3 a day.
The marina enjoys a cleaner marina and the rest of us and the marine life enjoy cleaner oceans with less floating debris polluting our oceans!
Seabins part of a whole solution
Seabins whole solution is Technology, Education, Science, Research and Community. The reason for this is that Technology alone is not the solution to stopping ocean plastics, education is the real solution.
Great! Can our local community be involved also?
Yes! The team at Seabin have interactive programs and lessons designed for schools, community and youth to interact with the Seabins and have over 2000 school students engaged around the world, this is something that we can do locally also with support from the team at Seabin Project.
What will we be doing if we participate in these programs?
You would be joining an international community contributing important data and feedback on ocean plastics to the Seabin central data base. Renowned scientists, universities and environmental agencies are all a part of the programs also.
The lessons range from identifying ocean plastics to data collection of what the Seabins are catching weekly. The data collection is a very easy activity and where we can all see the measurable impact of debris the Seabins are taking out of the water in all weather conditions.
It's as simple as counting how many plastic bags, plastic particles, food wrappers and then noting it down on a spreadsheet or app. Weather conditions and location information is also entered into the data base.
How can you help our campaign and make a difference in the world?
Every contribution to this crowdfunding campaign helps, be it $1 or $50 dollars, it all adds up and bring us closer to our goal.
Even if you cannot afford a donation, please help by sharing this campaign with your friends and family on social media. The more people that know about the campaign the better!
Thanks everyone for taking the time to check out our campaign!
FAQS SHEET
Seabin Project FAQs
Q: Can someone pay out the crowdfunding campaign goal?
A: Yes! We need help! The more money we can raise, the more Seabins we can buy.
Q: Why crowdfund a Seabin?
A: Until now, the Seabins were not for the everyday person to purchase because marinas ports and yacht clubs are the target market for Seabin Group. This is a way where everyday people can give something back to the oceans.
Q: How do Seabins work in tidal areas?
A: Seabins at present are designed for floating docks and pontoons. The Seabins move up and down with the tide on the floating dock.
Q. How are the pumps run?
A. The pumps are currently electric, and around $2-$3 a day to run.
Q: When are the Seabins available?
A: Depending on your countries location, Seabins will be available Feb 2019.
Q: Do any fish get sucked into the Seabins? What about smaller marine life?
A: There is a possibility of fish to enter the Seabins, however in the last 2 years of development, the Seabins have only caught a handful of small bait fish. Most of which have been thrown back into the water alive. The fish simply stay away from the flow of water entering the Seabin and with the current fine tuning of the Seabin, the risk is now minimal.
Q: I don't have any money to donate, how can I help?
A: Don't worry! Your amazing anyways and thanks for even contacting us. We need help to share this project around with any media we can. Social media platforms like Facebook, Instagram, Twitter, websites, bloggers. Also with newspapers, magazines, tv, radio and journalists. Also friends and family!
Stardust In The Antarctic Snow
August 20, 2019: Technical University of Munich (TUM)
The rare isotope iron-60 is created in massive stellar explosions. Only a very small amount of this isotope reaches Earth from distant stars. Now, a research team with significant involvement from the Technical University of Munich (TUM) has discovered iron-60 in Antarctic snow for the first time. The scientists suggest that the iron isotope comes from the interstellar neighbourhood.
The quantity of cosmic dust that trickles down to Earth each year ranges between several thousand and ten thousand tons. Most of the tiny particles come from asteroids or comets within our solar system. However, a small percentage comes from distant stars. There are no natural terrestrial sources for the iron-60 isotope contained therein; it originates exclusively as a result of supernova explosions or through the reactions of cosmic radiation with cosmic dust.
Antarctic Snow Travels around the World
The first evidence of the occurrence of iron-60 on Earth was discovered in deep-sea deposits by a TUM research team 20 years ago. Among the scientists on the team was Dr. Gunther Korschinek, who hypothesised that traces of stellar explosions could also be found in the pure, untouched Antarctic snow. In order to verify this assumption, Dr. Sepp Kipfstuhl from the Alfred Wegener Institute collected 500 kg of snow at the Kohnen Station, a container settlement in the Antarctic, and had it transported to Munich for analysis. There, a TUM team melted the snow and separated the meltwater from the solid components, which were processed at the Helmholtz-Zentrum Dresden-Rossendorf (HZDR) using various chemical methods, so that the iron needed for the subsequent analysis was present in the milligram range, and the samples could be returned to Munich.
Korschinek and Dominik Koll from the research area Nuclear, Particle and Astrophysics at TUM found five iron-60 atoms in the samples using the accelerator laboratory in Garching near Munich. "Our analyses allowed us to rule out cosmic radiation, nuclear weapons tests or reactor accidents as sources of the iron-60," states Koll. "As there are no natural sources for this radioactive isotope on Earth, we knew that the iron-60 must have come from a supernova."
Stardust Comes from the Interstellar Neighbourhood
The research team was able to make a relatively precise determination as to when the iron-60 has been deposited on Earth: The snow layer that was analysed was not older than 20 years. Moreover, the iron isotope that was discovered did not seem to come from particularly distant stellar explosions, as the iron-60 dust would have dissipated too much throughout the universe if this had been the case. Based on the half-life of iron-60, any atoms originating from the formation of Earth would have completely decayed by now. Koll therefore assumes that the iron-60 in the Antarctic snow originates from the interstellar neighbourhood, for example from an accumulation of gas clouds in which our solar system is currently located.
"Our solar system entered one of these clouds approximately 40,000 years ago," says Korschinek, "and will exit it in a few thousand years. If the gas cloud hypothesis is correct, then material from ice cores older than 40,000 years would not contain interstellar iron-60," adds Koll. "This would enable us to verify the transition of the solar system into the gas cloud -- that would be a groundbreaking discovery for researchers working on the environment of the solar system.
Dominik Koll, Gunther Korschinek, Thomas Faestermann, J. M. Gómez-Guzmán, Sepp Kipfstuhl, Silke Merchel, Jan M. Welch.
Interstellar Fe60 in Antarctica.
Physical Review Letters, 2019; 123 (7) DOI:
10.1103/PhysRevLett.123.072701
NSW Hospitals Providing More Care To Young People
August 21, 2019: NSW Health
The numbers of young people, and people who have intentionally self-harmed, continue to attend hospital in rising numbers.
The NSW Government is investing a record $2.1 billion into mental health services and infrastructure for people living with mental illness, their families and carers.
Dr Nigel Lyons, NSW Health Deputy Secretary, said the report also shows most people receiving mental health services in the community and hospitals are young people, with emergency department presentations and admitted episodes for 15-24 year olds up 23 per cent over four years.
"NSW has around 700 mental health facilities, including more than 50 hospitals with mental health units and more than 500 community mental health teams. Each year they provide more than 40,000 episodes of hospital care and more than 3 million community contacts to more than 130,000 community clients," Dr Lyons said.
"It is no surprise to see high numbers of young people using mental health services, with the average age of onset for most mental health conditions in the early twenties.
"These numbers show our efforts to reduce stigma are making a difference, as increasing numbers of people seeking care may represent an increased willingness to seek treatment."
Dr Lyons said the also report highlights the large number of people in NSW accessing health services to help them with intentional self-harm.
"Every life lost to suicide is a tragedy. Suicide prevention is everybody's business and there is still much work to do."
"The NSW Government has launched an investment of $87 million over three years to implement the Strategic Framework for Suicide Prevention 2018-2023. This will complement the NSW Premier's Priority of reducing the suicide rate by 20 per cent by 2023," he said.
NSW is committed to delivering mental health care in the least restrictive environment, which in most cases will be community care. The NSW Government is continuing to shift more care into the community through the NSW Mental Health Reform, which is allocated over $100 million in the 2019-20 budget.
If you or someone you know needs crisis support, phone Lifeline on 13 11 14. For mental health services in your local area call the NSW Mental Health Line 1800 011 511.
Materials That Can Revolutionise How Light Is Harnessed For Solar Energy
Researchers at Columbia University have developed a way to harness more power from singlet fission to increase the efficiency of solar cells, providing a tool to help push forward the development of next-generation devices.
In a study published this month in Nature Chemistry, the team details the design of organic molecules that are capable of generating two excitons per photon of light, a process called singlet fission. The excitons are produced rapidly and can live for much longer than those generated from their inorganic counterparts, which leads to an amplification of electricity generated per photon that is absorbed by a solar cell.
"We have developed a new design rule for singlet fission materials," said Luis Campos, an associate professor of chemistry and one of three principal investigators on the study. "This has led us to develop the most efficient and technologically useful intramolecular singlet fission materials to date. These improvements will open the door for more efficient solar cells."
All modern solar panels operate by the same process -- one photon of light generates one exciton, Campos explained. The exciton can then be converted into electric current. However, there are some molecules that can be implemented in solar cells that have the ability to generate two excitons from a single photon -- a process called singlet fission. These solar cells form the basis for next-generation devices, which are still at infancy. One of the biggest challenges of working with such molecules, though, is that the two excitons "live" for very short periods of time (tens of nanoseconds), making it difficult to harvest them as a form of electricity.
In the current study, funded in part by the Office of Naval Research, Campos and colleagues designed organic molecules that can quickly generate two excitons that live much longer than the state-of-the-art systems. It is an advancement that can not only be used in next-generation solar energy production, but also in photocatalytic processes in chemistry, sensors, and imaging, Campos explained, as these excitons can be used to initiate chemical reactions, which can then be used by industry to make drugs, plastics, and many other types of consumer chemicals.
"Intramolecular singlet fission has been demonstrated by our group and others, but the resulting excitons were either generated very slowly, or they wouldn't last very long," Campos said. "This work is the first to show that singlet fission can rapidly generate two excitons that can live for a very long time. This opens the door to fundamentally study how these excitons behave as they sit on individual molecules, and also to understand how they can be efficiently put to work in devices that benefit from light-amplified signals."
The team's design strategy should also prove useful in separate areas of scientific study and have many other yet-unimaginable applications, he added.
Campos' study co-authors are: Samuel Sanders and Andrew Pun, of Columbia University; Matthew Y. Sfeir, of City University of New York; and Amir Asadpoordarvish, of the University of New South Wales.
Andrew B. Pun, Amir Asadpoordarvish, Elango Kumarasamy, Murad J. Y. Tayebjee, Daniel Niesner, Dane R. McCamey, Samuel N. Sanders, Luis M. Campos, Matthew Y. Sfeir.
Ultra-fast intramolecular singlet fission to persistent multiexcitons by molecular design.
Nature Chemistry, 2019; DOI:
10.1038/s41557-019-0297-7
Actuaries Institute Green Paper Urges Retirement Reform
• Australian retirees will face greater diversity in wealth, health and longevity outcomes.
• More retirees will reach retirement age as renters, or not having paid off their family home.
• The Actuaries Institute believes structural reform will deliver a fairer retirement for all.
• Options for review should be bold and consider universal benefits, the means tests, the treatment of the family home, and an end to tax concessions for large super fund balances.
Three of Australia's leading superannuation and retirement experts have urged the Federal Government to give broad scope to its pending review of Australia's retirement system, to better integrate the Age Pension, superannuation and aged care.
Dr David Knox, Dr Anthony Asher and Michael Rice, authors of the Actuaries Institute's Green Paper, Options for an Improved and Integrated System of Retirement, state that Australia's current system has obvious shortcomings: it is complex, intrusive, contains anomalies, produces perverse incentives, and is sometimes unfair.
"And, as an increasing proportion of the population move from the accumulation to the pension phase, problems that beset the system will become more apparent," the paper states.
"The best system would take an integrated view across all sources of income and expenses for retirees," said Actuaries Institute Chief Executive Elayne Grace. "This includes the Age Pension, superannuation, the family home, aged care and health costs."
"The current system, though world-leading in some respects, falls well short of that."
The Actuaries Institute believes the overarching objective of the retirement system should be to ensure that Australians can confidently live their retirement years in dignity. The system must be fair and efficient.
Right now, there is potential fiscal headroom to accommodate changes, especially when a holistic approach to retirement is taken.
The report states retirees need access to a regular income stream, savings to cover unexpected expenses, and protection against longevity, inflation and market risks, known as the 'retirement income trilemma'.
But the system must be simple to understand so that retirees who don't seek financial advice can still make smart choices.
Intergenerational fairness is crucial. The cost to government and taxpayers must be shared equitably. And there must be encouragement for those who can afford to defer consumption to do so to provide for their retirement.
Retirees should also be persuaded to spend to maintain a dignified standard of living, and not transfer wealth through large bequests to the next generation.
There should not be incentives to 'game the system' and disincentives in the form of penal means tests or taxes are undesirable.
Now is the time for review.
"The Actuaries Institute encourages that debate to start now," the paper states.
"If it does not, Australians may lose the opportunity presented by the fiscal headroom of the declining Age Pension costs, and the lead time we have to prepare for known longer-term changes, such as those to patterns of home ownership and work, longevity and growing health and aged care costs."
Age Pension costs as a proportion of gross domestic product should fall, but long-term projections show aged care is the second fastest growing category of expenditure after the NDIS, and likely to rise as longevity rates increase.
The options for reform reviewed in the paper include:
simplifying the Age Pension, better integrating it with superannuation and aged care;
addressing anomalies created from exempting the family home from Age Pension means testing;
embedding automatic adjustments in the superannuation preservation age and the Age Pension eligibility age to reflect changes in longevity (although not necessarily in a one-for-one manner);
setting targets for government expenditure for support in retirement;
addressing tax and aged care funding anomalies; and
co-ordinating policies for support in retirement.
These could be achieved with a simpler Age Pension means test, an option that might allow retirees to 'buy the Age Pension', or a simpler, combined assets and income test. There could also be a universal Age Pension and/or a concession card that allows everyone over a set age to access cheaper medical care and Pharmaceuticals Benefits Scheme drugs.
The authors also point to the perceived unfairness of the current system. "There are individual accounts, worth tens of millions of dollars that are taxed at the concessional rates for all superannuation of 15% on investment income and 10% on capital gains." The amount held in super could be capped, or those with large balances could pay more tax.
The Actuaries Institute encourages the initial discussion of reform be kept at a high level to identify the options that have enough support to be further developed.
In summing up, and urging the government to act, Actuaries Institute President Nicolette Rubinsztein said, "There are a number of known longer-term trends: an ageing population, a maturing superannuation system, changing patterns of home ownership and work, a growing dispersion of wealth and health, and growing private costs for health and aged care.
"All of these will aggravate the inconsistencies that stem from a lack of appropriate integration between the various components and undermine the potential for a dignified life for all retirees."
A copy of the full report can be found
here
.
Tackling The Complex Issue Of Elder Financial Abuse
August 22nd 2019
National Seniors Australia says more needs to be done to increase awareness of elder abuse, including financial and psychological abuse.
Chief Advocate, Ian Henschke told 2GB radio's George and Paul this week his organisation regularly heard stories of financial abuse and remained committed to tackling the issue.
"We know that the age that older Australians need help and when they tend to go into aged care is in that period between 80 and 84", he said.
"This is when people are at their frailest and most vulnerable and to take advantage of them at that time is just awful."
Mr Henschke said that financial elder abuse came in many forms and sometimes involved complex family situations and issues, such as addiction. He pointed out that many parents found themselves at risk of elder abuse due to situations that were often out of their control.
Mr Henschke said that while many older Australians were reluctant to "go against their family", it was important we started viewing elder financial abuse for what it is – a crime.
"You cannot justify theft. It's just not the right thing to do, particularly when you're taking advantage of someone who's vulnerable – and these people have loved you and looked after you all your life."
At the recent National Elder Abuse Conference in Brisbane, National Seniors Australia CEO, Professor John McCallum said it was vital we help shore up the financial defences of older Australians to combat elder financial abuse.
Mr Henschke reiterated Professor McCallum's calls for increased awareness and support, as well as the need for enduring powers of attorney.
"These are the powers of attorney where you've got control over financial affairs. We need to look at that and have that tightened up", he said.
"I would like to see – and many people who are involved with this, would like to see two names on every financial power of attorney."
Mr Henschke said that older Australians should take steps now to help protect themselves against elder financial abuse.
"I think people listening, they need to start thinking about this ahead of time and say, I'm going to make sure that I've got myself set up and have two people involved in looking after my finances ahead of time."
National Seniors' Response To Green Paper On Retirement Income
National Seniors Australia welcomes the release of today's Green Paper from the Actuaries Institute on Australia's retirement income system.
National Seniors Australia CEO, Professor John McCallum says the debate needs to focus on the sustainability of the system.
"Our biggest concern about the future of retirement income is addressing pensioner poverty, especially the high percentage of women in that category."
"It makes political and practical sense to focus on improving the consumer experience, because people won't buy into the system without it," he said.
Professor McCallum says it's not just retirement income which needs to be looked at, but the costs associated with a larger ageing population.
"We've known since the 1980s when Professor George Myer came from Duke University in the U.S. and showed Australian demographers there was not just a baby boom, but increased life expectancy as well."
"Among the good things that have happened since, is the superannuation guarantee with the aim to enable Australians to save for their retirement and not to be a burden later in life."
"Unfortunately, what has also happened was that people were bedazzled by large account balances and had no idea of how much income it could provide for another 30 years of life. This would also include growing health and aged care costs," Professor McCallum said.
He also welcomed the report's proposals to simplify the means and income tests of the age pension to make it fairer.
"The poorly managed interaction between means and assets testing the age pension and superannuation income, needs addressing to clean out perverse incentives."
"We find ourselves in a position where even people who are comfortably provided for, are simultaneously feeling insecure because of constant changes."
"Self-provision is the only sustainable future direction for an ageing society, but it needs to be enabled," he said.
Mental Health Services In New South Wales The Focus Of New Report
The Bureau of Health Information (BHI) has today released its annual healthcare performance report, focused this year on mental health services in NSW.
For the first time in this report series, Healthcare in Focus examines the performance of the NSW health system through a specific lens – the use and experiences of health services by people with lived experience of mental health issues.
BHI Chief Executive Dr Diane Watson said the report looks at different aspects of the care journey including care provided in the community, emergency departments (EDs) and inpatient settings.
"Almost all adults with a mental health issue in NSW (95%) had a regular doctor or place of care which is important to help people access the services they need," said Dr Watson. "More than nine in 10 (94%) also gave positive ratings about the medical care they received from their regular doctor.
"While around seven in 10 adults with a mental health issue were able to get help from a health professional when they needed, they found it much more difficult than adults without a mental health issue to access out-of-hours care."
When it came to EDs, the report shows mental health-related presentations grew faster than overall ED presentations, particularly for young people.
"Over five years, mental health-related ED presentations increased by 18%, compared with 11% overall growth," said Dr Watson. "Just over half of mental health-related ED presentations were for people under 35 years old (53%)."
People with a mental health issue were much more likely to arrive by ambulance, more likely to be assessed in the ED to 'emergency' and 'urgent' categories and more likely to visit EDs often.
Treatment started on time for 70% of mental health-related ED presentations in NSW, compared with 75% of presentations for other reasons.
"People presenting to EDs with mental health-related issues waited longer for treatment, spent more time in EDs and reported less positive experiences of care," said Dr Watson.
Inpatient activity also increased in specialised mental health units at a faster rate than overall admitted patient activity, and those staying overnight in these units were more likely to be young.
Three-quarters of people admitted to hospital for a mental health-related issue were contacted by a community mental health service within one week of discharge.
Healthcare in Focus: People's use and experiences of mental health services in NSW presents a range of other measures of mental health care, including looking at services provided to population groups such as people living in rural and remote locations, Aboriginal people, women in maternity care, and those receiving cancer treatment.
"This report is our contribution to mental health services in NSW, putting this information in the hands of the community, healthcare system managers and policymakers to strengthen accountability and support system-wide improvements," said Dr Watson.
South Korean Community Urged To Be Alert For Hepatitis A
August 21, 2019: NSW Health
NSW Health is urging the South Korean community to take care and watch for symptoms of hepatitis A following the diagnosis of eight cases in Sydney and the ACT since June.
NSW Health is working closely with ACT Health to investigate the cases, all of which have been confirmed in residents of South Korean background. The NSW cases are from South Eastern Sydney,
Northern Sydney
and Western Sydney.
Dr Vicky Sheppeard, Director Communicable Diseases NSW Health, explained that NSW Health is also working closely with the NSW Food Authority to determine whether the cases are linked to a food source.
"Hepatitis A is caused by a virus that spreads in contaminated food or through poor hygiene," she said.
"Symptoms may include nausea, vomiting, fever and yellowing of the skin, dark urine and pale stools.
"Symptoms may be very mild, especially in young children, but anyone with symptoms should see their doctor right away and not handle food for other people."
Dr Sheppeard said that Australia has a very low incidence of hepatitis A.
"Despite this, hepatitis A can easily spread from person to person, which is a real risk among the South Korean community in Sydney at present, so we are urging people to take particular care with hygiene," she said.
"This includes washing hands thoroughly in soap and water for at least 15 seconds and drying them thoroughly."
Washing hands is particularly important after:
going to the toilet
touching soiled linen or items or changing nappies
before preparing or eating food.
South Korea, where hepatitis A is usually uncommon, is experiencing a large outbreak of hepatitis A with over 11,000 cases reported so far this year.
Two doses of vaccine prevents infection, and at least one dose is strongly recommended prior to travel to countries where hepatitis A poses a risk. The hepatitis A vaccine is available at GPs.
Transplants To Help Save Koalas
August 20, 2019: University of Queensland
Faecal transplants are helping expand koala microbiomes, allowing the marsupials to eat a wider range of eucalypts and possibly survive habitat loss.
A study featuring University of Queensland researchers has analysed and altered microbes in koalas' guts, finding that a faecal transplant may influence what species of eucalypt koalas can feed on.
UQ School of Chemistry and Molecular Biosciences Dr Michaela Blyton was inspired to conduct the research after a devastating drop in the koala population on Cape Otway in Victoria.
"In 2013 the koala population reached very high densities, leading them to defoliate their preferred food tree species, manna gum," Dr Blyton said.
"This led to 70 per cent mortality due to starvation, which was very distressing.
"What was interesting was that even though the koalas were starving, they generally didn't start feeding on a less preferred tree species, messmate, despite the fact that some koalas feed exclusively on messmate.
"This led me and colleague Dr Ben Moore at Western Sydney University to wonder if the microbes present in koalas' guts -- their microbiomes -- were limiting which species they could eat, and if we could allow them to expand their diet with faecal inoculations."
The team caught wild koalas that only ate manna gum and kept them in temporary captivity at the Cape Otway Conservation Ecology Centre.
"We collected poo from radio-collared wild koalas that ate messmate, concentrated the microorganisms in the poo, packaged it into acid-resistant capsules and gave them to the captive koalas," Dr Blyton said.
"We then monitored how much messmate the koalas were willing to eat over an 18-day period and assessed how the microbiomes changed after the inoculations, comparing their diets to those of control koalas that received manna gum microbes."
The researchers found that the faecal inoculations changed the koalas' microbiomes, allowing them to eat messmate.
"This could affect all aspects of their ecology including nutrition, habitat selection and resource use," Dr Blyton said.
"Koalas may naturally have trouble adapting to new diets when their usual food trees become over browsed or after being moved to a new location.
"This study provides a proof of concept for the use of encapsulated faecal material to successfully introduce and establish new microbes in koalas' guts.
"In future, capsules could be used to adjust koalas' microbiomes prior to moving them to safer or more abundant environments, and as probiotics during and after antibiotic treatment."
Michaela D. J. Blyton, Rochelle M. Soo, Desley Whisson, Karen J. Marsh, Jack Pascoe, Mark Le Pla, William Foley, Philip Hugenholtz, Ben D. Moore.
Faecal inoculations alter the gastrointestinal microbiome and allow dietary expansion in a wild specialist herbivore, the koala.
Animal Microbiome, 2019; 1 (1) DOI:
10.1186/s42523-019-0008-0
Disclaimer: These articles are not intended to provide medical advice, diagnosis or treatment. Views expressed here do not necessarily reflect those of Pittwater Online News or its staff.