Inbox and Environment News: Issue 416
August 11 - 17, 2019: Issue 416
Muogamarra Nature Reserve Open Season
Muogamarra Nature Reserve is open for just 6 weekends, from Saturday 10 August to Sunday 15 September 2019.
Located just north of Sydney, it's perfect for a weekend day trip.
Visit this paradise of rare native wildflowers. Enjoy expansive views of Bar, Milson and Spectacle islands, Berowra Creek and the Hawkesbury River. Join a guided walk to Peats Bight, Bird Gully, Lloyd Trig and Deerubbin, or take an Aboriginal cultural tour.
Remember to book online before you arrive. You can also do self-guided walks in this gorgeous reserve.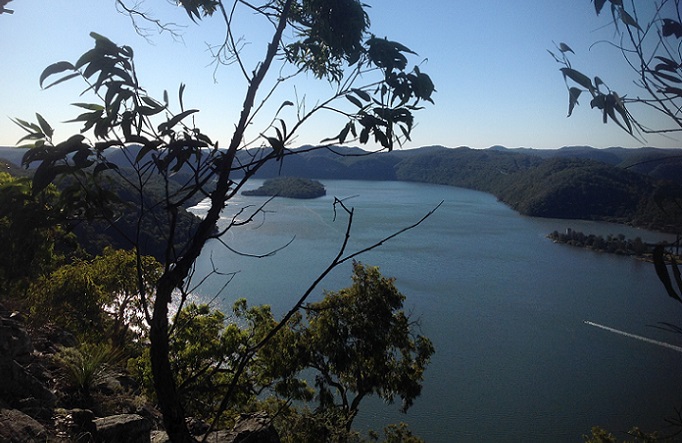 Mona Vale Beach Clean
Sunday, August 25, 2019 at 10 AM – 12 PM
Mona Vale Beach, Mona Vale
Hosted by Northern Beaches Clean Up Crew
Come and join us for our second clean up in Mona Vale. We'll meet at the area between toilet block and cafe as it's in the middle of area to target. Some can head north through the basin and others south around cafe/ clubhouse and lawn area or down onto main beach. We have gloves, bags and buckets. We'll clean up this area to try and catch all the litter before it enters the ocean. We're trying to remove as much plastic, cigarette butts and rubbish as possible. We're a friendly group of people and everyone is welcome to this family friendly event. It's a nice community - make some new friends and do a good deed for the planet at the same time.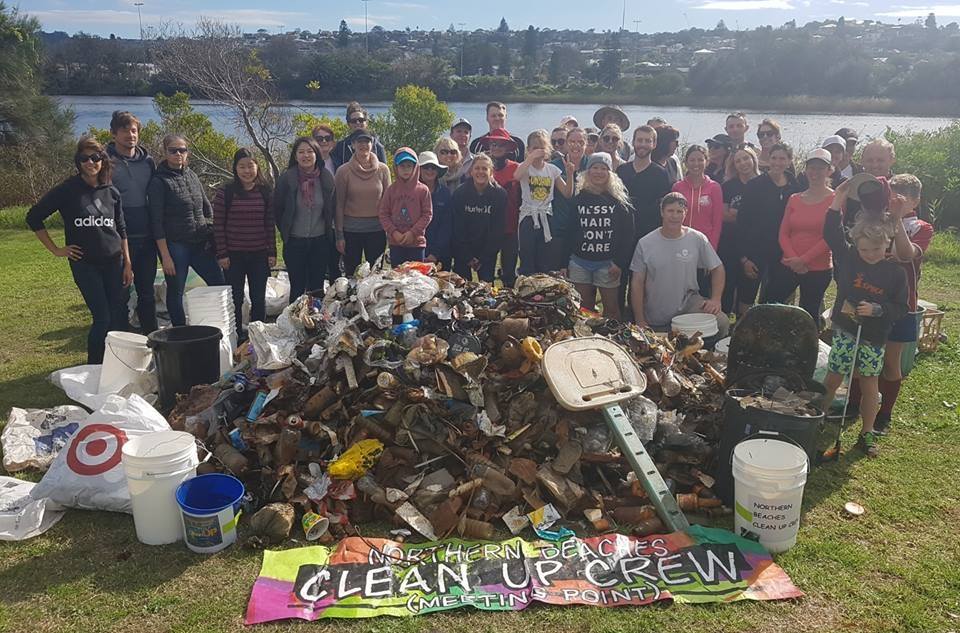 Fishcare Volunteers Wanted
Have you a passion for helping others, and helping contribute to better fishing and aquatic systems in the future?
Then why not become a FISHCARE volunteer - it's rewarding, a great way to learn and impart skills, meet new friends and have fun, it also allows you to give back to recreational fishing. Currently DPI has 300 Fishcare volunteers across NSW, volunteers assist in teaching others all about fish, sustainable fishing practices as well as the ecosystems fish live in.
The next free Fishcare training weekend is taking place on the
18th of August at Narrabeen
, so jump on board and get involved in this fun, social, stewardship based volunteer program. The training weekend encompasses a variety of topics
with a focus on Long Reef Aquatic Reserve (including a guided reef walk)
, and is open to anyone over the age of 18 years of age.
Places are limited in the training a so if you are interested, please get in contact as soon as possible.
Narrabeen Coastal Environment Centre,
entry via Pelican Path,
Lake Park Road,
North Narrabeen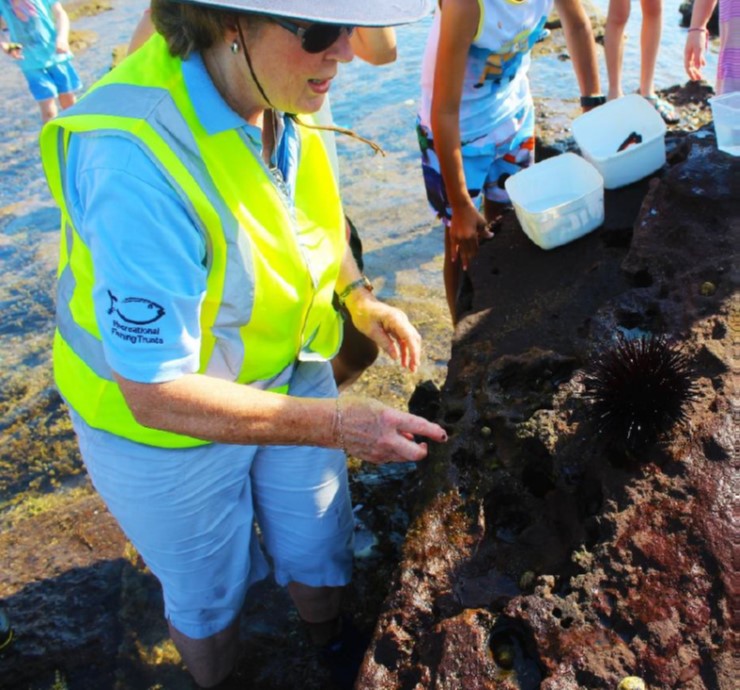 Spring Fair
Hosted by Stony Range Regional Botanic Garden and Australian Plants Society Northern Beaches Group
Sunday, September 8, 2019 at 9 AM – 5 PM
Stony Range Regional Botanic Garden
810 Pittwater Road, Dee Why 2099
This year the theme is 'Back to the Bush'
Enjoy native plant sales and advice plus displays, children's activities, live native animals, walks, music, sculptures, photography displays, BBQ and coffee shop.

Mona Vale Garden Club's 48th Spring Flower Show
Saturday, 28 September 2019 - 10:00am to 3:00pm
Wonderful display of flowers, potted plants, vegetables, herbs and floral art. Plants, white elephant goods and cakes for sale. Raffles. Refreshments available.
Gold coin entry; $2.00 - children no charge
Ted Blackwood Hall
Cnr Jacksons & Boondah Roads
Warriewood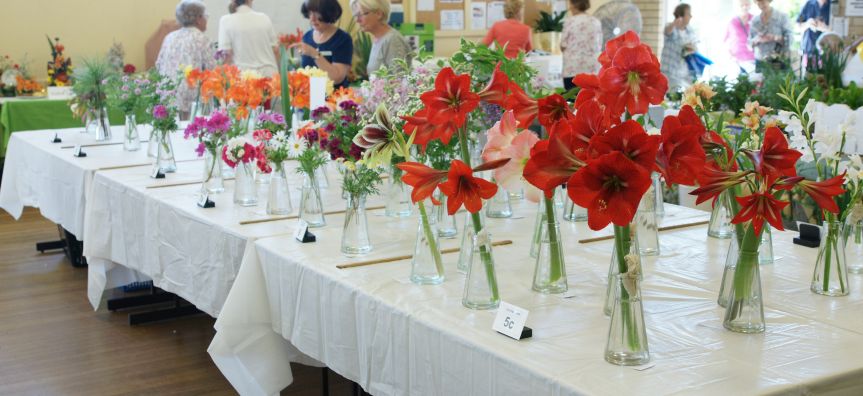 SeaWeek: Celebrating The Sea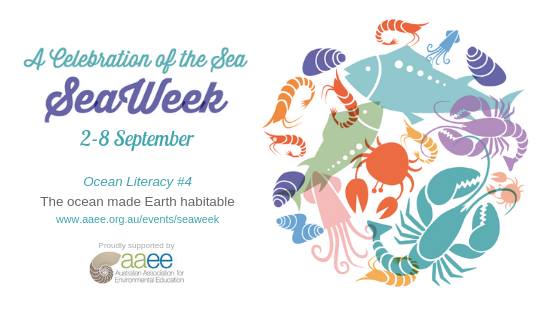 SeaWeek is Australia's annual celebration of the sea. Since 1988, SeaWeek has encouraged community awareness and appreciation for marine and coastal environments. Each year is a different theme, providing educators with specific messages and avenues through which to engage people in learning about and enjoying the ocean.
In 2019, SeaWeek will be celebrated from 2 to 8 September and this year's theme is
Ocean Literacy Principle 4:
The ocean made Earth habitable.
The concept of Ocean Literacy originally began to develop in the US in 2002. At its core, Ocean Literacy 'curriculum' which provides educators a scaffold through which to teach the key messages (principles) needed for people and oceans to co-exist. A great deal of work has gone into creating this framework which provides educators with a scope and sequence for K-12 for each of the seven principles of Ocean Literacy.
The ocean made Earth habitable
The SeaWeek theme of OL4: The ocean made Earth habitable, has three key messages, outlined below. There are lists of topics and sub-topics for all ages on the Ocean Literacy website and adaptations of these to the Australian Curriculum.
Most of the oxygen in the atmosphere originally came from the activities of photosynthetic organisms in the ocean. This accumulation of oxygen in Earth's atmosphere was necessary for life to develop and be sustained on land.
The first life is thought to have started in the ocean. The earliest evidence of life is found in the ocean.
The ocean provided and continues to provide water, oxygen and nutrients, and moderates the climate needed for life to exist on Earth
AAEE hopes that SeaWeek will enable all our members to incorporate the ocean (and OL4) into education programs this September from the 2nd to 8th.
The
SeaWeek web page
provides information on events and activities planned for the week. We can also use the website and social media networks to help promote events you may be coordinating.
Australia is a marine nation. We have one of the largest ocean territories in the world, and it drives our climate and weather, generates employment, provides food and resources, and offers lifestyle and recreational opportunities (source CSIRO).
Between 1988 and 2014, 'SeaWeek' was the Marine Education Society of Australasia's (MESA) major national public awareness campaign. With the recent closing of MESA, the co-ordination of the newly named SeaWeek has been passed over to AAEE ME - the Marine Educators Special Interest Group under the Australian Association for Environmental Education.
Sea-Eagle Update!
SE21 has been photographed at Broken Bay. This is the juvenile recently released after care for her injured wing and rehabilitation. She can be identified by her missing wing feathers. Out there wild and free. Thank you Akos for the photo.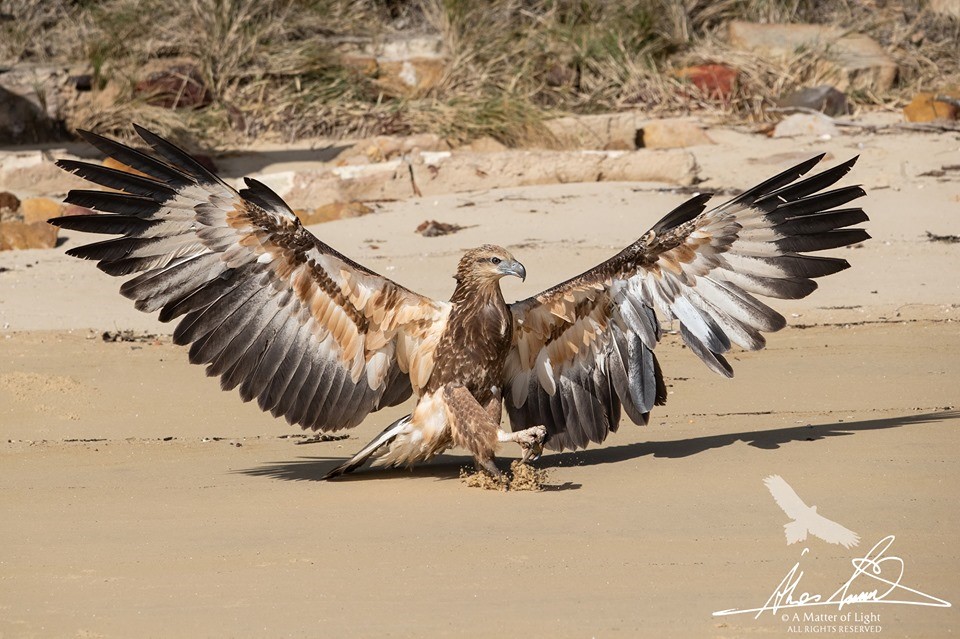 NSW Premier Urged To Oppose Logging Of Our National Parks
Conservation groups are calling on Premier Gladys Berejiklian to rule out supporting any moves by the Shooters and Fishers Party and the National Party to open our national parks to logging.
The NSW Shooters and Fishers Party today gave notice it would introduce a bill [1] to log two of the state's most iconic national parks - Murray River in the south the Pilliga forest in the north.
This move follows hot on the heels of Deputy Premier John Barilaro's calls to open the Murray River National Park to log some of the best river red gum forests left on earth.
"This is a red line that must not be crossed. These national parks were reserved in perpetuity to protect endangered wildlife and some of the most stunning nature landscapes in the state," Nature Conservation Council Chief Executive Chris Gambian said.
"Premier Gladys Berejiklian must rule out any change that would violate our national parks by opening protected areas to logging and other extractive industries.
"National parks hold a special place in the state. Any move to downgrade the state of national parks anywhere is a threat to national parks everywhere."
Murray River National Park is part of the largest continuous red gum forest in the world and hosts a unique ecosystem with more than 100 threatened native animal species and plant species.
The 500,000ha Pilliga forest is the largest remaining temperate woodland in eastern Australia and home to many endangered mammals (koalas, squirrel glider, and eastern pygmy possums) and birds (diamond firetail, hooded robin, speckled warbler, regent honeyeater and swift parrot).
NSW National Parks Association CEO Gary Dunnett said: "Stripping protections from these parks and letting in the loggers would be environmental vandalism.
"These forests are protected because they are struggling after decades of logging and grazing, impacts that are being multiplied by climate change, water diversions and drought.
"The millions of people who enjoy walking, camping and relaxing in our national parks should be really worried by the precedent that this would set.
"If this goes ahead, no park in NSW could be consider safe. Removing permanent protections from our national parks is a dangerous precedent that we will resist at every turn." Mr. Dunnett said.
August 8th, 2019: First Reading
Bill introduced, and read a first time and ordered to be printed on motion by the Hon. Mark Banasiak.
The 2010 declaration of the
Murray Valley National Park
was seen as a win for the environment, after an independent report found the Riverina's river red gum forests were dying from a lack of water, and needed protection.
There was a $97 million compensation package set up and paid to the timber industry.
Since then the push to change the status of the Murray Valley National Park has gained significant support locally,although environment groups are opposed to the degazettal or allowing loggers access again.
In 2017 National Parks Association of New South Wales senior ecologist Oisin Sweeney said the move signalled a hostility to the protection of nature in a way he had never seen before.
"The area is host to several threatened species like the superb parrot, the southern bell frog, squirrel gliders and inland carpet pythons," he said.
"The forests are also a wetland of international significance so they're listed under the Ramsar convention, which lists and promotes the management of internationally important wetlands.
One of the iconic landscapes of inland Australia,

Pilliga Forest

(or sometimes called the Pilliga Scrub) is made up of Pilliga Nature Reserve, Timmallallie National Park, Pilliga West, and East State Conservation Areas.
Close to the town of Baradine, Pilliga is a vast forest that spans more than half a million hectares and features 2,000km of public access trails, so there's a lot to explore either by walking or car touring. You can set up camp at the free Sculptures in the Scrub campground in Timmallallie National Park.
The forest contains at least 900 plant species, including some now widely grown in cultivation as well as many threatened species. Some areas of the forest, particularly in the western Pilliga, are dominated by cypress-pine (Callitris spp.). However, there are a variety of distinct plant communities in the forest, some of which do not include Callitris, such as mallee and heathland. Another prominent sub-canopy genus are the she-oaks, while eucalypts dominate the canopy throughout the forest.
Fauna recorded from the Pilliga Nature Reserve include at least 40 native and nine introduced mammals, 50 reptiles and at least 15 frogs. Squirrel gliders, koalas, rufous bettongs and Pilliga mice are present.
A 4,909 km2 tract of land, including the forest and the nearby Warrumbungle National Park, has been identified by BirdLife International as an Important Bird Area (IBA) because it supports populations of painted honeyeaters and diamond firetails. It also experiences irregular occurrences of endangered swift parrots and regent honeyeaters, and near threatened bush stone-curlews. Other declining woodland birds present in good numbers include barking owls, glossy black-cockatoos, grey-crowned babblers, speckled warblers, brown treecreepers, hooded robins and turquoise parrots.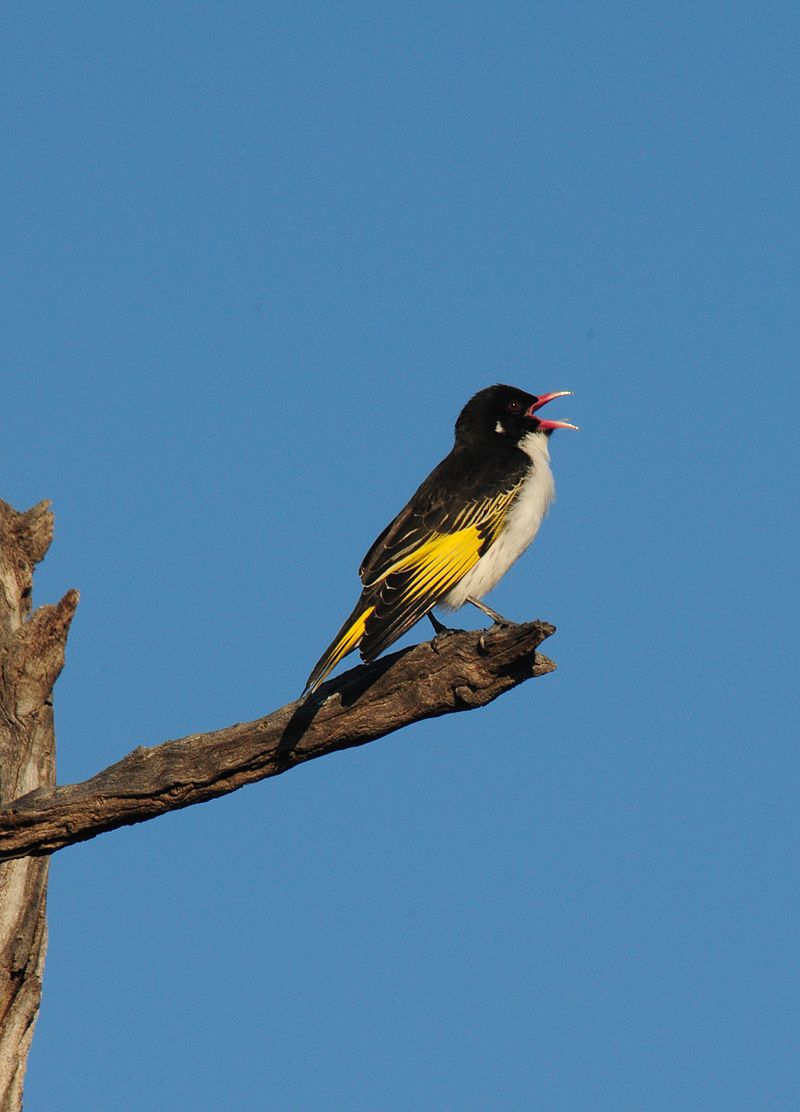 Painted honeyeater singing - photo by Stuart Harris

Research Examines Ramifications Of Climate Change On Different Populations
August 7th, 2019: University of New Mexico, By Mary Beth King
As the world struggles to battle the effects of climate change, not everyone benefits equally from the remedies. In a recent paper titled '
Weaponizing vulnerability to climate change
', Benjamin Warner, an assistant professor of geography and environmental studies at The University of New Mexico, and his colleague Kimberley Thomas, a political ecologist at Temple University, examine the way the fight to remediate climate change is hurting the most vulnerable, the poor.
In their research, Thomas and Warner l
ooked at five threatened coastal areas around the world: Miami, Florida; Lagos, Nigeria: Hanoi, Vietnam; Tokyo, Japan; and Manus Island, Papua New Guinea.
They used several types of data and an analysis of documentation such as state agency publications, press releases, studies by international organizations, and government-commissioned think-tank reports, and other sources.
"We're going to see geopolitics hinge on climate vulnerability… It's going to affect regions, countries, even world order." – Benjamin Warner
Warner uses his research in the classroom – "a pedological mechanism" – which allows his students to think about the issue critically. He hopes his research will encourage discussion and prompt new research in the weaponization of climate change.
"Who's going to win? Who's going to lose as climate changes? We don't think of the ramifications among human beings," Warner observed, noting that, in the conversation about countermeasures to climate change, there is little input from the group that probably contributes least to global warming – the poor.
Climate change has led to gentrification in some places such as Miami, where the wealthy with their large homes on the beach are increasingly moving to higher, safer ground inhabited by the poor who typically live there. As a result, property prices rise, leaving the fate of the poorer population unclear. If they move, they face longer commutes, loss of family and friend connections, more crowded living conditions, homelessness, and other effects not suffered by the wealthy.
In Lagos, the wealthy remained in their beach homes, and "the Great Wall of Lagos" was built. "In doing so, developers redesigned the coastal hydrology of the city in a way that exacerbated storm surge risk in an adjacent, low-lying area of the city predominantly inhabited by the landless poor," the researchers said. "… Beyond the wall's covered range, unprotected and predominantly slum areas are likely to face greater threats from erosion, sea-level rise, and coastal flooding, as the sea wall deflects incoming waves and storm surge down the shore."
Warner explained the term "weaponization."
"
In the Australia case we discuss in the paper, Australia is taking steps to determine which populations throughout the southern hemisphere are vulnerable to climate change. Then, it is implementing policies to protect themselves from these vulnerable populations because they assume, eventually, these populations will be thrown into chaos which will spill over into Australia through an immigration crisis."
"So, Australia has turned the label 'vulnerable' into a political mechanism that renders already vulnerable populations (think Bangladesh) even more vulnerable as their options for adaptation through migration are removed
. In this way, peoples' vulnerable status is being used as a weapon that will render said populations worse off."
Places such as Australia are politicising climate change as a way to push back against unwanted immigrants and refugee
s, Warner said. However, in the United States, the Republican right has not accepted climate change as a fact.
"They could use it, but they will have to change their stance," he said, adding, "We're going to see geopolitics hinge on climate vulnerability… It's going to affect regions, countries, even world order."
The Front Line Of Environmental Violence
August 6, 2019: University of Queensland
Environmental defenders on the front line of natural resource conflict are being killed at an alarming rate, according to a University of Queensland study.
According to UQ School of Biological Sciences researcher Dr Nathalie Butt, the 1558 deaths recorded between 2002 and 2017 were largely due to external demand for the very resources they were trying to protect.
"The number of reported deaths of environmental defenders has increased, as well as the number of countries where they occur," Dr Butt said.
"Environmental defenders help protect land, forests, water and other natural resources.
"They can be anyone – community activists, lawyers, journalists, members of social movements, NGO staff and Indigenous people – anyone who resists violence.
"And importantly, Indigenous peoples are dying in higher numbers than any other group."
The reasons for the fatal violence are mainly related to conflict over natural resources, such as water, timber, land for agriculture or development, or minerals.
A third of all deaths between 2014 and 2017 – more than 230 – were linked to the mining and agribusiness sectors.
"Although conflict over natural resources is the underlying cause of the violence, spatial analyses showed corruption was the key correlate for the killings," Dr Butt said.
"Globally, 43 per cent of all murders result in a conviction, while for environmental defenders this figure is only 10 per cent.
"In many instances, weak rule of law means that cases in many countries are not properly investigated, and sometimes it's the police or the authorities themselves that are responsible for the violence.
"For example, in Pau D'Arco, Brazil, ten land defenders were killed by the police in May 2017."
Dr Butt is calling for more transparency and accountability from multinational companies and governments, and awareness from consumers.
"The ecology of the planet is fundamental to the production of food and resources – that we all depend upon – and we are ultimately bound to support it, otherwise it will not support us," she said.
"Part of this support is to protect the people who protect it.
"As consumers in wealthy countries – who are effectively outsourcing our resource consumption – we share responsibility for what's happening.
"Businesses, investors and national governments at both ends of the chain of violence need to be more accountable."
The research has been published in Nature Sustainability (DOI: 10.1038/s41893-019-0349-4).
Platypus Decline Likely Underestimated
August 8th, 2019: by Isabelle Dubach,
UNSW
Declines in platypus have likely been underestimated, new research by UNSW scientists has shown.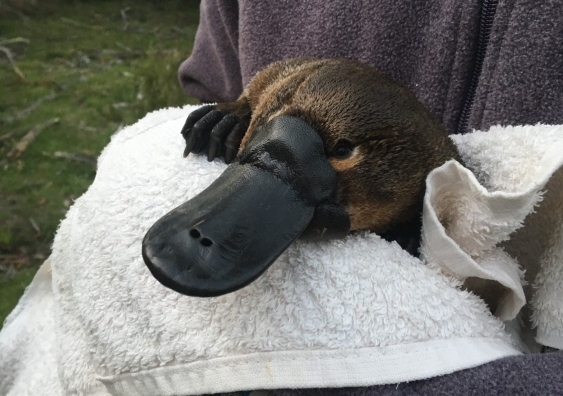 Declines in platypus have likely been underestimated, new research by UNSW scientists has shown. The iconic species was listed as 'Near-Threatened' in 2016, given mounting evidence of recent localized declines, but the scientists' compilation of historical data – recently published in Global Ecology and Conservation – suggests considerable historical declines.
The UNSW-led, Australian Research Council-funded project analysed all available data on platypus distribution and abundance from the last 258 years, and compared it with recent data from systematic surveys.
Lead author Tahneal Hawke, a PhD candidate at the UNSW Sydney's Centre for Ecosystem Science, says there has been ongoing evidence to suggest platypus are declining.
"However, because of the lack of data on historical abundance and distribution, we didn't really know just how bad the decline had been.
"Our inclusion of historical data over the last two centuries, including observations from old newspapers, suggests platypus declines have been significantly underestimated, with historical accounts of platypus numbers far exceeding contemporary estimates," she says.
For example, 22 platypuses were captured in a single day in 1908 on the Yarra River at the Princes Bridge in Melbourne, where sightings are rare today.
Changes to the species' distribution were also concerning: 41.4% of sub-catchments across the platypus' range had no recorded sightings in the last 10 years.
"These long-term declines likely reflect the impacts of the historical fur trade, from which platypus never fully recovered," says UNSW researcher Dr Gilad Bino, one of the authors.
"Subsequent impacts of river regulation, habitat destruction, pollution, predation and drowning in enclosed fish and crustacean nets further increased their decline."
Of particular concern was the Murray-Darling Basin – 50% of sub-catchments where platypus once occurred had no records in the last 10 years.
"The Murray-Darling Basin has had the greatest number of sub-catchments without records in the last 10 years compared with other drainage basins across the platypus distribution, potentially reflecting water resource development and increased drying," says Professor Richard Kingsford, Director of the UNSW Centre for Ecosystem Science and one of the authors.
"Platypus declines are of increasing concern to governments and scientific communities, but the seriousness of the declines outlined requires more urgent conservation attention. Improved and ongoing monitoring of platypus is essential to increase understanding and inform effective management of this iconic mammal," he says.
Marine Heatwaves A Bigger Threat To Coral Reefs Than Previously Thought, Scientists Find
August 8th, 2019: by Isabelle Dubach, UNSW
Marine heatwaves are a much bigger threat to coral reefs than previously thought, research revealing a previously unrecognised impact of climate change on coral reefs has shown.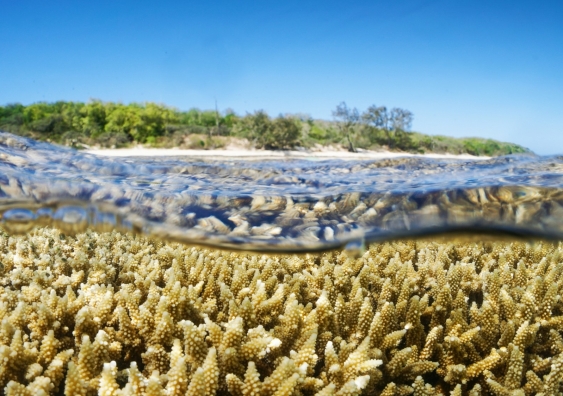 Scientists have found during marine heatwaves, it's not just coral animals that are affected – their skeletons start to decay within weeks. Photo: Heron Island coral
Marine heatwaves are a much bigger threat to coral reefs than previously thought, research revealing a previously unrecognised impact of climate change on coral reefs has shown.
In the study, scientists show for the first time what really happens to corals during marine heatwaves, and they reveal that it's not just coral animals that are affected – their skeletons start to decay within weeks, too. This means that the 3D coral framework which provides home to many other animals on the reef is also at risk.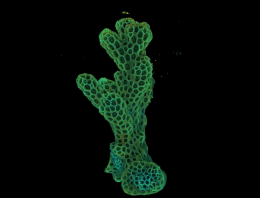 Coral CT scan
CT scanning of the coral skeleton as would be used in medical imaging shows that the skeleton left behind is rapidly eroded and weakened.
The study by a team of researchers from UNSW Sydney, The University of Newcastle, The University of Technology Sydney, James Cook University and The National Oceanic and Atmospheric Administration (NOAA), USA was published today in journal Current Biology.
In 2016 the team's research showed that just a 0.5OC increase in ocean temperature changes the extent of mortality that happens in coral during bleaching.
In this study, the team now find that severe marine heatwaves not only trigger bleaching events as we have known them – a breakdown of symbiosis – but in fact can lead to heat-induced mortality of the coral animal itself. They suggest that severe heatwave-induced mortality events should therefore be considered a distinct biological phenomenon, with more direct damage different from coral bleaching.
"Until now, we have described coral bleaching as an event where the symbiotic relationship between coral and its microbes breaks down and corals lose their main source of nutrition, and the coral can die if the symbiosis is not restored," author Associate Professor Tracy Ainsworth from UNSW says.
"But what we are now seeing is that severe marine heatwave events can have a far more severe impact than coral bleaching: the water temperatures are so warm that the coral animal doesn't bleach – in terms of a loss of its symbiosis – the animal dies and its underlying skeleton is all that remains."
"We find that the skeleton is immediately overgrown by rapid growth of algae and bacteria," says Associate Professor Bill Leggat of the University of Newcastle, a co-author on the paper.
"We were able to study the consequences of this process of rapid colonisation using CT scanning of the coral skeleton – as would be used in medical imaging. We show that this process is devastating not just for the animal tissue, but also for the skeleton that is left behind, which is rapidly eroded and weakened."
University of Technology Sydney scientists A/Professor David Suggett and Dr Emma Camp explain how they were also able to use novel bio-optical techniques that allow them to visualise and study the rapid transition in the coral microbiome for the first time.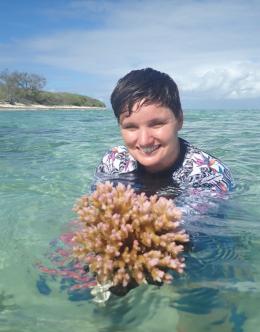 Associate Professor Tracy Ainsworth from UNSW Sydney
"With this technique, we can see microbial communities go from symbionts to harmful coral skeleton-dissolvers. Adopting these techniques more broadly will be central to understanding how this process occurs on reefs globally – we anticipate that heatwave mortality events, and rapid reef decay, will become more frequent as the intensity of marine heatwaves increase."
Dr Scott Heron from James Cook University says this rapid dissolving of coral skeletons following severe heatwaves hasn't been known to date.
"Climate scientists talk about 'unknown unknowns' – impacts that we haven't anticipated from existing knowledge and experience. This discovery fits into this category. As we begin now to understand this impact, the question is how many more of these 'unknown unknowns' might there still be that could bring faster and greater damage to coral reefs from climate change," he says.
Dr Mark Eakin, Coordinator of NOAA's Coral Reef Watch, says such events are predictable.
"We already use climate models and satellite data to predict and detect conditions that cause coral bleaching. By focusing on especially severe marine heatwaves, we should be able to predict this direct coral death, too."
A/Prof Ainsworth says that the team hopes that this research will motivate the public to tell decision makers how important coral reefs are to them, and voice the immediate need to preserve coral reefs now.
"Across the globe coral reefs are still a source of inspiration and awe of the natural world, as well as being critically important to the communities that rely upon them. Given that the degradation of coral reefs will result in the collapse of ecosystem services that sustain over half a billion people, we urgently need actions both globally and locally that protect and conserve these truly wonderful places."
Meet 'Hercules': A Parrot Of Child-Size Proportions
August 7, 2019: Flinders University
Australasian palaeontologists have discovered the world's largest parrot, standing up to 1m tall with a massive beak able to crack most food sources.

The new bird has been named

Heracles inexpectatus

to reflect its Herculean myth-like size and strength -- and the unexpected nature of the discovery.
"New Zealand is well known for its giant birds," says Flinders University Associate Professor Trevor Worthy. "Not only moa dominated avifaunas, but giant geese and adzebills shared the forest floor, while a giant eagle ruled the skies.
"But until now, no-one has ever found an extinct giant parrot -- anywhere."
The NZ fossil is approximately the size of the giant 'dodo' pigeon of the Mascarenes and twice the size of the critically endangered flightless New Zealand kakapo, previously the largest known parrot.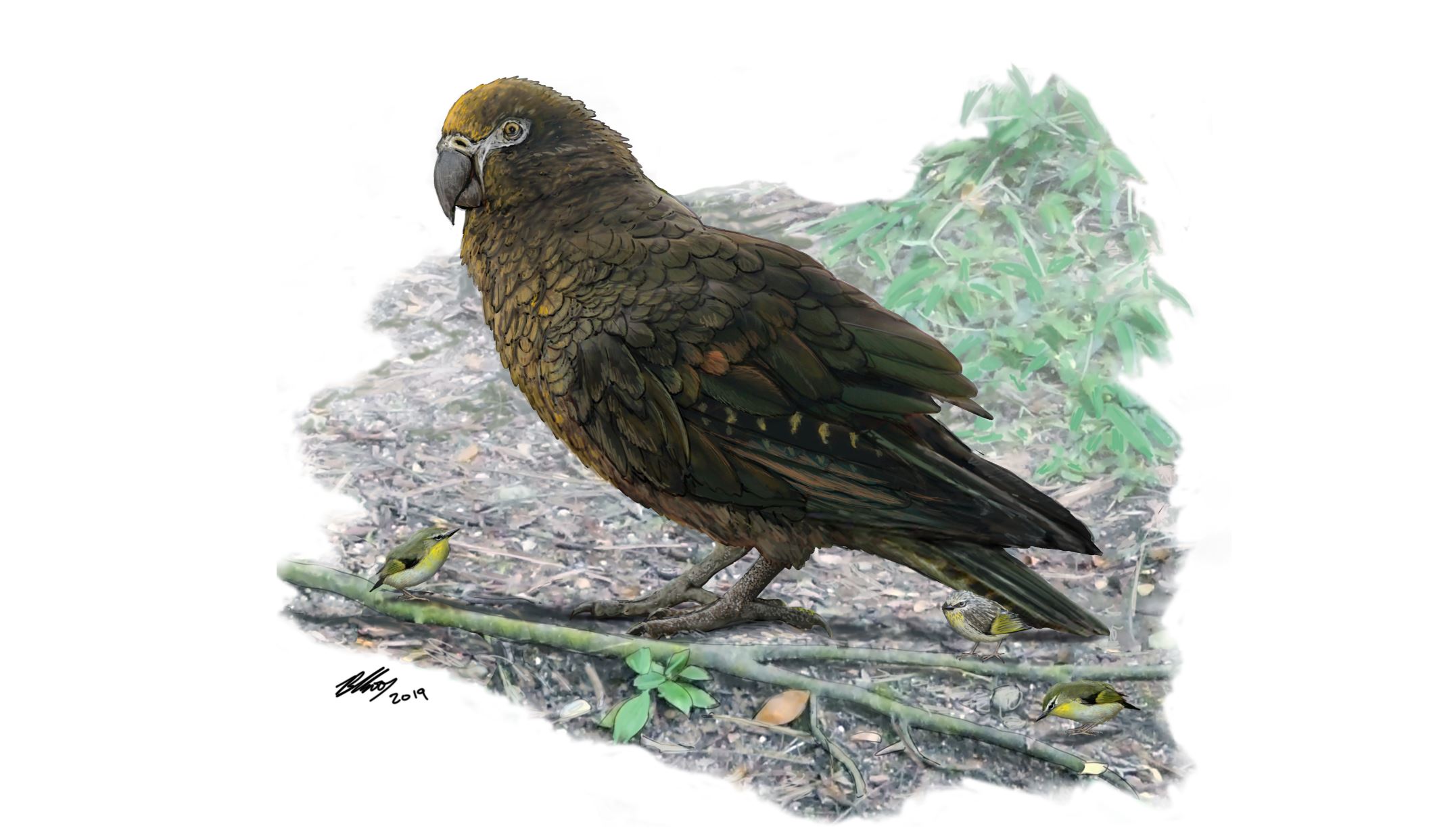 Reconstruction of the giant parrot Heracles, dwarfing a bevy of 8cm high Kuiornis – small New Zealand wrens scuttling about on the forest floor. Illustration by Dr Brian Choo, Flinders University.

Like the kakapo, it was a member of an ancient New Zealand group of parrots that appear to be more primitive than parrots that thrive today on Australia and other continents.
Experts from Flinders University, UNSW Sydney and Canterbury Museum in New Zealand estimate Heracles to be 1 m tall, weighing about 7 kg.
The new parrot was found in fossils up to 19 million years old from near St Bathans in Central Otago, New Zealand, in an area well known for a rich assemblage of fossil birds from the Miocene period.
"We have been excavating these fossil deposits for 20 years, and each year reveals new birds and other animals," says Associate Professor Worthy, from the Flinders University Palaeontology Lab.
"While Heracles is one of the most spectacular birds we have found, no doubt there are many more unexpected species yet to be discovered in this most interesting deposit."
"Heracles, as the largest parrot ever, no doubt with a massive parrot beak that could crack wide open anything it fancied, may well have dined on more than conventional parrot foods, perhaps even other parrots," says Professor Mike Archer, from the UNSW Sydney Palaeontology, Geobiology and Earth Archives (PANGEA) Research Centre.
"Its rarity in the deposit is something we might expect if it was feeding higher up in the food chain," he says, adding parrots "in general are very resourceful birds in terms of culinary interests."
"New Zealand keas, for example, have even developed a taste for sheep since these were introduced by European settlers in 1773."
Birds have repeatedly evolved giant species on islands. As well as the dodo, there has been another giant pigeon found on Fiji, a giant stork on Flores, giant ducks in Hawaii, giant megapodes in New Caledonia and Fiji, giant owls and other raptors in the Caribbean.
Heracles lived in a diverse subtropical forest where many species of laurels and palms grew with podocarp trees.
"Undoubtedly, these provided a rich harvest of fruit important in the diet of Heracles and the parrots and pigeons it lived with. But on the forest floor Heracles competed with adzebills and the forerunners of moa," says Professor Suzanne Hand, also from UNSW Sydney.
"The St Bathans fauna provides the only insight into the terrestrial birds and other animals that lived in New Zealand since dinosaurs roamed the land more than 66 million years ago," says Paul Scofield, Senior Curator at Canterbury Museum, Christchurch.
Canterbury Museum research curator Vanesa De Pietri says the fossil deposit reveals a highly diverse fauna typical of subtropical climates with crocodilians, turtles, many bats and other mammals, and over 40 bird species.
"This was a very different place with a fauna very unlike that which survived into recent times," she says.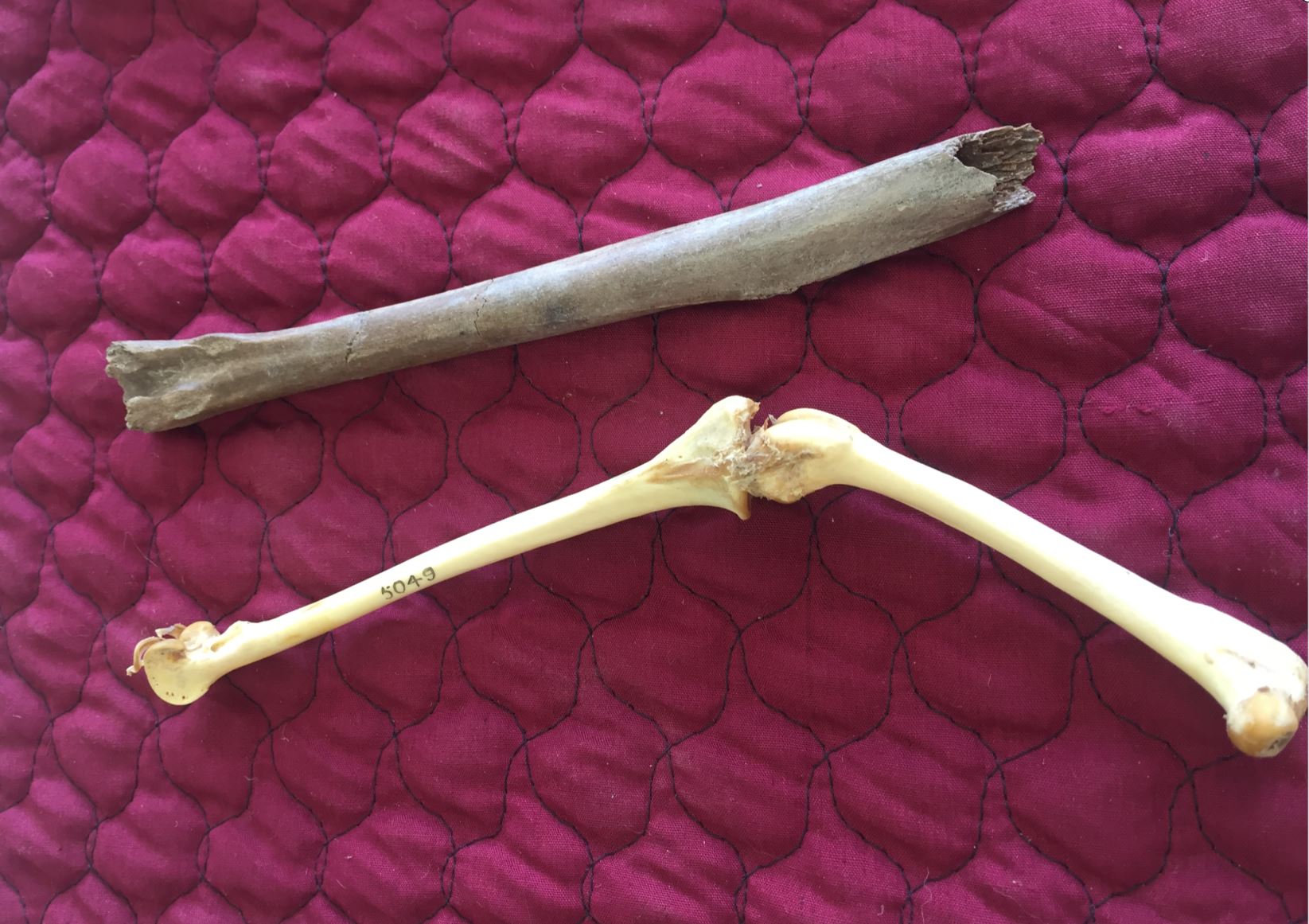 Main fossil leg bone of the Heracles, above, with kakapo leg bones (partial femur and tibiotarsus) at the Flinders Palaeontology Laboratory.

This research was funded by the Australian Research Council and supported by the Marsden Fund Council from Government funding, managed by Royal Society Te Aprangi.
Trevor H. Worthy, Suzanne J. Hand, Michael Archer, R. Paul Scofield, Vanesa L. De Pietri.
Evidence for a giant parrot from the Early Miocene of New Zealand.
Biology Letters, 2019; 15 (8): 20190467 DOI:
10.1098/rsbl.2019.0467
Strange Coral Spawning Improving Great Barrier Reef's Resilience
August 6, 2019: University of Queensland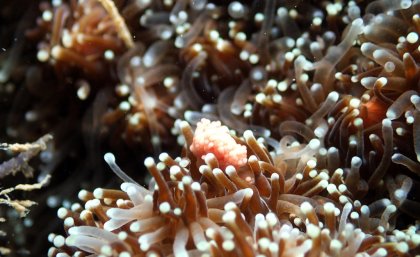 A phenomenon that makes coral spawn more than once a year is improving the resilience of the Great Barrier Reef.

The discovery was made by University of Queensland and CSIRO researchers investigating whether corals that split their spawning over multiple months are more successful at spreading their offspring across different reefs.
Dr Karlo Hock, from UQ's School of Biological Sciences, said coral mass spawning events are one of the most spectacular events in the oceans.
"They're incredibly beautiful," Dr Hock said.
"On Australia's Great Barrier Reef, all coral colonies typically spawn only once per year, over several nights after the full moon, as the water warms up in late spring."
Study co-author Dr Christopher Doropoulos from the CSIRO Oceans & Atmosphere said sometimes however, coral split their spawning over two successive months.
"This helps them synchronise their reproduction to the best environmental conditions and moon phases," he said.
"While reproductive success during split spawning may be lower than usual because it can lead to reduced fertilisation, we found that the release of eggs in two separate smaller events gives the corals a second and improved chance of finding a new home reef."
The research team brought together multi-disciplinary skills in modelling, coral biology, ecology, and oceanography, simulating the dispersal of coral larvae during these split spawning events, among the more than 3800 reefs that make up the Great Barrier Reef.
They looked at whether the split spawning events more reliably supply larvae to the reefs, as well as whether the ability to exchange larvae among the reefs is enhanced by them.
UQ's Professor Peter J. Mumby said split spawning events can increase the reliability of larval supply as the reefs tend to be better connected and have more numerous, as well as more frequent, larval exchanges.
"This means that split spawning can increase the recovery potential for reefs in the region.
"A more reliable supply of coral larvae could particularly benefit reefs that have recently suffered disturbances, when coral populations need new coral recruits the most.
"This will become more important as coral reefs face increasingly unpredictable environmental conditions and disturbances."
Dr Hock said the research also revealed that the natural processes of recovery can sometimes be more resilient than originally thought.
"However, even with such mechanisms in place, coral populations can only withstand so much pressure," he said.
"It all ends up being the matter of scale: any potential benefits from split spawning might be irrelevant if we don't have enough coral on these reefs to reproduce successfully.
"Mitigating well-established local and global threats to coral reefs -- like river runoffs and carbon dioxide emissions -- is essential for their continued survival."
The study between UQ, CSIRO and ARC Centre of Excellence for Coral Reef Studies was published in Nature Communications.
Karlo Hock, Christopher Doropoulos, Rebecca Gorton, Scott A. Condie, Peter J. Mumby.
Split spawning increases robustness of coral larval supply and inter-reef connectivity.
Nature Communications, 2019; 10 (1) DOI:
10.1038/s41467-019-11367-7
Barrenjoey Seal Colony Growing
Jools Farrell, local ORRCA member, reminds us that at present the Australian Fur Seal Colony at Barrenjoey is growing.
In mid July there were

9

but there will be a lot more as we had up to 20 last year.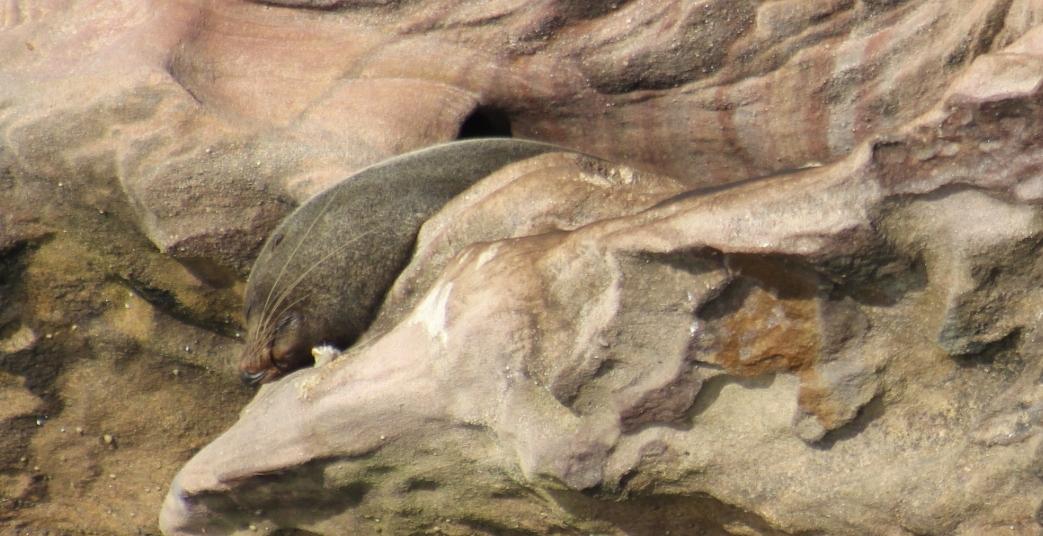 Please remember that legally you must stay a minimum of 40 metres away from seals, especially if they come ashore on the estuary beaches or ocean beaches to rest.
Also please keep an eye out for them if you are out in a boat as they do venture out of this spot to feed on the estuary or around Barrenjoey Headland. In recent years they have been seen everywhere from Barrenjoey to Clareville and Church Point.
Please do not attempt to feed them as they get plenty of food here in Pittwater.
Please also do not attempt to swim with them, Jools asks.
If you do see a seal in distress, please contact ORRCA on their 24/7 hotline: 9415 3333.
Catch A Glimpse Of A Humpback Whale
Visit a coastal NSW national park to spot a humpback whale, as they start their annual migration north.
From May to November 2019, over 30,000 humpback whales will migrate from the cold waters of Antarctica to the warmer waters off north east Australia to mate and give birth before heading south again.
Vantage spots for whale watching include national parks with lookouts, headlands and foreshores.
Southern right and minke whales may also be spotted off the NSW coast during migration season.
Keen whale-watchers can download the free Wild About Whales mobile app, which helps users find the best locations for spotting whales, get real-time notifications of nearby sightings, and record their sightings.
Environment Minister Matt Kean said the app is a great tool for the whole family to learn more about whales, while also contributing to a citizen science project.
"Citizen science volunteers and other organisations such as ORRCA do an amazing job of monitoring the number of whales migrating along the NSW coast each season," Mr Kean said.
Find whale watching vantage points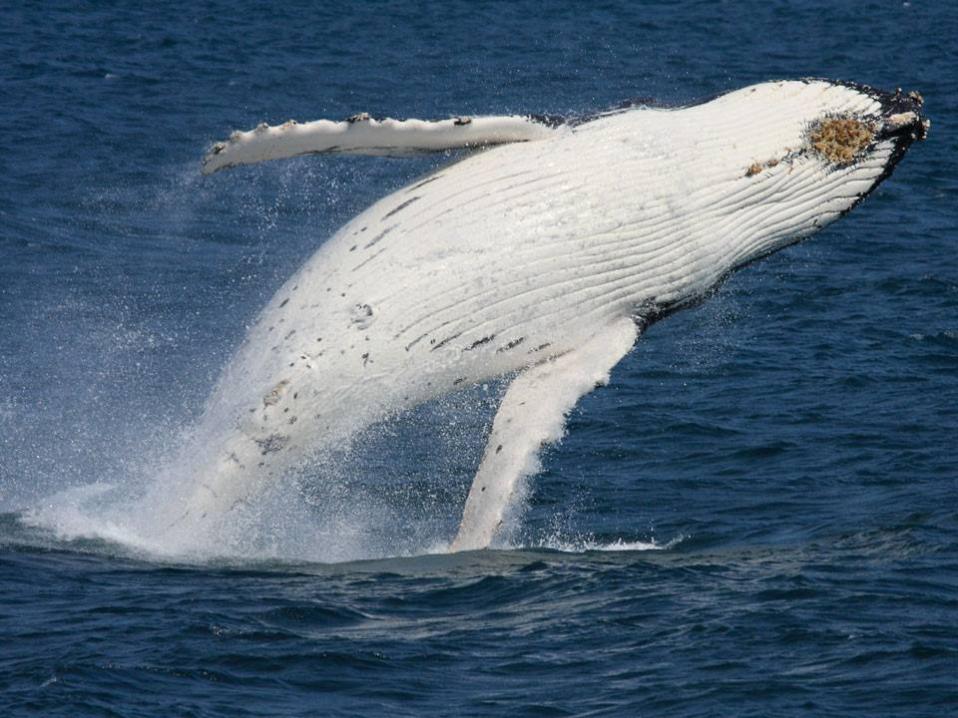 Archie's Pittwater Clean Up
I am a Seabin Ambassador, I started this campaign because I want to take a stand against ocean plastics!
My goal is to raise enough money to bring a minimum of 20 Seabins to Pittwater NSW as I want to give The Northern Beaches the opportunity to reduce its plastic pollution impact on the ocean. Its amazing how much accidental rubbish comes down our creeks and into our waterways
I need your help to raise money to buy the Seabins a revolutionary ocean cleaning technology which is essentially a floating rubbish bin that operates 24/7 catching all floating debris in the water.
The Seabin helps clean the ocean of floating debris which in turn creates cleaner oceans and we all benefit from this in one way or another. I mean, who really wants to swim in pollution? Not me that's for sure!
Did you know that 300 million tons of plastic are produced in the world every year, half of which is for single use products, from this more than 8 million tons of plastic is dumped into our oceans every year. We need to do something about it and now with the purchase of a Seabin we can all participate and make a difference!
Join me and my campaign to help ensure cleaner oceans!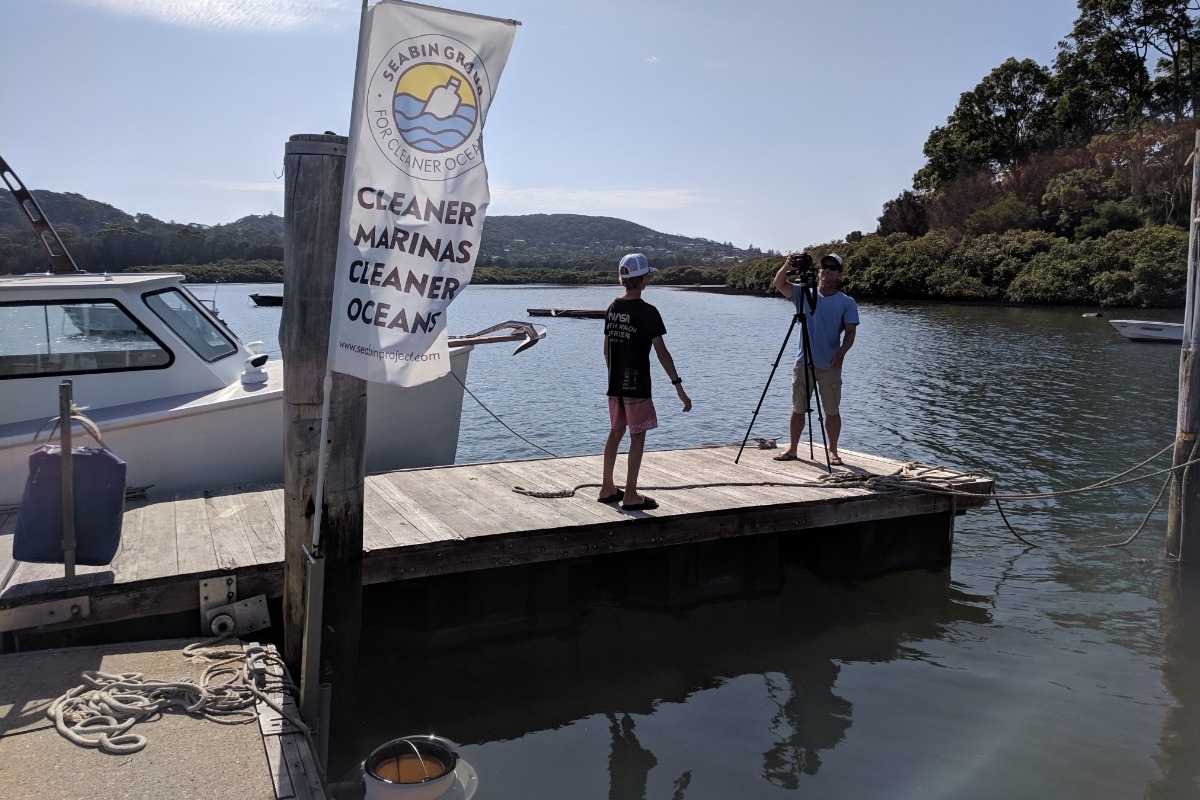 The Seabin is a floating rubbish bin that is located in the water at marinas, docks, yacht clubs and commercial ports.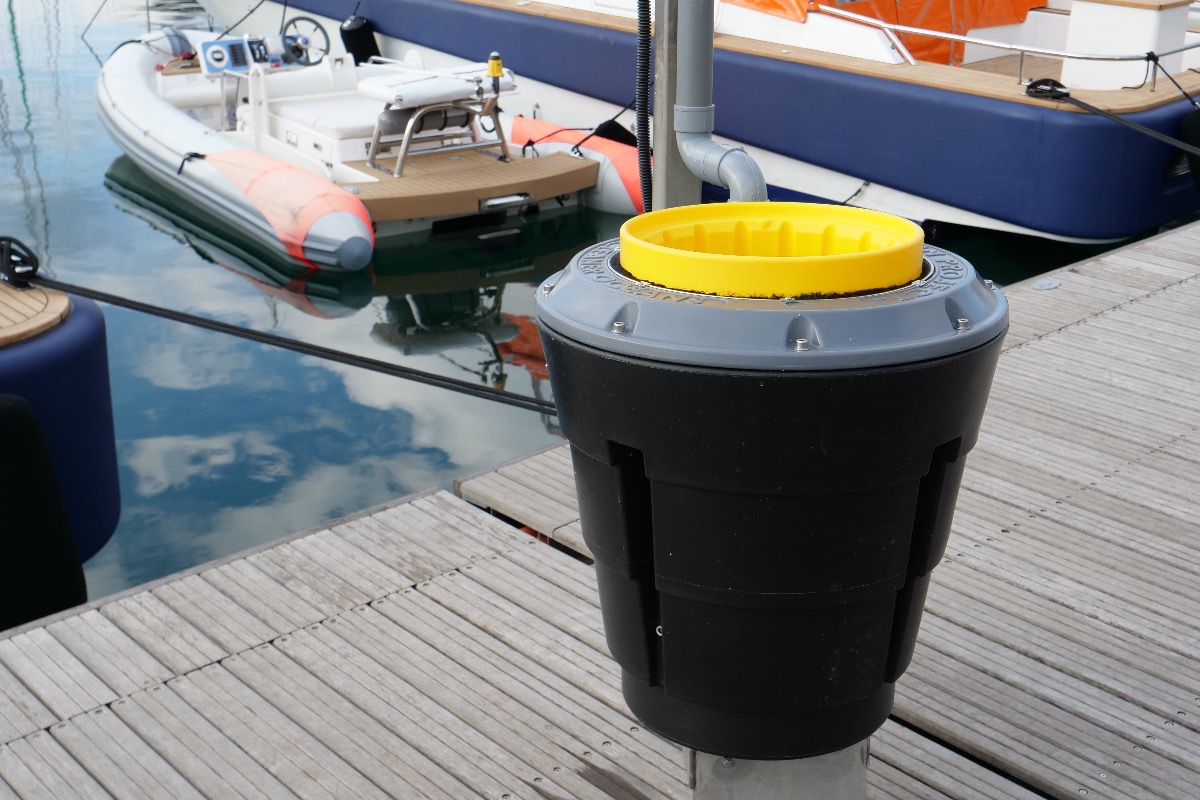 The Seabin can catch an average of 3.9kgs of floating debris per day which adds up to 1.4 tons per year. (depending on weather conditions and debris volumes) The Seabins is catching large plastic bags, bottles, plastic straws, coffee cups, food wrappers, surface oils and micro plastics down to 2 mm small.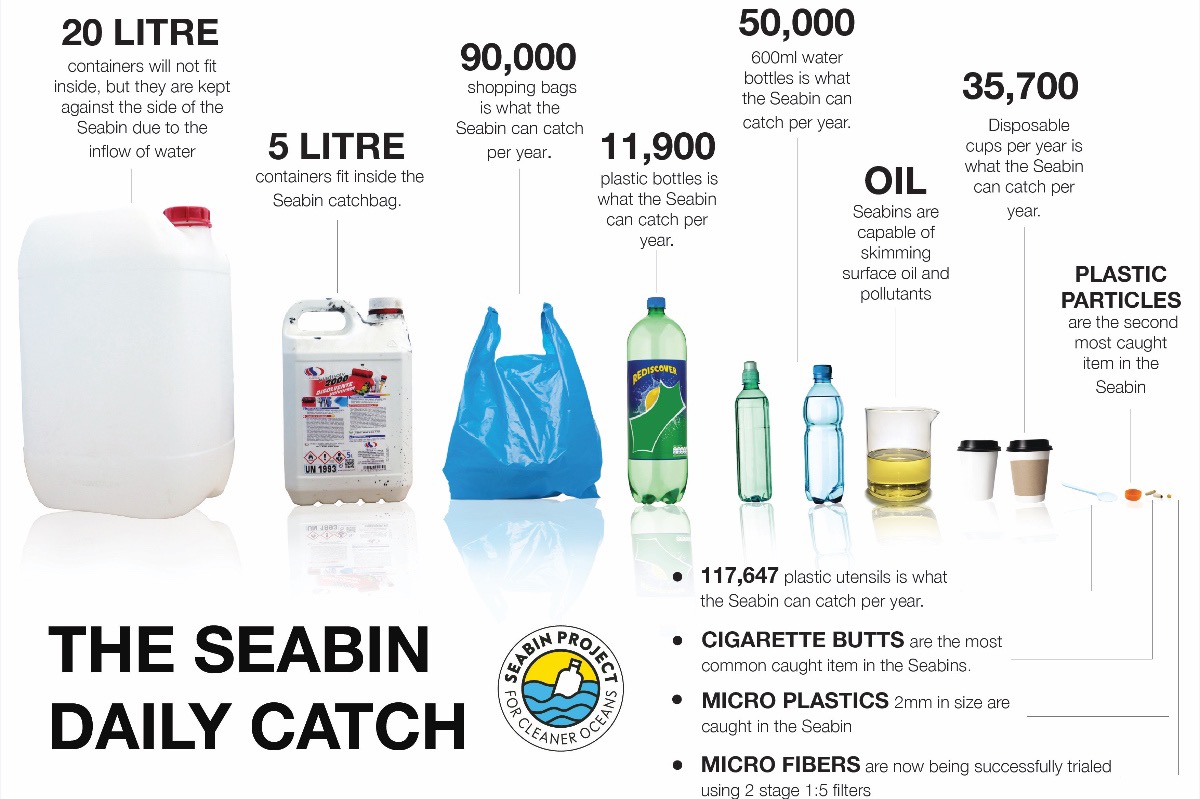 How can a Seabin contribute to cleaner oceans?
The Seabin contributes to cleaner oceans by removing 1.4 tons of floating debris per unit per year. The location of the Seabin in marinas is ideal and where it matters most, close to the source of entry for floating debris. Ports and Marinas are perfect locations to stop floating debris from entering the open ocean and ocean plastics are also brought in by wind and currents.
Are the Seabins a danger to marine life?
The fish According to the team at Seabin, stay away from the surface of the water where the Seabin sucks in the water. They are deterred by the force of the water current. If there are swarms of jellyfish or bait fish it is recommended that the Seabins are turned off until the swarms pass. If a fish was to accidentally go into the Seabin, it would be caught in the Seabin and stay submerged in water until the marina staff retrieve the filter and throw the fish still alive back into the water.
Water is sucked in from the surface and passes through a catch bag inside the Seabin, with a submersible water pump capable of displacing 25.000 LPH (liters per hour). The water is then pumped back into the marina leaving litter and debris trapped in the catch bag to be disposed of properly.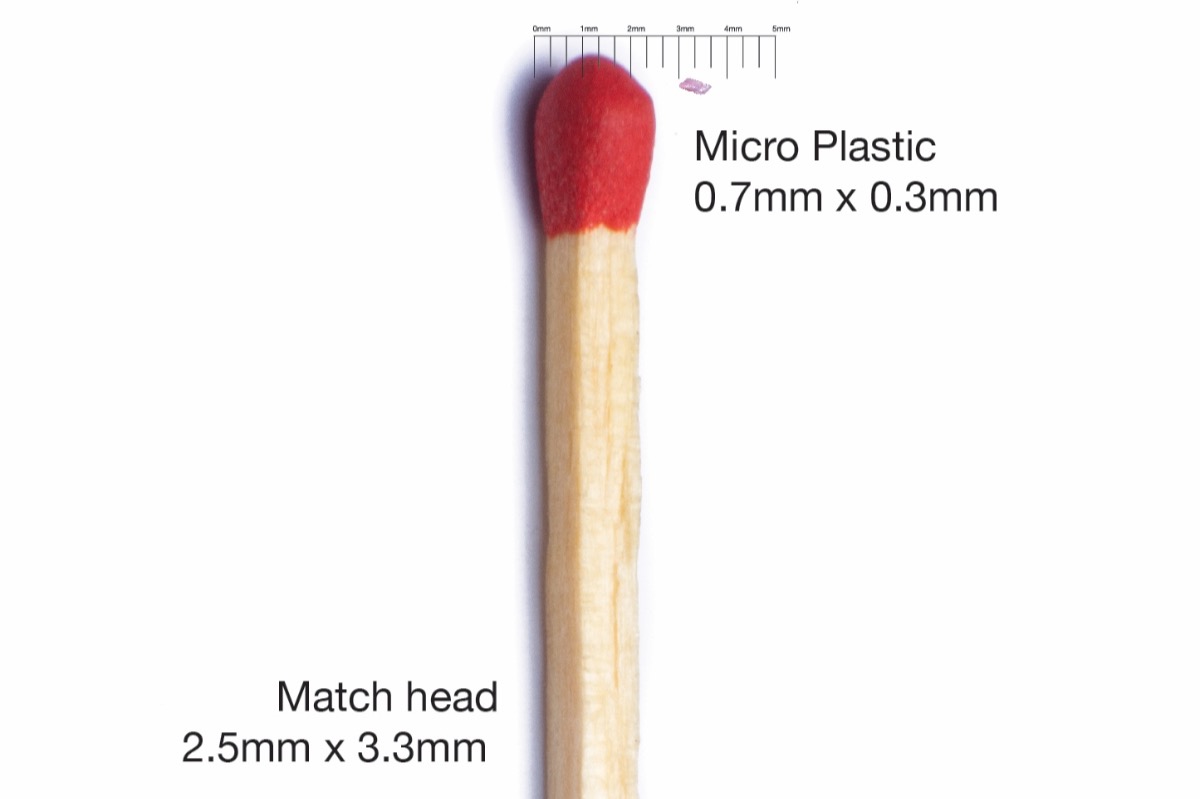 Who is responsible for the Seabin?
This is the best part of it all, the marina will be the one responsible for the upkeep of the Seabins and also they will be paying for the energy consumption of the Seabin which is around $2 - $3 a day.
The marina enjoys a cleaner marina and the rest of us and the marine life enjoy cleaner oceans with less floating debris polluting our oceans!
Seabins part of a whole solution
Seabins whole solution is Technology, Education, Science, Research and Community. The reason for this is that Technology alone is not the solution to stopping ocean plastics, education is the real solution.
Great! Can our local community be involved also?
Yes! The team at Seabin have interactive programs and lessons designed for schools, community and youth to interact with the Seabins and have over 2000 school students engaged around the world, this is something that we can do locally also with support from the team at Seabin Project.
What will we be doing if we participate in these programs?
You would be joining an international community contributing important data and feedback on ocean plastics to the Seabin central data base. Renowned scientists, universities and environmental agencies are all a part of the programs also.
The lessons range from identifying ocean plastics to data collection of what the Seabins are catching weekly. The data collection is a very easy activity and where we can all see the measurable impact of debris the Seabins are taking out of the water in all weather conditions.
It's as simple as counting how many plastic bags, plastic particles, food wrappers and then noting it down on a spreadsheet or app. Weather conditions and location information is also entered into the data base.
How can you help our campaign and make a difference in the world?
Every contribution to this crowdfunding campaign helps, be it $1 or $50 dollars, it all adds up and bring us closer to our goal.
Even if you cannot afford a donation, please help by sharing this campaign with your friends and family on social media. The more people that know about the campaign the better!
Thanks everyone for taking the time to check out our campaign!
FAQS SHEET
Seabin Project FAQs
Q: Can someone pay out the crowdfunding campaign goal?
A: Yes! We need help! The more money we can raise, the more Seabins we can buy.
Q: Why crowdfund a Seabin?
A: Until now, the Seabins were not for the everyday person to purchase because marinas ports and yacht clubs are the target market for Seabin Group. This is a way where everyday people can give something back to the oceans.
Q: How do Seabins work in tidal areas?
A: Seabins at present are designed for floating docks and pontoons. The Seabins move up and down with the tide on the floating dock.
Q. How are the pumps run?
A. The pumps are currently electric, and around $2-$3 a day to run.
Q: When are the Seabins available?
A: Depending on your countries location, Seabins will be available Feb 2019.
Q: Do any fish get sucked into the Seabins? What about smaller marine life?
A: There is a possibility of fish to enter the Seabins, however in the last 2 years of development, the Seabins have only caught a handful of small bait fish. Most of which have been thrown back into the water alive. The fish simply stay away from the flow of water entering the Seabin and with the current fine tuning of the Seabin, the risk is now minimal.
Q: I don't have any money to donate, how can I help?
A: Don't worry! Your amazing anyways and thanks for even contacting us. We need help to share this project around with any media we can. Social media platforms like Facebook, Instagram, Twitter, websites, bloggers. Also with newspapers, magazines, tv, radio and journalists. Also friends and family!
Sepsis Plan Needs Action
Doctors from leading Australian institutions including The University of Queensland have called on the government to implement a national action plan to fight one of Australia's biggest killer diseases, sepsis.
Paediatric intensive care specialist Associate Professor Luregn Schlapbach said a coordinated approach was the best way to effectively manage the deadly condition across all states and territories.
"Currently in Australia, the standard of care to recognise or to manage sepsis is very dependent on what state you're in or which hospital you're in," Dr Schlapbach said.
"Implementing a standard for sepsis recognition and treatment would ensure that every patient in Australia could receive the best possible care for this disease.
"By making this part of a hospital's accreditation process such as national hospital standards, it would greatly reduce variability in treatment and ultimately lead to better outcomes."
Sepsis is a life-threatening complication caused by an infection which leads to organ failure and can result in death or permanent harm if not treated quickly.
A
recent survey
by the Australian Sepsis Network and The George Institute for Global Health found only 40 per cent of Australians had heard of sepsis, and only 14 per cent knew any of its signs.
"Lack of public awareness remains one of the biggest challenges as symptoms appear like the common cold or flu before they drastically worsen as the infection spreads," Dr Schlapbach said.
"If Australia had a joint approach to sepsis, it would also support a public awareness and education campaign.
"Queensland is the second state to run a hospital campaign on sepsis treatment, following the success of New South Wales'
Sepsis Kills
program.
"It takes a lot to pull these campaigns together, so we could save considerable resources by working collaboratively with each state and territory to pool resources."
Children's Health Queensland (CHQ), who Dr Schlapbach also works for, has been leading the state-wide response to paediatric sepsis, including the launch of a paediatric sepsis clinical pathway to help doctors at the time of diagnosis.
Dr Schlapbach said the real burden of sepsis was often under-represented due to the way hospital statistics are gathered.
"Let's say a child or adult patient comes into hospital with pneumonia and develops sepsis after their admission; they will often be listed as pneumonia and not necessarily as sepsis.
"This means official statistics leave out a huge number of patients who develop the condition.
"We need to know how many patients have the disease to monitor the effectiveness of any intervention and to show the true burden and cost of this disease on Australians which leaves one third of survivors with long-term health problems.
"Efforts for rehabilitation that have been highly effective in other diseases such as stroke or myocardial infarction could be adapted for sepsis."
Dr Schlapbach contributed to a perspective article published in the
Medical Journal of Australia
(
The WHO resolution on sepsis: what action is needed in Australia?
DOI:
10.5694/mja2.50279
), which was led by Professor Simon Finfer from the George Institute for Global Health.
1 In 300 Thrives On Very-Early-To-Bed, Very-Early-To-Rise Routine
August 6, 2019: University of California - San Francisco
A quirk of the body clock that lures some people to sleep at 8 p.m., enabling them to greet the new day as early as 4 a.m., may be significantly more common than previously believed.
So-called advanced sleep phase -- previously believed to be very rare -- may affect at least one in 300 adults, according to a study led by UC San Francisco and publishing in the journal SLEEP on Aug. 6, 2019.
Advanced sleep phase means that the body's clock, or circadian rhythm, operates on a schedule hours earlier than most people's, with a premature release of the sleep hormone melatonin and shift in body temperature. The condition is distinct from the early rising that develops with normal aging, as well as the waking in the wee hours experienced by people with depression.
"While most people struggle with getting out of bed at 4 or 5 a.m., people with advanced sleep phase wake up naturally at this time, rested and ready to take on the day," said the study's senior author, Louis Ptacek, MD, professor of neurology at the UCSF School of Medicine. "These extreme early birds tend to function well in the daytime but may have trouble staying awake for social commitments in the evening."
Advanced Sleepers 'Up and at 'Em' on Weekends too
Additionally, "advanced sleepers" rouse more easily than others, he said, and are satisfied with an average of an extra five-to-10 minutes of sleep on non-work days, versus the 30-to-38 minutes' more sleep of their non-advanced sleeper family members.
Ptacek and his colleagues at the University of Utah and the University of Wisconsin calculated the estimated prevalence of advanced sleepers by evaluating data from patients at a sleep disorder clinic over a nine-year period. In total, 2,422 patients were followed, of which 1,748 presented with symptoms of obstructive sleep apnea, a condition that the authors found was not related to sleep-cycle hours.
Among this group, 12 people met initial screening criteria for advanced sleep phase. Four of the 12 declined enrollment in the study and the remaining eight comprised the 0.03 percent of the total number of patients -- or one out of 300 -- that was extrapolated for the general population.
This is a conservative figure, the researchers noted, since it excluded the four patients who did not want to participate in the study and may have met the criteria for advanced sleep phase, as well as those advanced sleepers who had no need to visit a sleep clinic.
Night Owls More Likely to Struggle with Sleep Deficits
"Generally, we find that it's the people with delayed sleep phase -- those night owls that can't sleep until as late as 7 a.m. -- who are more likely to visit a sleep clinic. They have trouble getting up for work and frequently deal with chronic sleep deprivation," said Ptacek.
Criteria for advanced sleep phase include the ability to fall asleep before 8:30 p.m. and wake before 5:30 a.m. regardless of any occupational or social obligations, and having only one sleep period per day. Other criteria include the establishment of this sleep-wake pattern by the age of 30, no use of stimulants or sedatives, no bright lights to aid early rising and no medical conditions that may impact sleep.
All study participants were personally seen by Christopher R. Jones, MD, a former neurologist at the University of Utah and co-author of the paper. Patients were asked about their medical histories and both past and present sleep habits on work days and work-free days. Researchers also looked at sleep logs and level of melatonin in the participants' saliva, as well as sleep studies, or polysomnography, that record brainwaves, oxygen levels in the blood, heart rate and breathing.
Of note, all eight of the advanced sleepers claimed that they had at least one first-degree relative with the same sleep-wake schedule, indicating so-called familial advanced sleep phase. Of the eight relatives tested, three did not meet the full criteria for advanced sleep phase and the authors calculated that the remaining five represented 0.21 percent of the general population.
The authors believe that the percentage of advanced sleepers who have the familial variant may approach 100 percent. However, some participants may have de novo mutations that may be found in their children, but not in parents or siblings, and some may have family members with "nonpenetrant" carrier mutations. Two of the remaining five were found to have genetic mutations that have been identified with familial advanced sleep phase. Conditions associated with these genes include migraine and seasonal affective disorder.
"We hope the results of this study will not only raise awareness of advanced sleep phase and familial advanced sleep phase," said Ptacek, "but also help identify the circadian clock genes and any medical conditions that they may influence."
Brian John Curtis, Liza H Ashbrook, Terry Young, Laurel A Finn, Ying-Hui Fu, Louis J Ptáček, Christopher R Jones.
Extreme morning chronotypes are often familial and not exceedingly rare: the estimated prevalence of advanced sleep phase, familial advanced sleep phase, and advanced sleep–wake phase disorder in a sleep clinic population.
Sleep, 2019; DOI:
10.1093/sleep/zsz148
Fear Of Predators Causes PTSD-Like Changes In Brains Of Wild Animals
August 7, 2019: University of Western Ontario
Fear can be measured in the brain and fearful life-threatening events can leave quantifiable long-lasting traces in the neural circuitry of the brain with enduring effects on behaviour, as shown most clearly in post-traumatic stress disorder (PTSD).
A new study by Western University demonstrates that the fear predators inspire can leave long-lasting traces in the neural circuitry of wild animals and induce enduringly fearful behaviour, comparable to effects seen in PTSD research.
The findings of this study, led by Western University's Liana Zanette, Scott MacDougall-Shackleton and Michael Clinchy, were published today in Scientific Reports -- Nature.
For the first time, Zanette, her students and collaborators experimentally demonstrated that
the effects predator exposure has on the neural circuitry of fear in wild animals can persist beyond the period of the immediate 'fight or flight' response and instead can remain measurable more than a week later, in animals exposed in the interim to natural environmental and social conditions.
"These results have important implications for biomedical researchers, mental health clinicians, and ecologists," explains Zanette, a biology professor in Western's Faculty of Science and a renowned expert on the ecology and neurobiology of fear. "Our findings support both the notion that PTSD is not unnatural, and that long-lasting effects of predator-induced fear with likely effects on fecundity and survival, are the norm in nature."
Retaining a powerful enduring memory of a life-threatening predator encounter is clearly evolutionarily beneficial if it helps the individual avoid such events in the future and a growing number of biomedical researchers have begun to propose that PTSD is the cost of inheriting an evolutionarily primitive mechanism that prioritizes survival over the quality of life.
Ecologists are recognizing that predators can affect prey numbers not just by killing prey, but by scaring them, as well. For example, Zanette and her collaborators have shown in a previous study that scared parents are less able to care for their young.
The long-lasting effects of fear on the brain demonstrated in this new study suggest predator exposure could impair parental behaviour for a prolonged period thereafter with greater negative effects on offspring survival than previously envisaged.
The team conducted the study on wild-caught, black-capped chickadees at Western's Advanced Facility for Avian Research (AFAR). For two days, individual birds were exposed to audio playbacks of the vocalizations of either predators or non-predators and then housed together in flocks outdoors for seven days during which time they were not exposed to any further experimental cues. After this seven-day period, enduringly fearful behaviour was quantified by measuring each individual's reaction to hearing a chickadee alarm call, and long-lasting effects on the neural circuitry of fear were assessed by measuring the levels of a genetic transcription factor in the brain (amygdala and hippocampus).
Liana Y. Zanette, Emma C. Hobbs, Lauren E. Witterick, Scott A. MacDougall-Shackleton, Michael Clinchy.
Predator-induced fear causes PTSD-like changes in the brains and behaviour of wild animals.
Scientific Reports, 2019; 9 (1) DOI: 1
0.1038/s41598-019-47684-6
From High School Dropout To High Court Judge: Justice Michael McHugh Reflects On Career
August 7, 2019: Diane Nazaroff, UNSW Media
The former High Court judge spoke at the third The Gilbert and Tobin Centre of Public Law Mason Conversation at the Banco court.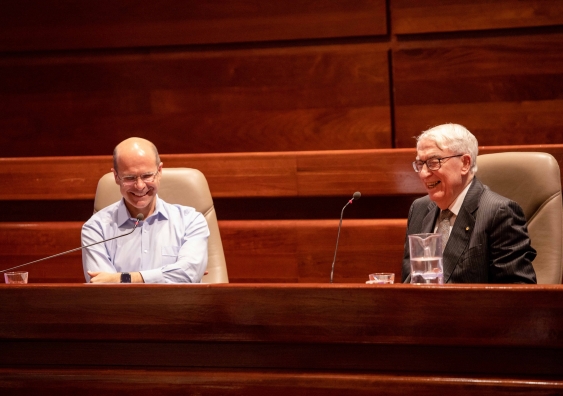 Professor George Williams AO in conversation with the Honourable Michael McHugh AC QC. Photo: Louise Reily.
Justice Michael McHugh's steel worker dad once told him he'd end up on the "pick and shovel" when he quit school at 15. But he ended up a High Court judge who was involved in one of the most famous decisions handed down by the court – Mabo No 2.
Justice McHugh recounted this among other anecdotes as he reflected on his outstanding law career at the third Mason Conversation at the Banco court of the Supreme Court in Sydney on Monday night.
The Mason Conversation is hosted by UNSW's The Gilbert and Tobin Centre of Public Law. It is named in honour of Sir Anthony Mason and his decades-long contributions to UNSW, UNSW Law and the public law community.
The High Court's decision in Mabo No 2 in 1992 recognised that native title was, and always had been, part of Australian law. Justice McHugh referred to the Mabo decision when asked about the role of morality as a High Court judge.
"I was very legalistic, I think, so I really didn't look at the morality of the situation over the law that required a result in my view, or it didn't. That's the way I approached it," he told Professor George Williams, Dean UNSW Law, who was Justice McHugh's associate in 1992.
"But after you'd heard [senior counsel for Eddie Mabo] Ron Kastan's argument [of cases of native title from other countries] it became obvious that the Crown's sovereignty, radical title, was subject to the rights of the native inhabitants.
"It just seemed to me that [the case of] Stuart and Cooper which was decided by the Privy Council in 1889 and affects Australia's terra nullius, was just wrong. And so I had no doubt that we had to overrule."
Justice McHugh said that he thought Mabo would be controversial and was surprised how little reaction there was in the first three months after the decision. But he said the political criticism, when it did come, for the decision's perceived threat to other land rights and for the court being 'activist', had no effect on him "whatsoever".
Another controversial High Court decision he was involved in was that of stateless Palestinian Ahmed Ali Al-Kateb who came to Australia in December 2000, travelling by boat via Indonesia.
McHugh was part of a 4:3 majority in 2004 that said the Government was within its rights to keep Al-Kateb in detention indefinitely, until his refugee claim was settled.
"When I left the court at the end of the argument, I was almost certain I would find in favour of Al-Kateb. But I just didn't think you could reach a decision ...given the language of the statute," he said. "I did say in my judgement that if we had a bill of rights...it would be a different result."
Justice McHugh said he was once opposed to a Bill of Rights but had changed his mind.
"Constitutionally it's impossible to get through all the states but I don't see why the Commonwealth can't exercise the external affairs power to enact a Bill of Rights."
Director of the Gilbert + Tobin Centre of Public Law, Ros Dixon, told the audience that when she was an associate to Chief Justice Murray Gleeson in 2002, she admired Justice McHugh for three key reasons.
"He combines great seriousness and dedication to justice and the law with a sense of fun...I remember my former boss reminding me to go to bed early and Justice McHugh chiding me for not knowing more about the racing results and other forms of entertainment."
Professor Dixon said Justice McHugh was the best read person she'd ever met. "He taught me early what it meant to have a deep interest in ideas of all kinds...the third (key reason) is that he's made a very prominent champion for women in the profession and continues to be today."
Justice McHugh recalled his early childhood years in Newcastle before moving to the North Queensland town of Collinsville, west of Proserpine, a town which had no running water or electricity and where he laid his first bet at the age of seven. McHugh spent a lot of his childhood riding horses, playing sport and reading widely, including the court reports in the newspaper as an eight-year-old.
"I always had a half-hearted desire to become a barrister," he said.
The family eventually moved back to Newcastle and he quit school at 15 to earn money like his friends from the nearby housing estate. The decision bitterly disappointed his father, an intelligent man who had always resented the fact that he was forced to leave school at 13 to work in the Newcastle steelworks.
"My relationship with my father for the next ten years was non-existent," he said.
Justice McHugh tried his hand at a variety of jobs. "Labourer, insurance salesman, a clerk...but I was so bored, I hated it so much." He was 22 when he noticed a sign advertising for a leaving certificate. "I enrolled, and that's how (my career) started."
McHugh was first admitted to the New South Wales Bar in 1961. His mentors included JW Smythe QC, "the best barrister and best cross examiner I'd ever seen".
He said he learnt from Smyth how to cross examine, be a master of every fact in the case, and be flexible.
"Smyth used to conduct a case on a single piece of paper and I did the same. I'd just make a note of what had to be proven by my side to win the case, and then in cross examination, I'd try three of those facts and any fact that would make those upward facts more probable than not. It's a technique that I adopted."
Another mentor was Clive Evatt QC, who he said was very charismatic and a jury advocate, and who let McHugh argue all the legal points in the High Court.
"He taught me about court craft and he's very smooth," he said, detailing how he helped him pick the judge he wanted and advised him on how to object to another judge's summing up.
Justice McHugh was appointed a Queen's Counsel (QC) in 1973 and a Judge of Appeal of the NSW Court of Appeal in 1984.
Five years later he was appointed as a judge of the High Court and held this position for 17 years before retiring from the court.
He told the Mason Conversation audience that part of being a good judge was an openness to rethinking one's prior views.
He noted that on several occasions while on the Court, he got 'halfway through a judgement' before realising that his initial opinion had been wrong.
In such a case, he told the audience, "you've got to withdraw it and start again".
On a question about the role of women in law, he noted with pride his record in hiring female associates.
"I think I had 36 Associates over the Court of Appeal and the High Court and 68% were women."
He suggested that having women represented in the profession in sufficient numbers was important to shaping the law in light of community standards and expectations.
He recalled the views of Justice Windeyer, about the role of social and political context in shaping the law, and suggested they underlined the importance of women's role on the bench and in the profession.
McHugh currently practices as an independent mediator and arbitrator at Eleven Wentworth in Sydney.
Scientists Serve Up A Nutrition Revolution: The Nourishing Australia Plan
A group of scientists has called for nutrition to be declared a national science and research priority and for the establishment of a 'trusted voice' to provide credible evidence-based nutritional information.
The University of Queensland's Professor Mike Gidley, who chairs the National Committee for Nutrition established by the Australian Academy of Sciences, said nutrition was of critical importance to enable Australians to lead more productive lives.
"We are in the midst of a revolution in biology which is reshaping how we think about our bodies, health, the economy and the environment," Professor Gidley said.
"Our bodies contain more bacteria and other microbes than they do human cells, and the critical role these microbes play in regulating our physical and mental health is one example of how recent advances are transforming nutrition and health, as well as providing new opportunities for industry."
Professor Gidley said the ability to measure the trillions of microbes in our digestive tract – and how the gut microbiome interacts with food and our immune system – has only been available for the last five to 10 years.
"This presents a grand challenge for the nutrition sciences, which is to understand the body as a whole system and the real-time consequences of how we process and metabolise the food that we eat."
The Academy recently released the '
Nourishing Australia' plan
, proposing that nutrition be listed as a national research priority.
The plan also calls for increased national data capability on nutrition to provide robust evidence for policy-makers, more studies on cause-and-effect mechanisms underpinning diet-related diseases, and growth in the agri-food and 'nutritech' sectors.
"There are companies developing nutritech apps and tools that will measure dietary intake patterns and nutritional status in all sorts of new ways –comparable to the way fitness apps now measure steps walked, calories burned and sleep quality," Professor Gidley said.
"This will give us much more accurate information about what Australians are really eating because at the moment we have to rely on self-reporting and observational studies, which are not ideal."
"Australia is a very diverse country and we really need to fill the gaps in our knowledge about what people consume as part of their daily food and drink intake."
The establishment of a 'trusted voice' is another key plank of the plan, along with professional communications to counteract incorrect information posted on social media.
"One day we are told that a study says coffee is good for you, the next day we are told it's bad for you," Professor Gidley said.
"There really needs to be a credible body that is not affiliated with commercial interests that Australians can trust for dietary advice, to counteract all the noise we hear on both social and old media."
Disclaimer: These articles are not intended to provide medical advice, diagnosis or treatment. Views expressed here do not necessarily reflect those of Pittwater Online News or its staff.