Inbox and Environment News: Issue 411
June 30 - July 6, 2019: Issue 411
Mona Vale Surfing
Published by Walk Cycle Sydney in 2017
Surfing at Sydney's northern beach of Mona Vale, with Avalon surfer Keyo Rhodes.
Project Penguin Expo Day 2019
On Thursday this week, June 27th, Taronga Zoo hosted the 2019 Project Penguin Expo. There were some brilliant ideas and projects on display - fantastic effort by everyone!
During early May 750 students across 5 Northern Beaches primary schools and 4 high school campus' converged onto Little Manly Beach and Collins Flat. Students were investigating how humans and introduced flora and fauna are impacting the habitat and breeding sites of the Little Penguin breeding population that lives there. They also collected a fair amount of plastic debris!
Students then commenced collaboratively designing, building and testing an innovative STEM prototype that aims to protect, conserve or raise awareness of this special animal.
On May 28th, 2019 more than 550 students from 5 Northern Beaches primary schools visited Taronga to connect with marine species and experts and continue to understand the threats that the unique breeding population of Little Penguins in Manly faces.
Thank you to all the local experts from NSW National Parks & Wildlife Service, NSW NPWS Penguin Warden Volunteers, Manly Environment Centre and Taronga Zoo staff for giving up your time to share your stories, experiences and knowledge.
Then the students applied their STEM-based skills to develop a prototype which increases predator protection, manages marine debris or raises community awareness.
For six weeks, school students learn everything about the Little Penguins that live in the Manly local area, becoming youth ambassadors for this locally threatened species.
As a culmination of the program the students start their own community education program by getting their conservation messages out to the public. Following the expo their work is displayed in various community locations within the Northern beaches area.
The colony of little penguins at Manly on Sydney Harbour is protected as an endangered population under the Biodiversity Conservation Act 2016. Areas of penguin habitat around Manly have also been declared 'critical habitat'.
Also running this Issue is some great news about work being done to help the Little Penguin colony on Lion Island - visit the Pictures page for more!
If you are near a little penguin colony, you can help protect these endangered native seabirds:
never allow your dog or cat to roam free in areas where the little penguin may have its breeding sites or burrows
if you see little penguins when you are near the coast, keep your distance - you may be near breeding sites or habitat areas which can easily be disturbed
NB: Protection of native animals - All native birds, reptiles, amphibians and mammals are protected in NSW by the Biodiversity Conservation Act 2016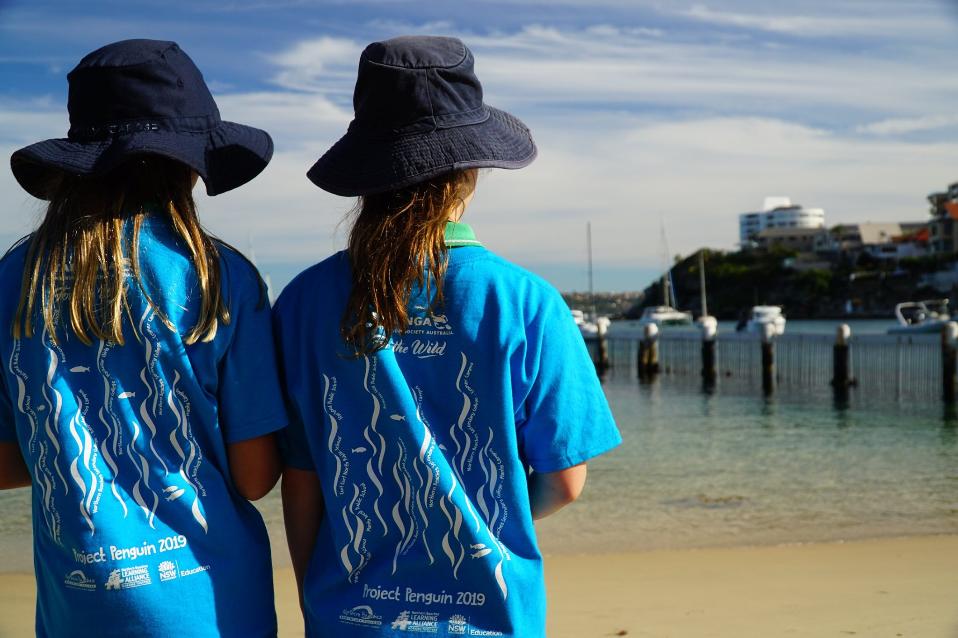 Between The Lines
By Jason Hearn
We all stare at the same ocean, however some of us choose to read between the lines.
This is a cinematic story following the photographic journey of Sacha Specker
It's an intricate and rewarding relationship between man and the sea that evokes food for thought.
To check out Sacha's work go to: sachaspecker.com
Credits:
Story - Direction - Cinematography : Jason Hearn
Cast : Sacha Specker as himself
Chris April as the Fisherman
Zeph Stentiford as young Sacha
Aad Van Der Linden as old Sacha
Voiceover: Olafur Darri Olafsson
Script written by: Peter Sherlock
Original Music score: Philip Ekstrom
Sound Design and Final Mix: Will Berridge and Carlos Hernandez
Studio on location sound: Ike Forsyth
Phantom Camera : Johan Horjus
Edit: Jason Hearn
Gaffers: Dickie "Badger" Bloemraad
Yazeed Williams
Intro mood score: Juice Audio
Stylist: Althea McPherson
Timelapse Photography: Brendon Wainwright
Rory Allen
Craig Howes
Extra Footage: Sacha Specker
Paul Daniel
Mikey Corker
Dale Staples
Aerials: Peter Sherlock
BTS Photography: Brigitte Stanford
Dane Staples
Richard Johnson
Daniel Grebe
Studios: Platypus
Grinder Films
The Shred
Lighting gear: Flash Lighting and Digital
UNSW Alumnus Helps Craft Cadbury's Response To Bigotry
June 26, 2019
by Nick Rafferty
UNSW Media & Content
When Abdul Abdullah heard about the campaign to promote respect and inclusivity, he knew he had an important contribution to make.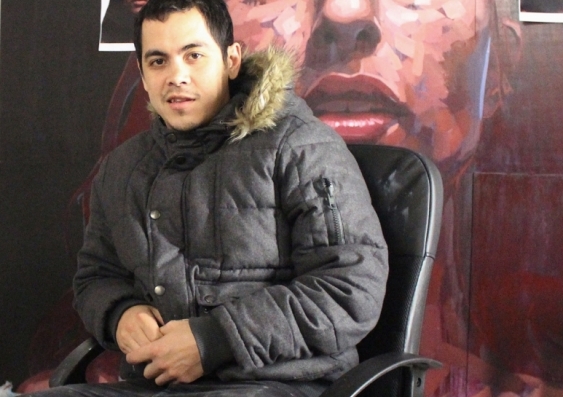 Helping to create a universal symbol for unity: Abdul Abdullah.
Critically acclaimed UNSW Art & Design alumnus Abdul Abdullah has helped design confectionery company Cadbury's response to a protracted hate campaign by trolls.
After years of managing racist commentary on its social media, Cadbury asked Mr Abdullah to join other artists in creating Symbol for All, a logo and campaign to promote inclusion and tolerance and reject bigotry.
Mr Abdullah is a four-time Archibald Prize finalist. As a seventh-generation Australian Muslim, he said he was compelled to become involved after being contacted by the advertising agency working on the campaign.
"I was asked if I would be interested in working with a company that had recently experienced an online trolling campaign," said Mr Abdullah. "When I found out it was to do with halal certification, I felt it was something I had to do."
Cadbury's ad agency, Ogilvy Melbourne, gathered eight artists, designers and an anthropologist from different cultural backgrounds to create the Symbol for All campaign.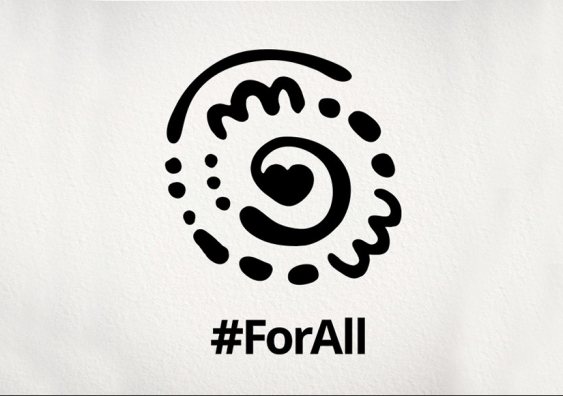 The Symbol for All was created for individuals to customise and use to express their support for a more respectful and culturally inclusive society. Image: Cadbury Australia.
"The Symbol for All was created for anyone to customise and use to express their support for a more respectful and culturally-inclusive community. It represents a universal symbol for unity designed to transcend all languages, cultures and faiths," said Mr Abdullah.
The artist said the process of designing the Symbol for All was unique and unusual.
"I worked with a group of designers for four days, brainstorming and designing different 'marks' that responded to the brief. It was the first time any of us had met, and the first time any of us had worked like that," he said.
"It felt a bit like reality TV. Each day we would work in groups and then come together to discuss the ideas. Eventually we paired the marks down to two distinct designs, and eventually decided on the final mark."
Although 'trolling' of Cadbury's Facebook page peaked at Easter time, the page was subject to negative and xenophobic posts throughout the year.
Ogilvy Melbourne creative directors Josh Murrell and Sharon Condy said that by "responding to all the negative commentary with a positive solution, we can shine a light on inclusivity and encourage others to do the same".
In his practice, Mr Abdullah investigates the experience of being an 'other' in society and engages with marginalised minority groups.
'It was the first time any of us had met, and the first time any of us had worked like that. It felt a bit like reality TV.'
"I have always been interested in social justice. Being a Muslim in post-9/11 Australia means that I have existed as 'the other' since I was a child. For me it's not about making work 'about' marginalised groups, but rather making work that appeals and serves an audience who can relate to my experience.
"At the heart of my practice is encouraging audiences to afford others the specificity and complexity they afford themselves, and to recognise the moral obligation we have to the people who come after us to leave this world a bit better off than how we found it. I think this campaign aligns with that intention."
His advice for emerging artists is to "find a community of smart, like-minded people, and work together. I think community is key. Also, work hard and expect plenty of setbacks. Finally, be kind."
As well as being a four-time finalist in the Archibald Prize, Mr Abdullah is a third-time finalist in the Sulman Prize, and was shortlisted for the 2019 Venice Biennale.
He has exhibited in New York, Singapore and at the MCA in Sydney.
Mr Abdullah holds a Master of Fine Art from UNSW and sits on the UNSW Art and Design advisory board.
Neanderthals Used Resin 'Glue' To Craft Their Stone Tools
June 26, 2019: University of Colorado at Boulder
Archaeologists working in two Italian caves have discovered some of the earliest known examples of ancient humans using an adhesive on their stone tools -- an important technological advance called "hafting."
The new study, which included CU Boulder's Paola Villa, shows that Neanderthals living in Europe from about 55 to 40 thousand years ago travelled away from their caves to collect resin from pine trees. They then used that sticky substance to glue stone tools to handles made out of wood or bone.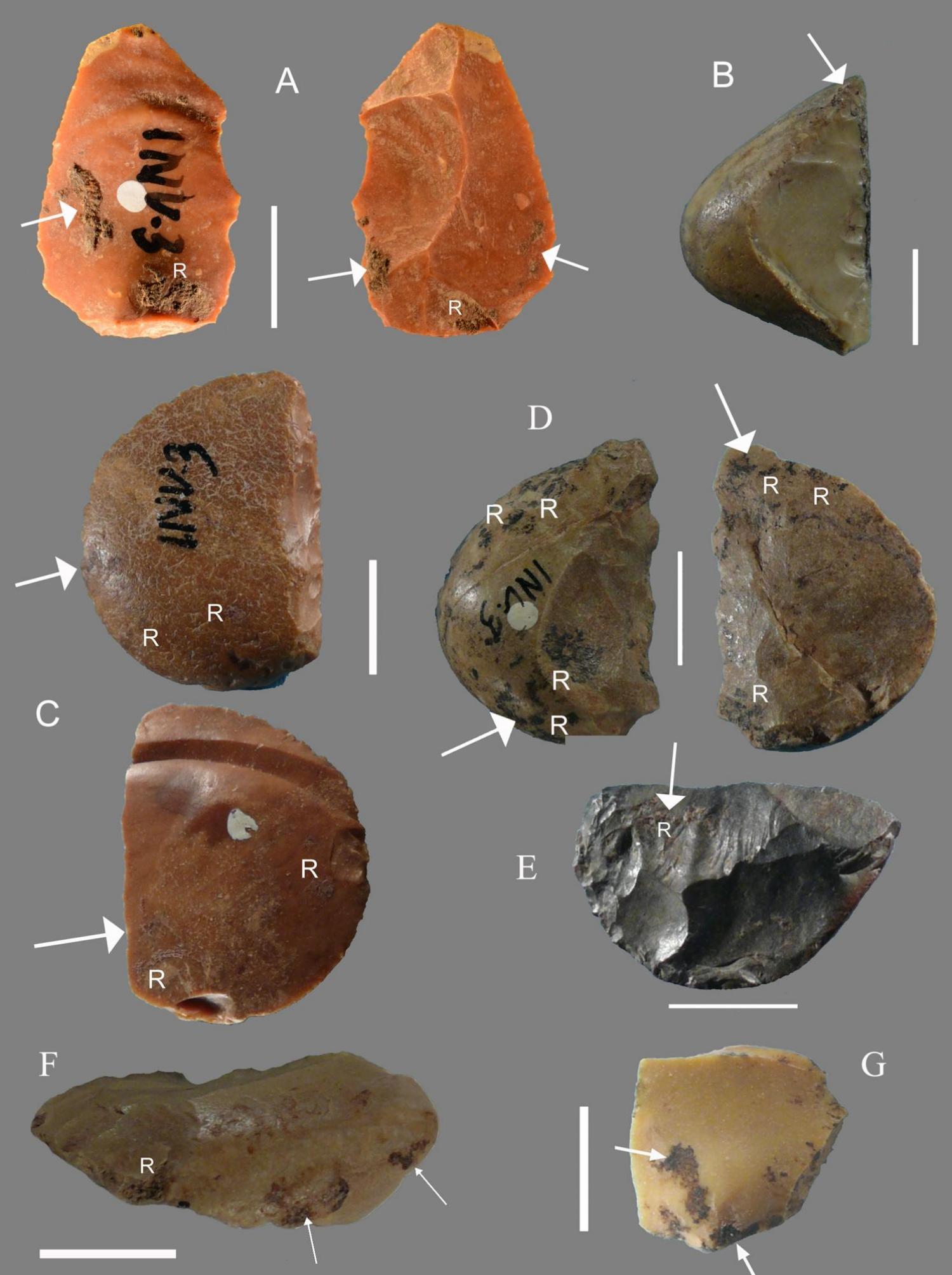 Flints bearing traces of pine resin. The letter "R" indicates the presence of visible resin, and the arrows point to spots where researchers sampled material for chemical analysis. (Credit: Degano et al. 2019, PLOS ONE)

The findings add to a growing body of evidence that suggests that these cousins of Homo sapiens were more clever than some have made them out to be.
"We continue to find evidence that the Neanderthals were not inferior primitives but were quite capable of doing things that have traditionally only been attributed to modern humans," said Villa, corresponding author of the new study and an adjoint curator at the CU Museum of Natural History.
That insight, she added, came from a chance discovery from Grotta del Fossellone and Grotta di Sant'Agostino, a pair of caves near the beaches of what is now Italy's west coast.
Those caves were home to Neanderthals who lived in Europe during the Middle Palaeolithic period, thousands of years before Homo sapiens set foot on the continent. Archaeologists have uncovered more than 1,000 stone tools from the two sites, including pieces of flint that measured not much more than an inch or two from end to end.
In a recent study of the tools, Villa and her colleagues noticed a strange residue on just a handful of the flints -- bits of what appeared to be organic material.
"Sometimes that material is just inorganic sediment, and sometimes it's the traces of the adhesive used to keep the tool in its socket" Villa said.
To find out, study lead author Ilaria Degano at the University of Pisa conducted a chemical analysis of 10 flints using a technique called gas chromatography/mass spectrometry. The tests showed that the stone tools had been coated with resin from local pine trees. In one case, that resin had also been mixed with beeswax.
Villa explained that the Italian Neanderthals didn't just resort to their bare hands to use stone tools. In at least some cases, they also attached those tools to handles to give them better purchase as they sharpened wooden spears or performed other tasks like butchering or scraping leather.
"You need stone tools to cut branches off of trees and make them into a point," Villa said.
The find isn't the oldest known example of hafting by Neanderthals in Europe -- two flakes discovered in the Campitello Quarry in central Italy predate it. But it does suggest that this technique was more common than previously believed.
The existence of hafting also provides more evidence that Neanderthals, like their smaller human relatives, were able to build a fire whenever they wanted one, Villa said -- something that scientists have long debated. She said that pine resin dries when exposed to air.
As a result, Neanderthals needed to warm it over a small fired to make an effective glue.
"This is one of several proofs that strongly indicate that Neanderthals were capable of making fire whenever they needed it," Villa said.
In other words, enjoying the glow of a warm campfire isn't just for Homo sapiens.
Other coauthors on the study included researchers at Paris Nanterre University in France, University of the Witwatersrand in South Africa,
University of Wollongong in Australia
, Max Planck Institute for the Science of Human History in Germany, Istituto Italiano di Paleontologia Umana and the University of Pisa.
The research was funded by a National Science Foundation grant to Paola Villa and Sylvain Soriano.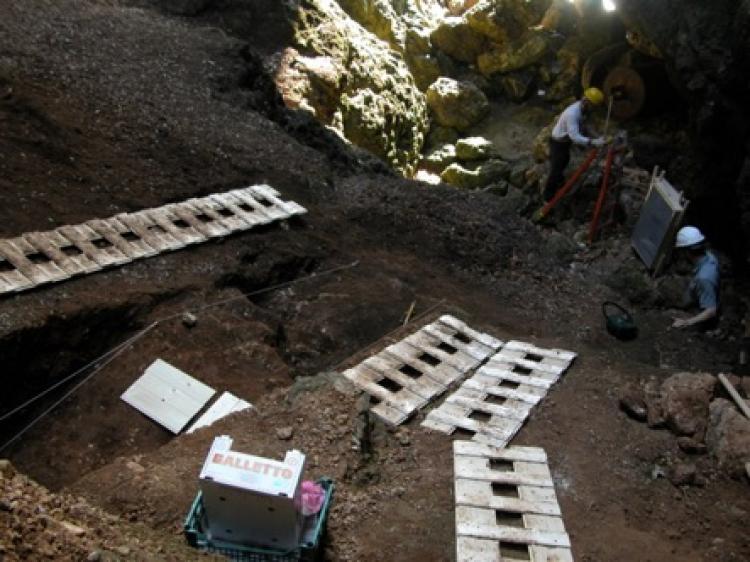 Researchers excavate the Grotta del Fossellone. (Credit: Paola Villa)

Ilaria Degano, Sylvain Soriano, Paola Villa, Luca Pollarolo, Jeannette J. Lucejko, Zenobia Jacobs, Katerina Douka, Silvana Vitagliano, Carlo Tozzi.
Hafting of Middle Paleolithic tools in Latium (central Italy): New data from Fossellone and Sant'Agostino caves
. PLOS ONE, 2019; 14 (6): e0213473 DOI:
10.1371/journal.pone.0213473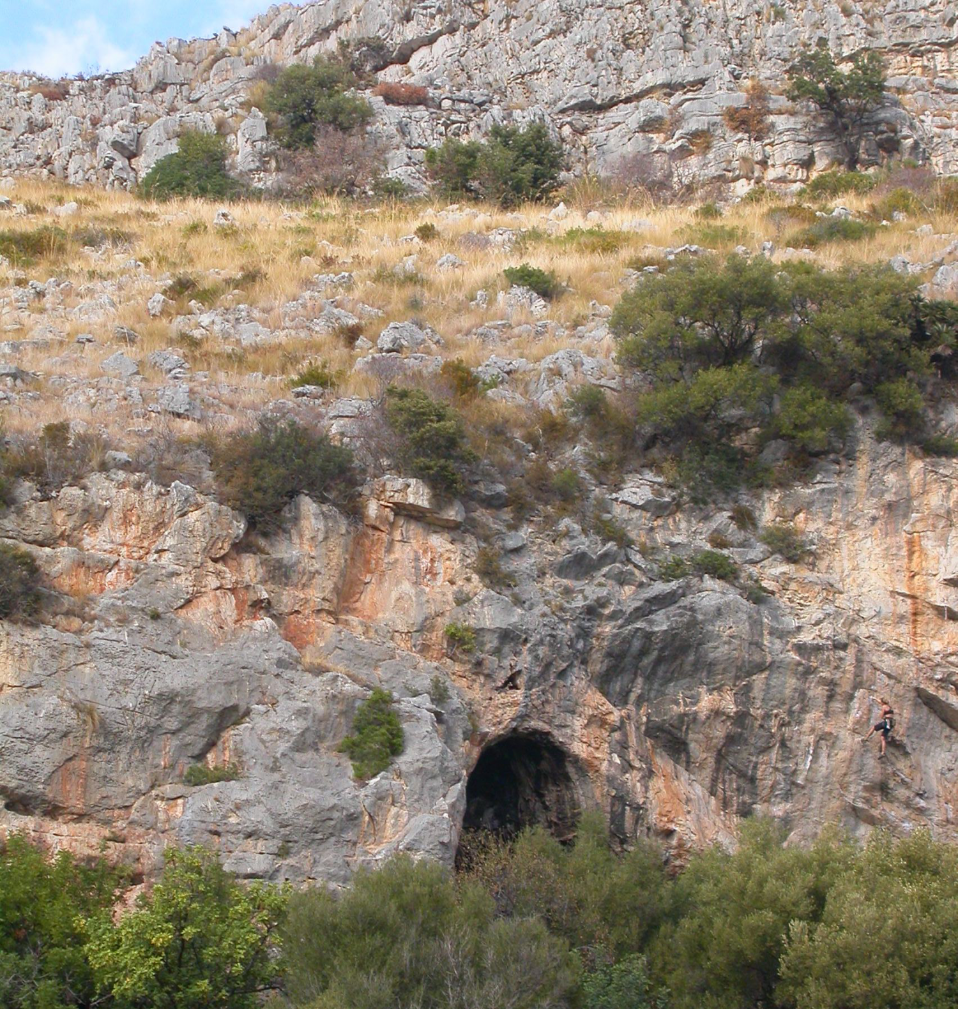 The entrance to the Grotta di Sant'Agostino. (Credit: Paola Villa)
Whale On!
During the past few weeks Readers have reported sighting humpback whales, southern right whales and even minke whales off our coasts, whether spotting them from the shores or from boats while out on the water.
It may be early but the

ORRCA Whale Census Day is scheduled for June 30th this year and this will be the 20th Whale Census

.
For those of you who like spotting whales, this may be an activity you would like to get involved in. Visit HERE.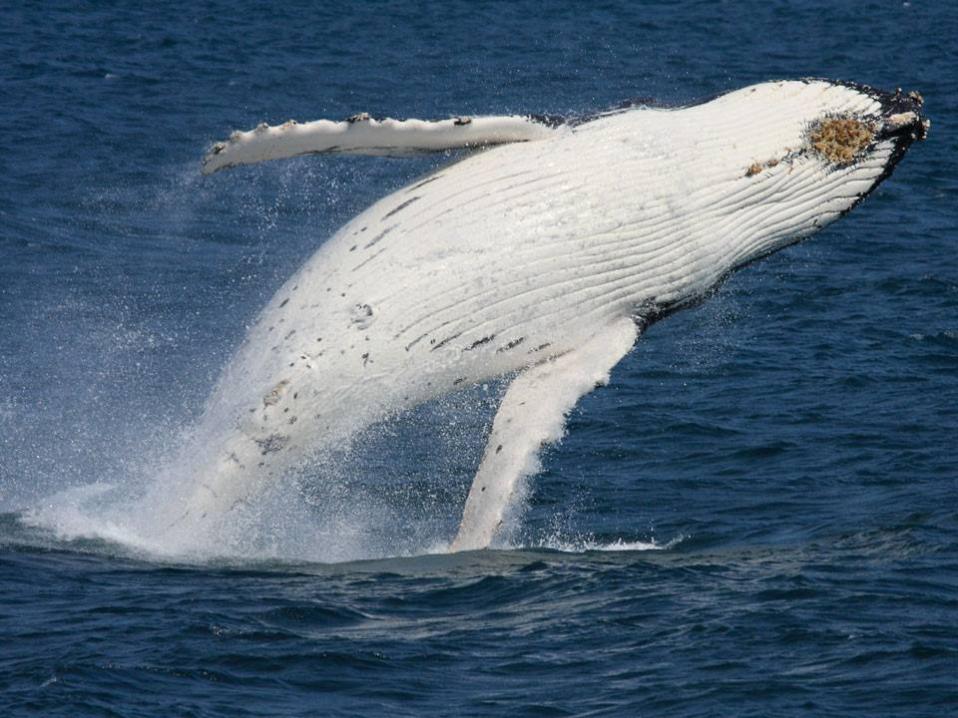 Catch A Glimpse Of A Humpback Whale
Visit a coastal NSW national park to spot a humpback whale, as they start their annual migration north.
From May to November 2019, over 30,000 humpback whales will migrate from the cold waters of Antarctica to the warmer waters off north east Australia to mate and give birth before heading south again.
Vantage spots for whale watching include national parks with lookouts, headlands and foreshores.
Southern right and minke whales may also be spotted off the NSW coast during migration season.
Keen whale-watchers can download the free Wild About Whales mobile app, which helps users find the best locations for spotting whales, get real-time notifications of nearby sightings, and record their sightings.
Environment Minister Matt Kean said the app is a great tool for the whole family to learn more about whales, while also contributing to a citizen science project.
"Citizen science volunteers and other organisations such as ORRCA do an amazing job of monitoring the number of whales migrating along the NSW coast each season," Mr Kean said.
Find whale watching vantage points
Saving Grevillea Caleyi Project

Receives

Funding Boost: June 2019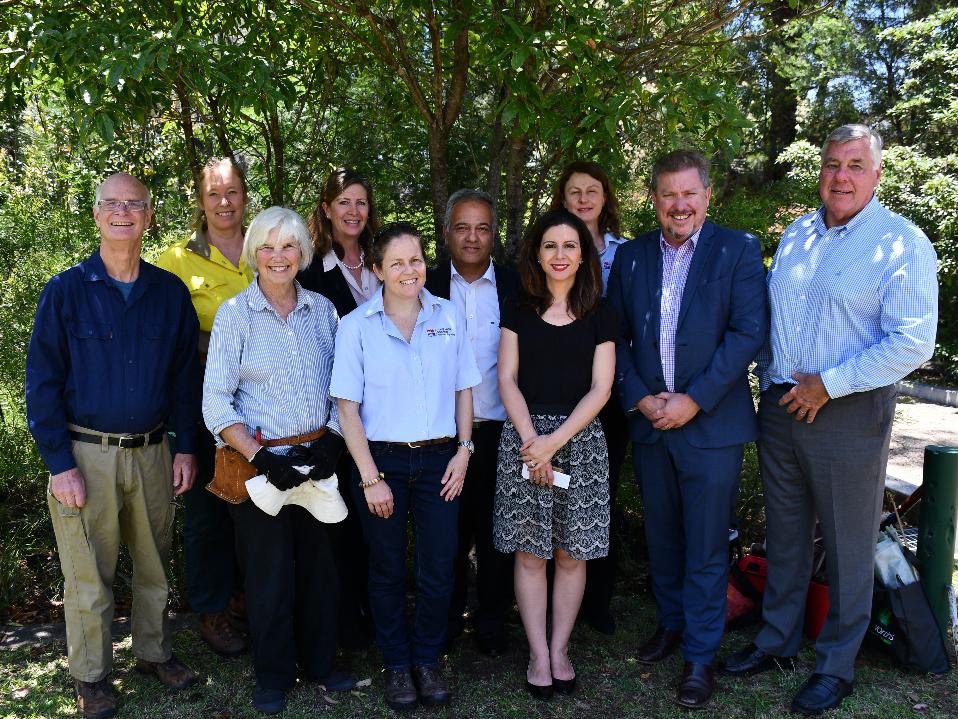 The team behind the Saving of Grevillea Caleyi
EFFORTS to restore habitat for the critically endangered Grevillea caleyi shrub in Northern Sydney are set to continue thanks to a funding boost from the Australian Government.
The Grevillea caleyi recovery, supported by Greater Sydney Local Land Services through funding of up to $250,000 from the Australian Government's National Landcare Program, will be run in partnership with the NSW Office of Environment and Heritage and local bushcare volunteers.
Project manager Rebecca Mooy said the funding would complement six years of restoration efforts to date at the Baha'i Temple site and at other locations in Terrey Hills where the species occurs.
"This project has focused on protecting vegetation on the grounds of the Baha'i Temple which is home to the endangered native plant which is only found in Northern Sydney," she said.
"Ongoing work will focus on protecting the endangered plant's habitat through weed removal by both professional contractors and volunteers, planting in buffer zones adjacent to core habitat, lessening disturbance through removal of dumped rubbish and installation of fencing, assessment of the habitat condition and vegetation monitoring.
Grevillea caleyi habitat is restricted to ridgetops within Terry Hills, Duffys Forest, Belrose and Ingleside.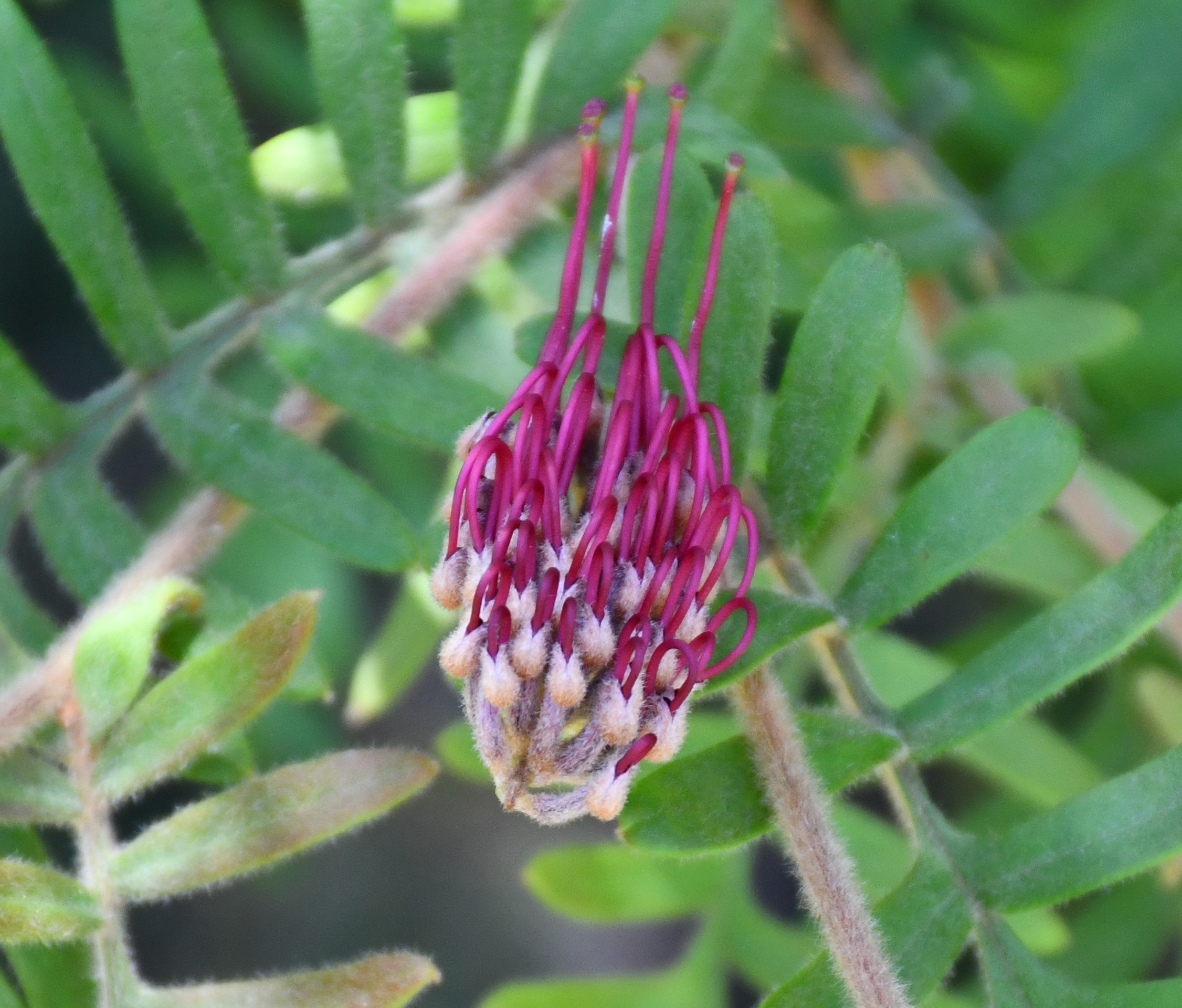 "Urbanisation over many years in these suburbs has decreased its habitat to just 15 percent of its original size, now an eight square kilometre area. The habitat that remains is fragmented and under threat from weeds, lack of fire in some places and to frequent fire in others, disturbance from vehicle, bikes, horse riding and rubbish dumping.
"It's great to see ongoing investment into this important species."
Ms Mooy said the project site was for the official announcement of the Regional Land Partnerships investment under the National Landcare Program late last year.
Under the program, the Government will support the delivery of 195 projects across the country that aim to contribute to four environment and two agriculture outcomes over the next five years.
The Government's investment will support vital on-ground environment and agricultural projects across the country that offers benefits to our environment, our farms, and our communities.
David Palmer of the Pittwater Natural Heritage Association who, along with other passionate local bushcare volunteers within the community and Baha'i community, have been working at the site for a number of years. Pittwater Online asked David for comment on this great news.
"In the six years that PNHA has been coordinating work on the Bahai Temple site we have made a significant difference, with a reduction in weeds and a noticeable increase in the number of Grevillea caleyi seedlings.
This has been due to a great team effort: the the volunteers (not just Marita Macrae and myself, but all of the dedicated bush regeneration volunteer team), the bush regeneration contractors, Erica Mahon from the NSW Office of Environment and Heritage and the Bahai Temple management." David said this week
Thanks also to the team at Pittwater Online News. Sharing news of the development of this project with the community over the years has increased interest in the Saving of Grevillea Caleyi."
Jason Falinski, MP for Mackellar said "Here on the Northern Beaches we are blessed with such a beautiful natural environment."
"However, we must never take it for granted and must always act to protect our native species. The Australian government is committed to preserving the Grevillea caleyi and that is evident through this funding boost. "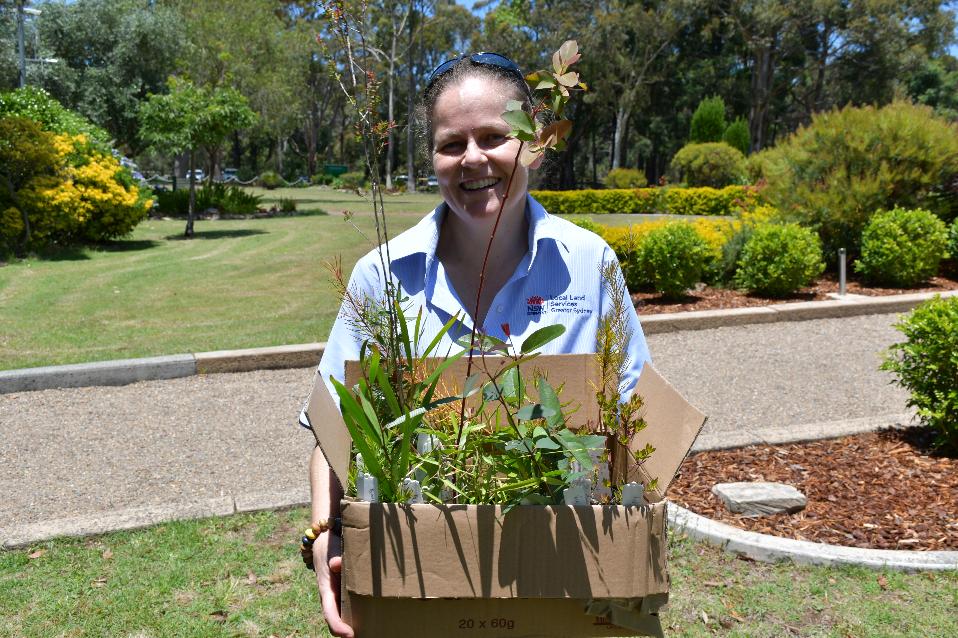 Project manager Rebecca Mooy
Managing Native Vegetation
June 27, 2019: Auditor-General's Office of New South Wales
The clearing of native vegetation on rural land is not effectively regulated and managed according to a report released today by the Auditor-General for New South Wales, Margaret Crawford. The processes supporting the regulatory framework are weak and there is no evidence-based assurance that clearing of native vegetation is carried out in accordance with approvals.
The report examined how Local Land Services and the Office of Environment and Heritage regulate and manage the clearing of native vegetation in rural areas following legislative reforms introduced in August 2017. It also examined the progress of the Biodiversity Conservation Trust in implementing the Biodiversity Conservation Investment Strategy as a counterbalance to land clearing.
The report found that unexplained land clearing can take over two years to identify and analyse, making it difficult to minimise environmental harm or gather evidence to prosecute. Despite around 1,000 instances of unexplained clearing, over 500 reports to the environmental hotline each year and around 300 investigations in progress at any one time, there are few prosecutions, remediation orders and penalty notices for unlawful clearing.
While significant effort has been applied in developing a native vegetation regulatory map to guide landholders on which land they can and can't clear without approval, the map's release has not been approved. Not releasing the map has made it harder for landholders to identify the portions of their land that are regulated and ensure they comply with land clearing rules.
Systematic processes are in place for assessing applications and issuing approvals for land clearing. However, there is limited follow-up or capacity to gauge whether landholders are complying with the conditions of approvals and effectively managing areas of their land that have been set aside for conservation.
The Land Management (Native Vegetation) Code, which contains conditions under which clearing can be approved on regulated land, is intended to allow landholders to improve productivity while responding to environmental risks. It may not be achieving this balance. The Code allows some native species to be treated as 'invasive' when they may not be invading an area, provides little protection for groundcover and limited management requirements for land set aside for conservation.
The report
makes 11 recommendations to improve the regulation and management of rural land clearing.
Local Land Services should:
1. By December 2019, improve administration of the clearing of native vegetation by:
ensuring notification forms include all relevant conditions of the Code to ensure these conditions are adequately communicated to landholders
enhancing the recording of areas authorised for thinning and clearing and set asides by capturing recent satellite images and on-ground photographs of these areas
progressing ICT system improvements to ensure notifications and certificates, and associated spatial data, can be delivered to OEH in a timely manner
ensuring landholders are required to resubmit notifications that do not comply with the Code
ensuring assessments of compromised groundcover are calculated at a time of year when the proportion of the native groundcover is likely to be at its maximum in compliance with the Code
establishing guidelines for:
the extent of clearing allowed under the allowable activity of sustainable grazing

treatment methods that result in nil and minimal ground disturbance, especially in relation to invasive native species and thinning other native vegetation
selection of set-aside areas that seek to maximise environmental benefits from these areas
defining and reporting on measures to determine the impact of the Code on agricultural productivity, and the management of environmental risks.
2. By June 2020, review the Code to address issues identified in this audit, including:
the inability of LLS to reject a notification or proposal for a certificate on the basis it would likely result in poor environmental outcomes
the lack of oversight of authorisations for the clearing of compromised native groundcover
the absence of the requirement to demonstrate that a species is invading a landscape prior to approving its clearing as an invasive native species
discounts (i.e. reductions) in the area of land required in set asides when they contain threatened ecological communities or are of strategic landscape importance.
3. By December 2019, ensure all field staff receive specific training in the identification of plant community types and threatened ecological communities, with regular refresher courses.
4. By June 2020, effectively monitor the establishment and management of set asides and provide support to landholders to achieve required restoration outcomes.
By December 2019, the Office of Environment and Heritage should improve the monitoring and regulation of land clearing by:
5. Implementing a staged release of draft maps Category 1 - Exempt and Category 2 - Regulated land to landholders and the public, allowing sufficient time for landholder review and input.
6. Ensuring adequate resources are in place, during the release of the last two map categories, to process category explanation reports and NVR map reviews, and to update the NVR map.
7. Ensuring staff have sufficient systems and resources to adequately investigate unlawful land clearing and to gauge compliance with the Code, including accurate spatial data on all land clearing approvals.
8. Continuing to improve systems and processes for monitoring the rate of clearing of woody and non-woody native vegetation.
9. Publishing data on the rate of land clearing, including woody and non-woody vegetation, on an annual basis.
By September 2019, the Biodiversity Conservation Trust should ensure:
10. The published selection processes for conservation tenders, fixed rate offers, and land purchases accurately reflects the selection methodologies.
11. The methodology used for tender selection aligns with BCT's investment priorities.
Lion Island's Little Penguins (Fairy Penguins) Get Fireproof Homes
Devastating news this week that 2 Little Penguins (Fairy Penguins) have been killed at Manly. Our hearts go out to their little penguin mates and all those who toil to keep them safe.

At Lion Island, NSW National Parks and Wildlife Service rangers have just installed 20 concrete burrows on the island, which are fire-proof and can also protect the creatures from foxes and goannas. The installations come in the wake of the bushfire of August 2018.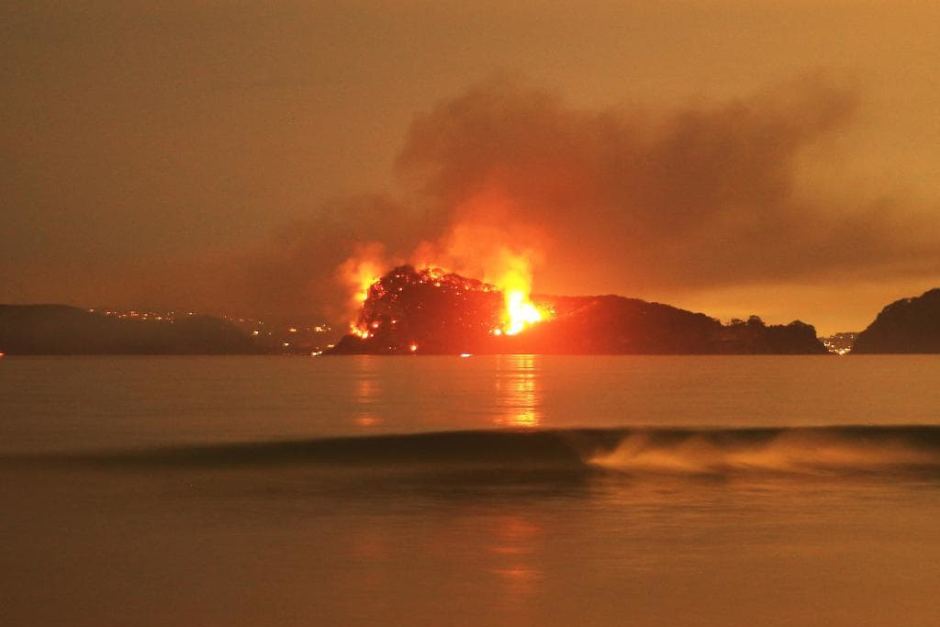 The bushfire that destroyed much of the Little Penguins' habitat in August 2018. Supplied: @ausfirefighter

NSW Environment Minister Matt Kean said the burrow program was part of a push to protect the Little Penguins' future.
"We're installing these nests to protect penguins, enable them to nest and hopefully grow the population," he said.
The burrows were designed by wildlife rangers and manufactured by a women's shed group known as the Fix-It Sisters.
Co-founder Linda Prince said her group was delighted to take part in such a worthwhile project.
"It was hard work but we really loved doing it," she said.
"It took hours and hours but there was lots of laughs, lots of sore backs and sore hands."
NSW National Parks and Wildlife Service ranger Rachel Labador stated in an
ABC report by Jessica Kidd
that each burrow has been set up in a location where the rangers know the penguins have been prospecting and where they are likely to nest.
Ms Labador said she lines the new burrows with leaf litter and penguin poo so that any prospecting bird knows it is a safe place to nest.
"This is the primo penguin real estate," she said.
"Penguins like coming back to the same place, so if we can have a burrow that will last for decades we know that the penguins will keep using it."
If the burrows are successful in the forthcoming breeding season it is likely they will be installed at other Little Penguin colonies. Another Pittwater first thanks to the hard work of
NSW National Parks and Wildlife Service, their rangers and the great women at the
Fix it Sisters Shed.
Between June and August, male penguins return to their colonies to reconstruct old burrows, dig new ones and attract mates. So we're heading and into Little Penguin breeding season right now.

As visitors are not allowed on Lion Island unless they're rangers or those who have been given access permission to research for studies, Fix it Sisters Shed are allowing us to share their photos from the Little Penguins Project: Installation Day — at Lion Island.
in late May 2019.
Linda Prince, co-founder and Chief Sister, Fix it Sisters said this week;
"When the Fix it Sisters Shed were asked if we would build 20 burrows for the Little Penguins on Lion Island, we couldn't say yes quick enough. How could you not help these wonderful Little Penguins!"
"It was an exciting brief - 20 concrete and perlite burrows to be ready for the start of the breeding season. They were a brand new design and the Fix it Sisters' job was to manufacture them."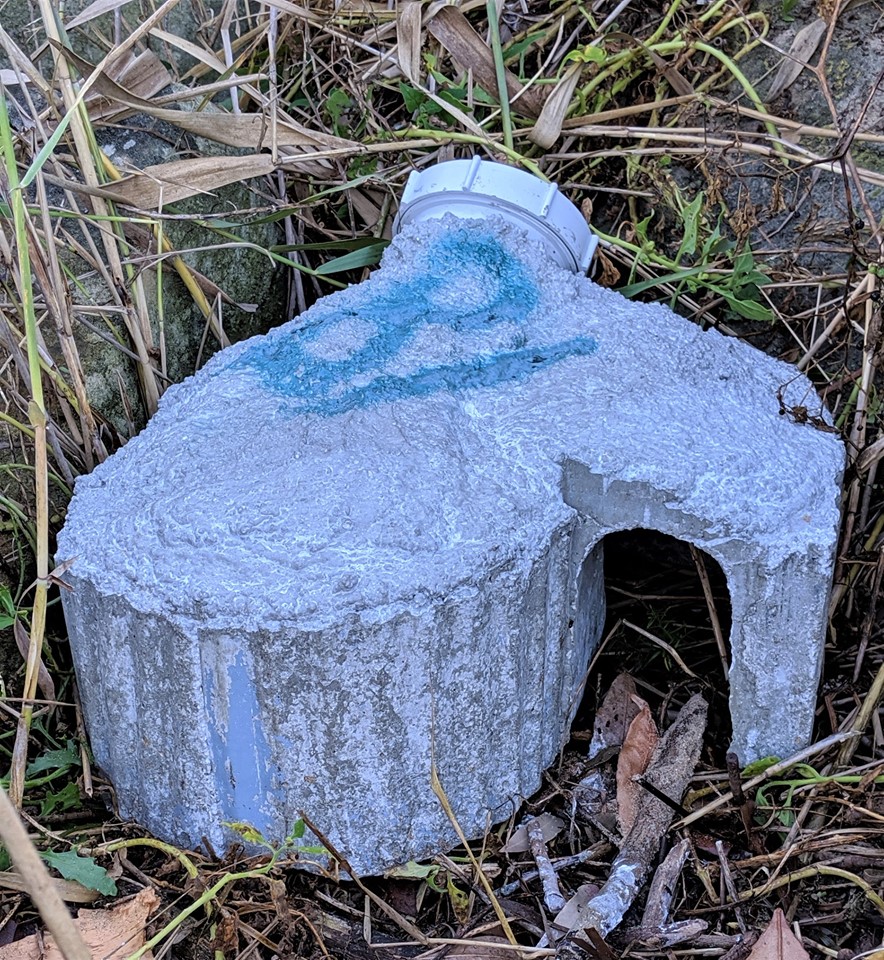 "We had sore hands and bad backs when we were making them over a few months, but the pain faded away when we travelled with our precious cargo by barge to Lion Island to help install the burrows - a joint effort between National Parks and Wildlife, the Land Care volunteers and us."
"Now we have been asked to make ten more burrows for the Little Penguin colony off the NSW South Coast. We can't wait!"
This Issue's Pictorial runs some of the Fix it Sisters photos from the installation day, which started very early in the morning with a group of staff and volunteers from NSW National Parks and Wildlife Service, the Office of Environment and Heritage and Hawkesbury Environment Network (HEN) - and the Fix it Sisters penguin mascot.
A barge took them all over to the island and after a cup of tea and a special penguin cupcake, the group spent the day getting the new penguin homes set up and ready to welcome some Little Penguins.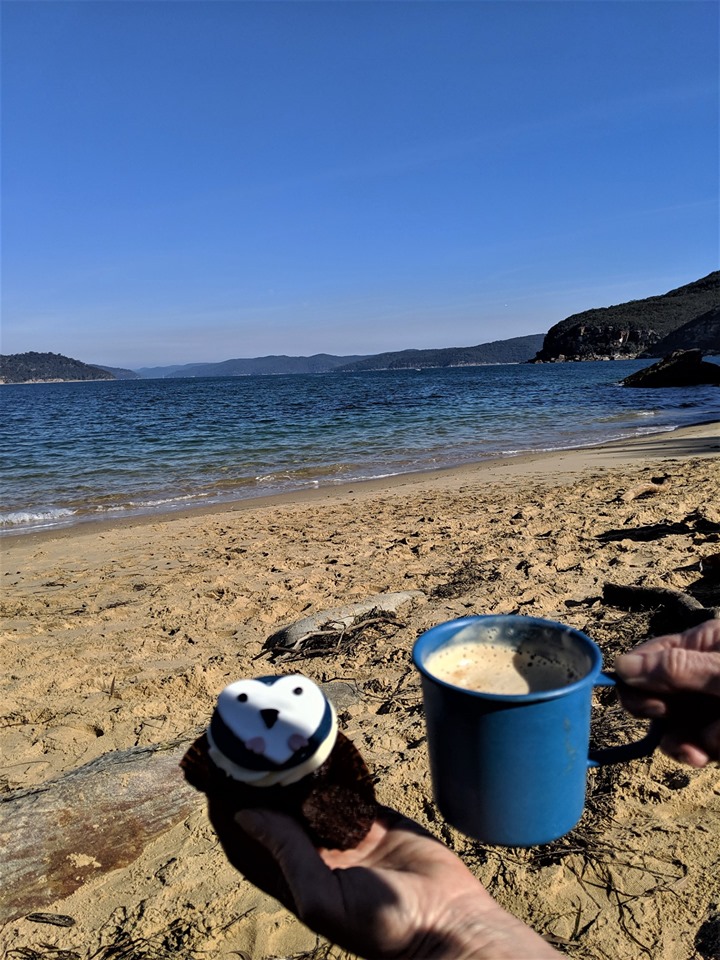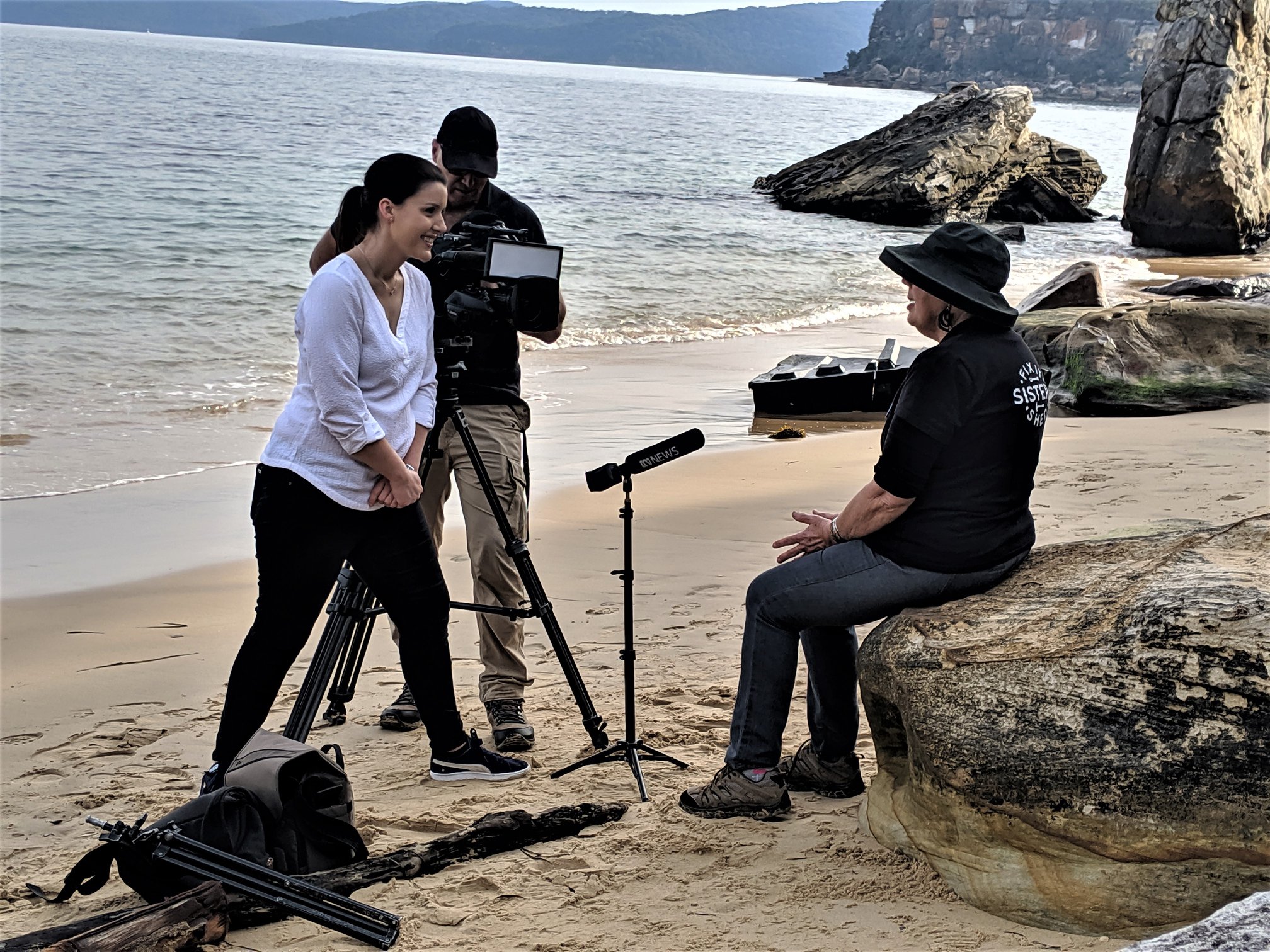 Did you know that we once had Little Penguins right along our beaches until feral animals and domestic pets devastated this population? Ken 'Sava' Lloyd recently shared:
They used to walk across Ocean St Narrabeen and nest under Ross Jorgensons house,and there was a colony at Bollicky Beach(Turrimetta) Nth. Narrabeen. You could hear them from up on the Plateau, Edgecliff Bolv. down in the surf.There was a bait ground just off Sth Narra SLSC. Sava
Fortunately Pittwater's Lion Island colony is seen playing and 'fishing' regularly in the estuary and off nearby beaches - still!
What great news for our community, especially since this is the 65th year people have worked at ensuring Lion Island's Little Penguins are safe on their home grounds.
Visit April 2019's Issue 401: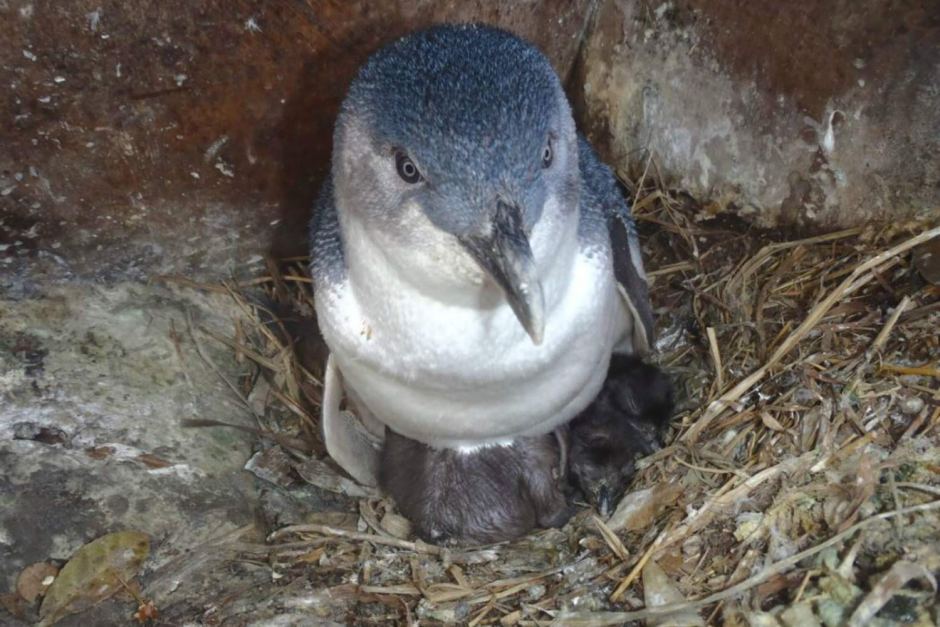 Little Penguin on nest - supplied
About the

Fix it Sisters Shed
The Fix it Sisters Shed is a not-for-profit organisation which empowers women of all ages in southern Sydney with practical and creative skills, through educational workshops and facilitated DIY sessions. We also coordinate and volunteer for various projects throughout the community.
Our current projects include traineeships for domestic violence victims, a mentoring program with students from Arncliffe Public School and building penguin burrows for the NSW National Parks and Wildlife Service. If there is a need for the Fix it Sisters and we can practically help, we are there!
In addition to our community projects we've also run a number of fun and educational workshops in local schools across southern Sydney, with Bunnings Kingsgrove and at our shed in Arncliffe.
Fix it Sisters was the brainchild of co-founders, Linda Prince and Lynn Kristensen, who met on a woodwork course in 2015. They struck up a friendship, discovered their mutual passion for helping women to learn new skills and an idea was soon born!
After lots of hustling and get-togethers around the work bench, Fix it Sisters was officially launched in September 2018 with an all-female volunteer Board of Directors.
Our aim is to build a social connection with a diverse range of women and girls (over 12 years) in the community, but with a particular focus on supporting new migrants, refugees, widows and domestic violence victims to become independent, skilled and confident. We're all about changing social norms and enabling women to reach their potential and find new passions in a creative, safe and supportive environment.
Fix it Sisters is auspiced by 3Bridges Community and supported by various local community organisations, including Bayside Council, South Eastern Sydney Local Health District, Lions Club of Lugarno and Bunnings Warehouse Australia. The Hon Linda Burney MP is our inaugural patron
Get in touch with us for more info:
hello@fixitsistersshed.org.au
or @fixitsistersshed / #fixitsisters on Instagram and Facebook. We hope to meet you soon!
Dog Control Act Review Welcomed
June 2019: BirdLife Tasmania
BirdLife Tasmania welcomes the state government's decision to review the Dog Control Act in light of incessant attacks on Little Penguins.
"BirdLife Tasmania welcomes the announcement of a review of the Tasmanian Dog Control Act 2009" Dr Eric Woehler, BirdLife Tasmania Convenor said earlier this month.
"Far too many penguins have been killed by dogs around Tasmania in the last few years, with the most recent deaths of 18 penguins at West Ulverstone just last month."
"Each of these attacks were completely unnecessary - if the dogs' owners had controlled their dogs, these penguins would still be alive and getting ready to breed in the next few months."
"The review is just the first step," Dr Woehler noted, "With the penguin's breeding season set to start in the lead up to next Summer, there is a real urgency to finalise the review with much tougher penalties before the penguins start coming ashore for the next breeding season."
"BirdLife Tasmania is a member of the Tasmanian Penguin Advisory Group, and is bringing extensive expertise to the statewide efforst to protect our penguins."
NSW Upper House Inquiry Into Koala Populations And Habitat In New South Wales
This inquiry was established on 20 June 2019 to inquire into and report on koala populations and habitat in New South Wales.
1. That Portfolio Committee No. 7 – Planning and Environment inquire into and report on actions,
policies and funding by government to ensure healthy, sustainable koala populations and habitat in
New South Wales, and in particular:
(a) the status of koala populations and koala habitat in New South Wales, including trends, key
threats, resource availability, adequacy of protections and areas for further research,
(b) the impacts on koalas and koala habitat from:
(i) the Coastal Integrated Forestry Operations Approvals and Regional Forest
Agreements,
(ii) the Private Native Forestry Code of Practice,
(iii) the old growth forest remapping and rezoning program,
(iv) the 2016 land management reforms, including the Local Land Services Amendment
Act 2016 and associated regulations and codes
(c) the effectiveness of State Environmental Planning Policy 44 - Koala Habitat Protection, the
NSW Koala Strategy and the Biodiversity Conservation Act 2016, including the threatened
species provisions and associated regulations, in protecting koala habitat and responding to
key threats,
(d) identification of key areas of koala habitat on private and public land that should be
protected, including areas currently at risk of logging or clearing, and the likely impacts of
climate change on koalas and koala distribution,
(e) the environmental, social and economic impacts of establishing new protected areas to
conserve koala habitat, including national parks, and
(f) any other related matter.
3. That the committee report by 15 June 2020.
Ms Cate Faehrmann MLC The Greens (Chair)
Hon Mark Pearson MLC Animal Justice Party (Deputy Chair)
Hon Mark Buttigieg MLC Australian Labor Party
Hon Catherine Cusack Liberal Party
Hon Ben Franklin MLC The Nationals
Hon Shayne Mallard Liberal Party
Hon Penny Sharpe MLC Australian Labor Party
Make a Submission Online
HERE. Submissions close August 2nd, 2019.
Last Call For NSW Green Globe Awards Nominations
There's just 14 days left before NSW Green Globe Award nominations close on 10 July.
Office of Environment and Heritage executive director, Dr Kate Wilson, said the awards across 14 categories recognise those helping to protect the places we love, showing leadership, and trialling new ways of working to set high standards for making NSW cleaner and greener.
Dr Wilson said: "This year, is the Green Globe Awards' 20th anniversary as we celebrate everyone who have been working hard to help our communities thrive and be resilient, as we to move toward a more sustainable future.
"We're encouraging people and organisations who are making a difference to nominate for an award before 5pm on 10 July and help us celebrate this milestone anniversary."
Past winners and finalists are some of the Awards' greatest supporters.
Warren Yates, Director at ClearSky Solar Investments, said: "We were thrilled to win the Premier's Award for Environmental Excellence in 2018. We set up ClearSky because we wanted people to know that solar power made good sense economically and environmentally and that you didn't need your own roof to participate."
David Palin, Sustainability Manager at Mirvac, which won the Built Environment Award in 2018, said: " Mirvac is passionate about reimagining urban life, sustainably. Winning an Award is a fantastic recognition of Mirvac's drive to reduce the environmental impact of our buildings and deliver on our commitment to be net positive by 2030."
Jessica Ducrou, Promoter, Splendour in the Grass. The Splendour in the Grass festival in Byron Bay, said: "To win a Green Globe Award is a testament to our commitment of ensuring we achieve outstanding environmental initiatives by working with our audiences to foster sustainable practices. Our staff have always prided themselves on working on a Festival that is a leader in the field of sustainable business leadership."
2018 Sustainability Champion Award winner, Jackie Ruddock is a pioneer of ethical fashion with a business model focused on inclusion and sustainable clothing production.
"Winning a Green Globe Award is a wonderful way to build further trust with our customers, students, staff and the public, because it's an independent endorsement for what we're trying to achieve." said Jackie Ruddock, Founder, The Social Outfit.
The Awards will be judged by a panel of independent experts and presented at an event at the Taronga Centre on 27 November 2019.
To enter your project, organisation or nominate as an individual, go to:
Green Globe Awards
Green Globe Awards Categories
Recognises the most sustainable built environment through design and/or management.
This award recognises excellence and innovation in sustainable design, construction, retrofitting and operation of existing or new buildings, precincts and tenancies.
This may be for commercial, residential, heritage properties and infrastructure projects in New South Wales.
Business Leadership Award
Businesses that are leading the way in their industry to improve environmental outcomes.
This award recognises outstanding businesses that have integrated sustainable practices in all parts of their organisation from planning and operations to service and product delivery. This has added commercial value to their business as well as achieving environmental outcomes.
Open to NSW small, medium and large businesses.
Climate Change Leadership Award
Celebrates those who are working to minimise the impacts of climate change.
This award recognises exceptional work that is leading in the field of climate change and adaptation in New South Wales. Taking us closer to zero net emission and making our state more resilient to a changing climate.
Community Leadership Award
Recognises grassroots, not-for-profit organisations who have achieved positive social impact in the community through their environmental and sustainability work.
This award recognises outstanding community leadership and commitment from not-for-profit organisations whose environmental and sustainable initiatives are locally relevant, have a strong social impact and have widespread benefits for communities.
Only open to not-for-profit organisations in New South Wales.
Recognises organisations for innovative thinking and pioneering solutions to help protect our environment.
This award recognises ground-breaking new environmental technology, design, research or process
Lifetime Achievement Award for Individuals
Celebrates individuals who have demonstrated long term commitment to leading environmental practice over a minimum 10-year period.
This award recognises individuals who demonstrate a minimum of 10 years sustained environmental achievements and successful project outcomes between 2009 and 2019.
Lifetime Achievement Award for Organisations
Honours organisations that have demonstrated long term commitment to leading environmental practice over a minimum 10-year period.
This award recognises organisations that demonstrate a minimum of 10 years sustained environmental achievement and successful project outcomes between 2009 and 2019.
Natural Environment Award
Recognises those who are committed to conserving the unique natural environment of New South Wales.
This award recognises conservation leadership striving to protect and preserve NSW's precious natural environment, including our ecosystems, threatened species (both plants and animals), natural habitats, land and soil and water resources.
Public Sector Leadership Award
Recognises NSW state and local government departments and agencies that are leading in environmental practices.
This award recognises outstanding public sector organisations in NSW that have successfully integrated environmental management and sustainable practices into their planning, operations, product or service delivery.
Only open to NSW public sector organisations.
Resource Efficiency Award
Organisations that are leading the way to conserve resources and reduce waste.
This award recognises NSW organisations that have implemented practical solutions for clean energy, water saving and conservation, waste avoidance, resource recovery and/or recycling practices.
Sustainability Champion Award
Celebrates sustainability leaders who encourage and support others to make positive change.
This award recognises people who have been instrumental in delivering successful environmental projects. They demonstrate leadership in influencing and changing community or organisation views on sustainability and/or guiding change in sustainable practices.
Open to individuals who are 31 years or older, living in New South Wales.
Young Sustainability Champion Award
Celebrates young people with drive, commitment and a passion for the environment.
This award recognises future sustainability leaders who have already achieved outstanding change in their community.
Open to individuals who are 30 years or younger, living in New South Wales.
Premier's Award for Environmental Excellence
A special honour for the most outstanding winner this year.
This award is a 'Best of the Best Award' presented to the most distinguished nomination from across all of the 2019 Green Globe Award categories.
The recipient is chosen for their exceptional leadership, vision and innovation, and for showing courage and conviction in overcoming obstacles to deliver outstanding benefits to the environment, community and economy.
Regional Sustainability Award
Celebrates an exceptional person or organisation making a difference in regional NSW.
This award is a 'Best of the Best Award' that celebrates the outstanding achievements of an organisation, project or person who has come up with an original and successful sustainability or environmental initiative in regional or rural areas within New South Wales.
All nominees from the 12 open-for-nomination categories located outside greater metropolitan Sydney are automatically considered for this award.
Topping Up Time For Our Native Fish In Ewenmar Creek
As the big dry drags on, the NSW and Commonwealth governments in partnership with the Tenandra Scheme has completed the delivery of water for the environment to Ewenmar Creek to support native fish. Four isolated pools over a 15-kilometre reach of Ewenmar Creek have now been reconnected with the last remaining water so native fish can survive.
The Macquarie-Cudgegong Environmental Water Advisory Group (EWAG) which includes local community members, advised on the use of the small volume of water remaining in environmental water accounts be used to replenish water levels in key fish refuge locations in the Macquarie catchment.
The NSW Office of Environment and Heritage (OEH) in partnership with the Commonwealth Environmental Water Office and the Tenandra Scheme, delivered water for the environment over the last month to help native fish in the Methalibar Weir Pool in Ewenmar Creek, near Old Bundemar Station on the Macquarie River, survive the ongoing drought.
"The water delivery has reconnected four isolated pools over a 15-kilometre reach of Ewenmar Creek allowing the fish to move between the refuge pools, improving habitat and replenishing the food supply," OEH Senior Wetland and Rivers Conservation Officer Paul Keyte said.
"Keeping the fish population in these remaining refuge pools will support breeding and population recovery once the drought breaks and flows return," he said.
"Ewenmar Creek is renowned by local anglers as an excellent place to find eel-tailed catfish.
"The creek is also home to a range of smaller-bodied native fish.
"Because conditions have been so dry many refuge pools have dried down, which makes the remaining sites like the one on Ewenmar Creek especially important for helping keep these native fish species alive.
"If fish in the Ewenmar Creek near Warren could talk, I'm sure they'd say "thanks for topping up our water pools, we were starting to get a bit worried".
"Fish can be especially vulnerable during dry conditions as water courses become isolated shallow pools, making fish vulnerable to predators and poor water quality", Mr Keyte said.
With no flows since 2016, water levels within the residual pools of the Ewenmar Creek continued to drop to low levels and water quality was declining, causing concern for the health of native fish.
"When water stops flowing its quality starts to deteriorate. If the oxygen levels fall too low, then native fish cannot survive," Mr Keyte said.
Environmental water delivery to the creek began in late April to improve habitat condition for the fish and other animals reliant of these important refuge pools to survive.
The Tenandra Scheme (an off-river private irrigator scheme) agreed to deliver the water for the environment into the Ewenmar Creek via their network of channels.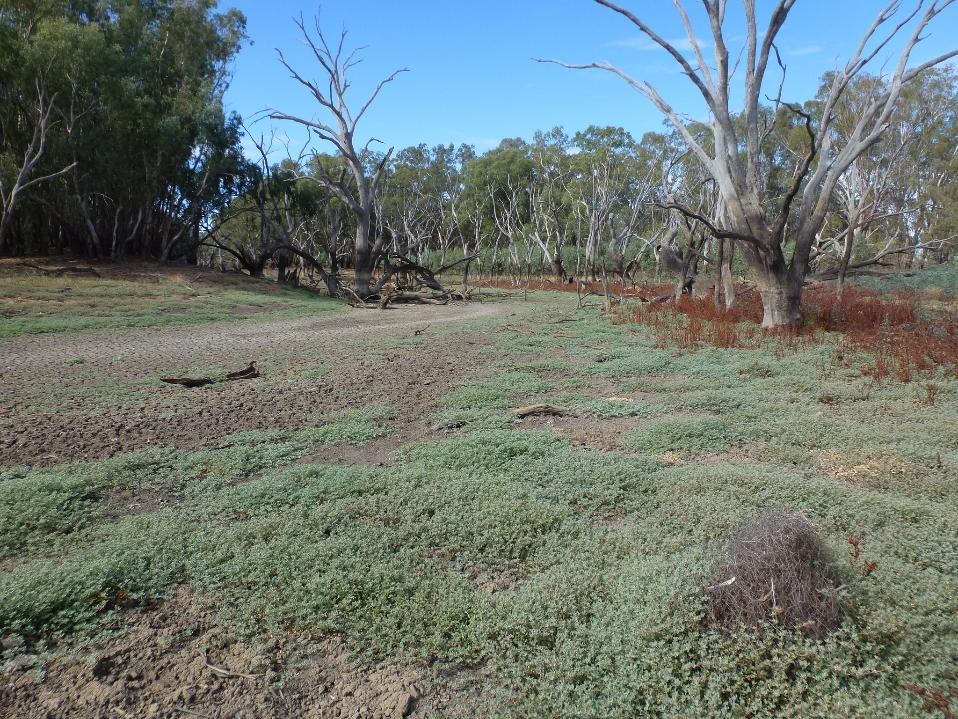 Before flow - credit Paul Keyte, OEH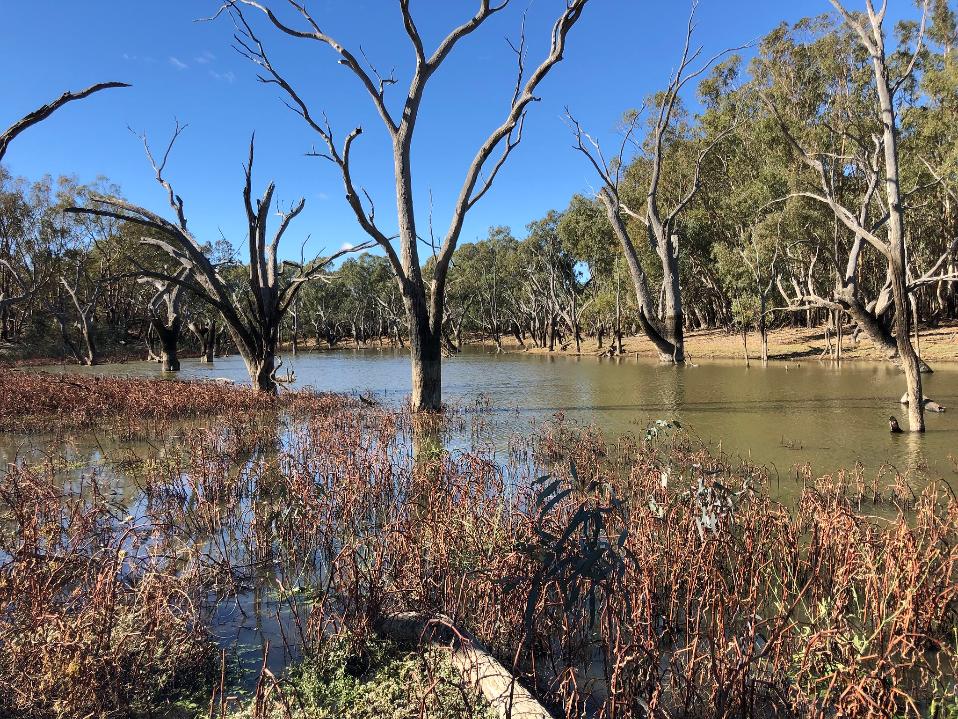 After flow - credit Paul Keyte, OEH
Namoi River At Gunnedah Still Dry: Comparison Photos From Ken 'Sava' Lloyd
The above article lends itself to sharing some images sent in during late May 2019 by former Pittwater resident Ken 'Sava' Lloyd.
May 24, 2019: The Namoi at Gunnedah and no sign of rain.
June 22nd: Frosts and -5. Still no rain
This is 200 yards from my Home, it is where the old wagon crossing was and the remains of old crossing can be seen on the left of photo.
This part of the River has a road to it and is behind playing fields named after The Donnelly Family of League players.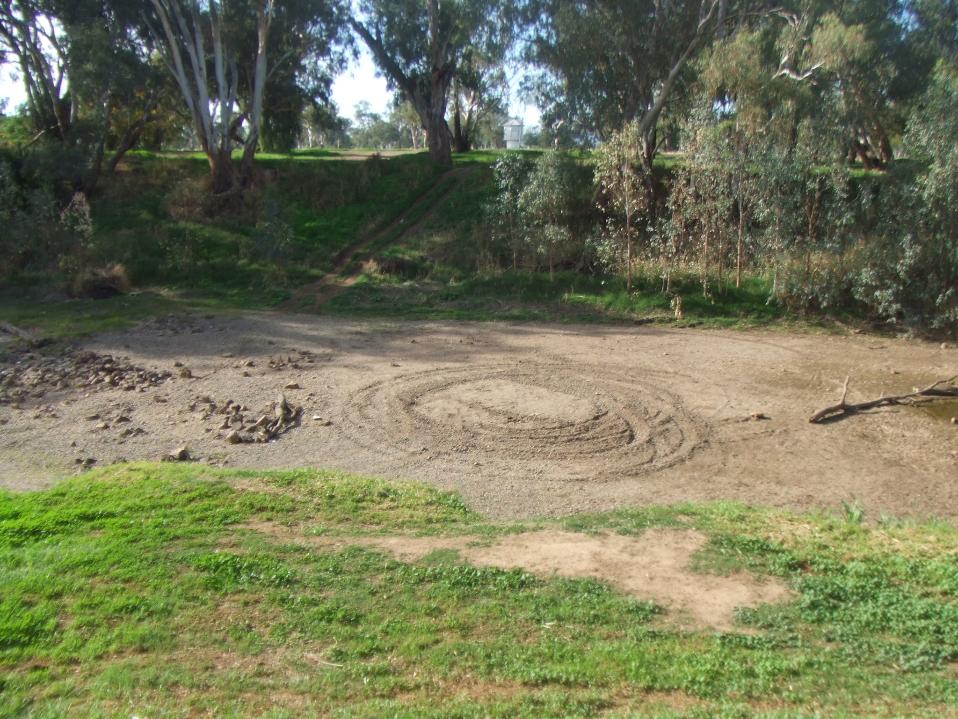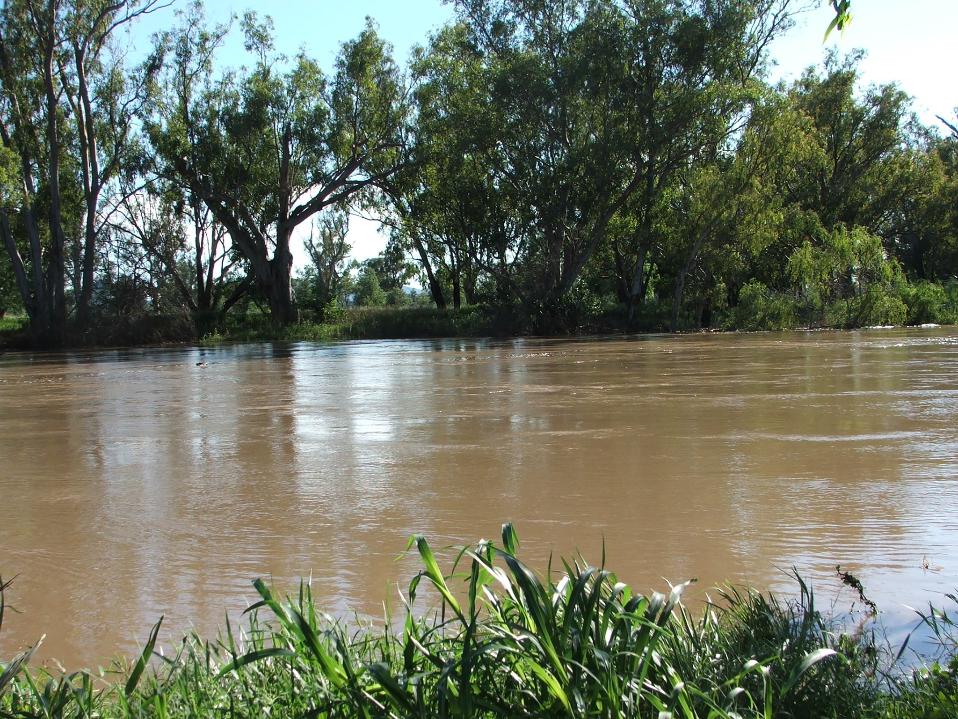 Country Music Stars To Join Farmers And Supporters In Big Bash In The Bylong Valley
Hundreds of people passionate about saving the picturesque Bylong Valley and its water resources are set for a special performance by country music stars Sara and Greg Storer.
The gig will be held in Bylong to help the local farming community, who are under threat from multinational mining giant Kepco.
KEPCO has plans to build a damaging new coal mine in the valley which, if approved, would ravage high quality farmland and drain underground water aquifers in a previously unmined rural valley adjacent to the Greater Blue Mountains World Heritage Area.
The combined open cut and underground mine would produce 6.5 million tonnes of thermal coal for the export market, and would create more than five times the carbon emissions than the now scrapped Rocky Hill mine, which was rejected in the Land and Environment Court in February in part due to the greenhouse gases it would produce.
Bylong sheep farmer, Phill Kennedy said, "This valley is gorgeous and so productive. It would be a crime to ruin it with a dangerous coal mine, putting water resources and the Bylong River under strain.
"We're looking forward to welcoming the Storers and hundreds of people from across NSW to Bylong and showing them why this valley is too precious to plunder for coal."
Greg Storer said, "Farming is hard work and a gamble a lot of the time, so why the powers that be want to make the odds even longer for people on the land and in our farming communities by jeopardising our precious water resources is baffling.
"Hope to see you all in the beautiful Bylong Valley on the 7th of July. Save the Bylong Valley Food Bowl."
The Bylong coal mine is currently being assessed by the NSW Independent Planning Commission, and a decision could be made at any time.
Where:
Bylong campground (opposite the Bylong General Store)
What:
An open-air concert in the centre of Bylong featuring Sara and Greg Storer, plus tours and information about the agriculture, beauty and heritage of the Bylong Valley. The concert will feature performances by 21-time Golden Guitar and ARIA award winner Sara Storer and her brother Greg.
When:
7 July - concert starts 1pm
Why:
The Bylong Valley is a beautiful and productive agricultural district threatened by plans for a new open cut and underground coal mine. Local landholders have been fighting to protect the precious groundwater of the Bylong River and a decision on the mine by the Independent Planning Commission is imminent.
National Tree Day 2019
National Tree Day started in 1996 and has grown into Australia's largest community tree-planting and nature care event.
It's a call to action for all Australians to get their hands dirty and give back to the community. ​​​
While every day can be Tree Day, we dedicate celebration of Schools Tree Day and National Tree Day to the last Friday and last Sunday in July.
In

2019 Schools Tree Day is Friday 26th July and National Tree Day is Sunday 28th July.
Damage To The Ozone Layer And Climate Change Forming Feedback Loop
June 24, 2019: Rensselaer Polytechnic Institute
Increased solar radiation penetrating through the damaged ozone layer is interacting with the changing climate, and the consequences are rippling through the Earth's natural systems, effecting everything from weather to the health and abundance of sea mammals like seals and penguins.
These findings were detailed in a review article published today in
Nature Sustainability
by members of the United Nations Environment Programme's Environmental Effects Assessment Panel, which informs parties to the Montreal Protocol.
"What we're seeing is that ozone changes have shifted temperature and precipitation patterns in the southern hemisphere, and that's altering where the algae in the ocean are, which is altering where the fish are, and where the walruses and seals are, so we're seeing many changes in the food web," said Kevin Rose, a researcher at Rensselaer Polytechnic Institute who serves on the panel and is a co-author of the review article.
The 1987 Montreal Protocol on Substances that Deplete the Ozone Layer -- the first multilateral environmental agreement to be ratified by all member nations of the United Nations -- was designed to protect Earth's main filter for solar ultraviolet radiation by phasing out production of harmful humanmade substances, such as the chlorofluorocarbons class of refrigerants. The treaty has largely been considered a success, with global mean total ozone projected to recover to pre-1980 levels by the middle of the 21st century. Earlier this year, however, researchers reported detecting new emissions of ozone depleting substances emanating from East Asia, which could threaten ozone recovery.
While ozone depletion has long been known to increase harmful UV radiation at the Earth's surface, its effect on climate has only recently become evident. The report points to the Southern Hemisphere, where a hole in the ozone layer above Antarctica has pushed the Antarctic Oscillation -- the north-south movement of a wind belt that circles the Southern Hemisphere -- further south than it has been in roughly a thousand years. The movement of the Antarctic Oscillation is in turn directly contributing to climate change in the Southern Hemisphere.
As climate zones have shifted southward, rainfall patterns, sea-surface temperatures, and ocean currents across large areas of the southern hemisphere have also shifted, impacting terrestrial and aquatic ecosystems
.
The effects can be seen in Australia, New Zealand, Antarctica, South America, Africa, and the Southern Ocean.
In the oceans, for example, some areas have become cooler and more productive, where other areas have become warmer and less productive.
Warmer oceans are linked to declines in Tasmanian kelp beds
and Brazilian coral reefs, and the ecosystems that rely on them. Cooler waters have benefitted some populations of penguins, seabirds, and seals, who profit from greater populations of krill and fish. One study reported that female albatrosses may have become a kilogram heavier in certain areas because of the more productive cooler waters linked to ozone depletion.
Rose also pointed to subtler feedback loops between climate and UV radiation described in the report. For example, higher concentrations of carbon dioxide have led to more acidic oceans, which reduces the thickness of calcified shells, rendering shellfish more vulnerable to UV radiation. Even humans, he said, are likely to wear lighter clothes in a warmer atmosphere, making themselves more susceptible to damaging UV rays.
The report found that climate change may also be affecting the ozone layer and how quickly the ozone layer is recovering.
"Greenhouse gas emissions trap more heat in the lower atmosphere which leads to a cooling of the upper atmosphere. Those colder temperatures in the upper atmosphere are slowing the recovery of the ozone layer," Rose said.
As one of three scientific panels to support the Montreal Protocol, the Environmental Effects Assessment Panel focused in particular on the effects of UV radiation, climate change, and ozone depletion. Thirty-nine researchers contributed to the article, which is titled "Ozone depletion, ultraviolet radiation, climate change and prospects for a sustainable future." Rose, an aquatic ecologist, serves on the aquatic ecosystems working group, which is one of seven working groups that are part of the panel.
"This international collaboration focusing on a pressing problem of global significance exemplifies the research vision of The New Polytechnic at Rensselaer," said Curt Breneman, dean of the Rensselaer School of Science."
Paul W. Barnes et al.
Ozone depletion, ultraviolet radiation, climate change and prospects for a sustainable future.
Nature Sustainability, 2019 DOI:
10.1038/s41893-019-0314-2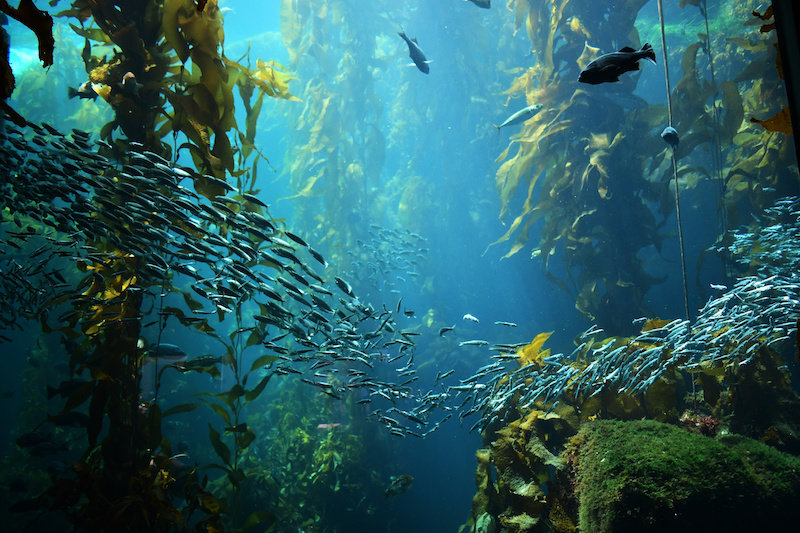 Kelp forest with school of fish (stock image). Credit: © Andrew / Adobe Stock

Volunteers Wanted To Spot Stray Marine Creatures
June 25, 2019: James Cook University
James Cook University scientists are recruiting people to train to log sightings of misplaced sea creatures after receiving new funding.
JCU's Associate Professor Jan Strugnell runs the Queensland arm of the Range Extension Database and Mapping project (
REDMAP
).
"What it aims to do is reach as many citizen scientists as possible and engage them in logging their photos of 'out-of-range' species through the REDMAP app or online interactive website," she said.
Dr Strugnell said an example of an 'out-of-range species' would be a barramundi sighted south of Bundaberg, or a spine-cheek clownfish sighted south of Cairns.
"
We want the data to map which Australian marine species may be moving house in response to changes in the marine environment
, such as ocean warming," she said.
The Extending the Success of REDMAP Australia to Queensland project received a Community Reef Protection: Citizen Science Grantthrough the partnership between the Australian Government's Reef Trust and the Great Barrier Reef Foundation.
The $100,000 grant will be used to recruit and train citizen scientists.
"Program ambassadors will be trained along the Queensland coast to engage with SCUBA, snorkelling and fishing organisations to help them report on unusual sightings and track key species," said Dr Strugnell.
She said the program has been hugely successful in the southern states of Australia, with tens of thousands of Australians engaged each week.
"Now we plan on further implementing REDMAP in Queensland in order to gather information about animals that are undergoing range-shifts here on the Great Barrier Reef. More than 3 million boaters, fishers and divers spend time in or on Queensland waters each year and REDMAP hopes to make citizen scientists out of them."
Volunteers will be trained in how to identify out-of-range species, log sightings, and in how to train and encourage others to participate in REDMAP.
Anyone who is lives in Queensland, is over 18 years of age, and wants to be part of the program should contact Dr Blake Spady (blake.spady@jcu.edu.au).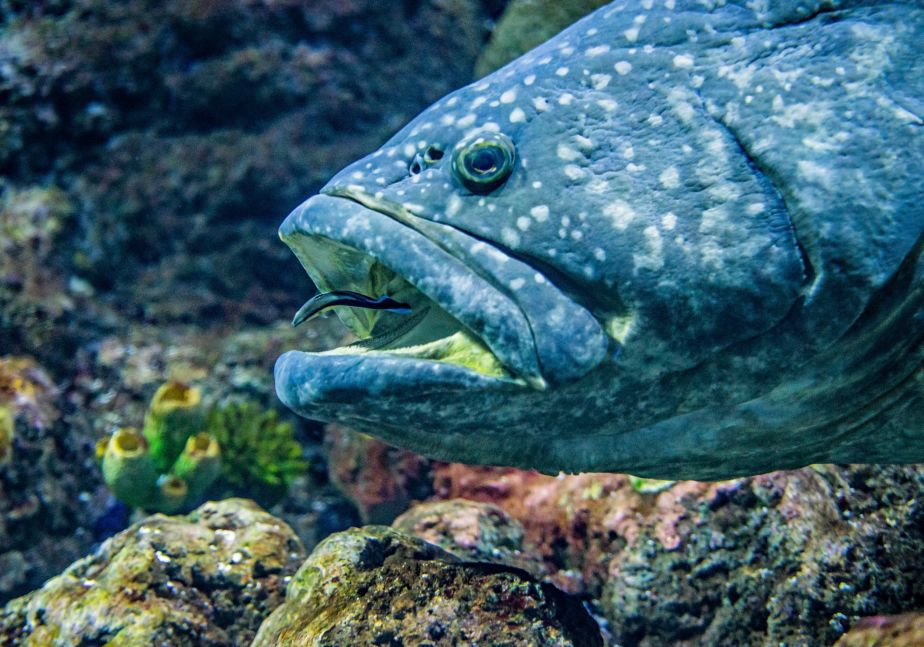 A wrasse cleaner fish works in the mouth of a Queensland Grouper. Image: David Clode

Roads And Deforestation Explode In The Congo Basin
June 24, 2019: James Cook University
Logging roads are expanding dramatically in the Congo Basin, leading to catastrophic collapses in animal populations living in the world's second-largest rainforest, according to research co-led by a scientist at James Cook University in Australia.
Just as worrying is that the rate of forest destruction caused by new roads in the Congo Basin has risen sharply over time, quadrupling since 2000.
"The situation in the Congo Basin is scary on top of more scariness," said Professor Bill Laurance, who has worked in Africa for 15 years. "New roads are opening a Pandora's box of activities such as illegal deforestation, mining, poaching and land speculation."
Laurance helped lead an international team that exhaustively mapped all roads in the Congo region, using satellite imagery. They found that since 2003, the total length of roads has increased by nearly 100,000 kilometres -- from 144,000 to 231,000 kilometres overall.
"Industrial logging is a key economic driver for much of the road building," said Laurance. "Some logging roads are abandoned, but many are used by slash-and-burn farmers and poachers to penetrate deep into surviving rainforests."
"As a result, the global population of forest elephants has collapsed by two-thirds over the past decade," said Laurance. "Elephants, gorillas and chimps hardly have anywhere to hide from poachers now."
Laurance and his team are especially worried about the vast Democratic Republic of Congo, or DRC, the largest nation in the Congo Basin.
"When you build a new road, you get 2-3 times more deforestation in the DRC than anywhere else in the Congo Basin," said Laurance.
"That's super-worrying because the DRC has plans to sharply increase logging. Last year, it leased a massive 650,000 hectares (1.6 million acres) of pristine rainforest to aggressive Chinese logging companies," said Laurance. "And that's just the tip of the iceberg."
However, not all the study's findings were negative. One promising result is that, outside of the DRC, many roads inside logging areas are being abandoned and the forest allowed to regenerate after the timber is harvested.
"This suggests that there's considerable scope to make industrial logging less damaging to forests," said Laurance. "An especially promising strategy is for logging companies to block roads or destroy bridges over creeks after they've harvested the timber."
"Of course, we'd greatly prefer to have pristine forests. But African nations must earn money from their forests, and if better managed, selective logging could provide income and be a lot less destructive."
Overall, a key conclusion of the study is that much road building in Africa is extremely harmful, destroying and fragmenting forests and destroying wildlife populations.
"Corruption and a massive influx of aggressive foreign developers is the biggest worry, along with rapid population growth," said Laurance. "It all leads to destructive development and road building."
"China in particular has the most predatory practices for logging, mining and road building in Africa," said Laurance. "Many Africans are starting to see this, and I just hope something can be done in time."
Fritz Kleinschroth, Nadine Laporte, William F. Laurance, Scott J. Goetz, Jaboury Ghazoul.
Road expansion and persistence in forests of the Congo Basin.
Nature Sustainability, 2019; DOI:
10.1038/s41893-019-0310-6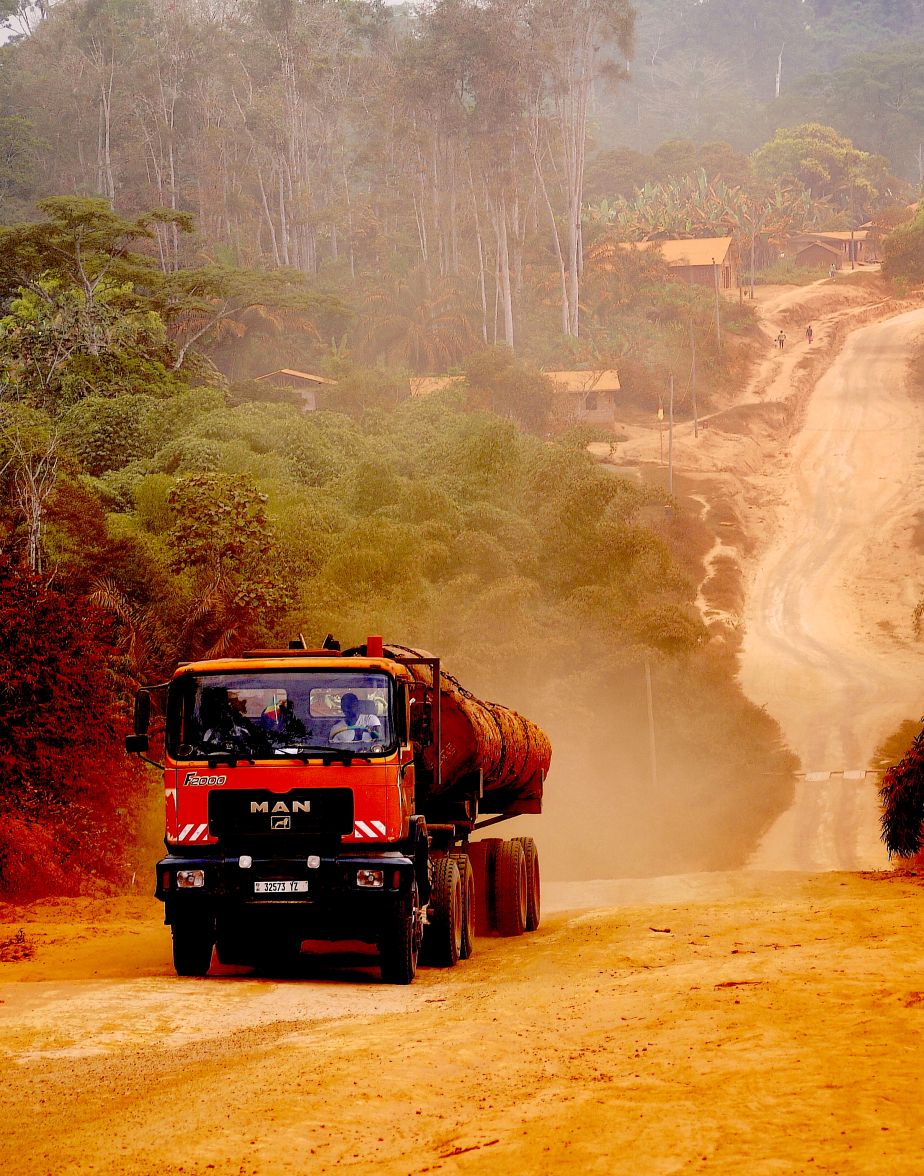 A logging truck in the Congo. JCU photograph

Survey Reveals People Think GBR's Problems Need Collective Efforts To Solve
June 25, 2019: James Cook University
New research suggests that after seeing or hearing about impacts of climate change on the Great Barrier Reef people feel less able to respond individually to those issues, and think the best outcome will be through collective efforts led by governments and corporations
.
James Cook University Dr Scott Heron was part of an international team, along with scientists from the CSIRO, that examined more than 4600 people's attitudes to the reef, before and after mass coral bleaching in 2016 and 2017. He said there was a marked change in concern.
"The general public are much more concerned about the effect of climate change on the Great Barrier Reef, but are often beset by feelings of hopelessness," he said.
JCU's Dr Jeremy Goldberg said people's feelings about the Reef and its threats had deepened but their perspective that they could individually make a difference had declined.
"There was an increase in the proportion of respondents who viewed climate change as an immediate threat, which was combined with a decline in people's perception that their individual actions will make a difference in addressing the problem. However, there was an increase in protective sentiment. More than ever, people are concerned and want to see the Reef protected," he said.
The scientists said these findings suggested the community thought addressing the global threat of climate change needed to be done collectively, and led by governments and corporations, rather than left to individual efforts alone.
Dr Goldberg said it was notable that many of the people concerned about the Reef had not visited it.
"More than 1500 of the people surveyed had not visited the Reef, but they were just as concerned and showed just as much emotional attachment to it as those who had," he said.
Dr Heron said it showed that when iconic natural structures such as the Reef were in trouble it had the potential to mobilise local and international public support for responding to the wider threat of climate change.
He said the research shows that the feeling that individuals can do nothing could be overcome by empowering people through collective actions led by governments and corporations.
"A focus on effective solutions with clear and accessible actions is critical to motivating people and keeping them engaged. Many areas of the Great Barrier Reef have shown signs of recovery after the disturbance events, benefiting from substantial Australian and Queensland government investment and through working together with tourism operators in education and restoration.
However, there remains significant risk to the Reef unless immediate and significant action is taken to address the causes of climate change," said Dr Heron.
The research was funded by CSIRO and the Australian and Queensland Governments under the Reef 2050 Integrated Monitoring and Reporting Program.
Hawkfish amongst coral. Image: David Clode
Australian University Sector Reaffirms Longstanding Commitment To Foundational Freedoms
The peak body for Australia's universities is pleased to reaffirm the university sector's enduring commitment to freedom of expression and academic freedom.
The Board of Universities Australia today reaffirmed its abiding commitment to these founding principles of universities — and noted the careful work being undertaken by member universities to consider the model code proposed by former High Court Chief Justice Robert French.
Universities Australia Chair Professor Deborah Terry said "freedom of expression and academic freedom go to the heart of what our universities do. They are fundamental to how we operate."
"This is why Mr French's proposed model code is being given careful attention by our universities to ensure the robustness of their frameworks for free speech and academic freedom."
At each university, Vice-Chancellors and Chancellors are working through these materials and giving these matters careful attention in preparation for discussions by their governing councils.
"Once again, we express our thanks to Mr French for the care and rigour reflected in his report and proposed model code."
Last November, in a
joint statement
, Vice-Chancellors from all 39 member universities reaffirmed their commitment to the enduring principles of academic freedom and freedom of expression on campuses and amongst their students and staff.
They declared that "Australian universities foster vigorous debate and encourage the contest of ideas in a respectful, professional and courteous manner" and vowed to continue to promote a "thriving culture of debate and speech".
The 2018 statement built on the 2008 Universities Australia statement on academic freedom and the need to ensure teaching and research remains free of external interference. It declared:
"Universities have a special role as institutions dedicated to free, open and critical expression across the full scope of human knowledge and endeavour. Central to this role is the freedom of staff and students to teach, research, debate and learn independent of external political circumstance and pressure."
The previous statements have also noted that these freedoms apply in the context of Australian law, which prohibits hate speech, discrimination and incitement to violence.
University students, staff and speakers are, of course, subject to these wider laws, like the rest of the Australian population.
Professor Terry said Australia's universities have been on the public record through the decades affirming our commitment to informed evidence-based discussion and vigorous debate.
"As institutions, we nurture the skills of our students to debate ideas, develop their critical thinking skills and engage with a wide array of views — including those with which they agree and those with which they disagree," she said.
"The skill of being able to engage in vigorous debate without suspending courtesy is one that our students will need if they are to succeed in the workplace and the world."
Ozone Depletion Impacting Human Health
June 25, 2019: Australian National University
Changes to our ozone layer over the past 40 years have affected levels of UV radiation and therefore the risk of people developing skin cancer, an international study has found.
Some 2,000 Australians die of skin cancer every year, with Australia having one of the highest rates of the disease in the world.
The study examined changes to the ozone layer and the impact on UV radiation, and changes in climate.
One of the lead authors, Professor Robyn Lucas from The Australian National University, said the study highlights the harm associated with increased exposure to high levels of UV radiation.
"It puts people at greater risk of developing skin cancers and other diseases," Professor Lucas said.
"Increased rates of skin cancer over the past 100 years show how susceptible some human populations would be to uncontrolled ozone depletion."
"For example, we know exposure to UV radiation accounts for up to 95 per cent of the risk of developing certain types of melanoma in light-skinned populations.
While melanoma accounts for less than five per cent of cancers, it has a particularly high mortality rate, with around 60,000 deaths worldwide each year.
The study shows these numbers would have been much worse, if the Montreal Protocol hadn't been implemented by the UN in 2008.
The Montreal Protocol treaty led to the phasing out of the use of man-made substances that deplete the ozone layer, primarily chlorofluorocarbons (CFCs) that were used in refrigeration and as the propellant in aerosols.
"Without the Montreal Protocol, UV radiation levels in the near future would be more than twice what the World Health Organization considers extreme in many parts of the world, and close to four times the extreme level in the tropics," Professor Lucas said.
"These levels of UV radiation would have changed the whole way we live our lives - even a few minutes outdoors would have caused sunburn."
Professor Lucas believes more work still needs to be done to address big "gaps in our knowledge" when it comes to understanding how climate change will affect ozone and the effects of changing UV radiation on human health.
"We need a better understanding of how not only humans, but other species, respond to UV radiation," Professor Lucas said.
"The focus of concern regarding UV radiation has historically been on human health. We need long-term, large-scale studies to better understand how changes in UV radiation, together with other climate-change factors, also affect ecosystems on land as well as in the water.
"The outcomes of the Montreal Protocol show that globally united and successful action on complex environmental issues is possible."
The research was conducted by members of the United Nations Environment Programme's Environmental Effects Assessment Panel.
The paper has been published
online
in
Nature Sustainability
.
Cannabidiol Is A Powerful New Antibiotic
June 23, 2019: American Society for Microbiology
New research has found that Cannnabidiol is active against Gram-positive bacteria, including those responsible for many serious infections (such as Staphyloccocus aureus and Streptococcus pneumoniae), with potency similar to that of established antibiotics such as vancomycin or daptomycin. The research is presented at ASM Microbe, the annual meeting of the American Society for Microbiology.
Cannabidiol, the main non-psychoactive chemical compound extracted from cannabis and hemp plants, has been approved by FDA for the treatment of a form of epilepsy, and is being investigated for a number of other medical conditions, including, anxiety, pain and inflammation. While there is limited data to suggest Cannabidiol can kill bacteria, the drug has not been thoroughly investigated for its potential as an antibiotic.
Work led by Dr Mark Blaskovich at The University of Queensland's Institute for Molecular Bioscience's Centre for Superbug Solutions, in collaboration with Botanix Pharmaceuticals Ltd, an early stage drug discovery company investigating topical uses of synthetic cannabidiol for a range of skin conditions, found that Cannabidiol was remarkably effective at killing a wide range of Gram-positive bacteria, including bacteria that have become resistant to other antibiotics, and did not lose effectiveness after extended treatment.
"Given cannabidiol's documented anti-inflammatory effects, existing safety data in humans, and potential for varied delivery routes, it is a promising new antibiotic worth further investigation," said Dr. Blaskovich. "The combination of inherent antimicrobial activity and potential to reduce damage caused by the inflammatory response to infections is particularly attractive."
Importantly, the drug retained its activity against bacteria that have become highly resistant to other common antibiotics. Under extended exposure conditions that lead to resistance against vancomycin or daptomycin, Cannabidiol did not lose effectiveness. Cannabidiol was also effective at disrupting biofilms, a physical form of bacteria growth that leads to difficult-to-treat infections.
The project was co-funded by Botanix and Innovation Connections, an Australian government grant scheme to commercialise new products, processes and services. The paper will be presented on Sunday June 23rd from 11am-1 pm at the annual conference of the American Society for Microbiology, ASM Microbe 2019, at the Moscone Convention Center in San Francisco.
New Therapy Targets Gut Bacteria To Prevent And Reverse Food Allergies
A new study identifies the species of bacteria in the human infant gut that protect against food allergies, finding changes associated with the development of food allergies and an altered immune response.
Every three minutes, a food-related allergic reaction sends someone to the emergency room in the U.S. Currently, the only way to prevent a reaction is for people with food allergies to completely avoid the food to which they are allergic. Researchers are actively seeking new treatments to prevent or reverse food allergies in patients. Recent insights about the microbiome -- the complex ecosystem of microorganisms that live in the gut and other body sites -- have suggested that an altered gut microbiome may play a pivotal role in the development of food allergies. A new study, led by investigators from Brigham and Women's Hospital and Boston Children's Hospital, identifies the species of bacteria in the human infant gut that protect against food allergies, finding changes associated with the development of food allergies and an altered immune response. In preclinical studies in a mouse model of food allergy, the team found that giving an enriched oral formulation of five or six species of bacteria found in the human gut protected against food allergies and reversed established disease by reinforcing tolerance of food allergens. The team's results are published in Nature Medicine.
"This represents a sea change in our approach to therapeutics for food allergies," said co-senior author Lynn Bry, MD, PhD, director of the Massachusetts Host-Microbiome Center at the Brigham. "We've identified the microbes that are associated with protection and ones that are associated with food allergies in patients. If we administer defined consortia representing the protective microbes as a therapeutic, not only can we prevent food allergies from happening, but we can reverse existing food allergies in preclinical models. With these microbes, we are resetting the immune system."
The research team conducted studies in both humans and preclinical models to understand the key bacterial species involved in food allergies. The team repeatedly collected fecal samples every four to six months from 56 infants who developed food allergies, finding many differences when comparing their microbiota to 98 infants who did not develop food allergies. Fecal microbiota samples from infants with or without food allergies were transplanted into mice who were sensitized to eggs. Mice who received microbiota from healthy controls were more protected against egg allergy than those who received microbiota from the infants with food allergies.
Using computational approaches, researchers analyzed differences in the microbes of children with food allergies compared to those without in order to identify microbes associated with protection or food allergies in patients. The team tested to see if orally administering protective microbes to mice could prevent the development of food allergies. They developed two consortia of bacteria that were protective. Two separate consortia of five or six species of bacteria derived from the human gut that belong to species within the Clostridiales or the Bacteroidetes could suppress food allergies in the mouse model, fully protecting the mice and keeping them resistant to egg allergy. Giving other species of bacteria did not provide protection.
"It's very complicated to look at all of the microbes in the gut and make sense of what they may be doing in food allergy, but by using computational approaches, we were able to narrow in on a specific group of microbes that are associated with a protective effect," said co-first author Georg Gerber, MD, PhD, MPH, co-director of the Massachusetts Host-Microbiome Center and chief of the Division of Computational Pathology in the Department of Pathology at the Brigham. "Being able to drill down from hundreds of microbial species to just five or six or so has implications for therapeutics and, from a basic science perspective, means that we can start to figure out how these specific bacteria are conferring protection."
To understand how the bacteria species might be influencing food allergy susceptibility, the team also looked at immunological changes, both in the human infants and in mice. They found that the Clostridiales and Bacteroidetes consortia targeted two important immunological pathways and stimulated specific regulatory T cells, a class of cells that modulate the immune system, changing their profile to promote tolerant responses instead of allergic responses. These effects were found both in the pre-clinical models and also found to occur in human infants.
The new approach represents a marked contrast to oral immunotherapy, a strategy that aims to increase the threshold for triggering an allergic reaction by giving an individual small but increasing amounts of a food allergen. Unlike this approach, the bacteriotherapy changes the immune system's wiring in an allergen-independent fashion, with potential to broadly treat food allergies rather than desensitizing an individual to a specific allergen.
"When you can get down to a mechanistic understanding of what microbes, microbial products, and targets on the patient side are involved, not only are you doing great science, but it also opens up the opportunity for finding a better therapeutic and a better diagnostic approach to disease. With food allergies, this has given us a credible therapeutic that we can now take forward for patient care," said Bry.
Bry and Gerber, along with senior author Talal Chatila, MD, of Boston Children's Hospital, are founders and have equity in ConsortiaTX, a company that is developing a live human biotherapeutic product (CTX-944). (Co-senior author Rima Rachid, MD, of Boston Children's Hospital, also has equity in the company.) ConsortiaTX is preparing for a Phase 1b trial in pediatric food allergy, followed by expansion into additional allergic diseases. ConsortiaTX has obtained an exclusive global license to the intellectual property related to the microbial discoveries published in the Nature Medicine paper.
Azza Abdel-Gadir, Emmanuel Stephen-Victor, Georg K. Gerber, Magali Noval Rivas, Sen Wang, Hani Harb, Leighanne Wang, Ning Li, Elena Crestani, Sara Spielman, William Secor, Heather Biehl, Nicholas Dibendetto, Xiaoxi Dong, Dale T. Umetsu, Lynn Bry, Rima Rachid, Talal A. Chatila.
Microbiota therapy acts via a regulatory T cell MyD88/RORγt pathway to suppress food allergy.
Nature Medicine, 2019; DOI:
10.1038/s41591-019-0461-z
North West Metro Marks One Month As TBM Kathleen Butler Prepares To Go Under The Harbour
June 26, 2019: The Hon. Gladys Berejiklian, Premier of NSW
More than 1.8 million journeys have been completed in the first month of operation on the new North West Metro, which has already helped to ease pressure on our roads and the existing rail network.
Premier Gladys Berejiklian said the North West Metro has been an incredible success and it is just a taste of what is to come with the turn-up-and-go services being extended under the harbour and through the CBD.
"Since opening one month ago there has been an average of 65,000 journeys on weekdays, taking people off motorways, buses and the existing rail network," Ms Berejiklian said.
"Over the past month 20,000 fewer cars used the M2 compared to the same time last year and up to a 20 per cent fall in usage at key stations on the T1 Western Line.
"This demonstrates the enormous community benefits of Metro and now delivery of the next stage is underway, with a Tunnel Boring Machine almost ready to start digging the second harbour rail crossing."
Tunnel Boring Machine (TBM) Kathleen will be launched from Barangaroo next month to dig the historic rail crossing deep under Sydney Harbour.
Ms Berejiklian and Minister for Transport Andrew Constance joined workers 30 metres underground to complete the final inspection of TBM Kathleen.
"Not since Bradfield delivered the Sydney Harbour Bridge almost a century ago has there been a vision for public transport on the scale of Sydney Metro," Mr Constance said.
"Now, TBM Kathleen is shaping Sydney's future as she gets ready to build the first railway tunnels under Sydney Harbour.
"This is the next stage of Sydney Metro which will deliver a turn-up-and-go Metro service stretching 66 kilometres from Rouse Hill in the North West to Bankstown in the South West and the CBD in between."
The 975 tonne tunnel boring machine was assembled deep under Barangaroo and will start digging the first of twin one-kilometre tunnels, 40 metres below the Harbour at its deepest.
This specialised TBM is named after Kathleen Butler, who played a vital role in the construction of the Sydney Harbour Bridge as the technical advisor to legendary engineer John JJC Bradfield.
TBM Kathleen will join the four borers currently digging from Marrickville and Chatswood towards the harbour's edge.
Together, all five TBMs will deliver twin 15.5 kilometre rail tunnels for Australia's biggest public transport project.
The first stage, North West Metro, opened one month ago with
Opal data revealing
:
An average of 65,000 trips on weekdays;
After the opening fare free day, Thursday 30 May was the busiest day on the Metro with 75,000 trips;
Tuesday 18 June was the busiest morning peak with 23,000 trips;
Tuesday 28 May was the busiest afternoon peak with 28,000 trips; and
More than 7000 metro train services have run so far.
Affordable Rental Housing Policy Not Delivering For Low Income Earners
Research by the UNSW City Futures Research Centre has found that the NSW affordable rental housing planning policy is delivering micro-apartments for employees and students instead of affordable housing.
Lead author Dr Laurence Troy said the Centre's survey found that people living in new types of boarding houses "were not who you typically expect to find in more traditional boarding houses".
"The affordable rental housing policy was intended to provide options for marginal renters, but what we are finding is the most occupants are students and younger workers, people who you ordinarily find in mainstream studio apartment rentals," Dr Troy said.
The City Futures Research Centre looked at Division 3 of the State Environmental Planning Policy (Affordable Rental Housing) 2009 (ARHSEPP) for the Southern Sydney Regional Organisation of Councils (SSROC).
It found that the occupants of boarding houses were closer in profile to typical renters than traditional boarding house occupants or social housing waitlists. However, the survey also highlighted that the 9 out of 10 low-income occupants were found to be in rental stress, with nearly 90% of low-income earners paying more than a third of their income on rent.
While these "micro-apartments" are able to be fast-tracked under Division 3 of the ARHSEPP, the developments are mostly not operating as lodgings. The survey raises the issue of compliance, as development consent for a boarding house is defined in the standard Local Environmental Plan as "wholly or partly let in lodgings".
Self-contained apartment complexes do not meet the definition of a boarding house under Boarding House Act 2012 (NSW), so are not subject to operating regulations and inspection regimes to maintain fire safety, shared accommodation standards and at-risk occupant referrals to FACS.
"These types of micro-apartments may have a place in Sydney's housing supply, but need to be considered as part of wider apartment mixes and design," Director of City Futures Research Centre, Professor Bill Randolph said. "There ought to be a much stronger requirement that anything delivered under the ARHSEPP directly contributes to an affordable housing option to targeted households.
"Over 1.7 million people live within the SSROC region," SSROC General Manager, Namoi Dougall said. "This research is providing evidence to our 11 SSROC councils that the policy for developing new boarding houses is not providing access to the affordable housing that Sydney and particularly our region so desperately needs."
More than 86% of new boarding house developments are rented out under formal tenancy agreements and are taking on the form and occupancy of mainstream apartments rather than traditional boarding houses.
"The report calls for a rethink of this part of Environmental Planning Policy (Affordable Rental Housing) 2009 (ARHSEPP) so that planning incentives targeted to assist with affordable housing supply make housing affordable to low income households," SSROC President, Cr John Faker said.
A Hidden Truth: Hospital Faucets Are Often Home To Slime And Biofilm
June 26, 2019: Association for Professionals in Infection Control
Hand hygiene is a critical component of infection prevention in hospitals, but the unintended consequences include water splashing out of a sink to spread contaminants from dirty faucets according to new research presented last week in Philadelphia at the 46th Annual Conference of the Association for Professionals in Infection Control and Epidemiology (APIC).
Researchers at the University of Michigan Health System assessed eight different designs across four intensive care units to determine how dirty sinks and faucets really are. They found that a shallow depth of the sink bowl enabled potentially contaminated water to splash onto patient care items, healthcare worker hands, and into patient care spaces -- at times at a distance of more than four feet from the sink itself.
"The inside of faucets where you can't clean were much dirtier than expected," said study author Kristen Vander Elzen, MPH, CIC. "Potentially hazardous germs in and around sinks present a quandary for infection preventionists, since having accessible sinks for hand washing is so integral to everything we promote. Acting on the information we found, we have undertaken a comprehensive faucet replacement program across our hospital."
To identify the grime level of the sinks, the researchers used adenosine triphosphate (ATP) monitoring to measure the cleanliness. Visible biofilm was associated with higher ATP readings, and cultures tested over the course of the study grew Pseudomonas aeruginosa, mould, and other environmental organisms.
The research team also found aerators on sinks where they had previously been removed, pointing to an overall inconsistency of equipment protocols across the facility. Included in the design improvement program were sink guards, which were shown to limit splash significantly.
"As we learn more about the often stealthy ways in which germs can spread inside healthcare facilities, infection preventionists play an increasingly important role in healthcare facility design -- including in the selection of sink and faucet fixtures -- as this study illustrates," said 2019 APIC President Karen Hoffmann, RN, MS, CIC, FSHEA, FAPIC.
"Because the healthcare environment can serve as a source of resistant organisms capable of causing dangerous infections, an organization's infection prevention and control program must ensure that measures are in place to reduce the risk of transmission from environmental sources and monitor compliance with those measures."
Kristen VanderElzen, Harry Zhen, Emily Shuman, Amanda Valyko.
The Hidden Truth in the Faucets: A Quality Improvement Project and Splash Study of Hospital Sinks.
American Journal of Infection Control, 2019; 47 (6): S26 DOI:
10.1016/j.ajic.2019.04.048
Disclaimer:
These articles are not intended to provide medical advice, diagnosis or treatment.
Views expressed here do not necessarily reflect those of
Pittwater Online News
or its staff.