Inbox and Environment News: Issue 404
May 12 - 18, 2019: Issue 404
Avalon Dunes Bushcare May 2019
At Avalon Dunes the first Sunday of each month is the work morning. We volunteers need some help, so why not join us at 8.30 near the Montessori School. We finish at 11.30, but even half an hour of your help would be great. Facebook page for Avalon Dunes Bushcare where you can keep up to date with progress and find out how to get involved.
Visit: www.facebook.com/AvalonDunesBushcare
The next Bushcare morning will be Sunday June 2nd.
Lots of helpers on May 5th, 2019 - 10 boys from Barker College Yrs 7-8 plus some parents. They tackled the weedy grass Ehrharta and Gazania, a garden escape on the foredunes. Thanks everyone - They did a good job and had fun. They are heading towards Duke of Ed in later years.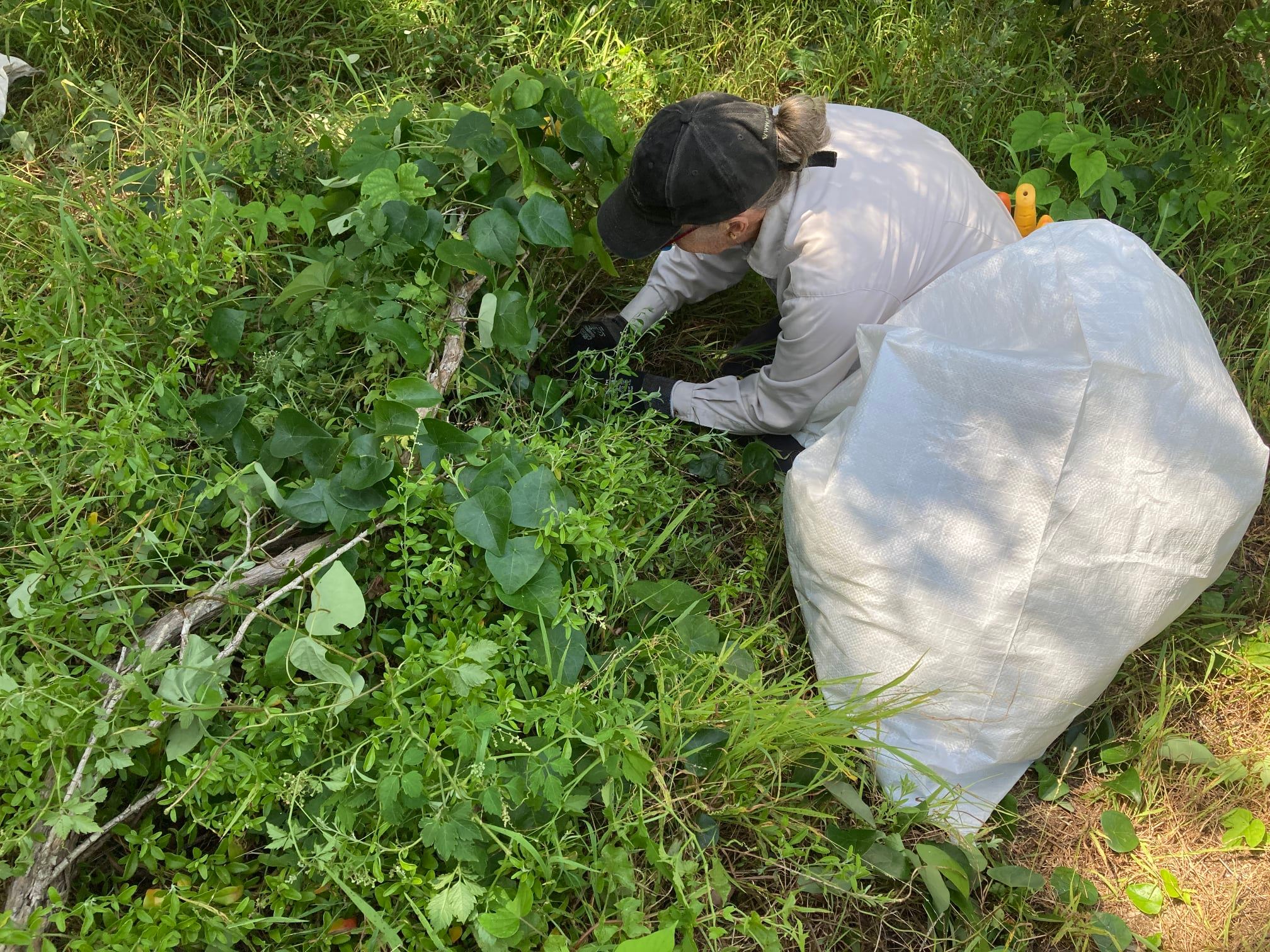 How can Gazania be a weed with its pretty flowers, you ask?
Gazania is pretty but a weed of Avalon Dunes. Its fluffy seeds blow in the wind. It forms dense clumps that choke native dune plants.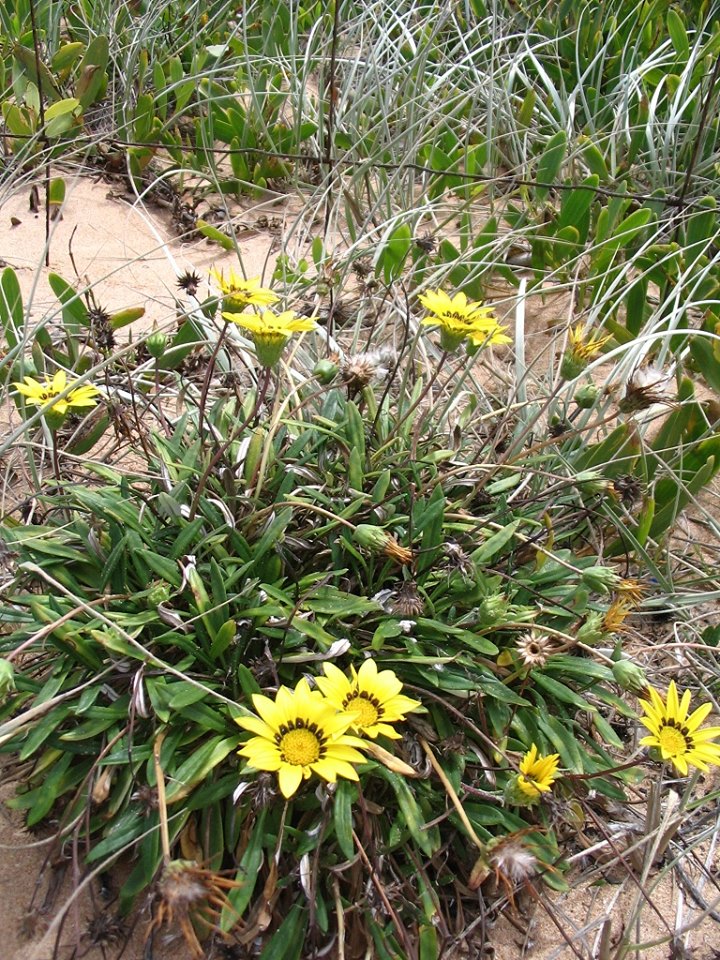 Wyong Wallarah Coal Mine And 'Extinction Crisis' Statements On First Day Of 57th NSW Parliament
Mr. Harris said in his Statement that he continues to be 'very concerned about not only water loss from the catchment affecting the drinking water supply to 320,000 people on the Central Coast, but also one of the conditions set as part of the process.'
He referred to condition 17, which is headed "Central Coast Water Supply Compensatory Arrangement".
The NSW Planning Assessment Commission recognised that there would be some water loss from the catchment and, in order to compensate for that loss, it put in place a condition that says "mine water treated to an appropriate level" can be released back into the Central Coast water supply.
Further, the condition states that after 10 years the discharge of at least 300 megalitres per annum of treated water can be made "directly into the Central Coast Water Supply system at a location mutually agreed with Council".
The first issue with this Mr. Harris has is that the requirement does not come into force until 10 years after mining has started, which he states will be too late if there are any problems. The second issue is how the condition for water to be "treated to an appropriate level" will be enforced.
Mr. Harris said that in an email sent to him and to the Federal member for Dobell, Emma McBride, the General Manager of Wyong Coal Pty Limited, Peter Allonby, stated:
You regularly comment negatively on water from Wallarah 2 being put into the Central Coast drinking water supply. This idea is neither new or unique.
The email contained a link to a video that refers to the Clarence Colliery, which supplies water to Lithgow City Council's drinking water supply.
Mr. Harris stated;
'I did some research and, instead of allaying my fears, I have more concerns and I ask the new Minister to look carefully at this issue. The Environment Protection Authority [EPA] has conducted a five-year review of environmental protection licence No. 726 held by Clarence Colliery. The EPA report states that "Clarence Colliery LDP002 introduces a high volume, point source of pollution to the Upper Wollangambe River." The report's analysis details the pollution in the water system, stating:
… the discharge waters exhibited acute and chronic toxicity to the freshwater cladoceranCeriodaphnia dubia at a variety of dilutions. It also caused significant inhibitory effects on growth of the freshwater green alga …
It states that the water has potential to induce toxic effects and reproductive impairment in sensitive invertebrates et cetera. In effect, the EPA report says that the Government has put in place a condition while knowing that processes in the area are causing problems.
'I ask that the Premier, the Government and the Minister, if they really care about this issue, instead of coming up with conditions that cannot be enforced—and we know the EPA is taking Clarence Colliery to court over breaches of its licence—to consider conducting a referendum of people on the Central Coast to ask them whether they want recycled mining water, which cannot be proven to be non-toxic, put into their water supply.' Mr. Harris said.
His statement had not concluded when 'Time Expired' was sounded.
Those in power for decades knew they were creating a catastrophe, yet they have continued to approve the opening of coalmines, the building of more polluting toll roads and failed to show the leadership to move us beyond zero emissions. We simply do not have the luxury of ignoring the climate crisis any longer. We do not need to slow emissions; we need to stop them. This means we cannot burn more coal, drill for more gas and clear more forests. Those with the power to act have not listened. It is time to listen to the true leaders in our community. It is time to listen to the voices on the streets and the communities who are leading the fight, breaking the rules and forcing those in power to finally listen to the experts and act. It is time to follow the lead of the student climate strikers, the seed mob and the climate activists who occupied Federal Parliament. It is time to follow the lead of the Knitting Nannas and all of those who have taken non-violent, direct action to stand up for their local communities, for our humanity and for our planet.
To those who have engaged in civil disobedience and put climate crisis front and centre on the agenda I say join the extinction rebellion, because we can no longer wait for governments to act to address the serious climate change crisis that has emerged. To all of those people who have been shouting in the streets and standing there in protest, I hear you, and The Greens hear you, and we will continue to give you a voice in this place. Swedish teenager Greta Thunberg began walking out of school on Fridays and sparked a global movement. She said to the British Parliament:
'Around the year 2030, 10 years 252 days and 10 hours away from now, we will be in a position where we set off an irreversible chain reaction beyond human control, that will most likely lead to the end of our civilisation as we know it. That is unless in that time, permanent and unprecedented changes in all aspects of society have taken place, including a reduction of CO2 emissions by at least 50%. Just yesterday a United Nations biodiversity report said that one million species would be lost, many in the coming decade. Children and teenagers are not protesting and striking from school because they think it is fun; they are doing it because they need us to act so that they have a future. I appreciate that to many people this might sound extreme and scary, and like something that is better to ignore, but if we ignore the irreversible damage of climate change it will mean that we, as a species, will no longer be able to function as we can function now.'
To the Extinction Rebellion movement and the amazing, brave activists who are standing up and using non-violent direct action to disrupt our society to make the people in power listen, I say, "All power to you. Whether you are a student striker or a part of the Extinction Rebellion, I will be in this place, standing up for you, putting your voice in this Chamber and making sure that we say that it is time to face our fears, time to rebel and time to take the action we need to take on climate change." To all of those members who think that it is fun to support coal mines but take a selfie with a student striker, I urge you to heed the words of Greta:
'We children have not taken to the streets for you to take selfies with us, and tell us that you really admire what we do. We are doing this to wake the adults up. We children are doing this for you to put your differences aside and start acting as you would in a crisis.'
NSW Parliament: Party Representation
Party Repr​esen​tation in the Assembly
​Australian Labor Party 36
Liberal Party of Australia 35
The Nationals 13
​The Greens ​ 3
​Shooters, Fishers and Farmers Party 3
Independents 3
Party Repr​esen​tation in the Council
​Party
​ # Members
​% Members
​Animal Justice Party
​ 2
​ 5%
​Australian Labor Party*
​ 14
​ 33%
​Christian Democratic Party
​ 1
​ 2%
​Coalition (Liberal/Nationals)**
​ 17
​ 40%
​Pauline Hanson's One Nation
​ 2
​ 5%
​Shooters, Fishers and Farmers Party
​ 2
​ 5%
* Includes one vacant seat due to the resignation of Ms Lynda Voltz of the Australian Labor Party on 28 February 2019.
** Includes one vacant seat due to the resignation of Mr Ben Franklin of The Nationals on 1 March 2019.
State Of The NSW Environment 2018 Report Released
The 2018 report looks at 21 environmental topics across six broad themes covering Drivers, Human Settlement, Climate and Air, Land, Biodiversity and Water and Marine. The report shows population growth and human activity have influenced air and water quality, ecosystems and threatened species.
Key findings in this SoE Report include:
Air quality is generally good, drinking water quality has been maintained at a high quality and the recreational water quality of our beaches continues to be good.
The overall rate of greenhouse gas emissions has fallen 18.5% since 2005.
Electricity generation from renewable resources has more than doubled from 6% in 2007 to 16% in 2017 and growth has accelerated rapidly over the past three years
The NSW economy is predominantly services based and there is evidence that economic growth is 'decoupling' from the use of environmental resources.
The NSW Government's $802.5 million Waste Less, Recycle More program has continued to be effective in managing waste, with littering down and new recycling facilities opening for problem wastes.
About 9.5% of NSW is conserved in the public reserve system. Although

the rate of new reservations has slowed,

with around 32,000 ha being added to reserves since 2015, there is a greater focus on off-reserve conservation.
Many of the challenges reported in previous SoE reports remain in the 2018 report findings. These include:
The growing population of NSW continues to exert pressure on the environment. Innovative ways to use our natural resources more sustainably and to protect fragile ecosystems must continue to be found.

The effects of climate change are already evident but these will become broader and intensify in the future.

The number of species listed as threatened in NSW continues to rise. These species are at the greatest risk from threats including vegetation clearing,

the spread of invasive species and the mounting impacts of climate change.
NSW is still heavily dependent on non-renewable sources of energy such as coal for power generation. Transport has become the largest (and fastest growing) sector for energy use.

The condition of most native vegetation is deteriorating.

Our love of the coast continues to put pressure on the condition of coastal estuaries and lakes.
The NSW Environment Protection Authority (EPA) today released the State of the Environment 2018 report which is available for the first time on a purpose-built interactive website that will have the ability for data to be updated on a regular basis.
EPA Acting Chair and CEO Mark Gifford said the State of the Environment 2018, produced by the EPA working with other government agencies, helped to inform decision makers and the community about essential elements of our environment, including our land, water, air and ecosystems, and our urban environment.
"There have been a number of key environmental improvements across NSW in the 25 years since the first State of the Environment report was handed down in 1993," Mr Gifford said.
"The report highlights areas where government, community and industry efforts are leading to benefits, with less household and industry waste going to landfill, a significant decrease in litter, good air quality, and renewable energy generation rising rapidly.
"The report also shows that the NSW economy is shifting to be less resource-intensive and more services-based, which has reduced environmental impacts. This shows that economic growth and a better environment can be mutual goals."
Electricity generation has seen a strong increase in the use of renewable, low emissions sources, from 11% in 2014 to 16% in 2017. Over the three years to June 2016, total NSW and ACT energy consumption declined by almost 6%.
Mr Gifford said the report showed that population growth continued to be a key driver of changes to the environment.
"By 2036 the population of NSW is expected to grow to 9.9 million people with the majority of this growth expected to be in Sydney. This growth brings challenges for our environment and resource use.
"Climate change continues to pose a significant threat. Counteracting these effects requires collaborative action at a state, national and global level to reduce greenhouse gas emissions and build the resilience of the environment for the future."
The transport sector (road, rail, maritime and air) is one of the major contributors to greenhouse gas emissions.
In 2015–16, transport was responsible for almost 21% of greenhouse gas emissions in NSW.
Mr Gifford said by producing the State of the Environment report, the government and the community can monitor environmental indicators and can track progress.
"Having the report released every three years means all agencies can continue to work together on environmental improvements now and into the future."
__________________________________________
Extracts From
State Of The Environment 2018 Report
In the three years to December 2017 the number of listings of threatened species increased by 26, or 3%, to 1,025. There are also 57 populations and 112 ecological communities listed as threatened.
A total of 46 key threatening processes have been listed as causing these threats – 38 mainly terrestrial threats and 8 aquatic threats.
The main threats to listed species in NSW are habitat loss due to the clearing and degradation of native vegetation and the spread of invasive pests and weeds. The capacity of species to adapt to these pressures is further constrained by climate change.
Over the past three years, an additional 26 species (+3%) have been listed under the BC and FM Acts, including 22 mainly land-based species (+2%) under the BC Act and four aquatic species (+11%) under the FM Act.
Table 11.1 shows the number of listings by threat listing category and by plant or animal group.
The groups at greatest risk of extinction are:
land-based mammal species (60% of all species are threatened)

amphibian species (35% are threatened)

birds (31% are threatened).
The 3% increase in threatened species over the three years to the end of 2017 represents a slight increase in the rate of species listings compared to the previous reporting cycle, but this may not reflect an actual change in the outcomes for species.
Since 2015, the overall number of species listed as presumed extinct has increased by one, to 77, despite the rediscovery of one plant species previously presumed extinct.
Other changes in the numbers of listings for the period 2014–2017 are:
the proportion of endangered or critically endangered species increased by 1% from 51% in 2015 to 52% in 2017
the number of threatened ecological communities increased by four to 112
three more endangered populations were listed, bringing the total to 57 (Table 11.1b).
Mammal range contractions: 64% of native mammals have experienced long term declines in range
The main measures to address the decline in biodiversity are conservation of native species in the public reserve system, the Biodiversity Conservation Trust which funds landowners to manage, protect and conserve biodiversity on private land and through biodiversity offsets, and the Saving our Species program which aims to secure as many threatened species in the wild as possible.
Populations of woodland birds have declined the most (MacNally et al. 2009; Paton & O'Connor 2010), due to the extensive clearing of woodlands described in the Native Vegetation topic and the decline in habitat condition due to the Millennium Drought.
Threatened Species Index for Australian birds
A collaborative project led by the University of Queensland and Birds Australia is developing a framework for a Threatened Species Index for Australia, based on the Living Planet Index method (Collen et al. 2009). A publically accessible web visualisation app was launched in November 2009 enabling interrogation of the index and data downloads. Indexes for other groups are expected to follow.
To develop the Threatened Bird Index for Australia, an aggregated database was compiled with contributions from more than 130 data government and non-government agencies and citizen science groups. Bird species were grouped into four functional groups depending on the habitats they prefer in order to relate trends to the threats in those habitats:
marine
shoreline
terrestrial
wetland.
An initial index was calculated for NSW on data for 16 species of threatened and near threatened birds. The year 1985 was chosen as the baseline for this index with the value set to one in that year, but the app allows other baselines to be set. T
he trend for NSW was a decrease in the index value of 78%
compared to the 1985 baseline.
WildCount uses photo-trap images captured on remotely deployed cameras to monitor species distribution and occupancy patterns of commonly occurring land-based animals in national parks and reserves. The program is monitoring species trends over 10 years from 2012–2022. Monitoring occurs at 200 sites located within the reserve system across eastern NSW.
The models indicate that two species are likely to be declining - the long-nosed bandicoot and the rabbit; and five species are likely to be increasing -the mountain brushtail possum, satin bowerbird, spotted quail-thrush, wonga pigeon, and feral pig (Table 12.1). No trend was identified in the other 32 species monitored. Longer term data across the full 10 years of the program will be needed to confirm the patterns detected in the data to this point.
Ten of the 29 native freshwater fish species found in the NSW portion of the Murray-Darling Basin (MDB) are listed as threatened with extinction under the Fisheries Management Act 1994 (FM Act). The status of native freshwater fish communities in NSW has been monitored on an ongoing basis for over 20 years.
Data are collected on:
nativeness (the proportion of native versus introduced fish)
expectedness (the presence of native fish species compared to historic distributions)
the recruitment of juvenile fish.
This monitoring provides what is probably the most complete picture of the distribution and abundance of any group of native species in NSW, as well as insight into the factors that are driving changes in the populations of native fish species (Riches et al. 2016).
The status of NSW fish communities in 2015 is displayed online for all NSW river basins. Over the past three years data on fish communities were collected from about 800 locations in the MDB and coastal rivers in northern NSW. No new data is available for the remaining coastal rivers over the past three years. The methods for sampling and analysis remain consistent with previous reporting and are described in Muschal et al. 2010; MDBA 2017.
The latest results indicate that the overall condition of native freshwater fish communities has improved within most river valleys of the Murray-Darling Basin, with eight valleys improving, two declining and five valleys remaining the same. Of the 15 MDB catchment valleys, only the Paroo was rated as being in 'good' condition, with the Lower Murray and Darling Rivers being in 'moderate' condition. Despite the overall improvement,
80% of valleys in the MDB are still in a 'poor' or worse condition.
The
overall rating for expectedness improved from 'very poor' (index value of 33) to 'poor'
(46). The proportion of native to non-native fish also improved from 'very poor' (index value of 38) to 'poor' (55).
These changes represent a return to a slightly better condition than was observed prior to the increase in numbers of common carp following extensive rains in 2010–11. Native fish recruitment was stable, with average index scores of 42 and 44. (For further detail see the River Health topic).
Introduced fish species compete for food and space with native fish and frogs. Over the past three years the surveys found:
only 13% of the sites sampled (mainly coastal rivers) were free from introduced fish
4% contained only introduced fish.
Averaged across all sites, introduced species made up:
36% of all the fish species collected
37% of total fish numbers
58% of total fish biomass (DPI data 2015–17).
It should be noted that most of the sites sampled were within the Murray-Darling Basin, which has much lower 'nativeness' than coastal rivers. (For further detail see the Invasive Species topic).
Water and marine: Coastal, Estuarine and Marine Ecosystems
Saltmarsh in estuaries - 17% of estuaries have shown a decrease in areas of saltmash since 1985
45 marine species are listed as threatened under NSW legislation
84% of monitored swimming sites scored very good or good for recreational water quality in 2016–17
Seagrasses are found mainly in shallow waters of protected estuaries and bays. Dominant species are Posidonia australis (strapweed) and Zostera muelleri ssp. capricorni (eelgrass).
Populations of Posidonia australis are listed as endangered in six NSW estuaries due to recent population declines
(Fisheries Management Act 1994). Posidonia australis in the Manning-Hawkesbury bioregion is also listed as an endangered ecological community (EPBC Act).
Abundance of smaller species of seagrass (Zostera, Ruppia, Halophila) can fluctuate greatly over time due to variation in salinity in estuaries with large catchments and other reasons. It is often not possible to attribute declines in total seagrass area to human activities (BMT WBM 2017).
Seagrass is in 84% of mapped estuaries in the central region. The largest areas of seagrass are in Tuggerah Lake, Lake Macquarie, Lake Illawarra, Brisbane Waters and Botany Bay. Only Lake Macquarie has been re-mapped over the last 10 years, with areas of Posidonia remaining relatively stable from 2009–2013, while total seagrass area declined by 336 hectares (22% loss), due primarily to losses in Zostera. In the mid-2000s, an entire Zostera meadow 6.5 hectares in size, which had been present since at least 1978 (West & Williams, 2008), was lost from Rose Bay in Port Jackson, and there are still no signs of recovery.
Forty-five marine species or populations are currently listed as threatened (up from 41 reported in 2015)
in the Fisheries Management Act 1994 (FM Act) and the Biodiversity Conservation Act 2016 (BC Act). These include:
21 marine seabird species (there are also 16 other marine birds including shorebirds, waders, eagles and hawks

)
seven marine mammal species
seven fish species
three reptile species
four marine invertebrate species
two macroalgae species
one marine vegetation species.
Little is known of the status of many marine organisms, particularly invertebrates. The number of species listed will probably grow as pressures on the marine environment increase. Species such as sharks, tuna and whales remain the most vulnerable to threats.
Poorly located or inappropriate coastal development is threatening the viability of fauna populations including threatened species.
For example, studies have found adverse impacts from artificial lighting, including street lighting, on turtle hatchings and breeding patterns (Truscott et al 2017) and
a reduction in migratory seabird and shorebird habitat due to foreshore hardening and disturbance from recreational activity
(Umwelt 2017, DEC 2006).
Landmark Rocky Hill Judgement Stands
Despite issuing our client Groundswell Gloucester with a Notice of Intention to Appeal the Rocky Hill judgment, the proponent of the proposed mine, Gloucester Resources Limited today announced it would not file an appeal.
This means the ground-breaking judgment stands.
The judgment (delivered on 8 February by the Chief Judge of the Land and Environment Court, Justice Brian Preston SC) refused approval of a new open cut coal mine to be built just outside Gloucester in the Upper Hunter Valley.
It was the first time an Australian court had refused consent for a coal mine on the basis of its climate change impacts and marked a giant leap forward in terms of consideration of impacts on communities and on cultural heritage. The reverberations of this decision continue to be felt across Australia and internationally.
David Morris, EDO NSW CEO, welcomed this final conclusion to a long process.
"It's been a long, arduous – but ultimately successful – road. It's a sweet moment for our client and a huge win for the lawyers who have toiled long and hard on their behalf. The judgement is a game changer – both for what it says about climate change and also social and cultural heritage impacts. There's no longer any doubt hanging over the legality of that decision. The focus must now shift to the Government's response, which should be to codify the reasoning adopted by Chief Judge Preston, providing certainty to industry and other communities like the one in Gloucester"
Julie Lyford, chairperson of Groundswell Gloucester, said
"The community of Gloucester and most importantly the affected residents are absolutely delighted that they can now get on with their lives. The uncertainty and anxious waiting is over. The decade-long fight to protect our homes, families and the beautiful Gloucester valley has been arduous and distressing. The community can now move forward with progressive and sustainable industry. Indeed, since the news in early 2016 regarding AGL not proceeding with their 330-well gas field, then the refusal of the Rocky Hill coal mine, house prices have risen and housing stock as well as new builds are in hot demand. Tourism this Easter weekend was very strong. Service industries and light industrial business continue to grow.
"Gloucester has always been a desirable destination to visit, live and grow the economy. With climate change threatening the planet, we owe it to this and future generations to step away from fossil fuel, embrace renewables and work towards just transitions"
The Rocky Hill judgment was never radical; it builds on existing case law around ecologically sustainable development and incorporates the science of the 'carbon budget' – the logical (and vital) next step for this area of law.
Leading law firms have published their analysis of the judgment and agree it is a game-changer, which should require mining companies and decision-makers to carefully consider the effects of fossil fuel developments on global climate change.
Scientists agree that failing to limit global warming will have catastrophic impacts. Australia must also be ready to manage climate risks, protect assets, lives and livelihoods and plan for a rapid and just transition away from fossil fuel production and use consistent with the latest Intergovernmental Panel on Climate Change (IPCC) advice.
In April, EDO NSW published Climate-ready planning laws for NSW: Rocky Hill and beyond, a report demonstrating how we can make NSW planning laws climate-change ready and ensure that planners, developers and decision makers have the guidance needed to ensure we play our part in reducing emissions and limiting warming to 1.5°C.
David Morris said: "The NSW Government should be providing clear guidance to industry, decision makers, and other communities like Gloucester by codifying the findings of the Rocky Hill decision regarding the proper assessment of major fossil fuel projects."
Further information on the case:
Grevillea Caleyi Bushcare May 2019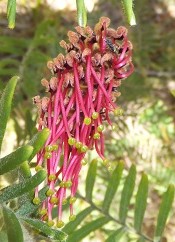 Next volunteer bushcare day will be on
Monday the 27th of May, 2019.
Meet at the picnic shelter at 8.30 am
New volunteers welcome - training will be provided
Wear long trousers, a long sleeved shirt and boots or closed in shoes
The session will be cancelled in the event of rain. For more information contact David Palmer on 0404 171 940.
Please join our Bush regeneration morning at the Baha'i Temple, 173 Mona Vale Road Ingleside.
Based on our past success PNHA has been given a new round of funding to continue work on conserving the threatened Grevillea caleyi - so we look forward to your support.
Morning Tea provided.
Pittwater Natural Heritage Association
Southern Highlands Community Welcomes Cockatoo Experts For The Big Glossy Weekender
This weekend (11-12 May), the Glossies in the Mist project is hosting a series of information and training sessions for interested landholders, community members and cockatoo enthusiasts.
The Glossies in the Mist project is run by the NSW Government's Saving our Species program and aims to secure the future of the vulnerable glossy black-cockatoo.
"This project is working closely with landholders in the Great Western Wildlife Corridor between Bullio and Bungonia, where we know there are important nest trees and food sources for the glossy black-cockatoo," said Lauren Hook, threatened species officer and Glossies in the Mist project coordinator.
The Great Western Wildlife Corridor is an important landscape connection for the glossy black-cockatoo and the only vegetated habitat corridor between the Southern Blue Mountains and Morton National Park.
Across several community hall locations this weekend, glossy black-cockatoo experts from around Australia will host information sessions for local landholders and community members.
Ms Hook said how encouraging it was to already have so many willing contributors, community members and landholders who have taken to the project.
"Private landholders are having the greatest impact by reporting sightings and conserving she-oak feed trees on their properties.
"Their willingness to assist in helping us understand whether these glossies have enough food and breeding resources in the corridor is making a significant contribution to this project.
"The Big Glossy Weekender is about congratulating and encouraging landholders to continue their great citizen science efforts by reporting cockatoo sightings, breeding behaviour and habitat features on their properties."
Since commencing in 2017, the Glossies in the Mist project has distributed over 12,000 she-oak feed trees to more than 400 private properties within the corridor, between Bullio and Bungonia.
All community members, cockatoo enthusiasts and landholders are welcome to attend any of the free information and training sessions happening throughout the Great Western Wildlife Corridor this weekend and are encouraged to register using the Eventbrite page:
Big Glossy Weekender
Glossy black cockatoos, calyptorhynchus lathami - photo John Spencer/OEH
Sydney Wildlife Carers Course May 2019
Scratchum the Brushtail possum was found in the middle of the day sitting in a puddle outside a petrol station on King st, Newtown.
A lovely person spotted her, scooped her up, kept her warm in their jacket and walked to the vet.
The little one was very dehydrated and cold.
If still in the wild she would be in her mum's pouch and riding on her back at night. We aren't sure how they were separated.
One of our volunteers soon picked Scratchum up and has been caring for her ever since.
Scratchum is doing very well, she loves her marsupial formula and has started eating solids. In a few months Scratchum will be ready for release!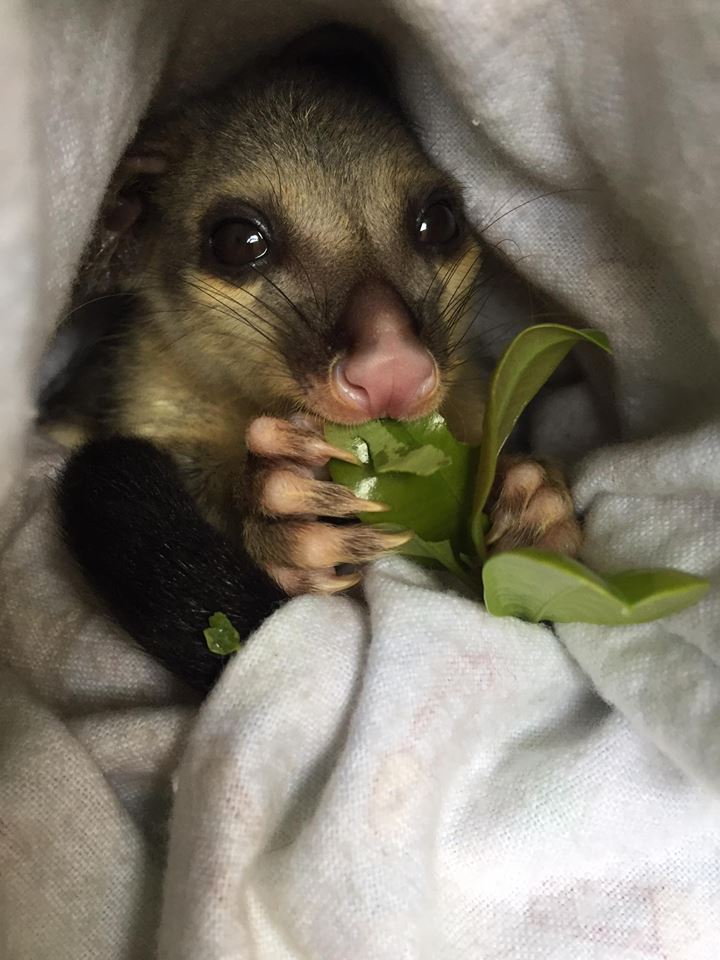 Organics Collections Grants Now Open
Applications are now open for Round 7 of the Organics Collections grants.
This eight-year, $27 million program funds new or improved local council household kerbside collection services for food and garden organics, including collection systems for garden only, food waste, or a combination of both.
Grants of up to $1.3 million are available for bins, kitchen caddies and education for councils (or groups of councils) to introduce new food and garden waste collection services. Funding is also available for trials and system roll outs for source separated organics collections in multi-unit dwellings.
Businesses and councils with projects that involve collection of food waste from businesses are also eligible for funding, with up to $500,000 available for 50% of the cost of collection vehicles, bins and expert advice.
Applications close at 3pm on 27 June 2019.
New Discovery Could Alleviate Salty Soil Symptoms In Food Crops
May 7th, 2019: Western Sydney University
New research published in
Nature Scientific Reports
has found that a hormone produced by plants under stress can be applied to crops to alleviate the damage caused by salty soils. The team of researchers from Western Sydney University and the University of Queensland identified a naturally-occurring chemical in plants that reduces the symptoms of salt stress in plants when applied to soil, enabling the test plants to increase their growth by up to 32 times compared with untreated plants.
Salinity is a huge issue across the world, affecting more than 220 million hectares of the world's irrigated farming and food-producing land. Salinity occurs when salty irrigation water is repeatedly applied to crops, leading to progressively increasing levels of salt in the soil which reduces crop yields, increases susceptibility to drought and damages soil microbiology. Scientists have long tried to find ways to breed salt-tolerance or develop methods that remove salt, and this new research is promising in its potential ability to reduce the damage in crop plants that results from salt.
"We identified a compound called ACC that occurs naturally in plants when they become stressed by drought, heat or salty conditions," said Dr Hongwei Liu, Postdoctoral Fellow in Soil Biology and Genomics at the Hawkesbury Institute for the Environment at Western Sydney University.
By applying ACC to crops planted into salty soils, it created conditions that prevented the formation of the compounds that cause plant damage under salty conditions and increased beneficial soil enzyme and microbial activity. These effects enabled the plants to cope with the salt and increased the growth of lettuce plants by nearly five times and model plants by over 30 times.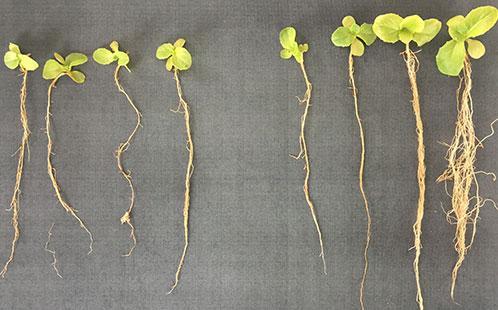 Left to right: progressively adding more ACC reduces the losses in size and vigour caused by salty soils and enables the plants of crops like lettuces to reach their potential.
"There is very significant potential for this compound in enabling us to manage crop production in otherwise-unusable soils," said Professor Peer Schenk School of Agriculture and Food sciences at the University of Queensland.
"Growers have traditionally used a range of long-term and slow-acting materials such as gypsum, manures, tillage and other methods to reduce the exposure of plants to the salts in soils but these are costly, frequently ineffective and work to limited benefits over years or decades", he said.
One of the major benefits of ACC is that it is naturally produced by plant roots and therefore contributes to long-term soil health, plant-microbe relationships and carbon storage.
The Secrets Of Secretion: Isolating Eucalyptus Genes For Oils, Biofuel
May 8th, 2019: Michigan Technological University
Carsten Külheim, associate professor in Michigan Technological University's School of Forest Resources and Environmental Science, has spent the past 10 years of his career studying eucalyptus. They are diverse, fast-growing species that includes scrubby bushes and 300-foot-tall flowering trees -- mostly indigenous to Australia, but also New Guinea and Indonesia.
In particular, Külheim studies terpenes, organic compounds found in the plant's leaves. Terpenes enable certain species (mostly plants, but also some insects) that produce them to give off strong odors that deter pests or attract pollinators. For example, hops, a primary ingredient in beer, contain terpenes, which gives the hops their piney smell. Certain varieties of eucalyptus and tea tree produce great quantities of just the right terpenes, which can be used for essential oils or biofuel distillation.
It is said that Australia's Blue Mountains take their name from the smog-like mist eucalyptus trees emit, particularly on hot days; this mist is composed of terpenes vaporising in the heat. Külheim and his fellow researchers want to know what, at the genetic level, causes production of about 50 different terpenes so they can crank it up to use the oil as a renewable fuel.
In the article "High marker density GWAS provides novel insights into the genomic architecture of terpene oil yield in Eucalyptus" in the journal New Phytologist, Külheim and his coauthors investigate the genetic basis of variation in oil yield in blue mallee, a eucalyptus native to Australia. This will allow for a faster and more efficient domestication, making the production of renewable fuels from eucalypt plantations more feasible.
One reason for the interest in eucalyptus oil is because bioethanol (typically made from corn) and biodiesel (typically made with vegetable and soybean oils) do not have sufficient energy density to be useful for the aviation industry. Eucalyptus oil, however, can be converted into high-energy biofuel that can be used for jet fuel and even tactical missile fuel (JP-10).
However, many eucalypts currently have not been domesticated and vary greatly in their oil yield. Using genome-wide association studies (GWAS), Külheim has identified the genes that produce the components of eucalyptus oil that may be used for jet fuel, and the aspects that may be used for the production of biodiesel.
"This enables us to select for trees that mostly produce useful oil components for our purposes; we can use biotechnology to remove the genes for unwanted components or enhance the desired ones," Külheim said. "We hope to provide eucalyptus farmers with genetic marker information to select trees at an earlier stage in their growth for higher terpene production. By choosing to cultivate new trees from power terpene producers, farmers are able to create new generations of the plants that naturally produce more oils."
But
beyond the promise of eucalyptus oil for biofuels
and the beauty and wellness industries, the species could also prove an excellent cash crop for farmers in arid regions. The trees grow well in hot, dry regions, don't need to be irrigated, and thus do not compete with food production on arable land.
David Kainer, Amanda Padovan, Joerg Degenhardt, Sandra Krause, Prodyut Mondal, William J. Foley, Carsten Külheim.
High marker density GWAS provides novel insights into the genomic architecture of terpene oil yield in Eucalyptus.
New Phytologist, 2019; DOI:
10.1111/nph.15887
Michigan Technological University is a public research university, home to more than 7,000 students from 54 countries. Founded in 1885, the University offers more than 120 undergraduate and graduate degree programs in science and technology, engineering, forestry, business and economics, health professions, humanities, mathematics, and social sciences. Our campus in Michigan's Upper Peninsula overlooks the Keweenaw Waterway and is just a few miles from Lake Superior.
Australian Research Council DP140101755, Rural Industries Research Development Corporation Australia, Center for BioEnergy Innovation (Office of Biological and Environmental Research in the Department of Energy Office of Science), Australian National Computational Infrastructure.
Oldest Known Trees In Eastern North America Documented
May 9th, 2019: University of Arkansas
A recently documented stand of bald cypress trees in North Carolina, including one tree at least 2,624 years old, are the oldest known living trees in eastern North America and the oldest known wetland tree species in the world.
David Stahle, Distinguished Professor of geosciences, along with colleagues from the university's Ancient Bald Cypress Consortium and other conservation groups, discovered the trees in 2017 in a forested wetland preserve along the Black River south of Raleigh, North Carolina. Stahle documented the age of the trees using dendrochronology, the study of tree rings, and radio carbon dating. His findings were published May 9th in the journal Environmental Research Communications.
The ancient trees are part of an intact ecosystem that spans most of the 65-mile length of the Black River. In addition to their age, the trees are a scientifically valuable means of reconstructing ancient climate conditions. The oldest trees in the preserve extend the paleoclimate record in the southeast United States by 900 years, and show evidence of droughts and flooding during colonial and pre-colonial times that exceed any measured in modern times.
"It is exceedingly unusual to see an old-growth stand of trees along the whole length of a river like this," Stahle said. "Bald cypress are valuable for timber and they have been heavily logged. Way less than 1 percent of the original virgin bald cypress forests have survived."
Stahle has been working in the area since 1985, and catalogued bald cypress trees as old as 1,700 years in a 1988 study published in the journal
Science
.
His work helped preserve the area, 16,000 acres of which have since been purchased by The Nature Conservancy, a private land-conservation group that keeps most of its holdings open to the public.
"Dr. Stahle's original work on the Black River, which showed trees dating from Roman times, inspired us to begin conservation on the Black more than two decades ago," said Katherine Skinner, executive director of The North Carolina Chapter of The Nature Conservancy. "This ancient forest gives us an idea of what much of North Carolina's coastal plain looked like millennia ago. It is a source of inspiration and an important ecosystem. Without Dr. Stahle, it would have gone unprotected and likely destroyed."
For the newest study, researchers used non-destructive core samples from 110 trees found in a section of the wetland forest they had not previously visited. "The area of old growth bald cypress was 10 times larger than I realised," Stahle said. "We think there are older trees out there still."
D W Stahle, J R Edmondson, I M Howard, C R Robbins, R D Griffin, A Carl, C B Hall, D K Stahle, M C A Torbenson.
Longevity, climate sensitivity, and conservation status of wetland trees at Black River, North Carolina.
Environmental Research Communications, 2019; 1 (4): 041002 DOI:
10.1088/2515-7620/ab0c4a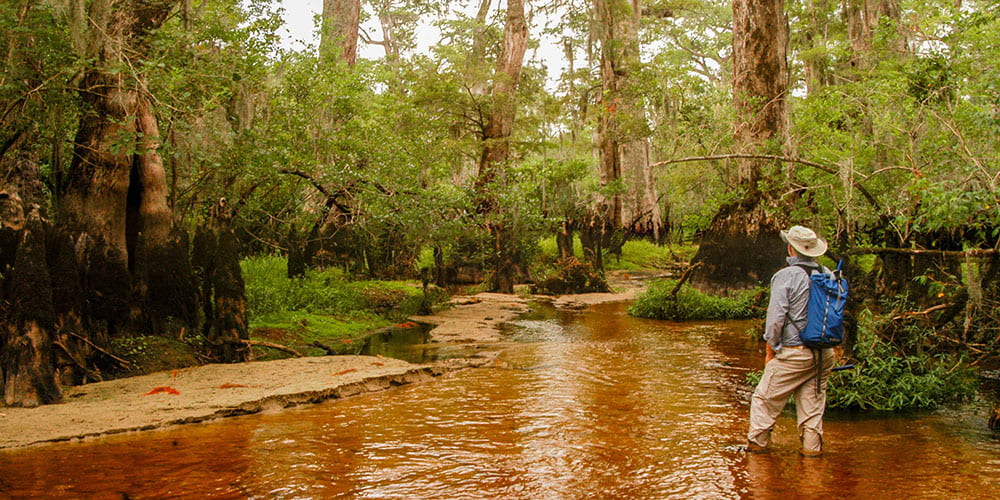 David Stahle in North Carolina's Black River. Photo by Dan Griffin.
A Blind Teenager's Vision For Change That Made Australian History | Connor McLeod | TEDxYouth At Sydney 2019
TEDx Talks: Published on 7 May 2019
Blind from birth, Connor McLeod relentlessly lobbied the Reserve Bank of Australia to print tactile banknotes. Connor's idea arose after he was given money for Christmas, but could not tell the amount in his hand. In this incredible talk, 17 year old Connor explains how it happened. Now 17 year old Connor McLeod started campaigning for tactile banknotes when he was 12 years old. The teenager – who has represented his school at state level athletics, rides a push bike, abseils, rock climbs, swims, and plays the drums and keyboard – started a petition. Garnering the support of 57,000 people, as well as the Human Rights Commission and Vision Australia, Connor lobbied the then-treasurer Joe Hockey and filled a human rights complaint against the government.
He refused to take no for an answer, even going to Canberra with his mum to deliver his petition to the government. It worked, and in September 2016 the first tactile $5 note was launched. With a steely resolve, the power of an online army behind him, and a willingness to share his story to help others, Connor has improved the day-to-day lives of 357,000 Australians living with vision impairments. This talk was given at a TEDx event using the TED conference format but independently organised by a local community. Learn more at
https://www.ted.com/tedx
How This 16-Year-Old Turned Ideas Into Global Solutions | Angelina Arora | TEDxYouth At Sydney 2019
TEDx Talks:

Published on 7 May 2019
In this illuminating talk, Angelina Arora, a 16-year-old innovator, describes the importance of asking questions and how to bounce back from failure, all through the lens of her two new solutions to global problems.
Angelina Arora is the creator of a new toxin-free plastic, made completely out of waste, that decomposes 1.5 million times faster than conventional plastics. She now continues to develop her plastic for medical applications and investigate new ways of how cancer could be metastasising. For her research, Angelina has received multiple scholarships to international universities and was the grand award winner at the prestigious International Science Fair.
Not only confining her time to scientific pursuits, Angelina conducts charity work nationally and internationally. As a result, she was acknowledged for leadership in social justice by the Hon Dame Marie Bashir Peace Prize, was named Young Citizen of the Year 2019, Channel 7's Young Achiever of the Year Award Winner, Green Globe Winner and was the nominee for Young Australian of the Year. Using her profile and voice, Angelina now empowers young people to follow their passions as she believes her generation is the one that will make a difference. This talk was given at a TEDx event using the TED conference format but independently organised by a local community. Learn more at
https://www.ted.com/tedx
How Youth-Led Movements Are Changing The World | Jean Hinchliffe | TEDxYouth At Sydney 2019
TEDx Talks: Published on 9 May 2019
Ally McLean delves into the pressures of the games industry and offers some practical solutions for avoiding burnout. Jean Hinchliffe is a 15-year-old school student and climate activist. As a lead organiser within School Strike 4 Climate, she campaigns for legislative action against the sourcing and usage of fossil fuels, along with pushing for Australia to become fully carbon neutral.
She has been passionate about a great deal of social, political, and environmental issues for many years, however first initiated her activism at the age of thirteen through volunteering with the Vote Yes campaign for marriage equality. Since then, she has continuously volunteered with organisations such as GetUp and Stop Adani. Through her involvement in the climate strikes, she has appeared on The Project and The Feed, and been represented widely through Australian media.
When she isn't trying to save the world, Jean works as a professional actress and has recently wrapped her first television series. This talk was given at a TEDx event using the TED conference format but independently organised by a local community. Learn
Premier's Sporting Challenge Kicks Off
Students and staff will step up to the 10-week challenge, as the Premier's Sporting Challenge enters its 12th year.
As play gets underway on the Premier's Sporting Challenge for another year, staff are being encouraged to join students in the statewide fitness challenge.
This year #TeamDizdar – led by Deputy Secretary, School Operations and Performance, Murat Dizdar – will face off against another 19 teams in the 10-week staff challenge.
"The challenge is a great way to work together to improve our wellbeing so I urge my colleagues to join a team," Mr Dizdar said.
Reigning team champion Secretary Mark Scott encouraged students and staff to "put your best foot forward, many, many times".
"To me, a great place to work includes the opportunity to have a little fun, do something that benefits my health and also allows me to promote that to others," he said.
"I look forward to the challenge ahead and seeing you all pacing around the place."
More than 400,000 students and 10,000 staff took part in the 2018 challenge, the largest uptake in the history of the challenge.
The NSW Premier's Sporting Challenge is an annual program which encourages department students and staff to be physically active during the colder months of the year.
The program aims to support participation in physical activity, and promote health and wellbeing.
Employees across the department will be involved, with 20 teams captained by senior departmental leaders.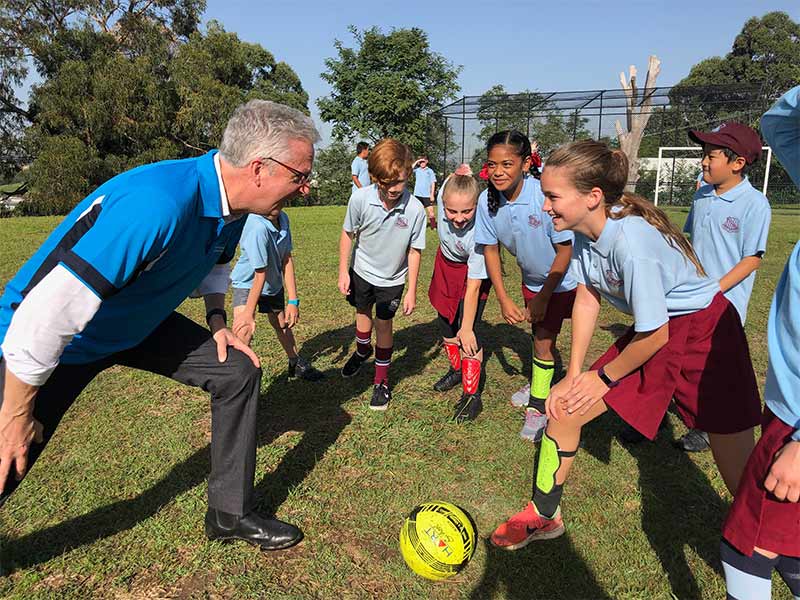 Play ball: Secretary Mark Scott takes on Rydalmere East Public School students in a game of soccer.
Windcraft Pittwater Owners Rally 2019
By TeamWindcraft: Published on 10 Apr 2019
Help At Hand For Children With Allergies
Wednesday May 7th, 2019: The Hon. Brad Hazzard, NSW Minister for Health
Thousands of families will get faster access to allergy testing and management under a NSW Liberals & Nationals Government with the largest investment in allergy nurses the State has ever seen.
Health Minister Brad Hazzard said the specialist nurses will work at hospitals across the State, as part of a $4.6 million funding package over four years to provide better access to allergy management.
"Allergy has a significant impact on children's development, mental health and quality of life, as well as having an effect on their families," Mr Hazzard said.
"The number of families seeking testing for childhood food allergies such as to nuts and eggs is increasing and these extra specialist nurses will give them the answers and support faster."
Along with the new nurses, $600,000 will be invested to refurbish outpatient paediatric allergy clinics across the State to accommodate additional patients and make the experience more comfortable for children and their families.
NSW has one of the highest allergy rates in the world, with about 5000 children seen at Sydney Children's Hospital Network for allergy and immunology services last year.
Maria Said, the CEO of Allergy & Anaphylaxis Australia, said food allergies affected one in 10 infants and, as there was no cure, early access to appropriate services was vital.
"Many children will grow out of an allergy, but for some, the condition will be life-long and the faster parents can identify it and begin managing it, the better."
Initiatives under the $4.6 million package will include:
Recruitment of an additional eight specialist nursing staff for public allergy clinics, with six of those positions ongoing;
Expansion of allergy and immunology services in Local Health Districts with additional education and training;
More food and drug challenge appointments.
2019 Jan - Pittwater: Morning Bay Wharf
By funkylovetank: Published on 28 Jan 2019
'Impossible' Research Produces 400-Year El Niño Record, Revealing Startling Changes
May 6th, 2019: University of New South Wales
Melbourne: Australian scientists have developed an innovative method using cores drilled from coral to produce a world first 400-year long seasonal record of El Niño events, a record that many in the field had described as impossible to extract.
The record published today in Nature Geoscience detects different types of El Niño and shows the nature of El Niño events has changed in recent decades.
This understanding of El Niño events is vital because they produce extreme weather across the globe with particularly profound effects on precipitation and temperature extremes in Australia, South East Asia and the Americas.
The 400-year record revealed a clear change in El Niño types, with an increase of Central Pacific El Niño activity in the late 20th Century and suggested future changes to the strength of Eastern Pacific El Niños.
"We are seeing more El Niños forming in the central Pacific Ocean in recent decades, which is unusual across the past 400 years," said lead author Dr Mandy Freund.
"There are even some early hints that the much stronger Eastern Pacific El Niños, like those that occurred in 1997/98 and 2015/16 may be growing in intensity."
This extraordinary result was teased out of information about past climate from coral cores spanning the Pacific Ocean, as part of Dr Freund's PhD research at the University of Melbourne and the Centre of Excellence for Climate Extremes. It was made possible because coral cores -- like tree rings -- have centuries-long growth patterns and contain isotopes that can tell us a lot about the climate of the past. However, until now, they had not been used to detect the different types of El Niño events.
This meant El Niño researchers were constrained by what they could say about El Niño behaviour because the instrumental record was too short and it was hard to judge whether recent decadal changes were exceptional.
"By understanding the past, we are better equipped to understand the future, especially in the context of climate change," said Dr Freund.
"Prior to this research, we did not know how frequently different types of El Niño occurred in past centuries. Now we do," said co-author from the Centre of Excellence for Climate Extremes Dr Ben Henley.
The key to unlocking the El Niño record was the understanding that coral records contained enough information to identify seasonal changes in the tropical Pacific Ocean. However, using coral records to reconstruct El Niño history at a seasonal timescale had never been done before and many people working in the field considered it impossible.
It was only after Dr Freund took her innovative approach to a team of climate scientists and coral experts: Dr Ben Henley, Prof David Karoly, Assoc Prof Helen Mcgregor, Assoc Prof Nerilie Abram, and Dr Dietmar Dommenget that they were able to proceed with the idea.
While the approach was considered challenging, leading Australian experts on past corals, Dr Mcgregor and Assoc Prof Abram, said that, while the approach might be unconventional, it was worth a shot.
After carefully refining the technique to reconstruct the signature of El Niño in space and time using new machine learning techniques, the scientists were able to compare recent coral results with the instrumental record. Dr Freund found a strong agreement between the coral cores and recorded events. This confirmation allowed the team to extend the record back in time.
Dr Freund and her team found there has been an unprecedented increase in the number of El Niños forming in the Central Pacific over the past 30 years, compared to all 30 year periods in the past 400 years.
At the same time, the stronger Eastern Pacific El Niños were the most intense El Niño events ever recorded, according to both the 100-year long instrumental record and the 400-year long coral record.
As a result, Australian researchers have produced a world-first seasonal El Niño record extending 400 years and a new methodology that will likely be the basis for future climate research.
It took three years of hard work to achieve the result and now Dr Freund and her team are excited to see how this work can be built upon.
"The El Niño phenomenon is one of the most important features of global climate, and changes to its behaviour have very serious implications for weather patterns and extreme events around the world," said Dr Henley.
And that centuries-long record opens a door not just to past changes but changes to El Niños in the future as well.
"This gives us an opportunity to more accurately explore how global warming may change El Niños and what this means for future weather and climate extremes," said Dr Henley.
"Having a better understanding of how different types of El Niños have affected us in the past and present, will mean we are more able to model, predict and plan for future El Niños and their wide-ranging impacts," said Dr Freund.
Mandy B. Freund, Benjamin J. Henley, David J. Karoly, Helen V. McGregor, Nerilie J. Abram & Dietmar Dommenget. Higher frequency of Central Pacific El Niño events in recent decades relative to past centuries. Nature Geoscience, 2019 DOI: 10.1038/s41561-019-0353-3
The Winning Sand Sculpture Of 2019'S Texas Sand Sculpture Festival
1st Place – Liberty Crumbling, Damon Langlois. All are available
HER
E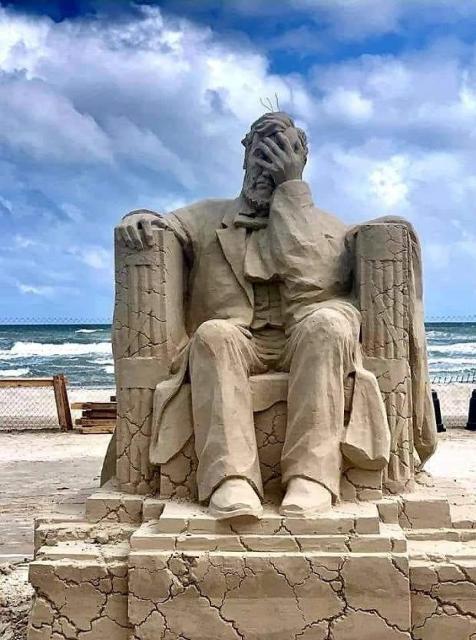 Historic Reform To Protect Most Vulnerable
The Hon. Gladys Berejiklian
The most vulnerable in society will be better protected from abuse, neglect and exploitation under a landmark bill introduced by the NSW Government in Parliament.
Premier Gladys Berejiklian said the reform will create the State's first powerful and independent Ageing and Disability Commissioner.
"Unfortunately, we have seen an increase in the number of incidents of older people and people with a disability being mistreated in the community," Ms Berejiklian said.
"We will not tolerate the abuse, neglect and exploitation of our most vulnerable citizens."
The Commissioner will be given the power to initiate investigations into allegations of abuse, neglect or exploitation, compel information from individual or organisations, as well as apply for and execute a search warrant to conduct an investigation.
Minister for Families, Communities and Disability Services Gareth Ward said the role of the Commissioner fills a gap currently not addressed by complaint and investigative bodies.
"As the first Minister for Disabilities to have a disability, I'm proud to help introduce these important reforms into Parliament," Mr Ward said. "This bill goes beyond politics and will help people feel safe and respected in their home and in the community."
"A number of public inquiries and reviews have highlighted opportunities for Government to strengthen safeguards for people with disability and older people. We will consider these recommendations and support the people this commission will seek to protect."
Deputy Chair of the Disability Council of NSW Professor Eileen Baldry said the announcement is a critical step in the right direction.
"This is an important step to ensure people with disability and seniors in our community are protected from any form of mistreatment. We look forward to working with the Commissioner to support health and wellbeing outcomes for our community's most vulnerable," Professor Baldry said.
The Ageing and Disability Commissioner officially starts on 1 July 2019.
The Art Of The Circus: Cartwheeling Kids To Better Mental Health
May 9th, 2019: University of South Australia
From tightrope to trapeze, circus arts have long fascinated and inspired people of all ages. Now, research from the University of South Australia is revealing the true value of circus skills and their unique ability to deliver significant mental health benefits for Australian children.
The new study has identified that children's circus skills programs deliver a quantifiable social return on investment by a significant rate of 1:7.
Lead researcher, UniSA's Dr Richard McGrath says the finding is potentially life-changing, particularly given the prevalence of mental health conditions.
"Mental illness has risen alarmingly in Australia with one in five adults and one in seven children experiencing a mental illness in any one year," Dr McGrath says.
"Our research shows that for every dollar invested for a child in a circus training program, seven dollars are potentially saved in their future mental health costs.
"Australia's national spending on mental health is around $9.1 billion, making any savings amid an ever-tightening public purse especially timely."
The UniSA study used an internationally recognised methodology, and qualitative and quantitative research tools to track the experiences of 55 children (aged 8-14 years) across a six-month Cirkidz Tweenz program, where children had the opportunity to learn, improve and extend new skills in acrobatics, balance, juggling and aerial activities.
Dr McGrath says after participating in the circus program children showed significant improvements in four areas of mental wellbeing: stress relief; self-esteem; confidence; and socialisation.
"Children reported that circus training helped them feel much better about themselves, both physically and mentally," Dr McGrath says
"They felt a greater sense of freedom, confidence and happiness, far less worry and stress than when they first started the program and reported feeling brave and proud of their achievements."
Dr McGrath says the study highlights the importance of supporting positive mental health initiatives from childhood to ensure lifelong societal and economic benefits.
"The early and middle years of childhood are pivotal for positive cognitive development throughout life, resulting in healthier societies," Dr McGrath says.
"Healthier societies can mean a reduction in lifestyle-related illnesses and can potentially reduce our reliance on healthcare resources. Furthermore, healthier societies have been shown to be more economically productive.
"Given that about half of all serious mental health issues in adulthood begin before the age of 14, we should be considering more initiatives that focus on this younger age bracket.
"Without doubt, the economic cost of mental illness in Australia is high -- statistics show that it's equivalent to around four per cent of GDP or about $4000 for every tax payer each year.
"If we want to address these issues, we need to start exploring the value and contribution of unique programs -- like circus skills -- so that we can ensure happier children now, and healthier adults and communities in the future."
Richard McGrath, Kristen Stevens. Forecasting the Social Return on Investment Associated with Children's Participation in Circus-Arts Training on their Mental Health and Well-Being.International Journal of the Sociology of Leisure, 2019; 2 (1-2): 163 DOI: 10.1007/s41978-019-00036-0
Dementia Residents Suffer Under Poor Staffing Numbers
Low ratios of nursing staff in residential aged care facilities is taking a toll on the care provided to residents living with dementia, according to a report released by the NSW Nurses and Midwives' Association (NSWNMA) today.
General Secretary of the NSWNMA, Brett Holmes, said the report revealed many aged care residents diagnosed with dementia had not received the level of care they deserved because staffing was so poor.
"Many of our members working in rural, not-for-profit facilities are worried about the management of residents with behavioural and psychological symptoms of dementia or BPSD," Mr Holmes said.
"Often these are large sites, with a staffing ratio of just one registered nurse to between 50 and 100 residents. Nurses working in these conditions are therefore reporting higher incidences of missed care or the use of restrictive practices.
"Incidences of aggression between residents or residents towards staff, is also higher in facilities with low nursing staff to resident ratios."
Mr Holmes said the report found 73% of members surveyed had insufficient time to interact with a resident who was displaying signs of loneliness. Meanwhile, 89% of respondents indicated additional staff would help to improve interactions and 69% said an improved skill mix amongst nursing staff would also assist.
"Not only are some of our residential aged care facilities failing to provide adequate dementia care, many are contributing to the prevalence and symptoms because appropriate nurse staffing is inadequate," said Mr Holmes.
The NSWNMA is calling for urgent minimum staff to resident ratios to be introduced in the aged care sector and is part of a national campaign seeking support for ratios ahead of the federal election on 18 May
www.ratiosforagedcare.com.au
Eye's Vulnerability To Macular Degeneration Revealed
May 7th, 2019
Scientists have found significant differences in the shape and biology of the same type of cell taken from different parts of the retina, according to a study in eLife.
The results could help explain why the macula region of the eye is more susceptible to disease than the peripheral retina and reveals a protective mechanism that may be disrupted in disease.
The macula is a specialised region within the retina that can be severely affected by diseases of the eye, such as age-related macular degeneration and diabetic retinopathy. This study looked at Müller cells, the major glial cells of the retina which are present in both the macula and peripheral retina and play important roles in nerve-cell function, metabolism and activating light receptors in the eye. Recent reports suggest that Müller cells are the major production site for two essential amino acids -- serine and glycine.
"The importance of Müller cells for normal retinal function suggests that their dysfunction contributes to many eye diseases, such as diabetic retinopathy and macular telangiectasia," explains co-first author Ting Zhang, Research Fellow at the Save Sight Institute, University of Sydney, Australia. "But whether the function of Müller cells differs in the macula and the peripheral retina was previously unknown. We set out to investigate the features of Müller cells from these two locations, with a particular focus on their production of serine and glycine."
The team started by isolating Müller cells from eye tissue provided by healthy donors and growing them in the lab to study the cells' features. They found that Müller cells from the macula were small and spindle or star-shaped, while those from the peripheral retina were much larger and had multiple processes.
Genetic analysis of the cells revealed 7,588 genes that had different levels of expression between the two cell types. Moreover, activity of key genes related to serine production, such as the enzyme phosphoglycerate dehydrogenase (PHGDH), was higher in the macular Müller cells than in those from the peripheral retina. "This finding is particularly important because a recent study reported that the serine metabolic pathway may play an important role in macular telangiectasia through defects in PHGDH," says co-first author Ling Zhu, also a Research Fellow at the Save Sight Institute, University of Sydney.
To study how different levels of PHGDH affect serine production, the team used radioactively labelled serine to trace its metabolism in the isolated Müller cells. Serine was converted into glycine at a higher rate in Müller cells from the macula than those from the peripheral retina, although the reverse reaction happened at a lower rate. Macula Müller cells also metabolised certain other molecules differently compared with Müller cells from the peripheral retina.
Finally, they tested the effect of blocking the PHGDH enzyme on the Müller cells' ability to withstand stress. They found much higher levels of cell toxicity in the Müller cells from the macula than in those isolated from the peripheral retina when PHGDH was blocked. Further investigation suggested this could be due to depletion of the protective molecule glutathione alongside a higher level of toxic reactive oxygen species in the macular Müller cells.
"We have found distinct differences between two populations of Müller cells which explain the unique metabolic functions of the human macula," concludes senior author Mark Gillies, Professor of Clinical Ophthalmology and Eye Health at the University of Sydney. "The differences in serine production from the two regions of the eye are consistent with the idea that macular telangiectasia is a disease of macula Müller cells. A better understanding of the unique biology of these cells could help to prevent and treat sight loss in future."
Ting Zhang, Ling Zhu, Michele Catherine Madigan, Wei Liu, Weiyong Shen, Svetlana Cherepanoff, Fanfan Zhou, Shaoxue Zeng, Jianhai Du, Mark Cedric Gillies. Human macular Müller cells rely more on serine biosynthesis to combat oxidative stress than those from the periphery. eLife, 2019; 8 DOI: 10.7554/eLife.43598
Disclaimer: These articles are not intended to provide medical advice, diagnosis or treatment. Views expressed here do not necessarily reflect those of Pittwater Online News or its staff.