Inbox and Environment News: Issue 402
April 28 - May 4, 2019: Issue 402
Brains Of Blind People Adapt To Sharpen Sense Of Hearing
April 22, 2019: University of Washington
Research has shown that people who are born blind or become blind early in life often have a more nuanced sense of hearing, especially when it comes to musical abilities and tracking moving objects in space (imagine crossing a busy road using sound alone). For decades scientists have wondered what changes in the brain might underlie these enhanced auditory abilities.
Now, a pair of research papers published the week of April 22 from the University of Washington -- one in the Journal of Neuroscience, the other in the Proceedings of the National Academy of Sciences -- use functional MRI to identify two differences in the brains of blind individuals that might be responsible for their abilities to make better use of auditory information.
"There's this idea that blind people are good at auditory tasks, because they have to make their way in the world without visual information. We wanted to explore how this happens in the brain," said Ione Fine, a UW professor of psychology and the senior author on both studies.
Instead of simply looking to see which parts of the brain were most active while listening, both studies examined the sensitivity of the brain to subtle differences in auditory frequency.
"We weren't measuring how rapidly neurons fire, but rather how accurately populations of neurons represent information about sound," said Kelly Chang, a graduate student in the UW Department of Psychology and lead author on the Journal of Neuroscience paper.
That study found that in the auditory cortex, individuals who are blind showed narrower neural "tuning" than sighted subjects in discerning small differences in sound frequency.
"This is the first study to show that blindness results in plasticity in the auditory cortex. This is important because this is an area of the brain that receives very similar auditory information in blind and sighted individuals," Fine said. "But in blind individuals, more information needs to be extracted from sound -- and this region seems to develop enhanced capacities as a result.
"This provides an elegant example of how the development of abilities within infant brains is influenced by the environment they grow up in."
The second study examined how the brains of people who are born blind or become blind early in life -- referred to as "early blind" individuals -- represent moving objects in space. The research team showed that an area of the brain called the hMT+ -- which in sighted individuals is responsible for tracking moving visual objects -- shows neural responses that reflect both the motion and the frequency of auditory signals in blind individuals. This suggests that in blind people, area hMT+ is recruited to play an analogous role -- tracking moving auditory objects, such as cars, or the footsteps of the people around them.
The paper in the Journal of Neuroscience involved two teams -- one at the UW, the other at the University of Oxford in the United Kingdom. Both teams measured neural responses in study participants while participants listened to a sequence of Morse code-like tones that differed in frequency while the fMRI machine recorded brain activity. The research teams found that in the blind participants, the auditory cortex more accurately represented the frequency of each sound.
"Our study shows that the brains of blind individuals are better able to represent frequencies," Chang said. "For a sighted person, having an accurate representation of sound isn't as important because they have sight to help them recognize objects, while blind individuals only have auditory information. This gives us an idea of what changes in the brain explain why blind people are better at picking out and identifying sounds in the environment."
The Proceedings of the National Academy of Sciences study examined how the brain's "recruitment" of the hMT+ region might help blind people track the motion of objects using sound. Participants once again listened to tones that differed in auditory frequency, but this time the tones sounded like they were moving. As has been found in previous studies, in blind individuals the neural responses in area hMT+ contained information about the direction of motion of the sounds, whereas in the sighted participants these sounds did not produce significant neural activity.
By using sounds that varied in frequency, the researchers could show that in blind individuals, the hMT+ region was selective for the frequency as well as the motion of sounds, supporting the idea that this region might help blind individuals track moving objects in space.
"These results suggest that early blindness results in visual areas being recruited to solve auditory tasks in a relatively sophisticated way," Fine said.
This study also included two sight-recovery subjects -- individuals who had been blind from infancy until adulthood, when sight was restored via surgery in adulthood. In these individuals, area hMT+ seemed to serve a dual purpose, capable of processing both auditory and visual motion. The inclusion of people who used to be visually impaired lends additional evidence to the idea that this plasticity in the brain happens early in development, Fine said, because the results show that their brains made the shift to auditory processing as a result of their early-life blindness, yet maintains these abilities even after sight was restored in adulthood.
According to Fine, this research extends current knowledge about how the brain develops because the team was not only looking at which regions of the brain are altered as a result of blindness, but also examining precisely what sort of changes -- specifically, sensitivity to frequency -- might explain how early blind people make sense of the world. As one of the study participants described it, "You see with your eyes, I see with my ears."
Both studies were funded by the National Eye Institute and the National Institutes of Health. The Proceedings of the National Academy of Sciences study was co-authored by Elizabeth Huber of the UW and Fang Jiang of the University of Nevada, Reno. The Journal of Neuroscience study was co-authored by Chang and Huber, as well as Ivan Alvarez, Aaron Hundle and Holly Bridge of the University of Oxford.
Elizabeth Huber, Kelly Chang, Ivan Alvarez, Aaron Hundle, Holly Bridge and Ione Fine.
Early blindness shapes cortical representations of auditory frequency within auditory cortex
. Journal of Neuroscience, 22 April 2019 DOI:
10.1523/JNEUROSCI.2896-18.2019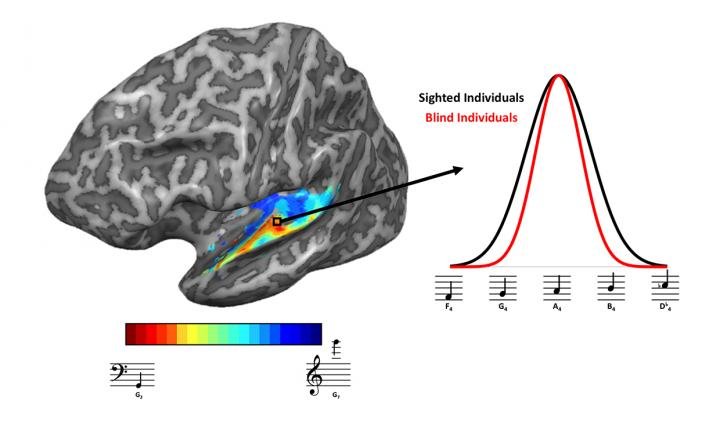 Left: Researchers began by measuring responses in the auditory cortex to find a map of how frequency responses were represented in the brain. The warm colors represent regions of the brain that showed the greatest response to low-pitched tones, while blue colors represent regions that responded more to high-pitched tones. Right: When researchers examined the range of frequencies each vertex of the brain was selective to, they found tuning tended to be narrower for blind individuals, which may underlie the enhanced ability of blind individuals to pick out and identify sounds in the environment.
Credit: Kelly Chang/U. of Washington
Travellers Heading Overseas Urged To Get Measles Jab
April 18, 2019: NSW Health
NSW Health is encouraging anyone travelling overseas to ensure they are vaccinated against measles as part of a new campaign launched today.
There have been 36 people diagnosed with the disease in NSW since December 2018, the majority of whom have been travellers who have entered or re-entered Australia and unknowingly been infected with measles.
The campaign targets overseas visitors, Australian travellers heading overseas and international university students who may go home for the holidays.
It has also been translated into four languages, specifically chosen to target the multicultural population who may travel to their country of origin and not consider themselves at risk because they are visiting family and friends in a familiar location.
NSW Health Director of Communicable Diseases, Dr Vicky Sheppeard explained the importance of the campaign to all travellers.
"Measles by its very nature is an extremely contagious, potentially deadly disease," Dr Sheppeard said.
"As a consequence, many overseas travellers may be exposed to the disease despite not travelling to a country where it is currently endemic simply by coming into contact with a fellow traveller in the airport or on a transit flight.
"Measles virus can stay in the air for short periods of time, so if people enter a room shortly after an infected person has left, they could still become infected."
The campaign is also focusing on childcare centres around the state and NSW public schools.
Anyone born during or after 1966 who hasn't already had two doses of the vaccine or had measles is eligible for the free vaccine.
"If you're not sure if you have had two doses, which provides lifelong protection in 99 out of 100 people, it is safe to get another jab, particularly if you're heading overseas," Dr Sheppeard said.
"Anyone with an infant younger than 12 months should see their GP prior to travel, as the child may be a candidate for early vaccination from six months of age."
Symptoms include fever, sore eyes and a cough followed three or four days later by a red, spotty rash that spreads from the head to the rest of the body.
Anyone who develops any of these symptoms after returning home, should call ahead to inform their GP so arrangements can be made to limit their contact with other people in the surgery.
Protecting children from potentially deadly diseases is a key priority for the NSW Government, which has invested approximately $130 million in the 2018-19 Immunisation Program budget, including Commonwealth and state vaccines.
The latest Annual Immunisation Coverage Report shows vaccination rates in NSW are at their highest level ever, with more than 95 per cent of five year olds vaccinated against measles.
Older Australians Pushed Into Poverty By Newstart
National Seniors is partnering other leading community advocacy organisations calling on the major parties this election to fix pensioner poverty and boost the Newstart allowance for jobless older workers.
National Seniors Australia, COTA Australia and The Benevolent Society are supporting the Raise the Rate campaign to stop older unemployed people being pushed into poverty by a Newstart Allowance that for decades has lagged costs of living.
The campaign calls for the allowance to be immediately increased and for a commitment to the wellbeing of older Australians.
Also, it is critical of the major parties for ignoring the plight of Newstart recipients who are already too often excluded from the workforce simply because of their age.
"Poverty is an increasing reality for jobless older Australians demoralised by long-term unemployment and an inadequate Newstart allowance that hasn't been adequately increased for decades."
Social Security department figures indicate there are more workers aged 55-64 receiving Newstart than any other age cohort, and older workers spend longer on Newstart than any other age group.
Older workers face being pushed into poverty as they head to retirement. This is especially the case for those who rent, who have not been able to accumulate significant savings and those facing high out-of-pocket health costs. This election is the time to make this happen. The evidence of the impact of inadequate Newstart payments is readily available, there's no need for further review.
"Fixing pensioner poverty is a key National Seniors election priority and requires swift action by whichever party wins government."
Affordable dental care for age pensioners is a key demand. Poor oral health is linked to chronic diseases, including stroke and heart disease, but is out of reach of many pensioners and those in aged care.
Taking politics out of the age pension is another key policy and National Seniors wants the establishment of an Age Pension Tribunal to independently set the age pension rate.
The tribunal would take responsibility for calculating a fair and adequate pension rate and any supplements based on need and circumstance.
This, along with cutting the age pension taper rate from $3 to $2, will help ensure pensioners can better sustain a standard of living.
Assisting pensioners access housing and better connect to internet services were also important ways to alleviate pensioner poverty.
Mr Henschke said the private rental market was out of reach for many older people but could be improved by lifting the maximum rate of Commonwealth Rent Assistance.
The maximum rate of assistance could be set by our proposed Age Pension Tribunal so pensioners who rent receive enough income to meet reasonable living costs, no matter where they live.
Light Physical Activity Reduces Brain Ageing
April 19, 2019: Boston University School of Medicine
Incremental physical activity, even at light intensity, is associated with larger brain volume and healthy brain aging.
Considerable evidence suggests that engaging in regular physical activity may prevent cognitive decline and dementia. Active individuals have lower metabolic and vascular risk factors and these risk factors may explain their propensity for healthy brain aging. However, the specific activity levels optimal for dementia prevention have remained unclear.
The new 2018 Physical Activity-Guidelines for Americans suggest that some physical activity is better than none, but achieving greater than 150 minutes of moderate-to-vigorous (MV) physical activity per week is recommended for substantial health benefits.
Using data from the Framingham Heart Study, researchers found that for each additional hour spent in light-intensity physical activity was equivalent to approximately 1.1 years less brain aging.
According to the researchers, these results suggest that the threshold of the favourable association for physical activity with brain ageing may be at a lower, more achievable level of intensity or volume.
"Every additional hour of light intensity physical activity was associated with higher brain volumes, even among individuals not meeting current Physical Activity-Guidelines. These data are consistent with the notion that potential benefits of physical activity on brain ageing may accrue at a lower, more achievable level of intensity or volume," explained Nicole Spartano, PhD, research assistant professor of medicine at Boston University School of Medicine (BUSM).
"We have really only just begun to uncover the relationship between physical activity and brain health." Spartano emphasizes the need to explore the impact of physical inactivity on brain aging in different race, ethnic, and socio-economic groups. She is leading a team effort to investigate these patterns at multiple sites all over the country. "We couldn't do this research without the commitment of the Framingham Heart Study participants who have given so much to the medical community over the years. Our research also hinges on the multi-disciplinary team of investigators at Boston University and external collaborators." She also acknowledges the importance of funding for research in this area and is grateful for support from the National Institute on Aging, American Heart Association, and Alzheimer's Association.
These finding appear online in JAMA Network Open.
Nicole L. Spartano, Kendra L. Davis-Plourde, Jayandra J. Himali, Charlotte Andersson, Matthew P. Pase, Pauline Maillard, Charles DeCarli, Joanne M. Murabito, Alexa S. Beiser, Ramachandran S. Vasan, Sudha Seshadri.
Association of Accelerometer-Measured Light-Intensity Physical Activity With Brain Volume
. JAMA Network Open, 2019; 2 (4): e192745 DOI:
10.1001/jamanetworkopen.2019.2745
Consumer Experience Reports In Home And Community Care
April 22nd 2019: Australian Government
The Aged Care Quality and Safety Commission is working on expanding the use of Consumer Experience Reports (CER) into the home and community aged care sector. These reports are aimed at promoting consumer choice by capturing the consumer experience of the quality of care and services in aged care.
CERs are developed from the results of interviews. To ensure outcomes of the reports for Home Care are fit for purpose, the Commission has evaluated and learnt from our experience implementing consumer experience reports for residential aged care. Lessons learnt include the value of pilot testing with the most diverse range of consumers possible, and the benefits of reviewing and periodically revising questions to reflect ongoing feedback.
CERs are developed from the results of interviews with consumers of aged care services using a standardised set of questions designed to capture consumers' experiences. The draft questions for the CERs for Home Care have been developed from the results of a review of research literature in the field of consumer choice and quality. They are also linked to the new
Aged Care Quality Standards.
The literature review to help develop the questions was undertaken by the Australian Institute for Primary Care and Ageing (AIPCA) at La Trobe University.
Control
Local residence
Interpersonal interaction
Flexibility
Affordability
Administrative and financial literacy
Safety
Timeliness of service provision.
We commenced pilot testing of the draft questions in November 2018. The first phase of pilot testing evaluated the validity, comprehensibility and test-retest reliability of the questions.
From April 2019, we will also be pilot testing methodologies for seeking responses from consumers – including telephone interviews, paper and online surveys. The process will pay particular attention to ethics and privacy principles.
While consumer participation in the pilot will be voluntary, we aim to include a broad sample of respondents to ensure the representation of consumers from culturally diverse backgrounds and those living in metropolitan, rural and remote locations.
The Secret To A Stable Society? A Steady Supply Of Beer Doesn't Hurt
April 18, 2019: Field Museum
A thousand years ago, the Wari empire stretched across Peru. At its height, it covered an area the size of the Eastern seaboard of the US from New York City to Jacksonville. It lasted for 500 years, from 600 to 1100 AD, before eventually giving rise to the Inca.
That's a long time for an empire to remain intact, and archaeologists are studying remnants of the Wari culture to see what kept it ticking. A new study found an important factor that might have helped: a steady supply of beer.
"This study helps us understand how beer fed the creation of complex political organisations," says Ryan Williams, an associate curator and Head of Anthropology at the Field Museum and the lead author of the new study in Sustainability. "We were able to apply new technologies to capture information about how ancient beer was produced and what it meant to societies in the past."
Nearly twenty years ago, Williams, Nash, and their team discovered an ancient Wari brewery in Cerro Baúl in the mountains of southern Peru. "It was like a microbrewery in some respects. It was a production house, but the brewhouses and taverns would have been right next door," explains Williams. And since the beer they brewed, a light, sour beverage called chicha, was only good for about a week after being made, it wasn't shipped offsite -- people had to come to festivals at Cerro Baúl to drink it. These festivals were important to Wari society -- between one and two hundred local political elites would attend, and they would drink chicha from three-foot-tall ceramic vessels decorated to look like Wari gods and leaders. "People would have come into this site, in these festive moments, in order to recreate and reaffirm their affiliation with these Wari lords and maybe bring tribute and pledge loyalty to the Wari state," says Williams. In short, beer helped keep the empire together.
To learn more about the beer that played such an important role in Wari society, Williams and his co-authors Donna Nash (Field Museum and University of North Carolina Greensboro), Josh Henkin (Field Museum and University of Illinois at Chicago) and Ruth Ann Armitage (Eastern Michigan University) analyzed pieces of ceramic beer vessels from Cerro Baúl. They used several techniques, including one that involved shooting a laser at a shard of a beer vessel to remove a tiny bit of material, and then heating that dust to the temperature of the surface of the sun to break down the molecules that make it up. From there, the researchers were able to tell what atomic elements make up the sample, and how many -- information that told researchers exactly where the clay came from and what the beer was made of.
"The cool thing about this study is that we're getting down to the atomic level. We're counting atoms in the pores of the ceramics or trying to reconstruct and count the masses of molecules that were in the original drink from a thousand years ago that got embedded into the empty spaces between grains of clay in the ceramic vessels, and that's what's telling us the new information about what the beer was made of and where the ceramic vessels were produced," says Williams. "It's really new information at the molecular level that is giving archaeologists this new insight into the past."
To check that the ingredients in chicha could indeed be transferred to the brewing vessels, the researchers worked with Peruvian brewers to recreate the brewing process. "
Making chicha is a complicated process that requires experience and expertise. The experiments taught us a lot about what making chicha would look like in the ruins of a building and how much labor and time went into the process,
" says Donna Nash, an adjunct curator at the Field Museum and professor at the University of North Carolina Greensboro, who led the brewing recreation. (Incidentally, the Field Museum and Chicago's Off Colour Brewing released a beer based on Nash's work, a pink ale infused with pepper berries, called Wari Ale; it's being re-released in Chicago-area stores and bars in June.)
By looking at the chemical makeup of traces of beer left in the vessels and at the chemical makeup of the clay vessels themselves, the team found two important things. One, the vessels were made of clay that came from nearby, and two, the beer was made of pepper berries, an ingredient that can grow even during a drought. Both these things would help make for a steady beer supply -- even if a drought made it hard to grow other chicha ingredients like corn, or if changes in trade made it hard to get clay from far away, vessels of pepper berry chicha would still be readily available.
The authors of the study argue that this steady supply of beer could have helped keep Wari society stable. The Wari empire was huge and made up of different groups of people from all over Peru. "We think these institutions of brewing and then serving the beer really formed a unity among these populations, it kept people together," says Williams.
The study's implications about how shared identity and cultural practices help to stabilise societies are increasingly relevant today.
"This research is important because it helps us understand how institutions create the binds that tie together people from very diverse constituencies and very different backgrounds," says Williams. "Without them, large political entities begin to fragment and break up into much smaller things. Brexit is an example of this fragmentation in the European Union today. We need to understand the social constructs that underpin these unifying features if we want to be able to maintain political unity in society."
Patrick Ryan Williams, Donna J. Nash, Joshua M. Henkin, Ruth Ann Armitage.
Archaeometric Approaches to Defining Sustainable Governance: Wari Brewing Traditions and the Building of Political Relationships in Ancient Peru.
Sustainability, 2019; 11 (8): 2333 DOI:
10.3390/su11082333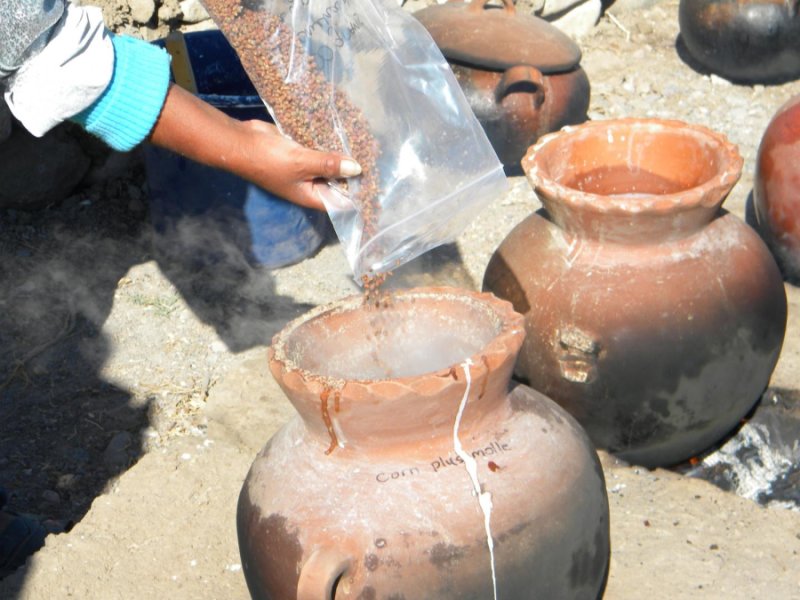 The team worked with Peruvian brewers to recreate the ancient chicha recipe used at Cerro Baul.
Credit: Donna Nash
Eating Elderberries Can Help Minimise Influenza Symptoms
April 23, 2019: University of Sydney
Folk medicines and herbal products have been used for millennia to combat a whole range of ailments, at times to the chagrin of modern scientists who have struggled to explain their medicinal benefits.
However a recent study by researchers at the University of Sydney has determined exactly how a popular ancient remedy, the elderberry fruit, can help the fight against influenza.
Conducted by Professor Fariba Deghani, Dr Golnoosh Torabian and Dr Peter Valtchev as part of the ARC Training Centre for the Australian Food Processing Industry that was established within the university's Faculty of Engineering and IT, the study showed that compounds from elderberries can directly inhibit the virus's entry and replication in human cells, and can help strengthen a person's immune response to the virus.
Although elderberry's flu-fighting properties have long been observed, the group performed a comprehensive examination of the mechanism by which phytochemicals, compounds that positively effect health, from elderberries combat influenza infections.
"What our study has shown is that the common elderberry has a potent direct antiviral effect against the flu virus. It inhibits the early stages of an infection by blocking key viral proteins responsible for both the viral attachment and entry into the host cells," said Dr Golnoosh Torabian.
The researchers used commercially farmed elderberries which were turned into a juice serum and were applied to cells before, during and after they had been infected with the influenza virus.
The phytochemicals from the elderberry juice were shown to be effective at stopping the virus infecting the cells, however to the surprise of the researchers they were even more effective at inhibiting viral propagation at later stages of the influenza cycle when the cells had already been infected with the virus.
"This observation was quite surprising and rather significant because blocking the viral cycle at several stages has a higher chance of inhibiting the viral infection," explained Dr Peter Valtchev.
"In addition to that, we identified that the elderberry solution also stimulated the cells to release certain cytokines, which are chemical messengers that the immune system uses for communication between different cell types to coordinate a more efficient response against the invading pathogen," said Centre Director, Professor Fariba Deghani.
The team also found that the elderberry's antiviral activity can be attributed to its anthocyanidin compounds -- phytonutrients responsible for giving the fruit its vivid purple colouring.
Otherwise known as Sambucus nigra, the elderberry is a small, antioxidant rich fruit common to Europe and North America that is still commonly consumed as a jam or wine.
The influenza virus is one of the leading causes of mortality worldwide, affecting nearly 10 per-cent of the world population and contributing to one million deaths annually.
Golnoosh Torabian, Peter Valtchev, Qayyum Adil, Fariba Dehghani.
Anti-influenza activity of elderberry (Sambucus nigra).
Journal of Functional Foods, 2019; 54: 353 DOI:
10.1016/j.jff.2019.01.031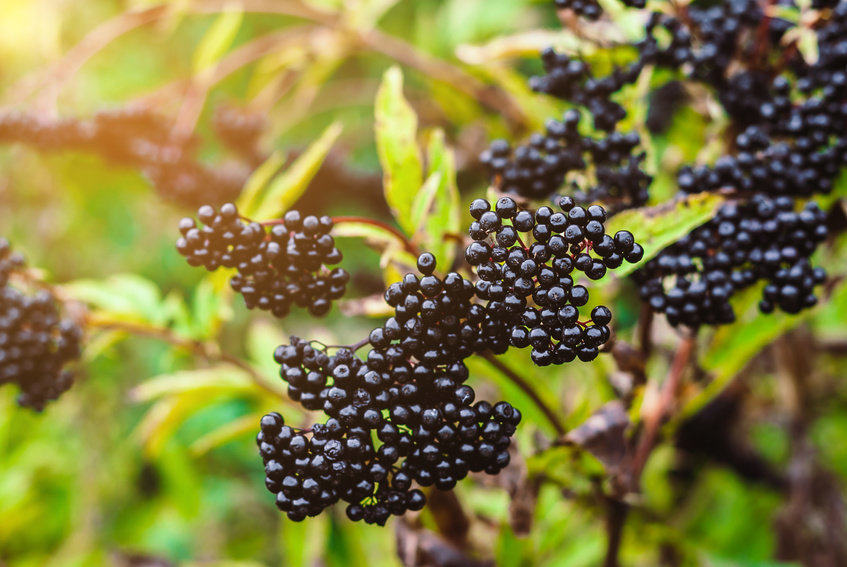 Elderberries in the woods. Credit: © romankrykh / Fotolia
Dengue Mosquito Is Queensland's Biggest Threat For Spreading Zika Virus
April 23, 2019: Queensland University of Technology
Researchers at QUT and QIMR Berghofer Medical Research Institute have found that the dengue fever mosquito common to north and central Queensland poses the greatest danger of spreading the Zika virus in Australia.
The researchers showed that not only was the dengue mosquito effective at transmitting Zika, but also that the virus was in the mosquitoes' reproductive organs. This finding suggests that Zika could persist in mosquito populations by females passing it to their offspring.
The researchers' study, Vector competence of Australian Aedes aegypti and Aedes albopictus for an epidemic strain of Zika virus, has been published in PLOS Neglected Tropical Diseases.
Key points:
an contract Zika from the bite of a female mosquito carrying the virus
A woman infected with Zika can pass the virus to her unborn child causing neurological problems including microcephaly, when the brain does not develop properly and the baby has a smaller than normal head
While more than 50 cases of Zika have been reported in Australia, all were contracted overseas
Study senior author Dr Francesca Frentiu, from QUT's Institute of Health and Biomedical Innovation, said the researchers looked at whether two mosquito species found in Queensland could transmit Zika: the dengue mosquito (Aedes aegypti) and Asian Tiger mosquito (Aedes albopictus).
The dengue mosquito is found in northern, central and southern parts of the state, while the Asian Tiger mosquito is currently only in the Torres Strait.
The researchers tested a strain of Zika from the Asian lineage that caused microcephaly during the 2016 epidemic in Brazil.
Co-lead researcher Dr Leon Hugo, from QIMR Berghofer's Mosquito Control Laboratory, said the mosquitoes used in the study were hatched from eggs collected from colonies in Innisfail and Hammond Island in the Torres Strait, and reared at the institute's state-of-the-art mosquito and pathogen containment insectary in Brisbane.
"Our high biosecurity insectary is unique in the southern hemisphere for its size, capacity and expertise, allowing us to work safely with dangerous pathogens like Zika," Dr Hugo said.
"We fed the two strains of mosquitoes with a mixture of Zika virus and blood."
Dr Frentiu said the mosquitoes were maintained in the insectary at temperatures similar to what is experienced in north Queensland around Cairns to simulate a field experiment.
"At three, seven and 14 days after the mosquitoes were infected with Zika, we tested their saliva to see if they could pass on the virus through a bite," she said.
"We concluded that the dengue mosquito is the main danger for spreading Zika.
"We found 50-60 per cent of the dengue mosquitoes could effectively transmit the virus 14 days after becoming infected, compared to 10 per cent of the Asian Tiger mosquitoes."
Dr Frentiu said the discovery of Zika in the ovaries of the dengue mosquitoes indicated another potential route of infection transmission through mosquito populations.
"This has also been observed recently in field specimens collected in Brazil," she said. "Aedes aegypti eggs were collected and hatched and the larvae tested, and Zika was found in the larvae.
"It is possible that if infected larvae were able to reach maturity still infected with Zika, they could then pass the virus to humans. This is an area where further research is needed."
Leon E. Hugo, Liesel Stassen, Jessica La, Edward Gosden, O'mezie Ekwudu, Clay Winterford, Elvina Viennet, Helen M. Faddy, Gregor J. Devine, Francesca D. Frentiu.
Vector competence of Australian Aedes aegypti and Aedes albopictus for an epidemic strain of Zika virus.
PLOS Neglected Tropical Diseases, 2019; 13 (4): e0007281 DOI:
10.1371/journal.pntd.0007281
The research team preparing the membrane feeding apparatus that provided mixtures of blood and Zika virus at 37°Celsius to mosquitoes in the experiment.
Credit: QIMR Berghofer
Disclaimer: These articles are not intended to provide medical advice, diagnosis or treatment. Views expressed here do not necessarily reflect those of Pittwater Online News or its staff.