Inbox and Environment News: Issue 401
April 14 - 27, 2019: Issue 401
Office Of Open Space And Parklands: Twelve Hectares Of Land On Wakehurst Parkway Frenchs Forest
Australians love the outdoors. It's where we play, grow and connect.
The goal of the Office of Open Space and Parklands is for everyone in NSW to enjoy attractive, safe and accessible parks and outdoor spaces. Our focus is building and promoting places that meet the needs of our unique communities and are used as a part of everyday life.
A Greener Greater Sydney
On Sunday 3 February 2019, the Premier announced a $150 million program to secure and improve green space across Greater Sydney.
$50 million will be spent across Greater Sydney to create better access to open space. This will provide greater recreation opportunities for the community to do all the things they love to do outdoors. The program will help improve access to open space and parklands by creating four new parks and improve four existing open spaces, providing greater recreation opportunities for the community.
This program will improve liveability in our community in addition to social inclusion, environmental and social sustainability and public health benefits.
The funding will create more opportunities for communities across Greater Sydney from Leppington to Penrith, Frenchs Forest to Appin and more. Areas that will be embellished for community use include:
Kempt Field, Allawah
George Kendall Riverside Park, Ermington
Nepean River Parklands, Penrith
Carrawood Oval, Carramar
Nine hectares on Withers Road, Beaumont Hills
More than seven hectares of land on Camden Valley Way Leppington
Forty-three hectares of land on Upchurch Street, Appin
Twelve hectares of land on Wakehurst Parkway Frenchs Forest.
Frenchs Forest: The new open space is proposed to include children's play space, youth facilities, pedestrian bridge, nature walks and car parking facilities.

For more information about these strategic open spaces please refer to the Greater Sydney Open Space program map (PDF, 7MB)
In providing quality open space, it's important to make sure we are making the best out of land we already have. These sites are all NSW Government owned land and were chosen because they are close to homes, jobs and transport or identified in the Sydney's Green Grid.
Mackellar Climate Election Candidates Forum
Hosted by StopAdani Mackellar
Wednesday, April 17, 2019 at 6:30 PM – 8 PM
Modus Operandi Brewing Co.
14 Harkeith Street, Mona Vale
Concern for climate change is at an all time high. That's why the federal election in May is shaping up to be the #climateelection.
Join Stop Adani Mackellar to find out which Mackellar candidates are ready to step up for climate change . We need to pack out the room, so invite your friends and family as well!
Alice Thompson (Independent), Prudence Wawn (The Greens) and Declan Steele (Labor) are all participating. Jason Falinski, Mackellar's Liberal MP, is unable to attend due to prior commitments.

Please RSVP on the provided link above (FREE) so we know how many seats we'll need for the evening.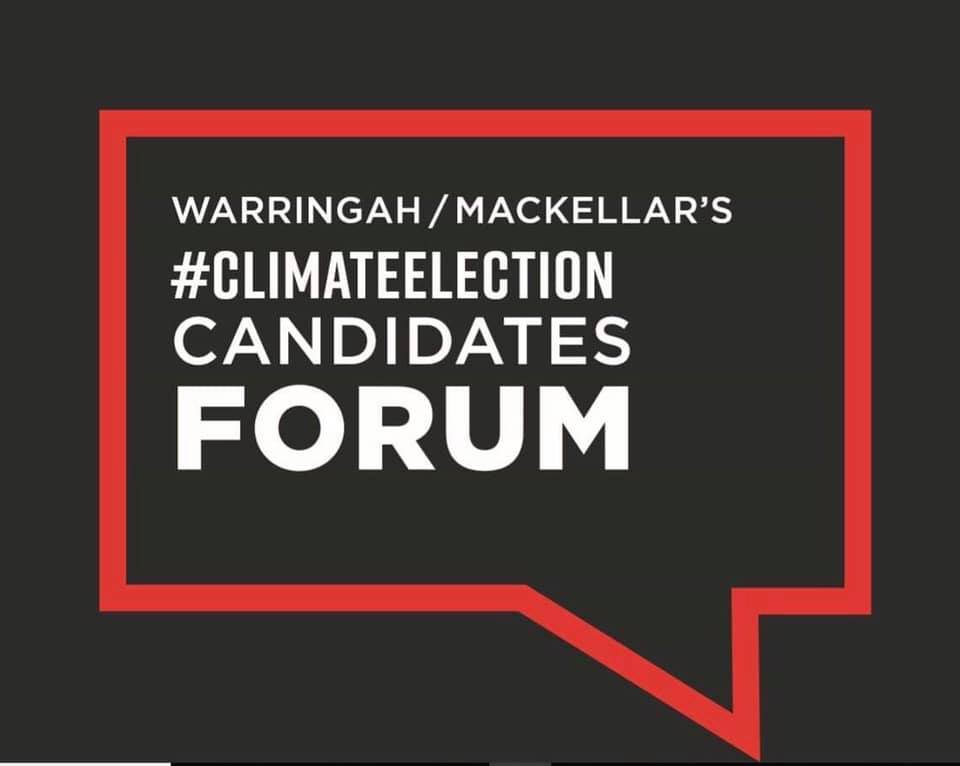 Sydney Wildlife Carers Course May 2019
Scratchum the Brushtail possum was found in the middle of the day sitting in a puddle outside a petrol station on King st, Newtown.
A lovely person spotted her, scooped her up, kept her warm in their jacket and walked to the vet.
The little one was very dehydrated and cold.
If still in the wild she would be in her mum's pouch and riding on her back at night. We aren't sure how they were separated.
One of our volunteers soon picked Scratchum up and has been caring for her ever since.
Scratchum is doing very well, she loves her marsupial formula and has started eating solids. In a few months Scratchum will be ready for release!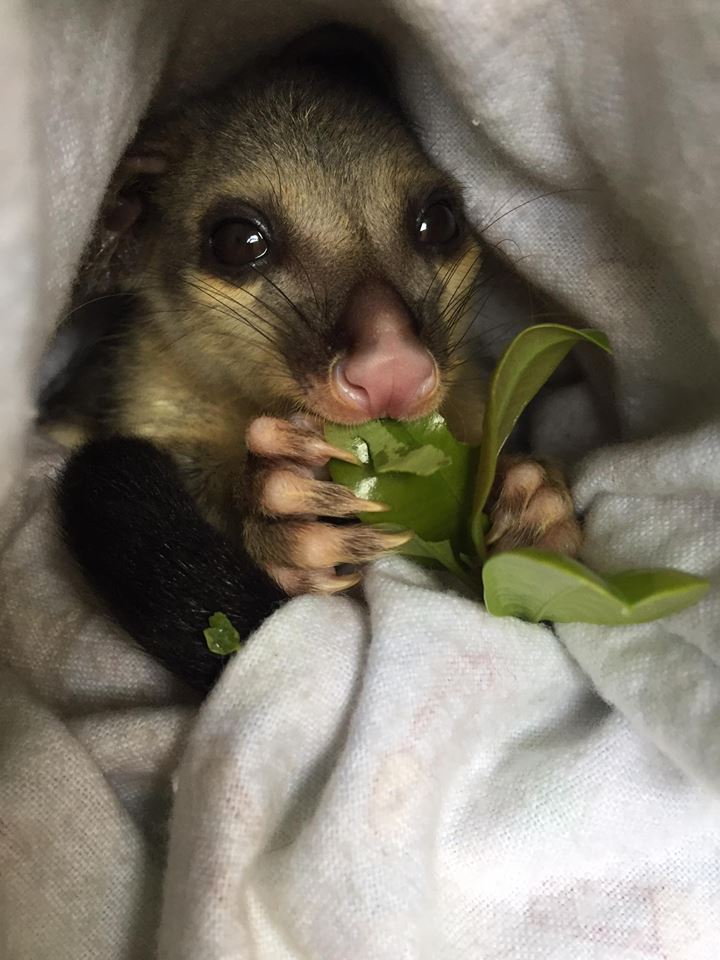 Mona Vale Dunes And Avalon Beach Dunes Bushcare Groups
Beach dunes are a feature of the Northern Beaches, particularly along the peninsula. Our beaches and their backdrop dunes, so familiar, are only about 6000 years old, forming as the sea rose after the last ice age.
Until the 1970s dunes were regarded as a good source of sand, to be removed. The remaining land would then be levelled and turned to what was seen as a better use, such as land to be developed, parking, a road. Imagine Bondi Beach, before the concreting and building happened! We can see how at Collaroy, with the benefit of hindsight and experience, this was not a good decision. This beach is one of the most affected by storm damage on the NSW coast. The sea often threatens houses built where the dunes used to be, and also Pittwater Road.
Beaches backed by dunes can be resilient in what is a dynamic landscape. Vegetated dunes capture windblown sand, and surrender it in big storms, as the sea and wind claim it back to the beach. An active beach zone should be left undeveloped allowing sand to come and go with winds and tides.
Bushcare volunteers celebrate the special vegetation that keeps our dunes stable and provides habitat for local fauna, specially small birds which use the dense native vegetation to feed and escape the bully birds such as Noisy Miners and Currawongs.
On Mona Vale Dunes we have nesting Willie Wagtails and Eastern Whipbirds and have been visited by Yellow-tailed Black Cockatoos and Brown Quail. However weeds such as Asparagus Fern, Morning Glory, Lantana and Turkey Rhubarb have to be controlled to protect native dune vegetation.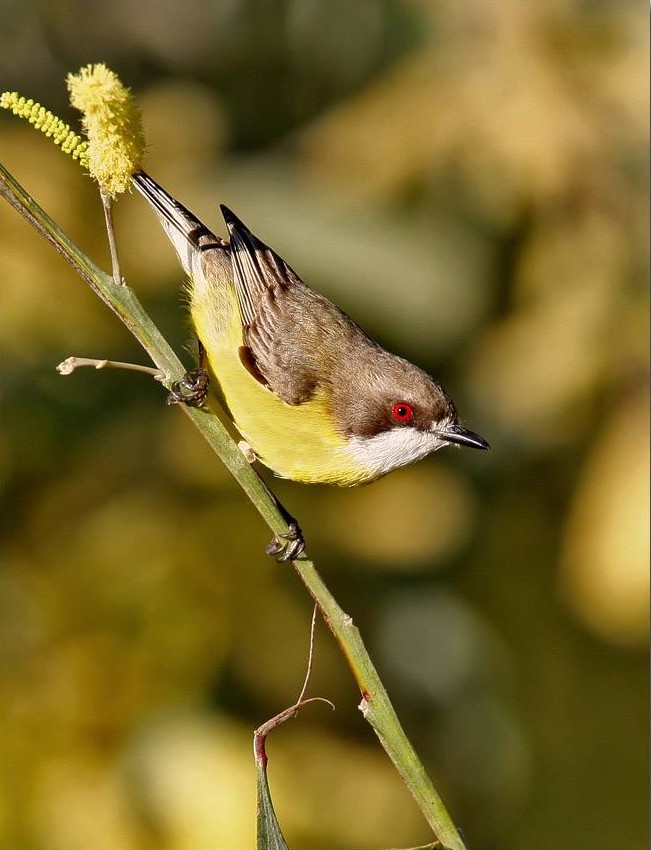 White-throated Warbler - photo Neil Lazarus

Volunteer bushcarers meet at Mona Vale Dunes on the second Saturday and third Thursday of each month. Some people go both days. At Avalon Dunes the first Sunday of each month is the work morning. Work starts usually at 8.30 and goes for 3 hours, including morning tea. Northern Beaches Council provides a supervisor to guide work at Mona Vale and volunteers supervise at Avalon Dunes.Both groups are covered by NB Council insurance for volunteers. Council bush regeneration contractors work on both dunes but need our help as their hours are limited.
Have a look at the Facebook pages for more information and to keep in touch.
Facebook page for Mona Vale Dunes Bushcare where you can keep up to date with progress and find out how to get involved. Visit: www.facebook.com/Mona-Vale-Dunes-Bushcare

Facebook page for Avalon Dunes Bushcare where you can keep up to date with progress and find out how to get involved.
Visit: www.facebook.com/AvalonDunesBushcare
Volunteer bushcarers meet at Mona Vale Dunes on the second Saturday and third Thursday of each month. Some people go both days. At Avalon Dunes the first Sunday of each month is the work morning.

Avalon Dunes Bushcare
After a long break, we'll be back on Sunday April 7. NB Council has changed management so that destructive camps are quickly cleared away and better weed control is happening - we're encouraged! We volunteers need some help, so why not join us at 8.30near the Montessori School. We finish at 11.30, but even half an hour of your help would be great.
Wear long pants, long sleeves and hat. BYO Gloves. We bring tools and morning tea.
Mona Vale Beach Sand Dunes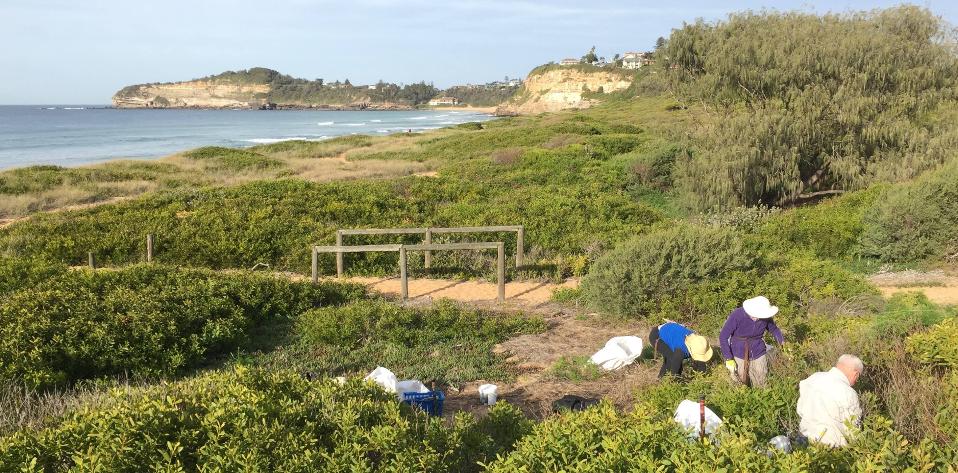 Here is Mona Vale Dunes bushcare group at work.
To suit most of us, we meet on two days of the month, so people
come on either the second Saturday morning and the third Thursday - sometimes both!
With a view like this, you can see why we love this place. Our morning teas are legendary, by the way.
This photo may be from the 1970s and shows the dunes dangerously exposed to wind erosion, with not even today's dense weeds to stabilise it. Buildings on left are at end of Golf Ave.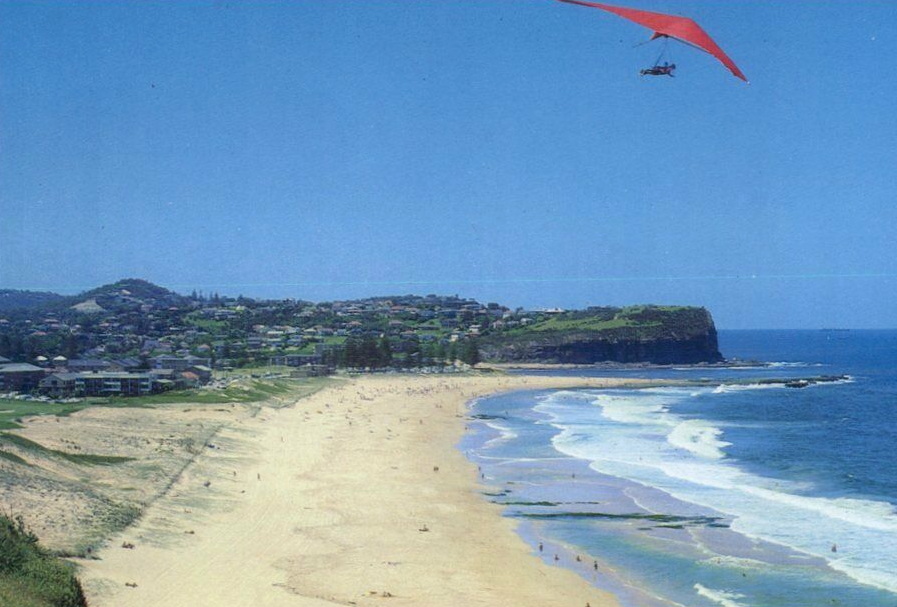 View over dunes in 1969 from balcony at beach end of Golf Ave. We are lucky the destruction stopped when it did.We need our coastal dunes well vegetated and stabilised.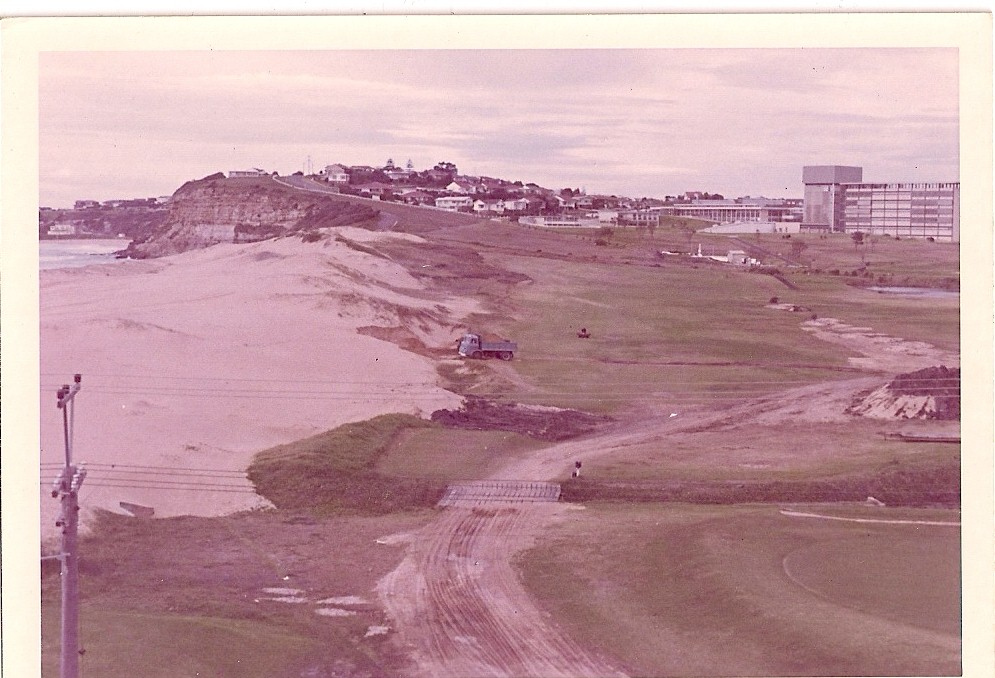 Danina with her Asparagus Fern crown. Probably our worst weed, it's on Australia's list of Weeds of National Significance (WoNS). We can see why. A great feeling when you finally get out that crown. The white water tubers are only for water storage and can stay behind.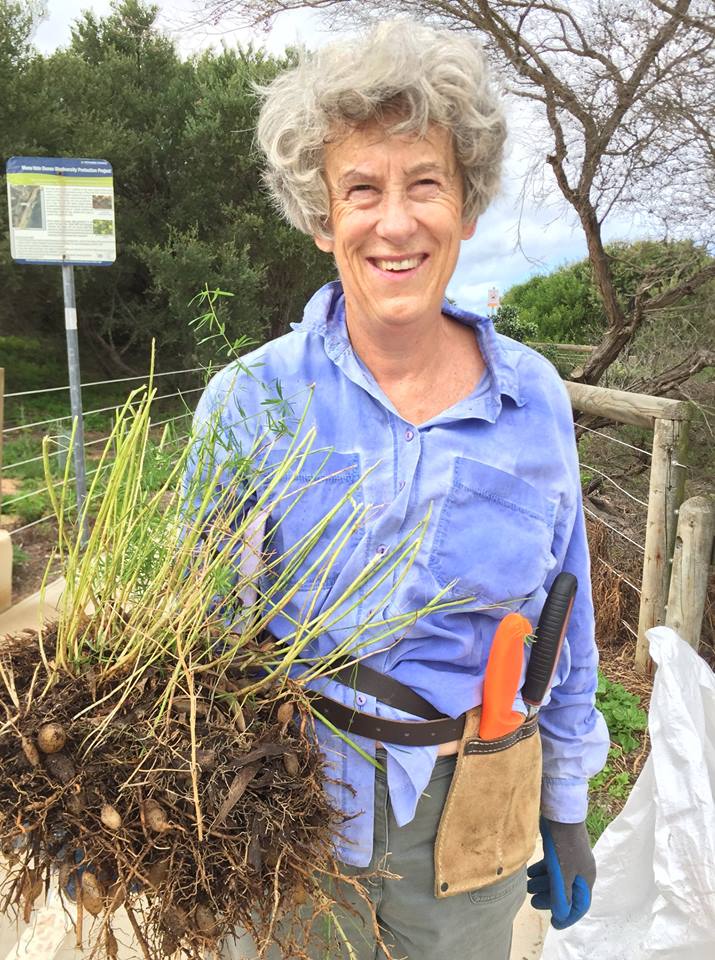 Mona Vale Dunes - birds' eye view.
Golf Avenue is our usual entry point
, at top right of image.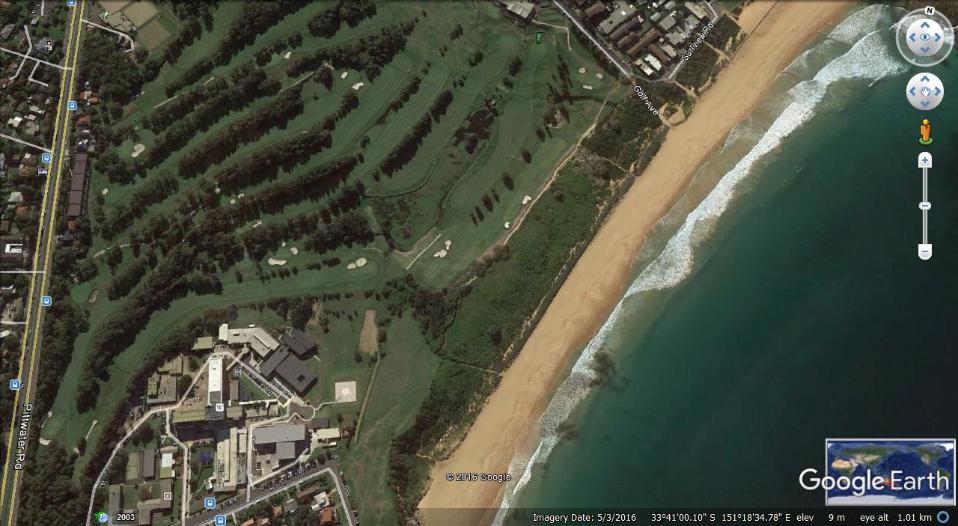 Our Profile picture is Beach Correa, Correa alba. This lovely little shrub flowers for most of the year, happy in wind and salty spray, a great dune stabiliser.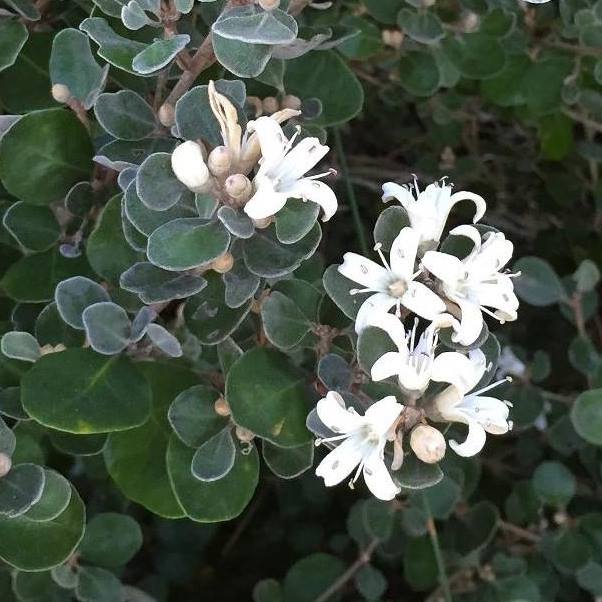 Mona Vale Dunes covers over 8 ha of our Sydney Northern Beaches coastline.
The dunes and bushland have been nearly lost in the past to weeds like lantana and asparagus fern, and to sand removal. Much remains under dense weed, but with steady weeding and some planting of tubestock native plants, the northern area is recovering, and is a home for birds and other animals.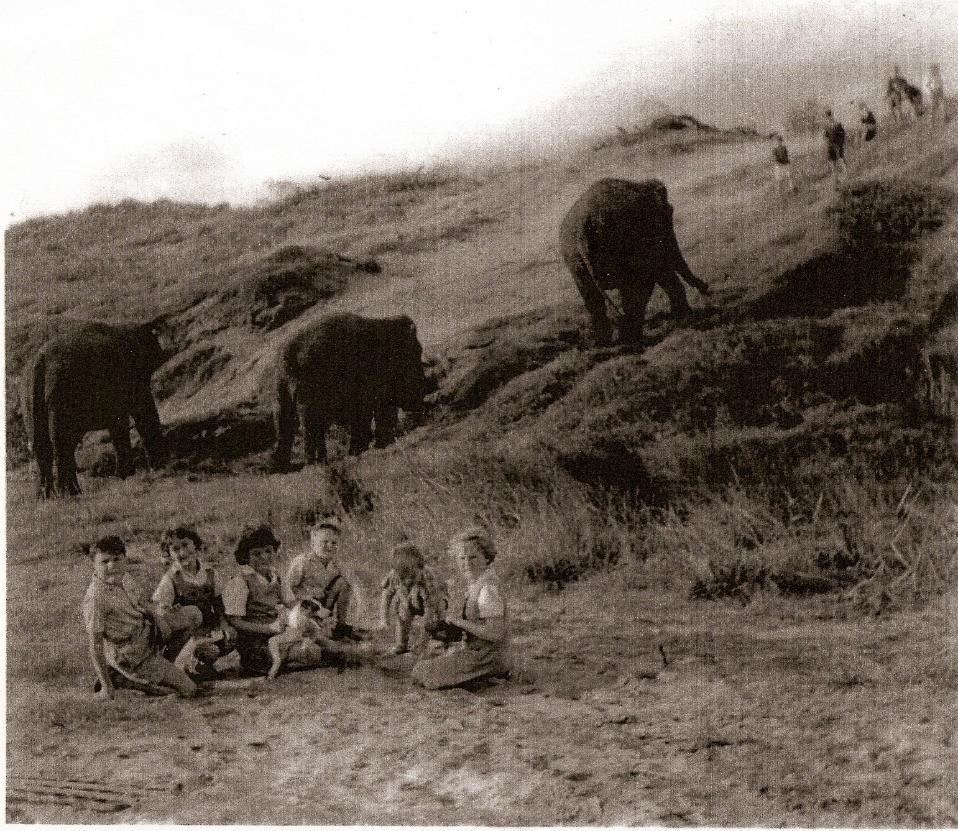 Circus comes to Avalon. Elephants graze in the dunes in the 1960s. Poor dunes! No wonder the sand began to blow.
For most of the late 1960s, commercial interests had been removing tons of sand from the northern dune, which included a huge spur buttressing this dune. Repeated requests from the Trust for a court injunction from Warringah Shire Council to stop this destructive activity were constantly ignored.
The Avalon Preservation Trust ( now the Avalon Preservation Association) sent a telegram to the Minister for Local Government requesting cessation of the work and was advised that the State Planning were seeking to acquire the land for recreation purposes. The Trust was also informed that the council had the situation in hand. In truth neither had the situation in hand at all, so some members of the Trust took it upon themselves to stage a sit-in and create a vehicular barricade to stop the trucks from accessing the sand-loading equipment. Apparently this had the desired effect and a further injunction was successful.
How much sand would have been left had the Trust members not brought about this action?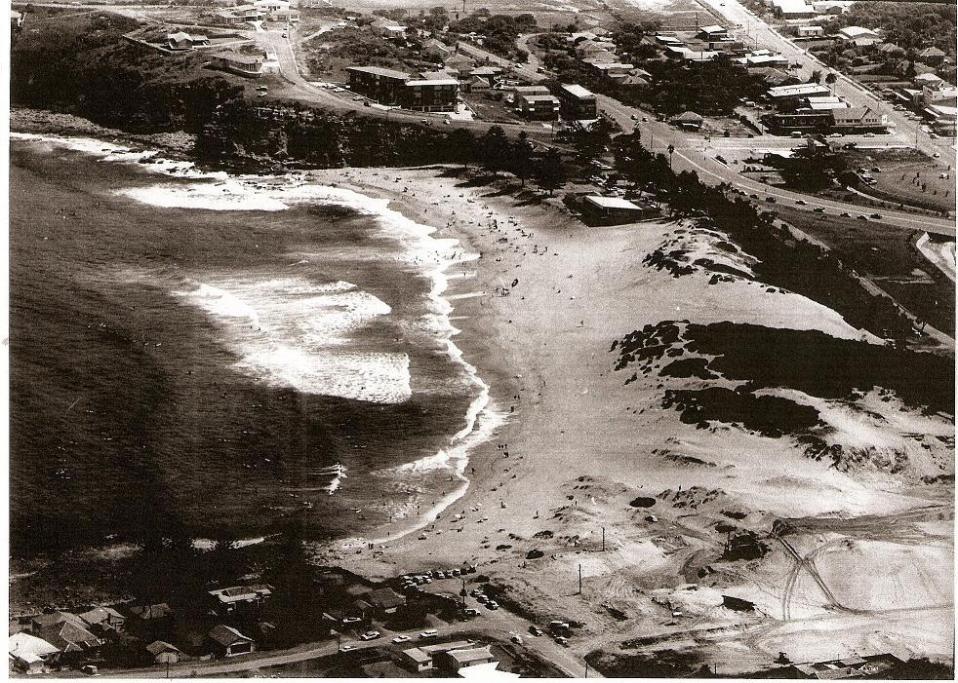 1964 - sand is being removed, dunes disappearing. Thank goodness local heroines stopped this! Our dunes would have gone to building sites..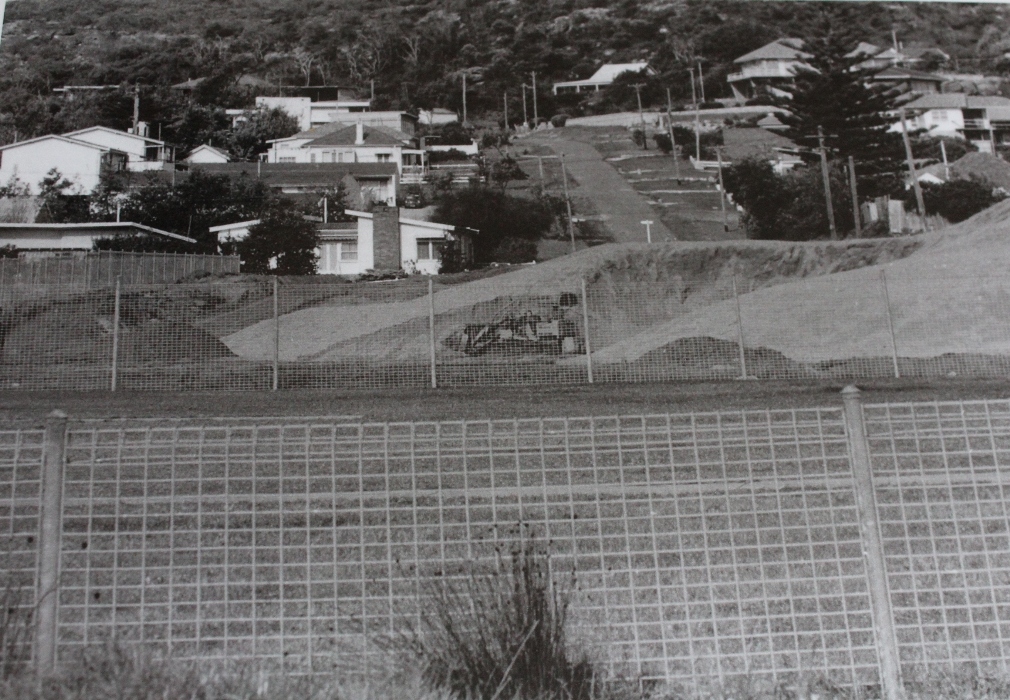 The corner of Tasman Road and Marine Parade Avalon during the sanding mining.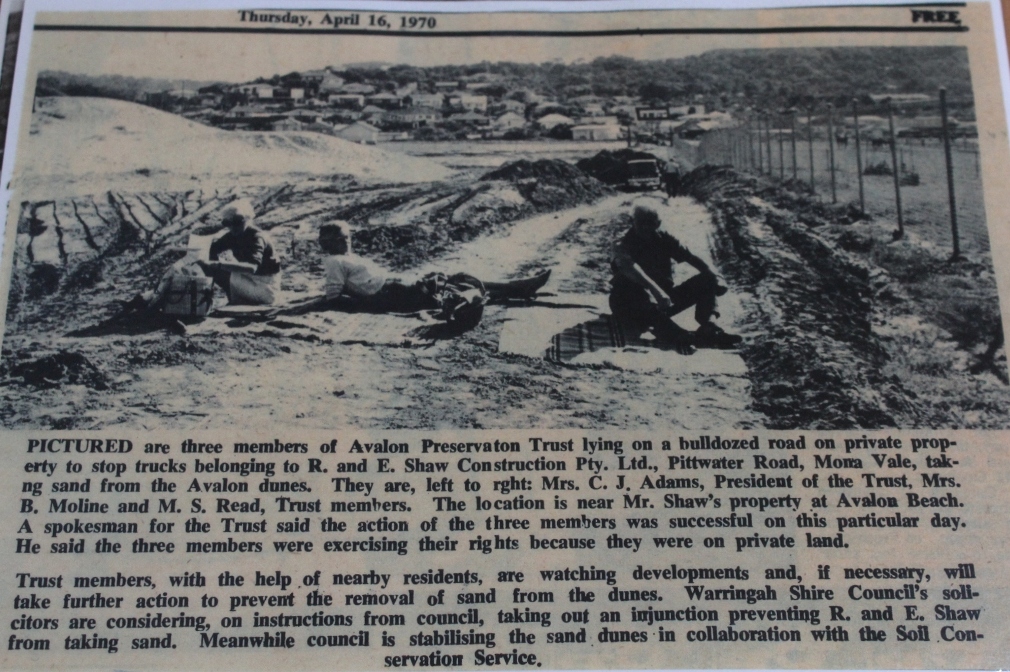 '
The Avalon News
'
article on same - photo by
John Stone
- six cars were parked along the front of where the photographer has stood to take this
photo
- this stopped access to the site by the sand
miners
.
In 1989 volunteer works commenced under the
Friends of Avalon Dunes Dune-Care Group to remove Bitou - this now covered 80% of the dunes.
In a 2013 interview with Marita Macrae, who had just received the Ruth Readford Award for Lifetime Achievement*, Marita shared an insight into the beginnings of this group.
The restoration and maintenance of the Avalon sand dunes has been a long term and quite big project – how did that start?
It had various beginnings. I was always interested in gardening and when I had the opportunity to do Horticulture in the late 1980s, part of this was a Bush Regeneration course. While doing this I learnt about Bitou bush. Also, Warringah Council as it was at this time, around 1989, started on the dunes as they were about 80% Bitou.
The dunes are divided into paddocks, and you can see tracks between these. Warringah Council started in the one nearest to the surf club. They had a grant and got a tractor in there and pulled out lots and lots of Bitou. They then planted some natives – Coastal teatree, some Beach Spinifex and Coastal Banksias and that was it. The idea of those plants was to stabilise the sand after they'd pulled out the Bitou.
Unfortunately Bitou is a terrible seeder, producing thousands and thousands of seedlings. In 1989 I used to watch what was happening. I had a young Labrador, Toby, which I used to take for walks behind dunes and watch the Bitou bush seedlings there. The area to the north was still mostly Bitou. You can't just start a job like that and walk away from it or the project would be a waste of money.
At the beginning of 1990 there two people, myself and a man who left Avalon a couple of years later, approached the Council and suggested we form a volunteer group to maintain what had been started and to continue it. That's how it really began.
What was the name of this volunteer group?
We called it Friends of Avalon Dunes Dune-Care Group, which was a bit of a mouthful. But in those days, the early 1990's, it was part of a lot of work to control Bitou right along the NSW coastline, mainly on dunes, and also in the forests behind dunes. There were lots and lots of groups working at this – mainly north up the coast but also as far down as Tathra on the south coast There were lots of very good volunteer groups working along the coast and we just became one of those.
Ruth Readford I met when we got started in the early 1990s soon after we'd got started. I hadn't known her before but she lived at this time at Ballina. She was a very good leader and organiser. She initiated telephone link ups and Dune Care conferences. We would meet in small groups and talk about our projects. She has written a book about community dune care at Ballina.
The restoration works which began in 1990 have an ongoing maintenance though – you have just reformed the group?
We were working on the Avalon dunes for about 20 years and during that time we'd had quite a few different grants. The Catchment Management Authority grant in the early 1990's, a State Government grant, NSW Environment Trust grant and several Coastcare grants. I cannot take credit for receiving those grants. I helped write them but I had a great deal of help from Pittwater Council staff, particularly Paul Hardie. He always worked as a volunteer as well, right from the very start, despite having a young family. Eventually the Council, after our grants projects were completed, took on maintenance and engaged bushcare contractors to work on the dunes.
We thought everything was going well – the fact is that Bitou is a very obvious weed and people like to do big obvious weeds; they're satisfying to do because you can see what you've done when the work is done.
There are a lot of other weeds there though that benefited from the disappearance of the Bitou, Morning Glory in particular.
About a year ago I noticed that the dunes were still looking pretty weedy so I suggested about September 2012 we reform the group. We've been working one morning a month ever since.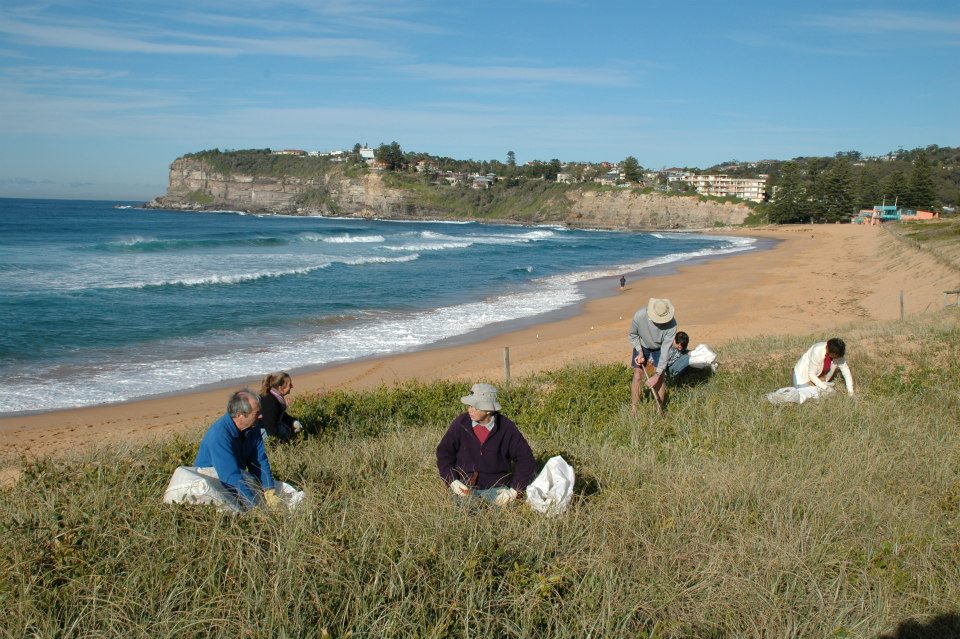 Avalon Dunes - weeding with a view in 2013 - Weeding Spinifex grass - not much else grows in this windy salty place.

When and where does this group meet?
On the first Sunday of each month at 8.30am. We're only working on a small section at this stage and have been meeting at the back of the dunes near the little bridge over Careel creek. Out major weed that we've been tackling is Morning Glory, which we've been doing for years. It's a very time consuming insidious weed.
Although the Council still has contractors working here I think this one is best tackled by volunteers who don't mind doing the fiddly work that you need to do to try and control it. This is not so easy for contractors that need to be able to show where they've been working to their employers. If they have a team of six people working a whole day on Morning Glory, you will not be able to see much difference. I think this is a weed better tackled by us volunteers. Many are happy to do this, others would rather find Asparagus Fern, Turkey Rhubarb or Bitou and tackle that.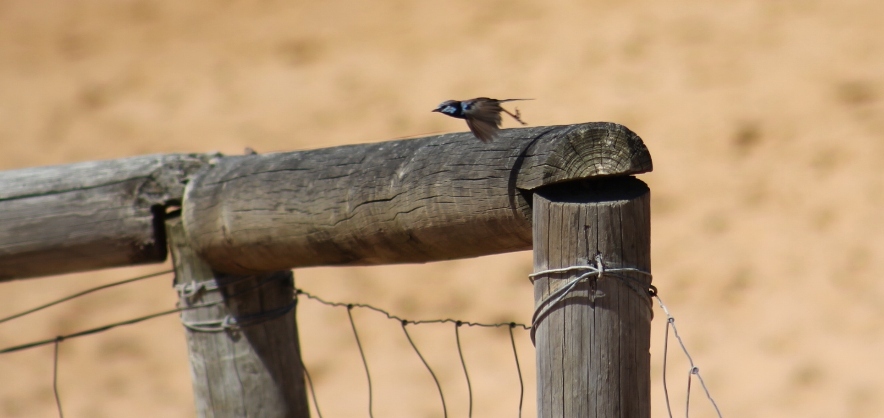 _______________________________
*The Ruth Readford Award for Lifetime Achievement honours an individual who has dedicated significant energies, time and commitment to improving planning and/or management of the NSW coast. The Selection Criteria is described as: Positive impact of actions of individual either through employment or volunteer effort; length of time involved in coastal issues; and recognition by the broader community of individual's contribution to coastal management.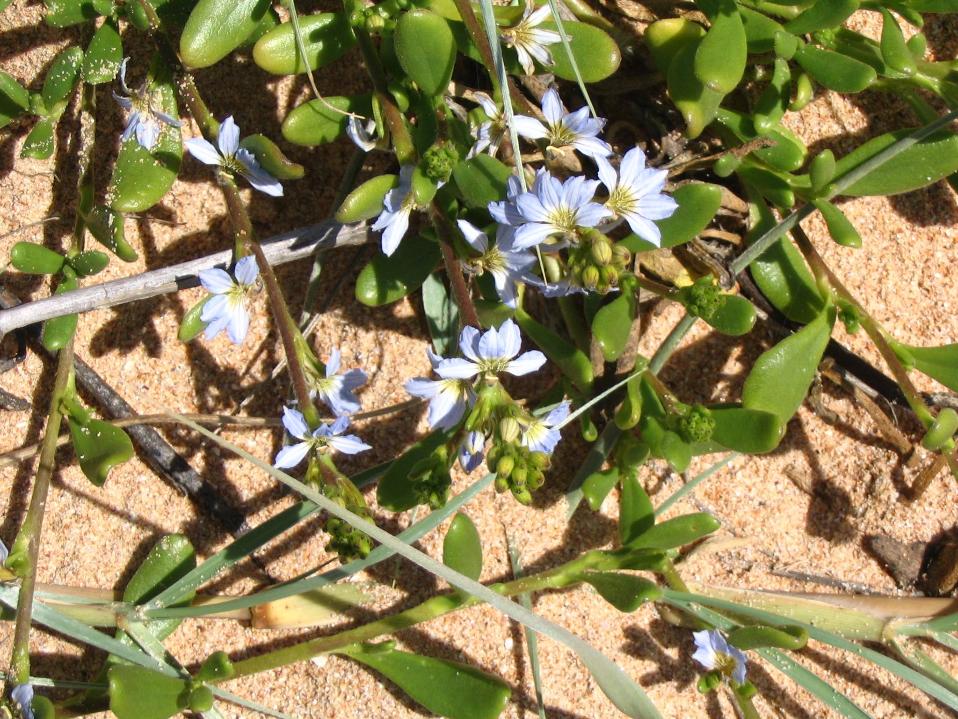 Scaevola calendulacea - a tough dune plant that loves the sun and doesn't mind some salt spray.
Federal Environment Minister Approves Adani Water Plan Without CSIRO And Geoscience Australia Concerns Being Addressed
Groundwater studies by the CSIRO reveal the modelling used by consultants ahead of the federal government's decision to approve Adani's Carmichael mine "was not suitable to ensure the outcomes" needed to meet Australia's environmental legislation.
"A number of limitations were also identified in the proposed monitoring and management approaches indicating they are not sufficiently robust to monitor and minimise impacts to protected environments," the CSIRO's February 2019 groundwater studies found.
Adani was required to identify the source of the underground aquifer connecting the Great Artesian Basin to the threatened Doongmabulla Springs to the south-west of the mine, it must keep impact on water flowing from those underground bores to under 20 centimetres and it must satisfy protection of the black-throated finch.
The CSIRO is satisfied Adani identified the source of the aquifer.
However, it questions the impact on the Doongmabulla Springs.
In November 2018, Adani's nominated consultants Eco Logical reported the impact on one section of the crucial Doongmabulla Springs was 19 centimetres. That was reported last month in the Brisbane Times.
In February, the CSIRO raised similar concerns and questioned whether the modelling was accurate enough to make detailed predictions.
"In particular, the SEIS model under-predicts groundwater drawdown arising from mine development for the following reasons," the report found.
Specifically, it "questions the accuracy of the 0.19m predicted drawdown at the Doongmabulla Springs complex (DSC) by the SEIS model".
After February 29, the department met with Adani staff to establish a regime of extra testing, with
CSIRO writing a letter
clarifying its support on April 5.
The letter, from CSIRO director Land and Water, Jane Coram, notes some issues "still need to be addressed".
"CSIRO is of the view that Adani's responses should satisfy the recommendations to update the groundwater models and are directed to address the modelling-related issues and concerns raised in our advice, noting that there are still components of that advice that will need to be addressed."
The CSIRO recommended the model used must be recalibrated because when the tests were re-run they predicted "less drawdown at the Doongmabulla Springs Complex (DSC) and more baseflow depletion in the Carmichael River than the (particular-selected) model".
"The model used by the [groundwater management plan] is considered to be the most conservative of the available model scenarios as it predicts the greatest impacts from the mine development in all aquifers.
"However, being the best choice of available model runs for use in the [plan] does not mean that this model run is considered to be fit-for-purpose, as outlined in the following sections."
Despite these specific issues that
"still need to be addressed" the
federal
environment
minister
, on the eve of the federal
election being announced, thus dissolving Parliament
, approved the Adani water
management
plans with her
interpretation
being that Adani may rerun the modelling and address CSIRO and Geoscience Australia's concerns 'within two years of the commencement of coal extraction' - not prior to, but after.
The timing of this week's election announcement means CSIRO and Geosciences Australia will not be able to be questioned over their recent report on the Adani mega mine at Senate Estimates.

Critics this week are likening the approval to
that
commensurate
with the
approvals
given
to the huge
conglomerates
of cotton farmers whose rights to take massive
amounts
of water from the Darling River are cited as one of the main reasons
that
river is now dying.
RMIT hydrology expert Dr Matthew Currell said, "Adani is yet to conduct the detailed science required to identify the springs' source aquifer and its monitoring plans risk potentially missing impacts that cause irreversible damage to them.
"Possible impacts include drying up of spring wetlands and reduced flows of groundwater to spring vents and pools, which could lead to irreversible ecological and cultural damage.
"The CSIRO review identified significant shortcomings with Adani's groundwater model, including that it underestimates the drawdown on the springs and the Carmichael River, and it is very unclear what Adani is going to do in response."
Environment Groups are
appalled
at the announcement, with one, Lock the Gate, calling for the decision to be investigated.
"We need a national corruption body and an urgent investigation into how this deeply flawed approval was granted."
Carmel Flint of Lock the Gate said on Wednesday, April 10th.
"The Prime Minister and the Environment Minister have caved in to pressure from Adani and their political backers in the Liberal National Party, and sold Queenslanders down the river.
"There has been blatant political interference in relation to this issue over the last week, with LNP threats against the Environment Minister and hurried meetings between the Adani CEO with the Prime Minister"
Lock the Gate Alliance spokesperson Carmel Flint said
"Adani's Federal approval effectively requires them to restrict drawdown in the Doongmabulla Springs to 20cm.
"However, in Appendix B of the report, CSIRO states that if hydraulic conductivity values in the groundwater model are adjusted to better reflect expected values, then 'the drawdown at the springs would be greater than 0.2m'.
"Therefore, the CSIRO report foreshadows very strongly that the key restraint contained in the approval to protect the Great Artesian Basin Springs cannot be met."
Ms Flint said, as a result, the rushed decision prior to the election was clearly based on political considerations, not on science.
"The Adani mine puts at risk 187 unique Great Artesian Basin spring wetlands which are vital to graziers and wildlife in Central Queensland.
"Independent water experts have identified glaring failures with the water plan and Adani have still not done the research recommended by Great Artesian Basin spring experts in 2016.
"Minister Price's own department also released new research late last year which showed that there was likely to be much greater losses of groundwater due to mining in the Galilee Basin than predicted by Adani."
"We'd like to see the Federal Labor party commit to review all of Adani's environmental approvals thoroughly if it is elected to government, in light of the appalling political interference by LNP politicians that has dogged this water plan," she said.
The federal environment minister's media release announcing the water approval for Adani goes on record below:
Independent Assessment By CSIRO And Geoscience Australia For Groundwater Management Plans
Media release: 9 April 2019 - The Hon. Melissa Price MP, Minister for the Environment
CSIRO and Geoscience Australia have independently assessed the groundwater management plans for the
Carmichael Coal Mine
and Rail Infrastructure project.
Both CSIRO and Geoscience Australia have confirmed the revised plans meet strict scientific requirements.
Following this independent assessment and the Department of the Environment and Energy's recommendation for approval, I have accepted the scientific advice and therefore approved the groundwater management plans for the Carmichael Coal Mine and Rail Infrastructure project under the Environment Protection and Biodiversity Conservation Act 1999.
This decision does not comprise the final approval for this project.
The Project now requires further approvals from the Queensland Government prior to construction commencing. To date, only 16 of 25 environmental plans have been finalised or approved by the Commonwealth and Queensland Governments with a further 9 to be finalised.
It must meet further stringent conditions of approval from the Commonwealth before it can begin producing coal.
This project has been subject to the most rigorous approval process of any mining project in Australia.
Approvals for the project by the Commonwealth in 2015 and the Queensland State Government in 2016 resulted in the setting of 180 strict conditions to protect the environment.
The Project's water management plans have been thoroughly assessed by the Department of the Environment and Energy, which commissioned independent technical advice from Geoscience Australia and the CSIRO.
That advice identified areas of groundwater modelling, monitoring and management that required further work.
That advice recommended a number of actions, which the Company has accepted in full, including:
A substantial increase of early warning monitoring between the mine and the Doongmabulla Springs using additional deeper bores and an additional bore site to monitor flows
Tightened corrective action triggers requiring an immediate response to any unexpected groundwater impact
Commitments to re-run the model addressing all Geoscience Australia and CSIRO concerns

within two years of the commencement of coal extraction

(noting there are no predicted impacts to nationally protected matters within 15 years).
Geoscience Australia and the CSIRO have provided written assurances that these steps address their recommendations.
The advice from Geoscience Australia and CSIRO has been provided to the Queensland Government.
This process reflects our commitment to ensuring robust environmental protection while balancing the needs of Australia's economy.
This is a commercial project. The Australian Government is not providing any financial support to the mine or to its rail project.
Public Consultation On The Review Of The Carbon Credits (Carbon Farming Initiative - Land And Sea Transport) Methodology Determination
By Federal Government Dept. of Environment and Energy
Review of the carbon credits (Carbon farming initiative - land and sea transport) methodology determination 2015
The Emissions Reduction Assurance Committee (the Committee) is conducting a review of the Land and Sea Transport method. This review will investigate whether the method continues to comply with the six offsets integrity standards set out in section 133(1) of the Carbon Credits (Carbon Farming Initiative) Act 2011. It will also consider whether crediting periods of projects registered under the method should be extended under section 255A of the Act.
The Committee is undertaking public consultation to inform its review and invites interested businesses, community organisations and individuals to make a submission. The public consultation period commenced on 26 March 2019 and
will run until 7 May 2019
. Further information about making a submission is provided
HERE
Public Consultation On The Toorale Water Infrastructure Project
The NSW Office of Environment and Heritage is seeking feedback on the Review of Environmental Factors (REF) for Phase 1 of the Toorale Water Infrastructure Project.
The project aims to modify existing water infrastructure on Toorale National Park and State Conservation Area(external link) near Bourke in north-west NSW.
The project seeks to modify existing earthen embankments that were constructed in the Warrego River to store and divert water when Toorale operated as a grazing and irrigation enterprise.
The objective of the project is to increase the amount of water that can pass through the Warrego River to the Darling River, while ensuring that the important social, environmental and heritage values of Toorale are not compromised. It also aims to improve the connectivity of this reach of the Warrego River for fish passage.
Phase 1 of the project involves the removal of a section of an embankment known as Peebles Dam. It also seeks to repair a breach at the Homestead Dam site that occurred during floods in 2012. These repairs are a temporary measure until more permanent modifications are made during Phase 2.
Pending approval of the Review of Environmental Factors (REF) and favourable weather conditions, Phase 1 activities will be undertaken late 2019.
The REF will be on exhibition from 1 April
to 30 April 2019
at the Bourke National Parks and Wildlife Service, 51 Oxley Street, Bourke.
There are three ways you can submit your feedback:
Mail: Sonya Ardill
c/o PO Box 1020
Dubbo NSW 2830
Have your say by 30 April 2019.
EPA Fines Forestry Corp $16,500 For Gibberagee State Forest Offence
The NSW Environment Protection Authority has fined Forestry Corporation of NSW (FCNSW) a total of $16,500 after the organisation allegedly conducted forestry activities in an exclusion zone of a rare, threatened plant in Gibberagee State Forest.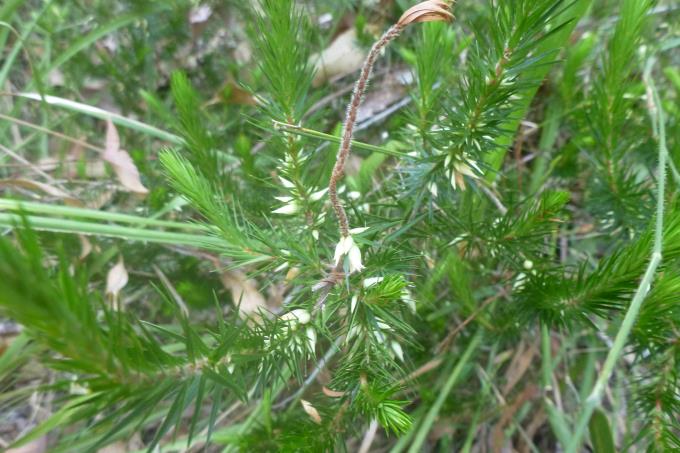 The $16,500 penalty notice was issued under the
Biodiversity Conservation Act 2016
for a breach of the Integrated Forestry Operations Approval for the Upper North East Region (IFOA).
The EPA alleges that in September 2017,
FCNSW failed to implement the required protections for the rare threatened plant, Melichrus Gibberagee, despite knowing of its location.
EPA officers inspected the site and reported that multiple trees had been cut down and a large area of groundcover had been disturbed around the Melichrus plant. While the plant itself remained unharmed at the time of the inspection, EPA officers determined that the disturbance in the exclusion zone was contrary to the requirements of the IFOA.
"Exclusion zones are not suggestions – they are firm boundaries that must be implemented during forestry operations to protect important habitat and threatened species, including Melichrus," EPA Acting Director Forestry Jackie Miles said.
"The Melichrus is an extremely rare plant – it is only known to occur in and around the Gibberagee State Forest.
"While FCNSW took some steps to protect the Melichrus plant in the forest, the EPA believes there was a failure to put this plant's protection as a priority in their planning and operations.
"We take all forestry offences seriously. The community can be confident that the EPA will take all necessary regulatory action to ensure that forestry operations comply with the IFOA and are regulated to ensure the appropriate balance between protecting the environment and delivering the State's timber needs."
In January, the EPA also issued FCNSW two official cautions and two formal warnings for allegedly breaching the requirements of the IFOA. This included allegedly undertaking forestry operations in excluded areas, failing to mark protected features and for inadequate selection and protection of trees with hollows.
The EPA is continuing to investigate several community reports of alleged forestry breaches in the Gibberagee area. Members of the community are encouraged to report their concerns to the 24/7 Environment Line on 131 555.
Penalty notices are one of several tools the EPA can use to achieve environmental compliance including formal warnings, official cautions, licence conditions, notices and directions and prosecutions. For more information about the EPA's regulatory tools, see the EPA Compliance Policy at www.epa.nsw.gov.au/legislation/prosguid.htm
EPA Fines Sydney Water $60,000: Local Creek Polluted
The NSW Environment Protection Authority (EPA) has issued $45,000 in fines to Sydney Water for alleged inadequate clean-up of sewage overflows which impacted Sydney's waterways in Pymble, Faulconbridge and Forestville.
EPA Regional Director Metropolitan Giselle Howard said the EPA undertook a compliance campaign in May-June 2018 to assess the adequacy of Sydney Water's responses to dry weather sewage overflows from its sewerage systems.
A similar compliance campaign undertaken in November 2017-January 2018 resulted in the EPA issuing fines of $120,000 to Sydney Water in relation to six similar incidents.
"Both campaigns identified significant issues with Sydney Water's performance, particularly in relation to the overarching management and operational framework for responding to dry weather sewage overflows which can impact waterways," Ms Howard said.
"It is essential that Sydney Water undertakes all necessary actions as soon as possible in response to a sewage overflow to minimise the impacts on the environment and public health.
"Untreated sewage can pose a risk to human health and have significant environmental impacts on waterways and land."
The EPA investigated and identified the alleged breaches at three overflows and issued three penalty notices of $15,000 each, to Sydney Water:
Pymble overflow into an unnamed creek in the Lane Cove River catchment (3 May 2018)
Faulconbridge overflow into bushland and gully (27 May 2018)

Forestville overflow into bushland and an unnamed creek in Garigal National Park

(25 June 2018)
The address the poor performance the EPA added special conditions requiring an independent assessment of Sydney Water's overarching management and operational framework for responding to dry weather sewage overflows to each of Sydney Water's 23 environment protection licences,
Additionally, in a separate matter, the EPA fined Sydney Water $15,000 after an alleged breach involving 26 million litres of treated sewage, with an elevated ammonia concentration, was discharged from Rouse Hill Sewage Treatment Plant into Seconds Pond Creek in April 2018.
Penalty notices and licence condition changes are some of tools the EPA can use to achieve environmental compliance, which can also include formal warnings, notices and directions, enforceable undertakings, legally binding pollution reduction programs, mandatory audits and prosecutions.
The maximum penalty for not complying with a condition of an environment protection licence or a clean-up notice is a court imposed fine of $1 million for a corporation and $120,000 each day the offence continues.
Coral Reproduction On The Great Barrier Reef Falls 89% After Repeated Bleaching
Professor, ARC Centre of Excellence for Coral Reef Studies, James Cook University
The severe and repeated bleaching of the Great Barrier Reef has not only damaged corals, it has reduced the reef's ability to recover.
Our research,
published today in Nature
, found far fewer baby corals are being produced than are needed to replace the large number of adult corals that have died. The rate at which baby corals are settling on the Great Barrier Reef has fallen by nearly 90% since 2016.
While coral does not always die after bleaching, repeated bleaching has killed large numbers of coral. This new research has negative implications for the Reef's capacity to recover from high ocean temperatures.
Most corals reproduce by "spawning": releasing thousands of tight, buoyant bundles with remarkable synchronisation. The bundles burst when they hit the ocean surface, releasing eggs and/or sperm. Fertilised eggs develop into larvae as they are moved about by ocean currents. The larvae settle in new places, forming entirely new coral colonies. This coral "recruitment" is essential to reef recovery.
The research team, led by my colleague Terry Hughes from the ARC Centre of Excellence for Coral Reef Studies, measured rates of coral recruitment by attaching small clay tiles to the reef just before the predicted mass spawning each year. These settlement panels represent a standardised habitat that allows for improved detection of the coral recruits, which are just 1-2mm in size.
Almost 1,000 tiles were deployed across 17 widely separated reefs after the recent mass bleaching, in late 2016 and 2017. After eight weeks they were collected and carefully inspected under a microscope to count the number of newly settled coral recruits. Resulting estimates of coral recruitment were compared to recruitment rates recorded over two decades prior to the recent bleaching.
Video by Australian Academy of Science.
Rates of coral recruitment recorded in the aftermath of the recent coral bleaching were just 11% of levels recorded during the preceding decades. Whereas there were more than 40 coral recruits per tile before the bleaching, there was an average of just five coral recruits per tile in the past couple of years.
The Great Barrier Reef (GBR) is the world's largest reef system. The large overall size and high number of distinct reefs provides a buffer against most major disturbances. Even if large tracts of the GBR are disturbed, there is a good chance at least some areas will have healthy stocks of adult corals, representing a source of new larvae to enable replenishment and recovery.
Larvae produced by spawning corals on one reef may settle on other nearby reefs to effectively replace corals lost to localised disturbances.
It is reassuring there is at least some new coral recruitment in the aftermath of severe bleaching and mass mortality of adult corals on the GBR. However, the substantial and widespread reduction of regrowth indicates the magnitude of the disturbance caused by recent heatwaves.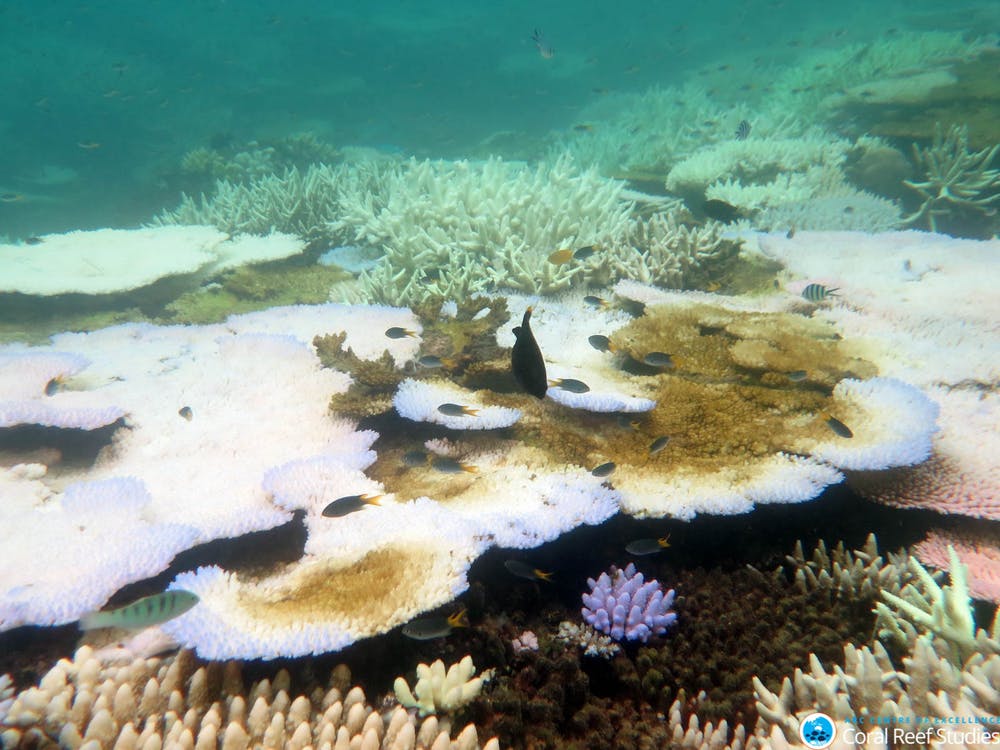 Reduction of coral regrowth shows the effects of recent heatwave disturbances. Bette Willis
Declines in rates of coral recruitment were greatest in the northern parts of the GBR. This is where bleaching was most pronounced in 2016 and 2017, and there was the greatest loss of adult corals. There were much more moderate declines in coral recruitment in the southern GBR, reflecting generally higher abundance of adults corals in these areas. However, prevailing southerly currents (and the large distances involved) make it very unlikely coral larvae from southern parts of the Reef will drift naturally to the hardest-hit northern areas.
It is hard to say how long it will take for coral assemblages to recover from the recent mass bleaching. What is certain is low levels of coral recruitment will constrain coral recovery and greatly increase the recovery time. Any further large-scale developments with also greatly reduce coral cover and impede recovery.
Reducing carbon emissions
This study further highlights the vulnerability of coral reefs to sustained and ongoing global warming. Not only do adult corals bleach and die when exposed to elevated temperatures, this prevents new coral recruitment and undermines ecosystem resilience.
The only way to effectively redress global warming is to immediately and substantially reduce global carbon emissions. This requires that all countries, including Australia, renew and strengthen their commitments to the Paris Agreement on climate change.
While further management is required to minimise more direct human pressure on coral reefs – such as sediment run-off and pollution – all these efforts will be futile if we do not address global climate change.
This article was published in
The Conversation
. Republished under Creative Commons licence.
Warm Winds In Autumn Could Strain Antarctica's Larsen C Ice Shelf
The Antarctic Peninsula is the northernmost part of Earth's coldest continent, making it particularly vulnerable to a changing global climate. Surface melting of snow and ice initiated the breakup of the peninsula's northernmost Larsen A ice shelf in 1995, followed in 2002 by the Larsen B ice shelf to the south, which lost a section roughly the size of Rhode Island.
New University of Maryland-led research shows that the Larsen C ice shelf -- the fourth largest ice shelf in Antarctica, located just south of the former Larsen B shelf -- experienced an unusual spike in late summer and early autumn surface melting in the years 2015 to 2017. The study, spanning 35 years from 1982 to 2017, quantifies how much of this additional melting can be ascribed to warm, dry air currents called foehn winds that originate high in the peninsula's central mountain range.
The study further shows that the three-year spike in foehn-induced melting late in the melt season has begun to restructure the snowpack on the Larsen C ice shelf. If this pattern continues, it could significantly alter the density and stability of the Larsen C ice shelf, potentially putting it at further risk to suffer the same fate as the Larsen A and B shelves.
The researchers used two different methods to quantify patterns of foehn-induced melt from climate model outputs that correspond to real-world satellite observations and weather station data. They published their findings on April 11, 2019 in the journal Geophysical Research Letters.
"Three years doesn't make a trend. But it's definitely unusual that we are seeing enhanced foehn winds and associated melting in late summer and early autumn," said Rajashree Tri Datta, a faculty assistant at UMD's Earth System Science Interdisciplinary Center and the lead author of the research paper. "It's unusual that we're seeing increased foehn-induced melt in consecutive years -- especially so late in the melt season, when the winds are stronger but the temperatures are usually cooling down. This is when we expect melting to end and the surface to be replenished with snow."
Enhanced surface melting causes water to trickle into the underlying layers of firn -- or uncompacted, porous snow -- in the upper layers of the ice sheet. This water then refreezes, causing the normally porous, dry firn layers to become denser. Eventually, the firn layers can become too dense for water to enter, leading to a buildup of liquid water atop the ice shelf.
"With enhanced densification, the ice enters the next warm season with a very different structure. Our modeling results show that, with less open space for the surface water to filter into, runoff increases year after year," said Datta, who also has an appointment at NASA's Goddard Space Flight Center. "The dominant theory suggests that enhanced densification led to the fracture of the Larsen A and B shelves. Despite an overall decrease in peak summer melt over the last few years, episodic melting late in the melt season could have an outsized impact on the density of the Larsen C ice shelf."
As foehn winds race down the colder eastern slopes of the Antarctic Peninsula's central mountain range, they can raise air temperatures by as much as 30 degrees Fahrenheit, producing localized bursts of snowmelt. According to Datta, these winds exert their greatest effects at the bases of glacial valleys. Here, where the feet of the glaciers adjoin the Larsen C ice shelf, foehn winds stand to destabilize some of the most fragile and critical structures in the system.
"The Larsen C ice shelf is of particular interest because it's among the most vulnerable in Antarctica," Datta explained. "Because it's a floating ice shelf, a breakup of Larsen C wouldn't directly lead to a rise in global mean sea level. However, the ice shelf does brace against the flow of the glaciers that feed it. So if Larsen C goes, some of these glaciers will be free to accelerate their rate of flow and melt, which will result in a rise in global sea level."
Rajashree Tri Datta, Marco Tedesco, Xavier Fettweis, Cecile Agosta, Stef Lhermitte, Jan Lenaerts, Nander Wever.
The Effect of Foehn-Induced Surface Melt on Firn Evolution over the Northeast Antarctic Peninsula.
Geophysical Research Letters, 2019 DOI:
10.1029/2018GL080845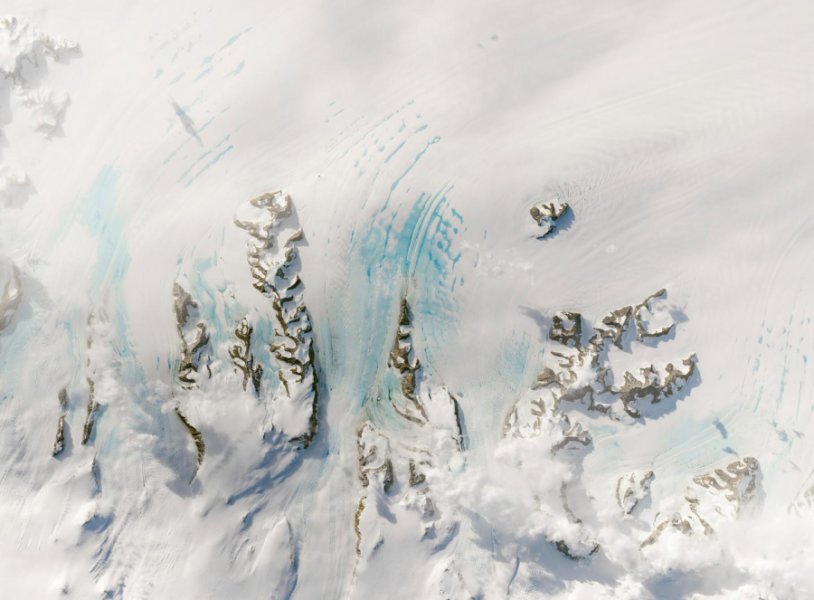 In this image, created by NASA's Earth Observatory using Landsat data from the US Geological Survey, brilliant blue pools of melt water can be seen collecting atop the Larsen C ice shelf on the Antarctic Peninsula. A new study shows that the Larsen C shelf experienced an unusual spike in late-season surface melting in the years 2015 to 2017 -- and quantifies how much of this additional melting is due to warm, dry air currents that originate high in the peninsula's central mountain range.
Credit: NASA Earth Observatory/Lauren Dauphin
Are More Aussie Trees Dying Of Drought? Scientists Need Your Help Spotting Dead Trees
The following opinion piece, co-authored by Professor Belinda Medlyn and Associate Professor Brendan Choat from the Hawkesbury Institute for the Environment, was first published with full links on
The
Conversation.
Most citizen science initiatives ask people to record living things, like frogs, wombats, or feral animals. But dead things can also be hugely informative for science. We have just launched a new citizen science project, The Dead Tree Detective, which aims to record where and when trees have died in Australia.
The current drought across southeastern Australia has been so severe that native trees have begun to perish, and we need people to send in photographs tracking what has died. These records will be valuable for scientists trying to understand and predict how native forests and woodlands are vulnerable to climate extremes.
Understanding where trees are most at risk is becoming urgent because it's increasingly clear that climate change is already underway. On average, temperatures across Australia have risen more than 1℃ since 1910, and winter rainfall in southern Australia has declined. Further increases in temperature, and increasing time spent in drought, are forecast.
How our native plants cope with these changes will affect (among other things) biodiversity, water supplies, fire risk, and carbon storage. Unfortunately, how climate change is likely to affect Australian vegetation is a complex problem, and one we don't yet have a good handle on.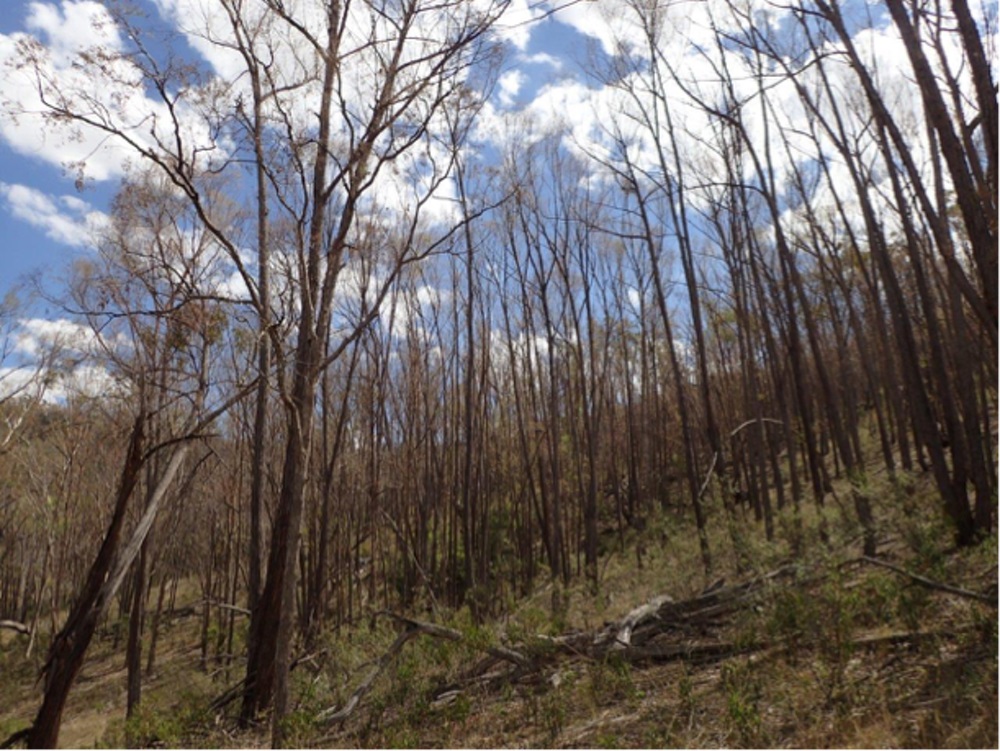 Phil Spark of Woolomin, NSW submitted this photo to The Dead Tree Detective project online. Author provided

All plants have a preferred average climate where they grow best (their "climatic niche"). Many Australian tree species have small climatic niches.
It's been estimated an increase of 2℃ would see 40% of eucalypt species stranded in climate conditions to which they are not adapted.
But what happens if species move out of their climatic niche? It's possible there will be a gradual migration across the landscape as plants move to keep up with the climate.
It's also possible that plants will generally grow better, if carbon dioxide rises and frosts become less common (although this is a complicated and disputed claim.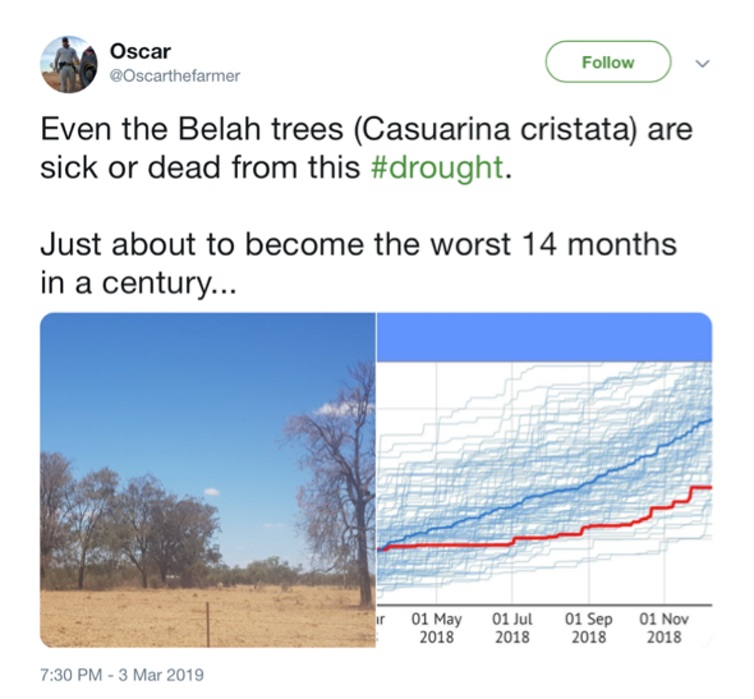 Farmers have reported anecdotal evidence of tree deaths on social media. Author provided

However, a third possibility is that increasing climate extremes will lead to mass tree deaths, with severe consequences.
There are examples of all three possibilities in the scientific literature, but reports of widespread tree death are becoming increasingly commonplace.
Many scientists, including ourselves, are now trying to identify the circumstances under which we may see trees die from climate stress. Quantifying these thresholds is going to be key for working out where vegetation may be headed.
The water transport system
Australian plants must deal with the most variable rainfall in the world. Only trees adapted to prolonged drought can survive. However, drought severity is forecast to increase, and rising heat extremes will exacerbate drought stress past their tolerance.
To explain why droughts overwhelm trees, we need to look at the water transport system that keeps them alive. Essentially, trees draw water from the soil through their roots and up to their leaves. Plants do not have a pump (like our hearts) to move water – instead, water is pulled up under tension using energy from sunlight. Our research illustrates how this transport system breaks down during droughts.
In hot weather, more moisture evaporates from trees' leaves, putting more pressure on their water transport system. This evaporation can actually be useful, because it keeps the trees' leaves cool during heatwaves. However if there is not enough water available, leaf temperatures can become lethally high, scorching the tree canopy.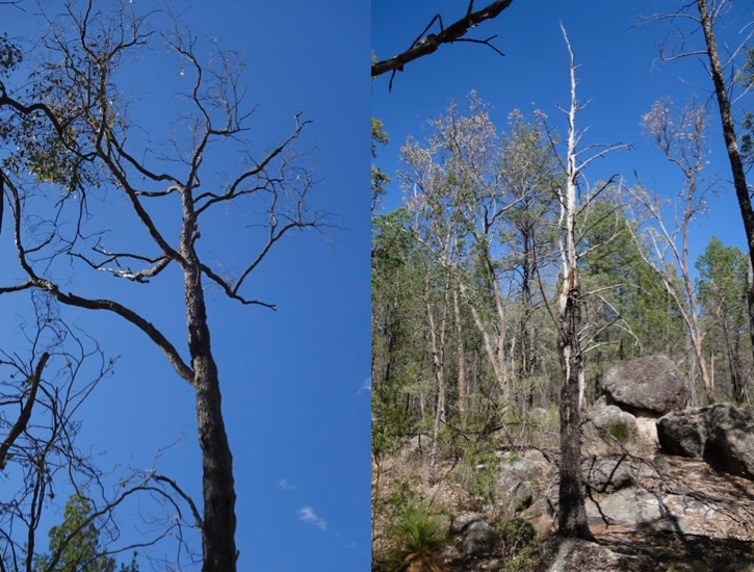 Lyn Lacey submitted these photos of dead trees at Ashford, NSW to The Dead Tree Detective. Author provided

We've also identified how drought tolerance varies among native tree species. Species growing in low-rainfall areas are better equipped to handle drought, showing they are finely tuned to their climate niche and suggesting many species will be vulnerable if climate change increases drought severity.
Based on all of these data, we hope to be able to predict where and when trees will be vulnerable to death from drought and heat stress. The problem lies in testing our predictions – and that's where citizen science comes in. Satellite remote sensing can help us track overall greenness of ecosystems, but it can't detect individual tree death. Observation on the ground is needed.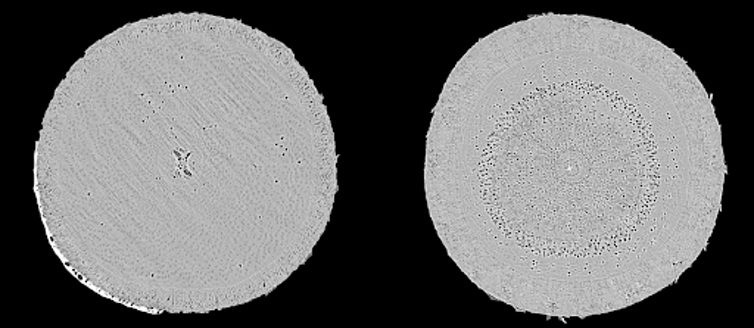 These images show a failure of the water transport system in Eucalyptus saligna. Left: well-watered plant. Right: severely droughted plant. On the right, air bubbles blocking the transport system can be seen. Brendan Choat, Author provided
However, there is no system in place to record tree death from drought in Australia. For example, during the Millennium Drought, the most severe and extended drought for a century in southern Australia, there are almost no records of native tree death (other than along the rivers, where over-extraction of water was also an issue). Were there no deaths? Or were they simply not recorded?
The current drought gripping the southeast has not been as long as the Millennium Drought, but it does appear to be more intense, with some places receiving almost no rain for two years. We've also had a summer of repeated heatwaves, which will have intensified the stress.
We're hearing anecdotal reports of tree death in the news and on twitter. We're aiming to capture these anecdotal reports, and back them up with information including photographs, locations, numbers and species of trees affected, on the Dead Tree Detective.
We encourage anyone who sees dead trees around them to hop online and contribute. The Detective also allows people to record tree deaths from other causes – and trees that have come back to life again (sometimes dead isn't dead). It can be depressing to see trees die – but recording their deaths for science helps to ensure they won't have died in vain.
PITTWATER YHA OFFERS FREE BEDS FOR GREEN HEARTS
This May, Pittwater YHA opens its doors to green-hearted and green-thumbed guests who'll save the gorgeous Ku-ring-gai Chase National Park from imminent asparagus fern invasion. Yes, seriously.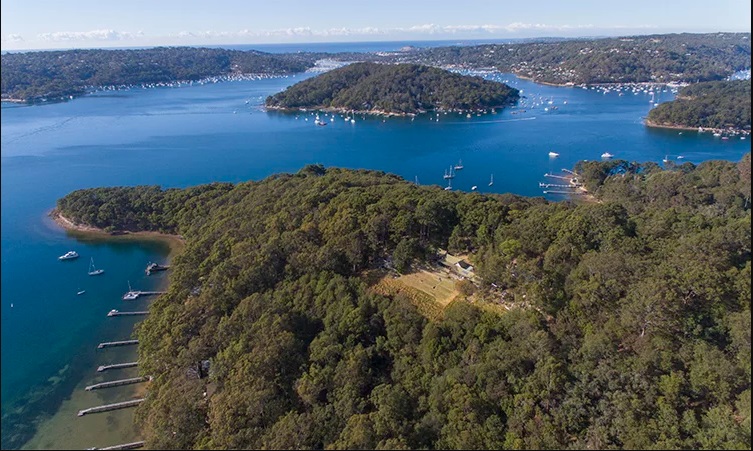 Bush Regeneration sees eco-conscious, kind hearted humans restore and rehabilitate the gorgeous, sprawling Aussie bush from its weed-infested, degraded state into a healthy, thriving plant community, which will prosper and delight forevermore. Far from just weed removal; Regenerators focus on habitat, drainage, weed sources and establishing native communities. These are big words which probably don't make much sense – but we have an interactive learning opportunity for you!
Ku-ring-gai Chase National Park, Sydney's protected north coast, is home to rock engravings, red ochre rock paintings, the fuzziest wildlife you ever did see and the most breathtaking views a Sydneysider or visitor could comprehend; and is currently under threat from invasive asparagus fern; which needs removing. Who knew your Aunty's fave veggie could be so aggressive?
The blissed-out, babbling-brooked, spectacular-viewed, fresh-aired oasis that is our Pittwater YHA, alongside the Northern Beaches Council, are offering you fine green-thumbed and hearted folk the opportunity to volunteer alongside professional Regenerators for a weekend of Pittwater Restoration from
May 3 - 5, 2019
. Spend two mornings of tending to the gorgeous surrounds and you'll be rewarded with two nights' accommodation, two days of meals (morning teas, BBQ lunches and evening dinners) and kayak use throughout your stay. Plus, you'll be chuffed with yourself for doing your bit for the planet and our futures.
Along with your towels, two sheets, a pillowcase and, sturdy shoes, sunscreen and your breakfasts; you'll need a $20 contribution for the weekend. For all the T&Cs; head to
Pittwater YHA
, shoot them an
email
(Subject: 'Bush Regeneration Weekend') or give them a ring on (02 9999-5748) – the only thing those guys love more than a regenerated bushland is chatting to ladies and gentleman who are keen on the idea!
Archie's Pittwater Clean Up
I am a Seabin Ambassador, I started this campaign because I want to take a stand against ocean plastics!
My goal is to raise enough money to bring a minimum of 20 Seabins to Pittwater NSW as I want to give The Northern Beaches the opportunity to reduce its plastic pollution impact on the ocean. Its amazing how much accidental rubbish comes down our creeks and into our waterways
I need your help to raise money to buy the Seabins a revolutionary ocean cleaning technology which is essentially a floating rubbish bin that operates 24/7 catching all floating debris in the water.
The Seabin helps clean the ocean of floating debris which in turn creates cleaner oceans and we all benefit from this in one way or another. I mean, who really wants to swim in pollution? Not me that's for sure!
Did you know that 300 million tons of plastic are produced in the world every year, half of which is for single use products, from this more than 8 million tons of plastic is dumped into our oceans every year. We need to do something about it and now with the purchase of a Seabin we can all participate and make a difference!
Join me and my campaign to help ensure cleaner oceans!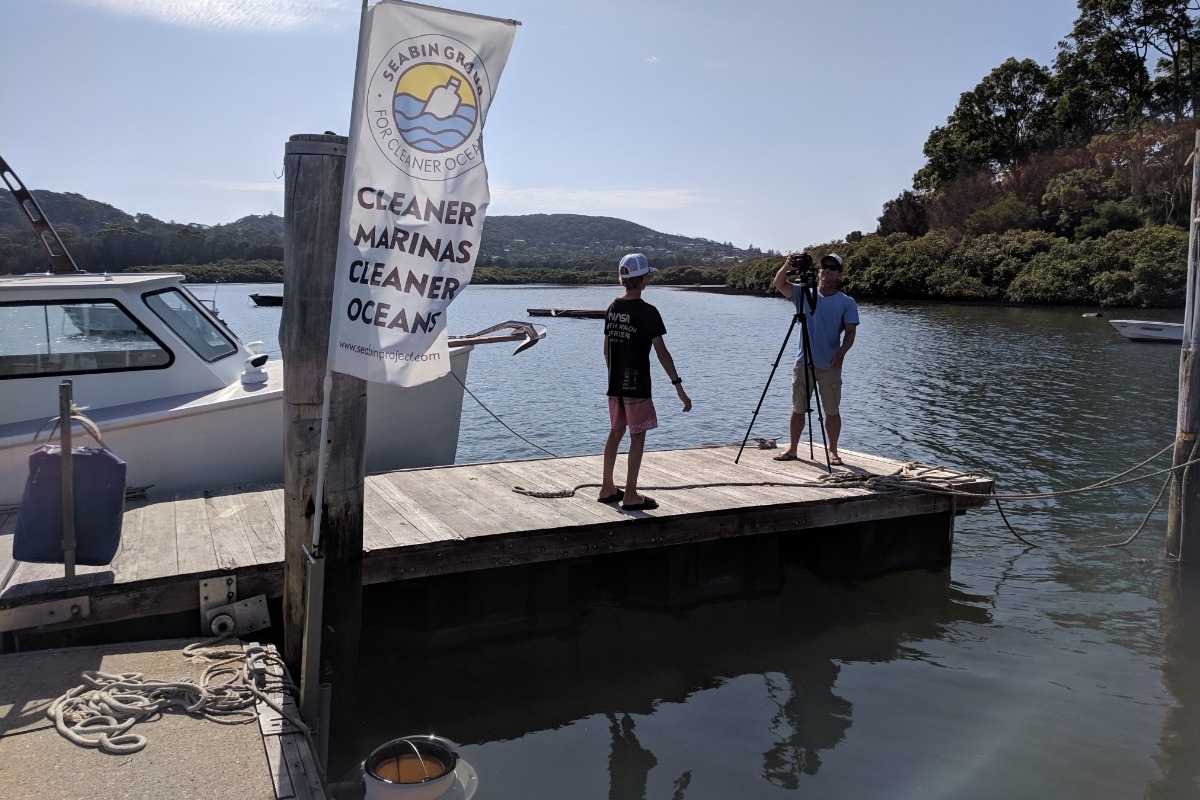 The Seabin is a floating rubbish bin that is located in the water at marinas, docks, yacht clubs and commercial ports.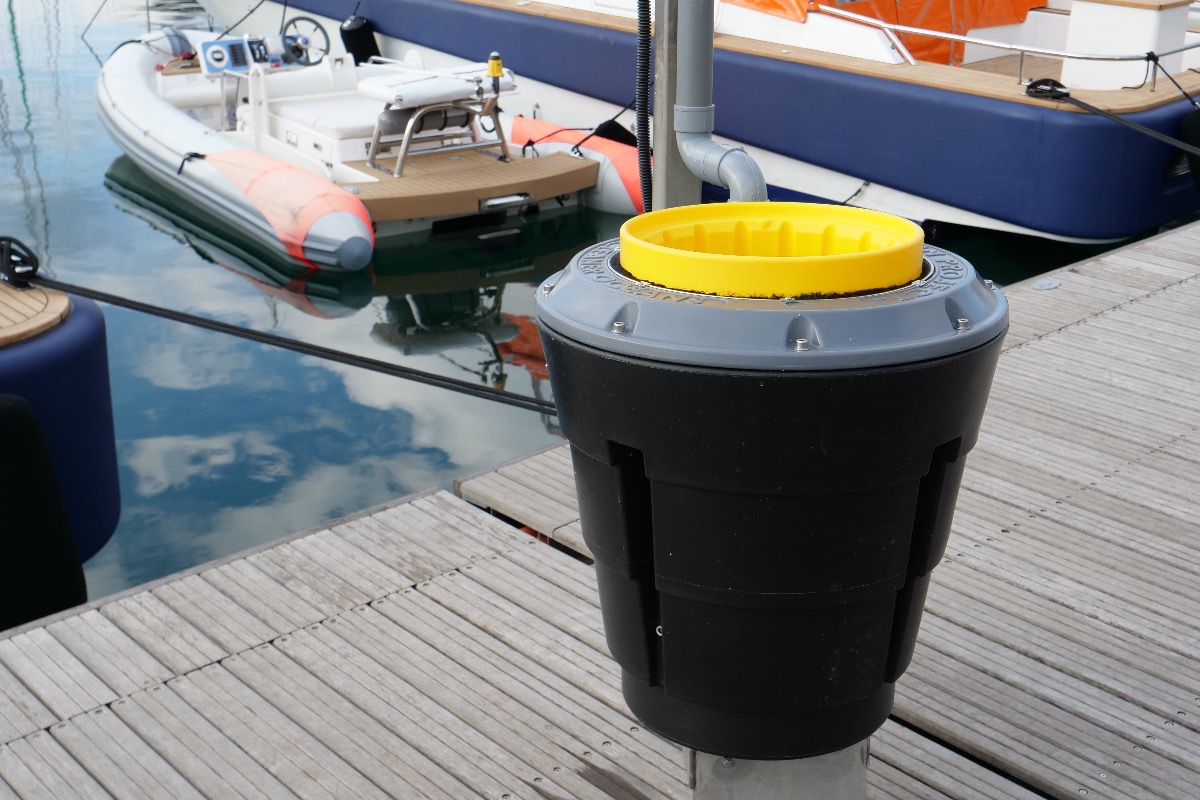 The Seabin can catch an average of 3.9kgs of floating debris per day which adds up to 1.4 tons per year. (depending on weather conditions and debris volumes) The Seabins is catching large plastic bags, bottles, plastic straws, coffee cups, food wrappers, surface oils and micro plastics down to 2 mm small.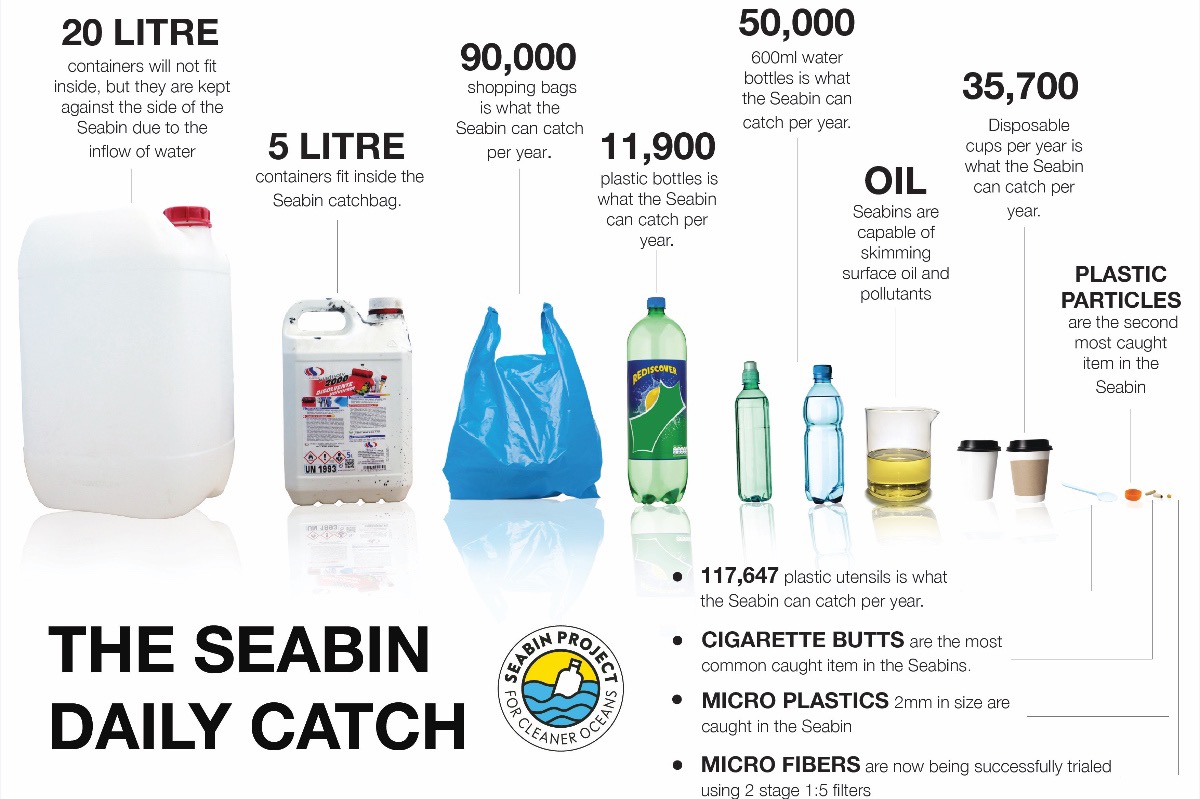 How can a Seabin contribute to cleaner oceans?
The Seabin contributes to cleaner oceans by removing 1.4 tons of floating debris per unit per year. The location of the Seabin in marinas is ideal and where it matters most, close to the source of entry for floating debris. Ports and Marinas are perfect locations to stop floating debris from entering the open ocean and ocean plastics are also brought in by wind and currents.
Are the Seabins a danger to marine life?
The fish According to the team at Seabin, stay away from the surface of the water where the Seabin sucks in the water. They are deterred by the force of the water current. If there are swarms of jellyfish or bait fish it is recommended that the Seabins are turned off until the swarms pass. If a fish was to accidentally go into the Seabin, it would be caught in the Seabin and stay submerged in water until the marina staff retrieve the filter and throw the fish still alive back into the water.
Water is sucked in from the surface and passes through a catch bag inside the Seabin, with a submersible water pump capable of displacing 25.000 LPH (liters per hour). The water is then pumped back into the marina leaving litter and debris trapped in the catch bag to be disposed of properly.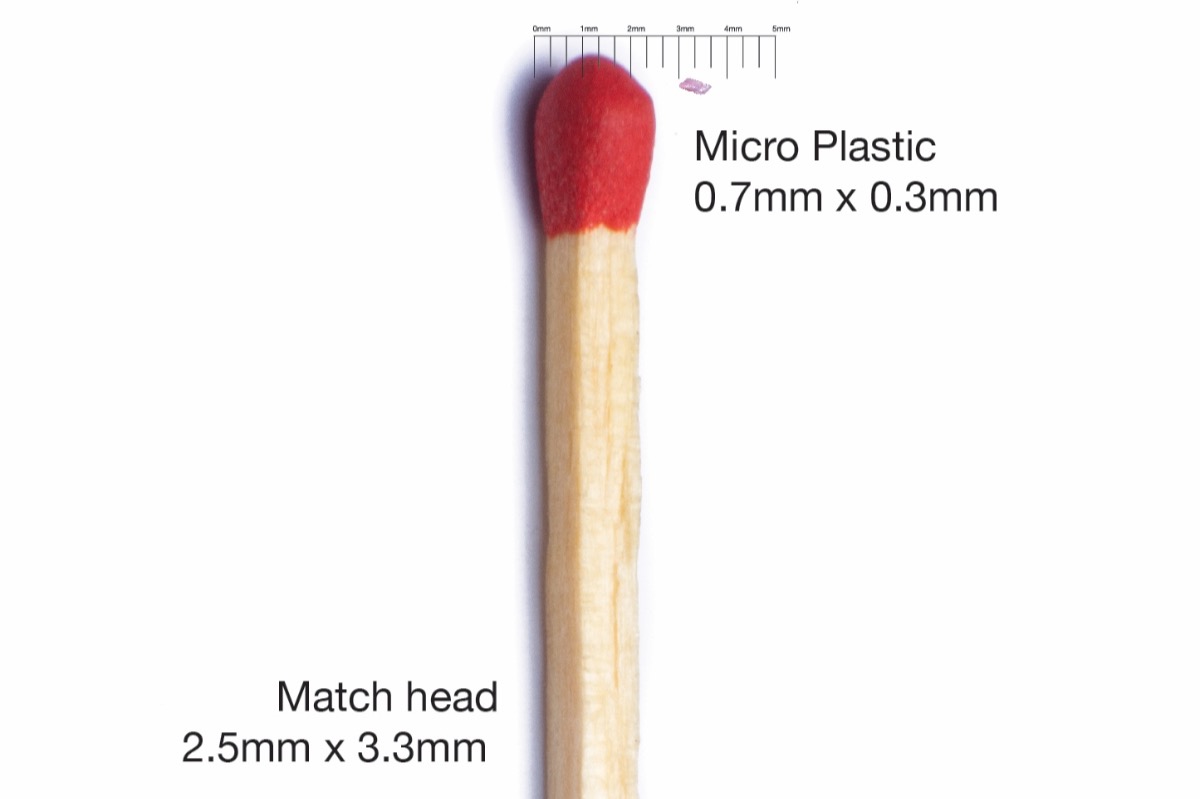 Who is responsible for the Seabin?
This is the best part of it all, the marina will be the one responsible for the upkeep of the Seabins and also they will be paying for the energy consumption of the Seabin which is around $2 - $3 a day.
The marina enjoys a cleaner marina and the rest of us and the marine life enjoy cleaner oceans with less floating debris polluting our oceans!
Seabins part of a whole solution
Seabins whole solution is Technology, Education, Science, Research and Community. The reason for this is that Technology alone is not the solution to stopping ocean plastics, education is the real solution.
Great! Can our local community be involved also?
Yes! The team at Seabin have interactive programs and lessons designed for schools, community and youth to interact with the Seabins and have over 2000 school students engaged around the world, this is something that we can do locally also with support from the team at Seabin Project.
What will we be doing if we participate in these programs?
You would be joining an international community contributing important data and feedback on ocean plastics to the Seabin central data base. Renowned scientists, universities and environmental agencies are all a part of the programs also.
The lessons range from identifying ocean plastics to data collection of what the Seabins are catching weekly. The data collection is a very easy activity and where we can all see the measurable impact of debris the Seabins are taking out of the water in all weather conditions.
It's as simple as counting how many plastic bags, plastic particles, food wrappers and then noting it down on a spreadsheet or app. Weather conditions and location information is also entered into the data base.
How can you help our campaign and make a difference in the world?
Every contribution to this crowdfunding campaign helps, be it $1 or $50 dollars, it all adds up and bring us closer to our goal.
Even if you cannot afford a donation, please help by sharing this campaign with your friends and family on social media. The more people that know about the campaign the better!
Thanks everyone for taking the time to check out our campaign!
FAQS SHEET
Seabin Project FAQs
Q: Can someone pay out the crowdfunding campaign goal?
A: Yes! We need help! The more money we can raise, the more Seabins we can buy.
Q: Why crowdfund a Seabin?
A: Until now, the Seabins were not for the everyday person to purchase because marinas ports and yacht clubs are the target market for Seabin Group. This is a way where everyday people can give something back to the oceans.
Q: How do Seabins work in tidal areas?
A: Seabins at present are designed for floating docks and pontoons. The Seabins move up and down with the tide on the floating dock.
Q. How are the pumps run?
A. The pumps are currently electric, and around $2-$3 a day to run.
Q: When are the Seabins available?
A: Depending on your countries location, Seabins will be available Feb 2019.
Q: Do any fish get sucked into the Seabins? What about smaller marine life?
A: There is a possibility of fish to enter the Seabins, however in the last 2 years of development, the Seabins have only caught a handful of small bait fish. Most of which have been thrown back into the water alive. The fish simply stay away from the flow of water entering the Seabin and with the current fine tuning of the Seabin, the risk is now minimal.
Q: I don't have any money to donate, how can I help?
A: Don't worry! Your amazing anyways and thanks for even contacting us. We need help to share this project around with any media we can. Social media platforms like Facebook, Instagram, Twitter, websites, bloggers. Also with newspapers, magazines, tv, radio and journalists. Also friends and family!
Palm Beach Water Dragon
Eastern Water Dragon enjoying the view, watching for prey from a good vantage point, above Palm Beach. April 2019
Photo courtesy Pittwater Natural Heritage Association (PNHA)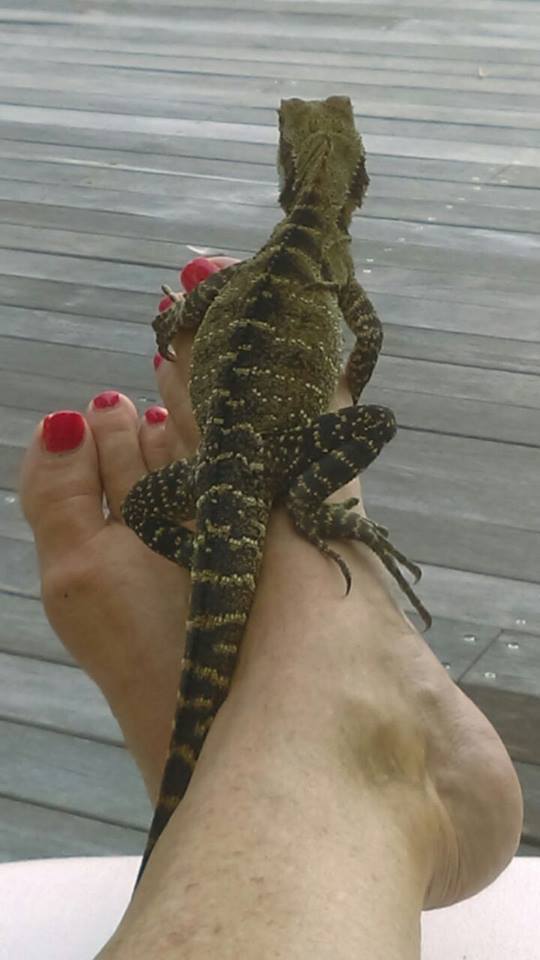 The Years Ahead
Speech to the Massachusetts State Legislation
By John Fitzgerald Kennedy (JFK)
Excerpt;
History will not judge our endeavours, and a government cannot be selected merely on the basis of colour or creed or even party affiliation. Neither will competence and loyalty and stature, while essential to the utmost, suffice in times such as these.
For those to whom much is given, much is required. And when at some future date the high court of history sit in judgement on each of us, recording whether in our brief span of service we fulfilled our responsibilities to the state, our success or failure, in whatever office we hold, will be measured by the answers to these four questions:
First, were we truly men of courage, with the courage to stand up to one's enemies, and the courage to stand up, when necessary, to one's associates, the courage to resist public pressure as well as private greed?
Second, were we truly men of judgement, with perceptive judgement of the future as well as the past, of our own mistakes as well as the mistakes of others, with enough wisdom to know what we did not know, and enough candour to admit it?
Third, were we truly men of integrity, men who never ran out on either the principles in which we believed or the people who believed in us, men whom neither financial gain nor political ambition could divert from the fulfilment of our scared trust?
Finally, were we truly men of dedication, with an honour mortgaged to no single individual or group, and comprised by no private obligation or aim, but devoted solely to serving the public good and national interest?
(From book 'Lend Me Your Ears - Great Speeches in History' and also appears in Rose Fitzgerald Kennedy's autobiography 'Times to Remember'.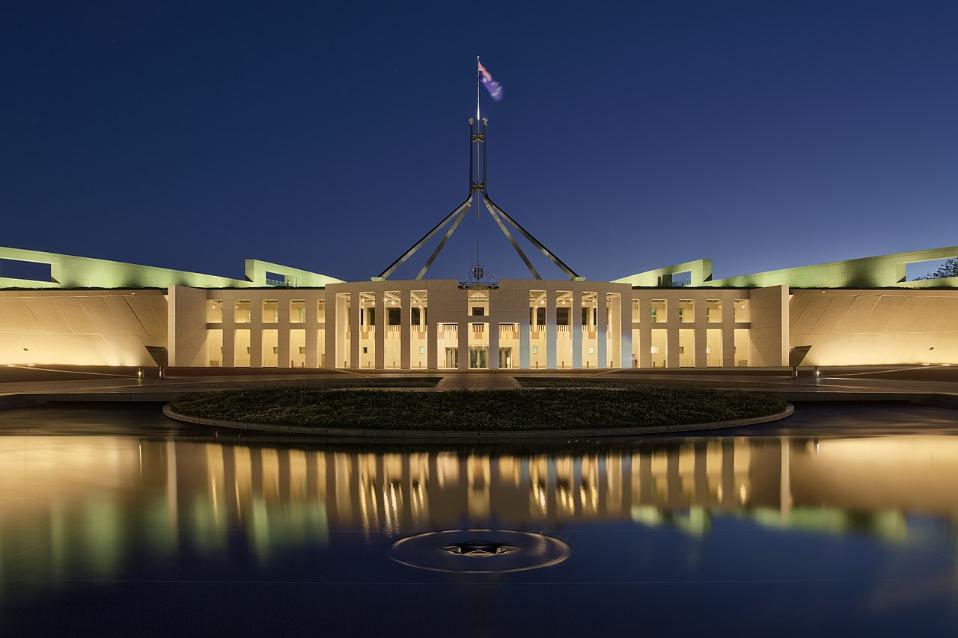 Blue hour photo of Parliament House, Canberra Australia. Photo by Thennicke, via Wikipedia
The Icing On The Antarctica Cake: Did Someone Say 'Cake'?!
April 10th, 2019: Department of the Environment and Energy, Australian Antarctic Division
The wintering chef at Casey research station, Jordan Smith, has worked in kitchens from the French Alps to the Kimberley, but says the icing on the cake has been her time in Antarctica.
"I've been fortunate to combine my love of travelling and working as a chef, and have had jobs in some pretty amazing places, but this role in Antarctica is the most remote and diverse by far," Jordan said.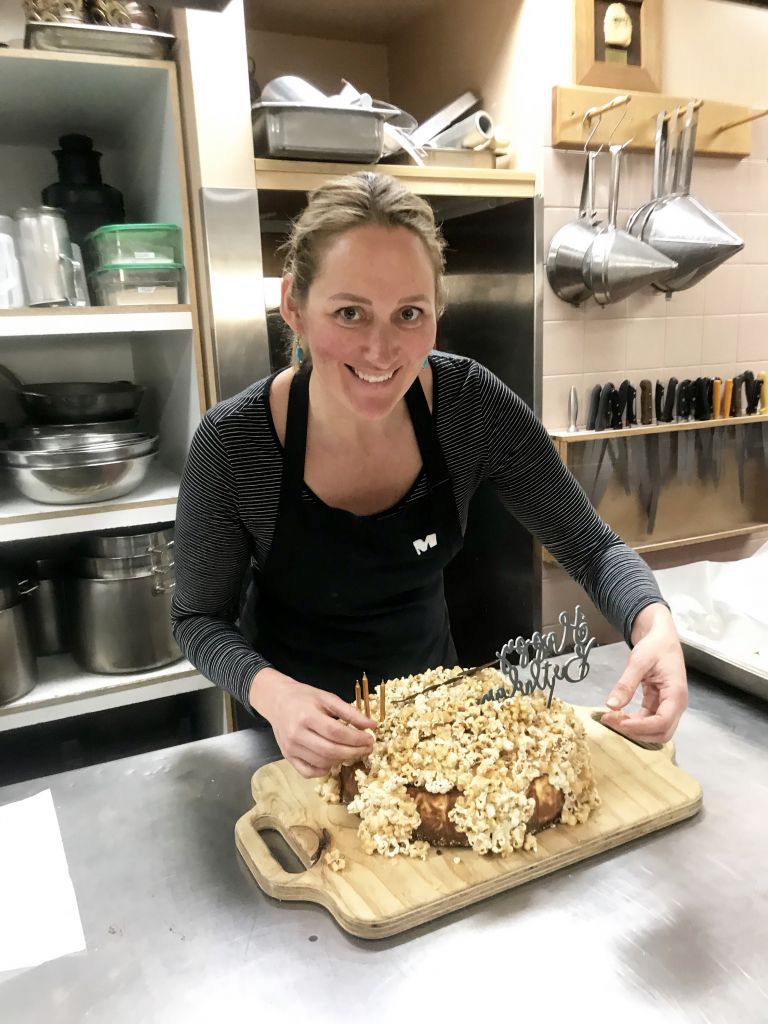 Casey station chef, Jordan Smith, puts the finishing touches on a cake in the kitchen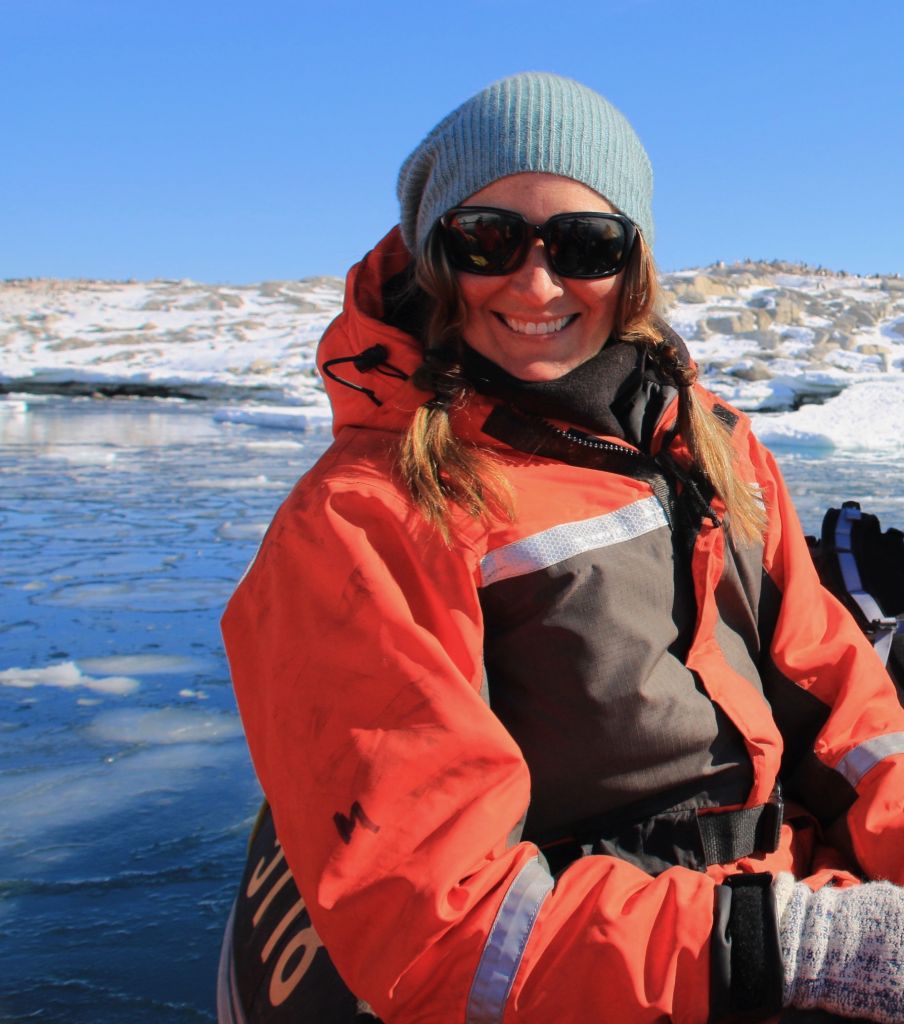 Jordan Smith out boating in Antarctica - even chefs need a break!
Food is a firm focus for expeditioners in Antarctica and the chefs at Australian stations play a vital role in keeping up morale and nutrition.
"We have four main meals a day, including a hot smoko, because expeditioners need to regularly refuel to help them cope with the freezing conditions.
"It can be a challenging role though as you have to make everything from scratch from mostly frozen, dried or canned food."
Over winter the chefs prepare meals for about 20 people, while in summer there can be more than 100 on station (with 3 chefs).
At Casey this summer rarely a week went by without an expeditioner celebrating a birthday, and each time Jordan whipped up an amazing cake.
"This is my fourth time down south and I've made many cakes over that time, this summer I've baked about 15 including cheesecakes, marble cakes, mud cakes and a pavlova too. I get to experiment with different decorating techniques, so no two cakes are alike," she said.
"It's really important down here to celebrate the big occasions like birthdays, it makes people feel loved and special when they're so far from home."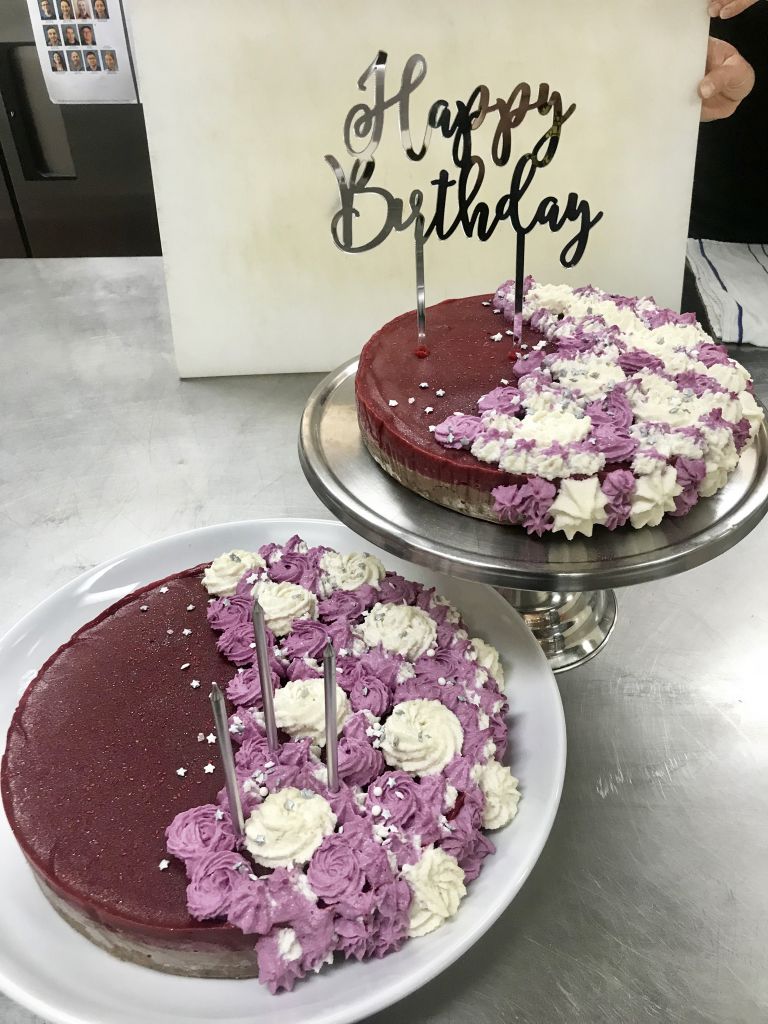 One of the many cakes chef Jordan Smith whipped up over summer (Photo: Jordan Smith)
Jordan's passion for cooking started as a child, baking cakes, pancakes and biscuits whenever she could.
"During my chef apprenticeship I worked a lot in the pastry kitchens and have become known as the cake queen down here on station."
This will be Jordan's first winter on the continent and she'll be keeping 29 people fed, one of the largest teams that have wintered at an Australian station.
She's looking forward to experimenting and has some great meals planned to break the monotony of winter.
"We are going to have a Mexican feast on Cinco de Mayo, I'll take cooking classes to teach people how to make Shanghai dumplings and real Japanese ramen, and then of course there's the Midwinter Feast which everyone looks forward to."
"I need to be spot on with my planning and watch my stock levels carefully though, if I run out of a key ingredient I can't just pop down to the shops for more!"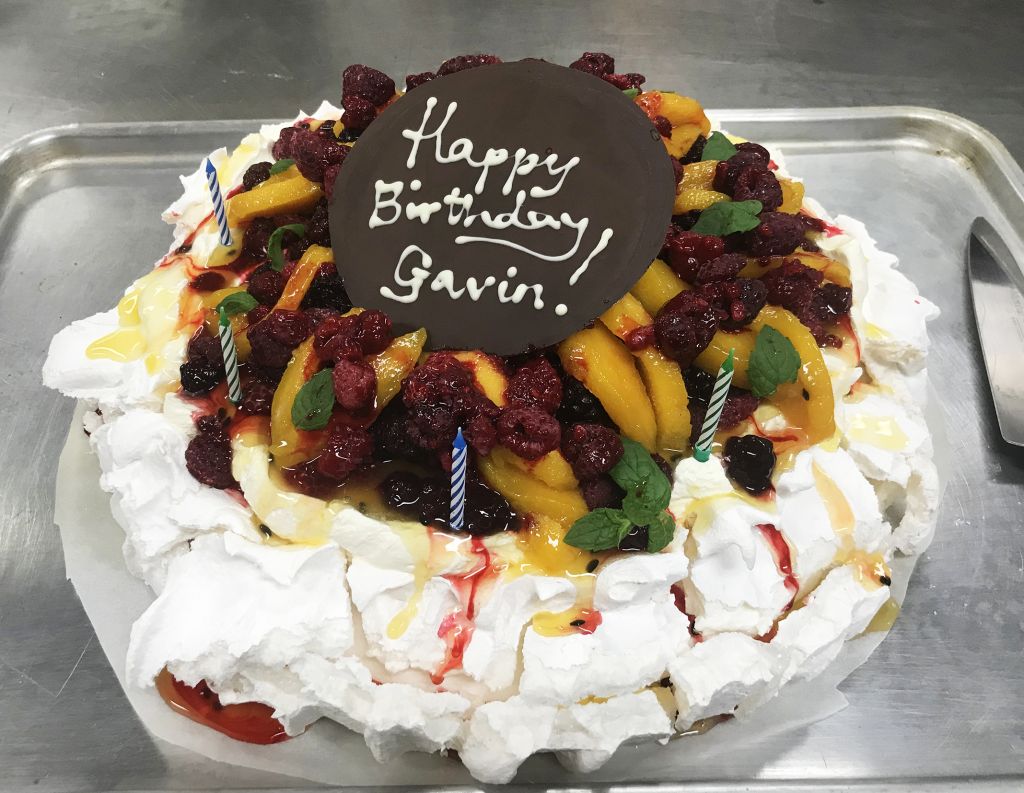 Yum - pavlova!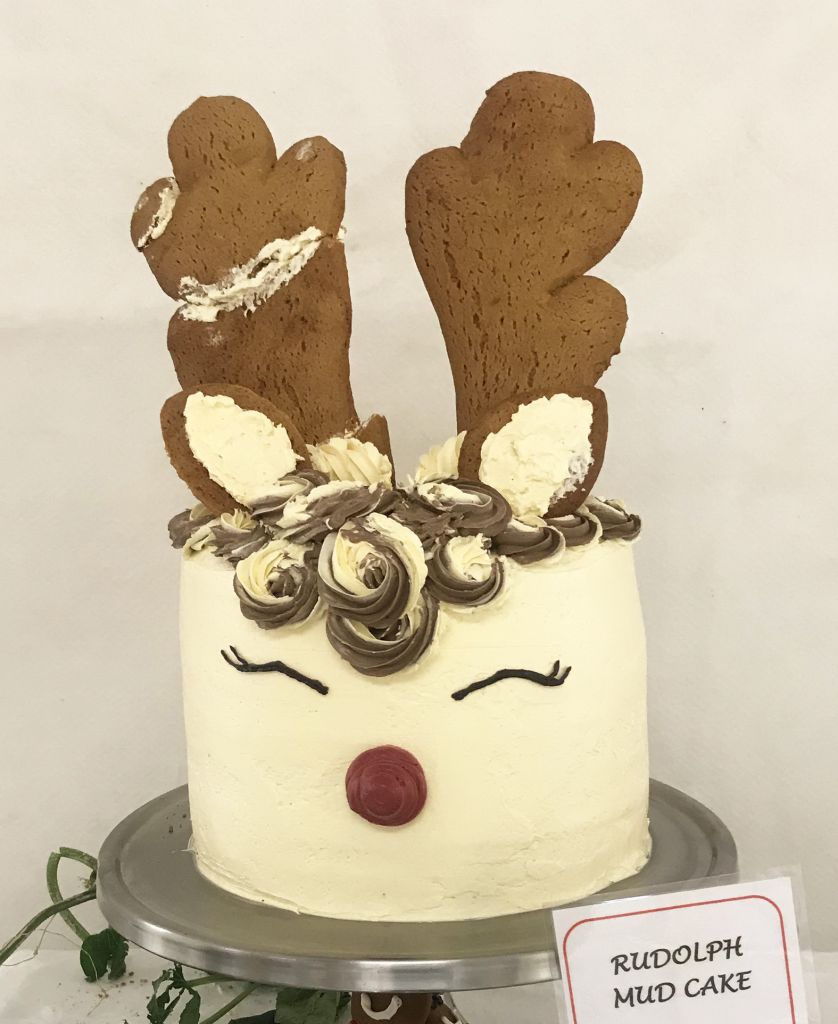 Rudolph mud cake (Photo: Jordan Smith)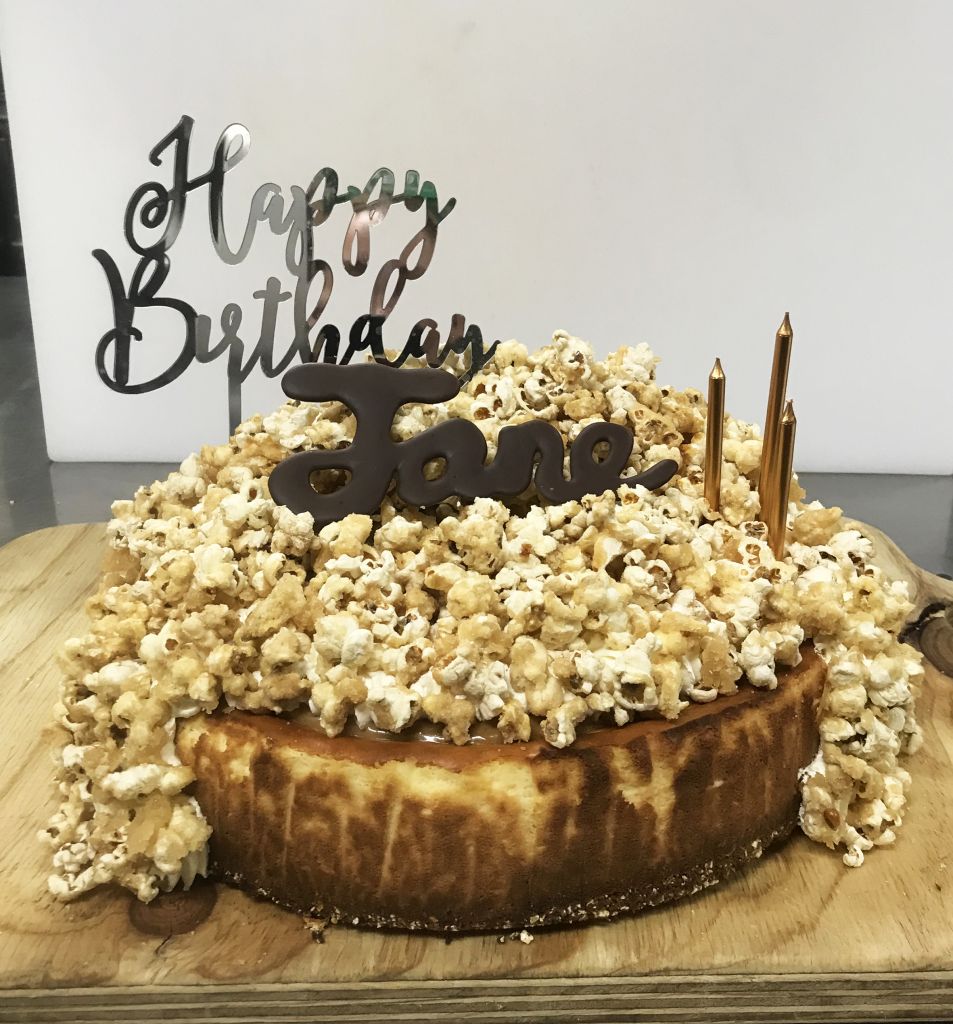 Can't say no to caramel popcorn cheesecake (Photo: Jordan Smith)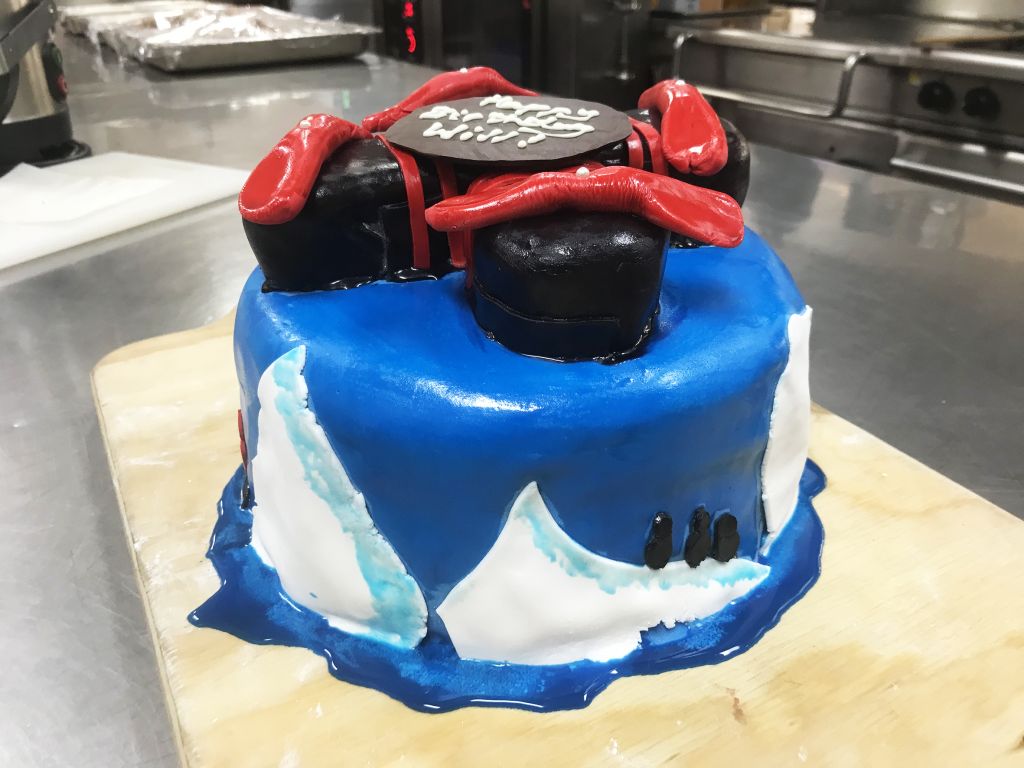 A drone tops off an iceberg and penguin cake (Photo: Jordan Smith)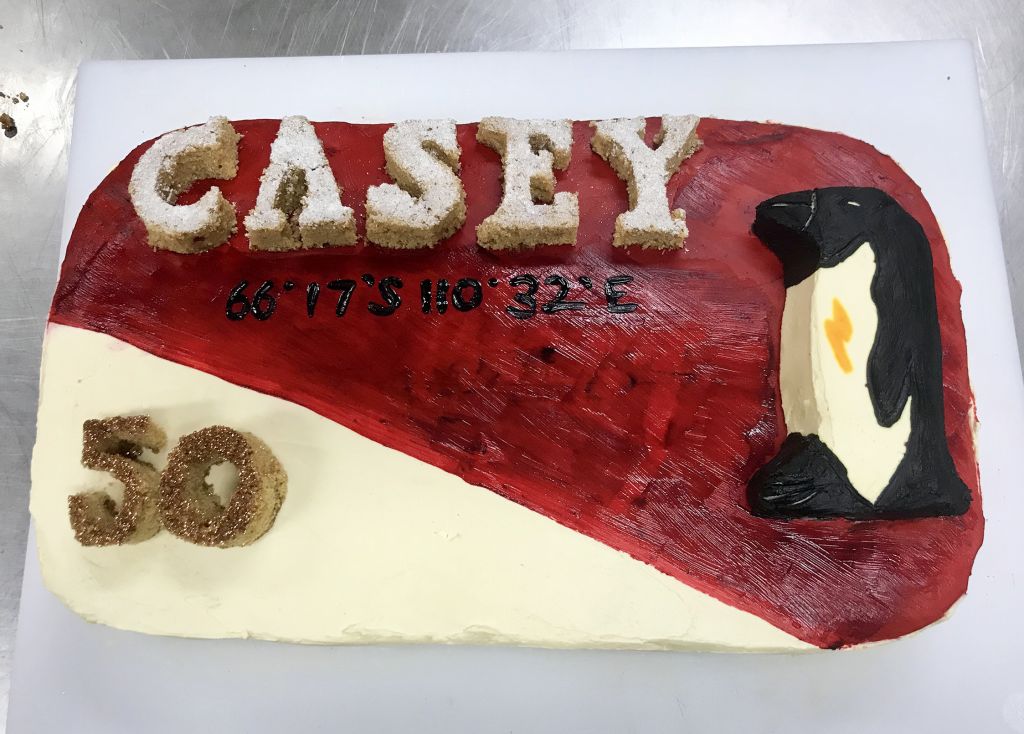 A cake to celebrate the 50th anniversary of Casey research station (Photo: Jordan Smith)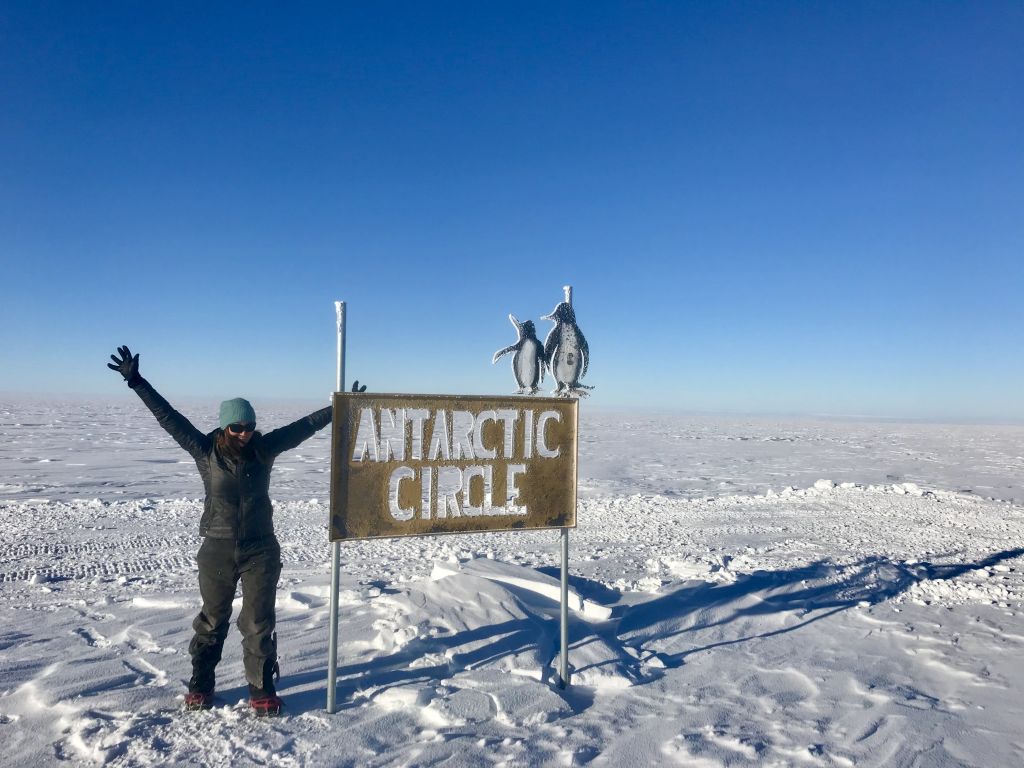 Jordan Smith at the Antarctic Circle sign
Blue, Gold And Green Make A Perfect Scene – Turquoise Parrot In The Capertee Valley
Published by BIBY TV April 10, 2019
These Turquoise Parrots (Neophema pulchella) were filmed/photographed in late March 2019 in the Capertee Valley, NSW. After our first filming opportunity about a year ago at the same site – see https://youtu.be/BPy3YnLvsbg - we hoped for another in better light and with the striking male included. At least we were granted our first wish. It was a cool windy mostly sunny afternoon when we accidentally flushed these diminutive parrots from a grassy area close to trees. There were three in total, but we saw just the one female and male close-up. Initially, the adult male and undefined Turquoise Parrot flew well away from us, leaving our video star in a tree next to where they had been feeding. Possibly this female decided to keep a low profile amongst the foliage instead. We stood quietly still while filming her and were thrilled to see the sunshine on her plumage. Last time the light didn't do her (or another female) justice. After all, the second part of their scientific name comes from the Latin for beautiful.
Last time, we filmed a female Turquoise Parrot on the ground and blue-green was the dominant colour combination. How lovely it was, even in the shade. Indeed, a saying from our childhood – blue and green should never be seen (in relation to mixing clothes or decor) – seems ridiculous when you look at nature. What about trees, blue sky and ocean views beyond green hills? Looking online we found an expanded version of this catchy (albeit puzzling) phrase. That is, blue and green should never be seen, except with something in between. Another version even specifies the "something" as yellow. Well, we can't disagree with the notion that blue (or turquoise), yellow (or gold) and green can be a glorious match. Here it is in the form of an exquisite female Turquoise Parrot! The male also has those colours but bolder. In addition, he has a brick-red shoulder stripe. (Arguably he represents the colours of Australia better than our official green and gold.) Alas, we only managed a quick front-on pic (photo 2) when he returned to the tree to "collect" the female. With his encouragement, she was ready to fly off in a flash. Photo 1 captures exactly where they live. Note the mix of blue, gold and green in the stunning landscape and the foliage etc surrounding the parrot. What a perfect scene!
For further information on this beautiful bird go to http://www.birdsinbackyards.net/speci... To hear their calls visit https://www.xeno-canto.org/species/Ne... To read about their near extinction and resurgence see http://www.birdlife.org.au/australian... Although the situation isn't as dire as it once was, the species is seen infrequently and is listed as vulnerable in NSW.
New Species Of Early Human Found In The Philippines
April 10, 2019: Australian National University
An international team of researchers have uncovered the remains of a new species of human in the Philippines, proving the region played a key role in hominin evolutionary history. The new species, Homo luzonensis is named after Luzon Island, where the more than 50,000 year old fossils were found during excavations at Callao Cave.
Co-author and a lead member of the team, Professor Philip Piper from The Australian National University (ANU) says the findings represent a major breakthrough in our understanding of human evolution across Southeast Asia.
The researchers uncovered the remains of at least two adults and one juvenile within the same archaeological deposits.
"The fossil remains included adult finger and toe bones, as well as teeth. We also recovered a child's femur. There are some really interesting features -- for example, the teeth are really small," Professor Piper said.
"The size of the teeth generally, though not always, reflect the overall body-size of a mammal, so we think Homo luzonensis was probably relatively small. Exactly how small we don't know yet. We would need to find some skeletal elements from which we could measure body-size more precisely" Professor Piper said.
"It's quite incredible, the extremities, that is the hand and feet bones are remarkably Australopithecine-like. The Australopithecines last walked the earth in Africa about 2 million years ago and are considered to be the ancestors of the Homo group, which includes modern humans.
"So, the question is whether some of these features evolved as adaptations to island life, or whether they are anatomical traits passed down to Homo luzonensis from their ancestors over the preceding 2 million years."
While there are still plenty of questions around the origins of Homo luzonensis, and their longevity on the island of Luzon, recent excavations near Callao Cave produced evidence of a butchered rhinoceros and stone tools dating to around 700,000 years ago.
"No hominin fossils were recovered, but this does provide a timeframe for a hominin presence on Luzon. Whether it was Homo luzonensis butchering and eating the rhinoceros remains to be seen," Professor Piper said.
"It makes the whole region really significant. The Philippines is made up of a group of large islands that have been separated long enough to have potentially facilitated archipelago speciation. There is no reason why archaeological research in the Philippines couldn't discover several species of hominin. It's probably just a matter of time."
Homo luzonensis shares some unique skeletal features with the famous Homo floresiensis or 'the hobbit', discovered on the island of Flores to the south east of the Philippine archipelago.
In addition, stone tools dating to around 200,000 years ago have been found on the island of Sulawesi, meaning that ancient hominins potentially inhabited many of the large islands of Southeast Asia.
Florent Détroit, Armand Salvador Mijares, Julien Corny, Guillaume Daver, Clément Zanolli, Eusebio Dizon, Emil Robles, Rainer Grün, Philip J. Piper.
A new species of Homo from the Late Pleistocene of the Philippines.
Nature, 2019; 568 (7751): 181
DOI: 10.1038/s41586-019-1067-9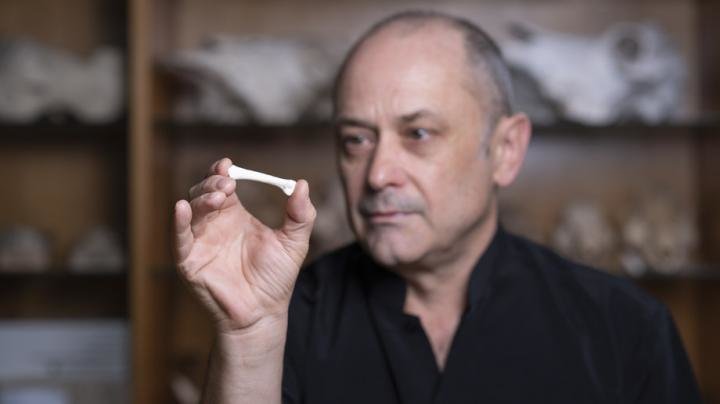 Professor Philip Piper from the ANU School of Archaeology and Anthropology inspects the cast of a hominin third metatarsal discovered in 2007. The bone is from a new species of hominin.
Credit: Lannon Harley, ANU
Just How Much Does Enhancing Photosynthesis Improve Crop Yield?
April 8, 2019: University of Queensland
In the next two decades, crop yields need to increase dramatically to feed the growing global population. Wouldn't it be incredibly useful if we had a crystal ball to show us what are the best strategies available to increase crop yields?
A team of scientists have just developed exactly that: a dynamic model that predicts which photosynthetic manipulations to plants will boost the yields of wheat and sorghum crops.
"We have developed a reliable, biologically rigorous prediction tool that can quantify the yield gains associated with manipulating photosynthesis in realistic crop environments," said Dr Alex Wu, from the ARC Centre of Excellence for Translational Photosynthesis (CoETP) and The University of Queensland (UQ).
Plants convert sunlight, carbon dioxide and water into food through photosynthesis and several studies have shown that this vital process can be engineered to be more efficient.
"Until now, it has been difficult to assess the impacts of these manipulations on crop yield. This prediction tool will help us to find new ways to improve the yields of food crops around the world."
Dr Wu, the lead author of the paper published this week in the journal Nature Plants, said that this modelling tool has the capacity to link across biological scales from biochemistry in the leaf to the whole field crop over a growing season, by integrating photosynthesis and crop models.
"It is a powerful tool to assess and guide photosynthetic manipulations and unravel effects that confound the relationship between photosynthetic efficiency and crop performance, "he said.
Centre Deputy Director Professor Susanne von Caemmerer said one of the study's most innovative aspects was using a cross-scale modelling approach to look at the interactions between photosynthesis and the pores of the leaf that allow the exchange of CO2 and water vapour.
"We know that it is not as simple as saying that improving photosynthesis will increase yield. The answer depends on the situation," said Professor von Caemmerer, a researcher at The Australian National University (ANU) who is a co-author of the study.
"For example, we found that in crops like sorghum, more photosynthesis can actually decrease yield in water-limited cropping situations. The modelling predicts that we can manage this yield penalty if we can also maintain a stable rate of carbon dioxide entering, or water vapour exiting, the pores of a leaf."
Co-author and Centre Chief Investigator Professor Graeme Hammer from UQ said this study fosters the type of transdisciplinary research needed for future crop improvement.
"It links research across the whole Centre, which has a main focus to increase the yield of major staple crops such as wheat, rice, sorghum and maize by enhancing photosynthesis."
"Now that we have developed and tested this predictive model, our next step is to work closely with collaborators at the CoETP to design simulation scenarios that test the effects of other bioengineering and breeding trait targets," Professor Hammer said.
One of those collaborators is ANU Professor Graham Farquhar, who co-authored the study.
"In this study we are scaling up to the whole crop growth season and incorporating the feedback effects on photosynthesis of resources for the crop, such as water, which is critical in predicting consequences on crop productivity in future Australian crop environments," said Centre Chief Investigator Professor Farquhar from the ANU Research School of Biology.
The team investigated three main photosynthesis manipulation targets -- enhancing the activity of the main photosynthetic enzyme, Rubisco; improving the capacity of the leaves to transport electrons; and improving the flow of carbon dioxide (CO2) through the internal layers of the leaf.
"This study permits us to quantify the consequences on crop yield for these three targets and their combinations for wheat and sorghum crops for irrigated or dryland cropping environments," said Dr Wu.
The team found crop yield changes ranged from a reduction of one per cent to a 12 per cent increase, depending on the combination of photosynthetic targets, the crop and environmental conditions such as water availability.
This research is published in Nature Plants and was funded by the Australian Research Council (ARC) Centre of Excellence for Translational Photosynthesis at the Australian National University and The University of Queensland.
Alex Wu, Graeme L. Hammer, Al Doherty, Susanne von Caemmerer, Graham D. Farquhar.
Quantifying impacts of enhancing photosynthesis on crop yield.
Nature Plants, 2019; 5 (4): 380 DOI:
10.1038/s41477-019-0398-8
New Wasps Named After Biscuits And Doctor Who Aliens
April 9, 2019: University of Adelaide
University of Adelaide researchers were inspired by everything from chocolate biscuits and Doctor Who aliens when choosing names for 10 new species of wasps.
"I named one wasp Sathon oreo as the antennae are dark brown with a thick white stripe in the middle... like an Oreo chocolate biscuit," says Dr Erinn Fagan-Jeffries from the University of Adelaide's School of Biological Sciences.
While the new species Choeras zygon is named for the Zygon race of aliens in Doctor Who.
"Zygon aliens consume their host whilst inhabiting them, a trait particularly relevant to parasitic wasps," says Dr Fagan-Jeffries.
These wasps inject their eggs into live caterpillars, and the baby wasps slowly eat the caterpillar from the inside out. As gruesome as it sounds, they are very important in ecosystems for regulating native caterpillar populations.
One of the new wasps, Choeras bushblitz, takes its name from the Bush Blitz species discovery program, a unique multi-million dollar partnership between the Australian Government, BHP and Earthwatch Australia to document plants and animals across Australia.
"Less than 10% of this group of wasps have scientific names, which is why programs like Bush Blitz are so vital. We have discovered over 1,660 new species since 2010, and 17 of those are wasps," says Jo Harding Bush Blitz Manager.
Taxonomy, the scientific discipline of describing new species, is vital for understanding and documenting the living things around us. "Until taxonomists name and formally describe a species, it is difficult for other researchers, such as those working in conservation, or biological control, to do anything with it," says Ms Harding.
Inspirational taxonomists and entomologists that helped Dr Fagan-Jeffries collect vital specimens for this research, as well as those who feature prominently throughout her career, were also honoured with species named after them.
"I always loved insects in school, and I had a lot of incredible support from entomologists, back then and also during my PhD, who fuelled my passion for following a scientific career path," Dr Fagan-Jeffries says. "Naming species after those people is just a tiny way of saying thank you."
Species named after researchers include Dolichogenidea brabyi, Dolichogenidea garytaylori, Dolichogenidea forrestae and Dolichogenidea kelleri, after entomologists Michael Braby, Gary Taylor, Jan Forrest and Michael Keller.
ERINN P. FAGAN-JEFFRIES, STEVEN J.B. COOPER, ANDREW D. AUSTIN.
New species of Australian microgastrine parasitoid wasps (Hymenoptera: Braconidae: Microgastrinae) documented through the 'Bush Blitz' surveys of national reserves.
Zootaxa, 2019; 4560 (3): 401 DOI:
10.11646/zootaxa.4560.3.1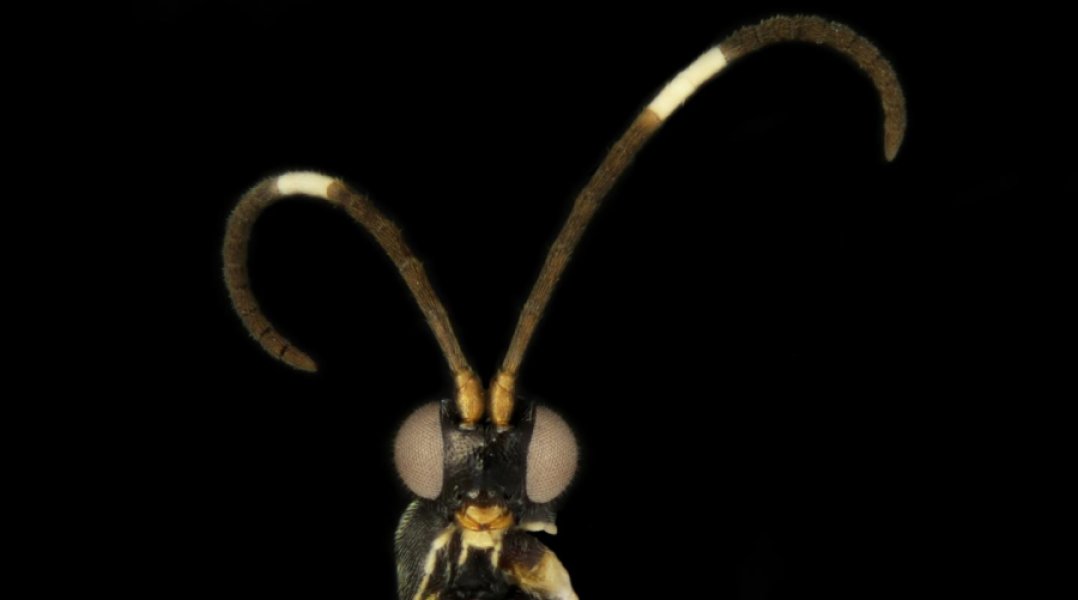 The new wasp species Sathon oreo - inspired by the dark brown
antennae with a thick white stripe in the middle.
Credit: Dr Erinn Fagan-Jeffries
Could Eating Garlic Reduce Ageing-Related Memory Problems?
Consuming garlic helps counteract age-related changes in gut bacteria associated with memory problems, according to a new study conducted with mice. The benefit comes from allyl sulfide, a compound in garlic known for its health benefits.
"Our findings suggest that dietary administration of garlic containing allyl sulfide could help maintain healthy gut microorganisms and improve cognitive health in the elderly," said Jyotirmaya Behera, PhD, who lead the research team with Neetu Tyagi, PhD, both from University of Louisville.
Behera will present the research at the American Physiological Society's annual meeting during the 2019 Experimental Biology meeting to be held April 6-9 in Orlando, Fla.
The gut contains trillions of microorganisms collectively referred to as the gut microbiota. Although many studies have shown the importance of these microorganisms in maintaining human health, less is known about health effects linked to gut microbiota changes that come with age.
"The diversity of the gut microbiota is diminished in elderly people, a life stage when neurodegenerative diseases such as Alzheimer's and Parkinson's develop and memory and cognitive abilities can decline," said Tyagi. "We want to better understand how changes in the gut microbiota relate to aging-associated cognitive decline."
For the study, the researchers gave oral allyl sulfide to mice that were 24 months old, which correlates to people between 56 and 69 years of age. They compared these mice with 4- and 24-month-old mice not receiving the dietary allyl sulfide supplement.
The researchers observed that the older mice receiving the garlic compound showed better long- and short-term memory and healthier gut bacteria than the older mice that didn't receive the treatment. Spatial memory was also impaired in the 24-month-old mice not receiving allyl sulfide.
Additional experiments revealed that reduced gene expression of neuronal-derived natriuretic factor (NDNF) in the brain was likely responsible for the cognitive decline. This gene was recently discovered by the University of Louisville researchers and is required for long-term and short-term memory consolidation.
The researchers found that mice receiving the garlic compound exhibited higher levels of NDNF gene expression. In addition, recombinant-NDNF protein therapy in the brain restored the cognitive abilities of the older mice that did not receive the garlic compound. The researchers also found that oral allyl sulfide administration produces hydrogen sulfide gas -- a messenger molecule that prevents intestinal inflammation -- in the gut lumen.
Overall, the new findings suggest that dietary allyl sulfide promotes memory consolidation by restoring gut bacteria. The researchers are continuing to conduct experiments aimed at better understanding the relationship between the gut microbiota and cognitive decline and are examining how garlic might be used as a treatment in the aging human population.
Materials provided by Experimental Biology.
National Seniors Launches Federal Election Policies
Fixing pensioner poverty and the aged care crisis, better dental care and eliminating chronic home care waiting lists are key initiatives older Australians are demanding of candidates this federal election.
Leading advocacy group National Seniors Australia has launched its Federal Election 2019 Policy Priorities of Older Australians, cautioning candidates that 30% of all voters were aged 60-plus and were demanding practical solutions to a range of issues.
Chief Advocate Ian Henschke said the election was a national watershed opportunity to rectify years of policy neglect and stagnation on seniors' health, wellbeing, finances and security. These were systemic issues all but forgotten in both the Federal Budget and Budget Reply last week.
He said the election policies were a sensible investment in the health and safety of older Australians and would enable government to better manage public spending in the ballooning areas of health and aged care.
"In this election, we are calling on all political parties to adopt our policies to lift age pensioners out of poverty, cut health costs, ensure older Australians receive the aged care they deserve, and end the erosion of retirement income," Mr Henschke said.
He said the poor standard of living of many pensioners was a national disgrace requiring swift action by whichever party won government in the expected May election, to ensure older Australians in need were afforded a fair-go, respect and practical support.
"Our policies address the essentials of life and top of the list is affordable dental care," Mr Henschke said. "Poor oral health is linked to chronic diseases, including stroke and heart disease, but is out of reach of many pensioners and those in aged care.
"Along with a growing chorus of respected health professionals, National Seniors is demanding a funding boost for dental care. We want a scheme that provides an annual subsidy to help maintain dental health."
Taking politics out of the age pension was another key policy and National Seniors wanted the establishment of an Age Pension Tribunal to independently set the age pension rate.
Mr Henschke said the tribunal would take responsibility for calculating a fair and adequate pension rate and any supplements based on need and circumstance.
"Its decisions would be accepted without debate in the same way monetary policy is set by the Reserve Bank," Mr Henschke said.
"This, along with cutting the age pension taper rate from $3 to $2, would help ensure a better standard of living for more Australians in retirement.
"The current government's lifting of the taper rate in January 2017 had a punitive impact on older Australians, discouraging them from saving for retirement, and must be reversed."
Assisting pensioners to access housing and better connect to internet services were also important ways to alleviate pensioner poverty, because one helped provide a roof over their head and the other a window to the world.
Mr Henschke said the private rental market was out of reach for many older people but could be improved by lifting the maximum rate of Commonwealth Rent Assistance.
"The maximum rate of assistance could be set by our proposed Age Pension Tribunal so pensioners who rent receive enough income to meet reasonable living costs, no matter where they live," he said.
Establish an Independent Age Pension Tribunal.
Increase the maximum rate of Commonwealth Rent Assistance (CRA).
Provide a subsidy to connect to the NBN or another appropriate internet service.
Expand the provision of basic dental care for pensioners, including those in aged care.
Address aged care deficiencies
Triple the number of level 3 and 4 home care packages.
Require all aged care providers to publish staff-to-resident ratios.
Ensure all aged care staff in direct care roles have basic dementia training.
Increase income in retirement
Retain access to franking credits for self-funded retirees.
Reduce the asset test taper rate from $3.00 to $2.00.
Exempt up to $250,000 of home sale proceeds from the age pension means test.
Arrest rising health costs
Require all specialists to publish fees on a public register and ensure that all GPs make patients aware of choice when referring to a specialist.
Limit private health insurance premium increases to no more than CPI until reforms take effect.
Protect pensioners from future rises in energy costs
Reinstate indexation of the Energy Supplement.
Improve Centrelink wait times
Cut Centrelink telephone waiting times for older Australians and reduce age pension processing times.
Protect older Australians from elder abuse
Accelerate efforts to create nationally consistent Powers of Attorney legislation and a single national register for these documents.
Observatories Around The World Produce First Direct Images Of A Black Hole
April 10, 2019: Massachusetts Institute of Technology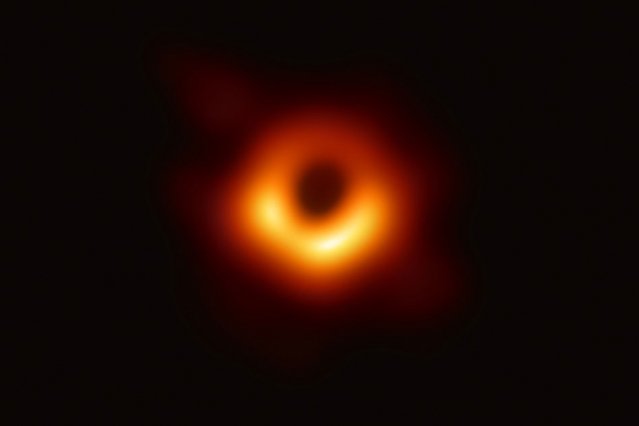 The Event Horizon Telescope (EHT) -- a planet-scale array of eight ground-based radio telescopes forged through international collaboration -- was designed to capture images of a black hole. In coordinated press conferences across the globe, EHT researchers revealed that they succeeded, unveiling the first direct visual evidence of the supermassive black hole in the centre of Messier 87 and its shadow.
Credit: EHT Collaboration
An international team of over 200 astronomers, including scientists from MIT's Haystack Observatory, has captured the first direct images of a black hole. They accomplished this remarkable feat by coordinating the power of eight major radio observatories on four continents, to work together as a virtual, Earth-sized telescope.
In a series of papers published today in a special issue of Astrophysical Journal Letters (https://iopscience.iop.org/issue/2041-8205/875/1), the team has revealed four images of the supermassive black hole at the heart of Messier 87, or M87, a galaxy within the Virgo galaxy cluster, 55 million light years from Earth.
All four images show a central dark region surrounded by a ring of light that appears lopsided -- brighter on one side than the other.
Albert Einstein, in his theory of general relativity, predicted the existence of black holes, in the form of infinitely dense, compact regions in space, where gravity is so extreme that nothing, not even light, can escape from within. By definition, black holes are invisible. But if a black hole is surrounded by light-emitting material such as plasma, Einstein's equations predict that some of this material should create a "shadow," or an outline of the black hole and its boundary, also known as its event horizon.
Based on the new images of M87, the scientists believe they are seeing a black hole's shadow for the first time, in the form of the dark region at the center of each image.
Relativity predicts that the immense gravitational field will cause light to bend around the black hole, forming a bright ring around its silhouette, and will also cause the surrounding material to orbit around the object at close to light speed. The bright, lopsided ring in the new images offers visual confirmation of these effects: The material headed toward our vantage point as it rotates around appears brighter than the other side.
From these images, theorists and modelers on the team have determined that the black hole is about 6.5 billion times as massive as our sun. Slight differences between each of the four images suggest that material is zipping around the black hole at lightning speed.
"This black hole is much bigger than the orbit of Neptune, and Neptune takes 200 years to go around the sun," says Geoffrey Crew, a research scientist at Haystack Observatory. "With the M87 black hole being so massive, an orbiting planet would go around it within a week and be traveling at close to the speed of light."
"People tend to view the sky as something static, that things don't change in the heavens, or if they do, it's on timescales that are longer than a human lifetime," says Vincent Fish, a research scientist at Haystack Observatory. "But what we find for M87 is, at the very fine detail we have, objects change on the timescale of days. In the future, we can perhaps produce movies of these sources. Today we're seeing the starting frames."
"These remarkable new images of the M87 black hole prove that Einstein was right yet again," says Maria Zuber, MIT's vice president for research and the E.A. Griswold Professor of Geophysics in the Department of Earth, Atmospheric and Planetary Sciences. "The discovery was enabled by advances in digital systems at which Haystack engineers have long excelled."
The images were taken by the Event Horizon Telescope, or EHT, a planet-scale array comprising eight radio telescopes, each in a remote, high-altitude environment, including the mountaintops of Hawaii, Spain's Sierra Nevada, the Chilean desert, and the Antarctic ice sheet.
On any given day, each telescope operates independently, observing astrophysical objects that emit faint radio waves. However, a black hole is infinitely smaller and darker than any other radio source in the sky. To see it clearly, astronomers need to use very short wavelengths -- in this case, 1.3 millimeters -- that can cut through the clouds of material between a black hole and the Earth.
Making a picture of a black hole also requires a magnification, or "angular resolution," equivalent to reading a text on a phone in New York from a sidewalk café in Paris. A telescope's angular resolution increases with the size of its receiving dish. However, even the largest radio telescopes on Earth are nowhere near big enough to see a black hole.
But when multiple radio telescopes, separated by very large distances, are synchronized and focused on a single source in the sky, they can operate as one very large radio dish, through a technique known as very long baseline interferometry, or VLBI. Their combined angular resolution as a result can be vastly improved.
For EHT, the eight participating telescopes summed up to a virtual radio dish as big as the Earth, with the ability to resolve an object down to 20 micro-arcseconds -- about 3 million times sharper than 20/20 vision. By a happy coincidence, that's about the precision required to view a black hole, according to Einstein's equations.
"Nature was kind to us, and gave us something just big enough to see by using state-of-the-art equipment and techniques," says Crew, co-leader of the EHT correlation working group and the ALMA Observatory VLBI team.
On April 5, 2017, the EHT began observing M87. After consulting numerous weather forecasts, astronomers identified four nights that would produce clear conditions for all eight observatories -- a rare opportunity, during which they could work as one collective dish to observe the black hole.
In radio astronomy, telescopes detect radio waves, at frequencies that register incoming photons as a wave, with an amplitude and phase that's measured as a voltage. As they observed M87, every telescope took in streams of data in the form of voltages, represented as digital numbers.
"We're recording gobs of data -- petabytes of data for each station," Crew says.
In total, each telescope took in about one petabyte of data, equal to 1 million gigabytes. Each station recorded this enormous influx that onto several Mark6 units -- ultrafast data recorders that were originally developed at Haystack Observatory.
After the observing run ended, researchers at each station packed up the stack of hard drives and flew them via FedEx to Haystack Observatory, in Massachusetts, and Max Planck Institute for Radio Astronomy, in Germany. (Air transport was much faster than transmitting the data electronically.) At both locations, the data were played back into a highly specialized supercomputer called a correlator, which processed the data two streams at a time.
As each telescope occupies a different location on the EHT's virtual radio dish, it has a slightly different view of the object of interest -- in this case, M87. The data received by two separate telescopes may encode a similar signal of the black hole but also contain noise that's specific to the respective telescopes.
The correlator lines up data from every possible pair of the EHT's eight telescopes. From these comparisons, it mathematically weeds out the noise and picks out the black hole's signal. High-precision atomic clocks installed at every telescope time-stamp incoming data, enabling analysts to match up data streams after the fact.
"Precisely lining up the data streams and accounting for all kinds of subtle perturbations to the timing is one of the things that Haystack specializes in," says Colin Lonsdale, Haystack director and vice chair of the EHT directing board.
Teams at both Haystack and Max Planck then began the painstaking process of "correlating" the data, identifying a range of problems at the different telescopes, fixing them, and rerunning the correlation, until the data could be rigorously verified. Only then were the data released to four separate teams around the world, each tasked with generating an image from the data using independent techniques.
"It was the second week of June, and I remember I didn't sleep the night before the data was released, to be sure I was prepared," says Kazunori Akiyama, co-leader of the EHT imaging group and a postdoc working at Haystack.
All four imaging teams previously tested their algorithms on other astrophysical objects, making sure that their techniques would produce an accurate visual representation of the radio data. When the files were released, Akiyama and his colleagues immediately ran the data through their respective algorithms. Importantly, each team did so independently of the others, to avoid any group bias in the results.
"The first image our group produced was slightly messy, but we saw this ring-like emission, and I was so excited at that moment," Akiyama remembers. "But simultaneously I was worried that maybe I was the only person getting that black hole image."
His concern was short-lived. Soon afterward all four teams met at the Black Hole Initiative at Harvard University to compare images, and found, with some relief, and much cheering and applause, that they all produced the same, lopsided, ring-like structure -- the first direct images of a black hole.
"There have been ways to find signatures of black holes in astronomy, but this is the first time anyone's ever taken a picture of one," Crew says. "This is a watershed moment."
The idea for the EHT was conceived in the early 2000s by Sheperd Doeleman, who was leading a pioneering VLBI program at Haystack Observatory and now directs the EHT project as an astronomer at the Harvard-Smithsonian Center for Astrophysics. At the time, Haystack engineers were developing the digital back-ends, recorders, and correlator that could process the enormous datastreams that an array of disparate telescopes would receive.
"The concept of imaging a black hole has been around for decades," Lonsdale says. "But it was really the development of modern digital systems that got people thinking about radio astronomy as a way of actually doing it. More telescopes on mountaintops were being built, and the realization gradually came along that, hey, [imaging a black hole] isn't absolutely crazy."
In 2007, Doeleman's team put the EHT concept to the test, installing Haystack's recorders on three widely scattered radio telescopes and aiming them together at Sagittarius A*, the black hole at the center of our own galaxy.
"We didn't have enough dishes to make an image," recalls Fish, co-leader of the EHT science operations working group. "But we could see there was something there that's about the right size."
Today, the EHT has grown to an array of 11 observatories: ALMA, APEX, the Greenland Telescope, the IRAM 30-meter Telescope, the IRAM NOEMA Observatory, the Kitt Peak Telescope, the James Clerk Maxwell Telescope, the Large Millimeter Telescope Alfonso Serrano, the Submillimeter Array, the Submillimeter Telescope, and the South Pole Telescope.
Coordinating observations and analysis has involved over 200 scientists from around the world who make up the EHT collaboration, with 13 main institutions, including Haystack Observatory. Key funding was provided by the National Science Foundation, the European Research Council, and funding agencies in East Asia, including the Japan Society for the Promotion of Science. The telescopes contributing to this result were ALMA, APEX, the IRAM 30-meter telescope, the James Clerk Maxwell Telescope, the Large Millimeter Telescope Alfonso Serrano, the Submillimeter Array, the Submillimeter Telescope, and the South Pole Telescope.
More observatories are scheduled to join the EHT array, to sharpen the image of M87 as well as attempt to see through the dense material that lies between Earth and the center of our own galaxy, to the heart of Sagittarius A*.
"We've demonstrated that the EHT is the observatory to see a black hole on an event horizon scale," Akiyama says. "This is the dawn of a new era of black hole astrophysics."
The Haystack EHT team includes John Barrett, Roger Cappallo, Joseph Crowley, Mark Derome, Kevin Dudevoir, Michael Hecht, Lynn Matthews, Kotaro Moriyama, Michael Poirier, Alan Rogers, Chester Ruszczyk, Jason SooHoo, Don Sousa, Michael Titus, and Alan Whitney. Additional contributors were MIT alumni Daniel Palumbo, Katie Bouman, Lindy Blackburn, and Bill Freeman, a professor in MIT's Department of Electrical Engineering and Computer Science.
Original written by Jennifer Chu, MIT News Office.
Disclaimer: These articles are not intended to provide medical advice, diagnosis or treatment. Views expressed here do not necessarily reflect those of Pittwater Online News or its staff.