Inbox and Environment News: Issue 400
April 7 - 13, 2019: Issue 400
Barrenjoey High School

Students

To The Rescue At Avalon Beach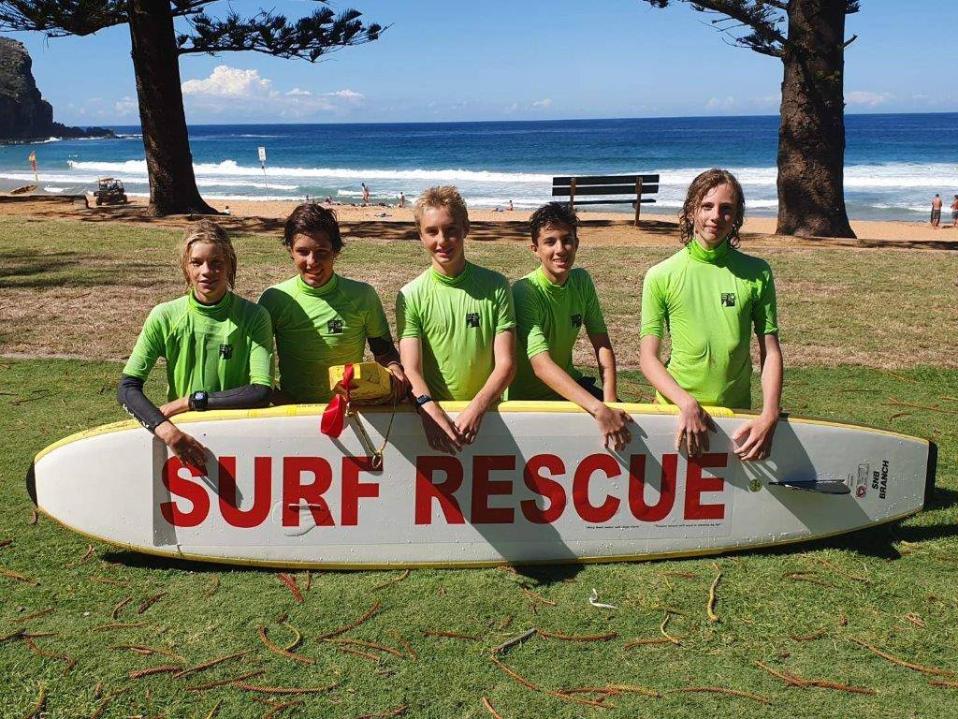 Photo: Barrenjoey High School students Sebastian Smith (left), Remy Garner, Jake Peters, Jacob Cowan and Rudy Duke-Yonge. Picture courtesy SLS SNB
Two students from Barrenjoey High School were heroes on Wednesday this week when they rescued a young boy who got into difficulties in the surf at Avalon Beach.
Five boys from the school were doing their Surf Survival Assessment when they heard cries for help in the water.
Two brothers from Darwin were at the beach with their grandmother. The younger boy, 7, got into trouble about 50m from shore and was in distress, yelling out for help.
Rudy Duke-Yonge fortunately had the rescue tube around him and swam to the boy's aid and held him up until Remy Garner arrived to assist. Remy removed the tube from Rudy and put it around the boy and he was taken safely back to shore.
It certainly turned out to be an eventful day for the boys from Barrenjoey High. Rudy did the course because he just wanted to do something different.
While he was not involved in the rescue, Jacob Cowan told one of the SLS Sydney Northern Beaches instructors Tracey Hare-Boyd that he wants to do the course again in fourth term because he gained so much out of it.
___________________________________________________________________________________________________________
Pittwater Lady Announced As Max Gardner Award Recipient
Mary Jones, a committee member of Northern Beaches Prostate Cancer Support Group, has been announced as a winner of the prestigious Max Gardner award this week.

The Max Gardner Award for Distinguished Service is a prestigious award presented by Prostrate Cancer Foundation of Australia (
PCFA
). It is awarded to an individual member of the Network that has made an outstanding and significant contribution to reducing the impact of prostate cancer on Australian men, their partners and families, recognising the diversity of the Australian community.
This award is a peer-based form of recognition for PCFA Network members who are currently an official Ambassador, in a Support Group Leader role or an active member of an affiliated support group.
Max Gardner AM was a passionate advocate for cancer support services. He was diagnosed with prostate cancer in 1995 and firmly believed that if his cancer had been diagnosed earlier he still might be around today. With this thought in mind, he became an advocate for early diagnosis and dedicated himself to ensuring that other men diagnosed with prostate cancer would have a better chance in life than he did.
From diagnosis until his death in October 2004, Max worked tirelessly to raise the level of community awareness about prostate cancer, to promote research into this disease and to support men and women dealing with prostate cancer. He was instrumental in establishing the Network with other like-minded men and women. Max also published a newsletter for his own St Vincent's Hospital Prostate Cancer Support Group in Sydney and served on numerous educational, scientific and generic cancer committees and boards.
"Prostate Cancer Foundation of Australia received many Max Gardner Award nominations from across the country in 2018 for Support Group Leaders and Ambassadors. I am extremely proud of the wonderful accomplishments made by all those nominated and the collective, positive impact being made by the Support Groups and Ambassadors nationally." Steve Callister, the National Chairman of PCFA said
"At the most recent National Board of Directors meeting three new awardees were approved. It is with great pleasure that I announce that the Max Gardner Award recipients for 2018 are:
Mary Jones
Tony Maxwell
David Merry
Tony, Mary and David have all made outstanding and significant contributions to reducing the impact of prostate cancer on the Australian community. Each of these individuals have altruistically served our community, and genuinely encompass our core values of integrity, optimism, compassion, respect and commitment.
Their hard work has provided many men and their families with the support and awareness that is needed.
On behalf of the National Board, staff and our community, I would like to thank and commend Mary, Tony and David for their ongoing commitment to the cause and their valuable work. " Mr. Callister said
The award will be presented in June this year.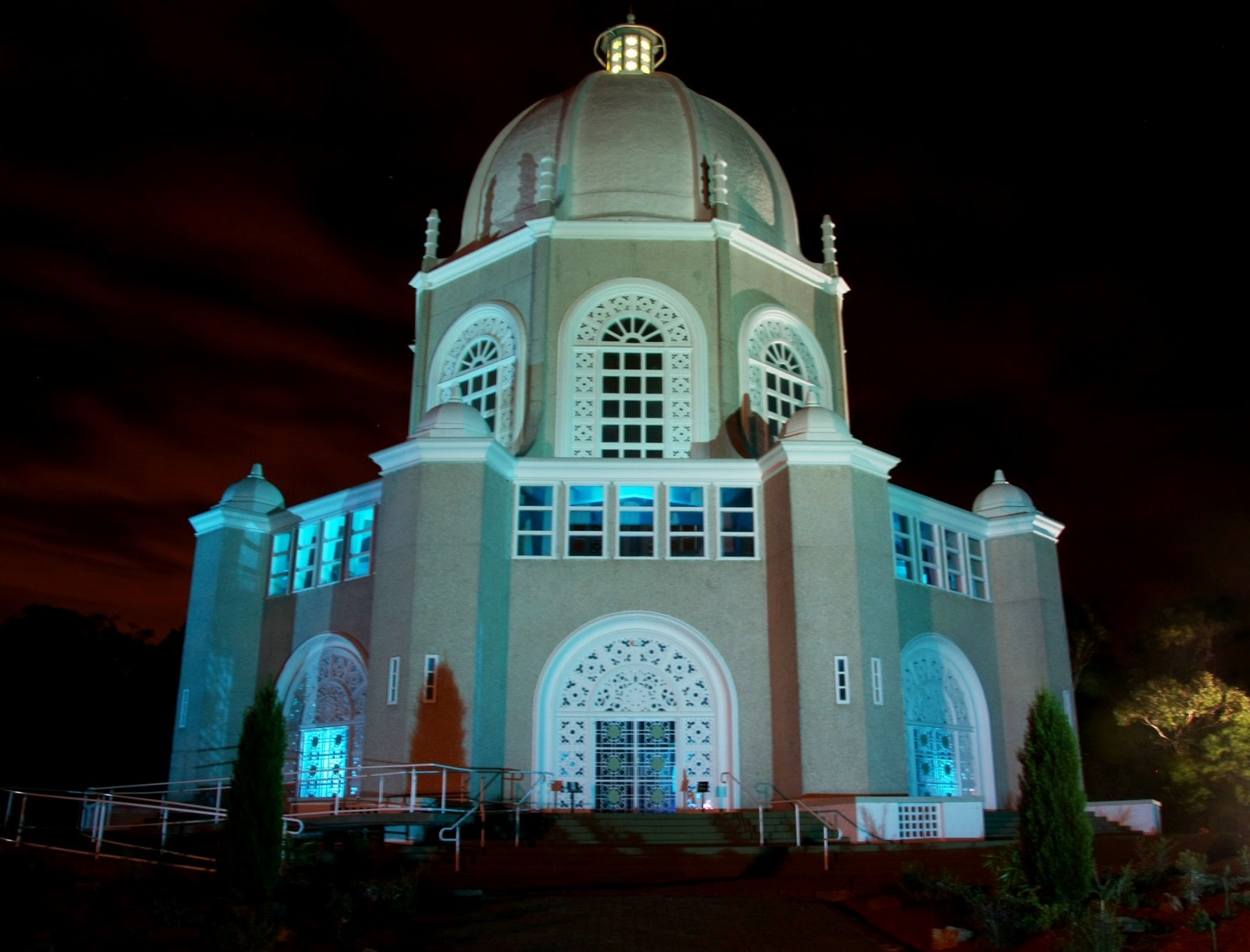 Pittwater residents may remember Mary as the lady whose work saw the Bahai Temple lit Blue for Prostrate Cancer Awareness Month a few years ago, or is the one who sends us in details of fundraising Trivia Nights or those Family Fun Days and Big Aussie BBQ's at Rat Park with wonderful vehicles on display from members of the Pittwater Motor Enthusiast Association.
All these fundraising activities are devoted to research into the disease.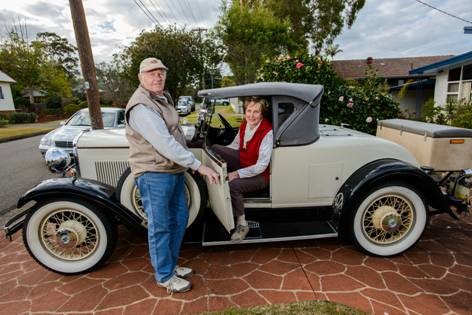 This car is a DA Dodge 1929 Roadster which was on display and is owned by Jimmy Hurlstone (in photo together with Mary Jones of the NBPCSG) Photograph by Michael Mannington, Community Photography.

September is International Prostate Cancer Awareness month and the Northern Beaches Prostate Cancer Support Group organises these events to increase public awareness and inform the community that a simple PSA blood test could lead to early detection and save a man's life.
The work of these volunteers is vital when you find out that 3,300 Australian men a year die from Prostate Cancer and 20,000 Australian men a year receive a new diagnosis, that's 54 a day!

Mary is also
Editor of
the Northern Beaches Prostate Cancer Support Group
(
NBPCSG) Newsletter.
The Northern Beaches Prostate Cancer Support Group hold regular meetings and have guests speakers. In August 2013 Mary sent Pittwater Online a Notice about 'Facing The Tiger' , a book written by Professor Suzanne Chambers, as a guide for Men with Prostate Cancer and the People Who Love Them.
Prof. Chambers is one of the world's leading researches into the psychological effects of cancer and how best to provide support for individuals and couples. She is a health psychologist at Griffith University in Queensland and made the journey to Sydney to be guest speaker at the meeting of the Northern Beaches Prostate Cancer Support Group on Tuesday, 6th August.
The Northern Beaches Prostate Cancer Support Group will have other speakers at their monthly meetings in 2019, including:
Dr Zaklina Kovacevic – Researcher
Assoc Professor Michael Izard – Radiation Oncologist
Assoc Professor Celi Vero -Urologist
Mens' Night Only
Speakers on new developments in the treatment of prostate cancer
The monthly meetings are held from February to December on the
1st Tuesday of the month at 6:30pm
and are held in the Palliative Care Cottage in the grounds of Mona Vale District Hospital, Coronation Street, Mona Vale.
___________________________________________________________________________________________________________
Lachy Hamilton Album Launch Of 'Alchemy'
Thursday, April 18, 2019 at 8 PM
2/370 Barrenjoey Rd, Newport
'Alchemy' Album Launch at Kave Bar!
Come and enjoy a fabulously awesome night with Lachy Hamilton for the launch of his new repertoire.
Get down and funky at the end of the night with some DJ tunes and start your long weekend in the pocket.
Hailing from the small community on Scotland Island, Lachy Hamilton began playing the piano at the age of four. Taking up the clarinet, and then saxophone soon after, his musical journey has taken him around the world performing with the likes of James Morrison, Jeff Clayton, Wycliffe Gordon, Kate Ceberano, James Muller, Sarah McKenzie, Patti Austin, The Melbourne Symphony Orchestra and many more.
At 23, Lachy is fast becoming a well-known performer of the Australian Jazz scene. Having completed is Bachelor of Music (Honours) at the James Morrison Academy of Music in 2017, Lachy now resides in Sydney where he plays regularly with various ensembles.
During his Bachelor course, Hamilton studied closely with Jeff Clayton, Mat Jodrell, Graeme Lyall, Carl Mackey, James Morrison and was the sole recipient of the 2016 Excellence in Performance Award. He was also a member of the top-tier jazz orchestra, recording the Aria-nominated album "James Morrison with his Academy Jazz Orchestra" and touring across the US in venues including Dizzy's Coca-Cola Club (New York), the Green Mill (Chicago) and at the 2017 Jazz Educators Network Conference (New Orleans).
Lachy was a finalist in the James Morrison Scholarship in both 2014 and 2015. He was also selected as one of the 2015 Telluride Jazz All Stars, performing in Telluride, Colorado and working with Josh Quinlan, Bob Montgomery and Ernie Watts. In addition, Lachy is the founder of various groups including "FLIP", "The Swing Merchants" and "Moloko". He also regularly performs with the James Morrison Quintet and his own, self-titled trios and quartets, playing original compositions and arrangements of jazz standards.
Ancient Four-Legged Whale With Otter-Like Features Found Along The Coast Of Peru
April 4th, 2019: Cell Press
Cetaceans, the group including whales and dolphins, originated in south Asia more than 50 million years ago from a small, four-legged, hoofed ancestor.
Now, researchers reporting the discovery of an ancient four-legged whale -- found in 42.6-million-year-old marine sediments along the coast of Peru -- have new insight into whales' evolution and their dispersal to other parts of the world. The findings are reported in the journal
Current Biology
on April 4.
The presence of small hooves at the tip of the whale's fingers and toes and its hip and limbs morphology all suggest that this whale could walk on land, according to the researchers. On the other hand, they say, anatomical features of the tail and feet, including long, likely webbed appendages, similar to an otter, indicate that it was a good swimmer too.
"This is the first indisputable record of a quadrupedal whale skeleton for the whole Pacific Ocean, probably the oldest for the Americas, and the most complete outside India and Pakistan," says Olivier Lambert of the Royal Belgian Institute of Natural Sciences.
Some years ago, study co-author Mario Urbina of Museo de Historia Natural-UNMSM, Peru, discovered a promising area for digging fossils in the coastal desert of southern Peru, named Playa Media Luna. In 2011, an international team, including members from Peru, France, Italy, the Netherlands, and Belgium, organized a field expedition, during which they excavated the remains of an ancient whale they've since named Peregocetus pacificus. It means "the traveling whale that reached the Pacific."
"When digging around the outcropping bones, we quickly realized that this was the skeleton of a quadrupedal whale, with both forelimbs and hind limbs," Lambert says.
With the help of microfossils, the sediment layers where the skeleton was positioned were precisely dated to the middle Eocene, 42.6 million years ago. Anatomical details of the skeleton allowed them to infer that the animal was capable of maneuvering its large body (up to 4 meters long, tail included), both on land and in the water. For instance, features of the caudal vertebrae (in the tail) are reminiscent of those of beavers and otters, suggesting a significant contribution of the tail during swimming.
The geological age of the new four-limbed whale and its presence along the western coast of South America strongly support the hypothesis that early cetaceans reached the New World across the South Atlantic, from the western coast of Africa to South America, the researchers report. The whales would have been assisted in their travel by westward surface currents and by the fact that, at the time, the distance between the two continents was half what it is today. The researchers suggest that, only after having reached South America, the amphibious whales migrated northward, finally reaching North America.
The international team continues to study the remains of other whales and dolphins from Peru. "We will keep searching in localities with layers as ancient, and even more ancient, than the ones of Playa Media Luna, so older amphibious cetaceans may be discovered in the future," Lambert says.
Olivier Lambert, Giovanni Bianucci, Rodolfo Salas-Gismondi, Claudio Di Celma, Etienne Steurbaut, Mario Urbina, Christian de Muizon.
An Amphibious Whale from the Middle Eocene of Peru Reveals Early South Pacific Dispersal of Quadrupedal Cetaceans.
Current Biology, 2019; DOI:
10.1016/j.cub.2019.02.050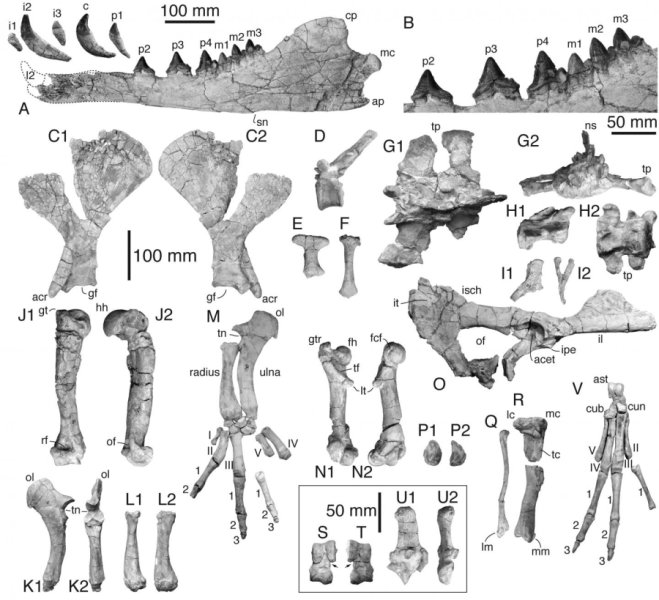 This figure shows the bones of Peregocetus, including the mandible with teeth, scapula, vertebrae, sternum elements, pelvis, and fore- and hind limbs.
Credit: G. Bianucci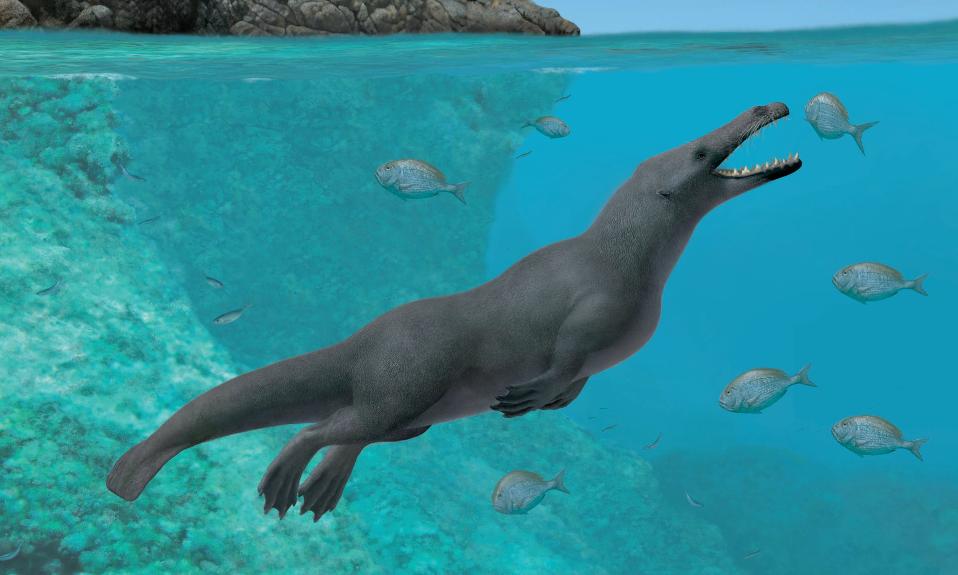 The latest specimen proves that early whales could swim for days or possibly weeks at a time while retaining their ability to rove around on land. Photograph: A. Gennari/CellPress
Anzac Day Schools' Awards
The Department of Veterans' Affairs (DVA) hosts the Anzac Day Schools' Awards each year.
This national competition encourages students and teachers to plan, deliver and report on the commemoration of Anzac Day in their local community.
We encourage schools to involve local veterans, current serving members of the Australian Defence Force and other important local people as a way for students to discover wartime experience.
Participating in a student competition helps children and teenagers to challenge themselves, test their ideas and show their talents.
It's open to all primary and secondary schools in Australia.
Entries for 2019 are now open. Submission closes on 24 May 2019.
Find out:
Plan your school's commemorative activities and research with the following resources.
We create educational resources linked to the Australian Curriculum, including commemorative publications and interviews with veterans.
Explore government records about Australians and New Zealanders in World War I. Enhance a profile dedicated to the wartime journey of someone who served. Uncover the personal stories of service men and women through original archival records.
Commemorating those who have served, here you will find listings of members of Australia's defence forces who served during the Second World War, Korean War, Vietnam War and First Gulf War.
Local memorabilia and memorials
Your local war memorial, war graves, ex-service organisations and history associations can also be a useful starting point.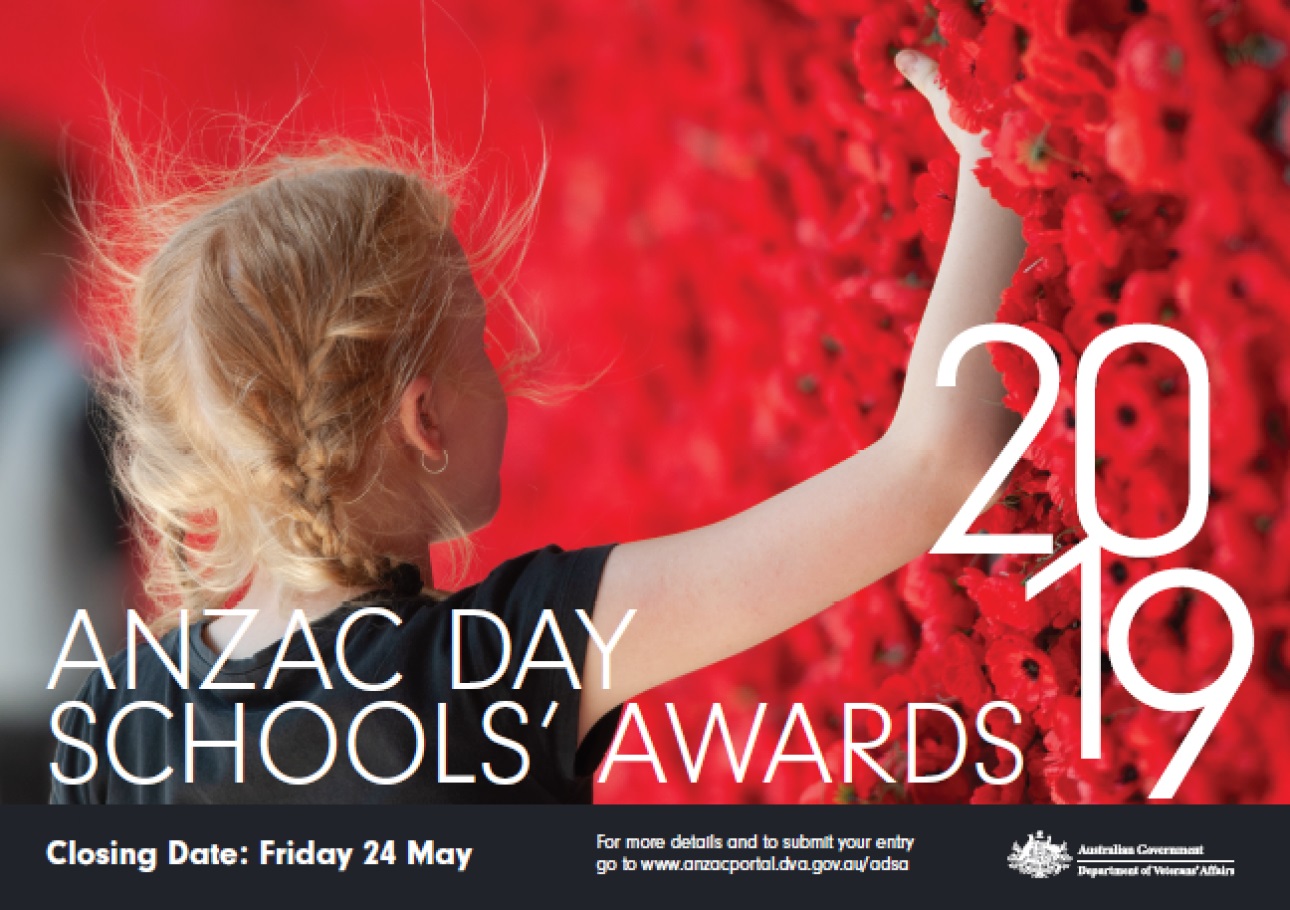 Up Close With Stunning Sacred Kingfisher
April 6th 2019: by BIBY TV
This Sacred Kingfisher (Todiramphus sanctus) was filmed in February 2019 in the Capertee Valley, NSW. It is not clear whether the introductory photo (taken in late January) is the same bird. The kingfisher in the video is almost certainly a juvenile. Note the buff edges to wing-coverts and dark scaling on the breast. Males and females are similar and particularly so when young. However, in good light the wings of adult males usually look bluer than those of the duller green-tinged females. You may notice differences in the underparts of Sacred Kingfishers – that is, buff or quite white – but this has to do with the freshness of the plumage. Worn underparts are whiter.
The second photo reveals a favourite part of this kingfisher's territory. The ex-farm dam is surrounded by trees and open areas, such as grassland and a large rock garden near a house. But the exact location of the footage is a naturalistic bird bath or pond within the rock zone. Here we see the young kingfisher looking at the water and then the aftermath of a bathing session. Its interest in the water may also be food-related as they occasionally take fish or aquatic invertebrates from garden ponds and waterways. However, their diet mostly consists of insects and small reptiles. Indeed, we have seen this bird grab the latter types of prey from the rock garden and near the dam. Of course, being near a water source expands the food options for this flexible species as water attracts many terrestrial creatures
Wildlife Rehabilitation Sector Strategy Changes
The Office of Environment and Heritage is seeking feedback on a strategy for supporting the wildlife rehabilitation sector and introducing an accreditation system for providers.
The volunteer wildlife rehabilitation sector provides specialised care and treatment for injured, sick and orphaned native animals. It delivers an important service to the community.
The Office of Environment and Heritage undertook a review of the sector to better understand the services provided and the challenges faced. It also had a look at how these services may be more effectively supported in line with changes to the regulation of wildlife rehabilitation providers under the Biodiversity Conservation Act 2016.
Under the Act, regulation of wildlife rehabilitation and rescue services will shift from a licence-based model to a system of accreditation.
You are invited to provide feedback on the findings of the review, recommendations for enhancing services and the proposed accreditation system.
There are three ways you can submit your feedback:
Mail: Wildlife Rehabilitation Sector Strategy
National Parks and Wildlife Service
PO Box 1967
Hurstville, NSW 1481
Have your say by 12 April 2019.
Email: National Parks and Wildlife Service
Phone: 1300 361 967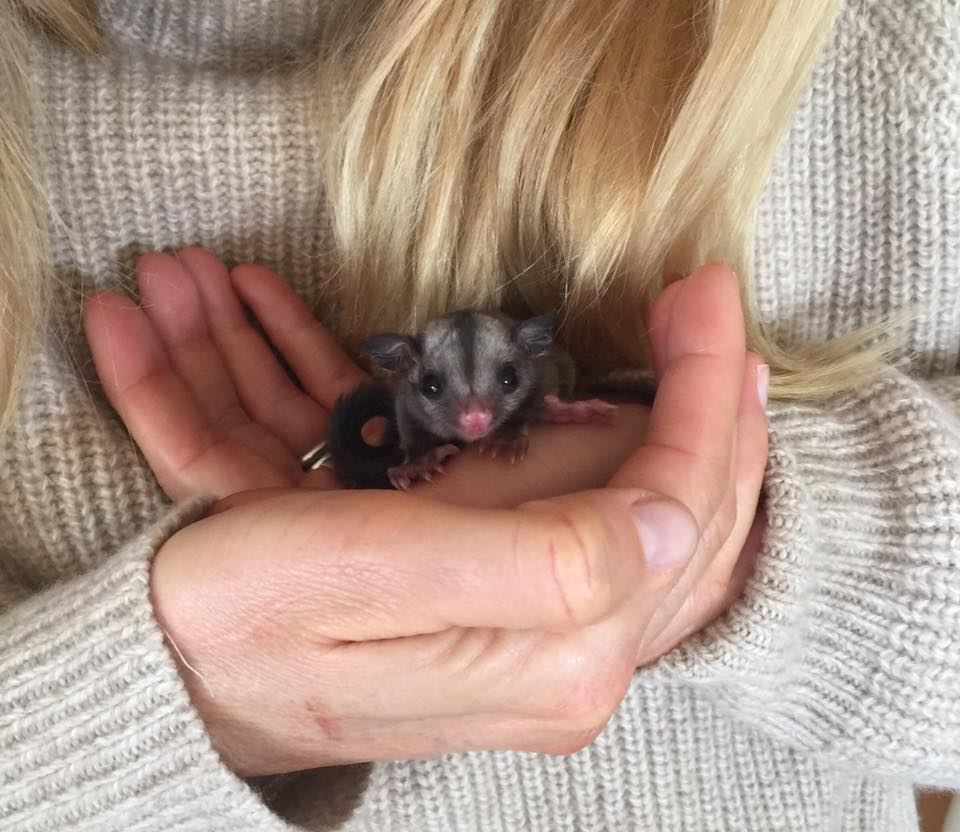 Mackellar Climate Election Candidates Forum
Hosted by StopAdani Mackellar
Wednesday, April 17, 2019 at 6:30 PM – 8 PM
Modus Operandi Brewing Co.
14 Harkeith Street, Mona Vale
Concern for climate change is at an all time high. That's why the federal election in May is shaping up to be the #climateelection.
Join Stop Adani Mackellar to find out which Mackellar candidates are ready to step up for climate change . We need to pack out the room, so invite your friends and family as well!
Alice Thompson (Independent), Prudence Wawn (The Greens) and Declan Steele (Labor) are all participating. Jason Falinski, Mackellar's Liberal MP, is unable to attend due to prior commitments.

Please RSVP on the provided link above (FREE) so we know how many seats we'll need for the evening.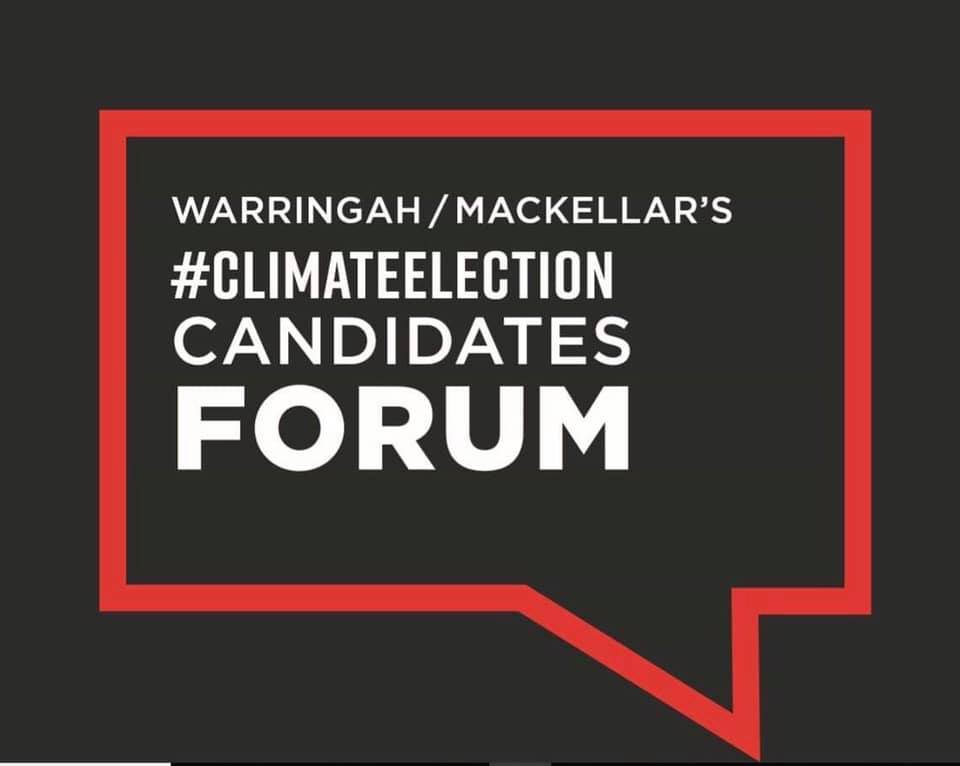 Australia's 2018 Environmental Scorecard: A Dreadful Year That Demands Action
Professor, Water and Landscape Dynamics, Fenner School of Environment & Society, Australian National University
Environmental news is rarely good. But even by those low standards, 2018 was especially bad. That is the main conclusion from
Australia's Environment in 2018
, the latest in an annual series of environmental condition reports, released today.
Every year, we analyse vast amounts of measurements from satellites and on-ground stations using algorithms and prediction models on a supercomputer. These volumes of data are turned into regional summary accounts that can be explored on our
Australian Environment Explorer website
. We interpret these data, along with other information from national and international reports, to assess how our environment is tracking.
Whereas 2017 was already quite bad, 2018 saw many indicators dip even further into the red.
Temperatures went up again, rainfall declined further, and the destruction of vegetation and ecosystems by drought, fire and land clearing continued. Soil moisture, rivers and wetlands all declined, and vegetation growth was poor.
In short, our environment took a beating in 2018, and that was even before the oppressive heatwaves, bushfires and Darling River fish kills of January 2019.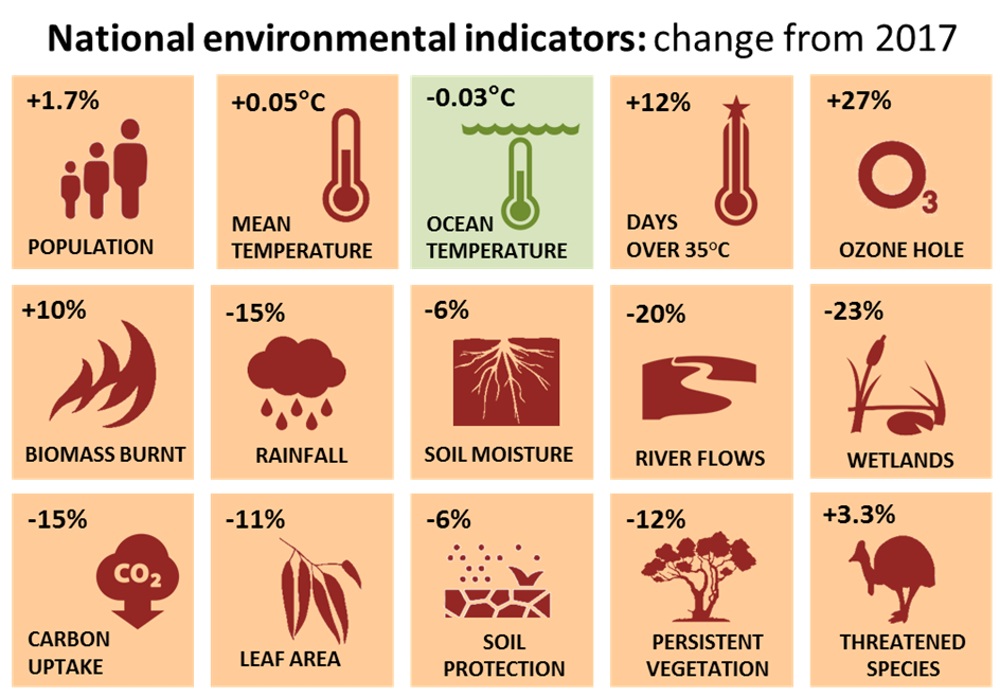 Indicators of Australia's environment in 2018 compared with the previous year. Similar to national economic indicators, they provide a summary but also hide regional variations, complex interactions and long-term context. source: http://www.ausenv.online/2018
The combined pressures from habitat destruction, climate change, and invasive pests and diseases are taking their toll on our unique plants and animals. Another 54 species were added to the official list of threatened species, which now stands at 1,775. That is 47% more than 18 years ago and puts Australia among the world's worst performers in biodiversity protection. On the upside, the number of predator-proof islands or fenced-off reserves in Australia reached 188 in 2018, covering close to 2,500 square kilometres. They offer good prospects of saving at least 13 mammal species from extinction.
Globally, the increase of greenhouse gases in the atmosphere accelerated again after slowing down in 2017. Global air and ocean temperatures remained high, sea levels increased further, and even the ozone hole grew again, after shrinking during the previous two years.
Sea surface temperatures around Australia did not increase in 2018, but they nevertheless were well above long-term averages. Surveys of the Great Barrier Reef showed further declining health across the entire reef. An exceptional heatwave in late 2018 in Far North Queensland raised fears for yet another bout of coral bleaching, but this was averted when sudden massive downpours cooled surface waters.
The hot conditions did cause much damage to wildlife and vegetation, however, with spectacled flying foxes dropping dead from trees and fire ravaging what was once a tropical rainforest.
While previous environmental scorecards showed a mixed bag of regional impacts, 2018 was a poor year in all states and territories. Particularly badly hit was New South Wales, where after a second year of very poor rainfall, ecosystems and communities reached crisis point. Least affected was southern Western Australia, which enjoyed relatively cool and wet conditions.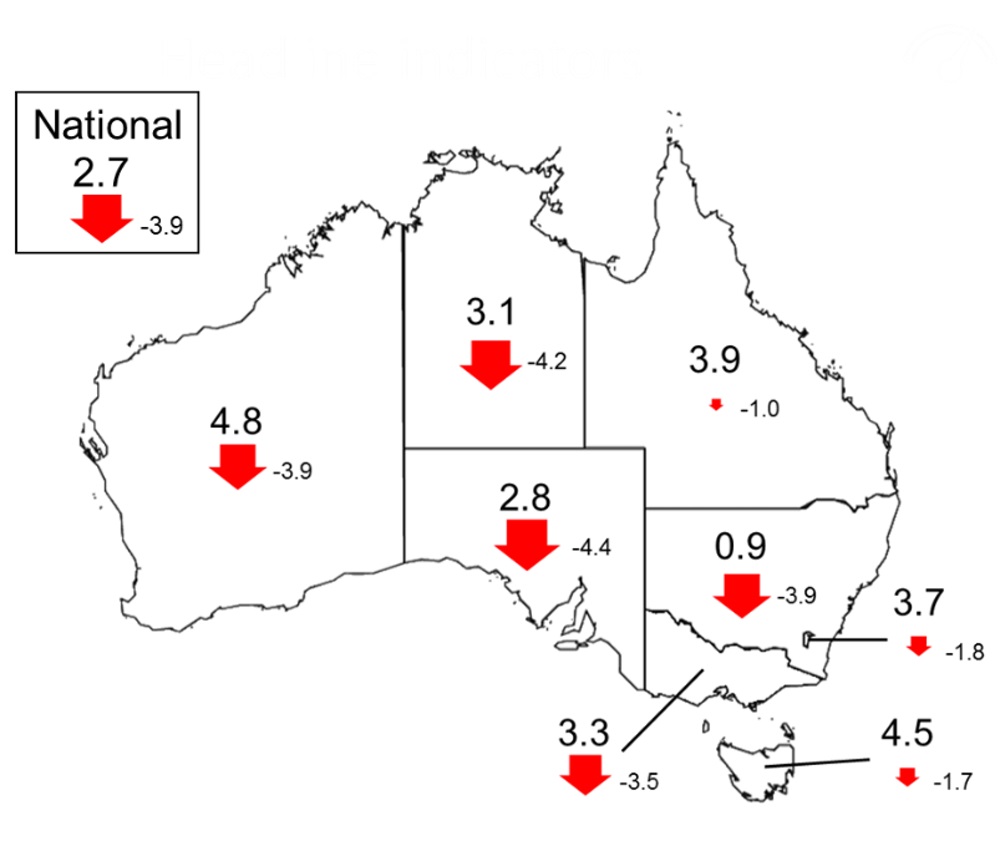 Environmental Condition Score in 2018 by state and territory, based on a combination of seven indicators. The large number is the score for 2017, the smaller number the change from the previous year. source: http://www.ausenv.online/2018
It was a poor year for nature and farmers alike, with growing conditions in grazing, irrigated agriculture and dryland cropping each declining by 17-20% at a national scale. The only upside was improved cropping conditions in WA, which mitigated the 34% decline elsewhere.
Although it is too early for a full picture, the first months of 2019 continued as badly as 2018 ended. The 2018-19 summer broke heat records across the country by large margins, bushfires raged through Tasmania's forests, and a sudden turn in the hot weather killed scores of fish in the Darling River. The monsoon in northern Australia did not come until late January, the latest in decades, but then dumped a huge amount of rain on northern Queensland, flooding vast swathes of land.
It would be comforting to believe that our environment merely waxes and wanes with rainfall, and is resilient to yearly variations. To some extent, this is true. The current year may still turn wet and improve conditions, although a developing El Niño makes this less likely.
However, while we are good at acknowledging rapid changes, we are terrible at recognising slow, long-term ones. Underlying the yearly variations in weather is an unmistakable pattern of environmental decline that threatens our future.
Global warming is already with us, and strong action is required to avoid an even more dire future of rolling heatwaves and year-round bushfires. But while global climate change requires global action, there is a lot we can and have to do ourselves.
Australia is one of the world's most wasteful societies, and there are many opportunities to clean up our act. Achieving progress is not hard, and despite shrill protests from vested interests and the ideologically blind, taking action will not take away our prosperity. Home solar systems and more efficient transport can in fact save money. Our country has huge opportunities for renewable energy, which can potentially create thousands of jobs. Together, we can indeed reduce emissions "in a canter" – all it takes is some clear national leadership.
The ongoing destruction of natural vegetation is as damaging as it is unnecessary, and stopping it will bring a raft of benefits. Our rivers and wetlands are more than just a source of cheap irrigation for big businesses. With more effort, we can save many species from extinction. Our farmers play a vital role in caring for our country, and we need to support them better in doing so.
Our environment is our life support. It provides us our place to live, our food, health, livelihoods, culture and identity. To protect it is to protect ourselves.
This article was coauthored by Shoshana Rapley, an ANU honours student and research assistant in the Fenner School of Environment and Society.
This article was published in
The Conversation
first, visit
this Link
to read the original. Republished under Creative Commons licence.
Coalition Downgrades Environment Department Again: NCC
April 2nd, 2019: Media Release -
Nature Conservation Council
"The decision to downgrade the environment portfolio (again) and subsume it into a super-ministry with industry and development is par for the course from a government that has been at war with nature and environmental protection since it came to power in 2011," Nature Conservation Council CEO Kate Smolski said.
"This shrinks the status of the Office of Environment and Heritage further and appears designed to reduce it to providing back-office functions enabling development.
"Protection of nature and the environment is so important it needs a separate department. It should not be subordinate to the development and industrial complex.
"Our unique wildlife and landscapes need a strong, independent advocate within government standing up to the relentless pressure of the mining and developer lobby.
"The only way we to ensure this is to establish a separate department distinct from planning, industry and energy."
The Coalition during the O'Farrell government downgraded the environment department to the status of an "office" and has over the past eight years slashed staffing and subordinated its functions to other departments, notably a planning department.
The latest move follows the appointment of Matt Kean, the Coalition's fifth environment minister in eight years.
"The environment ministry has been unstable and weak since the Coalition came to power in 2011, largely because it has lacked the support of the Premier in resisting pressure from the developer lobby and the National Party to wind back environmental protections," Ms Smolski said.
"Sadly, that trend appears set to continue."
________________________________
It's Official - Environment & Local Government Ministers Stripped Of All Power
April 2nd, 2019: NSW Greens Media Release
The Berejiklian government has officially stripped Ministers for the Environment, Heritage and Local Government of all their responsibilities to manage the legislation in their portfolio areas. All legislative powers in these key portfolios have been centralised in either the Premier or the Minister for Planning.
The dramatic changes disempower these Ministers from having any official role in the administration of key legislation in their areas including under the Protection of the Environmental Acts, the Heritage Act and the Local Government Act.
The changes have been implemented in the Administration of Acts Order https://www.legislation.nsw.gov.au/regulations/2019-158.pdf and associated changes https://www.legislation.nsw.gov.au/regulations/2019-157.pdf made on Tuesday this week.
Greens MP David Shoebridge said:
"This is not just a political take-over by the Planning Minister it's now an official legal coup which has seen NSW Planning take over all of the environmental protections in NSW.
"NSW Planning has a history of abusing the environment, not protecting it, which makes these changes so dreadfully concerning.
"It's not just the Planning Minister who has seized control, so has the Premier by taking over all responsibilities under the Heritage Act.
"What is the point of having a Heritage Minister who has no role in administering the Heritage Act?
"The Local Government Minister has also been stripped of power with the Planning Minister now exercised all the powers under the Local Government Act. This continues a trend of disrespecting Local Government.
"There need to be checks and balances in government, but these changes all go in one direction which is more development and less protections," Mr Shoebridge said.
Greens MP Cate Faehrmann said:
"This is a disgraceful, unprecedented move and makes it clear that the Premier is going to ramp up her government's wholesale destruction of the environment.
"We've gone from an Environment Minister asleep at the wheel to an Environment Minister in title only. All power now rests with the Planning Minister, so one can only assume that development will take priority over environmental considerations most of the time.
"This should have been an opportunity for the Berejiklian government to reset after four years of horrendous environmental performance. Instead its first act has been to abolish the office, and now the ministerial power, of the environment. We have just entered the dark ages when it comes to protecting our environment," Ms Faehrmann said.
________________________________
The
Administration of Acts Order
and
associated changes
made on Tuesday this week outline the key ministerial responsibilities that have been moved. The Office of Local Government and the Office of Environment and Heritage have ceased to be independent entities and their functions will be absorbed into a mega Planning and Industry 'cluster', which will be in the portfolio of Pittwater's MP, Rob Stokes as newly appointed Minister for Planning and Public Spaces.
The 'cluster' will oversee long term planning, precincts, infrastructure, open space, the environment and natural resources.
There is also now a Minister for Energy and Environment, alike that which occurred when the Federal Government renamed the Environment Department on winning office in 2016, only in reverse as 'Environment and Energy Department' at Fed. Level.
Comments from other politicos this week have been swift:
NSW Greens MP David Shoebridge said that, 'The dramatic changes disempower these Ministers from having any official role in the administration of key legislation in their areas including under the Protection of the Environmental Acts, the Heritage Act 1977 and the Local Government Act 1993'.
Mr. Shoebridge described the move as an 'official legal coup'; and
said in a statement: "Dissolving the Office of Environment and Heritage ... clearly indicates how this government is placing our natural, cultural and built heritage at the mercy of developers and industry."
NSW Labor's interim leader Penny Sharpe said "The environment needs stand-alone, independent and strong advice and a minister who will stand up for the environment."
Premier Gladys Berejiklian responded with stating that Environment would have "a prominent place within Planning to make sure every decision we take considers the environment - whether it's the urban context or the regional,"
"Along with energy, it will be a key focus of the government," the Premier said, adding the Environment Protection Authority would be given "more grunt".
The EPA is where is found all those Media Releases about people dumping asbestos and getting fined if they can catch them, or coal mine dam walls collapsing and polluting rivers, and those polluters getting fined, often after visits to the Land and Environment court, or all those requests for information from the public about native fauna being deliberately poisoned, maimed or buried alive; birds,
wallabies,
wombats - and also where the Cash for Containers info is stored.
There's a fine for a mine 'news' insight that has come out this week - PON delved deeper to see what else may be happening there - hope the issuers of that 'news' did too!
OEH has/had responsibilities and functions under many pieces of environmental legislation.
Acts are general enabling laws while Regulations are laws on matters of detail.
Acts and Regulations relevant to OEH are listed by topic on a still available webpage as:
Aboriginal cultural heritage
Biodiversity and threatened species
Coastal management
Energy savings and resource efficiency
Environmental Trust
Environmental upgrade works
Heritage
Land and soil
Marine estate
Native vegetation
Parks management
Wilderness
Wildlife regulation
Retrieved from https://www.environment.nsw.gov.au/policy-and-law/legislation
The most recent OEH Annual Report states in the opening pages the OEH's purpose is/was:
The Office of Environment and Heritage (OEH) is a separate agency within the Planning and Environment cluster. OEH works with the NSW community to care for and protect our environment and heritage.
The role of OEH is/was to:
• conserve and care for national parks and reserves, biodiversity and threatened species
• encourage communities to experience and enjoy national parks and value their local environment
• promote, protect and share Aboriginal culture and heritage in partnership with Aboriginal people and local communities
• conserve, revitalise, care for and enjoy our historic heritage
• support economic development by promoting sustainable industries, tourism in protected areas, jobs, and access to natural resources without devaluing the environment
• advise, support and educate communities, regions, industry and landholders on the environment and heritage
• help communities and businesses build resilience to climate change, environmental hazards and risks
• develop and lead reforms in biodiversity, native vegetation, Aboriginal, non-Aboriginal and shared heritage, energy efficiency, air and water quality, coastal protection and sustainability
• inform and provide assurance to governments, businesses, households and individuals that their activities are consistent with environmental and heritage protections
• provide expertise in partnership with local, state and federal government agencies to inform and support community and government decision making
Retrieved from
https://www.environment.nsw.gov.au/-/media/OEH/Corporate-Site/Documents/About-us/office-environment-heritage-annual-report-2016-17-170526.pdf
LTG Says New Ministers Must Be Mindful Of Need For Mining Reform And Coal Industry Transition
April 1st, 2019: LTGA Media Release
The appointment of NSW MPs to new ministerial portfolios is an opportunity to put the needs of mining-affected communities at the forefront of the Berejiklian Government's agenda, according to Lock the Gate Alliance.
The Lock The Gate Alliance has released a to-do list for the ministers responsible for planning, regional development and the environment, following the appointment of Gladys Berejiklian's new Cabinet.
The Premier announced on Sunday that Rob Stokes would return to the planning portfolio, Matt Kean would become Minister for Environment and Energy, and the mining and resources portfolio would be absorbed into Regional NSW, Industry and Trade, held by the Deputy Premier, John Barilaro.
Lock the Gate spokesperson Georgina Woods said the Cabinet reshuffle was an opportunity to reset the Government's policy on coal mining and CSG, with the industries having soured its relationship with regional communities in recent years.
"Our top three priorities are that these ministers deliver long-promised protection for farmland and water resources from mining, stop the damaging coal seam gasfield proposed near Narrabri and kick-start a sustainable jobs boom in the Hunter region to replace declining coal exports," she said.
"A new approach is needed so that new coal mines like the Bylong mine near Mudgee and the Vickery mine near Boggabri, which will do untold damage to farmland and water resources, are not approved"
"These three Ministers have a historic opportunity to restore balance in regions affected by coal mining, where agricultural industries are losing land and water to mining.
"There are a dozen expired coal seam gas licences languishing over the farmland, bushland, rivers and communities of the North West, all of which pre-date the Government's CSG reforms of 2014 and all of which should be cancelled given they are a legacy of the bad old days.
"Crucially, these three ministers should now work together to deliver the transition strategy for coal mining communities that the NSW Independents have nominated as a priority for this term of parliament.
"The terminal decline of global coal markets could leave thousands jobless if we don't get in front of the changes that are underway and create new and sustainable opportunities for rural New South Wales, as the world shifts to renewable energy."
Abterra Australia Convicted And Fined $180,000 For Failing To Pay Security Deposit
April 4th, 2019: NSW Government, Planning & Environment - Resources and Geoscience Department Media Release
The NSW Resources Regulator has welcomed a Court decision to convict and fine Abterra Australia Pty Ltd $180,000 for failing to comply with a legal obligation to pay an environmental rehabilitation security deposit.
The Court found Abterra failed to pay almost $1.8 million in rehabilitation security deposits, in accordance with the conditions attached to the mining authorisation.
Following a review of the mining lease rehabilitation liability in 2017, the Department increased the security deposit for the site. The review determined that the security deposit for the site should be increased from $332,600 to $2,129,000.
The Regulator's Chief Compliance Officer Anthony Keon said the failure to pay the outstanding security was a serious contravention and a breach of section 378D of the Mining Act.
"Environmental rehabilitation security deposits that cover the full cost of rehabilitation are required for all mining leases in NSW," Mr Keon said.
"These security bonds ensure the NSW Government is not left with the rehabilitation bill should a mining authorisation holder default on their obligations.
"The Court's decision in this matter sends a strong message that mine operators must comply with the requirements around rehabilitation security deposits – and this will be strictly enforced.
"This aligns with community expectations, where the right to mine is conditional on appropriate rehabilitation."
Abterra was also ordered to pay the Regulator's legal costs of $12,783.06.
In handing down the decision, the NSW Local Court noted that the Regulator was transparent and clear in its dealings with Abterra during the assessment and re-assessment processes as well as Abterra's obligation to pay the security deposit.
_________________________________
Abterra Australia Pty Ltd went into liquidation

and

appointed an Administrator on
August 22nd, 2018
. A
March 4th, 2019
Meeting was held
to fix Agenda items such as 'to fix or determine the remuneration of the external administrator'
and
' the Company be wound up'.
The Notice date for this Meeting was
listed on ASIC
on February 22nd, 2019.
Ownership of the Mining lease No. 1616 was transferred to Abterra Australia Pty Ltd in August 2011. The NSW Department of Primary Industries originally granted Mining Lease No. 1616 over the Broula Deposit (
the Broula Magnetite and Limestone Mine)
on 31 March, 2008. Broula is located approximately 20 kms west of Cowra in central NSW.
The Abterra Ltd. website landing page informs readers, 'Abterra is an emerging supply chain manager in the natural resources business'. Further that; 'Abterra trades coking coal, coke and iron ore in Australia, India, Indonesia and China. By acquiring upstream assets such as coking coal mines, iron ore mines, coke plants, logistic units, Abterra aims to differentiate itself by having control over the inputs in its core trading business.' and 'Abterra Ltd. is listed on the Main Board of the Singapore Stock Exchange and got its name from the Latin translation of "Fruits of the Earth", which aptly reflects the strategic direction the organization pursues.'
In October 2006, General Nice Resources (Hong Kong) Limited successfully acquired a majority stake in Abterra Ltd., becoming the major shareholder of Abterra Ltd.
Federal Budget's Funds For Fracking Anger Territory Communities
Northern Territory residents are outraged after the Federal Government threw $8.4 million at the fracking industry while allowing crucial frontline services to whither from a lack of investment.
Graeme Sawyer from the Protect Country Alliance NT said:
"We are experiencing one of the NT's worst ever economic downturns and this fossil fuel addicted Federal Government has handed a wad of cash to a fly by night industry with no social licence.
"Million dollar handouts by the Federal Government to money-pit fracking projects in the Northern Territory is an abject waste of Australian taxpayer's money.
"It's ridiculous that we should be spending millions of taxpayer dollars propping up an industry that Territorians don't want, that puts water at risk and will drive up carbon pollution.
"The Government sponsorship of carbon pollution must stop.
"Remote Northern Territory fracked gas will be some of the most expensive gas to extract in the world - only assisting in keeping gas prices high for Australian consumers.
"Why should taxpayers foot the bill for studies that only go towards paving the way for polluting and unviable fracking projects?"
Raymond Dixon, a Traditional Owner whose Native Title rights have been compromised by fracking exploration permits in the Beetaloo sub-Basin, said:
"As Aboriginal people, we've been calling on the Government and the fracking companies to listen and respect our strong views on protecting country from fracking.
"While our communities struggle to have access to basic services, it's a kick in the guts to see that local and federal governments can suddenly find millions to handout to big companies to frack and poison our land.
"Fracking is no good for the future of Territory communities, or the rest of Australia. We want public investment in community-owned solar projects across the NT to take advantage of some of the best solar opportunities the world.
"We are ready to be a part of the renewable energy revolution and create genuine clean energy that doesn't put our land, water and culture at risk. When will governments step up and stop funding unwanted fracking?"
Are More Aussie Trees Dying Of Drought? Scientists Need Your Help Spotting Dead Trees
The following opinion piece, co-authored by Professor Belinda Medlyn and Associate Professor Brendan Choat from the Hawkesbury Institute for the Environment, was first published with full links on
The
Conversation.
Most citizen science initiatives ask people to record living things, like frogs, wombats, or feral animals. But dead things can also be hugely informative for science. We have just launched a new citizen science project, The Dead Tree Detective, which aims to record where and when trees have died in Australia.
The current drought across southeastern Australia has been so severe that native trees have begun to perish, and we need people to send in photographs tracking what has died. These records will be valuable for scientists trying to understand and predict how native forests and woodlands are vulnerable to climate extremes.
Understanding where trees are most at risk is becoming urgent because it's increasingly clear that climate change is already underway. On average, temperatures across Australia have risen more than 1℃ since 1910, and winter rainfall in southern Australia has declined. Further increases in temperature, and increasing time spent in drought, are forecast.
How our native plants cope with these changes will affect (among other things) biodiversity, water supplies, fire risk, and carbon storage. Unfortunately, how climate change is likely to affect Australian vegetation is a complex problem, and one we don't yet have a good handle on.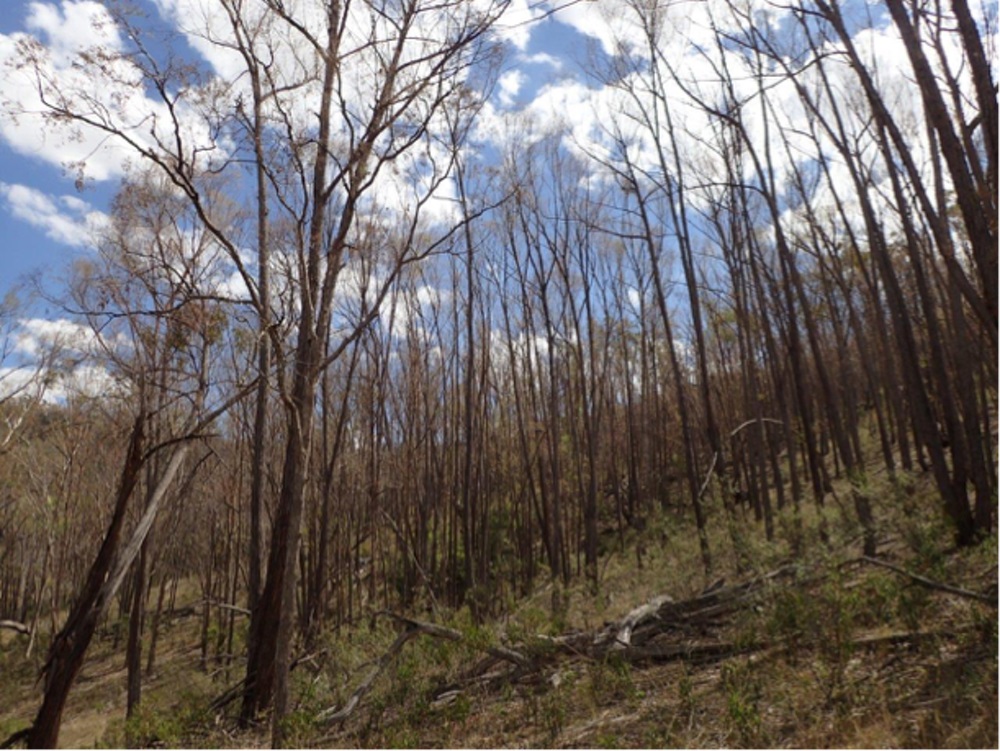 Phil Spark of Woolomin, NSW submitted this photo to The Dead Tree Detective project online. Author provided

All plants have a preferred average climate where they grow best (their "climatic niche"). Many Australian tree species have small climatic niches.
It's been estimated an increase of 2℃ would see 40% of eucalypt species stranded in climate conditions to which they are not adapted.
But what happens if species move out of their climatic niche? It's possible there will be a gradual migration across the landscape as plants move to keep up with the climate.
It's also possible that plants will generally grow better, if carbon dioxide rises and frosts become less common (although this is a complicated and disputed claim.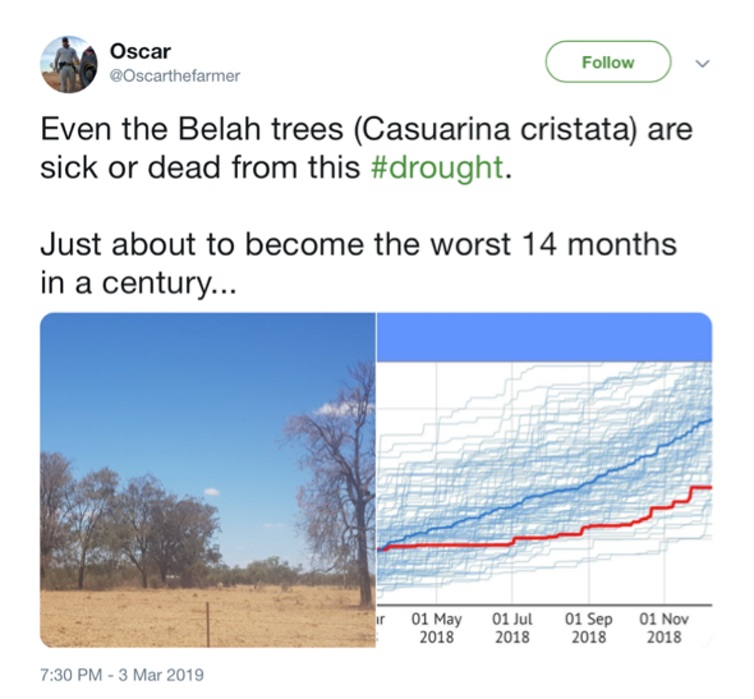 Farmers have reported anecdotal evidence of tree deaths on social media. Author provided

However, a third possibility is that increasing climate extremes will lead to mass tree deaths, with severe consequences.
There are examples of all three possibilities in the scientific literature, but reports of widespread tree death are becoming increasingly commonplace.
Many scientists, including ourselves, are now trying to identify the circumstances under which we may see trees die from climate stress. Quantifying these thresholds is going to be key for working out where vegetation may be headed.
The water transport system
Australian plants must deal with the most variable rainfall in the world. Only trees adapted to prolonged drought can survive. However, drought severity is forecast to increase, and rising heat extremes will exacerbate drought stress past their tolerance.
To explain why droughts overwhelm trees, we need to look at the water transport system that keeps them alive. Essentially, trees draw water from the soil through their roots and up to their leaves. Plants do not have a pump (like our hearts) to move water – instead, water is pulled up under tension using energy from sunlight. Our research illustrates how this transport system breaks down during droughts.
In hot weather, more moisture evaporates from trees' leaves, putting more pressure on their water transport system. This evaporation can actually be useful, because it keeps the trees' leaves cool during heatwaves. However if there is not enough water available, leaf temperatures can become lethally high, scorching the tree canopy.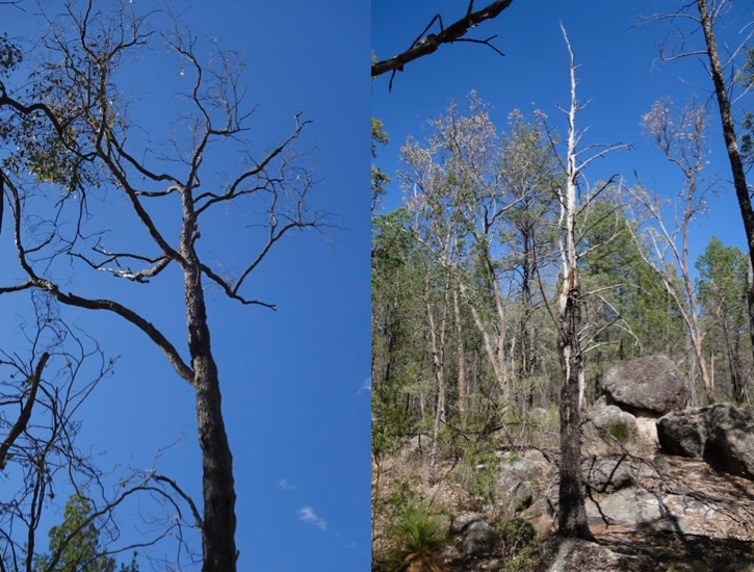 Lyn Lacey submitted these photos of dead trees at Ashford, NSW to The Dead Tree Detective. Author provided

We've also identified how drought tolerance varies among native tree species. Species growing in low-rainfall areas are better equipped to handle drought, showing they are finely tuned to their climate niche and suggesting many species will be vulnerable if climate change increases drought severity.
Based on all of these data, we hope to be able to predict where and when trees will be vulnerable to death from drought and heat stress. The problem lies in testing our predictions – and that's where citizen science comes in. Satellite remote sensing can help us track overall greenness of ecosystems, but it can't detect individual tree death. Observation on the ground is needed.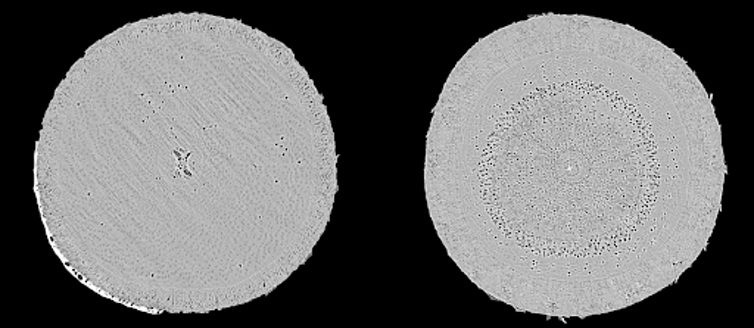 These images show a failure of the water transport system in Eucalyptus saligna. Left: well-watered plant. Right: severely droughted plant. On the right, air bubbles blocking the transport system can be seen. Brendan Choat, Author provided
However, there is no system in place to record tree death from drought in Australia. For example, during the Millennium Drought, the most severe and extended drought for a century in southern Australia, there are almost no records of native tree death (other than along the rivers, where over-extraction of water was also an issue). Were there no deaths? Or were they simply not recorded?
The current drought gripping the southeast has not been as long as the Millennium Drought, but it does appear to be more intense, with some places receiving almost no rain for two years. We've also had a summer of repeated heatwaves, which will have intensified the stress.
We're hearing anecdotal reports of tree death in the news and on twitter. We're aiming to capture these anecdotal reports, and back them up with information including photographs, locations, numbers and species of trees affected, on the Dead Tree Detective.
We encourage anyone who sees dead trees around them to hop online and contribute. The Detective also allows people to record tree deaths from other causes – and trees that have come back to life again (sometimes dead isn't dead). It can be depressing to see trees die – but recording their deaths for science helps to ensure they won't have died in vain.
PITTWATER YHA OFFERS FREE BEDS FOR GREEN HEARTS
This May, Pittwater YHA opens its doors to green-hearted and green-thumbed guests who'll save the gorgeous Ku-ring-gai Chase National Park from imminent asparagus fern invasion. Yes, seriously.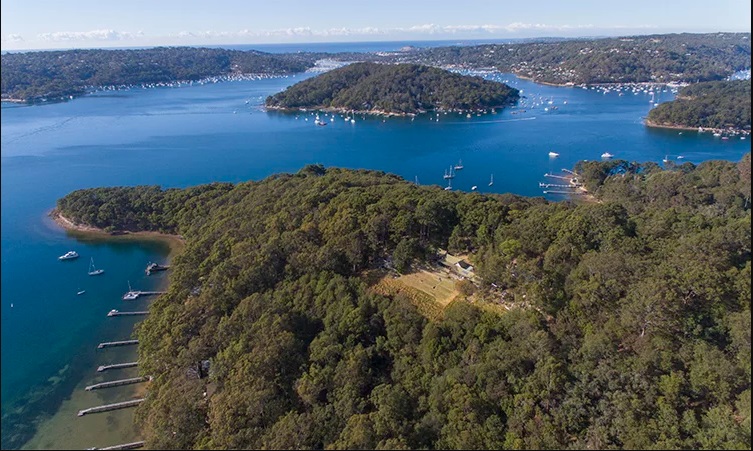 Bush Regeneration sees eco-conscious, kind hearted humans restore and rehabilitate the gorgeous, sprawling Aussie bush from its weed-infested, degraded state into a healthy, thriving plant community, which will prosper and delight forevermore. Far from just weed removal; Regenerators focus on habitat, drainage, weed sources and establishing native communities. These are big words which probably don't make much sense – but we have an interactive learning opportunity for you!
Ku-ring-gai Chase National Park, Sydney's protected north coast, is home to rock engravings, red ochre rock paintings, the fuzziest wildlife you ever did see and the most breathtaking views a Sydneysider or visitor could comprehend; and is currently under threat from invasive asparagus fern; which needs removing. Who knew your Aunty's fave veggie could be so aggressive?
The blissed-out, babbling-brooked, spectacular-viewed, fresh-aired oasis that is our Pittwater YHA, alongside the Northern Beaches Council, are offering you fine green-thumbed and hearted folk the opportunity to volunteer alongside professional Regenerators for a weekend of Pittwater Restoration from
May 3 - 5, 2019
. Spend two mornings of tending to the gorgeous surrounds and you'll be rewarded with two nights' accommodation, two days of meals (morning teas, BBQ lunches and evening dinners) and kayak use throughout your stay. Plus, you'll be chuffed with yourself for doing your bit for the planet and our futures.
Along with your towels, two sheets, a pillowcase and, sturdy shoes, sunscreen and your breakfasts; you'll need a $20 contribution for the weekend. For all the T&Cs; head to
Pittwater YHA
, shoot them an
email
(Subject: 'Bush Regeneration Weekend') or give them a ring on (02 9999-5748) – the only thing those guys love more than a regenerated bushland is chatting to ladies and gentleman who are keen on the idea!
Archie's Pittwater Clean Up
I am a Seabin Ambassador, I started this campaign because I want to take a stand against ocean plastics!
My goal is to raise enough money to bring a minimum of 20 Seabins to Pittwater NSW as I want to give The Northern Beaches the opportunity to reduce its plastic pollution impact on the ocean. Its amazing how much accidental rubbish comes down our creeks and into our waterways
I need your help to raise money to buy the Seabins a revolutionary ocean cleaning technology which is essentially a floating rubbish bin that operates 24/7 catching all floating debris in the water.
The Seabin helps clean the ocean of floating debris which in turn creates cleaner oceans and we all benefit from this in one way or another. I mean, who really wants to swim in pollution? Not me that's for sure!
Did you know that 300 million tons of plastic are produced in the world every year, half of which is for single use products, from this more than 8 million tons of plastic is dumped into our oceans every year. We need to do something about it and now with the purchase of a Seabin we can all participate and make a difference!
Join me and my campaign to help ensure cleaner oceans!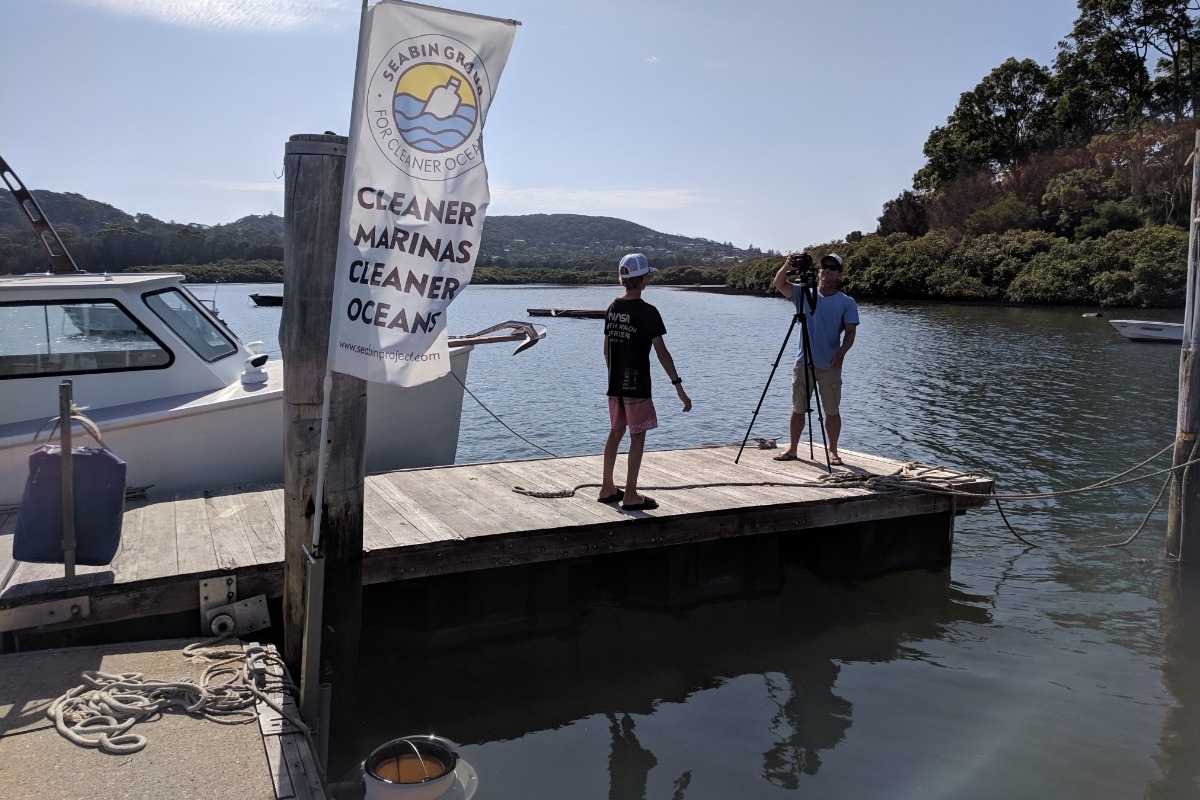 The Seabin is a floating rubbish bin that is located in the water at marinas, docks, yacht clubs and commercial ports.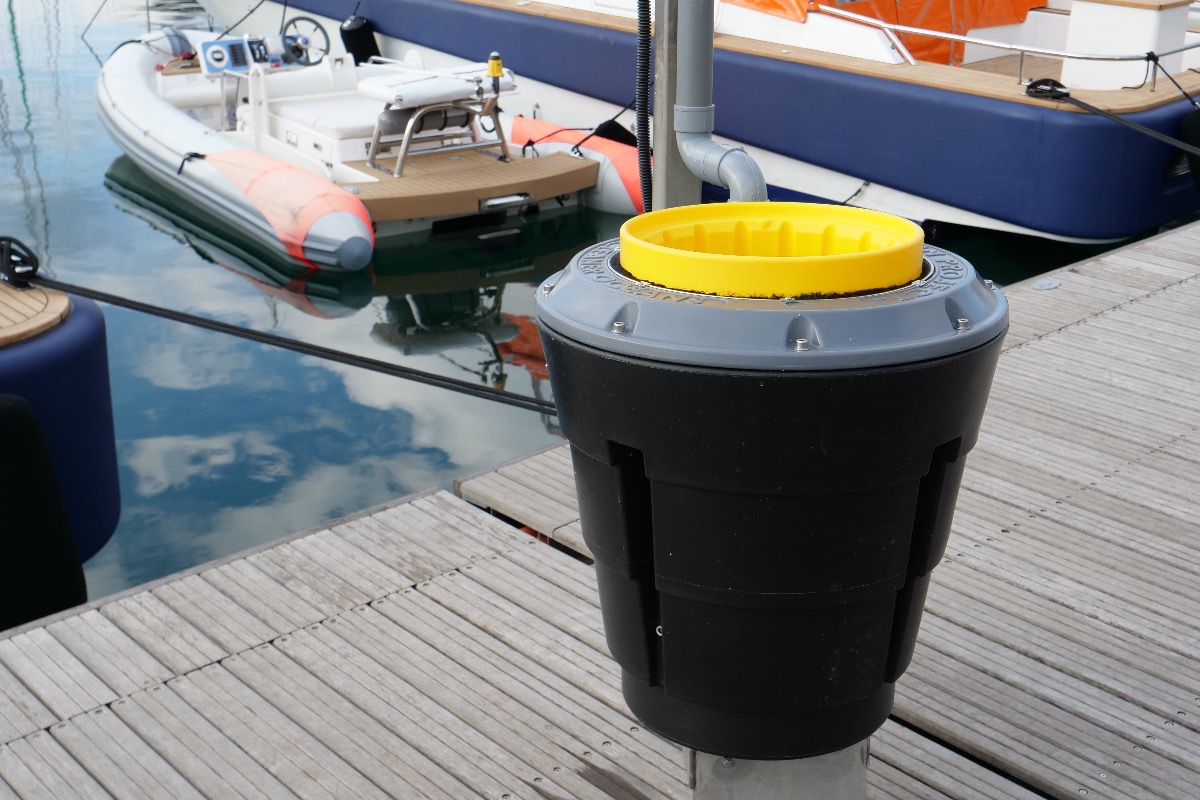 The Seabin can catch an average of 3.9kgs of floating debris per day which adds up to 1.4 tons per year. (depending on weather conditions and debris volumes) The Seabins is catching large plastic bags, bottles, plastic straws, coffee cups, food wrappers, surface oils and micro plastics down to 2 mm small.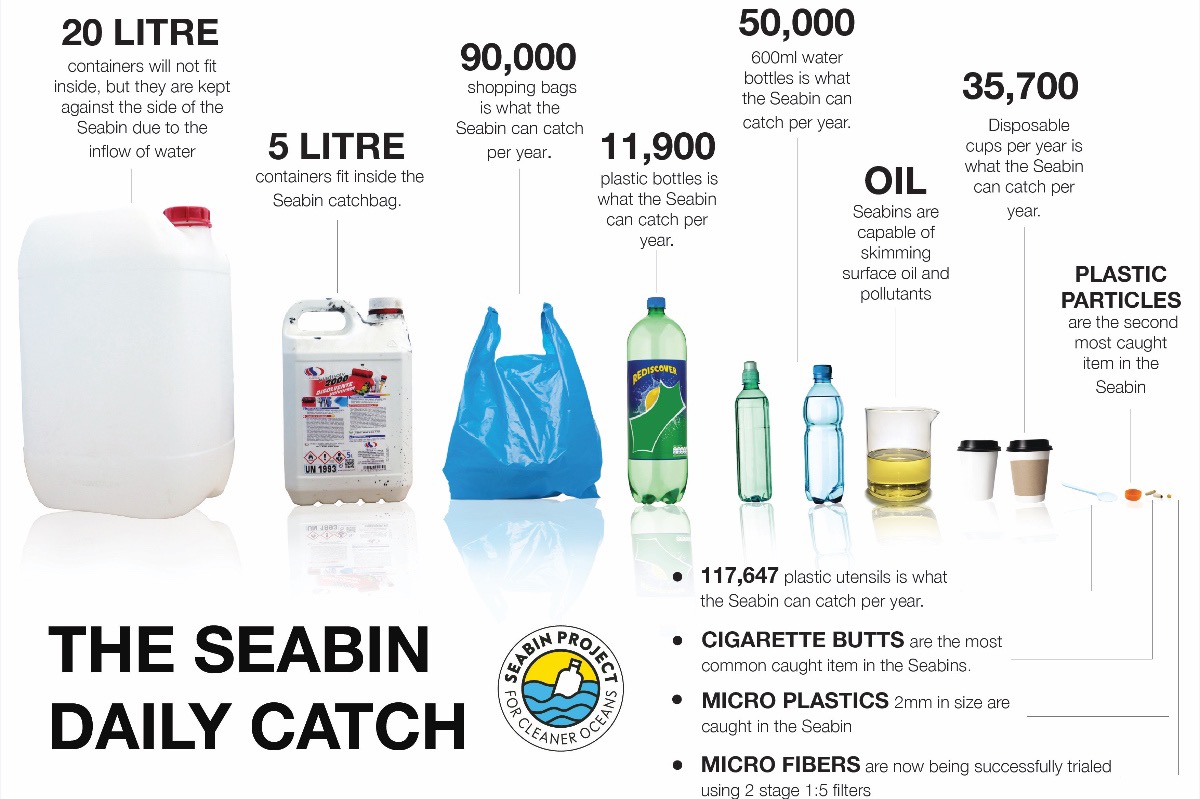 How can a Seabin contribute to cleaner oceans?
The Seabin contributes to cleaner oceans by removing 1.4 tons of floating debris per unit per year. The location of the Seabin in marinas is ideal and where it matters most, close to the source of entry for floating debris. Ports and Marinas are perfect locations to stop floating debris from entering the open ocean and ocean plastics are also brought in by wind and currents.
Are the Seabins a danger to marine life?
The fish According to the team at Seabin, stay away from the surface of the water where the Seabin sucks in the water. They are deterred by the force of the water current. If there are swarms of jellyfish or bait fish it is recommended that the Seabins are turned off until the swarms pass. If a fish was to accidentally go into the Seabin, it would be caught in the Seabin and stay submerged in water until the marina staff retrieve the filter and throw the fish still alive back into the water.
Water is sucked in from the surface and passes through a catch bag inside the Seabin, with a submersible water pump capable of displacing 25.000 LPH (liters per hour). The water is then pumped back into the marina leaving litter and debris trapped in the catch bag to be disposed of properly.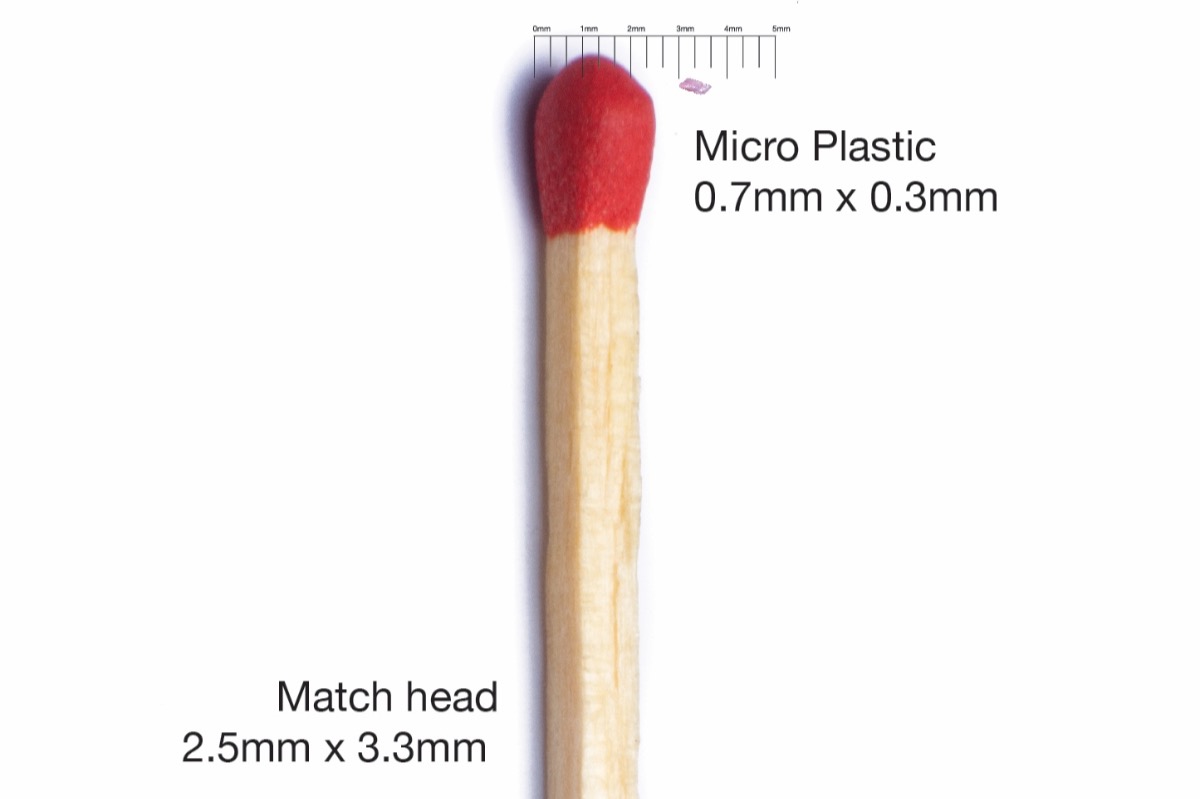 Who is responsible for the Seabin?
This is the best part of it all, the marina will be the one responsible for the upkeep of the Seabins and also they will be paying for the energy consumption of the Seabin which is around $2 - $3 a day.
The marina enjoys a cleaner marina and the rest of us and the marine life enjoy cleaner oceans with less floating debris polluting our oceans!
Seabins part of a whole solution
Seabins whole solution is Technology, Education, Science, Research and Community. The reason for this is that Technology alone is not the solution to stopping ocean plastics, education is the real solution.
Great! Can our local community be involved also?
Yes! The team at Seabin have interactive programs and lessons designed for schools, community and youth to interact with the Seabins and have over 2000 school students engaged around the world, this is something that we can do locally also with support from the team at Seabin Project.
What will we be doing if we participate in these programs?
You would be joining an international community contributing important data and feedback on ocean plastics to the Seabin central data base. Renowned scientists, universities and environmental agencies are all a part of the programs also.
The lessons range from identifying ocean plastics to data collection of what the Seabins are catching weekly. The data collection is a very easy activity and where we can all see the measurable impact of debris the Seabins are taking out of the water in all weather conditions.
It's as simple as counting how many plastic bags, plastic particles, food wrappers and then noting it down on a spreadsheet or app. Weather conditions and location information is also entered into the data base.
How can you help our campaign and make a difference in the world?
Every contribution to this crowdfunding campaign helps, be it $1 or $50 dollars, it all adds up and bring us closer to our goal.
Even if you cannot afford a donation, please help by sharing this campaign with your friends and family on social media. The more people that know about the campaign the better!
Thanks everyone for taking the time to check out our campaign!
FAQS SHEET
Seabin Project FAQs
Q: Can someone pay out the crowdfunding campaign goal?
A: Yes! We need help! The more money we can raise, the more Seabins we can buy.
Q: Why crowdfund a Seabin?
A: Until now, the Seabins were not for the everyday person to purchase because marinas ports and yacht clubs are the target market for Seabin Group. This is a way where everyday people can give something back to the oceans.
Q: How do Seabins work in tidal areas?
A: Seabins at present are designed for floating docks and pontoons. The Seabins move up and down with the tide on the floating dock.
Q. How are the pumps run?
A. The pumps are currently electric, and around $2-$3 a day to run.
Q: When are the Seabins available?
A: Depending on your countries location, Seabins will be available Feb 2019.
Q: Do any fish get sucked into the Seabins? What about smaller marine life?
A: There is a possibility of fish to enter the Seabins, however in the last 2 years of development, the Seabins have only caught a handful of small bait fish. Most of which have been thrown back into the water alive. The fish simply stay away from the flow of water entering the Seabin and with the current fine tuning of the Seabin, the risk is now minimal.
Q: I don't have any money to donate, how can I help?
A: Don't worry! Your amazing anyways and thanks for even contacting us. We need help to share this project around with any media we can. Social media platforms like Facebook, Instagram, Twitter, websites, bloggers. Also with newspapers, magazines, tv, radio and journalists. Also friends and family!
Budget A 'Missed Opportunity' For Older Australians
April 2nd, 2019: National Seniors
Tonight's Federal Budget has failed to impress older Australians, with leading independent advocacy group National Seniors Australia describing it as disappointing, especially for age pensioners.
Chief Advocate Ian Henschke said the organisation had framed a budget submission to the government designed to lift pensioners out of poverty after years of neglect.
National Seniors had sought a package of assistance for aged pensioners, including establishment of an independent tribunal to set the pension rate based on need, rather than politics; increased assistance for renters; supported access to online services; expanded dental care; and unlocking wealth tied up in family home.
Mr Henschke said Australians wanted a fair-go for pensioners and National Seniors' recommendations had provided practical ways to ensure their standard of living kept pace with community expectations.
The Federal Government had provided a welcome one-off payment of $75 for single pensioners and $125 for couples towards their power bills, and previously announced commitments to aged care, and health initiatives such as indexation of Medicare rebates for scans and x-rays.
"While the one-off payment will help pensioners with cost of living pressures, National Seniors proposed the government reinstate the indexation of the Energy Supplement," Mr Henschke said.
"This would have cost about $30 million a year – compared to the $280 million in this year's budget - but would have made a real, ongoing difference to all pensioners who have been hardest hit by escalating energy prices."
National Seniors also welcomed the government's recognition that home care packages were a priority for older Australians.
But it was deeply disappointed with the addition of only 20,000 packages in this financial year, which would do little to address the current waiting list of 128,000 people, most of them needing high-care level 3 and 4 packages.
Only a little over a week ago, the Royal Commission into Aged Care Quality and Safety heard evidence from senior officials in the Department of Health and Ageing that the home care waiting list could be eliminated through investment of an additional $2-$2.5 billion.
Despite this compelling evidence, the Budget handed down tonight only included $282 million, or 10,000 of the additional packages that were urgently required. This was on top off the 10,000 places announced in December 2018.
National Seniors called on both the government and Opposition to consider redirecting some of the forecast $7 billion surplus to eliminate the home care waiting list by announcing additional funding during the forthcoming election campaign.
"One third of all Australian voters are aged 60 and over, and this budget was a missed opportunity to address the key issues confronting them," Mr Henschke said.
"Our budget priorities stem directly from what older Australians tell us matters to them."
Mr Henschke said the government's tax cuts would provide some benefit to older Australians, given 1.8 million people aged 55 to 64 and another 572,000 people aged over 65 were in the paid workforce.
"Many of these people are still trying to build their superannuation to ensure an adequate income in retirement and tax cuts will help them to do this," Mr Henschke said.
Mr Henschke said with the federal election expected to be announced in coming days, National Seniors would continue to fight for these and other key issues such as reducing health costs and protecting retirement incomes.
The Detail Of The Budget For Seniors
April 4th, 2019: National Seniors
Unlike a post-election Federal Budget, this year's pre-election event does not have any "nasty" surprises or cuts.
But for those hoping the stronger budget bottom-line might deliver some pleasant surprises for seniors,
support has been limited to the areas of health and aged care.
While not targeted at seniors specifically, one of the other major spending announcements was significant cuts to income tax, albeit with some delay to their implementation.
Below, we summarise the major spending announcements that will impact on seniors.
Only minor – but positive – changes were made to superannuation rules.
"Ever-changing superannuation rules" is one of the biggest gripes we hear from members, so it's positive to see the government progressing only positive improvements to the super system.
The government has moved to align specific contribution rules with the changing rules for age pension eligibility.
From 1 July 2020, people aged 65 and 66 will be able to contribute to super without meeting the work test of 40 hours over a 30-day period.
Further, the age limit for spouse contributions to super has been extended from 69 years to 74 years. At present, people aged 70 and over cannot receive third-party contributions.
Australian women are still at a big disadvantage when it comes to superannuation. They retire with a fraction of the super of their spouse. More needs to be done to bridge the gender gap. This will help change that situation.
The government has also announced funding to identify options for the establishment of a Superannuation Consumer Advocate.
This is important because it will provide further opportunities to harness consumer input into policy discussions on superannuation and provide a means of delivering information and education to consumers to help them navigate the superannuation system.
At a cost to the government, it has also changed or delayed implementation of legislation to reform superannuation. Most notable of these are amendments to the Protecting your Super Package legislation announced last year to deal with inactive accounts, and delays to introduce an opt-in regime for insurance for accounts with balances of less than $6,000.
Increased spending on health is one of the features of this budget. Of special interest is the 10-year $185 million Dementia, Ageing and Aged Care Mission. This will provide much needed funding for research focused on:
Dementia (diagnosis, treatment and prevention);
Fall prevention and avoidable hospitalisations;

Assistive technology to support independence.
Another
positive was re-indexation of Medicare Benefits Schedule (MBS) items for ultrasound and diagnostic radiology services over three years from 1 July 2020. Rebates for about 90% of all diagnostic imaging services will now be indexed.
We were also pleased the freeze on Medicare payments to GPs will end. The re-introduction of indexation to all remaining General Practitioner services on the Medicare Benefits Schedule will occur one year ahead of schedule.
Increasing the rebates on services should result in higher bulk billing rates and lower out-of-pocket expenses for health care.
National Seniors has been campaigning to address rising medical specialists' fees and out-of-pocket costs and welcomes the $7.3 million over two years allocated for a strategy to target medical specialist's fees. This will be used to develop a website to create more fee transparency and an education campaign to inform patients about the costs of specialist services. Information will be provided nationally, with an initial focus on specialist fees for gynaecology, obstetrics and cancer services.
We also welcome funding to address chronic disease, given an increasing number of older people are dealing with three or more persistent health conditions. Significant funding of $448.5 million over three years has been provided for improved continuity of care for patients 70-plus who have chronic conditions, as well as $17.2 million for a chronic disease grants program.
Other health highlights included:
$331 million over five years for new and amended listings on the Pharmaceutical Benefits Scheme (PBS);
$7 million upgrade to Fraser Coast Hospice Facility;
Establishment of a new Medicare heart check item.
While there were a range of measures and new funding for aged care, it was disappointing more was not provided to ensure older Australians have timely access to quality care.
Despite this, several important initiatives were announced as part of a $724.8 million package, including:
An immediate boost of $320 million for the subsidy provided to people in residential care, which will provide an extra $1,800 per resident per year to assist providers to meet their care needs.
$8.4 million over five years to make participation in the National Aged Care Quality Indicator Program mandatory. National Seniors called for this and strongly welcomes efforts to improve safety and quality of care.
$4.6 million over two years to develop a new funding tool to replace the Aged Care Funding Instrument.
15% increase in the home care supplement paid for dementia sufferers and veterans.
Other aged care initiatives included funding for:
A new compliance program for home care;
A business advisory tool for aged care providers;
New risk-based compliance and information sharing systems;
Improved payment administration arrangements for home care packages for unspent funds;
Funding to address the use of chemical restraints and the inappropriate use of antibiotics in residential aged care;
Ongoing implementation of the Aged Care Workforce Strategy; and
Preparatory work for a new Serious Incident Response Scheme in residential care from July 2022.
National Seniors welcomed the budget commitment totalling $282.4 million to enable the release of 10,000 new home care packages at all levels. Our views about the inadequacy of the home care funding to address the waiting list of 128,000 are expressed by Chief Advocate Ian Henschke separately.
The government announced it will continue to fund the Commonwealth Home Support Program (CHSP) at $5.9 billion over the next two years. It had planned to integrate the CHSP with the home care program to streamline the process of accessing assistance in the home. It means consumers will have to wait longer to see any reform of the way the home care system operates.
The government also announced the retention of current incentives to GPs to treat people living in residential care. However, our members have told us access to medical care in nursing homes is lacking and they would have preferred funding that enhanced access to GPs rather than a business-as-usual approach.
A one-off budget measure for those on pensions and other government support payments will provide $75 for singles and $125 for eligible couples to help cover energy costs.
Much to our disappointment, the
budget failed to reinstate indexation of the Energy Supplement
. This would have given financial support to age pensioners facing energy cost blowouts. We have been campaigning for this for some time.
We are continuing to push for the reinstatement of the supplement and are calling on all candidates in the federal election to backing this.
For older people still in the workforce, the most important of a number of initiatives was a piloting of a new employment service model for jobseekers.
The new model is supposed to deliver a comprehensive assessment system to better identify support that jobseekers need when looking for work.
We know older people can struggle to find work or face discrimination when seeking employment. Older jobseekers need targeted assistance to help them to either find work that is suitable to their skills or to identify opportunities to retrain and reskill to find suitable work in a changing labour market.
The pilot program will run from 1 July 2019 to 30 June 2022, followed by a national rollout of the new model.
Other initiatives included:
Establishment of a national institute to improve career advice and information for jobseekers.
$62.4 million over four years to improve workers' basic language, literacy, numeracy and digital skills.
The continuation of several employment programs for mature age workers including:
The Career Transition Assistance program, to assist people aged 50 and over, will be rolled out nationally from 1 July 2019 (one year ahead of schedule) and will include 45 to 49-year-olds.
The $10,000 Restart subsidy for employers hiring people aged over 50 and the Entrepreneurship Facilitator program to support older people starting a business.
One of the biggest announcements of the budget was the bringing forward and strengthening of tax cuts, including breaks for small business.
With 1.8 million workers aged 55-64 and a further 572,000 workers aged 65 and over, these changes will undoubtedly be good news.
The most immediate change is the increase in the Low and Middle Income Tax Offset (LMITO) from 1 July 2019. The base amount will increase from $200 to $255 per annum and the maximum amount will increase from $530 to $1080. This means someone earning between $46,000 and $90,000 will be $1080 better off at the end of the 2019-20 financial year.
The government has also budgeted for
other changes to personal income taxes that will not be available for several years
.
The Low Income Tax Offset (LITO) will increase from 1 July 2022 from $645 to $700. In addition, the upper threshold to receive the full LITO will increase slightly to $37,500 and the upper threshold at which the LITO will be withdrawn will be a taxable income of $66,667.
Workers will also have to wait until 1 July 2022 for the threshold for the 19% tax bracket to move up from $41,000 to $45,000.
On 1 July 2024, the 37% tax bracket will be abolished, and the 32.5% bracket lowered to 30%, resulting in about 95% of taxpayers paying a maximum of 30% income tax in the future.
Another announcement, of benefit to seniors with a small or medium-sized business, is the move to increase and expand access to the instant asset write-off scheme.
As at 2 April 2019, businesses with less than $50 million in annual turnover will be able to write off assets up to the value of $30,000. This is a $5,000 increase on the original figure. While the scheme has also been extended from small businesses to include medium-sized businesses.
With the ramifications of the Banking Royal Commission still to play out, we welcome the allocation of $606.7 million to deal with some of the problems identified, in-line with the government's earlier commitments.
These include:
Setting up an industry-funded compensation scheme of last resort;
Funding to the Australian Financial Complaints Authority to establish a historical redress scheme;
Providing compensation owed to consumers and small businesses from unpaid dispute determinations;
Resourcing the Australian Securities and Investments Commission (ASIC) for better enforcement;
Resourcing the Australian Prudential Regulation Authority (APRA) for better supervision and enforcement;
Establishing an independent financial regulator to provide oversight authority for ASIC and APRA;
Undertaking a capability review of APRA;
Establishing a Financial Services Reform Implementation Taskforce; and
Provision of additional funding for the Office of Parliamentary Counsel.
National Seniors hopes these and other reforms will ensure all Australians can be confident the financial services sector will act in their best interests into the future.
$1m Grant To Get Older Australians Moving
The National Heart Foundation of Australia has welcomed a $1 million grant from the Sport Australia Better Ageing program to develop its new Walk Wise initiative.
Walk Wise aims to boost physical activity among Australians aged 65 and over through walking, either independently or as part of a group.
The funding comes at an important time when sedentary behaviour and isolation are key risk factors in our ageing population. Health-related reasons (including physical and mental health as well as disability or injury) are the main barriers to older Australians participating in sport or physical activities.
Through the building of the Better Ageing grants program, Sport Australia hopes to address these barriers by providing age- and ability-appropriate versions of sports and exercise. These can help overcome health issues associated with inactivity, including cardiovascular and metabolic problems, weight control, and chronic diseases.
The Walk Wise program will be rolled out over two years. It will harness the National Heart Foundation's extensive knowledge and experience to deliver a program that is tailored to ageing Australians, as well as the professionals who work with them. The three-prong approach to boost physical activity levels in Australians aged 65 and over through walking, will include:
Advocating for walk-friendly streets and communities;
Educating older Australians and professionals who work with them about the benefits of physical activity;
Increasing the reach and scope of Heart Foundation Walking to target older Australians.
The Heart Foundation's Director of Active Living, Adjunct Professor Trevor Shilton, said physical activity can provide amazing health benefits to older Australians.
"Physical activity directly tackles the chronic diseases that are overwhelmingly the biggest issue for ageing Australians: heart disease, type 2 diabetes, cancers and poor mental health," Adjunct Professor Shilton said.
"If it were a pill, we'd be encouraging every Australian 65 and over to take it daily.
"Research tells us that if the environment is conducive to physical activity, if people are made aware of the benefits, and if you give them a ready-made group activity, there is a much greater chance they'll get moving.
"That's why we have designed a three-prong approach for the Walk Wise program, and why we think it will be a great success."
With 27 successful applicants receiving funding, the Move It AUS Better Ageing Grant program will push $22.9 million into a suite of programs nationally, at a time when inactivity, isolation and loneliness are crucial concerns for the increasingly ageing Australian population.
In addition to the health benefits, engaging in physical activity and group sports for older Australians provides increasingly important opportunities for socialisation, peer-support, and conversation and reduces the possibility for loneliness-related physical and mental illnesses.
Just 27 per cent of Australians over 65 meet the Department of Health physical activity guidelines of 30 minutes activity per day.
Scientists Explore Causes Of Biodiversity In Perching Birds
New research by a global team of scientists has resulted in significant strides in ornithological classification and identified possible causes of diversity among modern bird species.
The study, coauthored by researchers at the University of Tennessee, Knoxville and published in Proceedings of the National Academy of Sciences, focuses on perching birds, or passerines. Comprised of over 6,000 species, this group -- which constitutes over half of all known bird species -- includes familiar birds such as robins, jays, bluebirds, finches, and sparrows.
Scientists analyzed genetic samples and fossils of all major groups within the passerine family to better understand the way these species are related. The large data set allowed for much more accurate inferences into the development of perching birds.
The result is the most accurate and comprehensive "tree of life" of passerine species to date.
The report also includes an analysis of the impact some events in Earth's history could have had on passerines' biodiversity.
"Our main discovery is that the evolution of perching birds around the world was determined in part by connections between continents over the Earth's history, as well as changes in global climate," said Michael Harvey, a postdoctoral fellow with UT's Department of Ecology and Evolutionary Biology. "We found, for example, evidence that glaciations during the Oligocene Epoch (between 24 and 33 million years ago) wiped out a lot of perching birds, but that the warming period immediately after prompted the evolution of many of the groups of perching birds alive today."
Another large portion of the study looks at the origin of perching birds, including a finding that perching birds originated on the Australian landmass around 47 million years ago.
"However, not just one single event in earth's history explains how they became so diverse and widespread," said Elizabeth Derryberry, UT assistant professor of ecology and evolutionary biology. "Instead, diversification and dispersal of this group has been affected by a number of different climatological and geological events, such as glaciation, global temperature changes and colonization of new continents."
According to Harvey, the next step is to fill in the missing gaps in passerine evolution not fully explained by Earth's history.
"We found that changes in geology and climate cannot explain everything," he said. "Future research needs to focus on explaining those aspects of bird evolution that are not determined by the Earth's geological and climatic history, but instead by the evolution of new characteristics in the birds themselves. For example, did the evolution of the ability to complete long-distance migrations in some perching birds help them get to new areas, or lead to the evolution of new species?"
Derryberry believes the research serves as a template for future exploration.
"The study provides a framework for how to conduct these types of analyses on large radiations and should provide a path forward for this type of research on all birds," she said.
Carl H. Oliveros, Daniel J. Field, Daniel T. Ksepka, F. Keith Barker, Alexandre Aleixo, Michael J. Andersen, Per Alström, Brett W. Benz, Edward L. Braun, Michael J. Braun, Gustavo A. Bravo, Robb T. Brumfield, R. Terry Chesser, Santiago Claramunt, Joel Cracraft, Andrés M. Cuervo, Elizabeth P. Derryberry, Travis C. Glenn, Michael G. Harvey, Peter A. Hosner, Leo Joseph, Rebecca T. Kimball, Andrew L. Mack, Colin M. Miskelly, A. Townsend Peterson, Mark B. Robbins, Frederick H. Sheldon, Luís Fábio Silveira, Brian Tilston Smith, Noor D. White, Robert G. Moyle, Brant C. Faircloth.
Earth history and the passerine superradiation.
Proceedings of the National Academy of Sciences, 2019; 201813206 DOI:
10.1073/pnas.1813206116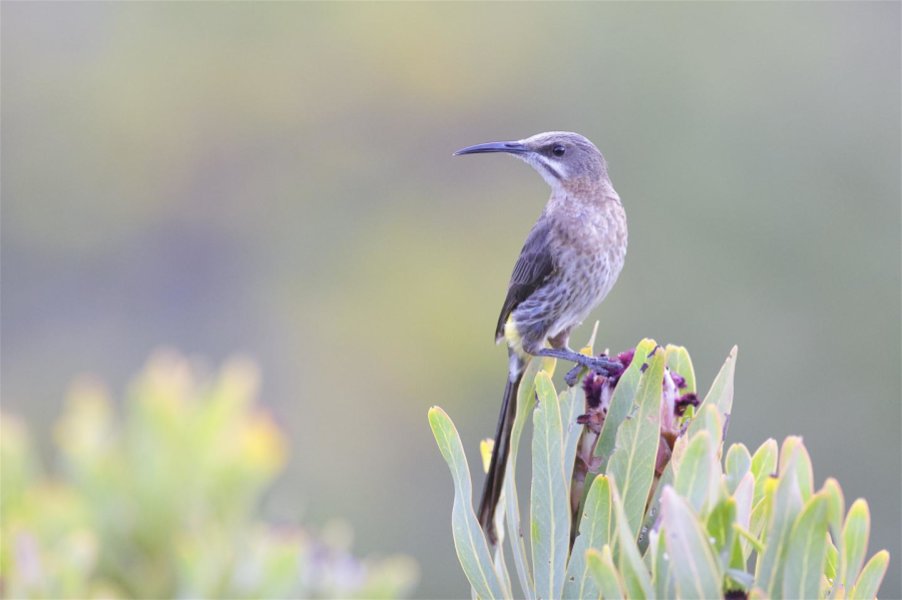 Cape Sugarbird (Promerops afer) perched atop a Protea (also known as a sugarbush) along the coast of the Western Cape, South Africa. Both the sugarbird clade and Protea, their preferred source of nectar, are endemic to southern Africa.
Credit: Daniel Field
Sea Snakes Make Record-Setting Deep Dives
April 2nd 2019: University of Adelaide
Sea snakes, best known from shallow tropical waters, have been recorded swimming at 250 metres in the deep-sea 'twilight zone', smashing the previous diving record of 133 metres held by sea snakes.
Footage of a sea snake swimming at 245 metres deep, and another sea snake at 239 metres has been provided to University of Adelaide researchers by INPEX Australia, an exploration and production company operating in the Browse Basin off the Kimberley coast of Australia. Both snakes appeared to belong to the same species.
Sea snakes are found in tropical waters of the Indian and Pacific Oceans and are typically associated with shallow water habitats like coral reefs and river estuaries.
"Sea snakes were thought to only dive between a maximum of 50 to 100 metres because they need to regularly swim to the sea surface to breathe air, so we were very surprised to find them so deep," says Dr Jenna Crowe-Riddell, lead author of the study and recent PhD graduate at the University of Adelaide's School of Biological Sciences.
Oceanic depths between 200 and 1000 metres encompass the mesopelagic zone, sometimes called the 'twilight zone' because only a small amount of light reaches that depth.
"We have known for a long time that sea snakes can cope with diving sickness known as 'the bends' using gas exchange through their skin," says Dr Crowe-Riddell. "But I never suspected that this ability allows sea snakes to dive to deep-sea habitats."
These record-setting dives raise new questions about the ecology and biology of sea snakes.
"In some of the footage the snake is looking for food by poking its head into burrows in the sandy sea floor, but we don't know what type of fish they're eating or how they sense them in the dark," she says.
The snakes were filmed in 2014 and 2017 using a remotely operated vehicle or 'ROV' undertaking work for the INPEX-operated Ichthys LNG Project. INPEX Director HSEQ (Health, Safety, Environment and Quality) Craig Haymes welcomed the landmark discovery, adding: "INPEX is proud to support this invaluable research that adds to understanding of sea snakes and deep marine habitats, as part of our commitment to protecting the environment."
"Observations of sea snakes have typically been limited to shallow water habitats that are easily surveyed. But this shows what can be achieved through industry-university collaboration," says co-author Dr Kate Sanders, ARC Future Fellow in the University's School of Biological Sciences."
Published in the journal Austral Ecology, the study is a collaboration between the University of Adelaide, the INPEX-operated Ichthys LNG Project, James Cook University in Australia, and The Royal Danish Academy of Fine Arts (KADK) in Denmark.
Jenna M. Crowe-Riddell, Blanche R. D'Anastasi, James H. Nankivell, Arne R. Rasmussen, Kate L. Sanders.
First records of sea snakes (Elapidae: Hydrophiinae) diving to the mesopelagic zone (>200 m).
Austral Ecology, 2019; DOI:
10.1111/aec.12717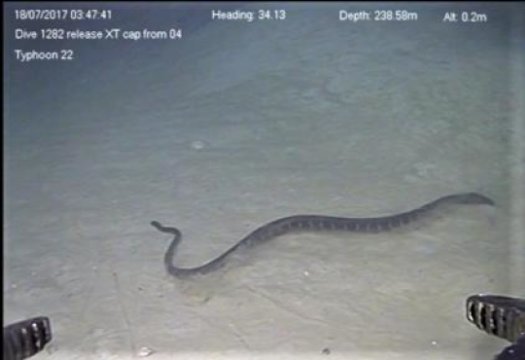 Record-setting dive of a sea snake swimming at 240 meters in the deep-sea 'twilight zone' taken in July 2017.
Credit: Image credit: INPEX-operated Ichthys LNG Project
Prostate Cancer Incidence And Mortality Have Declined In Most Countries
Prostate cancer incidence and mortality rates are decreasing or stabilising in most parts of the world, with the United States recording the biggest drop in incidence, according to results presented at the AACR Annual Meeting 2019, March 29-April 3.
Despite the trend toward declining or stabilising rates, prostate cancer remains the second most commonly diagnosed cancer and the sixth leading cause of cancer death among men worldwide, said the study's lead author, MaryBeth Freeman, MPH, senior associate scientist, Surveillance Research, at the American Cancer Society in Atlanta.
"Previous studies have indicated significant variation in prostate cancer rates, due to factors including detection practices, availability of treatment, and genetic factors," Freeman said. "By comparing rates from different countries, we can assess differences in detection practices and improvements in treatment."
Researchers examined prostate cancer incidence and mortality patterns across five continents using the most recent cancer incidence data from the International Agency for Research on Cancer and mortality data from the World Health Organisation. They examined long-term trends, from 1980 through 2012, for 38 countries that provided "high-quality" data (information assessed as accurate, timely, and complete) and short-term trends for 44 countries with available incidence data and 71 countries with available mortality data. The short-term data encompassed a five-year period that varied slightly among nations, but most often reflected 2008-2012.
Of the 44 countries examined for incidence data, prostate cancer rates during the most recent five-year period increased in four countries, with Bulgaria showing the largest increase. Rates decreased in seven countries, with the United States showing the largest decrease. Rates stabilised in the remaining 33 countries.
Among the 71 countries analysed for mortality rates, rates decreased in 14 countries, increased in three countries, and remained stable in 54 countries.
Globally, as of 2012, prostate cancer was the most commonly diagnosed cancer among men in 96 countries and the leading cause of death in 51 countries.
Other findings: --
The highest incidence rates in the most recent five-year period were found in Brazil, Lithuania, and Australia
. -- The lowest incidence rates in the most recent five-year period were found in India, Thailand, and Bahrain. -- The highest mortality rates in the most recent five-year period were found in the Caribbean, specifically Barbados, Trinidad and Tobago, and Cuba; South Africa; Lithuania; Estonia; and Latvia. -- The lowest mortality rates in the most recent five-year period were found in Thailand and Turkmenistan.
Freeman said she and colleagues were surprised and pleased to see that so many nations have achieved stability in prostate cancer rates, meaning that rates have not increased during the period examined. In coming years, she said, global health experts would hope for more nations to move from stability toward decreasing incidence and mortality rates.
Freeman said the study confirmed the impact of prostate-specific antigen (PSA) screening. She explained that in the United States, prostate cancer incidence rates increased from the 1980s to the early 1990s, then declined from the mid-2000s through 2015, largely due to increased use of PSA screening. This type of screening is less available in lower-income nations, contributing to diagnosis at later stages and higher mortality rates, Freeman said.
Freeman pointed out that some nations plan to scale back recommendations for PSA screening, as it is believed to lead to diagnosis and possible overtreatment of prostate cancer cases that would never become symptomatic.
"Overall, patients should be having an informed discussion with their providers about the benefits and harms of PSA testing for detection of prostate cancer," she said. "Future studies should monitor trends in mortality rates and late-stage disease to assess the impact of reduction in PSA testing in several countries."
Freeman said one limitation of the study is the variability in data among different countries. For example, some countries may have only collected data from certain geographic areas, whereas others may have collected data from the whole nation. However, she added that the breadth of data in this study allowed researchers to draw a comprehensive portrait of prostate cancer incidence and mortality around the world.
Mass Drug Administration Reduces Scabies Cases By 90% In Solomon Islands' Communities
Mass drug administration (MDA) of two antibiotics can be highly effective at reducing cases of scabies and the bacterial infection impetigo, according to new research published in Lancet Infectious Diseases.
The study was conducted by the London School of Hygiene & Tropical Medicine (LSHTM), Murdoch Children's Research Institute (MCRI), the Kirby Institute at UNSW Sydney and the Solomon Islands Ministry of Health and Medical Services.
It saw the entire population of Choiseul Province of the Solomon Islands (26,000 people), in the Pacific, given one round of the antibiotics ivermectin and azithromycin together. The prevalence of scabies and impetigo in residents of 10 randomly selected villages before and after Mass Drug Administration (MDA) by the Solomon Islands Ministry of Health and Medical Services was then compared.
The strategy reduced scabies cases from 19% to 2% (90% reduction), and impetigo cases from about 25% to about 6% (75% reduction), in one year.
The study is the largest evaluation of ivermectin-based mass drug administration for the control of scabies, and supports large-scale implementation of this strategy for control of scabies in locations where the condition is identified as a public health priority.
Dr Michael Marks from LSHTM and co-author of the study, said: "We know that treating individual cases of scabies is not effective, however treatment of entire communities has been shown in small community-based trials to substantially reduce cases. Our study demonstrates this can be an effective approach when delivered at a larger scale."
Scabies is a parasitic skin disease that affects an estimated 200 million people worldwide. The disease causes skin inflammation with itch that is frequently severe, and often associated with bacterial skin infection caused by Staphylococcus aureus and Streptococcus pyogenes (impetigo). This can in turn lead to severe complications including septicaemia and post-streptococcal glomerulonephritis. In 2017, growing awareness of the burden of disease due to scabies led the World Health Organization to recognise it as a neglected tropical disease.
Dr Lucia Romani from the Kirby Institute and lead author on the paper, said: "Scabies is too common in many tropical developing countries, especially in rural and remote communities where people share small living and sleeping spaces access to treatment is limited."
This new study was conducted in Choiseul Province of the Solomon Islands where a very high number of scabies cases have been reported. 1,399 people had their skin examined at the start of the MDA in 2015, with 261 (one in five) having scabies and 347 having impetigo. Twelve months on, 1,261 people were examined with only 29 people with scabies and 81 with impetigo. Additionally, there was also almost 6,000 less people presenting to outpatient clinics, a drop of 36.1% cent, in the three-months after MDA. Presentations for skin sores, boils and abscesses also fell by 50.9%.
MCRI Professor and study PI Andrew Steer said: "Treatment is highly effective at reducing both scabies and impetigo and we saw significant reductions in outpatient presentations, especially those needing treatment for skin sores, boils and skin abscesses."
Oliver Sokana, from the Solomon Islands Ministry of Health, said: "Both diseases were most common in children aged between five and nine years old."
The safety and feasibility of large-scale mass co-administration of ivermectin and azithromycin in Choiseul Province was reported in a recent study.
Dr Marks said: "Scabies is extremely common, and is a major risk factor for dangerous bacterial skin infection. Our study provides crucial evidence for the global strategy of scabies control being developed."
The authors acknowledge limitations of their study including that is was non-randomised so they are unable to say with certainty that factors other than the intervention did not influence the outcome. Further research is needed to assess durability and scalability of mass drug administration in larger, non-island populations, and to assess its effect on the severe bacterial complications of scabies.
The study was funded by the International Trachoma Initiative; the Murdoch Children's Research Institute, Australia; the Scobie and Claire Mackinnon Trust, Australia; and the Wellcome Trust.
Lucia Romani, Michael Marks, Oliver Sokana, Titus Nasi, Bakaai Kamoriki, Billie Cordell, Handan Wand, Margot J Whitfeld, Daniel Engelman, Anthony W Solomon, John M Kaldor, Andrew C Steer.
Efficacy of mass drug administration with ivermectin for control of scabies and impetigo, with coadministration of azithromycin: a single-arm community intervention trial
. The Lancet Infectious Diseases, 2019; DOI:
10.1016/S1473-3099(18)30790-4
Disclaimer: These articles are not intended to provide medical advice, diagnosis or treatment. Views expressed here do not necessarily reflect those of Pittwater Online News or its staff.