Inbox and Environment News: Issue 387
December 9 - 15, 2018: Issue 387
First Statewide Milk Bank For Premature Babies
December 2nd, 2018: NSW Minister for Health, The Hon. Brad Hazzard
Vulnerable premature babies will have a better chance of fighting off life-threatening infections and disease with the first statewide donor human milk bank to open in NSW.
Health Minister Brad Hazzard said donor human milk will be pasteurised in a purpose-built centre, run jointly by the Australian Red Cross Blood Service and NSW Health.
"Around 1000 babies are born every year in NSW at less than 32 weeks gestational age, or of a very low birth weight and many need specialised care," Mr Hazzard said.
"Breast milk is liquid gold for these little ones at this critical time, as it contains all the vital nutrients essential for growth and protection against disease.
"Many mums of premmie babies can experience problems with their milk supply but now mums can access donor milk, while efforts to boost their own supply continue."
Pasteurised donor human milk is recommended by the World Health Organisation as a first alternative to infant formula when there is insufficient mother's milk available.
Australian Red Cross Blood Service spokesperson Jenni Mack said the Milk Bank based at Alexandria in Sydney will operate under world's best practice standards.
"Just like a blood bank, the Milk Bank will screen donors, collect, process and test the donated breast milk, then track and distribute this precious resource," Ms Mack said.
For very low birth weight infants and those born before 32 weeks gestational age research shows human milk reduces the risk of the potentially life-threatening gut- disorder necrotizing enterocolitis and bacterial infections.
New Report Shows Action Needed To Help Vulnerable Older Australians
December 5th, 2018: Media Release - COTA Australia
A new landmark report has found the majority of older Australians feel a decade younger than their current age, overwhelmingly support assisted dying legislation, and nearly half feel less valued by society than when they were younger.
The State of the (Older) Nation 2018 Report, launched today by the Council on the Ageing (COTA) at Parliament House today in Canberra, is the most comprehensive national study ever undertaken to seek the views of Australians aged 50 and over.
Access to health services and the rising cost of living were also raised as key issues in the report, particularly for vulnerable older Australians.Highlights of the report include:
80% of older Australians feel younger than their current age

46% feel less valued than when they were younger

Health is the number one factor that impacts whether older Australians have a high or low quality of life

84% support legislation for assisted dying

More than a quarter (28%) of those in paid employment want more paid work but 1 in 5 have experienced employment-related age discrimination

29% of working older Australians don't expect they will ever retire

12% are struggling with overdue bills

More than half of older Australians undertake unpaid work in an average week, including volunteering and caring for family and friends

Only one in five (19%) older Australians feel valued as a voter

Dental services were identified as the most difficult to access for older Australians.

The report found nearly half (49%) of Australians aged 50 and over, including 56% of Australians aged over 65, live with at least one high vulnerability indicator such as unemployment, having a household income of less than $30,000 per year or living with a disability. This group is also less likely to eat healthy meals or have money to spend on leisure or social activities, leading to a degree of social isolation.
COTA Australia CEO, Ian Yates said nearly a third of our population – 7.9 million people – is aged 50 or older.
"This inaugural State of the (older) Report quantifies the key issues for older Australians in relation to employment, age discrimination, cost of living, financial security, health, home and aged care, housing, later life planning, consumer rights and transport," said Mr Yates.
"It tells us most older Australians believe they have a good quality of life. However, we're very concerned about the number of older Australians who are telling us they're not coping with the rising cost of living – many of whom are renting and facing challenges to pay bills.
"There are also too many older Australians feeling ignored, left behind or discriminated against in society and this report shows action is needed urgently, particularly to address the needs of vulnerable older Australians.
"COTA Australia is calling on all sides of politics to commit to a long-term national strategy to address the needs of older Australians – including increasing rent assistance by 40%; taking a whole-of-government approach to services for older Australians; and improving access to oral and dental health services for older Australians," Mr Yates said.
The report was commissioned by the Federation of nine Councils on the Ageing from across Australia and was independently conducted by Newgate Research. It is expected to be an annual report to monitor progress and the attitudes of older Australians over the long term.
As Married Couples Age Humour Replaces Bickering
December 3, 2018: University of California - Berkeley
Honeymoon long over? Hang in there. A new University of California, Berkeley, study shows those prickly disagreements that can mark the early and middle years of marriage mellow with age as conflicts give way to humour and acceptance.
Researchers analysed videotaped conversations between 87 middle-aged and older husbands and wives who had been married for 15 to 35 years, and tracked their emotional interactions over the course of 13 years. They found that as couples aged, they showed more humour and tenderness towards another.
Overall, the findings, just published in the journal Emotion, showed an increase in such positive behaviours as humour and affection and a decrease in negative behaviours such as defensiveness and criticism. The results challenge long-held theories that emotions flatten or deteriorate in old age and point instead to an emotionally positive trajectory for long-term married couples.
"Our findings shed light on one of the great paradoxes of late life," said study senior author Robert Levenson, a UC Berkeley psychology professor. "Despite experiencing the loss of friends and family, older people in stable marriages are relatively happy and experience low rates of depression and anxiety. Marriage has been good for their mental health."
Consistent with previous findings from Levenson's Berkeley Psychophysiology Laboratory, the longitudinal study found that wives were more emotionally expressive than their husbands, and as they grew older they tended toward more domineering behaviour and less affection. But generally, across all the study's age and gender cohorts, negative behaviours decreased with age.
"Given the links between positive emotion and health, these findings underscore the importance of intimate relationships as people age, and the potential health benefits associated with marriage," said co-lead author Alice Verstaen, who conducted the study as a Ph.D. student at UC Berkeley and is currently a postdoctoral fellow at the VA Puget Sound Health Care System.
The results are the latest to emerge from a 25-year UC Berkeley study headed by Levenson of more than 150 long-term marriages. The participants, now mostly in their 70s, 80s and 90s, are heterosexual couples from the San Francisco Bay Area whose relationships Levenson and fellow researchers began tracking in 1989.
In their investigation of marital relationships, researchers viewed 15-minute interactions between spouses in a laboratory setting as they discussed shared experiences and areas of conflict. They tracked the emotional changes every few years.
The spouses' listening and speaking behaviours were coded and rated according to their facial expressions, body language, verbal content and tone of voice. Emotions were coded into the categories of anger, contempt, disgust, domineering behaviour, defensiveness, fear, tension, sadness, whining, interest, affection, humour, enthusiasm and validation.
Researchers found that both middle-aged and older couples, regardless of their satisfaction with their relationship, experienced increases in overall positive emotional behaviours with age, while experiencing a decrease in overall negative emotional behaviours.
"These results provide behavioral evidence that is consistent with research suggesting that, as we age, we become more focused on the positives in our lives," Verstaen said.
Alice Verstaen, Claudia M. Haase, Sandy J. Lwi, Robert W. Levenson.
Age-related changes in emotional behavior: Evidence from a 13-year longitudinal study of long-term married couples.
Emotion, 2018; DOI:
10.1037/emo0000551
Tic Tac Toe With A Tango Twist, Virtual Fishing With Ocean Sounds And A Classic Maze Game - All Part Of New App For A Better Visit
The release of
A Better Visit
, a new, free, iPad app by Dementia Australia will assist families and loved ones in connecting and communicating when visiting a family member living with dementia, The app is designed to be interactive, stimulating and fun.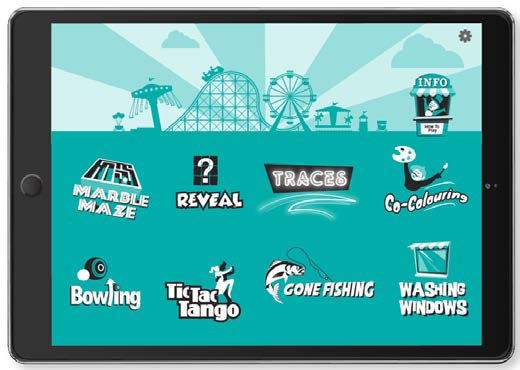 Gamer and television presenter, Dementia Australia Ambassador
Stephanie 'Hex' Bendixsen
said, through the games in A Better Visit family members of all ages will be empowered to be more engaged when they visit a loved one living with dementia.
"I cared for my mother Wendy, who died earlier this year from dementia and I wish an app like this had been available then because it can be challenging to come up with different things to do and talk about, especially as symptoms progress," Ms Bendixsen said.
"Playing noughts and crosses with some classic songs key to your moves or using the window washing game to reveal images of iconic Australian locations can't help but prompt further conversations or enjoyment of play as a shared experience.
"The games, the sounds and the easy functionality enables people living with dementia to play with you. Anything that helps you bring on a smile is welcome in my book."
Dementia Australia CEO Maree McCabe said family members tell us that often they simply don't know how to communicate and interact with a loved one who has dementia especially as their dementia advances.
"And it may follow that other family members, children and friends start to withdraw and perhaps become less likely to include the person with dementia in everyday activities or schedule in regular visits," Ms McCabe said.
"Over time this social isolation can have a profound impact on the person with dementia and the primary carers.
"A recent
Inclusion and Isolation
report by Dementia Australia found that people weren't sure how to talk to someone with dementia. More than 60 per cent of people said they didn't know what to say to someone with dementia.
"By playing the games in the app carers and other family members will be inspired to engage with the person with dementia through the interaction, images and sounds enhancing their enjoyment and discussions."
The development of A Better Visit was sponsored by Lifeview Residential Care which included access to residents for consultation in the development of the app.
Lifeview Residential Care CEO Madeline Gall said the app is different from other products in the market as it was developed in close consultation with people living with dementia and their carers at our homes in Victoria.
"By observing and listening to our residents living with dementia, a team of Swinburne University researchers supported by Dementia Australia, were able to tailor certain elements such as adjustable speeds, include classic songs to prompt toe-tapping and singalongs, and design clear buttons and uncomplicated instructions," Ms Gall said.
"We are really pleased our residents living with dementia were able to make a contribution to the design of the app which will bring such joy to families for many years to come.
"Our staff observe families visiting and sitting next to their loved one struggling to maintain conversation. Through the stimulation and interaction A Better Visit prompts we would hear more laughter and chatting.
"What's more we observed after the game play, the resident living with dementia's mood would be more upbeat and often that positive mood would continue on, even after the families had gone home."
Ms Bendixsen has volunteered to join Dementia Australia's Ambassador Program to share her experience of caring for her mother to raise awareness about dementia and to help others to know they are not alone.
"I am delighted to announce Stephanie as a
Dementia Australia Ambassador
. Stephanie joins our growing list of respected, high profile Australians who are motivated by the impact of dementia in their own lives, to help others and raise much needed awareness in the community about dementia and about our services," Ms McCabe said.
The app is the latest addition to a range of innovative digital projects developed by Dementia Australia to support people living with dementia and their carers and families.
The app was developed with the support of Lifeview Residential Care and the technical know-how of the team at Swinburne University Future Self and Design Living Lab.
The app was released during
Social Inclusion Week 2018
, a national awareness week that aims to help all Australians feel included and valued, giving everyone the opportunity to participate fully in society.
UNSW Dean Of Science Wins Top Royal Society Of NSW Accolade
Professor Emma Johnston, Dean of Science at UNSW Sydney, has won the prestigious Royal Society of NSW 2018 Clarke Medal, for her novel research on the impact of human activities in complex marine ecosystems.
The award, presented annually for outstanding research in the fields of zoology, botany, and geology, was announced at a Royal Society of NSW event in Sydney last night. It is the second consecutive year the Clarke Medal has been awarded to a UNSW Science researcher.
Professor Johnston, a world-leading marine ecologist, was recognised for her ground-breaking research developing field-based ecotoxicological experiments that examine the effects of pollution, dredging, habitat destruction and the introduction of invasive species on marine animals.
"I am honoured to accept an award that recognises research in the field of zoology. A deeper understanding of our coastal ecosystems is critical to human survival in a rapidly changing world," says Professor Johnston.
"The greatest phyletic diversity of animals occurs in the oceans, in part because that's where life evolved. I accept this Clarke Medal as an acknowledgement of the importance of understanding the often 'unseen' marine life within the broader context of animal biology."
Professor Johnston, who contributes to environmental management programs around the world, is now leading the development of molecular approaches to monitoring the biodiversity and functioning of estuarine ecosystems.
Professor Johnston's research also identifies drivers of marine animal invasion success – or the establishment of species outside their native range – a frequent event that can disrupt ecosystems and reduce biodiversity.
Adopting an original approach as an empirical ecologist, Professor Johnston's research is collaborative, interdisciplinary and applied in real world conditions that involves linking with industry, government, students and community.
"This research takes time, a creative and collaborative approach, and bringing together the largely disparate fields of ecology, ecotoxicology and invasion biology," she explains.
The Royal Society of NSW is the oldest learned society in Australia. More than 50 Clarke Medals have been awarded to date, It one of the most highly prized awards for natural sciences, with the disciplines of botany, zoology and geology considered in rotation every three years. The 2017 Clarke Medal in the field of Botany was awarded to Professor David Keith, Professor of Botany at UNSW and Senior Principal Research Scientist, NSW Office of Environment & Heritage.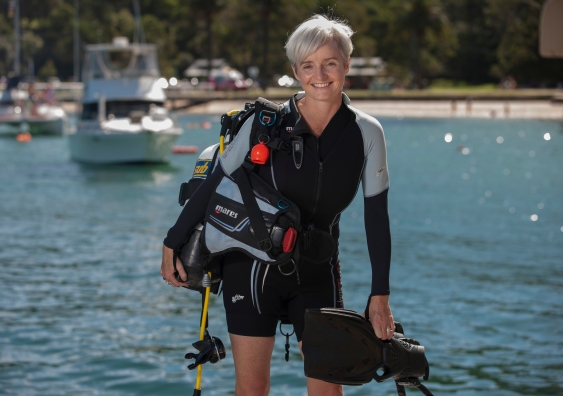 Professor Emma Johnston, Dean of Science at UNSW Sydney.
These Two Koalas Lost Their Mothers To Deforestation
I call on you to urgently end the deforestation and land-clearing crisis by making potential koala habitat, threatened species habitat, and other high-conservation-value areas off limits to clearing, and by repealing the land-clearing codes.
I also urge you to invest in a restoration and conservation fund and deliver the world-class mapping, monitoring, and reporting the community expects.
The Bilbies Are Back
December 5th, 2018: Media Release - The Hon. Gabrielle Upton, NSW Minister for the Environment
For the first time in more than a century, bilbies are running wild in a NSW conservation area.
Environment Minister Gabrielle Upton said 30 of the small marsupials have been released in a specially fenced, predator-free section of Pilliga State Conservation Area, near Narrabri.
"The bilbies are the first of 13 regionally extinct mammals that will be returned to the wild in a 10-year NSW Government Saving Our Species project," Ms Upton said.
"The return of the bilby is internationally significant: this is a major victory in the campaign to save our species from extinction," she said.
"Bilbies are an iconic Australian native animal and with their long ears, have become our own beloved symbol of Easter.
"They disappeared in the wild in NSW in around 1910 as a result of introduced predators including foxes and cats.
"To have them back in our national parks is a magnificent sight to see and a clear innovative step by this government, towards securing populations of threatened species.
"The bilbies are just the first of the mammal species to be reintroduced to select national parks in Western NSW under the $42.1 million project, with bridled nail-tail wallabies, brush-tailed bettongs and numbats among the species to follow.
"The bilbies are being housed within 32 kilometres of predator-proof fence encompassing 5800 hectares in Pilliga State Conservation Area.
The Pilliga project is being carried out by NSW National Parks and Wildlife Service in a partnership with the Australian Wildlife Conservancy (AWC).
AWC Chief Executive Officer Tim Allard said the return of the bilby to the Pilliga is a spectacular outcome not just for the bilby, but also for Conservation.
"Within a short space of time, AWC's Ecologists and Land Managers constructed the 32 kilometre fence, eradicated feral predators, and have successfully reintroduced the bilby.
This fenced area will also provides a secure environment for another 5 species, including the Bridled nail-tail wallaby, as well as many extant species such as the Pilliga mouse and bird species.
"The aim is that the Pilliga will return to what it was like 200 years ago, before feral predators took their toll.
This project is a fantastic example of what can be achieved by Government and Not-for-Profits working in partnership and is an example of AWCs model in action – innovative land management informed by good science," Mr Allard said.
2018 Aussie Backyard Bird Count Results: Rainbows Rule The Roost!
For the fifth consecutive year, Australians headed into their backyards and local green spaces to take part in the Aussie Backyard Bird Count. In 2018, together we counted more than 2.7 million birds including over 305,000 Rainbow Lorikeets!
So, why are Rainbow Lorikeets ruling the roost?
While the species is ubiquitous today, this hasn't always been the case. In some parts of Australia, such as around Melbourne, the Rainbows were driven out as the urban areas expanded, and even where they were still common in the bush, they were largely absent from our cities.
The rise of the Rainbow Lorikeet highlights the changes in Aussie backyards over the past half century, with traditional European-style cottage gardens making way for native backyards which provide the perfect place for these nectar-loving birds to forage on the flowers of eucalypts, bottle-brushes and grevilleas to harvest nectar and pollen. This shows the impact that planting natives can have, head over to our gardening tips page to see which plants will attract your favourite birds.
Download the 2018 species list for Australia and the states/territories
here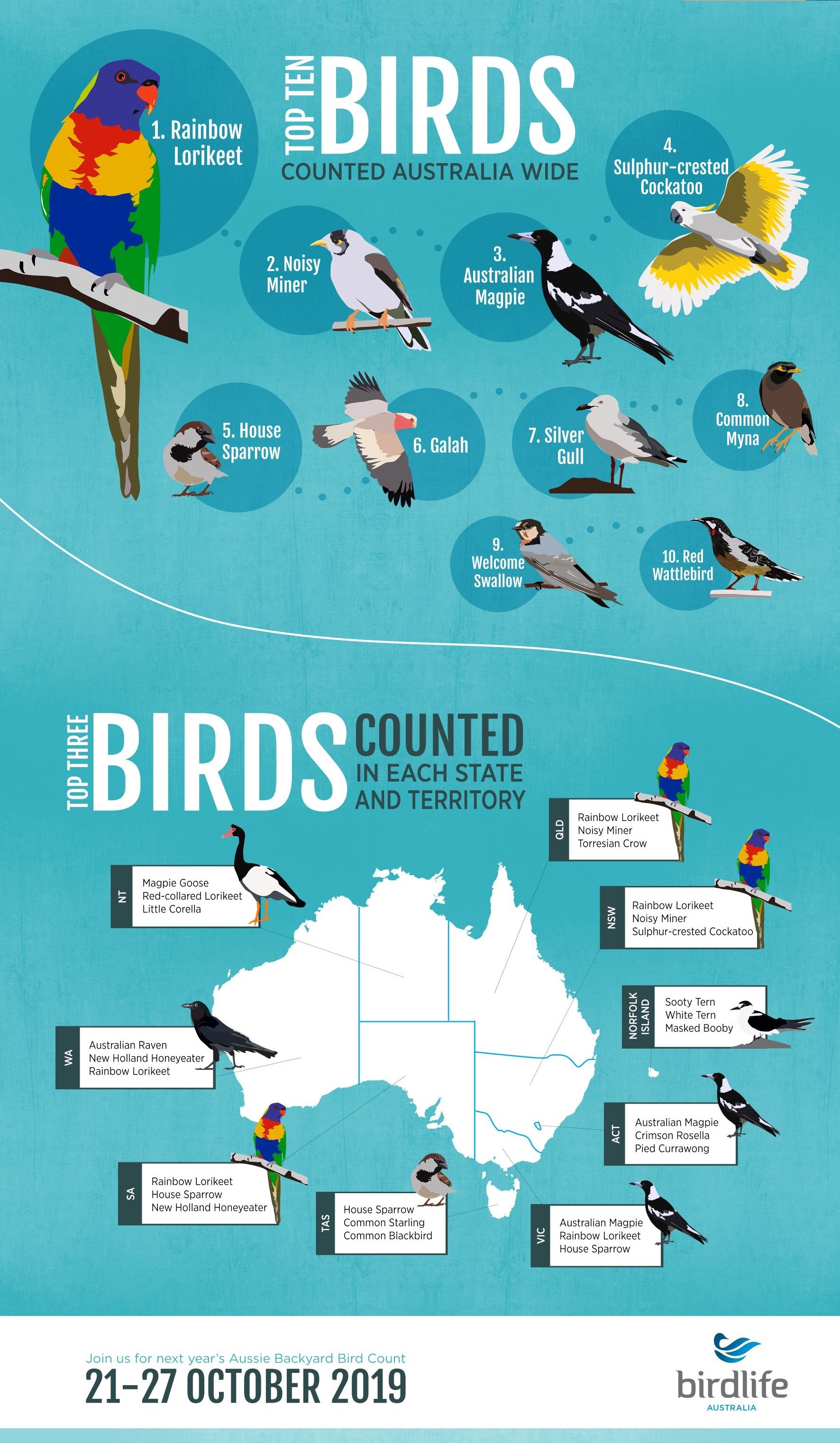 Renewables Revelations At Smart Energy Summit
December 7, 2018 - By the Smart Energy Council
One much-repeated statement at this week's Smart Energy Summit: "The cost of coal cannot compete with renewables and storage which are cheaper, that is how we get to lower energy prices, everyone has to open their eyes to the reality." The speaker? Former Prime Minister Malcolm Turnbull.
So enthralled is he by smart new technology steering decarbonisation that he spent half the day – three hours longer than scheduled – at the summit soaking up news of renewables developments and innovation.
Turnbull – along with his candid views – was more than welcome at the summit, and in his address Politics, engineering and economics: Opportunities for a clean energy transition he set about explaining why, like so many of his forebearers, he failed to unite the government in the construction of energy policy.
It's one of his key regrets, he said. But when you have a small bunch of climate sceptic politicians that "exist in a fact free zone" and are led by "ideology and ignorance",that's what you get. Impasse.
A minority of MPs, he said, torpedoed a 'very good' policy.
Turnbull made it clear he never abandoned the NEG, rather the insurgency undermined it and ultimately brought it to an end, and for him that was "very disappointing".
"Ensuring a competitive market and the protections of consumers is very important, but you've also got to have the certainty of integrated climate and energy policy so that you get the investment," he said.
"The politics in the respective party room make it hard …. but we came close to getting a consensus on a national energy policy, and one that provides the certainty that we need for investment to occur.
"We need the certainly via a landing, a mechanism, to enable that to happen, it's the best way to create investment certainty in the electricity sector. You won't get investment if the climate is uncertain and racked with controversy," he said.
"That's what we were endeavoring to do with the National Energy Guarantee."
"Ensuring a competitive market and the protections of consumers is very important, but you've also got to have the certainty of integrated climate and energy policy so that you get the investment," he said.
He stressed too that the issue of decarbonisation has to be grounded in economics and engineering.
"Always I've sought to resolve the trilemma – to reduce emissions and ensure energy affordability and reliability."
The ex-PM is now calling on the government to revive the NEG, describing it as "fundamentally a very good technology-agnostic policy, which united climate and energy policy, and would enable us to bring down prices and keep the lights on".
"It was a vital piece of economic policy … the abandonment of the national energy guarantee obviously creates a vacuum of energy policy at the federal level, and of course that provides the opportunity for the states to get on and lead."
The ALP will adopt the NEG but would lift the emissions reduction target from 26 per cent to a more realistic 45 per cent by 2030. That target is not endorsed by Turnbull on the basis Labor failed to demonstrate it "will not push up prices".
(OK to push up emissions but not prices? But why would he assume prices would rise? Did he not emphasise – several times – that renewables were cheaper and the way to go?)
During his address Malcolm Turnbull took the opportunity to list the coalition's achievements in matters of energy which include the ACCC inquiry into the electricity and the retail sector, and almost all of the recommendations of the Finkel review, Tasmania's battery of the nation agreement from energy retailers for a better deal for two million households and his pet topic: the prospect of Snowy 2.
He revealed former deputy prime minister Barnaby Joyce had "unhelpfully" suggested that instead of investing in Snowy 2.0 pumped hydro the government should invest in new coal fired power plants.
For his part, new PM Scott Morrison remains fixated on lowering electricity prices rather than emissions.
Asked why, during his time in office, Turnbull failed to lock in a renewable energy target, Turnbull said "There is a huge gulf between members' views on energy – a significant number who don't believe climate change is real and say we need to get out of Paris."
"You have a very entrenched difference of opinion and as you saw with NEG they are prepared to cross the floor and blow up the government to get their way," he said.
"[But] I am passionate about the goal of a move to a clean energy future and zero emissions and the way we get there is through smart energy – and smart energy people like you – that is how we will get there."
"Renewable energy backed by storage is the cheaper form of energy generation, now we are in the midst of a transition from coal fired power to intermittent power.
"From a dumb one-way grid to a smart system where retail customers become both consumers and suppliers of megawatts of power and through intelligent demand response.
"The challenge is to get from fossil fuels to a clean energy future … truly there has never been a more exciting item to be in the energy industry. There is no shortage of enthusiasm and for investment – look at all of you here."
Smart Energy Council chief executive John Grimes described the NSW Smart Energy Summit an historic event that facilitated "a fair dinkum discussion of Australia's clean energy transition".
"This is the challenge of our time, and we are backing Australian innovation that benefits the whole economy," he said.
"Australia has always been a leader [now] there's a real sense that the politics may just be changing and that Australians old and young want to see real action on climate change, with strong support from [many] governments for renewable energy."
Victoria's landslide election of late November, delivering Labor 30 more seats than the state coalition, was, he says, in many ways "a trigger for some introspection from the Liberal Party". Now former Deputy Leader Julie Bishop has stepped into the arena by urging bipartisan energy policy.
Now in just a few short months it's the turn of the NSW electorate to determine who is best placed to lead the state.
Echidna Puggles Hatch At Taronga Zoo
December 3rd, 2018: Media Release - The Hon. Gabrielle Upton, NSW Minister for the Environment
Taronga Zoo's endangered animals breeding program has been boosted by the birth of two Echidna puggles.
The puggles, who hatched in August to two separate mothers, are a promising step in the ongoing breeding and conservation of this species. The puggles are only the seventh and eighth to be born in the history of Taronga Zoo Sydney(external link).
It is hoped that what keepers learn about the successful reproduction of Short-beaked Echidnas can be applied in the conservation of the critically-endangered Long-beaked Echidna found in Papua New Guinea and Indonesia.
The puggles are nearly four months old and are not ready for public display because they still require continued care from their mothers and keepers.
Echidnas are known to be a very challenging species to breed in a zoo environment, because they display very complex courtship behaviours.
The Short-beaked Echidna is the most widespread native mammal in Australia, there is still a lot to be learnt about this species due to their cryptic behaviour and reclusive nature.
Echidnas, although iconic, are unusual animals known as monotremes – mammals that lay eggs. Despite being warm-blooded, their young puggles are hatched from eggs and mothers produce milk for their puggles in their pouch.
Minister for Environment, Local Government and Heritage Gabrielle Upton said that it's incredible that the breeding behaviour of some of Australia's most iconic wildlife is not yet fully understood.
"Having the treatment facilities so the mother and newborns have best chance of survival is of utmost importance. I am proud that Taronga Zoo Sydney is helping to advance understanding of this protected NSW species," Minister Upton said.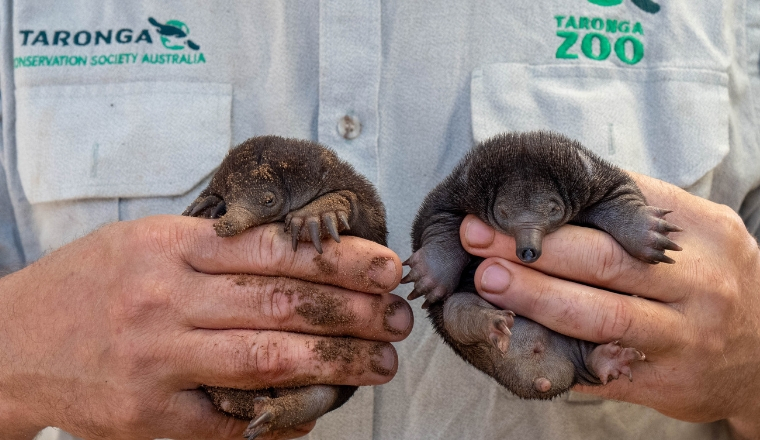 High Cost Of Infidelity For Swift Parrots
December 4, 2018: Australian National University
Scientists at The Australian National University (ANU) have found a chronic shortage of females in a critically endangered parrot species has led to love triangles, sneaky sex on the side, increased fighting between males and fewer babies.
The ratio of males to females among swift parrots was once roughly equal but it has increased over time to almost three to one, since the introduction of a tiny predator to Tasmania in the 1800s -- the sugar glider.
Sugar gliders can access nest hollows and kill female swift parrots while they incubate their eggs. More than half of the females die each year at their breeding grounds in Tasmania.
Lead researcher Professor Rob Heinsohn said the research team studied the swift parrot mating system using molecular techniques and found more than half of the nests had babies with more than one father.
"This is remarkable for parrots because most species are monogamous," said Professor Heinsohn from the ANU Fenner School of Environment and Society.
The study, which is published in the Journal of Animal Ecology, found mate sharing was not beneficial for anyone in the ménage à trois.
"The overall number of babies born fell whenever the sex ratio became more male-dominated and shared paternity went up," Professor Heinsohn said.
The researchers used population modelling to isolate the impact of lower reproduction due to mating in trios.
"Although most population decline was directly attributable to sugar gliders killing nesting females, the impact of conflict and lower success from shared mating reduced the population by a further five per cent," Professor Heinsohn said.
"We were aware of many nests where an extra male would hang around and harass the female, but were absolutely flabbergasted to find that the females were engaging in sneaky sex with them.
"We think the females are having sex with the other males for a range of reasons, but probably the main one is just to get them off their backs."
Professor Heinsohn said both sexes suffered whenever mate sharing occurred.
"The obvious costs to females are being harassed by too many males, while males are forced to fight for females to mate," he said.
"The overall population takes a hit, as a consequence, because they are having fewer babies."
Professor Heinsohn said the study was important because it teases apart how individuals in populations may be affected differently by introduced predators.
"Especially how the loss of so many females can change the balance of the sexes, as well as the whole mating and social system," he said.
Professor Heinsohn said swift parrots were not the only species where the fabric of society was threatened by too few females.
"It's happening in other birds, reptiles, and even humans in some parts of the world," he said.
Co-author Dr Dejan Stojanovic said now that the impact of sugar gliders was well understood, the ANU team had embarked on a major program to find innovative ways of limiting their impact on swift parrots.
Dr Stojanovic discovered the deadly impact of sugar gliders on swift parrots in 2014.
"Our methods for helping swift parrots include improving the habitat on small islands off Tasmania where sugar gliders do not occur, and devising clever predator-proof nest boxes for the birds to use elsewhere," he said.
Robert Heinsohn, George Olah, Matthew Webb, Rod Peakall, Dejan Stojanovic.
Sex ratio bias and shared paternity reduce individual fitness and population viability in a critically endangered parrot.
Journal of Animal Ecology, 2018; DOI:
10.1111/1365-2656.12922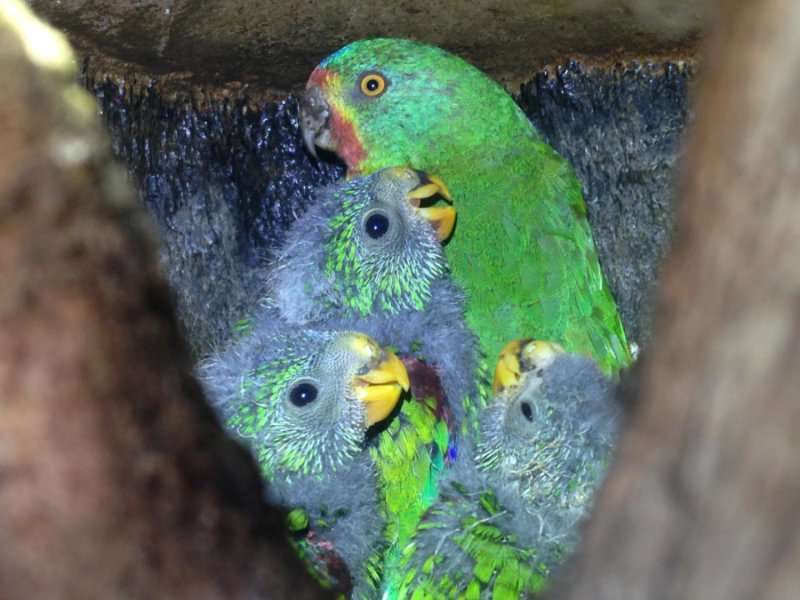 This is a swift parrot nest. Credit: Dejan Stojanovic, ANU
CubeSat To Lift Veil On Our Environment's Extremes
December 5th, 2018: CSIRO
Australia's national science agency, CSIRO, today announced that it would be extending its Earth observation capabilities by acquiring Australia's first CubeSat designed to detect invisible infrared light.
To be known as CSIROSat-1, the new satellite will allow researchers from CSIRO and other institutions to 'see' features that can't otherwise be seen using satellite imagery in the visible spectrum.
Although the satellite is a pilot and relatively small, the data collected will be valuable for detecting land cover changes such as flooding events or deforestation, detecting bushfires through smoke, and studying cloud formation and the development of tropical cyclones, as well as many other applications.
Traditionally, satellites are about the size of a refrigerator, have long production and assembly schedules, and are expensive to develop and launch.
CubeSats are miniaturised cube-shaped satellites units, with a single unit being 10cm by 10cm by 10cm. They are lower cost, faster to build and cheaper to launch than larger satellites. With these low barriers to entry, they are a cost-effective option for trialling new technology and space research in low Earth orbit.
In addition to enabling scientific research, CSIROSat-1 is a demonstration project, aimed at furthering development of the technology to support growth of Australia's advanced manufacturing, imaging and data processing capabilities for small satellite systems.
Expected to be launched in 2020, the $2 million project will be funded by CSIRO, a grant from the Science and Industry Endowment Fund, and in-kind support from industry partners.
CSIRO Chief Executive and Trustee of the Science and Industry Endowment Fund Dr Larry Marshall said CSIROSat-1 and the data infrastructure supporting it would add another level of capability to Australian science.
"Innovation happens at the intersection of people and disciplines - CSIRO's strategy is to drive a deeper sharing of our world class infrastructure with the entire system," Dr Marshall said.
"Space itself is big and Australia is comparatively small - we have to work together to make our mark as a nation.
"Our role as Australia's national science agency is to help create the industries of the future through excellent science.
"Technology projects such as CSIROSat-1 will help support the Australian Space Agency's goal of tripling the size of the domestic space sector to $10-12bn by 2030, bringing economic returns and improving the lives of Australians."
Director of CSIRO's Centre for Earth Observation Dr Alex Held said South Australia-based start-up Inovor Technologies would design, assemble and build CSIROSat-1.
"CSIRO is committed to collaborating and fostering relationships across the space sector, and with start-ups in particular," Dr Held said.
"For the CSIROSat-1 project we're excited to be working together with our build partner, Inovor Technologies.
"It's critical to engage on these types of technology projects to support local capability and nurture the development of the Australian space industry."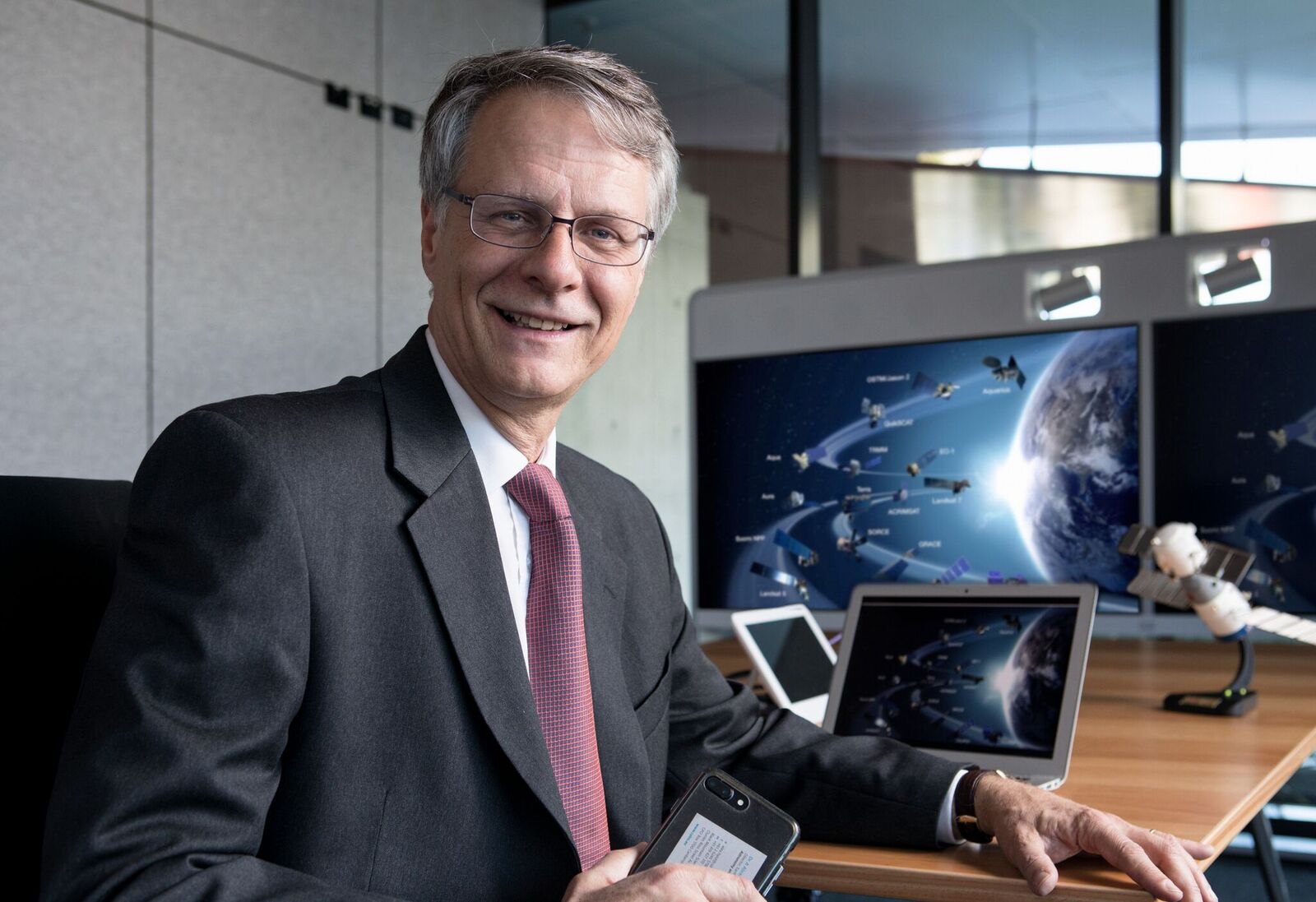 Dr Alex Held, Director of CSIRO's Centre for Observation

Inovor Technologies provide space technologies and satellite mission solutions and are ideally placed to build the satellite.
As the only Australian company manufacturing satellites using a fully integrated Australian supply, they provided the added benefit of upskilling the local advanced manufacturing sector.
CEO of Inovor Technologies Dr Matt Tetlow said CSIROSat-1 would be a 'nanosatellite' made up of three cubes, stacked one on top of the other, about the same size as a loaf of bread.
"CSIROSat-1 will carry a sensor with infrared imaging capability, the first time an Australian satellite has operated in this spectrum," Dr Tetlow said.
"In addition to collecting information about Earth, it will be a platform for developing advanced on-board data processing capabilities."
Other collaborators and research partners in the project include the University of New South Wales – Canberra, the Australian National University, and Defence Science and Technology Group.
Data derived from CSIROSat-1 will complement that collected by NovaSAR-1, a new radar satellite in which CSIRO has a 10 per cent tasking and data acquisition share.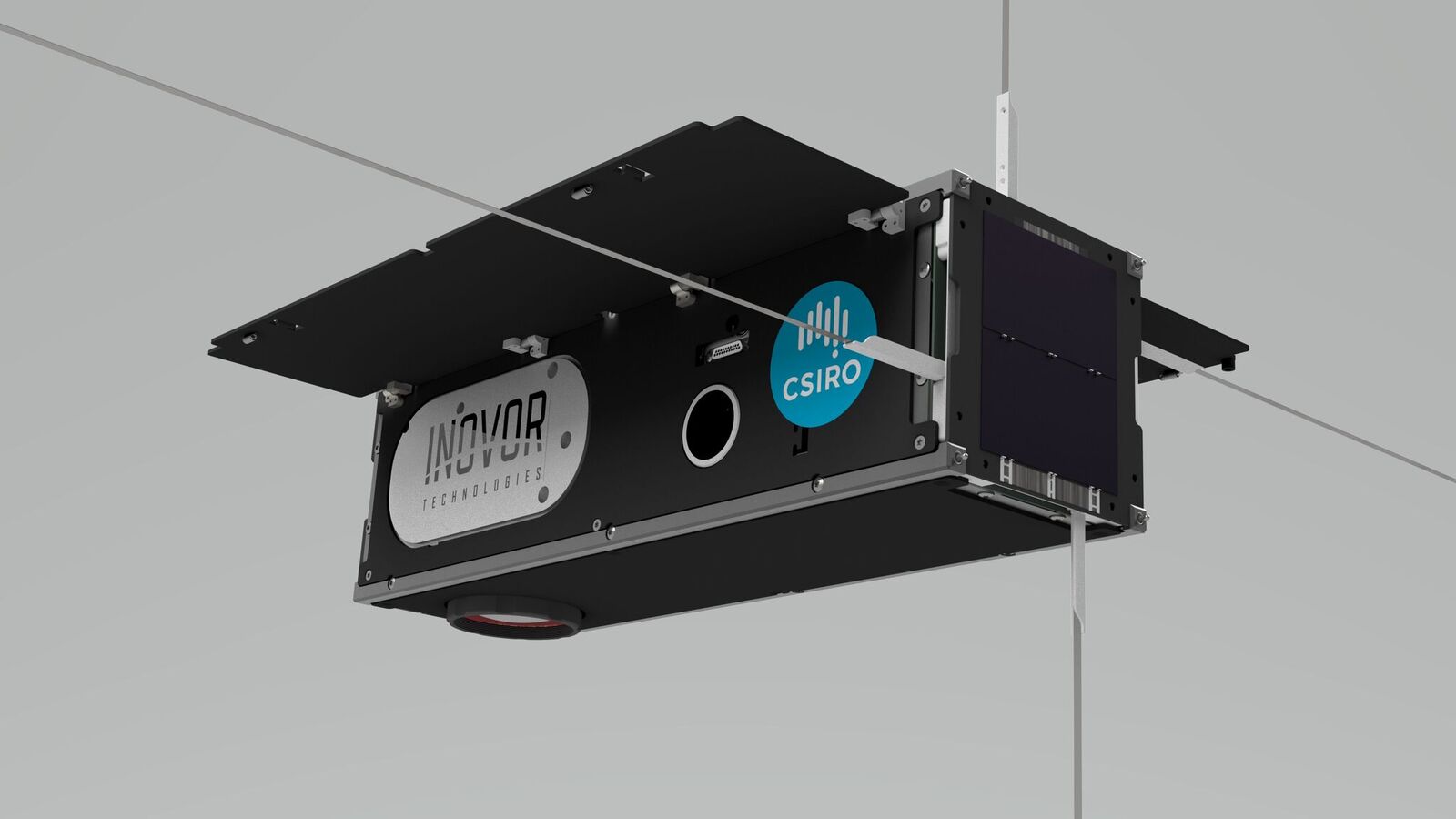 Artist impression of CSIROSat-1 CubeSat

Iceland's Banned TV Christmas Advert... Say Hello To Rang-Tan.
Published by Iceland Foods
You won't see our Christmas advert on TV this year.
But we want to share our 'No Palm Oil' story with you this Christmas.
Say hello to Rang-tan.
Powerful Owl Release
March 18, 2018:

Avalon Preservation Association
PNHA's Jacqui Marlow has advised that a Powerful Owl chick has been released in Plateau Park following its recuperation in Taronga Park.
If you see it there being harassed, or even if you see it at all, can you please phone her on 0458 194 127.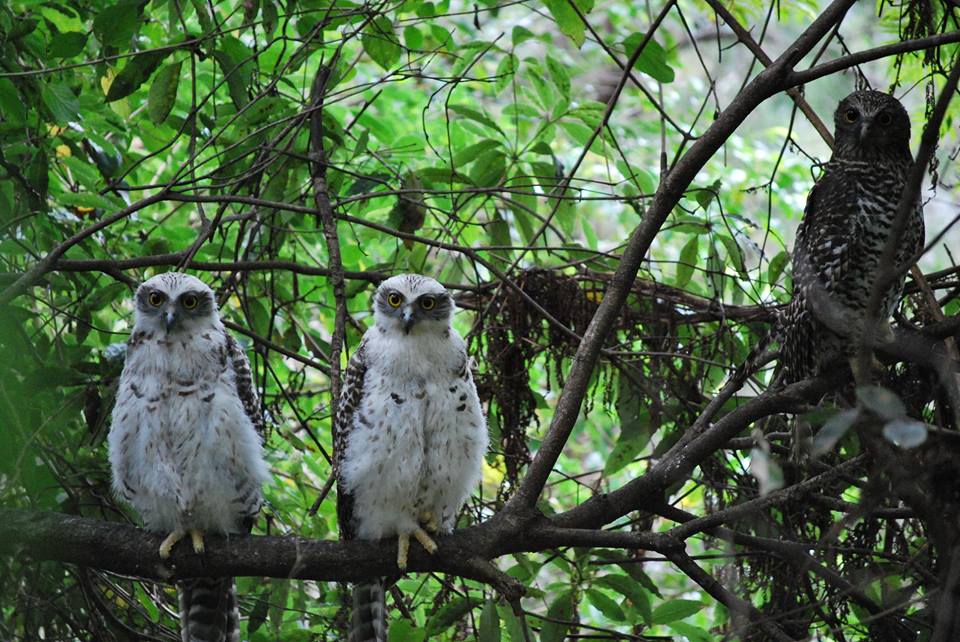 Powerful owl family - photo courtesy PNHA
Medicines For Severe Asthma And Growth Hormone Deficiency Listed On The PBS
December 1, 2018: The Hon Greg Hunt MP, Minister for Health
The Australian Government will list new medicines for severe asthma, and severe growth hormone deficiency on the Pharmaceutical Benefits Scheme (PBS), saving patients up to $21,000 a year.
From today Fasenra® (benralizumab), a new treatment option for patients with uncontrolled severe eosinophilic asthma, will be available on the PBS.
Around 670 patients a year will now be able to access this medicine, which would cost more than $21,000 per year of treatment without the PBS subsidy. When this medicine is subsidised under the PBS, patients will pay 39.50 per script or just $6.40 a script for concessional patients.
Severe eosinophilic asthma is a condition where there are too many eosinophils (a type of white blood cell) in the airways, which can worsen asthma, or increase the number of asthma flare-ups a person suffers.
Fasenra works to reduce the levels of eosinophils in the blood and airways, and the number of ongoing maintenance injections required to control asthma is reduced to every eight weeks, rather than once a month in comparison with existing PBS listed therapies.
Uncontrolled severe asthma can be debilitating and in some circumstances life threatening. It is estimated that 2.5 million Australians live with asthma, with up to 10 per cent suffering from severe asthma.
Those with the condition face regular flare ups, increased hospitalisations and chronic exposure to oral corticosteroids — all of which affect their overall health and quality of life.
Most people with asthma can manage their symptoms with regular use of their inhalers. However, with uncontrolled severe asthma more medications are often needed.
Despite their best efforts, it is estimated that up to 30 per cent of people living with uncontrolled severe asthma do not find standard treatments effective, even with high doses of standard-of-care inhaled asthma medicines. For these people, the listing of this medication could offer a new treatment option.
I am also pleased to announce that the current listing of Genotropin® and Genotropin GoQuick® (somatropin) will be extended to include eligible adults. It is currently only available for children through the PBS.
This medicine will help people with severe growth hormone deficiency, whose quality of life has been significantly affected by their condition.
People suffering from this condition don't produce enough natural growth hormone. Genotropin and Genotropin GoQuick works to stimulate body growth and regulate their metabolism.
Around 780 patients per year will now be able to access this medicine which would otherwise cost over $10,000 for a year of treatment.
These new and amended listings were all recommended by the independent expert Pharmaceutical Benefits Advisory Committee (PBAC).
The Committee is independent of Government by law and in practice. By law the Federal Government cannot list a new medicine without a positive recommendation from the PBAC.
Since coming into Government, the Coalition has helped improve the health of Australians by subsidising around $10 billion worth of new medicines.
Our commitment to the PBS is rock solid. Together with Medicare, it is a foundation of our world-class health care system.
Gene That Lets You Eat As Much As You Want Holds Promise Against Obesity
December 4, 2018: Flinders University
It sounds too good to be true, but a novel approach that might allow you to eat as much food as you want without gaining weight could be a reality in the near future.
When a single gene known as RCAN1 was removed in mice and they were fed a high fat diet, they failed to gain weight, even after gorging on high fat foods for prolonged periods.
The international team behind the study are hopeful a similar approach that inhibits this gene will also be effective with humans to combat obesity and serious diseases like diabetes.
Led by Professor Damien Keating at Flinders University, the study used a huge genetic screen in rodents to identify novel genetic candidates that may cause obesity, potentially paving the way for new drug therapies.
"We know a lot of people struggle to lose weight or even control their weight for a number of different reasons. The findings in this study could mean developing a pill which would target the function of RCAN1 and may result in weight loss," Professor Keating says.
Obesity is a major global health epidemic, resulting in increased risk of serious diseases like type 2 diabetes, and heart disease, but avenues for effective therapeutic treatments are lacking.
There are two types of fat in the human body- brown fat burns energy, while white fat stores energy.
Professor Keating says blocking RCAN1 helps to transform unhealthy white fat into healthy brown fat, presenting a potential treatment method in the fight against obesity.
"We have already developed a series of drugs that target the protein that this gene makes, and we are now in the process of testing them to see if they inhibit RCAN1 and whether they might represent potential new anti-obesity drugs,"
"In light of our results, the drugs we are developing to target RCAN1 would burn more calories while people are resting. It means the body would store less fat without the need for a person to reduce food consumption or exercise more."
Two thirds of Australian adults and a quarter of children are either overweight or obese, and the statistics are just as concerning in Britain and the US.
"We looked at a variety of different diets with various timespans from eight weeks up to six months, and in every case we saw health improvements in the absence of the RCAN1 gene."
The researchers say these findings open up a potentially simple treatment but further studies are required to determine if they translate the same results to humans.
"Our research is focused on understanding how cells send signals to each other and how this impacts health and the spread of disease."
"We really want to pursue this, it's exciting and we have research funding from the Australian government through the National Health and Medical Research Council to continue to explore viable options. These results show we can potentially make a real difference in the fight again obesity."
David Rotter, Heshan Peiris, D Bennett Grinsfelder, Alyce M Martin, Jana Burchfield, Valentina Parra, Christi Hull, Cyndi R Morales, Claire F Jessup, Dusan Matusica, Brian W Parks, Aldons J Lusis, Ngoc Uyen Nhi Nguyen, Misook Oh, Israel Iyoke, Tanvi Jakkampudi, D Randy McMillan, Hesham A Sadek, Matthew J Watt, Rana K Gupta, Melanie A Pritchard, Damien J Keating, Beverly A Rothermel.
Regulator of Calcineurin 1 helps coordinate whole‐body metabolism and thermogenesis.
EMBO reports, 2018; e44706 DOI:
10.15252/embr.201744706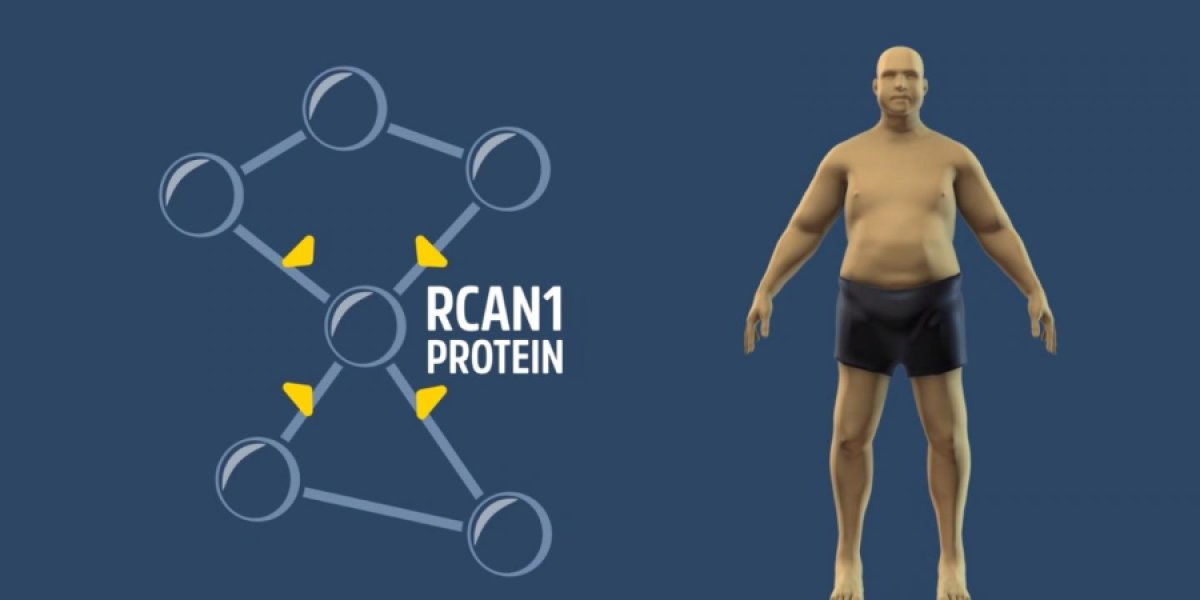 When a single gene known as RCAN1 was removed in mice and they were fed a high fat diet, they failed to gain weight, even after gorging on high fat foods for prolonged periods. The international team behind the study are hopeful a similar approach that inhibits this gene will also be effective with humans. Credit: Flinders University
Improving Perinatal Mental Health Care
December 3rd, 2018: NSW Minister for Mental Health, The Hon. Tanya Davies
Groundbreaking Australian research released in Sydney today has highlighted the potential for digital mental health screenings to be used to assist in identifying new and expecting mothers who may need additional mental health care.
The Perinatal Integrated Psychosocial Assessment (PIPA) study evaluated the effectiveness of a new online psychosocial self-assessment and electronic clinician aids and compared it to the current method of face-to-face assessment.
Minister for Mental Health Tanya Davies joined Professor Marie-Paule Austin, the architect of best practice perinatal mental health care in Australia, and Member for Coogee Bruce Notley-Smith to launch the study at Sydney's Royal Hospital for Women.
"The PIPA study shows that this new approach is effective in quickly detecting women in need of additional care. The online tools also helped midwives and health professionals to better manage referrals and follow up care when it was needed," Mrs Davies said.
"We know it is so important that expectant parents are screened for mental health and psychosocial needs both antenatally and postnatally, and the study will be invaluable in helping Government consider how to improve our existing universal screenings in future."
The research, led by Professor Austin, involved interviews with 25 midwives and 1212 women, and reviewed data over several years from more than 6,800 women.
"This new system improved on the current process by including clinical questions into a digitalised approach that was trialled in a real maternity setting," Professor Austin said.
"Untreated perinatal anxiety and depression can have an enduring negative impact on the woman, her developing infant, and her partner and family, so it's important we refine methods to improve screening and referral processes."
Mr Notley-Smith said he was delighted at the impact the study is already making in the care of local women.
"Around one in 10 women experience clinical depression or anxiety in the perinatal period, and I'm proud that here at the Royal Hospital for Women we are leading the way in improving care for expectant and new mothers," Mr Notley-Smith said.
The full findings of the research report will be released in early 2019.
$7 Million To Help Reduce Stillbirth In Australia
December 4, 2018: Joint Media Release - The Hon. Greg Hunt MP, Minister for Health, Nicolle Flint MP, Federal Member for Boothby and Senator Jim Molan AO, DSC, Senator for NSW
Stillbirth is one of the greatest tragedies to happen to any family.
The Australian Government will convene a national roundtable to address the rate of stillbirth in Australia, along with an initial commitment of $7.2 million for medical research and education programs.
The funding is the Coalition Government's immediate response to the report from the Select Committee on Stillbirth Research and Education.
The Government understands the importance of this issue not only for the women affected, but for their partners, families and the broader community.
We will develop a National Action and Implementation Plan in collaboration with clinicians, researchers and all of the advocacy groups who have already done so much to raise awareness and provide care for families who have experienced the tragedy of stillbirth.
Education, counselling, research and clinical care will be among the key points for discussion at the roundtable.
The roundtable will also set the funding priorities and consider the recommendations made in the Select Committee's report.
The Australian Institute of Health and Welfare defines stillbirth as fetal death occurring after 20 weeks gestation or weighing 400 grams or more.
It is estimated that one in 137 women will have a stillbirth with the cause unknown in more than 40 per cent of cases.
Our Government will provide $3 million for stillbirth education and awareness programs for women and medical practitioners across Australia.
The University of Melbourne will receive $1.2 million in funding from the National Health and Medical Research Council (NHMRC) for research to minimise preventable stillbirth through the use of biomarkers and ultrasound in late pregnancy.
We will also provide $3 million for stillbirth research through the Medical Research Future Fund with research priorities to be guided by the national roundtable. A competitive process will be held to allocate the funding for researchers wishing to apply.
We look forward to working together with women and stakeholders to develop a national approach to stillbirth in Australia.
NSW Health Warns Of Cryptosporidiosis Risk
December 2nd, 2018: NSW Health
With cases expected to rise over summer, NSW Health is warning people to be vigilant about the spread of cryptosporidiosis in swimming pools.
It is important that people affected by diarrhoea avoid swimming for two weeks after their symptoms are resolved to avoid contaminating pools and spreading the infection.
Dr Jeremy McAnulty, Director of Health Protection at NSW Health, said people of all ages, particularly parents and carers of young children, should take steps to prevent the spread of the parasitic intestinal infection.
"Cryptosporidiosis is easily spread from person to person in swimming pools, splash parks, interactive fountains, spas or jacuzzis," Dr McAnulty said.
"We usually see cases increase over summer and there have been plenty of outbreaks caused by contaminated swimming pools.
"If an infected person gets into a pool and another swimmer swallows even a small amount of pool water, they can get infected and will start experiencing diarrhoea a few days later.
With the weather heating up, notifications of cryptosporidiosis remain low, with 38 cases reported in October and 41 cases so far this month.
Case reports tend to peak between November and March, with the highest monthly notifications in the past five years in March 2017 with 325 cases.
Dr McAnulty explained that this is an underestimation of case numbers as many people with diarrhoea aren't tested for cryptosporidiosis, which requires a stool test at the doctor.
Symptoms include lots of diarrhoea, stomach cramps, nausea and sometimes vomiting or fever. There is no specific treatment for the condition and symptoms may last a few weeks.
The Public Health Act was recently amended to expand the maintenance requirements for swimming pools to include splash parks and interactive fountains to help reduce the risk of cryptosporidiosis outbreaks.
For further information, see the NSW Health cryptosporidiosis
factsheet
.
Combination Of Space-Based And Ground-Based Telescopes Reveals More Than 100 Exoplanets
December 3, 2018: National Institutes of Natural Sciences
An international team of astronomers using a combination of ground and space based telescopes have reported more than 100 extrasolar planets (here after, exoplanets) in only three months. These planets are quite diverse and expected to play a large role in developing the research field of exoplanets and life in the Universe.
Exoplanets, planets that revolve around stars other than the Sun, have been actively researched in recent years. One of the reasons is the success of the Kepler Space Telescope, which launched in 2009 to search for exoplanets. If a planet crosses (transits) in front of its parent star, then the observed brightness of the star drops by a small amount. The Kepler Space Telescope detected many exoplanets using this method. However, such dimming phenomena could be caused by other reasons. Therefore, confirmation that the phenomena are really caused by exoplanets is very important. The Kepler space telescope experienced mechanical trouble in 2013, which led to a successor mission called K2. Astronomers around the world are competing to confirm exoplanets suggested by the K2 data.
An international research team involving researchers at the University of Tokyo and Astrobiology Center of the National Institutes of Natural Sciences investigated 227 K2 exoplanet candidates using other space telescopes and ground-based telescopes. They confirmed that 104 of them are really exoplanets. Seven of the confirmed exoplanets have ultra-short orbital periods less than 24 hours. The formation process of exoplanets with such short orbital periods is still unclear. Further study of these ultra-short period planets will help to advance research into the processes behind their formation. They also confirmed many low-mass rocky exoplanets with masses less than twice that of the Earth as well as some planetary systems with multiple exoplanets.
Mr. John Livingston, a Ph.D. student at the University of Tokyo and lead author of the papers reporting the exoplanets, explains, "Although the Kepler Space Telescope has been officially retired by NASA, its successor space telescope, called TESS, has already started collecting data. In just the first month of operations, TESS has already found many new exoplanets, and it will continue to discover many more. We can look forward to many new exciting discoveries in the coming years."
John H. Livingston, Ian J. M. Crossfield, Erik A. Petigura, Erica J. Gonzales, David R. Ciardi, Charles A. Beichman, Jessie L. Christiansen, Courtney D. Dressing, Thomas Henning, Andrew W. Howard, Howard Isaacson, Benjamin J. Fulton, Molly Kosiarek, Joshua E. Schlieder, Evan Sinukoff, Motohide Tamura.
Sixty Validated Planets from K2 Campaigns 5–8.
The Astronomical Journal, 2018; 156 (6): 277 DOI:
10.3847/1538-3881/aae778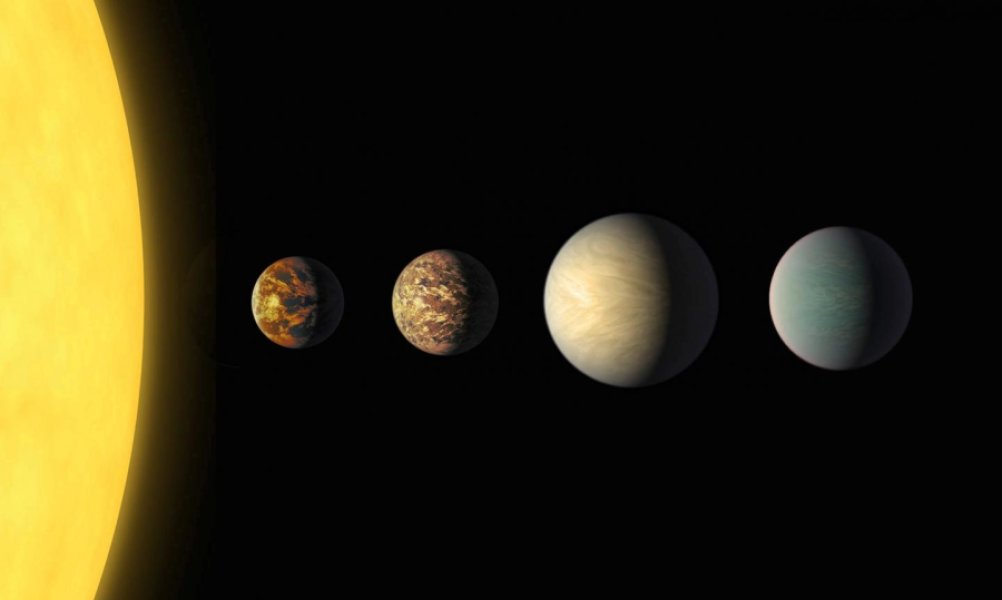 This is an artist's impression of the planets orbiting K2-187. Credit: NASA/JPL-Caltech/R. Hurt, T. Pyle (IPAC), UTokyo/J. Livingston
Inaugural Girls Fire & Emergency Services Camp
December 6, 2018: NSW Rural Fire Service
The inaugural Girls Fire & Emergency Services Camp is being held this week at Yarramundi.
During the six-day camp the NSW RFS, FRNSW and NSW SES will deliver practical and theory-based sessions to give the 20 participants aged 15-17 years (including four NSW RFS members) an introduction to the role the Emergency Services plays in the community, inform them about the variety of emergency service roles and encourage them to consider a career or voluntary position in this field.
The program is filled with fun and challenging activities including abseiling, high ropes and camping. We hope they have a fun and educational time!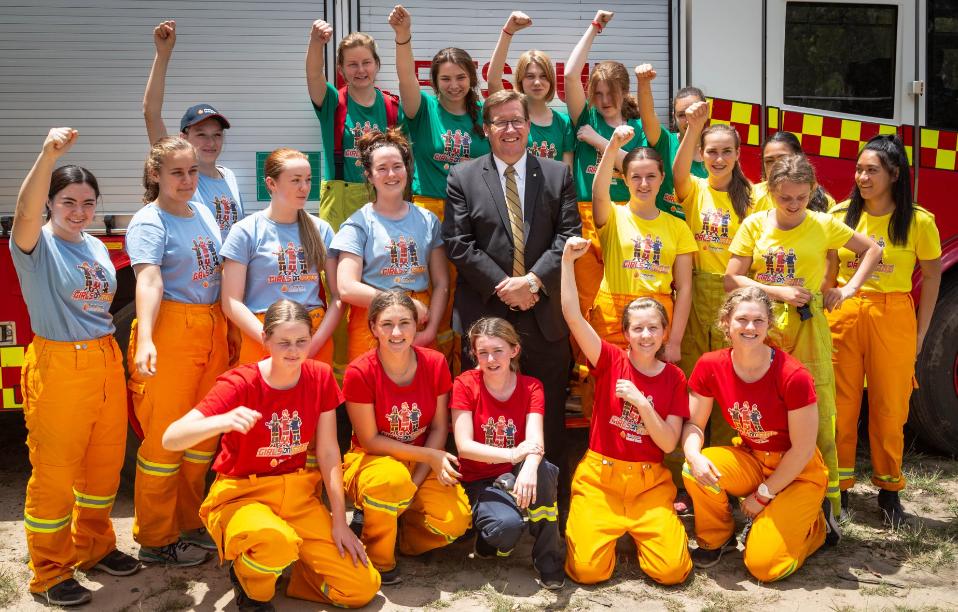 Disclaimer: These articles are not intended to provide medical advice, diagnosis or treatment. Views expressed here do not necessarily reflect those of Pittwater Online News or its staff.