Inbox and Environment News: Issue 281
September 18 - 25, 2016: Issue 281
Old Picture Puzzle
Is this 1924 picture of campers really at Newport or somewhere else nearby???
Earlier newspaper reports than this often described 'Newport' or 'Mona Vale' as being 'just a few miles beyond Manly' - when we know it is not and was not, even then.
Or is this image taken from a reversed plate photograph?
Or is it a pool elsewhere?
It's a great reminder of what a wonderful resource TROVE is but also a great reminder of how it is important to keep accurate records of images and also the processes that made them - in their times.
AT NEWPORT ON BOXING DAY.
It is a very pleasant run from Sydney to Newport, and will be much more enjoyable when the Spit bridge is a reality and the wearisome wait for the punt is a thing of the past. Motoring (
1924, January 2
).
Sydney Mail
(NSW : 1912 - 1938), p. 37. Retrieved from
http://nla.gov.au/nla.news-article166151463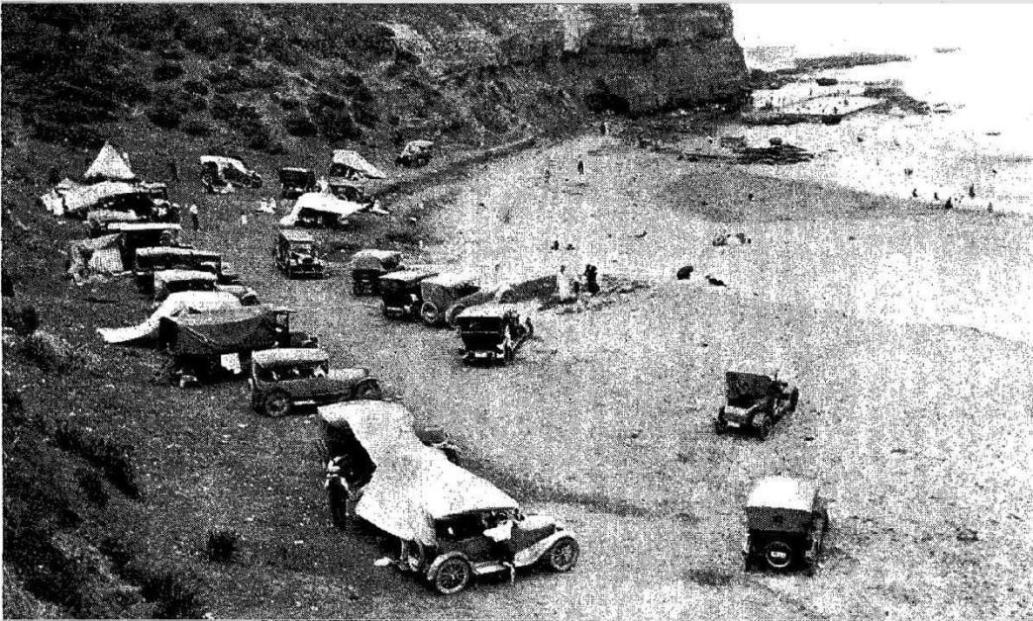 The "Perfectly" Formed Woman
Published on 5 Sep 2016 by NFSA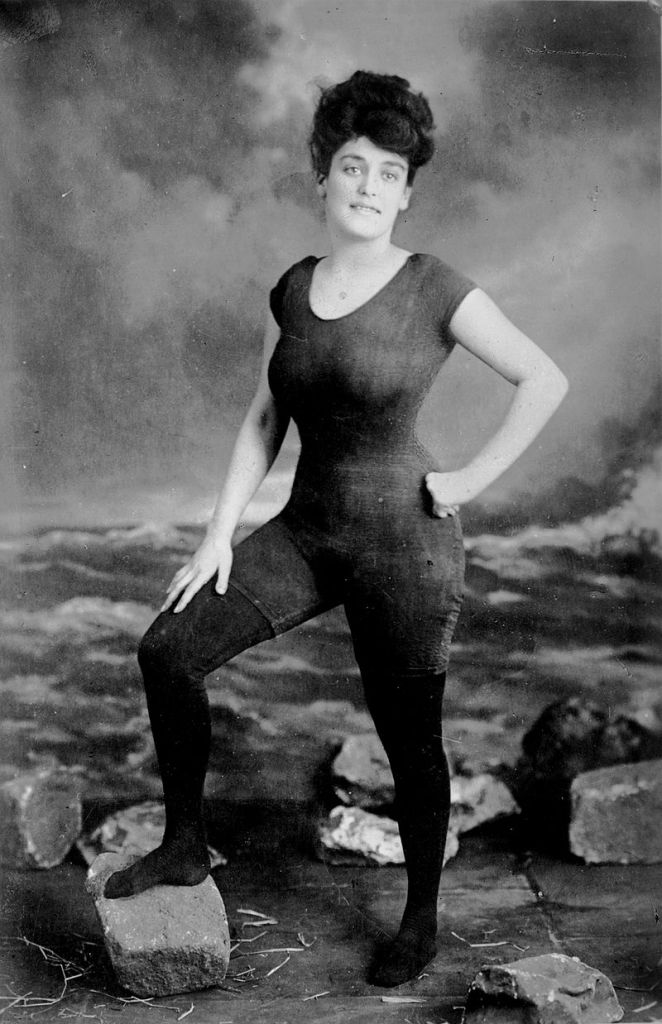 The Film that runs below is from the National Collection. c1912. Annette Kellerman, champion diver, swimmer and water ballet artiste, gives a diving demonstration in front of a group of admirers at a swimming pool. Her body is described by Harvard University Professor Sargent as 'the most perfect woman of modern times. She is almost exactly the same measurements as the estimated one of the statue of the most perfectly formed woman of ancient times, Venus de Milo'. Concludes with a shot of the Venus de Milo.
Annette Marie Sarah Kellermann (6 July 1887 – 6 November 1975) was an Australian professional swimmer, vaudeville star, film actress, writer, and business owner.
Kellermann was one of the first women to wear a one-piece bathing costume, instead of the then-accepted pantaloons, and inspired others to follow her example. Kellerman's swimming costumes became so popular, that she started her own fashion line of one-piece bathing suits.
Right: In her famous custom swimsuit (designed to allow for serious athletic swimming, unlike conventional women's swimwear of the period, but considered indecent by some).
This work is from the George Grantham Bain collection at the Library of Congress.
Kellermann helped popularize the sport of synchronised swimming; and authored a swimming manual. She appeared in several movies, usually with aquatic themes, and as the star of A Daughter of the Gods was the first major actress to appear nude in a Hollywood production. Kellermann was an advocate of health, fitness, and natural beauty throughout her life.
Kellermann (sometimes recorded as "Kellerman") was born in Marrickville, New South Wales, Australia, on 6 July 1887, to Australian-born violinist Frederick William Kellermann, and his French wife, Alice Ellen Charbonnet, a pianist and music teacher.
At the age of six, a weakness in Kellerman's legs necessitated the wearing of steel braces to strengthen them. To further overcome her disability, her parents enrolled her in swimming classes at Cavill's baths in Sydney. By the age of 13, her legs were practically normal, and by 15, she had mastered all the swimming strokes and won her first race. At this time she was also giving diving displays.
In 1902, Kellermann won the ladies' 100 yards and mile championships of New South Wales in the record times of 1 minute, 22 seconds and 33 minutes, 49 seconds respectively. In that same year, her parents decided to move to Melbourne, Victoria, and she was enrolled at Mentone Girls' Grammar School, where her mother had accepted a music teaching position.
During her time at school, Kellermann gave exhibitions of swimming and diving at the main Melbourne baths, performed a mermaid act at Princes Court entertainment centre, and did two shows a day swimming with fish in a glass tank at the Exhibition Aquarium. In June and July 1903, she performed sensational high dives in the Coogee scene of Bland Holt's spectacular, The Breaking of the Drought, at the Melbourne Theatre Royal.
Kellermann and Beatrice Kerr, who was billed as "Australia's Champion Lady Swimmer and Diver", were rivals, although Kerr's public challenges to Kellermann to meet in a competitive race went unanswered.
On 24 August 1905, aged 19, Kellermann was one of the first women to attempt to swim the English Channel. After three unsuccessful swims she declared, "I had the endurance but not the brute strength." The first woman to attempt a Channel crossing had been Austrian Baroness Walburga von Isacescu, in September 1900. Kellermann later challenged and defeated Isacescu in a Danube race.
Kellermann helped popularize the sport of synchronised swimming after her 1907 performance of the first water ballet in a glass tank at the New York Hippodrome.
Swimwear
Kellermann was famous for advocating the right of women to wear a one-piece bathing suit, which was controversial at the time. According to an Australian magazine, "In the early 1900s, women were expected to wear cumbersome dress and pantaloon combinations when swimming. In 1907, at the height of her popularity, Kellermann was arrested on Revere Beach, Massachusetts, for indecency – she was wearing one of her fitted one-piece costumes."
The popularity of her one-piece suits resulted in her own line of women's swimwear. The "Annette Kellermans", as they were known, were the first step to modern swimwear.
Writer
In addition to her film and stage career, Kellermann wrote several books including How to Swim (1918), Physical Beauty: How to Keep It (1919), a book of children's stories titled Fairy Tales of the South Seas (1926), and My Story, an unpublished autobiography. She also wrote numerous mail order booklets on health, beauty, and fitness.
Kellermann married her American-born manager, James Sullivan, on or around 26 November 1912 at Danbury, Connecticut.
A lifelong vegetarian, Kellermann owned a health food store in Long Beach, California, later in life. She remained active well into old age, continuing to swim and exercise until a short time before her death. She and her husband returned to live in Australia in 1970, and in 1974 she was honoured by the International Swimming Hall of Fame at Fort Lauderdale, Florida.
Kellerman outlived her husband and died in the hospital at Southport, Queensland, Australia, on 6 November 1975, aged 89. She was cremated with Roman Catholic rites. Her remains were scattered in the Great Barrier Reef. She had no children.
Jonathan Jones Shields Indigenous History
15 September, 2016 by FRAN STRACHAN - UNSW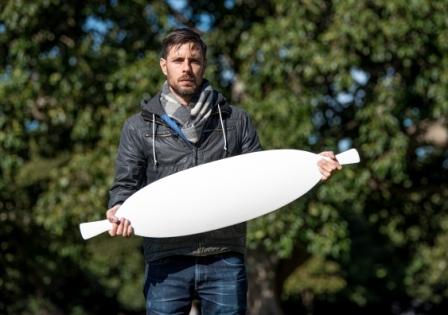 The shields symbolise the protection of both family and country - Jonathan Jones with prototype ceramic shield on site at the Royal Botanic Garden, Sydney. Photo: Emma Pike/Kaldor Public Art Projects
Using 15,000 white shields, UNSW Art & Design alumnus Jonathan Jones has created the most ambitious Kaldor Public Art Project to date.
A Sydney-based Wiradjuri/Kamilaroi artist, Jones created the site-specific work barrangal dyara (skin and bones) at Sydney's Royal Botanic Gardens for the 32nd Kaldor Public Art Project.
barrangal dyara recalls the 19th century Garden Palace which originally stood in the Royal Botanic Garden between 1879 and 1882 before a devastating fire destroyed not only the building, but the countless culturally significant Aboriginal objects inside it.
"The fire completely expunged the Aboriginal history of the area," said Jones, who is the first Indigenous artist to contribute to the Projects in its history.
"barrangal dyara represents an effort to commence a healing process and a celebration of the survival of the world's oldest living culture despite this traumatic event," Jones said.
The vast sculptural installation of 15,000 white shields spans the 20,000 square-metres of the site, marking the original foot-print of the Garden Palace building.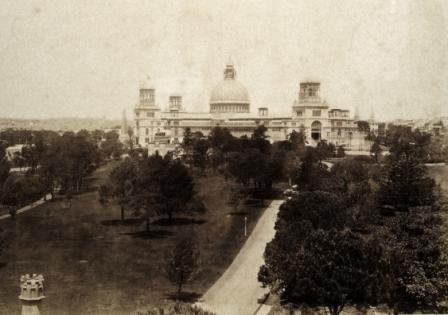 Exterior, the Garden Palace, Sydney, c1879. Collection: Museum of Applied Arts and Sciences, Sydney.
Jones said the shields replicate the ones his ancestors made from tree bark and then painted or engraved with biographical details.
"The shields symbolise the protection of both family and country," he said.
At the heart of the installation, where the Garden Palace's dome once crowned Sydney, a native meadow of kangaroo grass has been planted in tribute to the cultural practice of Aboriginal agriculture and management of crops such as kangaroo and wallaby grass, and native millet.
Eight Aboriginal language soundscapes have also been developed with communities throughout the south-east of Australia and installed at the site. The soundscapes are spoken in: Gumbaynggirr; Gamilaraay; Gunditjmara; Ngarrindjeri; Paakantji; Woiwurrung and Wiradjuri, allowing the project to develop from a state of loss and mourning into a celebration of the resilience of the world's oldest culture.
John Kaldor, Founder of Kaldor Public Art Projects, said his admiration for Jones, one of Australia's most celebrated Indigenous artists, has grown as the project has progressed.
"His great knowledge and compassion has given me an insight into a different Australia. Working with Jonathan has been a privileged, wonderful personal experience for me."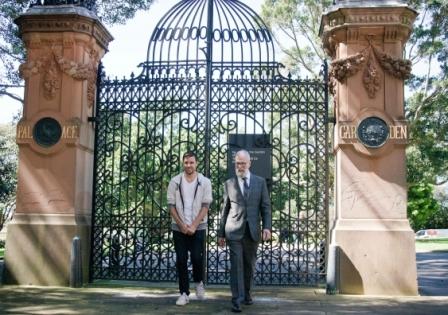 Jonathan Jones and John Kaldor in front of the Garden Palace gates at the Royal Botanic Garden, Sydney. Photo: Anna McKay/Kaldor Public Art Projects
The installation will be enlivened by daily presentations of Aboriginal language, performances, talks, special events and workshops.
UNSW Art & Design and Kaldor Public Art Projects are longstanding cultural partners and the faculty is once again an education partner with Kaldor Public Art Projects for their 32nd project.
Barrangal Dyara is at the Royal Botanic Garden, Sydney, from 17 September to 3 October.
Change In Operations On Macquarie Island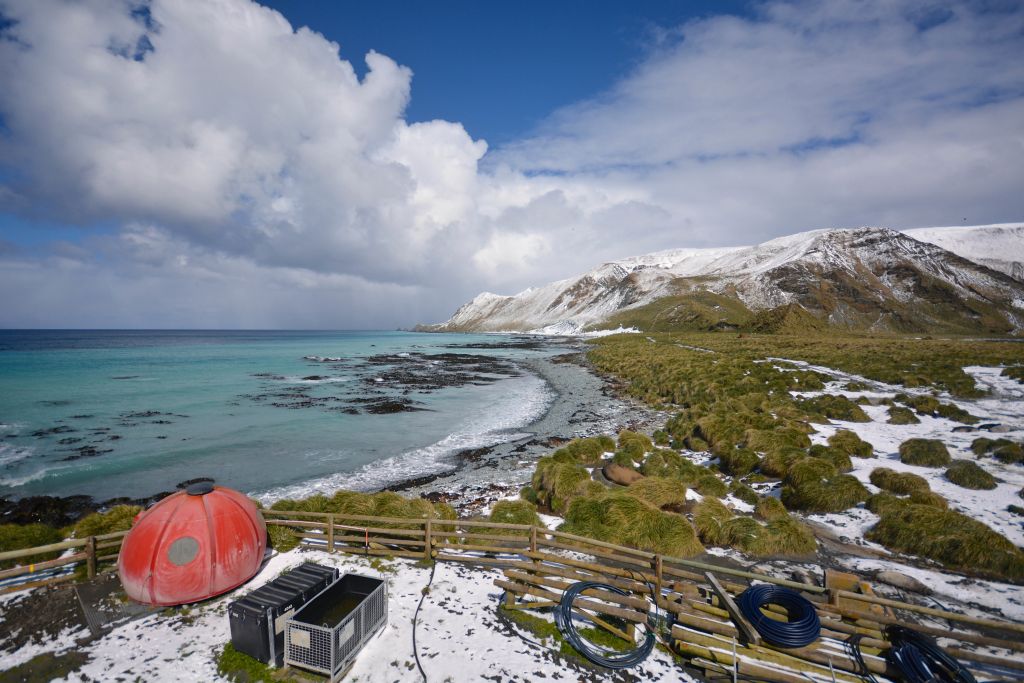 The Division will use a network of existing field huts to support research on the Island. (Photo: Barry Becker)
The Australian Antarctic Division will use a network of field huts to support future research on Macquarie Island, and will close the existing permanent research station in March next year.
The Australian Antarctic Strategy and 20 Year Action Plan, launched earlier this year, highlighted the need to deal with ageing infrastructure at the Macquarie Island research station.
An independent engineering investigation concluded an urgent decision on the future of the station was required to manage increasing risks associated with occupational health and safety, environmental contamination and site-exposure to ocean inundation.
Withdrawal of a permanent presence will be a further step towards minimising human impacts on the Island. This follows the successful Macquarie Island pest eradication program which removed all introduced animals (cats, rabbits, rats and mice).
The Division's Director, Dr Nick Gales, said the decision will allow a greater focus on our operations in the Australian Antarctic Territory.
"Macquarie Island is a unique and fragile ecosystem which holds a special place in the heart of many expeditioners and scientists, so I understand people may be disappointed with this decision," Dr Gales said.
About a dozen expeditioner positions on the Island will be affected and the Division will work with these expeditioners to explore the possibility of re-deployment to other stations.
"The engineering report shows the cost of refurbishing the Macquarie Island buildings is such that it could not be justified within existing budgets."
"While scientific research on the island will be impacted, opportunities to conduct high priority research will remain possible through the use of the six existing field huts and through extended ship visits into the future."
Macquarie Island is about 1500 kilometres southeast of Hobart, about halfway between Tasmania and the Antarctic continent.
The Australian Antarctic Division has continuously operated a year-round research station on the Island since 1948.
The Island is part of Tasmania and the Tasmanian Government is responsible for monitoring and protecting the island as a wildlife reserve and World Heritage site.
A team will be sent to the Island in November to start the process of decommissioning station infrastructure.
"All essential equipment and dangerous goods, including station fuel, will be removed by ship, and the buildings secured and closed down.
"Demolition and removal of buildings and remediation of the site will be completed over the next decade," he said.
The Division will work closely with affected agencies, including the Tasmanian Government, Bureau of Meteorology and the Australian Radiation Protection and Nuclear Safety Agency.
85 Out Of 100 Australians Say They're Healthy—But Are We Really?
Canberra, 13 September 2016
Most Australians consider themselves to be in good health, according to the latest two-yearly report card from the Australian Institute of Health and Welfare (AIHW).
The report, Australia's health 2016 is a key information resource, and was launched today by federal Health Minister, the Hon. Sussan Ley.
AIHW Director and CEO Barry Sandison said the report provided new insights and new ways of understanding the health of Australians.
'The report shows that Australia has much to be proud of in terms of health,' he said.
'We are living longer than ever before, death rates continue to fall, and most of us consider ourselves to be in good health.'
If Australia had a population of just 100 people, 56 would rate their health as 'excellent', or 'very good' and 29 as 'good'.
'However, 19 of us would have a disability, 20 a mental health disorder in the last 12 months, and 50 at least one chronic disease.'
Mr Sandison said the influence of lifestyle factors on a person's health was a recurring theme of the report.
'13 out of 100 of us smoke daily, 18 drink alcohol at risky levels, and 95 do not eat the recommended servings of fruit and vegetables.
'And while 55 do enough physical activity, 63 of us are overweight or obese.'
Mr Sandison said that while lifestyle choices were a major contributor to the development of many chronic diseases, other factors such as our income, education and whether we had a job-known as 'social determinants'—all affected our health, for better or worse.
'As a general rule, every step up the socioeconomic ladder is accompanied by an increase in health.
'Compared with people living in the highest socioeconomic areas, people living in the lowest socioeconomic areas generally live about 3 years less, are 1.6 times as likely to have more than one chronic health condition, and are 3 times as likely to smoke daily.'
As well as looking at factors influencing individuals' health, today's report also examines the health of particular population groups, and shows considerable disparities.
'For example, while there have been some improvements overall in the health of Aboriginal and Torres Strait Islander Australians—including falls in smoking rates and infant mortality—Indigenous Australians continue to have a lower life expectancy than non-Indigenous Australians, at 69.1 years for males and 73.7 for females, more than 10 years shorter than for non-Indigenous Australians,' Mr Sandison said.
Indigenous Australians also continue to have higher rates of many diseases, such as diabetes, end-stage kidney disease and coronary heart disease.
For people living in rural and remote areas, where accessing services can be more difficult, lower life expectancy and higher rates of disease and injury—particularly road accidents—are of concern.
In Australia, health services are delivered by a mix of public and private providers that includes more than 1,300 hospitals and about 385,000 nurses, midwives and medical practitioners.
Of the $155 billion spent on health in 2013–14, $145 billion was recurrent expenditure. Hospitals accounted for 40% of recurrent expenditure ($59 billion), primary health care 38% ($55 billion), with the remaining 22% spent on other health goods and services. For the first time, the report examines how spending by age for people admitted to hospital has changed over time.
Mr Sandison said the analysis showed that the largest increase in spending between 2004–05 and 2012–13 was for Australians aged 50 and over.
'This was due to more being spent per person in the population as well as the increased number of people in these age groups.'
Mr Sandison also said that while Australia's health 2016 provides an excellent overview of Australia's health at a point in time, there is still scope to expand on the analysis.
'New to this edition is information on the changing nature of services provided by public and private hospitals over the last 10 years; information about how geography affects Indigenous women's access to maternal health services; and about the increasing role of institutions such as hospitals and residential aged care in end-of-life care.
'Good data is essential to inform debate and policy and service delivery decision-making—and improving its quality and availability is at the core of the AIHW's work.
'We're committed to providing meaningful, comprehensive information about Australia's health and wellbeing—to help create a healthier Australia.'
Government response to Senate Inquiry Report on mental health of ADF members and veterans
15 September 2016: Media Release - The Hon Dan Tehan MP
Minister for Veterans' Affairs
Minister for Defence Personnel
Minister Assisting the Prime Minister for Cyber Security
Minister Assisting the Prime Minister for the Centenary of ANZAC
The Minister for Veterans' Affairs, Dan Tehan, said the Government would increase mental health support for Australian Defence Force (ADF) members and veterans.
The Government response to the Senate Inquiry Report on the mental health of ADF members and veterans was tabled in the Senate today.
"The Senate Inquiry Report's recommendations emphasise the importance of accessing help early which is consistent with the Government's approach to supporting our ADF and veterans," Mr Tehan said.
"The Government is getting on with the job of ensuring ADF members and veterans who face mental health challenges can access the mental health services they require.
"Since July 1 this year the Government has made free mental health treatment available to all current and former permanent members of the ADF for a range of conditions, including post-traumatic stress disorder (PTSD), anxiety, depression, and alcohol and substance use disorders.
"The Government has committed $6 million to establish a Phoenix Australia institute for world-leading experts and research to improve mental health treatment and reduce the burden of post-traumatic stress among our veterans.
"We have announced an additional $3.1 million to further extend access to the Veterans and Veterans Families Counselling Service.
"There is additional support available now to ADF members, veterans and families, and I encourage anyone who has concerns about their mental health or the mental health of someone they know to ask for help."
Mr Tehan said the Government had also engaged the National Mental Health Commission to analyse the effectiveness of suicide and self-harm prevention services provided by Defence and DVA.
NSW Takes Most Popular State
12th September, 2016: NSW Government
New population projection data shows NSW is the most popular state in the country to live and work.
The latest update to the state's projections predicts the NSW population will grow to 9.9 million by 2036 - an increase of 2.7 million residents from 2011.
Population projections show how the state's population is expected to change over the coming years and how this change will affect households and housing demand. Population specialists consider trends in births, deaths and migration to and from other states and countries. The data then helps the NSW Government plan the future of the state's services and infrastructure.
Other projections include:
Metropolitan Sydney will grow from 4.3 million in 2011 to 6.4 million by 2036 - an increase of 167,900 on the 2014 figures.

726,000 additional homes are needed in Sydney between 2016 and 2036.

1.5 million babies are likely to be born by 2036.
Learn more about the 2016 NSW population projections on the Department of Planning & Environment
website
.
A Welcome Increase For Recipients Of Australian Government Payments
Almost five million recipients of Australian Government payments will be better off following an increase to payment rates.
Over 2.5 million recipients of the Age Pension and 2.2 million recipients of other payments, including Disability Support Pension, Carer Payment, Newstart Allowance, Parenting Payment Partnered, Widow Allowance, Partner Allowance, and Sickness Allowance will receive an increase.
"Single Age Pension payments will increase to $877.10 a fortnight, while couple combined payments will increase to $1,322.40 a fortnight," Minister for Social Services Christian Porter said.
"Total payments for single people without children on Newstart Allowance – including Energy Supplement - will increase to $537.50 a fortnight, while total payments for partnered recipients will rise to $485.30 a fortnight.
"Parenting Payment single recipients will also receive an increase, bringing their payment to $750.50 a fortnight.
"This is the seventh increase of rates under this Government, and we know that each increase makes a big difference to helping recipients cover cost of living."
Adult rates of pensions and allowances are adjusted twice a year, in March and September. Pension increases are linked to prices and wages, while allowance increases are linked to the Consumer Price Index.
Pensions are adjusted using whichever of the two measures, the Pensioner and Beneficiary Living Cost Index (PBLCI) or the Consumer Price Index (CPI), produces the higher result. That result is then compared with a Male Total Average Weekly Earnings benchmark. If this benchmark gives a higher pension increase, then the benchmark is used to adjust pensions.
Rent Assistance and other supplementary payments have also been increased due to these indexation adjustments.
The latest CPI and PBLCI figures also allow us to determine the new assets limits that will apply from 1 January 2017 under the 'Rebalancing the assets test measure'. The introduction of this measure will make the pension system fairer, better targeted and sustainable into the future. This means that more than 90 per cent of pensioners will either be better off or have no change to their pension under the measure.
Brain-Sensing Technology Allows Typing At 12 Words Per Minute
A way for people with movement disabilities to communicate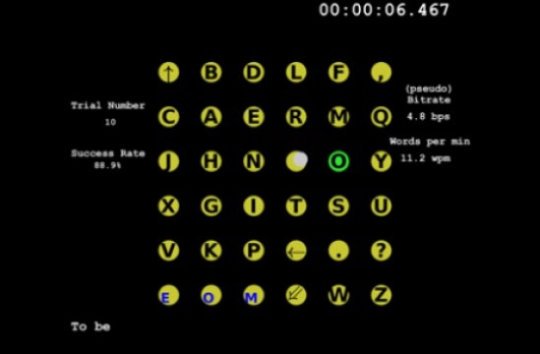 Directly reading brain signals could provide a way for people to communicate their thoughts and emotions. Credit: Image courtesy of Stanford University
September 12, 2016: Stanford University
It does not take an infinite number of monkeys to type a passage of Shakespeare. Instead, it takes a single monkey equipped with brain-sensing technology -- and a cheat sheet.
That technology, developed by Stanford Bio-X scientists Krishna Shenoy, a professor of electrical engineering at Stanford, and postdoctoral fellow Paul Nuyujukian, directly reads brain signals to drive a cursor moving over a keyboard. In an experiment conducted with monkeys, the animals were able to transcribe passages from the New York Times and Hamlet at a rate of up to 12 words per minute.
Earlier versions of the technology have already been tested successfully in people with paralysis, but the typing was slow and imprecise. This latest work tests improvements to the speed and accuracy of the technology that interprets brain signals and drives the cursor.
"Our results demonstrate that this interface may have great promise for use in people," said Nuyujukian, who will join Stanford faculty as an assistant professor of bioengineering in 2017. "It enables a typing rate sufficient for a meaningful conversation."
Other approaches for helping people with movement disorders type involve tracking eye movements or, as in the case of Stephen Hawking, tracking movements of individual muscles in the face. However, these have limitations, and can require a degree of muscle control that might be difficult for some people. For example, Stephen Hawking wasn't able to use eye-tracking software due to drooping eyelids and other people find eye-tracking technology tiring.
Directly reading brain signals could overcome some of these challenges and provide a way for people to communicate their thoughts and emotions.
The technology developed by the Stanford team involves a multi-electrode array implanted in the brain to directly read signals from a region that ordinarily directs hand and arm movements used to move a computer mouse.
It's the algorithms for translating those signals and making letter selections that the team members have been improving. They had tested individual components of the updated technology in prior monkey studies but had never demonstrated the combined improvements in typing speed and accuracy.
"The interface we tested is exactly what a human would use," Nuyujukian said. "What we had never quantified before was the typing rate that could be achieved." Using these high-performing algorithms developed by Nuyujukian and his colleagues, the animals could type more than three times faster than with earlier approaches.
The monkeys testing the technology had been trained to type letters corresponding to what they see on a screen. For this study, the animals transcribed passages of New York Times articles or, in one example, Hamlet. The results, which are published September 12 in the Proceedings of the IEEE, show that the technology allows a monkey to type with only its thoughts at a rate of up to 12 words per minute.
People using this system would likely type more slowly, the researchers said, while they think about what they want to communicate or how to spell words. People might also be in more distracting environments and in some cases could have additional impairments that slow the ultimate communication rate.
"What we cannot quantify is the cognitive load of figuring out what words you are trying to say," Nuyujukian said.
Despite that, Nuyujukian said even a rate lower than the 12 words per minute achieved by monkeys would be a significant advance for people who aren't otherwise able to communicate effectively or reliably.
"Also understand that we're not using auto completion here like your smartphone does where it guesses your words for you," Nuyujukian said. Eventually the technology could be paired with the kinds of word completion technology used by smartphones or tablets to improve typing speeds.
In addition to proving the technology, this study showed that the implanted sensor could be stable for several years. The animals had the implants used to test this and previous iterations of the technology for up to four years prior to this experiment, with no loss of performance or side effects in the animals.
Shenoy and Nuyujukian are part of the Brain-Machine Interface initiative of the Stanford Neurosciences Institute, which is working to develop this and other methods of interfacing technology directly with the brain. The team is running a clinical trial now, in conjunction with Jaimie Henderson, professor of neurosurgery, to test this latest interface in people.
If the group is successful, technologies for directly interpreting brain signals could create a new way for people with paralysis to move and communicate with loved ones.
Additional authors include Jonathan Kao, a graduate student in electrical engineering, and Stephen Ryu, a consulting professor in electrical engineering. Krishna Shenoy is also professor (by courtesy) of neurobiology and bioengineering and a member of Stanford Bio-X and the Stanford Neurosciences Institute.
This work was supported by the Stanford Medical Scholars Program, the Howard Hughes Medical Institute, Paul and Daisy Soros Fellowship, the National Science Foundation, the Christopher and Dana Reeve Paralysis Foundation, the Burroughs Welcome Fund, the Defense Advanced Research Projects Agency and the U.S. National Institutes of Health.
The above is reprinted from
materials
provided by Stanford University.
Exercise App Reduces Incontinence
Urinary leakage whilst coughing and jumping is common in women. Using a self-administered treatment via a mobile app called Tät® for three months reduced symptoms, led to fewer leakages and improved quality of life. This according to a study within the project eContinence (in Swedish Tät.nu) at Umeå University published in Neurology and Urodynamics.
"The results of our evaluation clearly show that the app Tät® was efficient as a first-line treatment for women with stress urinary incontinence," says Eva Samuelsson, associate professor at the Department of Public Health and Clinical Medicine and in charge of the project tät.nu. "Self-managed exercises also seem to be an appreciated form of treatment, which is why we have made the app available free for everyone."
eContinence is a research project conducted by researchers at the Unit for Family Medicine at Umeå University. The objective has been to develop, evaluate and implement eTreatments for urinary incontinence.
The app Tät® was developed in collaboration with the university's IT developing office, ITS. The app offers information on incontinence, lifestyle advice, pelvic floor exercises, reminders and statistics.
The app has been evaluated in a study with 123 participating women from all over Sweden. Participants were randomly chosen for either treatment using the app for three months or for a control group without treatment. The self-reported results and lists of leakage showed that the situation for women who had used the app improved with regard to symptom, quality of life, number of leakages and use of incontinence pads, and participants experienced an improvement. The number of leakages was reduced from a medial of three times to once per day in the group that had used the app. The noticeable changes were compared with the participants in the control group to be statistically significant.
Incontinence is a common inconvenience for women, but basic treatment based on pelvic floor exercises is often efficient. But many women never seek help, despite the fact that the treatment is simple and efficient. This is often due to a perception that the troubles are embarrassing to talk about or that women feel badly treated in the health care system.
"We are aware that many women with these problems never seek help in usual health care. Instead, they seek information on their own. By offering treatment via an app, we are hoping that more women will discover and gain access to efficient treatment," says Ina Asklund, general practitioner in Krokom in Jämtland county council and doctoral student at the Department of Public Health and Clinical Medicine.
Ina Asklund, Emma Nyström, Malin Sjöström, Göran Umefjord, Hans Stenlund, Eva Samuelsson.
Mobile app for treatment of stress urinary incontinence: A randomized controlled trial.
Neurourology and Urodynamics, 2016; DOI:
10.1002/nau.23116
Smartphone-based treatment programme for stress urinary incontinence
We have developed the mobile application Tät® for treatment of stress urinary incontinence in women.
The app Tät® is now freely available in English for Android at Google Play.
The app Tät® provides a pelvic floor muscle training programme in six basic and six advanced levels, information and advice. It contains help functions, ability to create reminders, visualisation of each level of training, and a statistic function.
School Sex Education Often Negative, Heterosexist, And Out Of Touch
And taught by poorly trained, embarrassed teachers, say young people
School sex education is often negative, heterosexist, and out of touch, and taught by poorly trained, embarrassed teachers, finds a synthesis of the views and experiences of young people in different countries, published in the online journal BMJ Open.
Schools' failure to acknowledge that sex education is a special subject with unique challenges is doing a huge disservice to young people, and missing a key opportunity to safeguard and improve their sexual health, conclude the researchers.
They base their findings on 55 qualitative studies which explored the views and experiences of young people who had been taught sex and relationship education (SRE) in school based programmes in the UK, Ireland, USA,
Australia
, New Zealand, Canada, Japan, Iran, Brazil and Sweden between 1990 and 2015.
Most of the participants were aged between 12 and 18.
The researchers synthesised the feedback and found that despite the wide geographical reach of the studies, young people's views were remarkably consistent.
Two overarching themes emerged to explain most of the data. The first of these was that schools have failed to recognise the distinctive and challenging nature of SRE, for the most part preferring to approach it in exactly the same way as other subjects, say the researchers.
Yet the feedback indicated there are distinct challenges when teaching SRE: in mixed sex classes young men feared humiliation if they weren't sexually experienced and said they were often disruptive to mask their anxieties; their female class mates felt harassed and judged by them.
Young people also criticised the overly 'scientific' approach to sex, which ignored pleasure and desire, and they felt that sex was often presented as a 'problem' to be managed. Stereotyping was also common, with women depicted as passive, men as predatory, and little or no discussion of gay, bisexual, or transgender sex.
The second principal theme was that schools seem to find it difficult to accept that some of their students are sexually active, leading to content that is out of touch with the reality of many young people's lives and a consequent failure to discuss issues that are relevant to them, say the researchers.
This was evident in what young people perceived as an emphasis on abstinence; moralising; and a failure to acknowledge the full range of sexual activities they engaged in. Sex education was delivered too late, some students felt.
But it also manifest in a failure to deliver helpful and practical information, such as the availability of community health services, what to do if they got pregnant, the pros and cons of different methods of contraception, or the emotions that might accompany sexual relationships.
Young people also disliked having their teachers deliver SRE, not only because they felt teachers were poorly trained and too embarrassed, but also because of the potential for this arrangement to disrupt teacher-pupil relationships and breach boundaries.
The researchers point out that despite its low status and variable content and quality, school based SRE is seen as vital by policy makers for protecting young people from ill health, unwanted pregnancies, sexual abuse and exploitation.
And the evidence suggests that young people themselves want SRE to be taught in schools, using an approach that is 'sex positive' -- one that aims for young people to enjoy their sexuality in a way that is safe, consensual, and healthy.
They conclude: "Schools should acknowledge that sex is a special subject with unique challenges, as well as the fact and range of young people's sexual activity, otherwise [they] will continue to disengage from SRE, and opportunities for safeguarding and improving their sexual health will be reduced."
Pandora Pound, Rebecca Langford, Rona Campbell.
What do young people think about their school-based sex and relationship education? A qualitative synthesis of young people's views and experiences.
BMJ Open, September 2016 DOI:
10.1136/bmjopen-2016-011329
Snail Venom Holds Key To Better Diabetes Treatments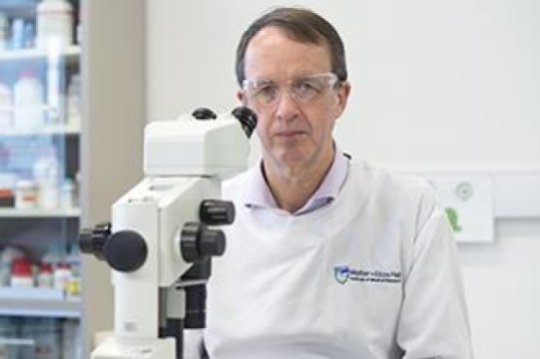 Professor Mike Lawrence from the Walter and Eliza Hall Institute
Credit: Walter and Eliza Hall Institute
September 12, 2016: Walter and Eliza Hall Institute
New research has found that venom extracted from a species of marine cone snail could hold the key to developing 'ultra-fast-acting' insulins, leading to more efficient therapies for diabetes management.
Researchers from Australia and the US have successfully determined the three-dimensional structure of a cone snail venom insulin, revealing how these highly efficient natural proteins called Con-Ins G1 can operate faster than human insulin.
The teams also discovered that Con-Ins G1 was able bind to human insulin receptors, signifying the potential for its translation into a human therapeutic.
Associate Professor Mike Lawrence from Melbourne's Walter and Eliza Hall Institute of Medical Research led a collaborative study between the University of Utah, the Monash Institute of Pharmaceutical Sciences, La Trobe University and Flinders University in Australia.
Associate Professor Lawrence, a specialist in the structure of insulins and their receptors, said the teams utilised the Australian Synchrotron to create and analyse the three-dimensional structure of this cone snail venom insulin protein with exciting results.
"We found that cone snail venom insulins work faster than human insulins by avoiding the structural changes that human insulins undergo in order to function -- they are essentially primed and ready to bind to their receptors, " Associate Professor Lawrence said.
Associate Professor Lawrence said human insulins could be considered 'clunky' by comparison.
"The structure of human insulins contain an extra 'hinge' component that has to open before any 'molecular handshake' or connection between insulin and receptor can take place.
"By studying the three-dimensional structure of this snail venom insulin we've found how to dispense with this 'hinge' entirely, which may accelerate the cell signalling process and thus the speed with which the insulin takes effect." Associate Professor Lawrence said.
Published today in Nature Structural and Molecular Biology, the team's findings build on earlier studies from 2015, when the University of Utah reported that the marine cone snail Conus geographus used an insulin-based venom to trap its prey. Unsuspecting fish prey would swim into the invisible trap and immediately become immobilised in a state of hyperglycaemic shock induced by the venom.
Dr Helena Safavi-Hemami from the University of Utah said it was fascinating to uncover how the cone snail insulin was able to have such a rapid effect on its prey and, furthermore, that the peptide had therapeutic potential in humans. "We were thrilled to find that the principles of cone snail venom insulins could be applied to a human setting," Dr Safavi-Hemami said.
"Our Flinders University colleagues have shown that the cone snail insulin can 'switch on' human insulin cell signalling pathways, meaning the cone snail insulin is able to successfully bind to human receptors," Dr Safavi-Hemami said.
"The next step in our research, which is already underway, is to apply these findings to the design of new and better treatments for diabetes, giving patients access to faster-acting insulins," she said.
The above is reprinted from
materials
provided by Walter and Eliza Hall Institute.
Journey To The Centre Of The Cell: Nano-Rods And Worms Wriggle Best
September 12, 2016: University of New South Wales
When it comes to delivering drugs, nanoparticles shaped like rods and worms are the best bet for making the daunting journey to the centre of a cell, new Australian research suggests.
A new study published in Nature Nanotechnology has answered a long-standing question that could lead to the design of better drug delivery vehicles: how nanoparticle shape affects the voyage through the cell.
"We were able to show for the first time that nanoparticles shaped like rods and worms were more effective than spherical nanoparticles at traversing intracellular barriers and this enabled them to get all the way into the nucleus of the cell," says lead author UNSW's Dr Elizabeth Hinde.
The study was led by chemists, engineers, and medical researchers from UNSW in a collaboration between the Australian Research Council Centre of Excellence in Advanced Molecular Imaging and the Australian Research Council Centre of Excellence in Bio-Nano Science. The Centres are both headquartered at Monash University, with research nodes at UNSW in Sydney.
The team applied a new microscopy method to drug delivery for the first time, which allowed them to track the movement of differently shaped nanoparticles through a single cultured cancer cell, with very high temporal and spatial resolution. Using this method, the researchers were able to pinpoint where drugs were being released, and how they spread throughout the cell.
They found that the cancer drug, doxorubicin, was most effective when it could breach the strong yet porous cellular barrier protecting the nucleus -- the cell's control centre. Importantly, they discovered that a nanoparticles shape influenced how well the drug breached the barrier.
Dr Hinde, an Associate Investigator on the Imaging CoE, says researchers could previously see the overall distribution of their nanoparticles throughout a cell, but didn't have the microscopy tools to understand how this localisation was set up -- a key limitation in drug delivery research.
"You need to know how things arrive at their final destination in order to target them there. Now we have a tool to track this incredible journey to the centre of the cell. It means other research groups can use this to assess their nanoparticles and drug delivery systems.
"They'll be able to work out how to tailor their particles to reach the nucleus or other structures in the cell, and gauge where the cargo is being dropped off. This wasn't possible before."
The shape of things to come: rod, worm or sphere?
Polymeric nanoparticles will play a vital role in the future of medicine: these ultra-tiny particles can carry drugs to help attack and kill cancer cells, selectively deliver drugs just to where they are needed, and yield breakthroughs in disease diagnostics and imaging.
UNSW engineers fabricated four types of nanoparticles: one shaped like a rod, one like a worm, and two that were spherical in shape. These were labelled with fluorescent tags, and incubated in cancer cells. By combining a novel fluorescence microscopy approach with some statistical analysis, the team was able to create a clear picture of how each particle passed through the cell.
While the spherical particles got blocked by the nuclear envelope, the rod and worm-shaped particles were able to pass through. This provides a pathway for the development of particles that can selectively target and kill cancer cells, without hurting healthy ones.
Dr Hinde explains: "Cancer cells have different internal architecture than healthy cells. If we can fine-tune the dimensions of these rod-shaped nanoparticles, so they only pass through the cellular barriers in cancer cells and not healthy ones, we can reduce some of the side effects of chemotherapies."
Opportunities for other researcher groups
"The impact for the field is huge," says Scientia Professor Justin Gooding from UNSW and the ARC Centre of Excellence in Bio-Nano Science. "It gives us the ability to look inside the cell, see what the particles are doing, and design them to do exactly what we want them to do."
"And this isn't just thanks to the microscope, but the information and data we can extract from the new analysis procedures we've developed. If other research groups can learn how to do this analysis, they can use the equipment already in their labs and get started tomorrow," says Professor Gooding. "People are going to see, suddenly, that they can get all sorts of new information about their particles."
The researchers will soon be collaborating with Dr John McGhee from UNSW Art & Design, who combines scientific data, microscopy images, and computer generated animation to create virtual reality renderings of the inside of human cells and blood vessels.
The artworks allow researchers to visualise and go on VR walking tours through the body, and could help speed up the drug development process.
Elizabeth Hinde, Kitiphume Thammasiraphop, Hien T. T. Duong, Jonathan Yeow, Bunyamin Karagoz, Cyrille Boyer, J. Justin Gooding, Katharina Gaus.
Pair correlation microscopy reveals the role of nanoparticle shape in intracellular transport and site of drug release.
Nature Nanotechnology, 2016; DOI:
10.1038/NNANO.2016.160
More Admissions And Surgeries At NSW Hospitals
7th September, 2016: Media Release - NSW Health
NSW hospitals are admitting more patients and performing more elective surgeries
than ever before, according to the latest Bureau of Health Information (BHI) report.
The BHI Hospital Quarterly report for the April to June 2016 quarter found there were
nearly 480,000 hospital admissions overall - the highest level ever reported and an
increase of 4.7 per cent compared to the same time last year.
There were 58,583 elective surgery procedures performed - an increase of 7.2 per
cent.
More than 636,300 people presented to emergency departments (EDs) - an increase
of 1.2 per cent and the highest level reported in an April to June quarter. More than
470,000 patients (or 73.9 per cent) left the ED within four hours.
Concord, Gosford, Tamworth, Wagga Wagga and Westmead hospitals saw the
greatest improvement in the number of patients who spent four hours or less in the
ED, while there is room for improvement at the new South East Regional (Bega)
Hospital and at Campbelltown, Nepean and RPA hospitals.
Health Minister Jillian Skinner said hospitals continue to perform at a high standard
despite unprecedented demand across the board.
"NSW cares for the largest caseload of patients in the country and our hospitals
consistently prove capable of meeting the demand," Mrs Skinner said.
"I couldn't be prouder of our expert clinicians and hospital staff and I thank them for
the wonderful work they do to achieve these results."
The BHI data highlights stability in on-time elective surgery performance, with more
than 56,000 patients (or 97 per cent) receiving their procedures within clinically recommended
time frames.
ACCC will not oppose Seven West Media's proposed acquisition of The Sunday Times and perthnow.com.au
15 September 2016: Media Release - ACCC
The Australian Competition and Consumer Commission will not oppose the proposed acquisition of The Sunday Times and perthnow.com.au from News Corporation (ASX:NWS) (News) by Seven West Media (ASX: SWM).
"The ACCC received a significant amount of feedback about diversity and quality of news from consumers in Western Australia. We also listened carefully to concerns raised by businesses who advertise in West Australian newspapers," ACCC Chairman Rod Sims said.
"Following an extensive review, the ACCC has reached the view that the proposed acquisition is, on balance, not likely to substantially lessen competition for either consumers or advertisers."
"On the consumer side, the large decline in print newspaper readership formed a major part of our analysis. Many consumers in Western Australia are now getting their news online or from other sources," Mr Sims said.
"With regards to SWM's ownership of thewest.com.au and the proposed acquisition of perthnow.com.au, we gave consideration to other online news alternatives for West Australians, including Fairfax's WAtoday.com.au and ABC News' dedicated Western Australian website."
Although some advertisers raised concerns about the loss of competition for advertising opportunities, most acknowledged that print advertising was of declining importance and identified other advertising options they could switch to if WAN attempted to increase rates.
"Advertising expenditure in print newspapers in Perth is in steep decline. Most of the advertisers we spoke to after publishing the Statement of Issues are spending less on print newspapers than a few years ago and are finding alternative ways of reaching target audiences, including via digital media," Mr Sims said.
Further information is available on the ACCC's public register: Seven West Media Limited - proposed acquisition of The Sunday Times publication and website from News Limited.
The ACCC published a Statement of Issues in relation to the proposed acquisition on 4 August 2016.
SWM publishes various print publications and online sites throughout Western Australia. SWM's national media assets include the Seven Network, Pacific Magazines, and interests in Yahoo!7 and Sky News Australia. In Western Australia, it publishes The West Australian, The Weekend West, thewest.com.au and owns a number of other media assets, including radio and community and regional newspapers.
News is the publisher of various print media and online sites throughout Australia, including The Australian newspaper and news.com.au. In Western Australia, News also publishes The Sunday Times and perthnow.com.au.
ASIC puts insurers on notice to address serious failures in the sale of add-on insurance through car dealers
ASIC has reviewed the sale of add-on general insurance policies through car dealers and found that the market is failing consumers.
Our report released today (REP 492) finds that consumers are being sold expensive, poor value products; products that provide consumers very little to no benefit; and a sales environment with pressure selling, very high commissions and conflicts of interest.
These products are sold to consumers when they purchase a new or used car, and cover risks relating to the car itself or relating to the loan that the consumer takes out to purchase the car. Examples include consumer credit insurance and tyre and rim insurance.
ASIC Deputy Chairman Peter Kell said, 'There are serious problems in this market that need to be immediately and comprehensively addressed by insurers.'
'ASIC will be undertaking further work, including potential enforcement action, to ensure that this market delivers acceptable outcomes for consumers. We will also be looking at how insurers can refund consumers who have been sold inappropriate products,' said Mr Kell.
For the three year period that we reviewed, we found that:
• Consumers obtained little financial benefit from buying add-on insurance, with consumers paying $1.6 billion in premiums and receiving only $144 million in successful insurance claims - representing a very low claims payout of nine per cent. For some major add-on products, the benefit to consumers was even lower, with consumer credit insurance claims payouts representing just five cents for each dollar of premium
• Car dealers earned $602 million in commissions - over four times more than consumers received in claims, with commissions paid to car dealers as high as 79 per cent
• Payment for these insurance products is commonly packaged into the consumer's car loan as a single upfront premium. This can substantially increase the cost of the product by increasing the loan amount and interest paid. Research shows that consumers are often unaware that they even have the policy when it is paid upfront as a single premium, and they may not get a premium refund if they repay their car loan early. Policies have been sold where it is impossible for the consumer to receive a claim payout that is greater than the cost of the insurance
• The car sales environment inhibits good decision making about these products because of the conflicts of interest and pressure sales built into the distribution model. The consumer is focussed on purchasing a car and financing that purchase - not on the details of the complex insurance policy
Today's report follows ASIC's release of two reports in February this year about the sale of add-on life insurance by car dealers. ASIC stressed the need for insurers to address the high costs, poor value and poor claim outcomes of life insurance products sold this way.
ASIC is putting general insurers on notice that they need to improve consumer outcomes by making substantial changes to the pricing, design and sale of add-on insurance products or face additional regulatory action.
The key commitments we are seeking from insurers are:
• A significant reduction in the amount of commissions paid to anyone who sells an add-on insurance product through car dealers
• A significant improvement in the value offered by these products, through substantial reductions in price and better product design and cover
• A move away from single upfront premiums that are financed through the loan contract, given the adverse financial impact this has on consumers
• Providing refunds to consumers who have been sold policies in circumstances that were unfair, such as where a policy has been sold to a consumer who was never eligible to claim under the policy
Insurers have notified ASIC that they intend to implement a 20 per cent cap on commissions, which is a positive step. Insurers in this market will be also providing ASIC with data on prices, premiums and claims on a regular basis so that we can monitor the impact of changes on consumers.
ASIC Deputy Chairman Peter Kell said, 'While we welcome the initial steps taken by the insurers to improve the value of these products for consumers, there is still a long way to go. If industry does not deliver swift improvements for consumers, ASIC will take further action, including enforcement action where appropriate.'
ASIC's review of these products is ongoing. ASIC will continue to work with insurers and consumer representatives to ensure that proposals for change deliver significantly improved value to consumers.
Download
• Infographic - car dealers' commissions vs successful consumer claims
• Listen to the ASIC podcast
New City Deal Approach Will Deliver More Affordable Homes
12 September 2016: Media release - The Hon Angus Taylor MP, Assistant Minister for Cities and Digital Transformation
A new City Deal approach to urban planning will link infrastructure investment to the delivery of more affordable homes in our cities.
Responding to the release of The NSW Population Projections 2016 Update showing Sydney will grow by more than two million residents in the next 20 years, Assistant Minister for Cities Angus Taylor said a key focus for the Commonwealth was to deliver more housing and reduce the cost of housing.
"It is central to our cities policy to work with the NSW government to increase the supply of housing to make housing more accessible to all," Assistant Minister Taylor said.
"While the primary responsibility for planning is with state governments, we are working closely with them, asking that investments in infrastructure be linked to increases in the supply of housing and greater access to more affordable housing.
"We know that tens of thousands of new houses, even hundreds of thousands of new houses will be built in Western Sydney over time. Growth in housing supply is the secret to giving people more access to home ownership. To do that you need good infrastructure going into places where housing supply can increase and that's exactly what we're doing in Western Sydney.
"Underpinning a future Western Sydney City Deal will be a smarter approach to investment. It is simply not possible to deliver the vital investment our growing cities need through public funding alone—we need to secure private capital as well.
"To that end, the Commonwealth is establishing an innovative financing unit to secure more public private partnerships, in different forms.
"Through the Western Sydney City Deal, infrastructure investment will be tied to core objectives including affordable housing, connectivity, liveability, resilience and sustainability."
Australia's Premier International Maritime Exercise Underway
13 September 2016 | Media Release
Australia's largest international maritime exercise, Exercise KAKADU 2016, was officially launched in Darwin yesterday by the Commander Australian Fleet, Rear Admiral Stuart Mayer.
Exercise KAKADU will see nations from around the Asia-Pacific region enhance interoperability, share knowledge and develop skills in responding to threats in the maritime and air domains with a multinational force.
Commander Australian Fleet welcomed participating nations and outlined his vision for the Exercise.
"I extend a warm welcome to all nations joining Exercise KAKADU. This exercise is important for forging relationships that build the trust on which we depend in times of crisis and in peace," Rear Admiral Mayer said.
"Australia's regional partners have come to the crucial city of Darwin and our seas to the north to develop expertise and mastery in maritime operations. KAKADU provides an opportunity to collaborate so that our combined forces can immediately respond at times that require the support of all nations."
Ships, submarines and aircraft from Australia, Canada, France, Indonesia, Japan, Malaysia, Pakistan, Papua New Guinea, Singapore and the United States, with observers from Fiji, India, New Zealand, Philippines, Republic of Korea, Thailand, Timor Leste, Tonga and Vietnam have descended on Darwin to practise activities ranging from constabulary and surveillance scenarios to high-end maritime warfare in a combined environment.
Australia's Commander Warfare, Commodore Malcolm Wise, said Exercise KAKADU is a chance to learn new skills and assesses the readiness of a multinational force.
"Exercise KAKADU provides training opportunities across the full spectrum of warfare. We are many nations speaking many languages and KAKADU ensures interoperability to deliver a professional, safe, communicative and integrated force," Commodore Wise said.
Exercise KAKADU runs 12 to 23 September and includes a harbour phase for planning and simulation, before moving into a sea phase where the ships and aircraft will divide into several multi-national task groups to exercise various scenarios, culminating in a task group versus task group "free play".
Guard commander, Lieutenant Matthew Smith, during the ceremonial sunset as part of the Exercise KAKADU official reception on board HMAS Adelaide, Darwin, NT.
Exercise KAKADU is a joint-enabled, biennial exercise hosted by the Royal Australian Navy (RAN) and supported by the Royal Australian Air Force. KAKADU is the Navy's premier maritime exercise, developing interoperability between nations in the maritime and air domains, and providing training opportunities for maritime security and surveillance.
Exercise KAKADU, is held from 12 to 24 September 2016, will involve 19 ships and submarines, 18 aircraft and more than 3000 personnel from 19 Asia Pacific and Indian Ocean navies and air forces.
Participating nations include Australia, Canada, Fiji, France, India, Indonesia, Japan, Malaysia, New Zealand, Pakistan, Papua New Guinea, Philippines, Republic of Korea, Singapore, Thailand, Timor Leste, Tonga, United States of America, and Vietnam.
Image Series No.:
S20162360,
Photographer: ABIS Kayla Hayes
Get Involved With Preventing Homelessness
7 Sep 2016: NSW Dept. of Family and Community Services
The NSW Government is calling on everyone with an interest in preventing homelessness to have their say on a new discussion paper Foundations for Change – Homelessness in NSW.
Minister for Family and Community Services and Social Housing Brad Hazzard said the discussion paper would be the foundation for the Government's blueprint for tackling homelessness over the next decade.
It explores how government, the private and community sectors can work together to intervene earlier, and ensure fewer people experience homelessness. It also looks at ways to help people tackle the underlying causes that put them at risk of homelessness.
"Homelessness isn't just the men you see sleeping rough," Mr Hazzard said.
"It's women and children sleeping in their cars. It's young people having to beg a couch from friends and never knowing where they will be the next night.
"Common sense says if we intervene earlier we can prevent people from falling into this crisis.
"We want the best ideas from the community to help us get a strategy that makes a serious difference to vulnerable people who would otherwise have asphalt and not a mattress to lay their head."
This year the NSW Government is spending $188 million on specialist homelessness services that will respond to around 58,000 people who are homeless or at risk of homelessness.
The Homelessness Strategy will assist in delivering other new initiatives including the NSW Domestic and Family Violence Blueprint for Reform 2016-2021 and Future Directions for Social Housing in NSW.
Consultation will take place across NSW throughout September and October 2016.
Make a formal submission:
by post:
Homelessness Strategy Team
Strategic Reform & Policy
Department of Family and Community Services
Locked Bag 10
STRAWBERRY HILLS NSW 2012
Please note that
feedback must be received by 5pm Friday 14 October 2016.
Government Secures Support For Over $6 Billion In Budget Savings
13 September 2016: Joint Media release - Senator the Hon. Mathias Cormann,

Minister for Finance, Deputy Leader of the Government in the Senate and The Hon. Scott Morrison MP, Treasurer
The Turnbull Government has reached agreement on the passage of more than $6 billion in savings measures through an amended Budget Savings (Omnibus) Bill.
The Government appreciates the constructive engagement with the Opposition in relation to finalising an agreement on this legislation. The Opposition will now support and facilitate passage of an amended Bill through the Parliament this sitting week.
Passage of these more than $6 billion in savings measures is another crucial step in the Turnbull Government's continued path to budget balance.
Restoring our Budget will arrest our debt, meaning we can protect our economy against significant economic shocks. Putting Australia on the path to a stronger economy will also ensure we can boost living standards and employment opportunities.
Amendments to the Bill include:
• Progressing the government's reforms to Dental Services through separate legislation;
• Restoring $800m of ARENA funding over five years ($550m over forward estimates).
• Removing the Energy Supplement only for new recipients of Family Tax Benefit Part A, Family Tax Benefit Part B and the Commonwealth Seniors Health Card.
• Adding a new schedule which limits access to the FTB Part A end of year supplement to families earning less than $80,000 per annum.
The Government will seek to progress the remaining components of both the energy supplement and family tax benefit savings measures through separate legislation.
The Government has also agreed to adopt a Labor pre-election savings measure and as such will no longer proceed with the 2015-16 MYEFO measure that provided an additional payment of Family Tax Benefit B to families of children under one year of age.
Today the Turnbull Government has made immediate and tangible headway in the 45th Parliament towards balancing the Budget.
Of course there is more work to be done and the Government will continue to work with all Parties and individual members and senators represented in the Parliament to secure the passage of all the savings measures reflected in the Budget.
World's Most Powerful X-Ray Takes A 'Sledgehammer' To Molecules
September 12, 2016: University of Melbourne
The discovery, led by Associate Professor Brian Abbey at La Trobe in collaboration with Associate Professor Harry Quiney at the University of Melbourne, has been published in the journalScience Advances. Their findings reverse what has been accepted thinking in crystallography for more than 100 years.
The team exposed a sample of crystals, known as Buckminsterfullerene or Buckyballs, to intense light emitted from the world's first hard X-ray free electron laser (XFEL), based at Stanford University in the United States. The molecules have a spherical shape forming a pattern that resembles panels on a soccer ball.
Light from the XFEL is around one billion times brighter than light generated by any other X-ray equipment -- even light from the Australian Synchrotron pales in comparison. Because other X-ray sources deliver their energy much slower than the XFEL, all previous observations had found that the X-rays randomly melt or destroy the crystal. Scientists had previously assumed that XFELs would do the same.
The result from the XFEL experiments on Buckyballs, however, was not at all what scientists expected. When the XFEL intensity was cranked up past a critical point, the electrons in the Buckyballs spontaneously re-arranged their positions, changing the shape of the molecules completely.
Every molecule in the crystal changed from being shaped like a soccer ball to being shaped like an AFL ball at the same time. This effect produces completely different images at the detector. It also altered the sample's optical and physical properties.
"It was like smashing a walnut with a sledgehammer and instead of destroying it and shattering it into a million pieces, we instead created a different shape -- an almond!" Assoc. Prof. Abbey said.
"We were stunned, this is the first time in the world that X-ray light has effectively created a new type of crystal phase" said Associate Professor Quiney, from the School of Physics, University of Melbourne.
"Though it only remains stable for a tiny fraction of a second, we observed that the sample's physical, optical and chemical characteristics changed dramatically, from its original form," he said.
"This change means that when we use XFELs for crystallography experiments we will have to change the way interpret the data. The results give the 100-year-old science of crystallography a new, exciting direction," Assoc. Prof. Abbey said.
"Currently, crystallography is the tool used by biologists and immunologists to probe the inner workings of proteins and molecules -- the machines of life. Being able to see these structures in new ways will help us to understand interactions in the human body and may open new avenues for drug development."
B. Abbey, R. A. Dilanian, C. Darmanin, R. A. Ryan, C. T. Putkunz, A. V. Martin, D. Wood, V. Streltsov, M. W. M. Jones, N. Gaffney, F. Hofmann, G. J. Williams, S. Boutet, M. Messerschmidt, M. M. Seibert, S. Williams, E. Curwood, E. Balaur, A. G. Peele, K. A. Nugent, H. M. Quiney.
X-ray laser-induced electron dynamics observed by femtosecond diffraction from nanocrystals of Buckminsterfullerene
.Science Advances, 2016; 2 (9): e1601186 DOI:
10.1126/sciadv.1601186
New Material To Revolutionize Water Proofing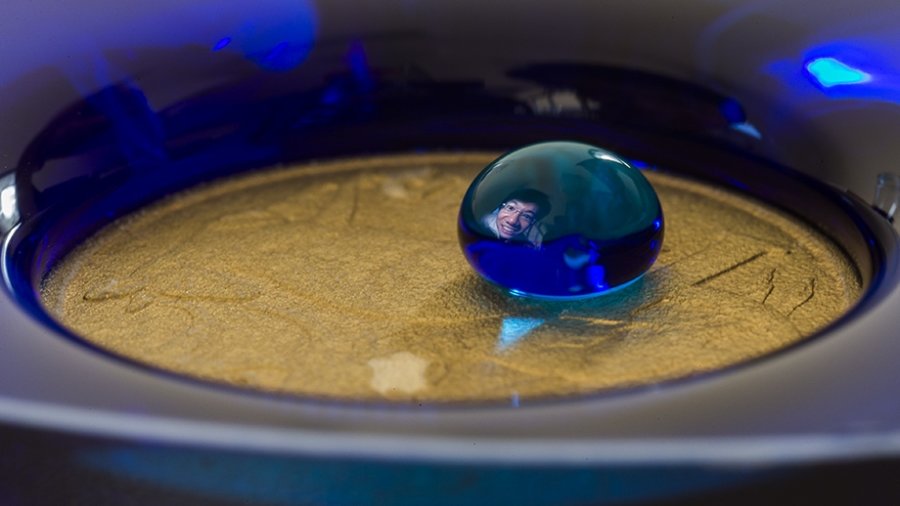 In addition to waterproofing, the new ability to control the properties of materials could be applied to a wide range of other coatings, said Mr Wong.
Credit: Image courtesy of Australian National University
September 8, 2016: Australian National University
Scientists at The Australian National University (ANU) have developed a new spray-on material with a remarkable ability to repel water.
The new protective coating could eventually be used to waterproof mobile phones, prevent ice from forming on aeroplanes or protect boat hulls from corroding.
"The surface is a layer of nanoparticles, which water slides off as if it's on a hot barbecue," said PhD student William Wong, from the Nanotechnology Research Laboratory at the ANU Research School of Engineering.
The team created a much more robust coating than previous materials by combining two plastics, one tough and one flexible.
"It's like two interwoven fishing nets, made of different materials," Mr Wong said.
The water-repellent or superhydrophobic coating is also transparent and extremely resistant to ultraviolet radiation.
Lead researcher and head of the Nanotechnology Research Laboratory, Associate Professor Antonio Tricoli, said the new material could change how we interact with liquids.
"It will keep skyscraper windows clean and prevent the mirror in the bathroom from fogging up," Associate Professor Tricoli said.
"The key innovation is that this transparent coating is able to stabilise very fragile nanomaterials resulting in ultra-durable nanotextures with numerous real-world applications."
The team developed two ways of creating the material, both of which are cheaper and easier than current manufacturing processes.
One method uses a flame to generate the nanoparticle constituents of the material. For lower temperature applications, the team dissolved the two components in a sprayable form.
In addition to waterproofing, the new ability to control the properties of materials could be applied to a wide range of other coatings, said Mr Wong.
"A lot of the functional coatings today are very weak, but we will be able to apply the same principles to make robust coatings that are, for example, anti-corrosive, self-cleaning or oil-repellent," he said.
William S. Y. Wong, Zbigniew H. Stachurski, David R. Nisbet, Antonio Tricoli.
Ultra-Durable and Transparent Self-Cleaning Surfaces by Large-Scale Self-Assembly of Hierarchical Interpenetrated Polymer Networks.
ACS Applied Materials & Interfaces, 2016; 8 (21): 13615 DOI:
10.1021/acsami.6b03414
Student Editors Give Voice To Asylum Seekers
13 September, 2016; BY CLARE MORGAN – UNSW
Weekly visits by UNSW students to the Villawood Immigration Detention Centre have culminated in a special issue of Human Rights Defendermagazine.
Once a week for the past two years, students from UNSW Law have volunteered to travel to Villawood Immigration Detention Centre to visit detainees.
Working with members of the group Supporting Asylum Seekers Sydney (SASS), the Refugee Art Project and the Asylum Seeker Resource Centre, they meet with the detainees to offer support and friendship. They also liaise with detainees' case managers and lawyers and help with the administrative tasks that can make immigration cases so frustratingly slow.
Last year they set up the Humans of Detention Facebook page, based on the popular Humans of New York project and featuring individuals' stories paired with paintings created by Sydney artists.
Now two of these students have guest edited a special Villawood-themed issue of Human Rights Defender magazine, published by the Australian Human Rights Centre (AHRCentre) at UNSW Law.
Nanak Narulla, a third-year Arts/Law student, and Eloise McCrea-Steele, a fourth-year Fine Arts/Law student, wanted the magazine to acknowledge the work of SASS and other human rights advocates, to encourage people to get involved, to give a voice to the detainees they had met and to enrich peoples' knowledge of the system.
Their special issue includes a history of the site of the detention centre, a profile of SASS member Vera Hazel, an interview with two Villawood detainees detailing their daily life, a spread from Villawood: Notes from an immigration detention centre, the Walkley Award-winning graphic novel by Safdar Ahmed, an interview with artist Wendy Sharpe about the Portraits of Humanity project, and an examination of Australian community attitudes to asylum seekers and refugees.
Launching the issue, AHRCentre Director Professor Andrea Durbach noted the timing of this special issue, which comes in the wake of the "cruelly dismissive" official responses to the "disturbing and distressing Nauru files".
"How we wrest back our humanity from political expediency to civil decency, how we develop and execute policies that manifest our responsibilities as compassionate, generous citizens, is really at the core of this small but significant gesture that led to the special edition of the Human Rights Defenderon Villawood," she said.
Nanak Narulla, who recently returned from a visit to the Manus Island detention centre in Papua New Guinea, said he began his weekly visits to Villawood with the aim of learning what being in detention was actually like.
"When I first went to Villawood, I didn't quite know what to expect," he said at the launch. His first visit was fairly confronting, but getting to know detainees made him want to go back every week.
The students' issue of the magazine was an opportunity to offer the human face of detainees and provide an insight into their daily life.
"Our core motives were to diversify the narrative, to tell people a little bit about the mundane experiences of asylum seekers, about the mental health aspects of being an asylum seeker as well as the practical realities of being in a detention centre," he said.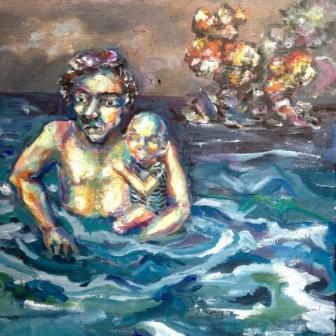 A painting by asylum seeker Miri Badger, one of the refugee works featured in the special issue of Human Rights Defender.
They also wanted their issue to have a strong focus on art and its ability to provide a voice for those who are often not heard.
Safdar Ahmed, whose black-and-white graphic novel starkly illustrates detainees' experiences in the countries they fled and their life in detention, explained how the Refugee Art Project helped give asylum seekers a sense of empowerment and agency.
"The work is interesting because I think it shows peoples' individual stories are very complex. Human beings are complicated, they have very rich histories, and it's not always comfortable to reduce them to the status of refugee," he said at the launch.
Even refugee supporters could fall into the trap of reducing their status, seeing them only through the prism of their suffering.
"I think people are a lot more than just their refugee experience. If there's one thing I hope our organisation can give, it is a fuller picture of peoples' experiences and the complexity and depth and richness of their personalities."
Angela Nickerson, a lecturer at UNSW's School of Psychology and Director of the Refugee Trauma and Recovery Program, outlined the long-term psychological effects of indefinite detention.
"Research is one of the most powerful tools to help refugees. Without it, we can only guess at what strategies will help these people," she said.
Find out more about Human Rights Defender
here
.
4nature Inc V Centennial Springvale Pty Limited And Others
On 13 September 2016 the NSW Land and Environment Court found the approval for an extension to Centennial Coal's Springvale coal mine underneath the Newnes State Forest in the Blue Mountains was lawful.
The extension was approved by NSW Planning Assessment Commission (PAC) in September 2015, and allows the mine operator to discharge large amounts of mine water into the river system that forms part of Sydney's drinking water catchment.
On behalf of 4nature Inc, EDO NSW launched landmark legal action against a decision by the PAC to approve an extension to the Springvale coal mine underneath the Newnes State Forest in the Blue Mountains.
The approval will allow the mine operator – Centennial Coal – to extract 4.5 million tonnes of coal per year for a further 13 years and discharge large amounts of mine water into the river system that forms part of Sydney's drinking water catchment.
This was the first case to test laws passed in 2009 that were introduced to protect Sydney's drinking water catchment.
The Springvale mine will discharge millions of litres of highly saline mine water every day into the Coxs River, which flows into Lake Burragorang – Sydney's major drinking water reservoir. Water discharged from the mine also contains nitrates, phosphates, zinc, nickel and other contaminants.
4nature took the owners of the mine (Centennial Springvale Pty Limited and Springvale SK Kores Pty Limited) and the Minister for Planning to the NSW Land and Environment Court in a challenge to the approval.
In 2009, the NSW Government introduced laws designed to protect Sydney's drinking water catchment. Under those laws, a development cannot be approved unless the consent authority is satisfied that the development will have a 'neutral or beneficial' effect on water quality.
4nature argued that there was no evidence the PAC was satisfied the project would have a neutral or beneficial effect on water quality, which 4nature contended would be very difficult given the volumes of mine water the mine will discharge into the river system each day. As such, 4nature argued that the PAC's approval of the project was unlawful.
The case was heard in the NSW Land and Environment Court on 9-10 May 2016.
Judgment
was handed down on 13 September 2016 dismissing 4natures case.
EDO NSW is grateful to barristers Richard Lancaster SC and Nicholas Kelly for their assistance in this matter.
Centennial Coal is facing a number of legal challenges relating to the water impacts of its coal mining operations in the Blue Mountains. Recently, the NSW Environment Protection Authority (EPA) launched a
'Tier 1' prosecution
against the company's Clarence Colliery for an incident that released hundreds of tonnes of coal material into the surrounding environment, with coal slurry entering the Wollangambe River that flows into the Blue Mountains World
Heritage Area.
Tier 1 offences are the most serious under the Protection of Environment Operations Act 1997 and come with a maximum penalty of $2m for corporations.
Help defend the environment
With your support, we can continue to help community groups like 4nature defend the environment. Please make a
donation
today.
NSW Call to community and government groups to apply for local environmental grants

Media release: 15 August 2016 – NSW Office of Environment and Heritage (OEH)
A total of $4 million in grant funds is available to community groups and government entities for a range of local environment restoration and improvement projects under the NSW Environmental Trust's 2016/17 Restoration and Rehabilitation Grant Program.
Terry Bailey, Chief Executive, NSW Office of Environment and Heritage and Trust Secretary said the grants will deliver grassroots funding to local environmental projects that restore, protect and enhance a variety of NSW environments.
"This valuable grant program has been running for over 20 years, making it one of the longest running environmental grant programs in Australia," Mr Bailey said.
"Grants are awarded to help protect important ecosystems, to restore degraded environments and care for habitats of rare and endangered flora and fauna.
"I encourage community groups, not-for-profit and government entities from across the state to apply for a grant and help their local communities protect and conserve our vital natural environment.
"Fifty-six grants were awarded under this program last year and their projects are now tackling a number of local environmental issues.
"Thanks to this grant program landholders, local councils, state government agencies and community groups are now working to restore habitats for native and endangered species, improve water quality and rehabilitate wetland areas.
"As an example, Greening Australia's $96,730 project is helping improve habitat for the vulnerable Glossy Black Cockatoo. Working alongside landholders, 5,000 trees are being planted and community seed collection and bird identification workshops are taking place."
Applications open for the 2016/17 round of the Restoration and Rehabilitation Grant Program on 15 August 2016. Grants between $5,000 and $100,000 are available. Applications close on 26 September 2016.
Visit the Environmental Trust website for applications and further information: www.environment.nsw.gov.au/grants/restoration.htm
Landholders Join Wild Dog Control Program
15th September 2016: DPI NSW Government
REGION: Central Coast Far West Greater Sydney Hunter Illawarra Mid North Coast Murray-Lower Darling New England North West Northern Rivers Orana South East NSW Southern Highlands and Tablelands Western Sydney and Blue Mountains
Local Land Services is partnering with landholders in baiting program.
The primary goal of wild dog control is to reduce expensive livestock deaths caused by feral dogs.
This spring, the number of landholders participating in the wild dog control program will increase by 50 per cent, compared to 2015.
NSW Minister for Primary Industries Niall Blair announced the collaboration between nearly 2000 landholders across NSW, 123 wild dog control groups and Local Land Services.
"Ground baits will be laid across more than 10 million hectares of land, while 2500 km of aerial bait lines will be distributed in the Western, Hunter and South-East regions," Mr Blair said.
"Canid pest ejectors are continuing to prove effective and will be used by 34 landholders in the Western region, covering a total of 465,000 hectares."
The wild dog radio collaring and tracking research project introduced in March 2016 will continue in the Murray and Riverina regions, to provide valuable information for future control programs.
Study Links Altered Brain Chemistry, Behavioral Impairments In Fish Exposed To Elevated Carbon Dioxide
Research team studied damselfish behavior, physiology under ocean acidification conditions predicted for year 2300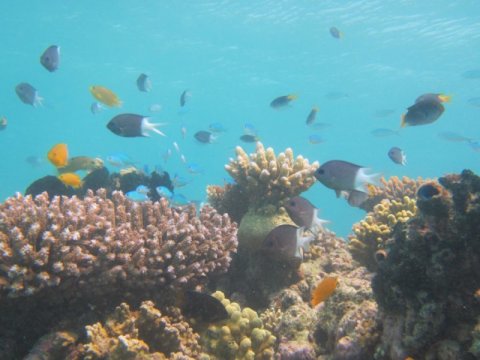 This is Lizard Island coral reef with study species, Spiny damselfish (
Acanthochromis polyacanthus
).
Credit: Jodie L. Rummer
In a first-of-its-kind study, researchers from the University of Miami (UM) Rosenstiel School of Marine and Atmospheric Science and the ARC Centre of Excellence for Coral Reef Studies at James Cook University showed that increased carbon dioxide concentrations alters brain chemistry that may lead to neurological impairment in some fish.
Understanding the impacts of increased carbon dioxide levels in the ocean, which causes the ocean to become more acidic, allows scientists to better predict how fish will be impacted by future ocean acidification conditions.
"Coral reef fish, which play a vital role in coral reef ecosystems, are already under threat from multiple human and natural stressors," said lead author of the study Rachael Heuer, a UM Rosenstiel School alumna which conducted the study as part of her Ph.D. work. "By specifically understanding how brain and blood chemistry are linked to behavioral disruptions during CO2exposure, we can better understand not only 'what' may happen during future ocean acidification scenarios, but 'why' it happens."
In this study, the researchers designed and conducted a novel experiment to directly measure behavioral impairment and brain chemistry of the Spiny damselfish, (Acanthochromis polyacanthus) a fish commonly found on coral reefs in the western Pacific Ocean.
During a three-week period, the scientists collected spiny damselfish from reefs off Lizard Island located on Australia's Great Barrier Reef. The fish were separated into two groups -- those exposed to ordinary CO2 "control" conditions and those exposed to elevated CO2 levels that are predicted to occur in the near future, but have already been observed in many coastal and upwelling areas throughout the world. Following the exposure, the fish were subjected to a behavioral test, and brain and blood chemistry were measured.
The unique behavioral test, employed a two-choice flume system, where fish were given the choice between control seawater or water containing a chemical alarm cue, which they typically avoid since it represents the smell associated with an injured fish of its own species.
The researchers found that the damselfish exposed to elevated carbon dioxide levels were spending significantly more time near the chemical alarm cue than the control fish, a behavior that would be considered abnormal. The measurements of brain and blood chemistry provided further evidence that elevated CO2caused the altered behavior of the fish.
"For the first time, physiological measurements showing altered chemistry in brain and blood have been directly linked to altered behavior in a coral reef fish," said UM Rosenstiel School Maytag Professor of Ichthyology and lead of the RECOVER Project Martin Grosell, the senior author of the study.
"Our findings support the idea that fish effectively prevent acidification of internal body fluids and tissues, but that these adjustments lead to downstream effects including impairment of neurological function."
"If coral reef fish do not acclimate or adapt as oceans continue to acidify, many will likely experience impaired behavior that could ultimately lead to increased predation risk and to negative impacts on population structure and ecosystem function," said Heuer, currently a postdoctoral researcher at the University of North Texas. "This research supports the growing number of studies indicating that carbon dioxide can drastically alter fish behavior, with the added benefit of providing accurate measurements to support existing hypotheses on why these impairments are occurring."
R. M. Heuer, M. J. Welch, J. L. Rummer, P. L. Munday, M. Grosell.
Altered brain ion gradients following compensation for elevated CO2 are linked to behavioural alterations in a coral reef fish.
Scientific Reports, 2016; 6: 33216 DOI:
10.1038/srep33216
Richmond Soybean Variety Outperforms Asgrow A6785
9 Sep 2016: Media Release - NSW Department of Primary Industries (DPI)
Richmond soybean - an erect plant type for ease of harvest
Soybean growers across northern NSW can boost yield, crop security and income by switching to the new variety Richmond next season.
NSW Department of Primary Industries (DPI) Research Agronomist, Dr Natalie Moore said a comparison trial of the new soybean variety Richmond against the familiar variety Asgrow A6785 showed that growers can achieve a yield increase of 7 per cent with Richmond as well as higher prices for the grain.
"Results from a replicated trial showed that Richmond outperformed A6785 in grain quality, seed size, tolerance to lodging and ease of harvest whilst returning $397 per hectare more to the grower than Asgrow," Dr Moore said.
First released in 2013 the Richmond variety is a high yielding, clear hilum, high protein replacement for A6785, Manta or Soya 791, with great weathering tolerance.
Dr Moore said Richmond variety produces high protein grain for human consumption markets and has the highest weathering tolerance of any clear hilum soybean variety released to date. This is a very valuable trait in the north coast region to prevent yield and quality losses due to heavy rainfall at harvest time during April and May.
"Richmond was evaluated at the NSW DPI research facilities at Grafton and Narrabri and has performed exceptionally well in just the second year of commercial production," Dr Moore said.
"It is adapted for early season sowing in production areas from the Liverpool Plains, northern Tablelands and Slopes, and north coast of NSW and into southern Queensland.
"Soybean is a vital component of many farming systems in NSW including sugar cane, where a soybean rotation boosts the yield of the following cane crop by over 10 per cent compared with a bare fallow. Soybean is also part of summer and winter grain production systems, as well as beef and dairy systems.
"Soybean growers are encouraged to place their orders early for Richmond seed supplies to avoid missing out for the coming season."
The Australian Soybean Breeding Program is a co-investment by NSW DPI, CSIRO and GRDC. The Grafton node of the program is located in the north coast region as it is the single largest soybean growing area in Australia.
Varieties released by the Australian Soybean Breeding Program are supported by the Northern Pulse Agronomy Initiative and the Coastal Grower Solutions Project through co-investment by DPI and GRDC, which conduct research to assist growers to achieve optimum yield and grain quality from the new varieties.
Champion Chickpea Breeder Awarded 2016 Farrer Memorial Medal
14 September 2016: NSW Dept. of Primary Industries (DPI)
Department of Primary Industries (DPI) Director General and Farrer Memorial Trust Chairman, Scott Hansen, announced the 2016 Farrer Memorial Medal has been awarded to Mr Ted Knights in recognition of his chickpea breeding research.
Mr Hansen congratulated Mr Knights on receiving this prestigious award in recognition of his outstanding contribution to the innovation and expansion of the chickpea industry.
"It is fitting that Mr Knight be awarded the 2016 Farrer Memorial Medal in this International Year of the Pulses," Mr Hansen said.
"Mr Knights' research has made a significant impact on the NSW and Australian chickpea industry with the initiation of the successful national breeding program.
"Mr Knights had an extensive and successful career with the Department of Primary Industries as a chickpea breeder from 1974 until 2011.
"His valuable research into disease resistance has resulted in improved chickpea varieties for Australian growers that have increased the reliability and profitability of the crop.
"Most recently Mr Knights has been responsible for the development of the latest desi chickpea variety PBA Seamer released this spring.
"Under very high Ascochyta blight disease pressure, PBA Seamer outperforms with minimal yield loss, compared with 76 per cent yield loss in the current industry benchmark variety. This means, through reduced fungicide use the cost of production will drop by $21 million per annum compared to the current industry standard."
Mr Knights is recognised nationally and internationally as an authority in chickpeas.
In his oration, Mr Knights will provide a history of the chickpea industry in Australia and the breeding program that has supported it.
Mr Knights said he will highlight a number of the important problems production encountered and how they were confronted.
"The first problem the breeding program confronted was poor harvest ability. The early material was short and poorly suited to machine harvest. The challenge was to breed taller plants," Mr Knights said.
"As the industry expanded, disease became the main focus for the breeding program. Phytophthora root rot was the first major disease challenge, and was completely left field. It is limited to north eastern Australia.
"In contrast, Ascochyta blight was long anticipated before it arrived in 1998, and has become a nationwide problem."
The Farrer Memorial Medal presentation ceremony was held on 13 September at the Australian Pulse Conference dinner held in Tamworth.
The Farrer Memorial Medal is awarded annually to perpetuate the memory of William James Farrer, a plant breeder, in recognition of distinguished service in agricultural science in Australia in the fields of research, education or administration.
Put In Your Ten Cents' Worth On Deposit Scheme
The biggest initiative to tackle litter in the state's history has moved a step closer to reality, with draft legislation on the NSW Government's 10-cent container deposit scheme going out to public consultation, Environment Minister Mark Speakman said today.
The scheme, which will mean eligible drink containers between 150 ml and three litres can be returned for a 10 cent refund, is scheduled to roll out across the state in July 2017.
Mr Speakman said the container deposit scheme (CDS) was now at the stage of consulting with the public on the details.
"I was thrilled to announce in May along with Premier Mike Baird that NSW was delivering on a key election promise and introducing a long-awaited container deposit scheme – something the community had been asking for for decades," Mr Speakman said.
"We are looking at several measures to reduce costs of the scheme, including working with Queensland on opportunities for a single scheme coordinator and driving competition by allowing for multiple network operators."
A draft bill and discussion paper, on public exhibition until Wednesday, 21 September, aims to provide details to the public on how the scheme was proposed to work, including:
How the scheme will be coordinated

How the network of collection points will work

How refunds will work including the potential for contactless (mobile phone) refunds

How the scheme will interact with kerbside recycling, and

Roles and obligations under the scheme
"From next year the people of NSW will be able to return most drink containers and receive 10 cents, while playing a part in reducing litter volume by 40 per cent by 2020, one of the Premier's key priorities," Mr Speakman said.
The draft Waste Avoidance and Resource Recovery Amendment (Container Deposit Scheme) Bill 2016 and Regulatory Framework Discussion Paper are open for public consultation until 21 September and feedback is welcome.
View the documents and submit comments online at www.epa.nsw.gov.au/waste/cds-draft-bill-consultation.htm
Aussie Backyard Bird Count 2016
This year, the Aussie Backyard Bird Count will be back, bigger and better than ever. With more than a million birds counted last year, how many will we see in 2016? It's all happening during Bird Week, 17–23 October. Let's make every bird count!
Discover the Aussie Backyard Bird Count app!
A 'how to' guide for using the Aussie Backyard Bird Count app.
The app is currently available on:
United Wambo Open Cut Coal Mine Project
Street 134 Jerrys Plains Road
Exhibition Start 11/08/2016
Exhibition End 22/09/2016
A Joint Venture project between United Collieries and Wambo Coal which combines the existing open cut operations at Wambo with
a proposed new open cut at United.
The Project will utilise the existing Wambo Mining Infrastructure Area (MIA), Coal Handling and Preparation Plant (CHPP) and train loading facility. The Project anticipates delivering up to 6Mtpa of product coal, providing jobs for around 500 employees with a life of mine of approximately 23 years. The Project proposes to relocate a 2km section of the Golden Highway and a section of 330kV powerlines to optimise coal recovery in the United Open Cut.
Extent of Mining Areas:
Refer to Figure 1.3
- The project proposes realignment of the Wambo Open Cut boundary to maximise resource recovery. The realignment would result in approximately 5 hectares of additional disturbance for the Wambo Open Cut mine.
The Proposed United Open Cut mine is situated to the weast of the existing Wambo operations (
refer to Figure 1.3
)
The conceptual staged mine plans are shown on
Figure 3.2 to Figure 3.6
Operating Hours 24 hours a day, 7 days a week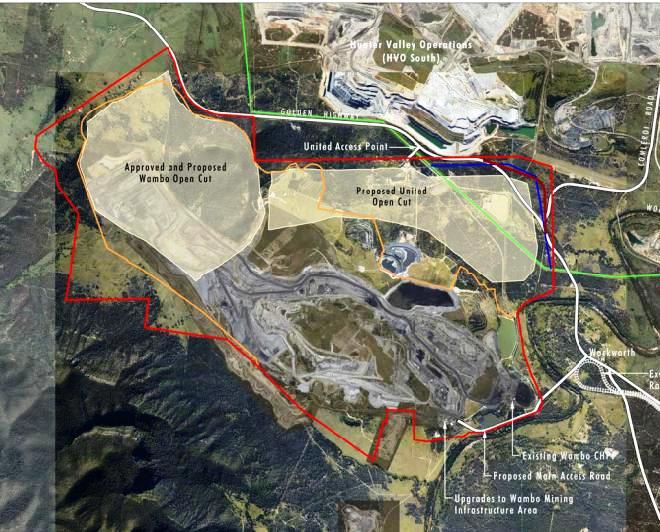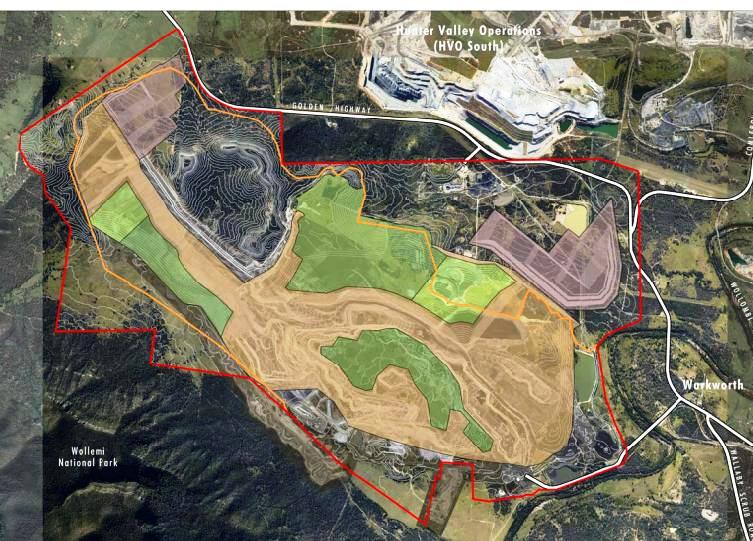 Initiative To Restore One Million Corals Launches In The Caribbean And Florida Keys
Mote Marine Lab scientists restore staghorn corals in 2015 in the Florida Keys with volunteer helpers from the Combat Wounded Veteran Challenge and SCUBAnauts International. On Sept. 12, 2016, Mote signed a one-year agreement with The Nature Conservancy toward a proposed 15-year initiative to restore corals at unprecedented scales in the Florida Keys and Caribbean. Credit: Joe Berg/Way Down Video
Mote Marine Laboratory and The Nature Conservancy are partnering on a coral conservation initiative that will enable coral restoration at unprecedented scales throughout the Caribbean and the Florida Keys. The collaboration officially began Monday evening, Sept. 12, 2016, in Miami, with the signing of a one-year memorandum of understanding (MOU), enabling the first steps in a proposed 15-year initiative of joint coral reef restoration and conservation efforts.
The goals of the initiative are to restore more than one million corals across the region's reefs, share science-based coral restoration and conservation practices among U.S. and international Caribbean partners, and construct necessary facilities such as coral gene banks, which preserve genetically diverse coral tissue and help researchers find strains resilient to environmental change. The Sept. 12 MOU will officially launch one year of planning and preparation, which will include growing 50,000 coral fragments.
Coral reef systems help provide shoreline resiliency that protects coastal communities and create vibrant, healthy oceans for the people that depend on them. Ocean acidification, increasing ocean temperatures as a result of climate change, overfishing, unplanned coastal development and other associated stressors including waste water have damaged or decimated reefs around the world. Coral cover in Florida and the Caribbean has declined by 50 to 80 percent in some areas in just the last three decades.
"As global challenges to the long-term sustainability of coral reefs intensify, so must our efforts to understand and address them," said Dr. Michael P. Crosby, President & CEO of Mote. "The basic and transformative research that Mote conducts is vital, but we also have a responsibility to translate and transfer the findings of our science into positive ecological, societal and economic impacts. Proactively restoring reefs at a regionally strategic scale, combined with establishing a network of coral gene banks to safeguard essential biodiversity, is unprecedented and allows for all three benefits: helping replenish some of the ocean's most biodiverse ecosystems, educating and involving communities that are intimately linked to them, and preserving livelihoods -- the billions of dollars generated by reef-related economic activity."
Mote -- an independent, nonprofit marine science and education institution of five campuses from Sarasota, Florida to the Florida Keys that conducts diverse research programs around the world -- has developed innovative technologies to grow staghorn, brain, boulder and star coral fragments and planted approximately 20,000 of them onto depleted reefs in the Florida Keys. In early 2017 Mote plans to open a new coral reef research and education facility at its Summerland Key campus, where Mote scientists have already pioneered groundbreaking methods to restore reef-building corals at accelerated rates and begun to genetically identify staghorn coral strains for potential resilience against threats.
"We are accountable to future generations for securing the very resources that have helped us and generations before us to thrive," said Dr. Luis Solórzano, Executive Director of The Nature Conservancy's Caribbean Program. "With the threats of climate change, unsustainable development, overfishing and pollution, this partnership between The Nature Conservancy and Mote Marine Lab offers hope for the future of coral reefs and the systems they support. It is our imperative to engage leading scientists, advance innovative coral restoration practices and work collaboratively in order to safeguard these critical ecosystems."
"Coral reefs are critical ecosystems for sustaining the integrity of our marine habitats, natural resources and species, as well as for protecting our coastal areas. The decline of our coral reef systems from climate change and other human related impacts has serious consequences to the health and well-being of people and nature and requires that we take bold actions to transform the rate and scale of coral conservation," said Temperince Morgan, Director of The Nature Conservancy in Florida.
"We are excited to be joining forces with our Caribbean Program and Mote to step up to this challenge in an unprecedented way by applying our extensive experience in coral restoration to further develop and apply the science needed to conserve one of the most valued and threatened marine habitats in the world."
The Nature Conservancy is an international conservation organization working to protect the lands and waters on which all life depends.
Throughout the Caribbean and Florida, the Conservancy has worked with their partners to advance science-based conservation actions that include establishing coral nurseries and planting over 15,000 coral colonies from the nurseries onto reefs over the past 12 years in the Florida Keys, Dry Tortugas and U.S. Virgin Islands. These coral nurseries span from the Florida Keys all the way down to Grenada and are part of the largest restoration project of its kind.
By combining forces, two of the world's foremost independent marine research and conservation organizations will launch an innovative, international coral reef restoration initiative, giving Caribbean and Florida Keys coral reefs a better chance to survive and deliver ecological and economic benefits to future generations.
Key goals for the one-year agreement and onward
-Now through September 2017: The one-year MOU will help Mote and Conservancy staff secure additional coral restoration permits, plan their reef restoration initiative for the coming years, fundraise collaboratively and grow approximately 50,000 fragments of various coral species at Mote's facilities in the Florida Keys and the Conservancy's facilities in the U.S. Virgin Islands. Partners will focus on selecting coral strains resilient to increasing water temperatures, ocean acidification and disease. In early 2017, Mote will enhance these efforts by opening its new coral reef research facility on Summerland Key.
-By 2020:
A networked coral gene bank of threatened Caribbean and Florida coral species will be established and accumulate genetically identified coral tissue samples as "insurance" against climate change and near-term catastrophic events for reefs, such as widespread bleaching, diseases and oil spills. Efforts will include enhancing or expanding coral nurseries and adding gene banks to Mote and Conservancy facilities in Florida and the U.S. Virgin Islands, respectively. Mote and Conservancy staff will forge and advance international partnerships for upcoming coral restoration in priority locations including Cuba and the Bahamas.
-By 2025: Mote and Conservancy staff plan to work with U.S. and international partners to restore corals at unprecedented rates for the Caribbean and the Florida Keys. Goals include planting one million coral fragments in the U.S. Virgin Islands and the Florida Keys and 500,000 in at least three other Caribbean nations. The partners aim to establish a new, permanent coral restoration facility in St. Croix to be jointly operated by Conservancy and Mote staff. They will also complete training of key local personnel working at U.S. and international coral restoration areas, and in the process, disseminate state-of-the-art coral science, conservation and restoration practices around the Caribbean.
Mote and the Conservancy will work together and leverage their ongoing research and community engagement programs to secure the philanthropic investments needed to implement these innovative programs for restoring coral reefs and engaging local communities to lead in these efforts.
Mote is already working with middle- and high school students in its Coral Research and Conservation Program that the Lab spearheaded with EARTHANGLE Inc. Now, the MOU between Mote and the Conservancy will help expand this program, with the ultimate goal of educating and engaging more students and their communities in coral reef conservation and restoration activities in the U.S. Virgin Islands and Florida Keys.
The above is reprinted from
materials
provided by Mote Marine Laboratory.
NSW Wins National 2016 Rural Women's Award
Thursday, 15 September 2016
Accomplished food and lifestyle writer from Orange, Sophie Hansen, has won the 2016 National Rural Industries Research and Development Corporation (RIRDC) Rural Women's Award at a gala ceremony in Canberra overnight.
Minister for Primary Industries Niall Blair, said Sophie's win was well-deserved recognition of her efforts to promote food and agribusiness, and her inclusive approach to working with women in rural communities.
"Sophie's extraordinary talents in the food and social media space are indicative of the innovative work being undertaken right across regional NSW," Mr Blair said.
"Her project 'My Open Kitchen' shares the important story from paddock to plate and encourages farming businesses to use social media to strengthen rural communities."
Sophie's win follows in the footsteps of Central West landholder and sustainable agriculture trailblazer Pip Job, who in 2014 became the first NSW woman to win the National RIRDC Rural Women's Award.
Sophie's prize includes a bursary of $10,000 and the opportunity to share her vision and business model with communities across Australia.
Nominations for the 2017 NSW-ACT RIRDC Rural Women's Award are currently open and close at the end of October 2016.
Time To Kill Off Wallarah 2 Coal Project
September 05, 2016: by Lock the Gate Alliance
The Hunter Central Rivers Alliance of over forty community groups has called on the Baird Government to terminate the Wallarah 2 coal mine project in Wyong's drinking water catchment, as the latest round of public consultation on the project ends today.
The proposed longwall coal mine by Korean state-owned resources company Kores has been the subject of a thirteen-year long stoush in Wyong shire. Both major political parties have at various stages pledged to stop the project, but it is now before Planning Minister Rob Stokes, awaiting his approval.
The latest amendment to the project – construction of a coal conveyor, rail loop, and train loading facility in suburban residential areas at Blue Haven – has been designed specifically to avoid using land owned by Darkinjung Aboriginal Land Council, which remains staunchly opposed to the Wallarah 2 project.
The mine continues to be opposed by local residents, local councils, the Central Coast Water Corporation, and the member for Wyong, David Harris.
"What do we have to do to get rid of this coal mine project?" asked Mike Campbell, a Hunter and Central Rivers Alliance member and Wyong shire resident that has fought Wallarah 2 for over a decade.
"Local residents don't want it, the councils don't want it, the water corporation doesn't want it, the land council doesn't want it, and both political parties have promised us they will stop it!"
"The Korean Government doesn't even seem to want it," said Mr Campbell, referring to recent reports from Seoul that the government would withdraw its interests from international coal projects, "And the thermal coal market certainly doesn't need it," he added.
"Yet the mine is now barrelling towards approval by the Baird Government. It doesn't make any sense. We call on Mike Baird to kill this project off right now, before it goes any further. The residents of Wyong Shire have suffered enough. It's time to put all the promises into action. Let's end this."
"Wallarah 2 is one of those projects that shows us how broken and unfair the mine approval system is in NSW," said Steve Phillips, convenor of the Alliance which met in Singleton over the weekend.
"Nobody wants this mine to go ahead and yet the Government seems unable to bring itself to just say 'no.' The planning system has no law to protect drinking water catchments from coal mines, and designed to allow coal mines approved no matter what the impacts, no matter how much local opposition there is."
"The Coalition government has been promising to fix the mining approval regime since it was first elected back in 2012, but we are still waiting," said Phillips.
"Communities need the Government to make laws to protect places that are too special to whack a coal mine in. The drinking water catchment of 150,000 Wyong residents is certainly more important than a coal mine. "
"Come on Mike Baird, give the people of Wyong what they've been promised by governments for nearly a decade now: put an end to the Wallarah 2 coal project and protect drinking water catchments from undermining by coal."
Message from the Director of National Parks: Release of Review reports and preparation of reserve management plans
Australia is a leader in marine management, with one of the largest marine protected areas in the world.
State Governments and the Commonwealth are committed to establishing a National Representative System of Marine Protected Areas. By doing this we are protecting amazing marine biodiversity and a full range of ecosystems and habitats that will provide us with multiple community and environmental benefits for years to come.
As the Director of National Parks I have commenced the statutory process to develop draft management plans for 44 of these important reserves managed by Parks Australia on behalf of the Commonwealth Government and her peoples.
Together with Parks Australia staff I will be developing draft management plans for the marine reserves in the North, North-west, South-west and Temperate-east networks and the Coral Sea reserve. These reserves are located in Commonwealth waters, typically beyond the 3 nautical mile coastal waters of the States and the Northern Territory. They are adjacent to waters managed by State and Territory governments and a number are adjacent to marine parks and reserves managed by State agencies.
I plan to use recommendations contained in the recently released independent
Commonwealth Marine Reserves Review reports
from the Expert Scientific Panel and Bioregional Advisory Panel and comments sent during this first phase of the statutory process to prepare the draft management plans. The reports are the product of extensive consultation and provide an important reference point as we move towards finalisation of Australia's national network of Commonwealth marine reserves.
The public notice that outlines this process is here.
Management plans provide for the protection and conservation of the marine reserves by setting out the arrangements for management of activities within reserves for a period of 10 years. They state how natural features, heritage and other values are to be protected and conserved and set out the rules about what activities can be done in reserves and where. The plans also provide certainty to communities by recognising where actions may be needed to support local and regional economies and industries and provide opportunities for people to experience and enjoy these areas within a well managed and balanced system. Management plans also recognise the long term connection of Indigenous people to these seascapes and their cultural obligations to look after these special areas.
To make these places as successful as possible we need your input and feedback on the recommendations in the review in this first phase of consultation.
Once we have reviewed all of the comments in this first phase we will finalise the draft management plans. These draft plans will be put out for public comment too so we can double check them with you before we present them to the Minister for his consideration and approval.
I strongly encourage you to read the reports and provide me with your feedback on the independent review's recommendations.
During the planning and consultation processes, activities can continue to be conducted in the same way they have since the reserve networks were declared, until the new management plans come into effect. The management plan for the South-east Commonwealth Marine Reserves Network is already in place and it won't be part of this process.
I am very much looking forward to hearing from you about what you think should be included in the draft management plans. I am also looking forward to finalising the plans and working with you on the important job of managing Australia's marine parks – an amazing and inspirational initiative that will make us proud for generations to come.
Director of National Parks
Barely-There Fracking Moratorium A Betrayal Of Territory Voters
September 14, 2016: Lock the Gate Alliance
The announcement by Chief Minister Michael Gunner this morning of a limited fracking moratorium falls far short of his election promises and will allow extensive shale gas activities and corehole drilling to continue across the Territory, said Lock the Gate Alliance.
Before the election, Territory Labor had a fracking policy that said: Territory Labor will implement a moratorium covering all unconventional gas prospecting exploration and extraction activities.
Now, after the first cabinet meeting of the new Labor Government, the promise has been wound back to a moratorium that only covers the process of hydraulic fracturing, giving a green light to all prospecting and other shale gas exploration activities.
"It's now clear that Territory Labor has backflipped on their election promise for a total pause on all unconventional gas activities," said Naomi Hogan of the NT Lock the Gate Alliance.
"This barely-there fracking moratorium is a betrayal to all the people that voted for Labor because they had promised a full pause on the gas fracking industry in the Territory.
"Chief Minister Gunner's backflip means that pastoralists and farmers across the Territory will still have to deal with gas fracking companies pushing onto their land to clear for seismic surveys and core hole drilling.
"Territory landholders have been crying out for a break from gas fracking companies, but Chief Minister Gunner is basically forcing pastoralists to continue to deal with gas companies entering their land.
"The Chief Minister promised to govern for all Territorians, but by breaking this promise so early in his term, he is governing for big oil and gas, not the people who voted him into office.
"Under this so called moratorium, gas fracking companies can still undertake other shale gas prospecting and exploration activities, trying to muscle in on the right to frack through our groundwater into the future.
"Gas companies will be able to keep on drilling gas wells across the landscape, ready to frack as soon as the opportunity arises.
"Origin will be also be allowed to continue their current gas fracking related activities until at least November, with Labor giving in to the oil and gas giants," she said.
Marine Fisheries And Aquaculture
Draft Report
This draft report was released on 31 August 2016.
You are invited to examine the draft report and to make written submissions by Friday 14 October 2016.
The final report is expected to be handed to the Australian Government by December 2016.
Better management of Australia's fisheries needed to ensure sustainability and value
August 31, 2016: Media Release - Productivity Commission, Australian Government
Slow adoption of best practice in the management of commercial fisheries, and limited recognition of the impacts and value of recreational fishing, are imposing unnecessary costs, constraining community benefits from fisheries, and putting pressure on some stocks, according to the Productivity Commission.
In a draft report released today, the Commission says management approaches need to better reflect the fact that there are limits to the catch from wild capture fisheries. Therefore, historical attitudes to prefer one group over another will need to change if Australia is to sustain both recreational and commercial fishing into the future.
'Controls over commercial fishing in most fisheries are too prescriptive. We know that tradeable quotas generally work, but we apply them in only one-quarter of fisheries. Conversely, there is an attitude of almost benign neglect toward recreational fishing. This is despite there being millions of recreational fishers in Australia and that, with the help of technology such as relatively cheap locating sonars, recreational catch now rivals or exceeds commercial catch for some species', said Commissioner Melinda Cilento.
Most commercial fishing is still regulated through controls over fishing methods, such as numbers of allowable fishing days or size of boats. This is discouraging innovation and inhibits fishers from introducing more cost-effective practices.
'Reform across the sector is needed to reinvigorate the commercial fishing industry,' she said.
The rising sophistication and affordability of scanning technology and vessels has increased recreational fishers' ability to fish further offshore and more intensively. The limited knowledge we do have suggests this is putting pressure on some species. Despite the probability that this will increase in future with population growth and use of new fishing technologies, recreational fishing is sporadically monitored.
'While there are bag limits and other controls on recreational fishing, the nation doesn't have a handle on how overall participation is changing or how the level of catch is changing in most areas,' said Commissioner Melinda Cilento.
'This lack of knowledge makes it difficult to make decisions on how access to fisheries should be shared or what additional services or facilities should be provided for recreational fishers,' she said.
The Commission recommends that state and territory governments license all recreational fishers, with the focus being on a low-cost licence with higher reporting effort by all parties.
'We recognise that recreational fishing is important to many people and coastal communities; sometimes it is more important economically than commercial fishing.'
'We have recommended licensing to ensure recreational fishing is sustainable and better recognised in fishery management decisions as a much-loved pastime for many Australians,' Commissioner Melinda Cilento said.
The Productivity Commission released its draft report on Marine Fisheries and Aquaculture today and will be conducting public hearings around Australia where people can talk about issues raised in the report. To attend a hearing or make a submission for the final report people should go to the website at
www.pc.gov.au
Have Your Say On The Amended Rocky Hill Coal Project Application
17.08.2016 : Departmental Media Release - Department of Planning and Environment
An amended development application by Gloucester Resources Limited for the Rocky Hill Coal Project will be on exhibition from today for community consultation.
The Department of Planning and Environment is keen to hear the community's views on the amended proposal which involves:
developing and operating an open-cut coal mine to produce up to two million tonnes of coal per year for up to 21 years

constructing and operating a private coal haul road linking the Rocky Hill Coal Project with the Stratford Coal Complex, approximately nine kilometres to the south

using the private haul road to transfer coal between 7:00 am and 6:00 pm only, Monday to Saturday

using the private coal haul road to deliver heavy equipment and construction materials to the mine area

rehabilitating the site
A spokesperson for the Department said the public should also view the modification application for the Stratford Extension Project, which is being exhibited simultaneously with the amended Rocky Hill Coal Project proposal.
"The public should also note the changes from a previous Rocky Hill Coal Project proposal which was exhibited in 2013," a spokesperson said.
"Key changes in the amended proposal include three open cut pits instead of four and no night-time hours of work. Additionally, it proposes no evening hours of work for the first three years of the project.
"In the new proposal, coal would be hauled on a private haul road to the nearby Stratford Coal Mine. The Rocky Hill project would therefore not need a Coal Handling and Preparation Plant or a rail loop and train loading bin, or a coal conveyor.
The amended proposal does not include:
constructing and operating an on-site Coal Handling and Preparation Plant

constructing and operating a Rail Load-out Facility, including a rail loop and overhead loading bin, to dispatch the product coal to the Port of Newcastle

developing a three kilometre partially-enclosed overland conveyor, to link the CHPP to the Rail Load-out Facility

operating the mine during night-time hours

operating the mine during evening hours for the first three years of the mining operations.
A spokesperson for the Department said the local community always has an opportunity to share their views.
"Community consultation is an integral part of the planning process and the applicant will have to respond to the feedback we receive.
"This feedback is taken into consideration as part of the assessment.
"It's easy to participate by going online and we encourage everyone to take a look and have their say."
Submissions can be made from 17 August until 14 October 2016.
Written submissions can also be made to:
Department of Planning and Environment
Attn: Director – Resource Assessments
GPO Box 39
Sydney NSW 2001
The application and EIS are also available to view in person at:
Department of Planning and Environment, 23-33 Bridge Street, Sydney
Nature Conservation Council, Level 14, 338 Pitt Street, Sydney
Mid Coast Council Offices:
- 89 King Street, Gloucester
- Breese Parade, Forster
- 2 Pulteney Street, Taree
- Customer Service Centre, 6 Church Lane, Stroud (9 am to noon)
Have your say on the modification application for Stratford Extension Project
17.08.2016 : Departmental Media Release Author: Department of Planning and Environment
A modification application for the Stratford Extension Project will be on exhibition from today for community consultation.
The Department of Planning and Environment is keen to hear the community's views on Stratford Coal Pty Ltd's modification application which seeks to:
use a private haul road to transfer coal from the Rocky Hill Coal Project to the Stratford Coal Mine site

construct an extension of the existing coal stockpile to accommodate Rocky Hill's coal, and process coal from this stockpile through the existing Stratford Coal Handling and Preparation Plant

place Rocky Hill product coal on the existing Stratford product coal stockpile

load and dispatch Rocky Hill product coal from Stratford's existing rail loop and coal load-out system
The community can also view the related but separate Rocky Hill Coal Mine amended development application also on exhibition currently, and make a submission.
A spokesperson for the Department of Planning and Environment said the local community always has an opportunity to share their views.
"Community consultation is an integral part of the planning process and the applicant will have to respond to the feedback we receive," the spokesperson said.
"This feedback is taken into consideration as part of the assessment.
"It's easy to participate by going online and we encourage everyone to take a look and have their say."
To make a submission and the view the modification application visit www.majorprojects.planning.nsw.gov.au
Submissions can be made from 17 August to 14 October 2016.
Written submissions can also be made to:
Department of Planning and Environment
Attn: Director – Resource Assessments
GPO Box 39
Sydney NSW 2001
The application is also available to view in person at:
Department of Planning and Environment, 23-33 Bridge Street, Sydney
Nature Conservation Council, Level 14, 338 Pitt Street, Sydney
Mid Coast Council Offices:
- 89 King Street, Gloucester
- Breese Parade, Forster
- 2 Pulteney Street, Taree
- Customer Service Centre, 6 Church Lane, Stroud (9 am to noon)
Landholders' Right To Refuse (Gas And Coal) Bill 2015
This Private Member's Bill provides that landholders have the right to refuse the undertaking of gas and coal mining activities by corporations on their land without prior written authorisation; sets out the requirements of a prior written authorisation; provides for relief which a court may grant a land owner when prior written authorisation is not provided; prohibits hydraulic fracturing for coal seam gas, shale gas and tight gas by corporations; and provides for civil penalties.
The Bill was first introduced in March 2015, has had its second reading in the House of Representatives and is currently before the Senate.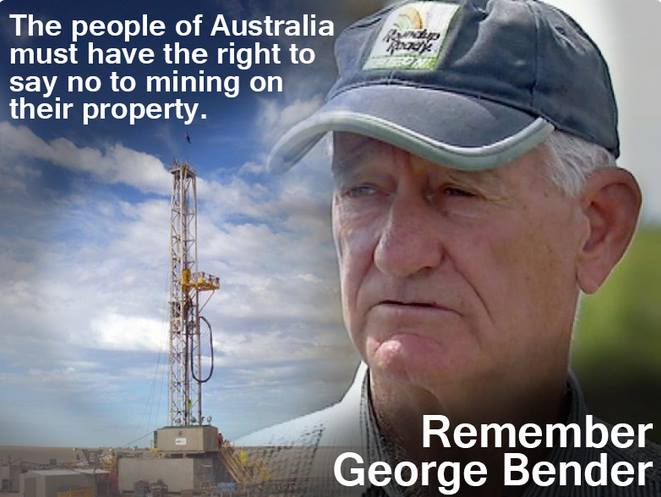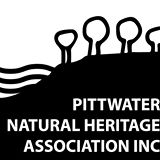 SUNDAY MORNING BIRDWATCHING with PNHA
Would you like to know more about our local birds and explore our bushland reserves? Then join us on one of our bird walks:
PNHA Birdwatching 8am Sunday 25 September, Warriewood Wetlands, followed by Morning Tea and a talk on the Birds of Warriewood Wetlands at 9.30am.
Warriewood Wetlands is one of Sydney's birding hotspots with over 150 species recorded. Come along and see how many you can find.
At 9.30am, after the walk, join us for morning tea and a talk on the birds of Warriewood Wetlands provided by PNHA. We are holding this event as part of the Friends of Narrabeen Lagoon Catchment's Narrabeen Spring Celebration.
Meet: 8am for the walk, and/or come at 9.30am for the morning tea and talk, Katoa Close, off Garden St, North Narrabeen.
Bring: For the walk: Binoculars, water, insect repellent, hat. Morning tea will be provided (see Bookings)
Bookings: Please book this time, for catering. Text or call 0439 409 202.
Our last walk of the year is at 7.30am on Sunday 27 November at Warriewood Wetlands. The summer migratory species will have arrived and the Wetlands will be home to nesting birds and birds with young. there should be plenty to see.Meet at Katoa Close, North Narrabeen.
Most walks last a couple of hours. Bring binoculars and morning tea for afterwards if you like. Contact pnhabirdwatching@gmail.com for details of each walk.
Disclaimer: These articles are not intended to provide medical advice, diagnosis or treatment. Views expressed here do not necessarily reflect those of Pittwater Online News or its staff.