Inbox and Environment News: Issue 273
July 24 - 30, 2016: Issue 273
Premier opens UNSW's Materials Science and Engineering Building
July 20, 2016: UNSW Media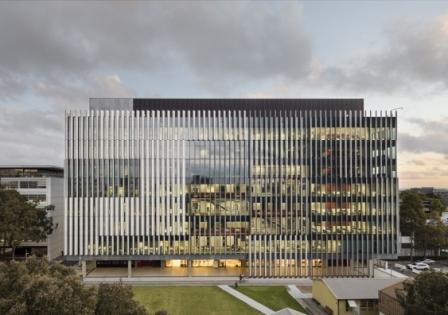 The Hilmer Building. Photo: John Gollings
The new home of Australia's leading materials science and engineering research and innovation has been officially opened today by the NSW Premier Mike Baird.
"NSW is a world leader in innovation, science and engineering and this new state of the art building will be an important training ground for future leaders in these fields," the Premier said of the significant addition to the UNSW Kensington campus.
"Facilities such as this will help UNSW collaborate further with industry, business and government to develop innovative ideas that will not only improve society, but also boost our economy."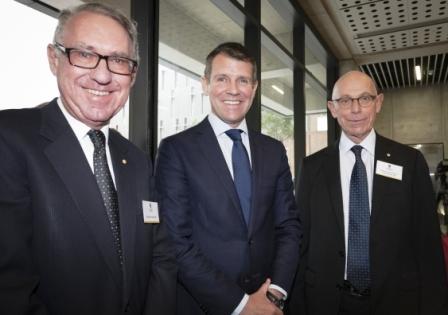 (L-R) UNSW Chancellor David Gonski AC, NSW Premier Mike Baird and Emeritus Professor Fred Hilmer. Photo: Arunas Klupsas
President and Vice-Chancellor Professor Ian Jacobs said the $140 million building, which provides staff and students with exceptional research laboratories and flexible collaborative learning spaces, reinforces UNSW's reputation as a world-leader in the field.
"This amazing building has been designed for Australia's highest ranked materials science school, which sits in the world's top 50," Professor Jacobs said. Earlier this month, the building's research laboratories were recognised with the Educational Architecture Award from the Australian Institute of Architects (NSW).
"Materials science is applied to virtually every aspect of our lives – the important and world-class research undertaken here is focused on producing clear, practical outcomes that help create a better world for us all."
The new facility will be known as the Hilmer Building, in honour of former President and Vice-Chancellor Professor Fred Hilmer (2006-2015).
UNSW Chancellor David Gonski said: "Fred Hilmer was instrumental in the transformation of our campus and this naming honour recognises his outstanding service and dedication to UNSW. This world-class facility is a striking addition to UNSW and is already opening up new opportunities for staff and students. It is a fitting tribute to our esteemed former President and Vice-Chancellor."
Emeritus Professor Hilmer said: "While I am honoured to have my name on such a significant building, this event is really recognition of the efforts of a committed and effective team that restored and enhanced the performance and reputation of UNSW."
Home of world-leading research and innovation
The Hilmer Building is home to a range of world-class research teams including:
• The Centre for Sustainable Materials Research and Technology (SMaRT Centre) led by ARC Laureate Fellow, Scientia Professor Veena Sahajwalla, works with industry, SMEs, global research partners, NGOs, all levels of government, policy makers and the community to develop innovative environmental solutions for the world's biggest waste challenges. The Centre brings together researchers from the faculties of Science, Engineering and Built Environment.
• The Mark Wainwright Analytical Centre occupies several custom-built laboratories that allow for UNSW staff and students, as well as external researchers and industry partners, to collaborate on the study of the structure of chemical and physical materials.
• Research by Professor Sean Li and his team into advanced multifunctional materials has the potential to improve the efficiency of power grids, and this has attracted the attention of Chinese firm Hangzhou Cables, who've formed one of the first partnerships under the new Torch Innovation Precinct imprint.
• Dr Rakesh Joshi at the School of Materials Science and Engineering and his colleagues at the University of Manchester, Dr Rahul Nair and Sir Andre Geim, are conducting breakthrough research on Graphene Oxide membranes.
• The Michael Crouch Innovation Centre, made possible through the generous gift of Michael Crouch, is a dynamic 'makers and innovators space', bringing together students, staff and alumni from all our UNSW faculties, schools and divisions – plus industry partners and the wider community – to collaborate, innovate and create.
Professor Jacobs said: "The Hilmer building is where all this and more is happening. It is truly a dream for our dedicated and ambitious researchers and students.
"It represents what we are trying to achieve at UNSW. It is bold, it encourages innovation and collaboration, and it has a clear focus on excellence, creativity and the pursuit of new ideas."
Designed by Grimshaw Architects, with input from HDR who worked on the laboratory spaces, the building was constructed by Brookfield Multiplex at a cost of $143 million and is the home of the School of Materials Science and Engineering. Collaboration and adaptability are at the heart of the design, which provides seamless links between the physical and chemical science laboratories. The reconfigurable lab system is framed by write-up spaces, offices and meeting rooms that encourage collaboration among teams. Flexible, adaptable environments like these are the future of research, and will help the University in coming years to achieve two key priorities of its 2025 Strategy – Research Quality and Educational Excellence.
Apollo 11 Week: 47 Years On
When those who put this page together for you each week were 4 years old their mum told them to come and watch the television!!!!!!
Normally it was 'go outside and play!'
But this day was different, and even though the TV, a PYE set that looked a little alike a space helmet was only black and white, we stared and stared as we saw a man land on the moon for the first time in history! That day was
July 20th, 1969.
The Astronaut called Neil Armstrong climbed down from the spacecraft, stood on the moon and then said,
"That's one small step for a man, one giant leap for mankind."
Launched by a Saturn V rocket from Kennedy Space Center in Merritt Island, Florida, on July 16, Apollo 11 was the fifth manned mission of NASA's Apollo program. The Astronauts were Americans Neil Armstrong, Buzz Aldrin and Michael Collins, piloted the Command Module Columbia alone in lunar orbit while the other two were on the Moon's surface.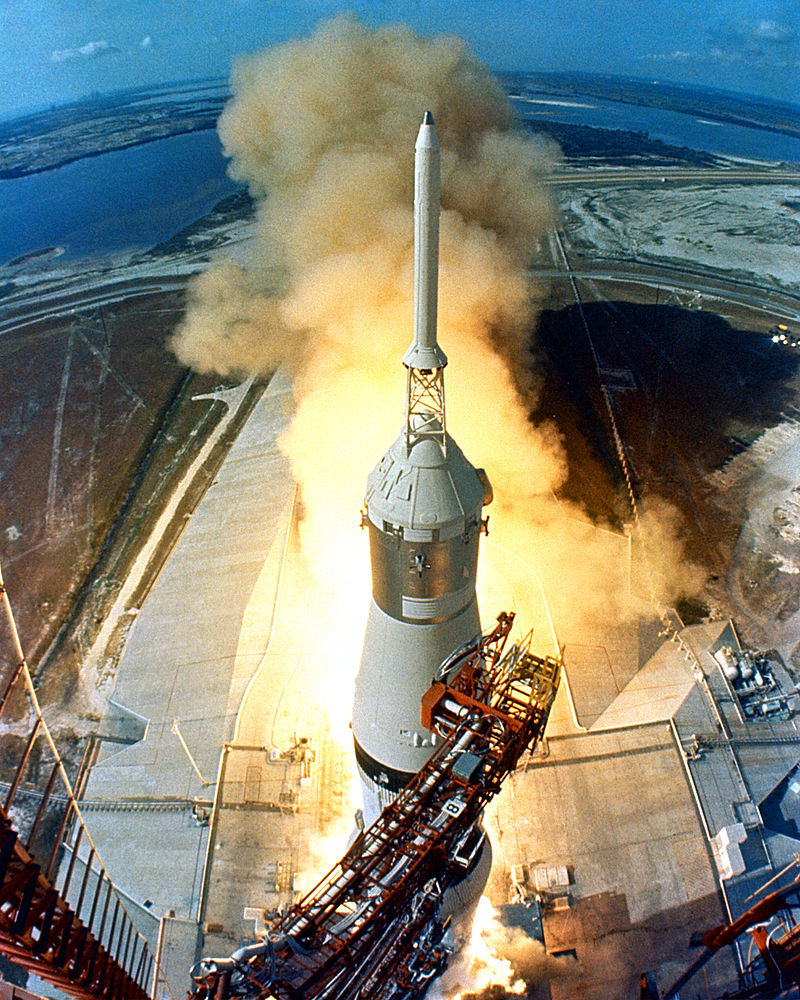 Saturn V carrying Apollo 11 rises past the launch tower camera - Courtesy NASA

The Apollo spacecraft had three parts: a Command Module (CM) with a cabin for three astronauts, and the only part that landed back on Earth; a Service Module (SM), which supported the Command Module with propulsion, electrical power, oxygen, and water; and a Lunar Module (LM) that had two stages – a lower stage for landing on the Moon, and an upper stage to place the astronauts back into lunar orbit. After being sent toward the Moon by the Saturn V's upper stage, the astronauts separated the spacecraft from it and traveled for three days until they entered into lunar orbit.
Armstrong and Aldrin then moved into the Lunar Module Eagle and landed in the Sea of Tranquility. They stayed a total of about 21.5 hours on the lunar surface, collecting Lunar materials and doing some experiments.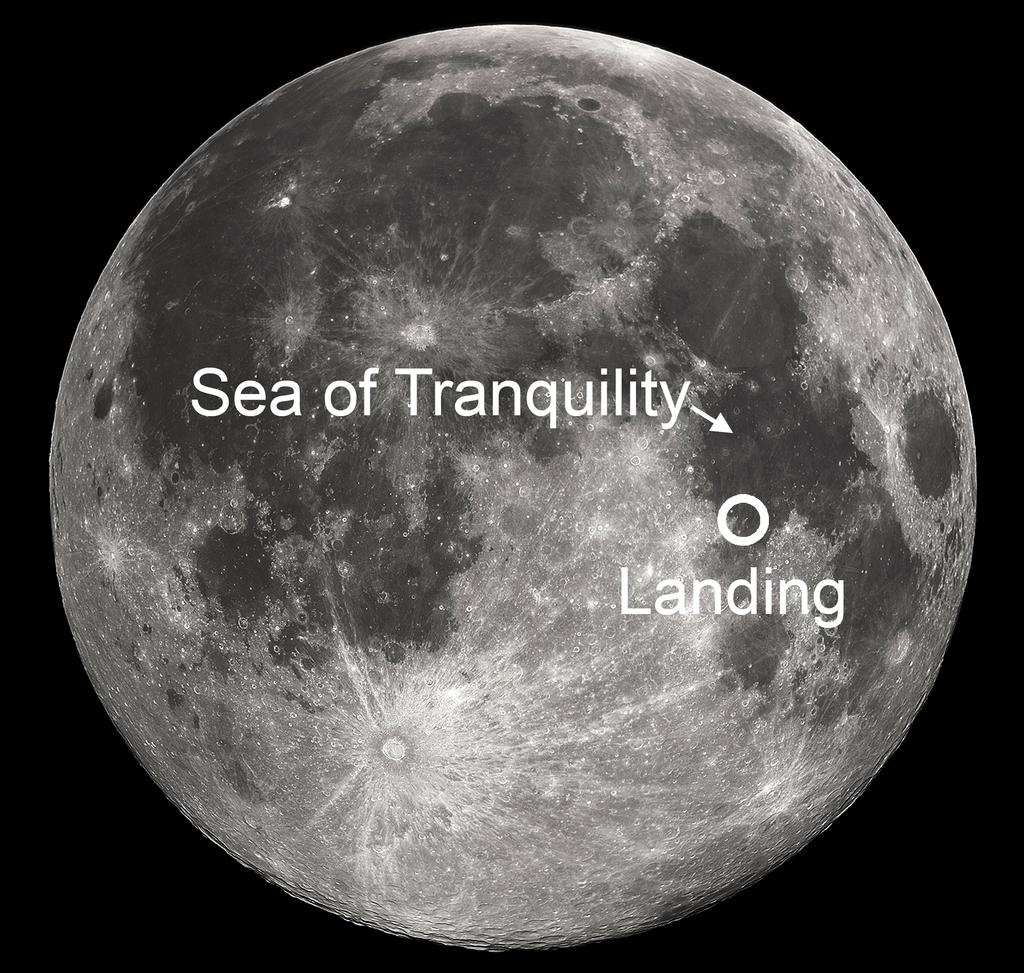 Landing site of Apollo 11 at Sea of Tranquility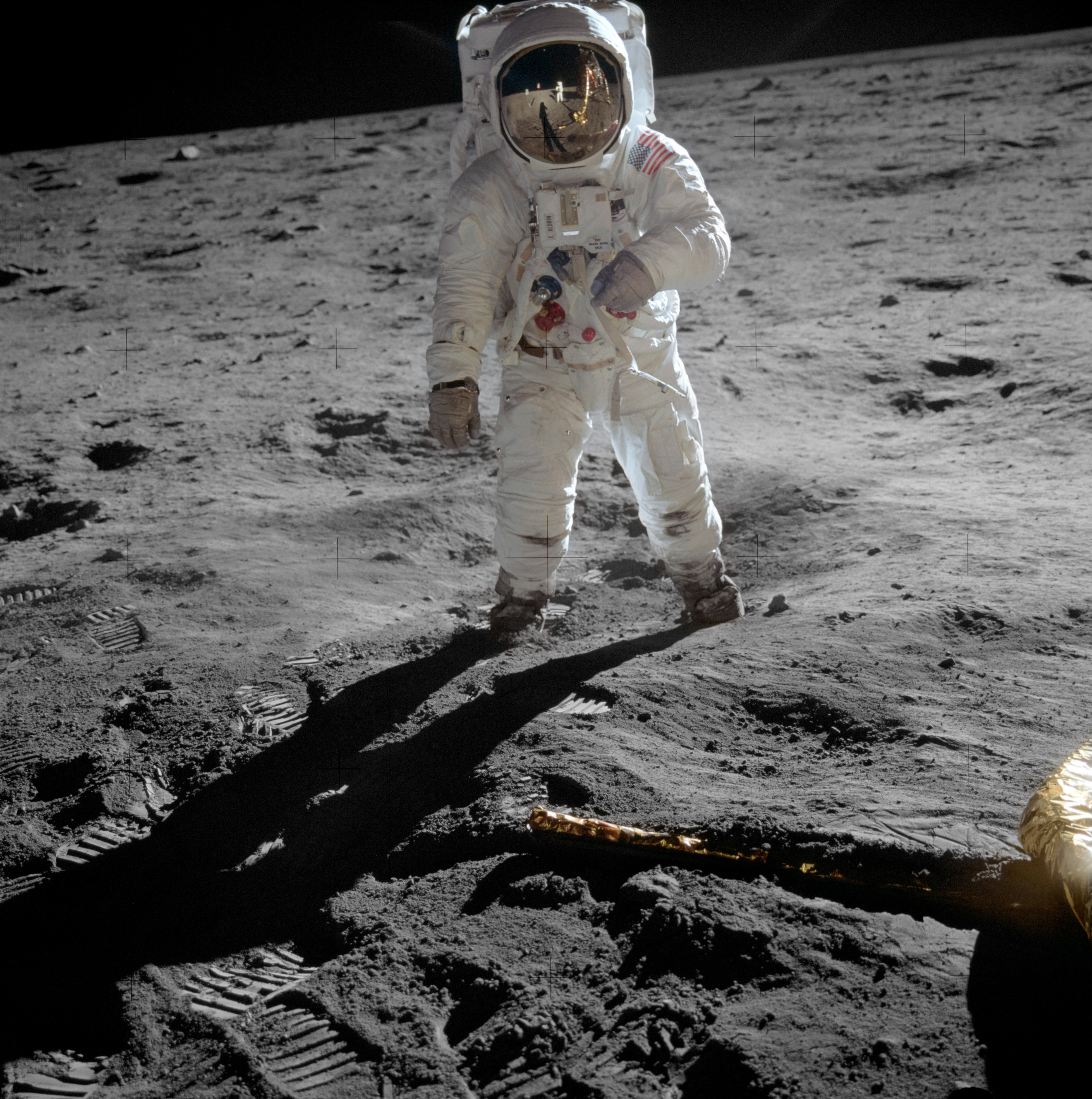 Aldrin poses on the Moon, allowing Armstrong to photograph both of them using the visor's reflection: Astronaut Buzz Aldrin, lunar module pilot, stands on the surface of the moon near the leg of the lunar module, Eagle, during the Apollo 11 moonwalk. Astronaut Neil Armstrong, mission commander, took this photograph with a 70mm lunar surface camera. Photograph courtesy NASA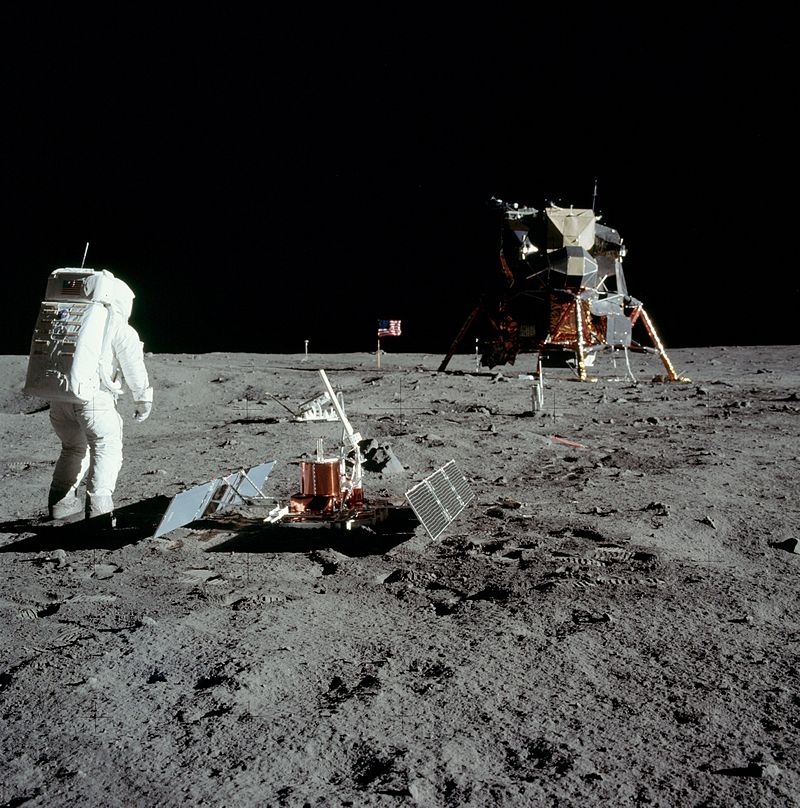 Aldrin next to the Passive Seismic Experiment Package with Eagle in the background: Neil Armstrong - NASA photo AS11-40-5948

The astronauts then used Eagle's upper stage to lift off from the lunar surface and rejoin Collins in the Command Module. They jettisoned Eagle before they performed the manoeuvers that blasted them out of lunar orbit on a trajectory back to Earth.
They returned to Earth and landed in the Pacific Ocean, splashing down in waters of Hawaii on July 24th - today!
The two Astronauts left behind an American flag, a patch honoring the fallen Apollo 1 crew, and a plaque on one of Eagle's legs. It reads, "Here men from the planet Earth first set foot upon the moon. July 1969 A.D. We came in peace for all mankind."

Broadcast on live TV to a world-wide audience of half a billion people - this is what we saw and heard that day and still remember:
Environment Becomes 'Environment And Energy'
The Australian Federal Department of Environment has been renamed 'Environment and Energy'




On 19 July 2016, responsibility for energy policy was transferred to the Department of the Environment and Energy - Administrative Arrangement Order made on 19 July 2016

This website will be updated to reflect these changes.

The Department designs and implements the Australian Government's policies and programmes to protect and conserve the environment, water and heritage and promote climate action. The environmental framework is being delivered under four pillars:

• Clean air

• Clean land

• Clean water

• National heritage




PART 7

THE DEPARTMENT OF THE ENVIRONMENT

Omit the heading and substitute:

PART 7

THE DEPARTMENT OF THE ENVIRONMENT AND ENERGY

Matters dealt with by the Department

Add:

National energy market, including electricity and gas

Add:

Industrial energy efficiency

Legislation administered by the Minister

Add:

Australian Energy Market Act 2004

Add:

Building Energy Efficiency Disclosure Act 2010

Add:

Greenhouse and Energy Minimum Standards Act 2012

Add:

Greenhouse and Energy Minimum Standards (Registration Fees) Act 2012

Add:

Moomba-Sydney Pipeline System Sale Act 1994

Add:

Snowy Hydro Corporatisation Act 1997

Add:

Snowy Mountains Engineering Corporation (Conversion into Public Company) Act 1989

Add:

Snowy Mountains Engineering Corporation Limited Sale Act 1993




PART 13

THE DEPARTMENT OF INDUSTRY, INNOVATION AND SCIENCE

Matters dealt with by the Department

Add:

Mineral and energy industries, including oil and gas

Omit:

Mineral and energy industries, including oil and gas, and electricity

Omit:

National energy market

Omit:

Industrial energy efficiency

Legislation administered by the Minister

Omit:

Australian Energy Market Act 2004

Omit:

Building Energy Efficiency Disclosure Act 2010

Omit:

Greenhouse and Energy Minimum Standards Act 2012

Omit:

Greenhouse and Energy Minimum Standards (Registration Fees) Act 2012

Omit:

Moomba-Sydney Pipeline System Sale Act 1994

Omit:

Snowy Hydro Corporatisation Act 1997

Omit:

Snowy Hydro Corporatisation (Consequential Amendments) Act 1997

Omit:

Snowy Mountains Engineering Corporation Act 1970

Omit:

Snowy Mountains Engineering Corporation (Conversion into Public Company) Act 1989

Omit:

Snowy Mountains Engineering Corporation Limited Sale Act 1993
Have Your Say On Wyong Coal Mine
Establishment of an underground coal mine and associated infrastructure (see Preliminary Environmental Assessment).

The proposal will also require Commonwealth assessment under the EPBC Act.




Exhibition Start 22/07/2016

Exhibition End 05/09/2016




State NSW

Post Code 2259

Country Australia

Local Governments Lake Macquarie City Council and

Wyong Shire Council




Amended application Document:

HERE




The key features of the Project include:

• A deep underground longwall mine extracting up to 5 Million tonnes per annum of export quality thermal coal;

• The Tooheys Road Site (located north-east of the intersection of the M1 Motorway and the Motorway Link Road) which includes a portal, coal handling facilities and stockpiles, water and gas management facilities, small office buildings, workshop, coal transportation infrastructure and connections to municipal water and sewerage systems;

• The Buttonderry Site (near the intersection of Hue Hue Road and Sparks Road) which includes administration offices, bathhouse, personnel access to the mine, ventilation shafts and water management structures;

• The Western Ventilation Shaft Site (located in the Wyong State Forest) includes a downcast ventilation shaft and water management structures;

• An inclined tunnel (or 'drift') from the surface at the Tooheys Road Site to the coal seam beneath the Buttonderry Site;

• Transportation of product coal to the Port of Newcastle by rail;

and

•

An operational workforce of 300 full time employees.




The Project constitutes State Significant Development. As such, the Project has been subject to the assessment process under Division 4.1 of Part 4 of the Environmental Planning & Assessment Act 1979.
$1 Million to Protect Swift Parrot
The Australian National University will receive a $1 million NSW Government grant
to protect the Swift Parrot population in NSW with the

Central Coast as one of two
priority regions

, Environment Minister Mark Speakman announced today.
The University is one of four organisations to share $3.7 million in grant funding to
undertake a threatened species conservation project that spans 10 years under the
second round of the Government's Saving Our Species Partnership grants program.
"This project aims to improve the long term viability of the nationally endangered
Swift Parrot population," Mr Speakman said.
"The project will empower community networks and land managers to implement
habitat rehabilitation and restoration works to secure long term protections."
The project will focus on two priority regions –17 sites on the Central Coast and 19 in
the Riverina. It will also attempt to protect other threatened woodland species and
endangered ecological communities in the project area.
Mr Speakman said the grants program aimed to help stop the decline of biodiversity
and protect the state's threatened species into the future.
"These projects are important to help protect and stabilise local populations under
threat," Mr Speakman said.
"The grants program gets the best bang for the taxpayer's buck because it brings
researchers, the community, land management experts and the government together
to protect the state's most vulnerable species."
Including this second round of projects the NSW Government has invested almost
$10 million in this program through its Environmental Trust. This is on top of the
NSW Government's five year $100 million Saving our Species commitment to
continue to safeguard the state's threatened species.
Container Deposit Scheme For Queensland
Friday, July 22, 2016: Media Release - Minister for Environment and Heritage Protection and Minister for National Parks and the Great Barrier Reef -

The Honourable Steven Miles – Queensland Government




The Sunshine State will have a Container Deposit Scheme to get drink cans and bottles off our beaches, and out of our parks and public areas.

The Palaszczuk Government has confirmed the litter-busting recycling initiative will start in 2018.




Environment Minister Dr Steven Miles also revealed today (Friday) that Queensland and New South Wales had entered into high-level talks about setting up a single-scheme administrator.




"We want a seamless system that's good for the environment and friendly for business. No one wants an outcome where the rules that apply to a bottle of soft drink sold at Tweed Heads, are different to the one you buy at the Gold Coast", Dr Miles said.




"A single administrator could cover both states to deliver the highest level of efficiency and effectiveness.




"We will work closely with the Baird Liberal Government of NSW to deliver a CDS in both states."




Dr Miles said he welcomed LNP support for Labor's CDS plan.

"Labor committed to investigate a cash for containers-style scheme at the last election, because litter is a real concern for so many Queenslanders and we have one of the lowest recycling rates in the country.




"And Queenslanders also understand that plastic litter especially is a major threat to our waterways and our precious coastal marine environment.




"The Government also wants to acknowledge the expert input we've had from the Local Government Association of Queensland and its members. That input has successfully identified key details that we will address with LGAQ during the implementation of this scheme".




Dr Miles said there was considerable industry and community support for a container deposit scheme.




"A 2015 NewsPoll showed 86 per cent of Queenslanders wanted a container deposit scheme," he said.




"South Australia has had a similar scheme since the 1970s, the Northern Territory introduced one in 2011 and New South Wales will introduce their scheme next year.




"We are looking at aligning our scheme with NSW, where people will be able to take empty drink containers to a collection depot, or place it in a reverse vending machine to receive a 10-cent refund.




"In NSW, most drinks sold in containers between 150ml and three litres will be included – with eligible containers to be clearly marked.




"Plain milk, pure juice and wine containers are not included in the scheme," he said.




Scout Association of Australia, Queensland Branch General Manager, Trevor Ruthenberg said he strongly supported the Government's initiative and looked forward to working closely with Dr Miles.




"As we've seen in South Australia, by engaging in and with the CDS, the financial benefits for Scouting are tremendous," Mr Ruthenberg said.




"I know of no other scheme that the whole community can embrace that will not only provide a significant environmental benefit, but will also provide a boost to helping to cover the cost of providing the Scouting program.




"This scheme is a huge win for the whole community!"




And with National Litter Index figures showing Queensland continues to be the most littered mainland state in Australia, the announcement was welcomed by recycling advocacy group, Boomerang Alliance.




Queensland Manager, Toby Hutcheon said: "In Queensland, we use over 2.4 billion bottles and cans every year. Most of these are wasted in landfill or littered.




"In South Australia, which has a CDS, over 80 per cent of bottles and cans are recycled.




"Container Deposit Schemes operate in over 40 jurisdictions around the world. CDS are proven to slash litter rates, dramatically increase recycling, create hundreds of jobs in collection and re-processing and provide a financial boost to community organisations.




"It is estimated that community organisation in Queensland could share in over $25 million every year from deposits and handling fees,'' he said.

Dr Miles said the Government would be consulting in coming months and seeking feedback on the best way to implement the scheme to ensure it was "truly state-wide".




"This is where community groups and other organisations can help and potentially get an enormous benefit out of the scheme. We want to talk to as many people as possible before the end of the year," he said.
Entries Open For 2016 NSW Farmer Of The Year Award
Minister for Primary Industries, Lands and Water Niall Blair and NSW Farmers President Derek Schoen today announced applications for the 2016 NSW Farmer of the Year Award are now open.




Minister Blair said the awards are both a celebration and recognition of farming excellence through a diverse range of enterprises across NSW.




"Our farmers represent some of the most innovative, industrious primary producers, who face many challenges to produce the world's highest quality food and fibre," Minister Blair said.




"The state's $12 billion primary industries sector is going from strength to strength under the stewardship of our farmers, who demonstrate drive and determination to run efficient, profitable and sustainable businesses."




Mr Schoen described the Award as an important opportunity to promote the agriculture sector, and to identify outstanding farmers who are pushing the boundaries within their industry and in farming generally.




"The awards recognise people with outstanding management skills, and who demonstrate a combination of innovation, profitability, sustainability and community involvement," he said.




"I strongly encourage farmers from all parts of the primary industries sector to enter."




The successful 2016 Farmer of Year will be awarded $10,000 and the other finalists will receive $2,000.




The 2015 Winner, Cowra-based vegetable, cropping and livestock producer Ed Fagan, encouraged his colleagues to nominate an outstanding farmer, or apply themselves.




The award is an initiative of the NSW Department of Primary Industries and NSW Farmers, with support from The Land and SafeWork NSW.



Chemical Pollution Gets To Antarctic Marine Bird Colonies



"Someday, these chemical compounds will get everywhere," warns Jacob González Solís.

Credit: UB-IRBio




Latitude is the main factor which determines the organic pollutant concentration in Antarctic giant petrels -emblematic species in the Antarctic and sub-Antarctic regions-, according to an article from the journal Environmental Research in which Professor Jacob González Solís, from the Department of Evolutionary Biology, Ecology and Environmental Sciences and the Biodiversity Research Institute of the University of Barcelona (IRBio) takes part.




The research, directed by experts of the Institute of General Organic Chemistry (IQOG-CSIC), analyses the impact by persistent organic pollutants (COP) -toxic compounds with a high permanency on the environment which bio-accumulate in organisms- on oceanic birds present in areas of different latitudes in the Antarctic Ocean.




Northern giant petrels (Macronectes halli) and southern ones (M. giganteus)are the great scavengers in sub-Antarctic and Antarctic environments, and they have an extreme life strategy based on a long longevity and low fecundity (an only egg per each reproductive period). They are widely distributed in the southern ocean and can cover thousands of kilometres to feed themselves, but their population are highly vulnerable to any threat affecting their adult survival.




High latitudes, less pollutants

"In general, the further south you go, the lower the levels of organic pollutants are in marine birds. These pollutants, created by human activity, reach all places on earth via atmospheric transport, mainly. They reach the Antarctic too but in less quantity," said Professor Jacob González Solís, author of several genetic and marine bird population studies in the Mediterranean, Atlantic and Antarctic oceans.




"Unfortunately -he continues- we still don't know the effects these compounds could have on ocean birds. Now the detected levels are low, therefore if there is any negative effect it is light so it would be hard to detect. However, we need to do more research in order to discover the effects of chemical pollution on wild fauna."




A chemical footprint for the entire planet

According to the experts, the organic pollutant levels are similar in Arctic and Antarctic birds. "These chemical compounds, widely used in the past, have probably reached both poles.

The organic compounds with a more recent use, such as flame retardants, are now more common in the Arctic than the Antarctic, probably because emission sources are more abundant and closer to the poles in the northern hemisphere rather than in the south. Someday, however, they will get everywhere

," warned González Solís.




When mercury gets to Antarctic latitudes

Albatross and giant petrels are the ocean birds with more exposure to mercury pollution in Antarctic and sub-Antarctic environments, according to another study by González Solís (Environmental Pollution, 2016).




"This fact is probably related to the increase of mercury emission in emerging countries," says González Solís. "In general, diet is the main entrance of pollutants in marine birds -continues the expert-. Lots of pollutants (such as COP and mercury) are biomagnified through the trophic network. This makes the most vulnerable species to be found in higher trophic levels (albatross and petrels), since they feed from fish or squids, or in the case of giant petrels, from penguin and seal carrion." Most of the average sized Antarctic penguins, however, feed from krill and therefore their pollution levels are lower.




This other study analyses mercury concentration on feathers, an efficient methodology to control pollution levels of this metal in birds around the world. "With age -says the researcher- these animals can bio-accumulate some of these pollutants in organs such as the liver; but in general they have excretion ways that prevent pollutants from reaching toxic concentrations."




"In the case of mercury, one of the most important excretion ways is the feather changing. To confront the feather wear, most of the birds change them once a year and this process is a mercury excretion mechanism that reduces the levels of this pollutant on the organism," says González Solís. Another excretion way is the creation of the egg, and thus after the egg laying, females use to show lower pollutant levels compared to males.




Is it possible to lower pollutant emissions?

The effects of pollutants (COP, mercury) vary among the different Antarctic ecosystem organisms. Migrating to lower latitudes and northern hemisphere polluted areas and occupying a higher level in the trophic level are facts that increase the effects of pollutants in ocean birds. Although the toxicity of these products is well documented, its real impact on wild fauna population is still unknown for the scientists.

"These aspects are, in particular, the ones we study with the research in the University of Barcelona, focusing on analysing ecology and preservation of this group of birds" said the author. In this sense, understanding the environment pollution levels is done by studying the ecology of each species, since it is the key factor in final pollution levels. According to the UB-IRBio researcher, "the best way to fight environmental pollution is by reducing its emission sources; but to do so we need international agreements which are hard to get."




1. Jose L. Roscales, Jacob González-Solís, Laura Zango, Peter G. Ryan, Begoña Jiménez.

Latitudinal exposure to DDTs, HCB, PCBs, PBDEs and DP in giant petrels (Macronectes spp.) across the Southern Ocean.

Environmental Research, 2016; 148: 285 DOI:

10.1016/j.envres.2016.04.005




2. Peter H. Becker, Vassilis Goutner, Peter G. Ryan, Jacob González-Solís.

Feather mercury concentrations in Southern Ocean seabirds: Variation by species, site and time

. Environmental Pollution, 2016; 216: 253 DOI:

10.1016/j.envpol.2016.05.061
Australia and India join forces in $7M effort to save bees, strengthen other pollinators
July 21, 2016: Western Sydney University (WSU)
Australian and Indian researchers are pooling efforts – and funding – to safeguard fruit and vegetable crops, and insect pollinators, in the face of challenges such as honey bee habitat loss and disease.
The $7 million five-year program will be delivered by some of the country's top researchers from Western Sydney University, Bayer CropScience, Syngenta Asia-Pacific and Greening Australia, and executed with support from Horticulture Innovation Australia through its strategic co-investment Pollination Fund.
The multifaceted project will operate in parallel to the All India Coordinated Research Program (AICRP) of the Indian Council of Agricultural Research on Honey Bee Health and Training, which is being conducted through 26 research centres across India.
AICRP India project coordinator Professor RK Thakur said the research will help conserve diverse pollinator resources and enhance the productivity of agricultural and horticultural crops in both India and Australia. "Increased floral biodiversity on farms can stabilise pollinator populations and contribute to resilience and profitability of farm operations," he said.
Western Sydney University project leader Professor James Cook said the research will develop new strategies to help landowners and growers safeguard the health of pollinating insects.
"Given the fundamental importance of bees and other pollinators to successful crop harvests and the health of natural ecosystems, there is a significant lack of detailed knowledge about their overall health and wellbeing," he said. "Researchers will map the health of pollinating insects such as honeybees, native stingless and solitary bees, and outline the resources needed to support them."
The research will focus on:
• Characterising and securing alternative pollinators: Reducing the dependence on honey bees by identifying the roles of different insect pollinators in the pollination of key horticultural crops in field situations.
• Increasing pollen and nectar on farms: Developing an understanding of the contribution of floral resource species to bee colony and population health, and devise farm-level floral enhancement schemes.
• The affects of climate change on pollinators: Testing how climate manipulations influence the timing, quality and quantity of nectar and pollen available to bees.
• Bee virus research: Determining what viruses are harboured by native bees and to what extent these are shared by honeybees.
• Grower involvement and adoption: Informing and educating growers and land managers about bee population health - floral resources, diseases, soil and pest management.
Prof Cook said protecting the future of bee colonies and sourcing other pollinators has never been more important.
"Australia is the last country in the world that is free of the parasitic Varroa mite that is thought to be a major factor behind widespread colony collapses in the United States, Canada, Europe and Japan," he said.
"These tiny mites attach themselves to bees inside hives and feed from the bees, causing open wounds and transmitting viral diseases. If Varroa takes hold in Australia, it will decimate populations of both managed and wild European honey bees, and we will then be far more reliant on native pollinators."
Project partners Syngenta Asia-Pacific, Bayer CropScience and Greening Australia will bring significant strength and experience to the research. Syngenta is armed with knowledge from a number of its large-scale projects including Operation Pollinator and Hives on Farms. Bayer Australia and Bayer India will bring experience gained from its successful Feed-a-Bee and Bee Care programs which accelerate uptake at farm level. Greening Australia offers expertise in the use of native wildflower species as floral resources.
Horticulture Innovation Australia Chief Executive Officer John Lloyd said the project will help give growers, and the general population, increased certainty about the future of Australian fruit and vegetable production.
"This exciting $7 million project will deliver ground-breaking research that will ultimately help position Australia as a world-leader in bee health and pollination research and development," he said. "For this reason, it is crucial that we put practical measures in place to support honey bee health and identify and develop new pollination opportunities and techniques."
Huge Mangrove Dieback Confirmed By Surveys
A James Cook University scientist says an 'unprecedented' event has now been confirmed to have occurred, with surveys showing thousands of hectares of mangroves on the Gulf of Carpentaria suffering a severe dieback.




Mangrove dieback at the Limmen Bight River mouth - JCU Photo




JCU's Professor Norm Duke, spokesman for the Australian Mangrove and Saltmarsh Network, said scientists first heard anecdotal evidence about the scale of the dieback in early 2016, and this has now been confirmed by aerial and satellite surveys.




Dr Duke said

around 7000 hectares of mangroves, or more than nine percent of the mangroves in the area stretching 700km west from Normanton, have been affected.




He said it is the first recorded instance of its kind attributed to drying conditions and high temperatures and is

likely associated with global climate change.




"We have seen smaller instances of this kind of moisture stress before, but what is so unusual now is its extent, and that it occurred across the whole southern gulf in a single month. What we are seeing is a natural process, but nature usually does this incrementally. Not with such severity. We have never seen this before."




He said current evidence favours the proposal that the mangrove dieback is most likely caused by the extended dry season rather than high temperatures alone.




"The normal wet season in the region is four to five months long, with about 100mm falling in a month. But it seems there were 10 or 11 months in a row with rainfall below 50mm."




"By all accounts, the climate is going to become more erratic, so we can expect these type of events to become more common."




He said there is a desperate need for proper monitoring with a properly funded study, especially when the importance of mangroves to the wider eco-system was taken into consideration.




"Some of the mangroves will recover, some won't. But there are already anecdotal reports of marine life dying and piles of dead seagrass washing up on the shore. If that's true then turtles and dugongs will be starving in a few months.




The scale of this impact, covering the distance from Sydney to Melbourne, necessitates a more thorough assessment to better understand both the cause and the considerable wider impact and repercussions."




A James Cook University professor has warned that scientists are witnessing a large-scale dieback of mangroves in northern Australia.
Orange Roughy Research Off Eastern Tasmania
21 July 2016: AFMA Media Release

To ensure that sustainable commercial catch limits continue to be set for orange roughy, CSIRO scientists onboard the FV Empress Pearl have been conducting research off eastern Tasmania to measure the amount of orange roughy stock.




Orange roughy were heavily harvested during the 1980s and early 1990s to the point where catches had to be reduced. The commercial fishery off eastern Tasmania was eventually closed in 2006 and the species placed under a recovery program.




Since 2010 a number of orange roughy surveys have been conducted off the east coast of Tasmania which showed the stock has been steadily rebuilding. In 2015 the commercial fishery re-opened under a conservative catch limit of 500 tonnes. This level of commercial harvest was set to enable the stock to keep rebuilding.




The survey uses sophisticated echo sounders mounted on a trawl net to measure the density of orange roughy in the schools. This information allows the biomass in the survey area to be estimated. Cameras mounted alongside the echo sounder capture images of fish in front of the net to confirm the species of the fish being scanned by the echo sounder.




Once the survey is completed, the data will be analysed to estimate the total stock size and enable the independent AFMA Commission to continue to set sustainable catch limits. In doing so, the Commission will take advice from advisory groups made up of fishing operators, scientists and researchers, state and territory governments, conservation groups, recreational fishers and AFMA.




More information about AFMA's sustainable management of orange roughy can be found at

afma.gov.au

. The

Empress Pearl

is expected to finish its at sea work around 25 July.
Developing Highly Drought-Resistant Crops
Dr Peter Mabbitt and Dr Kai Xun Chan.

Credit: Stuart Hay, ANU.
International research led by The Australian National University (ANU) has found how plants, such as rice and wheat, sense and respond to extreme drought stress, in a breakthrough that could lead to the development of next-generation drought-proof crops.
Lead researcher Dr Kai Xun Chan from the ANU Research School of Biology said the team discovered an enzyme that senses adverse drought and sunlight conditions, and how it works from atomic to overall plant levels.
"The sensor in plant leaves is constantly sensing the state of its environment in terms of water and light levels," Dr Chan said.
"The sensor is able to sense when conditions become unfavourable, such as during extreme drought stress, by changing itself into a form with altered shape and activity.
"This sets off a 'fire alarm' in the plant, telling it to respond to drought by making beneficial chemical compounds, for instance. But in the field, this can occur too late and the plant would have suffered damage already.
"If we can get the alarm to go off at the first signs of water deficit, we can help the plant survive severe droughts."
More drought-tolerant crops are crucial to helping ensure global food security and can reduce the impact of drought on the national economy. A 2015 Climate Council report found that the Australian GDP fell one per cent due to drought and lower agricultural production in 2002 and 2003.
Drought normally hits wheat at the flowering and seed stage, which is critical in determining the size of a crop's harvest.
By activating the sensor alarm faster during a dry season, the plant can activate counter-measures in its leaves to prevent unnecessary water loss and ensure that the plant survives until the next rainfall.
"We're really excited about the potential applications of this research, which range from genetic modifications and plant breeding to the development of a chemical spray that directly targets this sensor to set off the alarm in plants," Dr Chan said.
"This could save crops and ensure they produce bigger yields. The chemical spray would provide an innovative way to reduce the impact of drought stress."
Work by Dr Peter Mabbitt and Associate Professor Colin Jackson from the ANU Research School of Chemistry, using X-ray facilities at the Australian Synchrotron, enabled the team to create a 3D model of the sensor enzyme.
Dr Chan said they will use this model and a computer program to identify candidate chemical compounds that match well with the enzyme's structure.
"This work will be a matter of fitting in a piece of the puzzle," Dr Chan said.
"Within two years, we hope to identify potential compounds for a chemical spray which will rescue crop yields. We would then need to perfect a compound in consultation with farmers and other industry players.
"We have already received funding from ANU Connect Ventures Discovery Translational Fund for this follow-up project."
The study was supported by funding from the ARC Centre of Excellence in Plant Energy Biology. It also involved Australian and international collaborations with the University of Western Australia, University of Birmingham and University of Cologne.
Kai Xun Chan, Peter D. Mabbitt, Su Yin Phua, Jonathan W. Mueller, Nazia Nisar, Tamara Gigolashvili, Elke Stroeher, Julia Grassl, Wiebke Arlt, Gonzalo M. Estavillo, Colin J. Jackson, Barry J. Pogson.
Sensing and signaling of oxidative stress in chloroplasts by inactivation of the SAL1 phosphoadenosine phosphatase.
Proceedings of the National Academy of Sciences, 2016; 201604936 DOI:
10.1073/pnas.1604936113
A Recent Pause In Antarctic Peninsula Warming
The rapid warming of the Antarctic Peninsula, which occurred from the early-1950s to the late 1990s, has paused. Stabilisation of the ozone hole along with natural climate variability were significant in bringing about the change. Together these influences have now caused the peninsula to enter a temporary cooling phase. Temperatures remain higher than measured during the middle of the 20th Century and glacial retreat is still taking place. However, scientists predict that if greenhouse gas concentrations continue to rise at the current rate, temperatures will increase across the Antarctic Peninsula by several degrees Centigrade by the end of this century.
Reporting this week in the journal Nature researchers from British Antarctic Survey (BAS) describe how the stabilisation of the ozone hole and changing wind patterns has driven a regional cooling phase that is temporarily masking the warming influence of greenhouse gases.
Lead author, Professor John Turner of British Antarctic Survey says: "The Antarctic Peninsula is one of the most challenging places on Earth on which to identify the causes of decade-to-decade temperature changes. The Antarctic Peninsula climate system shows large natural variations, which can overwhelm the signals of human-induced global warming. In recent years, there has been an international research effort to explain what's happening in the region and to understand the implications for the Antarctic environment and future sea-level rise.
"Our study highlights the complexity and difficulty of attributing effect to cause. The ozone hole, sea-ice and westerly winds have been significant in influencing regional climate change in recent years. Even in a generally warming world, over the next couple of decades, temperatures in this region may go up or down, but our models predict that in the longer term greenhouse gases will lead to an increase in temperatures by the end of the 21st Century."
A wide range of climate data was analysed for this study, including atmospheric circulation fields, sea-ice records, ocean surface temperatures and meteorological observations from six Antarctic Peninsula research stations with near-continuous records extending back to the 1950s.
During the Twentieth Century, Antarctic Peninsula temperatures increased by up to 0.5? C per decade, helping to trigger the dramatic collapse of ice shelves and causing many glaciers to retreat. Whilst there was a decrease in sea ice extent around the Antarctic Peninsula towards the end of the last century it has been increasing in recent years, particularly in the north-east of the region. The cold easterly winds observed in the 21st Century have had a greater impact on the region because the sea ice has prevented ocean heat from entering the atmosphere.
To set their observations in a longer-term context, the research team looked at a 2,000 year climate reconstruction using the chemical signals in ice cores. As previously reported, analysis suggests that peninsula warming over the whole twentieth century was unusual, but not unprecedented in the context of the past 2,000 years. The reconstruction shows a warming starting in the 1920s, which is consistent with the warming trends recorded by the meteorological stations. The ice core records also reveal periods of warming and cooling over the last several centuries that were comparable to those observed in the post-1950s instrumental record. This highlights the large natural variability of temperatures in this region of Antarctica that has influenced more recent climate changes.
Dr Robert Mulvaney, is a leading ice core researcher at British Antarctic Survey. He says: "Meteorological observations from the Antarctic Peninsula research stations only cover the last 60 years or so. If we are to get a better idea of the long-term trend we need to look back in time. The ice core record helps us see how the climate evolves over the longer term. We can also look at the levels of carbon dioxide and other chemicals that were in the atmosphere and compare them with observations from today."
In the last month, the levels of the greenhouse gas carbon dioxide (CO2) in the atmosphere above Antarctica rose past the 400 parts per million milestone, contrasting with the pre-industrial level of 280 parts per million recorded in Antarctic ice cores. Climate model simulations predict that if greenhouse gas concentrations continue to increase at currently projected rates their warming effect will dominate over natural variability (and the cooling effect associated with recovering ozone levels) and there will be a warming of several degrees across the region by the end of this century.
John Turner, Hua Lu, Ian White, John C. King, Tony Phillips, J. Scott Hosking, Thomas J. Bracegirdle, Gareth J. Marshall, Robert Mulvaney, Pranab Deb.
Absence of 21st century warming on Antarctic Peninsula consistent with natural variability
. Nature, 2016; 535 (7612): 411 DOI:
10.1038/nature18645
prison time for illegal Rock Lobster fishing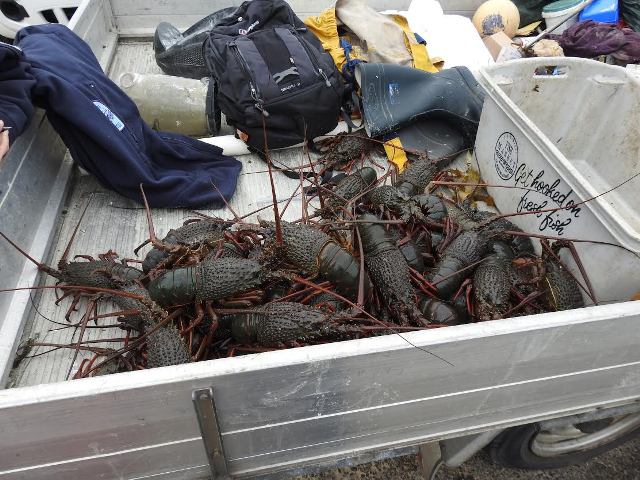 Seized Eastern Rock Lobsters
Commercial fishers in the central coast region are being reminded to adhere to the fishing regulations for Eastern Rock Lobsters and estuary fish species after a Umina fisherman was apprehended for possession of illegally taken lobsters and Mulloway.
NSW Department of Primary Industries (NSWDPI) Fisheries Acting Compliance Director, Tony Andrews, said the Central Coast team was joined by Statewide Operations and Investigations Group Officers last month in an operation to crack down on compliance within the Estuary General Fishery.
"The 36 year old commercial fisherman was found in possession of 44 live Eastern Rock Lobsters and 12 prohibited size Mulloway," Mr Andrews said.
"He also admitted to officers to oversetting his meshing nets, which is a separate offence as Estuary General Fishers are prohibited from retaining Eastern Rock Lobster caught in meshing nets."
"This fisherman has breached five regulations of the Act, including possessing illegally taken fish and unlawful use of a net or trap," Mr Andrews said.
The fisherman was apprehended and the Eastern Rock Lobsters were returned to the water by officers.
Under the Fisheries Management Act 1994, the fisherman faces maximum penalties of between six months and ten years imprisonment and up to $44,000 in fines.
"Stealing fish and black marketing, as well as damage to fish habitats are serious problems that can impact on the sustainability of our fish stocks across NSW.
"We encourage anyone who sees illegal fishing activity to report it to their nearest Fisheries office, phone our hotline or make an online report," said Mr Andrews.
Report illegal fishing activity
• Fishers Watch Phoneline: 1800 043 536
Australia Post Celebrates 50 Years Of Play School
Australia Post is celebrating half a century of Australia's longest running children's television program Play School with the release of two stamps.
Australia Post Philatelic Manager Michael Zsolt, said: "This stamp issue celebrates Play School's historic achievement and highlights the significant role the program has played in the lives of generations of Australians."
"We trust this stamp issue will be enjoyed by young collectors and Play School fans, as well as those young at heart", he said.
Robert Patterson, Director of ABC Commercial said "We are thrilled the Play School brand has been celebrated in this way by Australia Post. For 50 years Play School has entertained pre-schoolers across Australia and been welcomed into households with music, books, DVDs, toys and now a beautiful collection of stamps."
Since the Australian version of Play School was first broadcast on the morning of Monday 18 July 1966, generations of Australians have looked through the Windows and sung along to the iconic theme song "There's a Bear in There" by Richard Connolly and Dr Rosemary Milne.
Encouraging children to wonder, think, feel and imagine, each episode features two presenters - and a cast of iconic toys including Big Ted, Little Ted, Jemima and Humpty - who sing songs and explore a variety of play and craft activities based on a daily theme.
Ninety-one presenters have been part of the program, many of them professional actors who have become firm audience favourites. Lorraine Bayly, Dianne Dorgan, Kerry Francis, Anne Haddy, Donald MacDonald and Alister Smart formed the initial cast of presenters in 1966, with Benita Collings featured in a record 401 episodes between 1969 and 1999.
The domestic base-rate ($1) and large letter rate ($2) stamps were designed by Melbourne-based designer Jonathan Chong and feature some favourite characters from the TV show:
Jemima and Humpty are at a party, as a reference to the 50-year celebrations, in front of the Round Window.
Big Ted and Little Ted are ready to play ball, in front of the Arched Window.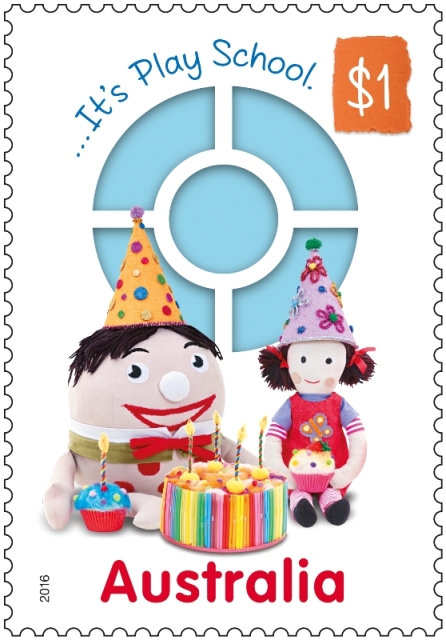 The products associated with this stamp issue are a minisheet, first day cover, stamp pack, sheetlet pack with stickers, booklet of 10 x $1 self-adhesive stamps, two stamp and coin covers, medallion cover and a set of two maxicards.
The 50 Years of Play School stamp issue is available from 26 July 2016
at participating Post Offices, via mail order on 1800 331 794 and online at
auspost.com.au/stamps
while stocks last.
Visit the Australia Post Collectables website australiapostcollectables.com.au for a forthcoming article on Play School
. The Australia Post Collectables website is a central resource for stamp collectors and philatelic enthusiasts across the globe.
CSIRO Helps Sleep Disorder Start-up Make ASX Debut
July 19, 2016: from CSIRO
CSIRO partner Oventus Medical Ltd has today listed on the Australian Securities Exchange raising $12m.
Oventus, who manufacture sleep apnoea devices, has invested heavily in R&D with CSIRO over the past two and a half years, helping to hone their production process and grow their business.
The Brisbane-based company first approached CSIRO in 2014 when dentist Chris Hart had the idea for a mouthguard with airways that would assist airflow bypass the sleep apnoea sufferer's airway obstructions including from the tongue, soft palate and nose.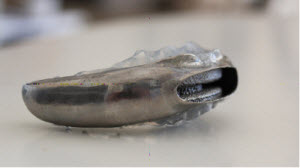 Oventus 3D-printed titanium sleep apnoea device
Right: CSIRO partner and manufacturer of 3D-printed titanium sleep apnoea devices, Oventus, lists on ASX with fully subscribed IPO.
Dr Hart asked CSIRO if they could 3D-print the device from titanium.
The result was an initial prototype which has since successfully completed clinical trials and been named the
O2Vent™.
In April this year, the device received FDA clearance opening up the US market for the company.
The O2Vent is a customisable mouthpiece which is 3D-printed to the precise dimensions of a patient's mouth, ensuring optimal airflow during sleep, reducing the effects of snoring and sleep apnoea.
Oventus Founder Dr Hart said CSIRO provided the opportunity to access new 3D-printing technologies through their Lab22 facility.
"This allowed us to explore new and innovative manufacturing techniques with a reduced investment risk," Dr Hart said.
"Using 3D-printing to manufacture the O2Vent sleep apnoea devices offered us huge advantages over traditional manufacturing methods including speed and cost.
"This partnership has made us globally competitive," he said.
Oventus is hoping O2Vent will disrupt the multi-billion dollar market for sleep apnoea solutions.
The US Sleep Foundation estimates that 37 million Americans regularly suffer from snoring.
The global sleep disorder market is estimated to be worth $50 billion annually.
An estimated one million Australians suffer from sleep apnoea.
The original prototype was made in CSIRO's Lab 22 Innovation Centre in Victoria using an Arcam 3D-printer.
CSIRO's Mr Stefan Gulizia said the idea of designing and 3D-printing completely customised mouthpieces seemed revolutionary at the time.
"It has been exciting helping Oventus progress this novel idea to a manufactured product and seeing the success of the company as it lists on the ASX today," Mr Gulizia said.
Lab 22 is one of Australia's leading facilities for metal additive manufacturing and has assisted in world-first medical breakthroughs including 3D printed body parts for patients in Australia and in Europe.
Oventus' fully-subscribed IPO has raised $12 million that will be injected into the commercialisation and distribution of their O2Vent sleep apnoea devices.
Light-bulb moment for stock market behavior
University of Adelaide physicists have discovered that the timing of electronic orders on the stock market can be mathematically described in the same way as the lifetime of a light bulb.
The surprising finding is a "crucial first step" towards predicting dramatic movements on stock exchanges that could lead to stock market crashes.
The two University of Adelaide physicists, in collaboration with colleagues in the German finance sector, analyzed the arrival and cancellation times of many millions of buy and sell 'limit orders' from seven different stocks on the electronic orderbook of the London Stock Exchange over a period of four months.
The seven stocks were chosen to represent the full range of stocks from those traded rapidly in large volumes such as Rio Tinto through to Yellow Pages which are traded much less frequently.
The results, published in the journal Physics Letters A, showed remarkable and unexpected behaviour.
"We found that when we looked at orders that came in extremely close together, less than 10 milliseconds apart, there were a huge number of orders placed and withdrawn that don't satisfy any rational formula that we could see at all," says Professor Anthony Thomas, Australian Laureate Fellow and Elder Professor of Physics at the University of Adelaide.
"It appears that in these cases, what's going on is some attempted market manipulation through fake orders to try and suggest that the market is moving when it's not.
"However, when we excluded all the orders of less than 10 millisecond intervals, we found the market actually shows amazingly rational behaviour. In fact the pattern of placement and removal of orders then follows a well-known probability distribution, the Weibull distribution.
"And even more surprisingly the shape of the distribution is the same for all the stocks we studied -- a shape that corresponds to 'maximum entropy' or, in other words, maximum disorder.
"This is a major discovery, telling us about the dynamics of the electronic orderbook." Research Associate Dr Ayse Kizilersü says one example of Weibull distribution is the life-time of a light bulb. "The finding that the stock market activity can be described in this same way may lead us to being able to determine how likely dramatic events such as stock market crashes are," says Dr Kizilersü.
"Perhaps then the information can be used to properly manage the risks associated with investing. For example, stock market regulators could detect irregularities in movements which would leave the small investors at a disadvantage, such as market abuse."
The researchers plan to continue their research looking at price movements.
Ayşe Kızılersü, Markus Kreer, Anthony W. Thomas, Michael Feindt.
Universal behaviour in the stock market: Time dynamics of the electronic orderbook.
Physics Letters A, 2016; 380 (33): 2501 DOI:
10.1016/j.physleta.2016.05.035
Vice-Chancellor Professor Barney Glover to lead MAAS Trust
Vice-Chancellor of Western Sydney University, Professor Barney Glover, has been appointed President of the Museum of Applied Arts and Sciences (MAAS) Trust and will play a pivotal role in the Powerhouse's relocation to Parramatta.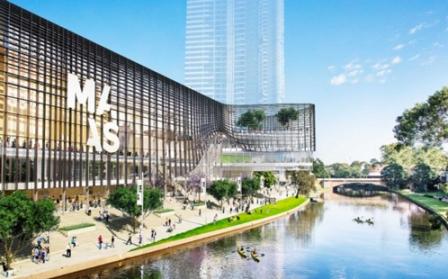 Professor Glover will be joined on the Trust by robotics and intelligence systems research and development expert Professor Salah Sukkarieh.
Deputy Premier and Minister for the Arts Troy Grant said the new President and new Trust member come as the Museum undergoes a once-in-a-generation renewal and relocation to Western Sydney.
"Professor Glover, a Trust member since January 2015, has his finger on the pulse in Western Sydney through the university and has a long record of success in management and leadership in research and major capital development projects," Mr Grant said.
Professor Glover said he looks forward to deepening his involvement with MAAS.
"I'm particularly excited about working with the Museum team as we plan one of the most significant cultural infrastructure projects of recent times in the heart of Western Sydney," Professor Glover said.
MAAS Director Dolla Merrillees welcomed Professor Sukkarieh to the Trust, and looked forward to building on the Museum's relationship with him, established through working together on the successful Mars Lab project.
Deputy Premier Grant thanked outgoing President Professor John Shine AO and Trustee Dr Judith O'Callaghan for their dedicated service to the Trust.
"Professor Shine has been an exceptional President and since taking the post over four years ago has taken the Museum in an exciting new direction and a period of growth."
Outgoing President Professor John Shine said it was a privilege to serve as the President of the MAAS Board of Trustees throughout a period of immense change and growth for MAAS.
"I congratulate Professor Glover and with the newly appointed Director, Dolla Merrillees at the helm I look forward to following the success of this team as they continue to build audiences ongoing programs and a new museum in Parramatta," Professor Shine said.
The Powerhouse Museum is the major branch of the Museum of Applied Arts & Sciences in Sydney, the other being the historic Sydney Observatory. Although often described as a science museum, the Powerhouse has a diverse collection encompassing all sorts of technology including decorative arts, science, communication, transport, costume, furniture, media, computer technology, space technology and steam engines.
It has existed in various guises for over 125 years, and is home to some 400,000 artifacts, many of which are displayed or housed at the site it has occupied since 1988, and for which it is named — a converted electric tram power station in the Inner West suburb of Ultimo (500 Harris Street), originally constructed in 1902. It is well known, and a popular Sydney tourist destination. The Powerhouse Museum has its origins in a recommendation of the trustees of the Australian Museum in 1878 and the Sydney International Exhibition of 1879 and Melbourne International Exhibition of 1880. Some exhibits from these events were kept to constitute the original collection of the new Technological, Industrial and Sanitary Museum of New South Wales.
The museum was intended to be housed in the exhibition buildings known as the Garden Palace, which were destroyed by a fire in September 1882. A temporary home at the Agricultural Hall in the Domain served until relocated to new, purpose-built premises in Harris Street as the Technological Museum in August 1893. It incorporated the Sydney Observatory in 1982. The museum moved to its present location (the old Ultimo Power Station at 500 Harris Street) in March 1988, and took its present name (The Powerhouse Museum) from this new location. In February 2015, the State Government announced that the museum will be relocated to Parramatta.
Ninety five percent of the Powerhouse Museum's collection is maintained in storage at any one time. Sixty percent of this was moved from late 2004 to a new three hectare site in the northwestern Sydney suburb of Castle Hill. Built at a cost of A$12 million, this facility consists of seven huge sheds, including one the size of an aircraft hangar, within which are housed such recently rediscovered artifacts as a section of the mast of HMS Victory, Nelson's flagship at the Battle of Trafalgar, and the spare wheel from Bluebird, the car Donald Campbell drove to break the world land speed record on Lake Eyre in the 1960s.
The Powerhouse Discovery Centre at Castle Hill
opened to the general public on 10 March 2006.
The Powerhouse Museum will be moved to the banks of the Parramatta River and housed in an iconic purpose-built building, much larger than the current site in Ultimo. Construction is expected to begin in 2018 and completed in 2022.
How many people visit the Museum each year?
The average over the last five years, across our three sites, is more than 640,000 visitors each year.
The Powerhouse averaged over 480,000 visitors annually to the Ultimo building.
Visitors to our off site exhibitions and programs, averaged between 2005-2010, were over 390,000 per year.
Since the Powerhouse Museum opened in 1988, over 15.8 million visitors have passed through our doors at Ultimo.
CSIRO Appoints Bupa Executive to Lead Health Research
July 21, 2016: from CSIRO
CSIRO has today announced Dr Rob Grenfell as its new Director of Health and Biosecurity. Dr Grenfell joins CSIRO from healthcare provider Bupa where he held the role of National Medical Director for Australia and New Zealand.
Dr Grenfell will lead CSIRO's Health and Biosecurity group which spans public health, animal health, environmental health, and biosecurity.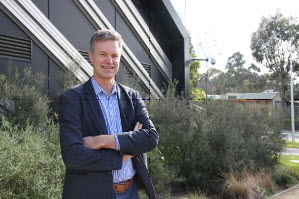 Dr Rob Grenfell, the new Director of Health and Biosecurity at CSIRO.
He will also be responsible for CSIRO's broader health strategy which will address the critical health challenges facing Australia drawing on the organisation's deep portfolio of expertise across e-health, biomedical manufacturing, nutrition, and One Health (linking human, animal and environmental health).
Dr Grenfell is tasked with growing CSIRO's health impact through forging strong partnerships with government, industry, and the wider medical R&D community leveraging CSIRO's unique capabilities for the benefit of all Australians.
Dr Larry Marshall, CSIRO Chief Executive, said CSIRO's purpose is to use science to solve the greatest challenges facing our nation.
"Few challenges are more important than keeping our people healthy through an effective health system in the face of changing demographics, growing costs, new disease pressures, digital disruption, and increasing societal expectations," Dr Marshall said.
"Rob joins an impressive leadership team who have already saved lives with data, reduced diabetes and obesity through diet, and developed vaccines for chronic diseases.
"Through deep collaboration with our leading universities, CSIRO's One Health approach will address the biggest health challenges facing Australia, building a powerhouse of health innovation," he said.
Dr Grenfell, a qualified Public Health Physician and GP, brings almost 30 years of public and private sector experience to the role.
At Bupa he was responsible for clinical quality, leading Bupa's Reconciliation Action Plan, clinical contribution in new ways of working as part of Bupa's Digital Innovation Lab, and evaluating and incorporating new technologies into health services.
Prior to Bupa Dr Grenfell was the National Director Cardiovascular Health for the Heart Foundation where he managed their clinical program unit and the National Aboriginal health unit.
"No other organisation can say they have helped to create extended-wear contact lenses, created a vaccine for the Hendra virus, run Australia's largest clinical telehealth trial, and created the first drug successful in treating flu," said Dr Grenfell.
"This makes CSIRO a unique organisation and valuable partner for delivering science with great purpose.
"This is a once in lifetime opportunity to shape the future of health in Australia and to build on CSIRO's enviable track record for delivering technologies that enhance lives, add value to existing industries, and grow new industries," he said.
As a practicing GP, Dr Grenfell maintained an isolated rural general practice in Natimuk (VIC) for 13 years until June 2011.
He is a past member of the health advisory committee of the NHMRC (2002-2005) and is the past Chair of General Practice Victoria.
He is also a Fellow of the Australasian Faculty of Public Health Medicine and holds a Bachelor of Medicine and Bachelor of Surgery from Monash University.
USA And NSW To Share Cancer Research
Tuesday July 19, 2016: NSW Health Media Release
An historic agreement has been signed that will open the door to greater collaboration in cancer research between New South Wales and the United States. The NSW Government signed a Memorandum of Understanding with the Obama Administration during US Vice President Joe Biden's visit to Australia.
The US National Cancer Institute (NCI) and NSW Government formalised an agreement to work together on the Cancer Moonshot initiative, which was announced by President Obama in his State of the Union address in January 2016.
NSW Premier Mike Baird said the state had much to offer the world in the fight against cancer through the state's long-term investment in health and medical research, and ensuring research is translated into patient care.
"This agreement will allow us to share our advances in cancer research, with the aim of preventing, controlling and managing the disease," Mr Baird said.
Health Minister Jillian Skinner said: "Through cooperation and high-quality research it is hoped we will discover new anti-cancer agents and be able to detect many cancers earlier, including childhood cancers."
Minister for Medical Research Pru Goward said: "This partnership is recognition of the critical role our NSW scientists are playing in the effort to cure cancer."
The US National Cancer Institute has identified integrated cancer proteomics and genomics as one of the key components of the Cancer Moonshot program.
As part of the agreement, the NSW Government will inject $6 million into a joint project between the Children's Medical Research Institute and Garvan Institute of Medical Research, which house the Southern Hemisphere's most advanced programs in cancer proteomics and genomics respectively.
A Joint Steering Committee will be established to meet at least once a year to oversee the implementation of the MOU and develop ongoing collaborative research.
Massive diabetic foot disease costs
New research from QUT shows preventable hospitalisation from diabetic foot disease is costing Australia hundreds of millions of dollars each year.
Senior Research Fellow at the Queensland University of Technology and co-chair of Diabetic Foot Australia, Peter Lazzarini, said the importance of early prevention of diabetic foot disease was never more important.
Mr Lazzarini led the Australian-first study published in BMJ Open finding one in every 22 patients in our hospitals have active diabetic foot disease.
"Our study, which investigated a representative sample of hospitalised patients in five hospitals across metropolitan and regional Queensland, found 4.6% of all patients had active diabetic foot disease and nearly half of those were in hospital because of their diabetic foot disease.
"This equates to 27,600 hospitalisations each year caused by diabetic foot disease in Australia, which puts diabetic foot disease easily in the top 20 causes of hospitalisation in Australia."
He said this amounted to an annual direct cost to Australia for hospitalisation alone of $350 million.
"This figure is much higher than we previously thought and is still very much a conservative estimate, because this cost only relates to patients admitted because of their diabetic foot disease in public hospitals," he said.
Mr Lazzarini said diabetic foot disease didn't stop with hospitalisation and that it also causes 4,400 amputations and nearly 1,700 deaths in Australia each year.
"If diabetic foot disease is left untreated it can quite easily result in hospitalisation, amputation and even death," he said.
"Unfortunately, we also found that people hospitalised because of diabetic foot disease had rarely received the recommended multi-disciplinary foot care needed to properly treat their disease in the year prior to their hospitalisation. This seems to confirm our thoughts that people with diabetic foot disease that do not see a multi-disciplinary foot disease team are more likely to end up in hospital."
However, Mr Lazzarini offers a message of hope: early prevention.
"We know from our previous research in Australia that when people with diabetic foot disease receive this recommended multi-disciplinary foot care we can prevent around half of the hospitalisations, amputations and costs that would have occurred without this care. Diabetic foot disease is a readily preventable disease if diagnosed and treated early."
Mr Lazzarini, and a national expert team from Diabetic Foot Australia, are advocating for a national multi-disciplinary approach this National Diabetes Week to help end avoidable hospitalisation and amputation from diabetic foot disease.
"Our study, and similar research from Europe and the US, firstly recommends everyone with diabetes presenting to a hospital needs to have their feet screened for diabetic foot disease. This would help identify nearly everyone who presents to an Australian hospital that needs treatment for this disease but doesn't necessarily know it.
"Secondly, everyone who is found to have diabetic foot disease needs to be seen by a multi-disciplinary foot disease team both in and out of hospital. In the UK they are up in arms that 20% of their hospitals do not have these teams. We estimate only 20% of our hospitals in Australia actually have these teams and this needs to significantly improve.
"Thirdly, people with diabetes need to see their GP or podiatrist at least every year for a foot screen. Unfortunately, people with diabetes can lose feeling in their feet and left unchecked diabetic foot disease can develop in the form of sores, infections and poor circulation. We know that about 50 per cent of the over one million Australians with diabetes have a foot screen each year. This means we don't know if diabetic foot disease has affected the other 50 per cent and sometimes it's too late when we do. If we can pick up diabetic foot disease early and refer people to these multi-disciplinary foot teams we can prevent thousands of hospitalisations, amputations and even deaths.
"We know these simple preventative measures can save our hospital system millions and millions of dollars each year, but most importantly, change the lives of thousands of Australians with diabetes by empowering them to keep both their feet firmly on the ground and out of hospital."
Diabetic Glenn Wilson from Albany Creek knows only too well the value of early intervention.
Having lost every toe on his left foot and one on his right some years ago, Mr Wilson is keen to raise awareness of the need for diabetics to keep their diabetes under control.
"You have to be on your toes to keep your toes," he said.
"You can only keep your diabetes under control if you are having regular check-ups with your GP and your podiatrist, self-check for any injuries or abnormalities, a feeling of heat in the foot which can indicate infection even though you might not be able to see it, and check your blood sugar levels daily.
"All this information wasn't available when I first had diabetes but people now have the knowledge and knowledge is power."
Mr Wilson said people needed to be aware of the need to act quickly when they spotted a problem.
"When I saw an infection on my foot a while ago and couldn't get an appointment with my GP I came to the QUT Podiatry Clinic and was able to have a script prepared so I could receive the antibiotics I needed," he said.
Mr Wilson said the cost to the health system was really just a fraction of the overall cost to society.
"There are so many things that people take for granted that I can no longer do. For example, walking on the beach and being able to feel sand between your toes, hiking in nature, riding a bike. I can't even ride an exercise bike because I have no feeling in either foot," he said.
Peter A Lazzarini, Sheree E Hurn, Suzanne S Kuys, Maarten C Kamp, Vanessa Ng, Courtney Thomas, Scott Jen, Ewan M Kinnear, Michael C d'Emden, Lloyd Reed.
Direct inpatient burden caused by foot-related conditions: a multisite point-prevalence study.
BMJ Open, 2016; 6 (6): e010811 DOI:
10.1136/bmjopen-2015-010811
Screening for suicide risk among urban children vitally important
Screening for suicide risk among publicly insured urban children who are experiencing psychological distress is vitally important, finds a new study from the Brown School at Washington University in St. Louis.
"Clinicians need to pay special attention when working with young people in this population who are going through psychiatric crisis," said lead author Sean Joe, the Benjamin E. Youngdahl Professor of Social Development and noted expert on suicidal behavior among African Americans.
The study, "Suicide Risk Among Urban Children," will be published in the September issue of the journal Children and Youth Services Review.
"This study is one of the few that examines suicidal thoughts and behaviors in a large clinical sample of urban children," Joe said.
"Our findings indicate that ethnic group identity is not a good indicator of suicide risk, or any health status, without careful consideration for what is actually being captured by the ethnic categorization of human beings, individually and contextually," he said.
The study examines how socio-demographic and clinical characteristics influence suicide risk among a large, urban sample of children, age 12 and younger, who were receiving psychiatric emergency services.
Approximately 17.2 percent of patients presented had a history of suicidal thought and behavior. Despite the larger number of black children presenting for psychiatric emergency services, the study found no significant difference in suicide risk across ethnic group, though the prevalence rates were increasingly higher in whites, Latinos and blacks, respectively.
Of those presenting with suicidality, 65.1 percent were diagnosed with a behavioral disorder; 26.3 percent were diagnosed with a mood disorder; 3.8 percent with a psychotic disorder; and 4.8 percent with another disorder.
About 1 in 10 suicidal cases admitted to prior child abuse.
"We found that patients admitted to the hospital for suicidality were more likely to be female, to have a mood disorder and to be appropriately discharged to an inpatient setting following initial hospital care," Joe said.
"Suicide risk should be considered in the context of psychiatric health and gender for more
accurate assessment," he said. "Regardless of ethnic group membership, urban children expressing intentions to self-harm or exhibiting mood disorder symptoms should be examined for the potential to suicide. Such clinical consideration is a sharp departure from conventional practice wisdom.
"These findings suggest that all children, regardless of ethnic group, should be examined for suicidality when presenting at psychiatric emergency service with known risk factors, and that more study is warranted on this topic," Joe said.
Murrinhpatha Language Northern Territory in Australia
The way that different languages convey information has long fascinated linguists, anthropologists, and sociologists alike. Murrinhpatha, the lingua franca spoken by the majority of Aboriginal people in the Moyle and Fitzmaurice rivers region of Australia's Northern Territory has many interesting features, with the absence of verbal abstract directions a prominent one among them. And if a language doesn't have terms to denote specific space concept, how can speakers communicate the direction of one location with respect to another?
A new paper published in Open Linguistics investigates directional pointing and demonstrative usage in an ecologically valid direction-giving task. As co-speech gesture is normally thought of as 'extra-linguistic', the necessity of pointing for direction-giving in Murrinhpatha calls for a conception of language that incorporates the visual/corporal modality.
Rather than using abstract directionals, speakers of Murrinhpatha make reference to locations of interest using named landmarks, demonstratives and pointing. And because pointing is necessary for direction giving, people of the region point a great deal. Certain demonstratives (e.g., kanyi, 'this'/'here') are quite likely to occur with points, whereas others don't. The choices speakers make about which demonstrative to select, and whether or not to point, is influenced by whether the current speaker is soliciting information about a location, or providing information only.
Both demonstrative selection (e.g., this way vs. that way) and the likelihood that directional pointing will occur are closely tied to the sequential organisation of talk, and depend on the current speaker's knowledge about the relevant location relative to their addressee's knowledge about that location.
This is the world's first methodologically entirely innovative study to investigate the relationships between pointing, demonstrative use, and the sequential structure of social interaction. Murrinhpatha speakers use place names and pointing to convey spatial directions that can't be otherwise expressed through abstract means. Points are most likely to occur with proximal demonstratives (this X, here) and least likely to occur with anaphoric demonstratives (that X previously mentioned). Irrespective of demonstrative type, points are more likely to be used when information is being solicited than when it is being provided.
In non-signed languages, pointing is normally relegated to co-speech gesture; that is, as a helpful addition to language proper. A small number of researchers have argued that points and certain other gestures are sufficiently language-like as to be brought in to the larger language faculty. The present authors call for a broader conception of language that subsumes gesture.
Pointing out directions in Murrinhpatha
.
Joe Blythe, Kinngirri Carmelita Mardigan, Mawurt Ernest Perdjert, Hywel Stoakes,
Macquarie University, University of Melbourne and
Kanamkek Yile Ngala Wadeye Aboriginal Languages Centre