Inbox and Environment News: Issue 268
June 19 - 25, 2016: Issue 268
Bushcare Back On After Storms
Bushcare is back in business following last weekend's deluge and most of our Bushcare work areas have been assessed as safe to go back to, however there are a couple of adjustments to our usual meeting places this week, notably Angophora Reserve and Irrawong Reserve.
Please join us and enjoy some time in the great outdoors doing something wonderful for our local environment. Wear enclosed shoes, a hat, comfortable protective clothing, and bring along a bottle of water. Council will provide tools, training, and a legendary morning or afternoon tea!
Are you planning to join a Bushcare group for the first time, or are currently a member of a group and wish to join a different Bushcare session? Fantastic! Don't forget to contact the relevant Bushcare supervisor listed in the contacts below, or please call me on 0408 164 235 to ensure your supervisor knows to expect you :-).
For more information about these or any events please give me a call.
Thanks for your amazing efforts and continued support!
Helena Dewis
Northern Beaches Council Bushcare Officer
P - 9970 1367
M - 0408 164 235
Groups on today
meet at the Bilwara Avenue entrance (between no.s 26 and 28), Avalon
8:30 - 11:30 am
Contact: Mia Dalby-Ball 0488 481 929
meet at Reserve entrance on Crescent Road, Newport
9:00 am - 12:00 pm.
Contact: Jan Koltai 0432 772 090
meet at entrance to reserve adjacent 83 Whale Beach Road, Avalon Beach
8:30 - 11:30 am
Contact: Helena Dewis 0408 164 235 or Marita Macrae 0439 409 202
Monday 20th June
meet at the end of Allen Avenue, Bilgola Beach (northern end)
9:00 am - 12:00 pm
Contact: Paul Webb 0449 894 811
Mona Vale Hospital To Trial Food Composting System
Member for Pittwater Rob Stokes today announced the NSW Government will fund a new composting system at Mona Vale Hospital to help reduce the amount of food waste going to landfill.
The project is being funded under the NSW Government's Waste Less Recycle More program and will see a composting system installed to process the hospital's food waste into reusable compost rather than it being discarded.
"This is a great initiative that will help tackle the enormous amount of food waste that's simply discarded every year," Rob Stokes said today.
"Unfortunately our State's hospitals are huge producers of food waste and it's clear we need a better system in place.
"Rather than discarded food simply becoming part of landfill - we're now looking at innovative ways to convert this waste into compost and enabling it to be reused.
"It's great that Mona Vale Hospital is helping lead the way and trailing a system which could become commonplace in all hospitals in the future," Rob Stokes said.
Wentworth Group of Concerned Scientists warns NSW's biodiversity laws will "increase the rate of species extinctions"
June 14, 2016:

Nature Conservation Council
The Wentworth Group of Concerned Scientists has issued a damning assessment of the Baird government's draft Biodiversity Conservation Bill, warning it will "increase the rate of species extinctions". [Download]
The Group has written to NSW MPs warning the government's plans will result in "more degraded land, more damage to river systems, increased carbon emissions, and the loss of habitat critical to the survival of threatened species."
The letter says the package "will breach the government's election promise to 'enhance the State's biodiversity for current and future generations'".
Nature Conservation Council CEO Kate Smoklsi said: "The Wentworth Group's criticism is especially damning because one of the signatories to the letter is Professor Hugh Possingham, who sat on the government-appointed Independent Biodiversity Legislation Review Panel that wrote the blueprint for these reforms. [1]
"Mr Baird has sought to give its flawed package legitimacy by claiming it is implementing the Biodiversity Legislation Review Panel's recommendations. It is now clear he is doing no such thing.
"One of the Review Panel's own distinguished members, Professor Possingham, has through the Wentworth Group letter indicated the government's approach will be bad for wildlife and bushland."
The Wentworth Group letter identified three main flaws in the Baird government's package:
• Over-use of self-assessable codes, which will allow a resurgence in broadscale land clearing, habitat destruction, soil degradation, and water pollution;
• Failure to map and protect high-value wildlife habitat where clearing should not occur; and
• Misuse of the $240m private land conservation to make it a de facto "taxpayer subsidy to farmers to degrade land".
"These laws have little to do with biodiversity conservation and everything to do with fast-tracking land clearing and property development," Ms Smolski said.
"They will further the short-term interests of property developers and big agribusiness, not the communities and wildlife that depend on healthy soils, waterways and bushland for their long-term survival.
"We are already losing about 10,000ha of bushland every year to land clearing under the existing laws. Loosening controls further would be catastrophic.
"For the sake of rural communities and our native wildlife, these proposals must not become law. Mr Baird must go back to the drawing board and develop a package based on the best science to ensure protections for nature are strengthened."
Quotes from the Wentworth Groups letter to NSW MPs:
… we believe key elements [of the government's announced changes] will substantially weaken existing protections. These retrograde changes risk returning to an era of unsustainable environmental damage by reinstating broadscale land clearing, resulting in more degraded land, more damage to river systems, increased carbon emissions, and the loss of habitat critical to the survival of threatened species.
These changes will damage the reputations of those farmers who want to be good stewards, the vast majority of whom are unaffected by the current laws.
Any loss of important habitat or endangered vegetation types will increase the rate of species extinctions, which is inconsistent with government policy. This would be a clear breach of the government's claim that these reforms will 'cut red tape, facilitate ecologically sustainable development and conserve biodiversity across NSW.
The government is halfway through an eight-week public consultation process before public submissions on the proposals closes on June 28.
WENTWORTH GROUP OF CONCERNED SCIENTISTS - MEMBERS
Mr Peter Cosier
Dr Richard Davis
Prof Tim Flannery
Dr Ronnie Harding
Dr Terry Hillman
Prof Lesley Hughes
Prof David Karoly
Dr Jamie Pittock
Prof Hugh Possingham
Mr Robert Purves
Dr Denis Saunders
Ms Anna Skarbek
Prof Bruce Thom
Mr Martijn Wilder
Barrier Reef rodent is first mammal declared extinct due to climate change
14 June 2016 – University of Queensland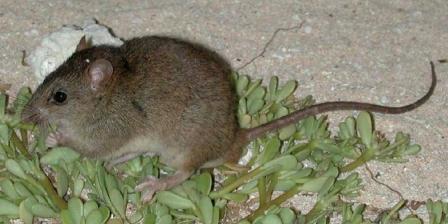 The Bramble Cay melomys
University of Queensland and Queensland Government researchers have confirmed that the Bramble Cay melomys – the only mammal species endemic to the Great Barrier Reef - is the first mammal to go extinct due to human-induced climate change.
In a newly published report, the scientists conducted a comprehensive survey in 2014 but failed to find any trace of the rodent.
The rodent was known only to live on a small (4 ha) coral cay, just 340m long and 150m wide in the Torres Strait, between Queensland in Australia and Papua New Guinea.
"Because a limited survey in March 2014 failed to detect the species, Bramble Cay was revisited from August to September 2014, with the explicit aims of establishing whether the Bramble Cay melomys still persisted on the island and to enact emergency measures to conserve any remaining individuals," Dr Luke Leung of UQ's School of Agriculture and Food Sciences said.
"A thorough survey effort involving 900 small animal trap-nights, 60 camera trap-nights and two hours of active daytime searches produced no records of the species, confirming that the only known population of this rodent is now extinct.
"Anecdotal information obtained from a professional fisherman who visited Bramble Cay annually for the past 10 years suggested that the last known sighting of the Bramble Cay melomys was made in late 2009."
Dr Leung said the key factor responsible for the destruction of this population was almost certainly ocean inundation of the low-lying cay, very likely on multiple occasions, during the past decade, causing dramatic habitat loss and perhaps also direct mortality of individuals. The cay sits at most 3m above sea level.
"Available information about sea-level rise and the increased frequency and intensity of weather events producing extreme high water levels and damaging storm surges in the Torres Strait region over this period point to human-induced climate change being the root cause of the loss of the Bramble Cay melomys," he said.
Dr Leung said the fact that exhaustive efforts had failed to record the rodent at its only known location and extensive surveys had not found it on any other Torres Strait or Great Barrier Reef island gave him confidence in the assertion that Australia had lost another mammal species.
"
Significantly, this probably represents the first recorded mammalian extinction due to anthropogenic climate change.
"However, new information is provided in support of a previously presented hypothesis that the Fly River delta of Papua New Guinea is a possible source of the original melomys population on Bramble Cay, so the Bramble Cay melomys or a closely related species might occur there. "
Dr Leung said it could be premature to declare the Bramble Cay melomys extinct on a global scale.
The study was led by Ian Gynther from Queensland's Department of Environment and Heritage Protection and in partnership with UQ researchers Natalie Waller and Luke Leung.
Gynther, I., Waller, N. & Leung, L.K.-P. (2016)
Confirmation of the extinction of the Bramble Cay melomys Melomys rubicola on Bramble Cay, Torres Strait: results and conclusions from a comprehensive survey in August–September 2014.
Unpublished report to the Department of Environment and Heritage Protection, Queensland Government, Brisbane. Available at:
Here
(PDF)
BAN THE BAG: NEW SOUTH WALES
An estimated 50 million plastic bags end up in our waterways and marine environment in Australia every year.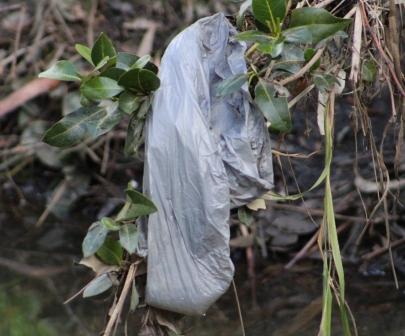 Plastic pollution is killing our marine life. 30% of the world's turtles and 90% of seabird species have now ingested plastic debris. We have to act now to clean up our oceans.
Petition - Plastic bag in mangroves - Careel Creek, June, 2016
Scarlet Honeyeater - Chiltern Track
BIBY TV: Published on 7 Jun 2016
While Scarlet Honeyeaters feed on both nectar and insects, their quest for flowering plants makes them locally and widely nomadic.
Commercial Fisheries Business Adjustment Program
The NSW Government's Commercial Fisheries Business Adjustment Program introduces linkages between shares and catch or effort. This will give fishers the ability to invest in their businesses with more certainty than ever before. Importantly,
share linkages
have been tailored to each share class.
Under the Business Adjustment Program, some commercial fishers may want to purchase more shares to secure their level of business activity, while others may choose to sell their shares and exit the industry. There is a range of assistance measures available to help industry through this transition process.
Round 4 of the Organics Infrastructure (large and small) grants program now open
Media release: 14 June 2016 - EPA
Round 4 of the Organics Infrastructure (large and small) grants program is open for applications. Grants between $25,000 and $5 million are available to build or supply the infrastructure needed to divert food and organic garden waste from landfill.
The program is being delivered in partnership with the Environmental Trust, as part of the $465.7 million Waste Less Recycle More program. Applications are invited from local councils, industry, business and not-for-profit organisations.
EPA Chair and CEO, Barry Buffier said the aim of the program is to increase infrastructure and equipment to increase recycling capacity for food and garden waste in NSW or improve opportunities to redistribute good food to people in need.
"This program is part of a comprehensive strategy underway in NSW to get food and garden waste out of landfill.
"It includes education through Love Food Hate Waste, new green-lid kerbside collection services and this funding for infrastructure to redistribute good food to people need or recycle avoidable food waste into compost.
"Now in this fourth and final round, I encourage organisations who have not yet applied for an infrastructure grant and who have projects that can be substantially completed by June next year to put in an application."
Applications are invited across three streams:
Stream 1
Food and Garden Organics Processing
•
For major equipment and infrastructure at processing facilities to process morefood and/or garden waste collected from households and businesses.
Stream 2
Business Organics Recycling
•
For equipment, like composting systems and commercial worm farms, to process food and/or garden waste onsite at large businesses or institutions like prisons, hospitals, universities and aged care.
•
To fund infrastructure, like vans, fridges and freezers, to enable food relief agencies to collect and redistribute more surplus food from businesses to people in need.
Environmental Trust Senior Grants Manager, Peter Dixon said applications are
open for Round 4 until Wednesday 13 July 2016.
"The Trust has a long history in working with Local Government, industry, non-government organisations and community groups in tackling waste, recycling and sustainability issues.
"This program, focussed on organics recovery, is helping to build the capacity in NSW to do something better with food and garden waste than dumping it in landfill."
Solitary Island Marine Park
Published on 14 Jun 2016 by DPI Fisheries
This is a place that captivates us with its colours and sounds, a place where scenes can change as quickly as tides upon the shore.
Above and beneath the surface, Solitary Island Marine Park is simply magnificent.
Sweet Addiction - The Botanic Story of Chocolate: Live at The Calyx
Sweet Addiction is the inaugural exhibition at The Calyx, Sydney's newest attraction. Find out more and book tickets at www.thecalyx.com.au
11 Jun 2016 - 17 Apr 2017, The Calyx, Sydney
See another side of nature and experience its stories in an unexpected way through Sweet Addiction – the botanic story of chocolate.
Sweet Addiction is the first exhibition to open in The Calyx, a world-class horticultural space and Sydney's newest must-see attraction.
An exhibition you can taste, touch, see, hear and smell, this is an opportunity to experience chocolate like never before.
From the depths of a South American rainforest, journey through chocolate plantations, ancient history, a Lindt chocolate mill, and a delightful chocolatier room. See the awe-inspiring interior green wall – the southern hemisphere's largest contiguous green wall complete with over 18,000 plants! And learn amazing things you never knew about chocolate.
Sweet Addiction is designed as a self-guided 45 minute experience. Suitable for chocaholics of all ages. Tickets on sale now, pre-purchase online to save!
The exhibition opens 11 June with interactive chocolate-themed events taking place throughout the exhibition period.
Watch the video to get your first taste of the exhibition.
______________
Some history of this wonderful garden which celebrates 200 years this June is in: The Royal Botanical Garden Sydney Celebrates 200 Years in 2016
Solar Breakthrough Drives Air-Con
Efficiency
CSIRO today unveiled a solar-powered air-conditioning system to cool Australian commercial buildings, achieving greater energy efficiency.
Operating at Stockland Wendouree Shopping Centre in Ballarat, Victoria, the system uses concentrating solar thermal technology to produce heat energy used to power the air conditioning system.
Rooftop concentrating solar thermal collectors at Stockland Wendouree longdesc=Rooftop concentrating solar thermal collectors at Stockland Wendouree
The Australian Renewable Energy Agency (ARENA) provided $520,000 to support the $1.2 million project, jointly managed by CSIRO with Stockland Group and NEP Solar.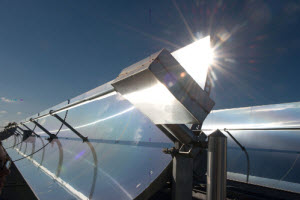 Image: Rooftop concentrating solar thermal collectors power air conditioning systems at Stockland Wendouree
The system addresses the high energy consumption of large commercial spaces such as shopping centres and hotels due to their heating and cooling energy requirements - around 60% of total energy use.
The closed-loop system uses two 'desiccant' wheels to remove moisture from the air, acting as a dehumidifier.
A high-temperature wheel uses solar heat for regeneration while a low temperature wheel functions without any external heat to deliver greater efficiency on a commercial scale.
CSIRO Energy Director Peter Mayfield is extremely pleased with the early results.
"CSIRO's energy research is driving down costs of renewable technologies, accelerating the transition to a lower-emissions future.
"We are pioneering new technologies and this project is a world-first demonstration of a desiccant air-conditioning system using roof mounted concentrating solar thermal collectors," Dr Mayfield said.
ARENA CEO Ivor Frischknecht said ARENA is happy to have partnered with CSIRO on this technology.
"It has the potential to further improve the efficiency of solar thermal energy systems and storage to provide clean and reliable heating and cooling in commercial buildings.
"ARENA is committed to supporting innovative projects like this and helping to share lessons learned amongst the wider RD&D sector, powering Australian renewable energy innovation well into the future," Mr Frischknecht said.
The air conditioning system is powered by NEP Solar's trough collectors with heat stored in a thermal oil tank.
The roof space required for the solar air-conditioning technology can be 40% less than a traditional single-stage desiccant system.
Solar heat-driven desiccant air conditioning systems can provide humidity controlled fresh air into the buildings and is expected to significantly reduce HVAC electricity usage for commercial buildings.
CSIRO will continue to assess and monitor the technology for the next 12 months to establish long-term commercial operations and further investment as part of CSIRO's commitment to creating a low emissions future for Australia.
Algae's genetic secrets help explain coral bleaching
June 15, 2016: Deborah Smith – UNSW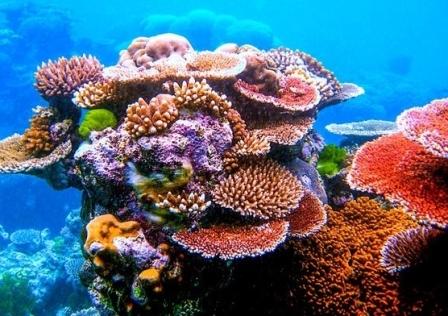 A healthy coral reef.
A UNSW-led team of researchers has identified genes that allow some algae living in corals to tolerate higher ocean temperatures than others. The genes could act as markers to understand the risk of coral bleaching in different areas of tropical reefs including the Great Barrier Reef.
"Tropical corals cannot survive without the Symbiodinium algae that live inside them. These tiny, photosynthetic organisms can provide the corals with more than 90 per cent of their food," says study first author and UNSW PhD student Rachel Levin.
Increased water temperatures stress the algae, causing them to produce an excess of toxic chemicals, called reactive oxygen species, which damage both the algae and the corals. As a result, corals expel the heat-stressed algae, become bleached white, and starve to death unless they are recolonised by new algae.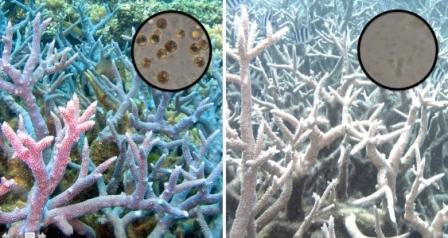 Healthy coral (left) with the microscopic algae, Symbiodinium, necessary for survival (seen in circular close-up ). And bleached coral (right). Ocean warming causes corals to lose their algae, which can result in coral death. Credit: UNSW
"For the first time, we have uncovered the mechanism that explains why some algae can withstand higher temperatures and avoid bleaching," says Levin. "We found they can switch on genes to produce proteins that neutralise the toxic chemicals."
The study is published in the high impact journal Molecular Biology and Evolution. The research team includes UNSW Professor Peter Steinberg, Director of the Sydney Institute of Marine Science, and Professor Madeleine van Oppen of the Australian Institute of Marine Science and the University of Melbourne.
"As marine systems are increasingly challenged by multiple environmental threats, it is critical that we not just describe the severity of those threats, but also understand the capacity of marine organisms and ecosystems to adapt to and overcome those threats," says Professor Steinberg.
The researchers compared two cultures of algae originally isolated from coral located at a warmer location and at a cooler location on the Great Barrier Reef. The algae from the cooler location become damaged and are expelled by corals under heat stress, but the algae isolated from the warmer location remain healthy under heat stress and are not expelled from the coral.
The team studied the algal genes to uncover those that are activated or de-activated over the course of a heat-stress experiment conducted in the laboratory. The microscopic algae have more genes than humans do.
"We found that only the algae from the warmer reef can activate specific types of genes when under heat stress to counter the damaging effects of the reactive oxygen species," says Levin. "The risk of coral bleaching in different areas on the Great Barrier Reef could be assessed by using these genes as markers."
Professor van Oppen says the study produced another surprising result. "We also discovered that, under stress, both types of algae may switch from their normal asexual mode of reproduction to sexual reproduction.
"Sexual reproduction helps speed up evolution and may allow some algae to adapt quickly enough to tolerate the rise in sea surface temperature. This could be a natural 'golden ticket' that allows some corals to survive a bleaching event," she says.
In an unprecedented event, a large part of the Great Barrier Reef has undergone bleaching this year due to unusually high sea surface temperatures, with the most recent estimates indicating that about a quarter of corals have already been lost to bleaching-related mortality across the reef.
Future surveys may reveal whether surviving corals contain algae that are able to activate the heat-tolerant genes unveiled in this study.
Winter trout closures begin June 14
8 June, 2016
Anglers looking to catch a trout are reminded that the June long weekend is their last opportunity in designated streams and rivers across NSW, before the fishing season closes in these waters over winter.
NSW Department of Primary Industries' (DPI) Inland Senior Fisheries Manager, Cameron Westaway, said the annual closure will start on Tuesday 14 June and re-open in time for the October long weekend on Saturday 1 October 2016.
"This closure allows brown, rainbow and brook trout to breed uninterrupted during their annual spawning run, while also allowing trout fishers to fish during both the June and October long weekends," Mr Westaway said.
Anglers can continue fishing for trout during the annual closure, without breaking the rules, at any of the trout dams across the State that have been stocked as part of the NSW DPI fish stocking program.
"Popular winter fishing spots include Lakes Jindabyne and Eucumbene, Oberon Dam near Bathurst, Tantangara and Talbingo Dams near Tumut and Lake Wallace and Thompson's Creek Dam near Lithgow.
"DPI, in conjunction with local acclimatisation societies, has been stocking trout dams and rivers in NSW for many years.
"During the 2015/16 season, around 2.9 million trout were stocked in NSW waterways, consisting of approximately 2 million Rainbow Trout, 630,000 Brown Trout, 150,000 Atlantic Salmon and 110,000 Brook Trout."
NSW DPI Director of Fisheries Compliance, Patrick Tully, said it is an offence to fish in trout streams during the closed season and fisheries officers will also be patrolling waterways across the State to ensure that fishers are adhering to the closure.
"Fishers heading to one of the trout dams this winter are reminded that they are still required to have a current NSW recreational fishing licence receipt on them at all times while fishing," Mr Tully said.
"A combined bag limit of five and a size limit of 25cm applies for trout or salmon in all trout dams except Thompsons Creek Dam and Black Lake where the bag limit is two."
Detailed information on the fishing rules can be found at or in the 2016-17 NSW Freshwater Fishing Guide which is available in hard copy from DPI Fisheries offices and most bait and tackle stores.
First ever legal challenge against major federal CSG approval: Santos' 6100 CSG well expansion in Queensland
June 16, 2016: By Lock the Gate Alliance
The Western Downs Alliance has commenced legal proceedings which will challenge the Federal Environment Minister, Greg Hunts, approval of 6,100 CSG wells in Queensland.
The Santos GLNG Gas Field Development Expansion expands across almost 1 million hectares of land, from Roma east to Taroom and Wandoan, and north towards Rolleston.
The community group has lodged a case in the Federal Court of Australia against the approval under the national environmental law, arguing that the Minister's approval was unlawful because he ignored plans by Santos to discharge large volumes of CSG waste water into the Dawson River.
Western Downs Alliance will be represented by public interest environmental lawyers EDO NSW.
"The Santos plan for 6,100 new CSG wells in Queensland is a recipe for disaster for the Great Artesian Basin and for landholders who depend on it" said Western Downs Alliance spokesperson Sarah Moles.
"The Environmental Impact Statement for the project predicts that it will impact on 73 water bores used by landholders in the area, and will extract 219 billion litres of water over the life of the project and produce 22 billion litres of salty brine as waste.
"Our water resources, and particularly the nationally significant Great Artesian Basin, are far too important to be put at risk for a short-term industry like CSG.
"We have launched this challenge because we believe Minister Hunt's approval is unlawful. This case is the first of its kind.
"Minister Hunt assessed and approved this development under the Water Trigger that was put into the national environmental law in June 2013 specifically to protect our water resources from large coal and CSG development.
"However, in this case it appears from the documents that Minister Hunt didn't assess the impact that the inevitable release of large volumes of waste water from the CSG project into the Dawson River would have.
"The people of Qld are sick and tired of CSG companies riding roughshod over farmers and communities, and putting long-term water supplies and food production under threat.
"We're determined to test whether this approval was given lawfully, and to act in the interests of landholders and water resources in our region.
"The next step in our case is crucial - we have asked the Minister to provide all of the documents that he relied upon to make his decision to approve the project" she said.
The Independent Expert Scientific Committee advised that there is considerable scientific uncertainty about potential impacts on surface and groundwater from the project:
Reduced water supply to important springs of the Great Artesian Basin

Cumulative impacts on groundwater pressures

Impacts from wastewater discharge into the Dawson River

Changes to groundwater and surface water quality
Modern mussel shells much thinner than 50 years ago
Cross section of a mussel shell showing its thickness. The holes show where samples were drilled to analyze its composition.
Credit: Cathy Pfister, University of Chicago
Shells of California mussels collected from the Pacific Ocean off the coast of Washington in the 1970s are on average 32 percent thicker than modern specimens, according to a new study published by University of Chicago biologists.
Shells collected by Native Americans 1,000 to 1,300 years ago were also 27 percent thicker than modern shells, on average. The decreasing thickness over time, in particular the last few decades, is likely due to ocean acidification as a result of increased carbon in the atmosphere.
"Archival material provided by past researchers, the Makah Tribal Nation, and the Olympic National Park allowed us to document this intriguing and concerning pattern in shell thickness," said Cathy Pfister, PhD, professor of ecology and evolution at the University of Chicago and lead author. The study was published June 15, 2016, in the Proceedings of the Royal Society B.
As humans burn fossils fuels, the oceans absorb a large portion of the additional carbon released into the atmosphere. This in turn causes pH levels of ocean water to drop, making it more acidic. Mussels, oysters, and certain species of algae have difficulty producing their calcium carbonate shells and skeletons in such an environment, and can provide an early indicator of how increasing ocean acidification affects marine life.
In previous studies, Pfister and her colleagues documented declining pH levels in the waters surrounding Tatoosh Island off the coast of Washington state. In 2011 they further analyzed carbon and oxygen isotopes taken from modern mussel shells, shells collected by the local Makah tribe between AD 668 and 1008, and shells collected by biologists in the 1970s.
For the new study, the researchers compared the thicknesses of the same sets of shells. On average, the shells provided by the Makah Cultural and Research Center were 27.6 percent thicker than modern counterparts. Shells from the 1970s were 32.2 percent thicker. Shells collected from a different Native American site in Sand Point, WA, dating between 2150 and 2420 years old were almost 94 percent thicker than modern shells.
The long-term decline in thickness likely shows a response to ocean acidification, though the researchers also consider other environmental drivers including changes in food supply (e.g. plankton) for mussels.
The researchers also point out that their findings raise concerns about the California mussel's ability to retain its role as a foundational species in these waters. Decreased shell thickness makes them increasingly vulnerable to predators and environmental disturbances. This in turn could affect interactions with hundreds of other species of organisms that live near mussel beds in tidal waters.
"The California mussel is a common species along the entire west coast of the United States, and their fate will be linked to that of a rich diversity of predators, including sea stars and sea otters, as well as myriad species that are part of the mussel bed habitat," Pfister said. "It is imperative that we understand more about how these species will change as ocean conditions change."
Catherine A. Pfister, Kaustuv Roy, J. Timothy Wootton, Sophie J. McCoy, Robert T. Paine, Thomas H. Suchanek, Eric Sanford. Historical baselines and the future of shell calcification for a foundation species in a changing ocean. Proceedings of the Royal Society B: Biological Sciences, 2016; 283 (1832): 20160392 DOI:
10.1098/rspb.2016.0392
Camden Gasfields Petition
AGL still have 96 coal seam gas production wells in South Western Sydney, surrounding Camden, some between 40m - 200m from family homes and schools.
While the Eastern suburbs, electorates for Mike Baird and Malcolm Turnbull MP, have zero.
As the largest growth center in Sydney there are current plans to build 35,000 new homes as close as 20m from AGLs existing coal seam gas wells.
AGL plans to stop all production in this area by 2023. This is not acceptable. These families do not deserve 7 more years of these horrific health effects. 35,000 new homes in the same area is a health epidemic in the making.
Australian Mothers-Against-Gas started this petition with a single signature, now they need more support to help protect Camden and shut down those wells NOW.
NSW Budget: Record Investment to Tackle Domestic Violence
The NSW Government will continue to lead the nation with new initiatives and record
investment to prevent and respond to domestic and family violence in the 2016-17
Budget.
Minister for the Prevention of Domestic Violence and Sexual Assault Pru Goward
and Treasurer Gladys Berejiklian said the Government is doubling its investment in
specialist domestic violence services and initiatives to more than $300 million over
four years, up from $148.5 million in the 2015-16 Budget.
"This is in addition to the hundreds of millions of dollars the government spends each
year to combat domestic and family violence through mainstream services in justice,
police, health, child protection, social housing and homelessness services," Ms
Goward said.
"I am pleased the Budget will allocate $53 million over the next four years for a statewide
roll out of Safer Pathway, subject to the successful evaluation of pilot sites.
Safer Pathway ensures high-risk victims receive a consistent and integrated multi
agency response, it is currently operating in six sites. Nineteen new sites will
commence in 2016-17."
"This Budget will also deliver a new $20 million Domestic and Family Violence
Innovation Fund for prevention, early intervention and crisis responses that support
the efforts of our specialist domestic and family violence services and refuges."
Ms Berejiklian said the record investment would be included in the June 21 NSW
Budget.
"Domestic and family violence represents one of the biggest social challenges of our
time and requires a whole-of-government response," Ms Berejiklian said.
"The NSW Government is tackling this issue with this major investment."
Deputy Premier and Minister for Justice and Police Troy Grant said the NSW
Government will invest $2.9 million over four years to introduce GPS monitoring to
improve victim safety.
"The devices will be fitted to high-risk domestic violence offenders and police will be
alerted if an offender is at a location they are prohibited from entering," Mr Grant
said.
"The GPS monitoring can apply to sentenced or paroled offenders, but can also be
used to monitor compliance with bail conditions in cases where a victim is protected
by an ADVO with geographical restrictions."
"There will also be an option for a victim to carry a corresponding device so an alert
will be generated if the offender approaches their vicinity.''
"NSW is taking strong and immediate action to apprehend, monitor and rehabilitate
offenders before they cause further harm."
The NSW Government will also invest $22 million over four years to roll out Police
High Risk Offender Teams, as announced last October. The first two specialist
teams will launch in the Northern Region and the Central Metropolitan Region this
year."
Other initiatives in the upcoming NSW Budget include:
$43 million over four years for housing supports through Start Safely providing

s

hort to medium-term financial help for people escaping domestic and family

violence who are at risk of homelessness

$34 million over four years for the Women's Domestic Violence and Court

Advocacy Program, and an additional $6.3 million over four years to meet

unmet demand to respond to police referrals. This investment will ensure

victims and their families can continue to receive comprehensive support

through the justice system

$25 million over four years for Staying Home Leaving Violence so women and

children can stay safely in their own home or a home of their choice.

$15 million over four years for NGO-led community based perpetrator

interventions, including $8 million in new funding, to change behaviour

$13 million over four years for Victims Services to pilot new responses for

male victims such as gay men, or fathers and sons suffering family violence,

through expert NGO support.
Age, obesity, dopamine appear to influence preference for sweet foods
As young people reach adulthood, their preferences for sweet foods typically decline. But for people with obesity, new research suggests that the drop-off may not be as steep and that the brain's reward system operates differently in obese people than in thinner people, which may play a role in this phenomenon.
The new findings are published online June 15 in the journal Diabetes.
"We believe we may have identified a new abnormality in the relationship between reward response to food and dopamine in the brains of individuals with obesity," said the study's first author, M. Yanina Pepino, PhD, an assistant professor of medicine. "In general, people grow less fond of sweet things as they move from adolescence into adulthood. Also, as we age, we have fewer dopamine receptors in a brain structure, called the striatum, that is critical to the reward system. We find that both younger age and fewer dopamine receptors are associated with a higher preference for sweets in those of normal weight. However, in people with obesity, that was not the case in our study."
The researchers studied 20 subjects with healthy weights and compared them with 24 people considered obese, each of whom had a body mass index of 30 or higher. The study volunteers were 20 to 40 years old.
The participants received drinks containing varying levels of sugar to determine the degrees of sweetness each individual preferred. The researchers then conducted positron emission tomography (PET) scans to identify dopamine receptors linked to rewards in each person's brain. Dopamine is the main chemical in the brain that makes us feel good. The PET scans revealed that although there was a relationship between the dopamine receptors, preference for sweet things and age in lean people, that pattern didn't hold true in the brains of obese people.
"We found disparities in preference for sweets between individuals, and we also found individual variations in dopamine receptors -- some people have high levels and some low -- but when we looked at how those things go together, the general trend in people of normal weight was that having fewer dopamine receptors was associated with a higher preference for sweets," said co-investigator Tamara Hershey, PhD, a professor of psychiatry, of neurology and of radiology.
But that wasn't true in the obese subjects. The relationship between their ages, sweetness preferences and dopamine receptors didn't follow the pattern seen in people who weighed less.
Pepino and Hershey explained that it's possible that insulin resistance or some other metabolic change linked to obesity could contribute to the absence of those associations in the obese group. Although none of the obese study participants had diabetes, some had higher blood glucose and insulin concentrations, and some were becoming resistant to insulin. The researchers believe those factors could have altered the brain's response to sweet things.
"There is a relationship between insulin resistance and the brain's reward system, so that might have something to do with what we saw in obese subjects," Hershey said. "What's clear is that extra body fat can exert effects not only in how we metabolize food but how our brains perceive rewards when we eat that food, particularly when it's something sweet."
Pepino MY, Eisenstein SA, Bischoff AN, Klein S, Moerlein SM, Perlmutter JS, Black KJ, Hershey T.
Sweet preferences, DA D2R, age and obesity.
Diabetes, June 2016 DOI: 10.2337/db16-0407
How citizen journalism can lead to cyber bullying
Citizen journalism is often seen as more democratic form of journalism, where the public contributes to the reporting, analysis and dissemination of news. Sociologist and criminologist Agneta Mallén at Lund University in Sweden has studied the phenomenon and shown some of its downsides, including how it sometimes leads to outright cyber bullying.
In recent years, citizen journalism has become a widely known phenomenon. It involves ordinary citizens witnessing events, documenting them on their mobile phones and sharing them on social media. It has become an increasingly important news source that often sets the tone of how an event is perceived by the world.
"Common within this type of citizen journalism is that it is perceived as truth to at least the same extent as ordinary journalism," says Agneta Mallén.
She argues that the credibility is enhanced by the often poor film quality and shaky image, giving the viewer a high sense of presence, allowing them to become less critical of the source.
"Another problem with citizen journalism is that it opens the door to cyber bullying," says Agneta Mallén.
In a recently published study, she has analysed a video clip that circulated a few years ago under the name "Crazy Granny," which shows an elderly woman who looks as if she is trying to sneak away without paying for her taxi fare. The clip has been viewed hundreds of thousands of times, and in hundreds of comments the woman is defamed and ridiculed.
"The comments against the old lady were extremely harsh. Many of them were sexist and encouraged violence. Furthermore, from the comments it was possible to determine the woman's identity and address," says Agneta Mallén.
Agneta Mallén read the taxi driver's police report against the woman and got a completely different story than the one told in the video clip.
It turned out that the woman was not at all trying to avoid paying for her taxi fare, but rather the conflict was about her accidentally spilling something on the seat of the taxi, and the fact that the driver wanted her to pay damages before letting her leave. The police classified it as an accident and immediately closed the preliminary investigation.
"But the damage was already done. The woman had already been humiliated in a massive cyber bullying campaign, and never received any redress. The woman was subjected to a virtual punishment for something she did not do. The behaviour is very similar to the medieval pillory where the sentence entailed being mocked in public," says Agneta Mallén, who thinks it is important to discuss the downsides to citizen journalism.
"Video clips filmed with a mobile phone can help police solve crimes and are increasingly used as evidence in trials. However, it is important to realise that these videos only show part of the truth and that the person being filmed does not have any say on the material before it is published online," says Mallén.
Agneta Mallén.
Stirring up virtual punishment: a case of citizen journalism, authenticity and shaming.
Journal of Scandinavian Studies in Criminology and Crime Prevention, 2016; 17 (1): 3 DOI:
10.1080/14043858.2016.1157940
World's first vaccine developed against Toxic Shock Syndrome
Toxic Shock Syndrome (TSS) is a severe circulatory and organ failure caused by bacterial toxins, usually triggered by bacteria from the Staphylococcus group. Researchers from MedUni Vienna's Department of Clinical Pharmacology, in collaboration with the company Biomedizinische Forschungsgesellschaft mbH in Vienna, have now developed the world's first safe and effective vaccine against this disease and successfully tested it in a Phase I trial. The promising results were recently published in the leading journal "The Lancet Infectious Diseases."
This syndrome was first described in the 1980s. General symptoms of sepsis or blood poisoning occurred in young women who had used so-called "super tampons" during their periods. This is why the syndrome was also known as "tampon disease." This subsequently led to the absorption capacity of tampons being regulated.
Staphylococci colonize nearly all of us, especially on our skin and mucous membranes. They are totally harmless to most people. "However, for people with weakened immune systems, they can cause serious diseases such as Toxic Shocks Syndrome," explains Martha Eibl, director of Biomedizinische Forschungsgesellscaft mbH and former university professor at the Institute for Immunology of the medical faculty of the University of Vienna. This affects dialysis patients, the chronically sick, people with liver diseases and people recovering after heart operations. "Nevertheless, in 50% of cases the disease is associated with menstruation in young women," says Bernd Jilma from MedUni Vienna's Department of Clinical Pharmacology.
The vaccine, which has now been found to be safe and effective -- and to have practically no side effects -- in a clinical Phase I trial, and has been tested on 46 young men and women, was developed from a detoxified Staphylococcus toxin. The vaccine is injected into the skin and its effect is similar to that of a tetanus vaccination, says Jilma. "Immunization with such vaccines lasts for five years or more." Once vaccinated, a person develops antibodies, which become active if the germs start to pose a threat. A blood test can show whether someone is short of antibodies. Risk groups could then be preventively vaccinated.
"We are well on the way to having a vaccine that prevents this series disease. However, it will still take some years before it is in clinical use," explains Eibl. A Phase II trial with a larger test population has now started, in order to check the initial, promising results. "We are still looking for more volunteers," says Jilma.
M. Schwameis, B. Rappenser, C. Firbas, C. Gruener, N. Model, N. Stich, A. Roetzer, N. Buchtele, B. Jilma, M. Eibl.
Safety, tolerability, and immunogenicity of a recombinant toxic shock syndrome toxin (rTSST)-1 variant vaccine: a randomised, double-blind, adjuvant-controlled, dose escalation first-in-man-trial.
Lancet Infectious Diseases, June 2016 DOI:
10.1016.S1473-3099(16)30115-3
Antidepressive treatment during pregnancy can affect newborn brain activity
According a new study, fetal exposure to commonly used SRI drugs may affect brain activity in newborns. The researchers suggest that the effects of drugs on fetal brain function should be assessed more carefully, Indications for preventive medication should be critically evaluated, and non-pharmacological interventions should be the first-line treatment for depression and anxiety during pregnancy.
"We found many changes in the brain activity of SRI-exposed newborns," says Professor Sampsa Vanhatalo, head of the BABA center at the Helsinki University Children's Hospital. "Since the changes did not correlate with the mother's psychiatric symptoms, we have assumed that they resulted as a side effect of maternal drug treatment."
Depression and anxiety are commonly treated with SRI drugs that affect brain serotonin metabolism. These drugs are well tolerated and considered safe to use during pregnancy, because they are not seen to cause major malformations. It is estimated that up to 5% of all pregnant women use SRI medication.
However, several animal studies have shown that early SRI exposure may result in microscopic changes in fetal brain structure, as well as altered neuronal signaling. The already known side effect of this on human newborns is the transient 'SRI syndrome,' including such symptoms as respiratory problems during the first days of life. In addition, a recent Finnish long-term follow-up study conducted at the Universities of Helsinki and Turku showed that fetal exposure to SRI drugs increases the risk of childhood depression.
The present study in Helsinki is the first to examine the effects of SRI exposure directly on the brain activity of newborns. The study design aimed at distinguishing drug-related developmental effects from postnatal, environmental effects, such as potential changes in the mother-baby relationship due to maternal depression. The methodology for the detailed assessment of electrical brain function in newborns has been intensively developed at the BABA center of the Helsinki University Children's Hospital. As a result of this work, it has become possible to examine newborn brain function in detail, and better translate between research on animal models and research on human infants.
The study, involving 22 mothers using SRI medication and 62 controls without medication, aimed at assessing how fetal SRI drug exposure or maternal psychiatric symptoms affect newborns' neurological development and their brains' electrical activity.
Structured behavioral and neurological assessments of the newborns showed only minor effects from fetal SRI exposure; however, brain electrical activity exhibited several differences between the study groups. The most important relate to less-organized communication between brain hemispheres, as well as weaker synchronization between cortical rhythms. These findings did not correlate with the scores on maternal depression or anxiety.
"The most interesting aspect in our observations is that comparable effects were recently found in animal experiments after fetal SRI exposure," says principal investigator Dr. Mari Videman, senior consultant in child neurology. "This suggests that the early SRI effects on brain development may be comparable in humans and other species."
The study's psychiatric consultant, Adjunct Professor Outi Mantere from McGill University, Canada, emphasizes that pregnant mothers need treatment when they present with symptoms of depression or anxiety.
"The current guidelines do include non-pharmacological therapies as the first-line treatment," says Mantere. "If the mother using an SRI plans a pregnancy, it would be advisable to consider a close follow-up or a therapeutic intervention without SRI medication. Recent experience with group therapy has shown promise in treating depression or anxiety during pregnancy, with effects that extend to the wellbeing of both mother and baby."
"We hope that our study will facilitate the current international discussion and search for effective alternatives in the treatment of depression and anxiety during pregnancy," adds Professor Vanhatalo.
Mari Videman, Anton Tokariev, Heini Saikkonen, Susanna Stjerna, Hannu Heiskala, Outi Mantere, Sampsa Vanhatalo.
Newborn Brain Function Is Affected by Fetal Exposure to Maternal Serotonin Reuptake Inhibitors.
Cerebral Cortex, 2016; bhw153 DOI:
10.1093/cercor/bhw153
Danger from extreme storms, high seas to rise, warn Australian researchers -

Storms that battered Australia's east coast are a harbinger of things to come
June 8 and June 14, 2016: University of New South Wales
Damaged homes along the foreshore of Sydney's Collaroy Beach, hit by powerful storms in early June.
Credit: Mitchell Harley/UNSW
Storms that battered Australia's east coast are a harbinger of things to come and a stark reminder of the need for a national effort to monitor the growing threat from climate change, UNSW coastal researchers warn.
"The damage we've seen is a harbinger of what's to come," said Ian Turner, Director of the
Water Research Laboratory
at the University of New South Wales. "Climate change is not only raising the oceans and threatening foreshores, but making our coastlines much more vulnerable to storm damage. What are king high tides today will be the norm within decades."
Turner's lab manages one of the world's longest-running beach erosion research programs, at Collaroy and Narrabeen in Sydney, using drones, real-time satellite positioning, fixed cameras, and airborne LiDAR and quadbikes. The variability, changes and trends in coastal erosion at the beaches have been tracked since 1976.
But the data collected by the UNSW team is only reliable for modelling when it comes to predicting effects in southeastern Australia. For the vast bulk of Australia's 25,760 km long coastline, researchers -- and the governments and coastal communities they advise -- are largely making guesses based on limited or non-existent data, say researchers.
"The wealth of data we've collected over decades makes our models of coastal variability increasingly more reliable -- but only for a 500 km stretch of southeastern Australia," Turner added. "But when it comes to modelling other parts of Australia, in many locations we are basically working blind.
"There are very different coasts across the country exposed to very different conditions, and we just don't have the observational data we need to make predictions with any great confidence," he said. "For that, we need a national approach."
The long-term data from the UNSW program has been crucial in understanding how climate change is changing Australia's coasts, recently showing that El Niño and La Niña cycles will intensify coastal hazards, leading to changes in behaviour of storms, extreme coastal flooding and erosion in populated regions across the Pacific.
As a result, estimates of coastal vulnerability -- which once focussed on sea level rise -- now have to factor in changing patterns of storm erosion, more intense storms, and other coastal effects.
Dr Mitchell Harley, a Senior Research Associate at the Lab who manages the Narrabeen-Collaroy program, said that beach erosion and coastal variability has been found to be a lot more complex than had originally thought, partly thanks to insights from the UNSW data.
"It's now clear that sea level rise is not the only player in climate change: shifts in storm patterns and wave direction also have consequences, and distort or amplify the natural variability of coastal patterns," Harley said.
Turner added, "These are precisely the conditions we experienced in Sydney over the past weekend -- waves from the north-east, combined with unusually high sea levels brought on by king tides wreaked considerable damage. And, as sea levels rise, even ordinary tides will reach higher. What we consider king high tides today will be commonplace within decades."
In 2014, Australian coastal researchers called for the creation of a national coastline observatory, with basic data -- such as sub-aerial profiles, bathymetry and inshore wave forcing measurements -- collected routinely from a network of around 20 'representative' beaches across Australia.
This would provide valuable data that could be used to more accurately model how Australia's more than 11,000 beaches are changing, and predict how they will respond as climate change sets in.
The long experience gained by UNSW in Sydney's Northern Beaches "gives us a template of what can be achieved across Australia," said Turner. "But without consistent and national observational data -- from very different regions like the tropical north, or the highly energetic southwestern coastlines, or the Indian Ocean coastlines of Western Australia -- it's of little value. To say we have blindspots is an understatement."
Harley agreed, adding: "For the great majority of Australia's coastlines, we don't have observations for how they are behaving now -- let alone any clear idea how they might respond to increasing variability in the future. We see it happening at Narrabeen-Collaroy, and can therefore predict it for this part of Australia. But elsewhere, we're largely operating in the dark."
Pre storm data collected by the WRL coastal team and collaborators include:
Shoreline positions measured remotely every 30 minutes by the of Narrabeen-Collaroy coastal imaging station;

Airborne LiDAR surveys at 20 critical and sites located between Sydney and Coffs Harbour (undertaken four days prior to storm by the UNSW School of Aviation);

High-density UAV (drone) point-cloud data of the entire Narrabeen-Collaroy embayment, including the dunes and beach face;

RTK-GPS cross-shore profiles at long-term monitoring locations (Narrabeen-Collaroy, Bilgola, Mona Vale and Dee Why);

Three-dimensional survey of the entire Narrabeen Collaroy embayment using an All-Terrain-Vehicle mounted with RTK-GPS;

High-frequency LiDAR scans of a single transect located in front of the Flight Deck Building at Narrabeen;Offshore bathymetry measurements using a jet-ski at Narrabeen-Collaroy, Bilgola and

Mona Vale beaches (undertaken by the NSW Office of Environment and Heritage); and

Nearshore deployment of WRL's mini waverider buoy by OEH in 10m water depth in front of the Flight Deck Building at Collaroy.
During the storm event, WRL's coastal monitoring team were quick to utilise all available datasets for real-time assessment of the rapidly evolving beach conditions. When the extreme conditions subsided, it was found that the beach shifted an incredible 50m in width due to the storms, which is the most eroded in 40 years of measurements.
The above is reprinted from materials provided by University of New South Wales. The original item was written by Wilson da Silva.
Disclaimer: These articles are not intended to provide medical advice, diagnosis or treatment. Views expressed here do not necessarily reflect those of Pittwater Online News or its staff.