Inbox and Environment News: Issue 265
May 29 - June 4, 2016: Issue 265
Sweet Addiction - The Botanic Story of Chocolate: Live at The Calyx
Sweet Addiction is the inaugural exhibition at The Calyx, Sydney's newest attraction. Find out more and book tickets at www.thecalyx.com.au
11 Jun 2016 - 17 Apr 2017, The Calyx, Sydney
See another side of nature and experience its stories in an unexpected way through Sweet Addiction – the botanic story of chocolate.
Sweet Addiction is the first exhibition to open in The Calyx, a world-class horticultural space and Sydney's newest must-see attraction.
An exhibition you can taste, touch, see, hear and smell, this is an opportunity to experience chocolate like never before.
From the depths of a South American rainforest, journey through chocolate plantations, ancient history, a Lindt chocolate mill, and a delightful chocolatier room. See the awe-inspiring interior green wall – the southern hemisphere's largest contiguous green wall complete with over 18,000 plants! And learn amazing things you never knew about chocolate.
Sweet Addiction is designed as a self-guided 45 minute experience. Suitable for chocaholics of all ages. Tickets on sale now, pre-purchase online to save!
The exhibition opens 11 June with interactive chocolate-themed events taking place throughout the exhibition period.
Watch the video to get your first taste of the exhibition.
______________
Some history of this wonderful garden which celebrates 200 years this June is in: The Royal Botanical Garden Sydney Celebrates 200 Years in 2016
Nyngan Scandium Project: Have Your Say
Development of an open cut mine and associated infrastructure.
Exhibition Start 25/05/2016
Exhibition End 24/06/2016
The proposal would include construction and operation of:
Two open cuts and a broow pit with extraction of up to 80 000t per year of high grade ore and up to 95 000 tpa of low grade ore over a period of 21 years.
A processing plant - A residue storage facility
Ancillory infrastructure, including but mot limited to as site access road, water management structures, levee bunds, water and power supply infrastructure.
Total area: 38.2 ha
Depth
East Pit 45mbgl
West Pit 50mbgl
Borrow Pit 15 mbgl
Easy access: 3 km from all-weather sealed road, 25 km from local town
Documents at: majorprojects.planning.nsw.gov.au/job_id=5157
_______________
About Scandium
Scandium is a chemical element with symbol Sc and atomic number 21. A silvery-white metallic d-block element, it has historically been sometimes classified as a rare earth element, together with yttrium and the lanthanoids. It was discovered in 1879 by spectral analysis of the minerals euxenite and gadolinite from Scandinavia.
Scandium is present in most of the deposits of rare earth and uranium compounds, but it is extracted from these ores in only a few mines worldwide. Because of the low availability and the difficulties in the preparation of metallic scandium, which was first done in 1937, applications for scandium were not developed until the 1970s. The positive effects of scandium on aluminium alloys were discovered in the 1970s, and its use in such alloys remains its only major application. - From Wikipedia
Bright Minds Put to Task to Help Protect our Beachgoers
Sunday, 22 May 2016
Minister for Primary Industries, Lands and Water Niall Blair is calling on the world's best minds to apply for funding to develop innovative projects to help protect beachgoers from shark attacks.
Mr Blair said new ideas and technologies are being sought to help build on existing technologies as part of the NSW Government's $16 million Shark Management Strategy.
"We want technology developers, researchers, educational institutions, businesses and individuals to put their hand up for funding to develop a range of technologies for shark mitigation, in particular personal protective devices," Mr Blair said.
"There is no one solution to detecting and deterring sharks and that's why we are determined to fund emerging technologies that could become real game changers when it comes to shark mitigation."
The NSW Government is offering a total of $200,000 to support national or international projects, which are aligned to the strategy, and can increase protection for beachgoers when hitting the water.
Grants are open to national and international applicants, and joint applications are encouraged. To apply for a grant, applicants should complete an Expression of Interest form. Selected applicants will then be invited to complete a full application.
Key areas for funding aligned with the NSW Shark Management Strategy include:
 Personal shark deterrents
 Area-based shark deterrents
 Shark detection methods
 Shark biology relevant to interactions with humans
 Socio-economics of shark/human interactions.
For more information, please visit www.dpi.nsw.gov.au/sharks
Camden Gasfields Petition
AGL still have 96 coal seam gas production wells in South Western Sydney, surrounding Camden, some between 40m - 200m from family homes and schools.
While the Eastern suburbs, electorates for Mike Baird and Malcolm Turnbull MP, have zero.
As the largest growth center in Sydney there are current plans to build 35,000 new homes as close as 20m from AGLs existing coal seam gas wells.
AGL plans to stop all production in this area by 2023. This is not acceptable. These families do not deserve 7 more years of these horrific health effects. 35,000 new homes in the same area is a health epidemic in the making.
Australian Mothers-Against-Gas started this petition with a single signature, now they need more support to help protect Camden and shut down those wells NOW.
Palm Grove Nature Reserve Draft Plan: Have your say
What's this about?
Parks and reserves established under the National Parks and Wildlife Act 1974 are required to have a plan of management. The plan provides guidance on key conservation and other values of the park, and provides directions for future management. The plan of management is a legal document and, after the plan is adopted, all operations and activities in the park must be in accordance with the plan.
At the conclusion of the public exhibition period in August 2016, all submissions will be comprehensively reviewed and input will be sought from the Central Coast Hunter Regional Advisory Committee and the National Parks and Wildlife Advisory Council.
Once this input has been received, as required by the National Parks and Wildlife Act, a final plan will be considered for adoption by the Minister for the Environment.
Have your say
Submit your feedback by 22 August 2016 via the online consultation.
A 100-million-year partnership on the brink of extinction: Australian spiny mountain crayfish
May 24, 2016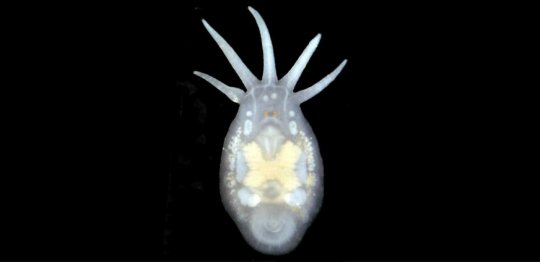 This is a light microscope image of the five tentacle temnocephalan Temnosewellia c.f rouxi from cultured redclaw crayfish. Credit: David Blair, James Cook University
A relationship that has lasted for 100 million years is at serious risk of ending, due to the effects of environmental and climate change. A species of spiny crayfish native to Australia and the tiny flatworms that depend on them are both at risk of extinction, according to researchers from the UK and Australia.
Look closely into one of the cool, freshwater streams of eastern Australia and you might find a colourful mountain spiny crayfish, from the genus Euastacus. Look even closer and you could see small tentacled flatworms, called temnocephalans, each only a few millimetres long. Temnocephalans live as specialised symbionts on the surface of the crayfish, where they catch tiny food items, or inside the crayfish's gill chamber where they can remove parasites. This is an ancient partnership, but the temnocephalans are now at risk of coextinction with their endangered hosts. Coextinction is the loss of one species, when another that it depends upon goes extinct.
In a new study, researchers from the UK and Australia reconstructed the evolutionary and ecological history of the mountain spiny crayfish and their temnocephalan symbionts to assess their coextinction risk. This study was based on DNA sequences from crayfish and temnocephalans across eastern Australia, sampled by researchers at James Cook University, sequenced at the Natural History Museum, London and Queensland Museum, and analysed at the University of Sydney and the University of Cambridge. The results are published in the Proceedings of the Royal Society B.
"We've now got a picture of how these two species have evolved together through time," said Dr Jennifer Hoyal Cuthill from Cambridge's Department of Earth Sciences, the paper's lead author. "The extinction risk to the crayfish has been measured, but this is the first time we've quantified the risk to the temnocephalans as well -- and it looks like this ancient partnership could end with the extinction of both species."
Mountain spiny crayfish species diversified across eastern Australia over at least 80 million years, with 37 living species included in this study. Reconstructing the ages of the temnocephalans using a 'molecular clock' analysis showed that the tiny worms are as ancient as their crayfish hosts and have evolved alongside them since the Cretaceous Period.
Today, many species of mountain spiny crayfish have small geographic ranges. This is especially true in Queensland, where mountain spiny crayfish are restricted to cool, high-altitude streams in small pockets of rainforest. This habitat was reduced and fragmented by long-term climate warming and drying, as the continent of Australia drifted northwards over the last 165 million years. As a consequence, mountain spiny crayfish are severely threatened by ongoing climate change and the International Union for the Conservation of Nature (IUCN) has assessed 75% of these species as endangered or critically endangered.
"In Australia, freshwater crayfish are large, diverse and active 'managers', recycling all sorts of organic material and working the sediments," said Professor David Blair of James Cook University in Australia, the paper's senior author. "The temnocephalan worms associated only with these crayfish are also diverse, reflecting a long, shared history and offering a unique window on ancient symbioses. We now risk extinction of many of these partnerships, which will lead to degradation of their previous habitats and leave science the poorer."
The crayfish tend to have the smallest ranges in the north of Australia, where the climate is the hottest and all of the northern species are endangered or critically endangered. By studying the phylogenies (evolutionary trees) of the species, the researchers found that northern crayfish also tended to be the most evolutionarily distinctive. This also applies to the temnocephalans of genus Temnosewellia, which are symbionts of spiny mountain crayfish across their geographic range. "This means that the most evolutionarily distinctive lineages are also those most at risk of extinction," said Hoyal Cuthill.
The researchers then used computer simulations to predict the extent of coextinction. This showed that if all the mountain spiny crayfish that are currently endangered were to go extinct, 60% of their temnocephalan symbionts would also be lost to coextinction. The temnocephalan lineages that were predicted to be at the greatest risk of coextinction also tended to be the most evolutionarily distinctive. These lineages represent a long history of symbiosis and coevolution of up to 100 million years. However they are the most likely to suffer coextinction if these species and their habitats are not protected from ongoing environmental and climate change.
"The intimate relationship between hosts and their symbionts and parasites is often unique and long lived, not just during the lifespan of the individual organisms themselves but during the evolutionary history of the species involved in the association," said study co-author Dr Tim Littlewood of the Natural History Museum. "This study exemplifies how understanding and untangling such an intimate relationship across space and time can yield deep insights into past climates and environments, as well as highlighting current threats to biodiversity."
Jennifer F. Hoyal Cuthill et al. Australian spiny mountain crayfish and their temnocephalan ectosymbionts: an ancient association on the edge of coextinction? Proceedings of the Royal Society B, 2016 DOI:10.1098/rspb.2016.0585
In changing oceans, cephalopods are booming
May 23, 2016
Humans have changed the world's oceans in ways that have been devastating to many marine species. But, according to new evidence, it appears that the change has so far been good for cephalopods, the group including octopuses, cuttlefish, and squid. The study reported in the Cell Press journal Current Biology on May 23 shows that cephalopods' numbers have increased significantly over the last six decades.
"The consistency was the biggest surprise," says Zoë Doubleday of Australia's Environment Institute at the University of Adelaide. "Cephalopods are notoriously variable, and population abundance can fluctuate wildly, both within and among species. The fact that we observed consistent, long-term increases in three diverse groups of cephalopods, which inhabit everything from rock pools to open oceans, is remarkable."
According to the researchers, there has been growing speculation that cephalopod populations were proliferating in response to a changing environment, based partly on trends in cephalopod fisheries. Cephalopods are known for rapid growth, short lifespans, and extra-sensitive physiologies, which may allow them to adapt more quickly than many other marine species.
To investigate long-term trends in cephalopod abundance, Doubleday and her colleagues assembled global time series of cephalopod catch rates (catch per unit of fishing or sampling effort) from 1953 to 2013. The study included 35 cephalopod species or genera representing six families. The data show that cephalopods, of many different types living all over the world, are on the rise.
The ecological and socio-economic ramifications associated with this increase in cephalopods are much less clear and are likely to be complex, according to the researchers.
"Cephalopods are voracious and adaptable predators and increased predation by cephalopods could impact many prey species, including commercially valuable fish and invertebrates," they write. "Conversely, increases in cephalopod populations could benefit marine predators which are reliant on them for food, as well as human communities reliant on them as a fisheries resource."
What may happen to cephalopod populations in the future is difficult to predict, particularly if fishing pressure continues to increase. Doubleday says that they are now investigating the factors responsible for cephalopods' proliferation.
"It is a difficult, but important, question to answer, as it may tell us an even bigger story about how human activities are changing the ocean," she says.
The research, funded by the Environment Institute at the University of Adelaide, was the result of a workshop involving researchers all over the world.
Zoë A. Doubleday, Thomas A.A. Prowse, Alexander Arkhipkin, Graham J. Pierce, Jayson Semmens, Michael Steer, Stephen C. Leporati, Sílvia Lourenço, Antoni Quetglas, Warwick Sauer, Bronwyn M. Gillanders. Global proliferation of cephalopods. Current Biology, 2016 DOI:10.1016/j.cub.2016.04.002
Celebrating 10 years of Yuin joint management
Media release: 23 May 2016
The 10th anniversary of joint management of Biamanga and Gulaga National Parks was celebrated earlier this month marking a major milestone in the management of these culturally significant parks on NSW's Far South Coast.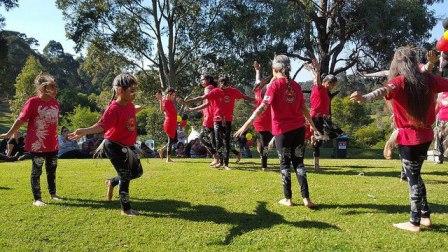 Iris White, Chairperson of the Gulaga Board of Management, said the community event or Biriga Bunaan, saw more than 200 people come together at Four Winds near Bermagui to reflect on the partnership between the National Park and Wildlife Service (NPWS), the Yuin Aboriginal Owners and the Gulaga and Biamanga Boards of Management.
"One of the most significant achievements of the last 10 years was creating the first joint plan of management for Gulaga and Biamanga National Parks," Ms White said.
"The plan is more than a government document, it speaks about Country in the words of the Aboriginal Owners with a connection to this Country.
"It makes sure that what's important to the Yuin is protected. It makes sure that the right stories are told and we have the right direction to manage Country properly.
"The Board's decision to buy the neighbouring property Bellbrook in 2013 has also provided us with a way to look after a place of immense significance adjacent to the park, and its purchase was a milestone in our journey of self-determination," Ms White said.
Paul Stewart, Chairperson of the Biamanga Board of Management said that under the management arrangement good progress has been made employing Yuin.
"There are now six Yuin people employed, mostly in permanent jobs around Narooma and Tanja. When we started there was only three," Mr Stewart said.
"We now have Yuin rangers for the two parks, Yuin administration and field staff, and are hopeful that in time we'll see Yuin managers working for NPWS.
"The next 10 years will be busy and it won't always be easy, but it will be important.
"We want to see the Koori way even more reflected in park management, by going back to our ancestor's ways for caring for country and looking at traditional burning and other ways to nurture our connection," Mr Stewart said.
Speaking at the event, Tim Shepherd, Coastal Director NPWS described the anniversary as a proud moment, recognising the extraordinary partnership between NPWS and the Yuin.
"10 years ago we gathered here and recognised the opportunities that the handback presented," said Mr Shepherd.
"We're here today, thanks to the work, commitment and courage of Aboriginal people, realising these opportunities and daring to imagine what we'll achieve in the next 10 years."
There are more than 20 joint management arrangements between NPWS and Aboriginal Owners in NSW. Joint management recognises Aboriginal people's responsibility for park management and the opportunity to participate in planning and decision making for the park, while maintaining access for everyone.
Top: Djiringanj Dancers - photo courtesy Office of Environment and Heritage
Northern invaders threaten Antarctic marine life
May 24, 2016: Australian National University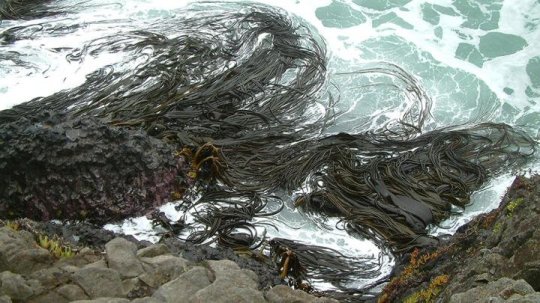 These are attached kelp. Credit: Dr Ceridwen Fraser, ANU.
An international study led by The Australian National University (ANU) has found evidence that marine life can easily invade Antarctic waters from the north, and could be poised to colonise the rapidly-warming Antarctic marine ecosystems.
The Antarctic Polar Front, a strong ocean front formed where cold Antarctic water meets warmer waters to the north, has historically been seen as a barrier preventing movement of marine life.
But the study has found the Antarctic Polar Front is often crossed by floating kelp that can form rafts carrying crustaceans, worms, snails and other seaweeds across hundreds of kilometres of open ocean.
"So far, the northern species don't seem to be surviving long in the cold, icy Antarctic. But with climate change and warming oceans, many non-Antarctic species could soon colonise the region," said lead researcher Dr Ceridwen Fraser, from the ANU Fenner School of Environment and Society.
"We now know marine species from the north can easily get into Antarctic waters. The Antarctic is one of the world's fastest warming regions, and the consequences of new species establishing there could lead to drastic ecosystem changes," Dr Fraser said.
The evidence was collected by surveys of floating kelp. On three different ship voyages in 2008, 2013 and 2014, researchers counted drifting seaweed species in both sub-Antarctic and Antarctic water.
"Although we saw more seaweed north of the Polar Front, we still found lots of kelp in Antarctic water, especially just south of the Front," said co-author Professor Peter Ryan, from the University of Cape Town.
Dr Fraser said the study will help scientists to plan strategies for conserving Antarctica's unique marine life.
"We've been focusing a lot on minimising plants and animals being accidentally carried into the Antarctic by humans, for example with ship ballast water," Dr Fraser said.
"This research shows that some species can also get into the region without our help."
The research has been published in the journal Ecography.
Ceridwen I. Fraser, Geoffrey M. Kay, Marcel du Plessis, Peter G. Ryan.Breaking down the barrier: dispersal across the Antarctic Polar Front. Ecography, 2016; DOI: 10.1111/ecog.02449
Australia's Largest Owl
Published on 25 May 2016 by BIBY TV
Australia's largest owl, the Powerful Owl, needs native forest and big old trees to survive and thrive. This footage was filmed in the Lane Cove River area during May 2016
Nominations open for the 2016 NSW Green Globe Awards
Media release: 16 May 2016
Nominations are now open for the 17th Green Globe Awards celebrating NSW's exceptional environmental achievements.
Ian Hunter, Deputy Chief Executive, NSW Office of Environment and Heritage (OEH) said the Green Globe Awards are NSW's biggest sustainability awards, with ten award categories covering a range of resource, business, community and individual sustainability initiatives.
"The Awards are a chance to showcase NSW's green game changers nationally, internationally and celebrate the people behind the successes," Mr Hunter said.
"They provide a platform for participants to showcase innovative work, initiate projects, network and reach new audiences."
Previous winner, Chris Bins of City of Sydney, said their Green Globe Award had opened further opportunities to share their experiences and give them licence to push harder into the new horizons of sustainability.
"We've offered our Green Globe experience as an open invitation for discussion and knowledge sharing," Mr Bins said.
Brookfarm, winner of the 2015 Small Business Sustainability and Premier's Award for Environmental Excellence said since winning both awards they have implemented a rainwater harvesting system and energy management initiatives to meet new environmental certification goals.
Winner of last year's Young Sustainability Champion Award, Seda Hamoud, said her award has given her school Environmental Club an even stronger cross-school component and has allowed for greater membership.
Robin Mellon, Green Globe Award judging panel chair of chairs said the judges are excited to see this year's nominations and how nominees are reducing their environmental impacts in a diverse collection of ways.
"We look forward to seeing how their initiatives are really 'leading the pack' around NSW, Australia and hopefully around the world and how their actions are having a positive effect on businesses, people and communities," Mr Mellon said.
The NSW Green Globe Award winners set the gold standard in becoming a cleaner and greener state.
The Awards will be judged by a panel of independent experts and presented at a gala night at The Art Gallery of New South Wales in late October 2016.
Nominations are open until 11 July 2016. To enter your project, program or nominate, please go to: www.environment.nsw.gov.au/greenglobes
World's largest coral gene database created
May 24, 2016
Coral reefs -- stunning, critical habitats for an enormous array of prized fish and other species -- have survived five major extinction events over the last 250 million years.
Now, an international team of scientists led by Rutgers faculty has conducted the world's most comprehensive analysis of coral genes, focusing on how their evolution has allowed corals to interact with and adapt to the environment. A second study led by Rutgers researchers with colleagues at the University of Hawaii shows -- for the first time -- how stony corals create their hard skeletons, using proteins as key ingredients.
"There are a few key genes in corals that allow them to build this house that laid down the foundation for many, many thousands of years of corals," said Debashish Bhattacharya, a professor in the Department of Ecology, Evolution and Natural Resources in the School of Environmental and Biological Sciences at Rutgers. "It couldn't be any more fundamental to ocean ecosystems."
"I think one of the more interesting aspects of these data will be to understand which coral species may become winners or losers in the face of anthropogenic climate change -- what makes them tougher and what makes them susceptible to changes in temperature, changes in ocean acidification," said Paul Falkowski, a professor who leads the Environmental Biophysics and Molecular Ecology Laboratory at Rutgers.
The coral gene database study, led by Bhattacharya and Falkowski, was published today in the journal eLife. The study stems from an international coral genomics symposium and workshop held at Rutgers in February 2014 that was funded by the National Science Foundation. The stony coral study was published in the Proceedings of the Royal Society B: Biological Sciences last month.
Nearly all corals are colonial organisms that consist of as many as hundreds of thousands of animals called polyps. Types of corals include stony, shallow-water species that build reefs, soft corals and deep-water corals that live in dark cold waters, according to the National Oceanic and Atmospheric Administration.
Corals face four major threats from humans: Destruction of reefs by grenades and poison used to kill fish for food; nutrient pollution, usually from sewage or agricultural runoff, that overstimulates harmful algae; increased heat in the upper ocean, which causes most coral bleaching that can kill reefs; and acidification of the ocean, according to Falkowski.
"Corals are the most diverse marine ecosystems on the planet," he said. "But their value to marine ecosystems -- and to our own use of marine resources -- is very underappreciated."
Recent aerial and underwater surveys have found that 93 percent of the Great Barrier Reef off Queensland in Australia has endured very severe, moderate or at least some coral bleaching this year, according to the ARC Centre of Excellence for Coral Reef Studies in Australia. The reef, a world-renowned tourist attraction, is about 1,430 miles long.
Elevated sea temperatures from global warming can cause corals to expel tiny, colorful algae, according to the center. Corals turn translucent and white when they lose the algae. Mildly bleached corals can recover if the temperature drops and algae can recolonize them. If not, corals may die.
At Rutgers two years ago, leaders in the field of coral biology and genomics met to plan an analysis of 20 coral genomic datasets. The goal was to provide a comprehensive understanding of coral evolution since the organisms appeared on Earth 525 million years ago. The coral database, which includes corals in tropical waters, has been posted on thecomparative.reefgenomics.org website to foster growth in this important area of research.
The eLife study's major advances include explaining the origin and evolution of the unique genes involved in the creation of hard skeletons by corals. The study also serves as a novel toolkit compared with the genes of humans, shellfish and other animals with hard skeletons.
Bhattacharya and coauthors found dozens of genes that allow corals to coordinate their response to changes in temperature, light and pH (acidity vs. alkalinity) and deal with stress triggered by the algae that live with them and exposure to high levels of light.
Surprisingly, some of these stress-related genes are of bacterial origin and were acquired to help corals survive. An intriguing theory that arose from the study is that the vast genetic repertoire of corals may help them adapt to changing ocean conditions.
The study in the Proceedings of the Royal Society B: Biological Sciences -- led by former Rutgers Department of Marine and Coastal Sciences post-doctoral fellow Tali Mass -- explains how stony corals make their hard, calcium carbonate skeletons. It also explains how this process might be affected as the oceans become more acidic due to climate change. Acidity increases as oceans are exposed to higher concentrations of carbon dioxide, the main greenhouse gas and cause of climate change, in the atmosphere.
"The aragonite (hard skeleton) is not just minerals," Bhattacharya said. "The proteins are very important for giving it shape and making it stable."
Falkowski said the study serves as a model for understanding how we can regenerate bone. "There are amazing parallels between the production of the skeleton of coral and production of bone," he said.
Debashish Bhattacharya, Shobhit Agrawal, Manuel Aranda, Sebastian Baumgarten, Mahdi Belcaid, Jeana L Drake, Douglas Erwin, Sylvian Foret, Ruth D Gates, David F Gruber, Bishoy Kamel, Michael P Lesser, Oren Levy, Yi Jin Liew, Matthew MacManes, Tali Mass, Monica Medina, Shaadi Mehr, Eli Meyer, Dana C Price, Hollie M Putnam, Huan Qiu, Chuya Shinzato, Eiichi Shoguchi, Alexander J Stokes, Sylvie Tambutté, Dan Tchernov, Christian R Voolstra, Nicole Wagner, Charles W Walker, Andreas PM Weber, Virginia Weis, Ehud Zelzion, Didier Zoccola, Paul G Falkowski. Comparative genomics explains the evolutionary success of reef-forming corals. eLife, 2016; 5 DOI:10.7554/eLife.13288
Using drones without disturbing wildlife
May 23, 2016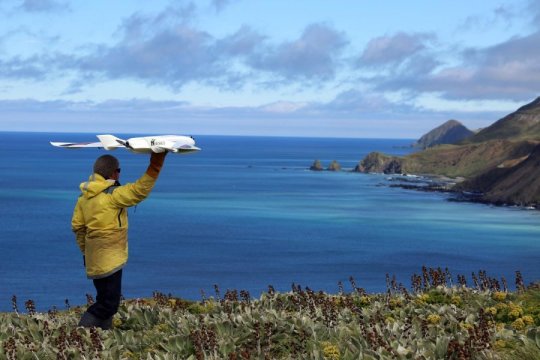 This photograph shows ecologist Jarrod Hodgson launches a fixed wing UAV on Australia's sub-Antarctic Macquarie Island. Credit: Jarrod Hodgson
Unmanned aerial vehicles (UAVs), more popularly known as drones, are increasingly employed to monitor and protect wildlife. But researchers writing in the Cell Press journalCurrent Biology on May 23 say that steps should be taken to ensure that UAV operations are not causing undue stress to animals.
"Even though an animal might not appear to be disturbed, it could be quite stressed--for example, a bird may choose to remain near a UAV even when stressed because it is incubating an egg or protecting its hatchling," says Jarrod Hodgson of The University of Adelaide in Australia. "It is likely that animal responses vary depending on a variety of factors, including the species, environmental and historical context, and the type of UAV and its method of operation."
Studies have shown that UAVs can be more efficient than traditional approaches to wildlife monitoring and can provide more precise observational data. Accordingly, there has been a considerable increase in the use of UAVs for research purposes.
In the new paper, Hodgson and colleague Lian Pin Koh develop a code of best practices intended to help mitigate or alleviate potential disturbance to wildlife related to UAV use. Their goal is to ensure that "UAVs can be a powerful, low-impact ecological survey tool."
Hodgson and Koh offer the following recommendations:
1. In cases where the evidence is lacking, UAV users should consult with appropriate experts and proceed with an abundance of caution. The researchers also say that further study on the impact of UAVs is needed.
2. UAV users should seek approval when appropriate and explain the anticipated benefit of using UAV technology in their situation.
3. Suitably trained UAV operators should comply with all relevant civil aviation rules, which may include restrictions on flying beyond visual line of sight, above a defined altitude, at night, and near people or in the vicinity of important infrastructure and prohibited areas.
4. UAVs should be chosen or adapted to minimize disruption, for example, by disguising UAVs as other non-threatening animals.
5. UAVs should be launched and recovered from a distance, and a reasonable distance from animals should be maintained at all times during UAV flights.
6. Behavioral and physiological stress responses should be measured whenever possible, and UAV flights should be aborted if excessive disturbance is found.
7. UAV specifications and flight practices should be detailed accurately and shared in full in published studies, along with any animal responses, accidents, or incidents.
Hodgson and Koh are optimistic that most UAV users have the animals' best interest in mind.
"In our experience, the vast majority of UAV users, both biologists and hobbyists, do not want to disturb wildlife and will often seek advice from experts," Hodgson says. "However, in some cases, users may be unaware that their UAV operations could be causing considerable and unnecessary disturbance. By promoting an awareness of the potential for UAVs to impact wildlife, we hope that users will be more conscious of the potential impacts and utilize the code to ensure their UAV operations are responsible."
Hodgson and Koh say that they are now conducting studies with the goal of better understanding how different animals respond to UAVs. The results of that work will inform the development of species-specific protocols designed to mitigate or alleviate potential disturbance. They also continue to develop and test methods to maximize the benefits of UAVs as a survey tool.
"In a time of unprecedented change, such techniques will assist in understanding, managing, and conserving our planet's biodiversity," Hodgson says.
Hodgson and Koh. "Best practice for minimising unmanned aerial vehicle disturbance to wildlife in biological field research. Current Biology, 2016 DOI: 10.1016/j.cub.2016.04.001
Professor Brad Frankum elected new President of the Australian Medical Association (NSW)
23 May 2016
Professor Brad Frankum, conjoint Professor with Western Sydney University's School of Medicine,has been elected as the new President of the Australian Medical Association (NSW).
Professor Brad Frankum was elected unopposed following the end of the two-year term of Dr Saxon Smith. Professor Frankum was Dr Smith's vice-president during that time.
An allergy specialist and immunologist at Campbelltown Hospital, Professor Frankum is also a member of the South Western Sydney Local Health District Board.
He was an early appointment to the University's School of Medicine when it was first established in 2007, where he held the role of Clinical Dean for the School's Clinical School based at Cambelltown Hospital. He was also Deputy Dean of the School from 2011 to 2014.
Having lived and worked in Western and South Western Sydney, Professor Frankum understands very well the unique health challenges of the region, and the importance of preventative health.
Dean of the School of Medicine, Professor Annemarie Hennessy, congratulated Professor Frankum on his new role.
"Brad is passionate about making a difference and improving the health outcomes for the people of western Sydney. He was a great champion of the University having its own medical school that could train future doctors who have grown up in the western Sydney region," says Professor Hennessy.
"I have no doubt Brad will make an outstanding contribution to the leadership of the Australian Medical Association (NSW). On behalf of the School community we wish him every success."
Exercise: Future anticancer therapy?
May 24, 2016
At age 70, Alfred Roberts plays hockey twice a week. Nothing special, right? Except that for three years he has had advanced prostate cancer, which has spread to his bones. "I've always been active. Hockey keeps me in shape and keeps my mind off things. I've got friends that have played until age 80, and my goal is to beat them!" said the veteran stick handler.
Several studies have demonstrated the benefits of exercise to improve the quality of life of people with cancer. But Dr. Fred Saad, urologist-oncologist and researcher at the University of Montreal Hospital Research Centre (CRCHUM), goes further. He believes that physical exercise has a direct effect on cancer, as effective as drugs, for treating patients with prostate cancer, even in advanced stages of the disease.
"Typical patients with metastases often become sedentary. It is thought that this affects cancer progression," he said. Together with Robert Newton, professor at the Edith Cowan University Exercise Medicine Research Institute in Australia, Dr. Saad is leading the first international study which aims to demonstrate that exercise literally extends the life of patients with metastatic prostate cancer.
"Normally, patients at this stage have a life expectancy of two to three years. We want to reduce mortality by at least 22%, which represents about six months of longer survival. This is the equivalent benefit of a new drug. Exercise could therefore supplement available treatments, inexpensively," said Dr. Saad, who is also professor at the University of Montreal's Department of Surgery.
Dr. Saad will present an overview of this Phase 3 clinical trial at the American Society of Clinical Oncology (ASCO) Annual Meeting, which will take place in Chicago from June 3 to 7. The study, which is supported by the Movember Foundation, has already started in Ireland and Australia. In the coming weeks, some sixty hospitals across the world will begin recruiting patients. In total, nearly 900 men with advanced prostate cancer will participate.
"We will study exercise as if it were a drug added to standard treatments. All patients will be treated within the latest scientific knowledge for this type of cancer. They will continue to follow their therapies and take their medications. But half of the patients will receive psychosocial support with general recommendations on physical exercise. The other half will also follow a high intensity exercise program," he explained.
The exercise medicine expert Professor Robert Newton has designed a specific strength and cardiovascular training program for patients in the "exercise" group. "They will have an hour of aerobic and resistance training three times a week. An exercise specialist will supervise them for the first 12 months, and then they will continue without direct supervision. We will evaluate quality of life, appetite, and treatment tolerance in relation to their improved physical condition," said Professor Newton, who is co-director of the Edith Cowan University, Exercise Medicine Research Institute.
Blood samples and muscle biopsies will help scientists better understand the benefits of exercise. "People with cancer develop all sorts of complications related to metastases, such as fractures or severe pain. It is hoped that exercise will strengthen muscles and bones," said Dr. Saad.
The hypothesis is that exercise has a direct impact on cancer progression in addition to helping patients better tolerate therapy. Ultimately, they will live longer. The results of this large study, which involves some one hundred researchers in Canada, the US, Australia, Ireland, the Netherlands, and the UK, will not be known for five years. Could the findings be extended to other types of cancer? It is too early to tell, but researchers are betting that exercise could well become the next anticancer therapy. Alfred Roberts is also convinced that exercise helps defy the odds: "As long as I can skate, I'll play hockey!"
The above is reprinted from materials provided by University of Montreal Hospital Research Centre (CRCHUM).
Obstetric researchers honoured with inaugural clinical trial award
23 May 2016: University of Sydney
New research revealing women are better off waiting than being induced if their waters break early has won the University of Sydney's Professor Jonathan Morris the inaugural Australian Clinical Trials Alliance award for the most outstanding investigator-driven clinical trial of 2015.
Published in The Lancet, Professor Morris' ten-year international trial of more than 1800 pregnant women in 11 countries is set to significantly improve the outcomes in pregnancies where women's waters break early, which occurs in 40 per cent of preterm deliveries.
When this rupture occurs before 34 weeks gestation, women are not generally induced as the complications of prematurity outweigh the risks, and by 37 weeks the infant is considered to have reached full term. But medical opinion has been split on whether women whose waters break in between 34 and 37 weeks should give birth immediately, or wait until the baby is more mature. Most recently it has been in favour of inducing labour, however premature babies spend more time in intensive care units and more mothers have to have caesareans.
Professor Morris' game-changing research has now determined that babies are better off waiting in utero through this twilight period until the baby is full term at 37 weeks, rather than being induced immediately.
"What's become apparent is these last few weeks of gestation are really critical - they greatly benefit the brain and lung development of babies," said Professor Morris, who is the director of the Kolling Institute for Medical Research.
"Given the recent increasing evidence of a lifelong risk of adverse outcomes in babies born even slightly prematurely, we felt it was important to determine whether the current treatment, which was resulting in babies being delivered early because of concerns over infection, was in fact supported by evidence.
"About 8 per cent of babies are born prematurely in Australia each year, and even those born between 34 and 37 weeks have higher chances of metabolic disease, cardiovascular disease, obesity, decreased respiratory function and impaired learning."
The randomised controlled trial found babies whose mothers were placed on "expectant management" had significantly lower chances of respiratory distress and no difference in the rate of infection compared with those who were induced immediately.
These babies were likely to spend 50 per cent less time in neonatal intensive care after birth and 33 per cent less likely to require hospitalisation because of respiratory problems. The study also found that there was a reduced incidence of Caesarean section for mothers.
Professor Morris said there had not previously been any studies to support the case for immediate induction, despite UK guidelines being updated in 2010 to recommend the practice and US guidelines in 2013.
"This trial is an example of taking standard practice, testing it and coming up with a better outcome," he said.
"Clinical trials are essential to inform best practice in health and we have an opportunity through Sydney Health Partners to embed clinical research within our health care system."
The award was presented by Federal Health Minister Ms Sussan Ley on International Clinical Trials Day 20 May, 2016.
One step closer to curing diabetes
23 May 2016: UTS
A human cell line genetically engineered to produce, store and release insulin in response to blood sugar levels in the human body could eliminate the need for daily injections for insulin-reliant diabetics.
Developed by UTS's Professor Ann Simpson and her team at the UTS Centre for Health Technologies, these insulin producing "Melligen" cells show promise as a possible cure for type 1 diabetes. This month, the team secured US patent protection for the cell line from the US Patent and Trademark Office.
"My team and I are extremely pleased that the US patent for the Melligen cells has been granted," says Simpson. "This takes us a step closer to releasing diabetics from the need to inject insulin daily and, more importantly, protecting them from the debilitating complications of the disease such as blindness, kidney failure and cardiovascular problems."
The group is now working with US clinical stage biotechnology company PharmaCyte Biotech to commercialise the research.
PharmaCyte specialises in the development of targeted treatments for cancer and diabetes using its signature live cell encapsulation technology. This technology, known as Cell-in-a-Box, is a key process in the commercialisation of the Melligen cell as a revolutionary treatment.
"This is a culmination of many years' work by our group and we look forward to working with PharmaCyte's Diabetes Consortium to utilise the Cell-in–a-Box technology to encapsulate the cells for preclinical trials aimed at curing diabetes," says Simpson.
"We anticipate that the capsule technology will protect the Melligen cells from the body's immune response that normally destroys foreign tissue, allowing the Melligen cells to be transplanted into humans."
PharmaCyte's Chief Executive Officer, Kenneth L Waggoner, says, "We at PharmaCyte consider ourselves to be very fortunate in having secured the exclusive world-wide licence to use the Melligen cells to develop a treatment for diabetes.
"If we are successful in this effort, it will bring to fruition the many years of research that have been conducted by Professor Simpson and her colleagues at UTS in developing these remarkable cells. Importantly, we are very pleased that Professor Simpson will be assisting PharmaCyte in this endeavour as a member of our International Diabetes Consortium.
"For the millions of people worldwide who suffer from a disease of epidemic proportions, our treatment could relieve them of the onerous daily requirements for insulin administration and dietary restrictions and offer a life free from the very serious and even life-threatening complications associated with diabetes."
With the World Health Organization attributing more than 1.5 million deaths to diabetes in 2012 and more than 422 million adults suffering from the disease in 2014, the development has the potential to impact millions of lives.
The cell line already has patent protection from the European counterpart to the US Patent and Trademark Office and the patent has been validated in France, Switzerland, Great Britain, Ireland, Germany, Spain, Denmark, Italy and the Netherlands.
Playgroups offer vital support for mothers and benefits for community
25 May 2016: RMIT
Community playgroups have significant social and economic benefits not just for children but also for their parents, particularly mothers, according to new research.
Relationships Matter: The Social and Economic Benefits of Community Playgroups, funded by Playgroup Australia and undertaken by RMIT University's Centre for Urban Research (CUR), identifies the benefits playgroups afford parents across the social spectrum.
Lead author Dr Ian McShane from CUR said the report found that playgroups' role in building social capital and community capacity set them apart from other forms of early childhood services.
"We know that playgroups have significant developmental benefits for children, yet we found after interviewing parents for this research that this only tells half the story of their value," McShane said.
"Playgroups provide valued social support and peer education for parents, particularly mothers, at a challenging time of life, contributing to personal development, including learning new skills and knowledge."
Playgroup Victoria's CEO Danny Schwarz said it was clear from the report that parents' participation in playgroup provides huge benefits to them, especially in forming strong social connections.
"Playgroups help build communities and strengthen the integration of a community's early year's services, encouraging a smooth transition from first time parent groups to playgroup, kinder and school," he said.
Some participants of the study reported that joining a playgroup is crucial for vulnerable mums, helping reassure them that what they're going through is normal.
Report co-author Dr Kay Cook said the study also found that playgroups gave some mums the confidence to return to work while raising their children or provided a pathway to volunteering in other settings.
"While it was not the main focus of this research, we also found that playgroups are a site for mums to develop new skills to take with them back to the workforce," Cook said.
She said boosting female participation in the labour market is an important avenue for increasing economic output.
"We found that playgroups' contribution to the 'human capital' in terms of providing playgroup members new skills and knowledge – most of who are female – is of large economic value.
"We hope this research can help contribute to the policy conversations on early childhood services, particularly by recognising and supporting the distinctive role of community playgroups in the childcare landscape."
The findings are based on both qualitative interviews with community playgroup coordinators and parents/carers, and quantitative data analysis using the Longitudinal Study of Australian Children.
View the full report online (PDF: 7.78MB).
Story: Chanel Bearder
Stilettos X-Ray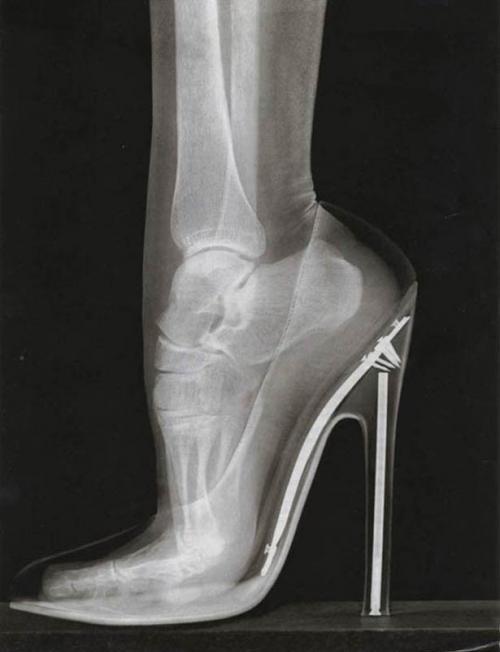 Wiki Loves Earth 2016 in Australia
Do you have pictures of National Parks, Bushland forever sites, maybe Marine Parks stored on your computer since your last trip? This is a great opportunity to give them a second life in this Wiki Loves Earth contest. In addition to being seen by everyone, your pictures could be included in Wikipedia and contribute to the knowledge of Australia's natural beauty. Freely licensed photos collected through Wikipedia Loves Earth may also be reused elsewhere than in Wikipedia.
Photos may have been taken at any time. The key criteria to be eligible for the contest are that they are to be uploaded to Wikimedia Commons in May 2016... and that they have been taken by you, of course!
There is no minimum age to participate, and there is no participation fee. Besides WLE being a competition, it is first a fun activity, ideal for families. The competition also allows us to share our unique natural environment, while improving our photographic talents!
The full WLE rules can be read at Commons:Wiki Loves Earth 2016/Rules. In short:
two megapixel minimum image

must be self-taken

must be of a protected area (or its flora or fauna) in Australia

must be appropriately described and categorised

must be uploaded during 1–31 May 2016
Protected areas near you:
Bouddi National Park - Brisbane Water National Park - Ku-ring-gai Chase National Park
Find out more here
In text: Xanthorrhoea (Grass tree) flowering in Ku-ring-gai National Park - May 2016 - A J Guesdon pic
Chau Chak Wing Museum announces Sydney donors and architect
23 May 2016: University of Sydney
Two of Sydney's most significant arts patrons are donating $1.75 million to the Chau Chak Wing Museum at the University of Sydney.
The donations coincide with the appointment of Sydney firm, Johnson Pilton Walker to build the new 6000 square metre museum which will house the University's Macleay,Nicholson and University Art Gallery collections alongside key works from the Power Collection.
The Nelson Meers Foundation, a major supporter of the arts since 2001, is contributing $1 million and Penelope Seidler, the distinguished architect, is donating $750, 000. The gifts will fund two galleries displaying a mixture of art and artefacts.
Nelson Meers AO and his daughter, Samantha Meers, are both alumni of the University.
"I'm delighted to that we are able to participate in the creation of a vibrant hub for interdisciplinary exchange which will give students, scholars and the broader community greater access to the breadth and richness of the University's collections", said Mr Meers.
"I believe the Museum will make an important contribution to the Australian cultural dialogue by enabling the display of historical and contemporary treasures together."
Penelope Seidler was a student at the University of Sydney when JW Power made a bequest worth $55 million in 1962 and remembers the electrifying effect of the gift.
"I am thrilled to be associated with this museum which will allow so many unseen works from these marvellous collections to finally be on display," she said.
"I was especially pleased that the museum will feature works from the Power Collection, significant artworks from the 60s, 70s and 80s, including works by JW Power himself.
"Power was an accomplished modernist who deserves to be better known by Australians."
I believe the museum will make an important contribution to the Australian cultural dialogue... Mr Nelson Meers
Dr Michael Spence, the University's Vice-Chancellor commented, "It's wonderful that these donors, with longstanding associations with the University and Australia's cultural heritage, are building on those relationships with these significant gifts."
The Chau Chak Wing Museum will redevelop the historic Macleay and adjacent Edgeworth David Buildings, connecting the two via a new modern extension.
"The Macleay Building was the southern hemisphere's first purpose-built university museum," said the University's Director of Museums and Cultural Engagement David Ellis. "The generosity of our donors and the experienced architects of JPW mean we are now able to transform the Macleay back to its original purpose and make additions to create a new, vibrant museum, and engaging learning space for students."
Photo: The Macleay building will be redeveloped for the Chau Chak Wing Museum.
JPW won Australia's Harry Seidler Award for commercial architecture for the past two years running. Its extensive work with cultural institutions includes completing master plans for the Australian Museum, the South Australian Museum, the Western Museum and the Tasmanian Museum and Art Gallery. The museum, established by a $15 million donation from Chinese-Australian entrepreneur Dr Chau Chak Wing, is due to open in 2019.
With every gift to the University of Sydney, donors become part of INSPIRED – the campaign to support the University of Sydney.
Top international award for quantum computing chief
24 May 2016 by Deborah Smith: UNSW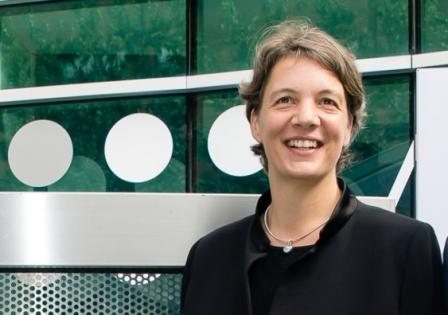 UNSW Scientia Professor Michell Simmons
For her world-leading research in the fabrication of atomic-scale devices for quantum computing, Scientia Professor Michelle Simmons has been awarded a prestigious Foresight Institute Feynman Prize in Nanotechnology.
Two international Feynman prizes, named in honour of the late Nobel Prize-winning American physicist Richard Feynman, are awarded each year in the categories of theory and experiment to researchers whose work has most advanced Feynman's nanotechnology goal of molecular manufacturing.
Professor Simmons, director of the UNSW-based Australian Research Council Centre of Excellence for Quantum Computation and Communication Technology (CQC2T), won the experimental prize from the Foresight Institute for her work in "the new field of atomic-electronics, which she created".
By creating electronic devices atom by atom, we are gaining a very fundamental understanding of how the world behaves at the atomic scale, and it's phenomenally exciting.
Her group is the only one in the world that can make atomically precise devices in silicon. They have produced the world's first single-atom transistor as well as the narrowest conducting wires ever made in silicon, just four atoms of phosphorus wide and one atom high.
President of the Foresight Institute Julia Bossmann said the US $5000 prizes reward visionary research. "Our laureates realise that big innovation is possible on the nanoscale. The prizes acknowledge these pioneering scientists and inspire others to follow their lead."
Professor Simmons said: "I am delighted to win this award. Feynman once said: 'What I cannot create, I do not understand'.
"By creating electronic devices atom by atom, we are gaining a very fundamental understanding of how the world behaves at the atomic scale, and it's phenomenally exciting," she said.
As director of CQC2T, Professor Simmons heads a team of more than 180 researchers across six Australian universities, including UNSW. She has previously been awarded two Australian Research Council Federation Fellowships and currently holds a Laureate Fellowship.
She has won both the Australian Academy of Science's Pawsey Medal (2005) and Thomas Ranken Lyle Medal (2015) for outstanding research in physics. She was named NSW Scientist of the Year in 2012, and in 2015 she was awarded the Eureka Prize for Leadership in Science.
In 2014, she had the rare distinction for an Australian researcher of becoming an elected member of the American Academy of Arts and Sciences. She is also editor-in-chief of the first Nature Partner Journal based in Australia, npj Quantum Information.
In April, Prime Minister Malcolm Turnbull opened new quantum computing laboratories at UNSW and praised Professor Simmons' contribution to the nation as both a scientist and director of the CQC2T team.
"You're not just doing great work, Michelle. You're doing the best work in the world," Mr Turnbull said. "It is a tribute to your leadership, your talent … that you've attracted so many outstanding scientists and engineers from around the world. This is a very global team and it's right here at the University of New South Wales."
The Forsight Institute is a leading think tank and public interest organisation focused on transformative future technologies. Founded in 1986, its mission is to discover and promote the upsides, and help avoid the drawbacks, of nanotechnology, artificial intelligence, biotechnology and similar life-changing developments.
In 1959, Richard Feynman gave a visionary talk at the California Institute of Technology in which he said: "The problems of chemistry and biology can be greatly helped if our ability to see what we are doing, and to do things on an atomic level, is ultimately developed – a development which I think cannot be avoided."
Both Feynman Prizes, which were announced overnight in the US, are for 2015. The theory prize was awarded to Professor Marcus Buehler of the Massachusetts Institute of Technology for developing new modelling, design and manufacturing approaches for advance materials with a wide range of controllable properties from the nanoscale to the macroscale.
How brick-makers can help butt out litter
May 23, 2016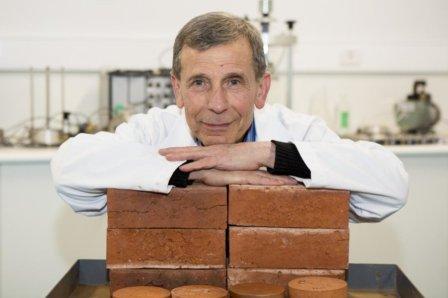 Dr Abbas Mohajerani has shown that bricks with 1 per cent cigarette butt content as pictured here can help the environment. Credit: RMIT University
RMIT researchers have shown how fired-clay bricks made with cigarette butts can save energy and help solve a global littering problem.
Trillions of cigarettes are produced every year worldwide, resulting in millions of tonnes of toxic waste being dumped into the environment in the form of cigarette butts.
As butts have poor biodegradability, it can take many years for them to break down, while heavy metals such as arsenic, chromium, nickel and cadmium trapped in the filters leach into soil and waterways.
Now a team at RMIT University led by Dr Abbas Mohajerani has demonstrated that bricks with as little as 1 per cent cigarette butt content can cut brick production costs and save the environment.
Mohajerani, a senior lecturer in RMIT's School of Engineering, said: "I have been dreaming for many years about finding sustainable and practical methods for solving the problem of cigarette butt pollution.
"About 6 trillion cigarettes are produced every year, leading to 1.2 million tonnes of cigarette butt waste. These figures are expected to increase by more than 50 per cent by 2025, mainly due to an increase in world population.
"In Australia alone, people smoke about 25 to 30 billion filtered cigarettes a year and, of these, about 7 billion are littered. This research shows that if just 2.5 per cent of the world's annual brick production incorporated 1 per cent cigarette butts, we could completely offset annual worldwide cigarette production."
Mohajerani's team discovered that adding butts can cut the energy needed to fire bricks by up to 58 per cent.
Fired-clay bricks incorporated with cigarette butts were also lighter with better insulation properties -- meaning reduced household heating and cooling costs.
Importantly, bricks incorporated with 1 per cent cigarette butts maintained properties very similar to those of normal bricks.
During firing, heavy metals and other pollutants in cigarette butts are trapped and immobilised in the bricks, reducing problems caused by leaching.
Mohajerani said: "Incorporating butts into bricks can effectively solve a global litter problem as recycled cigarette butts can be placed in bricks without any fear of leaching or contamination.
"They are also cheaper to produce in terms of energy requirements, and as more butts are incorporated, the energy cost decreases further."
Abbas Mohajerani, Aeslina Abdul Kadir, Luke Larobina. A practical proposal for solving the world's cigarette butt problem: Recycling in fired clay bricks. Waste Management, 2016; 52: 228 DOI:10.1016/j.wasman.2016.03.012
Vote 1 NLA For Election Material
23 May 2016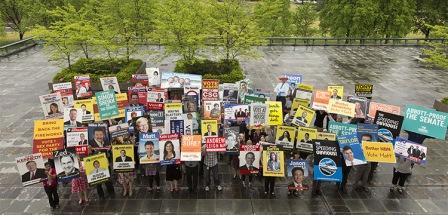 Library staff show off some of the posters donated to the ephemera appeal at the last election.
Is your letterbox imploding with 2016 Federal Election campaign material? Well, your National Library is here to help.
We want your 2016 Federal Election ephemera. We want those pamphlets, stickers, how-to-vote cards, posters, speeches, buttons, T-shirts, hats – any original material relating to the July 2 poll.
Why? Ephemera, is by its very nature, not meant to last. It is designed to mark a moment in time. By collecting 2016 Federal Election ephemera, the National Library can preserve and make accessible, to political historians of the future, the stories of today. And the more unusual the item, the more interesting the story will be to researchers of the future.
Political ephemera provides a unique perspective into Australia's social life and political landscape—the rise and fall of policies, issues, parties and careers. The material produced not only by potential politicians but by lobby groups, by officials, by journalists reporting the story. Even the papers and colours used, dye-cut and printing finishes, variations in size/proportion of the stickers, buttons, posters, handbills or letters—as well of course as the messages contained within – will be of interest to future scholars.
Thanks to its supporters, the National Library now has the largest collection of political memorabilia in Australia for every Australian federal election since Federation.
The collection ranges from the Australian Labor Party's Manifesto to the 'unofficial' Election Bean Poll - where café customers were invited to show their political preferences via coffee beans - to a complete digital archive of the Coalition's policies, courtesy of the NLA's PANDORA web archive.
But we want more. We want our collection to tell the 2016 Federal Election story as well as it can – that's why we need your help.
For more information, contact the NLA's Ephemera Officer, Catherine Aldersey on 02 6262 1180 or go to Federal Election campaigns.