Inbox and Environment News: Issue 379
October 14 - 20, 2018: Issue 379
The Great Anti-Fracking Bus Trip 2018
The NT Govt has released half of the Territory for CSG - it's a toxic disaster!
We are helping to get pastoralists and indigenous owners on a bus trip to SE Qld. and the Pilliga to see first hand what fracking does to farmland, water and country, and to hear from land owners and farmers there what a disaster it is.
This Chuffed fundraiser is to help cover the cost of fuel and cabin accommodation for the 10 days they will be on the road. You can donate directly, and you can bid on stuff in some Facebook Auctions coming up. Any amount helps.
AND can you please invite your friends to the Facebook page
HERE
too. It's as much about raising awareness as it is about raising money. Tell everyone - NO FRACKING OUR LAND OR WATER!
Donate at this Chuffed secure link: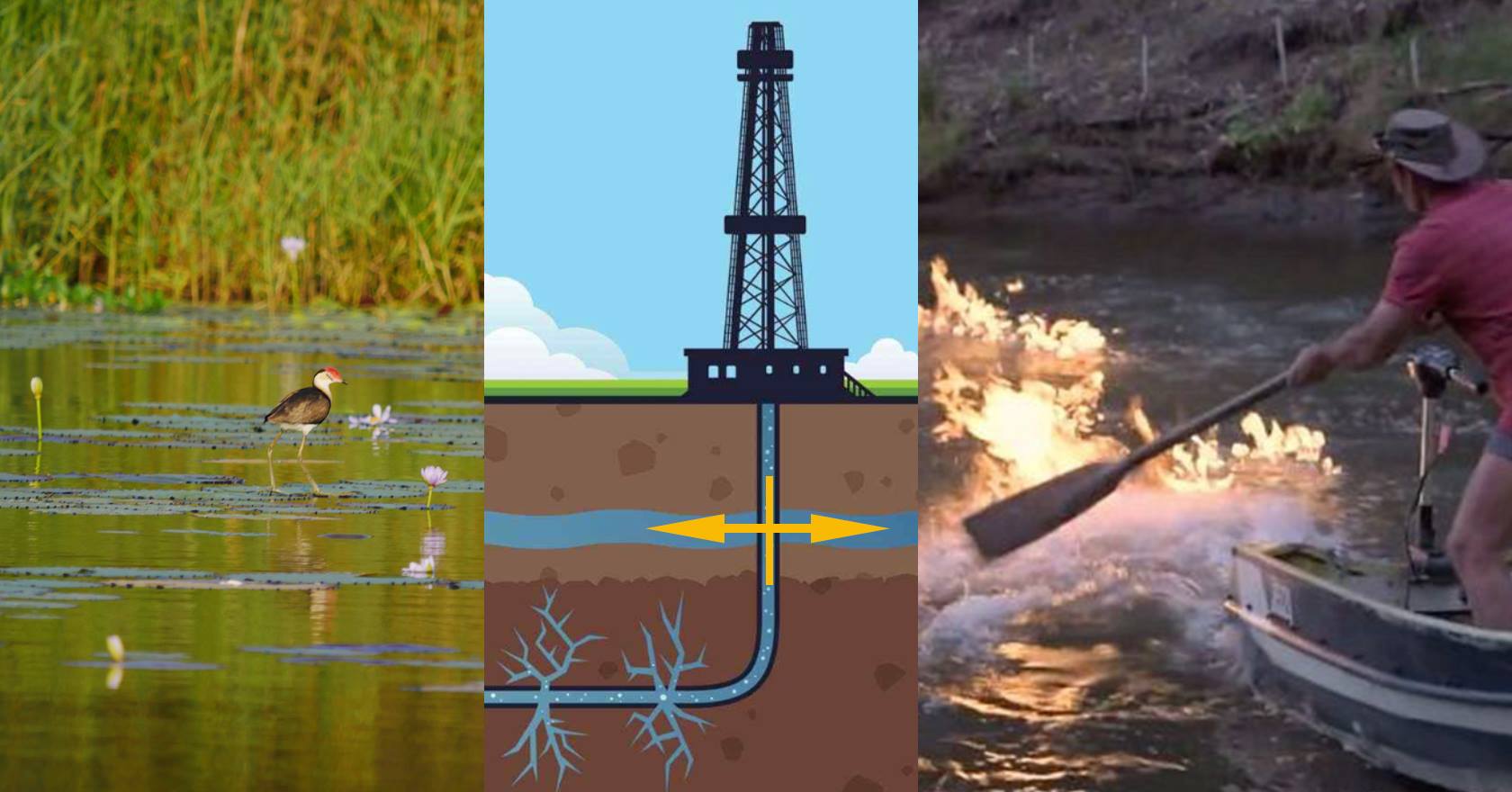 The Results Are In: Narrabri Wants Renewable Energy, Not CSG
October 11, 2018: Media Release
The North West Alliance and Lock the Gate have released the results of door-to-door surveys in Narrabri showing an overwhelming majority of people in favour of renewable energy compared to less than a third that want CSG.
The door-knocking took place from July to September, knocking on 2,300 doors and collecting survey responses from 840 people.
The results of the survey show overwhelming positivity in Narrabri towards renewable energy and considerable concern about coal seam gas:
Asked if they support renewable energy as a way to provide long-term jobs for Narrabri 97% of people answered "yes!"

Asked if they were in favour of the proposed 850 well coal seam gasfield in the Pilliga, only 28% of people said they were in favour

More than half, 52%, of people surveyed were opposed to the gasfield and 20% were unsure

55% of the people surveyed said they were very or somewhat concerned about the gasfield and only 24% said they were not concerned

Sally Hunter, Narrabri farmer and member of People for the Plains said:
"It was so worthwhile to speak to the people of Narrabri about their attitudes to renewable energy and coal seam gas and discover the town is far more excited by renewables than CSG.
"We're excited too: we want the jobs and prosperity that renewable energy can bring Narrabri without the pollution and water depletion that CSG will bring."
Jane Judd, Lock the Gate North West regional coordinator said:
"A report commissioned by Lock the Gate earlier this year revealed that the huge renewable energy potential of Narrabri Shire can create more numerous and more lasting jobs than CSG offers, without sucking up huge volumes of water and risking serious environmental harm.
"Though this is just a snapshot, we think our survey results indicate that Narrabri people want jobs, but not at the expense of the water that is the lifeblood of our region. Luckily for all of us, we don't have to choose between one or the other: we can stop the Narrabri gasfield and embrace the jobs that renewable energy can bring."
Intergovernmental Panel On Climate Change Releases Report
8 October 2018: Media release - The Hon. Melissa Price MP, Minister for the Environment
The Australian Government will consider the Intergovernmental Panel on Climate Change's report as part of our ongoing review of our country's contribution to global action on climate change.
The Morrison Government is committed to the Paris Agreement and takes its international obligations seriously.
While Australia contributes only around one per cent of global emissions, we will deliver on our commitment to reduce emissions by 26 to 28 per cent of 2005 levels by 2030.
Australia's emissions intensity is at its lowest level for 28 years.
The report was requested by parties to the Paris Agreement, including Australia, to provide the IPCC's assessment of the latest available science on impacts of a 1.5°C global warming scenario (on pre-industrial levels) compared with a 2°C scenario.
The 600 page report covers all aspects of climate change policy, including the science, impacts and mitigation and we will consider its detail carefully.
We're particularly concerned about the implications for coral reefs, with the report finding climate change will impact reefs across the world, including Australia.
More than ever this report shows the necessity of the Morrison Government's $444 million investment in the Great Barrier Reef's management.
Our investment will specifically address key areas for action identified by the Reef 2050 Plan.
I want to reassure Australians that, in the International Year of the Reef, the Morrison Government prioritises action over words. International efforts to reduce global climate change, combined with action at national and local levels to build the resilience of the Reef by reducing impacts, is the best insurance for protecting the Reef.
IPCC Reports are designed to inform policy makers, but without being policy prescriptive. The Australian Delegation at the meeting in Korea consisted of officials from the Department of Foreign Affairs and Trade and the Department of the Environment and Energy.
Butler And Price Show Major Parties Are Addicted To Coal And Can't Tackle The Climate Emergency: Greens
October 9, 2018: Media Release
Greens Co-Deputy Leader and spokesperson on climate change and energy Adam Bandt MP today said that the response of Labor and Liberal to the IPCC's Special Report on 1.5 degrees demonstrates that they are incapable of implementing policies that will bring about the 'rapid and far reaching' transition required to decarbonise the economy. Their reluctance to commit to clear policy action demonstrates that business as usual under Liberal and Labor is a death sentence for the planet.
This morning on Radio National, Labor's shadow climate change minister, Mark Butler, refused to commit Labor to a coal phase out, instead discussing trends in the domestic and international thermal coal market. When interviewed on AM the Coalition's Environment Minister, Melissa Price, admitted she had not read the whole IPCC report and stated she was "very comfortable we're going to meet the 2030 [Paris] target", despite running a defence for coal-fired power, having no policies to reduce emissions and with advice from her own department indicating we are set to miss our target by between 868-934 MtCO₂e.
"
Labor and Liberal are ignoring the science. If we don't end their addiction to coal, we're stuffed,
" said Mr Bandt.
"Instead of moving to a war-footing on climate change, their prescription is for more of the same.
"The political leadership of our country is paralysed.
"Melissa Price's interview was a trainwreck because the Liberals don't accept the science. It shows what happens when you install a former mining executive as Environment Minister.
"She hasn't had her new job for very long, and she won't hold onto it for much longer if she continues to ignore the science and mislead the Australian public.
"
Labor tries to talk big on renewables but they won't phase out coal exports, which cause more global warming pollution than the rest of the economy.
"The Greens are the only party with the policies capable of implementing the rapid and far reaching transitions required to limit global warming.
"Even after the scientists have given us our final warning, Labor and Liberal still refuse to quit coal."
Greens environment spokesperson Sarah Hanson-Young said Australia needs an environment minister who puts the environment first.
"It is
a disgrace that Melissa Price is spruiking coal when we know what lasting, irreversible damage it does to the environment. She must be the most anti-environment environment minister Australia has had
," Senator Sarah Hanson-Young said.
"Our Environment Minister can plant all the trees she likes, but it won't offset the damage to the planet of digging up and burning more coal.
"If Melissa Price is our advocate for the environment in the Morrison Government, there is little hope protecting and sustaining our environment will ever be a priority.
"Rather than looking for excuses we need an Environment Minister and Government that takes the warning of the IPCC seriously and is committed to reducing carbon pollution."
IPCC Report: 45% By 2030 - Zero By 2050
The report finds that limiting global warming to 1.5°C would require "rapid and far-reaching" transitions in land, energy, industry, buildings, transport, and cities. Global net human-caused emissions of carbon dioxide (CO2) would need to fall by about 45 percent from 2010 levels by 2030, reaching 'net zero' around 2050.
More and link to report below.
Adani Fails To Pay For 12.5 Billion Litres Of Queensland Water
Lock the Gate says Adani's failure to pay $18.5 million owed for water license should trigger the Queensland Government to cancel the licence.
In response to a question on notice in parliament Natural Resource Minister Anthony Lynham confirmed Adani did not pay for its license to take 12.5 billion litres of water from the Suttor River by the 1st July 2018 due date, and has in fact been granted a 12-month extension.
"Despite drought conditions the Queensland Government are continuing to give preferential treatment to Adani, essentially giving them an option on the water even though they haven't paid for the licence" said Mackay Conservation Group Spokesperson, Maggie McKeown.
"The Queensland Government have always said they would hold Adani to the highest standards and strictest conditions, yet they seem unable to hold Adani to account when it comes to paying its way" said Lock the Gate spokesperson Ellie Smith.
"Adani continues to claim they are on track to start this mine and blame others for their delays and yet they are unwilling to invest $18.5m to sure up the water needed for the mine.
"The Queensland government should never have granted our water to Adani and now it has this chance to cancel the licence, it must act swiftly to do so." said Ellie Smith.
Question on Notice
detailing the Queensland Government giving Adani a 12-month extension to pay
here
.
More Than 21,000 Submissions Supported Sydney Marine Park With Sanctuary Zones
October 4, 2018: Media Release
At least 21,000 submissions to the Berejiklian government's Sydney Marine Park consultation support the original plan to protect at least 2.4% of coastal waters between Newcastle and Wollongong in sanctuary zones. [1]
"We now know the full scale of the Berejiklian government's betrayal," Sydney Marine Park Campaigner Sharnie Connell said.
"The voices of at least 21,000 marine park supporters were effectively silenced when Gladys Berejiklian's government ruled out sanctuary zones in the park.
"The government backflipped on its own proposal before the public had a say and the official community consultation had run its course.
"With the final announcement expected soon, the government has a last chance to listen to the community and include sanctuary zones in the park.
"If the final design lacks sanctuary zones, it can't be called a marine park and the consultation process will have been a sham."
Ms Connell said the backflip on marine sanctuaries ignored the science, the community consultation process, and the wishes of coastal locals.
"With less than 1% of the region's coasts and oceans protected, our marine wildlife desperately needs these sanctuaries, just like we have national parks on land," she said.
"NSW has successful marine parks with sanctuaries along other parts of the coast that have brought fish populations back to life and attracted tourists from around the world."
The 21,000 submissions in support of a Sydney Marine Park with sanctuary zones is consistent with polling conducted in August that showed overwhelming support for increased protections for marine life in the waters from Newcastle to Wollongong.
A
ReachTEL poll
found public support for a Sydney Marine Park ranged between 83% in Manly, 76% in Coogee, and 75% Gosford and Terrigal.
The poll also found people were more likely to vote for candidates who supported increased marine protections and vote against the government if it backflipped on the Sydney Marine Park proposal.
[1] The figure was collated by conservation groups who monitored submissions made by marine park supporters during the six-week consultation process, which ended September 27.

Aussie Backyard Bird Count: 22-28 October 2018
Save the date — the Aussie Backyard Bird Count is back from 22-28 October 2018.
The #AussieBirdCount is a great way to connect with the birds in your backyard, no matter where your backyard might be — a suburban backyard, a local park, a patch of forest, a farm, down by the beach, or the main street of town.
To take part all you need is 20 minutes and your favourite outdoor space. Not only will you be contributing to BirdLife Australia's knowledge of Aussie birds, but there are also some great prizes on offer. Head to the website and
register as a Counter today
!
If you've taken part before and are registered for this year why not introduce someone else to the wonderful world of birding through this easy, fun, all-ages event? And if you're a teacher, check out our Bird Count
curriculum-based lesson plans
to get your students (or the whole school!) involved.
If you have questions about the Aussie Backyard Bird Count, please head to our FAQ page, where you'll find more information about registering, participating, and troubleshooting.
28 days to go — and counting!

Restoration And Rehabilitation Grants Now Open
October 11, 2018: Media Release
Member for Manly James Griffin announced today that applications for grants under the NSW Environment Trust's Restoration and Rehabilitation Program are open for community and government organisations to create more sustainable management of environmental assets and services.
"I am passionate about our environment and this is a huge opportunity for local community organisations to secure funding to improve our local environment. This historic program has run for more than 25 years and will deliver long term outcomes for our local environment here on the Northern Beaches," Mr Griffin said.
"These grants enable community organisations and Council to further protect, conserve and restore our valuable natural environment by implementing local or regional on-ground projects.
"We want to enhance how this is done by facilitating the development of environmental expertise and partnerships between the community, government and industry.
"Without these grants, the community would not have the ability to implement the volume of vital sustainability activities such as bush regeneration, weed management, revegetation, vertebrate pest management, fencing, erosion control, formalisation of tracks, and capacity building, to signage and educational resources."
Under the Program, $4,000,000 will be made available for grants across two funding streams, which include:
Community projects totalling $2,000,000; and

Government projects totalling $2,000,000.

Individual grants of up to $100,000 will be offered under the program.
Applications close on 3 December 2018.
The program is a contestable grants program, therefore applications received will be assessed on merit by an independent technical committee.
Merit is based on clear assessment criteria set out in the Program Guidelines. Successful applications will be approved by the Trust in May 2019. The Program is funded by the NSW Environment Trust within the Office of Environment and Heritage.
As Experts Warn About Warming Beyond 1.5 Degrees, NSW Government Pushes Forward With Bylong Coal Mine
October 09, 2018: Media Release
Community groups have slammed the NSW Department of Planning and Environment (DoPE) for recommending a new thermal coal mine should proceed on the very same day that the IPCC warned the world needed to limit global warming to 1.5 degrees.
The department has recommended that the destructive, foreign-owned Bylong coal mine near Mudgee can proceed, despite a new assessment identifying state significant heritage values on the site where mining is proposed.
An independent expert report on the heritage values released yesterday by the department concluded that:
The Bylong Valley generally had state significant heritage values as a scenic landscape on the western side of the World-heritage listed Blue Mountains

The Tarwyn Park property in particular had state significant heritage values as the site of the first and longest running application of Natural Sequence Farming in Australia

Despite this report, the DoPE suggested only minor amendments to the mine plan rather than rejecting the mine outright. The proposal will now go to the Independent Planning Commission for a final determination.
"The recommendation to proceed with the Bylong mine shows the NSW Government is completely missing in action on climate change just as the IPCC warns warming beyond 1.5 degrees risks catastrophic heat and disruption" said Lock the Gate spokesperson Carmel Flint.
"Not only will this mine put the climate at risk, but new research shows it will take South Korean mining giant KEPCO one step closer to destroying a magnificent valley with state significant heritage values.
"The Department of Planning and Environment has cherry-picked the expert heritage information and moved only to amend the mine plan slightly, when it's clear the mine should have been rejected outright.
"Equally worrying is that there is no new information on Aboriginal cultural heritage impacts provided by the department, even though the Independent Planning Commission previously stated that further investigation was needed.
"This mine will only proceed with the backing of the NSW Government, who at every step have allowed it to progress through the planning process despite the obvious and unacceptable risks it poses to farmland, water and heritage.
"We're calling on the NSW Premier to come and meet local landholders and visit the site as a matter of urgency and then to take firm action to end this dangerous mining proposal" she said.
Quotes from the Hector Abrahams Architects independent report on heritage values:
"Tarwyn Park and its setting are substantial components in the Bylong Scenic Landscape, one of a group of scenic landscapes traversing the Great Dividing Range which are distinctive to the New South Wales landscape. The Bylong Valley is one of the many valleys of different sizes but consistent geology that together form the western side of the World Heritage-listed Blue Mountains, and contribute to its scenic values. (State level significance)
Tarwyn Park is the site of the first and longest running application of Natural Sequence Farming in Australia, and is the basis for all subsequent implementations of the technique. As one of a small number of prominent experimental agricultural practices to gain scientific interest and popular appeal since 1938, Tarwyn Park is significant in the history of Australia's technological advancements in agriculture. (State level significance).
Nature Writing Prize 2019
Calling all nature writers!
The Nature Conservancy Australia is delighted to open the fifth biennial Nature Writing Prize.
The winner of the best essay (3,000 – 5,000 words) in the genre of 'Writing of Place' will receive a $5,000 award and will be published as an online multimedia essay by Griffith Review – Australia's leading literary quarterly publication.
The prize will go to an Australian writer whose entry is judged to be of the highest literary merit and which best explores their relationship and interaction with some aspect of the Australian landscape.
Entry costs $30.00. The deadline for submissions is 1 February 2019 and the winner will be announced in May 2019. The prize is open to Australian citizens and permanent residents.
Koalas In NSW Are Losing Their Homes
They're losing their homes to excessive tree-clearing and if we don't act soon, koalas could be extinct in NSW as early as 2050.
Due to weakened laws, tree-clearing has tripled in the past two years
, resulting in the destruction of the homes of more than 240 native species.
Newport Community Garden: Working Bee Second Sunday Of The Month
Gromtag Australian Series To Kick-Off At Dee Why Beach
9th October 2018: Media Release – from Global Surftag
Boardriding Clubs from all over Australia will have the chance to compete for an Under 18's Australian Title for the first time with the Sydney based Gromtag event expanding into a National Series.
Qualifying events will be held at Dee Why, Duranbah and North Cronulla Beaches with the Gromtag Australian Championships being held at Curl Curl Beach, Sydney in November. More than fifty Boardriding Clubs are expected to compete for the inaugural Gromtag Australian Title with $15,000 prize money on offer.
2018 Gromtag Australian Series
1. Beach Burrito Northern Beaches Gromtag
Sunday 14th October, Dee Why Beach, Sydney
2. Perfect Wave Surf Experience QLD & Northern NSW Gromtag
Saturday 27th October, Duranbah Beach, Tweed Heads
3. Triple Bull Cronulla Gromtag
Saturday 10th November, North Cronulla Beach, Sydney
4. Gromtag Australian Championships & Trials
Saturday 24th November, Curl Curl Beach, Sydney
Gromtag was first held in 2004 at Queenscliff Beach, Sydney with Maroubra United finishing on top. North Narrabeen (NN) won back-to-back Titles in 2007 and 2008 with Elouera going back to back in 2012 and 2013. Over the years Gromtag has attracted teams from outside of Sydney with Boardriding Clubs travelling from Newcastle, Central Coast and the South Coast of NSW to compete.
Global Surftag Managing Director Steve Harrison is looking forward to seeing the next generation of surfers competing for their local Boardriding Club, "The Gromtag event has seen more and more clubs enter every year and with so many junior surfers joining Boardriding Clubs all around Australia the time is right to expand", Harrison said. "It's a rare opportunity to be selected and represent your club so it will be great to see all the juniors competing for an Australian Title and to crown the best club".
With the top five surfers representing each Boardriding Club the series will see all types of surfers hitting the waves with the countries best juniors surfing alongside and against the next crop of underground grommets.
Fifteen-year-old North Steyne surfer Saxon Reber is making his way through the ranks and was one of the top performers at the recent Lifeline High School Surf Challenge, "I'm really excited and can't wait to surf with a great bunch of mates this weekend", Reber said.
"It's really cool that the Gromtag has expanded into four different events and you are able to compete against different people and clubs from all around Australia, it will also be really exciting to see who wins the title".
North Steyne Boardriders finished in third position at last year's Gromtag that was won by Sandon Point Boardriders. Reber will be joined by George Pittar, Ethan Jackson, Tiaan Cronje, Axel Rose-Curotta and Eric Ellery in the North Steyne squad.
Competition will begin at 8.00am on Sunday at Dee Why Beach with last year's runners up Queenscliff Boardriders in Heat 1 against North Narrabeen and Dee Why. Also lining up in Round 1 will be North Avalon, Mona Vale, Long Reef, Merewether, Frenchman's, North Shelly and Northside Stockton. The top four teams will advance to the Australian Championships.
The Final is scheduled for 3.00pm which will be followed by the presentation at Beach Burrito Dee Why.
The 2018 Gromtag Australian Series is proudly supported by Beach Burrito Company, Perfect Wave Surf Experience, Triple Bull Surf Cronulla, Joistik Surfboards, Bose, Wicks Surf and Swellnet.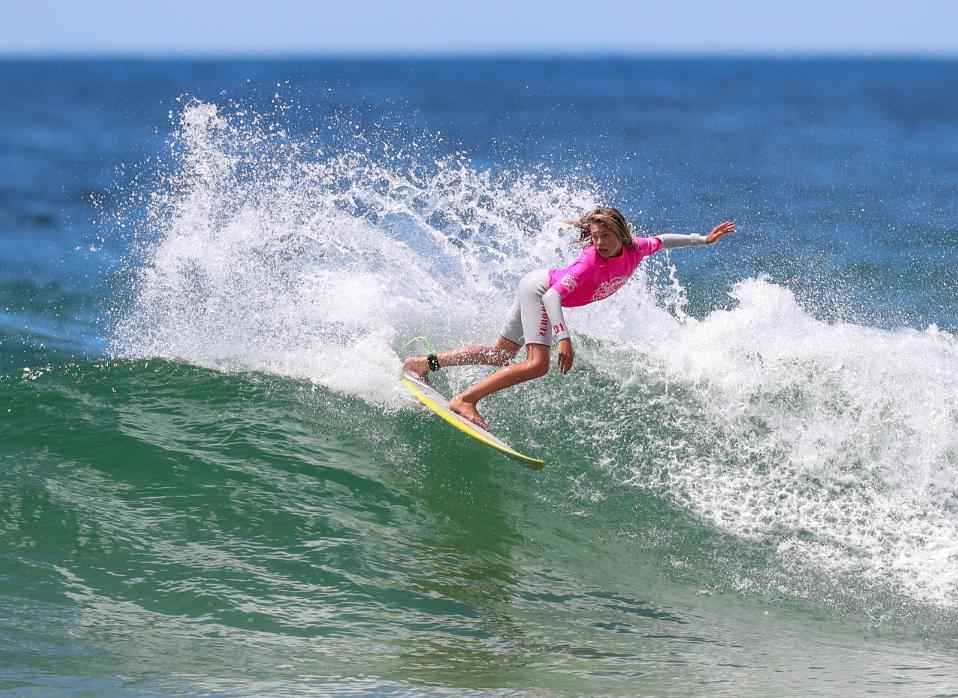 Saxon Reber – North Steyne Boardriders, photo by Bernadette McAlinden
BABY WOMBAT PLAYTIME
Published on 7 Oct 2018 by Australian Reptile Par
k
Grace is the cutest!
THE SENTIMENTAL BLOKE With The Volantinsky Quartet
THE SENTIMENTAL BLOKE was first screened 100 years ago this coming November. It is regarded as the supreme achievement of Australia's Silent Film era. The heartfelt, sympathetic storytelling, its mixture of comedy with realistic Woolloomooloo backgrounds, and its Australian box office success played a major role in defining Australian national character on screen. The film is an adaptation of C.J. Dennis' much-loved poem about an ex-convict who experiences the love of a good woman for the first time.
This newly restored copy will be presented with a live 100 minute musical accompaniment, composed and performed by The Volatinsky Quartet. The Quartet composed the music for this silent film, whose original score has long been lost. They play an exotic combination of instruments, with Russian-trained Lucy Voronov (cimbalom & hammer-dulcimer), impro-cellist Anatoli Torjinski (from Odessa), Kiev-trained mandolin/guitarist Stephen Lalor and master percussionist Jess Ciampa - all laced with the flavours of Russia, the Balkans and Australian quirky classics. They have been a headline act at WomAdelaide, Woodford and Fairbridge Festivals & their music is often heard on ABC FM.
The 100 minute film was directed by the famous Raymond Longford and the cast features the love of his life Lottie Lyell. It was lost for decades until found in a vault at New York's Eastman Kodak, filed mistakenly as THE SENTIMENTAL BLONDE.
One of the prints made from the new negative was screened to renewed enthusiasm at the 1955 Sydney Film Festival, and its director Raymond Longford was discovered to be still alive, working as a nightwatchmen on the Sydney waterfront. The National Film and Sound Archive have allowed us this copy to celebrate its 100th anniversary.
Avalon resident, Film Producer Bill Leimbach, will introduce the film
and tell some of the story behind the making of this landmark collaboration of Raymond Longford & Lottie Lyell. The film transformed Lottie into Australia's first international film star. But she also contributed to the screenplay, art direction, editing and production. The British press called their film, "The best that has been made in Australia".
Lyell and Longford went on to form a very influential and pioneering partnership, making two or three films a year - half hour pieces, totally silent. They started a relationship but Longford could not marry her as his wife Melena would not give him a divorce until 1926 – the year after Lottie Lyell died – at the age of 35.
Today the couple are remembered with a most prestigious award named in their honour, the LONGFORD LYELL AWARD - the Australian film industry's highest accolade for an individual for their "unwavering commitment over many years to excellence in the film and television industries and has, through their body of work, contributed substantially to the enrichment of Australian screen culture". Since the introduction of the award by the AFI in 1968, winners have included Peter Weir, Tim Burstall, Bud Tingwall, David Stratton, George Miller, Phillip Adams, Phillip Noyce, Jack Thompson, Geoffrey Rush and Cate Blanchett.
Avalon Bowling Club will come alive with The Volantinski Quartet on stage accompanying the 100th anniversary of the film, playing to 150 lovers of film, history and exotic music.
Leimbach said, "I saw this SENTIMENTAL BLOKE accompanied by the QUARTET at a film festival in Queensland earlier this year. Everyone had such a wonderful festive night. I approached the Quartet to ask if they could come down to NSW and do the same. They answered excitedly, they would love to - they live in Elanora Heights!"
Don't miss this fantastic opportunity. There will be food, bar drinks and plenty of fun as we laugh and cry and dance in the memory of this great Australian achievement.