April 15 - 28, 2018: Issue 356
In Advance Of ANZAC Day... My Two Cents Worth....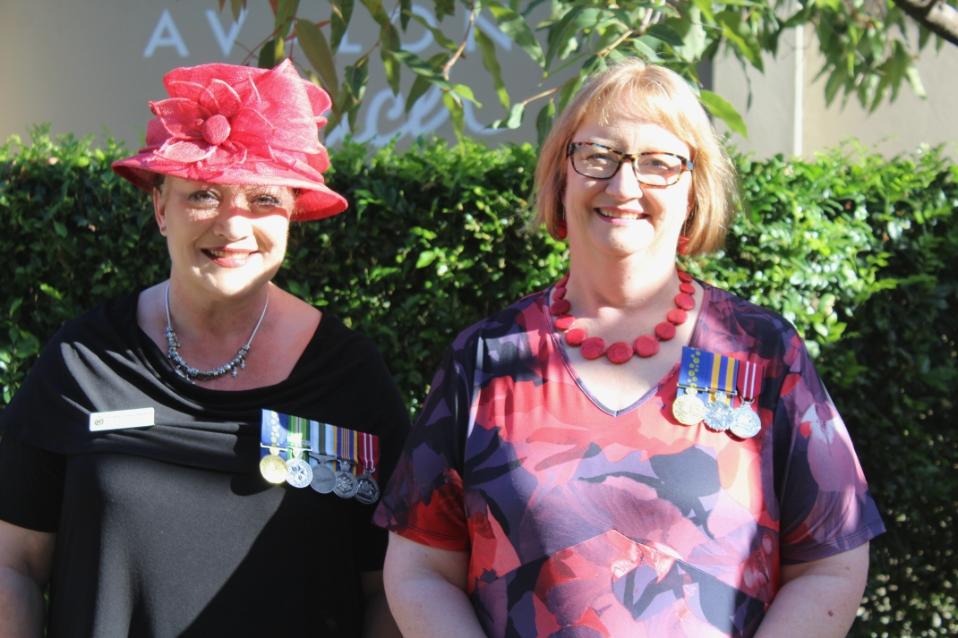 Tamara Sloper Harding OAM and Jan-Maree Ball OAM. A J Guesdon photo.
In advance of ANZAC Day... my two cents worth....
April is now upon us and that means ANZAC Day is nearly here. This year for the very first time I will be taking part in the ANZAC Day March in Canberra. If you know me then you will understand that marching is actually not an option as I have chronic arthritis and need two knee replacements in the near future. I will be in one of the vehicles with other veterans who are also unable to march.
I have never marched on ANZAC Day before, not during my 15 years of service, nor since. I am not sure why I didn't march when in uniform. Perhaps I was on duty on those days, perhaps there was less participation than today. It is a long time ago. I have raised two children and lived a whole other life. I have not marched since leaving the service as I left when my twin sons were born and generally would not have had anyone to care for them whilst I did. Once they were older my arthritis had kicked in and marching was not an option. Also, once separated from the service I would not have known who to march with.
This year, however, I have a place. For one year only the By The Left initiative has made it possible for all female veterans, who wish to, to march together near the front of the march.
The motivations behind By The Left is simple. To encourage women back into the ANZAC Day march, and maybe even the defence community, by enabling them to stand shoulder to shoulder with other women who support them, and at the same time to raise awareness that the Veteran community these days is made up of females as well as males and all deserve to be respected, medals or not!
You can find out more about By The Left here and if you have not heard about the By The Left initiative I urge you to check out their Facebook page.
Earlier this year, the Channel 9 article about By The Left was shared on one of the other Facebook pages. After reading so many of the comments on a number of posts related to the issue of ANZAC Day and medals etc I came to the conclusion that many serving members, myself included at one time, did not or do not value their own service highly enough if they have not deployed. Some are, sadly, even embarrassed if they do not have medals. This prompted me to make comment and the responses to that comment prompted me to write this post in time for ANZAC Day.
Whether or not you have deployed does not and should not define your service.
The number of medals you wear should not define your service either. Medals are not the only valid way to assess the value of our service.
I served 15+ years in the RAAF and the RAN (1982-1996) and never deployed. For much of that time, women simply had no opportunity to deploy.
My husband and I served 30+ years between us. Like many others of our era, neither of us had the opportunity to deploy during our period of service.
I ask you to consider this.... What would have happened to the Australian Defence Force if people like my husband and I, and our peers, had not signed on. If a defence force only operated at a time when deployments were available and not also through times of general world stability where would we be when the need for deployments arose? If you took everyone out of service who did not, or has not, deployed you would not have a functioning service. It is as simple as that.
A good friend of mine also did not deploy when his unit did. When the time came for his unit to deploy he and one other member were told to stay behind by the Commanding Officer.... for one reason and one reason only... because they NEEDED their expertise back home to make sure that the deployed members were expertly supported whilst they were away. They knew they could count on them, and others like them, to keep the admin going, to make sure that their needs were met whilst they went off to do a job. It enabled them to concentrate on the job. Later when the unit was home, the Commanding Officer reiterated that their contribution had been essential.
For a long time I did not value my service as highly as I should have, like many of you, because I had not deployed, because I had served in a largely peacetime military. I was proud of my service but perhaps not as proud as I felt those who had "done more" should be. Over time I have come to appreciate that if I, and those of my era and others, had not chosen to serve, then we would not have had a deployable force available when the need arose.
These days, whilst I would never compare my service to that of many today who are being called upon to do many things I was not, I am now quite comfortable with the fact that my service is something to be proud of as much as anyone else.
I am incredibly proud to be involved in By The Left, and to stand against these amazing women, all of who have deployed. One of our number is currently depIoyed, coming home just in time to march. They, like me, want to be there to stand with other women who have served. Personally, I want to take my place with all the amazing female veterans as much to encourage others without deployment medals, as to stand beside a group of women I am incredibly proud of.
But this post is not just about the ladies who maybe have not marched for a while, it is also for the fellows who likewise do not value their service. If you signed on the dotted line and agreed to serve your country, whether you served in Australia or overseas, stand proud. You SERVED. You put the country's needs before yours and had you been called to war you would have gone and for that, you deserve to be thanked for your service.
I am very much looking forward to the March. Hope to see you there...
Jan-Maree Ball OAM
Founder Aussie Hero Quilts (and Laundry Bags)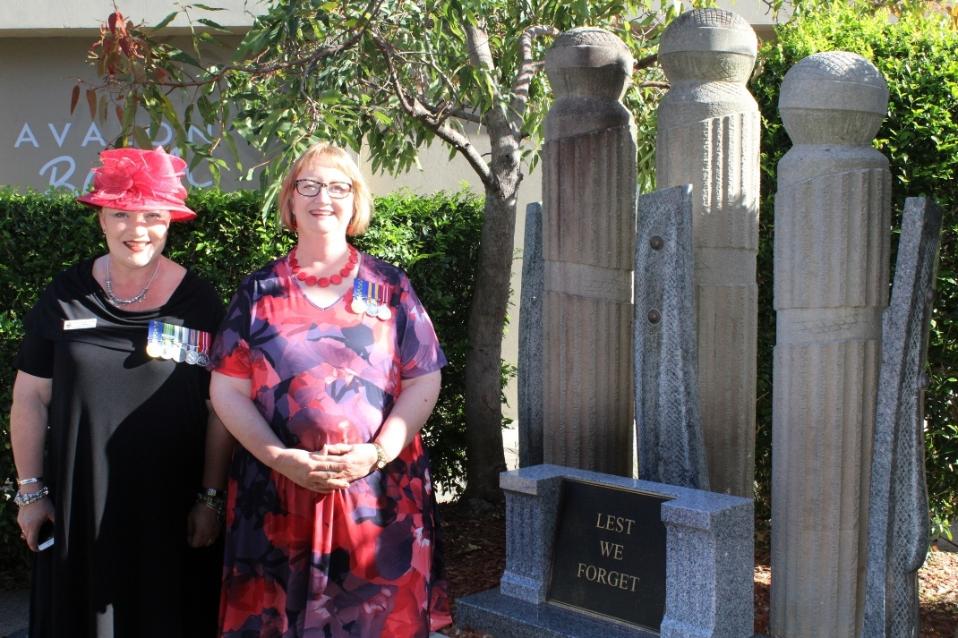 Background: Their medals are rightly on the left
Next time you see a woman wearing her medals on the left, please thank her for her service.
That's the message members of the Women Veterans Network Australia (WVNA) seek to promote through their By the Left campaign in the lead-up to Anzac Day (the title is a play on words as 'by the left' is also a phrase of command used when marching).
The campaign will encourage women veterans to march together en masse in major centres all over the country on Anzac Day to raise awareness of their contribution to the Australian Defence Force.
Campaign organiser Kellie Dadds, a veteran who has been deployed eight times, says women veterans regularly find themselves wrongly challenged in person or via social media about wearing their husband's/father's/grandfather's medals on the wrong side, an offensive slur that has upset some women veterans so much they've stopped attending commemorative events altogether.
Given some 15 per cent of the total permanent serving ADF are women, there is potential for thousands of women to be hurt by such comments.
'Many female veterans no longer march on significant occasions such as Anzac Day, and many have also distanced themselves from the veteran community citing a sense of not belonging due to not feeling recognised as a veteran,' Ms Dadds said at DVA's second Female Veterans Policy Forum (FVPF) in October.
She believes that with the support of the WVNA and other ex-service organisations, the By the Left campaign will increase recognition of female veterans.
'Female veterans do not want to be different, we want to be viewed the same – as veterans,' she says.
'But to achieve this, we must first be seen.'
Greater recognition for women veterans was one of the key issues Ms Dadds wanted to raise at the FVPF, an event that allows women veterans to provide their input on future directions for DVA and learn about the Department's Veteran Centric Reform program. Other topics discussed included recognition of female-specific conditions, the health needs of women veterans generally, the involvement of families in transition from the ADF to civilian life, the definition of a veteran and providing support for victims of domestic violence.
Ms Dadds hopes to remove the barriers that separate veteran groups during the Anzac Day march.
'We would like to encourage as many females as possible to march as one group on Anzac Day regardless of their affiliation,' she says.
'We believe that a large group of women marching together will send a very powerful image, as opposed to very small numbers of females marching amongst 70 to 80 different groups.'
Several DVA Female Veterans Policy Forum attendees had been challenged about wearing their medals on the left, including Lucy Wong, a former RAAF peacekeeper whose service was questioned on social media in September during a week of commemorations marking 70 years of Australian peacekeeping.
A photo on Facebook of Ms Wong at a function attended by the Governor-General attracted an online comment from a serving ADF member along the lines of: 'Who's that woman in the background? Is she wearing her husband's medals on the wrong side?'
Ms Wong, who is the NSW & ACT Vice President and Welfare Advocate Sydney Metro of the Australian Peacekeeper and Peacemaker Veterans Association, was devastated.
'After 20-odd years of service, I've earnt the right to wear my medals on the left,' she says.
Ms Wong noted that it's not just women who face scenarios such as these. Younger men and those from culturally diverse backgrounds have also been on the receiving end, facing assumptions that because they don't fit a certain stereotype, they could not have earned the medals they are wearing.
'It's important to respect rather than question a veteran's service,' Ms Wong says.
'The face of veterans is evolving … the changing face of veterans these days is multicultural.'
Ms Dadds said she appreciated why the question was raised.
'It's a very significant thing, being a veteran and having the privilege of representing your country and wearing medals, so they think they're doing the right thing by protecting that tradition and that right.
'But people need to acknowledge that the way we look as a veteran is quite diverse.'
So how should you respond as a veteran if you are questioned about the position of your medals?
The By the Left campaigners reckon the best possible response is to smile and say, 'Thank you, but these are mine, and I earnt them.'
Find out more about By the Left on the campaign's Facebook page.
Women's Veterans Network Australia https://wvna.org.au/

Previously:
By The Left Veterans Initiative: Younger And Female Veterans Have Served Too - Avalon Beach ANZAC Day March 2018; All Welcome – All Belong
Avalon Beach ANZAC Day March 2018
Hosted by By the Left: Wednesday, April 25 at 10:45 AM - 12 PM
Muster at: Avalon Public School, Old Barrenjoey Rd, Avalon
AS A ONE TIME INITIATIVE, all current and ex-serving women are invited to march as one in 2018. All ex-service organisations including WRANS, WRAAC, WRAAF, AWAS, Ex Service Womens, WVNA, APPVA, RAANC etc are invited to participate and proudly parade their banners in one rank at the front of the combined female veteran group. Let's proudly march to highlight the number of women who have and continue to serve.
Never marched before? Don't worry, many veterans haven't. But 2018 is our opportunity to march together and promote the service of ADF female veterans to the community. 'By the Left' needs you to be part of this positive change. So, why not ask a mate or a group of mates to march with you. #bytheleft2018 #yessheserves
Please contact Tamara Sloper Harding, Avalon Beach RSL Sub-Branch for details or to discuss: Email: tamara.harding@bigpond.com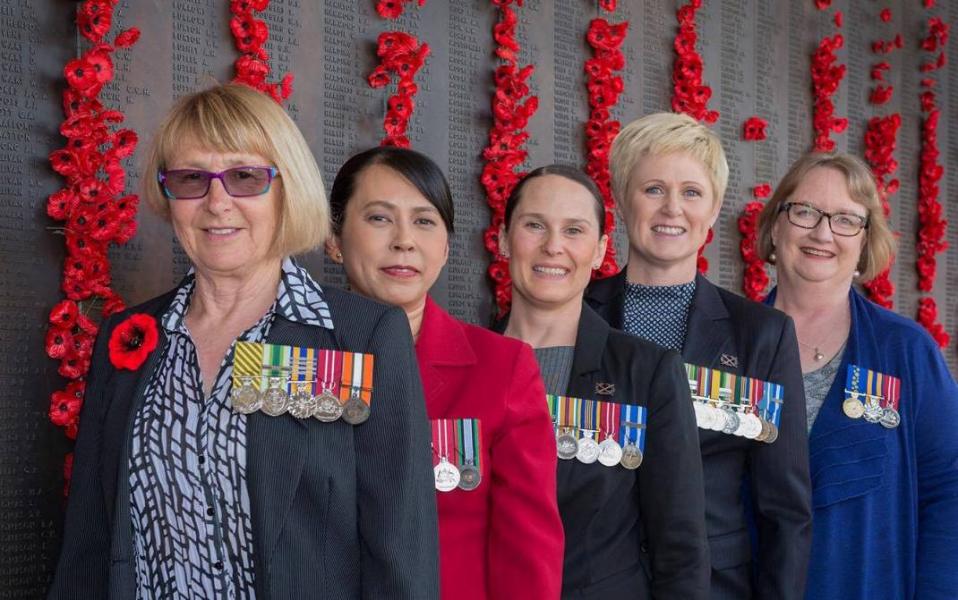 Pictured at the Australian War Memorial are By the Left campaign supporters Ledy Rowe, Lucy Wong, Allison Gillam, Kellie Dadds and Jan-Maree Ball. Image courtesy Department of Veterans Affairs (DVA).