February 6 - 12, 2022: Issue 525

The History Films Of John Illingsworth: New Work 'The Newport Boys' + Past Features From Pittwater Pathways
John Illingsworth, long-term champion of all things Pittwater under his You Tube channel
Pittwater Pathways
, created to celebrate the beautiful and unique places in Pittwater, has published two new films this week, '
Newport Beach Boys
', which shares some great old photos of a slide show from the night some 15 years ago when John was turning 60, and '
The Water Dwellers
' which features the Commonwealth Film Unit, courtesy the National Film & Sound Archive film of the same name and shares vision of Pittwater and Broken Bay in 1967.
These two films add to Mr. Illingsworth's growing catalogue of historic features focussed on our area, all of them painstakingly bringing back to life views of the people, landscape and culture of Pittwater, and include John's great use of old photos as well as his interviews with residents whose families have been part of Pittwater for generations.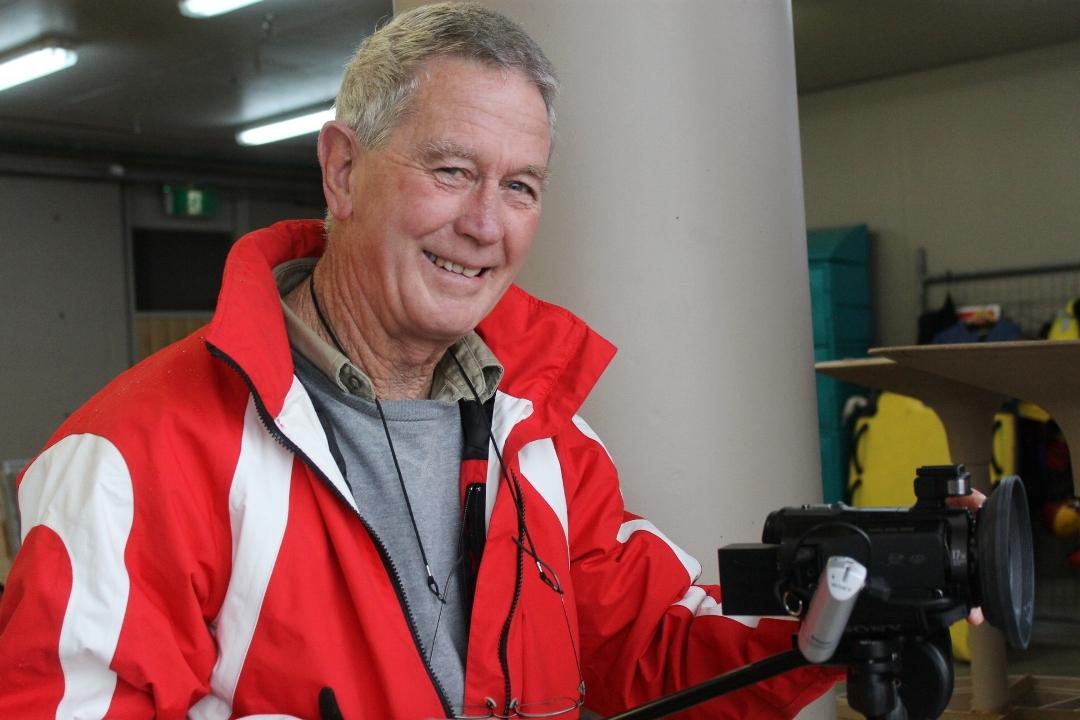 John Illingsworth at the start of the Inaugural Sydney Harbour and Coast Walk 2014 - AJG Photo.
John's research is brilliant, his camera skills amazing, while the use of archival materials enhances these brilliant historical insights.
This Issue John kindly allows us to share those great two new films, plus we've added in a few personal favourites. There is much more available at the Pittwater Pathways channel at: https://www.youtube.com/channel/UCG0LtKp8CtDX_uE9gesVtqA
Newport Beach Boys 60th Birthday Bash, 2007
Published February 3, 2022 - Pittwater Pathways; ''Slide show from the night some 15 years ago - memory run riot, nostalgia writ large, not yet a blur at our 75th. Pittwater viewers are advised that the following contains images, names and voices of people who have died.''
THE WATER DWELLERS 1967
Published February 4, 2022; pre-decimal era - seat belts optional - no baby seats - wooden boats - real people!
Originally produced by the Commonwealth Film Unit, courtesy the National Film & Sound Archive.
BROKEN SECTION: The Story Of Pittwater's Anti-Submarine Boom Net
Pittwater Pathways; March 31, 2021
DOROTHY HAWKINS
Pittwater Pathways: December 16, 2019;
Dorothy Hawkins family ran this dairy near Winnererremy Bay at Mona Vale from 1936. Mona Street is in the foreground, Bassett Street with the ocean beyond in the far distance. Brock's Folly (La Corniche) is on the hill to the right of the ocean.
Dorothy, still 14, lived in this house and worked in these fields. Her father, Joseph Homer, later purchased all the land seen here bounded by Bassett and Mona Streets, including the buildings on the hill. 98 year old Dorothy's story as told here is a case study of a young woman living a semi-rural life at Mona Vale prior to WWII through to the late 1960s.
Dorothy was the last person to live on what is now Winnererremy Bay Park. Her account of eviction from the home she loved, following a brutal forced resumption, is wrenching. This was a private development by Warringah Shire Council in partnership with developer 'Pacific Paradise'. After examining numerous documents and newspaper clippings and listening to Dorothy and her children, it seems doubtful due process was followed. A significant injustice may have been perpetrated against Dorothy and her sister, co-inheritors of the Centenary Estate Land which 32 years later became Winnerrremy Bay Park.
PAPER RUN REPRISE
Pittwater Pathways: December 7, 2011
2011 reprise of PAPER RUN from the NFSA collection http://www.youtube.com/watch?v=4dyxAR... 1956 footage of Newport, Bilgola, Bungan, Mona Vale, vintage Vauxhall Vagabond.
VOYAGE AROUND AVALON BEACH With EXTRA 6th PANORAMA
Pittwater Pathways: February 25, 2014
The Enemark Collection consists of around 500 nitrate negatives made by John H Enemark and Anne M Enemark from 1917 to 1946. Consecutively, 6 of them comprise a near 360 degree panorama of the Avalon district in NSW circa 1917. Music by Enya, images from National Library of Australia.
VOYAGE AROUND WHALE AND PALM BEACHES
Pittwater Pathways: January 28, 2021
10 Enemark panoramas courtesy National Library Australia.