June 9 - 15, 2019: Issue 408
Hat-Trick For Kiama Downs At 2019 IRB Premiership: round 3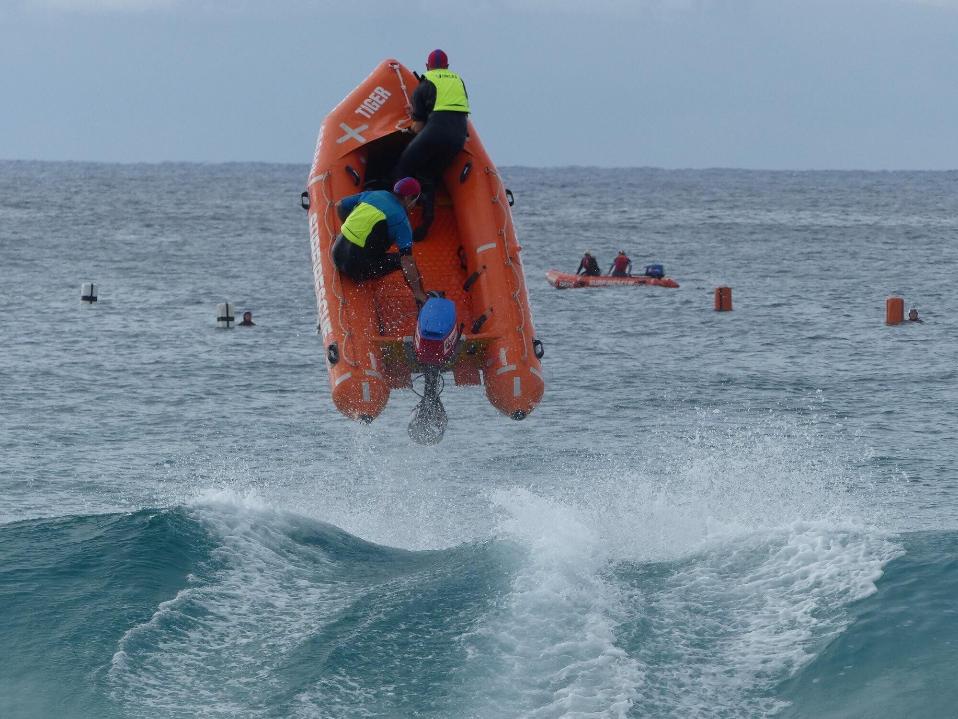 Queenscliff last weekend - photo by Jayson Elkins
Monday June 3rd, 2019
By Surf Life Saving NSW
Small clubs made their mark this weekend charging their Inflatable Rescue Boat (IRB) through the surf at Cape Hawke SLSC.
The scene was set on pristine One Mile Beach on the state's Lower North Coast for the third round of the 2019 Sharkskin NSW IRB (Inflatable Rescue Boat) Premiership Series.
Fortunately for the 20 NSW clubs who travelled to this weekend's event, the large south swell was held off by the headland to ensure competition could be run.
Local club Forster SLSC made a breakthrough in round three. The team secured a number of top-three placing's in their most successful event this season including great skill by their Rookie Mass Rescue team.
Kiama Downs SLSC continued to dominate with 10 finals wins from 23 races this weekend. After this round the South Coast club continue to lead the premiership point score with three-from-three event wins going into the final round at Caves Beach on 15-16 June.
The team has gone from strength-to-strength this season as they continue to power through all divisions; male, female and mixed, holding final round host club Caves Beach SLSC at bay.
Cape Hawke President Gary Curtis said he's proud the club can continue its legacy of hosting IRB events since their first in NSW Country IRB Championships 1986.
"We had a strong involvement with IRB racing back in the day," said Curtis. "We're now on the path to rebuilding teams for competition, it's an exciting developmental time for us."
The Lower North Coast is the smallest branch in NSW with some of the smallest clubs in the state. Curtis says that the support and camaraderie between the clubs allow each to lend experience and expertise to grow teams for the benefit of everyone.
"We don't have enough people to field an IRB team this year, but a couple of our strong and skilled members are competing with our neighbour club Forster SLSC. We're working together to drive participation in the sport for both of our clubs."
Hosting an event like this has many benefits for smaller clubs said Curtis, "For us it's a way of bringing the club together, getting everyone to work together. And it's not just rewarding for our club but also economically for our community with so many people coming into town for the weekend."
The final round of the 2019 Sharkskin NSW IRB Premiership at Caves Beach SLSC 15-16 June will determine the winning premiership club, ahead of the State Championships at Cape Hawke 29-30 June.
Race formats in the 2019 Sharkskin NSW IRB Premiership Series include;
IRB Rescue
IRB Mass Rescue
IRB Teams Rescue
IRB Rescue Tube
IRB Relay
At the end of the four-event rounds, the club with the top points will be awarded the title of NSW Premiers.
*2 November 2019 also marks the 50th anniversary since IRBs were introduced to Surf Life Saving.
Round 3 Point Score
Kiama Downs SLSC 139
Caves Beach SLSC 81
Terrigal 76
North Cronulla 67
Queenscliff 52
South Maroubra 50
Nobbys 39
Forster 36
North Avoca 34
Umina 18
Newport 16
Coogee 12
Woonona 12
Avalon Beach 11
Helensburgh-Stanwell Park 4
Maroubra 0
Mona Vale 0
Bondi 0
Stockton 0
Race Results Round 3
35+ Years Mixed Rescue Tube: 1 Kiama Downs, 2 Queenscliff, 3 Caves Beach
Open Male Rescue Tube: 1 Queenscliff, 2 Caves Beach, 3 Umina
Open Female Rescue Tube: 1 Caves Beach, 2 Kiama Downs, 3 Forster
45+ Years Mixed Rescue Tube: 1 Newcastle, 2 Caves Beach, 3 Nobbys
U23 Mixed Rescue Tube: 1 Kiama Downs, 2 North Cronulla, 3 Terrigal
Open Mixed Relay: 1 North Cronulla, 2 Terrigal, 3 Newport
Rookie Mass Rescue: 1 North Avoca, 2 Woonona, 3 Forster
U23 Mixed Mass Rescue: 1 South Maroubra, 2 Woonona, 3 Umina
45+ Years Mixed IRB Mass Rescue: 1 Kiama Downs, 2 Newcastle, 3 Nobbys
Open Female Mass Rescue: 1 Kiama Downs, 2 North Cronulla, 3 Terrigal
Open Mass Rescue: 1 Kiama Downs Red, 2 Kiama Downs Black, 3 Terrigal
35+ Years Mixed Mass Rescue: 1 Kiama Downs, 2 Forster, 3 Caves Beach
35+ Years Mixed Teams Rescue: 1 Kiama Downs, 2 Forster, 3 Coogee
Open Female Team Rescue: 1 Caves Beach, 2 Kiama Downs, 3 Terrigal
Open Male Team Rescue: 1 Kiama Downs, 2 South Maroubra, 3 Terrigal
45+ Years Mixed Teams Rescue: 1 Terrigal, 2 North Avoca, 3 North Cronulla
U23 Mixed Teams Rescue: 1 South Maroubra, 2 Kiama Downs, 3 Newcastle
U23 Mixed Surf Rescue: 1 South Maroubra, 2 Kiama Downs, 3 South Maroubra
Rookie Surf Rescue: 1 North Avoca, 2 Forster, 3 Coogee
45+ Years Surf Rescue: 1 Newcastle, 2 Avalon Beach, 3 North Avoca
35+ Years Mixed IRB Surf Rescue: 1 Kiama Downs, 2 Caves Beach, 3 Nobbys
Open Male Rescue: 1 North Cronulla, 2 Queenscliff, 3 Terrigal
Open Female Surf Race: 1 Kiama Downs, 2 Terrigal, 3 North Cronulla
Accumulated Point Score After Round 3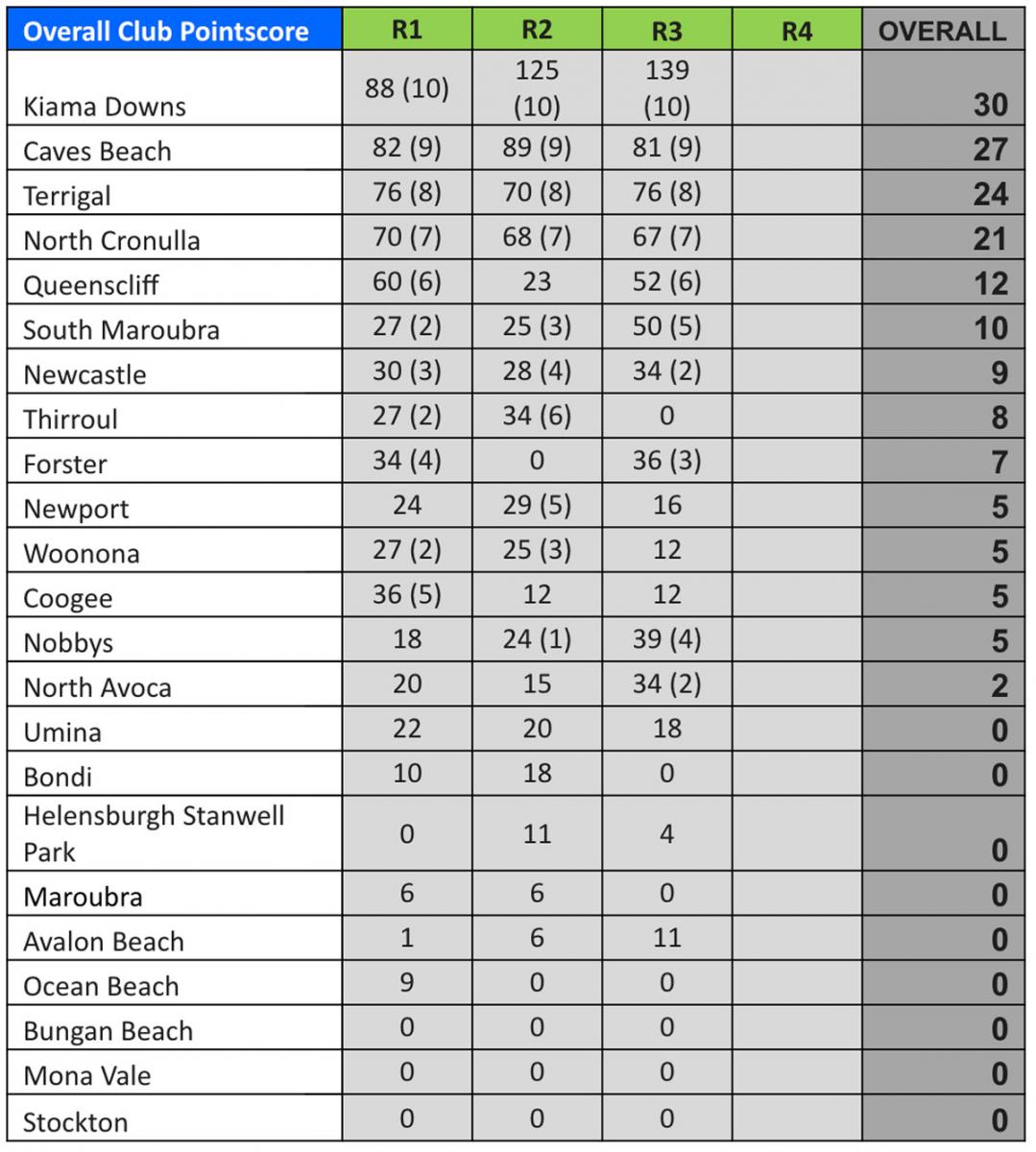 2019 Sharkskin NSW IRB Premiership Rounds
Round 1: 4-5 May 2019 Stockton SLSC
Round 2: 18-19 May 2019 The Lakes SLSC
Round 3: 1-2 June 2019 Cape Hawke SLSC NSW
Round 4: 15-16 June 2019 Caves Beach SLSC
NSW IRB Championships: 29-30 June 2019 Cape Hawke SLSC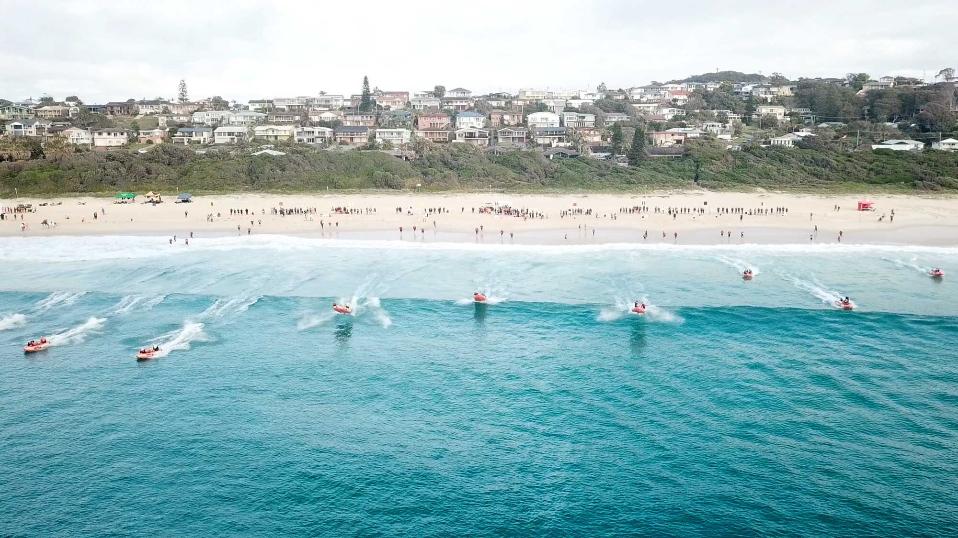 Cape Hawke IRB Round 3, 2019 - Drone picture by Richard Black