November 25 - December 1, 2018: Issue 385
Harken International Youth Match Racing Championship 2018 on pittwater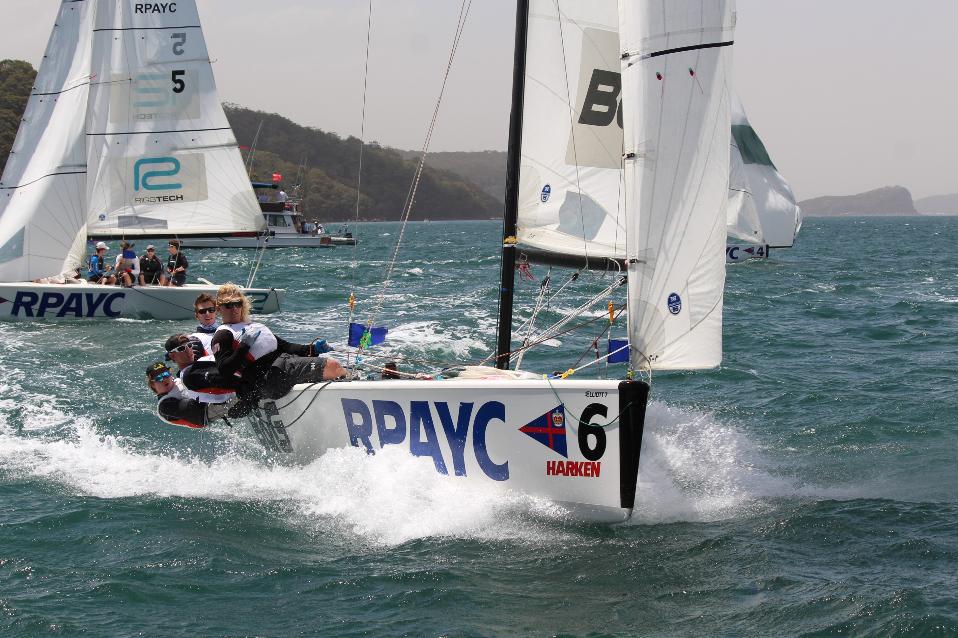 Day 1 Balboa Yacht Club in Harken International 2018 on Pittwater, hosted by RPAYC - photo by RPAYC
Squally forecast for Harken International 2018 first half
Thursday November 22nd, 2018
Event: Harken International Youth Match Racing Championship hosted by The Royal Prince Alfred Yacht Club and sailed on Pittwater November 21-25, 2018

Racing in the Harken International Youth Match Racing Championship is underway on the narrow waterway of Pittwater to the north of Sydney, Australia, in westerly winds forecast to increase to a squally 30 knots by the afternoon on the opening day, Thursday November 22, 2018.
The Bureau of Meteorology has indicated a dust storm is possible for Sydney as gusty breezes blow across the state's dry interior to the coast Thursday and Friday before conditions are expected to ease over the weekend, when the regatta's second-half plays out climaxing in finals on Sunday November 25.
Twelve teams sailing for New Caledonia, the USA, New Zealand and Australia met at the host Royal Prince Alfred Yacht Club on Wednesday afternoon for an official welcome and team introduction hosted by Commodore Michael Lockley and head coach Tom Spithill.
Leonard Takahashi, sailing for the Royal New Zealand Yacht Squadron, took out last year's Harken International and this week it was announced he has joined SailGP's Japanese team led by Australian 49er Olympic gold medallist Nathan Outteridge. Spithill says, "once again the Harken has proven an important step in the career development of the world's most promising young sailors."
Managing director of the youth series' long-time naming rights sponsor Harken Australia, Grant Pellew, added at the official welcome: "In this room we could have the future leaders of this sport, possibly the next James Spithill."
Match racing is a complicated boat-on-boat round-robin competition where pairs try to out-manoeuvre and force penalties on each other, to stay on the right side of the judging team and gain the advantage to win the match or flight.
Coming into the 26th edition of the annual regatta for 23 year-olds and under is a mixture of those starting out on their match racing path to the winner of this year's Australian Open Match Racing Championship, James Hodgson and his Cruising Yacht Club of Australia crewmates and Juliet Costanzo, defending Australian Women's Match Racing Championship skipper competing for the host club.
Hodgson is the highest ranked skipper on the starting list, currently 35th in the world, and best-placed for a tilt at the $1000 prizemoney for first place offered by Harken Australia. Jordan Stevenson sailing for the Royal New Zealand Yacht Squadron is ranked 68th and brings the pedigree of that club's well-established youth program which has sailors training both Saturdays and Sundays almost year-round, plus gym time.
Furthest travelled are the two Balboa Yacht Club teams from Newport Beach in the USA and nationally Darwin Sailing Club is represented as are three Sydney clubs, the RPAYC, CYCA and Royal Sydney Yacht Squadron. Among the 12 skippers are two women, Juliet Costanzo and Charlotte Griffin, and many teams are sailing with a mixed crew with the choice of four or five per boat.
Teams list: Skipper, home yacht club, city/country:
David Wood - Balboa Yacht Club - Newport Beach, USA




Jeffrey Petersen - Balboa Yacht Club – Newport Beach, USA




Tom Picot - Cercle Nautique Calédonien - Noumea, New Caledonia




Jed Cruickshank - Darwin Sailing Club - Darwin, Australia




Thomas Steenson - Newcastle Cruising Yacht Club - Newcastle, Australia




Frankie Dair, Royal New Zealand Yacht Squadron - Auckland, New Zealand




Jordan Stevenson - Royal New Zealand Yacht Squadron, Auckland, New Zealand




Lachlan Grimwade - Royal Port Nicholson Yacht Club - Wellington, New Zealand




James Hodgson - Cruising Yacht Club of Australia - Sydney, Australia




Charlotte Griffin - Royal Sydney Yacht Squadron – Sydney, Australia




James Farquharson - Royal Prince Alfred Yacht Club – Sydney, Australia




Juliet Costanzo - Royal Prince Alfred Yacht Club – Sydney, Australia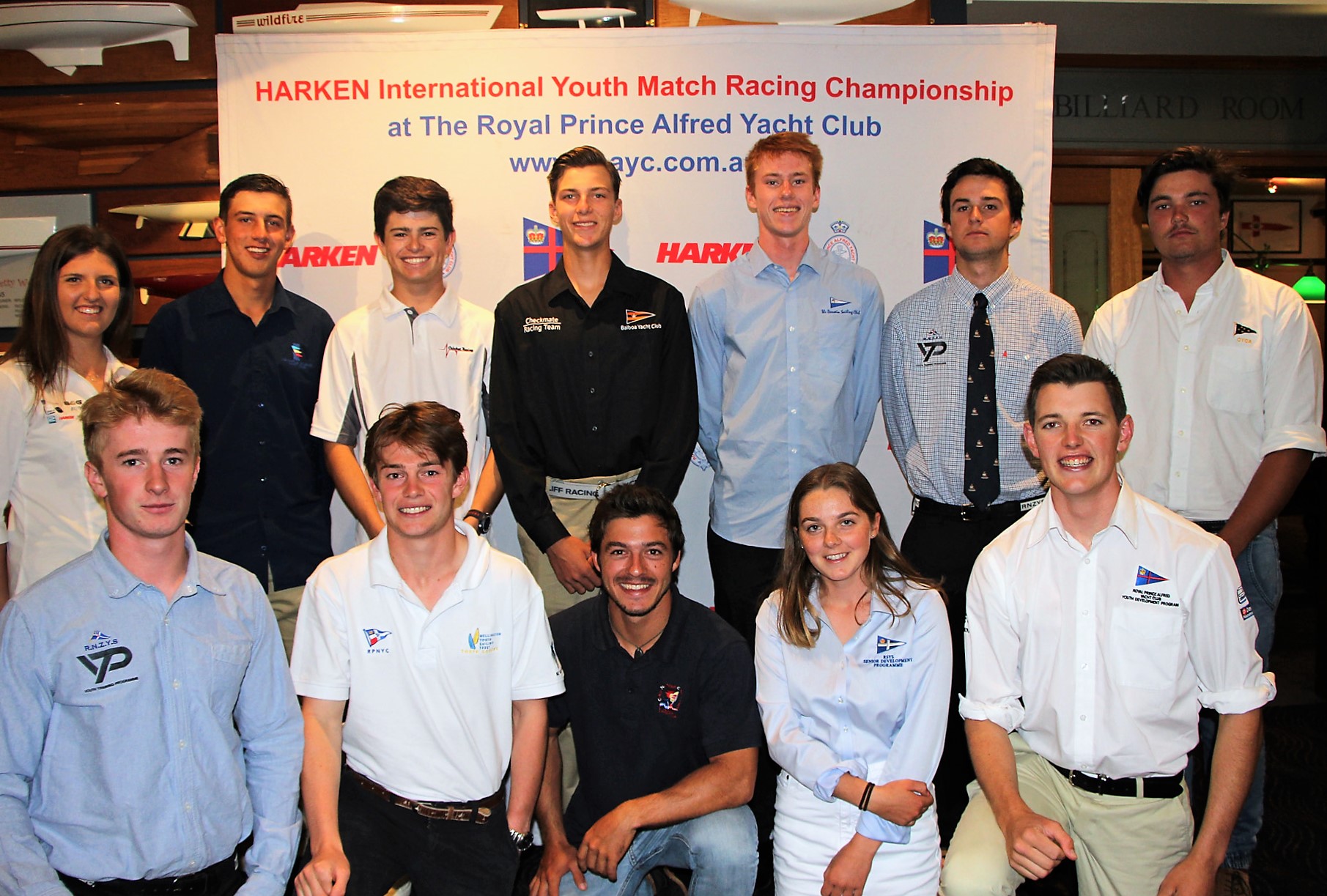 Harken 2018 Skippers at the RPAYC - photo by RPAYC

Grant Pellew sent his welcome message to be read out to the assembled competitors, while he enjoys the rare opportunity to race himself - in Queensland at the A-Cat Worlds, but promised he'd be back in Sydney for the finals. "The Harken International is one of the longest running sailing sponsorships in Australia and testament to the RPAYC, it's hardworking volunteers and competitors. I'm excited to announce that Harken has just signed on for another three years' event sponsorship."
"Those from New Zealand will know the 'Gully breeze'," said RPAYC Commodore Michael Lockley. "Well westerlies on Pittwater are going to be just as challenging as the direction moves around a fair bit. Our staff have been working diligently to make sure you have the best gear available," he added, referring to the club's immaculately prepared Elliott 7 keelboats that were used recently at the Invictus Games.
To follow the racing visit: www.intyouthmatchracingchampionship.com.au
On Facebook: www.facebook.com/RPAYCYD
By Lisa Ratcliff
Spring Becomes Summer In Pittwater
The last week of Spring each year brings the annual HARKEN International Youth Match Racing Championships, hosted by The Royal Prince Alfred Yacht Club, to Pittwater. The 2018, which is the 26th consecutive HARKEN, is seeing 12 crews compete for the Rockin' Robin Perpetual Trophy on the RPAYC's Elliot 7 performance keelboats with a team of four or five, all of who must be under 23 years of age.
The RPAYC has two great crews in this year, Skippered by James Farquharson and Juliet Costanzo.
The plan for today is to get straight into the quarter finals with a full schedule of sailing to complete including Semi's & Finals. You can watch all the action LIVE today with an added bonus - two very special sailing commentators...

You want want to miss them!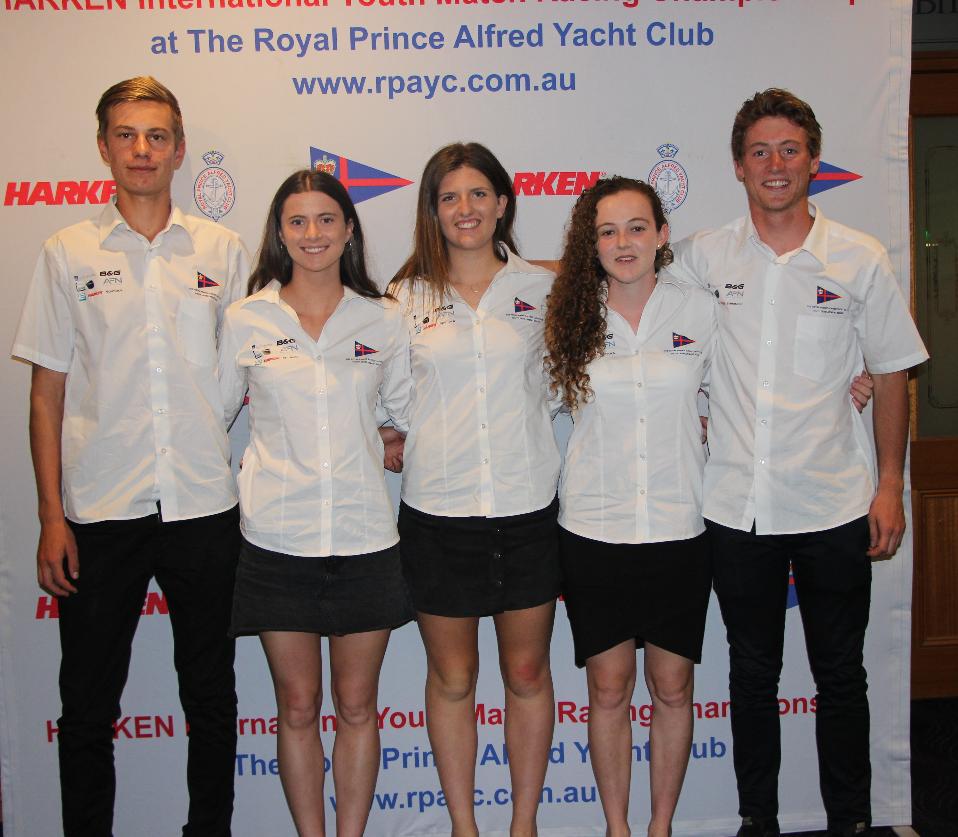 RNZYS defend the Harken International and break deadlock
November 26, 2018
New Zealand broke the deadlock between themselves and the host Australian club for the greatest number of Harken International Youth Match Racing Championships won in the event's 26-year history, and successfully defended the strong sailing nation's 2017 title in a dramatic final race on Sunday November 25, 2018.
Whittled down from the 12 teams which began their Harken International campaign four days earlier, Jordan Stevenson's Royal New Zealand Yacht Squadron team sailing five-up and James Hodgson's Cruising Yacht Club of Australia crew of four earned the right to a first-to-two sail-off on Pittwater in Sydney's north.
A large spectator fleet and the minor-placed teams watched the duelling pair go into the decider one race apiece (watch live replay flight 1 and flight 2) and the result be determined metres from the finish when the two Elliott 7s came in contact and Stevenson cleverly forced the winning penalty then crossed first, leaving the CYCA team to rue the loss and replay those final seconds in their heads over and over.
Full results & final video highlights thanks to Nic Douglass – Adventures of a Sailor Girl.
"We needed to close the gauge up on the final downwind and we adjusted in time – we had them locked in and it felt good just sitting inside them," said the victorious skipper back at the host Royal Prince Alfred Yacht Club. His crew included Mitch Jackson, George Angus, Jake Erson and Celia Willison.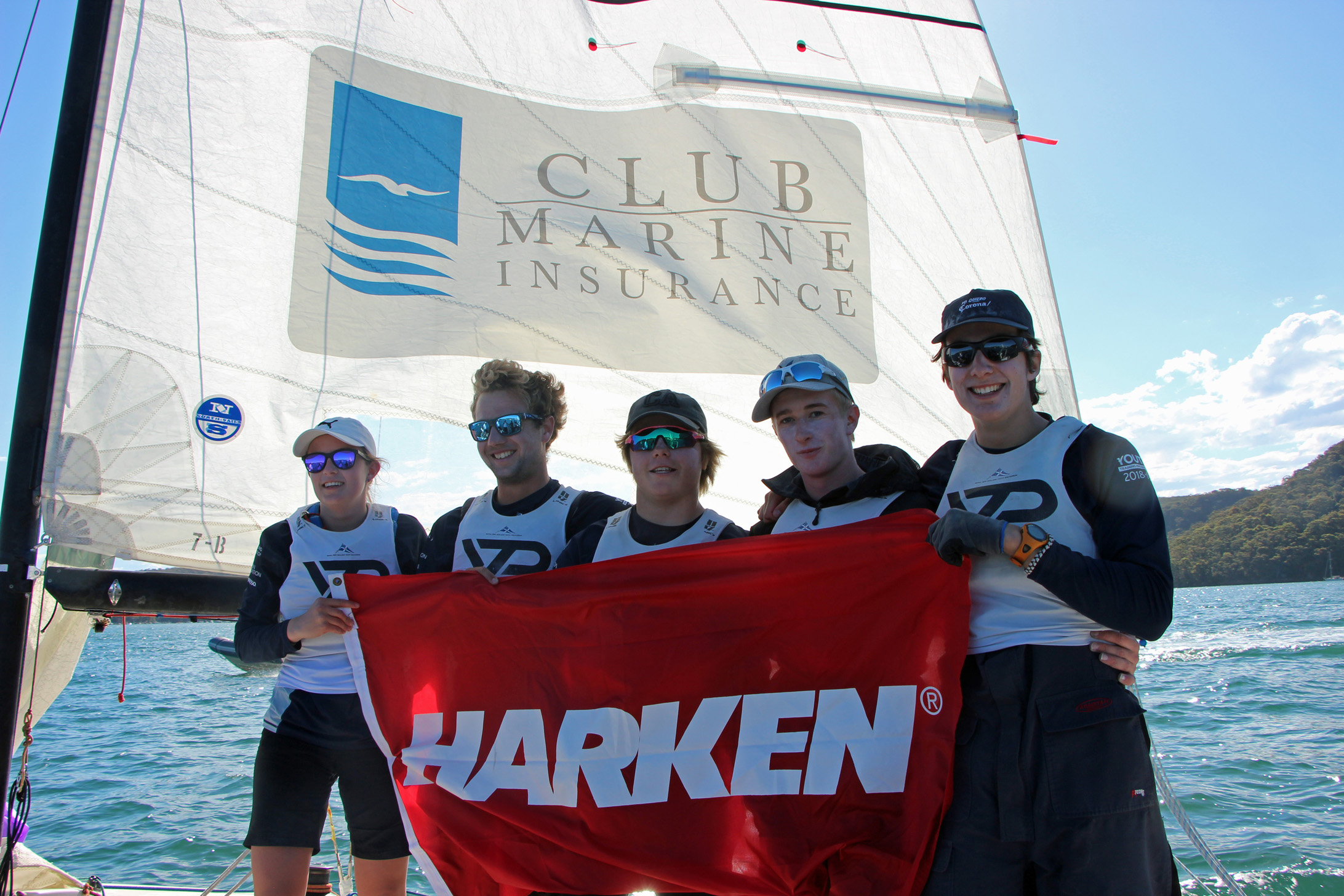 Winning Harken International RNZYS team- photo by RPAYC

On the all-sorts they faced this Harken, from winds 15-25 knot WNW on day one, a blown-out day two with blasts of 50 knots, lighter spring westerlies allowing a 10-hour catch-up day three and finally NW-SE 8-11 knots on day four, Stevenson added, "we just tried to be as consistent; that's all you can do, just adjust to what's coming…. especially today."
"It was a super tough end, but that's sailing," Hodgson remarked of the frustrating final encounter and resulting second overall. Reflecting back on the closing day's events he commented "we didn't sail the conditions as well as we could have."
Stevenson and Hodgson met in the semi-finals at the CYCA's Australian Open Match Racing Championship last month. That time Hodgson, the former Opti and 420 sailor from the Sunshine Coast, Queensland who has moved to Sydney to attend university, and his crew of Ryan Wilmot, Harry Hall and Charles Gundy had the last say.
Third overall in the Harken International, a long-established youth regatta for teams aged 23 and under, was the second RNZYS team, skippered by Frankie Dair.
Stevenson and his crew now return to Auckland having defended last year's win by Kiwi clubmate Leonard Takahashi while Hodgson and a few other Harken teams shift their focus and belongings to the CYCA for the Musto International Youth Match Racing Championship which starts today, Monday November 26, and runs through to Friday November 30.
Robyn Wiltshire, who donated the main Harken International Rockin'-Robin Trophy, and Harken Australia's managing director Grant Pellew were both on hand at the final prize giving, Pellew confirming another three years' support in addition to the company's 21-year association with the longstanding youth regatta.
The RPAYC thanks Harken Australia, PRO Ted Anderson, the umpire team and all the volunteers plus club families who billeted visiting sailors representing Balboa Yacht Club in the USA, the Cercle Nautique Calédonien in Noumea, RNZYS and Royal Port Nicholson Yacht Clubs in New Zealand plus Darwin Sailing Club and the Newcastle Cruising Yacht Club for collectively staging another world-class Harken International Youth Match Racing Championship.
The RNZYS now proudly holds the record for the greatest number of Harken International wins - eight - one more than the host club.
Video wrap of the finals runs below.
Socials:
www.intyouthmatchracingchampionship.com.au

Facebook @ RPAYCYD @Harken

Twitter @RPAYCYouthMatch @Harken #AtTheFront #Harken

Instagram @rpayc @Harken_inc
by Lisa Ratcliff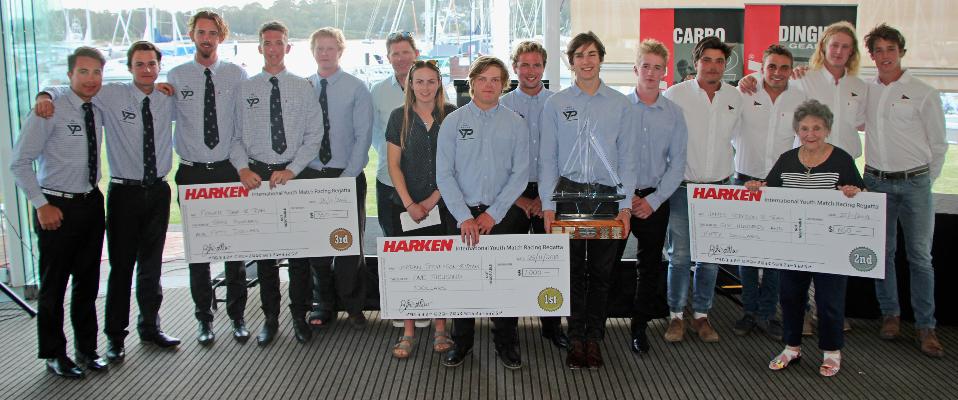 RNZYS, RNZYS, CYCA team & VIPs at the RPAYC - photo by RPAYC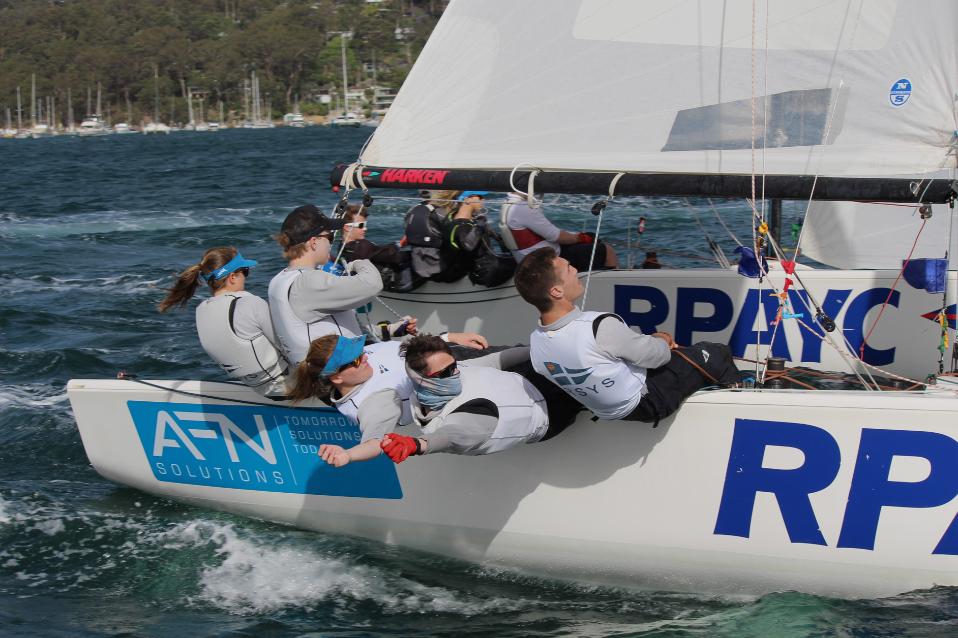 Charlotte Griffin's RSYS team at the Harken 2018 on Pittwater, hosted by RPAYC - photo by RPAYC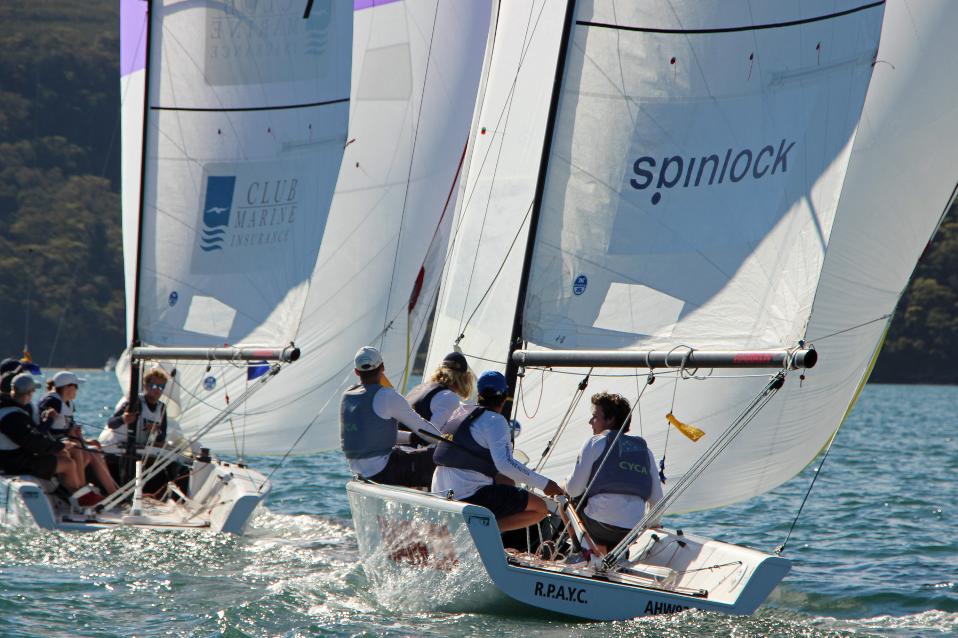 RNZYS front & CYCA Harken International 2018 on Pittwater, hosted by RPAYC - photo by RPAYC