October 8 - 14, 2023: Issue 600
HSC 2023: Tips for Students + Parents from ReachOut and educators for this Exam Season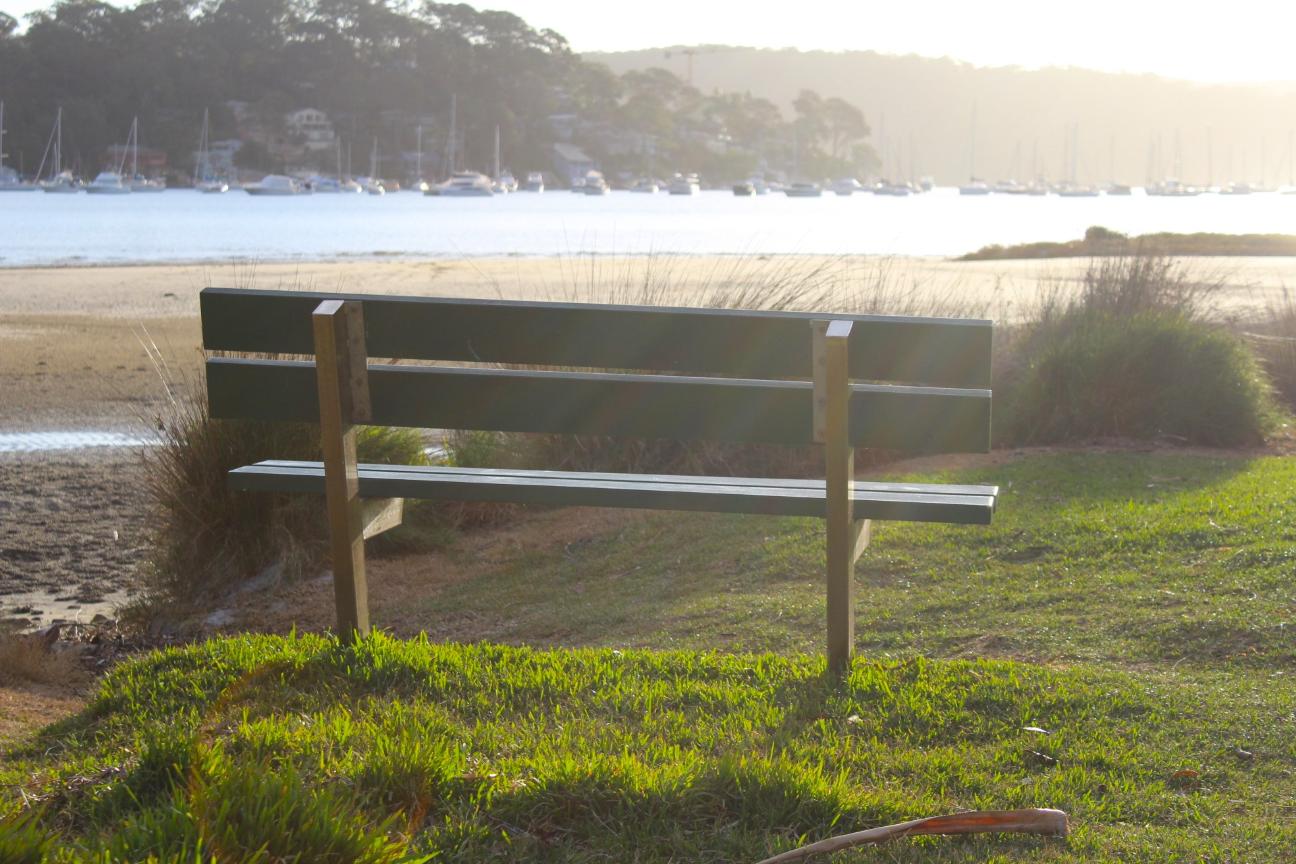 New Research By ReachOut Highlights Links Between Study Stress And Poor Sleep In The Lead Up To Year 12 Exams
The 2023 HSC exams commence on Wednesday October 11 - very best wishes and good luck to all those sitting exams this year. Bear in mind you have done very very well to have reached this far and there are many roads, and sidetracks, to reach where you think you want to go right now to do what you want to do in the future. Remember that Lifelong Learning is yours to have and is defined as 'the "ongoing, voluntary, and self-motivated" pursuit of knowledge for either personal or professional reasons as this enhances an individual's competitiveness and employability, along with your social inclusion, active citizenship, and personal development'.
The Park Bench Philosopher's page is this news service's own permanent reminder of our own commitment to lifelong learning and all that may be known outside of schools and universities - the 'stuff' you get a deep insight and personal experience of through joining in or pursuing an unanswered question. It is a one foot in front of the other approach that has helped us trudge slowly up that hill and then stand there with that sweet cooling breeze blowing into the face and a great view to all horizons.
The childhood chant of that little train engine that would/could changes from 'I think I can, I think I can' to 'You got this, you got this! YOU GOT THAT!!', and during the quiet after-pauses to reflect on what sticks out from that knowledge and experience found, ' I think I'll have a swim now, eat a whole punnet of strawberries while watching comedy shows, and then take a nap.'
However, in the lead up to Year 12 exams across the country, new research by youth mental health organisation ReachOut has been released and found that over 50 per cent of students are having trouble sleeping as a direct result of study stress.
The survey, of over 1000 young people aged 16 - 25 years conducted in August 2023, also looked at the specific impacts study stress was having on students' sleep. The data found that of the students who indicated that their sleep was impacted by study stress: 65 per cent reported sleeping less, 59 per cent had difficulty waking up, 57 per cent said they were staying up late to study and 22 per cent said they were sleeping more. These figures indicate that many students are experiencing a number of these impacts on their sleep.
In line with the research findings, ReachOut has released new support materials for young people to help them get a good night's sleep. And, there is also new information and tips for parents and carers of students too.
Jackie Hallan, Director of Service at ReachOut, said that now was an important time for Year 12 students to focus on their wellbeing, including their sleep.
"ReachOut's new research highlights the real impacts that study stress can have on the lives of students. Sleep, in particular, can be an important indicator of how the stress associated with Year 12 might be impacting a student's wellbeing and mental health.
"Without a proper night's sleep it may become even harder for Year 12 students to deal with stress and challenges. For example, although staying up late cramming before an exam can be well intentioned it can have the opposite effect on exam results.
"With final Year 12 exams approaching, we want to remind young people to take a proactive approach to getting a good night's sleep and to seek support if they need it. Simple things like waking up at the same time each day can make a big difference.
"Unfortunately, sleep isn't always something that comes to mind when we think about getting support for our mental health and wellbeing. However if sleep is a concern, ReachOut is a good place to start to get information, tips and hear about the experiences of students and parents. There is also a range of other support options for students including making an appointment with a mental health professional," she said.
Other key findings of the research included that 88 per cent of students reported that they had felt stressed about study at some time over the previous 12 months and 55 per cent of students reported that they felt extremely or very stressed about study in the past two weeks. In terms of causes of study stress, worry about not being able to live the life they had planned for themselves and worry about how they will compare to other students were the concerns most commonly expressed by students.
If you are experiencing negative thoughts or feelings, there are services out there to listen and help you out. They are free, confidential, and available 24/7.
Lifeline – 13 11 14

Kids Helpline – 1800 55 1800

13YARN – 13 92 76 to speak with an Aboriginal & Torres Strait Islander crisis supporter

If you are in immediate danger dial 000
Links To ReachOut Support Content
ReachOut
is the leading online mental health service in Australia supporting young people during tough times.
ReachOut helps young people feel better about today and the future, no matter what challenge they're facing. They provide a safe place where young people can openly express themselves, explore what's happening in their lives, connect with people who understand their situation, and find the resources to help them manage their challenges now and in the future.
Anonymous, free and 100% online, ReachOut has been designed specifically for – and with – young people. From one-to-one support from experienced peer workers, to online forums, as well as tips, stories and resources, ReachOut offers a wide range of support options that allow young people to engage in the ways they want to, when they want to, and has been doing so for more than 20 years.
And, ReachOut Parents and ReachOut Schools provide valuable information, resources and advice to help parents, carers and educators to better understand the young people in their lives and to play an active role in their wellbeing.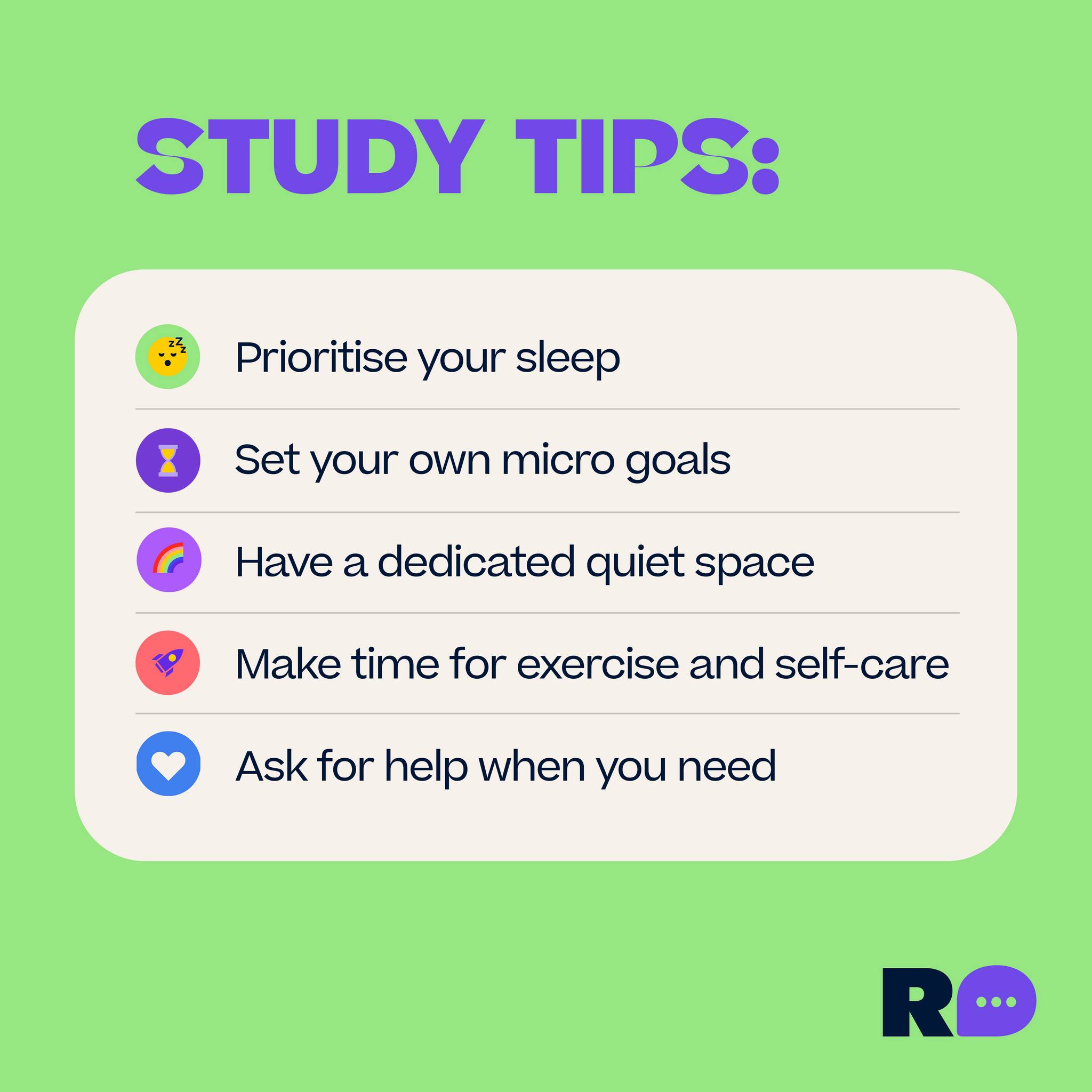 8 Student-Backed Study Tips To Help You Tackle The HSC
By University of Sydney: Last updated 6 July 2023
Our students have been through their fair share of exams and learned a lot of great study tactics along the way. Here they share their top study tips to survive and thrive during exam time.
1. Start your day right
Take care of your wellbeing first thing in the morning so you can dive into your day with a clear mind.
"If you win the morning, you can win the day," says Juris Doctor student Vee Koloamatangi-Lamipeti.
An active start is a great way to set yourself up for a productive day. Begin your morning with exercise or a gentle walk, squeeze in 10 minutes of meditation and enjoy a healthy breakfast before you settle into study.
2. Schedule your study
"Setting up a schedule will help you organise your time so much better," says Master of Teaching student Wesley Lai.
Setting a goal or a theme for each study block will help you to stay focused, while devoting time across a variety of subjects will ensure you've covered off as much as possible. Remember to keep your schedule realistic and avoid over-committing your time.
Adds Wesley, "Make sure to schedule in some free time for yourself as well!"
3. Keep it consistent
"Make studying a habit," recommends Alvin Chung, who is currently undertaking a Bachelor of Arts and Bachelor of Laws.
With enough time and commitment, sitting down to study will start to feel like second nature rather than a chore.
"Do it every day and you'll be less likely to procrastinate because it's part of your life's daily motions," says Alvin.
4. Maintain motivation
Revising an entire year of learning can seem like an insurmountable task, which is why it's so important to break down your priorities and set easy-to-achieve goals.
"I like to make a realistic to-do list where I break down big tasks into smaller chunks," says Bachelor of Arts and Advanced Studies student Dannii Hudec.
"It's also really important to reward yourself after you complete each task to keep yourself motivated."
Treat yourself after each study block with something to look forward to, such as a cup of tea, a walk in the park with a friend or an episode of your latest Netflix obsession.
5. Minimise distractions
With so many distractions at our fingertips, it can be hard to focus on the task at hand. If you find yourself easily distracted, an "out of sight, out of mind" approach might do the trick.
"What helps me is to block social media on my laptop. I put my phone outside of my room when I study, or I give it to my sister or a friend to hide," says Bachelor of Commerce and Bachelor of Laws student Caitlin Douglas.
While parting ways with your phone for a few hours may seem horrifying, it can be an incredibly effective way to stay on task.
"It really helps me to smash out the work and get my tasks done," affirms Caitlin.
6. Beware of burnout
Think of the HSC period as a marathon rather than a sprint. It might be tempting to cram every single day but pacing out your study time will help to preserve your endurance.
"Don't do the work for tomorrow if you finish today's work early," suggests Daniel Kim, who is currently undertaking a Bachelor of Commerce and Advanced Studies.
"Enjoy the rest of your day and save the energy for tomorrow," he recommends.
Savouring your downtime will help you to avoid burning out before hitting the finish line.
7. Get a good night's sleep
Sleep is one of your greatest allies during exam season.
"I've found that a good night's sleep always helps with concentration and memory consolidation," says Bachelor of Science (Medical Science) student Yasodara Puhule-Gamayalage.
We all know we need to be getting around 8 hours of sleep a night to perform at our best, but did you know the quality of sleep also matters? You can help improve the quality of your sleep with some simple tweaks to your bedtime routine.
"Avoid caffeine in the 6 hours leading up to sleep, turn off screens an hour before going to bed, and go to bed at the same time every night," suggests Yasodara.
8. Be kind to yourself
With exam dates looming and stress levels rising, chances are high that you might have a bad day (or a few!) during the HSC period.
According to Bachelor of Arts and Advanced Studies student Amy Cooper, the best way to handle those bad days is to show yourself some kindness.
"I know that if I'm in a bad state of mind or having a bad day, I'm not going to be able to produce work that I'm proud of," she says.
For Amy, the remedy for a bad day is to take some time to rest and reset.
"It's much more productive in the long run for me to go away, do some things I love, and come back with a fresh mind."
Immerse yourself in a mentally nourishing activity such as going for a bushwalk, cooking your favourite meal, or getting stuck into a craft activity.
If you feel completely overwhelmed, know you're not alone. Reach out to a friend, family member or teacher for a chat when you need support.
There are also HSC Help resources available through the NSW Department of Education at: education.nsw.gov.au/student-wellbeing/stay-healthy-hsc