August 30 - September 5, 2020: Issue 464
Government lets down Pittwater on Hospitals Again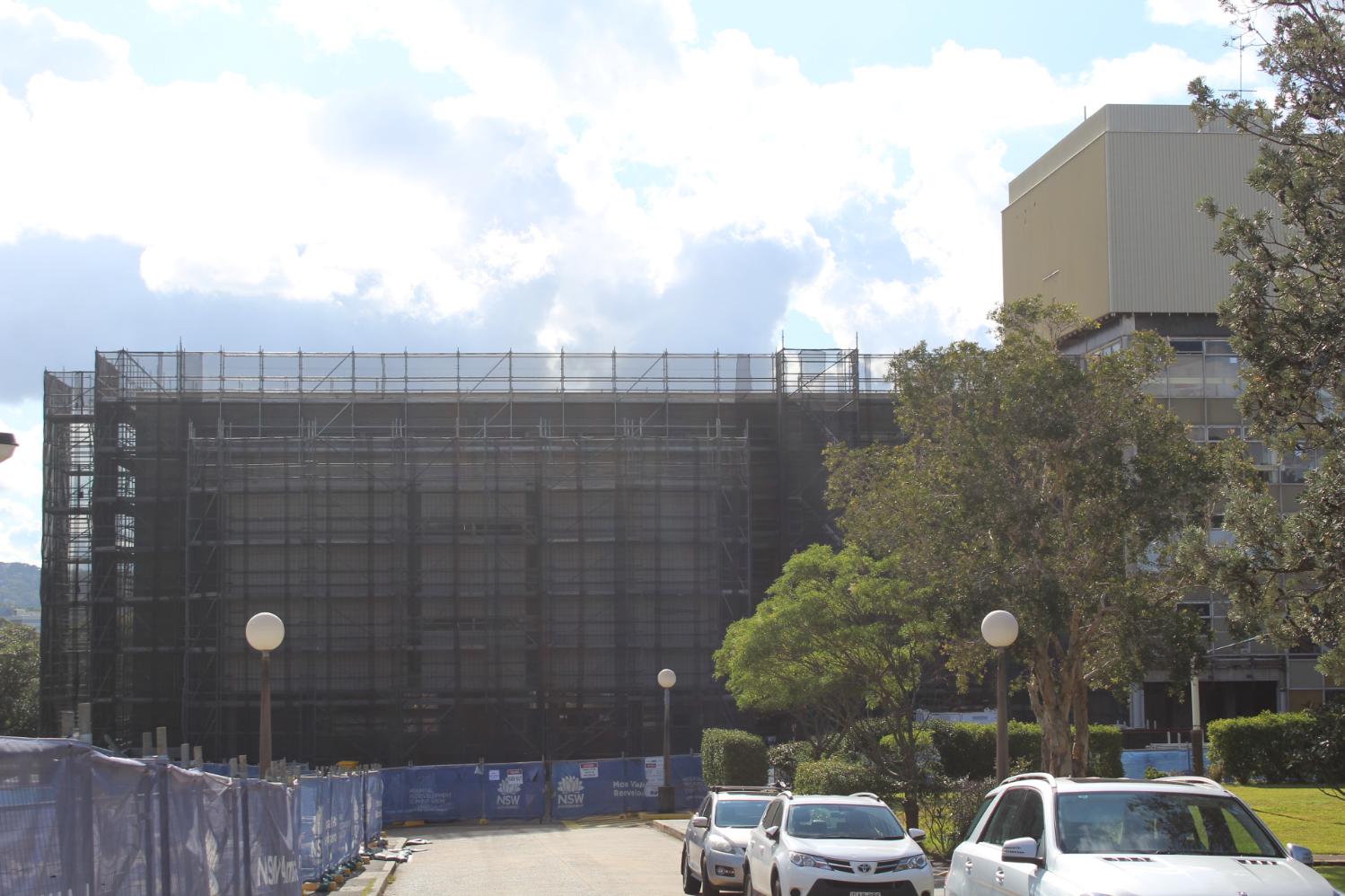 Mona Vale Hospital main building and west wing on July 13, 2020 - photo by A J Guesdon
August 29, 2020
By the Save Mona Vale Hospital Committee
The NSW government has confirmed demolition will continue at Mona Vale Hospital despite the call by a Parliamentary inquiry that its main building be retained after asbestos removal is complete.
The decision by the NSW government was revealed on Thursday in its response to the February report of the NSW Upper House Inquiry into the Operation and Management of Northern Beaches Hospital.
The report recommended that demolition of Mona Vale Hospital's main building cease after asbestos was removed and that the state government immediately investigate ways to restore an emergency department to the hospital.
However, the government has rejected both those calls, saying the demolition had revealed significant amounts of asbestos and more complex care was now being provided to local residents at Northern Beaches Hospital than was previously available at Mona Vale and Manly Hospitals.
Save Mona Vale Hospital chairman Parry Thomas said he was incandescent over the government's duplicity.
"We believe they knew there was a large amount of asbestos there all along," Mr Thomas said.
"The community has been treated with contempt throughout this whole process.
"We were lied to by the Health Minister Brad Hazzard, who made a commitment to us that there'd be no demolition.
"He and the Coalition government then failed to show any respect for Parliament by waiting for the findings of the inquiry before charging ahead with the demolition.
"And now they're determined to ignore its recommendations about Mona Vale Hospital.
"It smacks of what we've believed all along – that they just pushed ahead hoping they'd get the demolition past the point of no return before they had to deliver a response.
"However, we still don't believe it would be too late if the government was prepared to stand up for the community."
Many questions have been raised about the presence of asbestos at MVH over the years, and another hospital built to the same design at Port Kembla has been refurbished.
"Significant amounts of asbestos are present throughout the Mona Vale Hospital main Building," the official response from the government stated.
"Additional asbestos was identified during the demolition process within structural elements, cavities, embedded within concrete and within the building's facade.
"The building is no longer structurally sound, and demolition of the West Wing is in progress."
The Coalition also rejected the inquiry's recommendation to return an emergency unit – as opposed to an Urgent Care Centre – to MVH despite community pleas and campaigning by Save Mona Vale Hospital over 20 years to retain acute services on the site.
"More complex maternity, emergency, intensive care and surgical services are being provided, as well as a range of imaging and diagnostic services," the government said in its response.
"This means the community can access specialist services closer to home, including MRI and high level pathology services."
Mr Thomas said the government claimed to support a recommendation that the land on which MVH sits should remain in public hands - with no long leases. However, it did not explicitly commit to do so in its response, instead confirming that the site would host private health facilities.
Another area of service mentioned in the government's response was cardiology, with the inquiry advising that the NBH should provide all coronary interventions to private and public patients.
The government said it supported this, stating that: "A 24/7 Interventional Cardiology Service is available to all patients presenting to the Northern Beaches Hospital Emergency Department, irrespective of health insurance status."
Testing was also underway for procedures known as "Pre-hospital Assessment for Primary Angioplasty", that would allow suspected heart attack patients to receive "expedited interventional cardiology treatment", it said.
However, Mr Thomas said the government's response was at best ambiguous.
"This was a big issue at the inquiry so if cardiac treatment is to be available to all who need it, why haven't they clarified that there is no charge for public patients?" he said.
"And there is no timetable laid out and no details of actual cardiac treatment – as opposed to testing via angioplasty.
"How can we trust the government or Healthscope on this?"
The inquiry's call for the NBH to display a full list of services available for public and private inpatient and outpatient services at NBH, was met with the government's comment that these were already "published on the Northern Beaches Hospital website."
However, Mr Thomas said a check of the website on Saturday showed listings of specialists and their areas of expertise but nothing about whether they offered their services to public and/or private patients.
The Save Mona Vale Hospital Campaign kicked off in 2000 in response to state government plans to close MVH and over the years has held rallies attracting thousands of local residents, forums and other public events as well as circulated petitions signed by 36,000.