June 24 - 30, 2018: Issue 365
Future Hospital Treatment And Access In Pittwater Unacceptable, Says Local Surgery Professor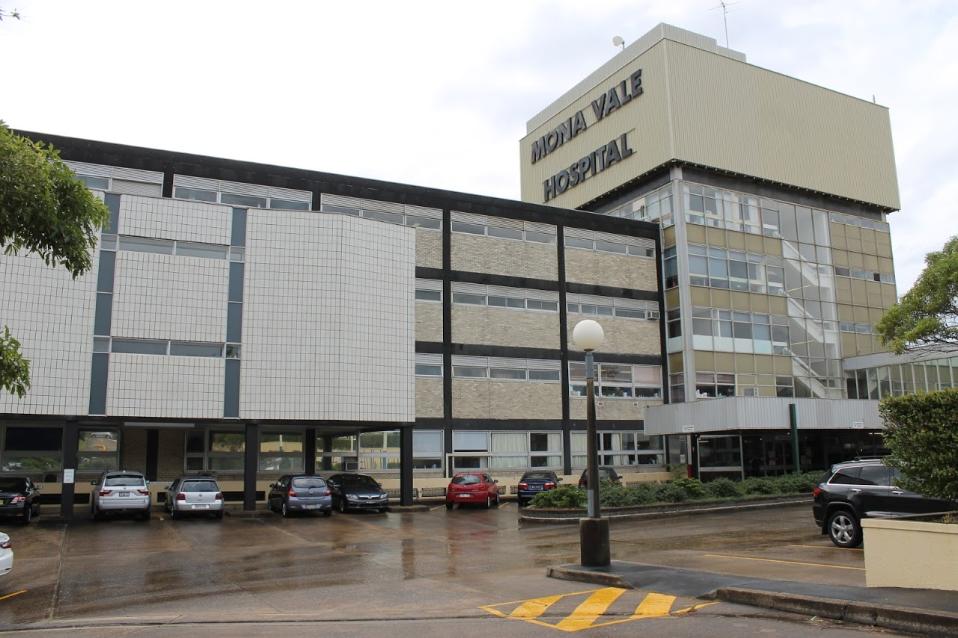 Future Hospital Treatment and Access in Pittwater Unacceptable, says Local Surgery Professor
Hospital treatment and access for Pittwater residents will be unacceptable once the Mona Vale Emergency Department closes in October, says a distinguished local surgeon.
Professor Richard West AM was speaking at a meeting of the Newport Residents' Association on Tuesday night, where the new Northern Beaches Hospital and future of Mona Vale Hospital were discussed.
Addressing the meeting were Dr Andy Ratchford, the head of Mona Vale Hospital's Emergency Department, Nicola Pellegrini of the Northern Beaches Hospital Project Team and Frank Bazic, who is General Manger of Mona Vale and Manly Hospitals.
Dr Ratchford said an Urgent Care Centre would open in a new building at Mona Vale Hospital when its Emergency Department closed for good on October 30.
Asked by Prof. West if doctors at the Urgent Care Centre would be fully trained with a fellowship in emergency medicine, Dr Ratchford said: "No", although staff had not yet been recruited.
Prof. West, who is a Pittwater resident and formerly worked at Royal Prince Alfred Hospital, was scathing about the level of care that would be available at the new centre.
"It's obvious to me that Mona Vale's not going to be properly equipped to cope with anaphylactic reactions, asthma and major acute problems because you have not got emergency trained physicians," he said at the meeting.
"… Why we are being given a second grade centre is beyond my comprehension. We are in the middle of a major city."
Dr Ratchford, who is responsible for setting up the Urgent Care Centre, confirmed it would not have acute care or inpatient facilities - although it would be open 24 hours per day, seven days per week and staffed by two doctors and two nurses on each shift.
"We see it kind of like a bridge between a GP and emergency department," Dr Ratchford told the audience.
"So we'll be dealing predominantly with minor injuries, such as sprains, lacerations, suturing, minor illnesses - which are really the sort of thing you'd go to your GP with – coughs and colds and rashes," Dr Ratchford told the Newport meeting.
"Anything more serious than that, or life threatening, then you go to the emergency department (at Northern Beaches Hospital in Frenchs Forest) or call Triple Zero."
Ambulances would take patients needing resuscitation and women in labour to the new private hospital run by Healthscope at Frenchs Forest - rather than Mona Vale.
If anyone was in doubt, they should go to the new hospital or call an ambulance, he said.
However, Prof. West said arranging an ambulance in Pittwater was not easy and, with other attendees at the meeting, spoke of delays of between half an hour and 90 minutes waiting for ambulances to arrive.
Yet ambulances were supposed to reach patients within 10 minutes for a Grade 1 emergency like a coronary blockage, he said.
"The delay is unacceptable - they take a long time to get there - and it's a long way to go from Palm Beach or Avalon to the new hospital," Prof West said.
Speakers were unable to say how long it would take for ambulances to transport patients to the hospital at Frenchs Forest, nor whether the government had estimates for this.
"It varies on the time of day, and the amount of traffic on the road and the conditions. Get over it," Mr Bazic said.
Helicopters and the new hospital's helipad would mainly be used to transport very sick babies, Ms Pelligrini said.
Prof. West raised concerns that patients from Pittwater would, furthermore, be unable to reach the hospital at Pittwater within the "Golden Hour" required for timely treatment.
"You have to get patients with major trauma to a major hospital within an hour," he said.
"The same thing now applies to patients having strokes ... and coronary occlusions. The quicker you get them there the better.
"If this is going to work, there has to be a big improvement in the ambulance service and that message has got to be got across otherwise it's going to be a total failure."
Mr Bazic said all current treatment provided at the Level 4 Mona Vale and Manly Hospitals would be offered at the new Level 5 hospital along with "more complex services".
However, neurosurgery, cardiac surgery and treatment with clot-busting drugs for stroke patients would not be available at Frenchs Forest and patients would continue to be treated for these at Royal North Shore Hospital.
Ms Pelligrini said 60 per cent of the 488 beds at the new hospital (that is, 292) would be public – compared to what Mr Bazic said were the current 280 beds at Manly and Mona Vale (which are open to all patients).
Public patients would be accepted in private beds if no public beds were available however the state government would not pay for this, she said.
"There's a few things in the contract where we cover the costs and that's part of the contract," Ms Pelligrini said.
Public tours of the new hospital would be carried out in September.
Meanwhile, Mr Bazic said that Mona Vale Hospital's main building, the old tower built in 1964, would be demolished after the new hospital opened.
"We have significant issues with it deteriorating - in its brickwork and with water etcetera - and it's earmarked for demolition in 2019," he said.
Newport GP Suzanne Daly later said she thought the system of patients effectively having to triage themselves by deciding whether to go to Mona Vale or Frenchs Forest, was ridiculous.
"After midnight, patients' perceptions of pain are that it's potentially life threatening," Dr Daly said.
"So they will refer themselves to the place that they think has the most help, which will be Frenchs Forest.
"It's all about perception, which could be false."
Dr Daly collected 11,000 signatures on a petition - that Pittwater MP Rob Stokes presented to Parliament in 2013 - calling for Mona Vale Hospital to be saved.
Mr Stokes was approached for comment on this story but did not provide answers to questions to put him.
By Miranda Korzy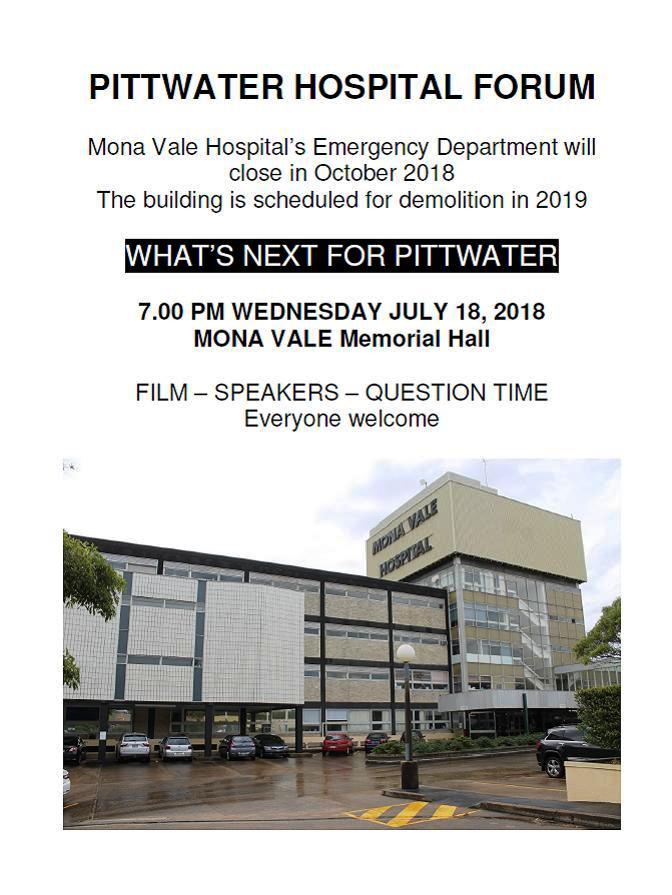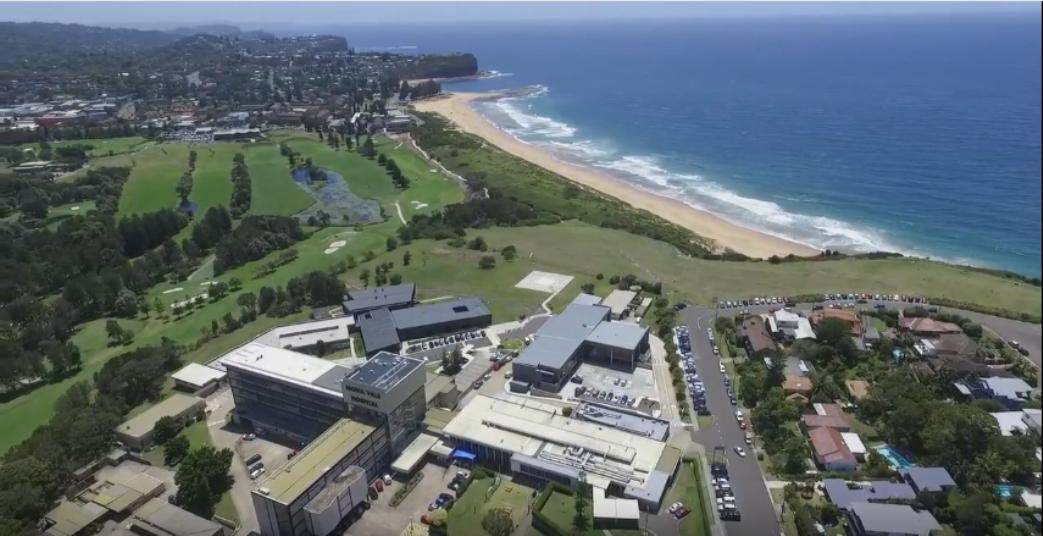 Mona Vale Hospital - drone shot courtesy John Illingsworth