August 19 - 25, 2018: Issue 372
Funding For Dundundra Falls Reserve
Dundundra Falls - photo courtesy Dundundra Falls Reserve Bushcare Group
Funding for Dundundra Falls Reserve
Friday August 17th, 2018
Member for Pittwater Rob Stokes today announced Dundundra Falls Reserve at Terrey Hills has been awarded NSW Government funding to assist with the protection of its spectacular native bushland.
A grant of $77,505 has been provided under the NSW Government's Restoration and Rehabilitation Program to help preserve and enhance the reserve's native vegetation and fauna habitat.
Dundundra Falls Reserve covers 38 hectares of Crown Land and is carefully managed by an enthusiastic and passionate group of local volunteers and expert bush regenerators. The Reserve serves as an important natural buffer between the residential areas of Terrey Hills and Ku-ring-gai Chase National Park.
"Dundundra Falls Reserve is an enormously significant area of our community," Rob Stokes said today.
"The reserve is home to a variety of threatened flora and fauna species and two endangered ecological communities.
"The strategic location of Dundundra Falls Reserve, on the fringe of Ku-ring-gai Chase National Park, means it serves as an important line of defence against domestic stormwater runoff and noxious weeds.
"An enormous amount of work is carried out by local volunteers and bush regenerators to ensure this little-known yet spectacular area of our community is maintained and improved.
"I'm delighted the NSW Government is continuing to support the management and preservation of Dundundra Falls Reserve," Rob Stokes said.
Dundundra Falls Reserve Bushcare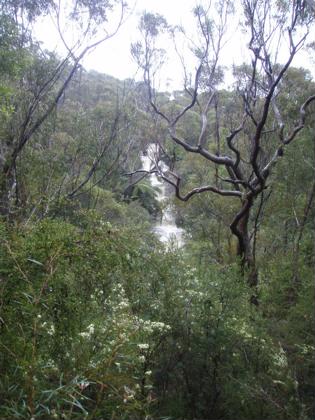 Dundundra Falls Reserve is a 40 hectre Crown Land reserve in Terrey Hills, northern Sydney.
It is home to a variety of plant habitat and native animals and birds. Also as the name implies it has waterfalls. Kieriens creek makes it's way through the reserve and meets up with Neverfail Creek with a series of falls and cascades along the way.
The reserve is located on the southern side of Aumuna Road Terrey Hills.
A fire trail, Larool Trail, runs along the eastern boundary connecting Aumuna Road to the southern part of Larool Road.
It adjoins Dardabong Reserve which contains aboriginal rock carving to the south.
The reserve is Crown Land (i.e. the land is owned by the state government of New South Wales). The management of the reserve is done by a Land Manager group of volunteers from the local community under the guidance of the Crown Lands department.
The reserve can be used by all members of the community for walking, horse and bike riding. It is a great place to explore and appreciate the variety of the local vegetation and terrain and wildlife.
Much work is done throughout the reserve to control weeds and plantings to regenerate native bush. This is done by volunteers. Also various grants over the years have funded regeneration efforts.
The bush regeneration group meets on the first Sunday of the month 8:30-11:30am (warm seasons - get the work done before the heat) 9:00-12:00 (cooler seasons - we all like our warm beds in winter) . All are welcome, so come and say hi, ask questions, see what we do and join in or send us an email. Training in bush re-gen and OH&S is provided.
Send us an email at: Dundundrafalls@gmail.com
Let us know if you have any questions or suggestions or anything.
Or contact us by original mail at
PO Box 381
Terrey Hills
NSW 2084
Or come along when the bush re-gen group is in action on the first Sunday of the month 8:30am and say hi and have a chat and some morning tea (one of our regulars makes delicious cakes .... it's why we keep turning up - only kidding)

Bushcare Group details and more at: https://dundundrafalls.weebly.com/