November 24 - 30, 2019: Issue 430

Spring Becomes Summer In Pittwater
Save Grevillea Caleyi With PNHA's Baha'i Bushcare This Monday: November 25th
What have you got on this Monday morning? How about: Saving Grevillea caleyi with PNHA's Baha'i Bushcare. Join us for the final morning of bush regeneration for 2019 at the Baha'i Temple on Monday, November 25, starting at 8.30 am. We'll be planting some tubestock as well as our usual weeding.
Please meet in the Picnic Shelter on site.
New volunteers welcome - training will be provided.
Wear long trousers, a long sleeved shirt and boots or closed in shoes.
The session will be cancelled in the event of rain.(if only!)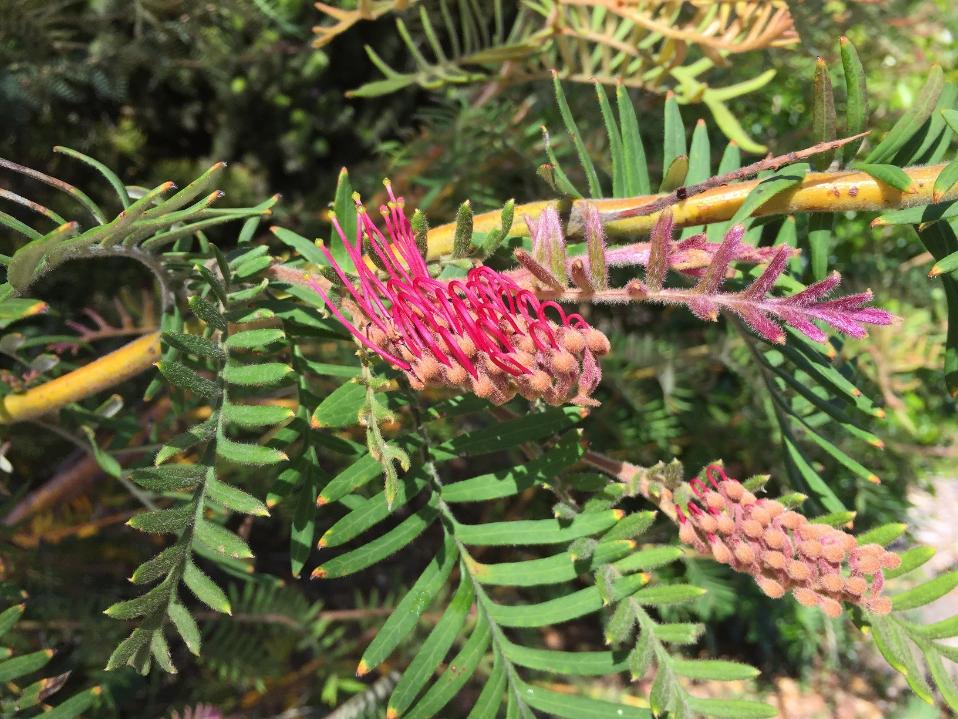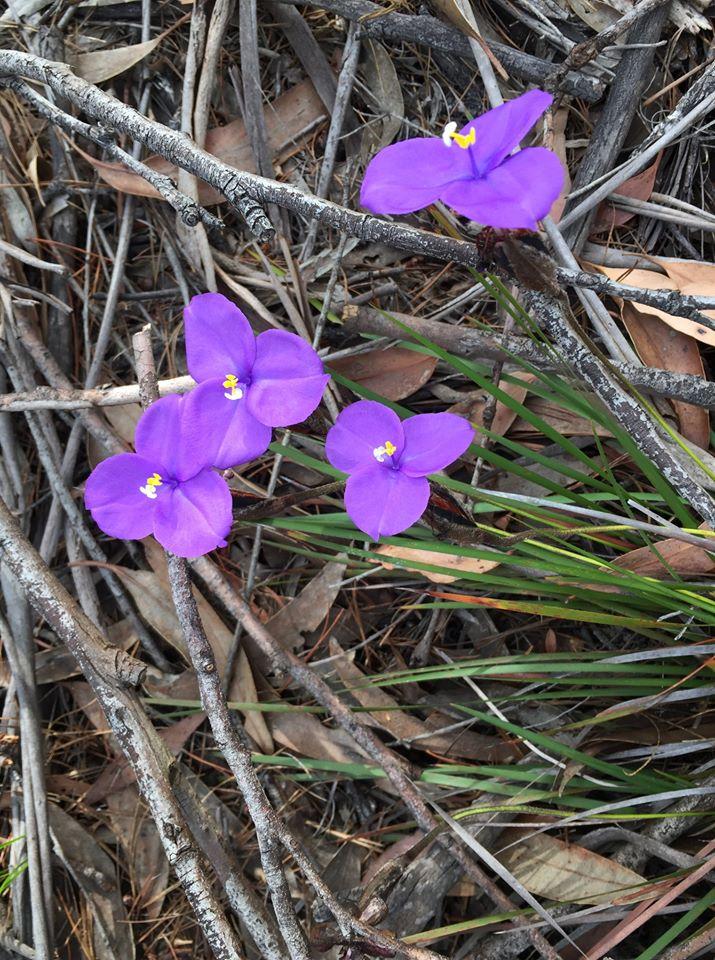 In the Baha'i bushland Native Iris flowers on sunny spring days - PNHA photo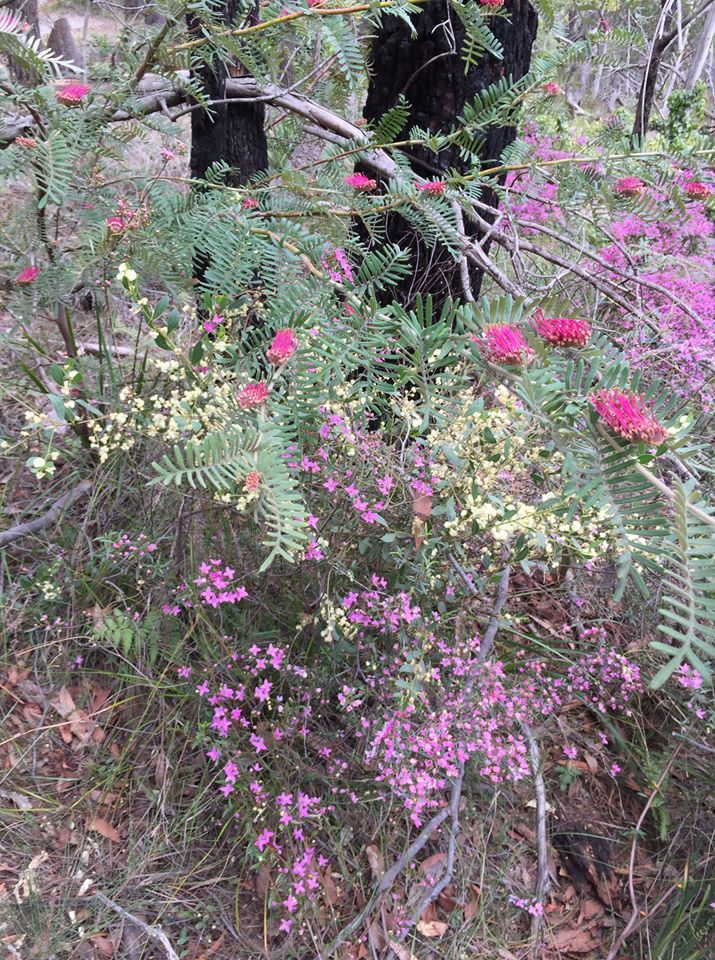 Grevillea caleyi growing with boronia and wattle in the Baha'i bushland - PNHA photo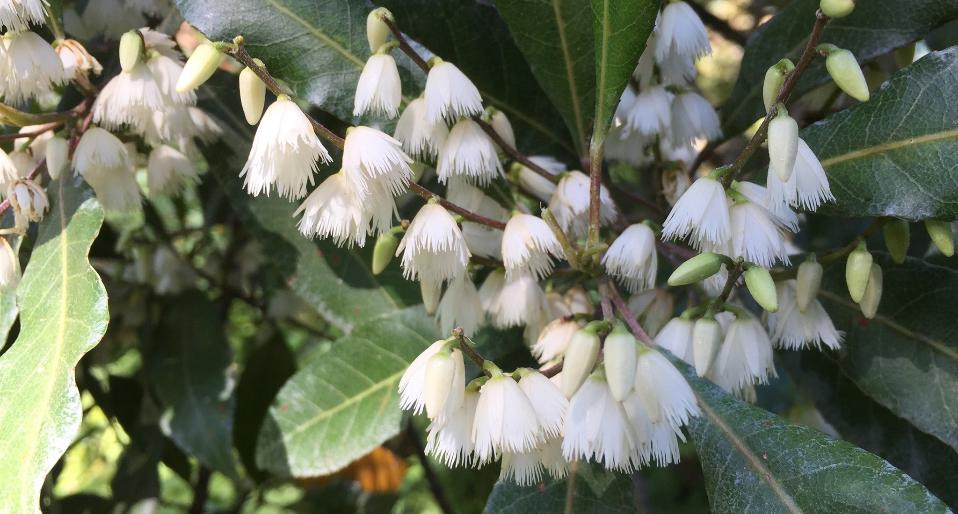 Blueberry Ash Elaeocarpus reticulatus flowers every November. The local Sydney colour is white but a pink version is routine on the NSW south coast and can be obtained from nurseries. The enamel blue berries are favourites of Currawongs, despite there being little edible flesh between the blue skin and the large seed, so it forms a major component of their castings. PNHA photo
First Christmas Beetle Spotted At Elanora Heights/ Ingleside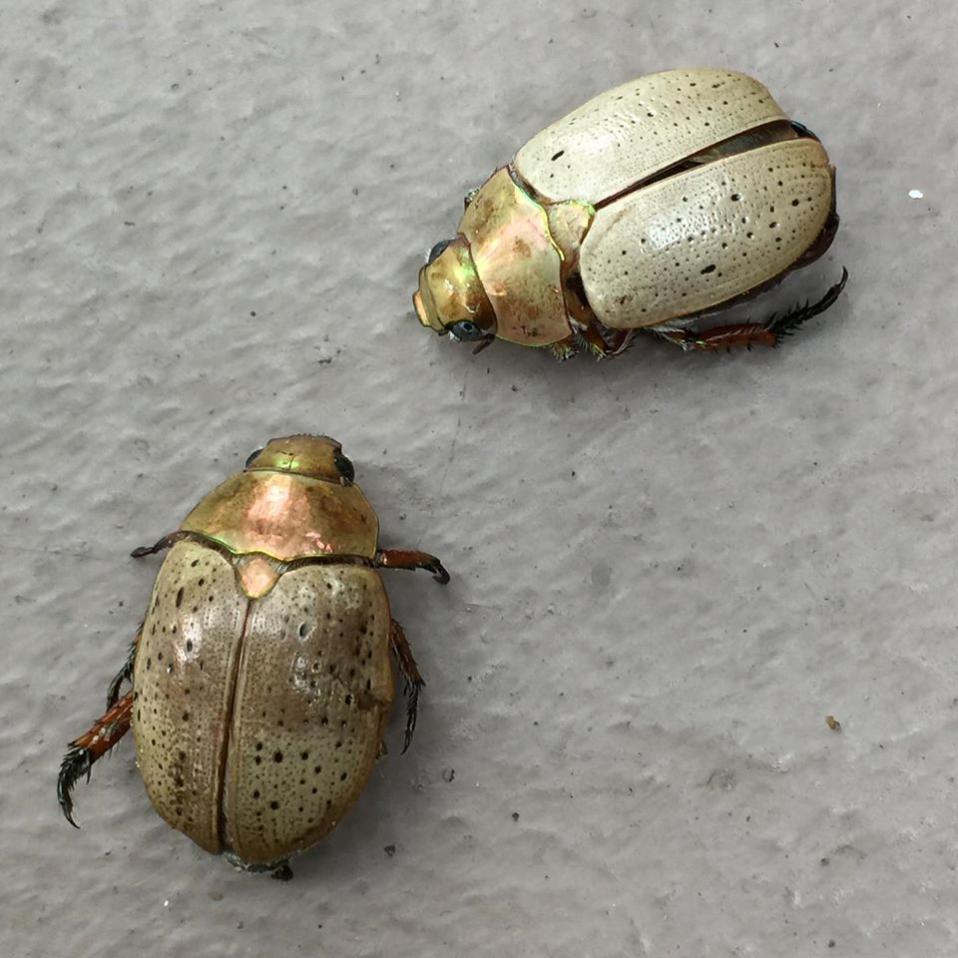 Please Keep Your Bird Baths Topped Up Or Put Out Dishes Of Water For Local Fauna On Hot Days
Photo by AJG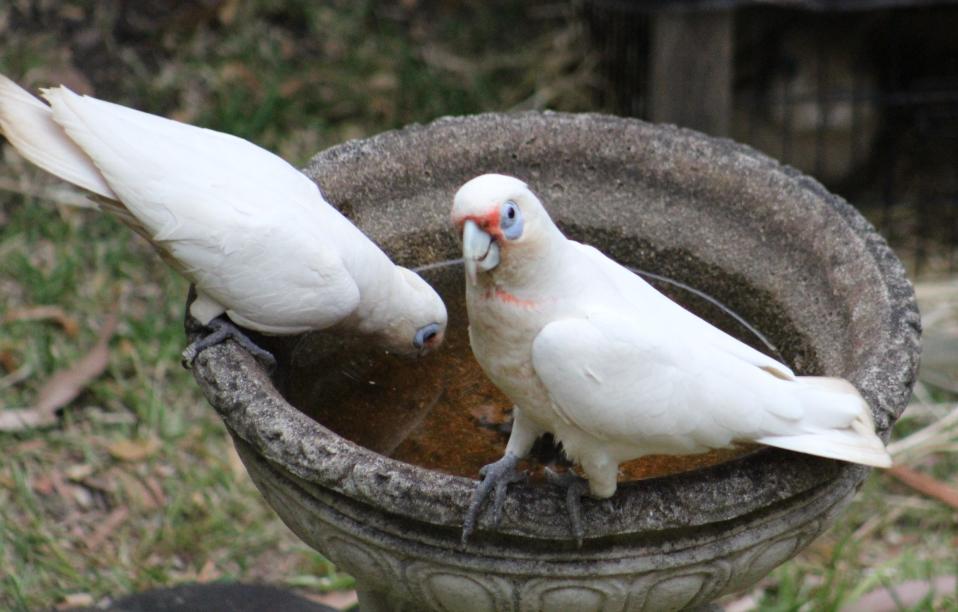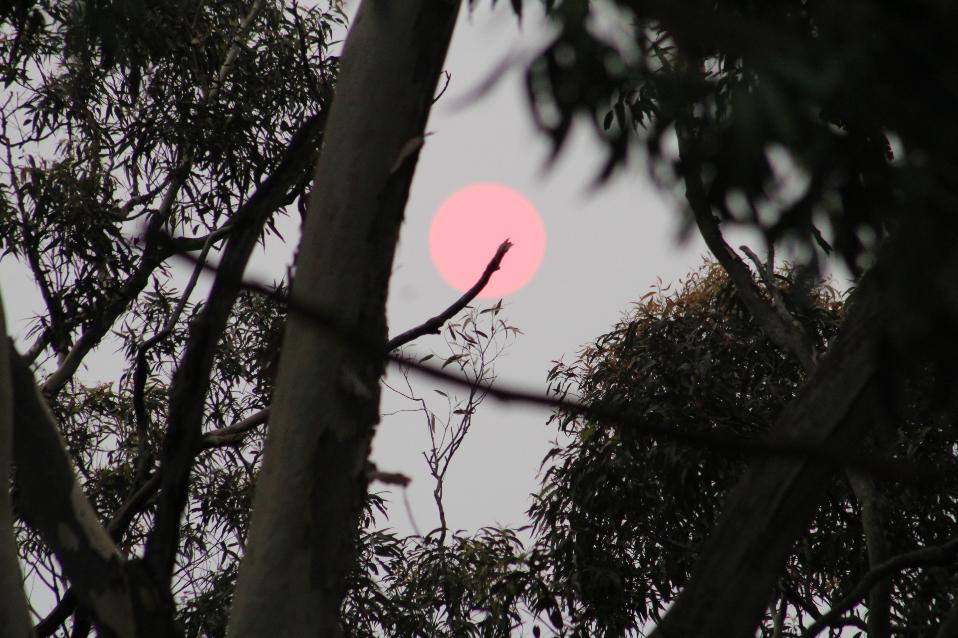 The sun sent pink by bushfire smoke over Pittwater on Thursday this week - AJG photo.
RPAYC Hosts The 27th Harken International Youth Match Racing Championship On Pittwater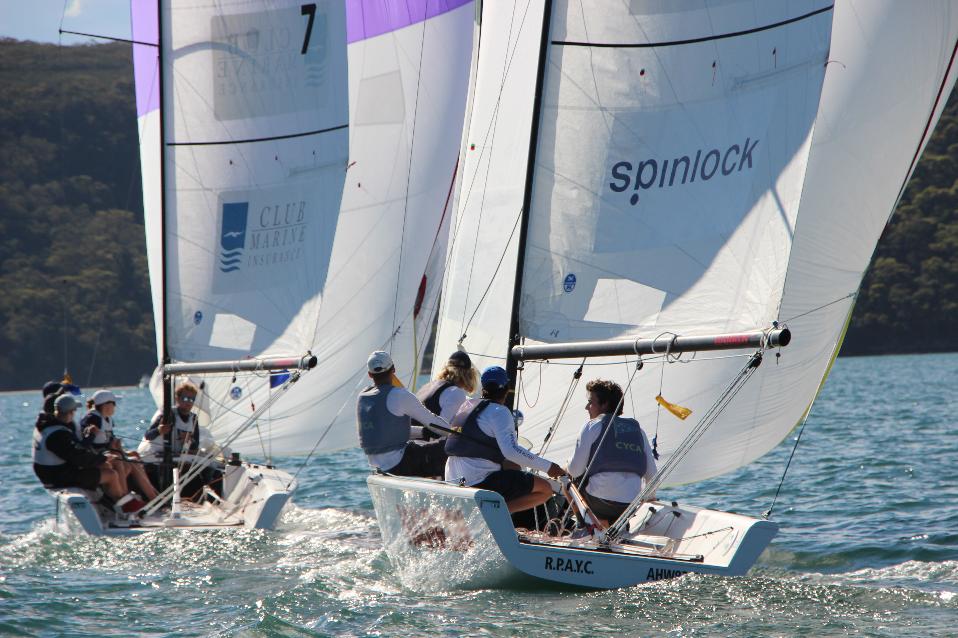 An international cast has taken to the race course on Pittwater for the 27th Harken International Youth Match Racing Championship, to be hosted by the Royal Prince Alfred Yacht Club (RPAYC) from 20-24 November, 2019.
An even split of Australian and international teams will be in line for a cash price of $1200 to the winning team, $800 for the runner-up, while $500 will go to the most improved.
A Royal New Zealand Yacht Squadron team, skippered by Jordon Stevenson, took the trophy home last year. Be warned, the home of the America's Cup is back to compete with two teams whose skippers are Robert McCutcheon and Alastair Gifford.
However, the top ranked crew is that of Wales' Penarth Yacht Club. Matthew Whitfield's team is 20th in the official World Sailing Match Racing Rankings, followed by an Australian team from the Cruising Yacht Club of Australia, skippered by Hugo Stoner, ranked 103rd.
Other clubs represented include two from the host, RPAYC, to be skippered by Juliet Costanzo and Alistair Reed respectively, with one each from Royal Sydney Yacht Squadron (Jed Cruickshank) and Darwin Sailing Club (Finn Niemeier).
The internationals line-up is completed by a team each from Royal Port Nicholson Yacht Club in New Zealand (Jonathon Barnett) and Ireland's Royal Irish Yacht Club (Niall Malone).
The star-studded line-up of 10 youth (under 23) teams from both local and international clubs came together to socialise, meet each other and members of the club at the pre regatta official welcome function before the competition started.
Commodore Michael Lockley welcomed competitors, members and guests to the event before handing over to Harken's National Sales and Technical Manager Callum Cecil who reiterated Harken's support of the event and Harken's ongoing commitment to sailing from the youth and dinghy level all the way through to the Grand Prix and Americas Cup.
The highlight of the evening was special guests from Australian SailGP Team, skipper Tom Slingsby and Trimmer Ky Hurst; who brought along their newest piece of silverware to add to their 'poolroom', the magnificent 'Sail Grand Prix Championship Trophy (Sail GP).
Slingsby and his Australian SailGP crew, including Hurst, won the inaugural SailGP this year and the pair is looked up to by sailors around the world for their various sporting achievements.
The event highlights where this current group of youth sailors can end up down the track. It also supports the importance of encouraging youths to continue on with competitive sailing and to dream big, as did previous competitors who have gone on to carve a name for themselves. The winner of the 2017 Harken, Leonard Takahashi subsequently went on to sail for the Japanese SailGP team.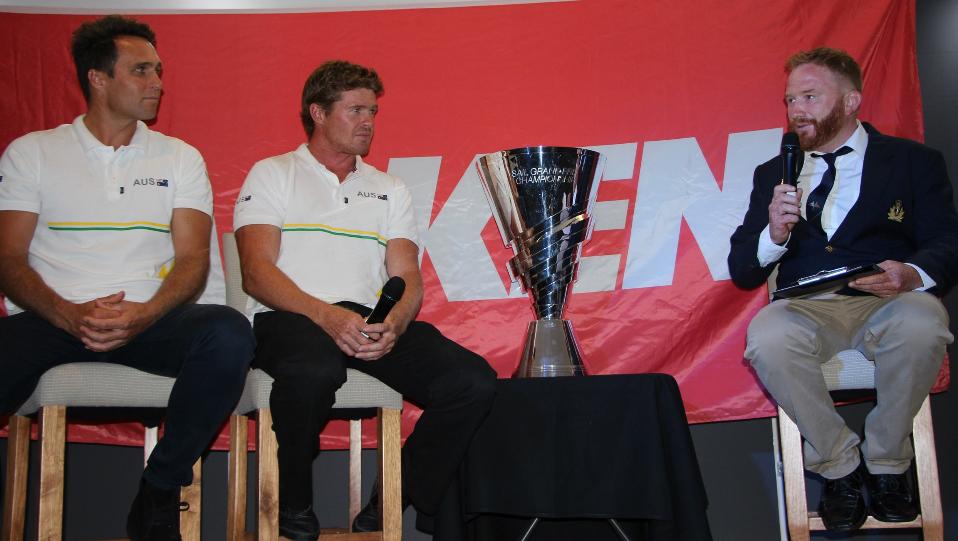 SailGP Australia's Tom Slingsby and Ky Hurst with RAPYC's Tom Spithill - RPAYC photo
Past Features Archives (pre 2014)
Pittwater Online News was selected for preservation by the State Library of New South Wales and National Library of Australia. This title is scheduled to be re-archived regularly.
Archived Issues (2014 on) may be accessed here: pandora.nla.gov.au/tep/143700