May 19 - 25, 2019: Issue 405

Jason Falinski Wins Second Term As Member For Mackellar -

Independent

Zali Stegall Secures Seat Of Warringah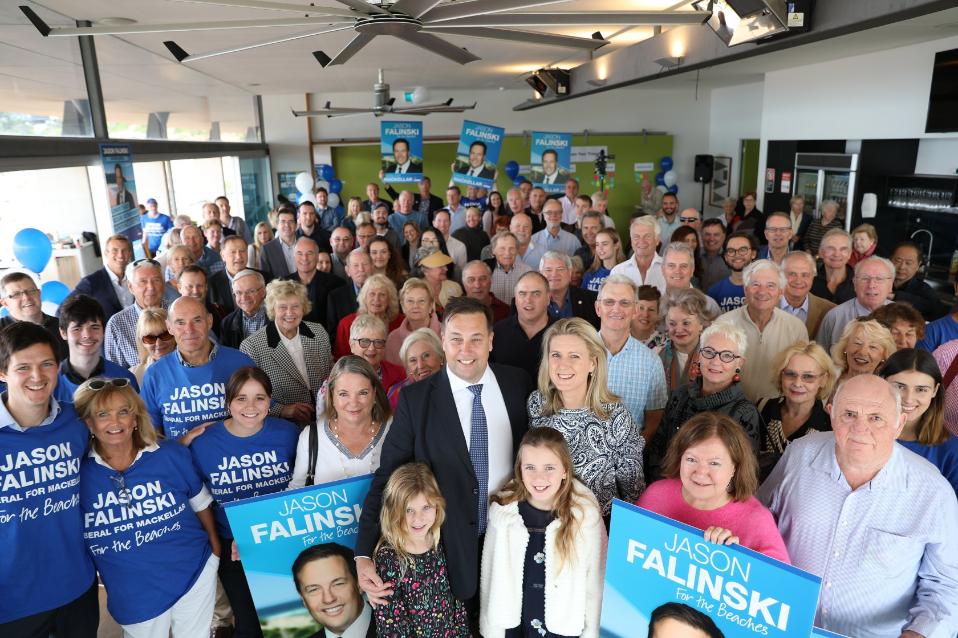 'If you are my voice today, then I will be your voice in Canberra for the next three years.' - Jason Falinski social media post, May 18th, 2019, with the above phtoograph.
Jason Falinski has been returned as the representative for Mackellar.
Mr Falinski, as has become the custom for campaigning politicians during an election, posted a message of thanks to his supporters on social media last evening:
"Thank you to the people of Mackellar for endorsing our message of a stronger economy, lower taxes, securing retirement, improving lifestyle and practical action on climate change. Locally, we have increased our primary vote with swings of 9.7% in Dee Why and 8% in Narraweena.
Thank you to my family and my volunteers for all of your hard work." Mr. Falinski said
The Mackellar figures as we go to press (79.2% counted):
First preference Vote
Liberal Party
Jason Falinski (MP) Vote:53.1% 44,394 Swing +1.9%
Labor Party
Declan Steele Vote: 16.8% 14,032 Swing -0.5%
Independent
Alice Thompson Vote:12.9% 10,815 Swing +12.9%
Greens
Pru Wawn Vote:11.1% 9,295 Swing -2.9%
Sustainable Australia
Suzanne Daly Vote:2.4% 2,043 Swing +2.4%
United Australia
David Lyon Vote: 2.3% 1,919 Swing +2.3%
Christian Democratic Party
Greg Levett Vote: 1.4% 1,151 Swing -1.2%
Preference count
Liberal Party
Jason Falinski (MP) Vote: 63.2% 52,887 Swing -2.5%
Labor Party
Declan Steele Vote: 36.8% 30,762 Swing +2.5%
In Warringah Zali Steggall, Independent Candidate, has secured the federal seat after campaigning on addressing Climate Change and recognises that, as stated on her Environment policy webpage, Australia has;
'Loss of more biodiversity than any other continent, with 1700 threatened species, the developed world's only deforestation hotspot, Half the Great Barrier Reef's coral has died since 2016, we have lost 90% of Murray-Darling wetlands and 75% of on the Swan Coastal wetlands in WA, other countries have stopped accepting our recycling, plastic is devastating our marine environments, and invasive species and pollution threaten our local environments, including Warringah's endangered species such as the little penguin'
Ms Stegall also said in a February 2019 interview with Guardian Australia's political podcast, that the Adani coal mine, the kick off of many coal mine project aspirants for the Galilee Basin, needed to be stopped;
"Labor, if it wins this year's federal contest, needed to use whatever regulatory powers it had available to it to stop the project. "We need an orderly retirement of coal, I don't think we should be entering new projects," Ms Steggall said.
"The attention should be with renewables, technology, clean transport, clean energy – not projects like Adani."
The numbers in Warringah votes (78.2% counted);
First preference
Independent
Zali Steggall Vote:44.7% 34,961 Swing +44.7%
Liberal Party
Tony Abbott (MP) Vote: 38.9% 30,458 -12.7%
The Labour candidate also had a swing of -8.6% as did the Greens candidate of -6.5%.
Preference count
Independent
Zali Steggall Vote: 57.8% 45,198 Swing: +18.9%
Liberal Party
Tony Abbott (MP) Vote: 42.2% 33,055 Swing: -18.9%
Mr. Abbott was first elected as a Member of Parliament (MP) for Warringah in 1994 and so has served the electorate for 25 years. Prior to Mr. Abbott Liberal Member Michael MacKellar served as MP for Warringah for 25 years.
Ms Steggall also thanked her supporters via social media late last evening, stating;
"We did it! Thank you Warringah."
Zali Steggall stated as far back as January that she will seek to form a united front with other independents if elected. South of the border another lady has won a seat as an independent. Helen Haines in the northern Victorian seat of Indi, has made history by becoming the first independent to succeed another in federal parliament, replacing Cathy McGowan. Dr Haines fended off a challenge from Liberal Steve Martin to secure 51.9 per cent of the two-party-preferred vote, with 78 per cent of the result counted at midnight.
Dr Haines is one of seven high-profile independent candidates to sign a joint agreement to cooperate on climate policy in the new parliament should they win. Others to sign the statement included Clark's Andrew Wilkie, Zali Steggall and Wentworth's Kerryn Phelps.
With 72.5% of the Wentworth votes counted by midnight Liberal Party candidate Dave Sharma is ahead 50.6% to Ms Phelps 49.4%.
Senate results so far are Liberal / National Coalition 13 won (33 total seats), Labor Party 12 won (26 total seats) The Greens 6 likely (9 total seats).
Mr. Clive Palmer's 60 million dollar splurge on advertisements and invading our mobiles with text messages (who gave him my number??!) have, at this stage, failed to secure even one seat.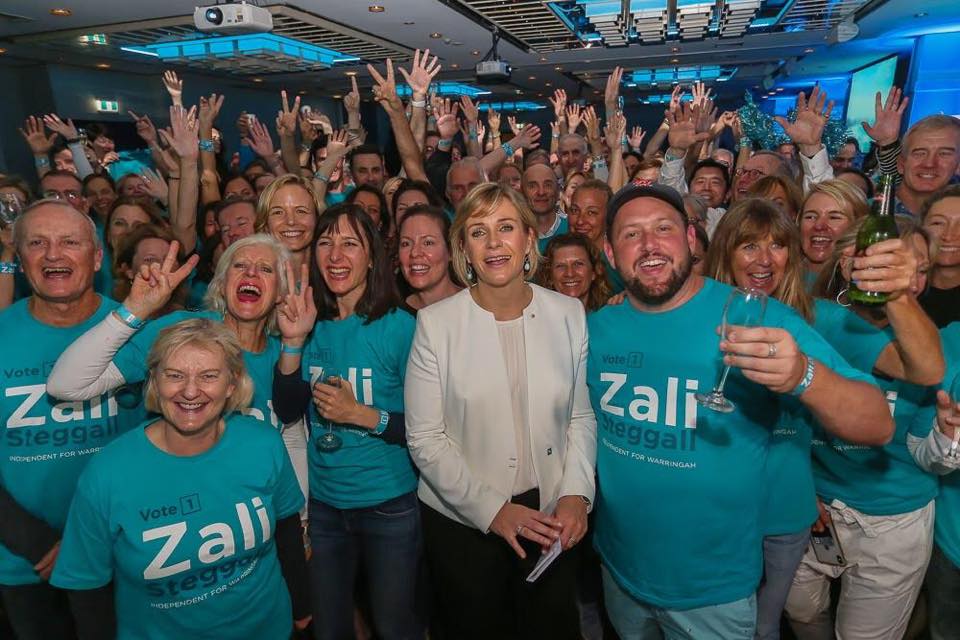 'We did it! Thank you Warringah.' - Zali Steggall's social media message accompanying above photograph.
Team Australia Wins The Worrell 1000 Reunion Race 2019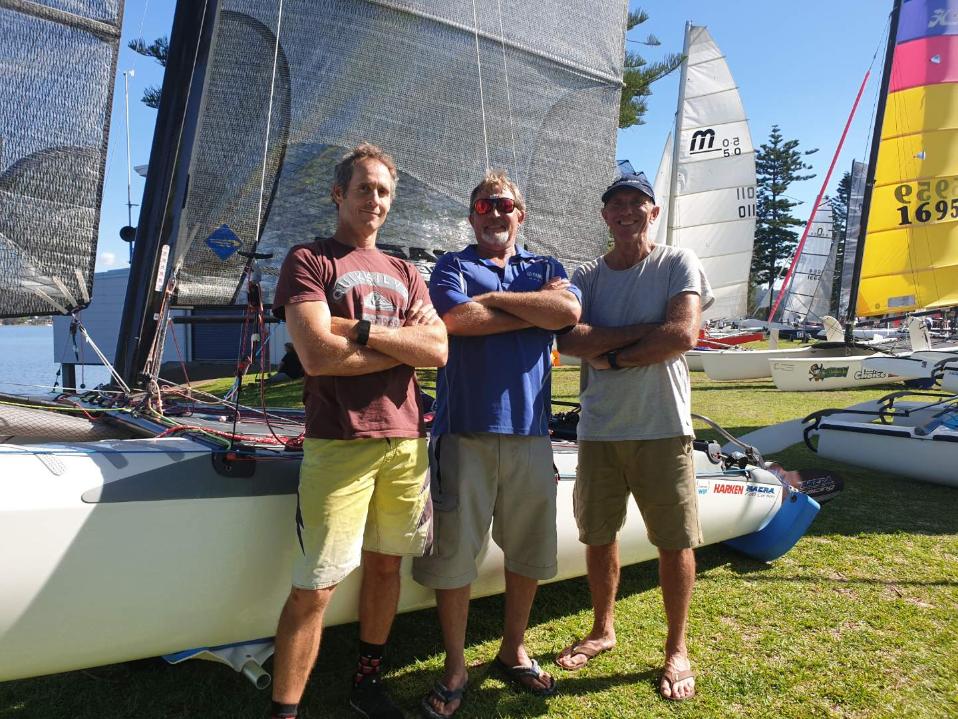 Team Australia Worrell 1000 2019, left top right: Beau White, Brett White and Rod Waterhouse
Last Issue a mention of local sailors undertaking the Worrell 1000, R
od Waterhouse, and Beau White, of Palm Beach Sailing Club members, Beau being Vice Commodore at PBSC as well as a, and
Brett White, Speers Point Amateur Sailing Club, Lake Macquarie.
When Rod asked them to join him in sailing the 13 day catamaran stage race up the east coast of the United States there was only one answer that would suffice.
Rod Waterhouse sailed with 3 different crews in this race in 2001, but sailed the majority of the legs with professional sailor Katie Pettibone in her first try at the Worrell 1000. Katie ranked it as challenging as the Volvo Ocean race.
When asked how to prepare best for the race she replied, then, "Train Hard."
In 2001 the 11-time Worrell racer Rod Waterhouse was searching for a replacement for his injured crew, Sandra Tartaglino. When Waterhouse, a two-time winner, asked Pettibone to join his Team Guident, she was ecstatic. ''It was like Russell Coutts calling up to say he needed someone to help sail his America's Cup yacht,'' she said.
Waterhouse added to his legendary status when, approaching the beach at the end of the third leg with both his rudders broken, he lowered himself into the drink and used his lower torso as a human rudder to steer to safety.
The Worrell 1000 is a gruelling test of sailing skill, determination and toughness sailing a semi foiling 20ft off the beach catamaran 1000 miles. Team Australia, sailing a Nacra Carbon 20 seem up for the challenge.
Monday, May 6, 2019 marked the start of the Worrell 1000 2019 Race and lucky Number 13 outing in a Worrell 1000 for Rod Waterhouse. As its name implies, this race - which takes the fleet of Nacra 20 and Formula 18 catamarans almost 1,000 miles from Hollywood, Florida, to Virginia Beach, Virginia - heralds back to the original Worrell 1000.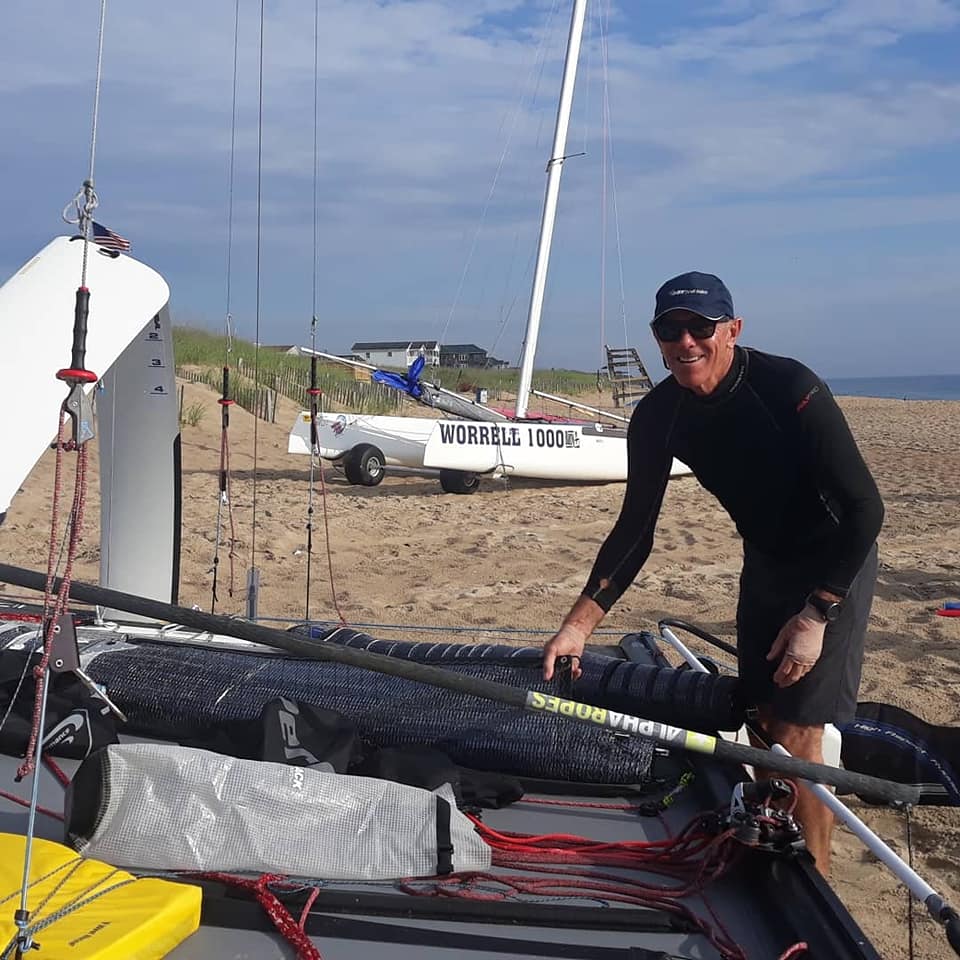 Rod Waterhouse - enjoying his 13th Worrell 1000
While it had been 17 years since the Worrell 1000 was last sailed, the 2019 Reunion Race attracted three teams intent on both finishing the full course and giving the course record (71 hours, 32 minutes and 55 seconds), established in 2002 by Brian Lambert and Jamie Livingston, a serious push.
As we go to press Team Australia sits in 1st place, with the final leg to go, on a time of 66:46:33, two hours of which are penalties incurred, one hour in the Tybee to Isle of Palms leg and the other in the Atlantic Beach to Hatteras sprint. The Aussies have placed 1st in each leg bar two - one placing them 2nd after one of those penalty hours and the other finishing just over one minute behind TCDYC.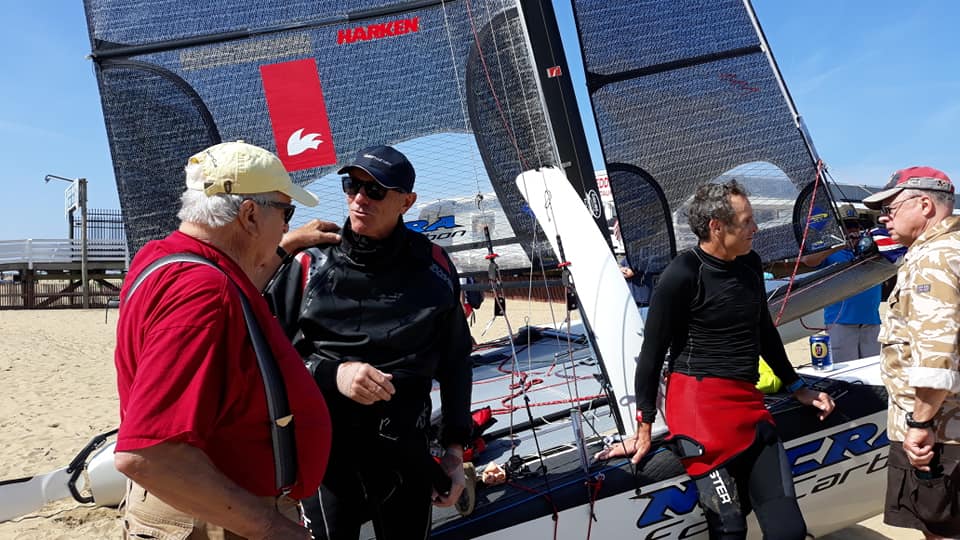 Rod Waterhouse and Beau White at the completion of their last leg, May 18th US Time, May 19th Sydney time.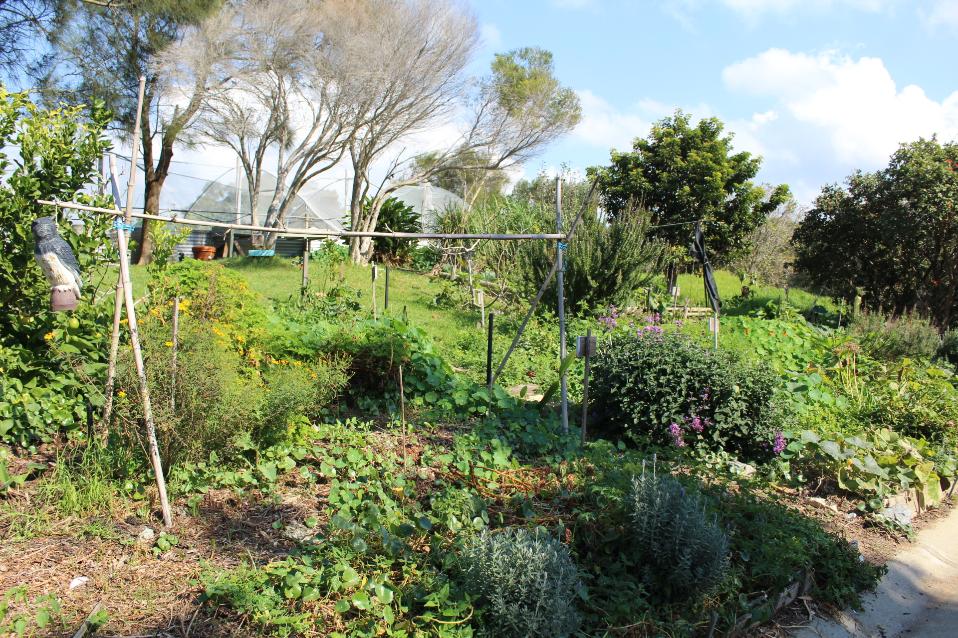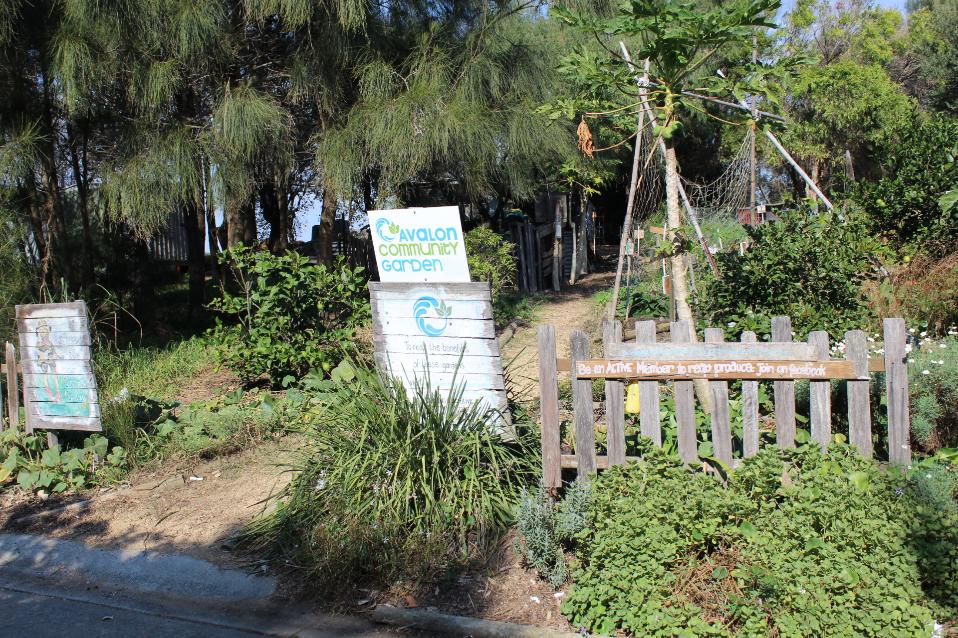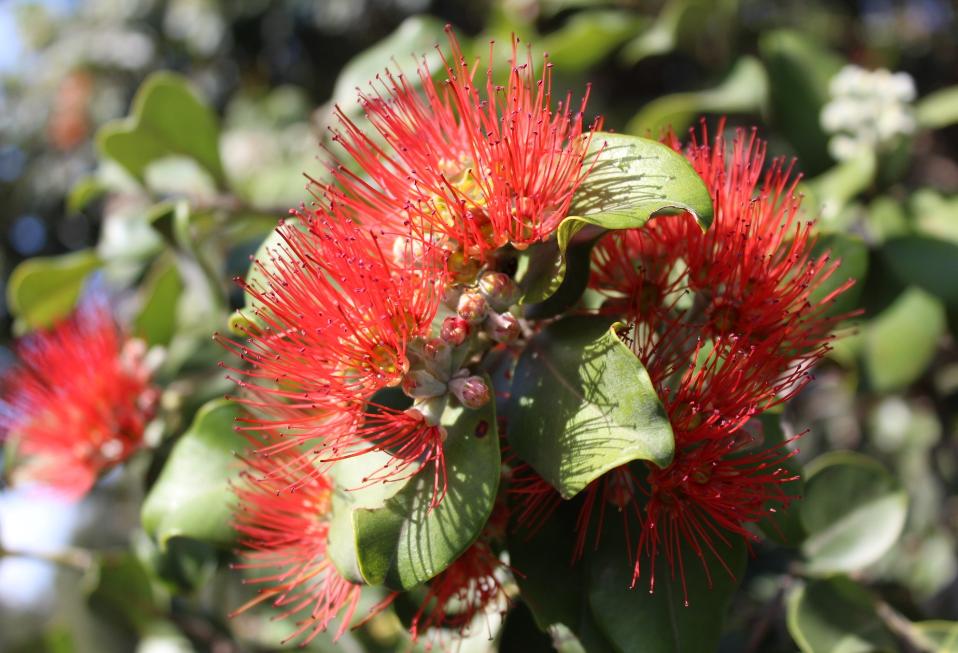 Past Features Archives (pre 2014)
Pittwater Online News was selected for preservation by the State Library of New South Wales and National Library of Australia. This title is scheduled to be re-archived regularly.
Archived Issues (2014 on) may be accessed here: pandora.nla.gov.au/tep/143700