September 9 - 15, 2018: Issue 375

Sea Eagles Footy Legend Max Brown Joins Fight To Save Mona Vale Hospital
Sea Eagles footy legend Max Brown

Sea Eagles footy legend Max Brown has joined the fight to save Mona Vale Hospital, saying he's only alive because of its Emergency Department.

Many local residents oppose NSW government plans to close Mona Vale Hospital, on the Northern Beaches, when a new private hospital opens at Frenchs Forest next month.
Mr Brown won the NSW Rugby League Premiership with Manly-Warringah in both 1972 and 1973 and established the Men of League welfare group for previous players in 1999.
The former winger said he felt nauseous one afternoon last October then woke up about 3am the next morning with a constricted chest and difficulty breathing.
"I had a pretty fair idea what it was," he said.
"I'd had lots of injuries but I'd never had a pain like that."
However, Mr Brown was faced with a dilemma. His wife, former top model Niki Turner, was ill at the time with gangrenous peritonitis and unable to drive.
Yet he knew that ambulances could take over an hour to arrive in Pittwater where the couple live and their home is difficult to access - so he drove himself to hospital.
"I just sort of fell out of the car when I got there, then I staggered, holding my chest trying to stop the pain, into the emergency area.
"The triage nurse saw me and just ran towards me."
Mr Brown had suffered a serious heart attack with two completely blocked arteries and another obstructed 60 per cent.
He was stabilised at Mona Vale and transferred to Royal North Shore Hospital, where he had two stents fitted straight away. Doctors are continuing to monitor the condition of the other artery.
"I'd be dead if Mona Vale Hospital wasn't there," he said.
"I live in Clareville, which is the same distance to the new hospital at Frenchs Forest as Bondi to Frenchs Forest.
"But if you live at Bondi, you have St Vincent's Hospital, which is only seven or eight minutes away."
Save Mona Vale Hospital committee chairman Parry Thomas said his group had revived the campaign after calls from the community, and Mr Brown was one of those who had been in touch.
"This is not a top-down campaign; it's coming from the bottom up," Mr Thomas said.
"Everything we're doing has been driven by the community. That's why we decided to take the fight on again.
"One of the biggest groups in the community this has outraged is families with children.
"So we felt we need to give them an opportunity to show their support for Mona Vale Hospital and what better way to do that than with a picnic at the park next to our great community hospital?"
Mr Thomas said The Big Picnic will take place in the reserve next to the hospital on Sunday, September 16, from 11.30am. It will be a family day with pony rides, music and dress ups.
He said the NSW government's plan to close Mona Vale Hospital was unfair to the community.
"It's an indictment of the government with its failure to invest in infrastructure, hence their willingness to invest in roads and other things they can flog off at a profit," Mr Thomas said.
"The whole exercise is cynical. It's only investing if it thinks it can make money.
"But when you're talking about a hospital that provides a service to the community, they're not interested."
The strength of community feeling was indicated by the number of people coming up to sign the campaign's petition to keep Mona Vale Hospital open, Mr Thomas said.
On Saturday outside Woolworths at Mona Vale, in the midst of weekend shopping, 650 locals had signed the petition.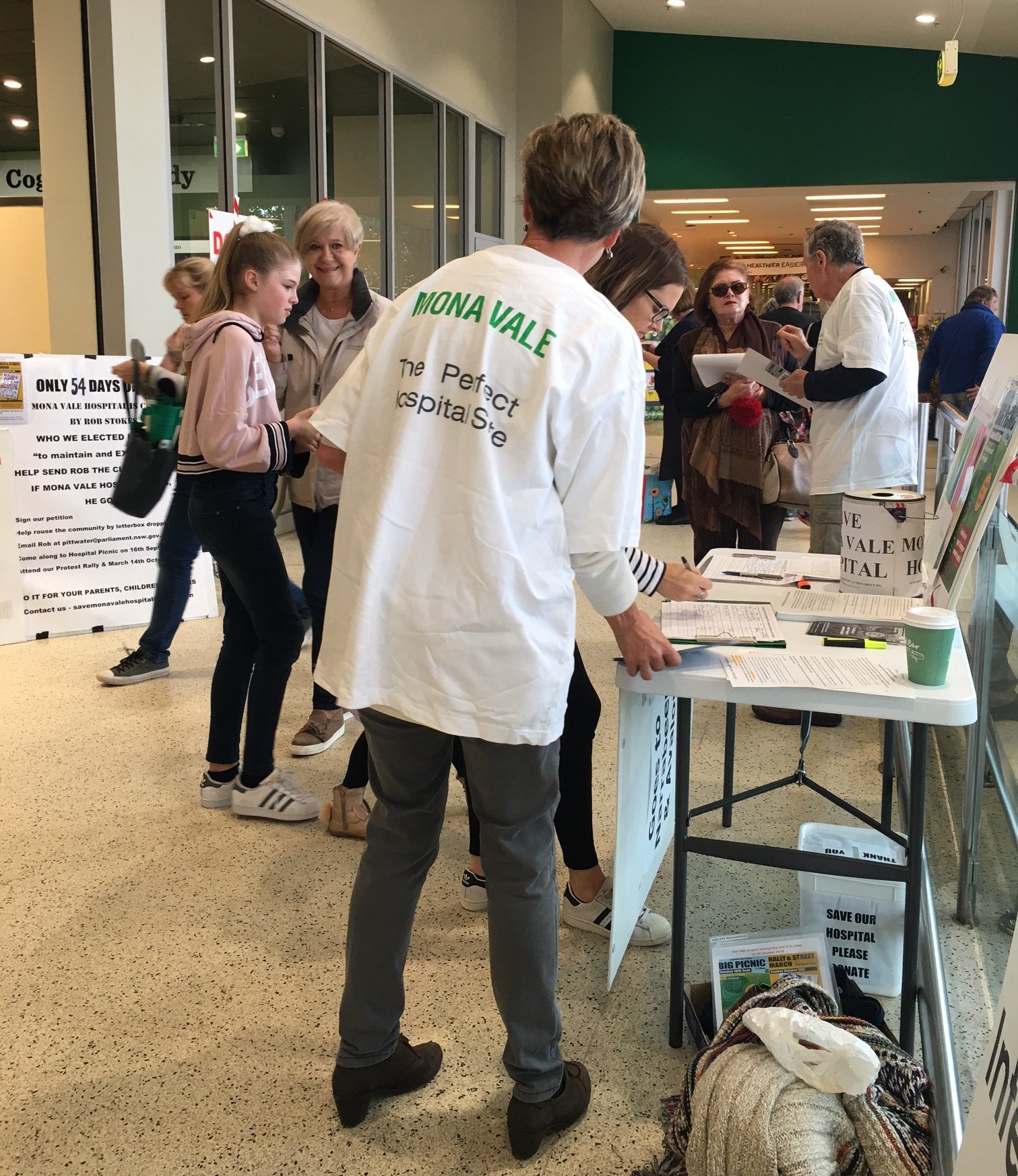 Mr Brown encouraged local residents to join the fight to keep a fully-fledged hospital at Mona Vale.
"After 10 years of first grade rugby league I know only too well the pain that can be inflicted on the sporting field," Mr Brown said.
"Do we want our children to suffer pain inflicted from injuries longer than necessary before treatment?
"Do we want the sporting fields - be it soccer, netball, rugby league, rugby union, nippers - to become playing fields of anguish for parents?
"Do we wish to see mothers giving birth on the Wakehurst Parkway, either stuck in the 'moving carpark' or simply because they had to drive too far, passing the now unheralded Mona Vale "once-was-a-hospital"?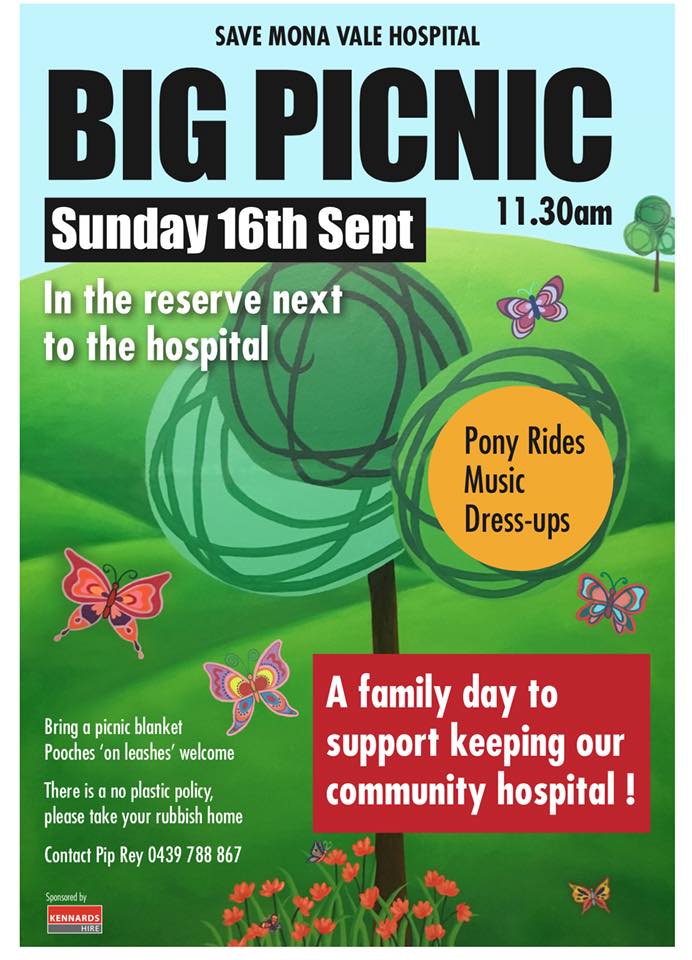 Surfers And Lifesavers Reach Historic Agreement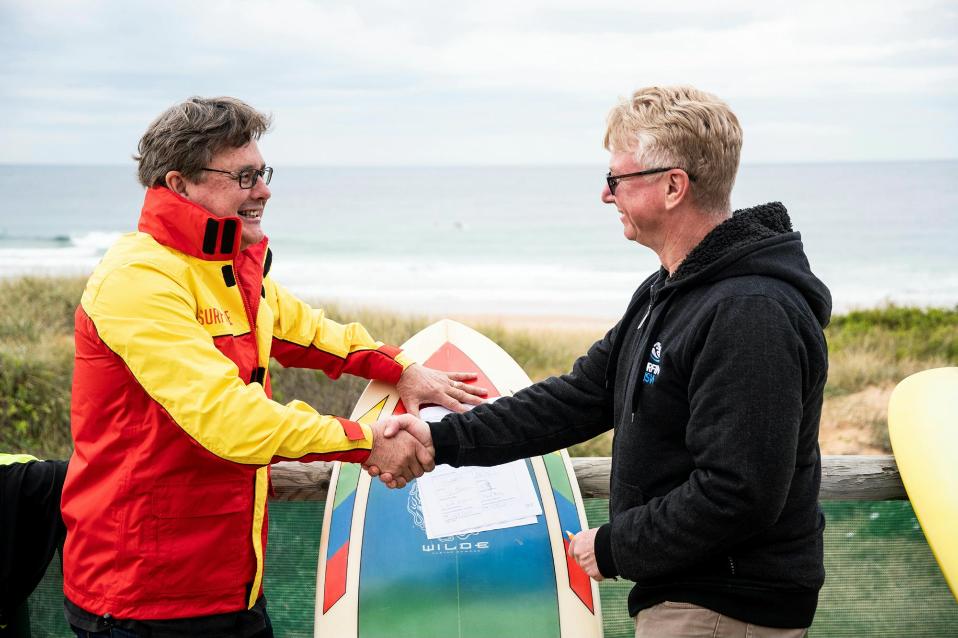 David Murray SLSNSW President and John O'Neill Chairman of Surfing NSW at Narrabeen on Friday
For the first time since surfing's boom in popularity in the 1960s, leaders of Surf Life Saving NSW and Surfing NSW have reached an agreement between the two state bodies. Increased cooperation, strong developmental pathways for athletes, and shared industry knowledge are just some of the many benefits for Australia's coastal communities.
A Memorandum of Understanding has been signed by Surf Life Saving NSW President David Murray, and Luke Madden (Surfing NSW CEO), which heralds a new era of cooperation.
Some of the features of the new agreement include lifeguards and lifesaving assets provided to increase safety at Surfing NSW competitions, while the Surf Life Saving Academy will conduct First Aid Training for the Maroubra-based organisation.
Additionally Surfing NSW will provide fully accredited judges to the Midford NSW Board Riding Championships, and both organisations will cross promote events and development opportunities for their members.
"We are delighted to officially sign this MOU with Surfing NSW and look forward to our relationship continuing to grow," said SLSNSW President David Murray.
"It's a wonderful chance for our two organisations to share knowledge and introduce members to a diverse range of new opportunities.
"At the end of the day we both share the same passion for the ocean and many of our members are keen surfers when they are not volunteering on patrol," he said.
Surfing NSW CEO Luke Madden says he's excited for this partnership to come to fruition.
"We're coming together to make our beaches safer and we're stoked that we can work together officially now. We'll be bringing to life combined initiatives like our Surfers Rescue 24/7 water safety program - providing CPR & board rescue techniques to surfers. SLSNSW has helped with the growth of this program that is now engaging and empowering surfers along the entire NSW coastline to help out when there are no lifeguards or patrols available.
"Many of our top international athletes like two-time world surfing champion Tom Carroll and North Narrabeen's Laura Enever, have been involved in their local Surf Life Saving clubs throughout their lives. Their ties to both our communities highlight the natural synergy and love of the beaches we share."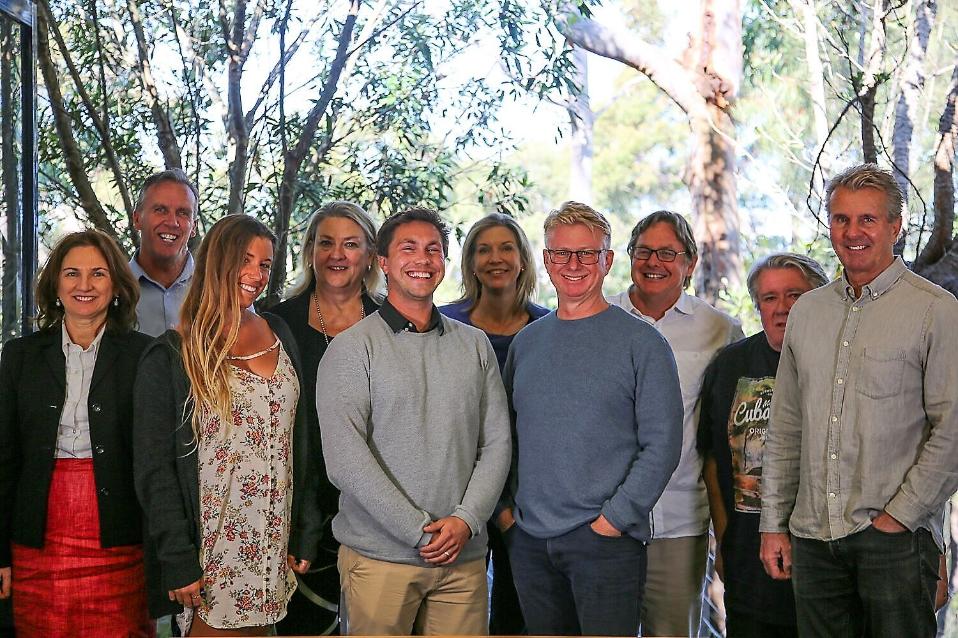 The Management Teams From Surf NSW and Surf Life Saving NSW came together ahead of the formal signing of the MOU.
Help Newport Become The Destination For Australia's Best Fish And Chips!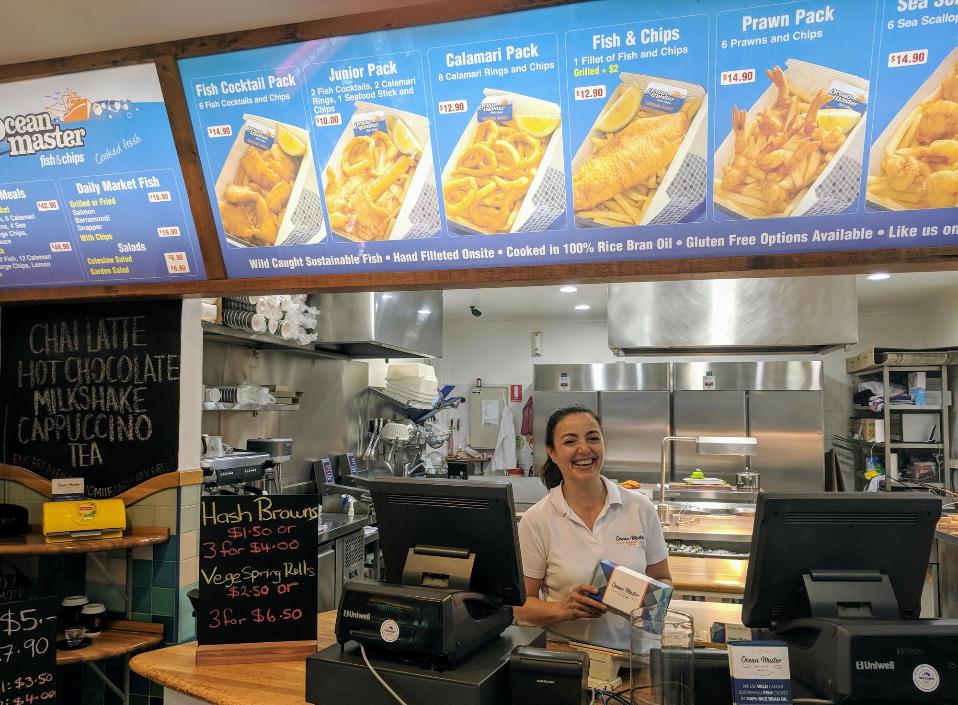 Owner of Ocean Master Emma Chedid - photo by Michelle Myers
With the search for Australia's favourite fish and chip shop now underway, Newport's much loved Ocean Master is calling on locals to vote and make it a national contender! While Ocean Master already has notable accolades including in 5 Hot Spots Fish and Chip Guide and Buzzfeed's 15 must try cheap eats, it is now keen to vie for national recognition.

Owner of Ocean Master Emma Chedid has lived and worked on the Northern beaches her entire life, embracing it's iconic Aussie lifestyle from her early years through to working and raising her six kids her. She is also second generation fish and chipper, with her family having first opened Ocean Master in North Narrabeen in the late 1970s. Since with hard work and a secret batter recipe, Emma has set the bar high to make Ocean Master a destination fish and chip shop, attracting loyal customers from far and wide.
Emma says that it's freshness, quality and a secret dipping batter have set Ocean Master apart from the rest and keeps her customers coming back for more.
She explains, "Our fish is delivered fresh from the markets every day and all our food preparation is done on site, with nothing pre-cooked. Each and every order is cooked fresh when ordered, with our battered fish freshly dipped in our exclusive seasoned light batter. And this doesn't just apply to our fish, we hand cut our potato scallops and make our salads as well."
Emma adds, "We make it a priority to source Australian produce whenever possible and always cook in top grade rice bran oil. As no meat products are cooked in the oils, only seafood and gluten free chips, it remains cholesterol free."
Everyone has a story about fish and chips, whether it is eating them on the beach or the Friday night family feed and Ocean Master is integral to a visit to Newport beach!
Ocean Master Newport has already been nominated for Australia's National Fish and Chip Awards, so just needs votes to showcase our delicious northern beaches offerings. Run by Fisheries research, there are two categories of Award – State and Territory People's Choice and Judged Fish and Chips. Voting ends 15th September 2018 with the winners announced in October.
Peter Horvat the Fisheries Research and Development Corporation's General Manager of Communications, Trade and Marketing said, "Eating fish and chips is something that pretty much every Australian can relate to and The Fish and Chips Awards are about encouraging everyone to have their say and vote and to make sure consumers get the right information when buying."
Voting is free and easy online at www.fishandchipsawards.com.au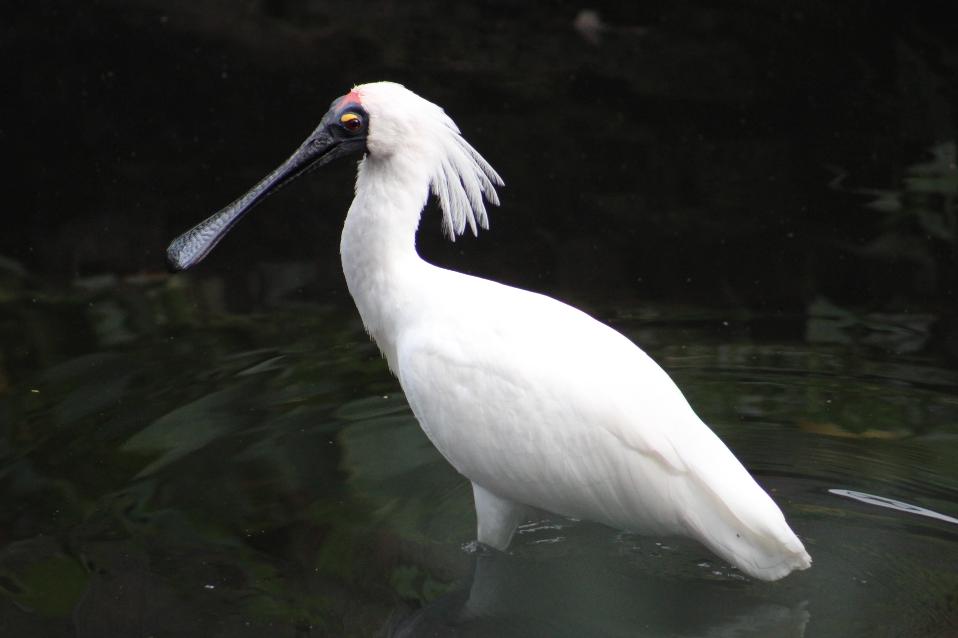 Breeding Season For Pittwater's Wildlife
This Royal Spoonbill spotted Friday morning in Careel Creek displays the signs of being in its breeding season.
The Royal Spoonbill (Platalea regiais) is a large white waterbird with black, spatulate (spoon-shaped) bill, facial skin, legs and feet. During the breeding season, it has a distinctive nuchal (back of head or nape of neck) crest, which can be up to 20 cm long in male birds (usually shorter in females). The crest can be erected during mating displays to reveal bright pink skin underneath. Breeding adults also have a creamy-yellow wash across the lower neck and upper breast and a strip of bright pink skin along the edge of the underwings which is obvious when the bird opens its wings. The facial skin is black with a yellow patch above the eye and a red patch in the middle of the forehead, in front of the crest feathers.
Be great if we could all be a bit mindful that we live in an environment populated with other animals of the furred, feathered and scaled kind this season and give them a bit of space and respect.
Past Features Archives (pre 2014)
Pittwater Online News was selected for preservation by the State Library of New South Wales and National Library of Australia. This title is scheduled to be re-archived regularly.
Archived Issues (2014 on) may be accessed here: pandora.nla.gov.au/tep/143700
Search Pittwater Online Articles