October 23 - 29, 2022: Issue 559
From the Council Chamber: October 2022
By Miranda Korzy, Pittwater Greens Councillor
The Pittwater community has pulled together in recent weeks to study Northern Beaches Council's Conservation Zones Review - last Sunday holding a forum with speakers including experts in planning, architecture, landscape architecture and local environmentalists.
Conservation zones are applied to properties with significant environmental values or those potentially exposed to significant hazards such as landslides or bushfires. The zones help determine what owners are allowed to do on their land.
The review is comprised of an incredibly complex set of documents and maps. It proposes rezoning 3,613 properties within the former Pittwater Local Government Area from C4 (a conservation zoning) to residential (with criteria and controls for those zones currently undefined.)
Pittwater residents, including local experts, have been working through the proposed rezonings, checking them against environmental characteristics and hazard maps. Speakers at last Sunday's planning forum addressed some of the problems that our local sleuths have identified.
Resolutions of Pittwater Community Planning Forum read at Council
Mona Vale Residents Association spokesperson Marcia Rackham spoke at Tuesday's council meeting about the proposed changes. She finished her speech by reading out a number of resolutions passed at the forum (although Ms Rackham unfortunately ran out of time to complete reading them). They had all been passed at the forum by overwhelming majorities and read as follows:
Resolution 1

We, the residents of the Northern Beaches Council area, believe the bushland landscape of the former Pittwater Local Government Area is its predominant feature, with the built form secondary, and that this must be maintained in the future Local Environment Plan and Development Control Plan.

We therefore call on Northern Beaches Council, in the former Pittwater Council area, to:
Rule out rezoning of C4 land to residential
Apply conservation zonings to properties where any significant environmental values or hazards are present
Create Scenic Foreshore Protection Areas from shorelines to ridgelines
Retain all Heritage Conservation Areas and investigate those proposed - but not yet implemented - by the former Pittwater Council.
Resolution 2

This meeting strongly objects to the proposed reduction in the numbers of properties in Conservation Zones in the area of Pittwater ward within Northern Beaches Council LGA.

Such rezoning will enable a greater level of development and consequent reduction in native flora and fauna, green space and the unique natural character of the Pittwater area.

We ask that all candidates for Pittwater in the coming state election declare their position on:
The proposed changes to Conservation Zones
The establishment of a Scenic Foreshore Protection Area
What planning controls they will support to address our concerns.
Resolution 3

The meeting calls for the Medium Environmental Value Criteria that form the basis of the Conservations Zones Review should be changed as follows:
Biodiversity Corridor and Urban Tree Canopy to High Environmental Value
Ridgeline or Escarpment to High Environmental Value
Geotechnical Planning Class: C3 Hawkesbury Sandstone with Slope > 25 degrees or C5 Narrabeen Group with Slope > 15 degrees be included in Hazard Criteria.
More time to digest Conservation Zones Review
Councillors have received hundreds of emails about the proposed changes to conservation zones with requests for an extension to the exhibition period (due to end on October 30) to allow residents time to understand the multiple documents and maps, as well as their implications.
Residents have also been requesting open public meetings where they could ask questions and be answered on the spot.
At Tuesday's meeting councillors voted to extend the submission period to December 2, allowing everyone more time to digest the extremely complex Conservation Zones Review.
Pittwater Liberal Councillor Rory Amon proposed a motion for the extension and I proposed an amendment asking for staff to hold open public meetings, in each former council ward.
Council staff have held a number of online meetings for residents in each of the former council areas (Pittwater, Warringah and Manly). They have also met with community groups and have offered to meet individual residents at their properties to explain zonings for those sites.
However, as I told Tuesday's meeting, rezonings are not just about an individual's right to do what they want on their land but also about protection of the community's much loved tree canopy, wildlife, cliffs, shorelines and its exquisite beauty.
I've also had complaints from residents that the online meetings didn't answer all questions submitted by residents. And we would all learn from the answers to others' questions. As far as I'm concerned, it's a fundamental matter of transparency.
Staff argued otherwise on Tuesday, with CEO Ray Brownlee saying that the five webinars already conducted had been open to all groups and there had been 827 viewings of their recordings by Tuesday.
He believed that there were still too many complex issues being raised for a public meeting to deal with at the moment.
"In my opinion, we need to narrow the themes more," Mr Brownlee said.
Mr Amon opposed the amendment for a public meeting on the same grounds as staff, saying that a general public meeting at the moment could generate hundreds of questions.
"I support a public meeting but I support a public meeting done properly," he said.
Pittwater's Your Northern Beaches Councillor Michael Gencher said the extension to the exhibition period would "ensure no one is left wanting for information".
"There's a proposition in the community that Pittwater will be more greatly affected by this than other areas," Mr Gencher said.
My amendment was voted down, with support only from Narrabeen Independent Councillor Vince De Luca and Curl Curl Greens Councillor Kristyn Glanville - both of whom were concerned about transparency and satisfying community calls for an open meeting.
Instead, Mr Amon put up another amendment for council staff to: meet with resident and community groups (which they are already doing); that staff process submissions on the review (which was provided for at the August meeting); and for public meetings to be held by council in each ward after submissions close and have been processed.
I consider that my amendment would have provided the community with another avenue for much needed consultation but voted for Mr Amon's because I support the extension of time for submissions. The final motion was supported by all councillors.
Council to consider big changes: number of councillors, wards and how to choose mayor
Councillors will discuss at a briefing whether to change the method for choosing the mayor to a popular vote or to retain the status quo - with the mayor chosen by councillors.
A year and a half before every local government election, the state government requires councils to decide whether their elections will be run by the Electoral Commission or a private body; and 12 months before, they must decide how many councillors to elect. Staff brought a recommendation that we remain with the status quo.
However, Curl Curl Curl Liberal Councillor David Walton was very keen that we reduce the number of councillors, and put up an amendment for councillors to discuss whether the mayor should be popularly elected. That would then mean the number of councillors (other than mayor) and number of wards would also change.
Mr Walton argued that there is a trend on company boards to reduce the number of directors, and said there was lots of research showing it improved decision making. It would also save money and improve debate, he said.
"Research also shows too many on a board stifles decision making and encourages factions," he said.
However, most councillors were opposed to the proposal, including me on the grounds that it would weaken and lessen the amount of democratic representation. I noted that a company board is a different beast to a council, which is elected to represent the community. In Pittwater we had nine councillors representing us whereas we lost representation with the NBC - now having only three councillors in Pittwater ward out of 15 (although some of Pittwater is now in Narrabeen ward.)
Mr De Luca was also opposed to a reduction in the number of councillors and said that the current council, following amalgamations, was dominated by Warringah. He claimed there was a disparity in the number of representatives from the former Manly and Pittwater Council areas.
Referring to our workload, he said that at the time of amalgamations, councillors were promised higher pay and support staff.
"None of this has happened," he said. "We're not paid as on a corporate board, neither do members of a corporate board do the amount of work that councillors do."
Manly YNB Councillor Sarah Grattan made the observation that company boards do a skills assessment when recruiting members, so on councils "greater numbers are required to get that mix of skills".
I didn't get a chance to mention it, but I also think cutting the number of councillors would make it yet more difficult for true independents or members of parties with small budgets to be elected.
All councillors, except Mr Walton, voted to stick with 15 councillors.
In a separate vote, including Mr Walton's amendment, all councillors except Curl Curl YNB Councillor Sue Heins then voted for the next election to be run by the Electoral Commission, with a number of councillors noting its reputation for integrity.
Mr Walton's amendment, forming part of that vote, was thus passed by the majority - so we will discuss a potential change for electing the mayor, although most appear reluctant to make other changes.
Renewable Energy cuts Councils' power bill
Council's electricity costs have fallen as a result of turning to 100 per cent renewable energy sources, staff reported to the October meeting. During the 2020/2021 financial year it spent $2,712,190 on electricity across its large and small sites as well as $2,614,780 in street lighting electricity and maintenance.
That compared to the following year, where it spent $2,390,500 on electricity across large and small sites plus $2,443,761 on street lighting electricity and maintenance.
Staff noted that the council didn't enter into its renewable energy agreement until January 2021, and as a result, reduced prices were included for only six months of 2020/21. The new 100 per cent renewable contract prices applied for the whole of 2021/22.
Community and Environmental Grants
Community grants totalling $240,000 have gained unanimous support of councillors for the 2022/23 financial year, with $84,440 going towards an Arts and Creativity stream and $155,560 to Community Development grants. Full details can be seen in the council agenda.
Staff noted that the criteria for grants had been tightened this year to reduce the number of disappointed applicants.
Individuals and organisations are eligible to apply for the grants of up to $10,000 each. Successful applicants in the Arts and Creativity stream included writers, music projects, acting and scriptwriting workshops - whilst in the Community Development stream, grants will go to a number of organisations involved in community work, including Bridge Housing, Lifeline and One Eighty Avalon Incorporated.
Similarly, councillors unanimously approved $50,000 for the 2022/23 Environmental Grants Program. Amongst the successful applicants were: Avalon Beach and Warriewood Surf Life Saving Clubs, who will each receive $5,000 towards solar panels; the Australian Conservation Foundation has secured $4,500 for a nesting box project; and Northern Beaches Clean Up Crew, who will receive $5,000 to help tackle Dee Why lagoon.
Council to introduce more apprenticeships
Nine apprenticeships will be available at council following a report supported by all councillors at Tuesday's meeting.
The council had provided 55 traineeships since the amalgamation, with 11 currently, all of whom live in the LGA, nine of them aged between 15 and 24, the report found.
The apprenticeships will become available in the council's Parks and Gardens division during 2023-24; its Transport and Civil Infrastructure division in 2022-23; and Community Transport, Parking and Fleet in 2023-24.
Refurbishment price tag for Warringah Aquatic Centre up to $80 million: report
Refurbishing Warringah Aquatic Centre could cost anywhere between $60 million and $80 million, a report to council by consultants Otium Planning Group has revealed.
The report provided several options:
Doing nothing, which would still require a roof replacement costing $3.4 million over 10 years. Total income expected at $2.4 million.
Option 1, which would bring it to a contemporary standard and cost $72 million, including demolition ($54 with only roof replacement). Total income expected to be $9.3 million.
Option 2, involving redeveloping and adding multi-purpose indoor courts, for a cost of $82.4 million including demolition ($68 million with roof replacement only). Total expenditure at $10 million.
Option 3, retaining the current centre layout but "re-life" it, costing $35.6 million (roof replacement only; demolition not costed.) Total income estimated at $3.9 million.
Responding to a motion proposed by Frenchs Forest YNB Councillor Joes Menano-Peres in February, the report found that:
"Option 2 provides the highest usage and best operating return to Council at the highest capital costs; Option 3 provides a breakeven operating result at the lowest capital cost and Option 1 being Otium Planning Groups recommended option, provides a reasonable operating result at a medium to high capital cost."
Mr Menano-Peres said the council could not justify the $70 million for extra sports facilities and an extra pool that would be encompassed by Option 2, and so to modify the WAC, we would probably need to find a funding partner.
However, he proposed to push the project along, raising an amendment to the council recommendation to accept the report. It called for an investigation into the physical location of a multi discipline indoor sports centre with at least three courts in the WAC precinct; analysis of usage of grounds by baseball players; and study of the current car park, "considering the potential for a future multi storey one".
Curl Curl Greens Councillor Kristyn Glanville noted that the council intends carrying out a review of its indoor sports facilities, which staff say will begin in about 12 to 18 months time. Ms Glanville proposed that any further consideration of the WAC project should be carried out as part of that review.
I supported Ms Glanville's position, given that the Aquatic Centre is still functional and Pittwater has never had a comparable facility. Schools in our area are often forced to travel as far away as the Macquarie Centre for swimming carnivals and local swimmers have long campaigned for an all-weather Olympic pool.
Frenchs Forest Liberal Councillor Stuart Sprott noted that our current capital works budget is in the region of $120 million and condemned the plan to spend $80 million on the Aquatic Centre.
The Mayor disagreed with councillors wishing to wait for the indoor sports centre study. He said the area was missing facilities and had unmet demand.
"I don't think we need to wait 18 months to see the report when we all know what the outcome is," he told the meeting.
This approach begs the question, why spend money doing a report at all if we all know what the outcome will be? I believe we should be properly assessing the comparative needs of different parts of the LGA, before spending any more money on studies towards refurbishing the Aquatic Centre.
Consequently, I voted against the amendment with Ms Glanville, Mr Sprott, and Narrabeen Liberal Councillor Bianca Crvelin. However, it passed with a majority.
Rat poison and use of other dangerous chemicals to be reviewed by council
Showing her Green credentials, Ms Glanville put up a motion for council to phase out the use of all anticoagulant rat poisons by April next year, along with reporting by May on the use of herbicides, fungicides, pesticides, insecticides, rodenticides and chemical management of vertebrate animals.
Her motion was supported by speeches to council by Birdlife Australia's Urban Bird program coordinator, Dr Annie Naimo, as well as local wildlife carer and retired toxicologist Edwina Laginestra, who described the cruel deaths that wildlife and pets experience after ingesting these chemicals either directly or indirectly.
"Yesterday I had a ringtail (possum) die suddenly - he'd been in care for five days but suddenly he was very thirsty and dizzy," Ms Laginstra told the meeting.
"I administered fluids and antibiotics (as he'd had surgery) but he died with blood coming out of his nose, paws and abdomen.
"If he'd taken bait, he might have been dying for a week before coming into care."
Ms Glanville noted that: "The campaign to raise awareness about the harmful ecological impacts of Second-generation Anticoagulant Rodenticides (SGARs) is being driven by leading bird conservation organisations including Birdlife Australia. SGARs include brodifacoum, bromadiolone, difenacoum, difethialone, and flocoumafen."
Other solutions to infestations included non-poison pest control methods, such as snap traps and "Natural" alternatives, which usually use salt to dehydrate rodents until they die, she said.
Earlier rodenticides with active Constituents like Warfarin and Coumatetralyl broke down in rodents faster than second generation anticoagulant rodenticides, so there was less chance of secondary poisoning occurring in non-target animals if they ate rodents poisoned with one of these.
However, Mr Menano-Peres said he didn't know anything about the chemicals mentioned in the motion, a position that was supported by Mr Amon, so thought that it needed further investigation.
Ms Glanville then accepted an amendment for staff to brief councillors within four weeks on the environmental and financial costs and benefits of using SGARS or alternatives and the feasibility of phasing out their use amongst contractors. The motion was supported by all councillors, except the Mayor, who was absent from the chamber.
Carbon Offsets to be introduced for New Year's Fireworks
Council has voted to introduce a carbon offsets program for its New Years Eve fireworks. Displays will be held at Bayview, Lionel Watts Reserve in Frenchs Forest, Dee Why, and Manly Cove. Councillors were keen for the offsets to be located on the Northern Beaches and staff estimate this would cost about $1,700. Staff will brief councillors about the options next February.
Addresses to the October Council Meeting
by Birdlife Australia's Urban Bird program coordinator, Dr Annie Naimo, and wildlife carer and retired toxicologist Edwina Laginestra
My name is Edwina Laginestra, I'm a local wildlife carer, and retired-scientist specialising in toxicology
Rodenticides – both first generation and second generation anti coagulants – are used to kill "pest rodents" but increasingly it is harming our wildlife. Especially in winter, many unwanted creatures come into our homes and other buildings for warmth and food. People see ratbait as an easy and out-of-mind solution but don't generally think about other impacts. Our wildlife is affected both directly (as I have treated both brushtail possums and blue tongue lizards for ratbait) and indirectly (as predators such as raptors eat the baited rodents which are sick and an easy catch and have residual poison concentrations). Many pets are also affected. SGARs have been banned in other countries due to longevity in the environment.
Treating baited wildlife is horrific and most do NOT survive. Rodents take around 3 to 9 days to die, but animals with slower metabolisms, such as our marsupials, take longer. Regarding SGARs it takes 14 days for symptoms to show in a possum and 21 days for it to die (from NZ research). If we can get it early we have a chance and have to treat the possum for 6-8 weeks (volunteer carers pay for treatment, and vets may charge us at cost only). However, sometimes we do not know what we are dealing with and by the time the symptoms show it is too late. I have treated well over a dozen brushtail possums. I think only 3 survived – 2 were young and OK with treatment in captivity. One was an adult male who was in care for 3 months – ratbait treatment then physio and containment for regaining muscle strength. The Koagulon he was treated with cost $150. Often we get in a beautiful mum that has been baited and have to try and save the joey that may already be bleeding internally.
Earlier this year I picked up a beautiful barn owl that was sitting in the middle of Seaforth Oval – a dog had attacked it even though the owner was quick to realise what was happening. But the owl was now badly injured. Why could the dog attack it and break a wing and pelvis? Because it was already unwell with eating baited rodents. What an horrific end of life. We have been picking up boobooks and Tawny Frogmouths that were likely baited but it is only recently there has been funding to test for harmful chemicals.
I have also picked up many ringtail possums that have eaten tips of freshly sprayed hedges. They foam at the mouth and spin as they die (which can take more than 8 hours). I spoke to Yates about systemic treatments in some plants for psyllids. They felt the poison may be active within the plant (and leaves) for up to 6 months. So although ringtail possums rarely take SGARs, they are very vulnerable to herbicides. However yesterday I had a ringtail die suddenly – he'd been in care for 5 days, but suddenly he was very thirsty and dizzy. I administered fluids and antibiotics (as he'd had surgery) but he died with blood coming out of his nose, paws and abdomen. He was probably already dying for a week before coming into care. He may have eaten bait due to habitat and food loss.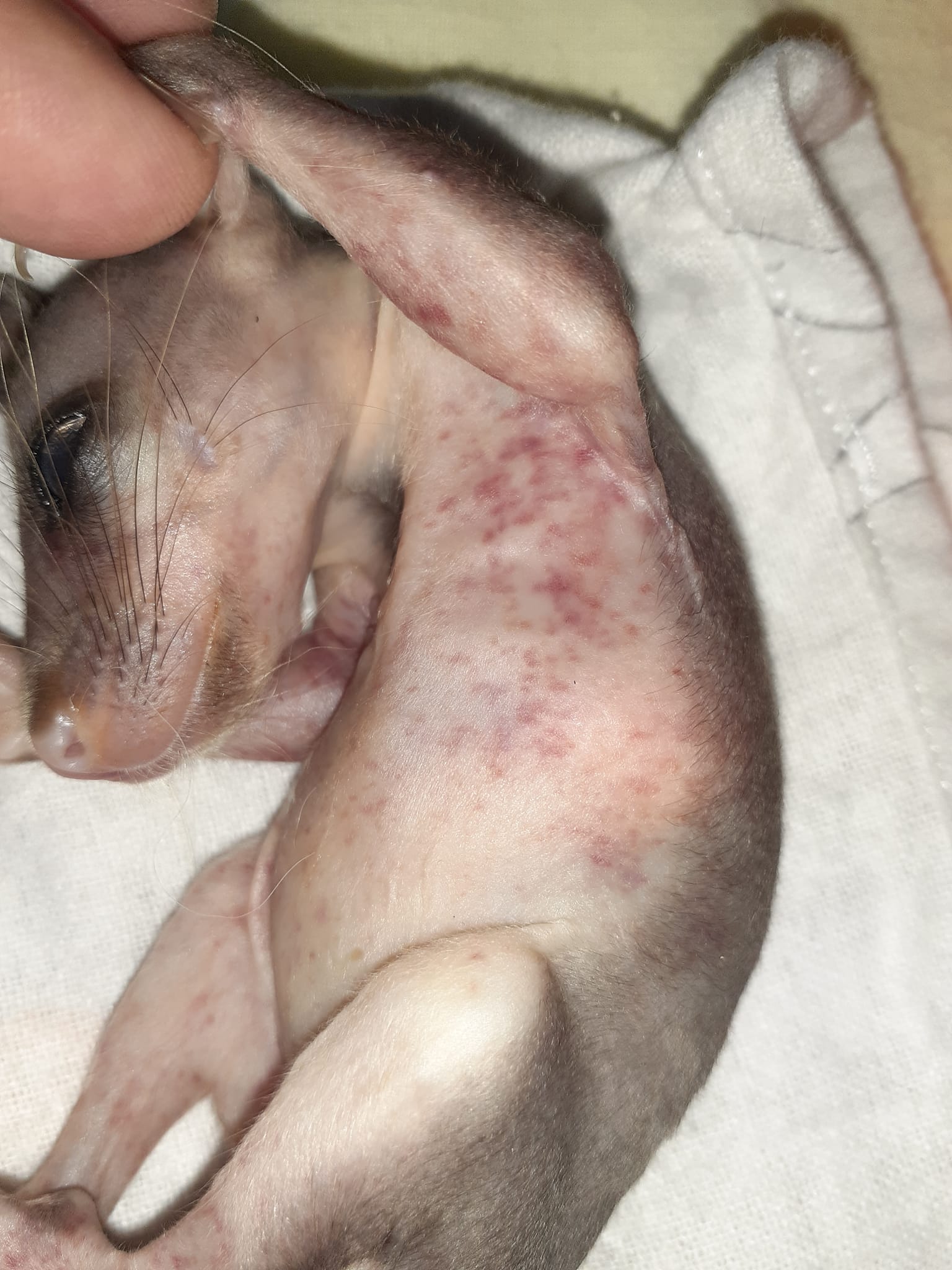 Photo: brushtail joey un-emerged rodenticide, image supplied

Wildlife carers are the volunteers that spend most money on their volunteering. We also already have quite a number of patients already in care. Giving drugs and physio adds extra time to our care load. We also spend time taking them to the vet who are also pressed for time and often treat wildlife for free. Sometimes we simply do not know what we are dealing with and administer treatment too late or incorrectly and we can make symptoms worse. This causes great anxiety as well. If there are actions others can take to avoid wildlife coming into care that would be most helpful – regarding pest management there are many other options in the cities – including the natural pest management our wildlife provides. Watching an animal get worse and die in care is tough emotionally and physically.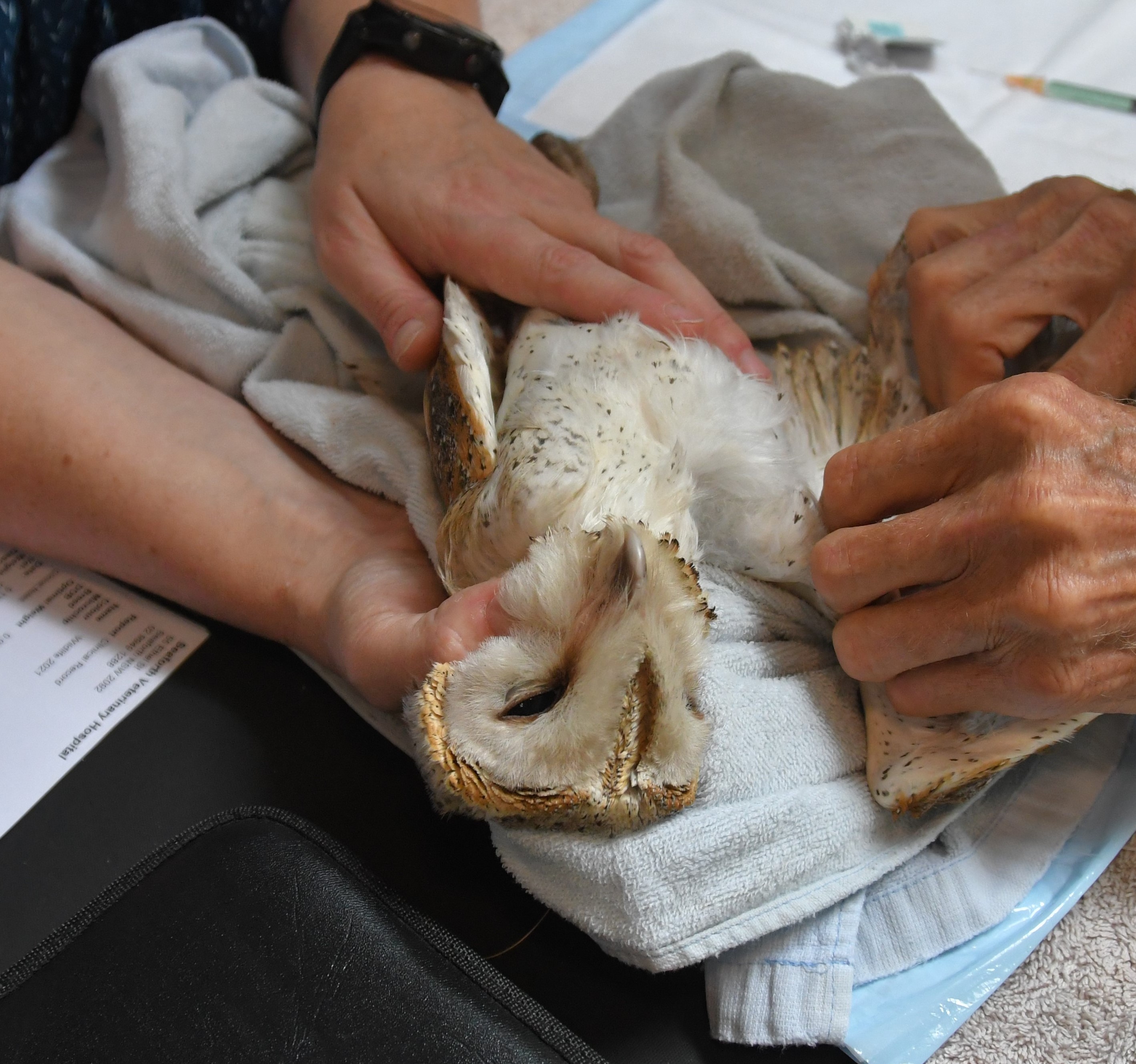 Barn Owl that died from Ratbait secondary poisoning. Image supplied

Dr Annie Naimo, Urban Bird Program Coordinator, BirdLife Australia
I'm writing on behalf of BirdLife Australia to support your motion to phase out the use of Second-generation Anticoagulant Rodenticides (SGARs).
BirdLife Australia is an independent non-partisan science-based bird conservation charity with over 300,000 supporters. Our primary objective is to conserve and protect Australia's native birds and their habitat. We are the national partner of BirdLife International, the world's largest conservation partnership.
Second-generation anticoagulants pose an extreme threat to native birds and wildlife. SGARs take several days to kill pests, and in this time accumulate in the body of poisoned animals.
SGARs persist in the body for a long duration, and in carcasses after death- posing additional risk to wildlife that may prey upon poisoned animals.
In greater Sydney, research undertaken by BirdLife Australia has found fatal levels of SGARs in dead Powerful Owls, a vulnerable species. Further Australian studies have shown similar fatal levels of SGARs in other birds of prey, such as Southern Boobooks and Wedge-tailed Eagles.
Other Australian wildlife are also at risk and have had documented instances of SGAR poisoning, including marsupials, native rodents, and reptiles, as well as pet cats and dogs.
Because of the clear evidence and risks, SGARs have been heavily regulated in Europe, Canada, and the USA. Many other local governments areas in NSW are already phasing out SGARs in their community, including Randwick, Wollongong, Tweed Shire, Port Macquarie-Hastings and Kiama.
Importantly, there are alternative pest control products available (e.g. first-generation anticoagulant rodenticides, non-anticoagulant rodenticides including cholecalciferol) that are similarly as effective as SGARs, but pose significantly less environmental risk when administered correctly.
To support you in your transition away from SGARs, BirdLife Australia has developed an Action Kit for Councils.
The Action Kit details how SGARs threaten wildlife and pets, provides effective ways that councils can move to alternative pest control methods, and includes links to additional resources to help you to keep your local community safe.