July 22 - 28, 2018: Issue 368
From Conversations To Community
From Conversations to Community

By Huang Zhi-Wei aka Reg Wong
We wanted to rename her Sheila. It has a catchy ring, and it's as true blue as lamingtons and two-up, we reasoned. In the end we compromised on Shelly, not for her convenience but ours. We Aussies aren't pretentious and we prefer names that roll easily off the tongue. Jack and Bill, Liz and Em are all kosher, and we are even prepared to make some concessions to accommodate Svetlana. But Vlaquiria or Guilhermina? Er, no thanks.
(And then it dawned on me! Wasn't that why I was summonsed to Brother Leo's office in my second week at boarding school? "You're in Australia now. You need a name we can pronounce and spell," he stated, authority underlying every word. Unable to argue against such cold logic, I remained mute. With a practised sweep of his right hand, he passed me a post-it note; on it was written two monosyllabic names. "Just pick one," he said matter-of-factly and then left me to ponder my future identity as either Rex or Reg. And that's how Huang Zhi-Wei – "aspiring to prestige" – was brought down to earth as plain Reg Wong. Now you know!)
Shelly is Brazilian, her mother tongue Portuguese. Never having gone out of Brazil, she had no need to learn another language. For her first six months in Dee Why, she never ventured outside the rented unit she shares with her husband and their son. In fractured English, she confided, "I felt trapped and really regretted coming here." Our class of 14 similarly linguistically-challenged migrant students nodded our empathy. "I had no friends and I was afraid to go anywhere. How could I when I knew no English?" Such was the cloistered existence she imposed on herself. Today, the Shelly of old has been transformed. Now, she takes the bus to Manly and sometimes, impulsively, to the city; she shops at Woolworths and Coles; she goes to the Medical Centre in Brookvale by herself; she has coffee with a new-found Australian friend every Saturday morning at Starbucks; and she strolls on the beaches of the Peninsula whenever the sun shines and the wind abates.
What brought about Shelly's success story? "I attend classes to learn Conversation in Life Style English," she explains.
Nestled in our comfort zone, we are oblivious to the plight of many adult migrants like Shelly. Yet, especially in the suburbs of nearly affordable rental accommodation, there are new arrivals who are isolated from the community by their lack of verbal skills. Way past their school age, these migrants find learning English a high hurdle. They are habituated to a life-time of speaking – and thinking – only in their mother tongue. Consequently their vocal chords lack the flexibility to imitate the sounds of new words, their minds make little sense of the English syntax, and their tympanic membranes are not tuned to detect the differences between homophones.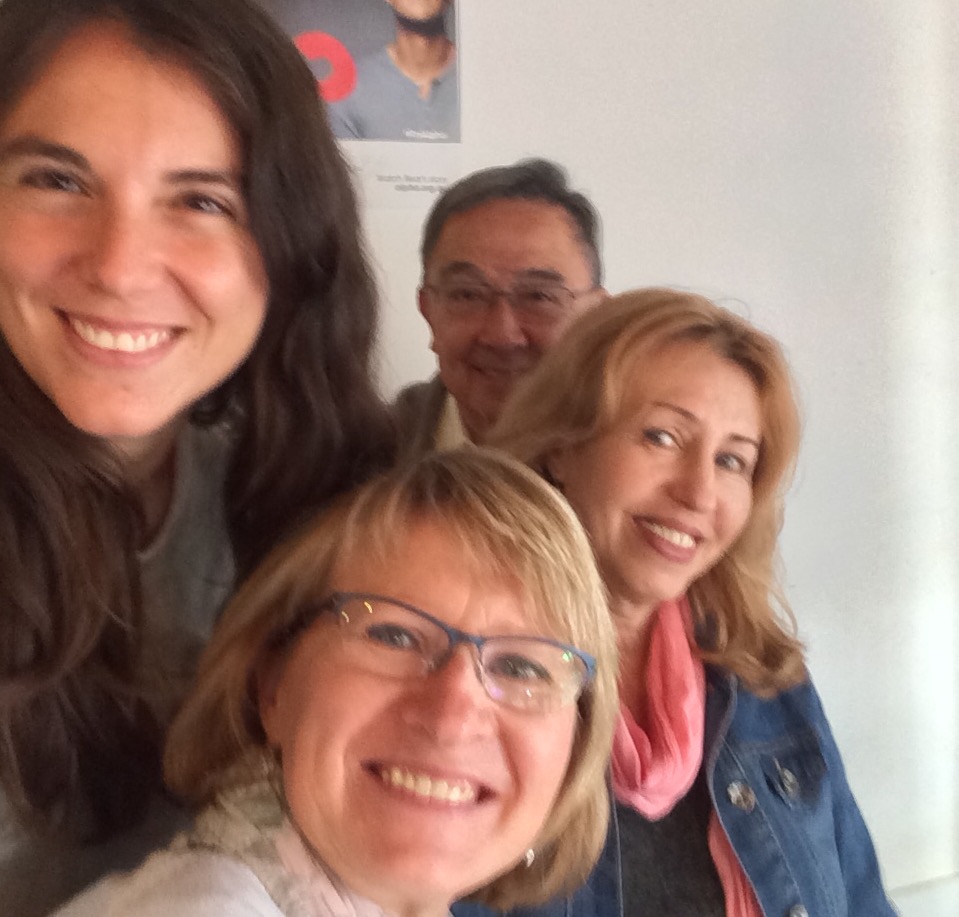 With Chilean, Polish and Russian migrants in Dee Why

Luckily, such a community problem has been recognised and identified by practically every church. Thus the Anglican, Baptist, Catholic, Presbyterian, and Uniting churches offer ESL (English as a Second Language) classes as an integral part of their mission of evangelisation, especially in those suburbs with high populations of temporary and permanent immigrants. Those churches in Chatswood, Eastwood, Ryde, Carlingford and Epping, to name just a few, are particularly active and they are on the lookout for every opportunity to attract students. This was borne out for me just last week as I walked past the Presbyterian Church on Anderson Street in Chatswood. I merely tarried to peer at the "English Lessons" notice displayed at the church front when the off-duty pastor approached me. "Do you want to learn English?" he solicited. "Thank you for asking but I am coping," I replied.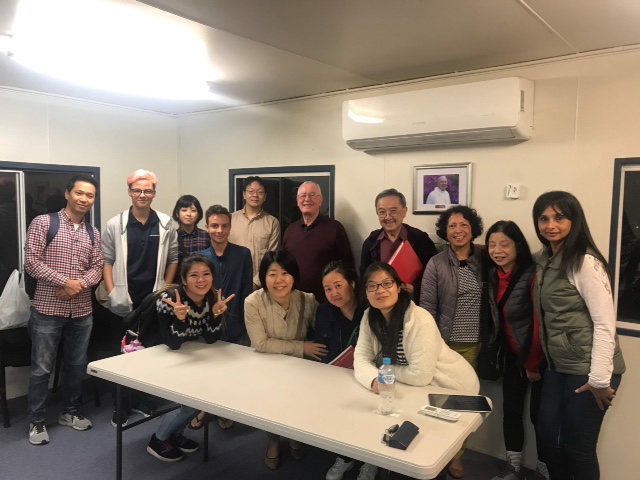 With Korean, Brazilian, Japanese, Chinese migrants in Chatswood

Every week in nearby Dee Why, for example, the Grace City Church offers two classes of Conversation in Life Style English to new arrivals from Brazil, Chile, China, Colombia, France, Iraq, Iran, Indonesia, Japan, Spain, Syria, Poland, Russia and Tibet. Shelly's Tuesday evening class attracts 16-18 eager adults; the Thursday morning class is attended by 14-16 enthusiastic regulars. Can we expect more demand for such classes? "Yes, but we can't accept any more students. That is, unless we enlist more volunteer-mentors like you and get bigger premises," said David Howitt, Grace City Church's promoter and coordinator of language classes.
As a Vinnies volunteer, I freely partner with our fellow-mentors to bring some rays of sunshine and snippets of hope to the many new arrivals in our Northern Beaches. In teaching Conversation in Life Style English to adult immigrants, I think I may have stumbled on my calling – if satisfaction is a reliable guide. As a multi-lingual ex-foreigner, I am a ready-made bridge between the English teacher and the foreign student. Having been in the student's shoe, I anticipate the difficulties experienced by a non-English speaker before she even starts to vent her frustrations. That's the Master's gift of one talent to me – and I am not keeping it under the mattress. That's one side of the coin. What's on the other side?
In learning to communicate with locals, Shelly is empowering herself to break free from her verbal shackles. Our mission is to help coax her out of her confinement by teaching her Conversation in Life Style English, giving her the competence and confidence to emerge from her cocoon, and integrating her into the community which may very well be the church. Making converts without proselytising, one might say, but doing it overtly.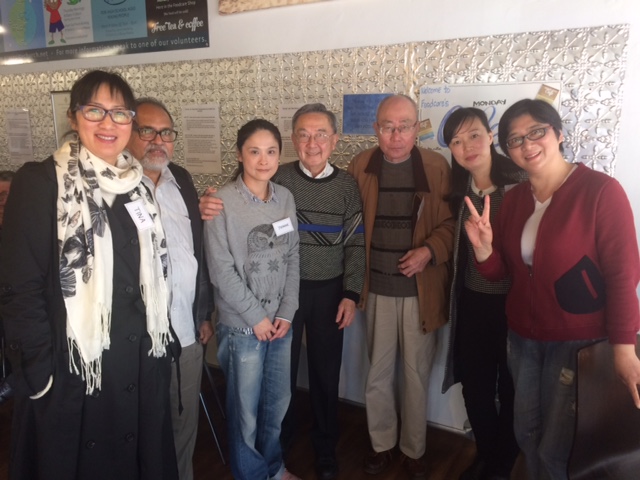 With Mainland Chinese students in Dee Why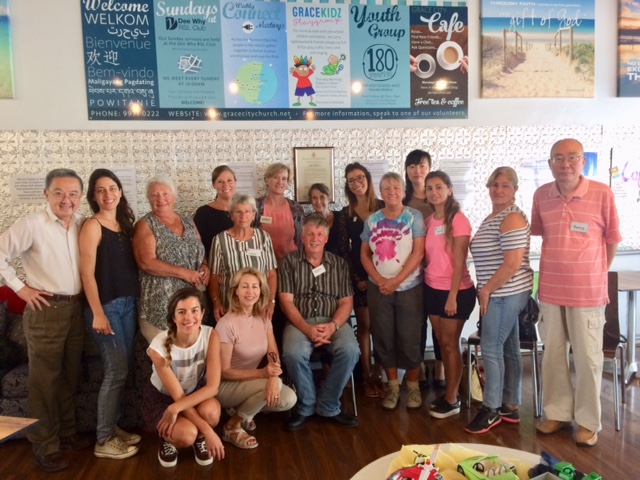 With Spanish, French, Vietnamese, Sri Lankan, Slovakian migrants in Dee Why

Does this volunteering work resonate with you? All you need is patience complemented by a desire to help those who are yet to get a grip on Conversation in Life Style English. If you are bi- or multi-lingual, you'd be admirably suited for this community service. What you can expect is immeasurable satisfaction, especially when you see your Good Intentions and Good Works coalescing to produce Good Fruit. Another thing : be prepared to be embarrassed by the profuse gratitude of your students.
Inspired? You may care to leave a message at Grace City Church's office on 9971 0222 or just turn up at Community Foodcare situated at 902 Pittwater Road Dee Why on a Thursday morning 9.15 – 11.00 AM.