July 16 - 22, 2017: Issue 321
From Africa to YATZ
It was Wednesday and we were all tense with worry; wound up like jack-in-the-boxes, waiting to explode. We had just received word of my Grandma being rushed to hospital for a craniotomy (an operation to alleviate bleeding on the brain) after falling on the pavement in town (a tiny rural town called Phalaborwa in South Africa). Uncertainty lingered in the air. Should we go, or should we stay to tend to our houseful of rescued critters? Was Gran going to be okay or did we need to get to her bedside immediately?
A gut feeling told us to go and within 4 hours, we were sitting on a plane to Africa. The news from my Gran's side wasn't looking too positive. Apparently she required another operation. The first op hadn't stemmed the bleeding and she was rushed back into theatre. And to top it off, we discovered that she didn't have medical aid to cover the expenses, so we would need to transfer money urgently so they could proceed. Lighter purses and heavier hearts. At least there was one plus side – my brother and I got to miss the last two days of school-term!
After fourteen sleepless hours in the air, we dragged our leaden feet to a hotel at the airport in Johannesburg and crashed into bed.
The next afternoon, we hopped on a pint-sized plane to Phalaborwa and were greeted on the other side by my Auntie and Uncle amid excited squeals and hugs. Our excitement reached fever-pitch when we discovered that my Aunt had brought her adorable adopted meerkat, Twinkie, along for the journey. Auntie Gail is in charge of eco-tourism at a resort in Blyde River Canyon, two hours away from Phalaborwa. She takes guests horse-riding and hiking, manages the feral critter populations on the reserve and rescues native creatures in need – particularly snakes. So whilst my mom rescues Aussie wildlife, my Auntie rescues African wildlife!
Twinkie the meerkat was found and raised by some people in Africa who then couldn't continue to take care of her. They took her to my Auntie Gail who agreed to take over her care as she was unable to be returned to the wild. Meerkats are highly social animals and need to be around others of their kind. Twinkie, however, assumed that humans were her 'pack' and assimilated with them. She looooves my Auntie and Uncle and she won't let anyone else hold her, so we always have to be careful when patting her.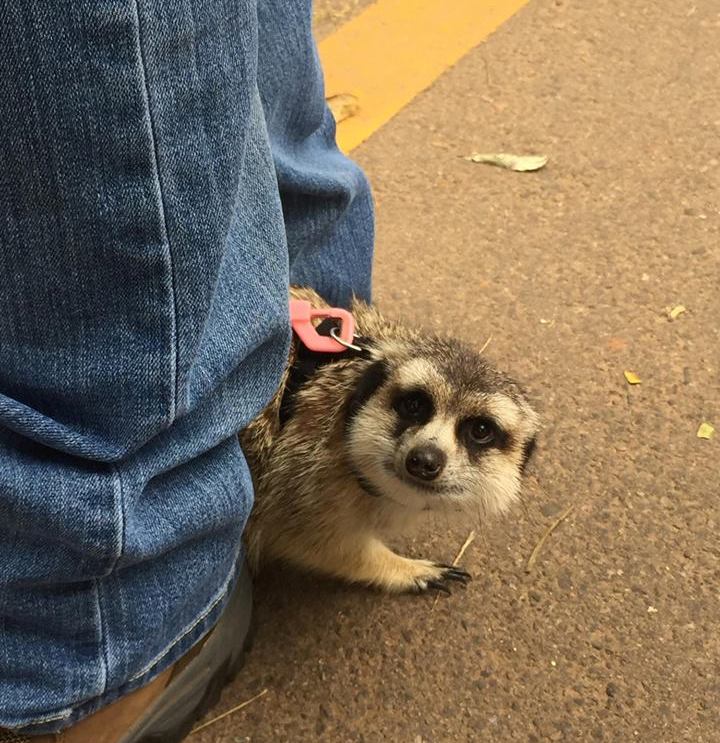 After our excited greetings with the family, guess what we did next? More travelling! We bundled into two cars and drove for two hours to Tzaneen, where Grandma Yvonne was in hospital. Along the way we gawked at the huge herds of sable we saw. Sable are large black and white antelope with long horns, renowned for their beauty and rarity. Impala and a brief glimpse of warthogs were also pretty cool to see.
We went straight to the hospital to see my Grandma. Despite being groggy from the anaesthetic, she was so excited to see us, repeatedly exclaiming "my angels!" But the operations had taken a toll on her, so we left her to sleep until morning.
Mum had booked us into a log cabin about 20 minutes out of town. The road to the cabin was dark and completely hectic, bouncing the car this way and that and thoroughly scrambling our already jet-lagged brains. We discovered that the bushwhacking trail was really a blessing in disguise, however, when we 'spotted' a civet loping along the road. A civet is type of wild cat, a bit larger than a house cat, that is native to Africa. It's splotched with spots and stripes and is mostly active at night. It was a real treat to see one near our rustic accommodation.
The following few days were interspersed with frequent visits to the hospital during which time my Grandma gave us all grey hair with the sporadic ups and downs in her condition. Between visits, we busied ourselves with organising a place in a care facility for my Grandma and many other things. Most excitingly, however, we got to spend time with our meerkat cousin, Twinkie! She enjoyed scratching in the dirt for bugs while my brother and I played with a slingshot. We took her for walks on her special leash and harness and cooed while my Auntie and Twinkie performed tricks together. Meerkats are very smart animals, so Twinkie could respond to verbal commands such as 'hug,' where she would wrap her tiny paws around Auntie Gail's leg, 'kiss,' where she would nuzzle and shake her head and 'fetch' where she would run after a toy and poke her nose at it. Meerkats are small carnivores, and they are members of the mongoose family. As previously mentioned, they usually live in groups of about twenty and are very protective of their gang. As such, Twinkie was extremely attached to Auntie Gail and Uncle Pete. And us – the extended gang.
Halfway through the week, my Uncle had to go back to work, taking Twinkie with him. She peered at us through the back of the ute (referred to as a bakkie in Africa), chattering her goodbyes.
The next couple of days passed in a flash, and, much to our disappointment, we ran out of time to go to a game reserve. We did, however, see a few animals while driving, including cheeky vervet monkeys, a troop of baboons, a few large antelope with spiralling horns called kudu and some deer-like antelope called bushbuck.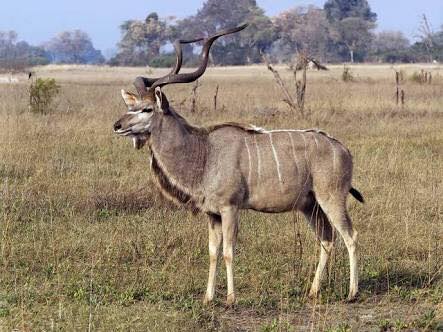 After a week in ICU and 2 days in the ward my Grandma was out of the hospital. We had to rush around like we'd overdosed on caffeine in order to organise everything for her arrival at her new home. We just had time to settle Gran into her unit before shooting back to Australia for something else important on the agenda – my induction into Taronga Zoo's 'Youth At The Zoo' group – the acronym for which is YATZ.
YATZ is a program for teenagers aged 13-19 who are interested in conservation and helping out at the Zoo. Some of the activities for the YATZ members include special events, preparing animal food, excursions, camps, releasing legacy animals such as the regent honeyeaters, education days, social events, overseeing children on 'Zoo Adventures' and many other activities.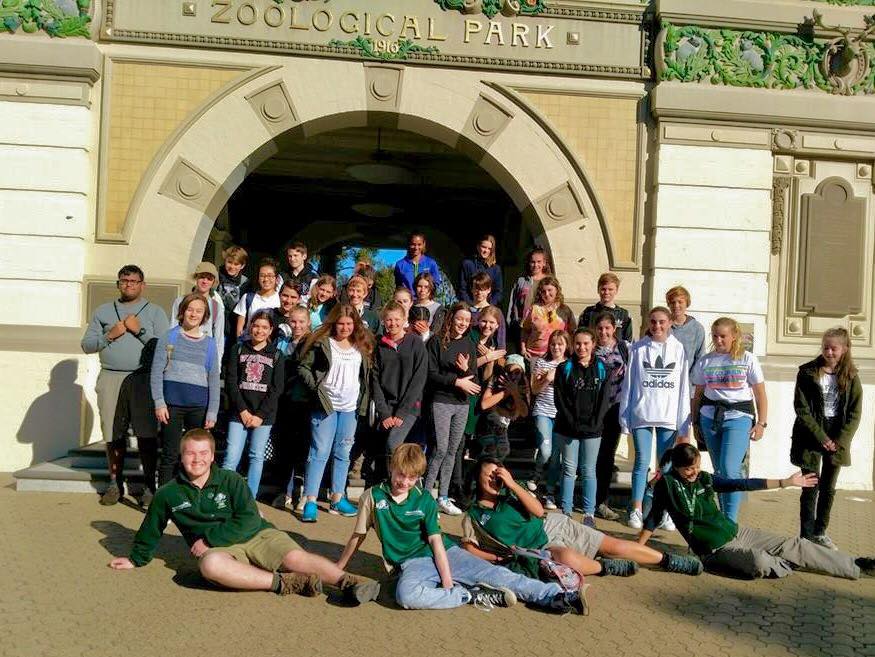 YATZ July 2017 intake
We got back to Australia and couldn't get to sleep until 2:00am, courtesy of jet lag. And courtesy of anticipation for the next day's Induction! At 9am, mum and I zoomed off in the car, bouncing with excitement and eager to meet the YATZ organisers who had been sending us emails - namely Kerry and Juliana. We raced into the 'YATZ nook' at the last minute – to sign in - just as the presentation started.
After the introduction, we organised ourselves into groups and explored the zoo, taking photos of ourselves in different locations and seeing which team would get back first. My group became hopelessly lost, but we had a fun time anyway.
My friend Emma and I were booked into our first YATZ shift on a special event – the Boral YATZ Achiever Award Night, where Sascha Solomon was the winner. We also listened to presentations by members of the 1 Million Women movement and by other YATZ members who had gone on a camp to Chiltern to release regent honeyeaters. Inspired by 'Plastic Free July', YATZ members also brought in an assortment of homemade goods in reusable containers.
All in all, it was a super fun evening and I can't wait for more YATZ adventures to come.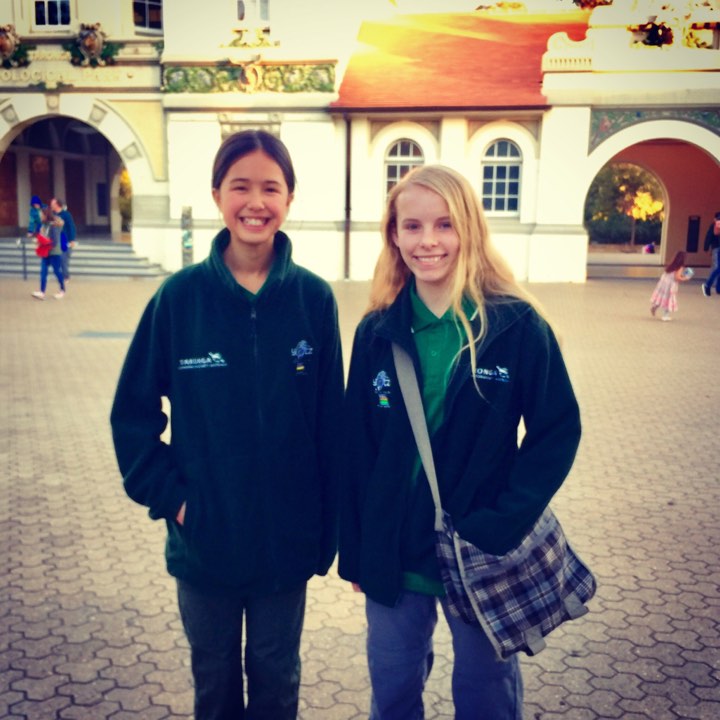 Emma and Kayleigh at Taronga Zoo - July school holidays, 2017
By Kayleigh Greig