October 8 - 14, 2023: Issue 600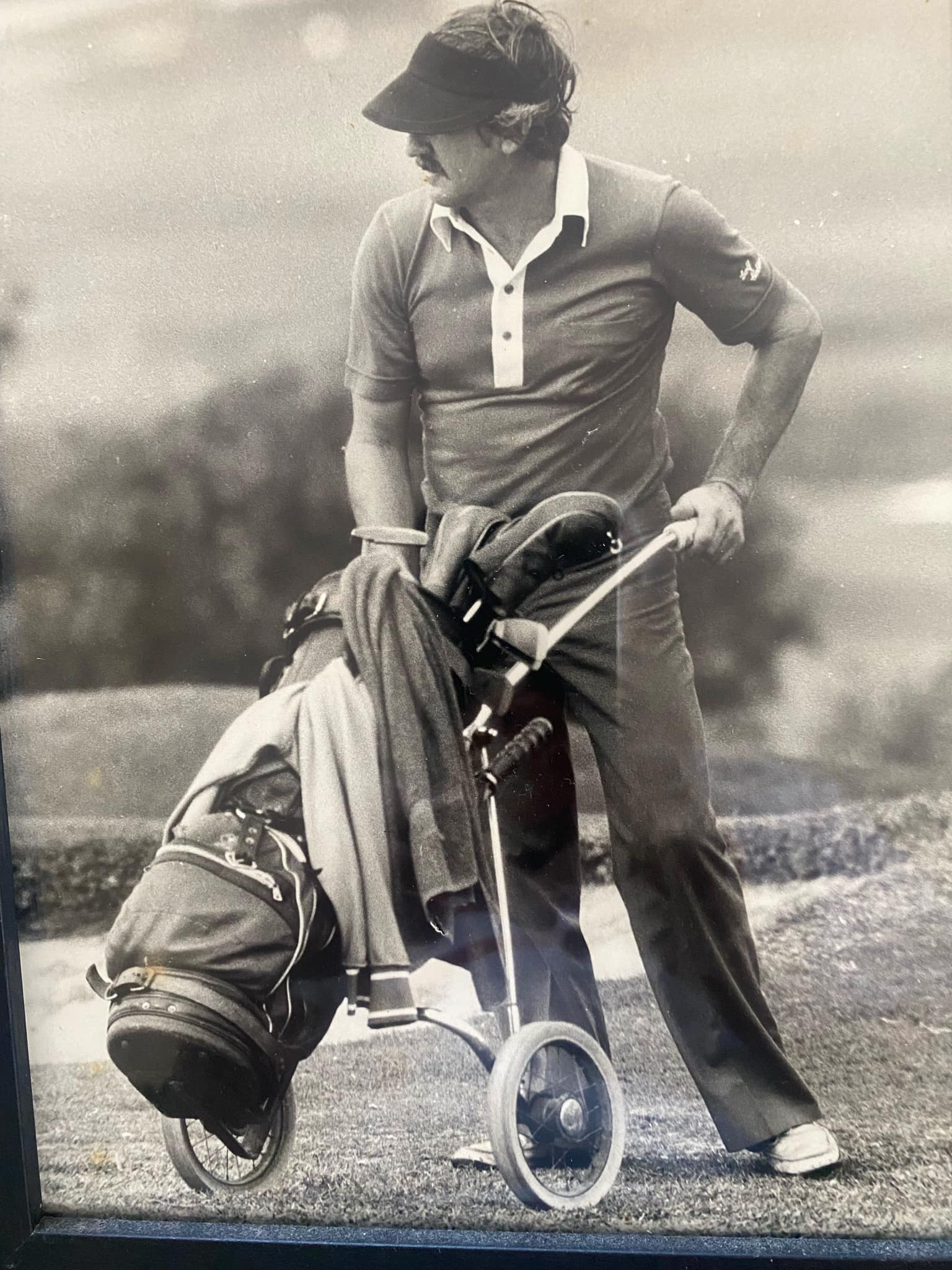 Interviewer/reporter: Trent Morgan

Frank Johnson is a long-time resident of Newport and is the most successful golfer in Bayview Golf Club's history, winning ten club championships, five foursomes championships, and was the first to shoot the amateur course record as of 1997 (now equalled). Frank also won 17 open amateur tournaments in the Sydney region. He was a champion still water and surf swimmer, a red hot snooker player, and danced a mean jive. What motivates someone to achieve such things? Here is his story:
Where were you born and where did you grow up?
I was born on October 1st 1937 and grew up in Willoughby in Sydney. The house we were born in is a bus stop now, on the corner of Edinburgh road and Eastern Valley Way. I lived in Collaroy from the mid 1970s to 1980, lived in Avalon from 1980-1988, and since then have lived in Newport for the past 35 years.
Pre-Golf
I was a really good swimmer before I was a golfer. Stillwater swimming. I won state schoolboys titles as a freestyle sprinter, specialising in distances up to 400 metres, 50m, 100m, 200m, and 400m. I was a member of the North Sydney Olympic pool, swimming there on Sundays. When I was 15 they had a state coach, Frank Guthrie. He coached Olympic champs, coaching out at the Ramsgate swimming pool. A long way to contemplate travelling to from Willoughby via bus etc. He was coaching people like Garry Marshall and a couple of other younger blokes at the time. I approached him to train me and he said I was too old! I gave it all up, gave away the still water swimming, and started up in the surf lifesaving movement.
Once I got married I was involved in the surf club at North Narrabeen, going from still water to surf swimming. I was a successful swimmer at the club and was an active member there for nineteen years, one short of being offered life membership.
I was a good swimmer in the surf but gave swimming away and just concentrated on golf.
How did you get into golf?
When I was married to my first wife (Maureen) and I was involved with Freshwater Surf Club, her brother Warren Sullivan was in Freshy Surf Club. The surf club had a social golf club and they used to play at Mona Vale when it was a nine hole course, and I used to tag along. Maureen bought me a basic set of clubs all those years ago and that's how it started.
Work and Bayview Golf Club
In 1958 when I was working at the Daily Telegraph as a lino type mechanic there was a lino type operator working there, Vic Boltwood, who was a member of Bayview Golf Club. I struck up a relationship with him and he said, 'why don't you come and join'? I was living at Willoughby at the time, with Maureen, at home. So I rocked along there, and from there it went yeah. In the old hot metal days, before computers. That's where I served my time. Vic introduced me to Bayview and I joined there. Vic was a very well-known member there.
Achievements
At Bayview Golf Club
Frank joined the club at age 19 in 1958. Only twelve years after the club opened and was a member for well over 50 years.
He held the equal course record for amateurs as of 1997 (66), and was the first player to shoot this score (in 1968).
Frank won the club championship ten times, the most successful of any player at the club. Amazingly, this was done over a 24 year period.
1962
1963
1968
1969
1974
1975
1976
1983
1985
1986
He won the foursomes championships five times:
1961
1963
1967
1974
1978
He had three hole in ones.
A whole chapter has been written about Frank Johnson in the 'Links With a Past' book about Bayview Gold Club – a comprehensive history of the club, published 1998. The chapter is number 18 out of 31.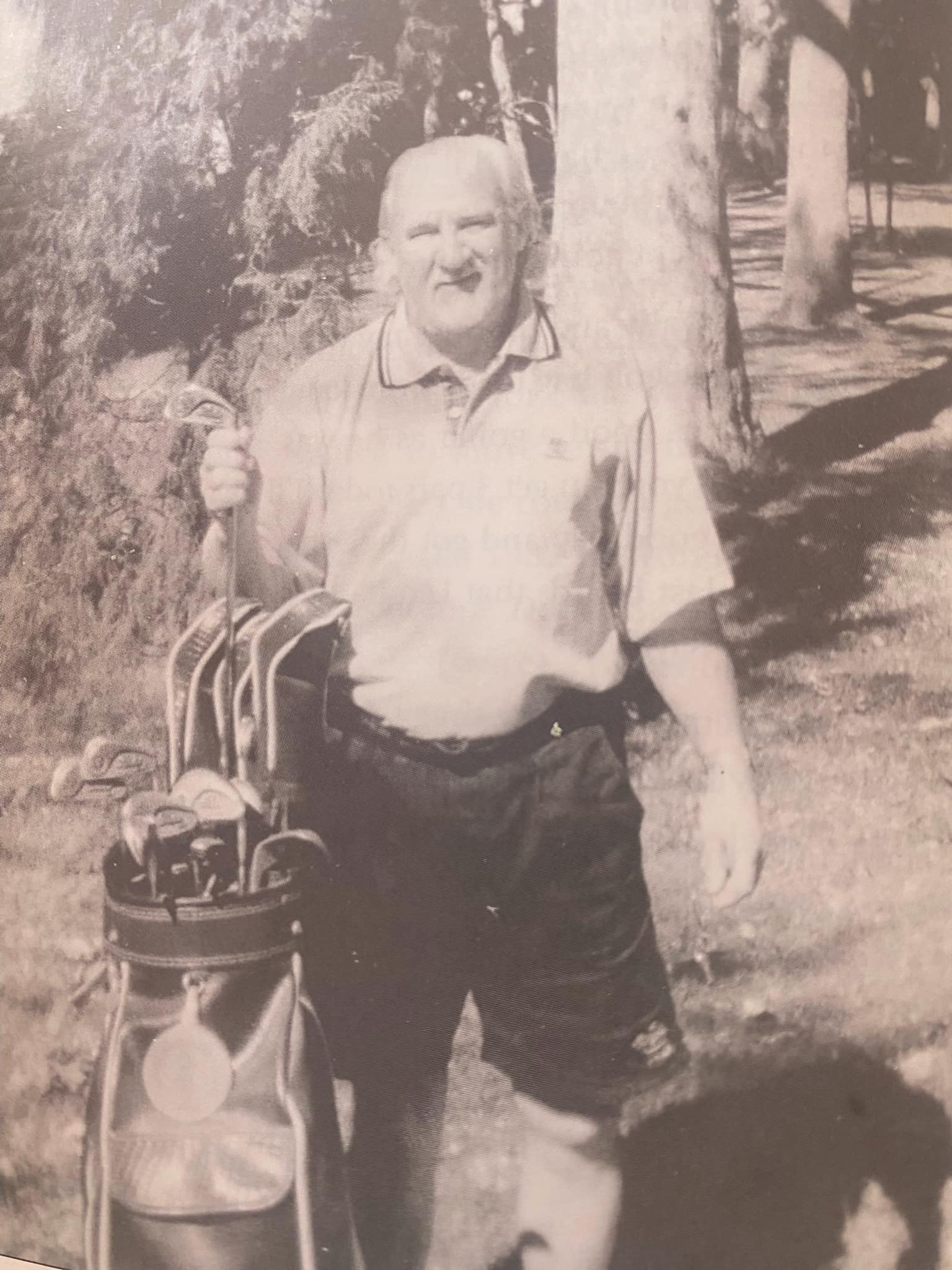 The photo of Frank in in the chapter about him in 'Links With a Past' book about Bayview Gold Club – a comprehensive history of the club, published 1998.

Frank represented the Bayview Club playing pennants over an extremely long period and often brought a focus to Bayview Golf Club.
Amateur tournaments
17 Amateur Trophies:
Bonnie Doon
The St. Michael's Cup,
The New Brighton Cup (in a playoff)
The Castle Hill Cup (in a playoff)
The Mona Vale Summer Cup (twice)
Bayview Amateur (three times)
North Bridge Cup (twice, both in playoffs)
The Cammeray Silver Plate
The Wakehurst Cup (three times)
The Roseville Gold Mashie (pro-am, again in a playoff)
The Manly Summer Cup
What made you stay at Bayview – what did you like about it?
Had a lot of mates there – King of the castle. Close to where we were living. Cheaper to be a member, than be in a Group One club – convenience. The course suited me – not a long hitter but I was accurate, I could shoot par easily. I Played with a regular group, we started in early morning.
Unfortunately most of Frank's close friends are no longer playing golf, or are unwell. Frank has loved Bayview as "his club" and most days drives past the course to look at it.
Favourite golfing victories?
Those championships I won, every one was important.
Have you won championships/tournaments at other courses if so how many times?
Yes, 17 amateur trophies.
Every week or second week golf courses like New Brighton, Manly, St. Michael's or Bonnie Doon, they had open events all the time, and that's where I started playing the circuit, playing amateur golf.
The only other championships title I won was the foursomes at Cromer, I never won any singles other than at Bayview.
Which was the most difficult title to win?
The New Brighton Cup and two Northbridge Cups because I had to play in a play off for each of them, had to come back the following week and play 18 holes against one other player on each occasion. I was undefeated in play offs for those titles I won. It was 18 hole playoffs back then but now they just play sudden death, whoever is the first to win a hole. A couple of those I beat in play offs were Barry Baker and Kevin Donohue, they were state players.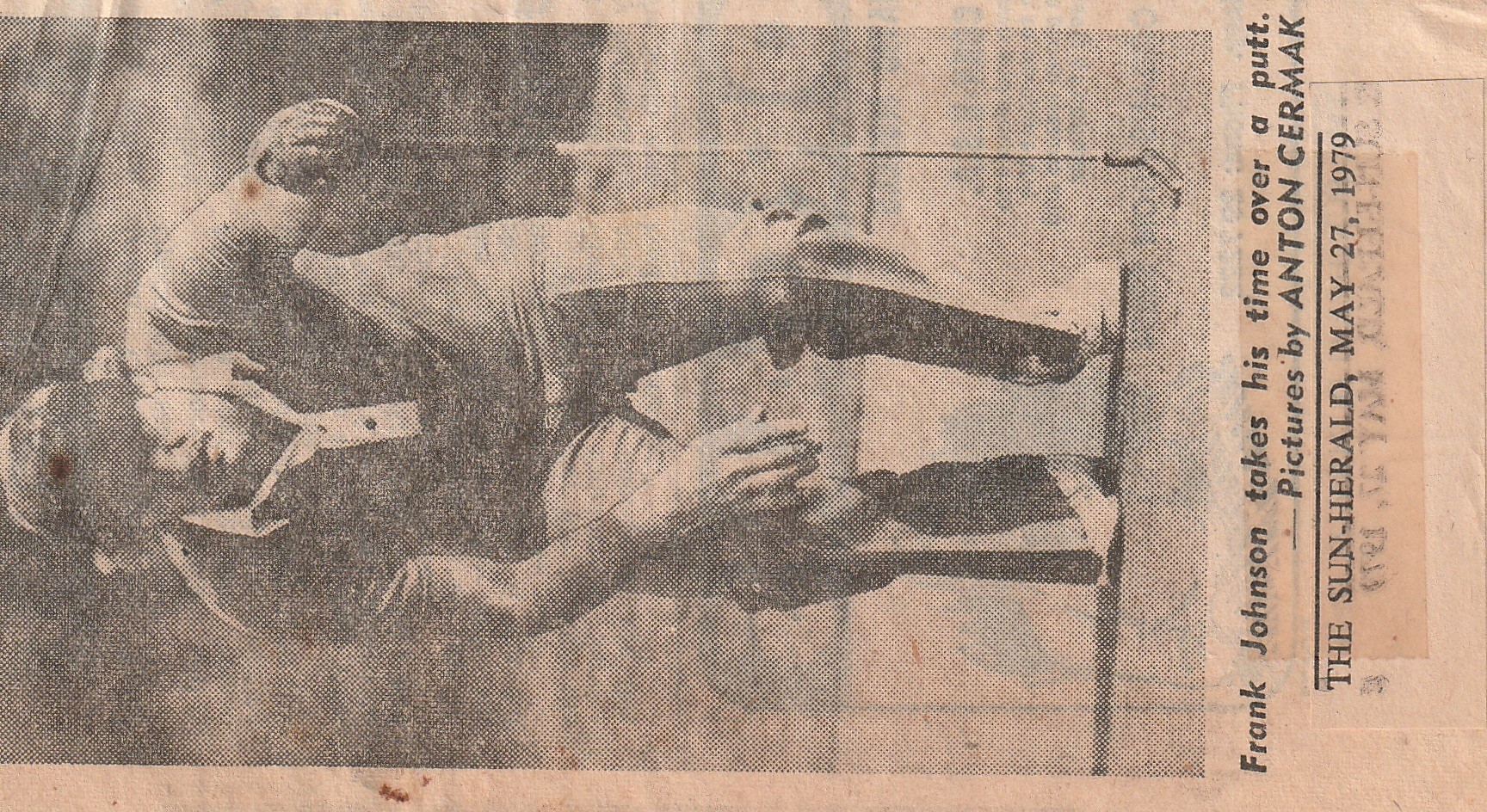 What drove you to want to keep on winning championships?
I was the best player, I wanted to play because I could play.
Why didn't you pursue a professional career?
To turn pro there wasn't the money in pro golf back then. I had a family to bring up. I was so committed when I first started playing all those years ago when I was living at Willoughby. At one point in my late 20s I was thinking of turning pro but I was hit by a car when I was riding a motor scooter (the car was in the wrong, I had right of way), and it smashed my leg, so that messed up that idea at that time.
Do you reckon if you had gone pro would you have been competitive?
Yeah I would have, but they didn't have the tournaments or the money in those days, but then, I don't think so because I didn't hit it a long way, I was more accurate. Nowadays they smash the ball 300 yards. No, I was alright around short courses, or tight courses 'cause I was very accurate, but when you play in the Australian Open or something like that you're playing on golf courses that stretch right out.
I reached a stage when I was playing really well and I couldn't get into the state sides or metropolitan teams because in those days you had to be in a Group One club and Bayview was a Group Two club. When I wanted to advance my credentials as such that's when I joined Cromer, which was a Group One club. My second wife (Helen) and I joined Cromer at the same time. We were living at Collaroy and it was handy to get to Cromer from there but when we moved to Avalon it was too far to travel, so that's when I joined Mona Vale for about three years tops, to stay playing at a Group One club. Playing in a Group One club enabled me to be eligible to play state pennants. Sometime after this I went to Long Reef Golf Club for a year to play pennants with a friend, there was a chance of winning the Group One pennants. Then back to Bayview, throughout all this I still remained a member of Bayview.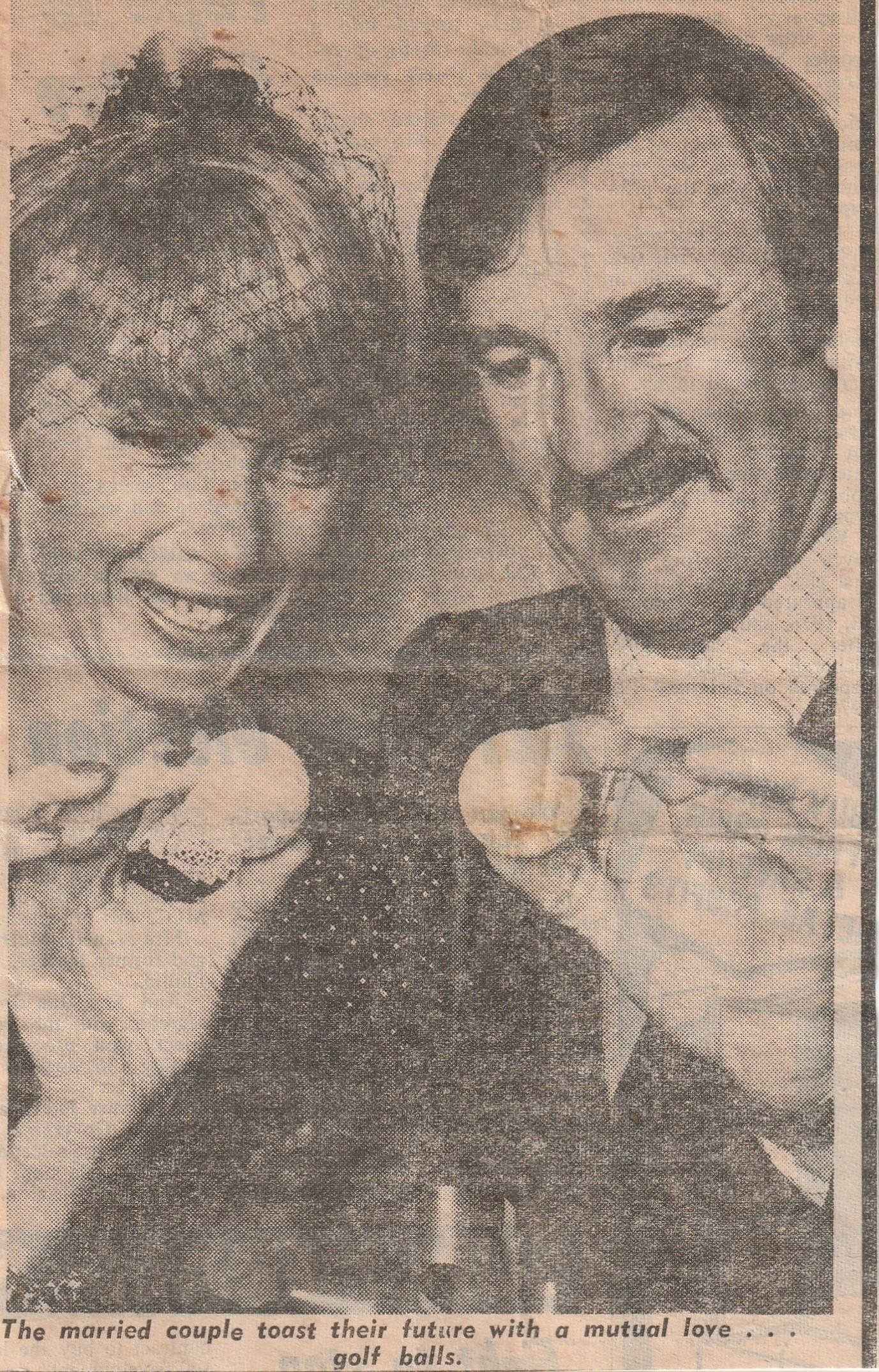 You used to go very well at snooker?
Playing with Bobby Langbein. When I was a member of the Manly-Warringah Leagues Club, they had a very good strong social golf club there, I won a couple of golf championships there, they played at Warringah Golf Course. A combined competition with other leagues clubs. I mean I could play snooker, me and Bobby Langbein won the snooker doubles there one year at Manly Leagues Club. We beat a couple of hot favourites there, Phil Kemp and Alan Doyle in the final. Phill Kemp ended up a professional snooker player, so we did well to beat them.
Re- the social golf, you'd play against South Sydney and St. George, Canterbury Bankstown, and they all played up at Narellan Golf Club (now Camden Golf Club), that's when Narellan Golf Club started out, it was subsidised by all the Leagues Clubs. They bought land up there and built a golf course, a fantastic golf course.
Where did you learn to dance?
My elder brother Robert and his wife Carol lived at the Rocks in the mid 1950s. They used to dance at the Iron workers club at Circular Quay, and other clubs. I'd go and dance too. No formal training, just learnt to dance, partner dancing, doing the jive.
Profession
As a lino type mechanic. The linotype machine was a very intricate machine that used to make the hot metal, it made the type for the printing press, in page format. The machine was so involved. Initially I was a very good drawer and I wanted to be a commercial artist and I started as a copy boy at the Telegraph. I used to run all errands around the place. I approached the art department and they said go to Tech for three years and do a commercial art course and we'll see what happens. At that age we didn't have the money and I needed to work and we had no money to send me to technical college to learn how to really draw, and you might end up f…ing hopeless anyway and that's when I decided to become an apprentice as a linotype mechanic. It was a five year apprenticeship.
When I left the Telegraph I did a couple of things. Every printing company had a linotype machine, it was the only way they could make type in hot metal, so I got a couple of individual jobs, like Wallace and Knox. I went to Carmichaels. Carmichaels used to distribute the lino type machine, I used to go out and fix them up. Then hot metal was being phased out, that's when Apple Macs came in, and desk top publishing and all that sort of thing. So the line type machine was becoming obsolete and that's when I joined AM International and I worked as a mechanic there, fixing small printing presses. From there when I was at AM I got a job, I went into sales selling typesetters, and then I went into ITEK. ITEK was the last place I worked. They were taken over by a company called AB Dick who sold offset equipment, offset printing presses, and being one of the oldest there, they phased out all the old farts. That's when I was in my late 50s then.
Some golfing stories
At Bayview
I was playing a pennant game at Bayview. The course was flooded, water everywhere. Walking off the old 17th hole, there was a creek in front of the tee, with a bridge on the left hand side to get across the creek. The water on the fairway was ankle deep. We hit off. I walked over the bridge. My opponent walked straight ahead and straight into the creek, past his waist in water. I think I won that hole.
Creeks drain into Pittwater from Bayview Golf Course. Part of the golf course was built on swamp, and at high tides Pittwater used to come into the course. They fixed it with floodgates.
When the tide was up the gates were shut to keep the tide off the course, but when there was excess rain the course would flood if the gates were shut as the rain water had nowhere to go – the old days.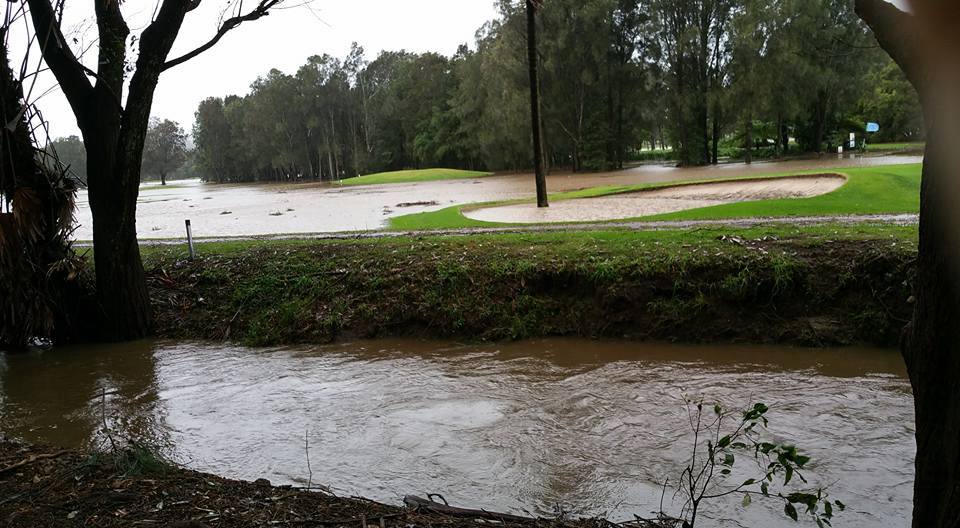 Bayview Golf Course flooding - Sunday morning - Photo courtesy Mel Raine – from Pittwater Online News June 12-18 2016

Parkes Open tournament late 1970s
Frank was in a playoff to win the Parkes open tournament in the late 1970s. First place received some glassware or crockery set, second place received a portable BBQ. Frank and his wife needed a BBQ and there wasn't room to carry home a whole lot of crockery so they decided he should miss a putt on the final hole to finish runner up and take the BBQ home. This, after travelling all the way to Parkes with family from Avalon to stay and play the tournament. Frank won the BBQ, it was a handy addition around the home for many years.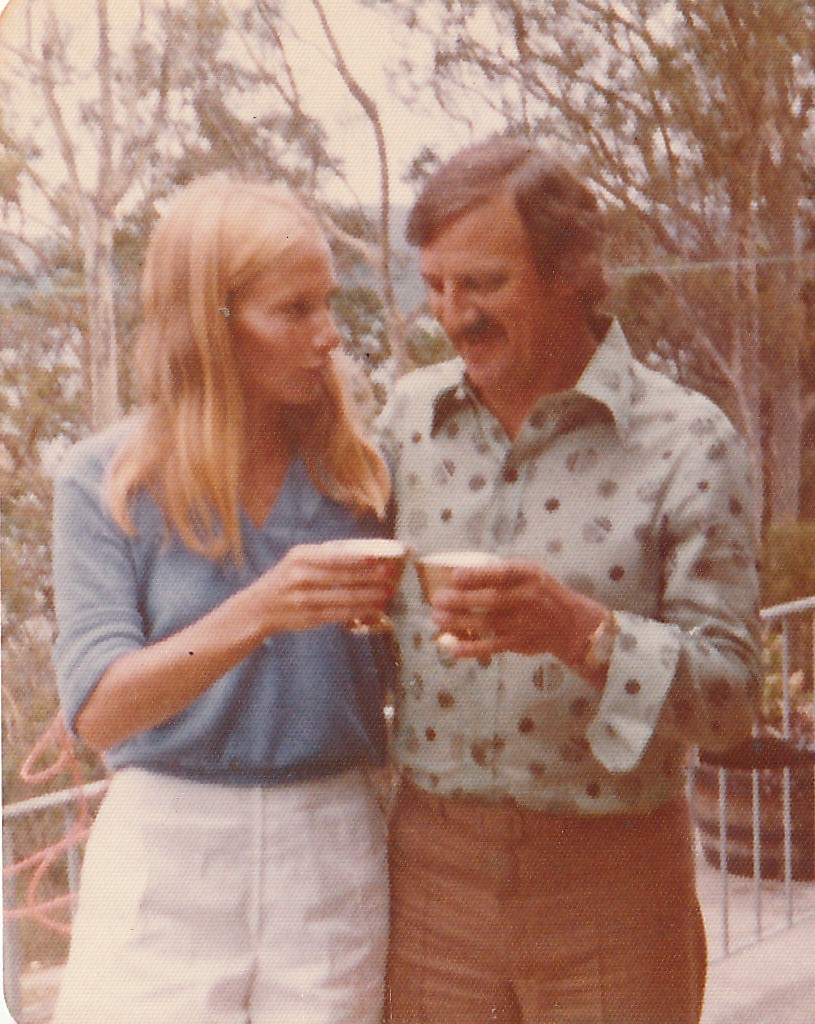 Frank with second wife Helen most likely in the late 1970s, Bilgola Plateau.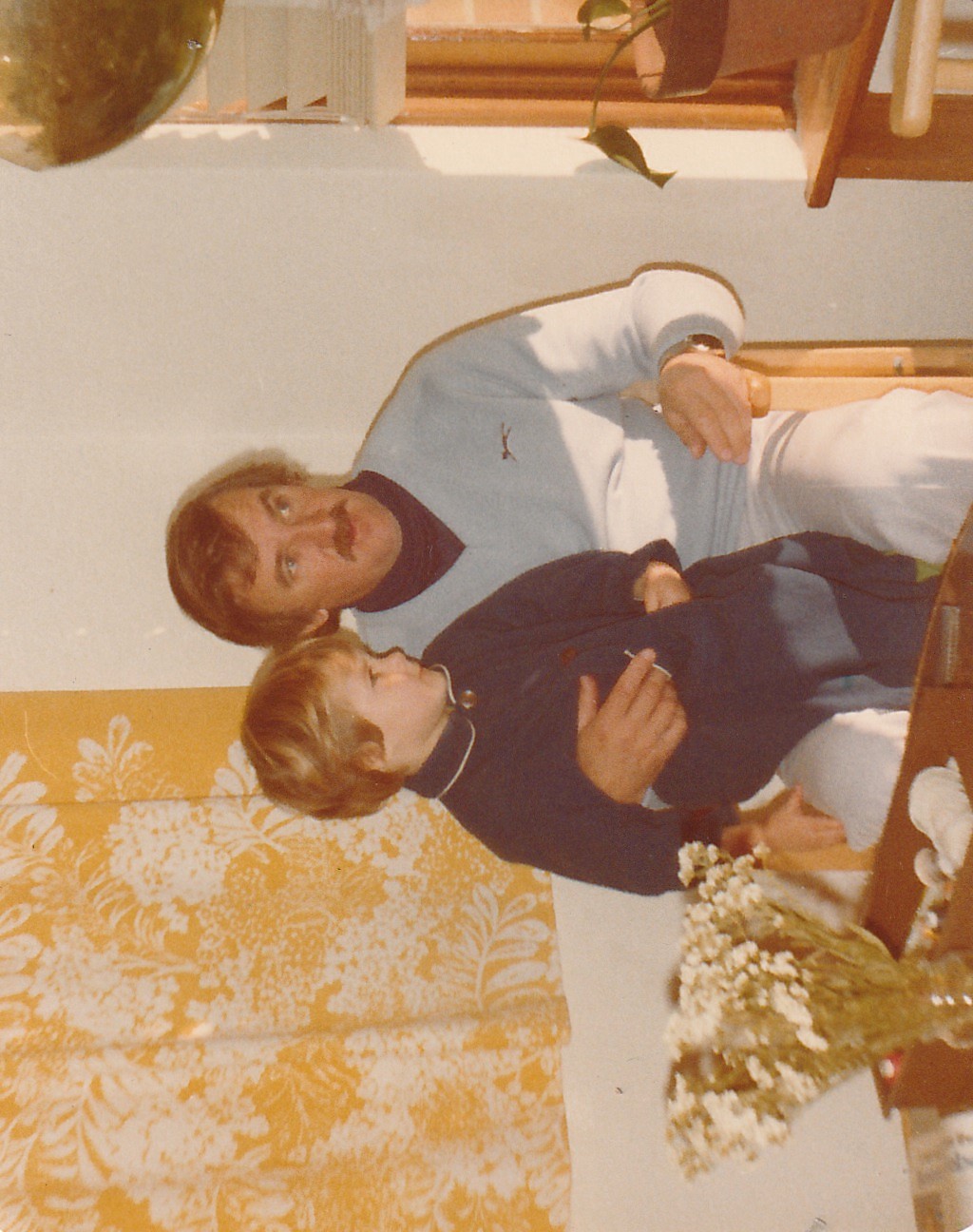 Frank and his daughter
Kooralbyn 1983
On a holiday (a golfing one) at Kooralbyn Valley Golf Course in QLD. in 1983 Frank and his family arrived at the first tee of the par three golf course they had there (secondary to the championship course). Two ladies who were completely new to golf were there before Frank and family, and invited Frank to play before them, to show them 'how to do it' were the words. Frank had a half orange, half white ball. He teed up, hit it, the ball landed maybe a metre or so from the hole, the orange and white blurring as the ball rolled straight in – a hole in one, every golfer's holy grail. Frank's family were jumping up and down in exaltation. Yet the two ladies remained calm - as novices it meant nothing to them. As Frank left the tee the ladies walked up nonchalantly, as if what had happened was nothing out of the ordinary.
Palm Beach Golf Club 1989
Frank was about to tee off to start his round in a mid-week afternoon competition with some mates at Palm Beach when his son and fellow golfing students from Barrenjoey High School sport arrived. His son told his friends to watch Frank tee off as he was a champion golfer, an absolute ace of the game. The group of school students watched eagerly as Frank stepped onto the tee, aware that the students were watching from the other side of the tee. Frank proceeded to hit the ball straight into the fence at the side of the tee, a glancing blow which careened at a low height perhaps fifty metres up the fairway. He took it all in his stride and later admitted he was feeling the pressure of the expectations from the golf students.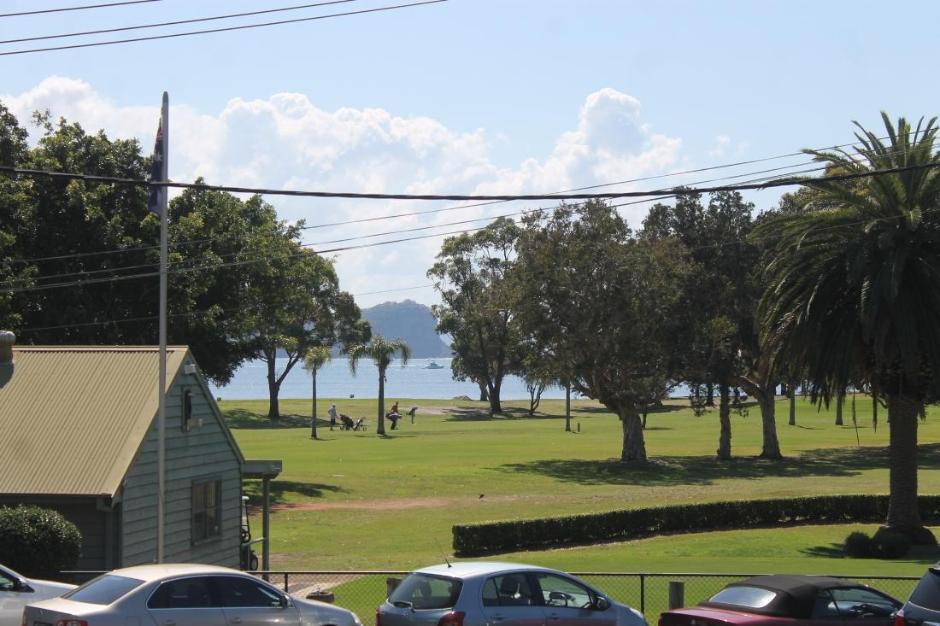 Palm Beach golf course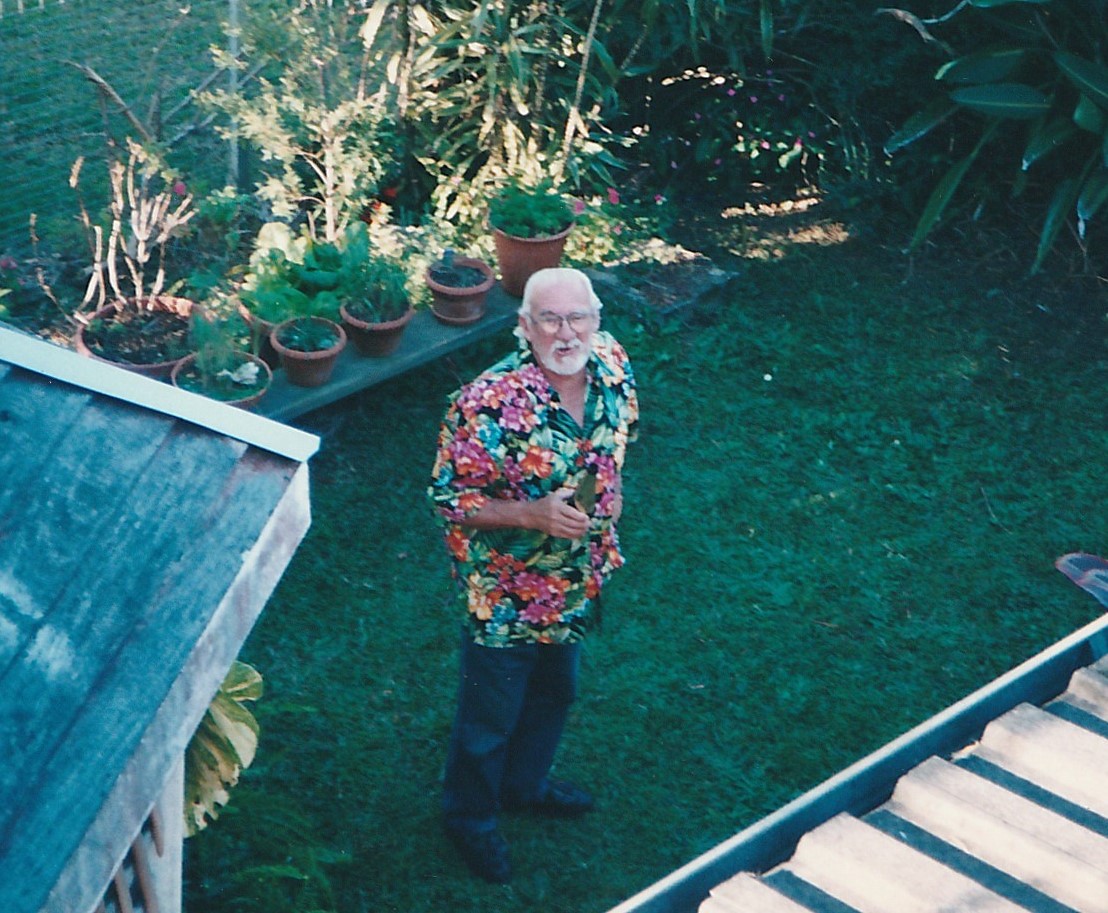 Frank, August 2003

What are your favourite places in Pittwater and why?
I like Church Point, near the Pasadena, and Bayview of course, mainly everything out on the peninsula, I like everything from Collaroy and out to Palm Beach. I used to like playing nine holes at Palm Beach Golf Club, and 'Royal Av' (referring to Avalon golf course). I like Paradise Beach too.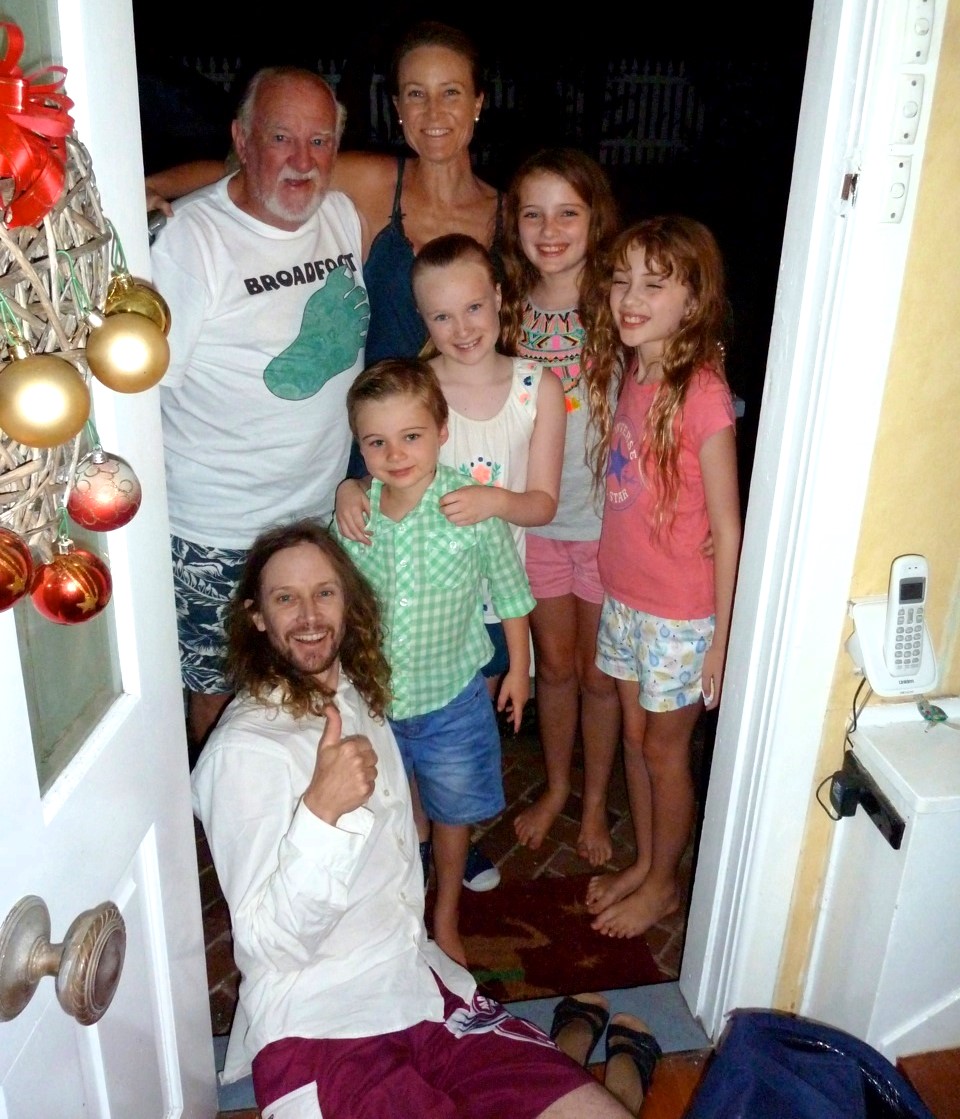 Frank and family at Newport about 2016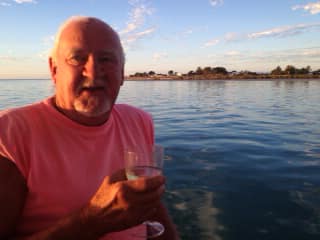 A recent photo of Frank enjoying the water
What is your 'motto for life' or a favourite phrase you try to live by?
I've done so much mate but no not really. I did enjoy hanging out with friends, having a beer at the local club or pub, but at my age now I'm just happy sort of pottering around, I haven't got a lot of social friends. Once I dropped out of golf, the group I used to play with have moved away, or are doing other things, and it got so that at Bayview for only playing once a week you're paying $2000 a year, so I just gave that away. Once the boys as a group split up that sort of gave me the incentive not to bother with golf anymore, and the fact I could play so well and when you get old you lose so much distance and I just couldn't accept going, playing that way. As I used to play, and when you've played a course for 60 years and know how you used to hit two woods to a par five green, and now you're hitting two woods and all that sort of sh*t, I realised I've got nothing more to prove so I just live on my laurels you know.
Frank these days, living it up at Newport SLSC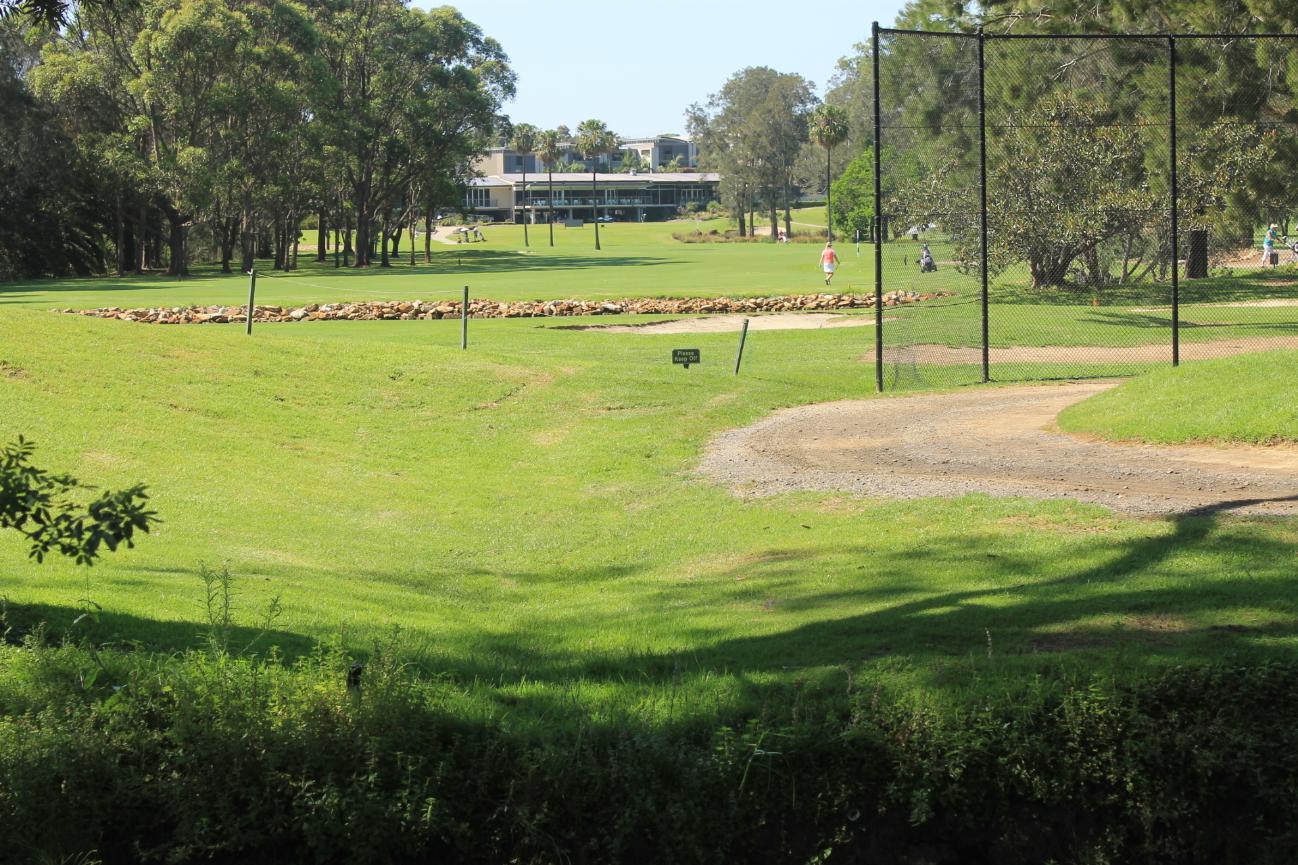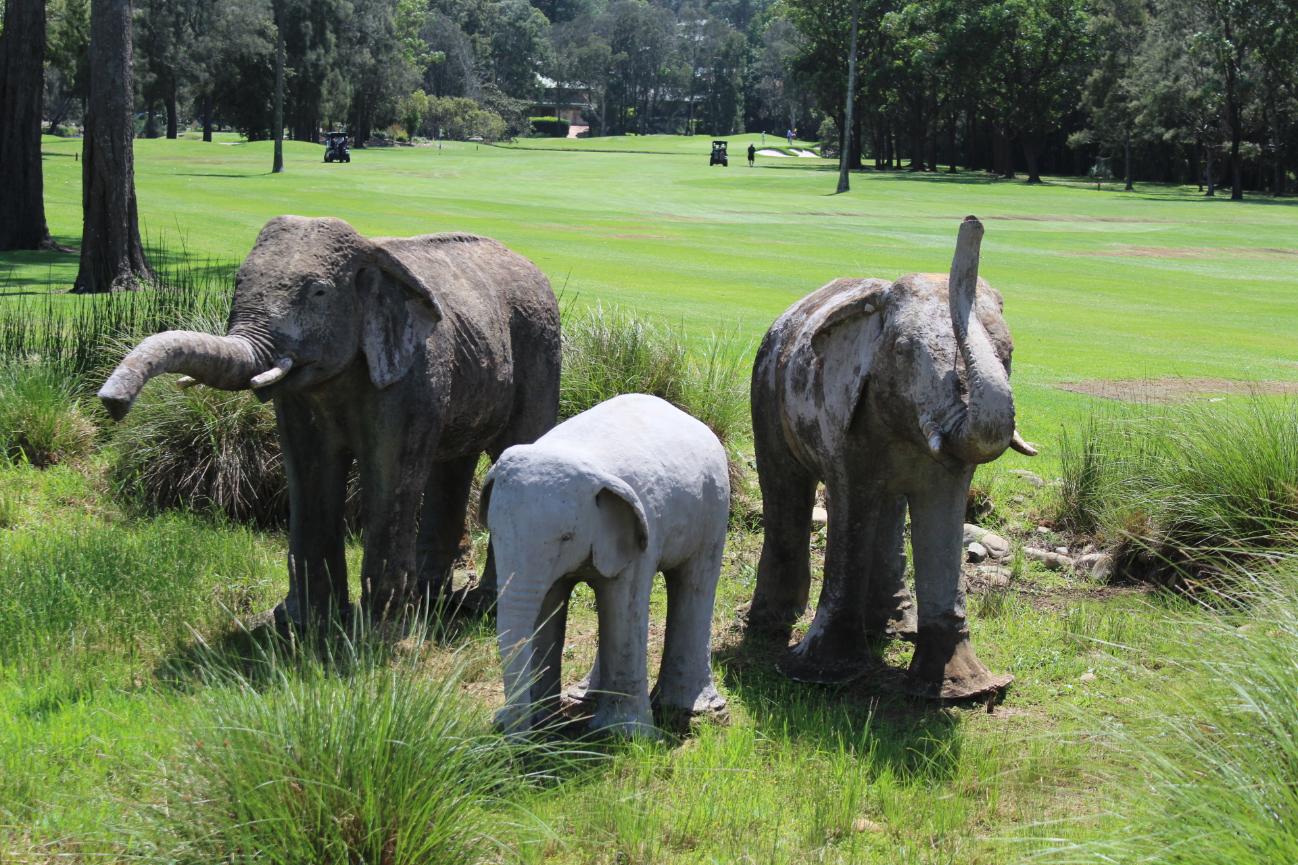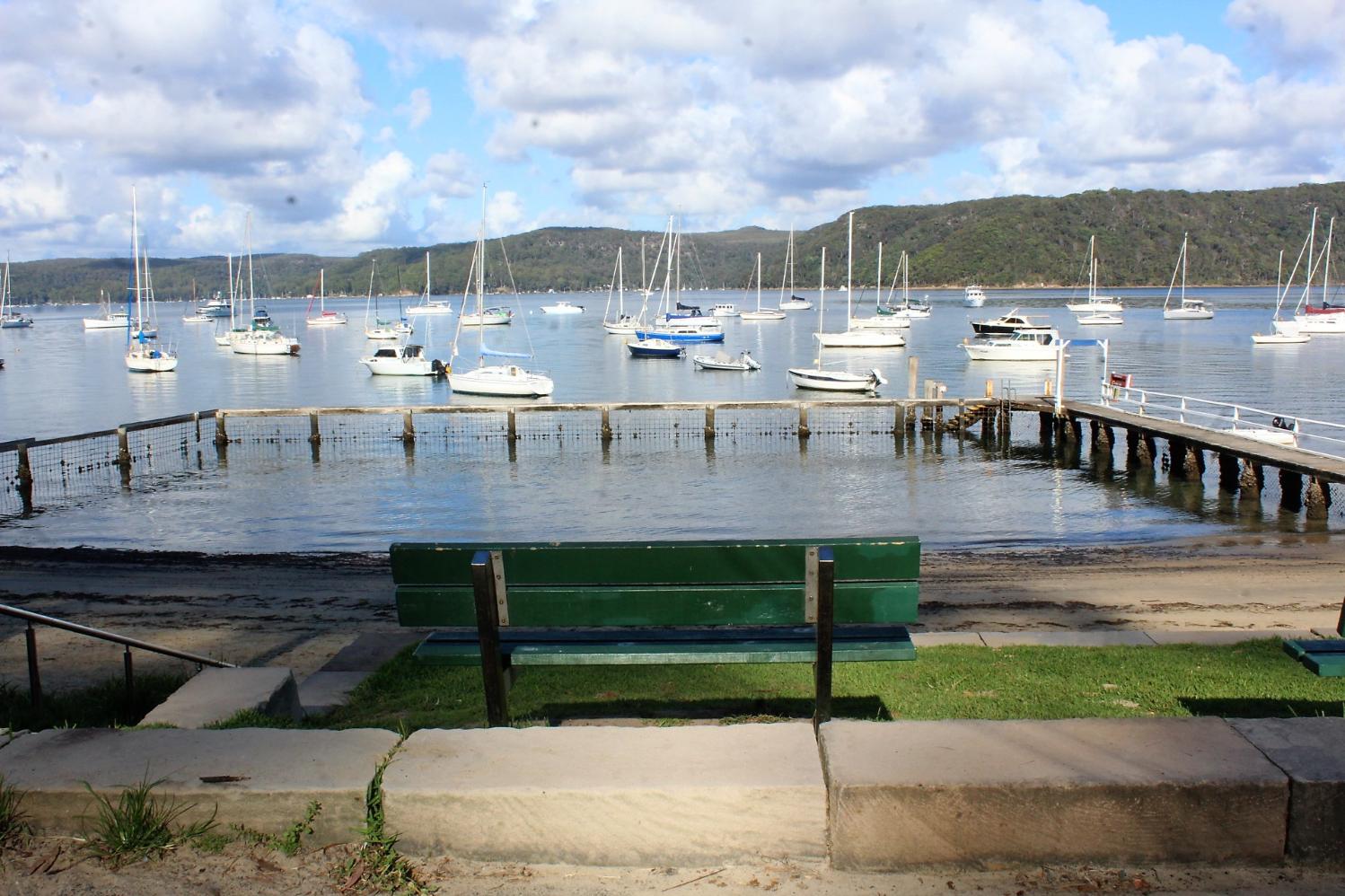 Paradise Beach tidal pool, January 2023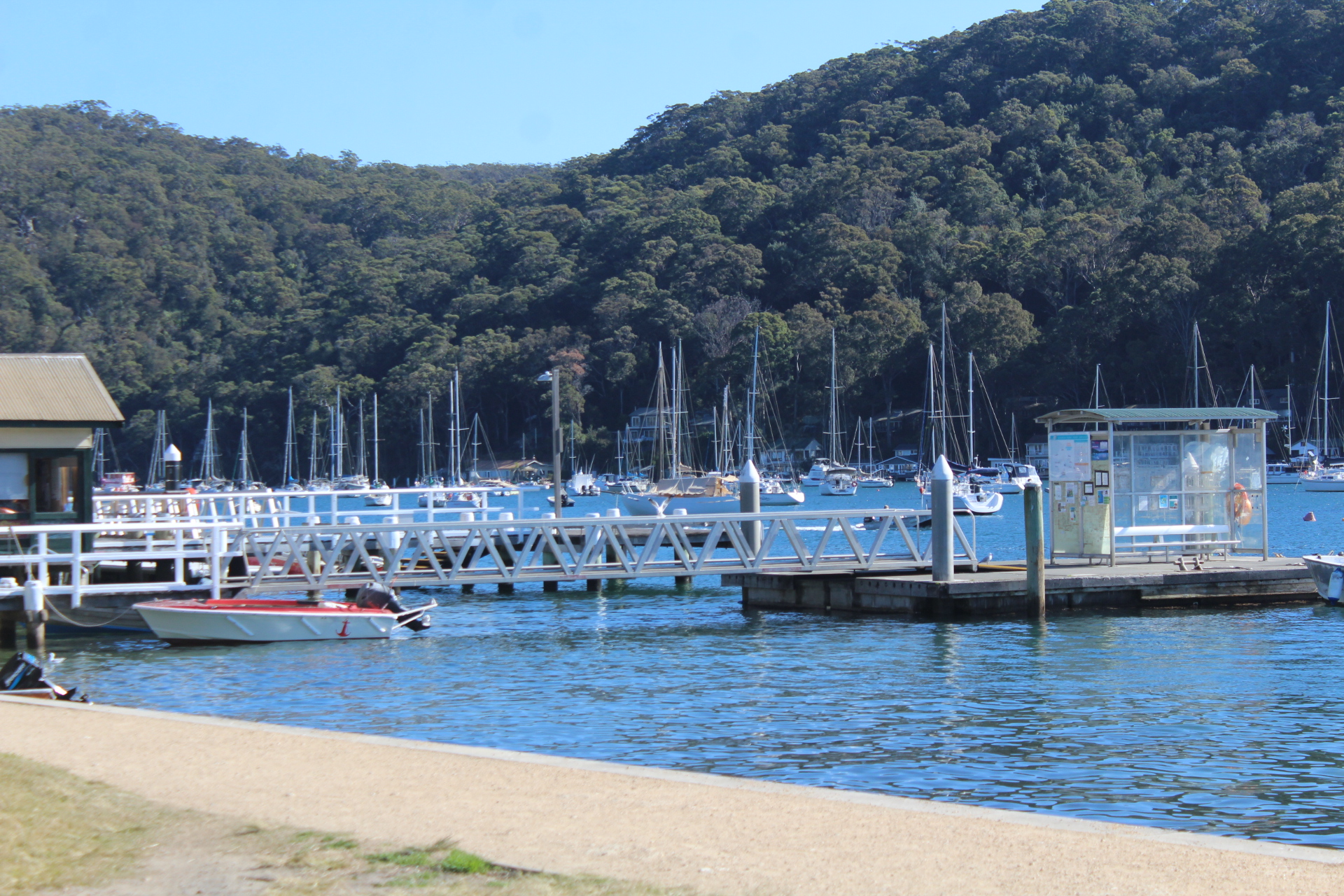 Church Point, 2023