March 22 - 28, 2020: Issue 443
Firefighter Family Day On The Water Initiative Supported By RPAYC And Broken Bay RMYC A Great Success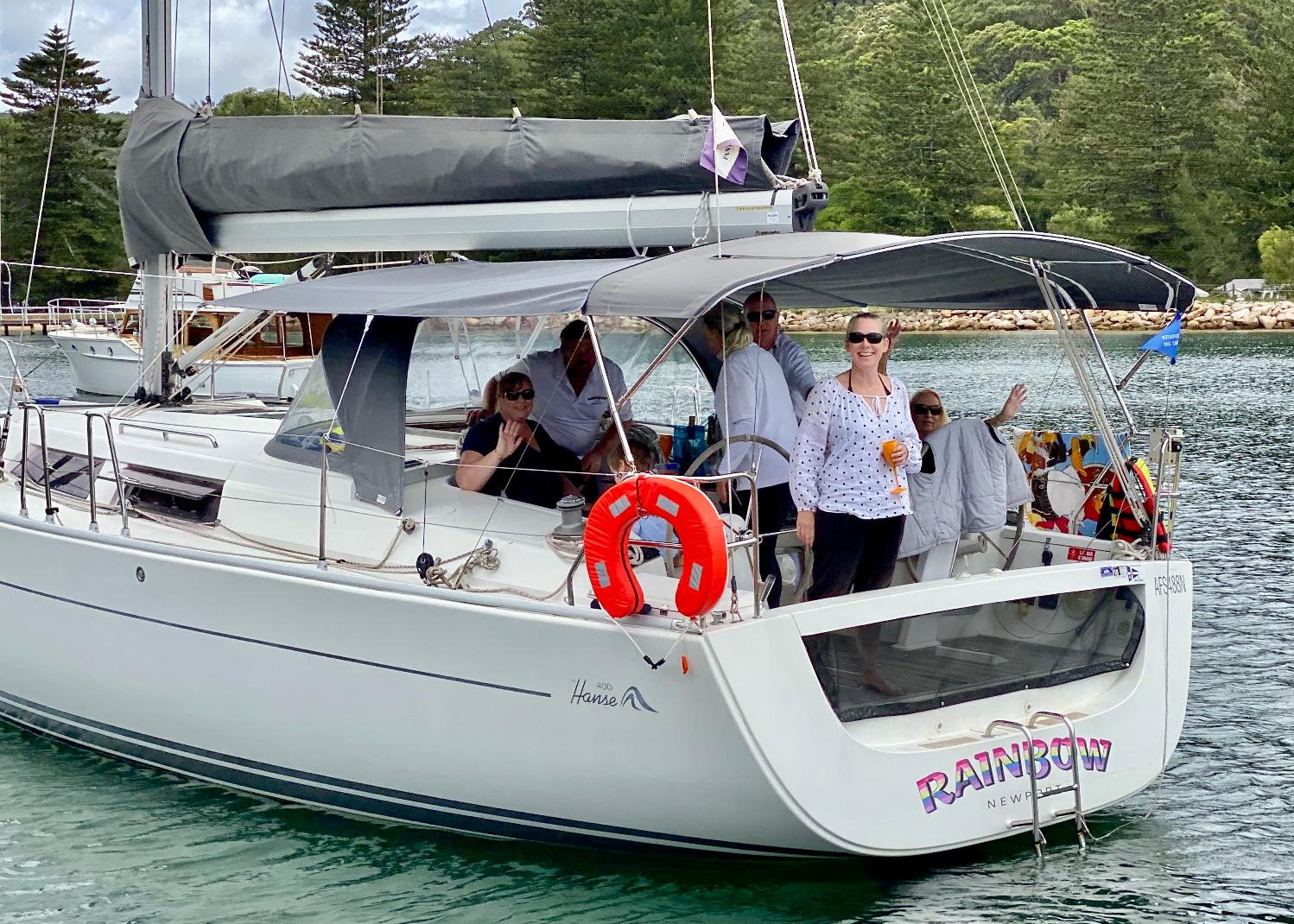 The Firefighter Family Day on the Water initiative was created by Above and Beyond Boating to provide a way for the boating community to give back to the dedicated fire fighters that have spent countless hours working to protect our homes, families, wilderness and wildlife from the terrible bush fires of 2019/2020.
Last weekend, Sunday March 15th, hundreds of volunteer firefighters and their families from brigades around Australia turned out for a fantastic day on the water with members of the boating community. Families arrived at event hubs for a BBQ in the morning before they stepped onboard a variety of boats, including active and cruising sailing vessels, and motor cruisers.
The Royal Prince Alfred Yacht Club and Royal Motor Yacht Club Broken Bay, at Newport, were both involved with members taking firefighters and their families out on the Pittwater estuary and bays for an enjoyable sail. On Pittwater, 45 boats were connected with firefighters and families to head out for a day on the water.
At the RMYC BB only 4 boats with 4 fire fighter families ended going out on Sunday due to the weather forecast. There was 22 families registered to go out on 20 different boats. Anyone that cancelled will be rescheduling with their fire fighter families at a later date. The boat owners took them to a sheltered bay. Mostly the Basin & America Bay. RPAYC members and boats also took families out.
The Royal Motor Yacht Club Broken Bay, at Newport, stated this week;
"When Above and Beyond Boating reached out to the club to ask if they would assist with the with the day by acting as a HUB, we were more than happy too. The fire fighters have worked hard to battle the catastrophic bushfires which impacted Australia in late 2019 and early 2020. It was a great initiative by Above and Beyond Boating as not only was it a thank you to the Fire Fighters, but a great bonding experience with their families. "
Through the Royal Prince Alfred Yacht Club, other guests enjoyed Pittwater. Mike Selbie, the owner of 'D-Euphoria' said this week;
"We had the opportunity to meet Ben and Amanda who joined us on D'Euphoria. Both are in Yerrinbool brigade and drove up from the Southern Highlands. Our day on the water was great fun, sailing to Barrenjoey headland, followed by a calm, sunny lunch in the Basin."
Their guests, Ben and Amanda Todd, from the Yerrinbool brigade had this to say about the day:
"We can't be more thankful for the firefighter family day on the water. Thank you to all involved. It means a lot. We had so much fun. Last Sunday we were taken out with Mike and his wife, Lisa, on D'Euphoria leaving from Royal Prince Alfred Yacht Club. Thank you all involved and also to Neil for organising it."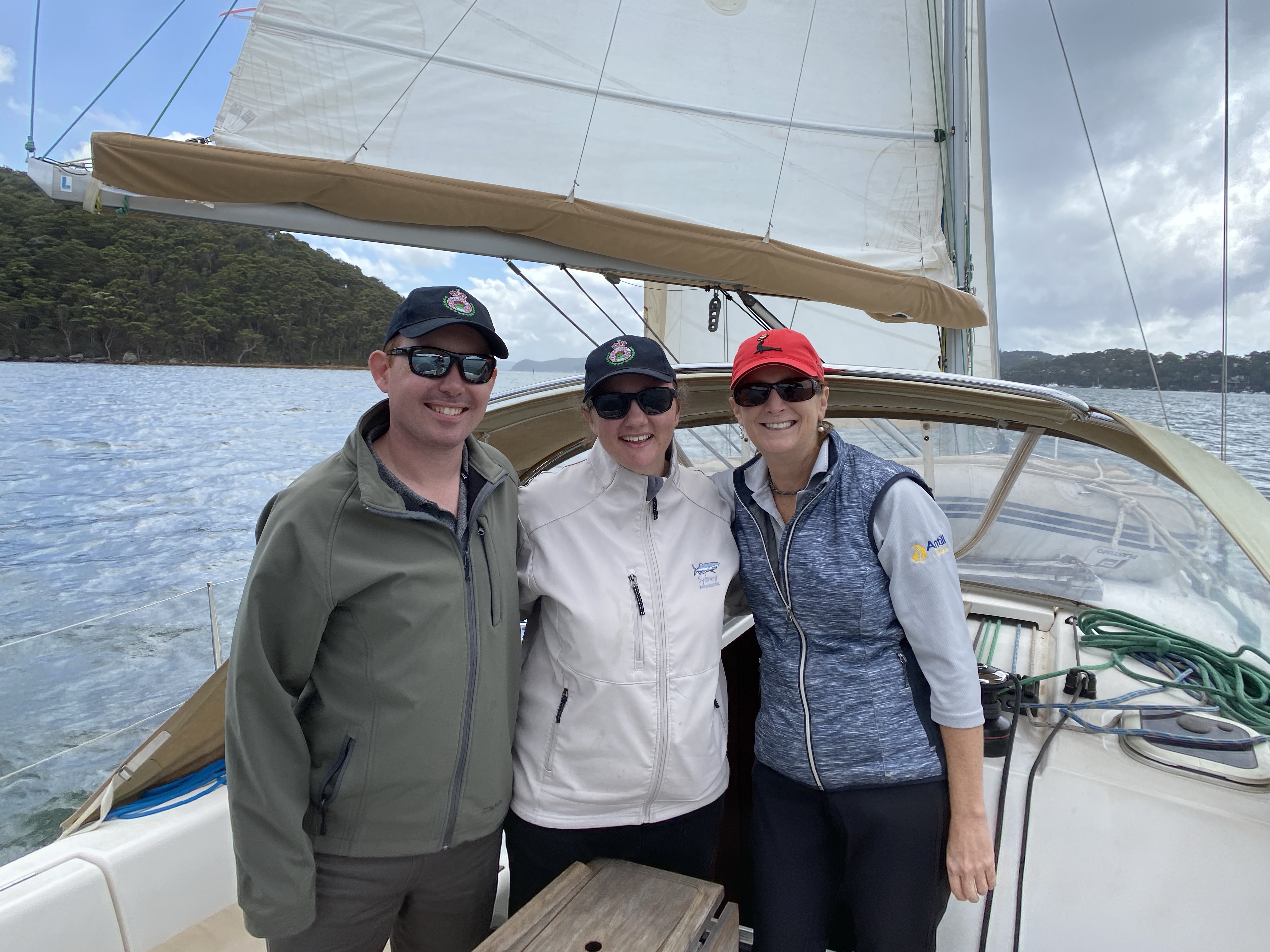 Ben and Amanda Todd (guests), with Lisa Selbie (host) on the right. Photo by and courtesy Mike Selbie
Neil Driscoll, the Founder and Managing Director of Above and Beyond Boating, who established this charity event said it was amazing to see the boating community and volunteer firefighters come together for this day after months of preparation and discussions with multiple organisations to make it happen.
"My wife and I started talking about this event after seeing the devastating fires and the impact it had upon the firefighters. We came to the conclusion that although people signed up to be firefighters, no one signed up for the fire events we've seen over the last summer. It must have just been horrendous for the families and our idea was to organise a day on the water to give the families a chance to reconnect".
The pristine waterways of Northhaven (South Australia), Sydney Harbour and Pittwater (New South Wales), provided a perfect environment for a day of reconnection and relaxation for all involved.
"Today almost makes up for all the days fighting fires" said Ravick Gomes, one of the firefighters.
Darren Vaux, President of the Boating Industry Association, said "A great day out on the water can make a positive and lasting difference to people's lives and it was an excellent and appropriate way for our industry and boaters to show our thanks and support to firefighters and their families".
"We have no doubt that this will become a tradition as boaters continue to share the joy of the boating lifestyle to those who volunteer their time to protect their communities."
Peter Lewis, the commodore of Middle Harbour Yacht Club, commented on the importance of this event to their club.
"Its our little way of thanking those who do so much for us and we need to be supportive of this group of people who volunteer and save lives and property for everyone around Australia. We look forward to continuing this program."
Boat owner Jon Linton was one of the first people to sign up to this initiative after it was first announced. He welcomed a family of three onboard his boat Llama 2 for the day.
"Today was a fantastic opportunity for boat owners across Australia to show their appreciation for everything the Firefighters and their families sacrificed to keep us safe. A fun filled day on the water for all has created a link between the two communities that will continue in the future. Thank you to Above and Beyond Boating for giving us the opportunity to show how grateful we all are to the real heroes".
We were also able to organise a day for some entire brigades, Tina Courtenay was the (voluntary) project manager for the Brigades on Boats. Sea Sydney Harbour, Hoochie Mumma, Ozcat, Perfect Day Charters, Platinum Cruises, Sydney by Boat, Karisma Cruises, Charter Boat Central, Seabird Seven and Pete Johnson all generously provided their vessels and time for these complimentary charters.
The Balmoral Boat Shed also sponsored their entire facility for the day. The Telfords Bus & Coach company and CDC NSW kindly assisted some of the brigades attending the event with transportation to and from the event locations.
This support allowed us to invite up to 400 additional firefighters to attend!
Some event Hubs decided to postpone their events ahead of the weekend, due to potentially unfavourable weather conditions, and not cause long travel distances for some families. However, the structure of the wider Firefighter family day event has allowed for the majority of the connected boats and families to arrange an alternative date to still meet up for a great day on the water.
Above & Beyond Boating would like to extend their thanks to all of the boat owners and charter vessel operators that have provided their boats, to the event Hubs, supporting businesses and all of the volunteers involved for their organisational support to make this event happen.
The Firefighter Family Day in numbers:
1,200 PEOPLE CONNECTED
550 FIREFIGHTERS
150 FAMILIES
122 BRIGADES
10 EVENT HUBS
Families on boats
We are very pleased that volunteers and their families joined us from RFS and CFS brigades around Australia:
Albion Park, Aldinga Beach, Alpine/Aylmerton, Arkell, Awaba, Beacon Hill, Beechwood, Belrose, Berowra, Birdwood, Blackwood, Blaxland, Blyth, Brookfield, Burnside, Cambewarra, Camden West, Carey Gully, Casula, Catherine field, Cawdor, Chambers Flat, Cherrybrook, Clagiraba, Coal & Candle, Cobbitty, Concordia, Coomera valley, Cumberland Communications, Dalkeith, Davidson, Diamond Beach, Dora Creek, Duffys Forest, Edinglassie, Edithburgh, Engadine, Farmborough Heights, Glenhaven, Goulburn Mulwaree, Greta, Grose Wold, Hawkesbury, Hermitage, Hornsby, Ingleside, Jervois, Katoomba, Kellyville, Killara, Ku-ring-gai, Kurrajong Heights, Laguna Brigade, Lake Macquarie, lobethal, Lochinvar, Loftus, Logan, Londonderry, Lyndoch, Lynwood Park, Mangoola, Marulan, Medlow Bath, Merriwa River, Middle Dural, Mittagong, Morphett Vale, Mount Riverview, Mt Pleasant, Mulgoa, Mylor, Narara, Narellan, Oak Flats, Otford, Picton, Pumicestone, Roma Street, Rothbury, RFS Communications, Round Corner, Sandy Point, Schofields, Seaford, Snowtown, South Katoomba, Summertown, Tailem Bend, Tea Tree Gully, Terrey Hills, Thirlmere, Tilligerry, Toorbul, Tumbledown Dick, Two Wells, Valley Heights, Virginia, Wallacia, Wallarah, Warnervale, Wasp creek, Wentworth Falls, West Nowra, Westleigh, Willunga, Wingello, Wongarbon, Wyee Point, Yankalilla, Yerrinbool.
Photos, taken by Mike Selbie, show some of the boats that met up in Coasters Retreat. Thanks Mike!