June 11 - 17, 2023: Issue 587
how to Keep your family fire safe this winter: No. 1 - have a working fire alarm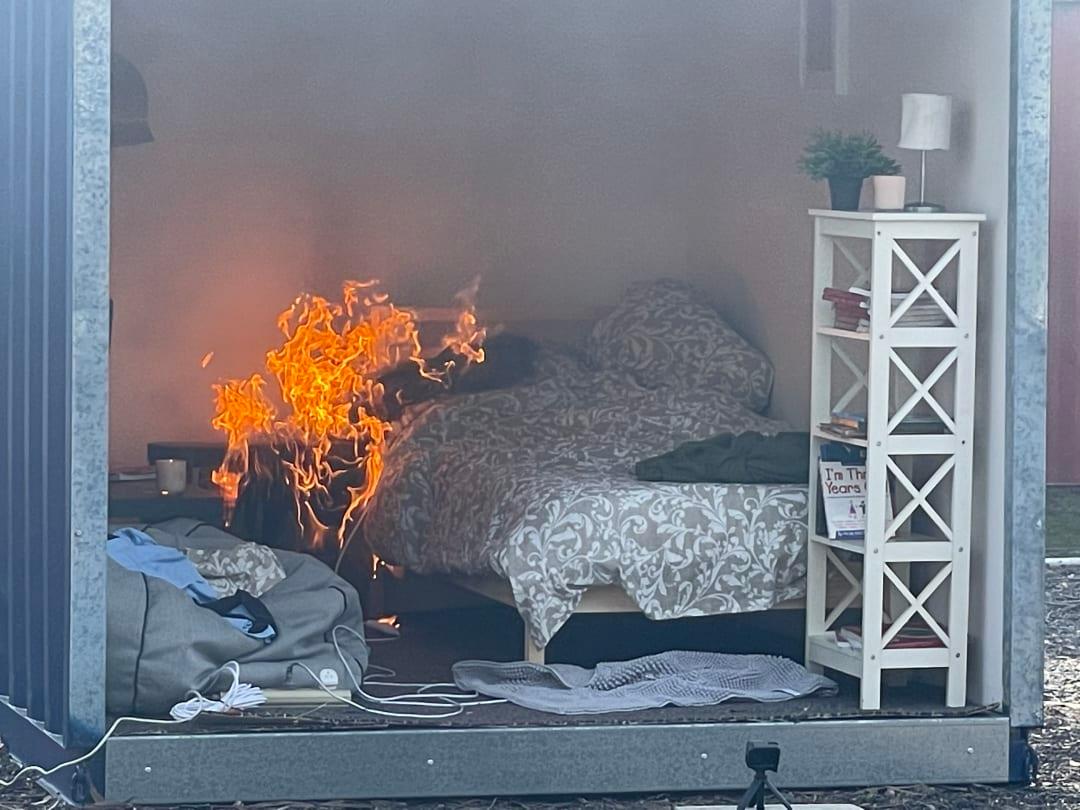 FRNSW's Winter Fire safety Campaign; firefighters set fire to a mock bedroom to demonstrate how fire can destroy a typical bedroom within just three minutes.
With Winter blowing icy winds around us and people tending to go into a thermal 'lockdown' indoors, Fire and Rescue NSW (FRNSW) is urging all Australians to check their home's smoke alarms are in working order this Winter by testing the devices.
The public is urged to "Sound the Alarm" and test the alarm sirens in a widespread determined effort to avoid deaths and injuries during the colder months.
There were a record 16 deaths due to structure fires in NSW last Winter, 12 of them have been deemed 'preventable' by FRNSW.
Another 87 people were injured during the 895 Winter fires in 2022.
At the launch of the FRNSW's Winter Fire safety Campaign, firefighters set fire to a mock bedroom at a testing ground at Londonderry, in Sydney's west, to demonstrate how fire can destroy a typical bedroom within just three minutes.
"Working smoke alarms save lives, and sadly complacency can be deadly," said FRNSW Commissioner Paul Baxter.
"If you're not regularly checking that your smoke alarms are in working order, you're putting your life and the lives of your loved ones at risk.
"If you can't reach it use a broom, but don't 'leave it 'til later," advises Commissioner Baxter.
"If the alarm activates, your alarm is okay…if it doesn't, replace the battery or get a new smoke alarm.
"By law, you should have working, hard-wired smoke alarms in your home. If you're renting and they're not installed, speak to your landlord or real estate agency immediately.
"Smoke alarms should be replaced every 10 years. If they're yellowed, they are likely out of date and leaving your household at risk."
"Last winter, we had an unusually high number of people die," Commissioner Baxter said. "Simple steps can help save you, your loved ones, or your neighbours needlessly dying from fire in your home.
"Most of those deaths could have been avoided."
NSW Rural Fire Service Assistant Commissioner Ben Millington said it is important that people in rural and regional areas have a working smoke alarm and everyone knows what to do if there is a fire in your home.
"In rural areas, emergency services often have to travel considerable distances to respond to house fires," Assistant Commissioner Millington said. "Smoke alarms and a plan can give you valuable seconds to make it out alive."
Minister for Emergency Services, Jihad Dib, has expressed concern at the number of smoke alarms within the community that haven't been tested and are no longer working.
"If you are having trouble testing your alarms, please seek help from friends, neighbours, loved ones or your local firefighters who can also offer advice, because last winter, in almost 50 per cent of structure fires, smoke alarms either weren't working or not even installed." Mr Dib said.
"If we work through this together, we can avoid any more tragic deaths because what we want to see is everybody come through this Winter safe and sound.
"Having a working smoke alarm, having a safe environment around home heaters and ensuring you have a home safety escape plan showing how the ways out of your home if a fire takes hold, is the best way to stay safe this winter."
Also present at the launch was Manly mother-of-two, Mae Short, who escaped a house fire with her family last Winter, thanks to a working smoke alarm.
"If it wasn't for that smoke alarm sounding, I'd hate to think where we'd be right now," Ms Short said.
"You never expect you or your family will be impacted by fire – I certainly didn't – but these situations really can happen to anyone. Please make sure you're prepared this winter."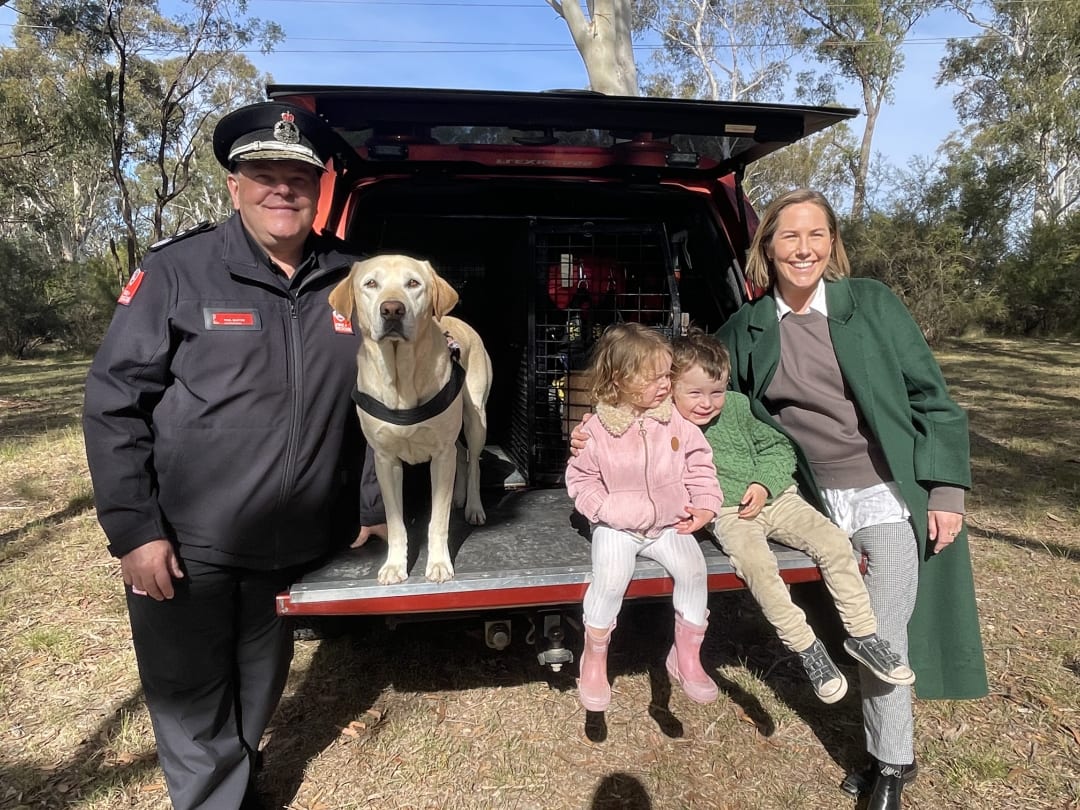 Manly's Mae Short - lucky the fire alarm was working

Last week Firefighters in Sydney's south-west were taking Fire and Rescue NSW's (FRNSW) Winter safety message door to door, urging members of the area's Culturally and Linguistically Diverse (CaLD) communities to protect themselves and their loved ones as the weather gets colder.
Almost a third of NSW residents were born overseas (29.3%), and nearly 2 million have a first language other than English, which is why FRNSW is making a concerted effort to ensure their winter safety message is communicated to everyone.
Around 300 different languages are spoken, and 144 religions are practised across the state.
People are being reminded that, as the days and nights get colder, they should never use outdoor heaters, BBQs or other cookers inside their home. This equipment can produce carbon monoxide, a poisonous gas you can't see, taste or smell.
If you suspect someone has been exposed to carbon monoxide, call the Poisons Information Centre on 13 11 26, or in an emergency, call triple-zero (000).
Residents should also keep candles and incense burners away from curtains and never leave them unattended.
Other safety tips people are encouraged to follow include:
Keep looking when cooking.
Keep all flammable items at least 1 metre from the heater/fireplace.
Clean the lint filter in your dryer before use.
Don't overload power boards or power points.
Ensure your flue and chimney are regularly cleaned.
Don't smoke or use wheat bags in bed.
If your clothes catch fire, stop, drop, cover and roll.
Once you've evacuated during a fire, don't re-enter the property.
FRNSW is committed to building meaningful and genuine relationships with our CaLD communities by providing practical support, such as:
Identifying needs in local communities, and planning strategies, activities and events that may assist in meeting those needs, particularly in relation to fire safety education
Engaging with culturally diverse community groups to understand their experiences, skillsets and practices, and how this can be applied to reduce community risk
Providing multilingual fire safety information through radio communications 24/7, in translated materials, and through our FRNSW Community Language Scheme representatives.
Minister for Emergency Services Jihad Dib said:
"We said language shouldn't be a problem, so Fire and Rescue NSW are ensuring the messages about fire safety are accessible to everyone, regardless of the language they speak. When it comes to fire safety it's in everyone's interest to be well-informed."
"This is our approach of making sure we do all we can to get the fire safety message out because no one should suffer a tragedy simply because of a language barrier."
"The more we can meet community where they are at, the better we become at ensuring our safety messages are received by one and all."
Fire and Rescue NSW Acting Commissioner Megan Stiffler said:
"There isn't a 'one size fits all' approach to communicating our winter fire safety messaging with every person or family in NSW."
"We work every day to make sure we tailor and target our messages to different communities, so everyone has the opportunity to keep themselves, and those they love, safe."
You can book a home safety visit from your local fire crew at the FRNSW website: https://www.fire.nsw.gov.au/page.php?id=9316
Firefighters can discuss safety options with you and install a free smoke alarm if needed.