November 18 - 24, 2018: Issue 384
Farr 40 RPAYC One Design Trophy 2018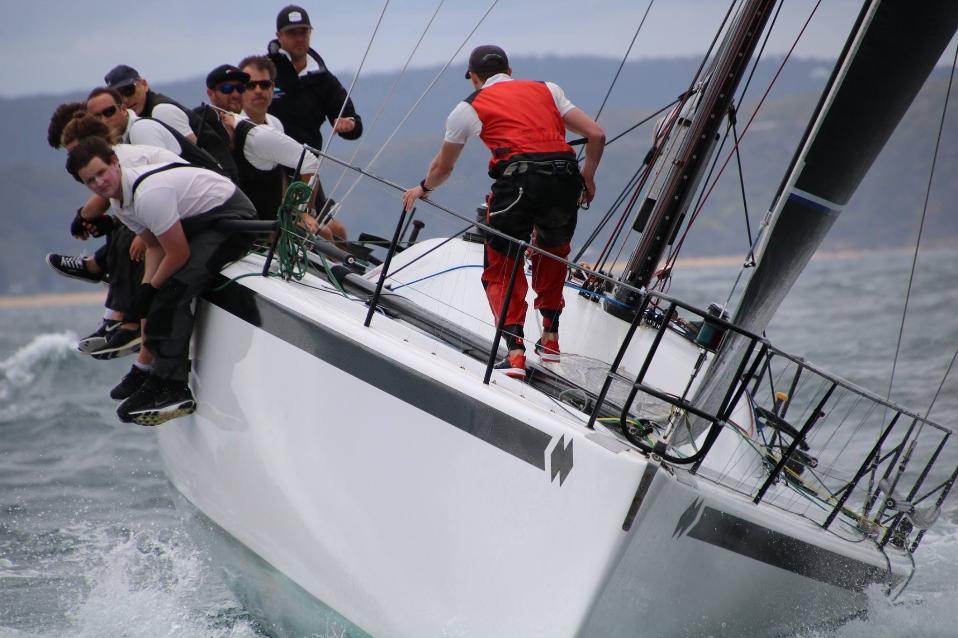 Day 1: Double Black are back
Event: 2018/19 Farr 40 One Design Trophy, 17 & 18 November 2018 hosted by Royal Prince Alfred Yacht Club

Melbourne team Double Black are Boat of the Day for the first time in four years of Farr 40 racing after three races off Palm Beach on day one of the One Design Trophy hosted by Royal Prince Alfred Yacht Club.
Skipper Rob Pitts was elated with today's result. "We are very happy and excited to be boat of the day for the first time. The crew gelled really well. We managed to get some consistent starts and found some good downwind speed surfing on a few waves".
Pitts' long-time friend and Double Black Trimmer Billy Idle is strategising on how to maintain the lead going into tomorrow's racing inshore for the final three races of the regatta. "Tomorrow will be a real lottery and we will take each race at time. We are a bit nervous because we know this place is not referred to as "Shiftwater" for nothing. Our Tactician Joe Turner had a win here last week on a MC38, so we are hoping he will bring some good luck with him".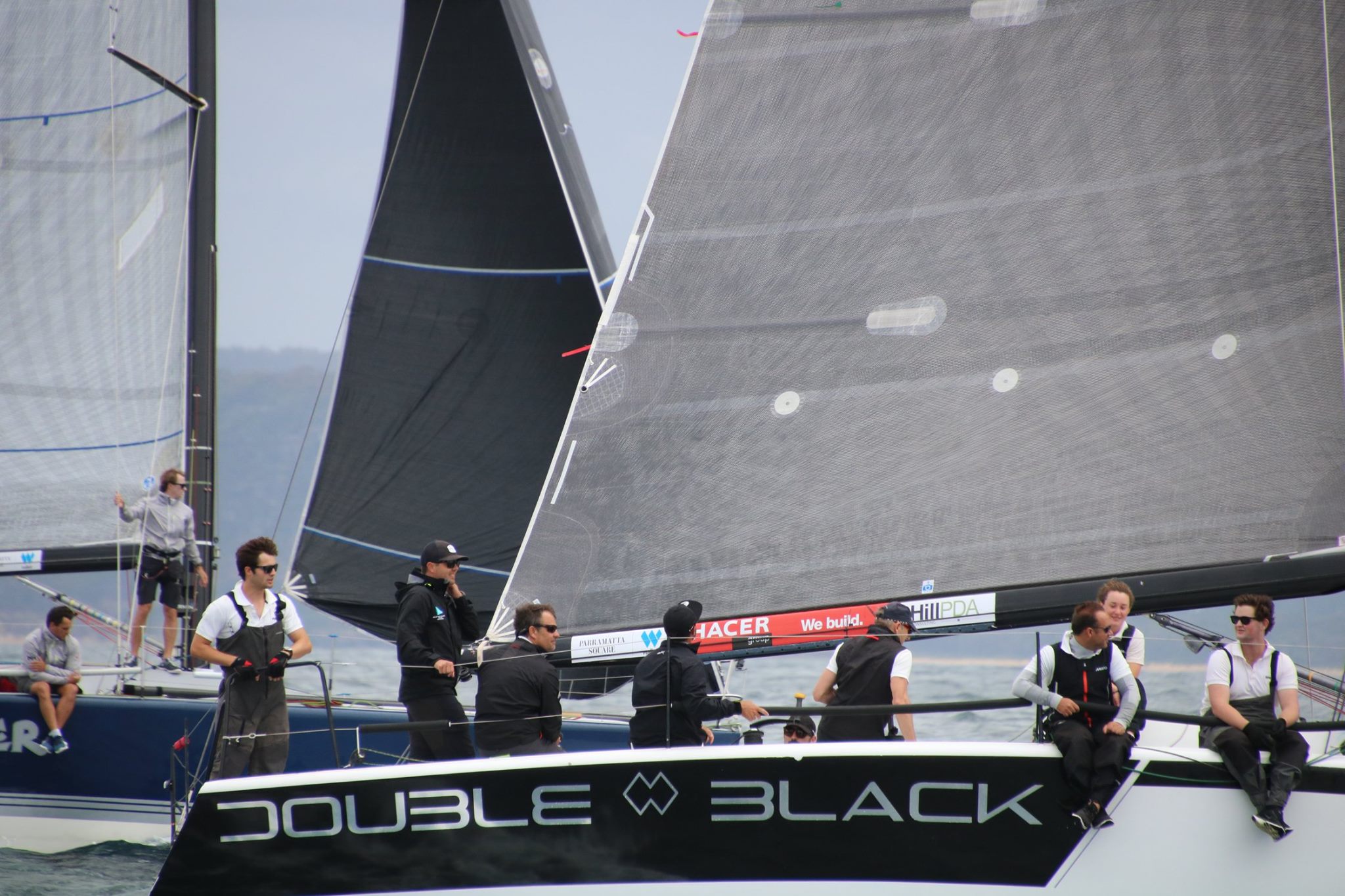 In second place just one point behind the regatta leader is another Melbourne crew, Nutcracker owned by Rob Davis and Andy Baker. The crew were on fire today scoring a 3-2-3 leaving them hot on the heels of their fellow Victorian club members from Sandringham Yacht Club. Skipper Rob Davis was a little disappointed his boat partner Andy Baker missed today's awesome racing.
"Andy, also known as our "crew boss" keeps us under control in the evenings, so we will see what tomorrow is like. It was a great day sailing off Barrenjoey and we are really enjoying being at a different venue and appreciate the local boats coming out to sail with us." Davis added, "The hospitality of RPAYC and the Race Committee has been exceptional and we really appreciate it".
On today's racing Davis continued, "We were a little bit lucky today. Let's just wait and see what happens tomorrow. I've definitely learnt not to count our chickens before they hatch in this game".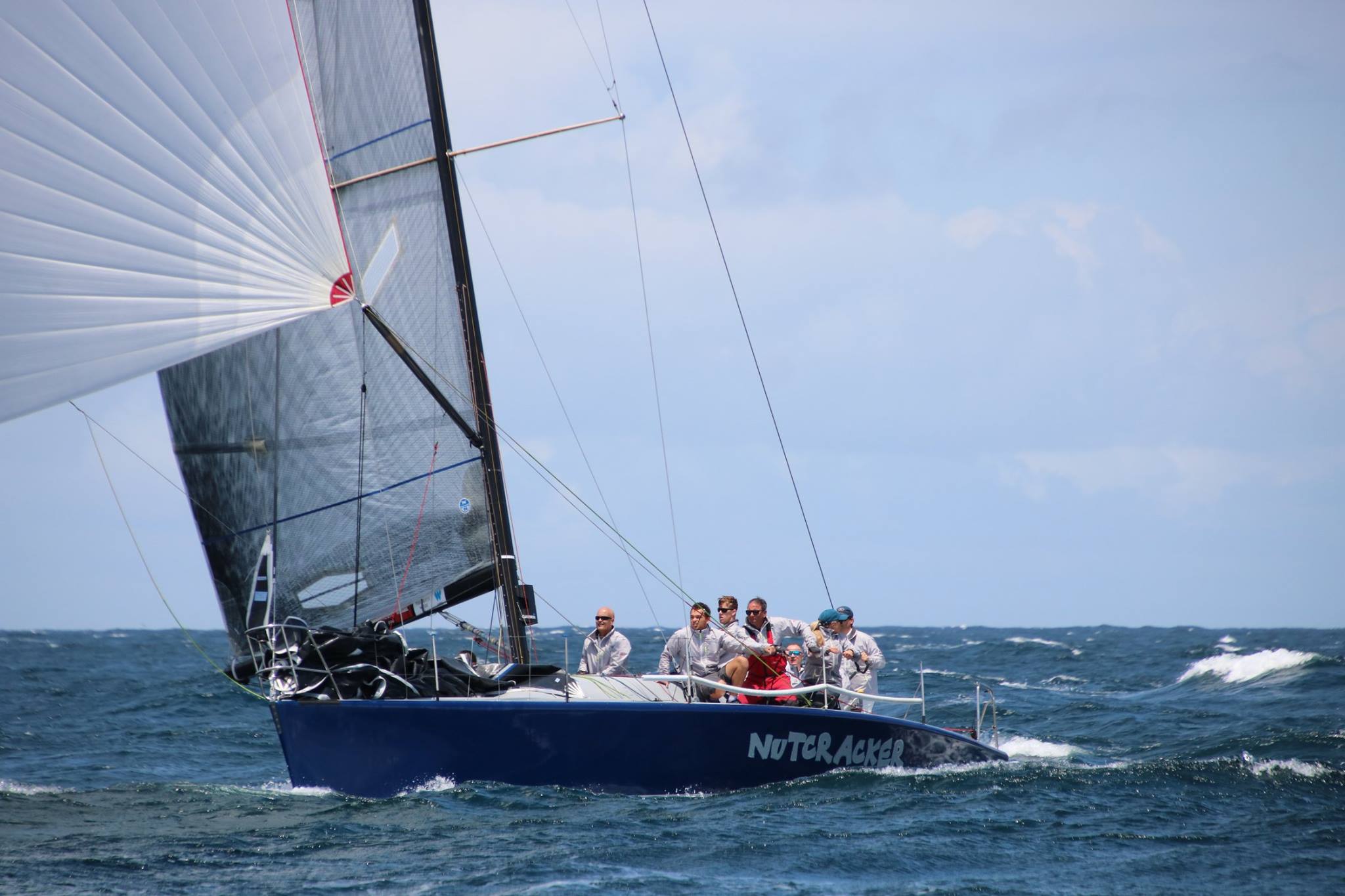 Australian Class President Gordon Ketelbey entered his boat Zen this weekend, even though he is overseas and Substitute Helmsman Joe de Kock from Newcastle did a stellar job placing the team in third overall, just one point behind Nutracker.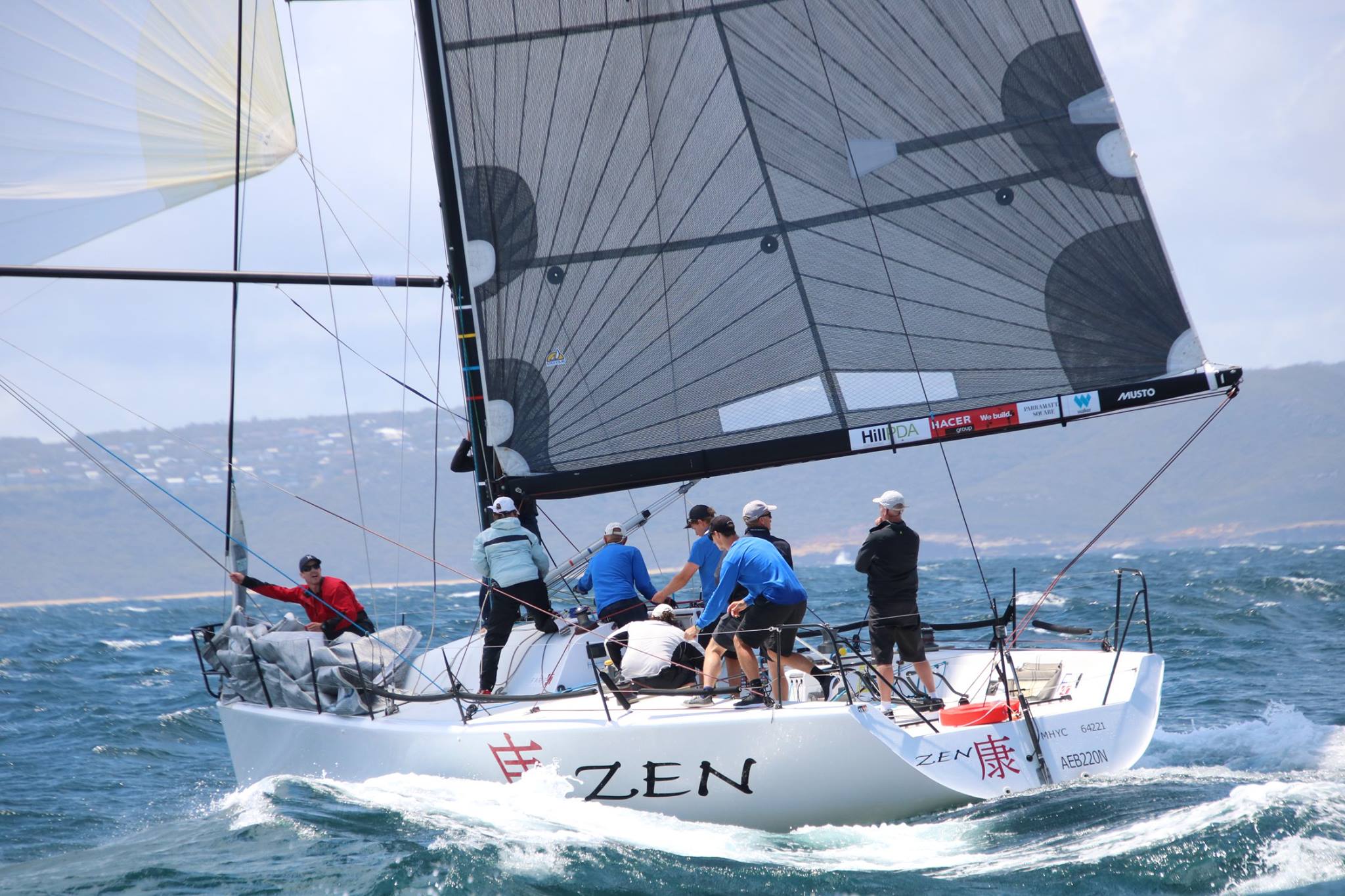 Two local RPAYC boats joined the Farr 40 fleet today for the first time in many years. Joachim Fluhrer supplemented his crew aboard Harlequin with members of the RPAYC Youth Development Team led by head Coach Tommy Spithill.
Carl Russett and the Windy Too crew dominate Farr 40 racing at RPAYC and their local knowledge and experience will no doubt see them move them up the leader board tomorrow.
National Race Officer Steve Merrington and the race management committee did a wonderful job today in ideal conditions of 15-20 knots and are looking forward to even better conditions tomorrow.
"We are really happy to have the fleet back at Pittwater and I hope they enjoyed sailing offshore today. The wind will be coming from the south east tomorrow and conditions will be a bit lighter than today and we will aim for four races to complete the series".
Race officials, owners and crew members enjoyed a regatta party at the club post racing and Class camaraderie was at its best whilst Edake and Outlaw both enjoyed some midnight sailing.
Results: www.farr40.asn.au/results
Day 1
1st Place - Double Black (Rob Pitts)
2nd Place - Nutcracker (Rob Davis and Andy Baker)
3rd Place - Zen (Gordon Ketelbey)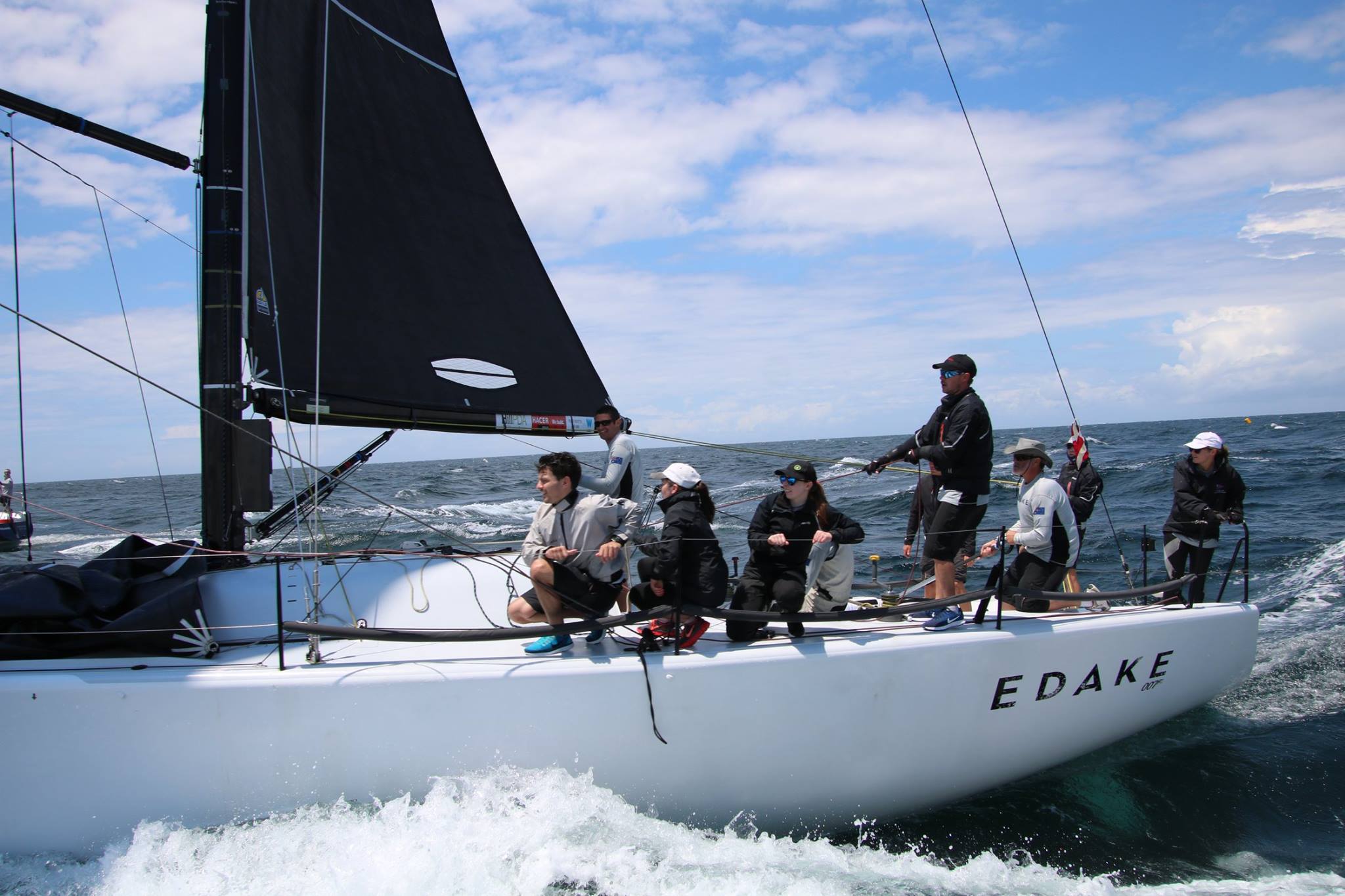 By Jennie Hughes - Farr 40 Australian Class
Outlaw wins Farr 40 regatta at Pittwater
November 18, 2018
Day two of the Farr 40 One Design Trophy took place today on glorious Pittwater and Tom Quick and the Outlaws have done it again. The team were placed deeply after yesterday's three races offshore and they hit the water running today with three bullets and a second place to win the regatta.
This is the third pointscore regatta win for Outlaw this season and Skipper Tom Quick was relieved the team pulled it together today. "It was a weekend of ups and downs, yesterday in particular. We were over in the first race, had a mark rounding episode and a spinnaker drop incident. We were pretty deep after the first two races and knew we had to try and have a clear run of wins to be in the mix today".
New to the Outlaw crew is Trimmer and Volvo sailor Rob Greenalgh. Quick complimented his crew, "It was great having a new trimmer on board and the rest of the crew were awesome. We had very clean racing today and everyone did a great job. David Chapman called very good tactics and the trimmers did really well changing gears with the wind strength, change and direction. It's a very tricky racecourse".
The last Farr 40 regatta for 2018 will be hosted by Newcastle Cruising Yacht Club on 1 & 2 December 2018 and Quick is looking forward to it. "Newcastle was our toughest regatta last year, so we are aiming for a good one this time and are looking forward to enjoying the Newcastle hospitality".
Gordon Ketelbey was unable to sail this weekend and appointed Good Form Owner Joe de Kock from Newcastle as substitute helmsman. The Zen crew had another consistent regatta placing them on the podium in second place.
Double Black was unable to hold onto their lead from yesterday and it was close, but no cigar for the Victorians dropping back to third place. Skipper Rob Pitts laughed, "We had such a great day yesterday and maybe we were feeling a little confident going into today. We held the lead for the majority of the first race and somehow managed to come third and a deep seventh place in race 6 shattered our dreams of winning our first Farr 40 regatta".
The Farr 40 Class would like to thank Royal Prince Alfred Yacht Club for their superb hospitality and Steve Merrington and the wonderful volunteers on the start boat without whom, successful regattas like this are not possible. Special thanks also to Carl Russett and the Windy Too team and Joachim Fluhrer, Tommy Spithill and the crew aboard Harlequin for competing with us this weekend.
Results: www.farr40.asn.au/results

By Jennie Hughes - Farr 40 Australian Class

November 18 Regatta video
by Tilly Lock Media