December 8 - 14, 2019: Issue 432
Farr 40 One Design Trophy - Pittwater: hosted by Royal Prince Alfred Yacht Club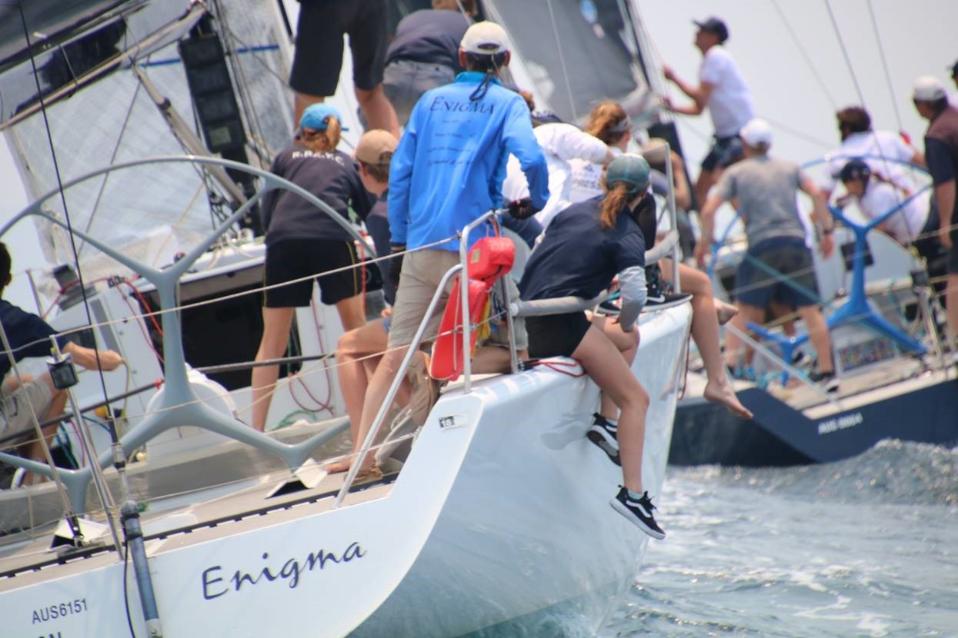 7 December 2019
Event: Farr 40 One Design Trophy, 7 & 8 December 2019 hosted by Royal Prince Alfred Yacht Club
The first day of the Farr 40 Pittwater One Design trophy was held on the Palm Beach circle with a nice nor' easter of 5-8 knots providing perfect conditions for the Class' final regatta of the season.
PRO Steve Merrington did a great job running two classes on the one racecourse and after four races, Jeff Carter's Edake is in first place by just one point, with Double Black in second and Exile in third on joint points.
Pittwater local and Farr 40 Owner of Enigma, Robert (Bob) Bennett worked with Tom Spithill to put together a RPAYC youth development team helmed by Jim Gordon today and Bennett tomorrow. The young team thoroughly enjoyed their maiden Farr 40 regatta and Bennett was proud of their performance.
"Tommy and I work closely together on a lot of things at RPAYC and he suggested a few weeks ago that we get the kids on Enigma for this regatta. My regular crew were only too happy to give up their racing today and I'm an old softie. I just really enjoy seeing happy faces on kids.
The team are locals and they all race on different boats. We want to develop their skills and hopefully retain them in the club and today was the first time they have ever been on a big yacht. The average age is 20 years old and then there's Jim Gordon and I who are taking turns at the helm. I'm really proud of how well they sailed today and tomorrow, we are aiming to move up a spot."
The Enigma motto as printed on their crew shirts is: "Over 20 degrees, under 20 knots, less than 20% chance of rain. Triple checked and good to go!
There is no stopping current World Corinthian champions Edake and with consistent scores of 1.3.3.2, the crew are on a roll having won the last two regattas.
Rob Reynolds was unable to sail this weekend and handed over the reins to Sam Hill. Hill, no stranger to Farr 40 racing had an absolute blinder with the experienced crew and it's up for grabs going into the final races tomorrow, with just one point separating the top three.
Racing will commence tomorrow, Sunday, 8 December 2019 at 12noon.
The Farr 40 Australian Class is proudly sponsored by Hacer Group.
Results: www.farr40.asn.au/results
By Jennie Hughes
Farr 40 Australian Class Administrator
Edake wins Pittwater One Design Trophy
December 8, 2019
There was absolutely no stopping Jeff Carter and the Edake crew today as they smashed out two quick wins in races five and six, putting them so far ahead they had won the regatta before the last race had begun.
Carter had the win in the bag after the most spectacular finish in race six, where down to the last fifty metres Exile were three boat lengths ahead. Never to be underestimated, Carter caught a small vein of pressure giving them a hotter angle to the finish, where they pipped Exile by less than a quarter of a boat length as the race finished with cheers from spectators and crew.
"Today was very close racing. In race six we were able to work our way into second place behind Exile. We had to be patient on the last leg downhill and felt the boat end was favoured, so we broke away to the pin. Exile came back a little later and that's when Harry (Price) and Alice (Tarnawski) decided to let them have the pin, while we put the speed throttle down to the boat end.
We worked the lumpy conditions and crossed in first by the smallest of margins to take the win. We were not sure of how many points we had on the others but as it turned out we didn't need to finish the last race of the day. We played it safe and gave Outlaw a run for their money and finished second. The back to back regatta wins is a good start to the season, however, we still have room for improvement.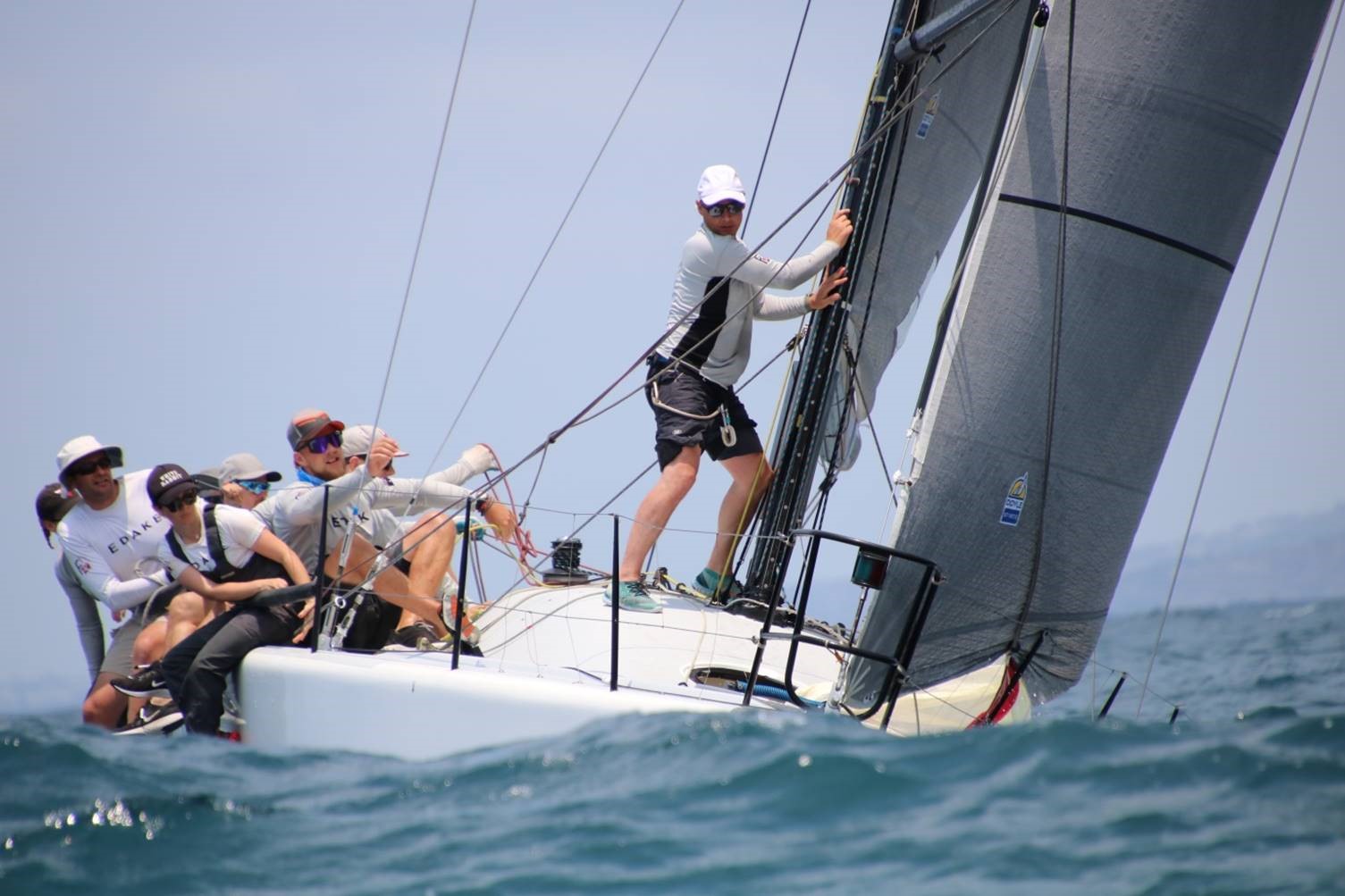 Regatta winner – Edake (Jeff Carter) Photo by Jen Hughes
Reigning National Champion Tom Quick's Outlaw narrowly snuck into second place and whilst they are not dominating as they did last season, they are always on the podium and the competitive team will be on the hunt for a win in January.

Tom and Alan Quick's Outlaw – 2nd place Photo by Jen Hughes
The Exile crew, with substitute helmsman Sam Hill, along with his rock star tactician Finn Alexander, were strong all weekend and just missed out on second place to Outlaw by one point.
Exile with Substitute Helmsman Sam Hill – 3rd place. Photo by Jen Hughes
Hats off to Bob Bennett and Tommy Spithill for organising the Youth Development Team on Enigma who impressed all competitors.
That's a wrap for 2019! The next Farr 40 regatta will be held in January at Middle Harbour Yacht Club where eleven entries have been confirmed, as the rest of the fleet reunite and get down to business in the lead up to a massive year with the NSW State Titles, National Championships and then the big one, the Farr 40 Worlds 2020.
The Class would like to thank Royal Prince Alfred Yacht Club and all the wonderful staff for their superb hospitality and PRO Steve Merrington and the race management team, who are so committed to our great sport.
RESULTS
1st – Edake (Jeff Carter) 13 points
2nd – Outlaw (Tom Quick) 18 points
3rd – Exile (Rob Reynolds and Sam Hill) 19 points
4th – Double Black (Rob Pitts) 20 points
5th – Enigma (Bob Bennett) 35 points
The Farr 40 Australian Class is proudly sponsored by Hacer Group.
Jennie Hughes
Farr 40 Australian Class Administrator