December 10 - 16, 2017: Issue 341
Farr 40 Newcastle One Design Trophy 2017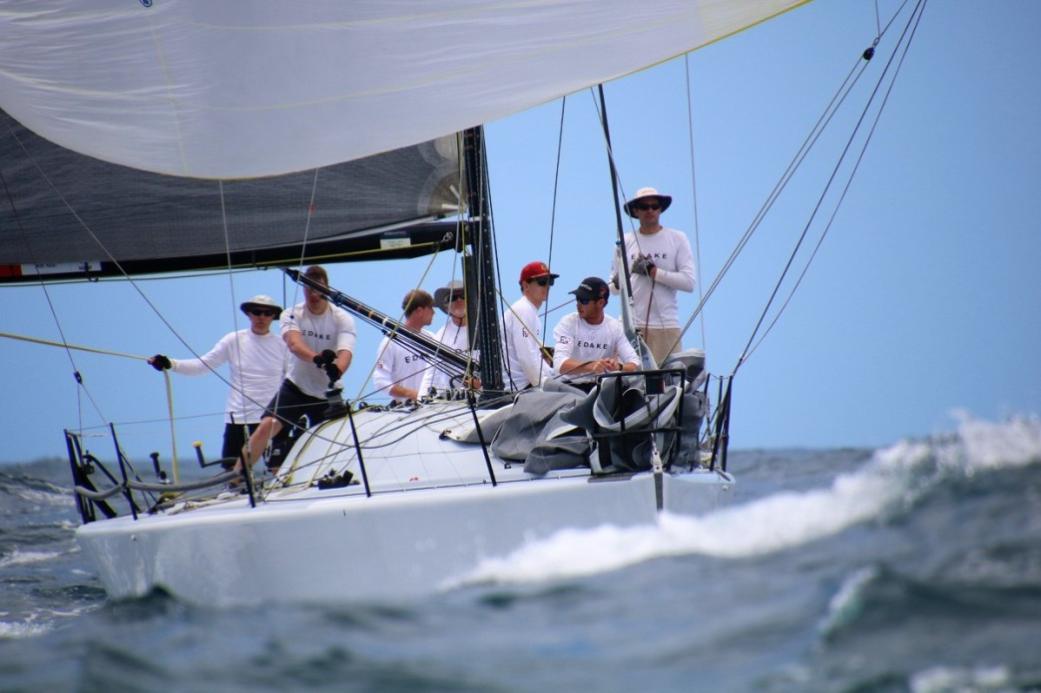 Edake leads after day 1 Newcastle OD 2017 - photo by Jen Hughes
Edake leads Newcastle Farr 40 series
December 9, 2017
Event: Farr 40 Newcastle One Design Trophy, December 9-10, 2017 sailed offshore
Jeff Carter's Edake is the toughest Farr 40 moniker in the Australian fleet to pronounce; the most common mispronunciation being the phonetic Ed-ark-ee. The rest of the one design crews only need remember 'Edake' rhymes with 'headache', which is what Carter and his team inflicted on the strong fleet contesting day one of the Newcastle One Design Trophy.
Carter is one of the more subdued Farr 40 owners, until he starts crunching sixes over the boundary. Then the Akubra-wearing owner/skipper starts dropping plenty of 'awesomes' and beautiful sporting prose while recapping the day's highlights.
"We nailed three of the four starts, one we were over by half a metre and had to cross the fleet on port tack to find ourselves in eighth. Our speed was awesome and we came back with pace to finish third in that race. We've come out today and shown the other boats we have the ability and crew work to make a real go of it."
Being only one point clear of the nearest challenger Hill PDA, Martin Hill's Farr 40 racing team, after four races means the pair start from scratch tomorrow. "There's no stay at the wicket," Carter added.
Racing began under the leadership of Ted Anderson and his Newcastle Cruising Yacht Club race management team in nauseatingly lumpy seas and 15 knots of opposing ENE wind. By the final race the sea state had flattened out and the breeze dropped to nine knots out of the sou'east.
Describing the last race Carter narrated: "It was us and PDA fighting it out. We did six or seven tacks to windward and even tried to fake gybe on them, to get them off our hip. It was awesome; it's just great racing up here."
Hill PDA squeezed two firsts out of races three and four but a fourth in race two became their ball and chain. "Farr 40 racing is about saving inches," Hill said of another incredibly close contest, the second of the class' 2017-18 summer season.
Rio 2016 Laser gold medallist Tom Burton is Hill's tactician for the Newcastle series and feeding Burton plenty of intelligence was Finn Alexander, Australian Sailing's Youth Sailor of the Year who one day hopes to achieve the same Olympic honour in the same class.
"We've got the Laser boys on for this regatta and I was really pleased with Finn's input, and the fact we improved over the day," Hill said. "The race management was great and the courses well positioned. It's all on tomorrow," the skipper cautioned.
Newcastle crew Good Form led by skipper Joe de Kock opened strongly, taking victory by half a minute in race one but unable to maintain good form over the course of the pleasant summer's day. They ended up fourth overall and ahead in third is Andy Baker and Rob Davis' Nutcracker sailing for Sandringham Yacht Club on the shores of Port Phillip in Victoria.
The second half of the weekend series is due to commence for the fleet of eight Farr 40s at 1100hrs on Sunday December 10 and four more races are scheduled. Sunday's forecast indicates 10-15 knot sou'easters and one metre seas.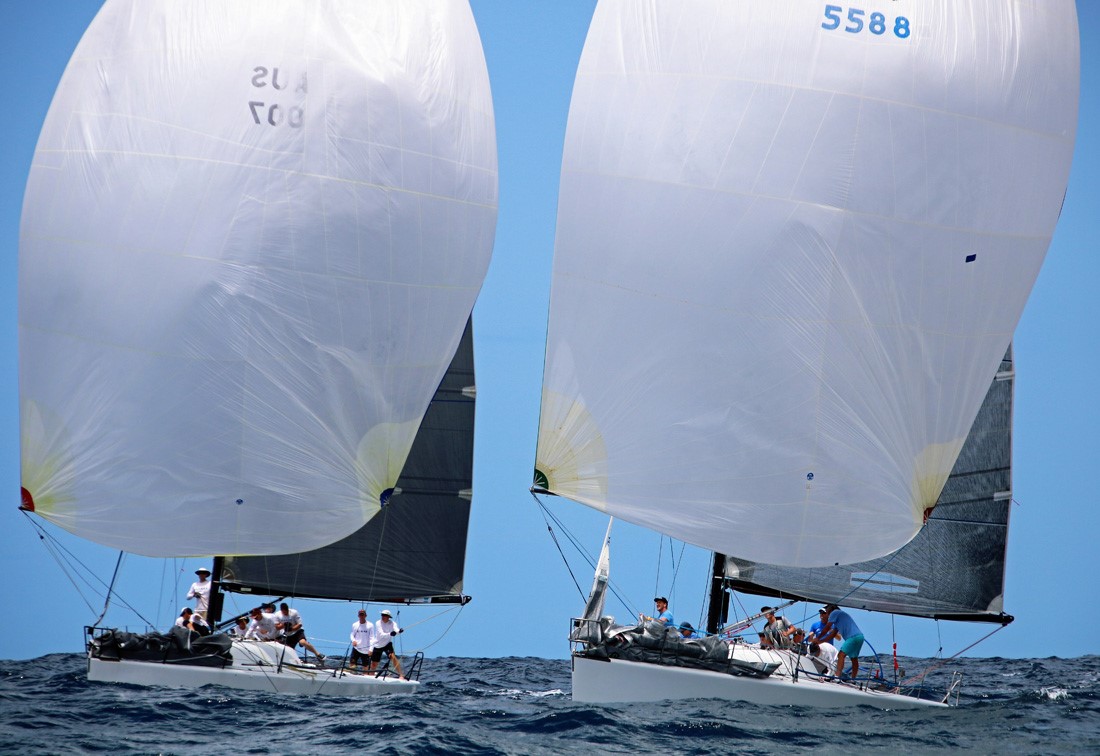 Edake & Good Form downwind - photo by Jen Hughes

Will Ryan, Double Black - photo by Jen Hughes

Newcastle OD Trophy results
Instagram @Farr40_Australia
Facebook
Website
By Lisa Ratcliff/Australian Farr 40 media
Edake's Farr 40 Newcastle One Design series blinder
December 10th, 2017
Jeff Carter's day one whiff of victory at the Farr 40 Newcastle One Design Trophy turned into a blast when Edake rolled across the finish line first in all four races.
Carter has invested 11 years into high level one design racing with two different Farr 40s and on Sunday December 10, 2017 his Edake racing team scored their best set of results, and crushed the current national champion.
An emotional Carter attributed the victory to hitting the start line in a good position, sail design and crew work, which he says is up there with the pro teams. "The boat is quiet and has speed. We've been working at this boat for seven years and all bar two are core crew from the lead up to the 2016 Farr 40 worlds in Sydney.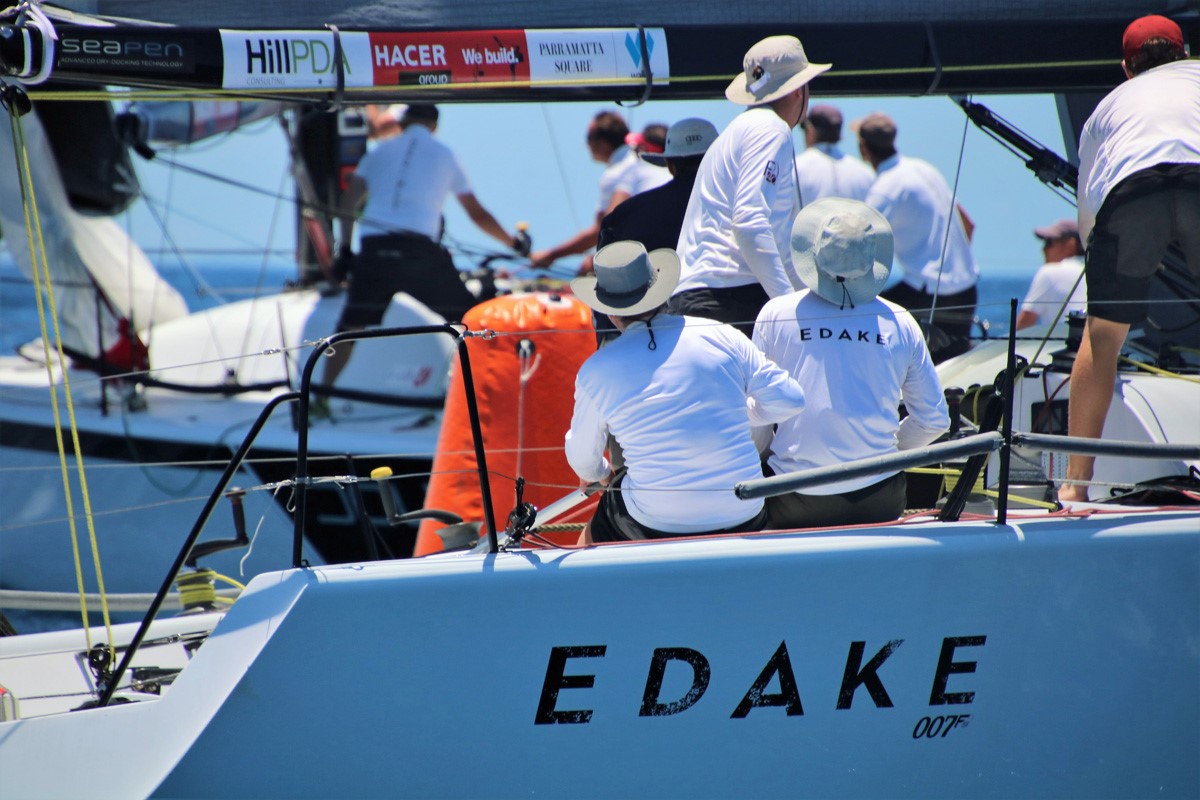 Newcastle OD 2017 winner Edake - photo by Jen Hughes

"We've been up there on day one before but haven't managed to complete a series of eight races, and we've never taken four bullets in one day…that's like the Transfusion days. It was humbling when Martin Hill (Hill PDA skipper) and Tom Burton (Olympian and Hill PDA tactician) came up afterwards and said we did absolutely everything right out there."
Hill PDA went into day two of competition encroaching on Carter's personal space but their mixed results in lighter winds and Edake's unstoppable brilliance created a 14 point difference between the series winner and the runner-up.
Third on a countback was Rob Davis and Andy Baker's Melbourne team on Nutcracker and fourth was the Novocastrian Farr 40, Joe de Kock's Good Form, which finished the day with a solid second in the final race, 10 seconds behind repeat winner Edake.
De Kock knows the effort it takes to sail from Newcastle to Sydney with a crew and compete, and to have seven Sydney and Melbourne based Farr 40 teams return the favour is a mammoth undertaking.
"It's awesome having everyone up here for one regatta, they are just a good bunch of people," de Kock said. "Winds were light which was good for those who haven't sailed together much before, and it was a great opportunity for local Newcastle Cruising Yacht Club sailors who filled in some crew gaps."
Second to Edake's faultless display, Rob Pitts' Double Black crew, including heavy-hitter Will Ryan as tactician, made the greatest gains on day two, finishing second by just nine and 14 seconds respectively in races five and six.
NCYC race officer Ted Anderson set a course at the north end of Mereweather Beach and in 6-9 knots of SSE to SE breeze and flat water his team ran off the second half of the one design series.
The Australian Farr 40 Association thanks all the NCYC volunteers and supporters of the 2017-18 season:
The next regatta for the fleet is the weekend of January 20-21, 2018 out of Middle Harbour Yacht Club.
By Lisa Ratcliff/Australian Farr 40 media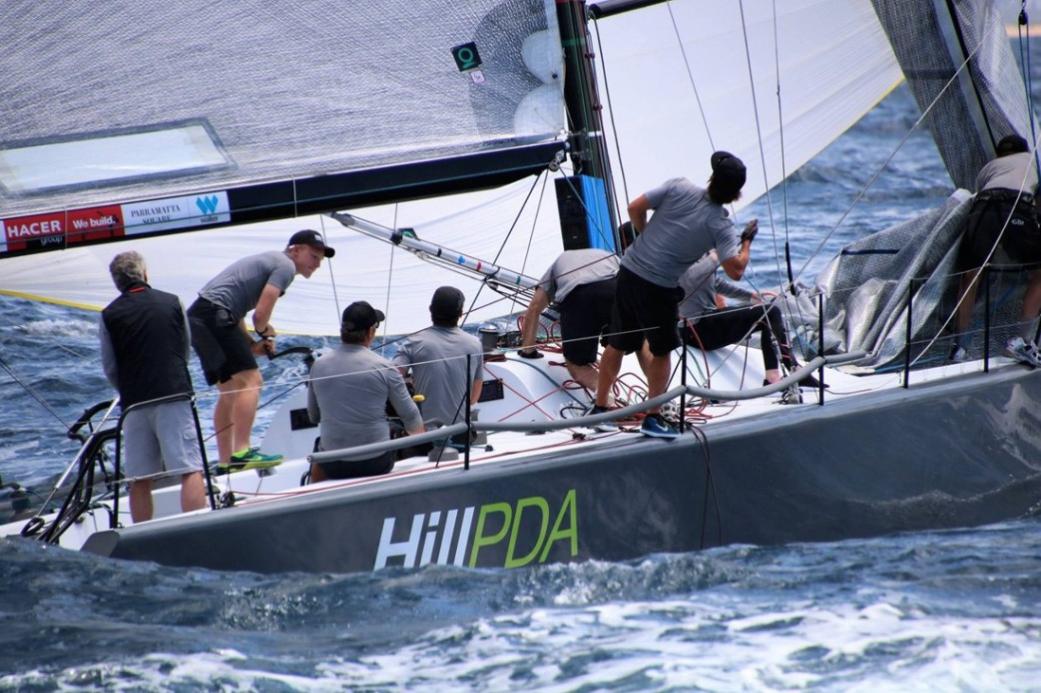 Hill PDA Newcastle OD Trophy 2017 - photo by Jen Hughes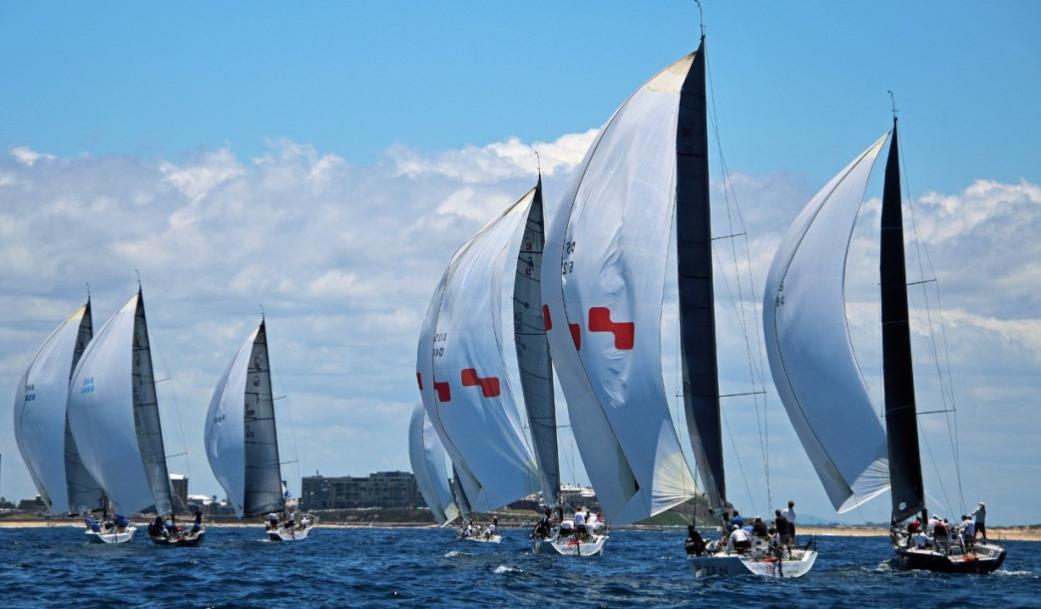 Fleet downwind Newcastle OD Dec. 2017 day 2- photo by Jen Hughes