February 12 - 18, 2017: Issue 300
Farr 40 2016/17 NSW State Title - hosted by Middle Harbour Yacht Club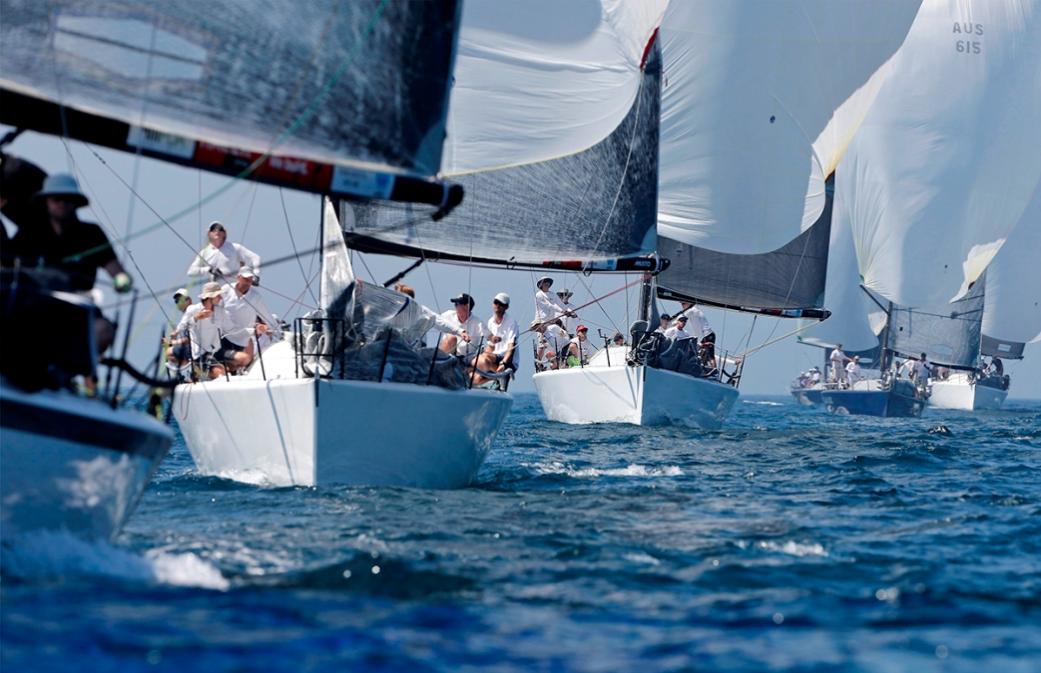 NSW Farr 40 title 2017 fleet downwind - photo by Crosbie Lorimer
Estate Master the new NSW Farr 40 state champion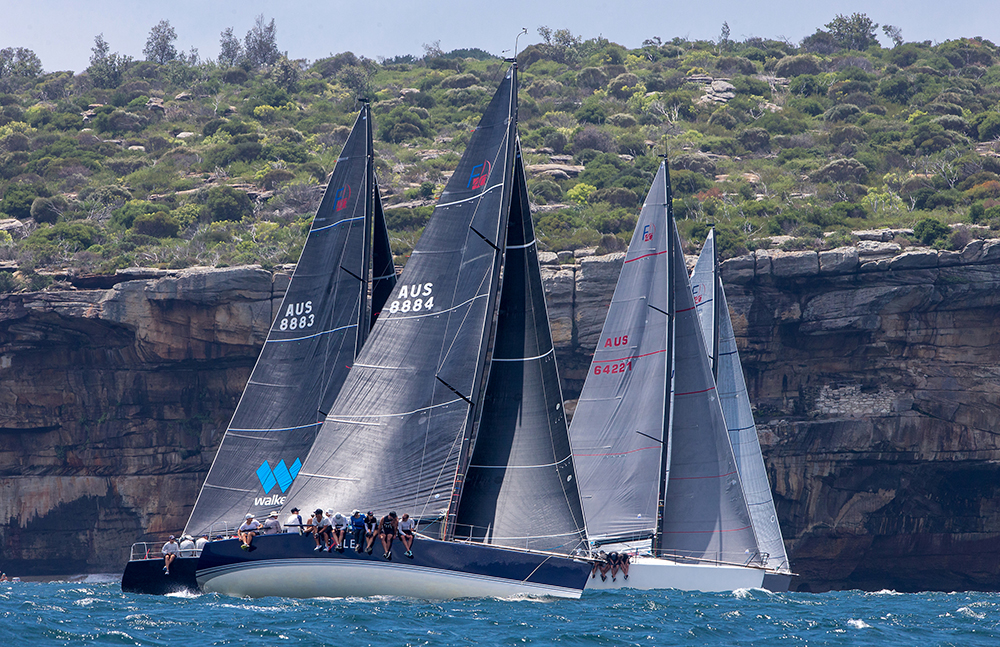 F40 fleet under North Head - photo by Crosbie Lorimer

12 February 2017

Martin Hill's Estate Master narrowly beat the runner up on the final day of the Farr 40 NSW State Title 2017 that wrapped up on Sydney Harbour in strong sou'east winds.
The days when Estate Master and what used to be Transfusion locked horns resumed at the two-day title. The pair were even on 10 points going into race six then Belgiorno-Nettis' Angophora got mixed up with Gordon Ketelbey's Zen at a top mark rounding.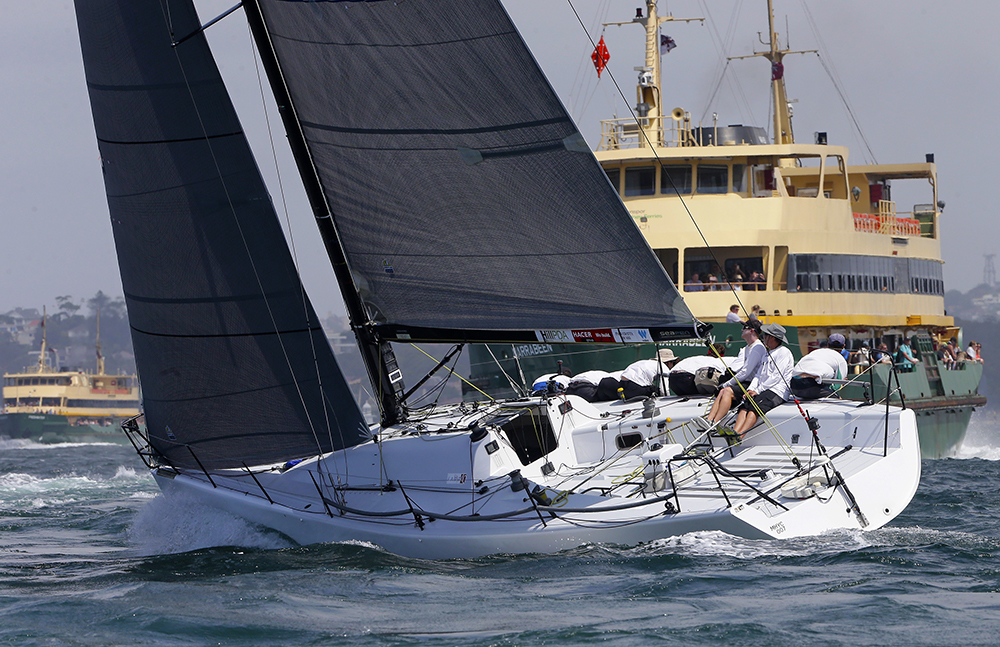 Edake & Manly Ferry NSW State Title 2017 photo by Crosbie Lorimer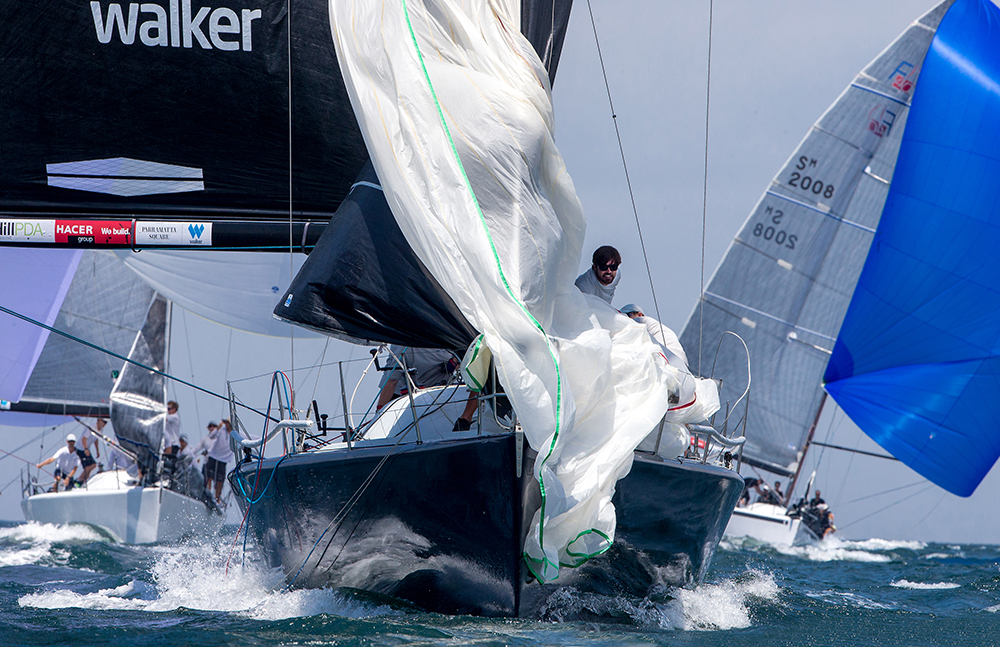 Kokomo's Pete Salt pulling the kite in F40 NSW State Title day 2 - photo by Crosbie Lorimer
Hill and his tactician David Chapman kept clear of the fleet and sailed into second in the 18-22 knot breeze while Belgiorno-Nettis lost touch with Estate Master and finished fifth, putting the state championship title out of the team's reach despite Angophora's follow up bullet in race seven.
Back at Middle Harbour Yacht Club as 30 knot gusts whistled through the marina, a delighted Hill, who won overall by two points, said, "It's very very tight out there. Estate Master has been at all the regattas and you can see that in the consistency, plus the boat's really quick upwind. It looks easy at the end of the day, but I tell you what, it's hard. Four races was enough.
"We had a good mix of conditions for this series, light yesterday then over 20 knots in that last race. When you think you have an advantage in this fleet, don't rest on that thought too long. Farr 40 racing is all about the fundamentals; good starts, hiking hard, very good trim. It's a game of inches, we were able to save rather than lose inches."
At the trophy presentation Hill gave special thanks to his core team of amateur crew. "I'd like to thank the professionals but it's a team of 10 and it's the amateurs who give us an all-round performance. It's fantastic the effort they all put in and I'm looking forward to the Sydney Harbour Regatta and the nationals in March."
Belgiorno-Nettis had Julian Plante calling tactics and world youth Laser champion Finn Alexander working closely with Plante as strategist, an exciting offshoot for the talented dinghy sailor.
"It's so great to be back with some new young guys on the boat, like Finn," said Belgiorno-Nettis. "Considering it was our first time back we didn't make too many mistakes. Congratulations to Marty and his team; they worked really hard."
The two frontrunners put a large points hole between them and the rest of the field. Third overall was Jeff Carter's Corinthian team on Edake.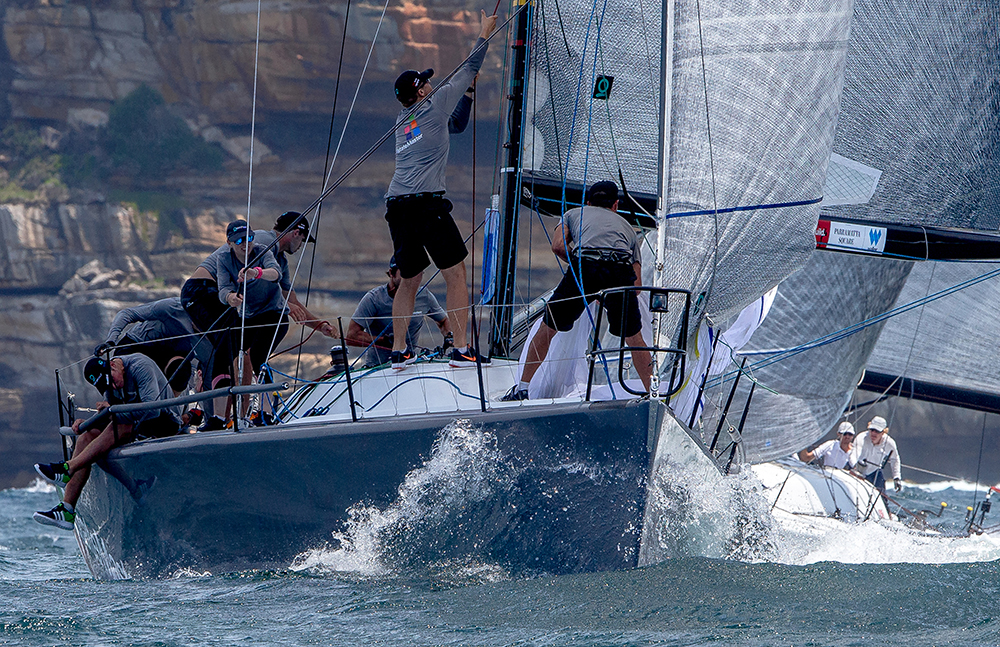 NSW State Champion Estate Master - photo by Crosbie Lorimer

One class event remains in the 2016/17 season calendar, the John Calvert-Jones Trophy: National Championship March 10-12 out of Royal Sydney Yacht Squadron.
The 2016/17 Farr 40 Australian series is proudly sponsored by;
By Lisa Ratcliff/Australian Farr 40 media
Farr 40s sizzle at state title
11 February 2017

Event: Farr 40 2016/17 NSW State Title February 11-12, 2017 hosted by Middle Harbour Yacht Club with racing offshore on Saturday 11th and on The Sound course area, Sydney Harbour, on Sunday 12th
In temperatures 30 degrees plus, Sydney's beaches were packed on Saturday February 11 and a little out to sea off Manly's famous surf beach on the first day of the Farr 40 NSW State Title the good guys sizzled.
Three different winners and the most consistent Farr40 crew leading the pointscore is how day one of the state title finished up.
Martin Hill's Estate Master scored the first victory on the Manly Circle course area, then Rob Pitts' Double Black and finally Jeff Carter's Edake. But it was Guido Belgiorno-Nettis' day with Angophora, thanks to three second places.
Light north-east to northerly winds three to nine knots were just enough to conduct three races over a long outing. The day began promisingly in NE 8-9 knots then turned messy as the land heated. PRO Denis Thompson raised the postponement flag during the race two start sequence and it stayed raised for an hour and a half. By the close of race three things were looking shaky again and Thompson signalled a shortened course.
Victorian based Pitts and his team wear black crew gear to match the boat's moniker, Double Black. After today's searing summer temperatures Pitts says they may have to rethink the colour coordination idea. "It was really hot; we were melting out there in our black t-shirts."
On Double Black's race two bullet Pitts said a great start set them up. "Our start put us in a great spot as it meant we weren't ducking other boats, then some tidy spinnaker work kept us at the front of the fleet."
From his first season with the Sydney fleet, Victorian skipper Pitts has most enjoyed the offshore days, Newcastle last month and today in the Middle Harbour Yacht Club run NSW State Title. "We loved the Newcastle series and the outer harbour has been great though I am looking forward to racing on Sydney Harbour tomorrow."
Thompson says the forecast for fresher conditions on Sunday February 12 will put the onus on crew work. A stronger southerly change is expected along the NSW south coast this afternoon, reaching Sydney waters this evening. Winds are set to remain generally south to south-easterly and the Sydney closed waters forecast for tomorrow's four planned races is southerly 15 to 25 knots.
Racing is due to start at 1100hrs on The Sound.
The 2016/17 Farr 40 Australian series is proudly sponsored by;
By Lisa Ratcliff/Australian Farr 40 media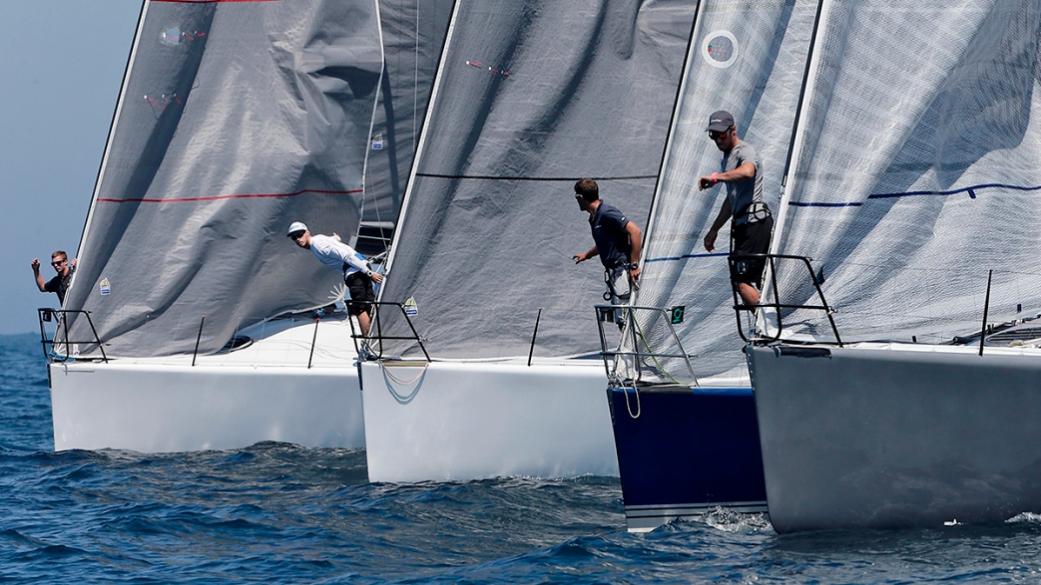 NSW title 2017- lining up for a start - photo by Crosbie Lorimer
An old foe returns to the Farr 40s
8 February 2017
Event: Farr 40 2016/17 NSW State Title February 11-12, 2017 hosted by Middle Harbour Yacht Club with racing offshore on Saturday 11th and on The Sound course area, Sydney Harbour, on Sunday 12th
A familiar skipper is making his Farr 40 return with an unfamiliar boat name at this weekend's NSW State Title hosted by the Middle Harbour Yacht Club at The Spit, Sydney.
Guido Belgiorno-Nettis is bringing what was Transfusion, now Angophora, to the NSW Farr 40 title under a very different set of expectations. The boat's moniker derives from Angophora Capital, the Belgiorno-Nettis' family office which was named after a native Red Gum Angophora Costata that lines the foreshore of Sydney's famous waterways.
The days when Transfusion was the boat to beat are still vivid in the class' memory. Belgiorno-Nettis has, until now, sat out of the 2016/17 season though his son Massimo put a Transfusion crew together for the Pittwater One Design Trophy and the boat was lent to Jeff Carter for the Newcastle OD Trophy last month.
Meanwhile Martin Hill's Estate Master has slapped a reserve sign on the top spot once held by the multiple Australian and world champion Transfusion crew. Hill's team was victorious in two of the three lead-up regattas with Carter's Edake the nearest challenger on cumulative points.
"We are coming back for the states and nationals and I'm looking forward to it; we haven't sailed against the fleet in anger for some time," Belgiorno-Nettis said. "We've got a mixed crew including some of the old guys and some who haven't sailed with us before. Bobby Wilmot's putting the team together. We haven't raced this season and therefore had the chance to consolidate the crew; really we are doing the states for fun, though we'll still aim to be competitive.
"Martin Hill and his Estate Master team are very focused and working hard to towards the final events of the calendar," added Belgiorno-Nettis, the skipper who spent years maintaining the highest-level Farr 40 program and these days enjoys a more relaxed mode campaigning his Melges 20.
Returning to the eight boat field for the state title is Lang Walker's Kokomo, which scored the opening win at the MHYC One Design Trophy in October then took a spell for the next two lead-in series.
Seabreeze.com.au is showing a sizzling 39 degree day on Saturday and 7 knot ENE the most wind. On Sunday a change isn't expected until mid to late afternoon following a horror morning breeze-wise, single figures starting 3 knots NE early morning and clocking through north to eventually relieve crews when the SW change hits.
Up to four races are due to start offshore on Saturday February 11 from 1100hrs and on Sunday at 1100hrs back in Sydney Harbour, most likely on the waters between North and South Head called The Sound.
Principal Race Officer Denis Thompson and his team will oversee the roll out of the planned eight-race schedule.
Farr 40 2016/17 NSW State Title entries:
1. Angophora – Guido Belgiorno-Nettis (NSW)
2. Double Black – Rob Pitts (VIC)
3. Edake – Jeff Carter (NSW)
4. Estate Master – Martin Hill (NSW)
5. Exile – Rob Reynolds (NSW)
6. Kokomo – Lang Walker (NSW)
7. Nutcracker – Rob Davis & Andy Baker (VIC)
8. Zen – Gordon Ketelbey (NSW)
The 2016/17 Farr 40 Australian series is proudly sponsored by;
By Lisa Ratcliff/Australian Farr 40 media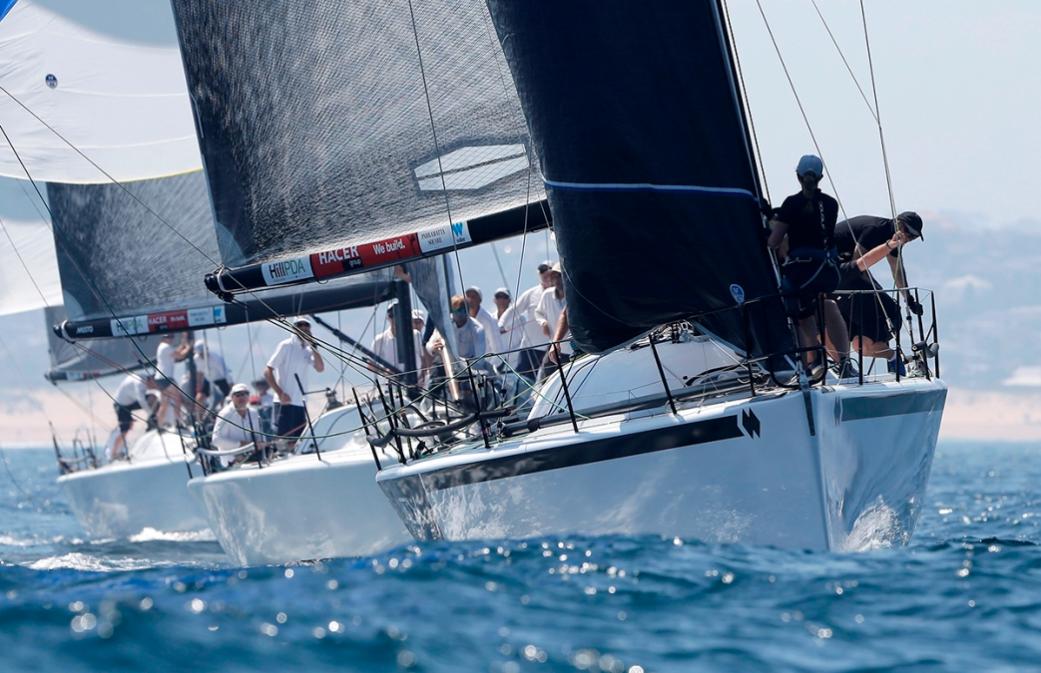 NSW title 2017 Double Black in the lead- photo by Crosbie Lorimer