November 10 - 16, 2019: Issue 428
the Christmas drought run - Hampers For Farmers And Their Families: 2019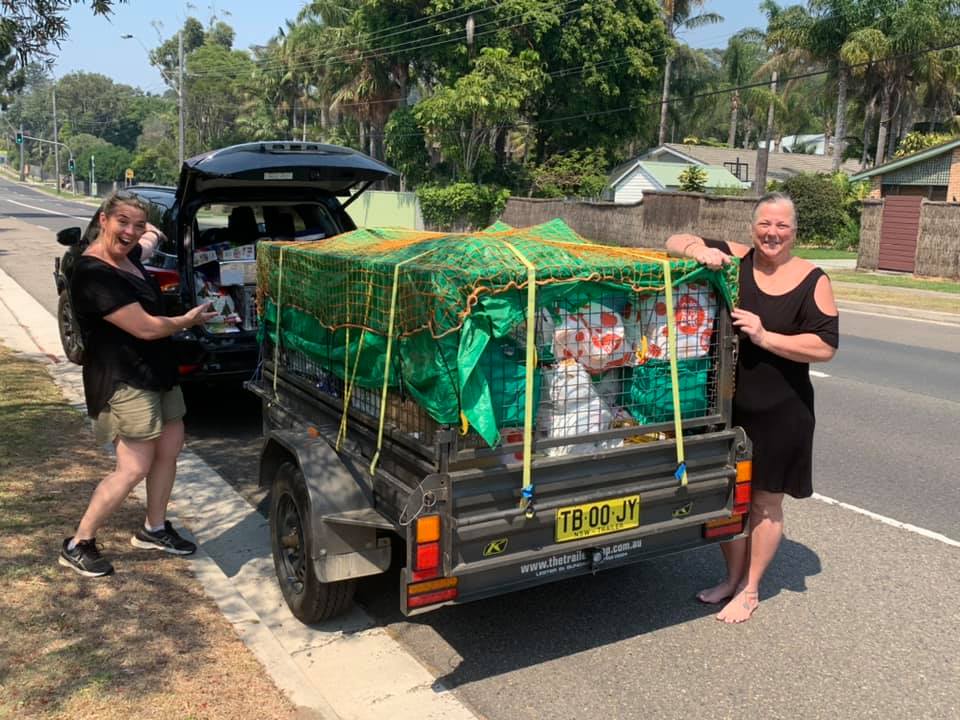 Di (left) and Lisa with the first trailer of donations collected a few weeks ago.
Avalon Beach women Lisa Hewitt and Di Cutrie are known for getting out of their comfort zone and rising to the challenge. The former policewoman and Avalon Bulldogs stalwart and current swim teacher, along with good mate Di, who used to have the bakery at Careel Bay a few years back, are asking the community to dig deep for those who can't turn the tap and have fresh clean water, and help out communities in the bush this coming Christmas.
The girls are currently collecting a range of necessities and new toys to get to three towns so those already struggling with bushfires and a drought that won't end have a bit of relief and care from the city this coming December.
For the next two weeks Lisa's home is the drop off point for everything from dry dog food to new toys for youngsters. Lisa explains:
"Di Cutrie and myself (Lisa Hewitt) are collecting for these poor farmers, can everybody dig deep. Imagine what these poor peoples' lives are like. If everyone here just gave a little, we as a community could make just a small difference to some very struggling farmers and their families lives.
The 'Hampers' is only ONE part of our THREE part Christmas Drought Run!!
We still require literally TONNES and TONNES of non-perishable food, 10ltr water cartridges, dry pet food, IGA Gift Cards, Pre-paid Visas/Pre-paid EFTPOS cards, BRAND NEW unwrapped toys and gifts for the farming kids for our 330+ Prime Producing Farmers and their families of the Baradine, Bingara and Yeoval areas.
We are ALWAYS low on the following donations:
Non perishable food: canned foods, dried noodles, UHT Milk

Olive Oil: which is absolute LIQUID GOLD to our Farmers!!
Sunscreen 50SPF+
Aerogard Tropical Strength
Moisturiser for face and body - the wives aren't buying any for themselves, they just keeping going without, and one husband asked if we could send some for them - Di and myself are going to make up special gift hampers for the wives.
Baby Wipes!! Used instead of showers! No water means no shower or bath.
Hand santiser - see above.
Dried dog food - most of these properties have working dogs that can run an average of 60k a day and can't operate without them. If they lose their dogs they may lose their flocks and herds. They need to be fed.
Feed for cows and sheep: NB: It costs 45 cents per sheep per day in feed to keep most of these flocks still here - the average cost each farmer and their families are facing for the next 12 months to hold out until rains may come is $120k, adding the stress of getting further into debt to keep these wool flocks part of what Australia produces.
Unwrapped brand new toys for children -
Please keep the Donations coming in! We have 3 semi trailers on stand by, we just need to fill them to the brim.
Drop off to: 594 Barrenjoey Rd, Avalon Cnr Eastbourne ave, - by November 29th and lets bring a bit of relief to these farmers and their families in just these small ways.
Thanks so much,

Lisa and Di...'
Lisa is also asking that people buy from the country this Christmas and points to the Buy From the Bush webpage (on Facebook), which is listing everything available and a photographers website:
"One of the contacts I have in Yeoval has taken some incredible photos of the drought and is trying to sell them. Check her website http://forgottenfarmersphotography.com they are incredible." Lisa explains.
Many of us in Pittwater have come from the country or have mates in the country and know that out there, when someone is in trouble, you don't talk about it, you just go help, and do what you can without too much fuss. And then get on with it.
Here we are presented with an opportunity to do what we can for people who are at their wits end and would appreciate a hand up this coming Christmas. As Lisa and Di say; if we all gave just a little it may bring a smile that we may never see, from people we may never know, but whom we will have reached anyway with a bit of what is the credo here too.
A little bit about Baradine, yeoval and Bingara
Baradine

Baradine is a small town in north western New South Wales, Australia. At the 2006 census, Baradine had a population of 593. Baradine is located on the Coonabarabran-Pilliga road, about midway between Coonabarabran and Pilliga. It is adjacent to Baradine Creek which flows intermittently northwards from the Warrumbungles.
The area was originally inhabited by the Gamilaroi Nation of Aboriginal peoples, and first settled by Europeans in the late 1830s and was proclaimed a village in 1865. Baradine's name appears to have been derived from an Aboriginal word for "red wallaby". Baradine Post Office opened on 1 January 1867.
Baradine is the administrative centre of the Pilliga Scrub, whose history is documented in A Million Wild Acres by local farmer Eric Rolls in the 1970s.
It is a really friendly town with much to offer both visitors and locals. Baradine has two hotels with accommodation, a great caravan park, two cafes, an amazing Parks and Wildlife visitor centre, a mechanical workshop/fuel station, a hospital with attached medical centre, a CRT rural supplies merchant, a fantastic IGA supermarket, a chemist, swimming pool, police station, preschool, post office and two schools - St John's Catholic Primary school and Baradine Central school.
Baradine Central School provides for children from Kindergarten to Year 12. Students are drawn from the immediate township, surrounding properties and the villages of Kenebri and Gwabegar. It is these darlings we would like those in Pittwater to help out with Christmas Presents if possible. - Lisa and Di need BRAND NEW unwrapped toys and gifts for the farming kids and IGA Gift Cards, Pre-paid Visas/Pre-paid EFTPOS cards for those able to help - please drop off to: 594 Barrenjoey Rd, Avalon Cnr Eastbourne ave, thank you!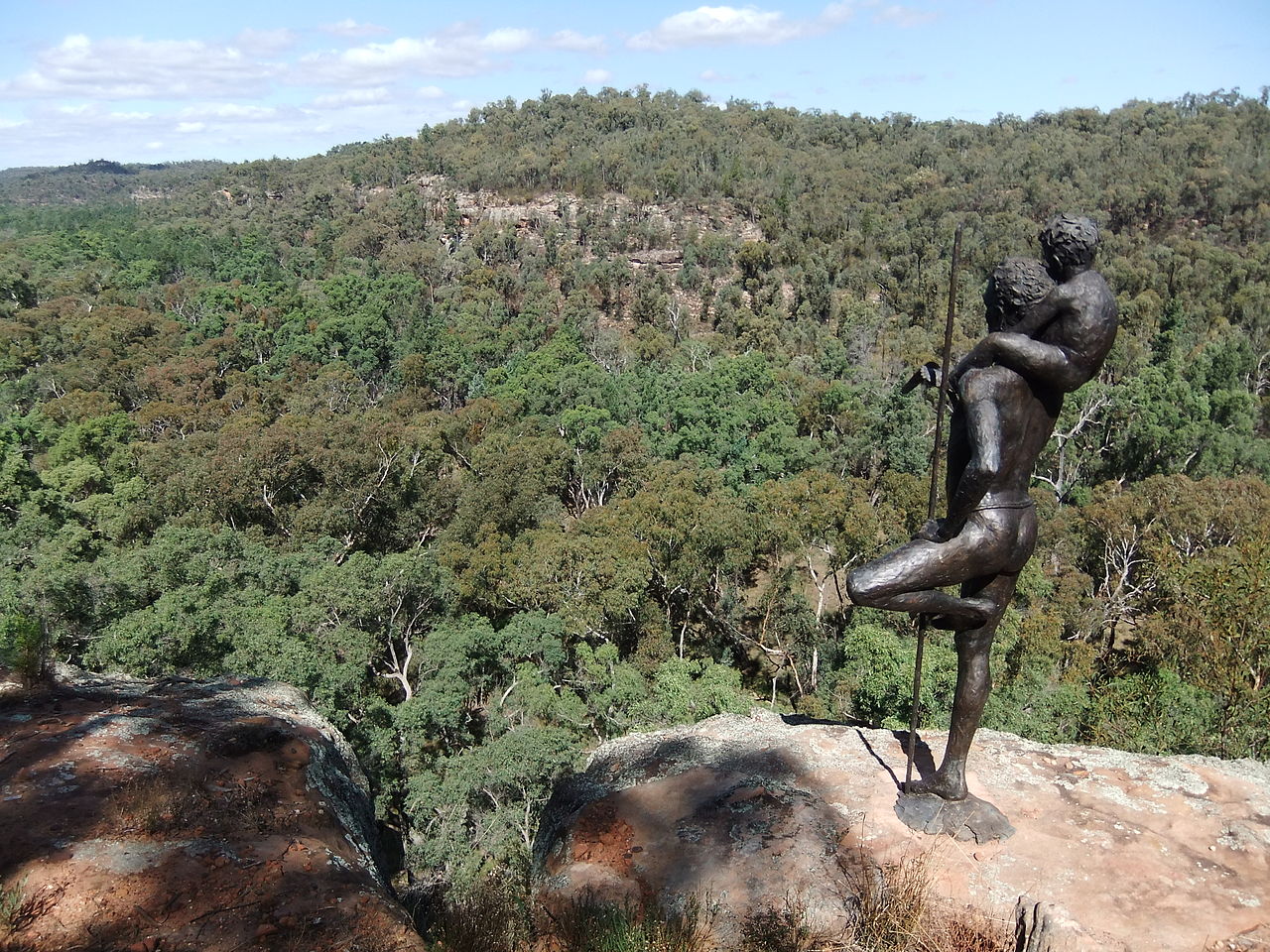 Photo; ''First Lesson'': Bronze casting sculpture by Brett Garling looking over the Dandry Gorge as part of Sculptures in the Scrub in the heart of the Pilliga Forest - near Baradine - photo by Vivian Evans from Coonabarabran.
Yeoval
Yeoval is a small village in the Central Western district of New South Wales, Australia. The town lies in Cabonne Shire. However, a small part lies over Buckinbah Creek in Wellington Shire which is referred to as North Yeoval. At the 2016 census, Yeoval had a population of 430. The town was the childhood home of Australian poet Banjo Paterson, who lived on the nearby Buckinbah property, and many of his poems reflect the area.
Andrew Barton "Banjo" Paterson, CBE (17 February 1864 – 5 February 1941) was an Australian bush poet, journalist and author. He wrote many ballads and poems about Australian life, focusing particularly on the rural and outback areas, including the district around Binalong, New South Wales. Paterson's more notable poems include "Clancy of the Overflow" (1889), "The Man from Snowy River" (1890) and "Waltzing Matilda" (1895), regarded widely as Australia's unofficial national anthem.
A Banjo Paterson Museum is open to visitors at Yeoval.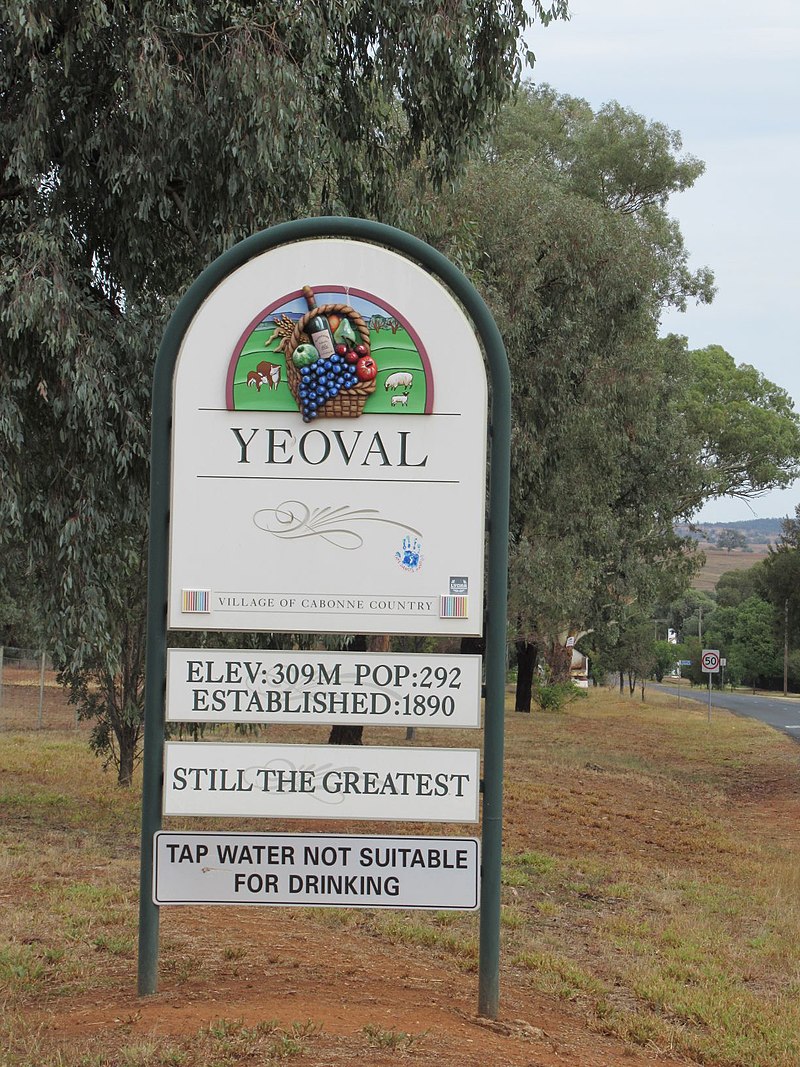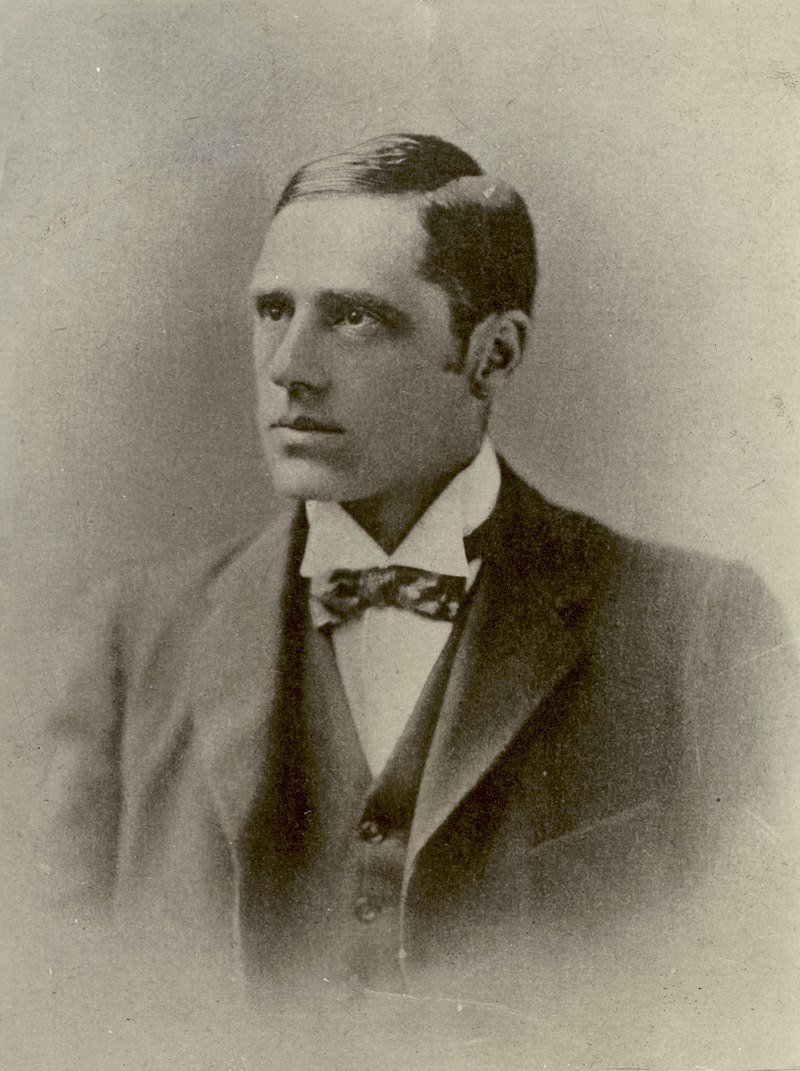 Photos: Entrance sign to Yeoval, NSW by Julie May. Australian poet Banjo Patterson by Unknown photographer - National Library of Australia.
Bingara
Bingara is is a small town on the Gwydir River in Murchison County in the New England region located 141 km north of Tamworth and 54 km west of Inverell. According to the 2016 census of Population, there were 1,428 people in Bingara. The district is known for its fine wool, beef cattle and mixed farming. Bingara is in the middle of the worst drought area in the state with 2019 media reports showing farmers praying for rain, selling off stock, and even seeking work elsewhere until they can return to their properties to begin again.
EG - Yahoo, August 2nd, 2019:
'Moree Plains Shire Mayor Katrina Humphries says every cent is going towards keeping stock alive. Drought is an accepted part of life but it's tough when the scars of the millennium drought remain fresh and 97 per cent of NSW is now in drought or drought-affected. One farmer stayed in Humphries' fish and chip shop to avoid hearing his starving cattle baying for food at his back gate, the mayor said. Three weeks later he killed himself.' [1.]
Bingara is located very close to Myall Creek, the site of the massacre of 27 to 30 Indigenous Australians. The district was explored in the late 1820s and the first squatter, George Hall, called his run 'Bingera' believing that it was a Kamilaroi Aboriginal word for "creek" or "shallow river crossing".
There are orange trees which line Finch Street and stretch around the Gwydir Oval. They were originally planted as a living memorial to the men from Bingara who died in World War I and II. They are harvested on one day each year by the children from the local schools. The harvest is then given to people in hospital and the old people's home. Such is the community respect for the trees that there is an annual Bingara Orange Festival.
The town attracts people interested in the horrific story of the Myall Creek Massacre and those interested in the history of Greek cafes and cinemas in regional New South Wales. A quiet, historic, gold and diamond-mining town set in the Gwydir River Valley, it is surrounded by cypress-covered mountains it is a popular with anglers and fossickers.
In addition to offering a number of jobs for drought affected workers, Gwydir Shire Council are supporting Namoi Unlimited to present the upcoming 'Find Your Feet' training day and employment expo to be held in Bingara on Thursday 14th November. The photo posted below is from the Bingara, NSW Facebook page and was posted September 15, 2019 - to show what current conditions are like.
1. 'Locals struggle as drought scars NSW towns', Australian Associated Press (AAP), Andrew Leeson, 2 August 2019, retrieved from: https://au.news.yahoo.com/locals-struggle-drought-scars-nsw…