August 14 - 20, 2022: Issue 550
Families soak up sailing and celebrate at Airlie Beach Race Week 2022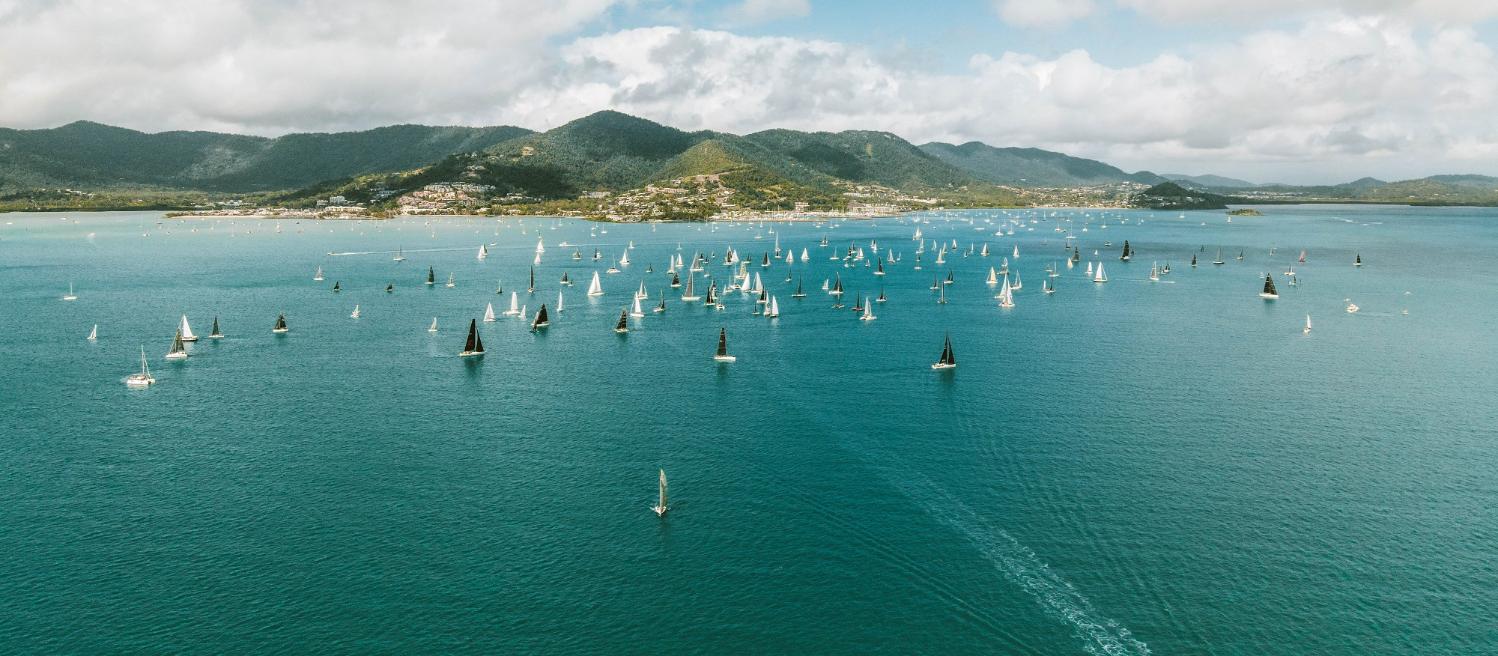 Today's mass start. Photo: Colours and Clouds Media
A stunning day for the Airlie Beach Race Week (ABRW) opener, a mass start of 178 boats on Pioneer Bay, in winds of 15 knots from the south-east blowing down on those taking part in the Whitsunday Sailing Club's marquee event in the scenic Whitsunday Islands – then petering out for the second line – making for an interesting day and some surprise results.
Once the start was dealt with, the IRC/ORC Division 1, PHS Racing, Multihull Division 1 and Cruising Division 1 sailed a 23 nautical mile course taking in Double Cone and Gumbrell Islands, Grimston to the finish.
The remaining divisions, barring the F16, F18 and Wetas, also sailed a 23nm course, but were caught at the start as the breeze faded to almost nothing. Their course slightly deviated on the other, going from Double Cone to Armit Island, Grimston to the finish, while the off the beach classes sailed a separate course taking in the Whitsunday Islands.
Multihull Racing – We are not mad on Coconuts!
Rob Engwirda's Coconuts, a Stealth 12.2, topped the Multihull Racing Division 1 leaderboard today. The classy field includes Extreme 40s, M32s and other 'big multis. Coconuts is a cruising multi, so her grand prix rivals were most impressed by Engwirda's performance today.
"It was nice of them to show us the way, we just followed. They might be looking for tow ropes later…," a pleased Engwirda said with a laugh.
"The light weather seemed to work out for us. A nice day and a great event. It was a good day and the crew's coming together well. It was our first race together and we're still friends at the end of the day!
"Last time here I crewed with George Owen on Mad Max. George taught us well, showed us all his tricks," said Engwirda, who calculated he has done Airlie Beach Race Week 10 times.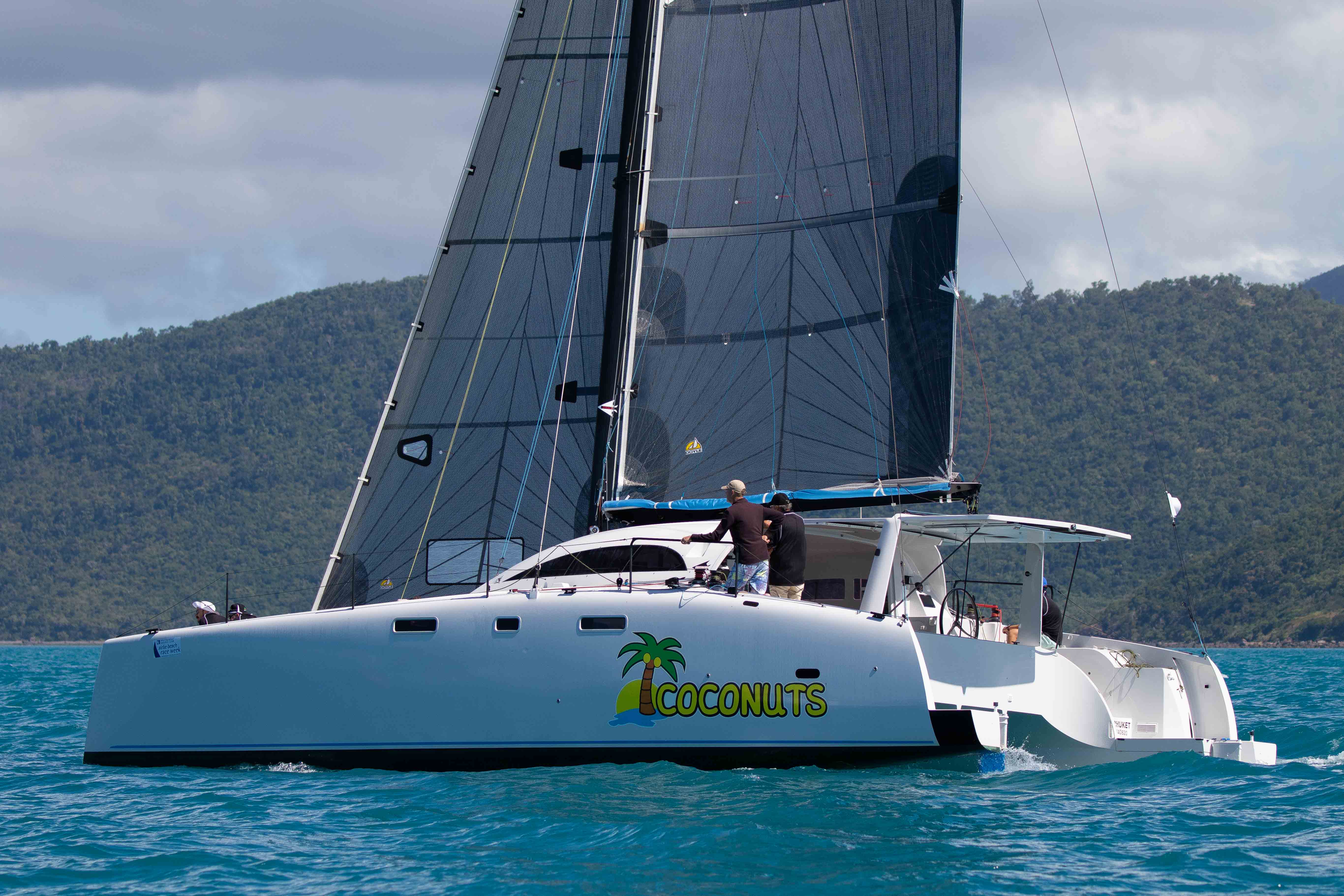 Coconuts won the first race of Divison 1 Multihull Racing. Photo: Shirley Wodson

Michel Van Zwaard skippered the Extreme 40, Angus, to second overall, while slippery sailor Rohan Veal helmed the Marstrom, M32, to third overall.
Van Der Zwaard, from Queensland, takes up the story: "The start was really interesting, we were hoping to get away nicely, but got stuck behind a TP52. Rohan got away and was a small dot when we looked up. We got close to him around Gumbrell, they got too close to the island and we sailed through them. It was light and the tide played a big role today – if you got on the wrong side of it, you lost.
"From Grimston it looked like there was no wind at all, but we were lucky to get some breeze. The boats behind us came home with more though. We had a good day. It was pretty close – but we got beaten by a cruising boat – Coconuts – they must have sailed really well, it was impressive."
Division 2 went to William Richards' Kay Cee, a GBE Sportsdeck cat from the host club. Darren Drew's Wind Cheetah from NSW claimed second place and Peter Hackett's Full Bore (Qld) was third.
In the Multihull Passage Division, Marc Gerard's Storm Bay stole the show by just over a minute from Glenn Rutherford's Earthling, with Stephen Leonard's Sea Dragon third.
"We got a terrible start, there was no wind and everyone was going round in circles," Gerard said. Going up to Double Cones we got 14-16 knots out of the boat. A really good race, but we lost the outhaul, clawed our way back and still sat on 9 knots. All in all it was a good race," Gerard said.
IRC/ORC – Hooray for Hollywood
Ray 'Hollywood' Roberts stumped up in first place with his Botin 40, Team Hollywood from NSW. In second was 'Captain' Anthony Kirke's latest Enterprise, named Enterprise Next Gen. Andy Kiernan/Peter Wrigley's TP52, Koa, filled third place.
Most of the division is sharpening their tools ahead of the Australian Yachting Championships at Hamilton Island starting in just over a week's time.
Airlie Beach Race Week Festival of Sailing is being held from 11 to 18 August. It is supported by the Queensland Government through Tourism and Events Queensland and is a feature on the It's Live! in Queensland events calendar.
For NoR, entry and all information on Airlie Beach Race Week, please visit: www.abrw.com.au or www.whitsundaysailingclub.com.au

By Di Pearson
August 12, 2022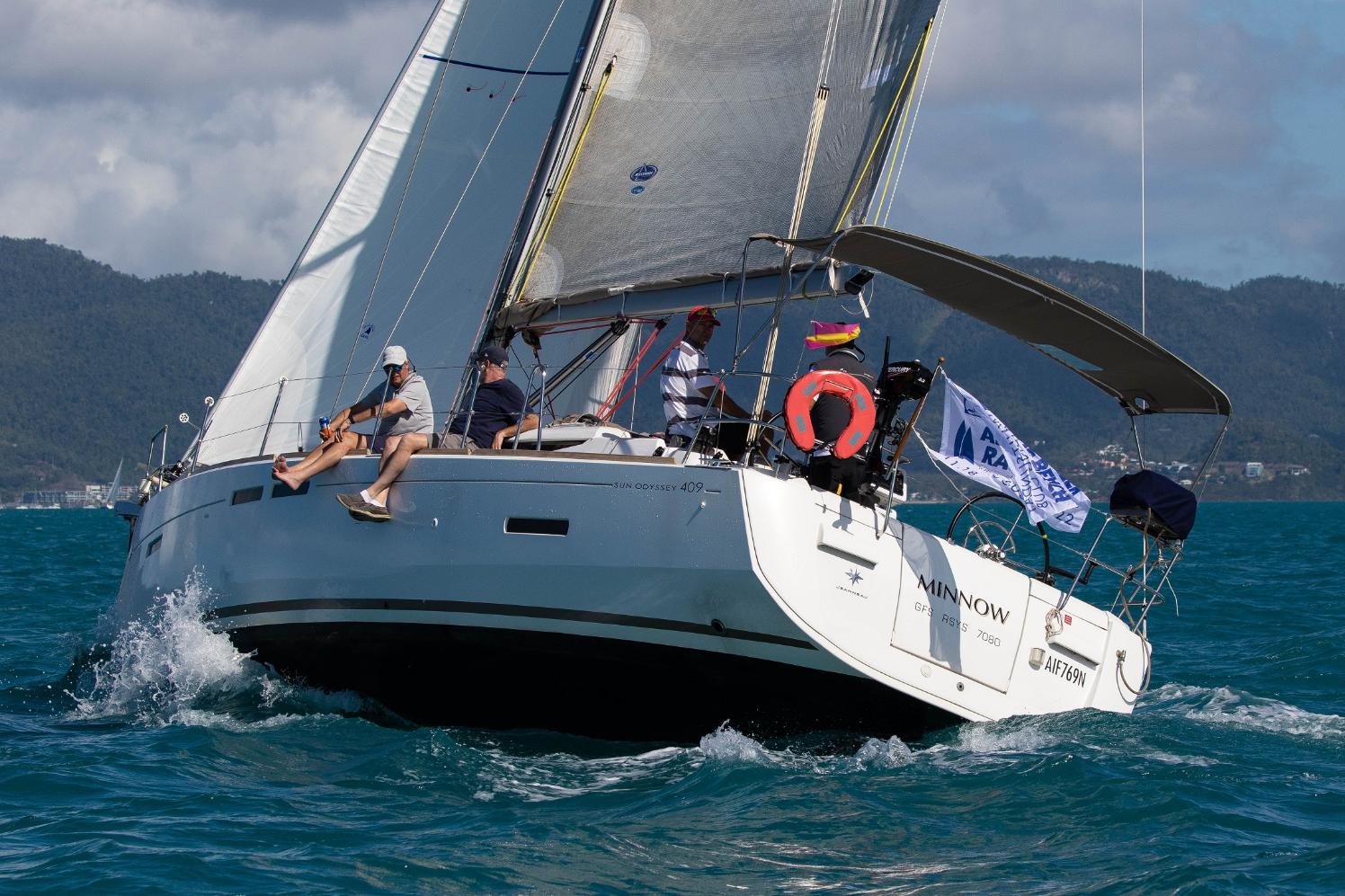 Minnow on the course on Day 1. Photo: Shirley Wodson
Families that sail together stay together - just ask those whose enthusiasm for sailing has rubbed off on the younger generation and other family members at Airlie Beach Race Week (ABRW) - among them is Geoff Dews, whose family have joined him for a special celebration.
"I turned 70 yesterday, so they all came to race with me," Dews says of wife, Karen, his brother Peter Dews and Peter's son Matt. We had a few wines in our apartment last night to celebrate and swap stories. I really like sailing with family; we are pretty close."
On their first race at Airlie Beach Race Week Festival of Sailing, the Whitsunday Sailing Club's marquee event, Dews said, "We went around the track, tacked in front of a few boats and a few tacked in front of us. It was a beautiful day though and we love being here.
The Dews' are sailing their Hells Bells in the Performance Racing division, where another likeminded family or two are racing. Sailing identity Paul Heyes bought Road Runner, a Thompson 920, in partnership with Peter Geddes this past March.
Heyes has wife Sharon aboard, while son Zac, who did his first Hobart with Dad in December, will join the family on Monday. Geddes has his son Lucas aboard, so it's a two family affair.
"This is why we bought this boat; so we can sail with our families. We bought to sail at Lake Macquarie together. We did the Port Stephens Regatta in April and love the family sailing thing," Heyes commented.
Hells Bells - Karen and Geoff Dews on left, Matt second from right, Peter at end. Photo: Vampp Photography

Luke Ratcliff has older brother Paul sailing with him on Re-Heat, an REO 7.2 in the Sports Boats division. The Sydney brothers were born to sail, both parents were stalwarts of the Vaucluse 12 Foot Amateur Sailing Club where as young boys they wet their racing feet.
"We're very competitive. We're here to try and win. We've sailed together a lot over the years both offshore and at regattas. It's second nature to us," Luke says.
In Performance Cruising Division 2 you will find a famous name, Ragamuffin III. She originally belonged to the doyen of yachting, Syd Fischer and was built in 1975. These days she is owned by Stuart Tivey, who uses the yacht for racing and charters.
"I've got my son teenage son Fletcher sailing with me. We're having an awesome time down here at Airlie," said Tivey, from Townsville.
"The aim is getting an old boat with history, keep it going, keep it alive and if we do any good here, it's a bonus, but it's more about having fun."
On Remco Pen's Beneteau Oceanis 45, Bigger Day Out, is Victorian couple, David Sudano and Kristen Buckland. Suds, as he is known, is well known in the yachting scene and spends most of his time looking after and racing on John Newbold's Primitive Cool.
The couple enjoys leaving the cold of Melbourne for a stint in the sun at Airlie Beach, where they are sharing a start line with Ragamuffin III.
"Suds is a great supporter and I learn something from him every time we sail together. The biggest thing is, I trust him, he's a brilliant sailor," Buckland says. I also enjoy sailing with him, especially at Airlie. It's always a pleasure to come to Race Week, it's got something for everyone on the water and onshore."
David and Stephen Grundy are brothers who own the Jeanneau Sun Odyssey 409, Minnow, which is racing in Performance Cruising Division 2. David is missing in action, attending a wedding in Dublin.
"Unfortunately, I can't be there, but our other brother Richard is there instead. I hope Race Week is going well," he said.
There are many others here too, this is just a snapshot of family life at Airlie.
Day 2 racing at ABRW was due to start at 10am today. However, WSC Event Chairman, Ross Chisholm said, "Due to a very light forecast and a variable breeze, the AP has been raised ashore and we will keep monitoring conditions."
It's another lovely sunny day here all the same and sea breeze is due to kick in this afternoon.
Airlie Beach Race Week Festival of Sailing is being held from 11 to 18 August.
For NoR, entry and all information on Airlie Beach Race Week, please visit: www.abrw.com.au or www.whitsundaysailingclub.com.au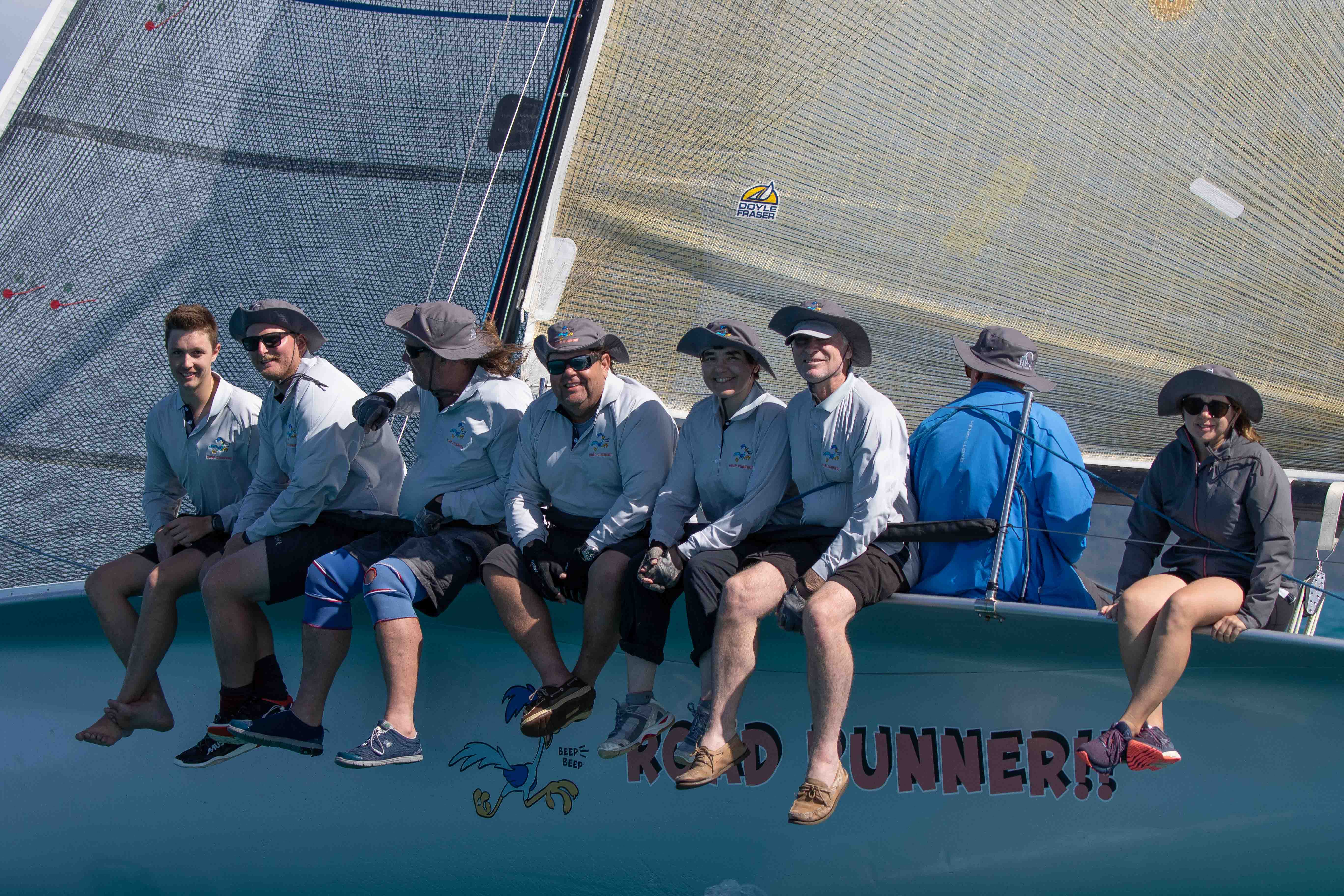 The Road Runner crew having a fast and fun time. Photo: Shirley Wodson

By Di Pearson
August 13, 2022