May 19 - 25, 2019: Issue 405
Jason Falinski Wins Second Term As Member For Mackellar -

Independent

Zali Stegall Secures Seat Of Warringah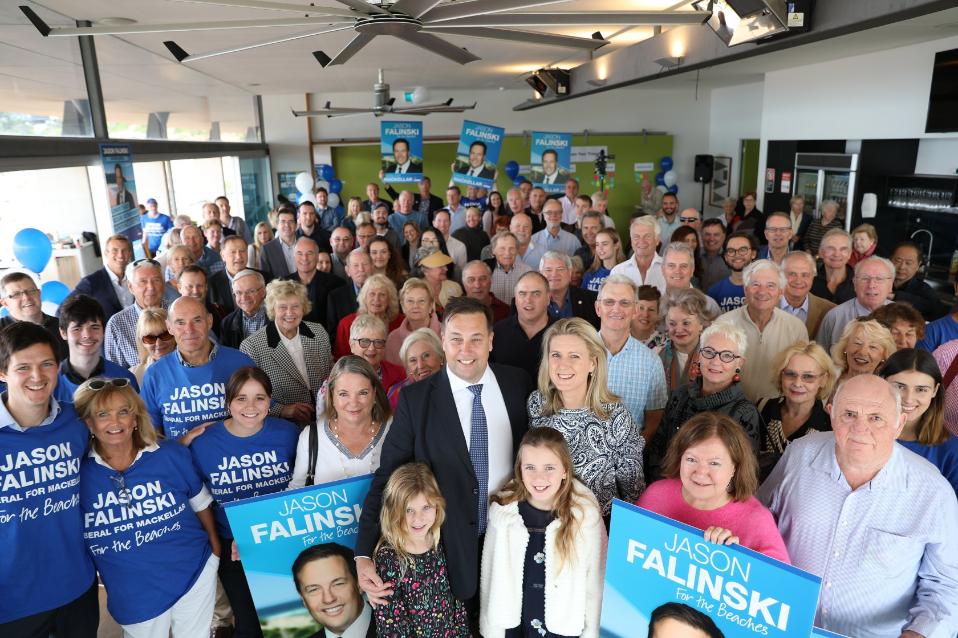 'If you are my voice today, then I will be your voice in Canberra for the next three years.' - Jason Falinski social media post, May 18th, 2019, with the above phtoograph.
Jason Falinski has been returned as the representative for Mackellar.
Mr Falinski, as has become the custom for campaigning politicians during an election, posted a message of thanks to his supporters on social media last evening:
"Thank you to the people of Mackellar for endorsing our message of a stronger economy, lower taxes, securing retirement, improving lifestyle and practical action on climate change. Locally, we have increased our primary vote with swings of 9.7% in Dee Why and 8% in Narraweena.
Thank you to my family and my volunteers for all of your hard work." Mr. Falinski said
The Mackellar figures as we go to press (79.2% counted):
First preference Vote
Liberal Party
Jason Falinski (MP) Vote:53.1% 44,394 Swing +1.9%
Labor Party
Declan Steele Vote: 16.8% 14,032 Swing -0.5%
Independent
Alice Thompson Vote:12.9% 10,815 Swing +12.9%
Greens
Pru Wawn Vote:11.1% 9,295 Swing -2.9%
Sustainable Australia
Suzanne Daly Vote:2.4% 2,043 Swing +2.4%
United Australia
David Lyon Vote: 2.3% 1,919 Swing +2.3%
Christian Democratic Party
Greg Levett Vote: 1.4% 1,151 Swing -1.2%
Preference count
Liberal Party
Jason Falinski (MP) Vote: 63.2% 52,887 Swing -2.5%
Labor Party
Declan Steele Vote: 36.8% 30,762 Swing +2.5%
In Warringah Zali Steggall, Independent Candidate, has secured the federal seat after campaigning on addressing Climate Change and recognises that, as stated on her Environment policy webpage, Australia has;
'Loss of more biodiversity than any other continent, with 1700 threatened species, the developed world's only deforestation hotspot, Half the Great Barrier Reef's coral has died since 2016, we have lost 90% of Murray-Darling wetlands and 75% of on the Swan Coastal wetlands in WA, other countries have stopped accepting our recycling, plastic is devastating our marine environments, and invasive species and pollution threaten our local environments, including Warringah's endangered species such as the little penguin'
Ms Stegall also said in a February 2019 interview with Guardian Australia's political podcast, that the Adani coal mine, the kick off of many coal mine project aspirants for the Galilee Basin, needed to be stopped;
"Labor, if it wins this year's federal contest, needed to use whatever regulatory powers it had available to it to stop the project. "We need an orderly retirement of coal, I don't think we should be entering new projects," Ms Steggall said.
"The attention should be with renewables, technology, clean transport, clean energy – not projects like Adani."
The numbers in Warringah votes (78.2% counted);
First preference
Independent
Zali Steggall Vote:44.7% 34,961 Swing +44.7%
Liberal Party
Tony Abbott (MP) Vote: 38.9% 30,458 -12.7%
The Labour candidate also had a swing of -8.6% as did the Greens candidate of -6.5%.
Preference count
Independent
Zali Steggall Vote: 57.8% 45,198 Swing: +18.9%
Liberal Party
Tony Abbott (MP) Vote: 42.2% 33,055 Swing: -18.9%
Mr. Abbott was first elected as a Member of Parliament (MP) for Warringah in 1994 and so has served the electorate for 25 years. Prior to Mr. Abbott Liberal Member Michael MacKellar served as MP for Warringah for 25 years.
Ms Steggall also thanked her supporters via social media late last evening, stating;
"We did it! Thank you Warringah."
Zali Steggall stated as far back as January that she will seek to form a united front with other independents if elected. South of the border another lady has won a seat as an independent. Helen Haines in the northern Victorian seat of Indi, has made history by becoming the first independent to succeed another in federal parliament, replacing Cathy McGowan. Dr Haines fended off a challenge from Liberal Steve Martin to secure 51.9 per cent of the two-party-preferred vote, with 78 per cent of the result counted at midnight.
Dr Haines is one of seven high-profile independent candidates to sign a joint agreement to cooperate on climate policy in the new parliament should they win. Others to sign the statement included Clark's Andrew Wilkie, Zali Steggall and Wentworth's Kerryn Phelps.
With 72.5% of the Wentworth votes counted by midnight Liberal Party candidate Dave Sharma is ahead 50.6% to Ms Phelps 49.4%.
Senate results so far are Liberal / National Coalition 13 won (33 total seats), Labor Party 12 won (26 total seats) The Greens 6 likely (9 total seats).
Mr. Clive Palmer's 60 million dollar splurge on advertisements and invading our mobiles with text messages (who gave him my number??!) have, at this stage, failed to secure even one seat.
And so we will have peace reign again for a day or two as the final numbers come in and settle who will represent whom. All can now turn and look towards The Years Ahead...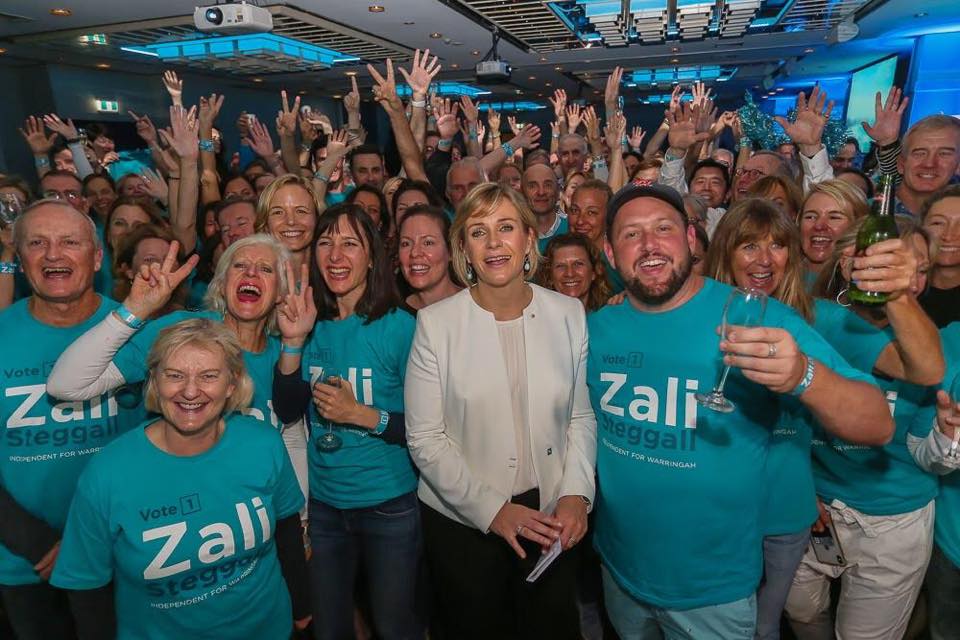 'We did it! Thank you Warringah.' - Zali Steggall's social media message accompanying above photograph.
The Years Ahead
Speech to the Massachusetts State Legislation
By John Fitzgerald Kennedy (JFK)
Excerpt;
History will not judge our endeavours, and a government cannot be selected merely on the basis of colour or creed or even party affiliation. Neither will competence and loyalty and stature, while essential to the utmost, suffice in times such as these.
For those to whom much is given, much is required. And when at some future date the high court of history sit in judgement on each of us, recording whether in our brief span of service we fulfilled our responsibilities to the state, our success or failure, in whatever office we hold, will be measured by the answers to these four questions:
First, were we truly men of courage, with the courage to stand up to one's enemies, and the courage to stand up, when necessary, to one's associates, the courage to resist public pressure as well as private greed?
Second, were we truly men of judgement, with perceptive judgement of the future as well as the past, of our own mistakes as well as the mistakes of others, with enough wisdom to know what we did not know, and enough candour to admit it?
Third, were we truly men of integrity, men who never ran out on either the principles in which we believed or the people who believed in us, men whom neither financial gain nor political ambition could divert from the fulfilment of our scared trust?
Finally, were we truly men of dedication, with an honour mortgaged to no single individual or group, and comprised by no private obligation or aim, but devoted solely to serving the public good and national interest?
(From book 'Lend Me Your Ears - Great Speeches in History' and also appears in Rose Fitzgerald Kennedy's autobiography 'Times to Remember'.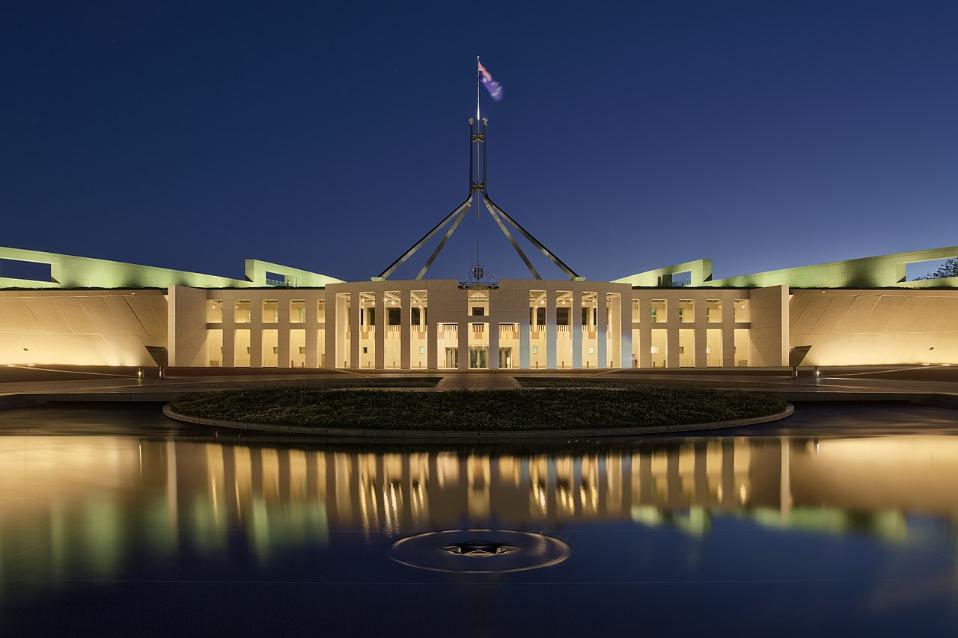 Blue hour photo of Parliament House, Canberra Australia. Photo by Thennicke, via Wikipedia
Report by A J Guesdon, 2019