April 5 - 11, 2020: Issue 445
Clash Of The Crazies On The Northern Beaches' Most Beautiful Waterway – F16 National Titles 2020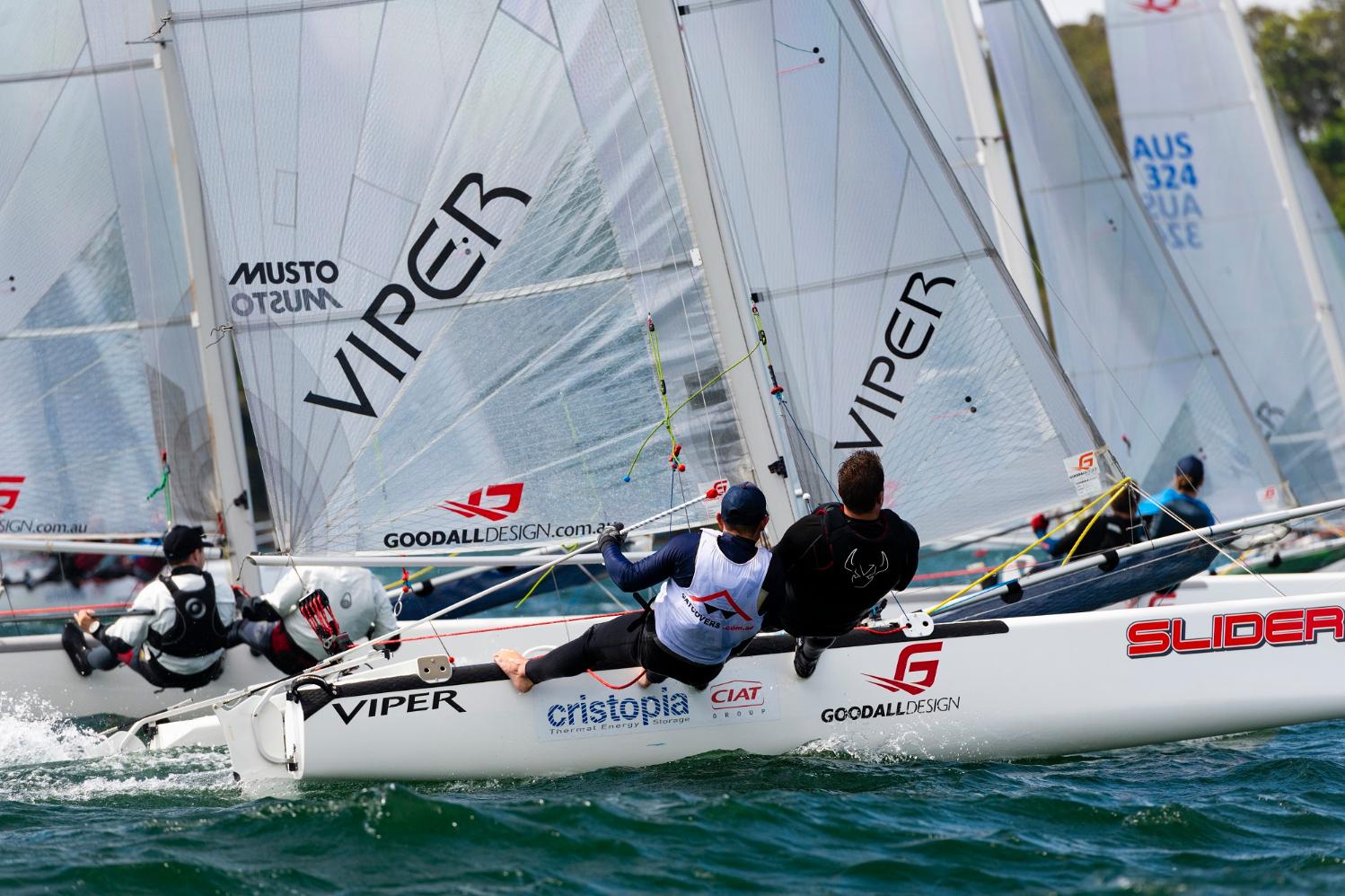 Competitive starts in high speed racing - Photo by George Witting
By Beau White
16 competitors gathered from all across the country on 13-15 March for the F16 Australian National Titles. People came from as far away as Bunderberg, Bendigo and Adelaide to enjoy a weekend of viciously tight racing on the brilliant waterway so many of us on the northern beaches take for granted everyday.
The sailboat of choice was the F16 Viper, a 16 ft pocket rocket 129Kg catamaran that features a powerful sailplan, spinnaker and double trapeze. The boat is suited to a single sailor or double crew and both formats are permitted in competition although the double crewed boats are generally faster around a course.
The Royal Prince Alfred Yacht Club in Newport with its comprehensive facilities for catamarans was selected to host the event. The teams arrived on Friday, set up their boats and headed off for a social sail up the Pittwater passed Lion Island. Taking in the rugged beauty of Box Head and the tranquil sandy beaches of Umina. Crossing behind Lion Island on the way home the golden panorama of the Hawkesbury lit by the setting sun opened up to some breathtaking scenery.
The building North Easterly sea breeze, reinforced by a cool change coming on Saturday whisked the little boats along for the afternoon with some teams breaking the magical 20knot barrier on the smooth protected waters of Mackrel beach. A day that all the sailors agreed would be one of those special days of a lifetime. The fleet of competitors later enjoyed a great dinner at the Thai restaurant Sabiang in Avalon – just us locals showing off again. There was some threatening of a night out on the town after, but tired muscles prevailed and it was an early night for most of the teams.
Everyone had their eyes on the forecast as the weather models predicted a huge stormy Saturday. We awoke naively optimistic with sunny clear skies as teams enjoyed delicious coffee and a hearty breakfast at RPAYC's Halyards café/restaurant. (We highly recommend Halyards for a brekkie to sailors and non-members alike) The weatherman's predictions came to pass, clouds rolled in, the sky darkened as the Southerly blast headed up the coast with buckets of rain. The flags began straining against the poles, Yacht masts rattled and roared with the massive gusts of wind and angled sheets of falling rain. The weather conspired to force racing cancellation by 11:00 am. Highly excitable teams were now in need of somewhere/something to vent all that energy . It had been building inside them for the last 3 weeks. This was the pinnacle of the F16 sailor's year after all. Bowling was fully booked, as was go-karting and laser tag, thus a marathon wine tasting and football competition ensued for the rest of Saturday. This provided that much needed vent.
Sunday and the Pittwater weather gods produced what they are famous for - the shifty Southerly buffet of breeze that has nurtured so many world beating sailors such as James Spithill and Jason Waterhouse. The race committee set perfect courses and the fleet slashed about the sparkly waters jostling for position. Teams whooped and squealed on the downwind runs, colourful spinnakers filled with generous volumes of wind, standing off the back corner on trapeze, catamarans going at full noise scything though the smooth water between Long Nose point and Clareville. Speeds reserved for powerboats. Results mattered, racing was hotly contested even though it was just so easy to be swept away in the complete elation of the speed, beauty and visceral raw power of the experience.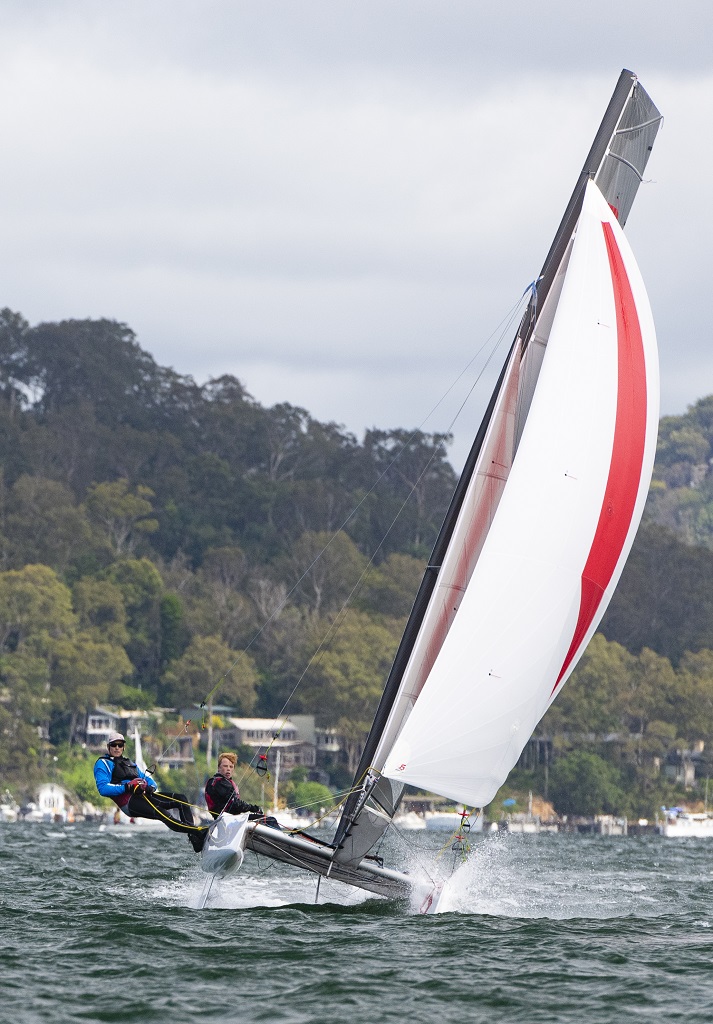 The Viper 2 of Tristan and Beau White showing impressive speed - Warp 4!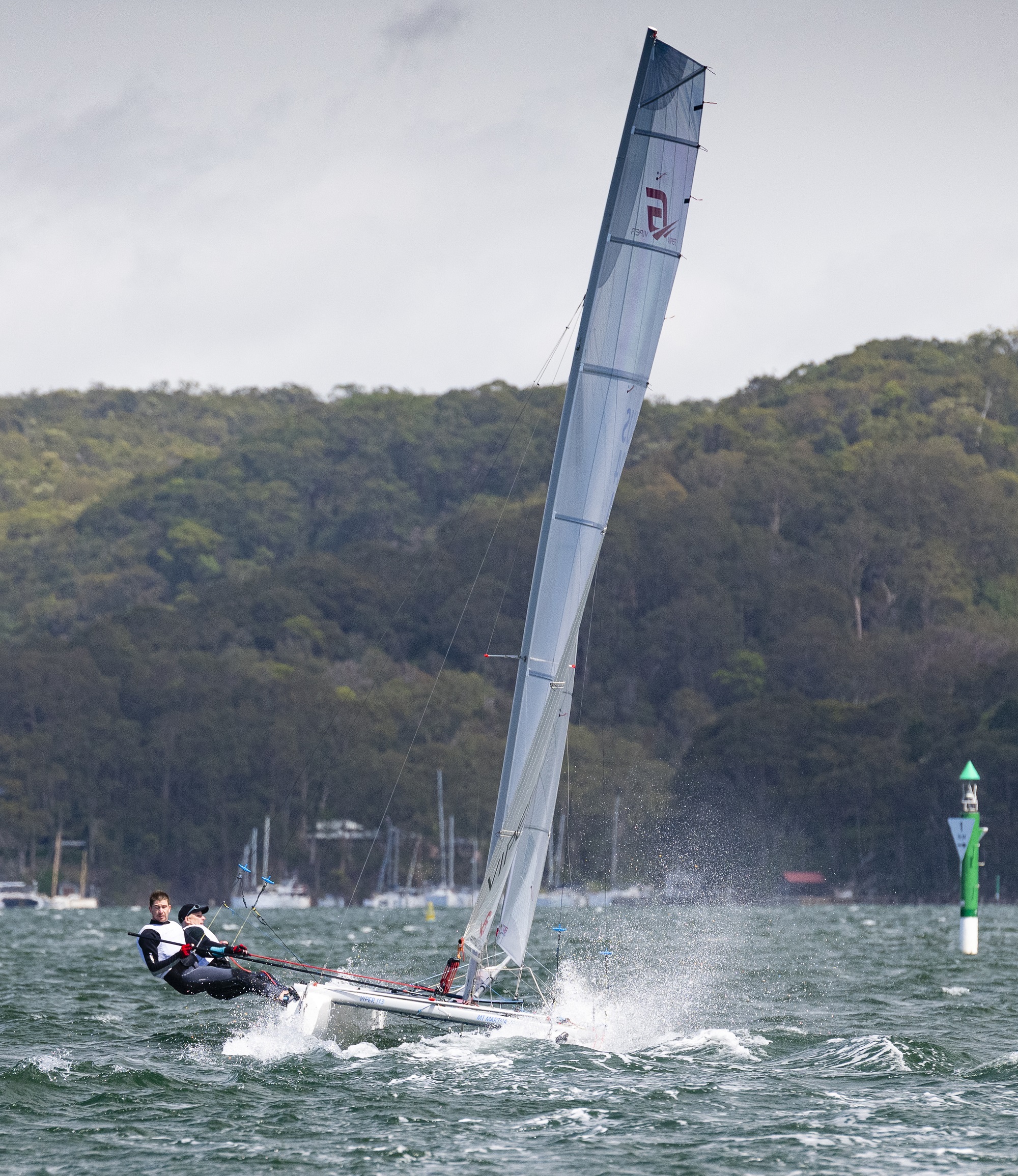 Full power upwind at 14 knots

6 Races down and the strong winds, constant course changes for the mark laying boats and race management was taking its toll. Sailors wanted more but realistically were getting exhausted and mistakes were happening. The consequence being an increase in dunks into the wet stuff. Two boats were out of the racing, an older boat just started imploding from the strains of the strong wind and speed, the other the result of a rather lame pre-start collision.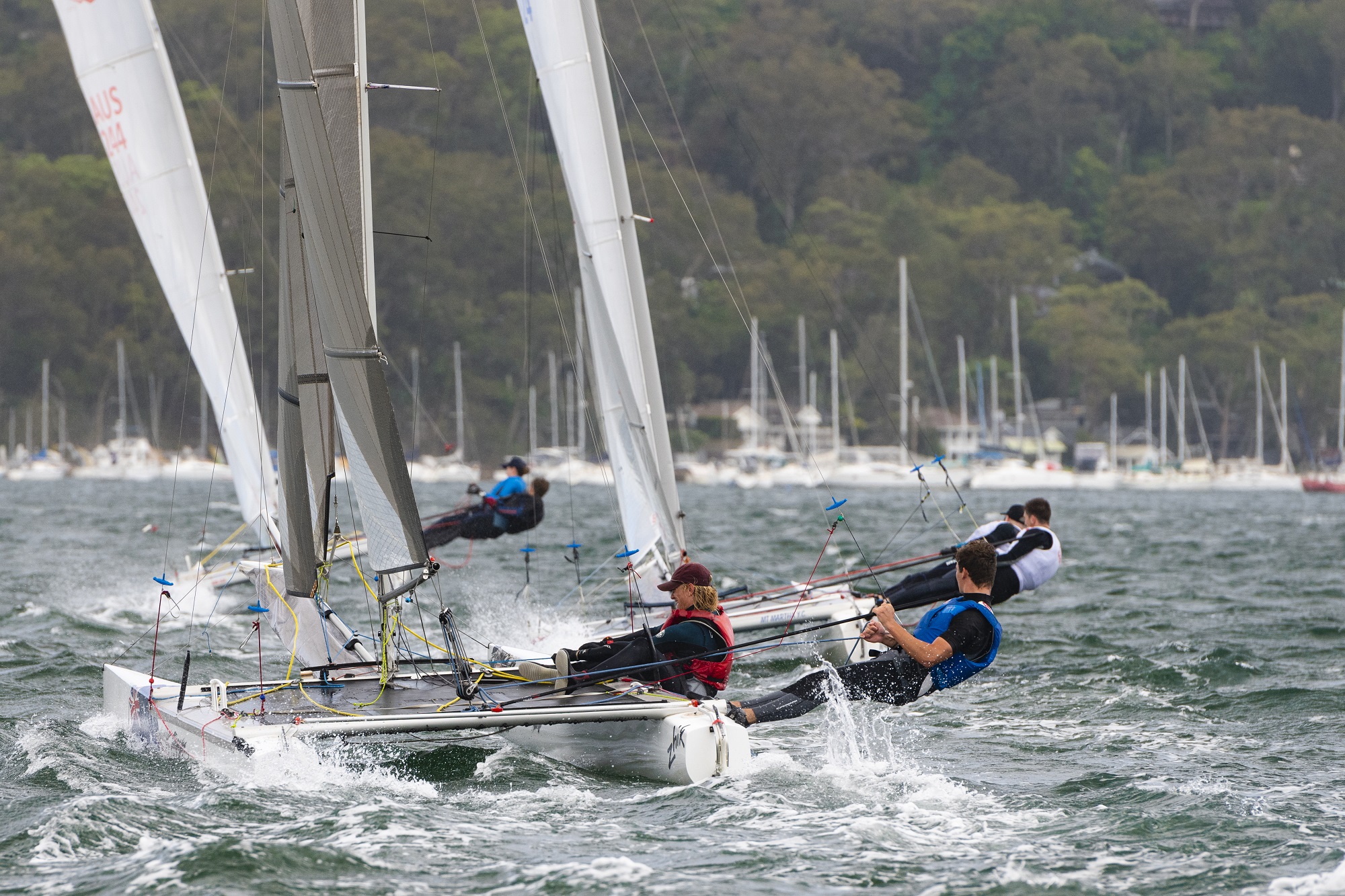 RPAYC teams battle - Sophie Renouf and Simon Skoog trying to hold off a charging Tristan and Beau White

Ultimately local knowledge paid, the father and son duo of 15 yr old Tristan White (skipper) and Beau White (age undisclosed) came back from a first race boat breakage that initially looked to be a regatta demolition. They returned after a quick shoreline fix to dominate the regatta and win the national title. Tristan and Beau proudly get to put their names next to some Olympians on the trophy that they will hold for the next 12 months.
2nd to 5th was a close fought affair that saw ex national champ Beau Delaine teamed up with F18 gun sailor Ben Clark. Beau and Ben's consistent speed and results locked in second after regatta favourites, and entertainment organisers, Sophie Renouf and Simon Skoog had a concentration lapse and capsized in the final race. The lethal concoction of a previous day of too much wine coupled with the exertion of the previous 5 races getting the better of Sophie and Simon and sent them over on a top mark bear away. They slid off the podium as they did their listing Viper.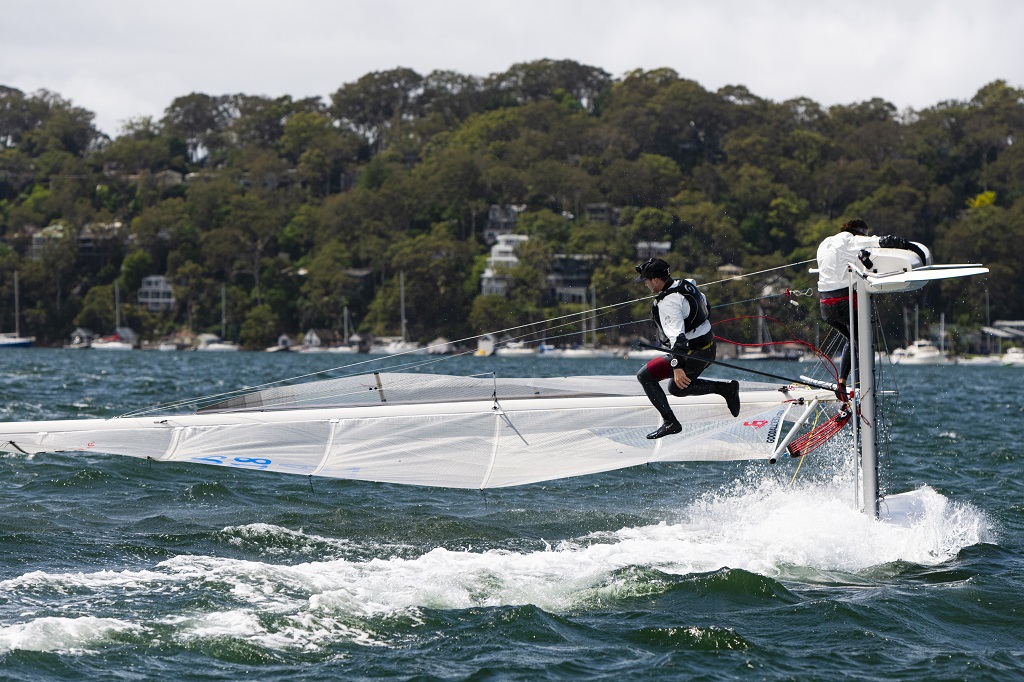 And there, at that moment, the podium disappeared...
Third went to Bendigo Based Boat Builder Brett Goodall who teamed up with another local uni student Lilly Smith, an excellent performance considering they had never sailed together before.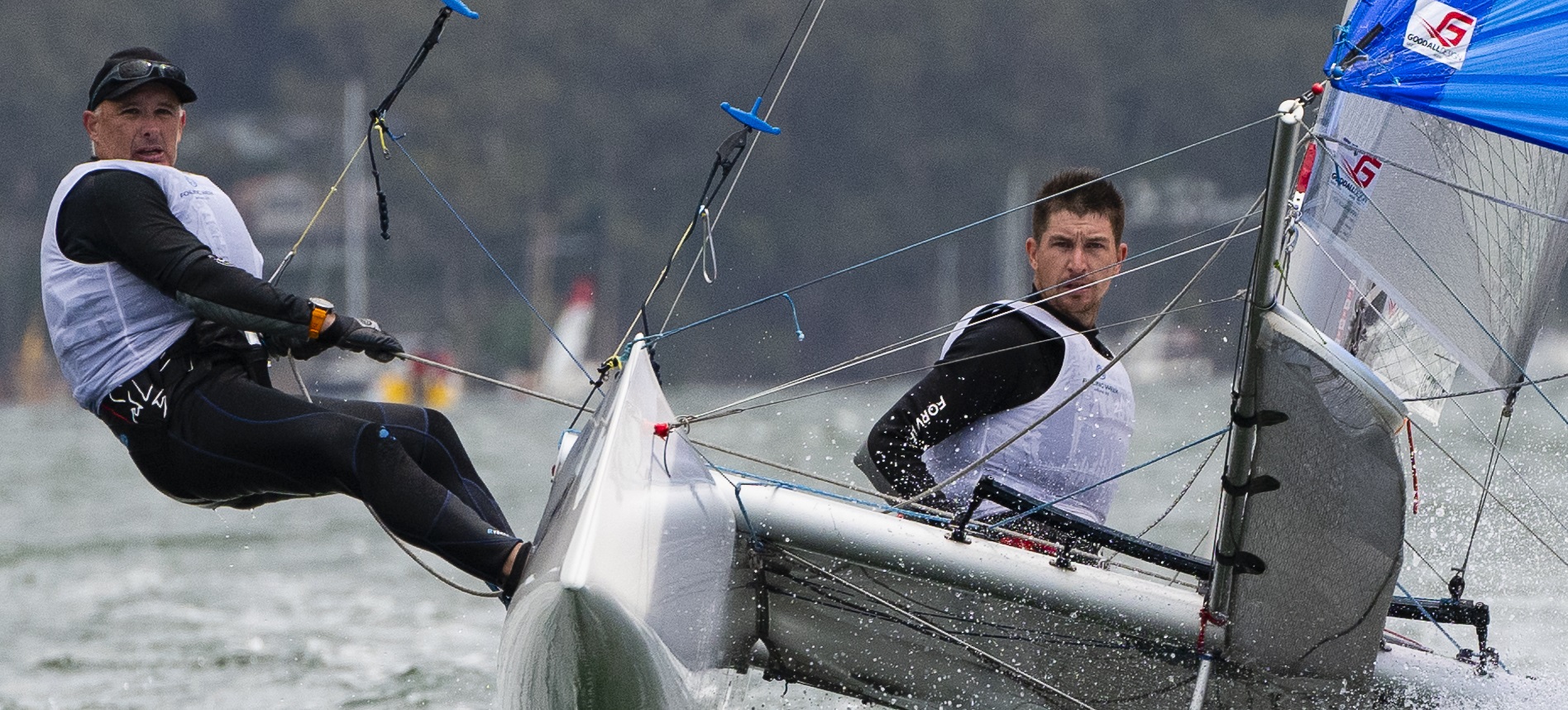 Beau Delaine and Ben Clark - second overall

If spending time with your kids/spouse/friends doing an outdoor activity interests you, consider getting involved in catamaran sailing on Pittwater. It is so much better being on a boat with your kid than watching them from side lines. Catamaran sailors are fit, laugh easily and generally have a bit of a love affair with going fast. There's a cool social scene for the adults and kids after club sailing on Saturdays and Sundays for you to make lifelong friends and engulf yourself in the world of competition and sailing. Nothing beats a cold beer after a day out on the water or a milkshake for the younger ones, thus the RPAYC beer tap selection and vanilla milkshakes are the stuff of legend. Road trips abound with a monthly series of weekend regattas at various host clubs in NSW. Go see the state and its beauty, camping is usually free at these events. It's cheap and great fun with your mates. RPAYC offers super convenient boat storage options and learn to sail courses for kids and adults. Catamaran sailors are often looking for crews and will always oblige to take you for a ride. The boats are fast but stable – a skiff with a training hull if you like. Sailing happens every weekend in Summer and you can pick Saturday at Palm Beach Sailing Club or Sunday at RPAYC.
Check out www.AUSF16.Net, www.RPAYC.com.au, AusF18 and F16 Catamaran on Facebook for more information on boats, events and getting in contact.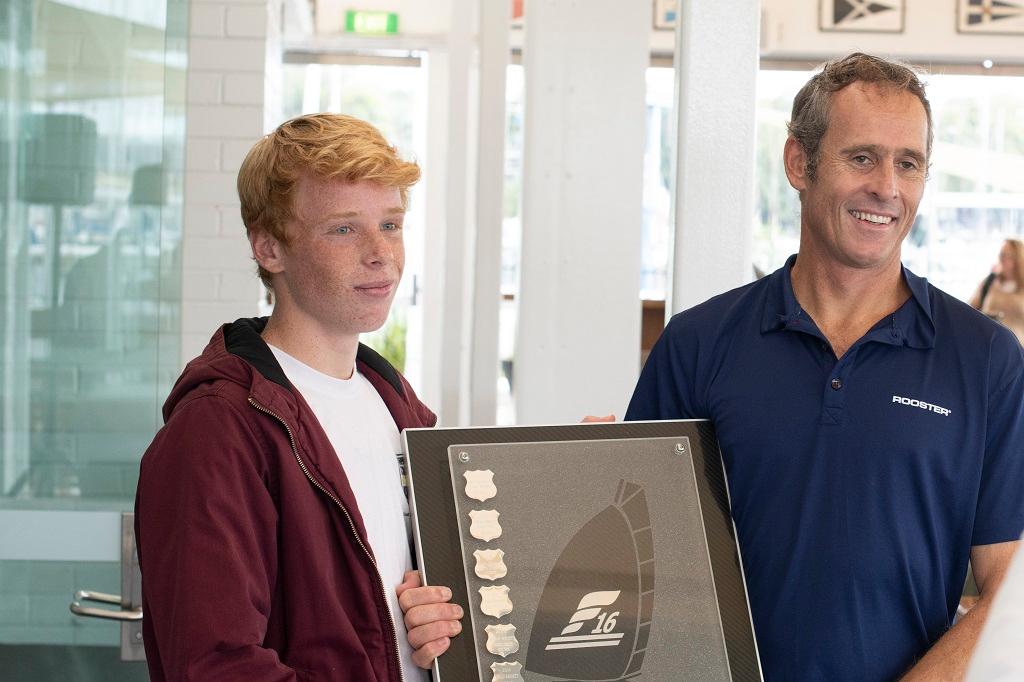 Not many can say they have won a National Title, a coveted trophy for two self confessed F16 frothers – Father and Son, Tristan and Beau White – who will be there next year to try wrestle it from their grasp?
All
Photos credit to George Witting
, his Instagram account is georgewitting to see more of his work. If you would like his services at your event contact him at
georgewittig@gmail.com
– Thanks George - you're a legend!