September 3 - 9, 2023: Issue 597
dredging of Ettalong Channel underway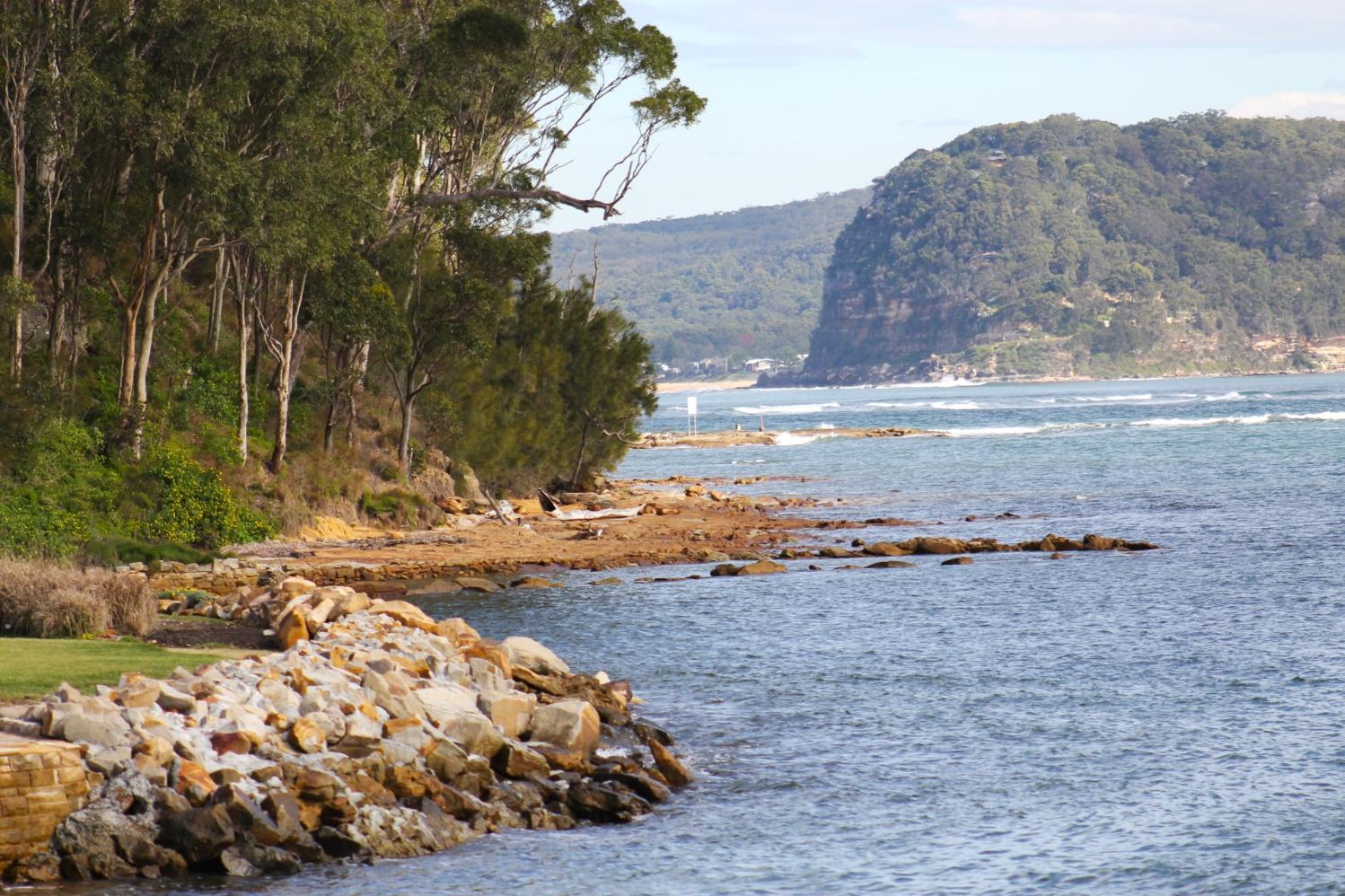 The NSW Department of Crown Lands has announced dredging has commenced in Ettalong Channel on the Central Coast to clear excess sand that is impacting boating following assessment and approval of a dredging licence.
Crown Lands in the Department of Planning and Environment has approved a 12-month licence for Transport for NSW's Maritime Infrastructure Delivery Office (MIDO) to conduct maintenance dredging in the channel.
The licence to dredge the channel, located at the entrance to Brisbane Water, will see up to 30,000 cubic metres of sand removed to provide a safe navigable channel for vessels.
The works commenced on Thursday August 23, 2023 with the department stating soon after that;
''Dredging in the Ettalong channel has progressed well, with approximately 4000 cubic metres of sand removed from the channel since work started.
''Recent swell conditions have caused damage to the dredge arm of the Faucon vessel. To complete the work as quickly as possible the Faucon will be replaced by the Port Frederick, a larger dredging vessel and weather permitting dredging work will be completed as planned.''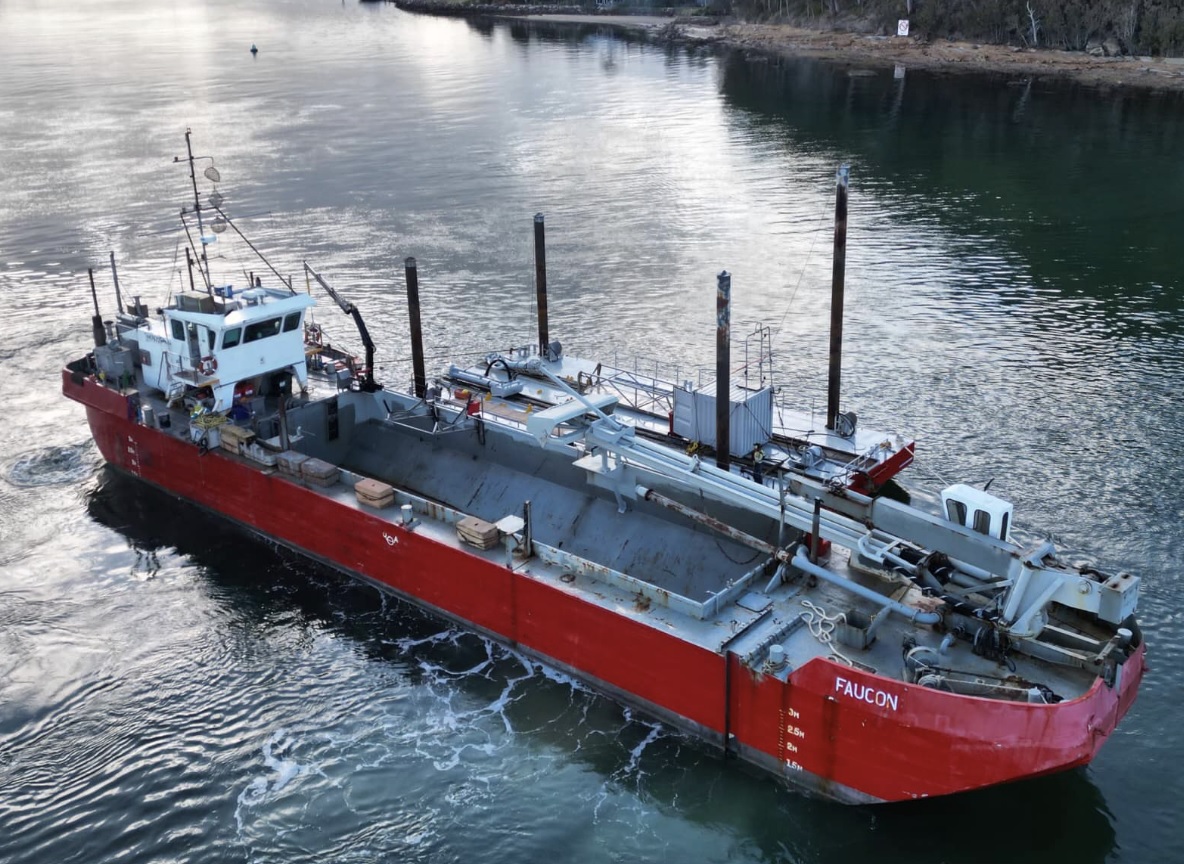 The Faucon. Photo courtesy NSW Government/Transport for NSW
"Faucon is on its way back to her home on the Gold Coast, where crew will have a quick turnaround and then return with a new and improved dredge," Liesl Tesch, Member for Gosford said on Thursday 31st of August
However, during the Faucon's time in the Ettalong Channel, the dredge was able to widen the channel, allowing for the arrival and use of Port Frederick, a faster, more effective trailing suction hopper dredge, which will be in the Ettalong Channel in the coming days.
The Port Frederick dredge was unable to be used to begin with as it requires a wider channel than was previously available until Faucon's work commenced.
According to Liesel, despite the interruption to dredging caused by Faucon's malfunction, the replacement dredge will be able to complete in one day the work that Faucon was able to complete in 2.5 days.
The Port Frederick is a Dredger that was built in 1983 by Dorio Engineering in Devonport Tasmania and is sailing under the flag of Australia. Her length overall Length is 49 m, her Breadth:10 m. Gross tonnage: 389 tons, Deadweight: 486 tons. Her home port is Southport, Queensland.

The MV Port Frederick, is a shallow draught trailing suction hopper dredge. Apparently it cruises along sucking up sand into it's hoppers through a draghead and pipe, which trail along the port side of the vessel when dredging. It then takes this sand from where it wasn't wanted and dumps it where it is wanted.

Transport for NSW's information brochure on the project states:
''For this project and to ensure the dredging campaign could begin as soon as possible the dredged sand will be placed on the Ettalong Shoals. Please see map (below).
'This location was chosen for this maintenance dredging campaign as it allowed us to obtain environmental approvals faster.
This sand placement location has also been used on previous dredging campaigns. Assessments indicated that the sand placed here on the shoals tends to travel towards Ocean Beach so it will provide beach replenishment in time.
Other locations for beach replenishment would require more assessments which would impact our start dredging dates.
We will be exploring a number of sand placement locations including beach nourishment in the 10 year strategy and environmental approval which is currently in development. We will seek community feedback on this in the future.'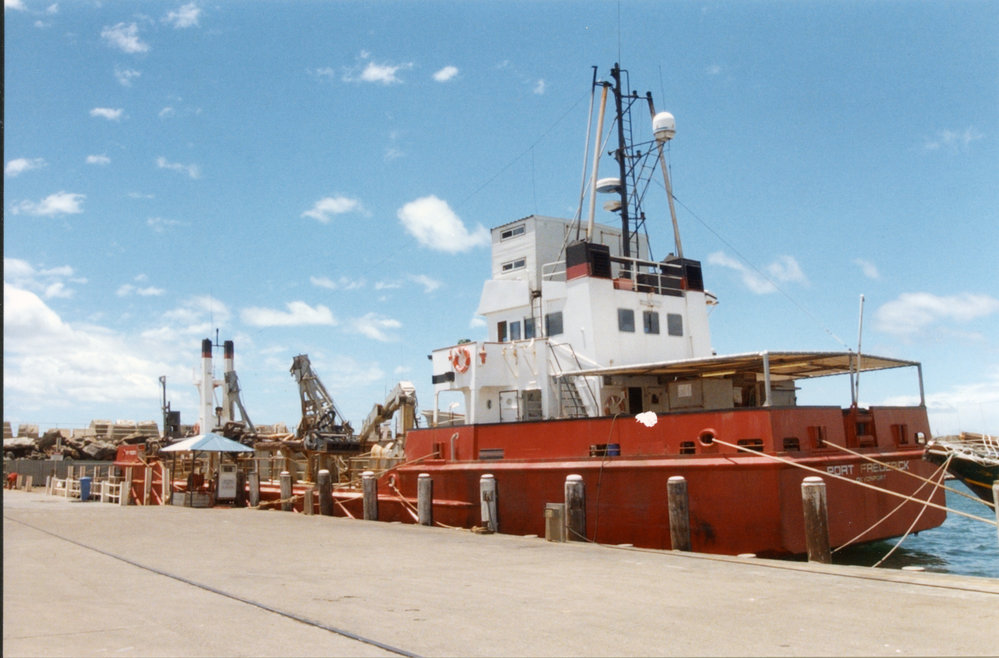 The MV Port Frederick. Photo courtesy City of Coffs Harbour

Transport for NSW completed a Review of Environmental Factors (REF) to support its licence application, with measures to be put in place to protect environmentally-sensitive areas, including establishing buffer areas to prevent the disturbance of sea grasses.
The Crown Land Management Act 2016 allows for the granting of licences for dredging in Crown waterways subject to assessments of environmental, social, cultural and economic impacts.
''Applications such as this support safe navigation channels and harbour entrances, and recognise the importance of waterways as an environmental, social and economic asset supporting recreational and commercial boating.'' the Dept. states
Palm Beach Ferries suspended their runs to Wagstaffe and Patonga in early June due to the large tides and shifting sand bars in the Ettalong Channel. This was not the first time the service had been suspended due to a build up of sand in the channel.
A free shuttle bus service was commenced on Monday 19 June, and continues to run between Ettalong and Patonga Wharfs to assist ferry passengers during key travel times.
Weekend shuttle bus services also commenced to run on extended hours during the day to meet the current scheduled timetable.
The shuttle bus will leave approximately 35 minutes before the ferry departure time from Patonga wharf.
Wheelchair users were advised that Patonga Wharf is not wheelchair accessible and a solution to this is being arranged.
''A shuttle ferry service for Wagstaffe passengers to meet the shuttle bus at Ettalong wharf will be available soon, and approval for dredging works are currently being sought.'' Transport for NSW stated on June 17 and soon had a shuttle bus in place for Wagstaffe residents.
Once the channel is deemed safe to operate, Palm Beach Ferries services will resume back at Ettalong and Wagstaffe.
The alternative transport arrangements will stay in place until this announced date is made to resume services back to Ettalong and Wagstaffe.
The free shuttle bus service, between Ettalong and Patonga, to meet the Palm Beach ferries timetable and free shuttle ferry service between Wagstaffe and Ettalong for passengers to meet the free shuttle bus at Ettalong is: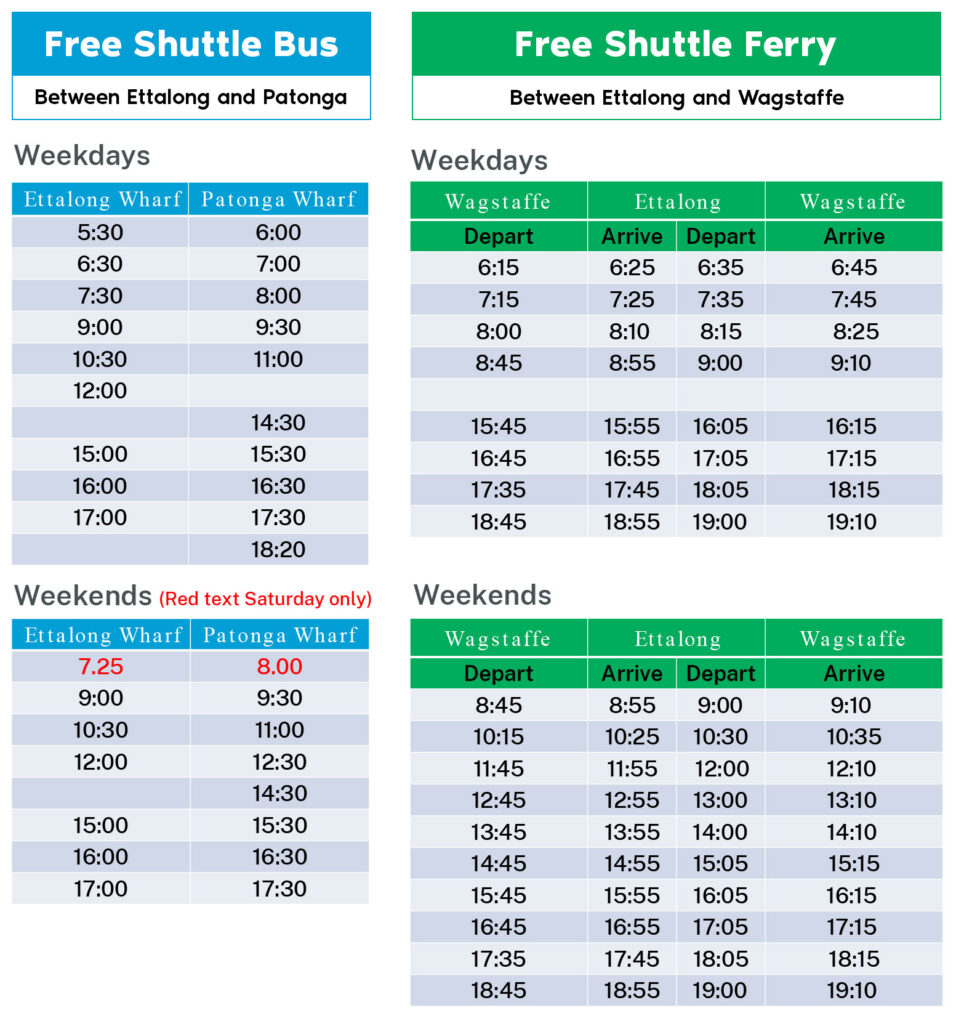 Palm Beach Ferries thank passengers for their patience and encourage them to allow extra travel time for their journeys.
The Dredging is forecast to take anywhere between 4-8 weeks, depending on the weather and other operational factors and contractor equipment. Subsequent campaigns are also expected to take approximately 4-8 weeks depending on volume to be dredged and equipment/plant used on those occasions.
Navigational changes are in place with a Marine Notice issued for the dredging work.

The Marine Notice advises:
Dredging works
Notice type: Navigation warning
Legislation: Marine Safety Act 1998 s.12
Marine notice: SY2320
Where: Lobster Beach to Umina Beach, Brisbane Water
When: 5:00am to 10:00pm 7 days per week (excluding public holidays) Wednesday 23 August for up to 8 weeks (to 27 September) weather permitting.
The Works: Transport for NSW (TfNSW) advises that sand dredging will occur between 7:00am and 6:00pm (or daylight hours) from Wednesday 16 August until approximately Wednesday 27 September 2023 (weather dependent).
Navigation Warning
Vessel operators are advised to exercise extreme caution when navigating in the vicinity of the works and to pay particular attention to vessel speed (4 knots) and minimise vessel wash near all working platforms.
Aids to navigation may be relocated to facilitate the dredging. Vessel masters are to ensure they follow the direction of navigation aids.
The dredge will be operating in the channel in the vicinity of Ettalong and Lobster Beaches (as per the map). The dredge will be depositing sand on the south-western side of the sand bar south of Umina Beach (see map):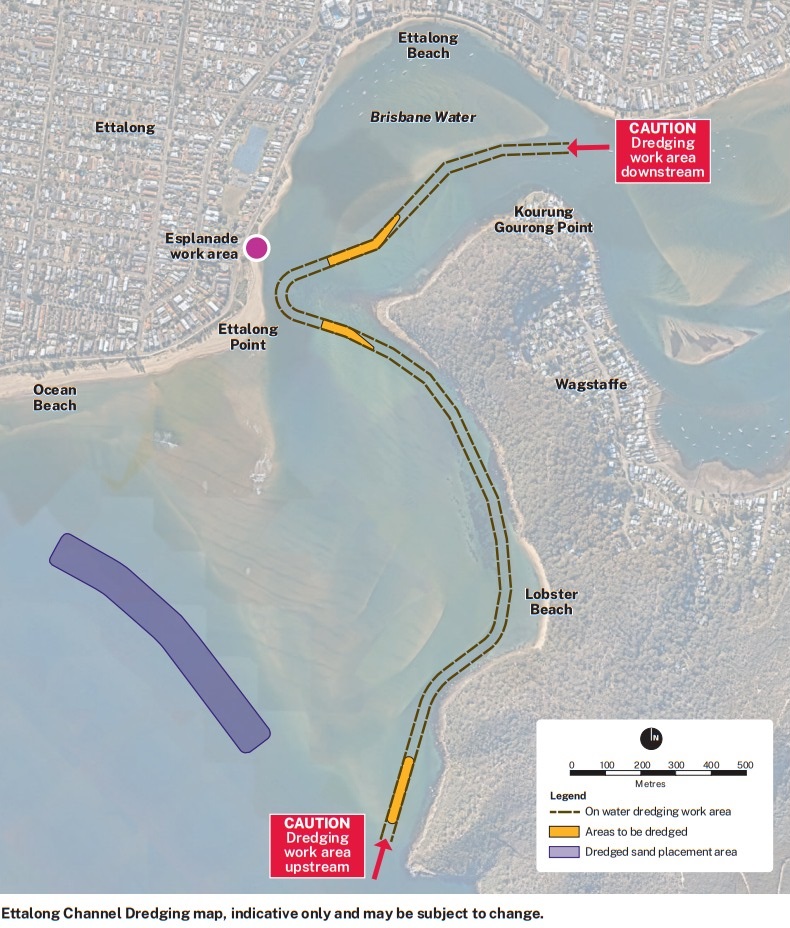 Directions
Transport for NSW advises that in relation to the works zone:
Persons within the vicinity of the works must comply with any directions given by any Boating Safety Officer or Police Officer in relation to marine safety. Failure to comply with any such direction is an offence (Marine Safety Act 1998, s.15A - Maximum Penalty $3,300.00).
Vessels are required to travel at a safe speed and distance from the works. Operators are reminded that the production of wash which impacts unreasonably on the works is an offence (Marine Safety Regulation 2016 – clause 11(2)) - Maximum Penalty $5,500.00)
Maps and charts affected
To see the area affected, refer to:
Transport for NSW Boating Map – 8B, Navigation Chart AUS 197
Locals and those interested can keep up to date at: www.transport.nsw.gov.au/projects/current-projects/ettalong-channel-dredging